---
Sections on today's Signs Page:
---
SOTT Focus
---
Signs Economic Commentary For April 9th 2007

Donald Hunt
Signs of the Times
2007-04-09 13:14:00

Excerpt: "European strength may indicate nothing more than that EU countries are on a different part of the business cycle than the U.S. having started their recovery somewhat later. But, last week a major historical milestone was reached. For the first time for nearly a hundred years, the total value of European stocks is greater than the total value of U.S. stocks."

Comment on this SOTT Focus

---
Best of the Web
---
Video: Deir Yassin remembered on the anniversary of a massacre

Deir Yassin Remembered
Sabbah's blog / Google video
2007-04-09 14:52:00

Early in the morning of April 9, 1948, commandos of the Irgun (headed by Menachem Begin) and the Stern Gang attacked Deir Yassin, a village with about 750 Palestinian residents. The village lay outside of the area to be assigned by the United Nations to the Jewish State; it had a peaceful reputation. But it was located on high ground in the corridor between Tel Aviv and Jerusalem. Deir Yassin was slated for occupation under Plan Dalet and the mainstream Jewish defense force, the Haganah, authorized the irregular terrorist forces of the Irgun and the Stern Gang to perform the takeover.

In all over 100 men, women, and children were systematically murdered. Fifty-three orphaned children were literally dumped along the wall of the Old City, where they were found by Miss Hind Husseini and brought behind the American Colony Hotel to her home, which was to become the Dar El-Tifl El-Arabi orphanage.

This is another example of Israel's brutality and history of barbarism:



Comment on this SOTT Focus

---
U.S. News
---
Bush hits new approval rating low

SO/HAR
Press TV
2007-04-09 15:10:00

U.S. President George W. Bush is setting a new record for low job approval rating with 62 percent of Americans giving him a failing grade.

A USA TODAY/Gallup Poll telephone survey of 1,008 adults taken Monday through Thursday, shows Bush's approval rating standing at 38 percent which has not changed for seven consecutive months.

Comment on this SOTT Focus

---

Up to 53 hurt in New York fire; 2 in critical condition


The Associated Press
2007-04-09 09:29:00

An accidental apartment building blaze in New York's Bronx left as many as 53 people hurt, including 14 firefighters, authorities said.


Firefighters said five civilians were seriously injured, and police said two men remained in critical condition early Monday.


Firefighters carried people down ladders to rescue them from the 17-story building, where the fire was reported on the first floor shortly before 9 p.m. Sunday (0100 GMT Monday). Firefighters worked for more than 90 minutes to get the blaze under control.


Comment on this SOTT Focus

---

Woman Led Police to Dead Infant Her Sister Is Accused of Killing

Cara Buckley
The New York Times
2007-04-09 05:38:00

When police officers searching for a newborn baby arrived early Saturday at the home of a Brooklyn woman who was thought to be the mother, one of her sisters told them, "What you're looking for is in the back."


There in a garbage bag, wrapped in a towel, the police found a baby who was later declared dead.


The sister, Andria Sergio, 27, was released on her own recognizance yesterday after being arraigned in a Brooklyn court on charges of incorrectly disposing of a human body. Her comment to police officers was quoted in the criminal complaint. Ms. Sergio's sister Laura Sergio, 25, is charged with murder.


Comment on this SOTT Focus

---

Pennsylvania: 1.4M Pa. Warrants Pending

Mark Scolforo
Associated Press
2007-04-09 05:19:00

Pennsylvania's new statewide computer system makes it possible for the first time to put a number on how many warrants remain unserved across the state - 1.4 million, including more than 100 for homicide, The Associated Press has found.


Pennsylvania is now the largest state to complete such a comprehensive court computer network, although several other large states - including California, New York and Ohio - are planning or implementing such systems, according to the National Center for State Courts in Williamsburg, Va.


The database is designed, in part, to help authorities reach across county lines to capture fugitives who have moved to avoid detection. It will also allow government officials and the public to compare how courts are performing from county to county.


Comment on this SOTT Focus

---
UK & Euro-Asian News
---
'Blair has made UK worse'

Rosa Prince
Mirror.co.uk
2007-04-09 10:38:00

Six out of 10 voters think Britain has become a worse place to live since Tony Blair came to power, a poll revealed yesterday.

Comment on this SOTT Focus

---
Around the World
---
India to test long-range ballistic missile


AFP
2007-04-09 09:31:00

India will test its longest-range nuclear-capable missile this week, almost a year after an unsuccessful attempt of the same rocket system, a defence ministry spokesman said Sunday.

"There are plans to conduct the test this week," the spokesman said, declining to give details.


Preparations to test the 3,500-kilometre (2,710-mile) range Agni-III have been completed, the Press Trust of India reported, quoting unnamed defence sources.


India first tested the missile last July, when the prototype veered off course after travelling vertically 12 kilometres (7.4 miles) and crashed into the sea without hitting its designated target.


Comment on this SOTT Focus

---

Revolution, flashmobs, and brain chips. A grim vision of the future according to Pathocratic plans

Richard Norton-Taylor
The Guardian
2007-04-09 09:25:00

Information chips implanted in the brain. Electromagnetic pulse weapons. The middle classes becoming revolutionary, taking on the role of Marx's proletariat. The population of countries in the Middle East increasing by 132%, while Europe's drops as fertility falls. "Flashmobs" - groups rapidly mobilised by criminal gangs or terrorists groups.


This is the world in 30 years' time envisaged by a Ministry of Defence team responsible for painting a picture of the "future strategic context" likely to face Britain's armed forces. It includes an "analysis of the key risks and shocks". Rear Admiral Chris Parry, head of the MoD's Development, Concepts & Doctrine Centre which drew up the report, describes the assessments as "probability-based, rather than predictive".


Comment on this SOTT Focus

---

Australia: Boy, 6, expelled in sex claim

Braden Quartermaine
News.com.au
2007-04-09 05:36:00

A SIX-YEAR-OLD Perth boy has been kicked out of his Year 1 class for allegedly sexually harassing a girl he sat next to.
Jonathan Townsend is believed to be the youngest person in WA ever accused of sexual harassment.


Despite denying everything, he has been removed from his class at Bramfield Park Primary School in Maddington after the girl's parents complained to the school principal.


Jonathan's mother, Veronica, is outraged. She says her son doesn't even know what sex is.


The girl alleged Jonathan touched her inappropriately in class and made inappropriate sexual suggestions.


Comment on this SOTT Focus

---

Air India plane makes emergency landing at Delhi airport


IANS
2007-04-09 05:33:00

A Shanghai-Bangkok-Delhi flight of Air India (AI) made an emergency landing Monday after its landing gear collapsed at Delhi's Indira Gandhi International Airport.


"The AI flight coming from Bangkok landed here at 6.28 a.m. under full emergency. All 169 passengers are safe," a senior airport official told IANS.


The passengers and flight crew are currently being examined by a team of doctors.


Comment on this SOTT Focus

---
Big Brother
---
UK: Schoolchildren to be fingerprinted in Big Brother-style shake-up

James Slack
Daily Mail
2007-04-09 09:41:00

Up to 5.9million children face having their fingerprints taken by schools in another move towards a 'Big Brother' society.


Pupils will have to hand over their biometric details simply to borrow library books or gain access to school dinners.


A million children's fingerprints are believed to have been taken already, some without parental approval and even by 'con tricks' such as pretend spy games.


Freedom of Information data obtained by the Tories reveals a further 4.9 million sets of prints could now be added to school computers after the vast majority of local education authorities sanctioned the practice.


Critics say it is part of a 'softening-up' exercise to condition children to accept a creeping surveillance society. They also point to the danger of identity theft, if hackers manage to access school databases.


Comment on this SOTT Focus

---

End of Childhood: Police order boy, 5, to stop chalking hopscotch 'graffiti' on the street

David Wilkes
Daily Mail
2007-04-09 09:38:00

A boy of five playing hopscotch with friends looked up to find himself confronted by two police officers.


They ordered Ryan Badland and his five playmates to stop because chalking the grids on the road in their quiet cul-de-sac was "graffiti".


"I couldn't believe it," said Ryan's mother Lisa, 30, at their home in Burnham-on-Sea, Somerset.


Comment on this SOTT Focus

---
Axis of Evil
---
A Jewish Plea: How Can Children of the Holocaust Do Such Things?

Sara Roy
CounterPunch
2007-04-08 10:52:00

We have nothing to lose except everything.

Albert Camus

During the summer my husband and I had a conversion ceremony for our adopted daughter, Jess. We took her to the mikvah, a Jewish ritual bath where she was totally submerged in a pool of living water -- living because it is fed in part by heavenly rain -- and momentarily suspended as we are in the womb, emerging the same yet transformed. This ritual of purification, transformation and rebirth is central to Judaism and it signifies renewal and possibility.

Comment on this SOTT Focus

---

Collapsing US economy or historical quagmires? What will start or prevent a new war in the Middle East? Russian experts differ.

Alexander Sargin
Gazeta, p. 4
2007-04-09 10:33:00

Opinions of experts about a possible war of the US with Iran are split. Some say that there will be a war and some others say that there will be no war.


Comment on this SOTT Focus

---

Troops are dying in Iraq for a 'doomed project'

Paul Bignell and Ian Griggs
The Independent
2007-04-09 08:08:00

A former captain in the Scots Guards who has served in Afghanistan and Iraq describes both operations as a political and military shambles in a book to be published next week.

Comment on this SOTT Focus

---

Zionists' slaves: Senate Will Keep Paying for Iraq


Asociated Press
2007-04-09 05:30:00

The Senate will not stop paying for the Iraq war or relent from insisting that President Bush keep pressing the Baghdad government for a negotiated end to the violence, a top Democrat said Sunday.


Michigan Sen. Carl Levin, the Senate Armed Service Committee chairman, took issue with an effort by Majority Leader Harry Reid to cut off money for the war next year as a way to end U.S. involvement.


"We're not going to vote to cut funding, period," Levin said. "But what we should do, and we're going to do, is continue to press this president to put some pressure on the Iraqi leaders to reach a political settlement."


Comment on this SOTT Focus

---

Russian general says U.S. continues preparations for military action against Iran


Interfax-AVN
2007-04-08 19:17:00

The release of the 15 British sailors and marines captured by Iran has robbed the U.S. of a pretext to attack Iran, but the U.S. has not given up plans to attack Iran militarily, said Col. Gen. Leonid Ivashov, president of the Academy for Geopolitical Problems, a Russian think tank.

"Preparations to strike Iran's strategic facilities continue. Three major groups of U.S. forces are still in the Arabian Sea and the Persian Gulf. Altogether, they have up to 450 cruise missiles on alert," the general told Interfax-AVN.

Comment on this SOTT Focus

---

Propaganda Alert! Iranians Behind Sept. 11 Attacks: Rudy Giliani


New York Times
2007-04-08 19:01:00

Giuliani Says Nation at War Requires Him

As Rudolph W. Giuliani introduced himself to primary voters this week, he rarely talked about the details of New York's darkest day.

But Sept. 11 was a constant backdrop, and as Mr. Giuliani promoted his vision of a forceful foreign policy that calls for the United States to continue slugging it out in Iraq, he let his audiences know that his was an outlook forged by fire.

Comment on this SOTT Focus

---
Middle East Madness
---
Britain suspends Persian Gulf patrols


Press TV
2007-04-09 15:42:00

Britain has talked of suspending all its patrolling operations in the northern Persian Gulf, following Iran's capture of 15 British sailors.


Comment on this SOTT Focus

---

US accused of using neutron and phosphorus bombs in Iraq


Al Jazeera
2007-04-09 14:11:00

The former commander of Iraq's Republican Guard has accused the US of using non-conventional weapons in its war against the Middle East country.

Saifeddin Fulayh Hassan Taha al-Rawi told Al Jazeera that US forces used neutron and phosphorus bombs during their assault on Baghdad airport before the April 9 capture of the Iraqi capital.

Comment on this SOTT Focus

---

"Surge" has made Baghdad deadlier for US troops

ALISSA J. RUBIN and EDWARD WONG
New York Times
2007-04-09 12:30:00

For American troops, Baghdad has become a deadlier battleground as they have poured into the capital to confront Sunni and Shiite militias on their home streets. The rate of American deaths in the city over the first seven weeks of the security plan has nearly doubled from the previous period, though it has stayed roughly the same over all, decreasing in other parts of the country as troops have focused on the capital.

Comment on this SOTT Focus

---

Iran releases more video of British navy crew playing chess, watching TV


Canadian Press
2007-04-09 10:07:00

Iran released more video Sunday of the captured British navy crew that shows them playing chess and watching television three days after the sailors returned home after being held in Iran for nearly three weeks.

The video clips, which were briefly aired on Iran's state-run Arabic satellite TV channel Al-Alam, did not include sound but showed several of the sailors and marines dressed in track suits playing chess and table tennis. Other short clips showed some of the crew watching soccer on TV and eating at a long dining table that had vases filled with flowers on it.

Comment on this SOTT Focus

---

Anti-US protest in Iraq, Baghdad under curfew


Reuters
2007-04-09 05:56:00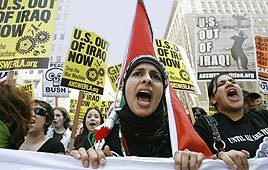 ©afp




Baghdad was under curfew on Monday, the fourth anniversary of the fall of the capital to US forces, as Iraqis streamed to the city of Najaf for a big anti-US protest called by fiery cleric Moqtada Al Sadr.


"No, no to America, yes, yes to Moqtada," thousands of marching Iraqis, mainly men and young boys waving Iraqi flags, chanted as they marched through the Shi'ite holy southern city.


Iraq announced a 24-hour vehicle ban in Baghdad starting at 5 a.m. (0100 GMT) to prevent car bombers launching attacks on the anniversary. Thousands of US and Iraqi troops are sweeping through the capital in a new security crackdown.


Sadr, who blames the US-led invasion for Iraq's unrelenting violence, issued a statement on Sunday urging Iraqis to protest against the presence of US troops in Iraq.


Comment on this SOTT Focus

---

Israel doesn't want peace

Gideon Levy
Haaretz
2007-04-08 19:19:00



The moment of truth has arrived, and it has to be said: Israel does not want peace. The arsenal of excuses has run out, and the chorus of Israeli rejection already rings hollow.

Until recently, it was still possible to accept the Israeli refrain that "there is no partner" for peace and that "the time isn't right" to deal with our enemies.

Today, the new reality before our eyes leaves no room for doubt and the tired refrain that "Israel supports peace" has been left shattered.



Comment on this SOTT Focus

---
The Loan Gunmen
---
The Joke's on Us: White House says economic surge robust

Bill Sammon
The Examiner
2007-04-09 05:14:00

The White House says the economic surge that began five and a half years ago on President Bush's watch is more robust than the much-touted expansion during the Clinton administration.


"This is a much stronger expansion in a lot of ways," White House spokesman Tony Fratto told The Examiner. "It's much deeper and more measured."


Fratto's assertion was disputed by Gene Sperling, economic adviser to presidential candidate Hillary Rodham Clinton, who spoke to The Examiner in his capacity as former National Economic Adviser to President Bill Clinton.


Comment on this SOTT Focus

---

Aid flap is new threat to New Orleans rebuilding

By Gina Keating
Reuters
2007-04-08 22:22:00

NEW ORLEANS - As homes in New Orleans' flood-stricken zones inch toward habitability, a bureaucratic storm is brewing between state and federal relief agencies that could derail the city's recovery from Hurricane Katrina.


Comment on this SOTT Focus

---
The Living Planet
---
2 medium earthquakes shake Azores islands following last week's 6.3 earthquake


Associated Press
2007-04-09 13:10:00

Two medium earthquakes rattled the Azores islands within 12 hours, Portuguese weather services and the U.S Geological Survey reported.

Comment on this SOTT Focus

---

Climate change report warns of increased hunger, species extinction


Associated Press
2007-04-09 10:12:00

An international global warming conference approved a report Friday warning of dire threats to the Earth and to mankind - from increased hunger to the extinction of species - unless the world adapts to climate change and halts its progress.

Agreement came after an all-night session during which key sections were deleted from the draft and scientists angrily confronted government negotiators who they feared were watering down their findings.

"It has been a complex exercise," said Rajendra Pachauri, chairman of the Intergovernmental Panel on Climate Change.

Comment on this SOTT Focus

---

Mysterious deaths: Death toll among Caspian seals exceeds 300 in Kazakhstan


RIA Novosti
2007-04-09 05:43:00

A total of 303 seals have died for unknown reasons on the Caspian sea shore in Kazakhstan, a spokesman for the local emergencies ministry said Monday.


From March 31 through April 8 266 dead seals were washed up along the sea shore from the Kalamkas oil field to the Karazhanbas field in western Kazakhstan, with more than half of them being baby seals.


Kazakh Environmental Protection Minister Nurlan Iskakov said if oil companies were found guilty, they would be brought to justice.


Iskakov said, "[They could face] fines, penalties and the suspension of oil production until the reasons [for the large number of deaths] have been established."


He said a special commission was investigating the causes of animals' death, which could take another two weeks.


Comment on this SOTT Focus

---

'Eruption of century' dies down on Réunion


Mail and Guardian / AFP
2007-04-09 05:23:00

Ten days after violently awakening, a volcano on the Indian Ocean island of Réunion continued spewing lava on Sunday in what experts called "the eruption of the century".


But the Piton de la Fournaise volcano on eastern Réunion, a French overseas department, had lulled considerably, and residents remained out of danger.


Tourists and residents have been able to take in the sights of the smouldering lava and magma being tossed as high as skyscrapers.


"We can call it the eruption of the century," said Zacharie Duputel, a seismologist at the Volcano Observatory for the island. "We have never observed such a phenomenon."


Comment on this SOTT Focus

---

Where Have All the Bees Gone?


Fidel Castro
2007-04-08 19:12:00

And Other Reflections on the Internationalization of Genocide

Comment on this SOTT Focus

---

Atlantic Canada pummeled by Easter storm


CTV.ca
2007-04-08 17:33:00

Maritimers were digging out on Easter morning after an early-spring storm pummeled much of the region with snow.

The storm began Saturday night and delivered as much as 31 centimetres of snow and wild winds to many areas of Nova Scotia, Prince Edward Island and New Brunswick by Sunday morning.

Comment on this SOTT Focus

---
Health & Wellness
---
Smoking and Caffeine May Protect Against Parkinson's Disease


Physorg.com
2007-04-09 16:53:00

In families affected by Parkinson's disease, the people who smoked cigarettes and drank a lot of coffee were less likely to develop the disease, say researchers at Duke University Medical Center.

Comment on this SOTT Focus

---

Malaria and dysentery hit survivors of the Solomons tsunami


Radio Australia
2007-04-09 13:53:00

Medical teams in Solomon Island Western Province Gizo are fighting outbreaks of malaria and dysentery in the aftermath of the recent tsunami that hit the region.

Comment on this SOTT Focus

---

Study notes decline in male births in the US and Japan


Physorg.com
2007-04-09 12:25:00

A study published in this week's online edition of Environmental Health Perspectives reports that during the past thirty years, the number of male births has decreased each year in the U.S. and Japan.

Comment on this SOTT Focus

---

Flashback: Child nearly dies from smallpox vaccine infection


AP
2007-04-08 13:04:00

A 2-year-old Indiana boy who contracted a rare and life-threatening infection from his soldier father's smallpox vaccination is recovering, a hospital spokesman said.


Comment on this SOTT Focus

---

Child Recovering From Vaccine Infection


Associated Press
2007-04-09 09:33:00

A 2-year-old Indiana boy who contracted a rare and life-threatening infection from his soldier father's smallpox vaccination is recovering, a hospital spokesman said.


Doctors have relied on some untested measures to save the boy's life, including skin grafts and an experimental drug that has never been used to treat a human patient, officials said. The boy's pox lesions left him with the equivalent of second-degree burns, requiring grafts to let the underlying skin heal.


"Everyone has been a little bit astonished that he has recovered as well as he has," hospital spokesman John Easton said Saturday. The boy should be should be upgraded to serious from critical condition soon, he added.


Comment on this SOTT Focus

---
Science & Technology
---
Angling for the best knot

Hamish Johnston
PhysicsWeb
2007-04-09 05:08:00

As any experienced angler will know, some knots are better than others -- but exactly why a "blood knot" should be stronger than, say, a "reef knot" is far from clear. Now, physicists in Japan have tried to unravel this mystery by carrying out the first experiments into how fishing lines with knots in them actually break. Surprisingly, it turns out that some knots that are strong when made using traditional nylon fishing line are in fact the weakest when made in a more modern material called PVDF


Determining exactly where a knot breaks in a material is not easy. First, the shape of the knot changes as it is tightened. Second, it is difficult to watch how the broken strands recoil, which takes place very quickly. Third, most knots unravel after breaking, making it hard to reconstruct a broken knot.


Comment on this SOTT Focus

---

Physicists take a crack at rocks

Hamish Johnston
PhysicsWeb
2007-04-09 05:05:00

Sandstone and granite are very different types of rock, so it might come as a surprise that both materials appear to crack in the same way -- at least according to physicists in Canada and Germany who have measured the sounds given off by rocks before they shatter. What's even more curious is that sounds from the small samples of rock studied by the group have similar characteristics as those detected after an earthquake, suggesting cracking is a universal process that occurs in many different materials over a wide range of size and time scales


Humans have been cracking rocks for at least one million years - first to make tools and then to quarry and shape building materials. While both stone-age toolmakers and modern-day mechanical engineers have developed a practical understanding of the cracking process, a microscopic theory of cracking has remained elusive. The problem is that most rocks are made of grains that come in many different shapes and are arranged in many different ways. This makes it very difficult to predict when and where a crack will begin and how it will propagate.


Comment on this SOTT Focus

---
Our Haunted Planet
---
No new articles.
Don't Panic! Lighten Up!
---
The Perfect Bacon Buttie


Sky News
2007-04-09 11:21:00

Scientists believe they have come up with a formula to create the perfect bacon buttie.


The two most important aspects are crispiness and crunchiness, according to a new study.


It revealed the crunching sound while eating rashers should ideally measure 0.5 decibels.


They should also break when 0.4 Newtons of force is applied through chewing, the researchers said.


Butties were tested using a high-tech computer that measures food texture, while panels of 50 volunteers judged the butties for taste, texture and flavour.


Comment on this SOTT Focus

---

The Horror! One of the Released Marines says: "I was tortured! They gave me a fake Hugo Boss shirt!"

Chris Hughes
Mirror
2007-04-09 11:14:00

The gifts the Iranians gave the crew were a load of junk - and nothing in comparison to what they stole, including Arthur Batchelor's iPod, he said yesterday.


Before their release the Brits were given shabby grey three-piece suits made by a local designer and a fake Hugo Boss shirt.


They also got a "granny bag" full of tat including toffees with a label saying "containing pistachio", a CD and DVD that don't work and 11 books.


These were in English and mostly aimed at trying to convert the reader to Islam with titles like Youth and Morals by Sayid Lari.


Comment on this SOTT Focus

---

Can this note stamp out corruption in a land where it's the norm?

Ashling O'Connor
The Times
2007-04-09 05:27:00

In the secret language of corruption in India, an official expecting a bribe will ask for Mahatma Gandhi to "smile" at him. The revered leader of the independence movement is on all denominations of rupee notes.


With rampant dishonesty ingrained in the bureaucratic culture, an anticorruption group has decided to interpret the euphemism literally by issuing a zero-rupee note.


A direct copy of the 50-rupee note, including Gandhi's portrait, it is designed to be handed out to officials who demand backhanders.


In the place of the usual promise of redemption by the central bank governor, the new pledge is: "I promise to neither accept nor give bribe."


Comment on this SOTT Focus

---

Easter Bunny Arrested, Charged With Stealing


NewsNet5
2007-04-08 14:43:00

COLUMBUS, Ohio -- Police said an 18-year-old who worked as the Easter Bunny at a northwest Columbus mall allegedly stole a woman's credit card and used it while on the job.

Comment on this SOTT Focus

---
---

Remember, we need your help to collect information on what is going on in your part of the world!
Send your article suggestions to: sott(at)signs-of-the-times.org

---
Click here to return to the Signs of the Times Archive
Click here for today's Signs Page