---
Sections on today's Signs Page:
---
SOTT Focus
---
No new articles.
Best of the Web
---
The Racist War on Immigrants

Stephen Lendman
sjlendman.blogspot.com
2007-03-29 12:04:00



Emma Lazarus' memorable words on Lady Liberty's pedestal once had meaning as a new nation grew. No longer in a country hostile to the tired, the poor, the huddled masses, the wretched refuse, the homeless and many others not making the grade in a white supremacist Judeo-Christian state worshiping wealth and privilege. No welcome sign is out for the unwanted poor and desperate. At best, they're ignored to subsist on their own. At worst, they're scorned and abused, exploited and discarded like trash or labeled "terrorists" in a post-9/11 world of mass witch-hunt roundups aimed at Muslims because of their faith or country of origin and Latinos coming north to survive the fallout from NAFTA's destructive effects on their lives.

Comment on this SOTT Focus

---

Video: Israeli occupation forces attack Palestinian civilians


IMEMC & Agencies
2007-03-27 18:04:00



The Palestinian Minister of Information, Dr. Mustafa Barghouthi, presented in a press conference in the central West Bank city of Ramallah, a video tape showing Israeli soldiers releasing their dogs on a Palestinian woman at a checkpoint near Bethlehem, and another tape showing Israeli soldiers abusing a Palestinian man at a Nablus checkpoint.


Comment on this SOTT Focus

---
U.S. News
---
Independent Investigators Release Suppressed Blueprints of Destroyed World Trade Center Tower


PRWEB
2007-03-29 15:07:00

A coalition of independent 9/11 investigators and journalists today announced the online publication of a set of original blueprints of the North Tower of the World Trade Center. The set is composed of over 200 never-before-published drawings, including plans, elevations, and details, given to physicist Dr. Steven E. Jones by an individual interested in a more complete analysis. Groups presenting the plans include Scholars for 9/11 Truth and Justice, 9-11 Research, and Architects and Engineers for 9/11 Truth. A multi-resolution drawing viewer for the blueprints is located at 9-11 Research (911research.wtc7.net).

Comment on this SOTT Focus

---

Prosecutor Purge Scandal: Ex-aide sez Gonzales, Miers OKed firings

Laurie Kellman
Associated Press
2007-03-29 13:56:00

WASHINGTON - Attorney General Alberto Gonzales and President Bush's former counsel approved the firings of eight federal prosecutors, Gonzales' one-time chief of staff told the Senate Judiciary Committee Thursday.


Comment on this SOTT Focus

---

Prosecutors Fired for Not Backing Bush


Associated Press
2007-03-29 07:53:00

Eight federal prosecutors were fired last year because they did not sufficiently support President Bush's priorities, Attorney General Alberto Gonzales' former chief of staff says in remarks prepared for delivery Thursday to Congress.


Separately, the Justice Department admitted Wednesday it gave senators inaccurate information about the firings and presidential political adviser Karl Rove's role in trying to secure a U.S. attorney's post for one of his former aides, Tim Griffin.


In a letter accompanying new documents sent to the House and Senate Judiciary committees, Justice officials acknowledged that a Feb. 23 letter to four Democratic senators erred in asserting that the department was not aware of any role Rove played in the decision to appoint Griffin to replace U.S. Attorney Bud Cummins in Little Rock, Ark.


Comment on this SOTT Focus

---

Woman Defends Lover (Psycopath) in Hit-Man Trial

FRANK ELTMAN
Associated Press
2007-03-29 00:32:00

RIVERHEAD, N.Y. - A woman whose boyfriend is accused of trying to have her killed testified in his defense Wednesday and said that despite a court-imposed order of protection, she continues to visit him and is working to have him vindicated.



"Because I love him,"

Sherry Nohar said of her reasons for defending Kabeer Din, a former Baltimore police officer and New York Police Department recruit who was arrested last summer after meeting with an undercover police officer he thought was a hit man to discuss killing Nohar for $3,000.

Comment on this SOTT Focus

---
UK & Euro-Asian News
---
Young Psychopaths: Teenagers committed 37 murders in Khabarovsk Territory last year


RIA Novosti
2007-03-29 08:11:00

Underage killers committed up to 37 murders in the Khabarovsk Territory in Russia's Far East last year, the head of the local police unit charged with youth affairs said Thursday.


"Seventy-eight percent of the children who have committed especially serious offenses come from families we might call well-off," Dimitri Savin told a press conference.


He cited the example of four adults killed in the village of Chegdomin by drunken teenagers to whom the victims had refused to give money for more alcohol.


Comment on this SOTT Focus

---

Once a spy: Kollek was British informer

Ronen Bergman
Ynet
2007-03-29 07:45:00

Teddy Kollek, the legendary mayor of Jerusalem, lent a hand to the British authorities in their 1940s in their crackdown against right-wing underworld movements that sought to drive the British out of Palestine, secret MI5 documents have shown.


Kollek, who died three months ago, supplied the British intelligence agency with information about the activities Irgun and Stern Gang.


Beyond intelligence about the clandestine activities of the two groups, Kollek tried to help the British capture one of their most wanted men: Irgun leader Menachem Begin.


Begin commanded Irgun from 1944 and 1948.


Comment on this SOTT Focus

---
Around the World
---
No new articles.
Big Brother
---
UK: Mind how you walk. It could be a crime

Philip Johnston
Telegraph
2007-03-28 21:52:00

Later today, the Commons home affairs select committee will announce it is to conduct an inquiry into the growth of surveillance in Britain. It is tempting to say this is not before time, but it is probably too late if the aim is to have any influence over policy.

Comment on this SOTT Focus

---
Axis of Evil
---
Russian-Israeli billionaire indicted in France for arms trafficking

Seffie Hendler
Ynetnews.com
2007-03-29 17:22:00

Russian-Israeli billionaire to stand trial in France for allegedly selling heavy weaponry to Angolan president during country's 27-year civil war. Prosecutors claim that the arms sales totaled nearly $791 million

Comment on this SOTT Focus

---

Financial irregularities in the World Jewish Congress

Isi Leibler
The Jerusalem Post
2007-03-28 16:47:00

Almost three years have passed since I became aware of serious financial irregularities within the World Jewish Congress (WJC) and called for an independent audit.

My proposal was not merely rebuffed but together with those who supported my request, I was censured, demonized and ultimately forced out of the organization.

The cover-up was ruthless and brutal. I still remember the anonymous posters plastered throughout Jerusalem calling on Jews to place me in excommunication from the community.

But ultimately truth prevailed.

Comment on this SOTT Focus

---

Greenpeace reveals dangers of Israel's nuclear facilities

Shelly Paz
The Jerusalem Post
2007-03-29 16:36:00

The Dimona nuclear research center includes a heavy water reactor for producing plutonium or tritium, a facility to reprocess plutonium, another to reprocess uranium and create nuclear fuel, and yet another to enrich uranium, as well as storage for nuclear waste, according to Greenpeace.



Comment on this SOTT Focus

---

U.S. rejects Saudi view of Iraq as occupied

Steve Holland
Reuters
2007-03-29 16:30:00

WASHINGTON - The United States on Thursday rejected Saudi Arabia's charge that Iraq is under an "illegitimate foreign occupation" and said U.S. troops are there at Iraq's invitation, under a U.N. mandate.

"It is not accurate to say that the United States is occupying Iraq," said White House spokeswoman Dana Perino.

The cross-fire reflected growing differences between the two long-time allies at a time when the Saudis are taking on a greater leadership role in the Middle East.

Saudi King Abdullah surprised Washington on Wednesday by telling an Arab summit that, "In beloved Iraq, blood flows between brothers in the shadow of illegitimate foreign occupation and hateful sectarianism, threatening a civil war."

Perino said the United States and Saudi Arabia have a close and cooperative relationship but made clear the Bush administration did not agree with the king's statement.

"When it comes to the coalition forces being in Iraq, we are there under the U.N. Security Council resolutions and at the invitation of the Iraqi people," she said.

Undersecretary of State Nicholas Burns, testifying before the Senate Foreign Relations Committee, acknowledged the administration was "a little surprised to see those remarks" and would seek clarification from the Saudis.

He said it was possible the king's comments might have been misinterpreted as a result of translation problems or could have been misreported by the media but expressed confidence the episode would not disrupt cooperation between Washington and Riyadh.

Asked whether the United States was worried by Abdullah's statement, State Department spokesman Sean McCormack said Washington was operating well within the boundaries of international law and under U.N. Security Council resolutions in Iraq.

"We want to understand what the thinking is behind it," said McCormack of the king's statement.

He said the United States had encouraged Saudi Arabia to increase its involvement in Iraq.

Iraq's government was also concerned.

"We differ with his majesty on this ... This presence is sanctioned by the international community and Security Council resolutions and with consent and support of Iraqi people and Iraqi government," Iraqi Foreign Minister Hoshiyar Zebari told Reuters in Riyadh.

"Nobody will gain anything by Iraq's failure. This attitude of simply being a spectator is not helpful," Zebari said.

The king's speech was only the latest sign of a split between Washington and its key oil supplier and traditional Middle East ally.

Last month, Saudi Arabia played host in Mecca to talks that led to an agreement between the Islamist group Hamas and the Fatah group of U.S.-backed Palestinian President Mahmoud Abbas to form a unity government to end Palestinian infighting.

The agreement caused problems for Washington because it enhanced the status of Hamas, which the Bush administration sees as a terrorist organization. (Additional reporting by Sue Pleming and Carol Giacomo in Washington and Andrew Hammond in Riyadh)



Comment on this SOTT Focus

---

German minister defends self over Guantanamo case

Louis Charbonneau
Reuters
2007-03-29 16:24:00

BERLIN - Germany's foreign minister denied on Thursday he had caused an innocent German-born Turk to be imprisoned for years at the U.S. Guantanamo Bay prison.

Frank-Walter Steinmeier was testifying for the second time before a special parliamentary committee set up to investigate German cooperation with the U.S. "war on terror" after Sept. 11, 2001. He is battling opposition demands that he resign.

Comment on this SOTT Focus

---

In the service of the Jewish state

Shraga Elam and Dennis Whitehead
Haaretz
2007-03-29 14:29:00

"The whole story is very reminiscent of the Lavon Affair of the 1950s, except that fortunately for them the 1948 plan was not implemented, apparently thanks to the Egyptian princess."

Comment on this SOTT Focus

---
Middle East Madness
---
Saudi King calls U.S. occupation of Iraq 'illegitimate'!

Hannah Allam and Miret El-Naggar
McClatchy Newspapers
2007-03-29 14:06:00

RIYADH, Saudi Arabia - Saudi Arabia's King Abdullah, one of the United States' closest Arab allies, called the American presence in Iraq illegitimate Wednesday as he opened a two-day Arab League summit.


Comment on this SOTT Focus

---

Blair: Britain won't negotiate with Iran. Therefore Britain IS negotiating with Iran

Staff
Associated Press
2007-03-29 13:47:00

LONDON - Prime Minister Tony Blair said Thursday that Britain would not negotiate over British sailors and marines held hostage by Iran. In an interview with ITV News, Blair again called for the unconditional return of the 15 Royal Navy personnel who were seized by Iranian authorities last week.


Comment on this SOTT Focus

---

Dozens Killed in Revenge Attack in Iraq

KIM GAMEL
Associated Press
2007-03-28 22:16:00

BAGHDAD - Shiite militants and police enraged by deadly truck bombings went on a shooting rampage against Sunnis in a northwestern Iraqi city Wednesday, killing as many as 70 men execution-style and prompting fears that sectarian violence was spreading outside the capital.

Comment on this SOTT Focus

---
The Loan Gunmen
---
I Was a Cybercrook for the FBI

Kim Zetter
Wired
2007-03-29 17:15:00

It was November 2002, and Thomas, then a 44-year-old Texan, was in Washington to collect more than $30,000 in merchandise that a Ukrainian known as "Big Buyer" ordered from Outpost.com with stolen credit card numbers. His job was to collect the goods from a mail drop, fence them on eBay and wire the money to Russia, pocketing 40 percent of the take before moving to another city to repeat the scam.

But things didn't go as planned.

Comment on this SOTT Focus

---

TJ Maxx Parent Company Data Theft Is The Worst Ever

Larry Greenemeier
InformationWeek
2007-03-29 17:08:00

The intrusion hands the retailer the dubious honor of surpassing the 40 million stolen customer record mark, something that only CardSystems had been able to achieve.

Comment on this SOTT Focus

---

Income Gap Widest Since 1929

By DAVID CAY JOHNSTON
NY Times
2007-03-29 16:16:00

Income inequality grew significantly in 2005, with the top 1 percent of Americans - those with incomes that year of more than $348,000 - receiving their largest share of national income since 1928, analysis of newly released tax data shows.

The top 10 percent, roughly those earning more than $100,000, also reached a level of income share not seen since before the Depression.

Comment on this SOTT Focus

---

Circuit City to Cut More Than 3,500 Jobs

MAE ANDERSON and ELLEN SIMON
Associated Press
2007-03-28 21:30:00

NEW YORK - A new plan for layoffs at Circuit City is openly targeting better-paid workers, risking a public backlash by implying that its wages are as subject to discounts as its flat-screen TVs.



Comment on this SOTT Focus

---
The Living Planet
---
Flashback: Tornadoes are Earth's most violent storms


USAToday
2006-09-12 16:45:00

Tornadoes are the most violent storms on Earth. Winds spiraling into them usually exceed 100 mph and can reach speeds of 300 mph. In the USA, an average of 1,000 tornadoes spin up beneath thunderstorms each year, and these typically kill about 60 people.

Tornadoes and the threat of tornadoes are a key part of the USA's spring weather because spring brings favorable tornado conditions. But tornadoes can occur any time of the year, during the day and at night.

Comment on this SOTT Focus

---

65 Tornadoes - One As Wide as Two Football Fields - Kills 4 in 3 States

By ROCHELLE HINES
Associated Press
2007-03-29 16:20:00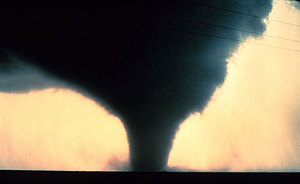 ©NOAA Photo Library



OKLAHOMA CITY - A tornado as wide as two football fields carved a devastating path through an eastern Colorado town as a massive spring storm swept from the Rockies into the Plains, killing at least four people in three states, authorities said Thursday.

Sixty-five tornadoes were reported in Oklahoma, Texas, Kansas, Colorado and Nebraska on Wednesday, the National Weather Service said.

Comment on this SOTT Focus

---

Strong Storm Brings Tornadoes to Plains

ANDALE GROSS
Associated Press
2007-03-29 10:22:00

KANSAS CITY, Mo. - Residents of the Plains states huddled for cover early Thursday as a major storm system that has killed at least two people moved through the region, bringing heavy snow and tornadoes to some areas.

Severe weather warnings and watches were in effect from South Dakota to Texas, as authorities warned residents to stay alert for tornado warnings.



Comment on this SOTT Focus

---

Models play important role in understanding extreme weather


University of Alaska Fairbanks / EurekAlert
2007-03-29 08:17:00

Weather is a hot topic here in Interior Alaska and a quick way to get anyone talking. Not a day goes by in winter months without some observations of temperatures, air inversions, or even a mention that the sun budged another degree above the horizon.


When it comes to predicting weather events, however, particularly the extreme events - such as harsh winds, impact from massive wildfires or ash resulting from volcanic eruptions - those who work in the field face many challenges in creating models specific for Alaska's unique environment.


Comment on this SOTT Focus

---

Scientists find that lightning is good indicator of volcanic activity


EurekAlert
2007-03-29 08:16:00

Although it's been more than a year since Mount Augustine had its memorable eruption, work continues for University of Alaska Fairbanks researchers. The work of Alaska Volcano Observatory employees from UAF's Geophysical Institute will be appearing in the upcoming issue of the journal Science.


The article, which came out on Feb. 23, documents electrical activity that occurred during the January 2006 eruption of Mount Augustine. While it has long been known that volcanic eruptions can produce vigorous lightning, there are few direct observations of the phenomena, states the article. Following the initial eruptions of Jan. 11 and 13, 2006, two of which produced lightning, two electromagnetic lightning detectors were set up in Homer about 60 miles from Augustine. A couple of days later, the volcano erupted again, with the first of four eruptions producing a "spectacular lightning sequence."


Comment on this SOTT Focus

---

Two volcanoes emitting lava and gas in Russian Far East


RIA Novosti
2007-03-29 08:13:00

Mount Klyuchevskaya has started emitting lava on the Kamchatka Peninsula and another volcano in Russia's Far East, Shiveluch, spewed out gas and ash, a local geophysics service said Thursday.


Klyuchevskaya, one of the world's highest active volcanoes, rising to a height of 4,750 meters (15,584 feet), is emitting lava at an altitude of 4,200-4,300 meters (about 14,000 feet), the service said.


"The authorities should warn people about a possible danger and take proper security measures," said Alexei Ozerov, a senior seismology researcher, adding that the lava flow would grow more powerful.


Streams of lava with a temperature of about 1,100 C( (2,012 F() are encountering ice caps, producing powerful explosions of vapor. Experts are warning of devastating mudflows that can reach 500 meters (1,640 feet) in width and can descend the volcano's eastern slopes.


Comment on this SOTT Focus

---
Health & Wellness
---
Alzheimer's vaccine works on mice: Japan scientist

Staff
Reuters
2007-03-29 15:00:00

Japanese scientists have developed an oral vaccine for Alzheimer's disease that has proven effective and safe in mice, the director of a research institute behind the project said on Thursday.

The team is preparing to move to small-scale clinical trials in humans, possibly this year, said Takeshi Tabira, director of the National Institute for Longevity Sciences in Aichi, central Japan.


Comment on this SOTT Focus

---

Flashback: Cheap, 'safe' drug kills most cancers

Andy Coghlan
NewScientist.com
2007-01-20 12:12:00

IT SOUNDS almost too good to be true: a cheap and simple drug that kills almost all cancers by switching off their "immortality". The drug, dichloroacetate (DCA), has already been used for years to treat rare metabolic disorders and so is known to be relatively safe. It also has no patent, meaning it could be manufactured for a fraction of the cost of newly developed drugs.

Comment on this SOTT Focus

---

Cancer therapy: When all else fails? Or maybe try this first.

Linda Geddes
Newscientist
2007-03-29 11:20:00

Lawrence Burgh has a sober outlook on life. A 48-year-old physician whose career has centred on treating seriously ill patients, Burgh was diagnosed with cancer in December 2006. Yet despite his clinical experience, he has taken an extraordinary step to try to rid himself of his illness, a step many would consider to be a medical heresy.

Comment on this SOTT Focus

---

Where's Your Pain? New Insights Into How The Brain Processes Pain Location


Science Daily
2007-03-29 08:29:00

Is that pain in your chest a heart attack or indigestion? New research from Wake Forest University School of Medicine reveals that more areas of the brain than previously thought are involved in determining the location of pain.


Spatial aspects of pain are a common problem in diagnosis, said Robert Coghill, Ph.D., senior researcher on the study and a neuroscientist at Wake Forest University School of Medicine. Patients cannot always distinguish pain from indigestion and pain from a heart attack, for example. Pain from a nerve injury is often felt at sites other than at the injury. And, in some cases, an injury on one side of the body results in pain on both sides.


"The scientific understanding of spatial aspects of pain is so limited that patients with widespread pain may get sent to a psychiatrist rather than a pain clinic," said Coghill.


Comment on this SOTT Focus

---

Smokers make poorer military slaves


EurekAlert
2007-03-29 08:21:00

Smokers perform worse at work than non-smokers, finds a study of US navy female service members published in Tobacco Control .


Smokers were also more likely to have a less than honourable discharge, to be demoted, to desert, and to earn less than their non-smoking colleagues, the study showed.


Historically, the prevalence of smoking among US military personnel has been higher than among civilians, say the authors. After a period of decline, smoking rates have once more started to climb.


There are currently around 59,000 women serving in the US Navy.


The findings are based on an analysis of the career progression of almost 5,500 women entering the US Navy over a period of 12 months between 1996 and 1997.


Comment on this SOTT Focus

---

Exercise Makes You Stronger, Faster, Smarter - Even Rejuvenates You!

By Mary Carmichael
NewsWeek
2007-03-29 06:28:00

The stereotype of the "dumb jock" has never sounded right to Charles Hillman. A jock himself, he plays hockey four times a week, but when he isn't body-checking his opponents on the ice, he's giving his mind a comparable workout in his neuroscience and kinesiology lab at the University of Illinois.

Nearly every semester in his classroom, he says, students on the women's cross-country team set the curve on his exams. So recently he started wondering if there was a vital and overlooked link between brawn and brains - if long hours at the gym could somehow build up not just muscles, but minds.

Comment on this SOTT Focus

---
Science & Technology
---
Attention span and reasoning may get higher marks than intelligence, especially in math

Christie Nicholson
Scientific American
2007-03-29 08:26:00

Turns out that sheer intelligence is not enough to become a young math whiz. It also takes a good attention span and training your mind to "self regulate" or focus on the task at hand.


The measure for academic success for decades has been a person's intelligence quotient, or IQ. But new research published in the journal Child Development says that a thought process called "executive functioning," which governs the ability to reason and mentally focus, also plays a critical role in learning, especially when it comes to math skills.


Comment on this SOTT Focus

---

Could USA presidential DNA trail reveal Middle-Eastern origins?


University of Leicester / EurekAlert
2007-03-29 08:23:00

DNA testing carried out by University of Leicester geneticists and funded by The Wellcome Trust has thrown new light on the ancestry of one of the USA's most revered figures, the third President, Thomas Jefferson.


Almost 10 years ago, the University of Leicester team, led by Professor Mark Jobling, together with international collaborators, showed that Thomas Jefferson had fathered at least one of the sons of Sally Hemings, a slave of Jefferson's.


The work was done using the Y chromosome, a male-specific part of our DNA that passes down from father to son. Jefferson carried a very unusual Y chromosome type, which helped to strengthen the evidence in the historical paternity case.


Comment on this SOTT Focus

---

Quantum lottery is your best bet

Jon Cartwright
PhysicsWeb
2007-03-29 07:42:00

Convinced the balls are always against you when you play the lottery? Then why not bet on radioactive decay in the "quantum lottery", a game invented by a university student in the UK.


Like it or loathe it (and Einstein famously loathed it), quantum processes such as radioactive decay are innately random. But in spite of its weirdness, over the past 80 years physicists have got to grips with the randomness to produce an ever-growing list of proven technology.


None can be so fun, however, as the "quantum lottery", a project devised by final-year physics student Jaspal Jutla at the University of Southampton. The idea is to invite non-scientists from all backgrounds, young and old, to take bets on the decay of a radioactive sample. Jutla hopes this will encourage participants to think about some of the philosophical aspects of quantum mechanics that have emerged over the years. "It's an area of physics that is extremely fascinating and has many unanswered questions," she told Physics Web. "It can also be fun because it urges the participant to use their imagination."


Comment on this SOTT Focus

---
Our Haunted Planet
---
Geologists find meteorite on Panama beach


Xinhua
2007-03-29 10:26:00

PANAMA CITY, Feb. 28 (Xinhua) Panamanian geologists have found an meteorite at Rio Hato, a coastal town west of the capital Panama City.

Comment on this SOTT Focus

---

Flashback: We see ball of fire in night sky: 10 pilots overflying India report to ATCs

Pranab Dhal Samanta
The Sunday Express
2007-03-29 09:38:00

NEW DELHI, MARCH 3:Civil Aviation authorities are baffled by reports from at least 10 aircraft overflying India that they had seen a "ball of fire" in the air, about 300 nautical miles south west of Delhi, which is somewhere over Gujarat.

Comment on this SOTT Focus

---

Airliner Almost Hit: It was a meteorite, not a satellite, says Russia


Sydney Morning Herald
2007-03-29 09:19:00

A Chilean jetliner approaching New Zealand came within 20 seconds of being hit by blazing objects hurtling down to Earth, New Zealand aviation officials say.

US space officials said today it was most likely a close encounter with a disintegrating meteor, denying assertions from New Zealand officials that the LAN Chile plane narrowly missed being blasted by Russian space debris that was returning to Earth ahead of schedule.

Comment on this SOTT Focus

---

Silvis woman claims to have seen a UFO

Anthony Watt
Quad Cities
2007-03-29 07:32:00

At first, she thought what she was seeing was something ordinary.


"As I pulled out of my driveway, I noticed it," Theresa Sinclair, 58, Silvis said. "I thought it was an airplane that was very low."


It was about 6:30 a.m. March 23, and Ms. Sinclair was on her way to her job at the Rock Island Arsenal. What she saw through the open window of her car was a triangular shape in the sky, with bright red, green and white lights along its edges, outlining the shape.


When Ms. Sinclair first saw it, the triangle appeared to be over a high-rise building at the intersection of 10th Street and Crosstown Avenue. She couldn't say what distance it actually was away from her, but it appeared big.


Comment on this SOTT Focus

---

Flashback: More Cracked Windshields: Vietnamese jet makes emergency landing in Azerbaijan


The Associated Press
2007-01-15 06:38:00

A Vietnam Airlines jet with 307 people on board made an emergency landing at the main airport in Azerbaijan's capital, Baku, airport officials said. Nobody was hurt.


An airport official who declined to give his name said the Boeing-777 was en route from Paris to Hanoi when the crew decided to land because of a cracked windshield - the third time in less than two weeks that officials in Azerbaijan have cited a cracked windshield as the reason for an emergency landing at Baku's international airport.


Comment on this SOTT Focus

---

Flashback: Passenger jet forced to land in Baku, Azerbaijan due to cracked windshield


RIA Novosti
2007-01-11 06:35:00

A Tu-134 passenger jet made a forced landing Thursday in the capital of Azerbaijan due to a crack in its windshield, the country's transport police said.


"An airliner with 65 passengers and seven crew on board departed from Baku's Geidar Aliyev Airport at 14:55 local time [10:55 a.m. GMT], and due to the discovery of a crack in the windshield landed at the same airport 25 minutes later," a transport police source said.


Comment on this SOTT Focus

---
Don't Panic! Lighten Up!
---
Ten of the best April Fool's Day hoaxes: US museum


Breitbart / AFP
2007-03-29 11:06:00

From television revealing that spaghetti grows on trees to advertisements for the left-handed burger, the tradition of April Fool's Day stories in the media has a weird and wonderful history.


Here are 10 of the top April Fool's Day pranks ever pulled off, as judged by the San Diego-based Museum of Hoaxes for their notoriety, absurdity, and number of people duped.


-- In 1957, a BBC television show announced that thanks to a mild winter and the virtual elimination of the spaghetti weevil, Swiss farmers were enjoying a bumper spaghetti crop. Footage of Swiss farmers pulling strands of spaghetti from trees prompted a barrage of calls from people wanting to know how to grow their own spaghetti at home.


Comment on this SOTT Focus

---

Judge: Sex Change Doesn't End Alimony


The Guardian
2007-03-29 07:58:00

A woman's sex change operation does not free her ex-husband from his alimony obligation, a judge said Wednesday.


Attorneys for Lawrence Roach, 48, had argued his 55-year-old ex-wife's decision to switch genders and change her name from Julia to Julio Roberto Silverwolf voided their 2004 divorce agreement.


''It's illegal for a man to marry a man and it should likewise be illegal for a man to pay alimony to a man,'' said John McGuire, one of Roach's attorneys.


Circuit Judge Jack R. St. Arnold, however, ruled that in the eyes of the law, nothing changed significantly enough to free Roach from his $1,250-a-month obligation.


Comment on this SOTT Focus

---

Judge bars Bears fan from changing name to 'Peyton Manning' on bet

Staff
Associated Press
2007-03-28 21:08:00

DECATUR, Ill. - Chicago Bears fan Scott Wiese is no Peyton Manning after all.

Macon County Judge Katherine McCarthy ruled this week that Wiese can't legally call himself Peyton Manning because it would be too confusing and might infringe on the privacy of the Indianapolis Colts quarterback.


Comment on this SOTT Focus

---
---

Remember, we need your help to collect information on what is going on in your part of the world!
Send your article suggestions to: sott(at)signs-of-the-times.org

---
Click here to return to the Signs of the Times Archive
Click here for today's Signs Page