---
Sections on today's Signs Page:
---
SOTT Focus
---
Programmed to Kill

Harrison Koehli
Signs of the Times
2007-03-28 16:14:00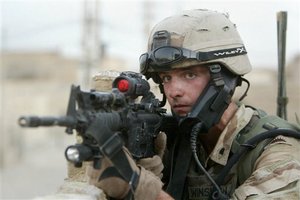 ©SpokesmanReview
Killing machine.



Having returned from Afghanistan in March of 2002, Sgt. 1st Class Rigoberto Nieves fatally shoots his wife then himself. Eighteen days later, on June 29, Master Sgt. William Wright, having returned the month before, strangles his wife to death. On July 9, Sgt. Cedric Griffin (who had yet to be deployed) stabs his wife to death. Ten days later, Sgt. 1st Class Brandon S. Floyd and his wife, Andrea, are found shot to death; another murder-suicide. All were stationed at Fort Bragg.

Comment on this SOTT Focus

---

Hacking Democracy

Henry See
Signs of the Times
2007-03-28 12:30:00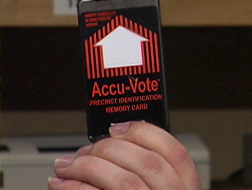 ©Hacking Democracy
A memory card that can be used to rig an election using voting computers.



What would you say if you went in to vote and found there was a man hidden behind a curtain in the voting booth. The man asks you who you want to vote for. You tell him, and he says that he has marked your ballot and put it into the ballot box. You never see the man nor see what he has marked on your ballot. You don't know if he is supporting your candidate, is against your candidate, or is neutral. You don't know if he has honestly recorded your vote or not.

Would you accept to vote under such conditions?

This is effectively what you are doing every time you vote using a computer.

Comment on this SOTT Focus

---
Best of the Web
---
No new articles.
U.S. News
---
Flashback: Fort Bragg killings raise alarm about stress

Barbara Starr
CNN.com
2002-07-22 16:11:00

WASHINGTON - The killings of four military wives in the past six weeks -- allegedly by their husbands who are based at Fort Bragg, North Carolina -- have led commanders to take a new look at whether combat deployments may be causing undue stress.

Sources at Fort Bragg, home to the Army Special Operations Command, say there's no common thread among the cases, and suggest

it may simply be an "anomaly" that so many incidents have occurred so close together

.

Comment on this SOTT Focus

---

Flashback: Fort Lewis Solider Arrested For Allegedly Killing His Wife


KOMO TV
2007-03-28 16:10:00

LAKEWOOD - An Army sergeant based at Fort Lewis who recently returned from Iraq has been booked for investigation into the death of his wife.

The 28-year-old victim, who earlier this month obtained a temporary restraining order against her husband, was found dead Wednesday in the apartment they evidently had shared for the past few days, Pierce County sheriff's Detective Ed Troyer said.

James Kevin Pitts, 31, of Sheffield Lake, Ohio, turned himself in at nearby Fort Lewis. Army officials turned him over to the county, and he was booked into the county jail late Wednesday for investigation of murder, jail records show.

Comment on this SOTT Focus

---

Flashback: Soldier arrested after police find wife's body in van


USA Today/AP
2004-06-02 16:08:00

VANCOUVER, Wash. - An Army reservist who returned from Iraq several months ago was arrested after police found his wife's body in a van near the couple's apartment.

Matthew James Denni was arrested Saturday as he camped along the Washougal River, east of Vancouver.

Comment on this SOTT Focus

---

Flashback: Soldier charged in wife's death

Hal Bernton
The Seattle Times
2005-07-05 16:04:00

Spc. Brandon Bare returned from Iraq in April, sidelined by a wound that earned him a Purple Heart.

Yesterday, the Army charged the 19-year-old Fort Lewis soldier with the premeditated murder of his 18-year-old wife.

Comment on this SOTT Focus

---

Flashback: Back From Iraq, Colorado Soldier Kills Himself, Wife


The Denver Channel
2005-08-04 16:01:00

FORT COLLINS, Colo. - A Colorado soldier who just returned from duty in Iraq fatally shot his wife and then himself, according to a Fort Carson spokesman.

Pfc. Stephen S. Sherwood, 2nd Brigade Combat Team, was with his wife at their home near Fort Collins when the shooting occurred Wednesday afternoon.

Comment on this SOTT Focus

---

Flashback: Vet charged with trying to kill wife

MICHAEL ARMSTRONG
Peninsula Clarion
2006-08-22 16:00:00

The Kenai Grand Jury last Friday indicted three Homer people - including a recent Iraq War veteran - on charges related to an alleged kidnapping and beating of a Homer woman on Aug. 6 in Homer.

Comment on this SOTT Focus

---
UK & Euro-Asian News
---
BBC fights to suppress internal report into allegations of bias against Israel

Andy McSmith
The Independent
2007-03-28 12:03:00

The BBC was in court yesterday fighting over the public's right to know. But the Corporation was not battling to bring information into the open. Instead it has paid an estimated £200,000 in legal fees to keep the report secret.

Comment on this SOTT Focus

---

Sarkozy reaps benefit from Paris riot. False flag?

Hugh Schofield
AFP
2007-03-28 11:52:00

PARIS - Right-wing French presidential candidate Nicolas Sarkozy on Wednesday defended the actions of police who used tear-gas and baton charges to control scores of rioters in a crowded Paris railway station.


Comment on this SOTT Focus

---

Russia: Father ordered contract killing of 19-year-old daughter


RIA Novosti
2007-03-28 10:27:00

Prosecutors in the Krasnoyarsk Territory in West Siberia have launched a criminal case against two ex-cons accused of the contract murder of a 19-year-old girl, the daughter of one of the men, a prosecutor's office spokesman said Wednesday.


The spokesman said the girl's grandmother reported her missing February 21, 2007. An investigation revealed that the girl's mother had earlier been deprived of her maternal rights, and that her father had never lived with the family.


A year ago the girl found her father, who had been released from jail after serving time for fraud.


Comment on this SOTT Focus

---

Smoke and Mirrors: UK to reveal GPS data in Iran clash

Ben Hall in London and Gareth Smyth in Tehran
Financial Times
2007-03-28 07:36:00

Tony Blair on Tuesday stepped up calls on Iran to free 15 naval personnel it has held since Friday, vowing a "different phase" of overt diplomatic pressure which will include publication of what London claims is proof they were seized from Iraqi waters.


The UK prime minister signalled the shift in tactics as behind-the-scenes diplomatic contacts failed to secure the release of the eight sailors and seven marines.


On Tuesday night Margaret Beckett, UK foreign secretary, cut short a visit to Turkey to return to London to make a statement to parliament on Wednesday detailing the evidence, thought to be the servicemen's co-ordinates when they were detained.


Ms Beckett spoke to Manouchehr Mottaki, her Iranian counterpart, in "robust terms", demanding immediate UK consular access to the 15 personnel and their safe and speedy return. But for the third day, ambassador Geoffrey Adams met senior Iranian officials in Tehran and was unable to gain information on where the 15 were being held or when they would be released.


Comment on this SOTT Focus

---

Judge backs motorist who drove away to avoid a parking ticket

Clare Dyer
Guardian
2007-03-28 07:09:00

What should you do if you go back to your illegally parked car and spot a traffic warden scribbling ominously? The answer seems to be jump right in and floor the accelerator, for yesterday a high court judge ruled that Transport for London could not later collect a fine from a motorist who had driven off before the warden could slap a ticket on his windscreen.


The landmark judgment applies only to London at present, but the ruling, by Mr Justice Calvert-Smith, could affect millions of motorists in the UK when planned legislation to extend the system of penalty notices by post nationwide becomes law.


Simeon Ademolake, a fashion designer and ward councillor in Newham for the Christian People's Alliance, got the £50 penalty fine notice after stopping on double red lines in Commercial Road, east London, in June 2005. He disputed the notice, sent through the post, and won his case at the Parking and Traffic Appeals Service after explaining that he told the warden "I'm driving away now" and no ticket was ever given to him or placed on his windscreen.


Comment on this SOTT Focus

---
Around the World
---
Flashback: Did 'Flawed' US intel boost North Korea's nuclear program? (Where have we heard this before?)

By Tom Regan
csmonitor.com
2007-03-05 00:50:00

The belief that North Korea has an active and "clandestine" uranium enrichment program has come under question after statements this week from US officials. The Washington Post reports that the US is now backing away from this position, which has led "experts to believe that the original US intelligence that started the crisis over Pyongyang's nuclear ambitions may have been flawed."

Comment on this SOTT Focus

---

CIA says North Korea nuclear test a failure


Reuters
2007-03-28 10:35:00

North Korea's nuclear test last October was a failure and gives no credence to Pyongyang's claim to being a nuclear weapons state, U.S. CIA Director Michael Hayden was quoted as saying by a South Korean newspaper on Wednesday.


North Korea said in October it had successfully conducted an underground nuclear test. U.S. and South Korean officials and experts have said the blast produced a relatively low-yield explosion, and some questioned the North's nuclear capability.


"The United States does not recognize North Korea as a nuclear weapons state," Hayden was quoted as saying by a South Korean defense official in the JoongAng Ilbo newspaper. "It's because the nuclear test last year was a failure."


Comment on this SOTT Focus

---

Japanese suicide website murderer sentenced to death


AFP
2007-03-28 07:04:00

A Japanese court on Wednesday sentenced to death a man who killed three people after making suicide pacts with them on the Internet.


The Osaka District Court sentenced Hiroshi Maeue, 38, to the gallows for suffocating to death the three and filming the killings.


"The crime was cruel, harsh and outrageous," presiding Judge Kazuo Mizushima said in court, according to Jiji Press.


"This was a crime aimed at fulfilling the accused's sexual desire," Mizushima said. "It is difficult for him to change these unusual characteristics. We cannot help but give the extreme penalty."


Comment on this SOTT Focus

---

Xbox for your gun? Mexico tries swaps in drug fight


Reuters
2007-03-28 07:02:00

Police who have raided vice-ridden Mexico City neighborhoods in a push against drug violence hope to take guns off the streets by offering to swap them for computers and video-game consoles.


Launching the program on Tuesday in the notorious inner-city barrio of Tepito, which police stormed last month, city police chief Joel Ortega said anyone who turns in a high-caliber weapon like a machine gun will get a computer.


Owners can swap smaller guns for cash or Microsoft Corp.'s Xbox video-game consoles under the plan.


Comment on this SOTT Focus

---

Argentina Scraps Falklands Oil Deal With Britain


Trading Markets / RTTNews
2007-03-28 06:58:00

Days ahead of the 25th anniversary of the Falklands war, Argentina on Tuesday scrapped a deal with Britain to share oil found off the Falkland Islands over which both countries claim sovereignty.


Argentinean Foreign Minister Jorge Taiana said the decision to scrap the deal was taken in view of the fact that Britain unilaterally floated public bid oil deals in the area in the South Atlantic.


Taiana said he had informed Britain's ambassador to Buenos Aires, John Hughes, about the decision adding that "The Argentine decision brings an end...to an instrument the United Kingdom sought to use to justify its illegitimate and unilateral action to explore for resources that belong to Argentines."


Comment on this SOTT Focus

---

Smugglers toss hundreds of refugees to sharks


Associated Press
2007-03-27 21:29:00

GENEVA, Switzerland -- The number of people confirmed dead after smugglers forced hundreds of refugees overboard off the coast of Yemen has risen to 29, the U.N. refugee agency said Monday.

Seventy-one people are missing.



Comment on this SOTT Focus

---
Big Brother
---
New Security Scanner Sees Through Clothes, But With Modesty

John Roach
National Geographic
2007-03-28 08:27:00

A new sensor technology under development promises to give security screeners a peek through clothing without revealing the naked details, a scientist says.


The sensor may prove a more acceptable way to detect concealed weapons than the controversial backscatter x-ray technology the U.S. Department of Homeland Security started testing last month at the international airport in Phoenix, Arizona.


The backscatter machines bounce low-intensity x-ray beams off skin to create black-and-white images that render clothing transparent. Concealed weapons like ceramic knives and pistols are completely revealed.


But so are intimate body parts.


In U.S. congressional testimony last year, the American Civil Liberties Union called the backscatter technology a "tremendous invasion of privacy" that could reveal personal details like evidence of a mastectomy or genital size.


Comment on this SOTT Focus

---

Police State: Children face tests to detect signs of a criminal tendency

Richard Ford
The Times
2007-03-28 06:11:00

Every suspect in contact with the police faces having their DNA placed on a national database under government plans for a huge extension of "Big Brother" Britain announced yesterday.


All children will also undergo regular compulsory checks to discover if they are at risk of turning into criminals. They would face the crime test at key stages of their development, including when they start school and at 11.


The children of prisoners and Class A drug addicts would be "actively case managed" by youth offending teams in the crime strategy unveiled by 10 Downing Street .


The Government said the plan should "establish universal checks throughout a child's development to help service providers to identify those most at risk of offending. "These checks should piggy-back on existing contact points such as the transition to secondary schools."


Comment on this SOTT Focus

---
Axis of Evil
---
"We trespassed in Iranian waters": Iran TV shows female navy captive


BBC News
2007-03-28 14:03:00

Iranian state television has broadcast an interview with captured British female sailor Faye Turney and footage of the 14 servicemen seized with her.

Leading Seaman Turney, 26, said they had been seized in the Gulf because "obviously we trespassed" in Iranian waters - something the UK disputes.

Comment on this SOTT Focus

---

Flashback: Circumcision Fight: Profit, Pleasure, or Population Control?

Kuumba Chi Nia
Mathaba
2007-03-28 13:15:00

"It is important that, while circumcision interventions are being planned, several points must be considered carefully. If the experiment fails, Africans are likely to feel abused and exploited by scientists who recommended the circumcision policy. In a region highly sensitive to previous colonial exploitation and suspicious of the biological warfare origin of the virus, failure of circumcision is likely to be a big issue. Those recommending it should know how to handle the political implications." - James P.M. Ntozi.


Comment on this SOTT Focus

---

U.N. urges adult men to get circumcised


AP
2007-03-28 13:11:00

GENEVA - U.N. health agencies recommended Wednesday that heterosexual men undergo circumcision because of "compelling" evidence that it can reduce their chances of contracting HIV by up to 60 percent.


Comment on this SOTT Focus

---

Outgoing ASNE President Has One Word for MSM Critics -- And It Starts With "Bull"

Joe Strupp
Editor and Publisher
2007-03-28 09:33:00

Dave Zeeck has one word for those who claim newspapers are biased, lazy and out to bring down the country: Bullshit!

Comment on this SOTT Focus

---

Woodward's Notes from 'Deep Throat' Interviews Finally On View

Greg Mitchell
Editor and Publisher
2007-03-28 09:23:00

NEW YORK If you have ever been fascinated with Watergate -- or merely enjoyed the movie "All the President's Men" -- you've probably tried to imagine what Bob Woodward's notes from his parking ramp meetings with "Deep Throat" in the famous parking garage looked like. Now you have the chance.

Comment on this SOTT Focus

---

Stepped-up counterintelligence OK'd

Bill Gertz
The Washington Times
2007-03-28 07:28:00

President Bush has approved a new counterintelligence strategy that calls for expanding operations against foreign spies and terrorists worldwide and stepping up coordination among U.S. agencies.


The strategy, made public in a report released yesterday, emphasizes the need to penetrate foreign intelligence organizations, governments and foreign groups with agents or by electronic or other means.


"The intelligence activities of foreign powers afford us opportunities to exploit their operations and gain access to their intelligence in order to corrupt its integrity," says the National Counterintelligence Strategy report.


Comment on this SOTT Focus

---
Middle East Madness
---
Don't worry about attacking Iran, U.S. has plenty of oil

Staff
Reuters
2007-03-28 16:37:00

WASHINGTON - The United States could use its large Strategic Petroleum Reserve to counter a short-term disruption in Middle East Gulf oil shipments caused by tensions with Iran, the head of the U.S. Energy Information Administration said Wednesday.


Comment on this SOTT Focus

---

Flashback: Former U.S. Soldier Gets Life Without Parole for Double Murder


AP
2006-03-27 16:05:00

A 30-year old former Kosovo and Iraq war veteran stabbed to death his ex-girlfriend and her sister while they were "baby-sitting at a friend's apartment."

Comment on this SOTT Focus

---

Saudis give Israel ultimatum for peace: Give up all 1967 captured land and help form Palestinian state


The Vancouver Province
2007-03-28 11:56:00

RIYADH, Saudi Arabia -- The "lords of war" will decide Israel's future if it rejects a blueprint for peace crafted by the entire Arab world, Saudi Arabia's veteran foreign minister warned yesterday.


Comment on this SOTT Focus

---

What's up with that? U.S. Troops Will Defend Northern Iraq Against Turks


Strategy Page
2007-03-28 06:52:00

March 26, 2007: The PKK attacks Turkey expected on March 21-22 (Nevruz, spring festival) didn't occur. Nevruz festivities throughout Turkey, and especially Kurdish areas, proceeded with few incidents. This is good news. Turkish security forces began preparing in early February for a PKK Spring offensive. There was concern that the Nevruz holiday would mark the beginning of the PKK attacks. The Turkish security preparations made many Iraqis anxious. Iraqi Kurds and the Iraqi government are trying to prevent a large Turkish invasion of northern Iraq. Many feared that a "bloody Nevruz" might lead to Turkish action. Turkey still maintains that PKK rebels inside Iraq are preparing for offensive strikes later in the year.


Comment on this SOTT Focus

---

How Press Covered Tillman Killing and Aftermath 3 Years Ago


Editor & Publisher
2007-03-27 23:31:00

NEWYORK With the family of Pat Tillman continuing to charge that a

"coverup"

still surrounds his death by friendly fire in Afghanistan, it is worth looking back at exactly how the press -- which, like the Tillman family,

was lied to

about the incident by the military at the time -- reported the tragedy and its aftermath back then.



Comment on this SOTT Focus

---

Truck Bombs Kill Dozens at Iraqi Markets

KIM GAMEL
Associated Press Writer
2007-03-27 21:20:00

BAGHDAD - Two truck bombs shattered markets in Tal Afar on Tuesday, killing at least 63 people and wounding dozens in the second assault in four days on a predominantly Shiite Muslim city hit by a resurgence in violence a year after it was held up as a symbol of U.S. success.

Comment on this SOTT Focus

---
The Loan Gunmen
---
Iran planning to stop using U.S. dollar to price oil, central bank governor says

Mirna Sleiman
AP
2007-03-28 12:51:00

KUALA LUMPUR, Malaysia: Iran is planning to stop using the U.S. dollar to price oil, with less than half of its oil income now paid in the U.S. currency, Iran's central bank governor said.

Comment on this SOTT Focus

---

Oil spikes $5 on rumors of Iran attack


CNN
2007-03-28 06:50:00

U.S. crude futures briefly spiked over $5 a barrel in electronic trading late Tuesday on rumors that Iran fired on U.S. Navy warships.

Crude gave up most of those gains according to one trader after reports of a confrontation were denied.

U.S. light crude for May delivery jumped $5.18, or about 8 percent, to $68.91 a barrel in electronic trading before giving back most of those gains to trade at $64.40 a barrel, $1.47 above Tuesday's settle price on the New York Mercantile Exchange.

"We have no information at this time that an incident has taken place in the Gulf," Gordon Johndroe, a spokesman for the National Security Council, said about reports of a confrontation between Iran and U.S. Navy warships.



Comment on this SOTT Focus

---

China shifts to euros for Iran oil


Scotsman / Reuters
2007-03-28 06:43:00

China's state-run Zhuhai Zhenrong Corp, the biggest buyer of Iranian crude worldwide, began paying for its oil in euros late last year as Tehran moves to diversify its foreign reserves away from U.S. dollars.


The Chinese firm, which buys more than a tenth of exports from the world's fourth-largest crude producer, has changed the payment currency for the bulk of its roughly 240,000 barrels per day (bpd) contract, Beijing-based sources said.


Japanese refiners who buy about 500,000 bpd of Iranian crude, nearly a quarter of Iran's 2.2 million-bpd shipments, continue to pay in dollars but are willing to shift to yen if asked, industry sources and officials said separately.


Comment on this SOTT Focus

---

34 percent of homeowners are clueless about their mortgage

Elizabeth Razzi
Bankrate.com
2007-03-27 21:01:00

As concerns about subprime mortgages plague the nation's leaders and lenders, America's homeowners are confused and worried about their own mortgages, according to a recent poll commissioned by Bankrate.com.

Comment on this SOTT Focus

---
The Living Planet
---
Rare mammatus clouds over Melbourne

Kate Rose
Herald Sun
2007-03-29 00:00:00

It was a rare sight over Melbourne, with eye-catching mammatus clouds drifting in from the west.

The clouds were bluish-grey with a distinctive cellular pattern of pouches.

They were hanging under another cloud base -- a sure sign of rain to come.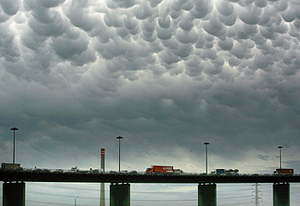 ©Mark Smith
Menacing sky: mammatus clouds herald an approaching cold front.
Comment on this SOTT Focus
---

Himalayan glacier melting observed from space


Institut de Recherche Pour le Dיveloppement / EurekAlert
2007-03-28 08:10:00

The Himalaya, the "Roof of the World", source of the seven largest rivers of Asia are, like other mountain chains, suffering the effects of global warming. To assess the extent of melting of its 33 000 km2 of glaciers, scientists have been using a process they have been pioneering for some years. Satellite-imagery derived glacier surface topographies obtained at intervals of a few years were adjusted and compared. Calculations indicated that 915 km2 of Himalayan glaciers of the test region, Spiti/Lahaul (Himachal Pradesh, India) thinned by an annual average of 0.85 m between 1999 and 2004. The technique is still experimental, but it has been validated in the Alps and could prove highly effective for watching over all the Himalayan glacier systems. However, the procedure for achieving a reliable estimate must overcome a number of sources of error and approximation inherent in satellite-based observations.


The researchers started by retrieving satellite data for two periods, 2000 and 2004. A digital field model was extracted for each of them, representing the topography of a ground reference point in digital form and therefore usable in computerized processing. The earliest topography of the area studied was provided by NASA which observed 80% of the Earth's surface during the Shuttle Radar Topographic Mission of February 2000. Then, in November 2004, two 2.5 m resolution images of the same area taken at two different angles were acquired especially by the French satellite Spot5 in the framework of an ISIS (CNES) project.


Comment on this SOTT Focus

---

New modeling study forecasts disappearance of existing climate zones


National Science Foundation / EurekAlert
2007-03-28 08:07:00

Tropics and subtropics may develop new climates.


A new climate modeling study forecasts the complete disappearance of several existing climates in tropical highlands and regions near the poles, while large swaths of the tropics and subtropics may develop new climates unlike any seen today.


In general, the models show that existing climate zones will shift toward higher latitudes and higher elevations, squeezing out the climates at the extremes--tropical mountaintops and the poles--and leaving room for unfamiliar climes and new ecological niches around the equator.


The work, by researchers at the University of Wisconsin-Madison and the University of Wyoming, appears online in the journal Proceedings of the National Academy of Sciences (PNAS) during the week of March 26. The National Science Foundation (NSF) funded the research.


The most severely affected parts of the world span both heavily populated regions, including the southeastern United States, southeastern Asia, and parts of Africa, and known hotspots of biodiversity, such as the Amazonian rainforest and African and South American mountain ranges.


Comment on this SOTT Focus

---

Wild Weather in Southern California


Associated Press
2007-03-27 23:22:00

LOS ANGELES - Volatile weather swept through Southern California on Tuesday, delivering downpours, hail, snow, and fierce winds that capsized boats and toppled power lines and trees. Nearly 160,000 customers lost power.



Comment on this SOTT Focus

---
Health & Wellness
---
U.N. recommends male circumcision to prevent HIV

Laura MacInnis
Reuters
2007-03-28 13:40:00

GENEVA - The United Nations on Wednesday endorsed male circumcision as a way to prevent HIV infections in heterosexual men and said it should be made more easily available in African countries.

Two U.N. agencies, the World Health Organisation (WHO) and UNAIDS, backed recent research showing that removing the foreskin of the penis can more than halve men's vulnerability to the virus causing AIDS from having sex with HIV-infected women.



Comment on this SOTT Focus

---

Hearing Aids: One membrane, many frequencies

Jennifer Manning
EurekAlert
2007-03-28 08:05:00

Modern hearing aids, though quite sophisticated, still do not faithfully reproduce sound as hearing people perceive it. New findings at the Weizmann Institute of Science shed light on a crucial mechanism for discerning different sound frequencies and thus may have implications for the design of better hearing aids.


Research by Dr. Itay Rousso of the Weizmann Institute's Structural Biology Department, which recently appeared in the Proceedings of the National Academy of Sciences (PNAS), suggests that a thin structure in the inner ear called the tectorial membrane responds to different frequencies. This membrane communicates between the outer hair cells (which amplify sound in the form of mechanical vibrations) and the inner hair cells (which convert these mechanical vibrations to electrical signals and pass them on to the brain via the auditory nerve). If certain genes for this membrane are missing or damaged, total deafness ensues.


Rousso and research student Rachel Gueta, together with researchers at the Ben-Gurion University of the Negev, wanted to explore the mechanical properties of the tectorial membrane. Using an atomic force microscope, which probes surfaces with a fine microscopic needle, they tested the resistance of the gel-like membrane at various points to assess precisely how rigid or flexible it was. To their surprise, the scientists found that the level of rigidity varies significantly along the length of the membrane: One end of the membrane can be up to ten times more rigid than the other.


Comment on this SOTT Focus

---

Neural Coding: It's only a game of chance


Weizmann Institute / EurekAlert
2007-03-28 08:04:00

The validity of a leading theory that has held a glimmer of hope for unraveling the intricacies of the brain has just been called into question. Dr. Ilan Lampl of the Weizmann Institute of Science's Neurobiology Department has produced convincing evidence to the contrary. His findings recently appeared in the journal Neuron.


Cells in the central nervous system tend to communicate with each other via a wave of electrical signals that travel along neurons. The question is: How does the brain translate this information to allow us to perceive and understand the world before us?


It is widely believed that these electrical signals generate spiked patterns that encode different types of cognitive information. According to the theory, the brain is able to discriminate between, say, a chair and a table because each of them will generate a distinct sequence of patterns within the neural system that the brain then interprets. Upon repeated presentation of that object, its pattern is reproduced in a precise and controlled manner. Previous experiments had demonstrated repeating patterns lasting up to one second in duration.


Comment on this SOTT Focus

---

Arthritis pain, the brain and the role of emotions


EurekAlert
2007-03-28 07:55:00

Arthritis pain is processed in brain areas concerned with emotions and fear, finds study, indicating target for pain-relieving therapies.


How does the brain process the experience of pain? Thanks to advances in neuroimaging, we now know the answer lies in a network of brain structures called the pain matrix. This matrix contains two parallel systems. The medial pain system processes the emotional aspects of pain, including fear and stress, while the lateral system processes the physical sensations-pain's intensity, location, and duration.


Marked by morning stiffness, joint aches, and flare-ups, the pain of arthritis tends to be acute and recurrent, in contrast to many chronic pain conditions. Arthritis pain therefore makes an ideal model for comparing common clinical pain with experimental pain. Inspired by this observation, researchers at University of Manchester Rheumatic Diseases Centre in the United Kingdom conducted the first study to compare directly the brain areas involved in processing arthritis pain and experimental pain in a group of patients with osteoarthritis (OA). Their results, published in the April 2007 issue of Arthritis & Rheumatism (http://www.interscience.wiley.com/journal/arthritis), shed light on the role of emotions in how patients feel arthritis pain.


Comment on this SOTT Focus

---

Mouse study suggests that with HRT, timing counts

Maggie Fox
Reuters
2007-03-28 07:10:00

An estrogen study in mice suggests that hormone replacement therapy may benefit women if started right at the time of menopause, researchers reported on Monday.


While the researchers stress that more studies need to be done in women, they said their findings offer hope to women who want to safely relieve the symptoms of menopause.


"When you treat animals immediately with estradiol (a form of estrogen) therapy, it protects the brain against injury due to stroke and this correlates with an ability of estradiol to suppress the inflammatory response. It is a very potent anti-inflammatory agent," said Dr. Phyllis Wise of the University of Washington in Seattle, who led the study.


Comment on this SOTT Focus

---
Science & Technology
---
US 'no longer technology king'


BBC News
2007-03-28 13:56:00

The US has lost its position as the world's primary engine of technology innovation, according to a report by the World Economic Forum.

Comment on this SOTT Focus

---

Key to the quantum industry

Andrew Shields
PhysicsWeb
2007-03-28 08:44:00

Technology that exploits the strange rules of quantum mechanics to guarantee the security of encrypted messages is the first product of a new quantum-information industry to reach the market, as Andrew Shields and Zhiliang Yuan explain


As theories go, quantum mechanics has certainly been successful. Despite its many counterintuitive predictions, it has provided an accurate description of the atomic world for more than 80 years. It has also been an essential tool for designing today's computer chips and hard-disk drives, as well as the lasers used in the fibre-optic communications of the Internet. Now, however, the ability to manipulate the quantum states of individual subatomic particles is allowing us to exploit the strange properties of quantum theory much more directly in information technology.


Comment on this SOTT Focus

---

Equations as icons

Robert P Crease
PhysicsWeb
2007-03-28 08:39:00

Why is it that particular equations, formulas and expressions become icons, asks Robert P Crease.


When the 14-year-old Richard Feynman first encountered eiπ 1 = 0, the future physics Nobel laureate wrote in big, bold letters in his diary that it was "the most remarkable formula in math". Stanford University mathematics professor Keith Devlin claims that "like a Shakespearean sonnet that captures the very essence of love, or a painting that brings out the beauty of the human form that is far more than just skin deep, Euler's equation reaches down into the very depths of existence". Meanwhile Paul Nahin - a retired US electrical engineer - says in his recent book, Dr Euler's Fabulous Formula, that the expression sets "the gold standard for mathematical beauty".


For some people this expression, named after the 18th-century Swiss mathematician Leonhard Euler, even seems to have become an icon, having special significance apart from its mathematical context. It once even served as a piece of evidence in a criminal trial. In August 2003 an eco-terrorist assault on several car dealerships in the Los Angeles area resulted in millions of dollars worth of damage when a building was set alight and over 100 vehicles were destroyed or defaced. The vandalism included graffiti on the cars that read "gas guzzler" and "killer" - and, on one Mitsubishi Montero, eiπ 1 = 0. Using this as a clue and later as evidence, the FBI arrested William Cottrell, a graduate student in theoretical physics at the California Institute of Technology, who was later tried and convicted. Cottrell testified at his trial that "Everyone should know Euler's theorem".


Comment on this SOTT Focus

---

Giant Meteorite Hit Ancient California, Crater Study Suggests

John Roach
National Geographic
2007-03-28 08:14:00

A space rock the size of three football fields may have slammed into California more than 35 million years ago, according to a team of scientists that includes a high school student.


The proposed impact may have created the giant 3.4-mile-wide (5.5-kilometer-wide) craterlike formation that the team found buried 4,900 to 5,250 feet (1,490 to 1,600 meters) below sea level west of Stockton, California


Rocks in the potential crater date to about 37 to 49 million years ago.


The formation resembles an impact crater, the researchers said, but they are continuing to analyze rocks from oil exploration wells dug in the region for telltale signs of a collision.


Jared Morrow, an assistant professor of geology at San Diego State University, presented preliminary details of the discovery earlier this month at the Lunar and Planetary Science Conference in Houston, Texas.


Comment on this SOTT Focus

---

China and US at highest risk of damage from asteroids

David Shiga
Newscientist.com
2007-03-28 07:54:00

China and the US are the countries most vulnerable to damage from future asteroid impacts, according to preliminary new research. Sweden also ranks surprisingly high in this first attempt at quantifying the risks of impact effects, such as tsunamis, on individual nations.

Comment on this SOTT Focus

---

The Most Realistic Virtual Battlefield In The World


Science Daily
2007-03-27 23:12:00

You're high above the desert peaks. Your aircraft are approaching their targets. Information from instruments, cameras and radar is before your eyes. And with the help of 100 million pixels of bright and vivid virtual reality you're in control of a swarm of U.S. Air Force unmanned aerial vehicles.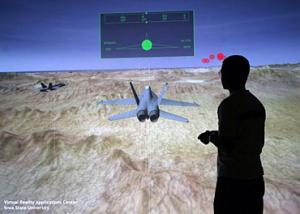 ©Kevin Teske
Muthukkumar Kadavasal, an Iowa State doctoral student in human computer interaction, demonstrates how improvements to Iowa State's C6 provide virtual reality at the world's highest resolution.
Comment on this SOTT Focus
---
Our Haunted Planet
---
More High Strangeness over Dumfries

Craig Robertson
icDumfries
2007-03-28 16:55:00

UFO sighting over Dumfriesshire village

A tiny Dumfriesshire village is at the centre of a UFO mystery.

A woman from Tinwald near Dumfries claims to have seen a tubular shaped object hovering in the sky on her way home last Thursday.

Comment on this SOTT Focus

---

Space junk spooks pilot

John Masanauskas
Herald Sun
2007-03-28 13:07:00

A jetliner flying across the Pacific has had a close encounter with space junk from a Russian satellite.


The captain of a LAN Chile Airbus A340 flying to Auckland was shocked to see the flaming debris less than 10km from his craft.


New Zealand air traffic control authorities said the space junk posed a major safety risk and would be investigated.



Comment on this SOTT Focus

---

UFO mystery at RAF Lakenheath


Bury Free Press
2007-03-28 12:47:00

Mystery surrounds claims that jets from RAF Lakenheath were called to intercept a UFO.
UFO experts claim to have a recording which they have posted on the internet as proof that London Military Air Traffic Control contacted a flight of US Air Force
F-15s from the base, after a UFO was picked up on their radar on January 12.

Comment on this SOTT Focus

---

Huge ice block falls on West Bank village


Maan News Agency
2007-03-28 10:00:00

Eyewitnesses in the northern West Bank town of Deir Ballout, near Salfit, reported that a huge ice block landed in the area.


Witnesses reported that unusual crackling sounds could be heard in the area, which astonished the inhabitants of the village who were preparing for evening prayer.


An eyewitness, Raed Mustafa, told Ma'an "while we were preparing for evening prayer, a strange entity around 1 metre squared in size, fell from the heavens causing a sound like whistling. We discovered that it was an ice block weighing about 35kg."


Comment on this SOTT Focus

---

Giant meteor over Germany triggers "UFO" alarm


Volksfreund
2007-03-27 06:17:00

(shortened Babelfish translation)

Mannheim - a large meteor on Monday evening in the clear sky between South Germany and Lower Saxony triggered "UFO" alarm in some observers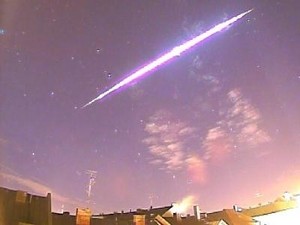 ©Volksfreund
A similar meteor recorded over Munich in 2006
Comment on this SOTT Focus
---
Don't Panic! Lighten Up!
---
Men drained by bed sharing


Ananova
2007-03-28 16:56:00

Scientists in Austria say sharing a bed with someone temporarily reduces men's brain power.


When men spend the night with someone their sleep is disturbed, whether they make love or not, and this impairs their mental ability the next day.


According to the New Scientist study, women who share a bed fare better because they sleep more deeply.


Professor Gerhard Kloesch and colleagues at the University of Vienna studied eight unmarried, childless couples in their 20s.


Comment on this SOTT Focus

---

I'm Prepared To Give My Life For This Or Any Country (Satire)

Curtis Stalbank
The Onion
2007-03-28 09:22:00

As a true patriot, I would gladly die in battle defending my homeland. I love my country more than my own life. But I would also be more than willing to give my last breath in the name of, say, Mexico, Panama, Japan, or the Czech Republic. The most honorable thing a man can do is lay down his life for his country. Or another country. The important thing is that it's a country.


Comment on this SOTT Focus

---

Shaping Public Opinion: Does Maya calendar predict 2012 apocalypse?

G. Jeffrey MacDonald
USA News
2007-03-28 07:50:00

With humanity coming up fast on 2012, publishers are helping readers gear up and count down to this mysterious -some even call it apocalyptic - date that ancient Mayan societies were anticipating thousands of years ago.


Since November, at least three new books on 2012 have arrived in mainstream bookstores. A fourth is due this fall. Each arrives in the wake of the 2006 success of 2012: The Return of Quetzalcoatl, which has been selling thousands of copies a month since its release in May and counts more than 40,000 in print. The books also build on popular interest in the Maya, fueled in part by Mel Gibson's December 2006 film about Mayan civilization, Apocalpyto.


Authors disagree about what humankind should expect on Dec. 21, 2012, when the Maya's "Long Count" calendar marks the end of a 5,126-year era.


Comment on this SOTT Focus

---

Woman who stole gnomes faces jail

Auslan Cramb
Telegraph
2007-03-28 07:13:00

A woman who went out at night to steal garden gnomes is facing a jail sentence.


Karen Stenhouse, 37, crept into gardens within a 20-mile radius of her home and then sold the gnomes at car boot sales and street markets.


The mother-of-three was caught by an 11-day undercover operation that led police to a horde of garden ornaments, including 30 gnomes, complete with fishing rods and wheelbarrows.


Comment on this SOTT Focus

---

Dog Performs 'Heimlich' on Choking Owner


Associated Press
2007-03-27 21:11:00

CALVERT, Md. - Toby, a 2-year-old golden retriever, saw his owner choking on a piece of fruit and began jumping up and down on the woman's chest. The dog's owner believes the dog was trying to perform the Heimlich maneuver and saved her life.



Comment on this SOTT Focus

---
---

Remember, we need your help to collect information on what is going on in your part of the world!
Send your article suggestions to: sott(at)signs-of-the-times.org

---
Click here to return to the Signs of the Times Archive
Click here for today's Signs Page