---
Sections on today's Signs Page:
---
SOTT Focus
---
No new articles.
Best of the Web
---
A Review of John Ross' Zapatistas

Stephen Lendman
sjlendman.blogspot.com
2007-03-22 10:09:00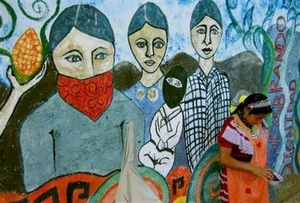 ©Galería - EZLN



John Ross is a Latin American correspondent and activist who's been living in and writing about Mexico for nearly four decades turning out some of the most important and incisive analysis of events there of anyone covering the country, its history, politics and people. Few writers anywhere make the country come alive like he can. He lives among the people and knows them well, including Zapatista leader Subcommandante Marcos who may have given Ross his first ever interview.

Comment on this SOTT Focus

---
U.S. News
---
Another psychopath: Soldier pleads to role in rape, murders

Kristin M. Hall
Associated Press
2007-03-22 11:11:00

A soldier pleaded guilty Wednesday to being an accessory to the rape and murder of a 14-year-old Iraqi girl and the slaying of her family.


Pfc. Bryan Howard, 20, of Fort Campbell, also pleaded guilty to conspiracy to obstruct justice by lying to his superior officers about the attack last year in Mahmoudiya, 20 miles south of Baghdad. It was one of the most shocking atrocities committed by U.S. troops in the Iraq war.


Howard agreed to five years in prison under a plea deal but will not serve more than 27 months if he follows conditions of the agreement, military judge Col. Stephen Henley said.


Comment on this SOTT Focus

---

Wars will Cost Trillions to US People


Prensa Latina
2007-03-21 06:27:00

Washington - The cost of the wars unleashed by President George W. Bush´s government could exceed $1 trillion by the end of his term of office, a study predicted on Wednesday.



Comment on this SOTT Focus

---

Mainstream Media slowly dying: Boston Globe cuts 6 pct of newsroom

Staff
Reuters
2007-03-22 01:39:00

BOSTON - The Boston Globe's newsroom will shrink by 6 percent after 24 journalists, including two Pulitzer Prize winners, agreed to voluntary buyouts, New England's largest-circulation newspaper said on Wednesday.

Citing pressure on circulation and advertising revenue from the Internet and other competition, the Globe said the buyouts helped it to avoid layoffs "in the face of some of the harshest conditions for newspapers and other mass media in years."



Comment on this SOTT Focus

---

Mold, Leaky Roofs Beset VA Clinics

HOPE YEN
Associated Press
2007-03-21 23:55:00

WASHINGTON - The Veterans Affairs' vast network of 1,400 health clinics and hospitals is beset by maintenance problems such as mold, leaking roofs and even a colony of bats, an internal review says. The investigation, ordered two weeks ago by VA Secretary Jim Nicholson, is the first major review of the facilities conducted since the disclosure of squalid conditions at Walter Reed Army Medical Center. A copy of the report was provided to The Associated Press.



Comment on this SOTT Focus

---

Man Gets Probation for Dead Deer Sex


Associated Press
2007-03-21 22:51:00

SUPERIOR, Wis. - A 20-year-old man received probation after he was convicted of having sexual contact with a dead deer. The sentence also requires Bryan James Hathaway to be evaluated as a sex offender and treated at the Institute for Psychological and Sexual Health in Duluth, Minn.



Comment on this SOTT Focus

---
UK & Euro-Asian News
---
No new articles.
Around the World
---
Switzerland Welcomes Families of Cuban Five


Prensa Latina
2007-03-21 06:24:00

Geneva - The wives of two Cuban anti-terrorists imprisoned in the United States began an activity program in Switzerland on Wednesday, with an exchange at the Swiss National Parliament.




Comment on this SOTT Focus

---

Two UK Sailors Killed, One Injured in Arctic Submarine Explosion

Al Pessin
Voice of America
2007-03-22 00:13:00



Two British sailors died Wednesday in an explosion aboard a British submarine under the Arctic ice cap.

A third sailor was injured, and he was transported from a break in the ice north of Alaska to a U.S. military hospital for treatment. VOA's Al Pessin reports from the Pentagon.



Comment on this SOTT Focus

---
Big Brother
---
Not Shocking - Fox News Unveiled...

Mark Mellman
The Hill
2007-03-21 21:44:00

Journalists strive to report the news, not to be the news. So Fox News should have been a bit embarrassed to headline a story that ended with the Nevada Democratic Party canceling Fox's sponsorship of a pre-caucus debate.

Comment on this SOTT Focus

---

Homer-land security official "puzzled" by concerns about national ID cards

Anne Broache
CNET News
2007-03-21 13:17:00

A senior U.S. Department of Homeland Security official on Wednesday said he finds privacy concerns prompted by the proposed Real ID regime puzzling.

Stewart Baker, the department's assistant secretary for policy, said a forthcoming system of uniform national identification cards will not put more personal information into the hands of motor vehicle administrators or result in a massive centralized database that's more susceptible to hackers.

In fact, Baker said, the controversial law will improve Americans' privacy. "You can never foresee the future, but every indication is that Real ID is actually going to make it less easy for people to engage in identity theft," Baker told the Homeland Security Data Privacy and Integrity Advisory Committee at its quarterly public meeting.

Comment on this SOTT Focus

---

'Spy in the sky' plan for UK crowds


Press Association
2007-03-21 00:00:00

Remote-controlled spy helicopters could be seen above football matches and trouble hotspots across Merseyside within weeks.

The military-style drones, which weigh about 1kg and are fitted with CCTV cameras, will be trialled by Merseyside Police next month.

Comment on this SOTT Focus

---
Axis of Evil
---
International anti-Ahmadinejad campaign launched

Jeremy Last
European Jewish Press
2007-03-21 14:43:00

JERUSALEM - Two Jewish organisations have launched an international campaign aimed at enlisting hundreds of thousands of Internet surfers to speak out against Iranian president Mahmoud Ahmadinejad and his Holocaust denial.

The web-based operation has been initiated by the World Zionist Organization and the Jewish Agency for Israel.

Comment on this SOTT Focus

---

VIDEO: Border Guard policemen filmed beating Palestinian youth

Ali Waked
Ynet
2007-03-22 11:02:00

Follow the link in order to see this shocking video.


Border Guard policemen were caught on camera beating a 17-year-old Palestinian youth at the West Bank village of Hawara, near Nablus Wednesday. The incident was documented by one of the local residents.


Border Guard Commander Hassein Fares said in response, "I view such behavior as extremely severe. The matter will be probed by the Police Investigation Unit.


"Border Guard fighters work to protect the citizens of Israel and are responsible for thwarting hostile terrorist acts, while dealing with numerous acts of violence carried out against them," he added.


Comment on this SOTT Focus

---

Pathocrats' statements: Right of return - 'a nonstarter clause'

Ronny Sofer
Ynet News
2007-03-22 06:35:00

As Arab nations gather for Riyadh Convention, Jerusalem officials voice expectations for significant change in language of Saudi peace initiative, say Palestinian demand to right of return unacceptable prerequisite

Comment on this SOTT Focus

---

Blackwater: The Rise of the World's Most Powerful Mercenary Army

Jeremy Scahill
Democracy Now!
2007-03-22 01:13:00

A decade ago this company didn't exist. It was little more than a 5,000-acre plot in North Carolina near the Great Dismal Swamp and the private fortune of its rightwing Christian bankroller-of-the-President founder, Erik Prince, whose family had a long history of backing Republican Revolution causes and the rise of the religious right. The company was started officially in '96, began building up in '97 as a sort of training facility for the federal forces, local and state law enforcement, as well as the military.

After 9/11, it became an all-out mercenary outfit and now has many, many government contracts. One of them alone with the State Department has generated $750 million for Blackwater since June of 2004. The company guards the senior US officials in Iraq, trains forces in Afghanistan, has been deployed in New Orleans. They have 2,300 men actively deployed around the world, another 20,000 contractors at the ready. It's really the Praetorian Guard for the Bush administration's global war on terror.



Comment on this SOTT Focus

---

Who Would Jesus Bomb?

David Rovics
you tube
2007-03-21 21:03:00

David Rovics - - - -

Comment on this SOTT Focus

---
Middle East Madness
---
Soros and Media Heavyweights Attack Pro-Israel Lobby's Influence on U.S. Policy

Nathan Guttman
Forward
2007-03-23 14:54:00

Washington - The simmering debate over American policy toward Israel and the role of the Jewish community in shaping it exploded with near-nuclear force this week. Several of the nation's best-known international affairs commentators fired salvos at pro-Israel lobbyists and defenders of Israel fired back with unprecedented fury.

In the space of three days, major critiques of Jewish lobbying were published by controversial billionaire George Soros, Pulitzer Prize-winning columnist Nicholas Kristof, the respected British newsmagazine The Economist and the popular Web site Salon.

The replies were furious. The New York Sun accused Kristof and Soros of spreading a "new blood libel." The American Jewish Committee's executive director, David Harris, wrote in a Jerusalem Post opinion article that Kristof had a "blind spot" and had "sanctimoniously lectured" Israel.



Comment on this SOTT Focus

---

Court Backs Firing Poet for Blaming Israel for 911


Israel National News
2007-03-22 05:41:00

A New Jersey poet lost his free-speech appeal launched when his governmental position was eliminated after he blamed Israel for the September 2001 terrorists attacks in the United States.

Comment on this SOTT Focus

---

Rights group: IDF illegally blocking Palestinians from Route 60

Mijal Grinberg
Haaretz
2007-03-22 14:50:00

The Association for Civil Rights in Israel is calling on the Defense Ministry to examine the legality of preventing Palestinians from accessing Route 60, a main road in the southern Hebron Hills area of the West Bank.

In a letter it sent to Defense Minister Amir Peretz, the ACRI argues that the Israel Defense Forces is illegally blocking Palestinian access to the road, thereby seriously impairing the freedom of movement of Palestinians who live in the area and impinging upon their civil rights.

ACRI attorney Limor Yehuda said the organization wants the roadblocks removed, but barring that, would like the IDF practice to be examined from a legal perspective.

Comment on this SOTT Focus

---

Rice to Palestinians: End incitement against Israel; Earth to Rice: Get a Brain!


AP/Ynet News
2007-03-21 14:37:00

US secretary of state says Palestinians must expunge inciteful material from textbooks, publish maps that include Israel; Bush administration to reduce proposed $86 million security assistance package to PA government



US Secretary of State Condoleezza Rice said Wednesday that the US is discussing with the Palestinians the need to end incitement against Israel in schools and print maps that include the State of Israel.

Comment on this SOTT Focus

---

Palestinians complain of 'double standards' in Hebron

Ali Waked
Ynet News
2007-03-22 14:29:00

Palestinian man says was banned from entering rented property in Hebron by Israeli security forces although he possessed all necessary documents

Palestinians in Hebron have accused the Israel Police and the army of failing to inspect the legality of ownership documents presented by Hebron settlers who occupied a structure claimed by the Palestinians.

Palestinians say that Israeli law enforcement officials in the city use double standards in dealing with property ownership claims by Jewish and Palestinian residents of the city.

Comment on this SOTT Focus

---

Provocation: US carrier arrives in SKorea to start war games


Defence Talk / AFP
2007-03-22 11:29:00

The newest and most advanced US aircraft carrier arrived Thursday in South Korea to take part in major annual exercises which have been denounced by North Korea as a preparation for war.


The USS Ronald Reagan, plus a cruiser and two destroyers, will join hundreds of thousands of South Korean troops and tens of thousands of US soldiers in the exercises, which the allies say are purely defensive in nature.


Comment on this SOTT Focus

---
The Loan Gunmen
---
The Billionaires and How They Made It: Meet the Global Ruling Class

James Petras
Counterpunch
2007-03-22 00:58:00

Even as the world's billionaires grew in number from 793 in 2006 to 946 this year, major mass uprisings became commonplace in China and India. In India, which has the highest number of billionaires (36) in Asia with total wealth of $191 billion, Prime Minister Singh declared that the greatest single threat to 'India's security' were the Maoist-led guerrilla armies and mass movements in the poorest parts of the country. In China, with 20 billionaires with $29.4 billion net worth, the new rulers, confronting nearly a hundred thousand reported riots and protests, have increased the number of armed special anti-riot militia a hundred fold, and increased spending for the rural poor by $10 billion in the hopes of lessening the monstrous class inequalities and heading off a mass upheaval.



Comment on this SOTT Focus

---

Fed Gets 'Wiggle Room' by Ending Its Tilt Toward Higher Rates

Scott Lanman
Bloomberg
2007-03-22 00:51:00

Federal Reserve Chairman Ben S. Bernanke is giving himself flexibility to respond to slowing economic growth.

For the first time since the Fed ended a two-year run of interest-rate increases in August, the central bank yesterday signaled that its next move might be either to lower or raise borrowing costs, instead of just the latter. The Federal Open Market Committee's statement omitted a previous reference to "additional firming" in favor of the more general "future policy adjustments."

The shift indicates officials may have concluded the risks of a deeper recession in the housing market make it hard to raise rates to bring down inflation more quickly. While the statement described inflation as "elevated," some traders interpreted the new language to signal a rate cut as soon as June.


Comment on this SOTT Focus

---
The Living Planet
---
Southern Ocean current faces slowdown threat


Reuters
2007-03-22 13:44:00

The impact of global warming on the vast Southern Ocean around Antarctica is starting to pose a threat to ocean currents that distribute heat around the world, Australian scientists say, citing new deep-water data.

Comment on this SOTT Focus

---
Health & Wellness
---
No new articles.
Science & Technology
---
Dazzling new images reveal the 'impossible' on the Sun

Hazel Muir
New Scientist
2007-03-22 14:30:00

The restless bubbling and frothing of the Sun's chaotic surface is astonishing astronomers who have been treated to detailed new images from a Japanese space telescope called Hinode.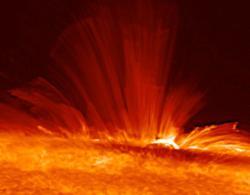 ©JAXA/NASA
Charged particles follow magnetic field lines that rise vertically from a sunspot - an area of strong magnetic field. On the edges of the sunspot, the magnetic field lines bend over to connect to regions of the opposite polarity.
Comment on this SOTT Focus
---

Another nail in Cook's coffin as map suggests he was pipped by Portugal

Giles Tremlett
Guardian
2007-03-22 11:24:00

When James Cook thought he had discovered Australia and claimed it for the crown in the 18th century, he was late to the party. Another English explorer had been decades ahead in sighting the great southern land, while Dutch explorers had been charting the continent even earlier.


But evidence has emerged to suggest that neither the English nor Dutch were the first Europeans to reach the continent during the great era of epic sea adventure and global circumnavigation.


Comment on this SOTT Focus

---

Bad Idea: Nasa grounds its ideas factory

Alok Jha
Guardian
2007-03-22 11:16:00

In almost 20 years of research, it has been the home of some of the most daring ideas to aid exploration: space elevators, crops that could grow on Mars and a shield to protect our planet from global warming. But now Nasa's Institute for Advanced Concepts (Niac) has fallen victim to a very down-to-earth problem - a lack of money.


The US space agency is set to close its futuristic ideas factory as part of a cost-cutting exercise which it hopes will help pay for ambitious plans to explore the moon and Mars. Bobby Mitchell, who works at Niac's headquarters in Atlanta, told the Guardian: "From what I understand, Nasa are out of money. We haven't got an official notice yet but we have heard from Nasa that they are going to discontinue funding."


Comment on this SOTT Focus

---
Our Haunted Planet
---
France opens secret UFO files covering 50 years

AFP
Yahoo! News
2007-03-22 10:53:00

France became the first country to open its files on UFOs Thursday when the national space agency unveiled a website documenting more than 1,600 sightings spanning five decades.

The online archives, which will be updated as new cases are reported, catalogues in minute detail cases ranging from the easily dismissed to a handful that continue to perplex even hard-nosed scientists.

Comment on this SOTT Focus

---

New Beast of Bexley Encounter

Loren Coleman
Cryptomundo
2007-03-21 21:55:00

The Richmond & Twickenham Times of Surrey, England is reporting there has been a new sighting of the big black panther of the area. Called the "Beast of Bexley," the accounts of this panther have now spanned almost 20 years.

Comment on this SOTT Focus

---
Don't Panic! Lighten Up!
---
No new articles.
---

Remember, we need your help to collect information on what is going on in your part of the world!
Send your article suggestions to: sott(at)signs-of-the-times.org

---
Click here to return to the Signs of the Times Archive
Click here for today's Signs Page