---
Sections on today's Signs Page:
---
SOTT Focus
---
Forget About Global Warming: We're One Step From Extinction!

Laura Knight-Jadczyk & Henry See
Signs of the Times
2007-03-20 14:59:00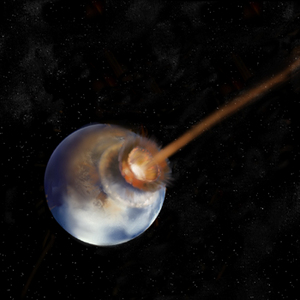 ©n/a
Are we past our due date?



Often, some of the most important news comes from local papers, stories that don't make it up the feeding chain and onto the news wires or major newspapers or nightly network news. It can be news that at first glance wouldn't appear to have a national or international impact. Second glance, and a good memory, can reveal that the impact may well be quite significant.

The other day a reader sent us an article link that he found on another alt.news website: Bad news - we are way past our 'extinct by' date

Since we had run the same story back when it first came out, we thought "yeah! Flashback!" After all, with all the talk about Global Warming, it served to remind readers that human caused CO2 levels are not all there is to what is going on here on the BBM today.

Comment on this SOTT Focus

---
Best of the Web
---
Anthony Arnove on the Anniversary from Hell

Anthony Arnove
TomDispatch.com/Truthout
2007-03-18 18:03:00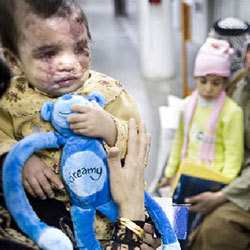 ©n/a
One-year-old Shams was brought to the National Iraqi Assistance Center with her uncle to seek plastic surgery in the US. Her mother was killed in the blast that burned her face.




Four years ago, the United States invaded Iraq. It's the anniversary few want to remember; and yet, for all the disillusionment in this country, getting out of Iraq doesn't exactly seem to be on the agenda either. Not really. Here's a little tip, when you want to assess the "withdrawal" proposals being offered by members of Congress. If what's being called for is a withdrawal of American "combat troops" or brigades, or forces, then watch out. "Combat troops" turns out to be a technical term, covering less than half of the American military personnel actually in Iraq.

Here's a simple argument for withdrawal from Iraq (suggested recently in a reader's email to this site) -- and not just of those "combat troops" either. The military newspaper Stars and Stripes reports that, in January 2007, attacks on American troops surged to 180 a day, the highest rate since Baghdad fell in 2003, and double the previous year's numbers. Let's take that as our baseline figure.

Now, get out your calculator: There are 288 days left in 2007. Multiply those by 180 attacks a day -- remembering that the insurgents in Iraq are growing increasingly skilled and using ever more sophisticated weaponry -- and you get 51,840 more attacks on American troops this year. Add in another 65,700 for next year -- remembering that if, for instance, Shiite militias get more involved in fighting American troops at some point, the figures could go far higher -- and you know at least one grim thing likely to be in store for Americans if a withdrawal doesn't happen. (I first wrote a piece at Tomdispatch, "The Time of Withdrawal" back in October 2003, laying out the full reasons why I thought withdrawal was imperative and, unfortunately, it remains grimly relevant three and a half years later.)

Today, Anthony Arnove considers what that fourth anniversary means in Iraq, offering a few figures and comparisons of his own. Arnove is the author of Iraq: The Logic of Withdrawal, a small paperback modeled on a famous volume Howard Zinn wrote way back in 1967, arguing for a U.S. withdrawal from Vietnam. If you want to make the case -- and it's a compelling one -- to friends, neighbors, workmates, those who disagree with you, your Congressional representatives, or anyone else, this is probably the book you should have in your hands. Tom

Comment on this SOTT Focus

---

Breaking the Silence: Israeli army veterans show dark side of occupation of Palestine

By Bernd Debusmann
Reuters
2007-03-20 18:15:00

HEBRON, West Bank -- Disenchanted Israeli army veterans have turned into guides to one of the bleakest places on the West Bank, the Israeli-held part of Hebron, to highlight what they say is the ugly face of occupation most Israelis never see.

Over the past 20 months, former soldiers have led some 2,500 people, in small groups of around a dozen, mostly Israelis, on grim show-and-tell excursions meant to explain the brutalizing effect of daily routine in an occupied city.

Comment on this SOTT Focus

---

Bush Warns Us of the Ziocon Plans: 'Iraq Withdrawal May Spark 9-11 Repeat'

By Toby Harnden in Washington and Damien McElroy
The Telegraph
2007-03-20 17:59:00

President George W Bush used the fourth anniversary of the start of the Iraq war yesterday to warn that US withdrawal would unleash a "contagion of violence" that could spark a repeat of the September 11 attacks.

Although he conceded that there would be "bad days ahead", he insisted that there had been "good progress" in Iraq and there were "hopeful signs" that the influx of 30,000 additional troops would stabilise Baghdad.

The bullish self-confidence of 2003 was absent as he said only that the war could be won rather than portraying victory as inevitable. "Four years after this war began, the fight is difficult, but it can be won."

He delivered a tough message to Democrats, who now control Congress, that he would veto any bill that did not provide "the funds and the flexibility that our troops need to accomplish their mission". Democratic proposals for deadlines for troop withdrawals, he claimed, could be "devastating" for US security and could help al-Qa'eda plan attacks against the US on a scale not seen since September 11.

Comment on this SOTT Focus

---
U.S. News
---
US citizens charged with terrorism

By JOHN SEEWER
Associated Press
2007-03-21 15:34:00

TOLEDO, Ohio - A Chicago man pleaded not guilty Wednesday to federal charges that he plotted to recruit and train terrorists to attack U.S. and allied troops.

Khaleel Ahmed is charged with conspiring with his cousin and three Ohio men between June 2004 and February 2006 to kill or maim Americans overseas, including those in Iraq.

Comment on this SOTT Focus

---

Procter & Gamble wins $19 million lawsuit over Satanism rumors


Associated Press
2007-03-21 13:42:00

CINCINNATI - Procter & Gamble Co. has won a jury award of $19.25 million in a civil lawsuit filed against four former Amway distributors accused of spreading false rumors linking the company to Satanism to advance their own business.

The U.S. District Court jury in Salt Lake City on Friday found in favor of the Cincinnati-based consumer products company in a lawsuit filed by P&G in 1995. It was one of several the company brought over rumors alleging a link with the company's logo and Satanism.

Comment on this SOTT Focus

---

Senate Limits Gonzales' Hiring Authority

Pete Yost and Lara Jakes Jordan
Associated Press
2007-03-21 09:02:00

The Senate voted overwhelmingly Tuesday to end the Bush administration's ability to unilaterally fill U.S. attorney vacancies as a backlash to Attorney General Alberto Gonzales' firing of eight federal prosecutors.


Amid calls from lawmakers in both parties to resign, Gonzales got a morale boost with an early-morning call from President Bush, their first conversation since a week ago, when the president said he was unhappy with how the Justice Department handled the firings.


With a 94-2 vote, the Senate passed a bill that canceled a Justice Department-authored provision in the Patriot Act that had allowed the attorney general to appoint U.S. attorneys without Senate confirmation. Democrats say the Bush administration abused that authority when it fired the eight prosecutors and proposed replacing some with White House loyalists.


"If you politicize the prosecutors, you politicize everybody in the whole chain of law enforcement," said Judiciary Committee Chairman Patrick Leahy, D-Vt.


Comment on this SOTT Focus

---

Snakes in Suits: Conrad Black trial hears of '$60m thieves wearing ties'

James Bone
The Times
2007-03-21 07:33:00

Conrad Black was compared to a bank robber yesterday as the US Government accused him of a "money-grab" at his newspaper empire.


Jeffrey Cramer, a federal prosecutor, told the jury that Lord Black of Crossharbour and his three codefendants had stolen $60 million (£30 million) from shareholders.


"Bank robbers wear masks and use a gun. Burglars wear dark clothing and use a crowbar. But these four men - lawyers and accountants - dressed in ties and wore a suit," he said.


At one point, Mr Cramer turned and angrily addressed Lord Black, the former owner of The Daily Telegraph, directly as he sat at the defence table in the centre of the court.


Comment on this SOTT Focus

---

Bush Warns Dems to Take Offer in Firings

LAURIE KELLMAN
Associated Press
2007-03-20 21:17:00

WASHINGTON - A defiant President Bush warned Democrats Tuesday to accept his offer to have top aides speak about the firings of federal prosecutors only privately and not under oath, or risk a constitutional showdown from which he would not back down.



Comment on this SOTT Focus

---
UK & Euro-Asian News
---
Mystery of attacks on 27 horses at stud farm

FRANK URQUHART
The Scotsman
2007-03-21 13:56:00

THE owner of a stud farm where 27 horses have had their manes and tails viciously cut off spoke yesterday of her horror after the bizarre attacks.

The horses, including a stallion and several one-year-old foals, were targeted in a series of incidents, all in the dead of night, at a farm near Laurencekirk in Aberdeenshire.

Comment on this SOTT Focus

---

Who benefits? Chirac's visit to Russia postponed


Interfax
2007-03-21 09:31:00

The visit of the French President Jacques Chirac to Russia at the end of March has been postponed.


"The visit of the French president has been postponed and a new date will be agreed upon along diplomatic channels," a diplomatic source in Moscow told Interfax on Wednesday.


Earlier President Vladimir Putin said he was ready to discuss a broad range of questions with Chirac during the visit of the French leader to Moscow in March.


Comment on this SOTT Focus

---

Shimon Tzabar, 81, dies in London

Tamara Traubmann
Haaretz
2007-03-21 09:15:00

Left-wing artist, author, poet and former Haaretz columnist Shimon Tzabar died of pneumonia and heart disease in London on Monday at the age of 81.


Tzabar, who was born in Tel Aviv in 1926, was a columnist for both Haaretz and Haolam Haze. He published 27 books in Hebrew. Among his most controversial works was his study of Israel's prisons titled, "Much Better Than the Official Michelin Guide to Israeli Prisons, Jails, Concentration Camps and Torture Chambers."


Comment on this SOTT Focus

---

Post-imperial attitudes: Britain after the war and Russia today

Ian Pryde
RIA Novosti
2007-03-21 09:08:00

In June 1992, the president of the Kyrgyz Republic, Askar Akayev, a research physicist before going into politics, told me in an interview that although the former Soviet republics were flying apart just like the universe after the Big Bang, eventually they would be drawn back together again by their own gravity.


So it should be no surprise that after the apparent chaos of the 1990s, cooperation among the former republics is increasing, nor that Russia's commodity-fuelled recovery has seen Moscow become more assertive in recent years.


The real surprise is that these trends have caught most Western and Russian observers off guard.


In fact, a better reading of Russia and of Russian and Western imperial history shows that Moscow's attitudes were almost pre-programmed. After all, the desire for international power and influence is hardly unique to Russia, nor are there any intrinsic reasons why Russia should not assert its own interests - which may or may not be in line with those of the West.


Comment on this SOTT Focus

---

What's wrong with this picture? Sarkozy Quits... And Gains Chirac Support

Gareth Cartman
Paris Link
2007-03-21 09:04:00

The outgoing President has caused a surprise by deciding to back Nicolas Sarkozy for the Presidency. Years of animosity between the two appear to be behind them as Chirac becomes the final piece in Sarkozy's electoral jigsaw puzzle. The Interior Minister has also announced his departure from the government.


On the day that Nicolas Sarkozy announced his decision to resign from the government, Jacques Chirac announced that he would cast his vote for the UMP candidate. After months of hesitating, the outgoing President appears to have cast aside the animosity that has clouded their relationship for the last 12 years.


Comment on this SOTT Focus

---

Brown allies defend 'Stalinist' chancellor

Nicholas Timmins, Ben Hall and Chris Giles
Financial News
2007-03-21 07:29:00

Labour MPs rode to Gordon Brown's defence following accusations that he had exhibited a "Stalinist ruthlessness" in government, belittling his cabinet colleagues whom the Treasury treated with "more or less complete contempt", according to the man who was Britain's top civil servant until two years ago.


Speaking to the Financial Times - as part of a series of interviews for an in-depth analysis of Mr Brown's 10 years at the Treasury - Lord Turnbull, permanent secretary to the Treasury for four years under Mr Brown before becoming cabinet secretary in 2002, accused the prime minister-in-waiting of a "very cynical view of mankind and his colleagues".


Comment on this SOTT Focus

---
Around the World
---
Ontario: Minimum wage to rise

Robert Benzie
Toronto Star
2007-03-21 09:47:00

The Ontario government will bump the minimum wage to $10.25 an hour by 2010 in the provincial budget tomorrow, the Toronto Star has learned.

It comes after weeks of pressure on the government from poverty activists and the New Democrats for an immediate hike to $10 an hour from the present $8 an hour.

Comment on this SOTT Focus

---

Somali insurgents drag soldiers' corpses and set them on fire

By MOHAMED OLAD HASSAN
Associated Press
2007-03-21 09:43:00

MOGADISHU, Somalia (AP) Insurgents dragged the corpses of two soldiers through the streets of the Somali capital and set the bodies on fire Wednesday after a fierce street battle killed at least seven people, witnesses and medical officials said.

An Associated Press photographer saw insurgents drag the bodies of one Ethiopian soldier and one Somali government soldier through the streets of northeastern Mogadishu and then set them on fire.

Comment on this SOTT Focus

---

'Black Jesus' accused of rape and murder

Nick Squires
Telegraph
2007-03-21 07:56:00

Police in Papua New Guinea are preparing to bring at least 30 charges of rape and murder against a religious cult leader who calls himself Black Jesus.


Steven Tari, who was captured last week after hiding out in the jungle for nearly two years, allegedly raped, killed and ate three young sex slaves he recruited in remote jungle villages on the country's north coast.


Known for wearing prophet-like flowing robes, he is suspected of raping dozens of other young girls.


Comment on this SOTT Focus

---

The World is going to Hell, and Psychopaths are playing Golf: Air Force Chief Resigns Over Golf

Kim Sue-young
The Korea Times
2007-03-21 07:47:00

The top Air Force officer yesterday offered to resign to take responsibility for a fighter jet crash and golf scandal.
"I apologize for the accident of a KF-16 jet. Taking full responsibility, I tendered my resignation to Defense Minister Kim Jang-soo last Sunday" ,Air Force Chief of Staff Kim Sung-il said in a statement. "I also apologize for playing golf at an inappropriate time".


(President) Roh will likely accept Kim's resignation if the defense minister asks for it,presidential spokesman Yoon Seung-yong told reporters.


The fighter jet crashed into waters off the West Coast during training on Feb. 13 and the investigation found that the accident was caused by poor maintenance. The pilot survived.


Comment on this SOTT Focus

---
Big Brother
---
Terror at your service, Your Majesty: Passport applicants face interview to stem rise in faked claims

Richard Ford
The Times
2007-03-21 07:24:00

Hundreds of thousands of people applying for a British passport will have to undergo a face-to-face interview in an attempt to cut fraudulent applications.


Of 16,500 fraudulent applications made last year, 10,000 were successful, according to figures released by the Home Office yesterday. The figures were published as the department outlined proposals to make first-time applicants travel up to 20 miles (32km) and face up to 200 questions about their family, bank accounts, mortgages and previous addresses.


Among those who have used fraudulent passports are Dhiren Barot, who admitted last year plotting to kill hundreds of people on both sides of the Atlantic, and Salaheddine Benyaich, serving 18 years for terrorist attacks in Morocco.


Comment on this SOTT Focus

---

Big Brother set to give credit where credit is due


The Telegraph
2007-03-19 00:01:00

UK: The Government is to remove all barriers to banks sharing data on us in a bid to curb irresponsible lending. But the potential for error is huge, writes Teresa Hunter

The Government is poised to remove all privacy to our financial arrangements by allowing banks and other institutions to reveal full details of our accounts to each other and credit reference agencies, even though we may not have given permission for this data to be shared.

Comment on this SOTT Focus

---

Australian Minister for Justice pushes for federal DNA database

Malcolm Brown
Sydney Morning Herald
2007-03-21 00:00:00

A NATIONAL DNA database, accessible by police in any jurisdiction in Australia, has been called for by the new Minister for Justice, David Johnston.

Senator Johnston has called on the states to "stop dragging the chain" and accept a national system which could be quickly implemented under mechanisms already in place.

Comment on this SOTT Focus

---

'Yahoo Betrayed My Husband' - Arrested in China for Online Political Journal

By Luke O'Brien
Wired News
2007-03-20 18:22:00

FAIRFAX, Virginia -- Early one Sunday morning in 2002, a phone rings in Yu Ling's Beijing duplex. She's cleaning upstairs; her son is asleep, while downstairs, her husband, Wang Xiaoning, is on the computer. Wang writes about politics, anonymously e-mailing his online e-journals to a group of Yahoo users. He's been having problems with his Yahoo service recently. He thinks it's a technical issue. This is the day he learns he's wrong.

Wang picks up the phone: "Yes?"

"Are you home?" asks the unfamiliar voice on the other end.

"Yes."

The line goes dead.

Comment on this SOTT Focus

---
Axis of Evil
---
George W. Bush's Ides of March: A warning to Julius Caesar of an impending danger...

Felicity Arbuthnot
Global Research.ca
2007-03-21 13:05:00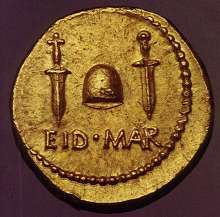 ©n/a



'Beware the Ides of March', is said as a warning of impending and certain danger. Since it is from Plutarch, referring to a warning to Julius Caesar, it is unlikely to have influenced George W.Bush's 'shock and awe' decision to invade Iraq in March, since literature is not his forte. (Unless you count 'My Pet Goat'.)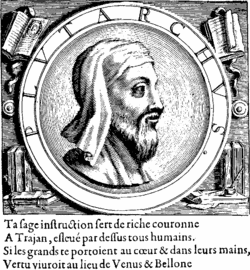 ©n/a



For Iraq though, March brings not alone the fourth anniversary of the illegal US led invasion, monumental destruction of life, all societal structures, history, the National Museum, libraries of ancient manuscripts, all records from educational qualifications to medical reports, births, deaths and marriages and never ending death and trauma beyond imagination, but the memory of the 1991 'turkey shoot' on the Basra Road and the US encouraged uprisings in the south and north - then bloodily put down - with US assistance. March marked the beginning of the forty day period of mourning for the thousands of retreating conscripts and civilian families incinerated in their vehicles, when B52's bombed the front and back of the sixty mile convoy, then relentlessly bombed the rest 'like sitting ducks', as one pilot explained.

Comment on this SOTT Focus

---

The MOSSAD needs more agents: Israel seeks more women, immigrant hi-tech spooks

Dan Williams
Reuters
2007-03-21 12:49:00

JERUSALEM - Israel lifted the veil over its secret services' recruiting practices on Wednesday with a public call for more women and foreign Jews to sign up for sensitive government jobs in information technology.

Comment on this SOTT Focus

---

David Iglesias: Why I Was Fired - Refused to be pressured by Rep. Heather Wilson and Sen. Domenici

By DAVID C. IGLESIAS
NY Times
2007-03-21 10:44:00

Albuquerque - WITH this week's release of more than 3,000 Justice Department e-mail messages about the dismissal of eight federal prosecutors, it seems clear that politics played a role in the ousters.

Of course, as one of the eight, I've felt this way for some time. But now that the record is out there in black and white for the rest of the country to see, the argument that we were fired for "performance related" reasons (in the words of Deputy Attorney General Paul McNulty) is starting to look more than a little wobbly.

Comment on this SOTT Focus

---

Fired US Attorney David Iglesias Speaks

By Justin Gardner
donklephant.com
2007-03-21 10:41:00

The following is pretty damning. Not only because it lays out a very succinct timeline of when these firings started to take shape, but also the nature of how politically craven the justifications for the firings were.

Comment on this SOTT Focus

---

Bush vows to resist subpoenas in prosecutor purge: No Testifying Under Oath! Can't lie and get away with it so easily!


Agence France Presse
2007-03-21 10:33:00

President George W. Bush Tuesday vowed to resist any attempt by Congress to force top aides to testify under oath about a row over fired prosecutors, warning against a "partisan fishing expedition."

In his boldest political language since Democrats seized Congress in November, Bush accused his opponents of using the escalating showdown to "score political points" and refused to back down.

Comment on this SOTT Focus

---

Lawmakers warn FBI over spy power abuse

By JULIE HIRSCHFELD DAVIS
Associated Press
2007-03-21 09:40:00

WASHINGTON - Republicans and Democrats alike sternly warned the FBI on Tuesday that it risks losing its broad power to collect telephone, e-mail and financial records to hunt terrorists because of rampant abuses of the authority.

The threats were the latest blow to the embattled Justice Department and Attorney General Alberto Gonzales, who is already on the defensive and fighting to keep his job over the firings of federal prosecutors.

Comment on this SOTT Focus

---
Middle East Madness
---
Ahmadinejad Names the True Enemies of Humanity

Anon.
Islamic Republic News Agency
2007-03-21 14:29:00

The president said that the problem of the world today is ''a handful of racist Zionists who intend to keep the world in a state of hardship, poverty and hostility by appropriation of power and media centers in order to stabilize their rule.''

President Mahmoud Ahmadinejad, in a message, congratulated the Iranian nation on the occasion of Nowruz, the Iranian New Year saying today Iran and Iranians are renowned worldwide as symbols of morality, faith, piety, kindness, unity and firmness.

Comment on this SOTT Focus

---

US Government Prevent Iraqis From Leaving Iraq


BBC News
2007-03-21 14:17:00

The desire to get out of Iraq increases in line with the violence. The UN estimates that two million Iraqis have already left the country.

For those trying to follow them, getting the necessary papers to leave has become an obstacle course requiring huge reserves of patience or cash, often both.


Comment on this SOTT Focus

---

Palestine: Nablus Invasion, Resistance, Hypocrisy, and Dead Men Walking

Anna Baltzer
Global Research.ca
2007-03-20 13:25:00

What most struck me about the Nablus invasion wasn't the killing of unarmed civilians. It wasn't the obstruction of medical workers and ambulances, or the indiscriminate detention of males, or the occupied houses and curfews. What I will remember for the rest of my life is the steadfast resistance of the people of Nablus.

I came to Palestine to document and intervene in human rights abuses and to support nonviolent resistance to the Occupation. As I delivered bread and medicine with medical relief workers throughout the invasion, I wondered if I was really fulfilling my mission. Wasn't handing out aid simply accommodating and enabling the curfew?


Comment on this SOTT Focus

---

The Price of a Name Is Death

Anna Husarska
International Rescue Committee
2007-03-19 18:22:00

To be called Abu Omar in today's Iraq is to be on death row. "Abu Omar" means "father of Omar." And this means that you probably are a Sunni and your son is a Sunni, too. And, as a Sunni friend explained to me last month-with her Shia husband sitting next to her-"all Omars in Iraq are either killed or change their names. For any Omar, the safest bet is to flee."

Comment on this SOTT Focus

---

World 'ignoring Iraqi refugees'


BBC
2007-03-20 13:25:00

The UN refugee agency (UNHCR) says there has been an "abject denial" around the world of the humanitarian impact of invading Iraq.

The UN faces an enormous task in helping countries such as Jordan and Syria cope with the huge influx of Iraqi refugees, a spokesman said.

He said the international community had to step in to help address their food, health and education needs.

Syria says it is home to 1.2m Iraqi refugees, with up to 800,000 in Jordan.

Damascus has repeatedly called for help to deal with the problem.

Comment on this SOTT Focus

---

U.S. diplomat meets Palestinian unity government


CBC News
2007-03-20 18:10:00

A U.S. diplomat met Tuesday with the Palestinian finance minister, a Palestinian official said, in the first American contact with the new coalition government and a sign of a break in policy between Israel and its closest ally.

Israel has said it will not have contact with any member of the new Hamas-Fatah coalition. The United States, however, has indicated it would maintain contact with moderates such Palestinian Finance Minister Salam Fayyad.

Comment on this SOTT Focus

---
The Loan Gunmen
---
Crisis looms for entire economy

PETER MORRIS
Newsday.com
2007-03-20 21:54:00

If Washington doesn't address the rapidly building multi-trillion-dollar crisis in residential mortgage defaults, its paralysis will help trigger a national economic recession that could touch every homeowner.




Comment on this SOTT Focus

---
The Living Planet
---
Canada: Is mayfly's demise a clue for the wise?

Phinjo Gombu
Toronto Star
2007-03-21 09:50:00

The Green Drake is a little mayfly that's only about 4.5 centimetres long, but favoured by trout, which love to gorge on it.

The flies spend several years in a riverbed, in a nymph stage.

When they emerge in late May or early June for action-filled lives lasting about a week, they do so in a gossamer blizzard, numbering in the tens of thousands.

Comment on this SOTT Focus

---

'Cyclone science' shows rainforest impacts and recovery


Physorg / CSIRO
2007-03-21 08:31:00

A year on from Cyclone Larry research into the environmental impacts of the category 4/5 storm is starting to deliver interesting results. This suite of projects involving 25 scientists from 5 institutions was set up shortly after the cyclone hit to investigate its effects on the rainforests of the Wet Tropics.


"This is probably the most comprehensive study of the environmental impacts of a tropical cyclone ever done anywhere in the world," said the Director of the CSIRO/JCU Tropical Landscapes Joint Venture, Professor Steve Turton.


Comment on this SOTT Focus

---

Scientists uncover prehistoric hurricane activity


Physorg
2007-03-21 08:29:00

Hurricanes Katrina and Rita focused the international spotlight on the vulnerability of the U.S. coastline. Fears that a "super-hurricane" could make a direct hit on a major city and cause even more staggering losses of life, land and economy triggered an outpouring of studies directed at every facet of this ferocious weather phenomenon. Now, an LSU professor takes us one step closer to predicting the future by drilling holes into the past.


Kam-biu Liu, George William Barineau III Professor in LSU's Department of Oceanography and Coastal Sciences, is the pioneer of a relatively new field of study called paleotempestology, or the study of prehistoric hurricanes. Liu, a long-time resident of Louisiana, became even more interested in the subject during the aftermath of Hurricane Katrina, when a national debate was sparked concerning hurricane intensity patterns and cycles.


"People were discussing the probability of a Category 5 hurricane making direct impact on New Orleans," said Liu. "That's tricky, because it's never actually happened in history. Even Katrina, though still extremely powerful, was only a Category 3 storm at landfall."


Comment on this SOTT Focus

---

Cycle of sunspots is linked to weather patterns: Start of wetter cycle underway


Rural Press Network / AAP
2007-03-21 08:10:00

The worst drought in a century could end this year, according to a scientist who has linked the cycle of sunspots and the "looping" of the sun's magnetic field to Australia's weather patterns.


Associate Professor Robert Baker, University of New England, Armidale, NSW, says the rhythmic pattern in the sun's energy output strongly influences weather patterns.


The rhythms apply especially in the southern Hemisphere and in eastern Australia under the influence of the huge size of the Pacific Ocean.


The two key, related sun rhythms are:


- The sun's poles which switch every 11 years


- The sun's magnetic emissions which peak, every 11 years also, in periods of increased sunspot activity.


Comment on this SOTT Focus

---

Bird species showing up farther north

Patrick O'Driscoll
USA TODAY
2007-03-20 22:07:00

More bird species in the USA are ranging farther north and even staying there for the winter in a possible sign of adaptation to global warming, ornithologists and conservation groups say.

Comment on this SOTT Focus

---

Flashback: Scientist: Comets blasted early Americans

By Meg Kinnard
USAToday
2005-10-30 19:16:00

COLUMBIA, S.C. - A supernova could be the "quick and dirty" explanation for what may have happened to an early North American culture, a nuclear scientist here said Thursday.

Richard Firestone said at the "Clovis in the Southeast" conference that he thinks "impact regions" on mammoth tusks found in Gainey, Mich., were caused by magnetic particles rich in elements like titanium and uranium. This composition, the Lawrence Berkeley National Laboratory scientist said, resembles rocks that were discovered on the moon and have also been found in lunar meteorites that fell to Earth about 10,000 years ago.


Comment on this SOTT Focus

---
Health & Wellness
---
Brain damage turns man into human chameleon


BPS Research
2007-03-21 13:49:00

In his 1983 fake documentary 'Zelig', Woody Alan plays a character, Leonard Zelig, a kind of human chameleon who takes on the appearance and behaviour of whoever he is with. Now psychologists in Italy have reported the real-life case of AD, a 65-year-old whose identity appears dependent on the environment he is in. He started behaving this way after cardiac arrest caused damage to the fronto-temporal region of his brain.

Comment on this SOTT Focus

---

Delay cutting the cord for Health Benefits

Joseph Hall
The Star
2007-03-21 09:44:00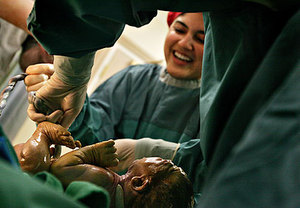 ©The Star
Dr. Cynthia Maxwell holds Graham Berry's umbilical cord moments after his delivery at Mount Sinai Hospital in Toronto last month.
Comment on this SOTT Focus
---

Japan drug firm: Tamiflu not for teens

Chisaki Watanabe
Associated Press
2007-03-21 09:36:00

Japanese doctors were warned on Wednesday against prescribing Tamiflu to teenagers after several young patients taking the bird flu-fighting drug reportedly exhibited dangerous behavior.


The Health Ministry issued emergency instructions Tuesday to a Japanese Tamiflu distributor, Chugai Pharmaceutical Co., to warn doctors not to give the drug to teenagers, a Chugai official said on condition of anonymity, citing protocol.


Chugai began distributing warnings to doctors, hospitals and pharmacies across Japan on Wednesday, the official said.


Comment on this SOTT Focus

---

From trophy wife to toxic wife

Tara Winter Wilson
The Telegraph
2007-03-21 08:56:00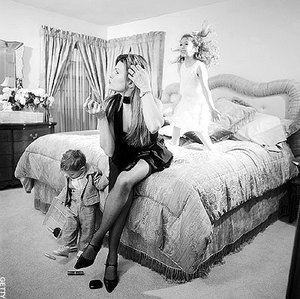 ©Telegraph
Poisonous: 'It is like a perversion of the evolution theory: they have evolved into creatures whose function is simply to get the most for doing the least,' says one husband
Comment on this SOTT Focus
---

Partial Disclosure: What Do Drug Companies Pay Doctors For?

JR Minkel
Scientific American
2007-03-21 08:26:00

Pharmaceutical companies fail to publicly reveal all of the money and gifts they give to physicians and health care workers - making it hard to know what the money is for.


A new analysis found that records were sketchy and hard to access in two states that require drug companies to publicly disclose payments made to physicians.


Five states and the District of Columbia have enacted so-called sunshine laws that require companies to report how much money they pay doctors and other health care workers as well as in what form and for what purpose. Such payments can range from consulting fees for clinical trials to meals to "detailing" (paying doctors to let drug-marketing reps talk up their drugs during the workday), some of which can raise concerns about conflicts of interest when doctors are prescribing the companies' drugs to patients.


Comment on this SOTT Focus

---

Forget it and go back to sleep: Drug may erase war trauma for soldiers


Science Daily
2007-03-21 08:21:00

U.S. scientists are testing drugs that could help soldiers erase the memory of traumatic events.


The U.S. Army estimates that one in eight soldiers returning home from Iraq suffers from post-traumatic stress disorder, ABC News said.


Researchers working on drugs that can target and erase traumatic events from a person's memory say the drugs might work in cases where the event occurred many years ago.


Comment on this SOTT Focus

---
Science & Technology
---
NASA Finds Sun-Climate Connection in Old Nile Records


NASA
2007-03-19 15:27:00

Scientists have traditionally relied upon indirect data gathering methods to study climate in the Earth's past, such as drilling ice cores in Greenland and Antarctica. Such samples of accumulated snow and ice drilled from deep within ice sheets or glaciers contain trapped air bubbles whose composition can provide a picture of past climate conditions. Now, however, a group of NASA and university scientists has found a convincing link between long-term solar and climate variability in a unique and unexpected source: directly measured ancient water level records of the Nile, Earth's longest river.

Comment on this SOTT Focus

---

Duke Patents Mind-Controlled Weapons


Wired News
2007-03-21 13:47:00

Work on Brain-Machine Interface (think monkey controlling a joystick with its thoughts) is old news, but a patent granted earlier this month underscores researchers' confidence that a broader set of military applications is possible: like controlling weapons with your mind.

Comment on this SOTT Focus

---

NASA Confirms Solar Storm Warning for 2012


NASA
2007-03-21 13:26:00

It's official: Solar minimum has arrived. Sunspots have all but vanished. Solar flares are nonexistent. The sun is utterly quiet.



Like the quiet before a storm.



This week researchers announced that a storm is coming--the most intense solar maximum in fifty years.

Comment on this SOTT Focus

---

New Comet Discovered - It's Green - 'Comet Lovejoy'


Spaceweather.com
2007-03-21 13:13:00

There's a new comet in the southern hemisphere: Comet Lovejoy (C/2007 E2). Terry Lovejoy of Australia discovered it on March 15th using, remarkably, not a telescope but only an off-the-shelf digital camera. The green comet is too dim to see with the naked eye, but it is a nice target for backyard telescopes. After five days of monitoring, the comet's orbit is now known with some accuracy and it is possible to make predictions about Comet Lovejoy's future movements and brightness. Details.


Comment on this SOTT Focus

---

Court victory for man who took on spammers

By Auslan Cramb
The Telegraph
2007-03-21 08:53:00

A man who won damages of £750 after he was sent a single unsolicited email urged other people yesterday to "take the spammers to court".

Gordon Dick launched a civil case against an internet company after it sent him an unwanted email on an address that was known only to one company.

Comment on this SOTT Focus

---

Hair may provide clue to Princes' fate

By Roger Highfield
The Telegraph
2007-03-21 08:50:00

A DNA test of a 500-year-old strand of hair may help to solve one of the great mysteries of history - the fate of the little princes in the Tower - according to a student.

While skeletons thought to be Edward V and Richard of Shrewsbury were found in the tower in 1674, an Essex University doctoral student is set to determine their authenticity by testing hair from the princes' niece.

By using some of Mary Tudor's hair that was found in a locket, John Ashdown-Hill plans on matching its mitochondrial DNA - that from the power packs of cells, mitochondria - to that of the skeletons.

Comment on this SOTT Focus

---
Our Haunted Planet
---
No new articles.
Don't Panic! Lighten Up!
---
Penn & Teller - Masters Of Deception

by Greg Bishop
UFOMystic
2007-03-21 13:54:00

In my part time work in the post-production industry, I often get a chance to see soon-to-be released T.V. shows and films, but most of the time, it's re-runs. This week, for instance, I saw a couple of old episodes of the Penn & Teller Showtime trainwreck entitled Bullshit! The duo, who have been performing magicians for decades now, somehow felt compelled to bring their philosophical beliefs to the small screen. In 1994, before they began their residence in Las Vegas, I was entertained and fascinated by their stage show. They're consummate showmen and put on a top-notch act. I even have a copy of their 1989 book Cruel Tricks For Dear Friends, and it's a riot.


Comment on this SOTT Focus

---

Pampers are not an invention of the devil

Tom Baldwin
The Times
2007-03-21 08:59:00

The world's biggest manufacturer of household and grooming products voiced hopes yesterday that an urban myth linking it to Satanism was being crushed after four men were ordered to pay almost $20 million (£10 million) in damages for spreading the rumour.


At the end of a 12-year legal case in Salt Lake City, Utah, a US District Court jury found against a group of distributors from a rival company who had left voicemail messages alleging that part of Procter & Gamble's profits went to devil-worshipping cults.


P&G - which owns brands such as Pampers, Gillette, Head & Shoulders and Ariel - has long been in despair over the stubborn refusal of such claims to go away.


Comment on this SOTT Focus

---

What is the most annoying phrase in the English language?

By Christopher Howse
The Telegraph
2007-03-21 08:46:00

The clumsy phrases you basically like, hate

Like some Crufts for ugly mongrels, hundreds of linguistic pet hates were sent in by readers yesterday. It started with a criticism by Noel Pepperall on Thursday's Letters page of draw down applied to withdrawal of troops from Iraq.

Chief among the breeds you loathe are empty speech-markers, equivalent to er, such as, basically, you know and I mean. Tudor Gwilliam-Rees counted Tony Blair saying "Y'know" 40 times during a Today radio interview.

Comment on this SOTT Focus

---

The true beauty of Lady Jane Grey

By Nigel Reynolds
The Telegraph
2007-03-21 08:39:00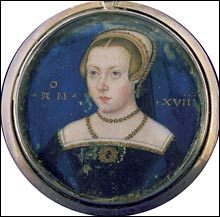 ©Telegraph
The miniature that Dr Starkey believes is of Lady Jane Grey
Comment on this SOTT Focus
---

13-year-old girl is rotten sneakers queen


CNN / AP
2007-03-21 07:43:00

Thirteen-year-old Katharine Tuck's sneakers smell as bad as they look. Now, at least, the Utah seventh-grader can afford some new ones.


On Tuesday, she out-ranked six other children to win $2,500 in the 32nd annual National Odor-Eaters Rotten Sneaker Contest, stinking up the joint with a pair of well-worn 1½-year-old Nikes so noxious they had the judges wincing.


"I'm so proud of the little stinker," said her mother, Paula Tuck.


Ah, the foul smell of success.


Katharine has used the sneakers to play soccer and basketball, hiked in them, even waded into the Great Salt Lake, where they were infiltrated by brine shrimp.


The contest, founded in 1975 as a sporting goods store promotion and now sponsored by the manufacturer of anti-foot odor products, pits children from around the United States who have won state-level competitions for the generally cruddy condition of their footwear.


Comment on this SOTT Focus

---
---

Remember, we need your help to collect information on what is going on in your part of the world!
Send your article suggestions to: sott(at)signs-of-the-times.org

---
Click here to return to the Signs of the Times Archive
Click here for today's Signs Page