---
Sections on today's Signs Page:
---
SOTT Focus
---
No new articles.
Best of the Web
---
No new articles.
U.S. News
---
Impeachment and Patriotism

By Richard W. Behan
ICH
2007-03-20 17:46:00


When people who are honestly mistaken learn the truth, they will either cease being mistaken, or cease being honest. --Anon.


We the American people would not do what George Bush and Richard Cheney have done in Iraq, all of it in our name. We would not, for utterly fabricated reasons, invade and occupy a sovereign country without provocation, killing hundreds of thousands of its citizens, driving millions more from their homes as refugees, torturing prisoners, destroying the country's economy and infrastructure, fomenting a vicious sectarian civil war, sacrificing 3,200 American lives, squandering half a trillion dollars, dangerously destabilizing the Middle East, blackening our country's character, and defaming every American citizen.

Comment on this SOTT Focus

---

Totally Sick! Couple Sentenced For Having Sex In Front Of Child


Associated Press
2007-03-20 17:10:00

PROVIDENCE, R.I. A Woonsocket mother and her boyfriend were sentenced to three years probation on Monday for having intercourse in front of the woman's 9-year-old daughter to teach the girl about sex.

Chief Family Court Judge Jeremiah S. Jeremiah Jr. sentenced Rebecca Arnold of Woonsocket, and her boyfriend, David Prata, to probation and a three-year suspended sentence after they pleaded no contest to a felony child neglect charge.

Comment on this SOTT Focus

---

Hypocrisy Dept: Americans Object to 'Captivity' ad because it depicts torture

By Nicole Sperling
Hollywood Reporter
2007-03-20 16:42:00

In the wake of a public outcry against Los Angeles billboards and New York taxicab tops advertising the upcoming movie "Captivity" with images of the abduction, torture and death of a young woman, After Dark Films said it will take down the offending ads by 2 p.m. today.

After Dark, its theatrical distribution partner Lionsgate Films and the MPAA received a barrage of phone calls objecting to the gratuitous depiction of the film's star Elisha Cuthbert being tortured and killed.

Comment on this SOTT Focus

---

Schwarzenegger Calls Rush Limbaugh Irrelevant


LA Times
2007-03-20 16:29:00

During the one-on-one interview, the Republican-registered California governor was asked about criticism from Limbaugh and other conservatives that he has become a Democrat in disguise for supporting stem-cell research, mandatory curbs on carbon dioxide emissions and universal health care. Schwarzenegger said he is "the people's servant of California. What they call me - Democrat or Republican or in the center, this and that - that is not my bottom line. This is for them to talk about."

Comment on this SOTT Focus

---

War Pimp Mike Rogers' Office Vandalized by Anti-War Zealots


WXYZ.com
2007-03-20 16:16:00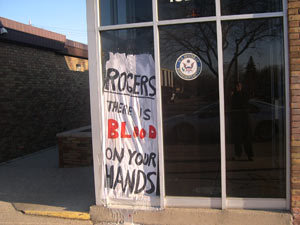 ©wxyz.com
As frustrations grow among the American People whose representatives are not representing them, this sort of thing is likely to become quite regular.
Comment on this SOTT Focus
---

Obama's Israel support questioned: Not Slave Enough

Ben Smith
THe Politico
2007-03-20 15:42:00

Barack Obama's presidential campaign is moving to tamp down concerns among Democratic supporters of Israel with an e-mail from a Florida congressman to Jewish leaders singing the senator's praises.

"What has always struck me about Senator Obama - and this is one of the reasons that I have endorsed his candidacy for president - is that a love for Israel and a desire to keep the Jewish people secure is evident not just in his work, but also in his heart," wrote Rep. Robert Wexler (D) in the e-mail, which was sent to a list of Jewish community leaders.

Comment on this SOTT Focus

---
UK & Euro-Asian News
---
London is the world capital of the 21st century... says New York

By Tom Teodorczuk
Evening Standard
2007-03-20 16:45:00

An influential American magazine has named London the global capital of the 21st century.

The new issue of New York magazine is a homage to London, claiming the financial, cultural and culinary benefits now tower over those of its home city.

In the most glowing American media coverage of Britain since Vanity Fair's 1996 Cool Britannia issue, the article declares: "If Paris was the capital of the 19th century and New York of the 20th, London is shaping up to be the capital of the 21st century.

Comment on this SOTT Focus

---

New Slave Trade Rife in Britain

Anon.
Islam Online
2007-03-20 15:41:00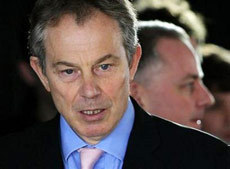 ©Reuters
Slavemaster/Slave Tony Blair



Two hundred years after Britain abolished the slave trade, a new slave trade is still in practice with thousands of men, women and children being tricked, coerced or intimidated into prostitution or forced labor.

"In the last 200 years we haven't come that far," Klara Skrivankova, trafficking program coordinator at Anti-Slavery International, told Reuters on Tuesday, March 20.

Comment on this SOTT Focus

---

Siberia mine blast kills 106, search for survivors continues

by Dario Thuburn
AFP
2007-03-20 12:20:00

ULYANOVSKAYA MINE, Russia - Rescuers wearing oxygen tanks pulled more corpses to the surface here Tuesday after a gas explosion in a remote Siberian coal mine left 106 people dead in one of Russia's worst mine disasters in a generation.

Loud blasts, apparently controlled explosions, and heavy smoke poured out of the main shaft at the Ulyanovskaya mine, followed immediately by dozens of rescuers filing into the concrete entrance and descending the shaft in a relentless search for survivors still trapped underground.

"We're hoping to find more people alive," Russian Emergency Situations Minister Sergei Shoigu, dispatched by President
Vladimir Putin to oversee rescue operations, told reporters at the site in Novokuznetsk, located about 3,000 kilometers (1,850 miles) east of Moscow.

Comment on this SOTT Focus

---

Fire in Russian nursing home deathtrap kills 62

by Sebastian Smith
AFP
2007-03-20 12:19:00

MOSCOW - More than 60 Russian pensioners, almost half of them bed-ridden, died Tuesday in a blaze at a retirement home flouting fire safety regulations and located an hour's drive from the nearest fire station, officials said.

The residents of the two-storey brick building in the village of Kamyshevatskaya, in rural southern Russia, were asleep when the fire broke out, killing 61 residents and one nurse, according to the Emergency Situations Ministry.

Comment on this SOTT Focus

---

Nearly 50 killed in Pakistan militant clashes

by S.H. Khan
AFP
2007-03-20 12:14:00

WANA, Pakistan - Uzbek Al-Qaeda militants and pro-government tribesmen in northwest Pakistan fought pitched battles that left at least 46 people dead including four children, officials said Tuesday.

Heavy exchanges of rocket and mortar fire rang out for a second day around Kalusha town in the mountainous tribal region of South Waziristan, which borders Afghanistan, security officials said.

The fighting started after ex-Taliban commander Mullah Nazir, who backs President Pervez Musharraf's moves to expel foreign fighters from the troubled area, ordered followers of Uzbek militant Tahir Yuldashev to disarm.

Comment on this SOTT Focus

---

Two thirds in the UK do NOT think Iraq war was right


BBC News
2007-03-20 06:00:00



A third of people in the UK think the war in Iraq was justified but six in 10 believe it was a mistake, a BBC survey suggests.

While 29% said taking military action against Iraq in 2003 was the right thing to do, only 5% of those questioned felt safer now.

Comment on this SOTT Focus

---
Around the World
---
Singapore woman jailed for online dating scam


Reuters
2007-03-20 10:14:00

A married Singaporean woman who met a man in an online chatroom and conned him into giving her about $45,000 after she promised to marry him, was jailed for six months on Monday, court documents showed.


Maliha Ramu, 36, used a false name and photographs of Bollywood actress Gayatri Joshi when she began an online relationship with Bharani Indran, an Indian national living in the United States, according to the Straits Times newspaper.


After Ramu promised in 2004 to marry Indran, she asked him to send her a total of about $45,000 for her mother's funeral expenses and for a friend's wedding, according to the court documents.


Comment on this SOTT Focus

---

Sudan Darfur camps almost full


BBC News
2007-03-20 09:57:00

Camps for those displaced by fighting in Sudan's Darfur region are almost full, the UN says.

Several camps are having to turn away new groups of refugees, a report for UN Office for the Co-ordination of Humanitarian Affairs (Ocha) says.



More than 80,000 people have fled violence in the region since the beginning of the year

, the report adds.



Two million people are living in camps

both within Sudan and in neighbouring Chad since conflict began in 2003.

Comment on this SOTT Focus

---

Cuba: US Blockade Seriously Affects Children


Prensa Latina
2007-03-20 05:04:00

Geneva - Cuba said on Monday that the unilateral, illegal US blockade against the Island is a clear, serious violence against Cuban children.



Comment on this SOTT Focus

---
Big Brother
---
Brave New Car Dealer: fingerprints required to buy a car?

Lorna
Lornamatic
2007-03-20 14:14:00

Imagine you've gone through a multiple week process to purchase an automobile.

You know the drill. Research every feature, pick your color, then, it's negotiations for purchase price and for trade-in. Everything is done and agreed-apon, and excited, you are ready to hand over the check and collect your new car.

But wait!

Comment on this SOTT Focus

---
Axis of Evil
---
Four Years And The Suspects Are Still At Large?


Huffington Post"
2007-03-20 17:44:00

There ought to be some kind of American federal criminal statute for fabricating the reasons for war, as well as completely mismanaging the same war -- then brazenly resisting honorable and proven exit strategies while lying about the progress of the war when it's clear that the cause is lost.

If there is, in fact, a federal law against these things, then why hasn't it been enforced?

Comment on this SOTT Focus

---

Drugs That Could Eliminate Traumatic Events From Our Memories - Great for soldiers! Kill, Rape, Plunder and ease your conscience with a pill!

By RUSSELL GOLDMAN
ABCNews
2007-03-20 16:56:00

"I'd take it in a second," said Sgt. Michael Walcott, an Iraq War veteran, referring to an experimental drug with the potential to target and erase traumatic memories.

Walcott, who served in a Balad-based transportation unit that regularly took mortar fire, now suffers from post-traumatic stress disorder. Since returning to the United States two years ago, he has been on antidepressants and in group therapy as he tries to put his life back together and heal from the psychological scars of war. "There are moments," he said, "when you just want be alone and don't want to deal with everyone telling you that you've changed."


Comment on this SOTT Focus

---

Jaw Dropping! 'Patience for Iraq war waning', say leaders


Examiner
2007-03-20 16:25:00

WASHINGTON - Four years into the Iraq war, all sides in the bitter debate agree that President Bush's "troop surge" plan represents the final drop of American patience for the war. If Iraqis fail to control the violence, House Majority Leader Steny Hoyer said, "The American taxpayer has a reasonable expectation that we will bring our people home."

Comment on this SOTT Focus

---

Israel's right to be racist

Joseph Massad
The News
2007-03-20 15:41:00

Israel's struggle for peace is a sincere one. In fact, Israel desires to live at peace not only with its neighbours, but also and especially with its own Palestinian population, and with Palestinians whose lands its military occupies by force. Israel's desire for peace is not only rhetorical but also substantive and deeply psychological. With few exceptions, prominent Zionist leaders since the inception of colonial Zionism have desired to establish peace with the Palestinians and other Arabs whose lands they slated for colonisation and settlement.

The only thing Israel has asked for, and continues to ask for in order to end the state of war with the Palestinians and its Arab neighbours, is that all recognise its right to be a racist state that discriminates by law against Palestinians and other Arabs, and grants differential legal rights and privileges to its own Jewish citizens and to all other Jews anywhere. The resistance that the Palestinian people and other Arabs have launched against Israel's right to be a racist state is what continues to stand between Israel and the peace for which it has struggled and to which it has been committed for decades. Indeed, this resistance is nothing less than the "New anti-Semitism".

Comment on this SOTT Focus

---

Australian detainee writes of beatings at Guantánamo

By Raymond Bonner
IHT
2007-03-20 16:21:00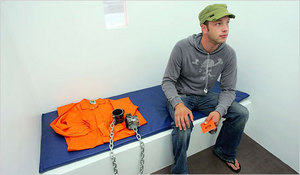 ©Anoek de Groot/AFP
An Amnesty International protester in Sydney, in a replica of David Hicks's cell.
Comment on this SOTT Focus
---

Fitzgerald Ranked During Leak Case - Gonzales Fired 2 With Same Rating

By Dan Eggen and John Solomon
Washington Post
2007-03-20 16:11:00

U.S. Attorney Patrick J. Fitzgerald was ranked among prosecutors who had "not distinguished themselves" on a Justice Department chart sent to the White House in March 2005, when he was in the midst of leading the CIA leak investigation that resulted in the perjury conviction of a vice presidential aide, administration officials said yesterday.

The ranking placed Fitzgerald below "strong U.S. Attorneys . . . who exhibited loyalty" to the administration but above "weak U.S. Attorneys who . . . chafed against Administration initiatives, etc.," according to Justice documents.

Comment on this SOTT Focus

---
Middle East Madness
---
Iraq: facing up to failure

David Clark
The Guardian
2007-03-20 17:58:00

The search for a viable policy towards Iraq and the wider Middle East has to start from an honest acknowledgement that the Anglo-American strategy of 2002-3 has been comprehensively defeated.

Comment on this SOTT Focus

---

British Retreat From Basra

By Atef Hassan
Reuters
2007-03-20 17:55:00

Notice the spin put on this story. Tony Blair denies that the troops were "bombed out," which is a sure sign that they were.

Comment on this SOTT Focus

---

What's an Iraqi Life Worth?

By Andrew J. Bacevich
Washington Post
2007-03-20 17:53:00

In Iraq, lives differ in value -- and so do deaths. In this disparity lies an important reason why the United States has botched this war.

Last November in Haditha , a squad of Marines, outraged at the loss of a comrade, is said to have run amok, avenging his death by killing two dozen innocent bystanders. And in March, U.S. soldiers in Mahmudiyah allegedly raped a young Iraqi woman and killed her along with three of her relatives -- an apparently premeditated crime for which one former U.S. soldier has been charged.

Comment on this SOTT Focus

---

The regrets of the man who brought down Saddam

Audrey Gillan
The Guardian
2007-03-20 17:51:00

His hands were bleeding and his eyes filled with tears as, four years ago, he slammed a sledgehammer into the tiled plinth that held a 20ft bronze statue of Saddam Hussein. Then Kadhim al-Jubouri spoke of his joy at being the leader of the crowd that toppled the statue in Baghdad's Firdous Square. Now, he is filled with nothing but regret.

Comment on this SOTT Focus

---

Saddam VP hanged on invasion anniversary


Reuters
2007-03-20 17:50:00

Saddam Hussein's former vice president was hanged for crimes against humanity early yesterday, the fourth anniversary of the US-led invasion that toppled Saddam Hussein from power.

Former Vice President Taha Yassin Ramadan was the third of Saddam's top aides to be hanged since the ex-president was executed in December after a trial in a US-backed Iraqi tribunal that was criticised by human rights groups as unfair.

Comment on this SOTT Focus

---

The History of Israel Reconsidered: A Talk by Ilan Pappe


Dissidentvoice
2007-03-20 17:27:00

I was born in Israel and I had a very conventional, typical Israeli education, and life, until I finished my B.A. studies at Hebrew University, which was many years ago in the mid-1970s. Like all Israeli Jews, I knew very little on the Palestinian side, and met very few Palestinians. And although I was a very keen student of history, already in high-school I knew I would be a historian I was very loyal to the narrative that I was taught in school. I had very little doubt that what my teachers taught me in school was the only truth about the past.

Comment on this SOTT Focus

---
The Loan Gunmen
---
Houses cheaper than cars in Detroit

By Kevin Krolicki
Reuters
2007-03-20 12:25:00

DETROIT - With bidding stalled on some of the least desirable residences in Detroit's collapsing housing market, even the fast-talking auctioneer was feeling the stress.

"Folks, the ground underneath the house goes with it. You do know that, right?" he offered.

After selling house after house in the Motor City for less than the $29,000 it costs to buy the average new car, the auctioneer tried a new line: "The lumber in the house is worth more than that!"

Comment on this SOTT Focus

---

Europe and Asia might not weather a U.S. slowdown

Michael R. Sesit
Bloomberg News
2007-03-20 12:03:00

PARIS - As the $13.3 trillion U.S. economy slows, will the rest of the world pick up the slack? It is a question that has bedeviled economists. The debate over whether global growth can weather a steep U.S. slowdown has all the earmarks of a number-crunching exercise, and it is already having an effect on stock prices in Asia and Europe.

Comment on this SOTT Focus

---
The Living Planet
---
Global Warming 'Walk' - In the Snow!

By ADAM GORLICK
Nashua Telegraph
2007-03-20 17:05:00

As the world's warmest winter on record drew to an end with a weekend snow storm, a group of religious leaders started walking across the state Friday to bring attention to global warming.

"People have been asking me what happens if it snows," said the Rev. Fred Small of the First Church Unitarian in Littleton. "I tell them: 'We walk.' "

Comment on this SOTT Focus

---

Flowers, animals signal spring arrived long ago

By Alister Doyle
Reuters
2007-03-20 17:03:00

OSLO - Early flowers, migrating swallows and sleepless bears are among signs that spring has arrived long ago in the northern hemisphere even as a record mild winter formally ends on Tuesday with a rare chill.

Spring officially starts on Wednesday at 0007 GMT when the sun passes north over the celestial equator but scientists say the biological clocks of animals and plants are running ahead of time, perhaps upset by global warming.

Comment on this SOTT Focus

---

Oxymoronic politics rules the greenhouse debate

Philip Adams
The Australian
2007-03-20 17:01:00

OK, John Howard says, if panic-merchants want to cut carbon dioxide emissions we'll have to do it with nuclear power. Chernobyl and Three Mile Island notwithstanding, that's perfectly safe these days, even though rogue states and Osama bin Laden franchisees are desperate for bombs.

As for that pesky radioactive waste, it can be safely accommodated underground for the next million years barring accidents or earthquakes. Remember that nuclear power plants only become dangerous when the wrong people want to build them. So Iranian or North Korean nuclear plants may need to be nuked.

Comment on this SOTT Focus

---

EEEvil! 'We want this baby polar bear dead' say animal rights lobby

By ALLAN HALL
Daily Mail
2007-03-20 16:34:00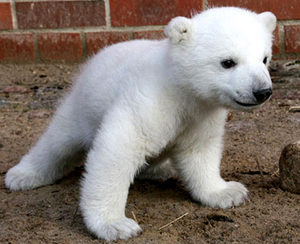 ©Daily Mail
When Knut was born last December his mother ignored him, zoo officials intervened and chose to raise him themselves
Comment on this SOTT Focus
---

U.S. Navy asserts "state secrets" re: Sonar believed to injure whales and other animals

By Kristin Roberts
Reuters
2007-03-20 16:13:00

WASHINGTON - The U.S. Navy on Tuesday said it had asserted the "state secrets" privilege in a lawsuit by environmental groups, a move to keep the military from being forced to disclose information about the use of sonar believed to injure whales and other animals.

Navy Secretary Donald Winter, in a court filing submitted on Monday, said the information requested by plaintiffs was classified and its disclosure "could reasonably be expected to cause exceptionally grave damage to national security."

Comment on this SOTT Focus

---

Texas dolphin die-off puzzles scientists


Reuters
2007-03-20 13:35:00

The stranding deaths of about 60 bottlenose dolphins on Texas beaches over the past three weeks has puzzled researchers and is a cause for concern during the calving season, a senior scientist said on Monday.

Comment on this SOTT Focus

---
Health & Wellness
---
Playing Music Makes You Smart

Charles Q. Choi
LiveScience
2007-03-20 12:30:00

Scientists have uncovered the first concrete evidence that playing music can significantly enhance the brain and sharpen hearing for all kinds of sounds, including speech.

"Experience with music appears to help with many other things in life, potentially transferring to activities like reading or picking up nuances in tones of voices or hearing sounds in a noisy classroom better," researcher Nina Kraus, a neuroscientist at Northwestern University, told LiveScience.

Comment on this SOTT Focus

---

Brain Can Learn Fear By Seeing Others' Fears. But what about instinct?

Andrea Thompson
Live Science
2007-03-20 10:22:00

Whether you get stung by a bee or simply watch as a friend gets stung, you might start to run and hide every time a bee buzzes across your path. A new study reveals why you do this: It turns out the brain areas that respond when fear is learned through personal experience are also triggered when we see someone else afraid.


The finding, detailed in the March issue of the journal Social Cognitive and Affective Neuroscience, could explain why some people are afraid of things like spiders and snakes despite little contact with them.


Fear learning


Study participants watched a short video of a person conditioned to fear a so-called neutral stimulus - something people normally wouldn't fear - paired with something they find naturally aversive, in this case an electrical shock.


The person in the video watched colored squares on a computer screen: When a blue square appeared, the person received a mild shock; when a yellow square appeared, there was no shock. The participant in the video responded with distress when the blue square appeared - he would blink hard, tense his cheek muscles, and move his hand.


Comment on this SOTT Focus

---

Report: Over 5M Living With Alzheimer's

Lauran Neergaard
Forbes / AP
2007-03-20 10:19:00

More than 5 million Americans are living with Alzheimer's disease, a 10 percent increase since the last Alzheimer's Association estimate five years ago - and a count that supports the long-forecast dementia epidemic as the population grays.


Age is the biggest risk factor, and the report to be released Tuesday shows the nation is on track for skyrocketing Alzheimer's once the baby boomers start turning 65 in 2011. Already, one in eight people 65 and older have the mind-destroying illness, and nearly one in two people over 85.


Unless scientists discover a way to delay Alzheimer's brain attack, some 7.7 million people are expected to have the disease by 2030, the report says. By 2050, that toll could reach 16 million.


Comment on this SOTT Focus

---

Paying Attention to Not Paying Attention

Malcolm Ritter
Scientific American / AP
2007-03-20 09:50:00

Researchers are studying a pervasive psychological phenomenon in which oh man we've got to finish doing the taxes this weekend...


C'mon, admit it. Your train of thought has derailed like that many times. It's just mind-wandering. We all do it, and surprisingly often, whether we're struggling to avoid it or not.

Mainstream psychology hasn't paid much attention to this common mental habit. But a spate of new studies is chipping away at its mysteries and scientists say the topic is beginning to gain visibility.


Someday, such research may turn up ways to help students keep their focus on textbooks and lectures, and drivers to keep their minds on the road. It may reveal ways to reap payoffs from the habit.


And it might shed light on attention deficit hyperactivity disorder, which can include an unusually severe inability to focus that causes trouble in multiple areas of life.


Comment on this SOTT Focus

---

Warning over 'legal high' pills

Jane Dreaper
BBC News
2007-03-20 04:51:00

The UK medicines regulator is warning people to stay away from pills called BZP, the BBC has learned.

The pills are said to offer a "legal high", but the Medicines and Healthcare products Regulatory Agency (MHRA) has warned they can cause health problems.



Comment on this SOTT Focus

---

60 Million Containers Of Pet Food Recalled After Unknown Number of Pets Die


wbztv
2007-03-19 18:22:00

WASHINGTON A major manufacturer of dog and cat food sold under Wal-Mart, Safeway, Kroger and other store brands recalled 60 million containers of wet pet food Friday after reports of kidney failure and deaths.

An unknown number of cats and dogs suffered kidney failure and about 10 died after eating the affected pet food, Menu Foods said in announcing the North American recall. Product testing has not revealed a link explaining the reported cases of illness and death, the company said.


Comment on this SOTT Focus

---
Science & Technology
---
Mathematicians solve E8 structure


AFP
2007-03-20 12:38:00

WASHINGTON - After four years of intensive collaboration, 18 top mathematicians and computer scientists from the United States and Europe have successfully mapped E8, one of the largest and most complicated structures in mathematics, scientists said late Sunday.

Jeffrey Adams, project leader and mathematics professor at the University of Maryland said E8 was discovered over a century ago, in 1887, and until now, no one thought the structure could ever be understood.

Comment on this SOTT Focus

---

Is this the fabric of the universe?


Telegraph
2007-03-20 10:27:00

Mathematicians have successfully scaled their equivalent of Mount Everest. Today they unveil the answer to a problem that, if written out in tiny print, would cover an area the size of Manhattan.


At the most basic level, the calculation is an arcane investigation of symmetry - in this case of an object that is 57 dimensional, rather than the usual three dimensional ones that we are familiar with. Although this object was first discovered in the 19th century. there is evidence that it could contain the structure of the cosmos.


Mathematicians are known for their solitary style of working, but the combined assault on what is described as "one of the largest and most complicated structures in mathematics" required the effort of 18 mathematicians from America and Europe for an intensive four-year collaboration.


Comment on this SOTT Focus

---

Infinite Cycle: Was There a 'Before' the Big Bang?

Leonardo Vintiñi
Times Argentina
2007-03-20 09:58:00

Every mountain, river, and valley; all the birds and human beings, the Sahara desert... all that was, that is, and will be, was at one time united in a single tiny and fiery point. So infinitely dense and fiery that our mortal imagination will perhaps never be able to comprehend it all. Millions of billions of tons of matter together with all the energy of the great universe, beginning to expand and break apart in an enormous explosion about 20 000 million years ago.


Compared with this big "Bang", the noise of our most powerful atomic bombs would be, at most, equal to a mosquito falling to the ground on the other side of the Earth. From that point on, the history of the cosmos took an even richer and more curious turn. The constant expansion of all that exists made the universe turn into a state of plasmic soup, gradually transforming towards a state more and more similar to what we know today. The matter slowly cooled down, and then formed the first quarks, electrons and protons. 300 000 years passed, electrons and nucleuses combined to form atoms, and later formed quasars, stars, groups of galaxies, and all that is our now familiar, though still in great part unknown, universe.


Comment on this SOTT Focus

---

The Buzzing Of Bees Can Warn Of Nearby Poisons


Science Daily
2007-03-20 09:45:00

Everyone has heard of the canary in the coal mine, which sways or drops dead in the presence of poisonous gas, alerting miners to get out. Now a University of Montana research team has learned to understand the collective buzzing of bees in their hives, which can provide a similar biological alert system.


But bees evidently provide a lot more information than canaries. The researchers, who work for a UM spin-off technology company called Bee Alert Technology Inc., have found that the insects buzz differently when exposed to various poisonous chemicals.


"We found bees respond within 30 seconds or less to the presence of a toxic chemical," said Research Professor Jerry Bromenshenk. "The military is interested in that for countering terrorism. But the real surprise was that the sounds bees produce can actually tell what chemical is hitting them."


Comment on this SOTT Focus

---

Most computer attacks originate in U.S.

By JORDAN ROBERTSON
Associated Press
2007-03-19 18:55:00

SAN JOSE, Calif. - The United States generates more malicious computer activity than any other country, and sophisticated hackers worldwide are banding together in highly efficient crime rings, according to a new report.

Researchers at Cupertino-based Symantec Corp. also found that fierce competition in the criminal underworld is driving down prices for stolen financial information.

Criminals may purchase verified credit card numbers for as little as $1, and they can buy a complete identity - a date of birth and U.S. bank account, credit card and government-issued identification numbers - for $14, according to Symantec's twice-yearly Internet Security Threat Report released Monday.

Comment on this SOTT Focus

---
Our Haunted Planet
---
Scientists: Massive Meteorite Found Near Stockton California

Staff
CBS13
2007-03-20 13:02:00

The impact would have been as powerful as 100-thousand atomic bomb blasts and would have been seen and heard for hundreds of miles.

Comment on this SOTT Focus

---
Don't Panic! Lighten Up!
---
'Spiderman' arrested climbing Malaysia's Petronas Twin Towers again

Pauline Jasudason
Canadian Press / AP
2007-03-20 10:17:00

Police arrested a French urban climber who calls himself "Spiderman" as he attempted to scale Malaysia's 88-storey Petronas Twin Towers with his bare hands Tuesday for the second time in 10 years.


Alain Robert was detained as he made it to the 60th floor of Tower 2, where he unfurled a Malaysian flag to a cheering crowd below before being led away by authorities, Fire Department spokesman Christopher Chong said.


"We asked him to stop, he said OK," Chong said. "He tried to climb further, but we told him no."


A decade ago, Robert was also stopped on the same floor, where there is a ledge for officials to climb onto, and was charged with trespassing.


It was not immediately clear whether he will be charged this time, and police were not immediately available for comment.


Comment on this SOTT Focus

---

McDonald's seeks to redefine 'McJob'

Stefan Stern and Jenny Wiggins
Financial Times
2007-03-20 06:53:00

McDonald's, home to the McMuffin and the McNugget, is fed up with being home to the McJob.


The UK arm of the fast food chain is starting a campaign to get British dictionary publishers to revise their definitions of the word "McJob", a term the Oxford English Dictionary describes as "an unstimulating, low-paid job with few prospects, esp. one created by the expansion of the service sector".


Comment on this SOTT Focus

---

The Final Upgrade: Airline Moves Dead Body to 1st Class

By JENNIFER QUINN
Associated Press
2007-03-19 18:20:00

LONDON - A first-class passenger on a flight from Delhi to London awoke find the corpse of a woman who had died in the economy cabin being placed in a seat next to him, British Airways said Monday.

The economy section of the flight was full, and the cabin crew needed to move the woman and her grieving family out of that compartment to give them some privacy, the airline said.

Comment on this SOTT Focus

---
---

Remember, we need your help to collect information on what is going on in your part of the world!
Send your article suggestions to: sott(at)signs-of-the-times.org

---
Click here to return to the Signs of the Times Archive
Click here for today's Signs Page