---
Sections on today's Signs Page:
---
SOTT Focus
---
Climate Change Swindlers and the Political Agenda

Laura Knight-Jadczyk
Signs Of The Times
2007-03-14 07:15:00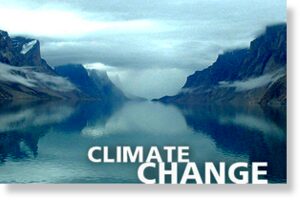 ©?
What is the truth about Climate Change?



Some time ago I wrote about Climate Change as being probably the most pressing problem facing humanity today. It is so pressing that I am convinced that possibly 90% of the human race - over 6 billion people - could be at risk of certain death in the very near future - like within ten years - if this matter is not addressed adequately and appropriately very, very soon by our "glorious leaders" who seem to have little on their mind other than blowing up innocent people.

But then, that war-mongering has a hidden agenda behind it: to grab and hold resources.

But rest assured that the intent is not to grab and hold those resources for you and me; it is to get them for the "elite," that 6% of humanity that is on the top of the heap and intends to stay there regardless of the fact that those genes should never be passed on.

Well, the Climate Change Confusion factor is heating up.

Channel 4 recently broadcast a special on the "Climate Change Swindle," that was intended to "expose the myths about climate change that have been promulgated in order to hoodwink the world into accepting the man-made theory of global warming."

As far as it went, this special wasn't too bad. However, it didn't really tell the whole story which is that, yes, Climate Change is real and a serious threat, but not for the reasons given.

As it happens, one of the experts included in the presentation has now announced that he was badly mis-quoted, or quoted out of context, and he is back-pedaling like mad.

Keep in mind that this is really just a distraction, something to keep the masses busy so that they don't see the real agenda: that it is intended that they should be "left out in the cold" because they didn't act to get rid of corrupt leaders in time to do anything to prepare for what is coming.

To make the point, let's look at this little debacle a bit more closely.

Comment on this SOTT Focus

---
Best of the Web
---
Propaganda and the Politics of Perception

by Michael Carmichael
Global Research
2007-03-13 07:27:00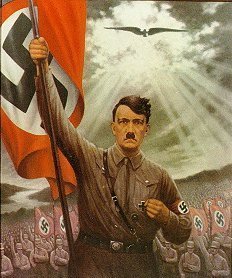 ©?
Hitler in War Propaganda Poster Nazi Era Germany



The core doctrine of the Bush Era is pre-emptive war. ... In academic discourse, the Bush Doctrine of pre-emptive war has been equated with the idea of committing suicide because of the fear of dying.

War propaganda glorifies military indoctrination as the highest form of patriotism while simultaneously demonizing the enemies of the state.

Adolf Hitler realized the power of propaganda to mould and shape public opinion. Hitler wrote a highly informed essay on the powers of propaganda in his political autobiography, Mein Kampf.

Comment on this SOTT Focus

---
U.S. News
---
Obama criticized for display of conscience towards Palestinians

Anon.
AP
2007-03-14 17:33:00

An Iowa Democrat and member of a prominent pro-Israel lobbying group is calling on Senator Barack Obama to clarify sympathetic comments he made about Palestinians.

The Illiniois senator made the comments when he spoke Sunday to a small group of Democratic activists in Muscatine.

He was quoted in The Des Moines Register as saying -- quote --

"nobody is suffering more than the Palestinian people"

-- end quote.

Comment on this SOTT Focus

---

Corps Placed Faulty Pumps in New Orleans

CAIN BURDEAU
Associated Press Writer
2007-03-13 22:57:00


NEW ORLEANS - The Army Corps of Engineers, rushing to meet President Bush's promise to protect New Orleans by the start of the 2006 hurricane season, installed defective flood-control pumps last year despite warnings from its own expert that the equipment would fail during a storm, according to documents obtained by The Associated Press.

Comment on this SOTT Focus

---

Bush's legal chief under pressure to quit

Alex Spillius
Telegraph UK
2007-03-13 21:52:00

President George W Bush's highest legal officer was under mounting pressure to resign last night amid a bitter row over White House interference in the dismissal of eight district attorneys.

Comment on this SOTT Focus

---

Behind Burqa, Student Gets An Education In Bigotry

Tracy Gordon Fox
The Hartford Courant
2007-03-12 21:23:00

COLCHESTER -- Caitlin Dean was raised not to discriminate against others because of their race or religion. But as a white suburban teen of Italian and Irish descent, she often wondered what it would be like to be the target of such abuse.

She found out "behind the burqa."


Comment on this SOTT Focus

---

Spineless Democrats Won't Hold Bush Back on Iran

Gil Ronen
Israel National News
2007-03-13 18:55:00

Top U.S. House Democrats have frozen their attempt to limit President Bush's authority to take military action against Iran.

Speaker Nancy Pelosi (D-Calif.) and other members of the leadership decided on Monday to back down from presenting a requirement for Bush to gain approval from Congress before moving against Iran.

Comment on this SOTT Focus

---
UK & Euro-Asian News
---
KSCM's Czech general referendum bill fails in lower house


Ceske Noviny
2007-03-14 11:28:00

The Czech Chamber of Deputies today turned down the junior opposition Communists' (KSCM) bill on general referendum that would also enable people to decide on the location of a U.S. missile defence radar on Czech territory.
The Chamber rejected the bill by a narrow majority of votes in the first reading.


Apart from KSCM deputies, the bill was supported by the senior opposition Social Democrats (CSSD) and former members of the CSSD deputies' group Milos Melcak and Michal Pohanka.


The whole centre-right ruling coalition voted against the bill, including the Greens (SZ) who otherwise promote the general referendum idea.


Comment on this SOTT Focus

---

Brave New World: Babies to be given marks for babbling

Liz Lightfoot
Telegraph
2007-03-14 10:36:00

Babies will be given marks for crying, gurgling or babbling under the Government's new curriculum for 0-5 year olds which all nurseries must follow.


Playgroups and childminders will also need to show that they help babies make progress in 69 areas of education and development or risk losing funds.


The new Early Years Foundation Stage curriculum lays down how children are expected to develop from birth to the end of the first year of compulsory schooling, the year in which they turn five. The document, which has the force of law, was published yesterday alongside a book of guidance and cards containing the main requirements and underlying principles.


Comment on this SOTT Focus

---

Bob Dylan a False Prophet Pope Says

Philip Pullella
Reuters
2007-03-14 08:05:00

Pope Benedict was opposed to Bob Dylan appearing at a youth event with the late Pope John Paul in 1997 because he considered the pop star the wrong kind of "prophet," Benedict writes in a new book issued on Thursday.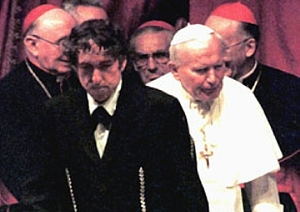 ©Reuters
Comment on this SOTT Focus
---

Remaining soldiers cleared in Iraq 'abuse' trial

Thomas Harding
Telegraph UK
2007-03-13 22:01:00

The Attorney General was criticised today over the decision to prosecute troops in Iraq after the most expensive court martial in British history ended in embarrassing failure.


Comment on this SOTT Focus

---
Around the World
---
Anti-Bush protests in Mexico City


BBC News
2007-03-14 05:10:00

Hundreds of demonstrators have rioted outside the US embassy in Mexico City, in the latest protest against President George W Bush's tour of Latin America.

Protesters burned US flags and threw stones at police guarding the building.

Tear gas was used to disperse the crowds. Several people were injured, including a number of police officers.

The violence came hours after Mr Bush pledged to reform controversial immigration laws, during two-day talks with Mexican President Felipe Calderon.

Comment on this SOTT Focus

---
Big Brother
---
AP: 1M archived pages removed post-911

Frank Bass and Randy Herschaft
AP
2007-03-14 17:54:00

More than 1 million pages of historical government documents - a stack taller than the U.S. Capitol - have been removed from public view since the September 2001 terror attacks, according to records obtained by the Associated Press. Some of the papers are more than a century old.

Comment on this SOTT Focus

---

Your new ID-theft worry? Photocopiers

By MAY WONG
Associated Press
2007-03-14 09:30:00

SAN JOSE, Calif. - Consumers are bombarded with warnings about identity theft. Publicized threats range from mailbox thieves and lost laptops to the higher-tech methods of e-mail scams and corporate data invasions.

Now, experts are warning that photocopiers could be a culprit as well.

That's because most digital copiers manufactured in the past five years have disk drives - the same kind of data-storage mechanism found in computers - to reproduce documents. As a result, the seemingly innocuous machines that are commonly used to spit out copies of tax returns for millions of Americans can retain the data being scanned.

Comment on this SOTT Focus

---

Spying Too Secret For Your Court: AT&T, Gov Tell Appeals Court

Ryan Singel, Luke O'Brien, and Kevin Poulsen
Wired
2007-03-13 19:18:00

AT&T told an appeals court in a written brief Monday that the case against it for allegedly helping the government spy on its customers should be thrown out, because it cannot defend itself -- even by showing a signed order from the government -- without endangering national security.


Comment on this SOTT Focus

---

American Express Addresses People Tracking Plan


RINF
2007-03-13 19:11:00

The top brass at American Express, chagrined at the discovery of its people tracking plans, met with CASPIAN (Consumers Against Supermarket Privacy Invasion and Numbering) last week to discuss the issue. One outcome of the meeting was a promise by American Express to review its entire patent portfolio and ensure that any people-tracking plans be accompanied by language requiring consumer notice and consent.


Comment on this SOTT Focus

---
Axis of Evil
---
Pentagon contemplating futuristic war plans

Jack A Smith
Malaysia Sun
2007-03-14 08:38:00

"We will export death and violence to the four corners of the Earth in defense of our great nation." - President George W Bush in Bob Woodward's book Plan of Attack.

Comment on this SOTT Focus

---

Democrats Blink on Iran Restriction, Khatami Calls on Iran to Allay Western Fears

Juan Cole
Informed Comment
2007-03-13 21:46:00

The Democrats are blinking and taking out of proposed legislation a provision that would have forbidden Bush to take military action against Iran without coming to the Congress first (i.e. without acting in accordance with the Constitution). I'm not sure why you need a statute, anyway, to ensure that the Constitution is followed . . . Except that it has been so long since presidents have paid much attention to the Constitution. The Imperial Presidency has overshadowed it, just as Emperor Augustus overshadowed the Roman Republic.


Comment on this SOTT Focus

---

ZOG (Zionist Occupied Government) proof

Xymphora
Xymphora Blog
2007-03-13 20:43:00

A couple days ago I stuck my neck out and made a prediction based on the stranglehold that the Jewish Billionaires Club has over the Democratic Party. I said that my prediction coming true (or here or here) would prove the Zionist control over the Democrats, but I never believed it would come true so quickly.


Comment on this SOTT Focus

---

AIPAC backed removal of Iran war provision (Big Surprise!)

Anon.
JTA Breaking News
2007-03-13 18:48:00

AIPAC lobbying helped remove a provision from a bill that would have required President Bush to seek congressional approval for war against Iran. A number of congressional sources confirmed that the American Israel Public Affairs Committee backed dropping the provision from the Iraq war spending bill introduced Tuesday by Democrats. The bill ties funding to deadlines for withdrawal from Iraq.

Comment on this SOTT Focus

---

Neda Al Quds take on Condi - 'A Succubus That Should Be Stoned'

Khalid Mansour
Watching America
2007-03-13 18:04:00

"Rice is really and truly a succubus, and like Lucifer she deserves to be struck with stones - and as an extra sign of how despised she is - she should also be struck with shoes ... that is if the militants don't hurl something at her even more harmful than stones and shoes."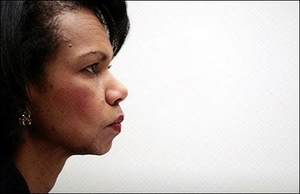 ©??
Condoleezza Rice in yet another pleasant, relaxed pose.
Comment on this SOTT Focus
---
Middle East Madness
---
4 parties launch Japan-led Israeli-Palestinian peace initiative


KYODO News Online
2007-03-14 14:32:00

Japan, Israel, the Palestinians and Jordan on Wednesday launched a Tokyo-led peace initiative intended to spur economic cooperation between Israelis and Palestinians as part of efforts to build confidence between the two sides -- a key to ensuring peace and stability in the Middle East.

Comment on this SOTT Focus

---

Controversial Israeli song allowed into Eurovision contest

Reuters
Haaretz
2007-03-14 10:21:00

Organizers of the Eurovision Song Contest will allow Israel's entry "Push the Button" by Teapacks into this year's competition despite some complaints about its lyrics, which allude to nuclear war.


The European Broadcasting Union, which arranges the annual event, said Wednesday that no songs had been barred or changed ahead of the finals, to be held in Helsinki in May.


"They have all been cleared. The songs were all according to the rules," the EBU's Svante Stockselius told a news conference.


Comment on this SOTT Focus

---

Care for U.S. Iraq wounded may send war costs to $2.5 trillion!

Andrew Stephen
New Statesman
2007-03-12 22:37:00

America won't simply be paying with its dead. The Pentagon is trying to silence economists who predict that several decades of care for the wounded will amount to an unbelievable $2.5 trillion.


Comment on this SOTT Focus

---

Only 1% of Israelis Want a Politician in the Family

Anon.
Israel National News
2007-03-13 19:04:00

A recent poll revealed that only one percent of Israeli parents would like to have their child become a politician. In constrast, 29% said they would like their children to become engineers in the high-tech sector, and 12% said they would like their children to become accountants.

Comment on this SOTT Focus

---

57 percent of Israeli seculars don't mind son marrying non-Jewish immigrants

Kobi Nahshoni
Ynet News
2007-03-13 18:57:00

Thirteen percent of religious people say they do not regard assimilation as a problem, as long as the partner has Israeli citizenship

Thirty-six percent of Israelis would 'not mind at all' if one of their children were to marry a non-Jewish immigrant. It is enough that they are now Israeli, they said.

Comment on this SOTT Focus

---

UN to open permanent probe on Israel

Tovah Lazaroff
Jerusalem Post
2007-03-13 18:49:00

The United Nation's Human Rights Council is expected to place Israel under permanent investigation for its "violations" of international law in the territories - until such time as it withdraws to the pre-1967 border - according to Hillel Neuer, executive director of UN Watch.

Neuer added that he received that information from diplomatic sources.

Comment on this SOTT Focus

---
The Loan Gunmen
---
Asian, European stocks plunge

By HANS GREIMEL
Associated Press
2007-03-14 09:23:00

TOKYO - Asian stocks plunged Wednesday and European shares opened sharply lower after Wall Street chalked its second-biggest point drop in four years and rattled already nervous markets worldwide.

The tumble came just as international markets were recovering in recent days from sharp declines in early March amid concerns about overvalued stock prices and slower U.S. economic growth.

But those worries resurfaced as troubles at U.S. sub-prime lenders and lackluster retail sales pushed the Dow Jones industrials down nearly 2 percent Tuesday, sparking selloffs across Asia.

Comment on this SOTT Focus

---

We need more Enrons, say CEOs

Kevin Drawbaugh and Karey Wutkowski
Reuters
2007-03-13 20:32:00

WASHINGTON - Major U.S. CEOs complained about regulatory burdens in the post-Enron environment at a high-profile conference on regulation and the legal system, while an investor advocate warned on Tuesday that business leaders should not lose sight of what matters to investors.



Comment on this SOTT Focus

---

Subprime mortgage sector rattles markets

Jonathan Oatis
Reuters
2007-03-13 20:22:00

NEW YORK - U.S. financial markets were rattled by news on Tuesday that late payments on U.S. mortgages had reached their highest level in 3-1/2 years, while regulators began a probe of subprime mortgage lending and called for legislation.

Comment on this SOTT Focus

---
The Living Planet
---
Starving Amur tiger attacks village dog in snow-hit east Russia


RIA Novosti
2007-03-14 11:31:00

A starving Amur tiger, one of the critically endangered species in Russia's taiga, killed a village dog in east Russia hit by a heavy snowstorm.


Snowstorms, the most powerful in more than 100 years, seized the Primorye Region near the Pacific in early March, creating high snow and making it difficult for tigers to hunt.


"A group of rescuers has been sent to the Yakovlevsky district to take the tiger back to taiga," an official of the Russian Natural Resources Ministry said, adding that the thick snow had forced the tiger to risk moving along cleared roads.


Comment on this SOTT Focus

---

Surprising Activity Discovered at Yellowstone Supervolcano

Sara Goudarzi
Live Science
2007-03-14 10:52:00

Supervolcanoes can sleep for centuries or millennia before producing incredibly massive eruptions that can drop ash across an entire continent. One of the largest supervolcanoes in the world lies beneath Yellowstone National Park, which spans parts of Wyoming, Montana and Idaho.


Though the Yellowstone system is active and expected to eventually blow its top, scientists don't think it will erupt any time soon.


Yet significant activity continues beneath the surface. And the activity has been increasing lately, scientists have discovered. In addition, the nearby Teton Range, in a total surprise, is getting shorter.


The findings, reported this month in the Journal of Geophysical Research - Solid Earth, suggest that a slow and gradual movement of a volcano over time can shape a landscape more than a violent eruption.


Comment on this SOTT Focus

---

Five Scientists Testify Before Congress, 2003, on Abrupt Climate Change - Sudden Glacial Rebound


nationalacademies.org
2007-03-14 09:14:00

The report does not focus on large, abrupt causes - nuclear wars or giant meteorite impacts - but rather on the surprising new findings that abrupt climate change can occur when gradual causes push the earth system across a threshold. Just as the slowly increasing pressure of a finger eventually flips a switch and turns on a light, the slow effects of drifting continents or wobbling orbits or changing atmospheric composition may "switch" the climate to a new state. And, just as a moving hand is more likely than a stationary one to encounter and flip a switch, faster earth-system changes - whether natural or human-caused - are likely to increase the probability of encountering a threshold that triggers a still-faster climate shift.

Comment on this SOTT Focus

---

Abrupt Climate Change


NOAA
2007-03-14 09:04:00


©n/a
Increased Storm Activity is one consequence of Global Warming. Tornadoes and Hurricanes are "heat exchangers." An increase in their frequency and strength can lead to massive and sudden cooling.
Comment on this SOTT Focus
---
Health & Wellness
---
Sleep Disorders Can Impair Children's IQs As Much As Lead Exposure


Science Daily
2007-03-14 10:49:00

Three decades ago, medical investigators began sounding the alarm about how lead exposure causes IQ deficits in children. Today, researchers at the University of Virginia Health System say children with sleep disorders can face similar risks of intellectual impairment.


UVa researchers have been studying sleep disturbances in children with enlarged tonsils and adenoids for the past seven years. In a recent study, they discovered that youngsters who snore nightly scored significantly lower on vocabulary tests than those who snore less often.


"Vocabulary scores are known to be the best single predictor of a child's IQ and the strongest predictor of academic success," explains Dr. Paul M. Suratt, a pulmonologist who directs the UVa Sleep Laboratory.


Comment on this SOTT Focus

---

Office workers 'risk blood clots'


BBC NEWS Online
2007-03-14 10:05:00

Workers who spend excessive amounts of time at their desk could be putting their lives at risk, research suggests.
The Medical Research Institute in New Zealand found they may have a higher risk of developing potentially fatal blood clots.

The researchers found a third of patients admitted to hospital with deep vein thrombosis (DVT) were office workers who spent hours at a computer.

The study will be published in the New Zealand Medical Journal.



Comment on this SOTT Focus

---

GMO corn causes liver, kidney problems in rats: study


Reuters
2007-03-14 09:38:00

PARIS - Environmental group Greenpeace launched a fresh attack on genetically modified maize developed by U.S. biotech giant Monsanto, saying on Tuesday that rats fed on one version developed liver and kidney problems.

Greenpeace said a study it had commissioned that was published in the journal Archives of Environmental Contamination and Technology showed rats fed for 90 days on Monsanto's MON863 maize showed "signs of toxicity" in the liver and kidneys.

Comment on this SOTT Focus

---

New Girl Scout Cookies Still Have Trans Fats

Dr. Mercola
Mercola.com
2007-03-13 22:23:00

Yet who Knows the Truth and Calls it a Lie, is a Criminal." -
In "Galileo Galilei" by Berthold Brecht (1898-1956)
Adblock


Despite all the public uproar about trans fats that's pushed American cities to ban them along with fast-food restaurant chains, Girl Scout cookies still have them, even after changes to their recipes.



Comment on this SOTT Focus

---
Science & Technology
---
New form of matter-antimatter transformation observed for first time

Kelen Tuttle
Physorg
2007-03-14 10:45:00

For the first time, scientists of the BaBar experiment at the Department of Energy's Stanford Linear Accelerator Center (SLAC) have observed the transition of one type of particle, the neutral D-meson, into its antimatter particle. Mesons, of which there are about 140 types, are made up of fundamental particles called quarks, which can be produced when particles collide at high energy.


The new observation will be used as a test of the Standard Model, the current theory that best describes all the universe's luminous matter and its associated forces.


Comment on this SOTT Focus

---

Scholar: 'Jesus Tomb' makers mistaken

Matti Friedman
Associated Press
2007-03-14 10:25:00

A scholar looking into the factual basis of a popular but widely criticized documentary that claims to have located the tomb of Jesus said Tuesday that a crucial piece of evidence filmmakers used to support their claim is a mistake.


Stephen Pfann, a textual scholar and paleographer at the University of the Holy Land in Jerusalem, said he has released a paper claiming the makers of "The Lost Tomb of Jesus" were mistaken when they identified an ancient ossuary from the cave as belonging to the New Testament's Mary Magdalene.


The film's director, Simcha Jacobovici, responded that other researchers agreed with the documentary's conclusions.


Comment on this SOTT Focus

---

Theory: Saturn Moon's Heat From Decay

ALICIA CHANG
AP Science Writer
2007-03-13 22:16:00

LOS ANGELES - Scientists believe heat from radioactive decay inside a tiny, icy Saturn moon shortly after it formed billions of years ago may explain why geysers are erupting from the surface today. The Cassini spacecraft last year beamed back dazzling images of Yellowstone-like geysers spewing from a warm section on Enceladus, raising the possibility that the moon, which has an overall surface temperature of about minus-330 degrees, may have an internal environment suitable for primitive life.


Comment on this SOTT Focus

---

Scientists develop drug that induces selective amnesia

Kerri Smith
Nature
2007-03-13 19:30:00

A single, specific memory has been wiped from the brains of rats, leaving other recollections intact.


Comment on this SOTT Focus

---
Our Haunted Planet
---
No new articles.
Don't Panic! Lighten Up!
---
Man Tells Cops Unicorn Caused Crash


Associated Press
2007-03-14 12:14:00

BILLINGS, Mont. - A man told police not to blame him for crashing his truck into a light post _ it was that unicorn behind the wheel. Prosecutor Ingrid Rosenquist said Phillip C. Holliday Jr. initially denied driving the truck involved in the March 7 crash in Billings. He told officers at the scene that a unicorn was driving, she said.

Comment on this SOTT Focus

---

Serial lingerie thief arrested in Japan


Reuters
2007-03-14 09:43:00

TOKYO - Police found more than 4,000 pieces of lingerie in the home of a Japanese construction worker who used climbing skills developed on his job to steal women's underwear.

Comment on this SOTT Focus

---

Bangladesh circus offers jumbo solution to demolition problem


AFP
2007-03-14 10:32:00

A circus elephant came to the aid of city chiefs in southern Bangladesh after they were ordered to demolish illegal buildings without heavy equipment.


Discovering that there were no bulldozers available, officials decided to employ a pachyderm from a travelling circus to help do the work.


"We didn't have any bulldozer to conduct the demolition drive in the city so our officers had to hire an elephant from the circus," said Barisal city corporation chief executive Abdul Mannan.


Comment on this SOTT Focus

---

Police hot on the scent of crime

Rupam Jain Nair
Reuters
2007-03-14 10:30:00

Police in India's Western state of Gujarat are to wear new uniforms impregnated with the fragrance of flowers and citrus to help improve their image.


"Most policemen look hassled, drenched in sweat after coming from any scene of crime," said Somesh Singh, a designer at the National Institute of Design in Ahmedabad that drew up the uniforms on request of the state government.


"They are surely not the best person one would like to meet, but if they smell good and fresh one might as well approach them," said Singh.


Comment on this SOTT Focus

---
---

Remember, we need your help to collect information on what is going on in your part of the world!
Send your article suggestions to: sott(at)signs-of-the-times.org

---
Click here to return to the Signs of the Times Archive
Click here for today's Signs Page