---
Sections on today's Signs Page:
---
SOTT Focus
---
The Hidden Hand Behind The "Hamas-Fatah Clashes"

Joe Quinn
Signs of the Times
2007-03-12 18:46:00



You are a political leader. Your country and people have been subjected to long years of occupation and brutality by a foreign power. Your people are suffering horribly, they are being summarily executed, tortured and generally tormented by the forces of occupation who enjoy complete control over your land. Despite this, you manage to hold things together - just. You manage to buy some weapons to protect your people and you, like your countrymen and women, still burn with the desire for freedom.

What is your strategy?

Comment on this SOTT Focus

---
Best of the Web
---
30-day Countdown - Israel and the United States are about to commit the most foolish and self-destructive act of war in history

Bob Moriarty
321Gold
2007-03-13 15:39:00

We are almost certainly in the last days of a countdown to nuclear war. Israel has made plans to attack Iran in a war of aggression, which will probably begin with some staged attack such as the attack on the Liberty in 1967.

Bush and the Gang of Fools in Washington will be part of it; we don't have two carrier groups in the Middle East to support tourism. When it happens, kiss the dollar and the United States of America goodbye. If you don't own gold now, buy some fairly soon. My experience as a combat intelligence officer tells me the attack will be in the next month.

Comment on this SOTT Focus

---

Propaganda and the Politics of Perception

by Michael Carmichael
Global Research
2007-03-13 07:27:00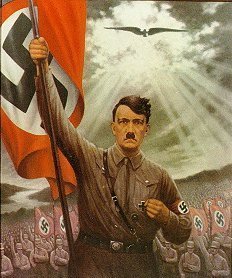 ©?
Hitler in War Propaganda Poster Nazi Era Germany



The core doctrine of the Bush Era is pre-emptive war. ... In academic discourse, the Bush Doctrine of pre-emptive war has been equated with the idea of committing suicide because of the fear of dying.

War propaganda glorifies military indoctrination as the highest form of patriotism while simultaneously demonizing the enemies of the state.

Adolf Hitler realized the power of propaganda to mould and shape public opinion. Hitler wrote a highly informed essay on the powers of propaganda in his political autobiography, Mein Kampf.

Comment on this SOTT Focus

---
U.S. News
---
Hollywood War Propaganda Alert! Iran condemns Hollywood war epic


BBC News
2007-03-13 16:43:00

Historical war epic 300 has been criticised as an attack on Iranian culture by government figures.

The Hollywood film, which has broken US box office records, is an effects-laden retelling of a battle in which a small Greek army resisted a Persian invasion.

Javad Shamqadri, a cultural advisor to Iranian President Mahmoud Ahmadinejad, said it was "plundering Iran's historic past and insulting this civilization".

He branded the film "psychological warfare" against Tehran and its people.

Comment on this SOTT Focus

---

Chairman of the Joint Chiefs of Staff Calls Homosexuality Immoral


Associated Press
2007-03-13 10:07:00

WASHINGTON - The chairman of the Joint Chiefs of Staff said Monday he considers homosexuality to be immoral and the military should not condone it by allowing gay personnel to serve openly, the Chicago Tribune reported.

Marine Gen. Peter Pace likened homosexuality to adultery, which he said was also immoral, the newspaper reported on its Web site.

"I do not believe the United States is well served by a policy that says it is OK to be immoral in any way," Pace told the newspaper in a wide-ranging interview.

Comment on this SOTT Focus

---

F-16 Pilot Safe After Jet Crashes Near Islamorada - Was The Plane Shot Down?


NBC6
2007-03-13 10:47:00

ISLAMORADA, Fla. -- An Air Force Reserve pilot safely ejected from his F-16 jet before it crashed into the waters off the Florida Keys during a training mission Monday, officials said.

The U.S. Coast Guard rescued the pilot, who was not immediately identified, shortly after the fighter jet went down about 35 miles east of Marathon, said Lt. Col. Tom Davis, chief of public affairs at Homestead Air Reserve Base.

Comment on this SOTT Focus

---

Army's Kiley ousted in Walter Reed furor

Pauline Jelinek
Associated Press
2007-03-13 07:31:00

Army Surgeon General Kevin C. Kiley abruptly stepped down under pressure from military superiors, the third top Army official forced out in the fallout from revelations of shabby treatment of wounded soldiers at Walter Reed Army Medical Center.


The Army said Monday that Lt. Gen. Kiley had submitted a request to retire over the weekend. Acting Army Secretary Pete Geren had asked Kiley for his retirement, said a senior defense official, speaking on condition of anonymity because he was not authorized to talk about the events.


Kiley's removal underscored how the controversy, which began with reports of dilapidated outpatient housing and a nightmarish bureaucracy at the Army's flagship hospital, has snowballed into a far broader problem for the Bush administration.


Comment on this SOTT Focus

---

Halliburton will move HQ and CEO to Dubai

By JIM KRANE
Associated Press
2007-03-12 20:47:00

DUBAI, United Arab Emirates - Oil services giant Halliburton Co. will soon shift its corporate headquarters from Houston to the Mideast financial powerhouse of Dubai, chief executive Dave Lesar announced Sunday.

"Halliburton is opening its corporate headquarters in Dubai while maintaining a corporate office in Houston," spokeswoman Cathy Mann said in an e-mail to The Associated Press. "The chairman, president and CEO will office from and be based in Dubai to run the company from the UAE."

Lesar, speaking at an energy conference in nearby Bahrain, said he will relocate to Dubai from Texas to oversee Halliburton's intensified focus on business in the Mideast and energy-hungry Asia, home to some of the world's most important oil and gas markets.

Comment on this SOTT Focus

---

Third top-ranking official to lose his job over Walter Reed Scandal


BBC News
2007-03-12 18:39:00

The US army's top doctor, Lt Gen Kevin Kiley, has retired in the wake of a scandal at Walter Reed Army Medical Center, the flagship US Army hospital.



Comment on this SOTT Focus

---
UK & Euro-Asian News
---
Vatican Cracking Down on Prominent Champion of Liberation Theology


AP
2007-03-13 15:38:00

The Vatican office that safeguards doctrinal correctness is examining a Spanish Jesuit who is a prominent champion of liberation theology, a Vatican official said Monday.

Comment on this SOTT Focus

---

Berlusconi, U.K. Lawyer Mills Start Corruption Trial in Italy

Andrew Davis and Steve Scherer
Bloomberg
2007-03-13 08:21:00

Former Italian Prime Minister Silvio Berlusconi and U.K. lawyer David Mills go on trial in Milan today charged with conspiring to obstruct justice.


Prosecutors have accused Berlusconi of paying $600,000 to Mills to testify in his favor during two separate criminal cases. The two defendants were indicted in October. Mills is the estranged husband of U.K. Culture Secretary Tessa Jowell. Both men deny wrongdoing.


Berlusconi has been dogged by corruption charges since entering politics in 1994. In July, Judge Fabio Paparella, who is hearing the Mills case, also ordered Berlusconi to stand trial for tax fraud, false accounting and embezzlement tied to the purchase of movie rights by his Mediaset SpA television company.


Comment on this SOTT Focus

---

Nigel Griffiths resigns after Sunday Herald exclusive

Rob Edwards
Sunday Herald
2007-03-13 07:25:00

The deputy leader of the Commons Nigel Griffiths resigned from the government on Monday in protest at plans to renew the UK's Trident nuclear weapons system .. the day after the Sunday Herald exclusively revealed his plan to defy Prime Minister Tony Blair.


Griffiths said he resigned "with a heavy heart but a clear conscience" ahead of Wednesday's House of Commons vote on the plan.


He added: "I intend to make a personal statement in the House of Commons to colleagues and it is only right that they hear the reasons first."


Comment on this SOTT Focus

---

Bad Seed: Asbo for boy, 10, who stole to buy drugs

Paul Stokes
Telegraph
2007-03-13 07:21:00

A boy, aged 10, who terrorised his neighbourhood while stealing from his family to buy cannabis and drink has become one of the youngest people in Britain to be given an anti-social behaviour order.


Despite his age, Lewis Green already has criminal convictions for burglary, possessing a knife and causing criminal damage.


A court allowed him to be identified yesterday while issuing one of the most far-reaching Asbos to a juvenile. It includes a night-time curfew and ban on communicating with six people who live near him.


Comment on this SOTT Focus

---

Aide alleged Levy 'lie' request


BBC
2007-03-12 18:45:00

One of the PM's closest aides Ruth Turner wrote of her concerns that "Lord Levy had asked her to lie for him".

This emerged in court when the BBC was granted permission to report the reasons an injunction was served about a cash-for-honours news story.

The judge who granted the injunction at the police's request said "there is a substantial element of truth in what the intended BBC broadcast was to say".

Comment on this SOTT Focus

---

'Thousands riot' in China protest


BBC News
2007-03-12 18:48:00

A protest staged by thousands of rural workers in central China ended in violent clashes last week, reports say.

Several people were injured as up to 20,000 people clashed with 1,000 police in Hunan province on Friday, a local official told Reuters news agency.



Comment on this SOTT Focus

---
Around the World
---
Chavez Says George W. Bush Is Plotting to Kill Him

By Theresa Bradley
Bloomberg
2007-03-13 10:56:00

Venezuelan President Hugo Chavez accused his U.S. counterpart George W. Bush of plotting to assassinate him and promised ''100 years of war'' should harm come to him or his Bolivian ally, President Evo Morales.


''The embassies of the United States continue pushing assassination plans in our Latin American countries,'' he told crowds gathered today at the El Alto Air Force base in Bolivia. ''I accuse the president of the United States of being behind all these plans.''
Comment on this SOTT Focus
---

Chavez denounces US as 'most murderous empire in all of history' - he may be right


Irish Times
2007-03-13 10:54:00

Venezuelan President Hugo Chavez said President Bush represents the "most cynical, most murderous empire in all of history" but insisted he had nothing personal against him.

He spoke while shadowing his political foil on a tour of Western Hemisphere nations.

Comment on this SOTT Focus

---

Raul Castro warns of "high cost" against invading Cuba - What Prompted Such a Declaration?


Xinhua
2007-03-13 10:50:00

Cuban Defense Minister Raul Castro on Monday warned against an invasion of his country, saying the price paid by invaders would be high.

"If anyone attacks us, we're ready to pay any price necessary, but the price paid by the invaders of our country would be much higher," said the 75 year-old during a speech to troops participating in a military exercises in the western Pinar del Rio province.

Comment on this SOTT Focus

---

Dead soldier's family angry over military's handling of investigation

Bruce Campion-Smith
The Star
2007-03-13 10:42:00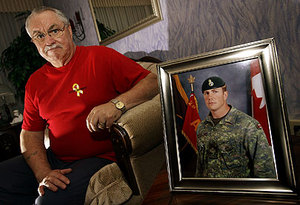 ©Troy Fleece - Toronto Star
Ben Walsh, with a portrait of his son Jeff Walsh, in his Regina home. A Canadian soldier has been charged with manslaughter in Jeff Walsh's death last summer.
Comment on this SOTT Focus
---

Anti-Bush March Repressed in Guatemala


Prensa Latina
2007-03-13 08:51:00

Special forces from the Guatemalan Army and police repressed hundreds of demonstrators, who were protesting when local authorities were officially welcoming US President George W. Bush.

Comment on this SOTT Focus

---

Iranian family stranded in Moscow airport to come to Canada


CBC News
2007-03-13 08:48:00

An Iranian woman who has lived in a Russian airport for the past 10 months with her children will be allowed to come to Canada.

Zahra Kamalfar has been stranded at Moscow's Sheremetyevo International Airport while applying for asylum in Canada, where her brother has lived for more than a decade.

Comment on this SOTT Focus

---
Big Brother
---
How The Media and Establishment Brainwash The Public


The War in Medicine
2007-03-13 14:12:00

You might be curious what techniques our public schools, the news media, our politicians, etc. etc. use to brainwash the public. Their methods are more sophisticated than you probably think. Brainwashing is absolutely essential to the establishment. The reason is that in school or in life you are probably at some time going to run into a "renegade" who just refuses to believe what he or she is told and has a different point of view. It is brainwashing that conditions you to ignore what they say. If you don't believe me, just read on.

Comment on this SOTT Focus

---

Terrorist Use of Google Earth Raises Security Fears

Kelly Hearn
National Geographic
2007-03-13 08:14:00

Detailed Google Earth images of British military bases were found in the homes of Iraqi insurgents, a London newspaper reported in January.


A British army official told the Daily Telegraph that the confiscated images showed Land Rovers, buildings, tents, and bathroom facilities inside the military compound in Basra, Iraq.


British officials reportedly complained to California-based Google, and the software firm replaced the images with pre-war data on its downloadable globe.


While the extent of insurgents' use of Google Earth is unknown, the news underscored what some experts see as a growing conflict between national security needs and the software's high-resolution, satellite view of the planet.


Comment on this SOTT Focus

---

Don't draw that moustache on the King! Swiss man faces up to 75 years for Thai graffiti


BBC
2007-03-12 08:02:00

A 57-year-old Swiss man has pleaded guilty in a court in Thailand to charges of insulting the king.

Oliver Jufer was arrested last December after drunkenly spray-painting several portraits of the monarch, King Bhumibol Adulyadej.

In court, Jufer pleaded guilty to five charges under Thailand's draconian lese majeste law.

He is due to be sentenced later this month, and the maximum penalty he could face is 75 years in jail.

Comment on this SOTT Focus

---
Axis of Evil
---
More Propaganda! U.S. commander in Iraq says Iran arming militants

AP
Time
2007-03-13 14:30:00

(NEW YORK) - The top U.S. commander in Iraq said in an interview released Monday that it's "indisputable" Iran is training and arming militants to fight against U.S.-led troops in Iraq.

Gen. David Petraeus also told ABC News that suicide bombers are streaming across Iraq's border from Syria and making their way into the country's volatile western Anbar province.

Comment on this SOTT Focus

---

SCAPEGOAT! Justice aide resigns over prosecutor firings

By James Vicini
Reuters
2007-03-13 11:12:00

WASHINGTON - A top aide to U.S. Attorney General Alberto Gonzales resigned, a U.S. official said on Tuesday, the latest fallout from the firing of federal prosecutors that has embarrassed the Bush administration and prompted calls for Gonzales to step down.

Lawmakers are investigating whether the dismissal last year of eight prosecutors, some of whom had been criticized by Republicans, was a politically motivated interference in federal prosecutions by the White House.

Comment on this SOTT Focus

---

Corrupt White House instigated prosecutor firings - And Bush LIES About the reason!!!


Reuters
2007-03-13 11:08:00

WASHINGTON - The White House suggested two years ago that the Justice Department fire all 93 U.S. attorneys, but Attorney General Alberto Gonzales approved the idea of dismissing a smaller group after taking office last year, two major newspapers reported on Tuesday.

Eight prosecutors were fired after President George W. Bush spoke to Gonzales about complaints he received that some of them had not energetically pursued voter-fraud investigations, White House spokeswoman Dana Perino told the Washington Post and The New York Times.

Comment on this SOTT Focus

---

Jewish Holocaust denial conference attendee beaten by other Jews


JTA
2007-03-13 10:32:00

A fervently Orthodox Austrian Jew who embraced Iranian President Mahmoud Ahmadinejad reportedly was assaulted by a group of Israelis in Poland. Ma'ariv reported Monday that Moshe Aryeh Friedman, who attended the Holocaust denial conference hosted by Ahmadinejad in Tehran in December, was spotted while visiting the former Auschwitz and Birkenau camps over the weekend. A group of fervently Orthodox Jews from Israel also touring the sites set upon Friedman, who was born and raised in Monsey, N.Y.

Comment on this SOTT Focus

---

So why haven't we invaded India?

by Richard Fleet Dartmouth
Western Morning News
2007-03-13 08:12:00

One of the reasons given for our involvement in Afghanistan was that women were being discriminated against and girls were denied even elementary education.

Both Bush and Blair wish us to believe our invasion of Iraq was all about bringing 'democracy' to that country and not about oil, which we all know was the only reason.

Comment on this SOTT Focus

---

'Axis of Evil' Report Card

By Ray McGovern
consortiumnews.com
2007-03-13 08:06:00

More than five years have passed since President Bush labeled Iraq, Iran and North Korea the ''axis of evil.'' It is imperative that we try to piece together what role U.S. intelligence played in supporting the ''axis'' idea and the misguided policies and actions that ensued.

Comment on this SOTT Focus

---
Middle East Madness
---
War Without Win: A White Paper On Iran

by William John Cox
MediaMonitors
2007-03-13 14:27:00

Bush, Cheney and the other neocon draft dodgers believe that they can play with the mighty military power of the United States like a toy in the world sandbox without having to ever suffer any consequences. As leaders of the only superpower, they believe they can act alone without any consideration of world opinion, that they can shock and awe lesser nations into submission and establish an "American Empire" that controls the rest of the world. They have no empathy for the hundreds of thousands who could fall victim to their ambitions, not even including the sons and daughters of their own countrymen, and certainly not the children of their "enemy," or anyone else who stands in their way.

"No matter the severity of the naval and air attack, the U.S. will never be able to occupy Iran, and no matter Bush's wishful thinking, the people of Iran will not turn against their elected government and welcome deliverance by the United States. Not only should Bush have learned this lesson from his own invasion of Iraq, it appears that Bush is unaware of Saddam Hussein's experience in his own invasion of Iran."

Comment on this SOTT Focus

---

US 'to build Libyan nuclear plant'


Aljazeera.net
2007-03-13 13:56:00

The US is to help Libya build its first-ever nuclear power plant according to the African nation's official news agency, Jana.

Comment on this SOTT Focus

---

Misery tempts Palestinian Christians to flee

Alistair Lyon
Reuters
2007-03-12 23:15:00

BETHLEHEM, West Bank - Despairing of life under Israeli occupation, many Palestinian Christians are moving abroad, threatening their ancient links to Bethlehem and the land where Jesus was born.

"There is a real fear that 50 years down the road, the Holy Land will be without Christians," said Mitri Raheb, 45-year-old pastor of the Lutheran Church in Bethlehem.



Comment on this SOTT Focus

---

Missing Iranian general's wife rejects "defection", accuses Israel

Dudi Cohen
Ynet News
2007-03-12 21:24:00

Family of Ali Reza Asgari, Iran's former deputy defense minister who disappeared from Turkey last month, visits Turkish embassy in Tehran demanding information on his whereabouts. Asgari's wife rejects reports he defected to West, smuggled family out of Iran: 'We are here, those are our enemies lies'

Comment on this SOTT Focus

---

UK in 'murky Iraq oil deal'


Al Jazeera
2007-03-09 17:57:00

A social justice group has obtained documents showing that the British government tried to influence a new Iraqi oil law in favour of UK businesses.

The London-based Platform group said on Friday that the documents showed British diplomats tried to exclude Iraqi oil firms in favour of firms such as BP and Shell.

Comment on this SOTT Focus

---
The Loan Gunmen
---
London markets hit by hedge fund rumour


AFP
2007-03-13 14:25:00

Dealers said that the London market had fallen following rumours that a hedge fund was facing financial difficulties.

Comment on this SOTT Focus

---

US retail sales feel the chill

By Daniel Pimlott in New York and Eoin Callan in Washington
Financial Times
2007-03-13 14:10:00

US retail sales rose more slowly than expected last month as a combination of cold weather and a weak housing market kept consumers out of the shops.

Government figures showed sales rose by 0.1 per cent last month to $371bn compared to forecasts of a 0.3 per cent increase following flat demand the previous month. Excluding sales of automobiles, sales fell 0.1 per cent against expectations of 0.3 per cent growth. Sales figures for January and December were also revised down.



The weak retail sales are likely to concern Federal Reserve policymakers who are counting on strong consumer demand to lead moderate economic growth this year.



Comment on this SOTT Focus

---

European markets regain poise after Latvia scare

By Stefan Wagstyl
Financial Times
2007-03-13 13:57:00

Financial markets in central and eastern Europe have regained some poise following the turmoil in the Baltic states sparked by rumours that Latvia was preparing to devalue the lats.

The upheaval has, however, reminded investors of the risks accompanying the hoped-for rewards of putting their money into the fastest-growing economies in the European Union.

It was a scare but a small one. In general, the region has retained investors' confidence despite the global sell-off in financial markets last month over concerns about China.

Comment on this SOTT Focus

---

Viacom in $1 bln copyright suit vs Google, YouTube


Reuters
2007-03-13 10:01:00

NEW YORK - Media conglomerate Viacom Inc. said on Tuesday it filed a $1 billion lawsuit against Google Inc. and its Internet video sharing site YouTube over unauthorized use of its copyrighted entertainment.

Comment on this SOTT Focus

---

New Century Financial Corp, 2nd Biggest Lender, Going Under

By Bradley Keoun and Yalman Onaran
Bloomberg
2007-03-13 07:17:00

New Century Financial Corp., the nation's second-biggest subprime mortgage lender, said it doesn't have the cash to pay creditors who are demanding their money, increasing speculation that the company will go bankrupt.

Comment on this SOTT Focus

---

Foreclosures May Hit 1.5 Million in U.S. Housing Bust

Bob Ivry
Bloomberg
2007-03-12 22:47:00

Hold on to your assets. The deepest housing decline in 16 years is about to get worse.

As many as 1.5 million more Americans may lose their homes, another 100,000 people in housing-related industries could be fired, and an estimated 100 additional subprime mortgage companies that lend money to people with bad or limited credit may go under, according to realtors, economists, analysts and a Federal Reserve governor. Financial stocks also could extend their declines over mortgage default worries.



Comment on this SOTT Focus

---
The Living Planet
---
Oceanographers puzzled by huge mass of cold water off Sydney

CSIRO
Physorg.com
2007-03-13 14:25:00



Cold-water eddy 'monsters' mighty current off Sydney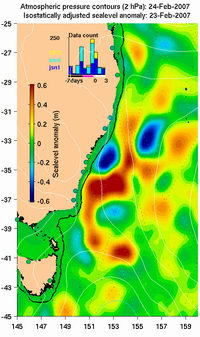 ©CSIRO Marine and Atmospheric Research
Diagram compiled from satellite data of the cold-water eddy off Sydney.



Oceanographers have identified a huge, dense mass of cold water off Sydney but know very little about what causes it or the influence it has in the Tasman Sea ecosystem.

"What we do know is that this is a very powerful natural feature which tends to push everything else aside - even the mighty East Australian Current," says CSIRO's Dr David Griffin.

Dr Griffin, from the Wealth from Oceans Flagship Research program, said cold-water eddies regularly appear off Sydney.

Comment on this SOTT Focus

---

As Predicted: Global Warming Skeptics Linked With Holocaust Denial

Paul Joseph Watson
Prison Planet
2007-03-13 08:32:00

In an article we published in November about global warming being caused by the sun, we commented somewhat tongue in cheek that people who express doubts about global warming would soon be compared to holocaust deniers by the media and other self-appointed cultural kingpins who demand total adherence to orthodox religion style beliefs about climate change.

Comment on this SOTT Focus

---

The Creeping Fascism of Global Warming Hysteria - a dogma of coercion, bias, and junk science

Paul Joseph Watson
Prison Planet
2007-03-13 08:23:00

The hoax of the doctrine of man-made global warming that is being foisted upon the world by decree, and the junk science that is manipulated to support it, represents a creeping fascism whose agenda to stifle open debate betrays the fact that climate change hysteria is a farce intended to crush freedoms and further centralize global power.

Comment on this SOTT Focus

---

Powerful Documentary Trounces Man-Made Warming Hoax

Paul Joseph Watson
Prison Planet
2007-03-13 08:17:00

An astounding documentary that was broadcast in the UK last night completely trounced the man-made explanation for global warming, not with emotionally-laden propaganda or by attacking the messenger as its adherants resort to, but by presenting carefully considered and rational science.

The Great Global Warming Swindle brought together a plethora of scientists, professors, climatologists and weather experts to expose the myths about climate change that have been promulgated in order to hoodwink the world into accepting the man-made theory of global warming.

Comment on this SOTT Focus

---

Old Earthquake Faults are Like Worn Brake Pads

Ker Than
Live Science
2007-03-13 08:07:00

Earthquake faults are worn smooth over time by friction, like the brake pads of an old car, according to a new study.


The finding, detailed in the March issue of the journal Geology, suggests old and new faults might generate different types of earthquakes.


Researchers were able to see the wear patterns by using a fairly new technology called laser imaging detection and ranging (LIDAR) to create detailed topographical maps of the vertical sides of exposed fault lines. Like radar, LIDAR sends out a pulse of energy and then records information from bounced back reflections. LIDAR is more sensitive than radar, and can collect data points as close as every 0.12 inches during scans of enormous rock faces.


Comment on this SOTT Focus

---

Expedition to highlight global warming called off due to extreme cold...

By PATRICK CONDON
Associated Press
2007-03-13 07:13:00

MINNEAPOLIS - A North Pole expedition meant to bring attention to global warming was called off after one of the explorers got frostbite. The explorers, Ann Bancroft and Liv Arnesen, on Saturday called off what was intended to be a 530-mile trek across the Arctic Ocean after Arnesen suffered frostbite in three of her toes, and extreme cold temperatures drained the batteries in some of their electronic equipment.

"Ann said losing toes and going forward at all costs was never part of the journey," said Ann Atwood, who helped organize the expedition.

Comment on this SOTT Focus

---
Health & Wellness
---
Sensitivity To Gluten May Result In Neurological Dysfunction; Independent Of Symptoms


Science Daily
2007-03-13 12:29:00

ST. PAUL, MN You may have gluten sensitivity and not even know it, according to a study published in the April 23 issue of Neurology, the scientific journal of the American Academy of Neurology. Loss of coordination (ataxia) may result from gluten sensitivity. This disease is known as gluten ataxia. The study found that some patients might never experience the gastrointestinal symptoms that prompt them to seek treatment for the disorder.

Comment on this SOTT Focus

---

Underestimation: A Third Of Gulf War Veterans Have Mental Health Difficulties


Medical News Today
2007-03-13 08:11:00

A new US study has found that nearly a third of Gulf war veterans treated by Veterans Affairs (VA) between 2001 and 2005 returned from Iraq or Afghanistan with mental health difficulties.


The study is published in the Archives of Internal Medicine.


Researchers at the University of California, San Francisco and the San Francisco VA Medical Center reviewed data collected on 103,788 veterans, half of whom were National Guard or Reserves.


Just over half of the veterans were under the age of 30, with females numbering 13 per cent and minorities around 33 per cent.


Dr Karen H. Seal and colleagues assessed the types of of mental health and psychosocial problems reported in the vets using the International Statistical Classification of Diseases and Related Health Problems (ICD-9) clinical modification system designed by the World Health Organization (WHO).


Comment on this SOTT Focus

---

Poll: Most U.S. women not sleeping enough


Science Daily
2007-03-13 08:00:00

A typical night for Deborah Wischow means waking up three hours after an early bedtime and waiting to see if sleep will return.


"You're not asleep, but you're not really awake," said Wischow, a Minneapolis resident who has struggled to maintain sound sleep for the past few years.


Wischow, 49, is one of many American women who are stressed out and sleep-deprived due to poor time management, according to a study released recently by the National Sleep Foundation.


Sixty percent of all women surveyed reported getting a good night's sleep only a couple of times a week, and 46 percent said they had a problem sleeping most nights.


This sleepless existence has gripped women of all ages and walks of life. The women also reported falling asleep at work and relying on caffeinated beverages during the day to stay awake. The survey results contain a 3.1 percent margin of error and were collected from 1003 people between ages 18-64 who where surveyed over the phone.


Comment on this SOTT Focus

---

Study shows why exercise boosts brainpower


Scientific American/Reuters
2007-03-13 07:58:00

Exercise boosts brainpower by building new brain cells in a brain region linked with memory and memory loss, U.S. researchers reported on Monday.


Tests on mice showed they grew new brain cells in a brain region called the dentate gyrus, a part of the hippocampus that is known to be affected in the age-related memory decline that begins around age 30 for most humans.


The researchers used magnetic resonance imaging scans to help document the process in mice -- and then used MRIs to look at the brains of people before and after exercise.


They found the same patterns, which suggests that people also grow new brain cells when they exercise.


Comment on this SOTT Focus

---
Science & Technology
---
Can computers make life-or-death medical decision?

Roxanne Khamsi
New Scientist
2007-03-13 07:51:00

A simple formula can predict how people would want to be treated in dire medical situations as accurately as their loved ones can, say researchers.


The finding suggests that computers may one day help doctors and those acting as surrogate decision-makers to better estimate the wishes of people in a coma.


By signing what is known as an "advance directive", people can specify what types of medical care they would want if they lost the ability to make decisions. Many people, however, do not complete such a directive in advance of these critical situations and their relatives or others must then decide on their behalf.


Comment on this SOTT Focus

---

New Panorama Reveals More Than a Thousand Black Holes


Physorg/Chandra X-ray center
2007-03-13 07:43:00

By casting a wide net, astronomers have captured an image of more than a thousand supermassive black holes. These results give astronomers a snapshot of a crucial period when these monster black holes are growing, and provide insight into the environments in which they occur.


The new black hole panorama was made with data from NASA's Chandra X-ray Observatory, the Spitzer Space Telescope and ground-based optical telescopes. The black holes in the image are hundreds of millions to several billion times more massive than the sun and lie in the centers of galaxies.


Comment on this SOTT Focus

---

160,000-year-old jawbone redefines origins of the species

Alok Jha
The Guardian
2007-03-13 07:37:00

Modern humans were living in northern Africa far earlier than previously thought, according to scientists. A new analysis of a 160,000-year-old fossilised jawbone from Morocco shows that the homo sapiens in the area had started having long childhoods, one of the hallmarks of humans living today.


It is known that the species homo sapiens emerged in Africa 200,000 years ago, but the oldest fossils that resemble modern humans come from sites in Europe dated to around 20,000 to 30,000 years ago.


The latest find shows that the key time in the development of a complex human society came much earlier than previously thought. The longer people had to learn and develop their brains as children, the more sophisticated their society could become. The new study pushes the date that modern humans emerged back by more than 100,000 years.


Comment on this SOTT Focus

---

"Thermal runaway" weakens even the best crystals

Jon Cartwright
PhysicsWeb
2007-03-13 07:15:00

In 1926, Russian physicist Yakov Frenkel proposed a theory that put a limit on the amount of stress a perfect crystal can withstand before its structural planes begin to slip over one another. Now, however, physicists from Norway have made a theoretical model showing that before Frenkel's limit is ever reached, crystals will deform due to a process called "thermal runaway" -- whereby strain and heat amplify rapidly. This could shed light on the mechanisms underlying deep earthquakes, and could help engineers to determine material tolerances more accurately.


Frenkel's theory applies to perfect crystals, and has long been known to set the stress limit too high for most real materials. This is because real materials often contain defects that can move through the structure and make it easier for planes to slip. But this is not always true: some materials such as rocks in the Earth's interior and metallic glasses have structures that act to prevent defects from moving, and so can demonstrate unusually high shear strengths.


Comment on this SOTT Focus

---
Our Haunted Planet
---
Looking up at sky, locals can't believe their eyes

Cindy Leise |
The Chronicle-Telegram
2007-03-13 17:04:00

Cindy Sherman considers herself a rational person.
That's why she didn't assume that what she saw in the sky Sunday night was a UFO. But she saw something unusual, that much she knows.

Comment on this SOTT Focus

---

Martians, UFOs ruled out, meteor strongly favoured

GREG MERCER AND RYAN CUREATZ
The Record
2007-03-13 16:20:00

If you're bracing for little men in flying saucers, you can probably relax.

Astronomers say the colourful, bright object that captured attention as it burned across the night sky Sunday was more than likely a very rare meteor event.

Comment on this SOTT Focus

---

Flying saucer's famous landing

Linda Piper
Newsshopper
2007-03-13 14:51:00

Memories of Bexley's most spectacular UFO sighting have been turned into a book by one of the people who witnessed it.

Comment on this SOTT Focus

---

Ball of fury sets the night on fire - Observers panick as meteorite flames to Earth

Christian Cotroneo
The Star
2007-03-13 10:39:00

Cynthia Crowther had just lit a cigarette outside her Newmarket home when the sky suddenly caught fire.

"Oh my God, I think I just saw a plane crash," she declared to her husband, running inside.

A ball of light, seething white, had careened overhead, spitting out dazzling debris.

Comment on this SOTT Focus

---

Lights seen in sky during eclipse

Tim Hughes
Oxford Mail
2007-03-13 08:25:00

Mystery surrounds the sighting of a "spooky" UFO over west Oxfordshire.


An object, described as "a slow-moving, orange light" was seen passing over Witney during the lunar eclipse two Saturdays ago.


Among those who saw the object, shortly after 10.30pm, were Derek Hall, of Jacobs Mill, Witney, and his girlfriend Paula Siford.


There were also reports of one or more unidentified objects flying over Oxford. Yet a week on, their identity still remains unknown.


Comment on this SOTT Focus

---
Don't Panic! Lighten Up!
---
No new articles.
---

Remember, we need your help to collect information on what is going on in your part of the world!
Send your article suggestions to: sott(at)signs-of-the-times.org

---
Click here to return to the Signs of the Times Archive
Click here for today's Signs Page