---
Sections on today's Signs Page:
---
SOTT Focus
---
No new articles.
Best of the Web
---
CNN Video - War With Iran Has Begun


CNN via YouTube
2007-03-09 17:52:00

The preparations for an attack on Iran have long since been made. Bush has consistently lied to the American people and the world about his government's and Israel's intentions. They want war, they will have war. The people be damned. The consequences will be devastating.

Watch the CNN Video below.

Comment on this SOTT Focus

---

Open letter to Senator Feinstein on alleged "Iranian threat"

Brian H. Appleton
Islam Online
2007-03-09 17:43:00

Dear Senator Feinstein

You are not responding to the following points which I will once more reiterate as concisely as I can.

Iran is a member of the Non Proliferation Treaty. According to the terms of the NPT, members have the right to enrich uranium up to a certain level for use in generating electrical power. This is Iran's goal not nuclear weapons. Iran does not have enough electricity.

Comment on this SOTT Focus

---

Quote of the Day


News Wires
2007-03-09 17:24:00

On their recent visit to Israel and Palestine, a Catholic Bishop and a Cardinal stated:

Comment on this SOTT Focus

---
U.S. News
---
Gosh, what darn bad luck: Tape of Padilla Interrogation Is Missing

Curt Anderson
Associated Press
2007-03-09 21:31:00

A videotape showing Pentagon officials' final interrogation of al-Qaida suspect Jose Padilla is missing, raising questions about whether federal prosecutors have lost other recordings and evidence in the case.

The tape is classified, but Padilla's attorneys said they believe something happened during that interrogation that could explain why Padilla does not trust them and suspects they are government agents.

Comment on this SOTT Focus

---

Whoah! Check this out! White House backtracks in row over U.S. attorney firings


Associated Press
2007-03-09 16:38:00

WASHINGTON -- Slapped even by GOP allies, the Bush administration is beating an abrupt retreat on eight federal prosecutors it fired and then publicly pilloried.

Just hours after Attorney General Alberto Gonzales dismissed the hubbub as an "overblown personnel matter," a Republican senator Thursday mused that Gonzales might soon suffer the same fate as the canned U.S. attorneys.

Comment on this SOTT Focus

---

BBC on 9-11: a video rebuttal

Anonymous
Google video
2007-02-24 13:21:00

Some points about the sloppy work that the BBC did here.

Comment on this SOTT Focus

---

Reaction to Coulter's slur hints at shift in view of gays

Wyatt Buchanan
San Francisco Chronicle
2007-03-09 11:54:00

When conservative commentator Ann Coulter called former Vice President Al Gore a "total fag" on national television nearly a year ago, it barely caused a stir.

Coulter's recent labeling of presidential candidate John Edwards as a "faggot," however, has triggered a huge response, including a campaign initiated today by a gay rights group and media watchdog to persuade mainstream media outlets to dump her for good.



At least four newspapers have dropped Coulter's syndicated column, and 40,000 people signed an online petition to Universal Press Syndicate, which distributes her column, demanding that it release her. Three corporations, including Verizon, stopped advertising on Coulter's Web site after she made the comment.



Comment on this SOTT Focus

---

Kangaroo Court Hearings set for "high-value" Guantanamo inmates

By Andrew Grey
Reuters
2007-03-09 11:38:00

WASHINGTON - U.S. military officials will start hearings on Friday for 14 prisoners transferred to Guantanamo Bay from secret CIA jails, including the alleged mastermind of the September 11 attacks on the United States.

Reporters will not be allowed at the hearings at the prison camp in Cuba and will have to rely on edited transcripts, defence officials said on Tuesday, citing concerns that the suspects could reveal sensitive security information.

"I think everybody recognizes that these individuals are unique for the role that they have played in terrorist operations and in combat operations against U.S. forces," Pentagon spokesman Bryan Whitman told reporters.

Comment on this SOTT Focus

---

Justice Dept.: FBI misused Patriot Act

By LARA JAKES JORDAN
Associated Press
2007-03-09 11:15:00

WASHINGTON - The FBI improperly and, in some cases, illegally used the USA Patriot Act to secretly obtain personal information about people in the United States, a Justice Department audit concluded Friday.

And for three years the FBI has underreported to Congress how often it forced businesses to turn over the customer data, the audit found.

FBI agents sometimes demanded the data without proper authorization, according to the 126-page audit by Justice Department Inspector General Glenn A. Fine. At other times, the audit found, the FBI improperly obtained telephone records in non-emergency circumstances.



The audit blames agent error and shoddy record-keeping for the bulk of the problems and did not find any indication of criminal misconduct.



Comment on this SOTT Focus

---
UK & Euro-Asian News
---
Thallium Victims Head Home to L.A.


Associated Press
2007-03-09 11:51:00

LOS ANGELES -- Two U.S. citizens who were hospitalized in Moscow with suspected thallium poisoning flew home to the United States as colleagues and relatives struggled to understand how the two had been exposed to the poisonous chemical element.

Comment on this SOTT Focus

---

More than 40 hurt in Athens rioting

Staff
Associated Press
2007-03-08 23:56:00

Rioters protesting education reforms battled police for more than three hours Thursday, hurling Molotov cocktails and vandalizing businesses in central Athens, leaving more than 40 people injured, authorities said.

Police said 13 police officers were among those hurt in violence that erupted outside Parliament during a rally against education reforms. More than 60 people were arrested.



Comment on this SOTT Focus

---
Around the World
---
Priests to purify site after Bush visit

By JUAN CARLOS LLORCA
Associated Press
2007-03-09 11:06:00

GUATEMALA CITY - Mayan priests will purify a sacred archaeological site to eliminate "bad spirits" after President Bush visits next week, an official with close ties to the group said Thursday.

"That a person like (Bush), with the persecution of our migrant brothers in the United States, with the wars he has provoked, is going to walk in our sacred lands, is an offense for the Mayan people and their culture," Juan Tiney, the director of a Mayan nongovernmental organization with close ties to Mayan religious and political leaders, said Thursday.

Comment on this SOTT Focus

---

Argentine ex-president ordered detained for "Dirty War" abuses

Staff
Associated Press
2007-03-09 00:00:00

A federal judge Thursday ordered former de facto president Reynaldo Bignone arrested in connection with human rights abuses stemming from Argentina's 1976-83 dictatorship, local media reported.


Comment on this SOTT Focus

---

Brazil Police Bloody Bush Protestors - before Bush even arrives

STAN LEHMAN
AP
2007-03-08 21:47:00

SAO PAULO, Brazil - Police clashed Thursday with students, environmentalists and left-leaning Brazilians protesting a visit by
President Bush and his push for an ethanol energy alliance with Latin America's largest nation.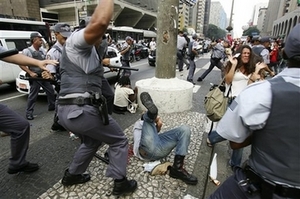 ©AP
Policemen fight demonstrators during a protest against the upcoming visit of US President George W. Bush in Sao Paulo, Thursday, March 8, 2007.
Comment on this SOTT Focus
---
Big Brother
---
U.S. citizens put under intense secret terror surveillance: report


China Daily
2007-03-09 17:57:00

Since the Sept. 11 attacks, the U.S. government has put average Americans under intense surveillance as part of terrorism investigations, says the Human Rights Record of the United States in 2006 issued on Thursday.

According to a U.S. survey released in December 2006, "two-thirds of Americans believe that the FBI and other federal agencies are intruding on their privacy rights," the report says.

Comment on this SOTT Focus

---

Homeland Security revives supersnoop

By Audrey Hudson
THE WASHINGTON TIMES
2007-03-08 19:56:00

Homeland Security officials are testing a supersnoop computer system that sifts through personal information on U.S. citizens to detect possible terrorist attacks, prompting concerns from lawmakers who have called for investigations.

The system uses the same data-mining process that was developed by the Pentagon's Total Information Awareness (TIA) project that was banned by Congress in 2003 because of vast privacy violations.

Comment on this SOTT Focus

---

Operation FALCON - The USA is turning into a Police State

Mike Whitney
RINF
2007-03-05 17:59:00

Operation Falcon: Blueprint for removing dissidents and political rivals

The Bush administration has carried out three massive sweeps in the last two years, rolling up more than 30,000 minor crooks and criminals, without as much as a whimper of protest from the public.

So far, not one of the more than 30,000 victims has been charged with a terror-related crime. Operation Falcon is the clearest indication yet that the Bush administration is fine-tuning its shock-troops so it can roll up tens of thousands of people at a moment's notice and toss them into the newly-built Halliburton detention centers. This should be a red flag for anyone who cares at all about human rights, civil liberties, or simply saving his own skin.

Comment on this SOTT Focus

---
Axis of Evil
---
Iran to conduct air defense exercises


RIA Novosti
2007-03-09 17:56:00

Iran will conduct air defense exercises Tuesday in preparation for a possible air strike on its uranium ore conversion center at Isfahan, the IRNA news agency said Tuesday.

The international press has in recent months actively discussed the possibility of U.S. and Israeli air strikes on Iranian nuclear facilities, but almost all key figures in the Bush administration have repeatedly refuted the existence of any plans to do so.

Comment on this SOTT Focus

---

'Defection' highlights nuclear espionage


ISN
2007-03-09 17:46:00

The disappearance of an Iranian official and ongoing espionage activities undermine efforts to forge agreement with Iran on the nuclear issue.

The disappearance of a top Iranian official in Turkey has focused attention on the apparent efforts of Western intelligence agencies to uncover incriminating revelations on the Islamic republic's regional role and controversial nuclear program.

Comment on this SOTT Focus

---

Proclamations of a deviant mind: Israeli Knesset member predicts attack on Iran

Paul Lungen
Canadian Jewish News
2007-03-08 04:45:00

Israeli Knesset member Effie Eitam has a reputation as a hawk, but on the question of Iran and its nuclear program, he believes he speaks for the country's mainstream strategic thinkers.

Diplomatic and political manoeuvres to rein in the Islamic state are feckless and doomed to fail, leaving Israel, with or without the co-operation of the United States, no alternative but to use military force to put an end to the nuclear threat, he says.

Comment on this SOTT Focus

---
Middle East Madness
---
The Israeil government erases the Bedouin Village of Twail again


Israeli Committee Against House Demolitions
2007-03-09 17:39:00



Again, hundreds of police people congregated by the city of Rahat. Again, they accompanied the demolishing bulldozers. Again the drove by the train tracks on their way to the village of Twail Abu-Jarwal. And again - the destruction, the violence, and the pain they leave behind.

Comment on this SOTT Focus

---

Israeli Military used Palestinian girl as human shield in Nablus


Haaretz
2007-03-09 17:17:00

Israel Defense Forces soldiers used an 11-year-old Palestinian girl as a "human shield" during an operation against militants in the West Bank town of Nablus last week, an Israeli human rights group said on Thursday.

Comment on this SOTT Focus

---

Israel Responsible for Over $1Bn in Damages to East Jerusalem Palestinians


International Solidarity Movement
2007-03-09 17:14:00

In the recently published bulletin, The Separation Wall in East Jerusalem - Economic Consequences, Shir Hever, Researcher of the Alternative Information Centre ( AIC) highlights that construction of the Israeli Separation Wall has to date resulted in 1.2 billion dollars in damages to East Jerusalem Palestinians; 194 million dollars annually.

Comment on this SOTT Focus

---

Israeli Army Murders Palestinian Civilian in Central Gaza


IMEMC & Agencies
2007-03-09 15:44:00

A Palestinian resident from the Deir Elbalah town, central Gaza Strip, was shot dead by Israeli army this evening, said medical sources.

The sources confirmed that a man was shot dead with a heavy bullet in the head and that his identity has not been known so far.

Comment on this SOTT Focus

---

Group says Israeli troops used Palestinians as human shields

MATTI FRIEDMAN
Associated Press
2007-03-09 06:28:00

JERUSALEM - The Israeli army said Friday that it was looking into new allegations that troops used Palestinians as human shields during an operation in the West Bank city of Nablus.

The Israeli human rights group B'Tselem charged that while conducting a major operation against Palestinian gunmen in the city last week, troops took two minors - a 15-year-old boy and an 11-year old girl - along while they searched houses for militants and weapons, forcing them to enter the houses first.

Comment on this SOTT Focus

---

Olmert admits Lebanon war was planned in March 2006

Ronny Sofer
YnetNews.com
2007-03-09 10:29:00

According to Ha'aretz report, prime minister told Winograd Commission he decided as early as March, 2006 to launch a 'restrained' military operation in case of kidnapping incident along Lebanese border

Comment on this SOTT Focus

---
The Loan Gunmen
---
In Debt We Trust As The Economy Goes Bust: A Return To Serfdom?

Carolyn Baker
Carolynbaker.org
2007-03-09 05:51:00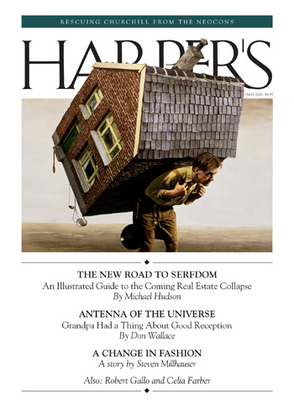 ©Harpers Mag



This week the Senate Banking Committee has begun an investigation of credit card companies and that industry's lending practices of which Chairman, Carl Levin of Michigan said,

"Millions of families...are kept in debt and are in over their heads not just because of their own purchases...but because of the abusive practices and excesses of the credit card companies."



Comment on this SOTT Focus

---

SEC cracks down on spam-driven stocks

By Karey Wutkowski
Reuters
2007-03-09 11:33:00

WASHINGTON - The Securities and Exchange Commission suspended trading on Thursday in the stocks of 35 small companies linked to spam e-mail campaigns urging small investors to buy shares.

The SEC said it launched an enforcement effort to protect investors from potentially fraudulent spam e-mail promoting small company stocks with phrases like, "Ready to Explode," "Ride the Bull" and "Fast Money."

Comment on this SOTT Focus

---

Asian Stocks Advance, Led by Sony on Yen Drop; Posco Climbs

Chen Shiyin and Makiko Suzuki
Bloomberg
2007-03-08 23:44:00

Asian stocks rose, headed for a weekly gain. Sony Corp. and Toyota Motor Corp. climbed as a weaker yen boosted the value of their overseas sales.

"The falling yen will be one of the biggest supports for today's market," said Soichiro Monji, who helps oversee about $47 billion at Daiwa SB Investments Ltd. in Tokyo.


Comment on this SOTT Focus

---
The Living Planet
---
4.7 earthquake rattles eastern Sierra Nevada


Daily Bulletin
2007-03-09 15:38:00

A 4.7 magnitude earthquake struck in the mountains of Central California Thursday evening, but there were no immediate reports of injury or damage.


Comment on this SOTT Focus

---
Health & Wellness
---
Want a better memory? Stop and smell the roses

By Maggie Fox
Reuters
2007-03-09 11:30:00

WASHINGTON - People who want to learn things might do better by simply stopping to smell the roses, researchers reported on Thursday.

German researchers found they could use odors to re-activate new memories in the brains of people while they slept -- and the volunteers remembered better later.

Writing in the journal Science, they said their study showed that memories are indeed consolidated during sleep, and show that smells and perhaps other stimuli can reinforce brain learning pathways.

Comment on this SOTT Focus

---

Use of hyperactivity drugs soars


BBC News online
2007-03-08 22:36:00

The use of drugs to treat hyperactivity in children has soared worldwide, say US researchers.
Between 1993 and 2003, prescriptions of ADHD medications, such as Ritalin, almost tripled.
Global spending on ADHD drugs increased nine-fold, with 83% occurring in the US, a study in Health Affairs reported.

Comment on this SOTT Focus

---

Japanese researchers unveil medical mini robot


AFP
2007-03-08 20:02:00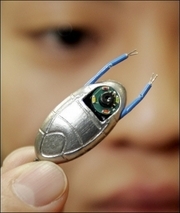 ©AFP/Yoshikazu Tsuno
Japan's Ritsumeikan University researchers unveil a prototype model of the micro medical robot, measuring 1cm in diameter, 2cm in length and weighing only 5-grammes, which enables it to stay and move inside a human body to remove or treat the affected part of disease, especially cancer.



TOKYO - Japanese researchers have developed a prototype miniature robot that can be inserted through an incision and used to perform medical procedures deep inside the body.

The beetle-shaped robot, which weighs five grams and measures two centimetres (0.79 inches) in length and one in diameter, is the result of three years of work by researchers from Ritsumeikan University and its partners.

Comment on this SOTT Focus

---
Science & Technology
---
You Can't Travel Back in Time, Some Scientists Say (Others say you can!)

By Sara Goudarzi
LiveScience
2007-03-09 14:55:00

The urge to hug a departed loved one again or prevent atrocities are among the compelling reasons that keep the notion of time travel alive in the minds of many.

While the idea makes for great fiction, some scientists now say traveling to the past is impossible.

Comment on this SOTT Focus

---

Will Biology Solve the Universe?

By Aaron Rowe
WiredNews
2007-03-09 14:42:00

For years, scientists have tried to develop a universal theory of everything. Steven Hawking predicts that such a theory will be discovered in the next 20 years. A new theory asserts that biology, not physics, will be the key to unlocking the deepest mysteries of the universe, such as quantum mechanics.

Comment on this SOTT Focus

---
Our Haunted Planet
---
Meteorites - There Are More Than We Know


Signs of the Times
2007-03-08 17:34:00

While the increase in officially recorded meteorites over the past few years is indeed startling for anyone watching (i.e. Signs of the Times), it seems that there are many more that go unrecorded. Over the past few months we have carried several reports of these unofficial meteors that are usually reported by individuals on bulletin boards and blogs.

Here's the latest from Perth Australia:

Comment on this SOTT Focus

---

Woman spots UFO headed for Spurs


Journal24
2007-03-09 15:30:00

AN UNIDENTIFIED flying object was spotted over Tottenham this week.

A resident watched gobsmacked from a window of her home off the High Road as a scarlet coloured oval object with flashing red lights soared across the sky.


Comment on this SOTT Focus

---

Former NASA and Boeing Employe sez: We are being invaded by aliens right NOW!

By SAINT BRYAN
Evening Magazine
2007-03-09 15:27:00

According to recent polls, almost 50 percent of Americans and millions of people around the world believe that UFO's are real.

An alien race invading planet Earth and taking over - it's an idea so powerful, it has drawn millions into movie theaters.

But isn't that kind of stuff pure fantasy?

Not to Seattle inventor Michael Menkin.

"We are being invaded right now," he said. "And they're taking children as well as adults."

Comment on this SOTT Focus

---

The Real Proof on Roswell

By Joseph Capp
UFO Media Matters
2007-03-09 15:19:00


"...It was not an object, it was a craft."
A pilot: witness Chicago O'Hare case.


You know, were not all idiots.

When the last data is retrieved and all the history collected, argued, debated and the last measure-ment has been made, the Roswell ET crash end the truth of what happened will for me be integrity and the risks taken by the original witnesses.

Comment on this SOTT Focus

---

A big boom, followed by earthquake-like tremors in Charleston

Meryl Conant
WCBD-TV
2007-03-09 14:48:00

A big boom, followed by earthquake-like tremors. That's how people are describing what they felt Thursday morning.

Starting around 9. the Count on 2 newsroom started getting calls into our newsroom from viewers, from Johns Island, up to Isle of Palms and McClellanville and all the way over to Nesmith.

South Carolina typically sees 10-15 earthquakes a year. But, we don't feel most of them.

Comment on this SOTT Focus

---
Don't Panic! Lighten Up!
---
WikiCult™ in full swing

The Signs Team
The Signs of the Times | The Register
2007-03-09 15:14:00

We found this little piece of writing on The Register and thought we would share it with all the faithful Sitizens1 pouring through our doors. We are pretty sure a FOX special "When bureaucratic net-nerds attack" is soon to be featured as the death nell for the charismatic Wikicult™ leader Jimmy "Jimbo™" Wales.

Comment on this SOTT Focus

---

Meat-loving calf eats chickens


Reuters
2007-03-09 15:36:00

KOLKATA, India - When dozens of chickens went missing from a remote West Bengal village, everyone blamed the neighborhood dogs.

But Ajit Ghosh, the owner of the missing chickens, eventually solved the puzzle when he caught his cow -- a sacred animal for the Hindu family -- gobbling up several of them at night.

Comment on this SOTT Focus

---

Enfield poltergeist lives again


Paranormal Review
2007-03-09 15:32:00

UNITED KINGDOM. It is 30 years since the "Enfield poltergeist" hit the headlines, but it is still an event that haunts those who experienced it. As well as the Hodgson family, who were at the centre of this paranormal outbreak in their north London home, witnesses included police officers, journalists and a photographer, a physicist, and two of the Society for Psychical Research's leading investigators.

Comment on this SOTT Focus

---

German man chainsaws house in two in divorce split


Reuters
2007-03-09 11:12:00

BERLIN - A 43-year-old German decided to settle his imminent divorce by chainsawing a family home in two and making off with his half in a forklift truck.

Comment on this SOTT Focus

---

Inseminated elephant gives birth in Asia


AP
2007-03-08 23:24:00

BANGKOK, Thailand - Thai veterinarians announced Thursday that an artificially inseminated elephant has given birth to a bouncing baby boy - a first in Asia that could be a crucial step in conserving the endangered species.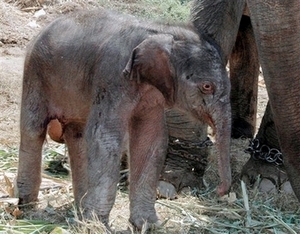 ©AP
A one-day-old baby elephant stands next to its mother at the Thai Elephant Conservation Center in Lampang province, northern Thailand
Comment on this SOTT Focus
---

Star Wars cloak sells for £54,000 ($104,254)


BBC News online
2007-03-08 22:46:00

A cloak worn by Sir Alec Guinness in Star Wars, which went missing for 30 years, has been sold for £54,000 ($104, 254) at an auction of cinema and TV outfits.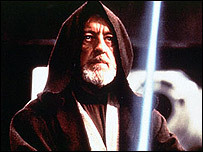 ©LFilms
Comment on this SOTT Focus
---
---

Remember, we need your help to collect information on what is going on in your part of the world!
Send your article suggestions to: sott(at)signs-of-the-times.org

---
Click here to return to the Signs of the Times Archive
Click here for today's Signs Page