---
Sections on today's Signs Page:
---
SOTT Focus
---
No new articles.
Best of the Web
---
Hey Under-30s Crowd, Have You Overdosed on Narcissism?

By Clayton Collins
Christian Science Monitor
2007-03-06 09:36:00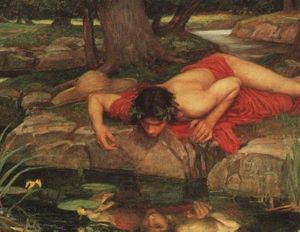 ©ibiblio.org
Narcissus
A new study points to disturbing data about Generation Y's supposed lack of empathy, aggressive behavior and inability to form relationships.


A little smug self-absorption might be a time-honored trait of at least some subsets of the under-30 crowd.

But over the past few decades the prevailing disposition among college students -- today labeled Generation Y or Millennials -- has slid into full-blown narcissism, according to a study released this week.

The "all about me" shift means much more than lots of traffic at self-revelatory Web sites such as YouTube and Facebook. It points, says the study's author, to a generation's lack of empathy, its inability to form relationships -- and worse.

Comment on this SOTT Focus

---

"Military Juntas" For Five Hundred, Alex

Lawrence
Lawrence Of Cyberia
2007-03-03 18:08:00

Political Science Quiz of the day:

Q - What do you call a country whose military and paramilitary forces operate in accordance with the rule of law?
A - A Democracy.
Q - And what do you call it when such forces operate with impunity in defiance of their own country's laws?
A - Well obviously, we would call that "The Only Democracy In The Middle East".

Comment on this SOTT Focus

---
U.S. News
---
Pschopath Alan Dershowitz Bares Fangs on Finkelstein

Alan Dershowitz
Jerusalem Post
2007-03-04 17:31:00

Recently Norman Finkelstein has been making the rounds of American college campuses - Stanford, Brandeis, Harvard, Bryn Mawr, Northwestern and more - having been invited by various departments, groups and individuals. Many of the people extending the invitations are unaware that by inviting this person on their behalf, they are becoming complicit with neo-Nazis, Holocaust deniers, and anti-Semites. Some of the invitees were all too aware of what kind of person they were inviting.



Comment on this SOTT Focus

---

Fall guy Lewis "Scooter" Libby declared guilty


BBC News
2007-03-06 18:56:00

A former key White House official, Lewis Libby, has been found guilty of obstruction of justice and perjury.

Libby, ex-chief of staff to Vice-President Dick Cheney, faces a prison term of up to 25 years. He will be sentenced in June.

He was accused of lying to the FBI and a grand jury over revelations about CIA agent Valerie Plame's identity.

Libby's lawyer said they were "very disappointed" at the verdict, and would ask for a new trial, or would appeal.

Libby, who goes by the nickname "Scooter", was found guilty on four out of five counts. He was acquitted on one count of lying to the FBI.

Comment on this SOTT Focus

---

Pilot crashes into ex-in-law's house, kills daughter and himself

By EMILY UDELL
Associated Press
2007-03-06 10:27:00

INDIANAPOLIS - By the time Beth Johnson rushed to tell police that she suspected her ex-husband had abducted their 8-year-old daughter, it was too late. Eric Johnson had already strapped Emily into the passenger seat of a leased single-engine Cessna and taken off, police said. Moments later, the aircraft slammed into the side of his former mother-in-law's house.

Johnson, 47, and his daughter died in the crash, which investigators suspect was intentional. Federal authorities on Tuesday were in southern Indiana trying to figure out what led up to that devastating crash.

"It is just gut-wrenching to think about what was happening to that child just prior to the crash," State Police 1st Sgt. Dave Bursten said.

Comment on this SOTT Focus

---

Fired U.S. attorneys to defend records

Jennifer Talhelm
Associated Press
2007-03-06 10:23:00

WASHINGTON - Six former U.S. attorneys said they got little or no information about why they were fired, as another Republican lawmaker acknowledged Tuesday contacting one of the federal prosecutors about his investigations.


Comment on this SOTT Focus

---

Police say man told toddler: Stab Mommy


Associated Press
2007-03-06 10:25:00

BRIDGEPORT, Conn. - Police say a man repeatedly stabbed his teenage wife, then gave the knife to his toddler son and told him: "Now you stab Mommy."

Fermin Rodriguez, 21, attacked his 17-year-old wife Sunday night, after accusing her of cheating on him, police said. He slashed and stabbed her multiple times, then handed the knife to his 2-year-old son and told him to stab her, police said.

Comment on this SOTT Focus

---

$1m-a-week crack king admits 30 murders

Tim Reid
The Times
2007-03-06 08:36:00

An American drug baron who police say was almost solely responsible for the 1980s crack epidemic has confessed to 30 murders and described an appallingly brutal reign of terror that lasted for two decades.


John "Bloody Hatchet" Hatcher, who at the height of his drug dealings made $1 million a week, faces a life sentence in prison after striking a deal with investigators to detail his crimes in return for prosecutors agreeing not to call for his execution.


Two of his henchmen were convicted of murder and drug trafficking after a three-week trial in New York in which he testified for the prosecution.


Comment on this SOTT Focus

---
UK & Euro-Asian News
---
British high school blasted for hosting 'anti-Israel' event

Jonny Paul
Jerusalem Post
2007-03-05 17:44:00

A high school in southwest England has come under fire for agreeing to host

an anti-Israel event

for students on Monday.

Sherbourne High School in Dorset is hosting an event entitled "The Occupation: Up Close and Personal, Living in the Palestinian Occupied Territories.

Comment on this SOTT Focus

---

Blair aide's 'concern over Levy'


BBC
2007-03-06 19:00:00

No 10 aide Ruth Turner was concerned a version of events put to her by Lord Levy was untrue, the BBC has learned in new cash for honours developments.

Ms Turner was concerned about the Labour fundraiser's account of his role in drawing up the Honours List.

The BBC has not seen the document containing her concerns but has been told about it by more than one source.

Comment on this SOTT Focus

---

China bans new Internet cafes for a year


Reuters
2007-03-06 08:12:00

Fearful of soaring Internet addiction and juvenile crime, China has banned the opening of new Internet cafes this year, state media reported on Tuesday.


"In 2007, local governments must not sanction the opening of new Internet bars," Xinhua news agency on Tuesday quoted a directive jointly released by 14 government departments, including the Ministry of Culture, as saying.


The notice said Internet cafes that had received planning approval would need to be completed by June 30, 2007.


There are currently about 113,000 Internet cafes and bars in China, Xinhua said, citing the Ministry of Information Industry.


Comment on this SOTT Focus

---

Moscow 'could attack US missile system'


Financial Times
2007-03-06 04:41:00

Russia said yesterday it was revising its military doctrine to reflect other powers' growing use of military force, while a Russian general warned again that Moscow could knock out elements of the US missile defence system planned for eastern Europe.


The comments came as Angela Merkel, German chancellor, added her voice to the heated international debate over the missile defence system by calling for Nato to be given responsibility for defusing concerns over the plan.


"Nato is the best place for discussion of this issue," she told the Financial Times in an interview, arguing that Washington should step up consultation with its western allies and Russia.


Her statement reflects concerns over increasing east-west tensions since Russia's President Vladimir Putin delivered a speech in Munich sharply criticising US unilateralism, and the US formally asked Poland and the Czech Republic to host parts of the anti-missile system.


Comment on this SOTT Focus

---

Russian Suicide Journalist Investigated Syria and Iran Weapons Deals -Report


MosNews
2007-03-06 04:22:00

Ivan Safronov, a correspondent for Russian business daily who died recently in what is seen as a suicide, had been investigating a prepared deal to supply Russian weapons to Syria and Iran and received threats from Russian state security service, the Kommersant daily reported on Monday.


Safronov died on March 2 after tumbling five floors from the stairwell of his Moscow apartment building. The daily quoted the press service of the prosecutor's office that is working with the suicide case as saying that investigators do not rule out that the reported could have been driven to suicide.


The daily also said that before a trip to the international weapons fair in United Arab Emirates Safronov told his colleagues that he was going to check the information about new deals to supply Russian weapons to the Middle East -the sale of the Su-30 jets to Syria and S-300V surface-to-air missiles to Iran.


Comment on this SOTT Focus

---

French Election: Hacker steals data from another French presidential candidate


Reuters
2007-03-05 20:12:00

A hacker stole sensitive data from a computer in the offices of French far-right leader Jean-Marie Le Pen, police said, fueling his fears that rivals used it to try and keep him out of the presidential race.

The security breach at Le Pen's National Front party headquarters comes as the campaign intensified ahead of the April and May election with several candidates facing smear scandals in recent weeks.

Le Pen, who shocked France by finishing second in the 2002 presidential election, is struggling to secure the backing of at least 500 elected officials needed to run this time round.

Comment on this SOTT Focus

---
Around the World
---
Chavez to rally Argentines while Bush visits region

Staff
Reuters
2007-03-06 10:18:00

BUENOS AIRES (Reuters) - U.S. foe Venezuelan President Hugo Chavez will lead a leftist rally in an Argentine stadium on Friday, right when President Bush is due to arrive in neighboring Uruguay for a state visit.

Comment on this SOTT Focus

---

How the world really shapes up

VICTORIA MOORE
Daily Mail
2007-03-05 18:45:00

We all know what the world looks like. But a new series of extraordinary maps shows our planet in a very different light.

Rather than defining each country by size, these computer-generated modified maps - or cartograms - redraw the globe with each country's size proportionate to its strengths, or weaknesses, in a whole series of categories.

For instance, when it comes to military spending, the U.S. appears bloated, but Africa is huge when HIV prevalence is mapped.

Comment on this SOTT Focus

---

Poll: World sees Israel, Iran most negatively


Ynet News
2007-03-05 18:02:00

BBC survey reveals 56 percent of respondents from 27 countries perceive Iran and Israel as two nations with most negative influence, followed by United States and North Korea. Nations with positive influence: Canada, Japan, UK, China, India and EU

Comment on this SOTT Focus

---
Big Brother
---
Whats on your mind?: Scientists Try to Predict Intentions

Maria Cheng
Associated Press
2007-03-05 09:00:00

At a laboratory in Germany, volunteers slide into a donut-shaped MRI machine and perform simple tasks, such as deciding whether to add or subtract two numbers, or choosing which of two buttons to press.

They have no inkling that scientists in the next room are trying to read their minds - using a brain scan to figure out their intention before it is turned into action.

Comment on this SOTT Focus

---

Radio Frequency Identification (RFID) Systems

Electronic Privacy Control Center
www.epic.org
2007-03-06 11:02:00

Radio Frequency Identification (RFID) is a type of automatic identification system. The purpose of an RFID system is to enable data to be transmitted by a portable device, called a tag, which is read by an RFID reader and processed according to the needs of a particular application. The data transmitted by the tag may provide identification or location information, or specifics about the product tagged, such as price, color, date of purchase, etc. The use of RFID in tracking and access applications first appeared during the 1980s. RFID quickly gained attention because of its ability to track moving objects. As the technology is refined, more pervasive - and invasive - uses for RFID tags are in the works.

Comment on this SOTT Focus

---

Barclays carrying $1bn of exposure to sub-prime lender

Patrick Hosking
The Times of London
2007-03-06 10:10:00

Barclays faces being caught up in the US sub-prime lending rout as it emerged that it has a $1 billion (£520 million) line of credit to one of the biggest and most tarnished players in the industry.

Barclays has the exposure to New Century Financial Corporation, which late on Friday said that it was in danger of breaching loan covenants. Its shares crashed by 63 per cent to $5.48 yesterday - a tenth of their value two years ago.



Comment on this SOTT Focus

---
Axis of Evil
---
Experts Want New Definition of Torture

William J. Kole and Garentina Kraja
Associated Press
2007-03-06 00:00:00

Prisoners who endure poor or degrading treatment suffer much of the same long-term psychological distress as do captives who are tortured, suggests a study published Monday.

The study was based on interviews with victims of ill treatment and torture while imprisoned in the former Yugoslavia, and experts said the findings underscored the need for a broader definition of torture.

Comment on this SOTT Focus

---

PA newspaper rumors: Israel to turn Temple Mount mosque into synagogue

David Bedein
IsraelInsider
2007-03-05 17:25:00

Al Hayat Al-Jadida, the official newspaper of the Palestinian Authority reported on Thursday that Arab Members of Israel's Knesset parliament and activists from the Islamic movement in Israel have "uncovered an Israeli plan that intends to remove a section of Al-Aksa mosque and turn it into a synagogue."


Comment on this SOTT Focus

---

Livni lets world know who's pulling the strings

Ronny Sofer
Ynet News
2007-03-05 17:18:00

During her visit to Brussels, foreign minister trying to convince European countries to expand sanctions against Tehran. Livni expected to tell foreign ministers Iran is not only threatening Israel, but entire world

Ignore the economic price of isolating Iran from the world because the entire world is under threat, Foreign Minister Tzipi Livni is expected to tell the foreign ministers of the European Union meeting in Brussels on Monday evening.

Although Livni is encouraged by the EU's stance to expand the economic sanctions on Iran, Israel's greatest fear is that there are still countries in Europe pondering the issue.

Comment on this SOTT Focus

---

Report: Missing Iranian former defense official has 'fled to U.S.'

Yoav Stern
Haaretz
2007-03-06 17:03:00

The Iranian former deputy defense minister who disappeared in neighboring Turkey last month is said to have sought asylum in the United States. Tehran said was Ali Reza Asghari went missing while on a private trip to Turkey.

The pan-Arab newspaper al-Sharq al-Awsat on Tuesday quoted high-profile sources as saying that Asghari left for the U.S. shortly after arriving in the Turkish capital.

Earlier Tuesday, Iran's top police chief accused Western intelligence services of possibly abducting Asghari, who is also a retired general in the elite Revolutionary Guards.

Comment on this SOTT Focus

---

Israel and the US determined to withhold any funding to the Palestinian Authority


Arab Monitor
2007-03-05 11:17:00

Speaking at a meeting of Foreign Ministers of EU, some of whom expressed their desire to resume financial aid to the Palestinian Authority, Israeli Foreign Mnister Tzipi Livni urged the European Union to maintain the US-Israeli boycott of the Palestinian National Authority. Livni asserted that upkeeping the boycott was in the interest of whom she called the moderates among the Palestinian leadership, meaning the security forces organized under Fatah leaders, to whom the Israeli government recently handed over 100 million dollars, taken from the Palestinian tax and customs revenues it is withholding.

Comment on this SOTT Focus

---
Middle East Madness
---
Flashback: Officer convicted of raping female soldier

Hanan Greenberg
Ynet News
2006-11-12 17:55:00

Officer convicted of raping female soldier who served under his command, court rejects claim that the intercourse was consensual. Meanwhile MP's investigate second rape allegation in barracks

The IDF Southern Command Military Court convicted an officer of raping a female soldier who served under his command on Sunday. The court ruled the complainant's version of the incident, which occurred in June 2004, as credible.

Comment on this SOTT Focus

---

4 soldiers arrested on suspicion of raping a female soldier

Hanan Greenberg
Ynet News
2007-03-05 17:49:00

Commanders shocked to find four army cooks naked in barracks with female soldier. Military police report alcohol was found in their room. Female soldier initially told investigators she has no recollection of what had happened and then said she had been raped. Male soldiers claim sex was consensual

The Military Police arrested four soldiers on suspicion they raped a female soldier during the weekend at the base of one of the regional brigades stationed in the West Bank, apparently under the influence of alcohol.

Comment on this SOTT Focus

---

Kuwaitis seek total ban on dealings with Israel

Anon.
AFP
2007-03-04 17:14:00

Five Kuwaiti lawmakers, including four Islamists, yesterday submitted draft legislation that calls for a total ban on dealing with Israel and proposing hefty penalties for violators.

The bill seeks to ban all forms of "dealing, establishing ties or contacts with the Zionist entity and opening Israeli offices of any type at any level, whether directly or indirectly."

It also seeks to prohibit government agencies, individuals and companies from striking agreements and protocols with Israel and from holding meetings with Israelis.

Comment on this SOTT Focus

---

No sign of Iran's deviation from peaceful nuclear activities - ElBaradei

Anon.
Islamic Republic News Agency
2007-03-05 17:11:00

IAEA Chief said here on first day of UN nuclear watchdog Board of Governors' regular seasonal session that agency has found "no strong reason" for Iran's deviation from peaceful nuclear activities.

Comment on this SOTT Focus

---

9 U.S. soldiers killed north of Baghdad

Lauren Frayer
Associated Press
2007-03-06 09:53:00

BAGHDAD, Iraq - Nine American soldiers died in explosions north of Baghdad, the U.S. military announced Tuesday after the deadliest single day for U.S. troops in Iraq in nearly a month.



Comment on this SOTT Focus

---

Kidnapped or Defected? Top Iranian General Disappears

Hoda Osman and Christopher Isham
ABC News
2007-03-06 08:34:00

The mysterious disappearance of an Iranian general in Turkey in early February has led to speculation he either was kidnapped or defected.


Iran has reportedly asked Interpol to investigate the general's disappearance. Iranian Foreign Minister Manouchehr Mottaki was quoted by Iran's news agency today as saying that a foreign ministry official was currently in Turkey to investigate the disappearance and has asked the Turkish government "to inquire into the issue and give explanation on Asgari's whereabouts."


Comment on this SOTT Focus

---
The Loan Gunmen
---
U.S. Stocks Extend Decline; Yen Advances to Three-Month High

Michael Patterson
Bloomberg
2007-03-05 17:31:00

The U.S. stock market's worst slide in four years continued for a third day on growing concern that bank earnings growth will diminish as defaults increase.

The weeklong rout in equities worldwide pushed yields on U.S. Treasuries to levels reflecting expectations the Federal Reserve will cut interest rates this year. The yen reached the highest in almost three months against the dollar.


Comment on this SOTT Focus

---
The Living Planet
---
Powerful Indonesian Earthquake Kills 70

ZAKKI HAKIM
Associated Press Writer
2007-03-06 09:46:00

PADANG, Indonesia - A powerful earthquake crumpled houses across a large swath of western Indonesia on Tuesday, killing at least 70 people and injuring hundreds, authorities said, predicting that the toll would rise.



Comment on this SOTT Focus

---

Extreme cold weather alert in force


CNW Telbek
2007-03-06 05:05:00

The City of Toronto has issued an extreme cold weather alert, effective immediately, to help get homeless people in from the cold. This is in effect until further notice.


An extreme cold weather alert is issued when extremely cold weather is forecast. This type of severe cold weather is hazardous to homeless people who are sleeping outside.


Street Helpline operates 24 hours a day to help homeless people and front-line workers know where to find shelter and other services. Street Helpline can be called toll-free at 1-866-392-3777 from any payphone. Members of the public can phone this number if they see a homeless person sleeping
outside.


Comment on this SOTT Focus

---

Sumatra quake felt in Malaysia


Reuters
2007-03-06 00:35:00

A strong earthquake of magnitude 6.3 shook Indonesia's Sumatra island on Tuesday and was felt in Singapore and Malaysia as well, causing the evacuation of several buildings over 400km away.



Comment on this SOTT Focus

---
Health & Wellness
---
Obesity Surgery Triples Among U.S. Teens

Lindsey Tanner
Associated Press
2007-03-05 18:00:00

The number of U.S. children having obesity surgery has tripled in recent years, surging at a pace that could mean more than 1,000 such operations this year, new research suggests. While the procedure is still far more common in adults, it appears to be slightly less risky in teens, according to an analysis of data on 12- to 19-year-olds who had obesity surgery from 1996 through 2003.

Comment on this SOTT Focus

---

Woman's 93-pound tumor mystery


NBC
2007-03-06 08:21:00

Tipping the scale at 360 pounds, Kayla Hilton is seriously obese and has major health issues, but the Oklahoma woman's long-term prognosis is encouraging now that doctors have removed the 93-pound ovarian cyst that grew undetected inside her for years.


"I feel lighter and happy to heal, to get better and be able to get around," Hilton, 32, said during an appearance Monday on TODAY.


Hilton, who lives in a Tulsa suburb, has been overweight since childhood. But when she was about 16, she began gaining weight at a faster rate.


Comment on this SOTT Focus

---

Denial In Action: Tests To Reveal Levels Of Depleted Uranium In Army Personnel


Science Daily
2007-03-06 05:18:00

A test recently used by the UK government's Independent Depleted Uranium Oversight Board to detect exposure to UK troops by depleted uranium (DU) during the 1991 Gulf Conflict was developed by a team led by a University of Leicester geologist.


Randall Parrish, Professor of Isotope Geology, developed the test with Postdoctoral Fellow Dr Axel Gerdes, who now works at the University of Frankfurt, Germany, and his colleague Matt Horstwood at the British Geological Survey, using advanced mass spectrometry.


Prof Parrish's team has tested more than 350 individuals as part of the programme, with the result that none so far tested had any demonstrable DU exposure resulting from their participation in the 1991 Gulf Conflict, though the extent of actual initial exposure of tested individuals to DU is unknown.


Comment on this SOTT Focus

---

USDA about to approve GM rice project


All About Feed
2007-03-06 04:59:00

Ventria Bioscience wants to grow rice modified to produce human proteins on more than 3,000 acres (1,215 hectares) of farmland. The pharmaceutical rice would be harvested and refined for use in medicines to fight diarrhoea, dehydration and other illnesses that kill millions of infants and toddlers each year.


Safety concerns


While Kansas officials have embraced the project as a boon to the state's emerging biosciences industry, environmentalists and some food groups warn the proteins could find their way into the food chain, causing medical reactions or allergies.


"We're opposed to the production of pharmaceutical and industrial chemicals in food crops grown outdoors because we think there are too many ways contamination of the food supply could occur," said Karen Perry Stillerman, senior analyst at the Union of Concerned Scientists, a science advocacy group.


Comment on this SOTT Focus

---

Drink wine, live a longer life


Daily Times
2007-03-06 04:52:00

Drinking a small amount of wine appears to extend men's life expectancy by a few years, Dutch researchers said in the latest study to find benefits in moderate drinking. Dutch researchers sought to gauge the impact on health and life expectancy of long-term alcohol consumption, tracking 1,373 men born between 1900 and 1920 who lived in Zutphen, an industrial town in the Netherlands.


The researchers followed alcohol intake in seven surveys carried out over four decades starting in 1960, tracking some men until they died and the rest until 2000. The men were asked about drinking, eating and smoking habits, weight, and prevalence of heart attack, stroke, diabetes and cancer.


Drinking a small amount of alcohol - less than a glass per day - was associated with lower rates of death from cardiovascular causes and overall causes, the study found. Drinking wine appeared to be more protective than spirits and beer. Drinking an average of about half a glass of wine per day was associated with lowest mortality levels, it found.


Comment on this SOTT Focus

---

Fat toddlers 'risk early puberty'


BBC
2007-03-06 04:34:00

Girls who are overweight at the age of three risk reaching puberty as early as nine years old, a US study suggests.


The research, published in the journal Pediatrics, adds to mounting evidence suggesting childhood obesity is causing the trend of earlier puberty in girls.


Studies suggest girls who reach puberty earlier than the "normal" age of 10 and above also start drinking alcohol and begin having sexual intercourse sooner. UK experts said early puberty could cause girls significant distress.


Comment on this SOTT Focus

---
Science & Technology
---
Pieces May Not Fit Age-Old Puzzle

Kelli Whitlock Burton
ScienceNOW Daily News
2007-03-06 08:41:00

A new study is raising questions about whether a suspect fingered by scientists is as big a driver of human aging as previously thought. For years, researchers believed that small DNA mutations in the energy-producing parts of our cells lead us down the road to aching bodies and wrinkled skin. But mice engineered to have hundreds of times more of these mutations than average showed no signs of premature aging, indicating that scientists are going to have to look elsewhere for their culprit.


Cells contain thousands of tiny structures called mitochondria, which generate energy and harbor their own DNA distinct from the cell's nucleus. Scientists suspect this DNA, called mitochondrial DNA, or mtDNA, may be more vulnerable to mutations from errors in DNA replication. Over the last five years, several studies in mice pointed to a link between these mutations in mtDNA and the decline of tissue function that occurs as humans and animals age.


Comment on this SOTT Focus

---

Now it's official: Weather is worse at weekends

Paula Murray
The Daily Record
2007-03-06 05:13:00

Scientists have delivered proof of what many have suspected for years - the weather is always worse at weekends.


Saturdays are colder and wetter than any other day, a major study of weather patterns has revealed.


And the researchers insist people themselves are to blame for the trend - because they drive more during the week and increase dust pollution.


Meteorologists looked at 6.3million pieces of climate data from across Europe between 1991 and 2005.


It's thought to be the most comprehensive weather study ever.


They found Wednesdays have the highest average temperatures and Mondays are the driest. Saturdays were worst on both counts.


Comment on this SOTT Focus

---

You've been warned! Deliberate blind spot: NASA can't pay for killer asteroid hunt

Seth Borenstein
NBC/Associated Press
2007-03-06 04:25:00

NASA officials say the space agency is capable of finding nearly all the asteroids that might pose a devastating hit to Earth, but there isn't enough money to pay for the task so it won't get done.


The cost to find at least 90 percent of the 20,000 potentially hazardous asteroids and comets by 2020 would be about $1 billion, according to a report NASA will release later this week. The report was previewed Monday at a Planetary Defense Conference in Washington.


Congress in 2005 asked NASA to come up with a plan to track most killer asteroids and propose how to deflect the potentially catastrophic ones.


Comment on this SOTT Focus

---
Our Haunted Planet
---
Former Canadian Minister wants UFO science to fight climate change

Jron Magcale
Turks.US
2007-03-02 08:47:00

On Wednesday, a former Canadian defense minister is demanding governments worldwide disclose and use secret alien technologies obtained in alleged UFO crashes to stem climate change.

Paul Hellyer, 83, told the Ottawa Citizen, "I would like to see what (alien) technology there might be that could eliminate the burning of fossil fuels within a generation, which could be a way to save our planet."

Comment on this SOTT Focus

---

Suspected meteorite goes through Illinois window

Eric Heisig
The Daily Vidette
2007-03-06 03:52:00

At a 71-degree angle, going 60 mph, an object went through the house of Bloomington residents David and Dee Riddle at 9:40 a.m. Monday morning. Although it has not been officially confirmed, the object is suspected to be a meteorite.

"I was in the kitchen when I heard the sound of glass breaking," Dee Riddle, whose house is located off of West Miller Street, said. "There was also a thump and a shake."


Comment on this SOTT Focus

---
Don't Panic! Lighten Up!
---
Teens Accused of Making Ostrich Impotent


ABC News/Associated Press
2007-03-06 05:24:00

Three teenagers may be on the hook for a hefty fine if a court decides that their festive firecrackers outside an eastern German farm scared the libido right out of an ostrich named Gustav.


Rico Gabel, a farmer in Lohsa, northeast of Dresden, is claiming $6,450 in damages for the alleged antics of the three youths, ages 17-18, between Dec. 27 and 29, 2005.


According to his lawsuit, the farmer claims that fireworks set off by the boys made the previously lustful Gustav both apathetic and depressed, and thus unable to perform for a half-a-year with his two female breeding partners.


Comment on this SOTT Focus

---

Royal jokers: Wassup! This Is Liz!


Sky News
2007-03-06 04:45:00

Princely pranksters Wills and Harry have been accused of recording a bogus message on the Queen's answerphone.


The pair were asked for help by their regal gran when she was baffled by the technology.


But she was reported to be mortified when she heard the end result.


Their message said: "Hey wassup! This is Liz. Sorry I'm away from the throne."


The recording continued: "For a hotline to Philip, press one. For Charles, press two. And for the corgis, press three."


Comment on this SOTT Focus

---

Spiders: 'Chastity Belts' Protect Paternity


Science Daily.com
2007-03-05 23:18:00

The fact that female wasp spiders have numerous sexual contacts is something which their male partners cannot prevent. What they can do, however, is ensure that no offspring ensue from these tête à têtes with their rivals: the male spiders simply place a chastity belt on their partner while copulating. The tip of their genital breaks off during intercourse, blocking the sexual orifice of the lady spider.

Comment on this SOTT Focus

---

Woman's bus adverts for egg donor


BBC News
2007-03-05 22:01:00

A 54-year-old woman and her husband are advertising for an egg donor on London buses in a last-ditch attempt to try to have a baby.





Comment on this SOTT Focus

---
---

Remember, we need your help to collect information on what is going on in your part of the world!
Send your article suggestions to: sott(at)signs-of-the-times.org

---
Click here to return to the Signs of the Times Archive
Click here for today's Signs Page