---
Sections on today's Signs Page:
---
SOTT Focus
---
Tales From The Crypt: The Mummy Returns to Bring Religious War

Laura Knight-Jadczyk
Signs Of The Times
2007-02-27 08:22:00


©grail.co.uk
The Sunday Times, Sunday 31st March 1996



There has been a gathering storm of potentially explosive controversy between Christians and Jews that we have been observing with some interest. It may not be apparent to some that this issue has the potential to ignite global conflict, but if all factors are taken into consideration, including the fact that this very event was predicted years ago by Douglas Reed in his book Controversy of Zion, the arrangement of playing pieces on the board should give us some clue about what is in store.

Obviously, of course, it is only some Jews and some Christians, but the ramifications of the situation - especially considering the background and details - are startling. We hope that you will peruse this mini-series including some comments and understand that this is just another salvo in a long-term project and the when the storm finally breaks, things could get very ugly.

Let's begin our review with the basic claims.

Comment on this SOTT Focus

---

Media manipulation in action: How to disappear over 50,000 protesters

G Saunders
Signs of the Times
2007-02-27 14:20:00

Last Saturday February 24th saw tens of thousands from all over the UK come together in a march organised jointly by Stop the War Coalition, Campaign for Nuclear Disarmament and the British Muslim Initiative.

The number of attendees - 50-60,000 - was reduced to "hundreds" (spread across two cities) in the mainstream media. So here, for your viewing pleasure, are the few hundred who braved a "rainy" London to protest (see if you can spot the umbrellas).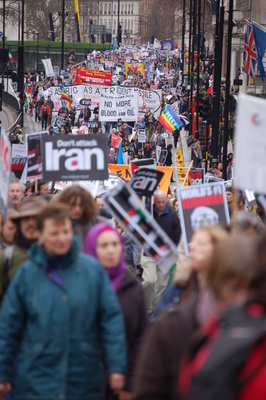 ©UK Indymedia
Comment on this SOTT Focus
---

Signs Economic Commentary for 26 February 2007

Donald Hunt
Signs of the Times
2007-02-26 17:35:00




The sharp and steady rise in the price of gold in recent weeks, up more than 7% in 2007, feels ominous coming at a time of building pressure, a time when we are days, weeks or months away from finding out whether the neocons will induce the U.S. empire to commit suicide by attacking Iran.

While we wait for the big boys to fight it out, the recent two-part series in the World Socialist Web Site on what the rise of China means for world capitalism by John Chan is worth reading. Chang begins by outlining the recent history of large scale strategic competition between the great powers...


Comment on this SOTT Focus
---
Best of the Web
---
Brit Newspaper: U.S. Organizing Terrorism Against Iran

Kurt Nimmo
Another Day In The Empire
2007-02-25 15:37:00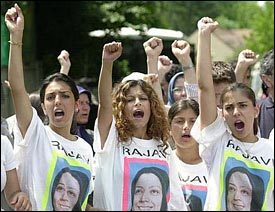 ©AP
Cult members of Monafiqeen-e-Khalq. According to the Pentagon and the CIA, these women will help bring down the mullahocracy in Iran. Of course, the truth of the matter is quite different, as these poor deluded women will likely become yet another group of neocon victims along the road to a "clash of civilizations."



William Lowther and Colin Freeman, writing for the Sunday Telegraph, tell us what we knew more than a year ago: the United States is fomenting terrorism in Iran. "America is secretly funding militant ethnic separatist groups in Iran in an attempt to pile pressure on the Islamic regime to give up its nuclear program," reports the newspaper. "In a move that reflects Washington's growing concern with the failure of diplomatic initiatives, CIA officials are understood to be helping opposition militias among the numerous ethnic minority groups clustered in Iran's border regions."

Comment on this SOTT Focus

---

Another Smoking Gun? Now CNN Jumps the Gun On WTC7 - Video


Signs of the Times
2007-02-27 15:14:00

Immediately on the heels of the BBC footage where the presenter talks about the collapse of WTC7 20 minutes before the actual event, CNN footage from the same day shows the presenter stating that WTC7 "has collapsed or is collapsing" one hour before the event and with the apparently fire-free building standing proudly behind him.

The question: Who was feeding these news anchors this information. Clearly, someone in power had foreknowledge of the demolition of WTC7 and somebody slipped up.

Comment on this SOTT Focus

---

WTC 7 collapse reported 30 minutes before it happened


Live Leak
2007-02-27 09:51:00

Live BBC footage broadcast on 9/11





Key footage starts at (14:40)

Here's the claim:

Comment on this SOTT Focus

---
U.S. News
---
Scientist Stephen Hatfill Libeled in Anthrax Case Settles $10M Lawsuit

By JOSH GERSTEIN
NY Sun
2007-02-27 15:09:00

A former Army scientist named by investigators as a "person of interest" in the 2001 anthrax attacks, Dr. Steven Hatfill, has settled his $10 million libel suit against Vanity Fair and Reader's Digest after the two magazines agreed to retract any implication that the bioweapons specialist was behind the deadly anthrax mailings.

Comment on this SOTT Focus

---

Over 40 MILLION Americans depend on programs for poor

By Stephen Ohlemacher
Seattle Times
2007-02-27 13:21:00

WASHINGTON - The welfare state is bigger than ever despite a decade of policies designed to wean poor people from public aid.

The number of families receiving cash benefits from welfare has plummeted since the government imposed time limits on the payments a decade ago. But other programs for the poor, including Medicaid, food stamps and disability benefits, are bursting with new enrollees.

Comment on this SOTT Focus

---

Study: US College students more narcissistic

By DAVID CRARY
Associated Press
2007-02-27 12:36:00

NEW YORK - Today's college students are more narcissistic and self-centered than their predecessors, according to a comprehensive new study by five psychologists who worry that the trend could be harmful to personal relationships and American society.

"We need to stop endlessly repeating 'You're special' and having children repeat that back," said the study's lead author, Professor Jean Twenge of San Diego State University. "Kids are self-centered enough already."

Twenge and her colleagues, in findings to be presented at a workshop Tuesday in San Diego on the generation gap, examined the responses of 16,475 college students nationwide who completed an evaluation called the Narcissistic Personality Inventory between 1982 and 2006.

Comment on this SOTT Focus

---

Woman allegedly pulls out a handgun and shoots at the tires of a tailgator


Associated Press
2007-02-27 12:26:00

HARRISON TOWNSHIP, Mich. - A woman who told authorities she was fed up with tailgaters pulled out a gun and shot at the tires of a pickup that got too close, police said. Officials believe the bullet missed the pickup, and no one was hurt. Bernadette Headd, 39, was in rush-hour traffic Wednesday in suburban Detroit when the pickup pulled behind her, police said.

Comment on this SOTT Focus

---

Marine signal knocks out garage door openers


CNN
2007-02-27 12:20:00

QUANTICO, Virginia -- For many suburbanites, life without garage door openers is unimaginable.

But neighbors of the Marine base here have been reduced to just that after a strong radio signal coming from the facility began neutralizing remote-control openers.

Residents have had to spend hundreds of dollars on new systems.

"I feel there should be some kind of compensation," said Queen Carroll, who is in her early 70s and was forced to buy a new receiver and remote. "I am a struggling widow, if you will, and I praise the Lord I'm still here, but I am on a budget. When things like this come up totally unexpected, it is very upsetting."

Repair shops started getting a flurry of calls when the base began using the frequency in late December.



Last fall, residents around an Air Force facility in Colorado Springs saw their garage-door remotes stop working when the 21st Space Wing began testing a frequency for use during homeland security emergencies or threats.

Two years ago, testing of a similar system in Fort Detrick in Maryland resulted in similar problems.

Comment on this SOTT Focus

---

Unbelievable! U.S. building 700 miles of fence on Mexican Border - trespasses


BBC
2007-02-27 10:42:00

Mexico's Congress has condemned what it says is a border violation by US workers building a controversial barrier between the two countries.

Legislators say workers and equipment building a section of the barrier have gone 10 metres (yards) into Mexico.

Comment on this SOTT Focus

---
UK & Euro-Asian News
---
Korean comic author: The Jews are the invisible force that controls the U.S.


CNN - AP
2007-02-27 15:54:00

SEOUL, South Korea (AP) -- The author of a best-selling comic book series intended to teach children about other countries said Monday he would change a chapter on Jews that has been called anti-Semitic and similar to Nazi propaganda.

Rhie Won-bok maintained, however, that his depiction of Jewish control of American media and politics was based on fact and "commonly believed."

Comment on this SOTT Focus

---

'Trigger happy' US worries Putin - Off-screen comments captured


Telegraph
2007-02-27 15:22:00

The president of Russia expressed concern yesterday about a "trigger happy" America as speculation mounted about the Bush administration's plans to attack Iran's nuclear sites.

In a televised exchange during a cabinet meeting, Vladimir Putin was told by his foreign minister, Sergei Lavrov, that "predictions that strikes will be conducted against Iran have become more common, and this causes concern".

"Those who are discussing this topic include the US vice president [Dick Cheney] who said that he did not exclude such an option," he added.

Comment on this SOTT Focus

---

The BBC Joins The Ranks Of The Untrustworthy United States Media

Debbie Lewis
Scoop.nz
2007-02-25 11:06:00

More than five years after the disaster of September 11, 2001, England's BBC stepped into the ring of media outlets airing programs about the tragedy that is now referred to as "9/11" on February 18, 2007. The program, entitled "9/11: The Conspiracy Files," took the time to interview some well-known Americans on both sides of the 9/11 argument. The hour-long program looked as if it might reveal something worthwhile, for about nine minutes. Guests like the outspoken Alex Jones, 911 Scholars for Truth Co-Founder Dr. Jim Fetzer, and Loose Change producer Dylan Avery actually got to make several excellent points before the real conspiracy was revealed.

Comment on this SOTT Focus

---

Taliban Target Cheney at Afghan Base, Miss: 19 Dead

By ALISA TANG
Associated Press
2007-02-27 03:34:00

BAGRAM, Afghanistan -- A suicide bomber killed 19 people and wounded 11 outside the main U.S. military base in Afghanistan on Tuesday during a visit by Vice President Dick Cheney, officials said. The Taliban claimed responsibility and said Cheney was the target.

Comment on this SOTT Focus

---
Around the World
---
Chavez signs decree to nationalize foreign oil companies


Monsters and Critics
2007-02-27 15:21:00

Caracas - Venezuela's President Hugo Chavez signed a decree Monday night to nationalize the oil industry in the world's fifth-largest crude oil exporter.

The decree allows Venezuela's state oil company Petroleos de Venezuela SA, (PDVSA) to take a 60 per cent stake on May 1 in four projects which process crude oil into 600,000 barrels of synthetic oil a day in the country's eastern Orinoco River basin.

The companies affected by the decree are Exxon Mobil, Chevron, ConocoPhillips from the US, Total SA from France, British Petroleum and Norway's Statoil ASA.


Comment on this SOTT Focus

---

Criticizing Israel is not anti-Semitism

by Jason Kunin
rabble.ca
2007-02-27 15:04:00

A grassroots revolt is underway in Jewish communities throughout the world, a revolt that has panicked the élite organizations that have long functioned as official mouthpieces for the community. The latest sign of this panic is the recent publication by the American Jewish Committee of an essay by Alvin H. Rosenfeld, entitled Progressive Jewish Thought and the New Anti-Semitism, which accuses progressive Jews of abetting a resurgent wave of anti-Semitism by publicly criticizing Israel.

Comment on this SOTT Focus

---

Chavez: Bush is king of liars


AP
2007-02-27 11:21:00

Venezuelan President Hugo Chavez called his US counterpart George Bush the "king of liars", as he spoke about the American leader's upcoming Latin American tour.

"The South American people will give a welcome to the little gentleman from the North, the king of invaders, the king of liars," Chavez said, referring to Bush's planned tour next month to Brazil, Uruguay, Colombia, Guatemala and Mexico.

Comment on this SOTT Focus

---

13 Killed As Bus crashes off Nepalese mountain road


AP
2007-02-27 11:20:00

A bus veered off a mountain highway and plunged into a river in Nepal today, killing at least 13 people and injuring another 25, police said.

The bus rolled about 330 feet from the road down to the Trishuli river, about 50 miles west of the capital, Kathmandu, said police official Ramesh Silwal.


Comment on this SOTT Focus

---

Six killed in Swedish bus crash


AP
2007-02-27 11:09:00

At least six people were killed and 50 injured when two crowded commuter buses collided on a slippery road in central Sweden.

The crash occurred near Uppsala, about 45 miles north of Stockholm, rescue service SOS Alarm spokesman Leif Hammarstedt said.

Comment on this SOTT Focus

---

One Year Of Evo: Economic Boom, The Threat Of Balkanisation, And The Role Of The Military

Alberto Cruz
Countercurrents.org
2007-02-27 09:52:00

On January 22, Evo Morales celebrated his first year as Bolivia's president. No one can deny that in this time, despite the problems he has had to confront, there has been a clear improvement in the majority of principal economic indicators, possible thanks to the fact that one of the first measures of his government was ending the relationship with the International Monetary Fund. By allowing the agreement with the IMF to expire it has given the government of Morales a certain liberty to push forward with new economic and development policies.

Comment on this SOTT Focus

---
Big Brother
---
38 "CIA prisoners" Still Missing Without a Trace in U.S. Custody

By Mark Trevelyan
Reuters
2007-02-27 14:57:00

LONDON - Several dozen terrorism suspects believed to have been held at secret CIA prisons are still missing without trace, and the United States should reveal what has happened to them, a leading rights group said on Tuesday.

Human Rights Watch (HRW) urged President George W. Bush in an open letter to disclose the identity, fate and whereabouts of all prisoners held at secret CIA facilities since 2001.

Comment on this SOTT Focus

---

The Crawford Fuehrer or Operation Falcon and the Looming Police State

By Mike Whitney
Information Clearing House
2007-02-27 13:16:00

On 29th June, 1934, Chancellor Adolph Hitler, accompanied by the Schutzstaffel (SS), arrived at Wiesse, where he personally arrested the leader of the Strum Abteilung (SA), Ernnst Roehm. During the next 24 hours 200 other senior SA officers were arrested on the way to Wiesse. Many were shot as soon as they were captured but Hitler decided to pardon Roehm because of his past service to the movement. However, after much pressure from Hermann Goering and Heinrich Himmler, Hitler agreed that Roehm should die. At first Hitler insisted that Roehm should be allowed to commit suicide but, when he refused, Roehm was shot by two SS men.

Comment on this SOTT Focus

---
Axis of Evil
---
Jews Pressure GOP to drop candidate for telling truth


JTA
2007-02-27 16:24:00

The Indiana Republican Party asked a man who hinted that Jews were pushing for war with Iran not to file as its candidate for Indianapolis mayor.

Comment on this SOTT Focus

---

The Zionist Occupiers of Palestine Want Their Spy Back - How You Can Stop Them

by Hillel Fendel
IsraelNN.com
2007-02-27 15:13:00

American Jewish organizations have organized a massive nationwide campaign to call the White House every afternoon for the next two months and request/demand freedom for Pollard. The campaign is to last, if it does not succeed in attaining its goal beforehand, until after Passover, the holiday of freedom.

The campaign, spearheaded by the National Council of Young Israel, is predicated on the fact that the White House tallies all incoming calls, "and so every single phone call makes a difference."

Comment on this SOTT Focus

---

The PentaCon: Eyewitnesses Speak, Conspiracy Revealed


Citizen Investigation Team
2007-02-27 14:23:00

There are many aspects of 9/11 but this movie focuses specifically on the events as they happened at the Pentagon.

This testimony was obtained by Citizen Investigation Team in a persistent effort to find the truth in light of a myriad of questions. We contacted as many previously published eyewitnesses we could obtain numbers for and we canvassed the neighborhoods of Arlington on foot in a quest to find unpublished eyewitnesses. Our goal was to establish the final flight path of the plane before it reached the pentagon as seen by the eyewitnesses.

Comment on this SOTT Focus

---

Rice: Bush will not abide by legislation to limit Iraq war


Ireland Online
2007-02-27 13:47:00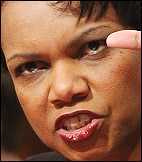 ©IOL
Defiant Neocon Spokeswoman: We Will NOT Obey the Law!
Comment on this SOTT Focus
---

Pearl Harbor or Waterloo? (Or Wishful Thinking?)

By Don Robertson
Thomas Paine's Corner
2007-02-27 13:31:00

Revelations that have been slowly boiling to the surface concerning a host of covert government activities that have transpired over the preceding years bode a dark clouded sky over all of Washington D.C. The cover-up has been so steadily growing, the extent of the complicity in these affairs had to go very deep.

A day of reckoning is fast and so utterly surely approaching. It is in fact upon us now. It is just a matter of time before the cowardly perpetrators start squealing and the bigger snakes start slithering out of the country. They will leave as fast as the Israeli handlers of the 9-11 hijackers fled after they were inadvertently discovered and when they were subsequently released by law enforcement because of commands from higher-ups within the U.S. government.

Comment on this SOTT Focus

---

Israeli regime orders military to prepare for war with Syria, as an ally of Iran


Jpost
2007-02-27 12:57:00

While chances for all-out war with Syria in 2007 are deemed low by Israel's top intelligence officials, Prime Minister Ehud Olmert instructed the defense establishment on Sunday to prepare for the possibility.

Comment on this SOTT Focus

---
Middle East Madness
---
New Evidence Clouds U.S. Case against Iran

Paul Kiel
TPMMuckracker.com
2007-02-27 16:47:00

Two weeks ago, the Bush administration organized an intelligence briefing for journalists in Iraq to demonstrate that Iran was providing weapons to Iraqi insurgents. According to the anonymous briefers, the weapons -- particularly explosively formed penetrators or E.F.P.s -- were manufactured in Iran and provided to insurgents by the Quds Force -- a fact that meant direction for the operation was "coming from the highest levels of the Iranian government."

Comment on this SOTT Focus

---

Palestinian killed as Zionist Occupiers of Palestine seize city in hunt for militants

By Donald Macintyre in Jerusalem
UK Independent
2007-02-27 14:52:00

A Palestinian was killed in the heart of Nablus yesterday as Israeli troops continued to hunt for militants in one of the biggest military operations in a West Bank city since the peak of the conflict four years ago.

Comment on this SOTT Focus

---

Tempest in a Teapot! Israel's Knesset Demands trial of Professor accused of "Blood Libel"

By SHEERA CLAIRE FRENKEL
Jerusalem Post
2007-02-27 11:40:00

Knesset Members demanded Monday that the state prosecute Prof. Ariel Toaff, author of Pasque di Sangue [Passover of Blood], which suggests that there might be hard facts behind the accusations of blood libels against the Jews.

Blood libels are accusations, traced back to the 12th century, that Jews used human blood in religious rituals. Many blood libel accusations purported that Jews used the blood of young Christian children for their Pessah rituals. Blood libel accusations have persisted in 21st century conspiracy theories.

Comment on this SOTT Focus

---

Iran says never to suspend uranium enrichment work


Xinhua
2007-02-27 08:36:00

Iranian Foreign Minister Manouchehr Mottaki said on Tuesday that his country would never suspend its uranium enrichment work despite increasing international pressure.

"The demand for Iran to stop enrichment is illegitimate and based on a wrong political strategy," the official IRNA news agency quoted Mottaki as saying at a conference in Tehran.

"This will never materialize," he said, adding that the Islamic republic would not surrender its right to access nuclear technology for peaceful purposes.

Comment on this SOTT Focus

---

World powers agree to work on new U.N. solution on Iran


Xinhua
2007-02-27 08:28:00

World powers agreed on Monday to work on a new U.N. Security Council resolution to press Iran to end its nuclear program but remained committed to seeking a negotiated solution, British officials said.

At a one-day closed-door meeting that ended on Monday, officials from Britain, France, China, Russia, the United States and Germany had a productive first discussion of the next steps following the confirmation by the director general of the IAEA that Iran has failed to comply with SCR (Security Council Resolution) 1737," said British negotiator John Sawers.

Comment on this SOTT Focus

---
The Loan Gunmen
---
Dow tumbles 415 points, biggest one-day point loss since 2001

By Alexandra Twin
CNN
2007-02-27 16:39:00

NEW YORK -- Stocks tumbled across the board Tuesday, after declining markets in China and Europe and a steep drop in durable goods orders triggered a massive selloff on Wall Street.

According to early tallies, the Dow Jones industrial average (down 382.29 to 12,249.97, Charts) tumbled 415 points, its biggest one-day point loss since the day the stock market reopened after the Sept. 11th attacks. On that day, the Dow lost 684.81 points.

Comment on this SOTT Focus

---

Dollar dives as Iran tension mounts

Eric Burroughs
The Brunei Times
2007-02-27 15:31:00

THE dollar retreated to a two-month low against the euro on Monday as the US currency came under pressure on renewed worries about Iran's nuclear programme.

The dollar's latest slip was partly due to the surge in gold and oil prices as Western powers were set to meet in London to discuss tightening sanctions on Iran amid a flurry of tough talk between Washington and Tehran.

Comment on this SOTT Focus

---

How Long Can The U.S. Count On Foreign Funding?


BusinessWeek
2007-02-27 15:26:00

In a speech in 2004, then Federal Reserve Chairman Alan Greenspan said: "It is difficult to imagine that we can continue indefinitely to borrow savings from abroad at a rate equivalent to 5% of U.S. gross domestic product." Well, by the third quarter of 2006, the U.S. was dependent on foreign lending to the tune of more than $860 billion, or about 6.5% of gdp, and the need for foreign money will most likely hang above 6% through 2007. The big question: Can the U.S. continue to count on this massive amount of foreign capital to fund its overseas obligations and finance its economic growth?

Comment on this SOTT Focus

---

Doomsday Dick and the Plague of Frogs

By MIKE WHITNEY
CounterPunch
2007-02-27 15:18:00

Gold traders love Dick Cheney. Every time he opens his twisted lip and barks out another threat to Iran, the dollar takes a powder and gold futures shoot to the moon. Maybe that's the way Cheney likes it. After all, he dumped about $25 million in euro-bonds before he took office. Judging by the way he and brother-Bush have flogged dollar, he must have doubled his investment by now.

Comment on this SOTT Focus

---

US mortgage crisis goes into meltdown

By Ambrose Evans-Pritchard
Telegraph
2007-02-27 15:06:00

Panic has begun to sweep the sub-prime mortgage sector in the United States after the bankruptcy of 22 lenders over the past two months, setting off mass liquidation of housing loans packaged as securities.

Comment on this SOTT Focus

---

US durable goods orders plummet


Agence France Presse
2007-02-27 15:02:00

Orders for manufactured US durable goods sank 7.8 percent in January, as orders for transportation equipment fell heavily, the Commerce Department said Tuesday.

The sharp drop was more than double what most Wall Street analysts had forecast and suggested further weakness in the US industrial sector.

Comment on this SOTT Focus

---
The Living Planet
---
Famine is Coming to the U.S.: Honeybees Vanish, Leaving Crops and Keepers in Peril

By ALEXEI BARRIONUEVO
NY Times
2007-02-27 09:21:00

VISALIA - David Bradshaw has endured countless stings during his life as a beekeeper, but he got the shock of his career when he opened his boxes last month and found half of his 100 million bees missing.

In 24 states throughout the country, beekeepers have gone through similar shocks as their bees have been disappearing inexplicably at an alarming rate, threatening not only their livelihoods but also the production of numerous crops, including California almonds, one of the nation's most profitable.

Comment on this SOTT Focus

---
Health & Wellness
---
All Peter Pan peanut butter bought since May 2006 should be discarded


MSNBC
2007-02-27 16:35:00

ATLANTA - All Peter Pan peanut butter bought since May 2006 should be discarded, the U.S. Food and Drug Administration said on Friday in a statement broadening its warning about salmonella-contaminated peanut butter.

More than 290 people from 39 states have become ill in the food poisoning outbreak since August, and 46 have been hospitalized, the U.S. Centers for Disease Control and Prevention reported.

Comment on this SOTT Focus

---

Cantaloupes recalled over salmonella


Associated Press
2007-02-27 16:33:00

WASHINGTON - The Dole Fresh Fruit Co. recalled several thousand cartons of imported cantaloupes Friday after the fruit tested positive for salmonella.

The recall, which covers the Eastern United States and the Canadian province of Quebec, is the second sparked by salmonella fears this week.

Comment on this SOTT Focus

---

Prepackaged mushrooms recalled for E. coli


Associated Press
2007-02-27 16:31:00

NATICK, Mass. - BJ's Wholesale Club announced a voluntary recall of its prepackaged, private-label brand mushrooms on Wednesday after testing turned up possible trace amounts of E. coli bacteria.

Comment on this SOTT Focus

---

Peanut butter confirmed as salmonella source


Associated Press
2007-02-27 16:29:00

OMAHA, Neb. - A week after ConAgra Foods Inc. recalled peanut butter from its Georgia plant after a salmonella outbreak, the Centers for Disease Control and Prevention confirmed the presence of the dangerous germ.

Comment on this SOTT Focus

---

Oscar Mayer ready-to-eat chicken recalled


Associated Press
2007-02-27 16:27:00

Kraft Foods Inc. on Friday recalled all packages of Oscar Mayer/Louis Rich chicken breast strips and cuts, expanding the scope of a Feb. 18 recall that resulted when tests found signs of possible contamination.


Comment on this SOTT Focus

---

Risks of tainted food: Amid high-profile scares, FDA safety testing has fallen by half since 2003 -Money for War, but None For American Public Health


MSNBC
2007-02-27 15:34:00

The federal agency that's been front and center in warning the public about tainted spinach and contaminated peanut butter is conducting just half the food safety inspections it did three years ago.

The cuts by the Food and Drug Administration come despite a barrage of high-profile food recalls.

Comment on this SOTT Focus

---
Science & Technology
---
Trees on Mars?

Joseph P. Skipper
Mars Anomaly Research
2007-02-27 16:55:00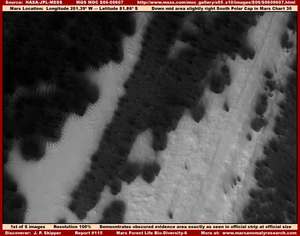 ©NASA
Trees on Mars?
Comment on this SOTT Focus
---

Scientists warn that world needs to keep an eye on asteroids

Mike Lafferty
THE COLUMBUS DISPATCH
2007-02-27 16:47:00

SAN FRANCISCO - About twice a year, an asteroid smashes into Earth's atmosphere with the force of a Hiroshima-size atomic blast. And those are small ones, scientists say; the space rocks vaporize before they can do any harm.

When the big one hits, we won't be as fortunate.

Comment on this SOTT Focus

---
Our Haunted Planet
---
Marine Base radio signal knocks out garage door openers


Associated Press
2007-02-27 16:45:00

QUANTICO, Virginia -- For many suburbanites, life without garage door openers is unimaginable.

But neighbors of the Marine base here have been reduced to just that after a strong radio signal coming from the facility began neutralizing remote-control openers.

Residents have had to spend hundreds of dollars on new systems.

Comment on this SOTT Focus

---

Retired Policeman Sights UFO One Mile Long


HBCC UFO Research
2007-02-27 14:10:00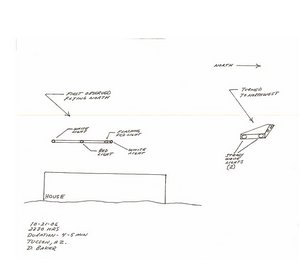 ©D. Baker
Diagram of sighting
Comment on this SOTT Focus
---

Ice Falls From Sky, Crashes Into Family's Home


WFTV/AP
2007-02-24 15:43:00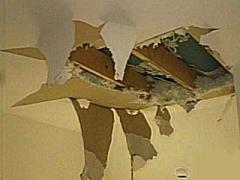 ©Signs of the Times



HOLLAND, Pa. -- Around Pennsylvania this winter, there have been icy conditions both outside and in.

A Philadelphia-area family was jolted awake Friday when a chunk of ice fell from the sky and crashed through the roof of their home.

The ice tore through the roof and attic floor before landing in the home's foyer about 1 a.m.. The chunk landed between the married couple who lives there, Philadelphia TV station WCAU reported. No one was injured.

Comment on this SOTT Focus

---
Don't Panic! Lighten Up!
---
Chippendales Arrested: Too Sexy; Texas DA declines to prosecute


The Smoking Gun
2007-02-27 10:45:00



Free the Chippendales Eight!

A Texas prosecutor has decided not to press charges against a cadre of male adult dancers who were busted earlier this month at a Lubbock sports bar for dancing suggestively in front of 1100 female fans.

Comment on this SOTT Focus

---
---

Remember, we need your help to collect information on what is going on in your part of the world!
Send your article suggestions to: sott(at)signs-of-the-times.org

---
Click here to return to the Signs of the Times Archive
Click here for today's Signs Page