---
Sections on today's Signs Page:
---
SOTT Focus
---
No new articles.
Best of the Web
---
A Political War against the American People and its Institutions

Rodrigue Tremblay
The New American Empire
2007-02-26 11:08:00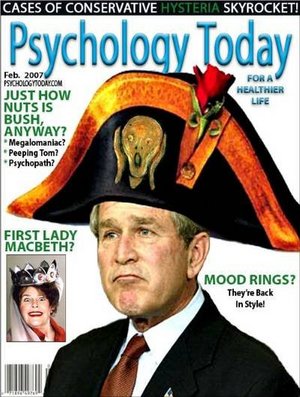 ©???
Cases of Conservative Hysteria Skyrocket!



The Iraq war is turning into a war against the American people and its institutions. According to the latest poll, an overwhelming majority of Americans (63 %) want U.S. troops to be out of Iraq by the end of next year. This is the clear message the American electorate is sending to President George W. Bush. On February 16 (2007), 56 percent of the members of the U.S. House of Representative essentially said the same thing when they adopted Resolution 63, by a vote of 246 against 182, in which they stated that "... Congress disapproves of the decision of President George W. Bush announced on January 10, 2007, to deploy more than 20,000 additional United States combat troops to Iraq." And, to make it complete, 56 percent of U.S. Senators signified their opposition to the war on February 17 (2007). These clear democratic signals of the people's wishes came after the November 7 (2006) election, in which pro-war Republican candidates took a thumping. They also came after a blue ribbon study group, the Baker-Hamilton Commission, unanimously concluded that the solution in Iraq is political and not military, and unanimously recommended that the U.S. terminate its open-ended presence in Iraq and begin its disengagement and "redeployment" from that country.

Comment on this SOTT Focus

---

AIPAC Demands "Action" on Iran

GARY LEUPP
CounterPunch
2007-02-24 10:23:00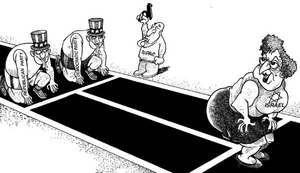 ©???
The Jewish Lobby



Former CIA counterterrorism specialist Philip Giraldi, comparing the propaganda campaign against Iran to that which preceded the war on Iraq, has recently declared, "It is absolutely parallel. They're using the same dance steps-demonize the bad guys, the pretext of diplomacy, keep out of negotiations, use proxies. It is Iraq redux." He's only one of many in his field (including Vincent Cannistraro, Ray McGovern, and Larry C. Johnson) doing their best to expose the Bush-Cheney neocon disinformation campaign according to which Iran is planning to produce nukes in order to commit genocide, while abetting terrorists in Iraq who are killing American troops.

Comment on this SOTT Focus

---

British film crew threatened by drunken settler in Hebron -Video


Live Leak
2007-02-26 10:24:00

Tel Rumeida is a small Palestinian neighborhood deep in the West Bank city of Hebron. Palestinian families, from whom these settlers occupied lands, live directly next to these settlers and are often virtual prisoners in their homes, subject to the settlers' violent attacks and destruction of property.

Comment on this SOTT Focus

---
U.S. News
---
Psychopathy in Action: Sorority Evicts Math-Comp Sci Girls, Ethnic Members, Those "Not Pretty Enough"

By SAM DILLON
NY Times
2007-02-26 09:17:00

GREENCASTLE, Ind. - When a psychology professor at DePauw University here surveyed students, they described one sorority as a group of "daddy's little princesses" and another as "offbeat hippies." The sisters of Delta Zeta were seen as "socially awkward."

Comment on this SOTT Focus

---

Dr Pepper apologizes for placing coin near crypt

John R. Ellement and Andrew Ryan
Boston Globe
2007-02-26 07:26:00

An elusive Dr Pepper coin was safely retrieved yesterday near a two-century-old crypt in the Granary Burying Ground, and the soft drink maker apologized and donated $10,000 to the graveyard for its "time and trouble."


But some city officials were still angry that a treasure hunt would be planned in the 347-year-old cemetery that is the final resting place of several heroes of the American Revolution and about 5,000 others.


City Council President Maureen E. Feeney said she will convene a hearing next month on the Dr Pepper promotion and on the Cartoon Network marketing stunt last month that caused bomb scares around the Boston area.


Comment on this SOTT Focus

---

Oscar-favorite 'Pan's Labyrinth' director takes swipe at Bush


AFP
2007-02-26 03:49:00

The award-winning Mexican director of foreign-language Oscar favorite "Pan's Labyrinth" took a swipe Saturday at President George W. Bush on the eve of the Academy Awards.


Guillermo Del Toro told a reception in Beverly Hills that he had been surprised to learn that his film, a fable about a little girl who retreats into a fantasy world in fascist Spain, had been shown at the White House.


"I imagine Mr President finding that it was in Spanish, first of all," Del Toro told an audience at the Academy of Motion Picture Arts and Sciences.


"Having garnered praise from Stephen King, I felt it would be interesting to see what a true master of horror would think. Or a master of science-fiction if you think about the intelligence on Iraq."


Comment on this SOTT Focus

---
UK & Euro-Asian News
---
Should I stay or should I have gone by now? The British can't seem to get rid of their leaders. There have been only three in 28 years and each stayed too long for their own good.

by Matthew Engel
Financial Times
2007-02-26 07:04:00

Even readers who don't know the second thing about cricket will be aware that its supposed values permeate British life. One of the most important is that one should never (at least overtly) elevate individual achievements above the interests of the team. Personal landmarks are supposed to be by-products of the team's success. This is doubly true for the captain - he must never put his own ambitions first.

Comment on this SOTT Focus

---

UK Chinese pupils eclipse all other ethnic groups in English tests

By Richard Garner, Education Editor
UK Independent
2007-02-26 06:56:00

Chinese pupils are best-performing ethnic group with 86% passing national curriculum tests. Schoolchildren of Indian origin come second with 85% achieving the same standard. But only 80% of white British pupils manage to reach a similar level in the assessment.

Comment on this SOTT Focus

---

China 'digests' Japan's bullet train technology

von Mure Dickie
Financial Times
2007-02-26 06:52:00

The repackaging of the Shinkansen bullet trains as "domestically produced'', highlights the potential risks to foreign manufacturers posed by China's determination to internalise advanced technology.

Comment on this SOTT Focus

---

China-Pakistan rail link on horizon

By Syed Fazl-e-Haider
Asia Times
2007-02-26 06:48:00

QUETTA, Pakistan - Islamabad on Monday awarded a Rs72 million (US$1.2 million) contract to an international consortium to carry out a feasibility study for establishing a rail link with China to boost trade relations between the two countries.

Comment on this SOTT Focus

---

Plans for missile shield in Europe not understandable - Lavrov


RIA Novosti
2007-02-26 04:24:00

The U.S. plans to create a missile shield in Eastern Europe are not quite understandable for Moscow, Russian Foreign Minister Sergei Lavrov said Sunday.


The United States has announced plans to build a radar installation in the Czech Republic and a missile base in Poland in the next five years. The U.S. insists that the European missile shield is meant to counter possible attacks from "rogue regimes," including Iran and North Korea.


"This [the U.S. statement on its intention to place a missile shield in Eastern Europe] is an example when a position, which has been expressed to us, as it seems, honestly and sincerely, turns out to be not quite understandable to us after a specific study," Lavrov said in an interview with TVTs TV channel.


Comment on this SOTT Focus

---

MI5 warn Harry: You are a target

Gordon Thomas
Daily Express
2007-02-26 03:53:00

Prince Harry has been warned by MI6 chief John Scarlett that insurgents in Iraq are plotting to kill him.


Mr Scarlett personally told the third in line to the throne of the grave risks he faces in going to Iraq, following a huge global intelligence-gathering operation.


Harry was informed that code breakers have smashed Al Qaeda's communications system and uncovered information which shows that he will be a prime target for the terrorist hit squads.


Investigations by the Sunday Express also show that insurgents are desperately trying to crack the digital communications system used by our forces in Iraq.


They have obtained technical journals and papers to find out all they can about how it works, say sources.


Comment on this SOTT Focus

---
Around the World
---
No new articles.
Big Brother
---
Surveillance cameras get smarter

Stephen Manning
AP
2007-02-25 22:12:00

Researchers and security companies are developing cameras that not only watch the world but also interpret what they see. Soon, some cameras may be able to find unattended bags at airports, guess your height or analyze the way you walk to see if you are hiding something.

Comment on this SOTT Focus

---
Axis of Evil
---
Olmert: Prepare for war with Syria

YAAKOV KATZ
The Jerusalem Post
2007-02-26 16:13:00

While chances for all-out war with Syria in 2007 are deemed low by Israel's top intelligence officials, Prime Minister Ehud Olmert instructed the defense establishment on Sunday to prepare for the possibility.

The cabinet heard intelligence assessments from the Mossad, the Shin Bet (Israel Security Agency), Military Intelligence, the National Security Council and the Foreign Ministry.

Military Intelligence chief Maj.-Gen. Amos Yadlin opened the briefing and told the ministers that "Israel is surrounded by negative processes... that create more instability in the Middle East than in the past."

Comment on this SOTT Focus

---

Report: 3 Gulf states agree to IAF overflights en route to Iran

Yoav Stern and Yossi Melman
Haaretz
2007-02-26 09:25:00

Three Arab states in the Persian Gulf would be willing to allow the Israel Air force to enter their airspace in order to reach Iran in case of an attack on its nuclear facilities, the Kuwaiti newspaper Al-Siyasa reported on Sunday.


According to the report, a diplomat from one of the gulf states visiting Washington on Saturday said the three states, Qatar, Oman and the United Arab Emirates, have told the United States that they would not object to Israel using their airspace, despite their fear of an Iranian response.


Al-Siyasa further reported that NATO leaders are urging Turkey to open its airspace for an Attack on Iran as well and to also open its airports and borders in case of a ground attack.


Comment on this SOTT Focus

---

THE PSYCHOPATHIC SCHOOL: The Failure of Modern Public Education

John Taylor Gatto
book, Dumbing Us Down: The Hidden Curriculum of Compulsory Schooling
2007-02-26 09:03:00

This speech was given by the author on 31 January 1990 in accepting an award from the New York State Senate naming him New York City Teacher of the Year.

Comment on this SOTT Focus

---

Torture Is Finally on Trial (But Don't Hold Your Breath)

By Naomi Klein
UK Guardian
2007-02-26 06:59:00

Something remarkable is going on in a Miami courtroom. The cruel methods US interrogators have used since September 11 to "break" prisoners are finally being put on trial. This was not supposed to happen. The Bush administration's plan was to put José Padilla on trial for allegedly being part of a network linked to international terrorists. But Padilla's lawyers are arguing that he is not fit to stand trial because he has been driven insane by the government.

Comment on this SOTT Focus

---

Synagogue in US hosts event to aid West Bank settlers


The Associated Press
2007-02-25 06:47:00

TEANECK, New Jersey: As protesters chanted and waved signs outside, roughly 250 American Jews were able to get information on buying homes in the West Bank during a Sunday event promoted as a way to help Jewish settlers.

The sales pitch, organized by the Israel-based Amana Settlement Movement, took place in Teaneck at an Orthodox synagogue, Congregation B'nai Yeshurun.

Comment on this SOTT Focus

---

Israeli Rightist Warns That Bush's Iraq Policy Could Hurt Effort To Combat Iran

Marc Perelman
The Jewish Daily Forward
2007-02-16 06:26:00

Efraim "Effi" Eitam, a leader of Israel's right-wing Orthodox Zionist camp, is criticizing President Bush's Iraq policy, saying it could end up undermining efforts to confront Iran.

Comment on this SOTT Focus

---
Middle East Madness
---
OUTRAGEOUS! Desperate Conditions in Palestine Due to Zionist Apartheid Government


UN News
2007-02-26 12:28:00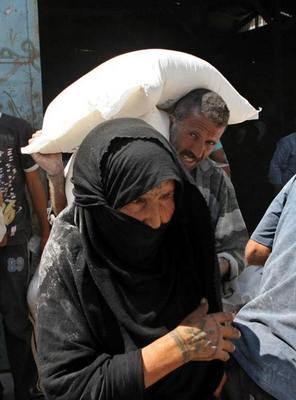 ©MaanImages: Hatem Omar
Palestinians getting aid from the United Nations Relief Works Agency for Palestinian refugees in Rafah, southern Gaza, September 18, 2006.
Comment on this SOTT Focus
---

Zionist Occupiers of Palestine Humiliate, impose Travel restrictions on human rights advocate


Al-Haq
2007-02-26 12:18:00

Al-Haq's Intervention to Diplomatic Representatives Regarding the Travel Restrictions Imposed on Al-Haq's General Director

Comment on this SOTT Focus

---

Survey: 70 percent of Palestinians support one-state solution


Near Eastern Consulting
2007-02-26 12:13:00

Bulletin # II-2 - Main Findings, February 2007

75% of Palestinians do not think that [in principle] Israel has the right to exist, 70% support One State

Comment on this SOTT Focus

---

"Outrageous" U.S. Armed Raid on Iraqi Journalists' Union


International Federation of Journalists
2007-02-26 12:11:00

The International Federation of Journalists today condemned as "outrageous and inexcusable" the action of American soldiers who carried out an armed raid on the Baghdad offices of the Iraq Syndicate of Journalists.

United States soldiers caused destruction and havoc last night when they broke into the offices of the Syndicate, which is a member of the IFJ's global union network. They destroyed furniture, ransacked the offices, arrested state-employed security guards, and confiscated 10 computers and 15 small electricity generators destined for the families of killed journalists.

Comment on this SOTT Focus

---

SHOCKING!!! Apartheid looks like this

Jonathan Cook
electronicintifada.net
2007-02-26 11:05:00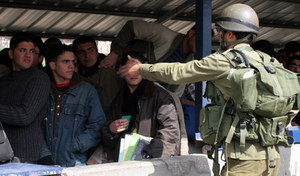 ©MaanImages:Rami Swidan
An Israeli soldier prevents Palestinians from passing Beit Iba checkpoint, during a demonstration against Israeli checkpoints near the West Bank city of Nablus, 14 February 2007.
Comment on this SOTT Focus
---

It's Propaganda Time!! Planted Weapons Cache Seized in Iraq

By LAUREN FRAYER
Associated Press
2007-02-26 10:45:00

BAQOUBA, Iraq -- U.S. and Iraqi forces have seized a large weapons cache that includes parts for sophisticated roadside bombs that are

believed to originate in Iran

,

U.S. military investigators said.



Details of the find were expected to be announced Monday at a news conference in Baghdad.

Comment on this SOTT Focus

---
The Loan Gunmen
---
New England Town Prints Up Its Own Currency

Stephanie Sy
ABC News
2007-02-26 09:32:00

Susan Witt is an unassuming middle-aged woman who drives a Volvo around her quaint Rockwell-esque town and has somehow managed to foment a small revolution.


After years of planning, Witt started printing her own money and spending it around town.


She is not a counterfeiter. She is the founder of Berkshares, a local currency that was introduced last fall in Southern Berkshire, Mass. (where Normal Rockwell lived out his later years).


Comment on this SOTT Focus

---
The Living Planet
---
Volcano Ground Rising Near Naples, Italy


Playfuls.com
2007-02-26 13:22:00

Geologists are reporting the ground at the Campi Flegrei caldera, near Naples, Italy, is undergoing renewed uplift.

Researchers at Italy's Geophysical National Institute and Volcanology Observatory report the volcanic area, which had its last eruption in 1538, started a new uplift episode in November 2004. That uplift began at a low rate but has slowly and steadily increased.

Comment on this SOTT Focus

---

Propaganda! Lies! Distraction! New study of polar secrets in global warming fight

By Jeremy Lovell
Reuters
2007-02-26 12:41:00

LONDON - Thousands of scientists from across the world join forces this week to investigate the effects of global warming on the Arctic and Antarctic ice sheets.

The ice in both polar regions is melting more rapidly than anywhere else, leading to rises in sea levels and possibly to dramatic changes in ocean currents and food chains.

Comment on this SOTT Focus

---

Global Warming? Severe winter storm hammers Midwest, East Coast

By Debra Sherman
Reuters
2007-02-26 12:38:00

CHICAGO - A severe winter storm dumped snow and freezing rain across the Midwest and mid-Atlantic United States on Sunday, stranding air travelers from Boston to Chicago and causing several traffic deaths.

Comment on this SOTT Focus

---

"Global Warming" Snow Knocks Out Power, Cancels Flights

By BEN NUCKOLS
Associated Press
2007-02-26 09:44:00

BALTIMORE - Snow and sleet moved into the East, slowing Monday morning travelers on the ground and in the air and closing some schools.

Highway crews scrambled to clear the roads, and hundreds of flights were canceled - including at least 68 for JetBlue, whose flight schedule and reputation were severely battered by a storm two weeks ago.

Comment on this SOTT Focus

---
Health & Wellness
---
No new articles.
Science & Technology
---
OSIRIS UPDATE: Beautiful new images from Rosetta's approach to Mars


ESA
2007-02-26 07:17:00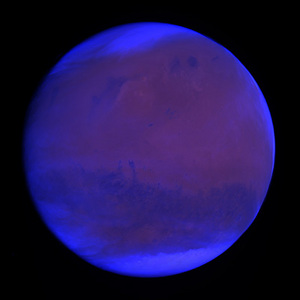 ©ESA
Image of Mars seen by OSIRIS: A cloudy day on Mars
Comment on this SOTT Focus
---

Fastest spinning neutron star may have exotic core


Zee News
2007-02-26 04:16:00

Astronomers have found a neutron star spinning at an astonishing 1122 rotations per second, 1.5 times faster than any other star.


Till now, no neutron star has ever been found to spin faster than 716 times per second, which was the previous record.


But now, new observations have revealed a neutron star that appears to be spinning much faster than that supposed speed limit.


If confirmed, the finding could bolster the possibility of exotic "soft" states of matter inside dense stars, as it is highly possible that the star might not have been ripped apart by its ultra-fast rotation.


Comment on this SOTT Focus

---

Studying sun's near twin could shed light on climate changes

Valarie Potell
Arizona Daily Star
2007-02-26 04:02:00

A star that is visible to the naked eye in the night skies of Southern Arizona has properties nearly identical to the sun's, researchers announced Thursday.


A study done at the Fairborn Observatory in the Patagonia Mountains and at the Lowell Observatory in Flag-staff found that 18 Scorpii, a star that is more than 270 trillion miles away, is "just about as close to a twin of the sun as you can find," said Jeffrey Hall, an astronomer at Lowell who has been observing the star for more than 10 years.


Comment on this SOTT Focus

---
Our Haunted Planet
---
Incredibly bright meteor over Georgia


Free Republic
2007-02-25 07:40:00

[...] I was just outside in the back yard in Northern Georgia, and an incredibly bright light illuminated the dark yard like an arc lamp. I looked up and saw a meteor streaking overhead, white hot, which then broke up into orange, glowing fragments. This happened at 10:21PM EST. I apologize for posting something random like this, but it was astonishing. Perhaps it was a piece of space junk that reentered the atmosphere tonight. Did anyone else see this? It was truly spectacular.

Comment on this SOTT Focus

---
Don't Panic! Lighten Up!
---
Religion, drugs affect brain similarly

by Joseph Ruchalski
The Daily Reveille
2007-02-26 09:52:00

Revelers' beer bingeing episodes on Fat Tuesday and somber Catholic masses on Ash Wednesday are traditionally viewed as far removed from each other. One day is filled with an excess of food, drink and hedonistic pleasure seeking. The other is a day when the devout begin to cleanse themselves with an ashen mark of the cross on the forehead and forego those bad habits - well at least for 40 days. The mood may be different, but religion, drugs, drug users and the devout share a kinship in their experiences, attitudes and behavior.

Comment on this SOTT Focus

---

Text messages land teacher in hot water


USA Today/AP
2007-02-26 09:43:00

A middle school teacher trying to buy pot was arrested after she sent text messages to state trooper instead of a dealer, police said.


Trooper Trevor Pervine was at dinner with his wife and parents celebrating a birthday when his phone started buzzing with messages about a marijuana purchase.


At first, Pervine thought the messages were from friends playing a joke, Kentucky State Police spokesman Barry Meadows said. But a couple of phone calls put that idea to rest, and Pervine responded to set up a meeting, Meadows said.


Authorities say Ann Greenfield, 34, arrived at the meeting point and found Pervine and other law enforcement officers waiting for her.


Comment on this SOTT Focus

---

Virgin Mary appears on pizza pan

Jacqui Goddard
The Times
2007-02-26 03:41:00

When an image of the Virgin Mary appeared on one of their pizza pans on Ash Wednesday the dinner ladies at Pugh Elementary School in Houston knew that it had to be more than just the cheese and pepperoni talking. This had to be a message from God.


Guadalupe Rodriguez, 59, who had scrubbed at the greasy stain to no avail, hastened to the head teacher for a second opinion. Indeed, the principal confirmed, the school kitchens seemed to have been singled out for divine intervention.


Within hours the apparition had become the talk of Houston and the pan a focus for pilgrims. One woman arrived at dawn the next day to seek healing for her disabled grandson; another prayed for God's blessing on her eight-year-old's forthcoming hospital operation. Throughout the weekend worshippers flocked to the home where the pan is now on display to pay their respects. "I see an image of the Blessed Mother. It's a sign that something is going to happen," one visitor, Vincent Santiago, said.


Comment on this SOTT Focus

---
---

Remember, we need your help to collect information on what is going on in your part of the world!
Send your article suggestions to: sott(at)signs-of-the-times.org

---
Click here to return to the Signs of the Times Archive
Click here for today's Signs Page