---
Sections on today's Signs Page:
---
SOTT Focus
---
American Red Cross - Humanitarianly Cheerleading Bush's Next "Terror" Attack

Joe Quinn
Signs of the Times
2007-02-21 14:14:00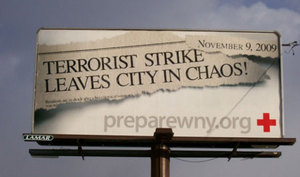 ©AP



Greater Buffalo (NY) residents are currently being treated to billboard ads like the one above, thanks to the fact that Bush's Department of Homeland Security seems to have decided to outsource its "war on terror" programming to humorously-named 'humanitarian' organisations like the American Red Cross.

Comment on this SOTT Focus

---
Best of the Web
---
A response to The Guardian's George Monbiot by Tom Tvedten MD...

Tom Tvedten MD
Via Email
2007-02-21 15:05:00

Dear Mr. Monbiot,

I too am a lifelong activist. I started in my pre-teen years by insisting on riding in the back of the bus in Baton Rouge Louisiana when only blacks were supposed to ride there. I am half Danish and half Norwegian. From Civil Rights I moved on to the Anti-Viet Nam War movement of the 60's and early 70's. Then on to the Union of Concerned Scientists and the Freedom of Choice movements (I am a physician.) as well as other environment causes both specific and general in nature. I have been and am still actively working for campaign finance reform as I feel that without this we can never have a true democracy. I fight for a national health insurance plan based loosely on the current Medicare model and for enforcement of the existing immigration laws.I fight against NAFTA as I feel that it is destroying the industrial base of this nation and really does threaten the existence of the middle class in this nation (the U.S.)

Like almost everyone else, I was shocked and awed by the horror of 9/11/01 and watched in disbelief as the Twin Towers fell. I did not find out about bldg. 7 until years later. Why not? I try to keep up with current events. I was willing to let the 9/11 Commission do its job and reserve judgment until their report came out. I was shocked and awed again by the glaring omissions made by this report. I decided to investigate further and discovered WTC 7, but it wasn't even mentioned in the Kane Zelicow-Hamilton Report.

Comment on this SOTT Focus

---

Ecuador's President Embraces Bolivarianism

Stephen Lendman
sjlendman.blogspot.com
2007-02-21 09:02:00

Hugo Chavez Frias gained an Ecuadoran ally last November when voters rejected Washington's choice and the country's richest man and elected Raphael Correa its President by an impressive margin. Correa is a populist economist and self-styled "humanist, leftist Christian" promising big changes for another Latin American country long ruled by and for the elite and against the interests of ordinary people Ecuador abounds in whose voices finally spoke and prevailed.

Comment on this SOTT Focus

---

George Monbiot's Sour 9-11 Grapes

Kurt Nimmo
Another Day In The Empire
2007-02-21 08:53:00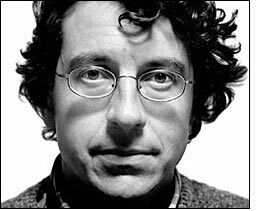 ©unk



It stinks of desperation. George Monbiot, inveterate leftist of the foundation financed environmentalist persuasion, has once again taken a swing at the "conspiracy idiots" who believe government is capable of mass murder, including the reflexive murder of its own subjects.

Not unlike his brethren, most notably Noam Chomsky and Alex Cockburn, Monbiot buys the Ward Churchill version of events in regard to the attacks of September 11, 2001 - that is to say Osama and a small number of cave-dwelling Wahhabi fanatics magically made NORAD stand down and defied the immutable laws of physics, thus delivering one to the conclusion a piece of paper cannot be slipped between Monbiot and the moonstruck followers of the neocons, as they all buy the same Brothers Grimm fairy tale.

Comment on this SOTT Focus

---
U.S. News
---
Teens prosecuted for racy photos

Declan McCullagh
CNET News.com
2007-02-21 17:27:00

What: Teenagers taking risque photos of themselves are prosecuted for violating child pornography laws.

When: Florida state appeals court rules on January 19.

Outcome: A 2-1 majority upholds conviction on grounds the girl produced a photograph featuring the sexual conduct of a child.

What happened, according to court documents:
Combine unsupervised teenagers, digital cameras and e-mail, and, given sufficient time, you'll end up with risque photographs on a computer somewhere.


Comment on this SOTT Focus

---

USA Today Founder Al Neuharth: Bush Is Worst President of All-Time

By E&P Staff
Editor & Publisher
2007-02-21 13:12:00

NEW YORK Al Neuharth, the former Gannett chief, USA Today founder and currently weekly columnist for that newspaper, has had a change of heart.

A year ago, in honor of President's Day, he stated that while he was often critical of George W. Bush, he did not, and probably would not ever, crack his list of the five worst presidents we've ever had.

A year later he admits he was wrong. In his USA Today column today he announces that Bush has not only cracked the bottom five, he's now at the very bottom.

Comment on this SOTT Focus

---

Shuster: 'Prosecutors still looking for ways to pursue Cheney'

John Byrne and David Edwards
Raw Story
2007-02-21 12:54:00

According to MSNBC's David Shuster, legal sources say that if I. Lewis "Scooter" Libby is convicted for perjury and obstruction, prosecutors may try to get him to turn over evidence against the Vice President.

Comment on this SOTT Focus

---

Hypocrite and Liar Bush hails UK pullout as 'sign of success'


Guardian Unlimited
2007-02-21 12:52:00

Tony Blair's announcement today that Britain is to withdraw about 1,600 troops from Iraq over the coming months shows that US-led operations in the country are succeeding, American leaders say.

President George W Bush views the plan to cut British forces to about 5,000 by the end of the summer as "a sign of success", according to a US National Security Council spokesman, Gordon Johndroe.

Mr Bush spoke to the prime minister about the plans by video link yesterday, Mr Johndroe said.

Comment on this SOTT Focus

---

Defendants Are Dealt a Blow In Aipac Case

By JOSH GERSTEIN
NY Sun
2007-02-21 09:22:00

WASHINGTON - A federal judge in Virginia has dealt two blows to the defense of a pair of pro-Israel lobbyists accused of illegally trafficking in classified information.

In one ruling this week, Judge Thomas Ellis III rejected defense motions to demand testimony from Israeli government officials. In another decision, the judge refused to suppress statements the FBI obtained in 2004 from the two lobbyists, Steven Rosen and Keith Weissman, who were later fired from the American Israel Public Affairs Committee.

Comment on this SOTT Focus

---

Drowning in Iraq hyperbole

Michael Scherer
Salon.com
2007-02-16 09:06:00

In a three-day war of words over Bush's surge, members of Congress got lost in sea of grandiloquence.

Comment on this SOTT Focus

---
UK & Euro-Asian News
---
Italy's Prodi resigns over Afghanistan


UPI
2007-02-21 16:05:00

Italy's prime minister resigned Wednesday after his center-left government Wednesday lost a key foreign policy vote.

Prime Minister Romano Prodi and Foreign Minister Massimo D'Alema both lobbied to extend Italy's Afghanistan mandate, but in a Senate vote Wednesday, the coalition failed to get the necessary majority of 160 votes because of opposition from the far left inside the government coalition. It only got 158 votes.

Comment on this SOTT Focus

---

France calls for 'true dialogue' on US anti-missile system


AFP
2007-02-21 15:56:00

French Defence Minister Michele Alliot-Marie called Wednesday for a "true dialogue" on the US plan to install an anti-missile defence system in Poland and the Czech Republic, which has drawn angry reactions from Moscow.

Russian Foreign Minister Sergei Lavrov, speaking together with Alliot-Marie, emphasized that Moscow has never said the planned missile shield was "directed against Russia," though he restated doubts about US claims the shield was meant to protect against Iranian or North Korean weapons.

Comment on this SOTT Focus

---

Update: Royal bounces back after TV appearance


AFP
2007-02-21 15:50:00

French Socialist Segolene Royal received a much-needed boost to her presidential campaign Wednesday, when for the first time in weeks a poll showed her back almost on level pegging with her rightwing rival Nicolas Sarkozy.

The CSA survey -- taken after her appearance Monday on a television election special -- showed her at 49 percent of the vote in a second round run-off with Sarkozy, a full four percentage points higher than in a similar poll taken before the broadcast.

Comment on this SOTT Focus

---

V. Putin and the Geopolitics of the New Cold War: Or, what happens when Cowboys don't shoot straight like they used to...

F. William Engdahl
321Gold
2007-02-21 13:18:00

The frank words of Russia's President Vladimir Putin to the assembled participants of the annual Munich Wehrkunde security conference have unleashed a storm of self-righteous protest from Western media and politicians. A visitor from another planet might have the impression that the Russian President had abruptly decided to launch a provocative confrontation policy with the West reminiscent of the 1943-1991 Cold War.

Comment on this SOTT Focus

---

Czech Republic not to be intimidated by Russian threat: Czech FM


Xinhua
2007-02-21 13:01:00

Czech Foreign Minister Karel Schwarzenberg said on Tuesday that the Czech Republic would not be "intimidated" by Russia's threat to place the country on its list of missile targets if the Czech Republic agreed to host a U.S. missile defense system.

Schwarzenberg, who was in Warsaw for a meeting, said that the Russian threat would only make the Czech Republic "more resolved" to join the U.S. missile defense system.

Comment on this SOTT Focus

---

Prince Harry may face Iraq call-up - Or Maybe Not


The Press Association
2007-02-21 12:47:00

Prince Harry's regiment will learn on Thursday whether it is to be sent to Iraq in the latest round of troop deployments.

Defence Secretary Des Browne will brief MPs on Thursday on which military units will be sent to Iraq in April as part of a long-planned rotation of troops, said the Ministry of Defence.

A spokesman refused to reveal which units were involved, or to indicate whether Harry's regiment, the Blues and Royals, will be among those deployed.

Comment on this SOTT Focus

---
Around the World
---
Venezuela, Argentina Ink Accords


Prensa Latina
2007-02-21 16:13:00

The signing of several accords in economic and trade areas between Venezuela and Argentina emerges Wednesday as an element to favor regional integration and strengthen bilateral links.

Comment on this SOTT Focus

---

UN Security Council unanimously authorizes AU force in Somalia


Xinhua
2007-02-21 16:01:00

The United Nations Security Council on Tuesday authorized the African Union to set up a mission in Somalia to help stabilize the war-ravaged country to achieve national reconciliation and facilitate the delivery of humanitarian aid.

Resolution 1744 was adopted unanimously by the 15-member Security Council under Chapter VII of the UN Charter, which allows for enforcement measures.

Comment on this SOTT Focus

---

Tensions high in Mediterranean over oil field

By Andrew Borowiec
THE WASHINGTON TIMES
2007-02-21 13:48:00

LIMASSOL, Cyprus -- Warnings and threats backed by gunboat diplomacy have electrified the eastern Mediterranean region, where news of a possible major oil and natural gas field has created visions of unexpected wealth.

Comment on this SOTT Focus

---

Colombia clowns killed on stage


BBC News
2007-02-21 13:46:00

Two circus clowns have been shot dead during a performance in the eastern Colombian city of Cucuta, police say.

The attacker jumped into the arena and fired before fleeing, police chief Jose Humberto Henao told Efe news agency.

Local reports say the audience of about 20 people, mostly children, thought the shooting was part of the show before realising both men had been killed.

Last year, a prominent circus clown, known as Pepe, was also shot dead by a unknown assailant in Cucuta.

Comment on this SOTT Focus

---

Italians March Against Yet Another New US Base On Italian Soil


BBC News
2007-02-21 10:56:00

Tens of thousands of people [Organisers said over 100,000] have marched in the north-eastern Italian city of Vicenza against a planned extension of the US army base there.

Organisers say the majority of local people are opposed to US plans. They say Prime Minister Romano Prodi has ignored strong local objections.

Mr Prodi is going ahead with a plan agreed by his pro-US predecessor, Silvio Berlusconi.

Comment on this SOTT Focus

---

Dictator for life: Mugabe pledges not to step down

Peter Biles
BBC News online
2007-02-20 22:40:00

Zimbabwe's President Robert Mugabe has repeated in an interview on state television that he has no intention of stepping down.

In the interview ahead of his 83rd birthday on Wednesday, Mr Mugabe made a veiled criticism of colleagues.

Some in government have become involved in a fierce debate about when he will retire and who should replace him.

Mr Mugabe, who retains an iron grip after nearly 27 years in power, said they were resorting to nonsense.

Comment on this SOTT Focus

---
Big Brother
---
MI5 Spies On 439,000 British Citizens' Phone Calls And Emails


Times Online
2007-02-21 13:39:00

Almost 450,000 requests were made to monitor people's telephone calls, e-mails and post by secret agencies and other authorised bodies in just over a year, the spying watchdog said yesterday.

Comment on this SOTT Focus

---

Say cheese, researchers want cameras in every airline seat

Humphrey Cheung
TG Daily
2007-02-21 08:09:00

Terrorists better put on their makeup because European researchers are developing small cameras to be mounted in the backs of airline seats. The cameras would profile suspicious movements and then transfer the information up to pilots and authorities. But it doesn't stop there, microphones would also record speech.


British and German scientists from the Onboard Threat Detection System project are working on the system that could give early warning about airline hijackers. Nervous movements like rapid blinking and constantly looking around would be detected and the passenger would then be profiled against the aircraft's passenger list.


Comment on this SOTT Focus

---
Axis of Evil
---
Blair: Britain to cut 1600 troops in Iraq


Xinhua
2007-02-21 15:58:00

British Prime Minister Tony Blair on Wednesday announced a plan to withdraw 1,600 British troops from Iraq in the next few months.

In a speech to the House of Commons, Blair said that the current 7,100 troops would be cut to 5,500 shortly, with the hope that 500 could leave by the end of summer.

The deployment of British troops in Iraq had been a success and had removed Saddam Hussein from power, Blair said.

Comment on this SOTT Focus

---

Lebanese fire at Israeli aircraft


BBC News
2007-02-21 13:43:00

Israeli jets fly many sorties sparking fear and anger on the ground
Lebanon's military says it has fired anti-aircraft rounds against Israeli jet fighters violating its airspace.

The aircraft were flying at low altitude over southern Lebanon, but none appear to have been hit.

Comment on this SOTT Focus

---

Once George Bush has got hold of a bad idea he just can't let it go

Gary Younge
The Guardian
2007-02-21 13:28:00

On December 20 1954, a woman known as Marion Keech gathered her followers in her garden in Lake City, Illinois, and waited for midnight, when flying saucers were supposed to land and save them from huge floods about to engulf the planet.

Comment on this SOTT Focus

---

Rice insists NMD in Poland, Czech Republic not threat to Russia


Xinhua
2007-02-21 12:50:00

BERLIN, Feb. 21-- U.S. Secretary of State Condoleezza Rice insisted on Wednesday that the missile defense system that her country plans to build in Poland and the Czech Republic is not a threat to Russia.

"There is no way that 10 interceptor in Poland and radar sites in the Czech Republic are a threat to Russia or that they are going to diminish Russia's deterrent of thousands of warheads," Rice told a press conference.

Comment on this SOTT Focus

---

Third day of declarations in Madrid Train Bombing Case sees more denials


Typically Spanish
2007-02-21 12:10:00

In the second day of his declarations to the National Court in Madrid on Monday, one of the key accused in the Madrid Train Bombings case, Jamal Zougam, has denied belonging to any terrorist group, be it Al Qaeda, ETA or even GRAPO. Once again he condemned the terrorist attacks in Madrid.

'I still don't know why I am in this court case', he said. Zougam only answered questions from his defence team. He claimed that he now considered Spain as his home.

Comment on this SOTT Focus

---

Madrid Train bombing suspect claims he is being framed


Expatica
2007-02-21 11:02:00

MADRID - A Moroccan man accused of the Madrid train-bombings said in court on Monday authorities are seeking to frame him in reprisal for his refusal to become a police informer.

"They have placed me at a trial for an attack that I have nothing to do with. It could be for revenge. I still don't know why I am in this trial," said Jamal Zougam.


Comment on this SOTT Focus

---
Middle East Madness
---
West Iraq Ravages Occupation


Prensa Latina
2007-02-21 16:17:00

The US central Command in Iraq admitted on Wednesday the death of two soldiers in the western province of Al Anbar, where resistance attacks against the occupation troops and its allies are increasing considerably.

Comment on this SOTT Focus

---

How Do You Know You've Lost a War?

A. Alexander
Progressive Daily Beacon
2007-02-21 13:23:00

How do you know when you've lost a war? Is it when the country you are supposedly fighting to save decides to start fighting one another and shooting your soldiers, too? Is it after you've spent more than a quarter-trillion dollars on the war and it only gets worse? Have you lost the war when a large majority of the occupied country wants you to leave? How about when the people being occupied, more than 60 percent, think it is acceptable to kill American soldiers? Maybe the war jig is up when a plurality of your own soldiers lose faith in the mission and their commander-in-chief?

Comment on this SOTT Focus

---

Second US aircraft carrier arrives near Iran


Agence France Presse
2007-02-21 12:45:00

MANAMA - A second US aircraft carrier has arrived in Middle Eastern waters as promised by US President George W. Bush in January amid an escalating crisis with nearby
Iran over its nuclear program.

Comment on this SOTT Focus

---

U.N. Delays Sanctions Deadline for Iran "for unknown reasons"

Stewart Stogel
NewsMax
2007-02-21 12:43:00

UNITED NATIONS -- For "unknown" reasons, the United Nations Security Council has given Iran two extra days to comply with its demands to halt its uranium-enrichment activites or face the first phase of sanctions.

NewsMax has been shown Security Council documents that now indicate the standoff with Iran will not take place before Friday at the earliest.

Comment on this SOTT Focus

---

Israeli naval gunboats shell a Palestinian fishing boat


IMEMC & Agencies
2007-02-21 10:46:00

Palestinian sources in the Gaza Strip reported on Sunday that Israeli Navy gunboats fired on Sunday at Palestinian fishing boats off the Gaza Strip shores and destroyed several boats. No injuries were reported.

Eyewitnesses reported that the Navy gunboats and vessels fired several shells and opened machine gunfire at Palestinian fishing boats at the Tal Al Sultan Beach, west of Rafah, in the southern part of the Gaza Strip.

Comment on this SOTT Focus

---

Israeli forces attack children at Abu Dis school, London-based group calling for inquiry


Palestine News Network
2007-02-18 10:44:00

On Wednesday the Israeli army invaded the Abu Dis Secondary Boys' School in suburban Jerusalem between Bethlehem and Ramallah and attacked a number of children. Israeli soldiers burst into classroom after classroom, pushed the teachers out of the way, and beat several students. Some of the kids hid under their chairs while others protected themselves with their school bags.

Comment on this SOTT Focus

---
The Loan Gunmen
---
Surprise over French bank's China pullout

Olivia Chung
Asia Times
2007-02-21 16:27:00

HONG KONG - BNP Paribas SA, France's largest bank by market value, last month pulled out of its investment-banking joint venture with China's Changjiang Securities after the two parties failed to agree on a business-development strategy.

This was the first case in China of a foreign partner pulling out its investment in a joint-venture investment bank, which has taken market analysts somewhat by surprise. Given China's gravity-defying stock market and tightened government restrictions on approval for new Sino-foreign joint-venture brokerages, it now can be said that it is payoff time for foreign investors in securities firms, as the markets have turned bullish after being dominated by the bear for several years.

Comment on this SOTT Focus

---

Economic crisis closing in on South Korea

Jephraim P Gundzik
Asia Times
2007-02-21 16:21:00

South Korea's short-term external debt stock nearly doubled in 2006 on the back of prolific yen-borrowing by commercial banks.

This injection of foreign capital did little to stabilize South Korea's deflation-gripped economy. While savvy Korean investors sent record sums of money abroad in 2006, foreign investors, apparently unaware of the country's weak and deteriorating political, social and economic fundamentals, continued to load up on Korean assets.

Comment on this SOTT Focus

---

Fed 'uncertain' about inflation


BBC News
2007-02-21 16:10:00

The US Federal Reserve left interest rates on hold last month because of uncertainty about the future path of inflation, minutes of the meeting show.
"Participants did not yet see a downward trend in core inflation as definitively established," notes said.

While there had been some good news on the economy - such as strong growth, members of the group remained concerned about the outlook for inflation.

The news came hours after data showed a surprise sharp rise in US inflation.

Comment on this SOTT Focus

---

Living on the edge of the volcano


Financial Times
2007-02-21 12:41:00

Investors are not unaware of global risks, says Tony Jackson. They are just too used to living on the edge of the volcano.

With the world's stock markets at record highs, there is a contrast between today's benign global economics and malign global politics - dubbed by Martin Wolf, the "Davos dilemma."

Comment on this SOTT Focus

---
The Living Planet
---
Global Cooling killed off Neanderthals


BBC News
2007-02-21 13:52:00

A sharp freeze could have dealt the killer blow that finished off our evolutionary cousins the Neanderthals, according to a new study.

The ancient humans are thought to have died out in most parts of Europe by about 35,000 years ago.


Comment on this SOTT Focus

---

Fear as cyclone nears Mozambique - 175kmph Winds


BBC News
2007-02-21 13:41:00

Mozambican army officer looks through a helicopter window as it flies above the flooded area near Caia, northern Mozambique
Floods have already forced tens of thousands from their homes
Mozambican authorities have put the country on the highest level of alert, as it waits for an approaching cyclone.

The cyclone, named Favio, is predicted to arrive on Wednesday with winds of up to 175km/h (109m/h).

Comment on this SOTT Focus

---

Earthquake In Uganda Coincides With Taiwan Quake


Kampala Monitor
2007-02-21 12:20:00

An earthquake that shook parts of Uganda early yesterday morning for about 15 seconds, coincided with another in southern Taiwan in the Pacific Ocean.

The United States Geological Survey said the quake measured 5.7 on the Richter scale, and said a similar quake had occurred around the same time in Taiwan. The seismological station in Entebbe measured it at 5.2.

Comment on this SOTT Focus

---

Dead birds everywhere, "experts" claim to be stumped


Idaho Observer
2007-02-21 09:21:00

It wasn't "experts" who figured out that when a canary stops singing and starts teetering on his perch, its time to get out of the coal mine. Not surprisingly, the "experts" claim they cannot determine conclusively why reports from all over the world describe flocks of birds dying by the thousands. The forensic sciences have improved to a point that causes of death can be accurately determined upon autopsy - if the death is not political. Recent bird kills have been reported in Idaho, Texas, New York, New Jersey, Australia, Turkey, SE Asia and Africa. Though the dead birds in SE Asia, Turkey and Africa have been blamed on "bird flu," the causes of death remain mysteries in the U.S. and Australia.

Comment on this SOTT Focus

---

Dead fish flood shores at Salton Sea


California Desert Sun
2007-02-19 08:21:00


©Desert Sun



Cold snap [or global COOLING?] blamed for winter die-off

Last month's cold snap has caused waves of dead fish to flood shores along the Salton Sea in a rare winter die-off.

It's unclear how many of the sea's estimated 200 million fish perished, but hundreds of thousands of rotting fish floated along the shoreline at Desert Shores on Friday.

"It smells worse than cow (manure)," Desert Shores resident Chuck Friedly said Friday.

Comment on this SOTT Focus

---

Return of the "bulb huggers": Australia pulls plug on old bulbs


BBC
2007-02-21 08:16:00

Australia has announced plans to ban incandescent light bulbs and replace them with more energy efficient fluorescent bulbs.


The environment minister said the move could cut the country's greenhouse gas emissions by 4 million tonnes by 2012.


"It's a little thing but it's a massive change," Malcolm Turnbull said.


The decision will make Australia the first country to ban the light bulbs, although the idea has also been proposed in the US state of California.


Comment on this SOTT Focus

---
Health & Wellness
---
Canadian PM, Bill Gates announce joint AIDS vaccine initiative


Xinhua
2007-02-21 16:03:00

U.S. Billionaire Bill Gates and Canadian Prime Minister Stephen Harper announced Tuesday a joint plan to finance the testing of possible AIDS vaccines.

The plan, named Canadian HIV Vaccine Initiative, is to receive 111 million Canadian dollars (94.3 million U.S. dollars) from Ottawa and 28 million Canadian dollars (23.8 million U.S. dollars) from the Bill and Melinda Gates Foundation.

Comment on this SOTT Focus

---

Airport X-Rays "Planting Seeds"of Cancer


Alternative Health News
2007-02-21 13:52:00

Petersburg, VA - What you can't see, can hurt you. Just ask James P. Hilton a 45 year old paramedic educator turned freelance journalist. In his newly launched book, Playing With Fire: What Everyone Needs To Know to Protect Their Health From X-rays Hilton claims airport Backscatter x-ray machines, sometimes called "virtual strip searches" for their ability to allow security men to see beneath people's clothing, are setting the stage for a future epidemic of cancer.

Comment on this SOTT Focus

---

Grocery industry prepares for bird flu

TIMBERLY ROSS
The Mercury News
2007-02-21 13:26:00

OMAHA, Neb. - Stocking up on food is as simple as a trip to the grocery store, a veritable land of plenty for Americans. But will fresh fruits and vegetables, meat, bread, milk and other household staples still be available if the U.S. is hit with an anticipated bird flu pandemic? If state and federal officials urge people to stay away from public places, like restaurants and fast-food establishments, will they be able to get the groceries they need to prepare food in their homes?

Comment on this SOTT Focus

---

How Gov't Decided Lunch Box Lead Levels - They Just Lied

By MARTHA MENDOZA
Washington Post
2007-02-21 13:14:00

In 2005, when government scientists tested 60 soft, vinyl lunch boxes, they found that one in five contained amounts of lead that medical experts consider unsafe _ and several had more than 10 times hazardous levels.

But that's not what they told the public.

Comment on this SOTT Focus

---

Sexualization Of Girls In The Media Is Harmful

Catharine Paddock
Medical News Today
2007-02-21 08:21:00

The American Psychological Association (APA) suggests that the proliferation of sexual images of girls and young women in the media is harming their self-image and development.


An APA Task Force on the Sexualization of Girls examined research papers covering the effect of all kinds of media content including television, music videos, magazines, video games, the Internet, movies, and music lyrics. They also looked at the way products are sold and advertised to young girls.


The Task Force described sexualization as: "when a person's value comes only from her/his sexual appeal or behavior, to the exclusion of other characteristics, and when a person is sexually objectified, e.g., made into a thing for another's sexual use."


Comment on this SOTT Focus

---

Merck Forced to End Push for Mandatory Shots for Girls

ANDREW POLLACK and STEPHANIE SAUL
New York Times
2007-02-20 18:43:00

Reacting to a furor in public health circles, Merck said Tuesday that it would stop trying to get state legislatures to mandate the use of its new cervical cancer vaccine.

Comment on this SOTT Focus

---
Science & Technology
---
Teen makes mammoth fossil find in Fla. park


Associated Press
2007-02-21 13:10:00

SEMINOLE --- A 16-year-old high school student stumbled upon what archaeologists say could be the biggest fossil find in Pinellas County in nearly a century.

Comment on this SOTT Focus

---

Vomiting Virgos Provide A Cautionary Tale For Clinicians


ScienceAGoGo
2007-02-21 09:50:00

Researchers at the Institute for Clinical Evaluative Sciences in Toronto have just completed an analysis of hospital visits in Ontario, showing that, compared to people born under other astrological signs, Virgos have an increased risk of vomiting during pregnancy, Pisces have an increased risk of heart failure, and Libras have an increased risk of fracturing their pelvises.

The large amount of data - from 10,000,000 Ontario residents - showed that each of the 12 astrological signs had at least two medical disorders associated with them, thus placing people born under a given sign at increased risk compared to those born under different signs.

Comment on this SOTT Focus

---

Exotic science may help researchers regrow human fingers

Malcolm Ritter
The Columbus Dispatch
2007-02-21 09:49:00

NEW YORK - Researchers are trying to find ways to regrow fingers - and someday, even limbs - with tricks that sound like magic spells from a Harry Potter novel.

There's the guy who sliced off a fingertip but grew it back after he treated the wound with an extract of pig bladder. And the scientists who grow extra arms on salamanders. And the laboratory mice with the eerie ability to heal themselves.

Comment on this SOTT Focus

---

Research Turns Freudian Memory Theory on Its Head


NewsWise
2007-02-21 09:38:00

Contrary to conventional thought dating back to Freud, victims of traumatic events do not subconsciously repress the memories but rather recall them with a clarity reminiscent of reality.

That startling finding comes from a five-year-study conducted by researchers at Dalhousie University in Halifax. The same study, funded by the Social Sciences and Humanities Research Council of Canada (SSHRC) concludes that people have much more difficulty recalling pleasant memories than they do unpleasant.

Comment on this SOTT Focus

---

"Gravity Tractor," Super Telescopes Enlisted to Battle Killer Asteroids

Elizabeth Svoboda
National Geographic News
2007-02-21 09:23:00

A giant asteroid named Apophis could be on a trajectory to careen into Earth in 2036. That was the prediction NASA scientists made in 2004, suggesting a 1 in 37 chance that the space rock would hit our planet.


The danger has since receded - the revised likelihood that Apophis will hit Earth is 1 in 45,000. But the close call has galvanized efforts among scientists to predict and hopefully prevent a potentially apocalyptic impact.


Comment on this SOTT Focus

---

Freeze 'condemned Neanderthals'


BBC News online
2007-02-20 23:06:00

A sharp freeze could have dealt the killer blow that finished off our evolutionary cousins the Neanderthals, according to a new study.

The ancient humans are thought to have died out in most parts of Europe by about 35,000 years ago.

And now new data from their last known refuge in southern Iberia indicates the final population was probably beaten by a cold spell some 24,000 years ago.

Comment on this SOTT Focus

---
Our Haunted Planet
---
Big meteor lights WA sky


Perth Now
2007-02-21 11:42:00

PERTH residents were treated to a natural sky show last night when a glowing green meteor lit the southeastern sky.

Perth Observatory astronomer Ralph Martin said reports of a big meteor began flooding into the observatory from all over the metropolitan area about 10.15pm.

"It was reportedly travelling from west to east and was breaking up as it went," Mr Martin said.

Comment on this SOTT Focus

---

Green meteor flashes night skies

TORRANCE MENDEZ
The West Australian
2007-02-21 11:41:00

A meteor with a green coloured tail flashed across Perth's skies last night, prompting several calls to Perth Observatory.

People as far south as Dunsborough and as far east as Chidlow reported seeing a flaming ball course through the heavens from about 9.30pm.

Observatory astronomer Andrew Williams said some witnesses reported seeing the meteor break up

Comment on this SOTT Focus

---
Don't Panic! Lighten Up!
---
A Giant Doom Magnet

MAUREEN DOWD
Free Democracy
2007-02-21 13:55:00

So I was sitting around watching "Oprah" yesterday afternoon when I realized how I could stop W. and Crazy Dick from blowing up any more stuff.

All I needed to do was Unleash my Unfathomable Magnetic Power into the Universe!

Energy flows where intention goes. Or maybe it's the other way around.

Anyhow, Oprah taught me how to stop abusing myself and learn The Secret. I finally get it: because the Law of Attraction dictates that like attracts like, my negativity toward the president and vice president is attracting their negativity and multiplying the negative vibrations in the cosmos, creating some sort of giant doom magnet.

Comment on this SOTT Focus

---

Fortean = anti-evolution? Not Even Close


Doubtful
2007-02-21 09:43:00

The topic of creationism nearly makes me retch. I hate arguing about it, I hate even acknowledging that the fight even exists because it shouldn't. I must vent so indulge me.

The debate between creationists and evolutionists rages on these days over at Cryptomundo in a post opened solely for the two teams to duke it out. I would opine that it was a mistake to do that. These aren't kids who will give up fighting and make nice. It could end up with hard feelings and people leaving in a huff. I gotta keep telling myself not to read those types of posts and comments, and for all that's logical and sane, quit responding to the commentary! Alas, I didn't listen to myself and entered the fray.

Comment on this SOTT Focus

---

Do you believe in ghosts? Now you can find out why...

BRIAN FERGUSON
Ediburgh News
2007-02-21 09:40:00

MYSTERIES such as what makes men and women disagree and why people believe in ghosts are set to be explained at the Capital's annual science festival.

Top minds will also be exploring what makes cigarettes so addictive while children will have the chance to take part in robotic chariot races.

Comment on this SOTT Focus

---

Youngest Premature Baby's Survival Called a 'Miracle'

Catherine Elsworth
New York Sun / Daily Telegraph
2007-02-21 08:48:00

The world's youngest surviving baby, born at 21 weeks and six days and weighing just 10 ounces, is due to be discharged from hospital this week after a battle for life described as miraculous.


With feet the size of an adult's little fingernail, Amillia Taylor measured 9.5 inches - not much longer than a ballpoint pen -when she was born at a Florida hospital on October 24.


The odds were stacked against her. Doctors consider babies who weigh less than 14.1 ounces to have no chance of survival. And no infant born before 23 weeks has survived until now.


But defying the odds, Amillia was breathing on her own when she was born by caesarean section and even made several attempts to cry.


Comment on this SOTT Focus

---

Stumpy, an 8-day-old duckling born in Britain, has a rare mutation: 4 legs


Canadian Press
2007-02-21 08:40:00

Webbed feet run in Stumpy's family, but he's the first to have four of them.


A rare mutation has left the eight-day-old duckling with two nearly full-sized legs behind the two he runs on. Nicky Janaway, a duck farmer in New Forest, Hampshire, 95 miles southwest of London, showed the duckling to reporters Saturday.


"It was absolutely bizarre. I was thinking 'he's got too many legs' and I kept counting 'one, two, three, four,'" Janaway said.


Comment on this SOTT Focus

---
---

Remember, we need your help to collect information on what is going on in your part of the world!
Send your article suggestions to: sott(at)signs-of-the-times.org

---
Click here to return to the Signs of the Times Archive
Click here for today's Signs Page