---
Sections on today's Signs Page:
---
SOTT Focus
---
BBC Radio Wales Interviews Laura Knight Jadczyk

Laura Knight Jadczyk
Signs of the Times
2007-02-16 13:29:00

Partial Transcript. Link to audio at bottom of page. Interview conducted February 12th 2007.

AW: [...] I think that record met the approval of our next guest on the program. What if everything you think you know about the world is a lie? Would we be able to perceive the truth if it was shown to us? Ancient Civilizations, Hyperdimensional Realities, DNA changes, Bible conspiracies, which are true and which are deliberate disinformation? Laura Knight Jadczyk says she has the real answers, and believe me, if you read her book, 'The Secret History of the World and How To Get Out Alive', you'll know that the truth is far weirder than fiction. Laura joins us now from our Paris studio. Welcome to the program, Laura.

Comment on this SOTT Focus

---
Best of the Web
---
Dysfunctional Government - Dysfunctional Family

Carolyn Baker
CarolynBaker.org
2007-02-16 12:34:00

It seems to me that Americans for at least the past seven years have been stricken with a collective trance such as I have never witnessed in this country in my lifetime. Psychologist, Paul Levy, in his superb article Spiritually Informed Political Activism speaks to the necessity of waking up from the spell and speaking the truth about the criminal insanity that is running our nation and our world. He takes this "waking up" many steps further by the end of his article, but for now, I'd like to address the questions: "Why such seemingly impenetrable denial in the American psyche these days? Why are some people almost incapable of awakening?"

Comment on this SOTT Focus

---

Neo-Nazi rally was organized by FBI informant

Henry Pierson Curtis
Orlando Sentinel
2007-02-16 10:45:00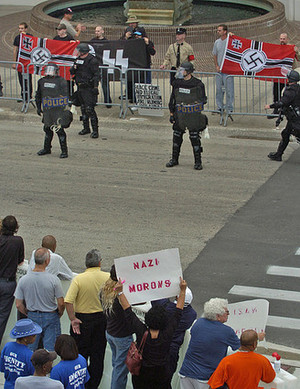 ©2006 Bobby Coker, Orlando Sentinel



A paid FBI informant was the man behind a neo-Nazi march through the streets of Parramore that stirred up anxiety in Orlando's black community and fears of racial unrest that triggered a major police mobilization.

That revelation came Wednesday in an unrelated federal court hearing and has prompted outrage from black leaders, some of whom demanded an investigation into whether the February 2006 march was, itself, an event staged by law-enforcement agencies.

Comment on this SOTT Focus

---
U.S. News
---
Conservatives lose latest Darwin battle in Kansas

By Carey Gillam
Reuters
2007-02-16 11:41:00

TOPEKA, Kansas - The Kansas Board of Education on Tuesday threw out science standards deemed hostile to evolution, undoing the work of Christian conservatives in the ongoing battle over what to teach U.S. public school students about the origins of life.

The board in the central U.S. state voted 6-4 to replace them with teaching standards that mirror the mainstream in science education and eliminate criticisms of evolutionary theory.

Comment on this SOTT Focus

---

Reform Jews' Anti-War Surge

James D. Besser
The Jewish Week
2007-02-16 10:50:00

With Congress starting a serious debate over the Iraq war and President George W. Bush's plan for a troop "surge," the debate may be heating up in the Jewish community as well.

This week the Union for Reform Judaism (URJ) - the only major Jewish group to take a position on the conflict - launched a major effort to foster education and discussion in synagogues across the country.

Comment on this SOTT Focus

---

Evil Zionist Brandeis Donors Exact Revenge For Carter Visit - Who Says Zionists Don't Control America?

Larry Cohler-Esses
The Jewish Week
2007-02-16 10:34:00

Major donors to Brandeis University have informed the school they will no longer give it money in retaliation for its decision last month to host former President Jimmy Carter, a strong critic of Israel.

The donors have notified the school in writing of their decisions - and specified Carter as the reason, said Stuart Eizenstat, a former aide to Carter during his presidency and a current trustee of Brandeis, one of the nation's premier Jewish institutions of higher learning.

Comment on this SOTT Focus

---

Human Chipping Company VeriChip Omits Salient Risks from IPO Disclosure

By Liz McIntyre & Katherine Albrecht
NewsWithViews.com
2007-02-16 10:02:00

VeriChip Corporation, the much-hated purveyor of the VeriChip human ID implant, is airing its dirty laundry this week. This is not by choice, mind you, but because the Securities and Exchange Commission (SEC) required the company to disclose its "risk factors" prior to launching its initial public offering of stock (IPO) Friday.

Comment on this SOTT Focus

---

Imprisoned Journalist Josh Wolf's Courageous Stand

By Amy Goodman
Democracy Now!
2007-02-16 09:30:00

Josh Wolf, 24, has spent almost six months in jail, more time than any journalist in U.S. history, for protecting his sources. He was jailed on Aug. 1 of last year when he refused to turn over video that he had shot of an anti-G8 demonstration in San Francisco to a federal grand jury.

Comment on this SOTT Focus

---

Couple gets 2 years in 'caged kids' case

Thomas J. Sheeran
Associated Press
2007-02-16 09:32:00

A couple who forced some of their 11 adopted, special-needs children to sleep in wire-and-wood cages were sentenced to two years in prison Thursday, after the parents insisted they were only trying to keep the kids safe.


Two of the children, however, said in statements read in court that they were treated harshly while they lived with Sharen and Michael Gravelle. One wrote that they should be imprisoned "for as long as my siblings had to be in cages."


Sharen Gravelle told the court the children were never confined as punishment but rather to protect them, including a child who wanted to jump out a second-floor window.


"Would you prefer that we let them jump? Either way, we'd be here. The difference is they're still alive," she said in a tearful, 26-minute statement.


Comment on this SOTT Focus

---
UK & Euro-Asian News
---
Nasa hacker's appeal begins

Colin Barker and Graeme Wearden
ZDNet UK
2007-02-16 11:37:00

Gary McKinnon, the UK citizen accused of breaking into and damaging Nasa's computers began his appeal against extradition to the US on Tuesday.

Comment on this SOTT Focus

---

Nuclear power plan defeated in court challenge

George Jones
Telegraph
2007-02-16 09:25:00

The go-ahead for a new generation of nuclear power stations faces months of delay after the High Court ruled yesterday that the Government's consultation process had been "seriously flawed".


Alistair Darling, the Trade and Industry Secretary, immediately accepted the court ruling and promised a fresh consultation exercise even though he made it clear that the Government still backed nuclear power.


Another round of consultations will mean that a final decision probably won't be made until after Tony Blair's departure from No 10 in the summer.


The news was a personal embarrassment for Mr Blair who has put nuclear power at the top of his agenda for cutting Britain's greenhouse gas emissions.


Mr Justice Sullivan ruled that the Government's consultation process was "seriously flawed" and "procedurally unfair".


Comment on this SOTT Focus

---

Italian Judge orders CIA Agent trial


EuroNews
2007-02-16 09:20:00

A judge in Milan has ordered a group of Americans, believed to be CIA agents, to stand trial over the kidnapping of a Muslim cleric in Italy. The trial would be the world's first criminal case over so-called "renditions" - or the secret transfer of terror suspects to a third country practising torture.


Hassan Mustafa Osama Nasr also known as Abu Omar was snatched off a street in Milan in 2003, before being flown to Cairo. He claimed he was tortured under interrogation. Egypt released him on Sunday.


The former head of Italy's secret service, Nicolo Pollari, is one of six Italians and 26 Americans charged over the case.


Comment on this SOTT Focus

---

Swedish nuclear reactor shut down


Forbes/AFX News
2007-02-16 09:17:00

A nuclear reactor at the Ringhals nuclear plant south of Gothenburg has been shut down while officials investigate a small leak, reported the Lokal.

The decision to shut down the Ringhals number 2 reactor was taken on Thursday evening after the leak was noted in the so-called primary system - the power station's cooling system. Twelve litres of water per hour is currently leaking out, compared to a normal six.

It is not yet known how long the reactor will be out of service.


Comment on this SOTT Focus

---

Missile defense and its consequences

Andrei Kislyakov
RIA Novosti
2007-02-16 09:08:00

The first, ground-based stage of the U.S. missile defense program has successfully been completed.


There is not much time left before the start of a battle royal for the right to place missile defense components, i.e. weapons, in space.


Fortunately, the success of the proponents of orbital duels is not pre-determined. "We have repeatedly come up with initiatives aimed at preventing the use of weapons in space," said Russian President Vladimir Putin at the Munich Conference on Security Policy in mid-February. "Today I would like to tell you that we have drafted an agreement on the prevention of weapons deployment in space. Very soon it will be made into an official proposal. Let us work on it together." Of course, there is little hope that the Russian initiative will have a serious influence on the missile defense program. Nevertheless, a barrier must be placed across weapons' path to space.


Comment on this SOTT Focus

---
Around the World
---
Chad may face genocide, UN warns


BBC News
2007-02-16 10:05:00

The violence in Chad could turn into a genocide similar to that in Rwanda in 1994, the UN refugee agency has warned.

The UNHCR says the killing tactics from neighbouring Darfur in Sudan have been transported to eastern Chad in full.

The warning comes as Chad, Sudan and the Central African Republic signed a deal not to support rebels attacking each other's neighbouring territory.

African Union head, Ghana's President John Kufuor, said they seemed ready to agree to an AU/UN border peace force.

"They seem to be ready to accept a beefed-up force from the African Union and the United Nations to take control of the borders among them," Mr Kufuor told reporters at the French-African summit in Cannes where the declaration was signed.

Comment on this SOTT Focus

---

Year of Pig signals conflicts before new world order: soothsayers


Agence France Presse
2007-02-16 11:12:00

The world can expect a roller-coaster ride of conflict and unrest, natural disasters and a plunge in global stock markets once the Year of the Pig begins, Chinese soothsayers say.

As the world farewells the Year of the Dog on Sunday, believers in Chinese superstitions have been busy consulting fortune tellers, feng shui geomancers and a wealth of new books for the year's fortunes.


Comment on this SOTT Focus

---

Australia/Israel & Jewish Affairs Council dumps Israeli scholar over anti-Muslim remarks

jason frenkel
AJN
2007-02-16 10:43:00

THE Australia/Israel & Jewish Affairs Council (AIJAC) has withdrawn its support for a visiting Israeli expert on Islam who earlier this week urged Australia to cap its intake of Muslim immigrants.

AIJAC executive director Dr Colin Rubenstein issued a statement on Friday distancing the organisation, which has partly sponsored Hebrew University Professor Raphael Israeli's six-week Australian visit, from the academic's claims that "life will become untenable" unless the Muslim population is kept in check.

Comment on this SOTT Focus

---

Canny pilot, travelers subdue hijacker

By JUAN MANUEL PARDELLAS
Associated Press
2007-02-16 10:31:00

TENERIFE, Canary Islands - A fast-thinking pilot with passengers in cahoots fooled a hijacker by braking hard upon landing, then accelerating to knock the man down. When he fell, flight attendants threw boiling water in his face, and about 10 people pounced on him, Spanish officials said Friday.

The Air Mauritania Boeing 737 carrying 71 passengers and a crew of eight was hijacked by a lone gunman brandishing two pistols Thursday evening shortly after it took off from Nouakchott, the capital of Mauritania, for Gran Canaria, one of Spain's Canary Islands, with a planned stopover in Nouadhibou in northern Mauritania.

The hijacking alarmed Spanish officials because a trial of 29 people accused in the Madrid terrorist bombings of 2004 had begun the same day in Madrid.

But the man's motives were not terrorism; he wanted the plane to fly to France so he could request political asylum

, said Mohamed Ould Mohamed Cheikh, Mauritania's top police official.

Comment on this SOTT Focus

---

31 to stand trial in CIA kidnapping case

By COLLEEN BARRY
Associated Press
2007-02-16 10:17:00

MILAN, Italy - A judge Friday indicted 26 Americans and five Italians in the abduction of an Egyptian terror suspect on a Milan street in what would be the first criminal trial stemming from the CIA's extraordinary rendition program.

The judge set a trial date for June 8, although the Americans, who have all left the country, almost certainly will not be returned to Italy.

Prosecutors allege that five Italian intelligence officials worked with the Americans to seize Muslim cleric Osama Moustafa Hassan Nasr on Feb. 17, 2003.

Comment on this SOTT Focus

---

US military base to be built in Geraldton, WA

Elliot K
Perth Indymedia
2007-02-16 09:58:00

The United States military will build a new communications base at Geraldton in Western Australia. Defence Minister Brendan Nelson says he has agreed to host a ground station for a new US military satellite communications system. The plans for the base come after three years of covert negotiations between Washington and Canberra. The new US base will be built at the existing Australian defence facility at Geraldton and will be used by the Americans to monitor regions like the Middle East. It would be similar to the Pine Gap joint military facility in the Northern Territory...


Dr Nelson says the details of the agreement will be finalised soon. The Government says it will have full knowledge of the functions and purpose of the base. He said negotiations began in 2003 and were continuing. Details would be made public once the details were finalised. More ground stations might be built at other locations in Australia, Dr Nelson said.


Comment on this SOTT Focus

---
Big Brother
---
200 officers on prowl to enforce Liverpool smoking ban - What About The "Terrorists"?

By Caroline Innes
Liverpool Daily Post
2007-02-16 12:10:00

DOZENS of council officers will patrol bars, restaurants and shops to police the smoking ban when it comes into force in July, it was revealed last night.

In Liverpool, there will be a core team of 20 to 25 staff, although around 200 staff will patrol the city's streets, bars and clubs in the first few days after the ban.

Comment on this SOTT Focus

---

Judge Limits New York Police Taping

Jim Dwyer
The New York Times
2007-02-16 09:27:00

In a rebuke of a surveillance practice greatly expanded by the New York Police Department after the Sept. 11 attacks, a federal judge ruled yesterday that the police must stop the routine videotaping of people at public gatherings unless there is an indication that unlawful activity may occur.


Four years ago, at the request of the city, the same judge, Charles S. Haight Jr., gave the police greater authority to investigate political, social and religious groups.


In yesterday's ruling, Judge Haight, of United States District Court in Manhattan, found that by videotaping people who were exercising their right to free speech and breaking no laws, the Police Department had ignored the milder limits he had imposed on it in 2003.


Comment on this SOTT Focus

---

Armed officers to patrol London gun crime hotspots

Peter Walker
Guardian
2007-02-16 09:23:00

Armed police will patrol parts of south London following five murders, including the shooting of three teenagers, in less than two weeks, Scotland Yard said today.


Police have also set up a taskforce to investigate the murders, all of which happened in the boroughs of Southwark and Lambeth.


The most recent killing saw a 15-year-old boy shot dead at his home in the Clapham North area yesterday afternoon. Police today named him as Billy Cox, and said he had been shot in the chest.


Officers have appealed for information about the teenager's murder, and have described how his sister heard the gunshot as she arrived home and battled in vain to save him.


Comment on this SOTT Focus

---
Axis of Evil
---
Before 9/11 There Was Douglas Feith - And Paul Wolfowitz, Dov Zakheim and Richard Perle

Douglas Herman
Rense.com
2007-02-16 10:23:00


"The war in Iraq was conceived by 25 neoconservatives, most of them Jewish, who are pushing President Bush to change the course of history."


-Ari Shavit, Ha'aretz News Service (Israel) April 5, 2003

Comment on this SOTT Focus

---

Before the invasion, there was Douglas Feith

By Robert Scheer
San Francisco Chronicle
2007-02-16 10:11:00

SOMEDAY, you are going to read a whole lot about the shenanigans of one Douglas J. Feith and an elaborate scheme to get the United States to invade Iraq. That is because Sen. Carl Levin, D-Mich., has been determined to get to the bottom of this sordid tale and is now, fortunately, head of the Senate Armed Services Committee and thereby empowered to get at the truth.

Comment on this SOTT Focus

---

Top Cheney Aide sez: 2007 Is 'The Year Of Iran,' U.S. Attack 'A Real Possibility'


thinkprogress
2007-02-16 10:08:00

As the Bush administration ratchets up pressure on Iran, Vice President Cheney's top national security aide has been sourced by the Washington Post - in the 10th paragraph on page A18 - saying that war with Iran is "a real possibility" this year:


Some senior administration officials still relish the notion of a direct confrontation. One ambassador in Washington said he was taken aback when John Hannah, Vice President Cheney's national security adviser, said during a recent meeting that the administration considers 2007 "the year of Iran" and indicated that a U.S. attack was a real possibility. Hannah declined to be interviewed for this article.
Comment on this SOTT Focus
---

Republican calls for hanging of those who oppose president...

by Evan Derkacz
AlterNet
2007-02-16 09:42:00

As the House debates whether to nominally oppose the escalation of the war on Iraq and to support the troops -- a "nonbinding" resolution -- Alaska's sole congressman Don Young rose to oppose it, quoting (see video):


congressmen who willfully take actions during wartime that damage morale and undermine the military are saboteurs and should be arrested, exiled, or hanged.
Comment on this SOTT Focus
---

Pelosi pretends that Bush lacks power to invade Iran

David Espo
Associated Press
2007-02-15 22:59:00

WASHINGTON - House Speaker Nancy Pelosi (news, bio, voting record) said Thursday that President Bush lacks the authority to invade Iran without specific approval from Congress, a fresh challenge to the commander in chief on the eve of a symbolic vote critical of his troop buildup in Iraq.

Comment on this SOTT Focus

---
Middle East Madness
---
Brutal Israeli ethnic cleansing of Bedouin near Jew-only colony


AP
2007-02-16 11:57:00

The Israeli army on Wednesday demolished seven huts and tents belonging to Bedouin Arabs who live near Jewish settlements in the southern West Bank, residents and the army said.

Several of the Palestinian men displaced by the demolition in the Hathaleen area southeast of Hebron scuffled with soldiers as the forces removed mattresses and other belongings from the homes before two bulldozers knocked them down.

Some of the women threw stones at the soldiers while others fell to the ground, sobbing.

Four Palestinians were detained by the soldiers, according to witnesses.

Comment on this SOTT Focus

---

Evil Zionist Occupiers call on US Jews to buy West Bank homes

Guy Meit-Tal
YNet
2007-02-16 10:47:00

"You too can own a home and strengthen the Zionist dream," proclaims an advertisement issued by the Yesha Council and the Amana organization in an appeal to the United States Jewry, as the settler movement acts to thaw the deep freeze which has taken over construction in the West Bank.

Comment on this SOTT Focus

---

Shades of Nazi Germany! Four Arab law students refused entry and taunted at Netanya mall

By Fadi Eyadat
Haaretz
2007-02-16 10:45:00

Four law students at the Netanya College were refused entry at the city's Sharon Mall on Tuesday because the security guards identified them as being non-Jewish.

The students were asked to leave after one of them could not produce an identity card, even though his colleagues did present theirs. As they were ordered to leave, a guard sarcastically told them: "Now you have something to do your clerkship about."

Comment on this SOTT Focus

---

Pre-war plans envisioned only 5,000 US troops in Iraq by now


AFP
2007-02-16 10:42:00

WASHINGTON - Pre-war plans for the US invasion of Iraq assumed that only 5,000 US troops would be left in the country by the end of 2006, disclosed military briefing slides disclosed show.

Prepared by the US Central Command in August 2002, the briefing slides set forth a series of other assumptions about post invasion Iraq that also turned out to be wildly off the mark.

Planners believed a credible provisional government would be in place by "D-Day;" that a co-opted Iraqi army would not fight and that the US invasion force would number 383,000 troops.

Comment on this SOTT Focus

---

Evil Anti-Democratic N.Y. Rep. Nita Lowey Freezes $86M Meant for Abbas

By ELI LAKE
NY Sun
2007-02-16 10:38:00

WASHINGTON - Rep. Nita Lowey, a Democrat of New York, has placed a hold on $86 million in proposed security assistance to the embattled Palestinian Arab president, Mahmoud Abbas, at the request of a Republican colleague, Rep. Ileana Ros-Lehtinen of Florida.

Comment on this SOTT Focus

---

Manipulation: Disney sets terrorist tale

Michael Fleming
Variety
2007-02-16 09:42:00

Disney and producer Jerry Bruckheimer have acquired screen rights to "Jihadists in Paradise," a Mark Bowden article published in the March issue of Atlantic Monthly.


Bowden is set to write the screenplay.


Deal puts Bruckheimer back in business with Bowden. Bruckheimer produced the Ridley Scott-directed drama "Black Hawk Down," which Ken Nolan adapted from Bowden's book.


Comment on this SOTT Focus

---
The Loan Gunmen
---
Gold sales hit record $65.3bn

By Chris Flood
Financial Times
2007-02-16 11:08:00

Gold sales jumped 22.4 per cent to a record $65.3bn last year in spite of a 10 per cent fall in demand in tonnage terms, according to the World Gold Council, which released its fourth-quarter report on the market on Thursday.

Last year, price volatility affected the jewellery market, particularly in the first half, but the volume of both investment and industrial demand rose in 2006.

Rapid growth in the popularity of gold exchange traded funds means that ETFs have become the main driver of investment demand growth.

Comment on this SOTT Focus

---

US defence giants hunt British takeover targets

David Robertson, Business Correspondent
The Times
2007-02-16 09:37:00

Boeing and Lockheed Martin are eyeing British defence companies worth more than £5 billion in an attempt to win orders from the Ministry of Defence, The Times has learnt.


The American defence giants are understood already to have independently approached, and been rebuffed by, Ultra Electronics, the £800 million battlefield-IT specialist.


They are also thought to be weighing potential bids for Cobham, Meggitt and Chemring.


The interest being shown by the Americans has put British defence companies on a collision course with the Government over the industry's future.


Comment on this SOTT Focus

---
The Living Planet
---
Snowstorm Closes Schools, Snarls Travel

By NAHAL TOOSI
Associated Press
2007-02-14 11:09:00

NEW YORK - Blowing snow and sleet glazed windshields and roads across the Northeast and the Midwest on Wednesday, messing up Valentine's Day flower deliveries and wrecking couples' plans for romantic dinners.

The storm grounded hundreds of flights and forced the closing of schools and businesses from Kentucky to Maine. Many of those stuck at home had no heat or lights because of blackouts that affected more than a quarter-million customers.

Comment on this SOTT Focus

---

6 Inches of Ice Close Pa. Highways - Thousands of Motorists Stranded in Ice

By MICHAEL RUBINKAM
Associated Press
2007-02-16 11:03:00

HAMBURG, Pa. - A thick layer of ice kept major highways closed Friday morning, a day after hundreds of drivers became stranded on a hilly stretch of eastern Pennsylvania that had been hit by a monster storm.

National Guard troops used Humvees to ferry in food, fuel and baby supplies on Thursday to the lines of motorists caught in a 50-mile traffic jam on Interstate 78. Friday morning, the troops were busy towing away the remaining vehicles while road crews struggled to melt ice that had built up four to six inches in places.

Comment on this SOTT Focus

---

6 Inches of Ice Close Pa. Highways

By MICHAEL RUBINKAM
Associated Press
2007-02-16 10:59:00

HAMBURG, Pa. - A thick layer of ice kept major highways closed Friday morning, a day after hundreds of drivers became stranded on a hilly stretch of eastern Pennsylvania that had been hit by a monster storm.

National Guard troops used Humvees to ferry in food, fuel and baby supplies on Thursday to the lines of motorists caught in a 50-mile traffic jam on Interstate 78. Friday morning, the troops were busy towing away the remaining vehicles while road crews struggled to melt ice that had built up four to six inches in places.

Comment on this SOTT Focus

---

New Report Shows: Antarctic temperatures disagree with Global Warming predictions

David Bromwich
Ohio State University
2007-02-16 10:58:00

COLUMBUS , Ohio - A new report on climate over the world's southernmost continent shows that temperatures during the late 20th century did not climb as had been predicted by many global climate models.

This comes soon after the latest report by the Intergovernmental Panel on Climate Change that strongly supports the conclusion that the Earth's climate as a whole is warming, largely due to human activity.

Comment on this SOTT Focus

---

Confusion Reigns! January Weather Hottest by Far - But only in a few selected places

By SETH BORENSTEIN
Associated Press
2007-02-16 10:56:00

WASHINGTON - It may be cold comfort during a frigid February, but last month was by far the hottest January ever.

The broken record was fueled by a waning El Nino and a gradually warming world, according to U.S. scientists who reported the data Thursday. Records on the planet's temperature have been kept since 1880.

Comment on this SOTT Focus

---
Health & Wellness
---
Medical Therapy For Restless Legs Syndrome May Trigger Compulsive Gambling


Neurology / Neuroscience News
2007-02-16 12:08:00

Compulsive gambling with extreme losses -- in two cases, greater than $100,000 -- by people without a prior history of gambling problems has been linked to a class of drugs commonly used to treat the neurological disorder restless legs syndrome (RLS). A new Mayo Clinic study is the first to describe this compulsive gambling in RLS patients who are being treated with medications that stimulate dopamine receptors in the brain. The Mayo Clinic report appeared in the Jan. 23 issue of "Neurology".

Comment on this SOTT Focus

---

Stem cells used to boost breasts


BBC
2007-02-16 12:06:00

Scientists in Japan claim to be able to increase the size of a woman's breasts using fat and stem cells.

The technique uses fat from the stomach or thigh which is then enriched with stem cells before being injected.

It is hoped the method could prove a more natural-looking alternative to artificial implants filled with salt water or silicone.

Comment on this SOTT Focus

---

Flu Outbreak Closes N.C. School System


Associated Press
2007-02-16 11:07:00

SWAN QUARTER, N.C. -- Three schools closed until Monday because of an outbreak of flu-like symptoms that has spread across the state over the past two weeks.

All 541 students in the Hyde County schools were told to stay home Wednesday through Friday after attendance dropped 20 percent early in the week, school system spokeswoman Carol Evans said Thursday. Some students had symptoms of influenza Type B.


Comment on this SOTT Focus

---

CDC tracks peanut butter contamination

By MIKE STOBBE
Associated Press
2007-02-16 10:14:00

ATLANTA - Government scientists struggled Thursday to pinpoint the source of the first U.S. salmonella outbreak linked to peanut butter, the kid favorite packed into millions of lunchboxes every day.

Nearly 300 people in 39 states have fallen ill since August, and federal health investigators said they strongly suspect Peter Pan peanut butter and certain batches of Wal-Mart's Great Value house brand - both manufactured by ConAgra Foods Inc.

Comment on this SOTT Focus

---
Science & Technology
---
'Kinship Detectors' Prevent Incest ... In Some Cases

By Ker Than
LiveScience
2007-02-16 12:00:00

People are born with "kinship detectors" that help us stay away from romantic entanglements with our siblings that could lead to evolutionary disaster, a new study suggests.

But the system is far from fail-safe, the scientists found.

Comment on this SOTT Focus

---

Earth's hum linked to coastal waves

Catherine Brahic
NewScientist.com news service
2007-02-16 11:16:00

The Earth's hum comes from the bottom of the sea and not from turbulence in the atmosphere, says a US researcher, backing a novel theory put forward in 2004.

The hum is a low rumble continually present in the ground even when there are no earthquakes happening, but is detectable only by very sensitive seismometers. Its frequency is near 10 millihertz, below the range of human hearing.

Comment on this SOTT Focus

---

Yale biologists 'trick' viruses into extinction

Janet Rettig Emanuel
EurekAlert
2007-02-16 10:05:00

While human changes to the environment cause conservation biologists to worry about species extinction, Yale biologists are reversing the logic by trying to trap viruses in habitats that force their extinction, according to a report in Ecology Letters.


To avoid going extinct a population must not only survive, but also reproduce. Paul Turner, associate professor of ecology and evolutionary biology at Yale, tested the practicality of luring a virus population into the wrong cells within the human body, thus preventing virus reproduction and alleviating disease.


"Ecological traps for viruses might arise naturally, or could be engineered by adding viral binding sites to cells that disallow virus reproduction," said senior author Turner. "We proved the concept using a non-human virus, and variants of the bacteria cells it infects."


Comment on this SOTT Focus

---
Our Haunted Planet
---
UFO Sighting Reports - Jan 26 - Feb 9

Billy Booth
About.com
2007-02-16 11:34:00

Here are some of the most interesting sighting reports that have come my way this past week.

Comment on this SOTT Focus

---

Chupacabras Spotted In Chile: Alien UFO Escapees Or Myth?

By Nathan Crooks
EL MERCURIO
2007-02-16 11:28:00

One week after Chile's Armed Forces released photos and videos of UFO activity around the country, Chile's mainstream media has once again gone extraterrestrial with various Chupacabra sightings reported throughout the country.

(click here to read Armed Forces UFO story)

Comment on this SOTT Focus

---

Unexplained 'big bang' heard throughout Ohio region

By JIM SABIN
Newark Advocate
2007-02-16 11:18:00

NEWARK - Something happened at around 9 p.m. Wednesday that a lot of people heard.

But nobody seems to have any idea what it was.

Comment on this SOTT Focus

---

Strange noise might have been meteor

JIM SABIN
Newark Advocate
2007-02-16 10:56:00

NEWARK - Something happened at around 9 p.m. Wednesday that a lot of people heard, or even felt.

What it was, though, might forever remain a mystery.

"It" was a loud bang, something loud enough to be heard across southern and central Ohio, and loud enough to make small objects move in houses. Reports have rolled into The Advocate from Hanover to Heath, from Buckeye Lake to Granville, and NBC4 heard reports from Muskingum, Fairfield and Pickaway counties.

Comment on this SOTT Focus

---
Don't Panic! Lighten Up!
---
For sale: prime place for a prophet to play

INGRID PERITZ
Globe and Mail
2007-02-16 04:59:00

MONTREAL - As real-estate listings go, this one is out of this world. A property is on sale in Quebec for a cool $2.95-million, and it even comes with its own flying saucer.

UFOland, the playground and pied-à-terre of the white-robed prophet known as Rael, is on the market -- a onetime utopia that appears to have fallen to Earth.

The Raelians, who gained global notoriety in late 2002 after announcing the birth of a yet-to-be-seen cloned baby, say their popularity has peaked in Quebec. So they are packing up and moving south.

"We've been in Quebec for 30 years and our membership is saturated. Our future is in the United States," said group spokesman Jocelyn Chabot, who describes himself as a Raelian priest.

Comment on this SOTT Focus

---

Arrested Astronaut's Diaper Allegedly Being Auctioned On eBay


WFTV
2007-02-16 11:23:00

HOUSTON -- People hoping to profit from scandal are now selling dozens of items on eBay associated with Astronaut Lisa Nowak. One of those items is a diaper.

Comment on this SOTT Focus

---

Coin shows Cleopatra's ugly truth


BBC
2007-02-16 11:55:00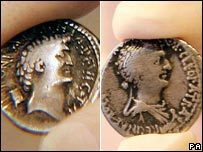 ©BBC
The images of Antony and Cleopatra are less than flattering
Comment on this SOTT Focus
---

Vegetarian Dog pees upside down


Ananova
2007-02-16 11:51:00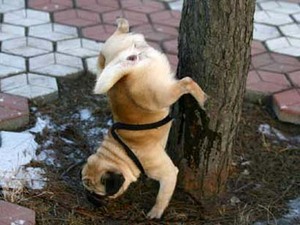 ©Ananova
A Chinese woman says her pet dog has taken to peeing upside down.
Comment on this SOTT Focus
---

Turtle eaten by golden retriever lives


Associated Press
2007-02-16 11:48:00

BRANDON, Fla. - A palm-sized pet turtle and the golden retriever that gobbled it up survived the misadventure thanks to the quick actions of a 12-year-old girl, a veterinarian said.

Comment on this SOTT Focus

---

'Sparks fly from Jesus artwork'

by Jessica Shaughnessy
Liverpool Daily Post
2007-02-16 11:45:00

WORSHIPPERS are flocking to a statue of Jesus Christ in a Merseyside gallery claiming it possesses miraculous powers.

Visitors have descended on the Liverpool Academy of Art to kneel before the steel and bronze artwork after reports that "sparks" were shooting from its eyes.

Comment on this SOTT Focus

---
---

Remember, we need your help to collect information on what is going on in your part of the world!
Send your article suggestions to: sott(at)signs-of-the-times.org

---
Click here to return to the Signs of the Times Archive
Click here for today's Signs Page