---
Sections on today's Signs Page:
---
SOTT Focus
---
Flashback: Two Years Ago Today: Mossad Murders Former Lebanese PM in Carbon Copy of 1979 Assassination

Joe Quinn
Signs of the Times
2005-02-14 11:18:00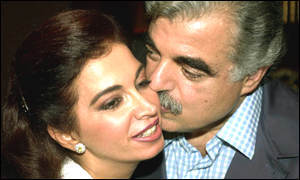 ©AP
Rafik al-Hariri with his wife Nazek



We can only conclude that there must be some kind of agreement between world nations that, even when it is patently obvious, one nation will never expose the activities of anothers' intelligence agency. What other reason can there be for the fact that Iran and Syria were the only two countries to even hint at Israel as being behind the murder of Rafik Hariri on Valentine's day 2005?


Comment on this SOTT Focus

---
Best of the Web
---
Is the Deadly Crash of Our Civilization Inevitable?

Terrence McNally
AlterNet
2007-02-13 13:23:00

An interview with author Thomas Homer-Dixon about the social, political, economic and technological crises we face and how long we can sustain the lifestyle that brought them about.

Comment on this SOTT Focus

---

Ulster on the Euphrates: The Anglo-American Dirty War in Iraq

Chris Floyd
Empire Burlesque
2007-02-13 13:57:00

Paint It Black

Imagine a city torn by sectarian strife. Competing death squads roam the streets; terrorists stage horrific attacks. Local authority is distrusted and weak; local populations protect the extremists in their midst, out of loyalty or fear. A bristling military occupation exacerbates tensions at every turn, while offering prime targets for bombs and snipers. And behind the scenes, in a shadow world of double-cross and double-bluff, covert units of the occupying power run agents on both sides of the civil war, countenancing - and sometimes directing - assassinations, terrorist strikes, torture sessions, and ethnic cleansing.

Comment on this SOTT Focus

---
U.S. News
---
An explosion of disbelief - fresh doubts over 9/11

Sue Reid
Daily Mail
2007-02-14 09:39:00

The official story of what happened on 9/11 never fails to shock. Four American airliners are hijacked by Osama Bin Laden's terrorists in an attack on the heart of the Western world on September 11, 2001.


Two are deliberately flown into New York's famous Twin Towers, which collapse. A third rams into the United States defence headquarters at the Pentagon, in Washington D.C.


The last goes down in rural Pennsylvania, 150 miles north of the capital, after a tussle between the hijackers and some of the passengers onboard, whose bravery was recently portrayed in a Hollywood film, United 93.


Comment on this SOTT Focus

---

LA hospital leaves patient crawling in street


Xinhua
2007-02-14 08:36:00

A paraplegic man found crawling in a Los Angeles street in a soiled hospital gown has led the city attorney's office to investigate whether a hospital violated laws when it tried to leave the man at a Skid Row mission.

Midnight Mission security cameras show two medical workers arriving by ambulance on Thursday and trying to wheel the man, who is strapped to a gurney, into the facility.

Comment on this SOTT Focus

---

10 killed in two separate U.S. shooting incidents


Xinhua
2007-02-13 08:35:00

Ten people were killed in two separate shooting incidents in the United States Monday night, CBSNews reported Tuesday.

The first incident took place in Utah, when a man in a trench coat pulled a shotgun and opened fire at Salt Lake City's Trolley Square Monday evening, killing five people and injuring several more, according to the report.

Comment on this SOTT Focus

---

U.S. Army, Marines enlisting more criminals


Xinhua
2007-02-14 08:22:00

The number of recruits with criminal records given waivers to enter the U.S. Army and Marine Corps has more than doubled since 2003 because of the Iraq war and lawmakers and other observers are worried the struggles to fill the military ranks has forced the military to lower its standards.

According to data compiled by the Defense Department, the number of Army and Marine recruits needing waivers for felonies and serious misdemeanors, including minor drug offenses, has grown since 2003. The Army granted more than double the number of waivers for felonies and misdemeanors in 2006 than it did in 2003. Some recruits may get more than one waiver.

Comment on this SOTT Focus

---

Poll: Americans want complete withdrawal from Iraq within 2 years


Xinhua
2007-02-13 08:12:00

Americans overwhelmingly support congressional action to cap the number of U.S. troops in Iraq and set a timetable to bring them home by the end of next year, according to a USA TODAY/Gallup Poll released Tuesday.

The attitude is tougher than the non-binding resolution the House of Representatives is to begin debating.

Comment on this SOTT Focus

---

Guess what: Cheney won't testify in Libby perjury trial

Andy Sullivan
Reuters
2007-02-13 22:05:00

U.S. Vice President Dick Cheney will not testify as expected in his former aide's perjury trial, which has exposed White House efforts to counter Iraq war critics, Libby's lawyer disclosed on Tuesday.

Cheney will not take the witness stand on behalf of his former chief of staff, Lewis "Scooter" Libby. Instead, the defence abruptly prepared to finish presenting its case on Wednesday. It did not immediately explain its reasoning.

Comment on this SOTT Focus

---
UK & Euro-Asian News
---
EU countries ignored CIA terror suspect flights, report says


Guardian Unlimited
2007-02-14 13:12:00

The European parliament today approved a report accusing Britain, Germany, Italy and other EU countries of turning a blind eye to CIA flights carrying terrorist suspects in Europe.

The report, following a year-long investigation, was approved by MEPs by 382 to 256, with 74 abstentions, in a vote largely split along left-right political lines.

Comment on this SOTT Focus

---

Police criticised for terror raid


BBC News
2007-02-14 11:59:00

A watchdog has told the Metropolitan Police to apologise to the two families involved in the "terrifying experience" of the Forest Gate anti-terrorism raid.

The Independent Police Complaints Commission said it had upheld a small number of complaints about the operation in east London in June 2006.

One man was shot in the raid but he and another arrested man were not charged.

Mohammed Abdulkahar, 23, who was shot in the shoulder, and his brother Abul Koyair, 20, were released a week after the police operation.


Comment on this SOTT Focus

---

Royal attacks Chirac over Africa policy


AFP
2007-02-13 08:46:00

France's Segolene Royal Tuesday launched a scathing attack on President Jacques Chirac's Africa policy, vowing a complete overhaul of relations with the continent if she is elected president.

In remarks released on the eve of an Africa-France summit in southern France, the Socialist candidate accused Chirac of nurturing ties with the continent's "most questionable regimes", and the centre-right of a "culpable immobility" towards Africa.

Comment on this SOTT Focus

---

MEPs approve damning CIA report


BBC News
2007-02-14 09:26:00

The European parliament has approved a damning report on secret CIA flights which condemns member states that turned a blind eye to the operations.


The UK, Germany and Italy were among 14 states which allowed the US to forcibly remove terror suspects, MEPs said.


The EU parliament voted to accept a resolution condemning member states who accepted or ignored the practice.


Comment on this SOTT Focus

---

Report: UK worst place for child welfare among rich nations


Xinhua
2007-02-14 08:40:00

A new report issued by the United Nations Children's Fund (UNICEF) regards Britain as the worst place among all developed countries for a child to grow up.

UNICEF says Britain has the unhappiest, poorest, unhealthiest and most neglected children of the world's 21 richest nation, ranking at the bottom of 40 different indicators for child welfare, Sky news reported on Wednesday.

Comment on this SOTT Focus

---

Bush hails North Korea deal as 'best opportunity'


CBC News
2007-02-14 07:37:00

North Korea agreed Tuesday to abandon its nuclear weapons program, following arduous talks with five other countries that could see the Communist state soon drop from the U.S. list of "axis of evil" countries.

Comment on this SOTT Focus

---
Around the World
---
Chavez as Castro? It's Not That Simple In Venezuela

Bart Jones
Houston Chronicle
2007-02-10 11:24:00

Alarm bells are sounding in Washington, on Wall Street and around the world over President Hugo Chavez's latest moves to consolidate his Bolivarian Revolution in oil-rich Venezuela. He is - we are told - shutting down a television station, creating a single-party state, nationalizing key industries including some major oil projects, threatening perpetual re-election and vowing to impose "21st century socialism."

On the surface, it seems to Chavez's critics that he is finally doing what they have long predicted - creating a totalitarian state in the image of his mentor, Fidel Castro. But the situation in Venezuela is a little more complex than what many in the media and the establishment make it out to be. Take, for example, Chavez's decision not to renew the license of RCTV television network when it expires in May.

Comment on this SOTT Focus

---

Chavez show to be broadcast daily

Will Grant
BBC News
2007-02-14 08:12:00

A weekly television and radio address by the Venezuelan President, Hugo Chavez, is due to become a daily show, albeit in a shortened version.


Since 1999, his four-hour programme, Alo Presidente, has run on Sundays.


It will now become a 90-minute TV show broadcast on Thursdays, with a live radio show on the other weekdays.


Mr Chavez will continue to highlight what he says are the achievements of his administration, as well as openly insulting his political enemies.


Comment on this SOTT Focus

---
Big Brother
---
The Vista License: Is Big Brother Watching?

Caroline Horton Rockafellow
Local Tech Wire
2007-02-14 10:06:00

Prior to the recent launch of the Microsoft Vista product, there was an outcry from the technology community claiming that the Vista license was overly restrictive and provided for excessive monitoring of end-user systems.


Now that the product has launched, there is still concern that this license goes beyond the standard restrictions on software use.


To its credit, following the initial pre-launch outcry, Microsoft did make certain changes to its license agreement in an effort to address the community concerns. However, the question remains as to whether Microsoft is overly aggressive in its license terms and whether the terms are an appropriate way to protect the Microsoft business interests.


Comment on this SOTT Focus

---

Longer work day cutting into family time: study


CBC News
2007-02-13 07:45:00

"As work hours rise, family time falls."

That's the key conclusion of a study released Tuesday that shows workers spent an average of 45 minutes less per day with family members in 2005 than they did 20 years earlier.

Comment on this SOTT Focus

---
Axis of Evil
---
Fool Us Twice? From Iraq to Iran

Marjorie Cohn
Global Research
2007-02-14 12:01:00

It's déja vu. This time the Bush gang wants war with Iran . Following a carefully orchestrated strategy, they have ratcheted up the "threat" from Iran , designed to mislead us into a new war four years after they misled us into Iraq .

Comment on this SOTT Focus

---

Bush Iran War Agenda: Trigger an "Accidental Conflict," as a pretext to justify "Limited Strikes"

Deniz Yeter
Global Research
2007-02-13 11:54:00

Hillary Mann, the former National Security Council Director for Iranian and Persian Gulf Affairs under the Bush Administration from 2001 to 2004, has issued a sober warning to the public today concerning the Bush Administration's intentions with Iran.

In an interview this morning on CNN(1), she accused the Bush Administration of "trying to push a provocative, accidental conflict," as a pretext to justify "limited strikes" on crucial nuclear and military infrastructures, as opposed to a large ground war as is the case with Iraq.

Comment on this SOTT Focus

---
Middle East Madness
---
The Politics of Archaeology in Jerusalem

Nicola Nasser
Counterpunch
2007-02-14 13:21:00

The Israeli arrogance of being the regional military super power, unequivocally backed by the U.S. world super power, is dictating a kind of politics that deals trivially with the national and religious grievances of Israel's geopolitical neighbors, whom the Jewish state is supposedly aspiring to live with in peace and as a regional integral part, while at the same time she is pursuing policies that antagonize those same neighbors to preclude altogether whatever potential is left for peace.

Comment on this SOTT Focus

---

Former Mossad chief: Assassinate Ahmadinejad


Truth Will Set You Free
2007-02-14 12:30:00

No need for alarm. Just another Israeli establishment figure, doing what Israeli establishment figures do best - lie, steal, cheat, and kill.

Comment on this SOTT Focus

---

Shock! Israeli troops more violent than protesters says judge


Haaretz
2007-02-14 12:26:00

A military judge wrote Saturday that soldiers trying to disperse protesters against the separation fence in the West Bank village of Bil'in used more violence than the demonstrators.

After watching a videotape of the rally, the judge wrote that the troops showed an "ugly face" to people holding a democratic demonstration.

Lieutenant Colonel Shmuel Keidar of the Judea military court was ruling on the Military Advocate General's request to extend the remand of Farhan Ibrahim Hashem Borant, who was charged with attacking a soldier at the demonstration.

For the past two years, Bil'in residents and anti-fence activists have been holding demonstrations against the separation barrier in the Palestinian village, near Modi'in Illit. The fence cuts through the village, severing it from about half of its land.



The prosecution claimed Borant had attacked a soldier who asked him to move away. Defense attorney Gabi Lasky showed the court a video that convinced the judge that the charges were false and that the soldiers had used violence, not the demonstrators.



Comment on this SOTT Focus

---

Lebanon defiant in face of [Mossad] bombings


AP
2007-02-14 11:43:00

[...] Tuesday's explosions on commuter buses on a busy mountain highway northeast of Beirut stoked fears of turmoil as the country prepared to mark the 2005 assassination of Mr. Hariri, the nation's most prominent politician and the leader credited with rebuilding the country from the destruction of the 1975-90 civil war.

Lebanon has suffered a series of bombings during the past two years, mostly targeting anti-Syrian figures,

but Tuesday's attacks were the first that seemed intended to cause maximum casualties among civilians of no political affiliation.



Comment on this SOTT Focus

---

It's Time to Visit Gaza


The Electronic Intifada
2007-02-14 11:08:00

The Israeli-Palestinian conflict is one area where liberals and neo-conservatives in America find common ground. From Nancy Pelosi and Hillary Clinton all the way to George Bush and Condoleezza Rice one and all are united in supporting Israel's assault on the Palestinian people and their land.

The criticism of Jimmy Carter's book Palestine Peace Not Apartheid is a case in point. The hysteria on the Right is not worthy of repetition, but House Speaker Nancy Pelosi outdid herself by issuing a statement that: "It is wrong to suggest that the Jewish people would support a government in Israel or anywhere else that institutionalizes ethnically based oppression." Wrong to suggest? Here is something right to suggest: Madam Speaker, it is time for you to visit Gaza.

Comment on this SOTT Focus

---

EU: Iran able to develop weapon-grade material for nuclear bomb


Xinhua
2007-02-13 08:16:00

An internal European Union document states that Iran will be able to develop enough weapons-grade materials for nuclear bombs, and that there is little that can be done to prevent it, the Financial Times reported on Tuesday.

In an admission of the international community's failure to stem Iran's nuclear ambitions, the EU document says Iran's atomic program has been delayed by technical limitations rather than diplomatic pressure, the newspaper reported.

Comment on this SOTT Focus

---
The Loan Gunmen
---
Dollar Declines After Bernanke Says Inflation Risks Diminished

Min Zeng and Bo Nielsen
Bloomberg
2007-02-14 13:11:00

The dollar dropped to the lowest in almost six weeks against the euro and fell for a second straight day versus the yen after Federal Reserve Chairman Ben S. Bernanke told Congress that inflation risks started to diminish.

The U.S. currency weakened against all 16 major currencies tracked by Bloomberg News as Bernanke's comments contrasted with three regional Fed officials who said last week that inflation risks remained. Traders raised bets the Fed will cut interest rates this year.

Comment on this SOTT Focus

---

Questions swirl as BMO, CIBC reissue credit cards


CBC News
2007-02-13 07:43:00

Thousands of CIBC and Bank of Montreal customers have been issued new credit cards from their banks along with warnings their old cards may have been used fraudulently, CBC News has learned.

Neither bank is releasing details, but some of the customers told the CBC they were told that the cancellations were linked to a major security breach at Winners and HomeSense.

Comment on this SOTT Focus

---
The Living Planet
---
Study: Air Conditioners Heat Up Cities


Discovery News
2007-02-14 08:57:00

The use of air conditioners to cool big city buildings is making it hotter outdoors, say Japanese researchers.


A study comparing the summer temperatures in downtown Tokyo on weekends versus weekdays shows air conditioners dump enough heat into the streets to raise the temperature at least 2 to 4 degrees F (1 to 2 degrees C).


In turn, the heat blasting from the rear-ends of air conditioners is contributing to the "heat island" effect that makes cities hotter and their weather sometimes more severe.


Comment on this SOTT Focus

---

Global Warming? Journalism? Don't Make Me Laugh!

Alan Caruba
American Daily
2007-02-14 08:32:00

As a very young man, fresh out of college and the army in the mid-1960's, I found myself employed as a rookie reporter on a weekly newspaper in New Jersey. I had never taken a course in journalism in my life, but I could write. The managing editor of the newspaper group that serviced a number of communities taught me all I ever needed to know about journalism. He taught me to be skeptical of everything and everyone.

Not distrustful. Skeptical. People will tell you the truth they believe or want you to believe. They may be wrong. Or they may be deceitful. There's a difference. However, when error and deceit combine, there is a purpose, an agenda, and it exists, as often as not, to acquire wealth and power despite the harm it will leave in its wake.


At the heart of what is wrong with journalism today is that legions of journalists will stand shoulder to shoulder for the sole purpose of deriding any "global warming skeptic" rather than wonder for a second how the "news" of a coming Ice Age in the 1970s became the "news" of Global Warming in the 1980s.

Comment on this SOTT Focus

---

House Hearing on 'Warming of the planet' canceled after ice storm


Drudge Report
2007-02-14 07:54:00

The Subcommittee on Energy and Air Quality hearing scheduled for Wednesday, February 14, 2007, at 10:00 a.m. in room 2123 Rayburn House Office Building has been postponed due to inclement weather. The hearing is entitled "Climate Change: Are Greenhouse Gas Emissions from Human Activities Contributing to a Warming of the Planet?"


The hearing will be rescheduled to a date and time to be announced later.


Comment on this SOTT Focus

---
Health & Wellness
---
Implants era: Inner ear implant may bring balance back

Aria Pearson
New Scientist
2007-02-14 08:16:00

People who have lost their sense of balance could one day be fitted with an inner ear implant modelled on the body's own balance organs, say researchers.


Current designs are successful in animals, but two new studies promise a smaller, more accurate device, with a longer battery life - the crucial prerequisites for use in humans.


The sense of balance is controlled by the vestibular portion of the inner ear. It keeps track of the motion and position of the head using three fluid-filled hoops, called semicircular canals. These sit at perpendicular angles to each other. When the head rotates quickly in a certain direction, the fluid in the corresponding hoop pushes against a membrane, bending hair cells that trigger a nerve. The nerve sends the information to the brain which tells the eyes to adjust.


Comment on this SOTT Focus

---
Science & Technology
---
Octagon Earthworks' alignment with moon likely is no accident

BRADLEY T. LEPPER
Columbus Dispatch
2007-02-13 13:07:00

The Octagon Earthworks in Newark is one remnant of the Newark Earthworks, recently listed by The Dispatch as one of the Seven Wonders of Ohio.

Earlham College professors Ray Hively and Robert Horn demonstrated in 1982 that the walls of this 2,000-yearold circle and octagon were aligned to the points on the horizon, marking the limits of the rising and setting of the moon during an 18.6-year cycle.

Comment on this SOTT Focus

---

Bats Found to Feed On Migrating Birds at Night

Charles Q. Choi
Live Science
2007-02-14 10:02:00

The blood of the largest bat in Europe reveals it can devour birds in midair at night, the only animal known to do so thus far, evidence now strongly suggests.


Roughly five billion songbirds migrate across the Mediterranean Sea every year, mainly at night. Although more than 90 percent of these birds weigh on average less than 20 grams (0.7 ounces), this could amount to about 100,000 metric tons of food upon which predators might wish to dine. (A metric ton is equivalent to 2,204 pounds).


No animal, however, was known to hunt the birds while they flew at night. Falcons catch migratory birds along the Mediterranean only during the day, while owls and some tropical bats capture vertebrate prey on or near the ground or other surfaces at night.


Comment on this SOTT Focus

---

End of "Embarrassment": ESP laboratory in Princeton closes


Monster Sand Critics
2007-02-14 08:20:00

A laboratory set up at Princeton University, N.J., to study ESP and telekinesis will close this month, ending an awkward 30-year relationship with the scientific world. Princeton Engineering Anomalies Research lab (PEAR) was set up in 1979 to examine how the human mind can affect computers and machines.


Founder Robert Jahn, 76, said the lab, despite ageing equipment and dwindling finances and the ridicule of the scientific community, did what it needed to, showing statistically significant results. Jahn, former dean of Princeton's engineering school and an emeritus professor, told the New York Times, 'For 28 years, we've done what we wanted to do, and there's no reason to stay and generate more of the same data. If people don't believe us after all the results we've produced, then they never will,' BBC Online reported Tuesday.


Comment on this SOTT Focus

---
Our Haunted Planet
---
No new articles.
Don't Panic! Lighten Up!
---
Professor keeps account of every film, cigarette, drink consumed


The Hankyoreh
2007-02-14 09:02:00

21,098 packs of cigarettes. 21,194 bottles of soju. 227,423 pages of manuscript papers. A life of 70 years can thus be broken down into its component parts.


Kim An-je, 70, a chair-holding professor at Dankook University, has published a book marking his 70th year. His 2,700-page book contains nearly 360 items of his personal data. Over his long career, Kim has written 25 books and 780 research papers, and until August 2004 served as the chief of the presidential office's commission on the relocation of Korea's administrative capital. According to his records, he has taught 18,327 students.


Comment on this SOTT Focus

---

Chinese villagers confused over county's decision to paint mountain green


Canadian Press
2007-02-14 08:09:00

Villagers in southwestern China are scratching their heads over the county government's decision to paint an entire barren mountainside green.

Workers who began spraying Laoshou mountain last August told villagers they were doing so on orders of the county government but were not told why, media reports said Wednesday. Some villagers guessed officials of the surrounding Fumin county, whose office building faces the mountain, were trying to change the area's feng shui - the ancient Chinese belief of harmonizing one's physical environment for maximum health and financial benefit.

Comment on this SOTT Focus

---

Archaeologists won't separate prehistoric couple unearthed in eternal embrace


Canadian Press
2007-02-13 08:04:00

Italy's recently discovered prehistoric couple will continue their 5,000-year-old embrace undisturbed through Valentine's Day and beyond.

The two skeletons unearthed last week will be scooped out of the earth together to undergo tests before going on display in the northern Italian city of Mantua, archaeologists said Tuesday.

Comment on this SOTT Focus

---
---

Remember, we need your help to collect information on what is going on in your part of the world!
Send your article suggestions to: sott(at)signs-of-the-times.org

---
Click here to return to the Signs of the Times Archive
Click here for today's Signs Page