---
Sections on today's Signs Page:
---
SOTT Focus
---
No new articles.
Best of the Web
---
Here We Go Again


Lawrence of Cyberia
2007-02-13 10:58:00

12 September 2002

On 12 September 2002, two-thirds of the way through George W. Bush's virtual declaration of war against Iraq, there came a dangerous tell-tale code which suggested that he really did intend to send his tanks across the Tigris River. "

The United States has no quarrel with the Iraqi people

," he told us in the U.N. General Assembly. In the press gallery, nobody stirred. Below us, not a diplomat shifted in his seat. The speech had already rambled on for twenty minutes but the speechwriters must have known what this meant when they cobbled it together.


Comment on this SOTT Focus

---

The 'Bush Doctrine' and Weapons in Space

Rodrigue Tremblay
The New American Empire
2007-02-12 06:52:00

On Earth, the neocon Bush-Cheney administration's goal was to invest so much in military gear, and to take military actions if necessary, that no other country would ever challenge its status as the world's sole military superpower.

The intention was to establish a military New American Empire for the 21st Century, along the lines of the British Empire in the 19th Century.

Comment on this SOTT Focus

---

Neocon Flubs Keep On Rolling: Iran Does Not Manufacture 81MM Mortar Shells

Kurt Nimmo
Another Day In The Empire
2007-02-12 06:47:00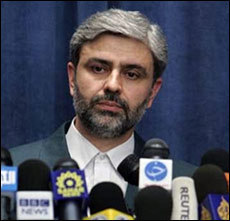 ©AP
Iranian Foreign Ministry spokesman Mohammad Ali Hosseini: the "United States has a long history in fabricating evidence."



Pentagon carelessness fabricating bogus "evidence" against Iran is really quite stupendous. As I wrote here yesterday, the 81mm mortar shell offered up to the complaisant corporate media as "evidence" Iran is supplying weaponry to the Shi'a of Iraq is an obvious ruse, as the date on the proffered shell does not follow the Muslim calendar and other markings are in English when it only makes sense they would appear in Persian script.

But it gets worse.

Comment on this SOTT Focus

---
U.S. News
---
The US Road Map to Despotism

Chris Hedges
Truth Dig
2007-02-13 07:37:00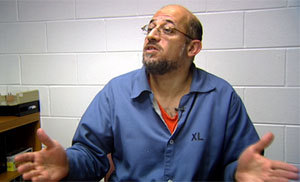 Professor Sami Al-Arian, political prisoner of the US government.



Editor's note: Despite spending an estimated $80 million, the government was unable to prove that Dr. Sami Al-Arian was a terrorist, yet he remains in prison and his sentence will likely be extended. Pulitzer Prize-winning journalist Chris Hedges warns that the abusive imprisonment of this nonviolent Palestinian dissenter does not bode well for the rest of us.

Professor Sami Al-Arian, whose persecution and show trial are parts of a long string of egregious acts of injustice perpetrated by the Bush administration, has been on a hunger strike since Jan. 22 to protest the prolongation of his imprisonment.

Comment on this SOTT Focus

---

'Loose Change' producer replies to George Monbiot

Tim Sparke
The Guardian
2007-02-13 07:57:00



Response: Don't believe the official 'conspiracy' theory



We have to ask who stood to gain the most from the appalling events of 9/11, says Tim Sparke

George Monbiot's explicit attack on the film Loose Change (A 9/11 conspiracy virus is sweeping the world ..., February 6) has no basis in fact. While we accept that there are flaws in the current version of the film, we stand by its overarching theme that the official "conspiracy" theory of 9/11, constructed in the hours, days, weeks and months after 9/11, is false.

In uncritically endorsing the National Institute of Standards and Technology (NIST) report, Monbiot neglects to say that the collapse mechanism for the entire World Trade Centre building was never documented by NIST - it didn't see it as its job. Additionally, in accepting that the towers collapsed at virtually free-fall speed ("the weight of the collapsing top storeys generated a momentum the rest of the building could not arrest"), Monbiot shows no awareness that this explanation violates the law of conservation of momentum.

Comment on this SOTT Focus

---

Poll: majority Americans oppose Bush's new Iraq plan


Xinhua
2007-02-13 07:26:00

A poll shows that

six in 10

Americans oppose President George Bush's plan to use more troops to try to stabilize Iraq, a nearly equal number also oppose any effort to cut off funding for those additional forces, USA Today reported Monday.

Comment on this SOTT Focus

---

Man 'stabs himself' before sex-abuse trial


AP
2007-02-13 06:30:00

A US man reportedly stabbed himself just before he was to go on trial today for sex crimes against a runaway who said she was secretly hidden in his home for a decade.

Thomas John Hose (aged 49) was hospitalised this morning after he was found bleeding in his home, defence lawyer Jim Ecker said.

"He stabbed himself several times and he supposedly took some kind of medication," Mr Ecker said before a judge issued a gag order in the case.

He said he received a call from Hose's mother earlier today, saying Hose was "sitting on a chair with blood coming out of him".

Hose is charged with counts including involuntary deviant sexual intercourse and aggravated indecent assault. A judge set a new trial date of May 14 and ordered that Hose be given a psychiatric evaluation.

Comment on this SOTT Focus

---

Woman tried to cut foetus from neighbour's womb


AP
2007-02-13 06:25:00


A US woman pleaded guilty today to trying to cut a foetus from her neighbour's womb.

Peggy Jo Conner (aged 39) of Manor Township, Pennsylvania, pleaded guilty to attempted murder, aggravated assault and kidnapping in the attack on Valerie Oskin, which authorities said was a plot to steal Ms Oskin's baby and keep it as her own.

The plea came as Conner's trial was scheduled to begin today in Armstrong County.

Authorities accused Conner of attacking Ms Oskin on October 13, 2005, inside her home with a baseball bat, and then driving Oskin to a remote location, where she used a razor to cut open Oskin's abdomen in an effort to remove her unborn baby.

Comment on this SOTT Focus

---

Deaths Reported in Utah Mall Shooting


Associated Press
2007-02-12 23:40:00

SALT LAKE CITY - Shots were fired inside a shopping mall Monday night, causing "some fatalities," authorities said. The gunman was killed.

"There have been multiple victims and there are some fatalities. ... I can't confirm the number," police Detective Robin Snyder said outside the Trolley Square Mall.

"The suspect has been killed," she said.




Comment on this SOTT Focus

---
UK & Euro-Asian News
---
Moscow demands clarification from U.S. over remarks about Russia threat


Xinhua
2007-02-13 07:23:00

Russia has demanded an explanation from the United States over Defense Secretary Robert Gates' remarks, which suggested that Russia was being identified as a potential threat, the Foreign Ministry said on Monday.

Russia has asked the United States to clarify whether Gates' remarks represented the official position of the U.S. administration, said Foreign Ministry spokesman Mikhail Kamynin in a statement.

Comment on this SOTT Focus

---

Austria rocked by fresh child abuse claims


Euronews
2007-02-13 06:35:00

News has emerged of an alleged case of severe child neglect in the Austrian town of Linz. It is claimed a woman kept her three daughters cut off from the outside world for seven years following her divorce in 1998. The girls were taken into local authority care in 2005, but details of the case were only made public at the weekend.


"The accusations are that the mother harmed the social development of the children by not allowing them to go to school and also by a lack of hygiene." said prosecution lawyer Dr Gottfried Kranza.


Comment on this SOTT Focus

---

Animal-lover mauled to death in cheetah cage


AP
2007-02-13 06:21:00

A 37-year-old animal-lover was mauled to death by cheetahs at a zoo in northern Belgium, authorities and zoo officials said today, raising questions about safety at the animal park.

Jan Libot, spokesman for the Olmense Zoo, located 55 miles north-east of Brussels, said it was unclear why Karen Aerts entered the cheetah cage late last night.

"She was found dead in the cage," Libot told VTM television.

Aerts, from the city of Antwerp, was a regular visitor to the zoo and godmother to one of the cats that killed her, named Bongo

Comment on this SOTT Focus

---
Around the World
---
Mexico wants to partially decriminalize drugs

Reuters
AlertNet
2007-02-13 00:30:00

MEXICO CITY, Feb 12 (Reuters) - Mexican President Felipe Calderon's government wants to decriminalize first-time possession of small amounts of drugs in a move likely to draw criticism from U.S. anti-narcotics officials.

Under the proposed legislation, users found for the first time with 2 grams (0.07 ounces) or less of marijuana and small amounts of other drugs ranging from cocaine to methamphetamine would not be prosecuted.

Comment on this SOTT Focus

---

N. Korea Agrees to Nuclear Disarmament

Burt Herman
ABC/AP
2007-02-13 05:40:00

North Korea agreed Tuesday to take first steps toward nuclear disarmament and shut down its main reactor within 60 days before eventually dismantling its atomic weapons program.


Under the deal, the North will receive initial aid equal to 50,000 tons of heavy fuel oil for shutting down and sealing its main nuclear reactor and related facilities at Yongbyon, north of the capital, to be confirmed by international inspectors.


For irreversibly disabling the reactor and declaring all nuclear programs, the North will eventually receive another 950,000 tons in aid.


Comment on this SOTT Focus

---
Big Brother
---
No new articles.
Axis of Evil
---
Ex-Bush Iran official: US seeks pretext for conflict with Iran


Raw Story
2007-02-12 07:34:00

A former top Bush administration official for Persian Gulf affairs has said in an interview this morning on CNN that the US may be trying to spark a conflict with Iran.

Hillary Mann is the former National Security Council Director for Iranian and Persian Gulf Affairs. She warned in the interview that the recent flare up between Iran and the US over the former's alleged assistance to Shi'a militias results from

a US desire to provoke conflict with the Iranians.




Comment on this SOTT Focus

---

Ex- CIA Agent Fired For Proving That Iraq Had No WMDs


US News
2007-02-13 07:20:00

A federal judge has ruled that a CIA agent identified only as "Doe," allegedly fired after he gathered prewar intelligence showing that Iraq was not developing weapons of mass destruction, can proceed with his lawsuit against the CIA. The judge has ordered both parties to submit discovery requests - evidence they want for their case - to be completed by March 15, according to the CIA agent's lawyer and a spokesman for the Justice Department, which is defending the CIA in court.

Comment on this SOTT Focus

---

Navy may deploy anti-terrorism dolphins who never signed up for duty

THOMAS WATKINS
Associated Press
2007-02-12 22:13:00

SAN DIEGO - Dozens of dolphins and sea lions trained to detect and apprehend waterborne attackers could be sent to patrol a military base in Washington state, the Navy said Monday. In a notice published in this week's Federal Register, the Navy said it needs to bolster security at Naval Base Kitsap-Bangor, on the Puget Sound close to Seattle.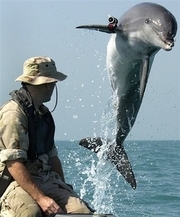 ©AP
A drafted dolphin flips it's 'electronic pinger device' at its Navy handler - too bad the dolphin has no middle finger.
Comment on this SOTT Focus
---
Middle East Madness
---
When murder is not murder: CIA Worker Sentenced In Afghan 'Beating'


Associated Press
2007-02-13 13:45:00

A former CIA contract employee was sentenced Tuesday to nearly 8 1/2 years in prison for beating an Afghan detainee who later died.

David Passaro, 40, was accused of hitting Abdul Wali with a flashlight and kicking him in the groin during a two-day interrogation at a remote military base in Afghanistan in July 2003.

Wali died within 48 hours of the interrogation, after complaining of abdominal pain and an inability to urinate.



Comment on this SOTT Focus

---

Iran's president says possibility of U.S. attack "very low"


Xinhua
2007-02-13 07:27:00

Iranian President Mahmoud Ahmadinejad, in an interview with the ABC broadcast on Monday, said the possibility of a U.S. attack on his country is "very low" and "anyone who wants to attack our country will be severely punished."

When asked if he fears the possibility of a U.S. attack on Iran, Ahmadinejad said: "First the possibility is very low, as we think that there are wise people in the United States that would stop such illegal actions."

Comment on this SOTT Focus

---

Israeli Army - Child Killers

Gideon Levy
Haaretz
2007-02-13 06:33:00

A child a week, almost every week. In recent weeks, I again went out to document the circumstances of the killing of several children and teenagers, shot dead by Israel Defense Forces soldiers. A very ill wind is once again blowing in the army and no one is saying anything about it. An army that kills children does not concern the public. No committee of inquiry has been, and none will be, formed to deal with this matter. But the fact that the IDF kills children with such a light hand, and fully supports its soldiers who do so, should trouble us no less than the reserves of war supplies in the North. The ramifications of such behavior are not only moral - ultimately an army's operational capability will be affected when children are the targets in its soldiers' gunsights.

Comment on this SOTT Focus

---

Propaganda! Too late to halt Iran's nuclear bomb, EU is told

Daniel Dombey and Fidelius Schmid
Financial News
2007-02-13 05:57:00

Iran will be able to develop enough weapons-grade material for a nuclear bomb and there is little that can be done to prevent it, an internal European Union document has concluded.


In an admission of the international community's failure to hold back Iran's nuclear ambitions, the document - compiled by the staff of Javier Solana, EU foreign policy chief - says the atomic programme has been delayed only by technical limitations rather than diplomatic pressure. "Attempts to engage the Iranian administration in a negotiating process have not so far succeeded," it states.


Comment on this SOTT Focus

---
The Loan Gunmen
---
USA: 2006 trade gap widens to sets record

By Doug Palmer
Reuters
2007-02-13 10:10:00

WASHINGTON - The U.S. trade deficit widened more than expected in December and grew 6.5 percent during all of 2006 to a record $763.6 billion, a U.S. Commerce Department report showed on Tuesday.

The monthly trade gap totaled $61.2 billion, up 5.3 percent from November as oil prices rebounded and Americans imported record amounts of consumer goods and autos and auto parts.

The December shortfall exceeded the median forecast of $59.5 billion made by Wall Street analysts surveyed before the report. It also marked the tenth time in 2006 that the monthly deficit exceeded $60 billion.

Comment on this SOTT Focus

---

BofA aims new credit card at illegal immigrants: report


Reuters
2007-02-13 06:34:00

NEW YORK - Bank of America Corp. has begun offering credit cards to customers without Social Security numbers, typically illegal immigrants, the Wall Street Journal reported on Tuesday.

In recent years, banks across the country have been offering checking accounts and even mortgages to the nation's fast-growing ranks of undocumented immigrants, most of whom are Hispanic, the paper said, adding these immigrants generally have not been able to get major credit cards.

Comment on this SOTT Focus

---
The Living Planet
---
Major US Midwest winter storm

Mark Avery
The Weather Channel
2007-02-13 10:01:00

Foul weather is expected across the whole US. The South and West can expect rain and severe thunderstorms, and the Midwest and Northeast will get more snow and wintry weather by later tonight.

Comment on this SOTT Focus

---

Tornado rips though New Orleans area

By KEVIN McGILL
Associated Press
2007-02-13 09:43:00

NEW ORLEANS - A powerful storm and likely a tornado hit the New Orleans area early Tuesday, damaging dozens of homes and business, ripping the roof off a hotel, and injuring at least three people.

The storm hit hardest around 3:30 a.m. in Westwego, just across the river from New Orleans.

Comment on this SOTT Focus

---

60,000 evacuated as Mozambique floods continue

EMMANUEL CAMILLO
AP / Miami Herald
2007-02-13 08:06:00

At least 100 people have been killed by floods sweeping through southern Africa, with new walls of water on the way.

MAPUTO, Mozambique - Soldiers and relief workers using helicopters and canoes have evacuated 60,000 people from the flooded Zambezi River Valley in central Mozambique, where more than 100,000 others are at risk, officials said Monday.

Prime Minister Luisa Diogo ordered the forcible removal of people in low-lying areas amid reports that some peasant farmers were refusing to evacuate unless their cattle and goats also were rescued.

Some 100 people have drowned or been electrocuted and hundreds of thousands have been forced from their homes in torrential rains that have swamped a swath of southern Africa from Angola in the west to Mozambique in the east with Malawi, Zambia and Zimbabwe in between. Bridges have collapsed, power lines been torn down and roads swept away.

Comment on this SOTT Focus

---

US village 'hit by 12ft of snow'


BBC News
2007-02-13 07:42:00

Reports from New York state say 10 days of heavy snowfall has left snowdrifts of up to 12ft (3.7m) deep - a record if confirmed by meteorologists.

A state of emergency has already been declared in and around Oswego county, with squalls leaving behind at least 7ft (2.1m) of snow in the area.

Comment on this SOTT Focus

---
Health & Wellness
---
Afternoon naps may boost heart health

Roxanne Khamsi
New Scientist
2007-02-13 09:03:00

The next health trend might come out of nursery school instead of the gym: A study of nearly 24,000 people found that those who regularly took midday naps were nearly 40% less likely to die from heart disease than non-nappers.


Researchers suggest that siestas might protect the heart by lowering levels of stress hormones.


Dimitrios Trichopoulos at Harvard School of Public Health in Boston, Massachusetts, US, and colleagues recruited about 24,000 volunteers between the ages of 20 and 86, in Greece, who had no history of heart disease, stroke or cancer. The researchers collected information about the participants' napping habits and followed them for six years, on average.


Comment on this SOTT Focus

---

No sleep means no new brain cells


BBC News
2007-02-13 06:17:00

Missing out on sleep may cause the brain to stop producing new cells, a study has suggested.


The work on rats, by a team from Princeton University found a lack of sleep affected the hippocampus, a brain region involved in forming memories.


The research in Proceedings of the National Academy of Science showed a stress hormone causes the effect.


Comment on this SOTT Focus

---

Valentine Roses Hit With Toxic Chemicals

JOSHUA GOODMAN
Associated Press Writer
2007-02-12 23:49:00

BOGOTA, Colombia - It's probably the last thing most people think about when buying roses _ by the time the bright, velvety flowers reach your Valentine, they will have been sprayed, rinsed and dipped in a battery of potentially lethal chemicals.


Comment on this SOTT Focus

---
Science & Technology
---
If whales can communicate by telepathy, why can't humans?


The Register
2007-02-13 06:44:00

Whales possess a form of communication that allows them to signal other whales hundreds of miles away. Some experts say it is indeed a form of telepathy. Does human telepathy exist? Is there scientific evidence for this particular form of extra-sensory perception (ESP)?

Certainly if human telepathy existed we could explain many weird human experiences. Telepathy would account for, according to a recent newspaper account, a mother "saw" her daughter miles away roll her car over in a traffic accident and "saw" her daughter injured and trapped within the wreckage. It would explain the Australian woman who "felt" her mother die suddenly at the precise moment she passed away half way around the world in London. Telepathy would explain many strange little happenings such as these, or even something that is very common: we hear the telephone ring and we know who's ringing before we pick up the phone.

Comment on this SOTT Focus

---
Our Haunted Planet
---
UFO flap over Archway in London

damien
Blather.net
2007-02-13 14:24:00

Be the holy! It's been a while since Blather found itself in the middle of a UFO flap. That is, we mean, in the actual *middle* of one, with a spate of UFO sightings in the area of Archway, near to Crouch End in north London, where this particular BlatherGoon resides. The sightings appear to have taken place on February 1st at 5.30pm with the Police recieving a brace of phone calls to report the objects...

Comment on this SOTT Focus

---

Dozens of Triangular UFOs Seen Over Warsaw


Eastern European UFO Journal
2007-02-12 06:40:00

On 20th January 2007 between 1 and 2 am. about 17 unidentified triangular objects appeared in the sky above Polish capital city district of Sluzec. According to the witness, Mrs. Jolanta Z. [53], triangular objects scattered in the sky remained in her view for over an hour, slowly rising up and finally disappearing.

At about 1:15 am. the woman living in a block [in vicinity of a airport Okecie] in Mokotow district, Mrs. Jolanta Z., woke up to smoke a cigarette. At one moment her attention was drawn by a light visible in the sky. The woman who is accustomed with view of landing planes after a while noticed strange behavior of the object that seemed to be suspended in the sky.

Comment on this SOTT Focus

---
Don't Panic! Lighten Up!
---
Fastest chippy in the west


Ananova.com
2007-02-13 09:38:00

An Edinburgh chip shop owner has bagged a world record after wrapping ten portions of chips in a minute.

Comment on this SOTT Focus

---

Mona Lisa sparks strike


Ananova.com
2007-02-13 08:35:00

Guards at the Louvre in Paris are to strike for more pay because of the stress of looking after Leonardo da Vinci's Mona Lisa.

The security guards have voted for industrial action in support of their claim for an extra £100 a month.

Comment on this SOTT Focus

---

California Pastor Stole the Whole Church

GARANCE BURKE
Associated Press Writer
2007-02-12 21:44:00

RIPON, Calif. - For nearly a decade, members of Ripon's First Congregational Church bared their souls to Pastor Randall Radic. But clearly it didn't work both ways. There were certain things he wasn't telling them.

Comment on this SOTT Focus

---
---

Remember, we need your help to collect information on what is going on in your part of the world!
Send your article suggestions to: sott(at)signs-of-the-times.org

---
Click here to return to the Signs of the Times Archive
Click here for today's Signs Page