---
Sections on today's Signs Page:
---
SOTT Focus
---
No new articles.
Best of the Web
---
Fear, Distraction, Hypnosis, And The National Attention Span -terrorists did not take away our freedoms; Congress and the Executive Branch did

by Carol Warner Christen
Swan's Commentary
2007-02-08 07:46:00

Humankind has four enemies: fear, knowledge, power, and old age according to Carlos Castenada. Fear is the first enemy of humanity: we will live fearfully until we conquer it. (1)

Knowledge is the second enemy because there is so much information to know, to read, to understand, that humans can become bogged down under its current massiveness.

Power is neither good nor bad until it is used. Power used ethically and with respect, as in guiding locomotives or operating on patients, has benefits; power used to demand payoffs, to kill, to destroy, to feed egos, to imprison, to buy legislators, to steal resources and lands is a detriment. Power creates tyrants. Tyrants feel that they are above humanity with their "power." They hallucinate being gods in their certainty. (2)

Last, but not least, old age is our final enemy. Preventing old age is impossible without dying young but we try with Botox and tummy tucks, hair dyes and fashion, pretense, money. Some in our society become frantic at their potential loss of life and its pleasures. Rather than grow in ancient beauty, wisdom, and joy, many revert to fear, the first enemy.

Comment on this SOTT Focus

---

A Review of The Ethnic Cleansing of Palestine by Ilan Pappe

Stephen Lendman
sjlendman.blogspot.com
2007-02-08 06:38:00

Ilan Pappe is an Israeli historian and senior lecturer at Haifa University. He's also Academic Director of the Research Institute for Peace at Givat Haviva and Chair of the Emil Touma Institute for Palestinian Studies. Pappe is an expert on Israel and Zionism and the Palestinians' Right of Return to their homeland, is considered "an honourable academic with integrity and conscience," and is a member of the Advisory Board of the Council for Palestinian Restitution and Repatriation (CPRR), an organization declaring that "every Palestinian has a legitimate, individual right to return to his or her original home and to absolute restitution of his or her property."

Comment on this SOTT Focus

---

Why We Need a New 9/11 Commission

by Andrew Mills
OpEdNews
2007-02-08 04:26:00

9/11 is unquestionably the most important event in American history since December 7, 1941, when Japanese forces attacked Pearl Harbor. The magnitude of its impact on America and the world cannot be overstated. The terrible acts of 9/11 and the events leading up to them deserve a thorough and unimpeachable investigation to learn the facts. And if some rogue elements within the U.S. government were complicit in the terrorist attacks on the World Trade Center and the Pentagon on 9/11, it is critical that these elements be exposed and removed from power. A new commission is clearly called for because the investigation and report by the 9/11 Commission were badly flawed, as will be discussed below.

Comment on this SOTT Focus

---
U.S. News
---
O. J. Simpson barred from spending murder book money

Associated Press
Yahoo! News
2007-02-08 07:52:00

LOS ANGELES - A state judge has ordered O.J. Simpson to stop spending money he received for his unpublished book, "If I Did It," about the slayings of his ex-wife, Nicole Brown Simpson, and her friend Ron Goldman.

Comment on this SOTT Focus

---

Marine 'congratulated' men for murder of Iraqi civilian: witness


AFP
2007-02-08 13:11:00

CAMP PENDLETON, California - A US Marine squad leader congratulated soldiers "for getting away with murder" after an Iraqi civilian was bound and shot dead at point-blank range, a military court has heard.

Sergeant Lawrence Hutchins, who will stand trial for murder next month, made the comments after the abduction and killing of 52-year-old Hashim Ibrahim Award in Hamdania outside Baghdad last April, a witness testified.

Comment on this SOTT Focus

---

NY Times publisher: Our goal is to manage the transition from print to internet

By Eytan Avriel
Haaretz
2007-02-08 12:33:00

Despite his personal fortune and impressive lineage, Arthur Sulzberger, owner, chairman and publisher of the most respected newspaper in the world, is a stressed man.

Why would the man behind the New York Times be stressed? Well, profits from the paper have been declining for four years, and the Times company's market cap has been shrinking, too. Its share lags far behind the benchmark, and just last week, the group Sulzberger leads admitted suffering a $570 million loss because of write offs and losses at the Boston Globe.

As if that weren't enough, his personal bank, Morgan Stanley, recently set out on a campaign that could cost the man control over the paper.

Comment on this SOTT Focus

---

New Sea-Based Missile Defense Radar Completes Successful

Press Release
Missile Defense Agency
2007-02-08 11:26:00

Lt. General Henry "Trey" Obering, Missile Defense Agency director, announced today that the Sea-based Xband Radar (SBX) has successfully traveled from Hawaii to the waters of the Aleutian Island chain of Alaska.


The SBX departed Pearl Harbor, Hawaii on Jan. 3, and conducted numerous sea trials and exercises while en route to Alaska, and also continued the calibration of the X-band radar mounted on top of the ocean-going platform. The largest radar of its type, the SBX is designed to track and discriminate small objects in space, which makes it especially effective for missile defense since it can provide very accurate information to the missile defense command and control system to help direct ground and sea-based interceptor missiles to a point in space where they can be placed in a position to collide directly with an in-coming missile warhead for a "hit to kill" intercept, while ignoring decoys and countermeasures.

Comment on this SOTT Focus

---

JFK Jr.'s last comments to air controllers routine


Reuters
2007-02-08 10:42:00

The last radio contact from John F. Kennedy Jr. before he died when the plane he was flying crashed into the Atlantic in July 1999 was a routine "thanks" to air controllers in New Jersey for runway clearance, newly released documents showed on Wednesday.


The air traffic transcripts give no additional clues on what caused the crash off the southern New England coast that killed Kennedy, the son of the slain 35th U.S. president, his wife and sister-in-law.


"Caldwell ground, Saratoga niner two five three November, ready to taxi with mike at airbound right turnout northeastbound," Kennedy told ground controllers at the Essex County, New Jersey, airport where he began an ill-fated flight to Cape Cod in Massachusetts. He was headed to his family's storied compound for a wedding.

Comment on this SOTT Focus

---

Russian roulette? Gates contemplates their next target.


Berkshire Eagle Online/The Associated Press
2007-02-08 10:35:00

Defense Secretary Robert Gates told a House panel yesterday that the U.S. should know in a few months if the Iraqi government is making progress toward peace and whether the United States "is going to have to look at other alternatives and consequences."


In stark contrast to predecessor Donald H. Rumsfeld, Gates also said there was no doubt the Army and Marine Corps needed to be larger if they are to deal with future wars and give troops enough rest between combat tours.


"We need the full range of military capabilities," including ground combat forces to battle large armies and nimble special operations troops to scout out terrorist threats, Gates told the House Armed Services Committee.


Comment on this SOTT Focus

---
UK & Euro-Asian News
---
Arrests 'designed to distract attention from Blair probe'


Belfast Telegraph
2007-02-08 16:39:00

One of the nine men arrested last week in connection with an alleged terrorism plot in Britain has claimed the operation was designed to distract attention from the cash-for-honours inquiry.

Abu Bakr and another of the suspects were both released yesterday, while police have until tomorrow to question the other seven detainees.

The police say the arrests were made in connection with an advanced plot to kidnap a Muslim man serving with the British army and behead him in an Iraq-style execution.



However, the two men released yesterday say the police never mentioned any such plot during seven days of interrogation.



Comment on this SOTT Focus

---

Freed kidnap suspect: my terror at police raid

Steven Morris
The Guardian
2007-02-08 16:25:00

One of the men arrested during the Birmingham terror raids launched a blistering attack last night on the authorities for the way he was seized, held for a week and

questioned for barely four hours about apparently trivial matters.



Comment on this SOTT Focus

---

Reids revenge: Heckler held under Terrorism Act


BBC News online
2007-02-08 16:04:00

A Muslim activist has been arrested in east London over allegations of encouraging terrorism.

Abu Izzadeen was held by in Leyton High Road by counter-terrorism officers, Scotland Yard said.

He hit the headlines last September after heckling Home Secretary John Reid but it is understood the inquiry is related to a 2006 speech in Birmingham.

Mr Izzadeen, 31, is being held at a central London police station under Section 1 of the Terrorism Act 2006.

Comment on this SOTT Focus

---
Around the World
---
Ammunition for Atheists

By Jack Huberman
Nation Books
2007-02-08 08:16:00

The following is an excerpt from Jack Huberman's new book, The Quotable Atheist: Ammunition for Nonbelievers, Political Junkies, Gadflies, and Those Generally Hell-Bound (Nation Books, 2007).

The world (not just America) is deeply divided.The main fault line is where the tectonic plates of religion and of reason/secularism/ modernity/science/Enlightenment meet and grind against each other,making an absolutely unbearable noise. It's sort of like ... forget it, I can't describe it.


Comment on this SOTT Focus

---
Big Brother
---
No new articles.
Axis of Evil
---
Israel, US sign homeland security pact

By REBECCA ANNA STOIL
Jerusalem Post
2007-02-08 14:00:00

Internal Security Minister Avi Dichter and his US counterpart, Homeland Security Secretary Michael Chertoff, signed a joint memorandum in Washington DC on Wednesday evening, setting a series of goals and terms for security collaboration between the two nations.

Comment on this SOTT Focus

---

Time's Joe Klein: a Supreme Suck-Up

By Matt Taibbi
rollingstone.com
2007-02-08 09:36:00

I have a personal connection to Joe Klein, the Time columnist and ex-anonymous author of Primary Colors. His son and I used to share an office at the Moscow Times about 12 years ago. There were a couple of cute Russian girls in the office who were best friends and Chris and I each dated one of them. Chris ended up marrying his; my relationship with the other one didn't last very long, although she was one of the funniest people I've ever met: Tanya's big thing was crushing beer cans against her head and singing the Soviet national anthem naked. She was like John Belushi with tits.

Comment on this SOTT Focus

---

Bush Budget Delivers the Bacon

By Robert Scheer
AlterNet.
2007-02-08 09:29:00

President Bush's outrageous military budget has nothing do with fighting terrorism but everything to do with pumping up the profits of the administration's generous political donors in the defense industry. So, the question is: Will the Democrats have the guts to stop this betrayal of the public trust?

Comment on this SOTT Focus

---

Bush's Budget for Permanent War

By Ari Berman
The Nation
2007-02-08 09:19:00

Need proof that George W. Bush is not planning to withdraw US troops from Iraq on his watch? Just look at his latest budget.

The Bush Administration will ask Congress for $100 billion for Iraq and Afghanistan this year -- on top of the $70 billion already allocated -- and $145 billion for 2008. Why ask for the money if you're not planning to use it?

Comment on this SOTT Focus

---

George Monbiot Exposed as Far Right Gatekeeper Pretending to Be a Lefty


The Guardian
2007-02-08 04:12:00

George Monbiot has long been a hero to many on the Left and in the People's Media (my new name for the Alternative Media), and we have watched with baited breath as he approached closer and closer to the belly of the beast with his insightful and logical analyses.

Alas, it seems that he either was a phony all along, or someone has found his dirty laundry. On Tuesday, the Guardian published the following spittle spewing rant from Monbiot:

Comment on this SOTT Focus

---
Middle East Madness
---
Ersatz Apocalypto: Slaughter and Spin in the Battle for Najaf

Chris Floyd
t r u t h o u t | UK Correspondent
2007-02-06 13:53:00

I. Rashomon in Babylon

It has been cast as a ferocious battle against a mighty opponent: a fanatical "apocalyptic cult" storming the holy city of Najaf with hundreds of warriors led by a self-proclaimed Islamic Messiah, their frenzy quelled only at the last moment by a massive intervention of American firepower. But, as with so much else in the blood-soaked annals of the Bush administration's disastrous Babylonian Conquest, it appears this neat story masks a far grimmer, grubbier truth: a mass slaughter of civilians, caught in the toxic fog of hair-trigger tension, sectarian hatred and violent political ambition unleashed by the US invasion.

The January 28 clash in Najaf was, the New York Times proclaimed, the greatest one-day battle in Iraq since the fall of Baghdad in 2003. Some 200-400 "cultists" were killed by Iraqi troops and the American air and ground forces that came to their rescue when the apocalyptics - whose ranks included Baathists and al-Qaeda terrorists - nearly overran the Iraqi government troops, according to the NYT and other Western media.

The "bizarre" and "extraordinary" attack by the obscure but massively armed "Soldiers of Heaven" Shiite splinter group was an attempt to kill the leading clerics in the sacred city, including Grand Ayatollah Ali al-Sistani, the spiritual leader of millions of Iraqi Shiites, we were told. This massacre would supposedly usher in the reign of the Mahdi, the Islamic Messiah figure whom many Shiites believe is coming to redeem - and judge - the world. For hours on end, the outgunned and ill-trained Iraqi government soldiers held off the swarming zealots until American planes began bombing raids on the cult's entrenched positions in the groves outside Najaf and US troops marched in to bolster the flagging locals.

It was indeed a rousing tale of carnage, courage and fearsome zeal, fit for one of Mel Gibson's cinematic bloodbaths. Yet, in the days following the attack, it has became increasingly apparent that the story being presented in the Western media - based largely on accounts from Iraqi government officials and the Pentagon - has about as much historical accuracy as Gibson's ersatz epics.

Comment on this SOTT Focus

---

Iran to hit U.S. interests if attacked

NASSER KARIMI
Associated Press
2007-02-08 13:05:00

TEHRAN, Iran - Iran's supreme leader said Thursday that if the United States were to attack Iran, the country would respond by striking U.S. interests all over the world - the latest sharp exchange in an escalating standoff between the two countries.

The comments by Iranian supreme leader Ayatollah Ali Khamenei came on the same day that another top official, Tehran's ambassador to the United Nations, Javad Zarif, warned in a column in The New York Times that efforts to isolate Iran would backfire on the United States, increasing sectarian tensions in the volatile Middle East, including Iraq.

Comment on this SOTT Focus

---

100 US, Israeli Spies Identified in Iran


FARS News agency
2007-02-08 11:19:00

Iran's Intelligence Minister Gholam Hussein Mohseni Ezheh'ee here on Wednesday said that 100 American and Israeli spies have been identified across Iranian borders.


He said the spies, who worked for CIA and Moussad, intended to gain access to Iran's military and political information.


Comment on this SOTT Focus

---

Clash on Israel-Lebanese border


BBC News online
2007-02-07 19:56:00

Israeli and Lebanese forces have exchanged fire on the international border between the two countries.

Comment on this SOTT Focus

---
The Loan Gunmen
---
French strikes over pay and job cuts

By Martin Arnold in Paris
Financial Times
2007-02-08 13:24:00

France's presidential candidates were given a taste of the forces they will have to reconcile on Thursday. Public sector workers went on strike over pay and job losses while the national auditor warned that further spending cuts were needed to reduce the budget deficit.

Thousands of teachers, tax collectors and post office staff went on strike, joining train drivers and other public sector workers on big demonstrations in Paris and 20 other cities, including Marseilles, Rennes, Toulouse, Metz and Nantes.

The strikes were over the government's offer to increase public sector pay by less than inflation, which was 1.5 per cent in 2006. The protesters also targeted plans to cut 15,000 public jobs.

Comment on this SOTT Focus

---
The Living Planet
---
Propaganda! Global Dimming threat equal to Global Warming

BC Mary
vivelecanada
2007-02-08 14:02:00

We are all seeing rather less of the Sun. Scientists looking at five decades of sunlight measurements have reached the disturbing conclusion that the amount of solar energy reaching the Earth's surface has been gradually falling. Paradoxically, the decline in sunlight may mean that global warming is a far greater threat to society than previously thought. The effect was first spotted by Gerry Stanhill, an English scientist working in Israel. Comparing Israeli sunlight records from the 1950s with current ones, Stanhill was astonished to find a large fall in solar radiation. "There was a staggering 22% drop in the sunlight, and that really amazed me," he says.

Comment on this SOTT Focus

---

Snow squalls bury upstate New York


Associated Press
2007-02-08 12:53:00

OSWEGO, N.Y. - While the northern Plains and Northeast shiver in dangerously cold temperatures, the folks in upstate New York are keeping warm shoveling snow - lots of snow.

Since Sunday, the small towns of Parish and Mexico have recorded more than 6 feet of snow, and forecasters with the National Weather Service say it isn't over yet.

Another 2 feet or more of heavy lake effect snow was expected Thursday for the communities along eastern Lake Ontario, and more squalls are likely through the weekend.

Comment on this SOTT Focus

---

Emergency relief for Sweden's starving reindeer

AFP
Terradaily.com
2007-02-08 12:48:00

STOCKHOLM- Sweden said Wednesday it would give its reindeer herders millions of euros (dollars) in emergency aid to help them feed their animals, which are starving because of thick ice that is preventing them from reaching the lichen they eat.

"You can't just stand by and watch animals starve," Agriculture Minister Eskil Erlandsson said in a statement as his ministry earmarked 37 million kronor (4.06 million euros, 5.3 million dollars) in aid.

Comment on this SOTT Focus

---

Hundreds Of Sharks Prompt Warnings in Florida

Associated Press
local6.com
2007-02-08 12:31:00

PALM BEACH, Fla. -- Visitors to Palm Beach are being advised not to go in the water because of shark sightings.

Warnings posted said hundreds of bull sharks and lemon sharks have been seen swimming along the surf, the sand bar and farther out in the Atlantic Ocean.

Comment on this SOTT Focus

---

UK: Heavy snow disrupts commute


AFP
2007-02-08 10:32:00

Heavy snow has forced the closure of runways at airports in southern England and Wales, as bad weather caused commuter chaos at the height of the morning rushhour.


Four airports serving London -- City, Gatwick, Luton and Stansted -- shut runways, as did Birmingham, Bristol, and Cardiff in south Wales as up to 10 centimetres (four inches) of snow fell.


London's main Heathrow airport, west of the capital, was open, but British Airways said it was preparing to cancel some short-haul flights from about 1000 GMT.


Comment on this SOTT Focus

---

Research Review of Global Warming Evidence


Petition Project
2007-02-08 04:33:00

Below is an eight page review of information on the subject of "global warming," and a petition in the form of a reply card. Please consider these materials carefully.

Comment on this SOTT Focus

---
Health & Wellness
---
Autism-like disorder 'reversible'


BBC News online
2007-02-08 19:04:00

The symptoms of a severe brain disorder similar to autism, which affects around 10,000 UK children, could be reversed, scientists believe.

A team at Edinburgh University made symptoms of Rett syndrome disappear in mice by activating a single gene, the magazine Science reports.

The condition, which mainly affects girls, was previously thought to be irrevocable.

Comment on this SOTT Focus

---

Smart Strategy: Think of the Brain as a Muscle

Charles Q. Choi
Live Science
2007-02-08 11:35:00

Students who are told they can get smarter if they train their brains to be stronger, like a muscle, do better in school, a new psychology study shows.


Many people have various theories about the nature of intelligence. Some view it as a fixed trait, while others see intelligence as a quality that can develop and expand.


These ideas have can have a profound effect on the motivation to learn, said researcher Carol Dweck, a child and social psychologist at Stanford University.


Comment on this SOTT Focus

---

Not Enough Sleep Could Make Your Child Overweight


Medical News Today
2007-02-08 11:32:00

US scientists have found that not enough sleep probably leads to children becoming overweight.


The findings are published in the journal Child Development.


"Our study suggests that earlier bedtimes, later wake times and later school start times could be an important and relatively low-cost strategy to help reduce childhood weight problems," said Emily Snell, lead author and doctoral student in human development and social policy at Northwestern University, Evanston, Illinois.


Comment on this SOTT Focus

---
Science & Technology
---
Cool clouds turn light to matter


BBC News online
2007-02-08 17:50:00

A fleeting pulse of light has been captured and then made to reappear in a different location by US physicists.

The quantum sleight of hand exploits the properties of super-cooled matter known as a Bose-Einstein condensate.

The emerging pulse was slightly weaker than the high-speed beam that entered the experimental setup, but was identical in all other respects.

The work, published in the journal Nature, could one day lead to advances in computing and optical communication.

Comment on this SOTT Focus

---

Male Sweat Boosts Women's Hormone Levels


Science Daily
2007-02-08 11:06:00

The study, reported this week in The Journal of Neuroscience, provides the first direct evidence that humans, like rats, moths and butterflies, secrete a scent that affects the physiology of the opposite sex.


"This is the first time anyone has demonstrated that a change in women's hormonal levels is induced by sniffing an identified compound of male sweat," as opposed to applying a chemical to the upper lip, said study leader Claire Wyart, a post-doctoral fellow at UC Berkeley.


Comment on this SOTT Focus

---
Our Haunted Planet
---
Three Killed In Suspected Meteorite Fall In India's Rajasthan


DPA
2007-02-08 17:55:00

Three people were killed and four injured in a mysterious blast in a village in India's northern Rajasthan state Thursday that villagers claim was caused by a meteorite, news reports said.

Comment on this SOTT Focus

---

Strange Sightings In North Carolina Skies


wxii12.com
2007-02-08 12:23:00

Are the makings of a Sci-Fi movie happening in the Piedmont-Triad?

There have been strange reports about flying objects in the skies -- and some people think they're UFOs.

WXII 12's Nicole Ducouer spoke to a Kernersville man who said he captured an object on his cell phone.

Comment on this SOTT Focus

---

Armed Forces reveal UFO presence in Chile


The Santiago Times
2007-02-08 11:01:00

More than 1,000 enthusiasts and experts gathered in Viña del Mar on Tuesday and Wednesday this week for the Tenth International Ufology Conference, organized by the Chile's Ufology Investigation Group (Aion). The highlight of the meeting was a display of photographs taken by members of Chile's Armed Forces.


Ufology is the study of unidentified flying objects, or UFOs. While many ufology experts feel that the field is not taken seriously by scientists, participants at the conference in Viña del Mar said the presence of several members of the armed forces added legitimacy to the proceedings. Rodrigo Fuenzalida, director of Aion, said the military presence was important because of the well-known objectivity of their reports and the advanced technology that can be used to back up their observations.


Comment on this SOTT Focus

---

Mysterious Lights Spotted Over Phoenix, Again


CBS4 Arizona
2007-02-07 23:43:00

PHOENIX, AZ Nearly a decade after the highly publicized 'Phoenix Light Phenomenon', more strange lights have appeared in the night sky over downtown Phoenix.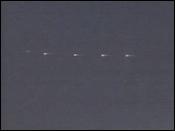 ©CBS
A still shot from video of the lights in formation over Phoenix, AZ.
Comment on this SOTT Focus
---
Don't Panic! Lighten Up!
---
Cheddarvision TV


Ananova
2007-02-08 11:39:00

Cheese lovers can now watch cheddar mature 24 hours a day on the internet.


West country farmers set up the Cheddarvision website featuring a 25 kg block of cheddar, reports ITN.


Farmer Tom Calver said: "How many other cheeses do you know of on the internet that have their own webcam and a live feed to the internet? I don't think many."


Comment on this SOTT Focus

---

Something is rotten in UK: School bans Mother's Day cards


Daily Mail
2007-02-08 10:52:00

A school has banned the making of Mother's Day cards because the headteacher does not want to upset children without a mother.


Helen Starkey has ended the tradition in the interests of "sensitivity".


"More than five per cent of children here are separated from their birth mother and have either no contact or no regular contact with their mother," she said.


"This decision was not taken because of any philosophical attitude towards the celebration of Mothering Sunday, but to protect a significant number of children in our school.


Comment on this SOTT Focus

---

German court jails school girl for truancy


Reuters
2007-02-07 18:01:00

A 15-year-old girl from the German town of Goerlitz will be jailed for two weeks as punishment for persistently skipping classes, the education ministry for the eastern state of Saxony said on Wednesday.


The ministry said the decision was made by a district court and came after the girl's parents failed to pay a fine and the girl herself refused to do community service.



Comment on this SOTT Focus

---
---

Remember, we need your help to collect information on what is going on in your part of the world!
Send your article suggestions to: sott(at)signs-of-the-times.org

---
Click here to return to the Signs of the Times Archive
Click here for today's Signs Page