---
Sections on today's Signs Page:
---
SOTT Focus
---
No new articles.
Best of the Web
---
No new articles.
U.S. News
---
Massive 40-car pileup on Snowy I-35 (Minneapolis) seriously injures two


KSTP5
2007-02-07 07:01:00

Two serious injuries were reported after a blistering 40-car pileup in the south Metro late Tuesday morning, capping off the worst rush hour of the year so far.

The wreck--which included dozens of cars and several jackknifed semis--happened around 10 a.m. just north of the Elko exit on I-35. Cars and semis littered ditches on more than a quarter-mile of road.

Comment on this SOTT Focus

---

House Schedules Vote on Iraq Resolution

By DAVID ESPO
Associated Press
2007-02-07 06:52:00

WASHINGTON - The Democratic-controlled House will vote next week on a nonbinding measure opposing President Bush's decision to dispatch more troops to Iraq, officials said Tuesday, in a wartime clash between Congress and commander in chief.

The precise nature of the measure remains to be determined, the officials said, although Brendan Daly, a spokeswoman for Speaker Nancy Pelosi, said, it will be "our opposition to the surge" in troops.

Comment on this SOTT Focus

---
UK & Euro-Asian News
---
Vienna Jewish school expels children of rabbi who attended Iran Holocaust summit


Haarets/Associated Press
2007-02-07 10:50:00

The children of an Austrian rabbi who attended an Iranian conference that questioned the Holocaust have been expelled from their school and told no other Jewish school in Austria will take them, their father said Tuesday.


Moishe Arye Friedman said he has begun legal proceedings against the school. He said his four school-age children were told to leave Monday.


A letter shown by Friedman with the letterhead of the school said one of the reasons for the expulsions was his outrageous behavior in attending the Holocaust conference last month.


Comment on this SOTT Focus

---

Ukraine safeguards control of pipeline against Russia

By Roman Olearchyk
Financial Times
2007-02-07 07:19:00

Legislators in Ukraine, a main transit route for Russian fuel supplies to Europe, passed a law yesterday safeguarding state control over the country's vast gas pipeline transportation system.

The law is a barrier to Moscow's ambitions for gaining control of pipelines responsible for pumping Russian supplies to Europe.

Comment on this SOTT Focus

---

Interview: Dominique de Villepin - Worried About Iran

by John Thornhill, Peggy Hollinger and Martin Arnold in Paris.
Financial Times
2007-02-02 07:14:00

Excerpts from an FT interview with Dominique de Villepin, French prime minister, on February 2.

Comment on this SOTT Focus

---

De Villepin attacks increase in US troops in Iraq as absurd

By Martin Arnold and John Thornhill in Paris
Financial Times
2007-02-07 07:13:00

Violence in Iraq will continue to worsen until all foreign troops are pulled out, Dominique de Villepin has warned, dismissing as "absurd" the idea that an enlarged US force could bring stability and peace to the country.

France's prime minister indirectly criticised the decision by US President George W. Bush to boost his country's military presence in Iraq.

Comment on this SOTT Focus

---

Europe ripe for a 'small revolution' says Dominique de Villepin

By John Thornhill, Martin Arnold and Peggy Hollinger
Financial Times
2007-02-07 07:10:00

Europe, says Dominique de Villepin, is a continent founded on doubts and ideals. Yet in spite of having only three months left in office, the exuberant French prime minister displays little of the former and a lot of the latter when it comes to discussing Europe's future in an interview with the Financial Times.

As the European Union next month celebrates the 50th anniversary of the Treaty of Rome, its founding charter, Mr de Villepin calls for a correction of the "excessively liberal" vision of Europe. Instead the EU should be relaunched with a mission to tackle the biggest challenges of the day: peace, justice, security, immigration, and the environment.

Comment on this SOTT Focus

---

Criminal code: "Environmental Crimes" raises fear over EU powers

By George Parker in Brussels and Nikki Tait and Michael Peel in,London
Financial Times
2007-02-07 05:33:00

For eurosceptics, the European Court of Justice ruling in September 2005 was like giving a child a loaded gun. It opened the way for the European Union to designate a new class of pan-European crimes, and how they should be punished.

Comment on this SOTT Focus

---
Around the World
---
Child Porn Ring Uncovered in Austria

VERONIKA OLEKSYN
Associated Press Writer
2007-02-07 10:20:00

VIENNA, Austria (AP) - Austrian authorities said Wednesday they have uncovered a major international child pornography ring involving more than 2,360 suspects from 77 countries, including hundreds in the United States, who paid to view videos of young children being sexually abused.

Comment on this SOTT Focus

---

Child soldiers being actively recruited as frontline fodder in at least 13 countries

International Save the Children Alliance
Reuters AlertNet
2007-02-05 10:00:00

Ten years after international guidelines were established to stamp out the recruitment and use of child soldiers, under-age fighters are still actively being recruited in at least 13 countries.

Fighting forces are recruiting and using child soldiers within Afghanistan, Burundi, Chad, Colombia, Democratic Republic of Congo, Ivory Coast, Myanmar, Nepal, Phillipines, Sri Lanka, Somalia, Sudan and Uganda. Government forces are also implicated in countries such as Southern Sudan, where the SPLA is re-recruiting children who have already been released from their own ranks.

Comment on this SOTT Focus

---
Big Brother
---
Oregon Gov. to Fire State Climatologist for Saying Global Warming Not Due to Human Activity

By VINCE PATTON
kgw.com
2007-02-07 05:37:00

In the face of evidence agreed upon by hundreds of climate scientists, George Taylor holds firm. He does not believe human activities are the main cause of global climate change.

Taylor also holds a unique title: State Climatologist.

Comment on this SOTT Focus

---
Axis of Evil
---
The Criminalization of US Foreign Policy

by Michel Chossudovsky
Global Research
2007-02-07 08:57:00

The World is at the crossroads of the most serious crisis in modern history. The US has embarked on a military adventure, "a long war", which threatens the future of humanity.

At no point since the first atomic bomb was dropped on Hiroshima on August 6th, 1945, has humanity been closer to the unthinkable, a nuclear holocaust which could potentially spread, in terms of radioactive fallout, over a large part of the Middle East.

Comment on this SOTT Focus

---
Middle East Madness
---
Iraqi Resistance Downs Chinook In Iraq - Many US Troops Likely Killed


MWC News
2007-02-07 13:54:00

The US military has confirmed that a transport helicopter came down near Baghdad but has declined to comment on any casualties.

Major-General William Caldwell, the US military spokesman, told reporters: "We have a CH-46 that is down," referring to the twin-rotor Sea Knight, the marine version of the Chinook.

Caldwell said on Wednesday it had come down 30km northwest of Baghdad. He did not say whether it had been brought down by mechanical failure or ground fire.

"There is a quick reaction force on site. It would be inappropriate for me to talk about casualties," Caldwell said.

Earlier, witnesses said the helicopter had been shot down in a field in the Sheik Amir area northwest of Baghdad, sending smoke rising from the scene, in a Sunni-dominated area between the Taji air base 20km north of Baghdad and Garma, 30 m to the west of the capital.

A Chinook has two crew members and can carry up to 55 passengers. They are used widely to transport troops and cargo around Iraq.

Comment on this SOTT Focus

---

As Mecca talks begin, Gaza counts its victims


UK Independent
2007-02-07 13:37:00

It was mid-morning on easily the worst day of fighting, but Mahmoud al-Dadouh, 15, thought the battle he had been watching from the third floor roof of his family home was over. At about 10am, as his father, Maher, 39, explained yesterday, the Hamas paramilitary Executive Force had attacked and finally occupied a training camp used by a Fatah-dominated presidential security force about 150 metres from the house.

"My son heard the shooting and went upstairs. He wanted to see what was happening. He started to come down and then one bullet went into his temple and came out the back. We cannot really tell who fired the bullet..." As Mr Dadouh trailed off, pointing towards the now ruined training camp as the direction from which the fire came, his cousin Medhad, 37, explained: "It was random shooting everywhere."

Comment on this SOTT Focus

---

Fortifying the ghetto in West Ramallah


Stopthewall.org
2007-02-07 12:55:00

According to media reports, the Occupation's Prime Minister has approved an extension of the Apartheid Wall's path in West Ramallah, taking it deeper into the West Bank and furthering the imprisonment of 20,000 Palestinians in a walled ghetto. The new modification will see the Wall extend a further 5 km eastwards from its original path. The decision has been taken in order to annex the two settlements of Nili and Na'ale, both built on Palestinian land confiscated from the villages of Deir Qaddis and Shabteen. More of their land will be stolen by the expansion.

Comment on this SOTT Focus

---

Iran's Guards launch Gulf war games: state media

Reuters
Yahoo! News
2007-02-07 08:39:00

Iran's Revolutionary Guards launched two days of war games on Wednesday in the Gulf and Sea of Oman, state media reported.

State television said the exercises by the air and naval units of the Guards were "to raise ... combat preparedness."

Comment on this SOTT Focus

---
The Loan Gunmen
---
US should weigh war on terrorism tax - Lieberman


Reuters
2007-02-07 06:41:00

WASHINGTON, - Sen. Joseph Lieberman said on Tuesday that Congress should consider a tax to fund the U.S.-declared war on terrorism and reduce the need to cut domestic programs to pay for security spending.

A former Democrat who supports the Iraq war and backs President George W. Bush's plan to send 21,500 additional troops to Iraq, Lieberman said the proposed increase in the Pentagon's budget for next fiscal year will squeeze funding for critical domestic programs.

Comment on this SOTT Focus

---
The Living Planet
---
Severe Cold Hit Northern US States - 4 Dead


AP
2007-02-07 09:44:00

A bone-chilling cold wave with temperatures as low as 42 below zero shut down schools for thousands of youngsters Monday, sent homeless people into shelters and put car batteries on the disabled list from the northern Plains across the Great Lakes. At least four deaths were linked to the cold weather.

The cold was accompanied by snow that was measured in feet in parts of upstate New York.

''Anybody in their right mind wouldn't want to be out in weather like this,'' Lawrence Wiley, 57, said at Cincinnati's crowded Drop Inn Center homeless shelter, where he has been living. Monday lows were in the single digits.

With temperatures near zero and a wind chill of 25 below, school districts across Ohio canceled classes. ''We have a lot of kids that walk to school. We didn't think it was worth the risk,'' said Sandusky City Schools Superintendent Bill Pahl.

Comment on this SOTT Focus

---

Go back to sleep: Yellow snow in Siberia caused by Turkmen cyclone


AFP
2007-02-07 11:00:00

Foul-smelling yellow snow that fell in western Siberia last week was caused by a cyclone bringing dust from Turkmenistan, local officials said Tuesday, AFP reported.


Comment on this SOTT Focus

---

China blames the west for global warming

By Mure Dickie in Beijing
Financial Times
2007-02-07 05:50:00

Rich industrialised nations must take the lead in cutting greenhouse gases since they bear the "unshirkable responsibility" for causing global warming, a Chinese official said on Tuesday.

The comments by a foreign ministry spokeswoman underscore China's determination not to allow international action on climate change to undermine its economic development.

Comment on this SOTT Focus

---

Gore says Bush administration paying scientists to dispute global warming

Al Goodman
CNN
2007-02-07 05:48:00

MADRID , SPAIN -- Former Vice President Al Gore said in an interview on Tuesday the Bush administration is now paying scientists to dispute global warming since the administration can no longer argue against it.

Comment on this SOTT Focus

---

What Does Congress Believe About Global Warming and What Do They Want To Do About It?


National Journal
2007-02-07 05:44:00

To get an idea of how the Global Warming debate is shaking down in Congress, click this LINK to view a series of poll questions the National Journal asked members of Congress. We think that after reading this, you might begin to get an idea of how the whole global warming issue is just another means on the way to totalitarianism.

Comment on this SOTT Focus

---

Cambodians ponder an unfamiliar concept: cold: Temperatures in the 40s spurred some people to don socks, sweaters, and even coats - What About Global WARMing?

By Erika Kinetz
Christian Science Monitor
2007-02-07 05:30:00

Across Cambodia, residents have been engaging in a rare activity: turning off their air conditioners and stilling their fans. Some of Phnom Penh's intrepid moto drivers have even been seen zipping around the streets at night in puffy parkas.

It has been cold here - the coldest in 27 years of recorded history, according to Seth Vannareth, the director of meteorology at the Ministry of Water Resources and Meteorology.

Comment on this SOTT Focus

---
Health & Wellness
---
U.S. companies prepare for bird flu pandemic - Formula: Create Illness, Sell Cure

By Maggie Fox
Reuters
2007-02-07 07:05:00

ORLANDO, Florida - Exxon plans to keep some refinery workers living in the plants to keep them going. A small Southern grocery chain is thinking about drive-through pickup of soup and bread.

The U.S. Labor Department's Occupational Safety and Health Administration urged employers to develop plans to cope with a possible flu pandemic on Tuesday, suggesting letting employees work from home and encouraging sick workers to stay home without reprisals.

Comment on this SOTT Focus

---
Science & Technology
---
Test run? Hackers target Internet's 13 root servers

James Simpson
Earthtimes.org
2007-02-07 07:19:00

Hackers hit the heart of the Internet yesterday when they launched an attack on three of the 13 root servers that are responsible for directing all web traffic. The computers were disabled for 12 hours before resuming routine operations.


The hackers hit the UltraDNS company, which directs traffic to websites containing the .info and.org suffixes. The attacks went unnoticed for several hours because legitimate traffic remained unaffected.


Comment on this SOTT Focus

---
Our Haunted Planet
---
Meteor lights up the sky (UK)

Rachel Pegg
The Argus
2007-02-07 09:23:00

A meteor has been spotted falling to the Earth.

The shooting star was engulfed in bright flames as it shot towards the ground over Hangleton, Hove, at about 8.15pm yesterday.

Comment on this SOTT Focus

---
Don't Panic! Lighten Up!
---
Sorry I'm 25 years late - I got on the wrong bus to go shopping


The Times
2007-02-07 11:11:00

It was just a normal shopping trip when Jaeyana Beuraheng bade farewell to her eight children as she left to cross the border into Malaysia. But it would be 25 years before she would find her way home.


Now, at the age of 76, she has been reunited with her family and has finally told how her misfortune began when she boarded the wrong bus.


Mrs Jaeyana would almost certainly have made it home without mishap had it not been that she speaks only Yawi, a dialect spoken by Muslims in southern Thailand. But unable to write, read, or speak Thai or English she boarded a bus for Bangkok, about 800 miles (1,300km) north, by mistake rather than travelling back to her home in Narathiwat.


Comment on this SOTT Focus

---

Lovers Locked in an eternal embrace


Daily Mail
2007-02-07 06:55:00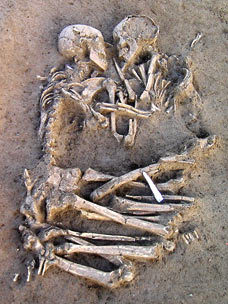 ©Daily Mail
Comment on this SOTT Focus
---
---

Remember, we need your help to collect information on what is going on in your part of the world!
Send your article suggestions to: sott(at)signs-of-the-times.org

---
Click here to return to the Signs of the Times Archive
Click here for today's Signs Page