---
Printer Friendly Version
Picture of the Day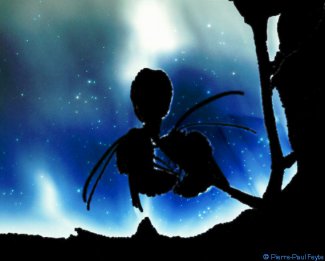 Eucera longicornis
©2004 Pierre-Paul Feyte
How Israel "Disperses" Demonstrations: Chemical Warfare on the West Bank?
By JAMES BROOKS
July 5, 2004
"On June 10th, 2004, the two clinics in Al-Zawiya treated 130 patients for gas inhalation. The patients were children, women, old people and young men. Dr. Abu Madi related that there was a high number of cases of [tetany], spasm in legs and hands, connected to the nervous system. Pupils were dilated...Other symptoms included shock, semi-consciousness, hyperventilation, irritation and sweating." (1)
Thus reads a report by medical units serving the West Bank village of Al-Zawiya, where nonviolent resistance to Israel's impending wall has been extraordinarily resolute. According to the medical report (procured by the International Middle East Media Center - IMEMC), "the gas used against the protestors is not tear gas but possibly a nerve gas."
The following day, Israel's 'Peace Bloc', Gush Shalom, began a press release with the following quote from Al-Zawiya: "What the army used here yesterday was not tear gas. We know what tear gas is, what it feels like. That was something totally different.... When we were still a long way off from where the bulldozers were working, they started shooting things like this one (holding up a dark green metal tube with the inscription "Hand and rifle grenade no.400" - in English). Black smoke came out. Anyone who breathed it lost consciousness immediately, more than a hundred people. They remained unconscious for nearly 24 hours. One is still unconscious, at Rapidiya Hospital in Nablus. They had high fever and their muscles became rigid. Some needed urgent blood transfusion. Now, is this a way of dispersing a demonstration, or is it chemical warfare?" (2)
The incident in Al-Zawiya appears to be the tenth attack by Israeli soldiers using an "unknown gas" against Palestinian civilians since early 2001. We have photographs of the canisters. We have film of victims suffering in the hospital. We have interviews with Palestinian and European doctors who have treated the victims. And we presumably have hundreds, perhaps thousands, of survivors. But we know nothing of their fate. Despite the evidence, we have not inquired.
Though it is a state secret, Israel's development of chemical and biological weapons has been known and analyzed for decades. From the typhoid poisoning of Palestinian wells and water supplies in 1948 (3,4) to the conversion of F-16s into nerve gas 'crop dusters' in 1998 (5), Israel has always demonstrated a strong interest in developing CBW agents and methods for their dispersal.
In 1992 an El Al 747 flying nerve gas ingredients from the US to Israel crashed into an Amsterdam apartment building. (6) According to Salman Abu-Sitta, president of the Palestine Land Society, the respected Dutch daily NRC Handelsblad followed up the crash with an in-depth investigation of the Israel Institute for Biological Research (IIBR), Israel's CBW complex in Nes Ziona. The paper reportedly found "strong links" with several US CBW and medical research centers, "close cooperation between IIBR and the British-American biological warfare programme", and "extensive collaboration on BW research with Germany and Holland." (7)
At IIBR, doctors publish world-class research in acetylcholine, the mother lode of nerve gas design. The Nes Ziona complex is reputed to have invented an "undetectable" poison-needle gun for "clean" assassinations. (8) In September 1997, two days after Jordan's King Hussein told Israeli PM Netanyahu that Hamas was seeking negotiations, Mossad agents in Jordan attempted to kill Hamas leader Khaled Misha'al with a lethal dose of fentanyl. (9)
For years, rumors persisted that Israel was using or testing unknown chemical agents on Palestinian civilians. The rumors began to reveal their substance February 12, 2001, when Israel began a six-week campaign of "novel gas" attacks in the Gaza Strip and West Bank. By chance, American filmmaker James Longley arrived in Khan Younis, Gaza in the middle of the first attack. That afternoon he began filming the victims. His award-winning film, Gaza Strip, documents the naked reality of Israel's chemical weaponry_the canisters, the doctors, the eyewitnesses, and the hideous suffering of the victims, many of whom remained hospitalized for days or weeks. (10)
The February 12 gassing of neighborhoods in Khan Younis presaged the attacks that followed. When the gas canisters landed, they began to billow clouds of either white or black, sooty smoke. The gas was non-irritating and initially odorless, changing to a sweet, minty fragrance after a few minutes. One victim recalled, "the smell was good. You want to breathe more. You feel good when you inhale it." The smoke often shifted to a "rainbow" of changing colors. (11) (12)
From five to thirty minutes after breathing the gas, victims began to feel sick and have difficulty breathing. A searing pain began to wrench their gut, followed by vomiting, sometimes of blood, then complete hysteria and extremely violent convulsions. Many victims suffered a relentless syndrome for days or weeks afterward, alternating between convulsions and periods of conscious, twitching, vomiting agony. Palestinians agreed: "This is like nothing we've ever seen before." (13)
Forty people were admitted to Al-Nasser Hospital "in an odd state of hysteria and nervous breakdown", suffering from "fainting and spasms." Sixteen gas patients had to be transferred to the intensive care unit. Doctors "reported the Israeli use of gas that appeared to cause convulsions." (14)
At the Gharbi refugee camp, thirty-two people "were treated for serious injuries" following exposure to the gas. Dr. Salakh Shami at Al-Amal Hospital reported the hospital receiving "about 130 patients suffering from gas inhalation from February 12." (15)
Bewildered medical personnel had "never seen anything..like the gas at Tufa." Victims were "jumping up and down, left and right..thrashing limbs around", suffering "convulsions..a kind of hysteria. They were all shaking." Others were already unconscious. An hour or two later, they would come to. And the convulsions and the vomiting and disorientation and pain would return.(16)
The following day, February 13, Israeli forces again deployed the strange new gas canisters in Khan Younis. Over forty new gas victims, "including a number of children..from 1 to 5 years-old", arrived at Al-Nasser Hospital and the hospital of the Palestinian Red Crescent Society. (17)
The news began to trickle out. "Palestinian security services have accused the Israeli army of using nerve gas during a gunbattle yesterday", reported AFX News Limited, noting "the army has strongly denied the charges." (18) The Voice of Palestine reported that "specialists believe that this is an internationally banned nerve gas." Those who inhaled the gas "suffered a nervous breakdown and vomited blood." (19)
The next day, Deutsche Presse-Agentur quoted Dr. Yasser Sheikh Ali from Al-Nasser Hospital: "Israel has been using a powerful type of tear gas against the Palestinians that causes convulsions and spasms." According to DPA, more than 80 Palestinians...reported that Israeli soldiers had used the white smoky gas, but Israel denied doing so." (20)
The Palestinian Centre for Human Rights (PCHR) reported that on February 15 three more canisters of the poison gas were fired at houses in the Khan Younis camp, and "another 11 Palestinian civilians, mostly children, suffered from suffocation and spasms due to gas inhalation." (21) British journalist Graham Usher wrote that Khan Younis civilians were "incapacitated" by "a 'new' form of toxic gas." (22)
PA President Yasser Arafat publicly "accused Israel of using poison gas." The IDF issued a second denial. Israeli Communications Minister Ben-Eliezer called reports of gas casualties in Khan Younis "incorrect and false." Senior PA minister Nabil Shaath said that a sample of the gas would be sent to "an international center for analysis." (23) The results, if any, were never divulged.
On February 18, Israeli soldiers near the Neve Dekalim settlement reportedly fired four poison gas canisters at Palestinian houses in Khan Younis. Later that afternoon, more canisters were fired, forcing Palestinians to flee their homes. PCHR reported that "41 Palestinian civilians, mostly children and women, suffered from suffocation and spasms." (24) By PCHR's count, 238 Palestinians were affected by poison gas attacks between February 12 and February 20. Twenty-seven of the victims were still hospitalized on the 22nd. (25)
On March 2, an unknown gas was used against civilians in the West Bank town of Al-Bireh. Israeli soldiers reportedly fired "canisters of a highly effective black gas similar to the one used in Khan Yunis three weeks ago." (26)
Twenty-four days later, Israeli forces east of Gaza City used a gas that "left symptoms different from those of the..gas used first.. in Khan Yunis starting from February 12..", although several similarities also appeared. In this attack the onset of abdominal pain seemed to be delayed. (27)
On March 30, medical professionals in Nablus reported Israeli soldiers using the new poison gas against Palestinian demonstrators. (28)
British journalist Jonathan Cook reported a March gas attack on the schoolyard of Al-Khader village, near Bethlehem. Thirteen year-old Sliman Salah was playing when a gas canister landed next to him, "enveloping him in a cloud of gas described by witnesses as an unfamiliar, yellow colour." Large doses of anti-convulsants were required to control the boy's seizures and maintain consciousness. His symptoms "were finally brought under control five days after his exposure to the gas. But Salah's father says the boy is still suffering from stomach pains, vomiting, dizziness and breathing problems." (29)
In its March, 2003 special report, Israel's Secret Weapon, BBC Television reviewed this series of gas attacks, noting, "The Israeli army has used new unidentified weapons. In February 2001 a new gas was used in Gaza. A hundred and eighty patients were admitted to hospitals with severe convulsions....Israel is outside chemical and biological weapons treaties and still refuses to say what the new gas was." (30)
In my amateur analysis of the reported comments of victims, eyewitnesses and medical professionals regarding this series of attacks, I identified thirty-three distinct symptoms attributed to the unidentified gas. All but three of these symptoms appear to be typical of nerve gas poisoning. (31) Tareg Bey, a chemical warfare expert at the University of California-Irvine, told the Chicago Reader that the symptoms described to him "all fit really well to nerve gas", though he was puzzled by the reported fragrance and skin rashes. (32)
In an October 9, 2003 article, Jennifer Loewenstein and Angela Gaff asked, "What gas is Israel using?" They reported the story of Mukhles Burgal, a Palestinian prisoner caught in a brutal attack inside Israel's Ashkelon prison. The "guards forced their way into the crowded cell, spraying two canisters of some type of gas. Some of the 14 prisoners passed out...The effects of the gas were severe muscle spasms and an overwhelming sensation of not being able to breathe." (33)
Two days later, Palestine Monitor reported that Israeli forces in Rafah were allegedly "firing gas grenades containing a black gas believed to be adamatite [adamsite?]- the use of which is forbidden according to international law. Medical authorities urged people to avoid the gas at all costs, as it not only causes difficulty in breathing but seriously affects the nervous system." (34) For some reason, PCHR's press release from the same day, an apparent source of these reports, is no longer available. (35) On the 14th, eyewitness Laura Gordon wrote, "The army used some kind of nerve gas for the first time in Rafah, leaving people in convulsions for days." (36)
Following the recent gas attack in Al-Zawiya, town officials reportedly told Al Ayyam newspaper, "the Israeli occupation troops were using an illegal substance that caused nerve spasms and that several cases had been transferred to Nablus hospitals." (37)
The PA's International Press Center reported that "official and public sources in..Al-Zawya..asserted that those who have inhaled the tear gas IOF troops fired at them four days ago are still suffering from the effects of the gas...a number of those citizens have already had amnesias or partial memory loss, in addition to cramps...in addition to strange cramps every three hours... those who inhaled the gas are still suffering severe pains in the joints and nausea for four days now. Eyewitnesses recalled that the Israeli soldiers were keen on picking the empty tear gas canisters.." Journalists told IPC "that the gas was in different colors they have never seen coming out of a tear gas canister before, and that some gases had an unrecalled smell." (38)
According to IMEMC, "..tens of demonstrators who inhaled this gas had partial memory loss. Dr. Bassam Abu Madi told IMEMC that the some of those who inhaled the gas had severe choking and some contraction in their feet and arm muscles. Eyewitnesses said the gas has a strange smell and a reddish-brownish color." [corrected copy] In a follow up story, IMEMC concluded that "protesters were attacked with gas that is not like the tear gas. Those who inhaled the gas suffered some memory loss while others had other symptoms of a nerve gas. Yet this was not medically confirmed for lack of laboratories to inspect the gas canisters collected from the scene." (39)
Al Jazeera reported the opinion of Awni Khatib, a professor of chemistry at Hebron University; "the new symptoms-particularly the violent convulsions experienced by some Palestinian protesters outside the village of Sawiya [Zawiya], southwest of Nablus-suggest..that the Israeli army may be using a new class of chemicals that lie somewhere between normal tear gas and chemical weapons." (40)
Israel's repeated use of highly toxic unknown chemicals against Palestinian civilians is now an open secret. We can expect these attacks to continue until a concerted effort is made to determine the facts and hold Israel accountable. So far, the international human rights community has steadfastly ignored the mounting evidence.
When will professional investigators begin to retrieve and test the gas canisters? Why has no one but James Longley bothered to document interviews with victims, doctors, and other eyewitnesses? In a world in which one country's mere possession of chemical weapons can be an excuse for international retribution, how another country's use of chemical weapons against civilians be dismissed as a "regrettably excessive" tactic of crowd control?
Our silence is poisoning Palestine.
James Brooks is a writer and webmaster for Vermonters for a Just Peace in Palestine/Israel. He can be reached at: jamiedb@att.biz
1. One Israeli, one Palestinian arrested and 40 wounded in anti-wall protest, International Middle East Media Center, 6/14/2004
2. Sharon Praised While Wall Construction Continues, Gush Shalom, 6/11/2004
3. The Jews of Iraq, by Naeim Giladi, The Link, April-May, 1998, American Middle East Update
4. Traces of poison, by Salman Abu-Sitta, Al-Ahram Weekly Online, 27 Feb. - 5 March 2003
5. Israeli WMD - Israel's Weapons of Mass Destruction, by Neil Sammonds, ZNet, 10/11/2002
6. ibid.
7. Traces of poison, by Salman Abu-Sitta, Al-Ahram Weekly Online, 27 Feb. - 5 March 2003
8. Israel's Anti-Civilian Weapons by John F. Mahoney, January -March 2001
9. Diplomatic Struggle Follows Bungled Assassination Attempt in Jordan, New York Times, October 15, 1997
10. Gaza Strip, James Longley, producer 2001
11. The Israeli Poison Gas Attacks: A Preliminary Investigation, James Brooks, Vermonters for a Just Peace in Palestine/Israel, January 8, 2003
12. Selected Interviews Gaza Strip by James Longley
13. ibid.
14. Israelis Kill 14-year-old, Assassinate Arafat Bodyguard, IANA Radionet, Islamic Assembly of North America, February 13, 2001
15. Israeli Army Fires Highly Toxic Quantities of Tear Gas at Civilians in Khan Yunis, Gaza, Palestine Monitor, February 15, 2001
16. Selected Interviews Gaza Strip by James Longley
17. Palestinian Centre for Human Rights (PCHR) Weekly Report on Israeli Human Rights Violations in the Occupied Palestinian Territories, Feb. 8 - 14, 2001
18. AFX News Limited, AFX European Focus, February 13, 2001
19. Selected Interviews Gaza Strip by James Longley
20. ibid.
21. Palestinian Centre for Human Rights (PCHR) Weekly Report on Israeli Human Rights Violations in the Occupied Palestinian Territories, February 15 - 21, 2001
22. Unprepared for the worst, by Graham Usher, Al-Ahram Weekly Online, Feb. 15 - 21, 2001
23. Arafat accuses Israel of using poison gas, CNN Asia, February 16, 2001
24. PCHR Weekly Report, Feb. 15 - 21, 2001
25. ibid.
26. Palestinian Centre for Human Rights (PCHR) Weekly Report on Israeli Human Rights Violations in the Occupied Palestinian Territories, March 1 - 7, 2001 (contains typographical error incorrectly listing incident as occurring "Friday, February 22")
27. Palestinian Centre for Human Rights (PCHR) Weekly Report on Israeli Human Rights Violations in the Occupied Palestinian Territories, March 22 - 29, 2001
28. Palestinian Centre for Human Rights (PCHR) Weekly Report on Israeli Human Rights Violations in the Occupied Palestinian Territories, March 29 - April 4, 2001
29. Vale of tears: Tear or poison gas?, by Jonathan Cook, Al-Ahram Weekly On-line, 5 - 11 April 2001
30. Israel's Secret Weapon, transcript, BBC, March 17, 2003
31. Gas Attack/What Was It?/News Bites, by Michael Miner, Chicago Reader, August 23, 2002 Reader Archive--Article: 2002/020823/HOTTYPE
32. Symptoms - The Israeli Poison Gas Attacks: A Preliminary Investigation, by James Brooks, VTJP
33. What gas is Israel using?, by Jennifer Loewenstein and Angela Gaff, Electronic Intifada, 10/9/2003
34. UPDATE: Israeli invasion of Gaza refugee camps leave 7 dead and 65 injured meanwhile strict lock down of Palestinian territories continues, Palestine Monitor, 10/11/2003
35. PCHR press release index 2003
36. Eyewitness account of the invasion of Rafah, by Laura Gordon, International Middle East Media Center, 10/14/2003
37. "This damned, racist wall", by Omar Karmi, Palestine Report, 6/16/2004
38. Israeli Sources: IOF Uses Chemical Weapons Against Palestinian Demonstrators, International Press Center, 6/13/2004 [erroneously refers to Gush Shalom as "Peace Now"]
39. Nonviolence Protestors managed to halt the construction, International Middle East Media Center, 6/16/2004
40. Palestinian resistance leaders killed, Al Jazeera, June 26, 2004
Comment: Chemical weapons and nerve gas. Were an Arab country to use these weapons on American troops, Rummy and Bush would be screaming their heads off about abuse and breaking of the Geneva Conventions. Remember during the invasion of Iraq last year when some captured American soldiers were shown on TV and the US administration got so upset and accused Iraq of violating the Geneva Convention? Kind of a sick joke these days. However, atrocities such as those described in this article are the daily fare of the Palestinians while the rest of the world looks on and does nothing.
What a wonderful world we live in where your neighbor can be slaughtered with impunity, justified because he or she worships a different God.
Add into the recipe Israel's work on ethnic specific weapons, that is, weapons that use DNA to target specific ethnic populations, and you have the makings of a Stephen King thriller, only this one won't play out in a book or on the big screen, but rather in the Occupied Territories, or perhaps even all over the globe. Imagine Israel getting really upset with the entire world...
Click here to comment on this article
ElBaradei: Sharon ready to discuss ridding Mideast of nuclear weapons
08:15 AM EDT Jul 08
JERUSALEM (AP) - Israeli Prime Minister Ariel Sharon is ready to discuss a nuclear weapons-free zone in the Middle East as part of future peace talks, the head of the UN atomic watchdog agency said Thursday.
Mohamed ElBaradei, on a three-day trip to Israel, said Sharon gave a commitment "to work in the future toward a nuclear-free zone in the Middle East." The two men met Thursday in Jerusalem.
It was not immediately clear when such talks might take place. But ElBaradei called Sharon's comments "a very good first step" that "will send a glimmer of hope through the region."
Sharon's office did not immediately comment.
ElBaradei is on the trip in efforts to persuade the country to loosen its long-standing taboo on discussing its nuclear capabilities.
Israel is believed to be the only country in the region to have nuclear missiles ready to launch.
Comment: Do we believe for a minute that Sharon is sincere when he says he is willing to work towards a nuclear free zone in the Middle East? This is an obvious delaying tactic to take the heat off of Israel for a short period of time. Tell the world you will engage in discussions but don't set a date. If the discussions ever start, drag them out. If you get in a corner, then stage a "terrorist" attack to justify breaking off talks, underlining yet again how the situation of Israel is unique and that if the rest of the world doesn't understand it, it is because of the rise of anti-Semitism.
For an example....
Click here to comment on this article
Israel snubs Mideast envoys, citing concerns of European neutrality
08:18 AM EDT Jul 08
JOSEF FEDERMAN
JERUSALEM (AP) - Israel snubbed a delegation of Mideast mediators that had come to discuss its planned withdrawal from the Gaza Strip, officials said Wednesday, further undermining efforts to promote an internationally backed peace plan for the region.
The representatives of the so-called Quartet - comprising the United States, the European Union, the United Nations and Russia - are in the region to promote the Gaza withdrawal.
The Quartet wants the withdrawal to be part of the "road map," its broader peace plan that envisions an independent Palestinian state by 2005.
Israeli officials, however, decided not to meet with the diplomats during a stop in Jerusalem on Tuesday - the latest sign that the Jewish state is attempting to exclude Europeans from Mideast peacemaking ahead of its planned Gaza withdrawal.
"We do not work with the Europeans on security issues. We don't want to work with the Europeans on security issues," said Prime Minister Ariel Sharon's spokesman, Asaf Shariv.
"We work with the Americans on these issues. There are a lot of other issues, like economic, that we would be happy to work on with the Europeans," Shariv said.
Shariv denied Israel had refused to meet the Quartet. He said Israel first wants to talk to a White House delegation arriving later this week before discussing the withdrawal plan with others.
Israel has often accused Europe of being biased toward the Palestinians.
The government has progressively distanced itself from the road map, which calls for a negotiated settlement with the Palestinians, since it signed on to the plan a year ago.
Sharon has refused to talk with the Palestinians as he prepares the Gaza pullout. Instead, he has asked Egypt, which borders Gaza, to help train Palestinian security forces and to ensure calm.
Comment: It was a year ago that the "Road Map" was in the news. Remember all the phony jubilation. The Palestinian military groups agreed to a cease-fire. Then what happened? Sharon and his thugs began blowing up Palestinian civilians. It wasn't the "bloodthirsty" Palestinians, it was the "good guys", the poor, pitiful victims of thousands of years of hate.
You have to wonder when a people goes through the horrors of the holocaust and learns nothing about empathy, as is illustrated in the following article about Elie Wiesel.
Click here to comment on this article
Elie Wiesel: Madman or Commissar?
By Mickey Z.
Tuesday, July 06, 2004
image Parade Magazine took full advantage of Independence (sic) Day falling on a Sunday by hiring none other than Elie Wiesel to pen a little something called "The America I Love" for their patriotic cover story. Over a two-page spread, the "Nobel Laureate" explained how America "for two centuries, has stood as a living symbol of all that is charitable and decent to victims of injustice everywhere...where those who have are taught to give back." The perpetually disheveled Wiesel explained that in the U.S., "compassion for the refugee and respect for the other still have biblical connotations."
Those same thoughts coming from a housewife in Peoria or truck driver in Boise are typically chalked up to ignorance so, perhaps Elie Wiesel is just an idiot...too simple-minded to discern reality from fantasy. But we can't let him off the hook so easily when, after reminding us—yet again—of his Holocaust experiences, the winner of the Presidential Medal of Freedom admits, "U.S. history has gone through severe trials" (apparently this is how Nobel Peace Prize winners think: it's "history" that undergoes trials). Ever careful to point out his bearing witness to the civil rights movement (and equally careful to avoid explaining what that means), Wiesel calls anti-black racism "scandalous and depressing." But, take heart, black America, because dear Elie adds "racism as such has vanished from, the American scene."
Roll over, Mumia...and tell Leonard Peltier the news.
Wiesel deigns to mention a few more of America's indiscretions but is at the ready to explain: "No nation is composed of saints alone. None is sheltered from mistakes and misdeeds" (more scholarly talk: "mistakes," not "policy"). "America is always ready to learn from its mishaps," he writes. "Self-criticism remains its second nature."
This is the territory of madmen and commissars. Who else speaks such words...and is convinced they speak the truth? Precisely what kind of man is this professional sufferer, Elie Wiesel? Here are two peeks behind the myth:
While Wiesel's documentation of the Nazi Holocaust has earned him international acclamation and a Nobel Peace Prize, he is not always predisposed to yield the genocide victim's spotlight. In 1982, for example, a conference on genocide was held in Israel with Wiesel scheduled to be honorary chairman, but the situation became complicated when the Armenians wanted in. Here's how Noam Chomsky described the incident: "The Israeli government put pressure upon [Wiesel] to drop the Armenian genocide. They allowed the others, but not the Armenian one. He was pressured by the government to withdraw, and being a loyal commissar as he is, he withdrew...because the Israeli government had said they didn't want Armenian genocide brought up."
Wiesel went even further, calling up noted Israeli Holocaust historian, Yehuda Bauer, and pleading with him to also boycott the conference. "That gives an indication of the extent to which people like Elie Wiesel were carrying out their usual function of serving Israeli state interests," Chomsky explains, "even to the extent of denying a holocaust, which he regularly does."
Why not welcome the Armenians, you wonder? Chalk it up to two conspicuous factors: the need to monopolize the Holocaust™ image and the geopolitical reality that Turkey (the nation responsible for the Armenian genocide) is a rare and much-needed Muslim ally for Israel.
In Parade, Wiesel also speaks of brave American soldiers bringing "rays of hope" to the people of Iraq. However, such rays were not welcome in Central and South America when Israel served as a U.S. proxy for proving arms to murderous regimes like that of Guatemala. In 1981, shortly after Israel agreed to provide military aid to this oppressive regime, a Guatemalan officer had a feature article published in the army's Staff College review. In that article, the officer praised Adolf Hitler, National Socialism, and the Final Solution --quoting extensively from Mein Kampf and chalking up Hitler's anti-Semitism to the "discovery" that communism was part of a "Jewish conspiracy." Despite such seemingly incompatible ideology, Israel's estimated military assistance to Guatemala in 1982 was $90 million.
What type of policies did the Guatemalan government pursue with the help they received from a nation populated with thousands of Holocaust survivors? Consider the words of Gabriel, one of the Guatemalan freedom fighters interviewed in 1994 by Jennifer Harbury: "In my country, child malnutrition is close to 85 percent. Ten percent of all children will be dead before the age of five, and this is only the number actually reported to government agencies. Close to 70 percent of our people are functionally illiterate. There is almost no industry in our country—you need land to survive. Less than 3 percent of our landowners own over 65 percent of our lands. In the last fifteen years or so, there have been over 150,000 political murders and disappearances. Don't talk to me about Gandhi; he wouldn't have survived a week here."
Similar stories can be culled from countries throughout the region, but apparently have had no effect on the rulers of the Jewish state. For example, when Israel faced an international arms embargo after the 1967 war, a plan to divert Belgian and Swiss arms to the Holy Land was implemented. These weapons were supposedly destined for Bolivia to be transported by a company managed by Klaus Barbie...as in "The Butcher of Lyon."
One Jewish figure that might be expected to find fault with such policy is, of course, Parade cover boy Elie Wiesel. Here is an episode from mid-1985, documented by Yoav Karni in Ha'aretz, which should put to rest any exalted expectations of the revered moralist:
When Wiesel received a letter from a Nobel Prize laureate documenting Israel's contributions to the atrocities in Guatemala, suggesting that he use his considerable influence to put a stop to Israel's practice of arming neo-Nazis, Wiesel "sighed" and admitted to Karni that he did not reply to that particular letter.
"I usually answer at once," he explained, "but what can I answer to him?"
One is left to only wonder how Wiesel's silent sigh might have been received if it was in response to a letter not about Jewish complicity in the murder of Guatemalans but instead about the function of Auschwitz in 1943.
In Parade, Elie Wiesel claims he discovered in America "the strength to overcome cynicism and despair." It sounds like what he's actually overcome is honesty and compassion.
Click here to comment on this article
Jerusalem's Dome of the Rock
Christian Zionists are growing in influence - even as they fight for policies their critics say work against peace in the Mideast. For these believers, it's all about fulfilling biblical prophecy.
By Jane Lampman
The Christian Science Monitor
July 07, 2004 edition
JERUSALEM - Ray Sanders and his wife, Sharon, grew up on farms in the American Midwest, but Israel has long been their home. Their journey began in the 1970s, when they read Hal Lindsey's apocalyptic bestseller, "The Late Great Planet Earth," which laid out a scenario for the end of the world according to a literal interpretation of Bible prophecies.
That shift spurred the couple to leave their jobs, attend Bible college in Texas, and move to Jerusalem, where in 1985 they helped found a biblical Zionist organization called Christian Friends of Israel (CFI).
With a handful of similar groups here they are marshalling financial and moral support from evangelical Christians around the world, and particularly in the United States, to fulfill what they see as their role in an unfolding final drama.
Christian Zionists, an Evangelical subset whose ranks are estimated at 20 million in the US, have in the past two decades poured millions of dollars of donations into Israel, formed a tight alliance with the Likud and other Israeli politicians seeking an expanded "Greater Israel," and mobilized grass-roots efforts to get the US to adopt a similar policy.
Christian Zionist leaders today have access to the White House and strong support within Congress, including the backing of the two most recent majority leaders in the House of Representatives.
For many Jews, the enthusiastic support of these evangelical Christians is welcome at a time of terrorism and rising anti-Semitism. Several Israeli leaders have called them "the best friends Israel has."
But other Jews and Christians have begun speaking against the alliance, which they see as a dangerous mix of religion and politics that is harmful to Israel and endangers prospects for peace with the Palestinians.
The prophecy
For Christian Zionists, the modern state of Israel is the fulfillment of God's covenant with Abraham and the center of His action from now to the Second Coming of Christ and final battle of Armageddon, when the Antichrist will be defeated. But before this can occur, they say, biblical prophecy foretells the return of Jews from other countries; Israel's possession of all the land between the Euphrates and Nile rivers; and the rebuilding of the Jewish temple where a Muslim site, Dome of the Rock, now stands.
These beliefs lead to positions that critics say are uncompromising and ignore the fact that most Israelis want peace. "Pressuring the US government away from peace negotiations and toward an annexationist policy, that has a direct negative impact on the potential for change in the Middle East," says Gershom Gorenberg, a senior editor at The Jerusalem Report newsmagazine.
Two former chief rabbis of Israel, Avraham Shapira and Mordechai Eliahu, recently approved a ruling urging followers not to accept money from the groups, warning that their ultimate intent is conversion of Jews. (Christian Zionists believe that during the Last Days Jews must either accept Jesus as the Messiah or perish.)
Other Christians in the Holy Land oppose what they consider a false interpretation of Christianity that is heightening tensions here. "Christian Zionism transforms faith into a political ideology, and one that needs an enemy," says the Rev. Rafik Khoury, of the Catholic Latin Patriarchate in Jerusalem.
But Christian Zionists argue that Christians' role is to back Israel wholeheartedly and conform to God's message in Genesis: "I will bless them that bless thee, and curse him that curses thee" (Gen. 12:3).
To this end, Christian groups have sponsored the migration of thousands of Jews from Russia, Ethiopia, and other countries. They've funneled resources into social programs for Israeli communities, and they encourage churches in the US to support Jewish settlements in the occupied territories.
"We stand for the right that all the land that God gave under the Abrahamic covenant 4,000 years ago is Israel's ... and He will regulate the affairs of how Israel comes into the allotment which is hers forever," says the Rev. Malcolm Hedding, director of International Christian Embassy Jerusalem (ICEJ), the largest of the Zionist groups with branches in 55 countries. Biblical Zionism rejects any effort to read the Scriptures spiritually or allegorically, Mr. Hedding says. "There is no such thing as a Palestinian," he adds. [...]
Christian Zionism today
In the US, premillennialist teaching has spread through TV and radio evangelists and, most recently, the "Left Behind" novels and prophecy websites.
Supporters range from avid believers to more passive participants who nonetheless believe in prophecy and watch for its fulfillment, scholars say. Such teaching may attract more followers in times of stress, observers suggest, as it offers one explanation for disturbing world events. [...]
A confluence of events in the 1970s and '80s set the stage for the current activism. After the 1967 war, Roman Catholics and mainline Protestants joined the international consensus that Israel should give up the occupied territories for peace; a growing Evangelical community became more politically active; and for the first time the Likud Party came to power in Israel with an aim to hold on to "Judea and Samaria" (the biblical terms for the West Bank).
A 1978 study by an Israeli scholar on American fundamentalist churches helped spur the Likud Party's courting of Christian Zionist leaders, such as the Revs. Jerry Falwell and Pat Robertson, according to Clifford Kiracofe, a former senior staff member of the US Senate Foreign Relations Committee.
Since then, Israeli Prime Ministers Yitzhak Shamir, Benjamin Netanyahu, and Ariel Sharon have addressed Christian Zionist gatherings of thousands in Jerusalem and met with evangelical leaders and groups during trips to the US.
Evangelical leaders began traveling to Israel and organizing tours for churches from across the US. Today a network of more than 200 pro-Israel grass-roots organizations has developed in the US, and Christian Zionist groups work to involve American congregations in prayer, financial aid, and advocacy.
For Ray Sanders and thousands of US churchgoers, their role is to learn how best to bless Israel.
"We take that injunction very seriously, and we want the Jewish people to realize the goodwill we have toward them, contrary to centuries of anti-Semitic history," he says. CFI runs several humanitarian projects, including a distribution center for the needy in Jerusalem, where donations from the US have provided clothing and household items for 250,000 people.
The International Fellowship of Christians and Jews (IFCJ), which draws support from the Christian Zionist community, holds an annual Day of Prayer for Israel that last year involved 18,000 US churches. Since fundraising began eight years ago, individuals and churches have contributed about $100 million in humanitarian aid for Israeli social programs ($20 million in the past year alone), and sponsored 100,000 émigrés from Russia and Ethiopia, says Yechiel Eckstein, who founded the group with an evangelical pastor.
"We have 350,000 donors who support this work, and we get 2,000 to 2,500 checks in the mail a day," he says of IFCJ, based in Chicago and Jerusalem. Rabbi Eckstein travels to several continents to educate congregations on the Jewish roots of Christianity and to urge advocacy for Israel. When the International Court at The Hague debated the legality of the wall Israel is building on the West Bank, he rallied a thousand Christians to march in protest outside the court building.
Republican Party strategist Ralph Reed has joined with Eckstein to form Stand for Israel, a project to build grass-roots advocacy for Israel among US Christians.
Christians' Israel Public Action Committee (CIPAC) lobbies Congress to oppose any limitation on Israel's action, including President Bush's peace proposal, the "road map." Richard Hellman, CIPAC head, recently called on US leaders "to desist from proposing any more plans to settle the Israel-Arab dispute."
Americans for a Safe Israel has joined with other groups in a national One-State Solution Campaign to halt the road map, using bumper stickers and billboards displaying a White House phone number.
Members of Congress in sympathy with the Christian Zionist point of view have taken positions contrary to administration policy, which supports a Palestinian state.
House majority leader Tom DeLay (R) of Texas, while visiting the area, said, "I don't see occupied territory; I see Israel." Speaking on the Senate floor, Sen. James Inhofe (R) of Oklahoma said Israel had a right to the land "because God said so."
In a 2002 appearance on Chris Matthews's "Hardball" show, former Rep. Richard Armey (R) of Texas, then House majority leader, proclaimed his support for "transporting" the Palestinians to other countries.
"In Israel, this position is regarded as somewhat like that of the Ku Klux Klan in the US," says Gorenberg. "These American figures are taking positions way to the right of the Israeli mainstream."
Influence on US policy
The debate over these groups is not whether they have influence on US policy but how much.
Deal Hudson, editor of Crisis magazine and a conservative Catholic, says their influence is overemphasized. "The administration's commitment to Israel was there from the very first day, prior to the coalition of Evangelicals the administration has cultivated for the past 3-1/2 years," he says. "Their role is only supportive."
Others point to many instances of influence. Gary Bauer, president of American Values, for example, recalls Israel's first attempt on the life of Hamas leader Abdel Aziz Rantisi in June 2003, when Mr. Bush publicly berated Israel.
"Several Evangelical leaders took issue with the president," Mr. Bauer says. They urged others to let the White House know. "I got thousands of e-mails the next day that were copies of e-mails sent to the president. Within 24 hours, he [Bush] had modified his remarks and emphasized Israel's right to defend itself."
The White House was publicly supportive in April when Israel's second effort to assassinate Dr. Rantisi succeeded.
As a result of Christian Zionists' alliance with Likud governments, they now work actively with Jewish groups in the US, even though historically the two have been on opposing sides of key issues.
"Christian Zionist groups play an increasingly important role," says Morton Klein, head of the Zionist Organization of America and a leader of the Jewish lobby, AIPAC. "In many districts where there are very few Jews, the members of the House and Senate are Israel's supporters in part because of the strong Christian Zionist lobby on Capitol Hill."
Other observers say the Bush administration's tilt toward Israel in the Israeli-Palestinian dispute results from a coalition of neoconservatives, the Jewish lobby, and Christian Zionists - with the latter providing the grass-roots political punch as a prime Bush constituency.
On the ground in Jerusalem
Most worrisome to critics is the impact Christian Zionists are having - or could have - on the volatile situation here. [...]
For many Christian Palestinians, Christian Zionism is disturbing because its conclusions work against their deep desire: justice for both Israelis and Palestinians.
Many local Christians come from families who became refugees or were displaced within Israel when the state was created in 1948. Naim Ateek's family were driven from their comfortable home in the town of Beisan by the Jewish army when he was 11.
Eventually becoming an Anglican pastor, Father Ateek says he struggled, wondering how to keep faith alive among his congregation under the hardships of military occupation. How were Christians to think about "the God of Israel"? Is God pro-Israeli or pro-Palestinian, or is He a God of justice for all?
After an in-depth study of the Bible, he wrote "Justice and Only Justice," in which he explores the scriptural basis for a God of inclusiveness. God's law requires justice for both peoples, Ateek says, and there won't be peace until that is accepted by both sides.
"If I as a Christian am not about truth, justice, peace, and reconciliation, then what is my ministry?" he asks in an interview in his book-lined office. [...]
"When political conflicts are framed as theological wars, we lose the ability to deal with them - the only solution is the final one," warned Jeff Halper, a professor of anthropology at Ben-Gurion University.
Christian Zionist ties to Jewish fundamentalists are disturbing to many Israelis, the majority of whom are secular, added Dr. Halper. The most explosive possibility relates to the prophecy that the Jewish temple will be rebuilt on the Temple Mount, where Dome of the Rock and Al-Aqsa Mosque now sit. Some Christian Zionists in America "are becoming quite involved financially and otherwise in the so-called Temple movement," says Weber.
When he talks to Christian Zionists about the destruction of the Dome of the Rock, some say, " 'Well, this is all prophesied - it's bound to happen,' " Weber says. Some suggest perhaps an earthquake will clear the mount. One predicted that "in an Arab-Israeli war a surface-to-surface missile aimed at Jerusalem will miss and hit the Dome of the Rock."
It's this kind of perspective that worries knowledgeable observers. Such mixing of prophecy and politics "could start World War III," says Dr. Marty.
Comment: "When political conflicts are framed as theological wars, we lose the ability to deal with them - the only solution is the final one." Yes, indeed... We are reminded of George Bush's war on terror. Of course, declaring that the war on terror is the creation primarily of George Bush is somewhat inaccurate. As the above article states, there are numerous other individuals and groups working towards the same basic end - or so they think.
The majority of Americans seem to believe that Kerry will change things, restore relationships with other countries, and repair the image of the US abroad after it was tarnished by the torture at Abu Ghraib. And yet, at the same time, these same Americans wish to continue to sacrifice their children in the war on terror. They criticize Bush's past actions, yet uphold and spread his lies. They look for someone to blame for the torture that occurred in their name, yet forget that the fact that these crimes were committed in their name means they themselves are at least partly to blame.
Meanwhile, John Ashcroft publicly mentions his desire to pass more draconian laws, most likely in the form of Patriot Act II. While Rummy denies there are plans for a draft, the Universal Service Act is waiting in the wings. Americans have become accustomed to living the locked down life. They almost welcome it. The fascist noose around their collective neck will continue to tighten ever so slowly until one day, they find they can no longer breath. But hey! At least they helped their Israeli "friends" kill off some E-vil A-rabs...
What happens when the rapture doesn't occur? The "believers" will be killed by their own religion, by their own leaders, by their own Israeli Zionist pals, and by their own ignorance - a self-imposed final solution.
Click here to comment on this article
Israeli court to decide whether to expel US activist
www.chinaview.cn 2004-07-08 19:12:45
JERUSALEM, July 8 (Xinhuanet) -- Israeli Tel Aviv District Court is to decide on Thursday whether to expel a US activist who has been under arrest for the past two weeks, the Ha'aretz daily reported.
As a member of the International Solidarity Movement in support of the Palestinians, New Yorker Anne Robinson-Peter was refused to enter the country at the Ben-Gurion International Airport two weeks ago for a 14-day visit, the report said.
The reason, the report said, is that she belongs to "a leftist organization," and "her guaranteed participation in hostile sabotage activity."
Robinson-Peter refused to hand over information about other members of the Israeli-Palestinian organization after she was questioned for some 10 hours by security agents at the airport, her attorney, Shamai Leibowitz, was quoted as saying.
She then has been put under arrest in the airport's holding cells reserved for people refused entry to the country by Immigration Polices.
As a graphic and video artist, 44-year-old Robinson-Peter planned to film a video about a 79-year-old Holocaust survivor traveling the country and to take part in demonstrations against the security fence.
Click here to comment on this article
By Glenn Becker
Contributing Writer
Online Journal
7-7-4
What would you do if in the middle of the night a heavily armed and armored goon squad invaded your sanctuary called home and terrorized you and your family with threats and beatings, and maybe even raped the females, killed one of your family members or took them away never to be seen or heard from again?

What would you do if your child was in the backyard playing and suddenly you see his head explode from a psychopathic snipers' bullet?

What would you do if you saw a picture of your best friend lying dead in a partially wrapped body bag and a foreign soldier posing gleefully giving the thumbs up signal?

What would you do if a car full of neighbors drove by and suddenly their car was riddled to pieces by .50 caliber gunfire and the shooters then walked up to the mangled mass of metal and finished off those who managed to survive the unprovoked attack?

What would you do if newborns in your family and community were born with hideous defects as a result of the all the depleted uranium contamination left behind by the spent munitions that liberated you?

What would you do if you had to watch a loved one die a slow agonizing death due radiation poisoning from the same depleted uranium contamination?

What would you do if you had to recant your religious beliefs, or face the possibility of sick and perverted sexual humiliation or a tortuous death?

What would you do if your unwitting child curiously picked up an unexploded cluster bomb and was killed or maimed?

What would you do if you found out your daughter felt she had to become a prostitute in order to help the family afford the basic necessities of life?

What would you do if a local family was having a wedding party and they were torn to pieces by foreign troops firing bullets and bombs, and had no regard as to whether or not they killed innocent men, women or children?

What would you do if foreign corporations came into your country and plundered your natural resources?

What would you do if you were coming home only to find arrogant bullies had demolished it with bulldozers?

What would you do if those who act less than human treated you as if you were less than human?

What would you do if constant fear, suffering and death caused by foreigners, with no end in sight, came to visit your neighborhood and country?

Take a moment or two and try to imagine yourself in these conditions, and then ask yourself, what would you do? That is, if you dare.

Comment
Simon H.
7-7-4

I know what I wouldn't do. I wouldn't send my sons and daughters off with bombs strapped to their bodies to kill innocent people, and very often my own people in the process, as a form of idiotic retaliation, which I know will only bring about more violence. I would demonstrate greater wisdom. I would certainly fight back! But, I wouldn't take hostages at random and behead them, when they had nothing to do with the tyranny of my oppressors. I would target my oppressors and their supporters, specifically, and with great justice and righteousness indignation, so that the whole world could clearly see who is in the wrong -- and that is what is not being done as a response to the insane oppression presently at hand. Certain elements in our faction are actually working for our destruction, and we, the common people, are paying for it. Even our neighbors, who claim to support our cause, treat us with equal if not worse tyranny when we seek peace and safety among them. So we have two enemies. The oppressive, racist state and the psychotics who claim to represent our cause with bombings, all in the name of our God.
Comment: The above article and commentary appears on Rense.com. The original article was written by Glenn Becker, a periodic SOTT contributor, and contributing writer for "Online Journal.com, where his article was originally posted without the comment by "Simon H".
Glenn's analysis is very incisive and brings home the reality of Bush and Sharon's "war on terror", which is in reality a war on the innocent and defenceless of this world. The comment by "Simon H" is, in contrast, rather shortsighted and the opinion of someone who clearly lacks a deeper understanding of the situation.
What, we wonder, would 'Simon H' have an ordinary Iraqi or Palestinian do to confront the overwhelming force of the Israeli or US war machine? How, we wonder, would he suggest that an ordinary Iraqi or Palestinian, consumed with grief and anger, go about avenging the atrocities committed against them? Where, we wonder, would Simon H recommend that an ordinary Palestinian go to bring the case for the fact that many years ago his entire family was evicted from their land and home and sent to a refugee camp? Who is listening? For more than 50 years the world stood, and continues to stand, mute in the face of the clear war crimes committed against the Palestinians and Iraqis (to name but two nations) at the hands of western governments.
It seems to us that no one, Simon H included, can know what it is like to be standing beside a son or daughter, father or mother, brother or sister, and suddenly see their head explode like a melon, the result of an Israeli or US soldier's bullet. It is easy for people like 'Simon H', puffed up with self righteousness, to pass judgment on the actions of those whose experiences he has never known and therefore cannot understand.
He claims that there are people within "his own faction" (we assume Arab or Muslim) that "are working for our destruction". Perhaps Simon H cannot tell the difference between actual Arab insurgent attacks and US and Israeli Black Operations. Just for the record - Black Operations are where one group carries out and attack and blames it on some other group. For example. "Palestinian suicide" bombings", "Arab terrorist" attacks, "al-Qaeda" attacks. At least some of these have been, and continue to be, carried out by US and Israeli Black Operatives. We do not doubt there are Arab "leaders" that have been co-opted by western governments and cannot and will not come to the aid of their people, but this simply makes the plight of the ordinary Iraqi or Palestinian more obvious, and forces them to resort to more and more extreme methods to defend themselves. And who is to say that this is not exactly what people like Sharon and the NeoCons in Washington actually want....
Click here to comment on this article
Are Jews a Means to an End?

Stephano – www.savethemales.ca July 1, 2004
Hi Henry.
Well your question of three parts is interesting. In reference to the first part of your question where you ask are Jews a "means to an end for the Illuminati?", the answer is yes.
In terms of planning total global economic and financial control it is consistently useful to use Jewish people as the smokescreen for this. This then diverts all attention on the real culprits, which are all the 13 Illuminati Families, away and onto Jewish people. The best example of this I can think of is the State of Israel. The Rothschilds Illuminati with help from the British Empire created Israel.
One of the main Zionist reasons for the Second World War was to deliberately displace European Ashkenazim Jewry out of Western Europe, Eastern Europe and Russia and bottleneck all Jews into the new State of Israel. The Israel of today bears little resembalance to the ancient and beautiful nation of Israel over 2000 years ago. Israel is nothing but a economic vassal and geopolitical control mechanism for the Talmudic Zionist Jews in America. If all the Arab States were to attack Israel tomorrow the Talmudic Zionsits wouldn't give a damn. (Ed: Indeed, war in Israel and the destruction of the Palestinians AND Jews may well be the real goal)
Another good example of how innocent and good Jewish men, women and children are used is when the Rothschilds Illuminati wanted to build the Israeli Supreme Court. Jacob Amschel stated that they would pay for it on the prerequisite that the Rothschild Family chose where it was built, how it was built and that the cost would never be allowed to be discussed or revealed. If you look at this building it is totally Satanic, Freemasonic with Kabbalistic and extreme occultic connotations all over it. It is also built on a very powerful leyline. Within the ISC are Obelisks, Pyramids, gold-painted Serpents and Dragons and God knows what else.
Ordinary Jewish people are innocent but Jews have been infiltrated by Luciferian Talmudic Zionists who care little about the Jewish race in Israel or anywhere else.
Freemasonry can be dated back to ancient Babylon and probably even further back to Sumeria. This is where present day Iraq is although many, including myself refer to this once great nation of Arabs as Mesopotamia. So Illuminism and Judaism are pretty much interrelated through elements of the Lesser and Greater Keys of Solomon, Hebrew Magick, the Zohar and of course Kabbalah.
Freemasonry is made up of elements of the Jewish Tradition, Egyptian Mysticism, Greek Gnosticism, India Tantricism and Vedic Esotericism and trace elements of Persian Zoroastrianism. As you can see its all the same thing really! The conspiracy is partly Jewish and also partly from other 'racial' groups such as the Germans, the French, the English, Italians and Russians - so in other words the conspiracy is European, Jewish and of course lastly American.
The 13 Illuminati Families want to create a New World Religion. The three countries chosen for this are India, Italy and Israel. All three of these countries have created pretty much all World Religions on Planet Earth over the past 8000 years. When the Dome of the Rock finally collapses in Jerusalem then all hell will break loose there. This is why I feel sorry for the ordinary Israeli on the streets of Jerusalem, Tel Aviv and everywhere else, because in order to create a New World Religion the current religious set up in Israel has to be destroyed. How the Illuminati will engineer this in the next 3 or 4 years remains to be seen.
Click here to comment on this article
Musharraf sees iron curtain between West and Muslims
"Impending Clash of Civilisations"
An iron curtain is descending between the West and the Muslim world, President Pervez Musharraf warned on Monday.
Political injustices, poverty and illiteracy were fuelling religious fundamentalism and terrorism, he said in a speech while on a visit to Sweden, urging rich countries to help Muslim nations with investment and socio-economic reforms.
Many people in the Islamic world "feel deprived, hopeless, powerless" and could be "indoctrinated with distorted views of Islam", the president said. "A new iron curtain seems to be falling. This iron curtain somehow is dividing the Muslim world on one side and the West on the other side. This is very dangerous," he told Reuters in an interview after the speech.
"Muslim states are seen as the source of terrorism," he said, warning of new "depths of chaos and despair" and more "terrorism and an impending clash of civilisations" if the West, particularly the US, and Muslim countries failed to eradicate the root causes of anger and resentment.
A solution to the Israeli-Palestinian conflict seen as just by mainstream Muslims might end 75 percent of global terrorism, the president said. Creating a Palestinian state side by side with Israel behind the pre-1967 war borders would likely require "political coercion" from Washington, he said. [...]
Comment: It is just this sort of political coercion that the US administration has been conspicuously avoiding, while at the same time making claims to be promoting peace...
Click here to comment on this article
Kerry and Edwards Will Use Campaign to Push Domestic Spy Agency
MSNBC
July 7, 2004
The selection of Sen. John Edwards as John Kerry's running mate has raised concerns inside the FBI and among civil-liberties groups that the North Carolina senator will use the campaign to promote his controversial proposal to create a new domestic spy agency.
For the past 18 months, Edwards has been perhaps the Senate's foremost champion of a much-debated proposal to strip the bureau of its intelligence-gathering functions and turn them over to a new domestic spy agency patterned after Britain's M.I.5.
Edwards's promotion of the idea has created friction between him and FBI Director Robert Mueller who, along with other bureau officials, has warned that such a move would spark renewed turmoil within the U.S. intelligence community that would hinder the war on terrorism. It also has stirred the fears of civil-liberties groups, who believe such an agency would inevitably end up spying on political dissidents and religious groups.
But Edwards has refused to back down—and there are signs that Kerry himself may be warm to the idea. "He thinks it's still the way to go," said Mike Briggs, Edwards's Senate press secretary on Wednesday when asked about the M.I.5 proposal.
Indeed, in an op-ed article for a North Carolina newspaper as recently as two months ago, Edwards wrote "that the FBI has failed as an intelligence agency." He also dismissed Mueller's own efforts to reform the FBI to make it more attentive to intelligence gathering, as opposed to strict law enforcement.
Despite receiving numerous briefings from the FBI director on the subject, which Edwards would have received as a member of both the Senate Judiciary Committee and Senate Intelligence Committee, "I have heard nothing that gives me confidence that the proposed changes will enable the FBI to more effectively collect intelligence on the plans and intentions of terrorists," Edwards wrote in a May 2, 2004, op-ed in the Raleigh News and Observer.
Although Kerry himself has talked more vaguely about reforming intelligence in his major campaign speeches, a little noticed "Defending the American Homeland" plan on his campaign Web site seems to reach a similar conclusion as Edwards on the subject.
"Many of the examinations of 9/11 have raised serious questions about whether the FBI is the right agency to conduct domestic intelligence collection and analysis," the Kerry plan states in a section entitled "Reforming Domestic Intelligence." "America needs an independent intelligence capability that focuses explicitly on domestic intelligence." A senior Kerry campaign official said that language—taken from a fact sheet handed out after a Kerry speech to a firefighters' group in March 2003—was not intended to specifically endorse an M.I.5 over a beefed up intelligence function within the FBI. "We've been back and forth on this issue—and it's still not determined," the campaign official said.
The idea of creating a new domestic spy agency first received wide currency in the wake of the September 11 attacks and has been debated intensely by the 9/11 commission. The panel is due to make its recommendations for intelligence reform later this month. But sources inside the commission say the prospect of such a major overhaul—along with its profound implications for civil liberties—has caused many panel members to shrink from such a step and favor less sweeping recommendations to improve intelligence gathering inside the country.
Indeed, top FBI officials had until this week concluded that Mueller's own reform efforts—including a recent proposal to create a new "intelligence directorate" within the FBI—had pretty much put the matter to rest. "We're not too worried about that," said one senior bureau official about the M.I.5 proposal.
Now, however, the prospect that the Kerry-Edwards ticket might push the M.I.5 idea could swiftly change the political dynamic. Since late 2002, in speeches and on the Senate floor, Edwards has argued that the failures of the FBI to pick up the trail of the 9/11 hijackers graphically shows the bureau's fundamental deficiencies in intelligence gathering. As a law-enforcement agency, the FBI is by culture and practice focused on arresting, prosecuting and convicting criminals—not collecting fragmentary bits of intelligence about potential terrorists and then analyzing the information to make sense of it, he has said.
"Asking a law-enforcement agency to manage intelligence is like trying to jam a square peg into a round hole," Edwards said in a December 2002 speech to the Brookings Institution. "The FBI … builds cases rather than connecting dots, and it keeps information secret rather than getting it to those who can use it stop the terrorists."
Edwards's repeated pounding away on the subject early last year annoyed top FBI officials. Some privately expressed irritation, suggesting that the politically ambitious first-term senator had seized on the idea as a vehicle for his presidential campaign. At one point, Mueller appealed to Edwards to hold off introducing legislation on the subject until the FBI director could brief him about what he was doing to correct the problem. Edwards went ahead and introduced his bill anyway in February 2003—and then took Mueller up on his offer, a sequence that did not go down well among some of Mueller's deputies.
Mueller's own reform efforts have revolved around making terrorism the FBI's top priority, beefing up the bureau's own intelligence and analytic functions and bringing in fresh managers with backgrounds in the intelligence community. But bureau officials argue that creating an entirely new agency dedicated solely to spying inside the United States would only create new bureaucratic rivalries—especially because the bureau law-enforcement agents would still be needed to develop evidence for criminal prosecutions. "You can't separate criminal prosecutions, terrorism and foreign intelligence," said one top FBI manager.
Civil-liberties groups have other concerns about the Edwards plan. For decades, FBI agents who seek to develop evidence about potential domestic threats have operated under tight Justice Department guidelines; those guidelines require there be grounds to believe targets are engaged in criminal acts. A new domestic spy agency would not be so encumbered, the critics say.
In an effort to insulate himself from such criticism, Edwards had proposed steps to curb potential excesses by a domestic spying agency, such as requiring approval from the Foreign Intelligence Surveillance Court for infiltrating domestic political or religious groups. But some civil-liberties advocates say such steps would be insufficient—the FISA court has historically acted as a rubber stamp, critics say—and that a domestic-intelligence agency such as Edwards has advocated would inevitably be tempted to spy on legitimate dissenters.
"Senator Edwards's proposal ignored the serious civil-liberties problems it would have caused," said Kate Martin of the Center for National Security Studies. She said she hopes the Democratic candidates will await the full report of the 9/11 commission before pushing the idea any further and "not make this a political issue."
Ironically, others say Edwards's selection could be the political kiss of death for the M.I.5 plan — at least within the Bush administration. Until recently, there had been strong indications that some White House officials, especially national-security adviser Condoleezza Rice, were leaning toward adopting the idea once the 9/11 commission comes out with their report.
But now, with Edwards so strongly identified with it, it would be highly unlikely the Bush administration would be tempted to pursue such a course — if only because administration officials would then be accused of stealing from one of their rivals, said Jim Dempsey, the executive director of the Center for Democracy and Technology.
"They'll never support it now," said Dempsey.
Click here to comment on this article
Unlikely activist brashly discredits paperless voting machines

By Rachel Konrad, Associated Press
SAN JOSE, Calif. — Bev Harris didn't set out to become a muckraking voting technology expert.
A literary publicist accustomed to working with manuscripts and authors in suburban Seattle, she preferred doting on her new grandchild to debating politics. She still doesn't vote regularly.
But when Harris was idly surfing the Web during a lunch break two years ago, she became obsessed with an issue essential to democracy, quickly becoming the unlikely center of a movement to ensure integrity in the nation's voting systems.
Ambushing registrars and tracking down executives at their homes and offices, Harris, 52, has uncovered conflicts of interests and security flaws inside the companies that make electronic ballot machines.
Searching the Web and poring over newspaper clippings, Harris has unearthed obscure arrest records, ties to conservative political groups and other embarrassing secrets of senior executives at voting companies.
Her conclusion: there will be so many problems with the more than 100,000 paperless voting terminals to be used in the November presidential election that the fiasco will dwarf Florida's hanging chad debacle of 2000.
"We have a train wreck that's definitely going to happen," Harris said. "We have conflict of interest, we've taken the checks and balances away, and we know the votes are already being miscounted fairly frequently. This is going to be huge."
Critics say Harris, author of Black Box Voting: Ballot Tampering in the 21st Century, is a fear-mongering grandstander and a presumptuous conspiracy theorist. The prime target of one investigation — voting equipment maker Diebold — says her antics undermine democracy.
"We must not frighten voters or inadvertently provide any type of disincentive to voting," Diebold spokesman David Bear wrote in an e-mail when asked to respond to Harris' claims that the company's software is riggable and insecure. "While security is an important issue ... improvements can and will be made." [...]
Comment: Apparently, in the opinion of the Diebold spokesman, while security is an important issue, it is secondary to "frightening voters or inadvertantly providing any tupe of disincentive to voting", even if the fear and disencentive to vote are about the security of the voting system itself. This is the kind of circular logic used by most politicians and their counterparts in industry.
Frustrated that few mainstream journalists have publicized her exploits, Harris once left voice mail for Washington Post star Bob Woodward. When he didn't call back, she trashed him in a Web forum called "Media Whores Online."
"It took me a while to recognize that despite her over-the-top personal style, she was doing valuable sleuthing," said Douglas Jones, associate professor of computer science at the University of Iowa and a member of Iowa's Board of Examiners for e-voting. "But her style, which tends to be a bit alarmist and tends to appeal to conspiracy theorists, may be necessary to get the attention of the people who need to pay attention."
Harris, who in the 1990s freelanced as an investigator for companies that suspected employees of embezzling, dismisses conspiracies. She blames a lack of federal oversight, and human nature for voting problems such as those in the November 2002 election, when Bernalillo County, N.M.'s turnout was 48,000 — but only 36,000 votes were tallied on Sequoia touchscreens.
"I never looked at this as a computer problem or even a conspiracy," said Harris. "I always looked at it as an auditing problem, the exact equivalent of taking away canceled checks, invoices and receipts. You take away oversight — someone will steal. I guarantee it."
Harris' obsession with e-voting began during a lunch break in autumn 2002. On the Web, she stumbled upon an article called "Elections in America — Assume Crooks are in Control," by freelance journalist Lynn Landes.
Harris began wondering how easy it would be to change electronic ballots to rig an election without a trace.
By trial and error, she tracked down people who work at voting companies by trolling on online job boards, high school reunion sites and other Internet haunts. She collected e-mail addresses and phone numbers for eight dozen programmers. Some boasted they could easily insert malicious code, alter or delete ballots and "flip" an election.
Harris wondered how easily these people could be bribed.
"I figured that if a middle-aged woman like me who has never done a 'covert op' in her life, working on the Internet, could find the people who program our voting machines, then certainly the bad guys must know who they are," she wrote in her roughly edited book, which reads the way Harris talks — full of enthusiasm, gall and expressions such as "oookay" and "right," dripping with sarcasm.
She took a loan from her father to self-publish her book. When critics said she was fear-mongering for money, she posted chapters free online. She says the book has cost her and her second husband, who works at Boeing, about $50,000, and they've made almost nothing from it.
In January 2003, Harris did a Google search for Vancouver, B.C.-based Global Election Systems, the software company Diebold acquired in 2002. On the search engine's 15th page of hits was a link to proprietary code, which Harris burned on seven CDs and stashed in a safe-deposit box. She didn't sleep for 44 hours while downloading 40,000 files.
Blogs began buzzing about secret voting software without password protection. Eventually, computer scientists at Johns Hopkins and Rice universities analyzed the code.
Avi Rubin, technical director of the Information Security Institute at Johns Hopkins, concluded that any clever 15-year-old could rig the system and vote multiple times. Alarmingly, "1111" was Diebold's default password identification number for microchip-embedded "smartcards" that voting administrators used.
Diebold issued a 27-page rebuttal, insisting the code was out of date and not used in more than 30,000 machines nationwide. But the study hit a nerve among computer scientists, who lended legitimacy to a ragtag movement.
"I worry that sometimes her arguments sound farfetched, and I have been told on more than one occasion that she is hurting the credibility of all of us with her wild theories," Rubin said. "On balance, though, I am grateful for the work that she does. We each have our own style."
Harris hopes more secretaries of state reach the conclusion of California's Kevin Shelley, who this year banned some Diebold machines and required counties to have a paper record of ballots.
"I would consider this last year a year of crisis," said Harris, who last year struggled to meet mortgage and heat payments. "I didn't want to get involved in this. I just don't understand how anyone could discover this stuff and live with themselves if they didn't say anything about it."
Comment: Welcome to the world of the psychopath Bev. While the above is nothing new, given that there is enough evidence to prove conclusively that Bush stole the 2000 election, the article is interesting for an entirely different, though not unrelated, reason.
If any of our readers ever wondered about the actual details of just how the printed media manipulates public thought and opinion, this article from "USA Today" is a very good example.
On one hand we might tend to think that, because this article actually appears in print, "USA today" remains a part of the real "liberal press".
Think again.
US media propaganda has not been so successful in deceiving the masses as a result of outright censorship, that would be far too obvious and, in the end, counter productive to the aim. The best way to programme the masses is to present the truth, or something close to the truth, while at the same time subtly ridiculing or dismissing it. "Subtly" here is the operative word, because it is through the dissemination of ideas in the form of single words or catch phrases rather than statements, that a message is best implanted in the gelatinous minds of the average citizen.
Consider, then, the title of the above article, and remember that most people will not read the whole piece, but rather focus on the headline and the first subheading. In these two sentences of less than twenty words, two of those words stand out from the rest in their role of defining the overall message.
In the title we read:
"Unlikely activist brashly discredits paperless voting machines"
The last word "voting machines", is important because it defines the subject.
The word "activist", as a result of previous media propaganda already carries negative connotations of a somewhat irrational being.
The word "brashly" continues the irrational theme started by "activist". "Brash" as: "hasty, rash, i.e. of judgment." Here then, in the ACTUAL TITLE of the article, the message has already been implanted. The average reader, whether he or she is consciously aware of it or not, will have understood that this article is about some, "slightly wacky 'lefty' making some off the cuff, poorly researched assessment of voting machines."
Even if the reader were to go on and read the rest of the article, at worst he or she would dismiss the contents, at best they would be left undecided, unmoved by the alarming and well researched findings of Bev Harris.
But just to leave nothing to chance, the subtitle constitutes the final nail in the coffin of any chances of anything of value being transmitted to the reader.
It states:
"Bev Harris didn't set out to become a muckraking voting technology expert."
Can you guess which word carries the subtly derogatory connotations?
Again we have "Bev Harris" and "muckraking voting technology expert". The word "expert" assumes an almost sarcastic tone as a result of the word "muckraking"
Muckraking is "scandal, real or alleged, especially about celebrities", according to the Oxford and Webster dictionaries. With this single word, Harris' research is consigned, in the mind of the reader, to the type of revelations that appear in the "Weekly World News" and other similar sensationalist periodicals, despite the important and objective information it presents.
Nowadays, mainstream media journalists (especially in the US) get paid for their skill at either promoting or trashing, with just a few words, a story or piece of information in the minds of readers. As to which they choose to do - THEY do not choose - they are instructed by their editors, who are in turn take their orders from the predominantly Jewish owners of the major printed publications in the US.
This is how Americans are told what to think. It really is very easy when you know how.
If it were us, and we realised that we were being subtly conned in this way, that, to a large extent, our minds and thoughts were being robbed by corporate America and the pompous asses in the White House, we would, most likely, get somewhat indignant, and resolve to rid ourselves of the years of lies and illusion we had already been unwittingly subjected to. And you?...
Consider the below headlines that have appeared 'ad nauseum' in the US and world press since 9/11. While trashing the truth, this type of 'fearmongering' has been used to equally great effect.
HEADLINE REPEATS - PATTERNS NOTED
1. "Our Skies Are No Safer Now Than Before 9/11"
2. "Al Qaeda Planning Spectacular Terrorist Strikes Greater Than 9/11" - Sometimes, the FBI is mentioned, and sometimes a different country is mentioned
3. "[Name of deadly material] Missing From [Name of location]" -- Names of deadly material supposedly missing are listed below:
a. Radioactive Material
b. Nerve Agent
c. Bubonic Plague
d. Cyanide Missing On Mexican Border
4. "Imminent Attack" Is About To Occur
5. "Iraq - Al Qaeda Said To Be Linked" -- Note: This claim has recently been demonstrated to have been absolutely false! Even Powell admits it!
6. "Dirty Bomb Said To Be A Threat" - Repeated over and over again - at least 15 times since 9/11
7. North Korean threat is repeated almost daily
8. Calls for a "Holy War" or "Jihad" are also too numerous to list them all
9. New York City constantly mentioned as target of a future major terrorist attack, including by nuclear bomb
10. "[Name of Location] Is Not Prepared For A Disaster"
11. "Attack on (Name of country or city) Sill Likely"
12. Pakistan - India potential nuclear conflict has also been in the news constantly since 9/11. The possibility of the entire Middle East conflict going up in all-out war certainly serves to unsettle people throughout the world. When Israel goes to war with her Arab neighbors, an India - Pakistan conflict would throw the entire region into nuclear war.
13. U.S. Is Considering The Use of Micro-Nukes -- Special Note: I learned while in US Army Intelligence that, when our government states they are thinking about developing a new type of weapon, the reality is that we have had it in our arsenal for at least 10 years. My sources, both within and without the military, have consistently told me that the US does have micro-nukes in our inventory. Therefore, when you see articles in which we are "thinking about developing micro-nukes", you must realize we are simply creating propaganda for public consumption. Such announcements just add to the general level of "fear of war" when the story comes out amidst war rhetoric with other nations.
Remember, many of these events are planned and will occur. Just because these events have been repeatedly warned of but have not occurred does not mean they will never occur; on the contrary, they will occur.
The goal of the propagandist is to condition people to live in fear and instability in the period of time before the acts do occur. This fear and instability is a major factor in the plan to convince people to give up this lifestyle for another, especially if they can be convinced that this lifestyle is somehow to blame for the unfolding crisis.
Nuclear bomb radiation monitors installed at U.S. - Canadian border
Vehicles crossing the border at International Falls will now be checked for nuclear bombs on monitors installed by U.S. Customs and Border Protection. The radiation portal monitors, worth $250,000 each, passively detect anything that's radioactive, an agency spokesperson said. "We live in a very dangerous post-9/11 world," Mike Milne said. "There are people around the world who want to randomly kill us."
Comment: Indeed, and they are MUCH closer to home than he thinks...
Click here to comment on this article
Journalists hit by new US visa rules
Owen Gibson
The Guardian
Thursday July 8, 2004
A crackdown by US authorities on issuing visas to foreign journalists threatens to cause chaos for overseas broadcasters and newspapers just five months before the presidential election.
The new rules, which come into force next week, will ban overseas reporters and news crews stationed in the US from renewing their visas without leaving the country first.
Just five months before American voters decide who will be appointed to the most powerful office in the world, the US state department said it would no longer allow overseas journalists to renew visas from within the country.
From next week the estimated 20,000 foreign journalists stationed in the US, who used to be able to renew their visas with ease in any major city, will be forced to leave the country to do so.
Rather than applying to renew their visas in Washington or New York, they will be forced to leave the country and re-apply at a US embassy or consulate abroad, delaying their application for between four weeks and six months.
The move will prove particularly problematic for the thousands of stringers and correspondents reporting for overseas publications and broadcasters who are based in America on a semi-permanent basis.
The state department said it was taking the action to comply with new homeland security legislation, which requires all visas issued after October 26 to include biometric information, including fingerprints. [...]
Comment: Unable to fully control the content of foreign press reports, the US government has opted for outright denial of access. This has serious implications, not only for this year's election, but also for any other event that might transpire in the US in the future. With the rest of the world effectively shut out and cut off from events in the US, there will be no one to stand up for "American freedoms" and the American people will be at the mercy of their unelected psychopathic "leaders".
Click here to comment on this article
Fox pulls plug on Skull and Bones drugrunning comment
Kris Millegan, editor of Fleshing Out Skull & Bones appeared on Fox News Channel on June 19th.
Here's some of the transcript:
Page Hopkins: So what are the common denominators of the members?
Kris Millegan: The common denominator...
P: Wealthy, what is it?.
K: Well, when you look at a sociological standpoint a secret society is a lot like an onion or a pyramid. You have a lot of members on the outside -um- or at the bottom [of the pyramid.] In Masonic circles they call them porch brethren. And then you have an administrative cadre and then you have a core group. The core group seems to be all related. -uh- The basic family group at Skull & Bones is the Whitney and the Cabot family.
P: Aha! Well, let's take a look at some of the illustrious members if my producer can put this list Henry Luce, for instance was one of the members. He was known to hire a lot of members. William Buckley, Jr., Averill Harriman James Whitmore, certainly not guys whom you'd think of as sinister guys. I mean I guess the questions is, those of us on the outside what do they do. Do they get together and have dinner together what is the point of this club?
K: Well, some say that point of the club is bonding. I look at it through the eyes of a social historian and when you look at the grouping of people and the jobs that they have. you find a rather large amount of the membership has been involved in intelligence. And then one of the most disturbing things is that the family groups have been involved in drug running since the early 1800s. And it seems --
P: Drug running?
K: Yes, the founder of Skull & Bones was William Huntington Russell and his family business was Russell & Company. Which was the -er- America's largest opium smuggler, the third largest in the world.
P: Wow, Kris Millegan, unfortunately we are out of time...
Comment: Whoops! Eh, Ok, thanks for that Kris, we..eh, have to go to a commerical break now... Guess who WON'T be back on prime time Fox News. You see, nowadays, the truth has little to do with "fair and balanced" reporting.
Army Stage-Managed Fall of Hussein Statue

David Zucchino
LA Times
July 3rd 2004
The Army's internal study of the war in Iraq criticizes some efforts by its own psychological operations units, but one spur-of-the-moment effort last year produced the most memorable image of the invasion.
As the Iraqi regime was collapsing on April 9, 2003, Marines converged on Firdos Square in central Baghdad, site of an enormous statue of Saddam Hussein. It was a Marine colonel — not joyous Iraqi civilians, as was widely assumed from the TV images — who decided to topple the statue, the Army report said. And it was a quick-thinking Army psychological operations team that made it appear to be a spontaneous Iraqi undertaking.
After the colonel — who was not named in the report — selected the statue as a "target of opportunity," the psychological team used loudspeakers to encourage Iraqi civilians to assist, according to an account by a unit member.
But Marines had draped an American flag over the statue's face.
"God bless them, but we were thinking … that this was just bad news," the member of the psychological unit said. "We didn't want to look like an occupation force, and some of the Iraqis were saying, 'No, we want an Iraqi flag!' "
Someone produced an Iraqi flag, and a sergeant in the psychological operations unit quickly replaced the American flag.
Ultimately, a Marine recovery vehicle toppled the statue with a chain, but the effort appeared to be Iraqi-inspired because the psychological team had managed to pack the vehicle with cheering Iraqi children.
Click here to comment on this article
Congressman suggests Bush hiding Osama

'They are trying to decide what day they should bring him out'
July 3, 2004
WorldNetDaily.com
In a speech to business leaders in India, Rep. Jim McDermott, D-Wash., gave credence to a rumor that the U.S. has captured Osama bin Laden and for political reasons is waiting for the right moment to reveal it, according to the Indo-Asian News Service.
"There are already rumours circulating that Osama bin Laden is being held somewhere already and it's only that they are trying to decide what day they should bring him out," McDermott told Confederation of Indian Industry representatives at a luncheon in New Delhi on Thursday.
The remarks came as McDermott told his audience that the loss of jobs during the Bush administration and the Iraq war will cause Americans to pick a new president in the fall.
The congressman, who made a controversial trip to Baghdad before the war, said the bin Laden scenario may not influence the electorate since Americans are disturbed by the pictures of U.S. soldiers mistreating Iraqis at the Abu Ghraib prison.
"It is hard to take away the impact that has had on us," he said.
McDermott tacitly accused the administration of a similar scheme in a remark to a reporter after the capture of Saddam Hussein.
"I don't know if it was definitely planned on this weekend, but I know they've been in contact with people all along who knew basically where he was," McDermott reportedly said.
Former Secretary of State Madeleine K. Albright echoed the bin Laden rumor, suggesting to Morton Kondracke of Fox News: "Do you suppose that the Bush administration has Osama bin Laden hidden away somewhere and will bring him out before the election?"
A staff member at McDermott's office in Seattle told WorldNetDaily the congressman is on his way back to the U.S. from India and unvailable for comment.
In September 2002, as Congress prepared to consider action in Iraq, McDermott expressed his mistrust of Bush in a television interview beamed to the U.S. live from Baghdad.
"I think the president would mislead the American people," McDermott said.
He accused Bush of "trying to provoke a war" with Iraq, charging the White House has "put a gun at the head of Saddam," saying, in effect, "'We're going to shoot you if you blink.'"
McDermott, joined on the trip by Reps. David Bonior of Michigan and Mike Thompson of California, insisted new weapons inspections would eliminate Baghdad as a threat to its neighbors.
At the New Delhi luncheon Thursday, McDermott criticized the U.S. administration in front of the Indian leaders, predicting Bush's tax cuts will backfire on him and Americans will pick a new president because of the Iraq war, the IANS reported.
McDermott, who met with Indian Finance Minister P. Chidambaram and Commerce Minister Kamal Nath among other officials, told his audience a U.S. administration will end its term with fewer jobs than when it began, for the first time since 1932. In that year, Democrats returned power, and it will be the same this year, the congressman predicted.
Click here to comment on this article
U.S. presidential race shapes up as millionaires versus millionaires
08:15 AM EDT Jul 08
GENARO C. ARMAS
WASHINGTON (AP) - Americans have a choice in November - they can vote for millionaires John Kerry and John Edwards, or cast their ballot for millionaires George W. Bush and Dick Cheney.
Of the foursome, Vice-President Cheney and his wife, Lynne, earned the most, according to their 2003 tax returns that showed an adjusted gross income of $1.3 million.
That's far more than what the typical American family brings home: the median household income in 2002 was slightly more than $42,400, according to the Census Bureau. Only about two per cent of households make more than $200,000.
Count the Bush, Kerry, Cheney and Edwards clans among those two per cent.
Bush, the current president, and his wife, Laura, listed $822,126 in adjusted gross income on their 2003 returns, while Kerry's income was about $393,000. The four-term Massachusetts senator has four trusts worth between $430,000 and $2.1 million.
The Democratic candidate filed his return separately from his wife, Teresa Heinz Kerry, heiress to the $500-million Heinz Co. fortune. She released information showing earnings of at least $5 million in 2003.
Bush, a former oil company executive, major league baseball owner and governor of Texas, lists among his assets his beloved 6.5-square-kilometre Texas ranch, worth between $1 million and $5 million. He also has U.S. Treasury notes valued at $5 million to $8.7 million.
Cheney, who once headed the oil company Halliburton Co., has between $15 million and $75 million in tax-exempt bond funds and $2 million to $10 million in stocks being handled by a global investment management firm.
Edwards, the North Carolina senator and Kerry's running mate, hasn't released his 2003 returns. He did file a financial disclosure statement that's required of the president, vice-president, cabinet secretaries and members of Congress.
In the statement, Edwards disclosed income of at least $680,000 last year, although that's a conservative estimate because lawmakers are allowed to list their income on disclosure forms in broad financial ranges.
While those statements lack the specifics of a tax return, they do offer a glimpse into the personal wealth of politicians. The net worth of Bush, Cheney, Kerry and Edwards runs well into the millions.
Comment: Them millionaires, they's jes folks like the rest of us. The only difference is they's so rich they don't have to work and it gives 'em the time to think about how to take care of us. And boy do they have plans....
Click here to comment on this article
U.N. Didn't OK Uranium Transfer to U.S.
By EDITH M. LEDERER
Associated Press
July 8, 2004
UNITED NATIONS - United Nations nuclear officials were in apparent disagreement with Washington over U.S. claims that it had the proper authority to transfer highly radioactive material from Iraq last month.
The nearly 2 tons of low-enriched uranium and approximately 1,000 highly radioactive items could be used in so-called "dirty bombs." The material had been placed under seal by the International Atomic Energy Agency at the Tuwaitha nuclear complex, 12 miles south of Baghdad, U.N. officials said Wednesday.
The United States disclosed Tuesday that the material was secured from Iraq's former nuclear research facility and airlifted out of the country to an undisclosed Energy Department laboratory for further analysis last month.
"The American authorities just informed us of their intention to remove the materials, but they never sought authorization from us," said Gustavo Zlauvinen, head of the IAEA's New York office. [...]
Comment: Are UN officials actually surprised that the US didn't seek approval for the transfer? After all, America has made it quite clear that it considers the UN to be irrelevant, and that international law doesn't apply to American officials and troops.
Click here to comment on this article
US May Force Kuwait to Cede Territory to Iraq: Ex-Minister
Agence France Presse
Thursday, 8 July, 2004

KUWAIT CITY, 8 July 2004 — An influential member of Kuwait's ruling family and former minister yesterday expressed concern the United States may coerce the emirate into making territorial concessions to Iraq as part of a new regional order.
"I am afraid that Iraq's new order may be arranged at our expense. The Americans may impose it on us," former Oil Minister Sheikh Saud Nasser Al-Sabah told Al-Seyassah daily in an interview.
"I am afraid that someone may come tomorrow to say that the issue of Umm Qasr (port) and Bubiyan and Warba (islands) needs to be reviewed. This time the request will not come from Iraq. It may come from the Americans," the former official said.
"Now, we should expect the unexpected, because (major) events may take place in this region," added the pro-American former official who was Kuwait's ambassador to Washington during the1990 - 91 Iraqi invasion and the Gulf War.
Apart from laying claim to Kuwait as part of Iraq, successive Iraqi leaders, including Saddam Hussein, had repeatedly asked the emirate to lease the two uninhabited islands of Warba and Bubiyan to expand Iraq's coastal area.
The border port of Umm Qasr is divided between Iraq and Kuwait, which was allocated an additional portion of the area when the United Nations demarcated the frontier between the two countries in1993 .
In January, Mudhar Shawkat, vice president of the Iraqi National Congress headed by Ahmad Chalabi, said that the two Gulf islands of Warba and Bubiyan were essential for Iraq's economic development. "Iraq's interests first of all lead us to demand that we should have such a water terminal on the Arabian Gulf," said Shawkat, whose remarks were strongly condemned in Kuwait.
Iraqi troops invaded Kuwait in August 1990 as Saddam claimed the emirate as part of his country and annexed it, naming it Iraq's19 th province. A US-led multinational coalition evicted Iraqi troops from Kuwait seven months later.
After serving as Kuwait's envoy in the United States for a decade, Sheikh Saud was appointed information minister on his return in1992 . He was later moved to the oil portfolio until he resigned in2001 .
Sheikh Saud also expressed fear that President George W. Bush may lose elections later this year, saying this will be catastrophic for Kuwait.
"If the US administration is changed in November, it will be catastrophic. I personally see it as a catastrophe, because Democrats do not understand foreign policy," he said.
Comment: Gee, do we suspect that Bush has Sheikh Saud in his back pocket? Nah!
Click here to comment on this article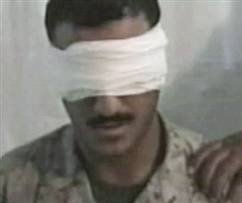 Missing Marine mystery deepens
Pentagon investigates whether kidnapping in Iraq is a hoax
By Jim Miklaszewski
NBC News
7:52 p.m. ET July 07, 2004
The strange disappearance of Marine Cpl. Wassef Ali Hassoun, reportedly kidnapped in Iraq nearly three weeks ago, grows even more mysterious.
Senior Pentagon officials tell NBC News, a man claiming to be Hassoun, called his family in Lebanon and the U.S. embassy in Beirut, saying he was — "released by his kidnappers somewhere in Lebanon" and that he was "waiting to be picked up."
But in Washington, Secretary of State Colin Powell said U.S. officials remain in the dark. "We have received reports that he may be in contact with various individuals and there are other reports that he might be in Lebanon. But we cannot confirm any of these at this time," said Powell.
Late Wednesday, FBI agents showed up at the Hassoun family home in West Jordan, Utah. And Pentagon officials tell NBC News that the Navy has now launched a criminal investigation into Hassoun's disappearance, and the possibility that his kidnapping may be part of an elaborate hoax.
Few clues since disappearance in June
Hassoun disappeared from his Marine unit on June 20. He showed up a week later in a hostage-style video, with a sword held over his head and his alleged captors threatening to kill him. Terrorist experts say, however, the group said to have held Hassoun is unknown.
Comment: If one has been paying attention, one might notice that most of the alleged terrorist groups in Iraq and around the world are unknown. It is the Bush administration and the complicit media that lumps them all together into the group known as "al-Qaeda".
"We don't know whether this group is simply an Internet address. ... We don't know if they were simply fabricated. We have no idea what's going on here," says terrorism expert Steve Emerson.
A second group later claimed Hassoun was beheaded — then retracted that claim. Pending the investigation, military officials refuse to say Hassoun's kidnapping was a hoax, but they point out he had reportedly talked openly about leaving his Marine unit to join his family in Lebanon. Whether he was kidnapped and then released along the way remains a mystery.
Comment: A second group retracted their claim that they beheaded Hassoun? Huh?! How exactly does that work??
Evil Terrorist Group: "We beheaded Hassoun! Death to America!!"
Pentagon: "Noooo, actually he called his family today. He seems to be alive and well..."
Evil Terrorist Group: "Um... Well, ya know, we were just kiddin' around...uh... Death to America!!"
We're not sure who screwed this one up - Mossad, the CIA, and the Pentagon come to mind - but someone obviously didn't do their homework.
Click here to comment on this article
Lawmaker: Reserves Near Breaking Point
By PAULINE JELINEK, Associated Press Writer
Wed Jul 7, 5:49 PM ET
WASHINGTON - In a bipartisan show of concern that the military is dangerously overworked, lawmakers said Wednesday the Pentagon is stretching troops to their limit and perhaps undermining the nation's future force.
Amid worries the high level of deployments to Iraq and Afghanistan could discourage potential new service members, Rep. John McHugh, R-N.Y., said it was not reassuring that most reserve components were falling below their recruiting goals for the year.
As of May 31, the Army National Guard was reported at 88 percent, the Air National Guard at 93 percent and the Air Force Reserve at 91 percent of their goals.
"We're taxing our part-time soldiers, our Guard and Reserves nearly to the breaking point," said Rep. Ike Skelton of Missouri, top Democrat on the House Armed Services Committee. "We have to be aware that the families back home are paying a significant price. We don't want to break the force."
Added Rep. Duncan Hunter, R-Calif., the committee chairman: "We're also concerned that insufficient force structure and manpower are leading the services to make decisions that I liken to eating the seed corn. That is, in order to make it through today, we do things that mortgage the future."
The Army recently decided to deploy units that have been used to train other soldiers. Hunter also noted that the ratio of reserves to active duty soldiers in Iraq is increasing and he said he was concerned that troops are not getting enough turnaround time back in the states. [...]
The Army in April broke a promise to some active-duty units, including the 1st Armored Division, that they would not have to serve more than 12 months in Iraq. It also has extended the tours of other units, including some in Afghanistan.
Some lawmakers are seeking a permanent increase in the size of the military. But Pentagon personnel chief David Chu said defense officials can make better use of those in the service by reorganizing brigades, making sure uniformed personnel are not performing jobs civilians could do and temporarily increasing troops levels with stop-loss and other devices.
"I really think you're wrong," Rep. Tom Cole, R-Okla., told Chu.
Cole said the Pentagon is doing a superb job of managing it resources, but that "in the end, it does take people, and you are using people pretty hard right now."
"At some point there's a limit in terms of personnel, and I think you're there, Cole said. [...]
Comment: Perhaps the time is approaching when Henry Kissinger's words will become prophetic:
"Today Americans would be outraged if U.N. troops entered Los Angeles to restore order; tomorrow they will be grateful. This is especially true if they were told there was an outside threat from beyond, whether real or promulgated, that threatened our very existence. It is then that all peoples of the world will plead with world leaders to deliver them from this evil. The one thing every man fears is the unknown. When presented with this scenario, individual rights will be willingly relinquished for the guarantee of their well being granted to them by their world government."
- Henry Kissinger speaking at Evian, France, May 21, 1992
Click here to comment on this article
U.S. Starts Drawing Plans to Cut Its Troops in Iraq
By ERIC SCHMITT
July 8, 2004
WASHINGTON, July 7 - With an interim Iraqi government now in place, the Pentagon is beginning long-range planning on how to reduce the number of American troops in Iraq, senior military officials said Wednesday.
Pentagon officials have previously said that about 135,000 troops would stay in Iraq through 2005. But the military's Joint Staff is working on detailed plans to reduce that number by 2006, on the assumption that Iraqi Army and other security forces will be ready to take on more responsibility by then, officials said.
At a House Armed Services Committee hearing on Wednesday, the top operations officer for the Joint Staff, Lt. Gen. Norton A. Schwartz of the Air Force, signaled that this thinking was well under way. When asked about planning for the size of an American force that could move into Iraq for yearlong assignments beginning in early 2006, he declined to give specific figures but said, "The bottom line is, it is different than what we anticipate" for 2005. He added, "There is a significant planning effort that will wrap up later this summer."
A senior defense official said later that the Joint Staff was developing options for a smaller force in Iraq, proposals that would be consistent with the goal of Gen. John P. Abizaid, the top American commander in the Middle East, to reduce the American military presence in Iraq over time. Some officials said those options revolved around 100,000 troops, or fewer, but troop levels could increase if security in Iraq worsened.
Reducing American forces in Iraq has been a consistent goal of the Bush administration. While any reduction would almost certainly occur after the November elections, the prospects could blunt Democrats' contentions that the administration planned poorly for the period after the fall of Saddam Hussein's government. [...]
Comment: While reducing the number of American troops in Iraq may have been a consistent goal of the Bush administration, they have failed miserably at achieving their objective. No doubt the Pentagon's "long-range planning" is just a ruse to lull the American people back to sleep for the time being...
Click here to comment on this article
U.S. deserter fears for his life
Soldier maintains fleeing was his only option
Going to Iraq would have been wrong, he insists
TRACEY TYLER
LEGAL AFFAIRS REPORTER
A U.S. Army deserter who fled to Canada because he wasn't willing to "kill or be killed" in the war in Iraq says he now fears for his life because he would be prosecuted and could face the death penalty if he is returned home.
Jeremy Hinzman, 25, who left the 82nd Airborne Regiment in January before its deployment to Iraq, says he believes the U.S.-led war is contrary to international law and "waged on false pretences." He believes he would be "a criminal" if he were to take part.
"I am not willing to kill or be killed in the service of ideology and economic gain," the South Dakotan says in his narrative filed with Canada's Immigration and Refugee Board, setting out the basis for his claim for refugee status.
Lawyers for Hinzman and the federal government appeared before board chair Brian Goodman in Toronto yesterday for a pre-hearing conference.
The federal government hasn't stated its position, but a three-day hearing into Hinzman's claim is scheduled to begin Oct. 22.
Also attending yesterday's session was Brandon Hughey, 18. He arrived in Canada from Texas after eluding military police in March, a day before his unit was to leave for Iraq, where nearly 900 U.S. military personnel have been killed since the war began.
Hinzman and Hughey are the only U.S. soldiers to seek asylum in Canada so far. During the Vietnam War, an estimated 125,000 American draft dodgers, deserters and conscientious objectors crossed the border. About half stayed after Washington declared a general amnesty.
Click here to comment on this article
Plane That Caused Capitol Evacuation Nearly Shot Down
By Spencer S. Hsu
Washington Post Staff Writer
Thursday, July 8, 2004; Page A01
The top general at the North American Aerospace Defense Command was on the telephone and prepared to order an F-16 fighter to shoot down an unidentified plane that turned out to be carrying the governor of Kentucky to former president Ronald Reagan's funeral last month, according to two federal security officials briefed separately about the incident.

The tense incident June 9 ended after the twin-engine Beechcraft King Air carrying Gov. Ernie Fletcher (R) turned to land at Reagan National Airport. But the close call caused officials to reassess safeguards for the airspace around Washington and prompted calls to expand the no-fly zone beyond its current 16-mile radius.
Although many planes have violated restrictions imposed after the Sept. 11, 2001, terrorist attacks, the June 9 episode was extraordinary because the aircraft penetrated so deeply into the no-fly zone during a high-security event and remained unidentified to air defense officials for several critical minutes. Current and former homeland security officials said the incident was a significant security breakdown.
The episode, described by some officials as the closest the government has come to downing a civilian plane over Washington since Sept. 11, 2001, will be the subject of two hearings on Capitol Hill today. Civil aviation officials will testify before a House subcommittee on aviation, and military officials have been invited to a classified briefing before the House Armed Services and Homeland Security committees.
"Even without the communications breakdowns involved in Governor Fletcher's flight, serious questions remain about the adequacy of our air defense system," said Rep. Jim Turner (Tex.), ranking Democrat on the House Select Committee on Homeland Security. "Does the existing no-fly zone around our nation's capital give sufficient time to intercept a terrorist controlled flight?"
A spokesman for the commander of NORAD, Air Force Gen. Ralph E. "Ed" Eberhart, would not comment on the handling of the incident, saying that rules of engagement are classified. But he and others pointed out that protocols were followed and that the air defense system as a whole is providing unprecedented security.
"The fact that the plane landed without incident June 9 indicates that interagency coordination procedures developed since 9/11 work," said the spokesman, Michael Kucharek. [...]
Comment: The article goes on to say that the governor's plane had a malfunctioning transponder. Even though the pilot notified the FAA of the failed transponder once the plane was airborne, the appropriate authorities were not notified. The problem seems to be a failure of communication, yet Rep. Jim Turner jumps up and declares that America's air defense system is inadequate. If the plane really did fly so deep into restricted airspace, then either the whole thing was planned, or the US is completely inept at defending the country from "terrorists".
Click here to comment on this article
Federal judge joins 9/11 cover-up
Associated Press July 7, 2004
A federal judge threw out a lawsuit Tuesday by a whistle-blower who alleged security lapses in the FBI's translator program, ruling that her claims might expose government secrets that could damage national security.
U.S. District Judge Reggie B. Walton said he was satisfied with claims by Attorney General John Ashcroft and a senior FBI official that the civil lawsuit by Sibel Edmonds could expose intelligence-gathering methods and disrupt diplomatic relations with foreign governments.
The judge said he couldn't explain further because his explanation itself would expose sensitive secrets.
Edmonds, a former contract linguist for the FBI, said she will appeal the ruling. [...]
The judge was appointed by President Bush... Walton acknowledged that dismissing a lawsuit before the facts of the case can be heard is 'Draconian."
Comment: Oh boy! This is priceless. It is always nice to see the mask dropping. We wonder who Walton might have been referring to when he said that Sibel Edmonds lawsuit could "disrupt diplomatic relations with foreign governments." Of course, Edmonds claimed that "Turkish spies" had tried to infiltrate the FBI just before 9/11 in order to scupper intelligence gathering, but sometimes a Turkish spy is not really a Turkish Spy...
Click here to comment on this article
US, Australia ink joint missile defence, military training deal
Thu Jul 8, 2:45 AM ET

WASHINGTON (AFP) - The United States and one of its key Asia-Pacific allies, Australia, have agreed to develop a controversial missile defense shield to deter and protect against countries having access to ballistic missiles and weapons of mass destruction.
Canberra also agreed to allow the United States to have a key military training center in Australia following annual talks between their foreign and defence ministers in Washington.
A memorandum of understanding to develop a system to defend the two countries from missile attacks was signed Wednesday by US Defense Secretary Donald Rumsfeld and his Australian counterpart Robert Hill.
Rumsfeld told reporters that its goal was "to help ensure that our nations are able to deter and defend against countries that have access to ballistic missiles and weapons of mass destruction."
He did not identify the countries but a joint communique at the end of the talks underlined the need to rein in North Korea and Iran, which have been persistently accused of developing nuclear weapons.
"Both the US and Australia share deep concerns about the proliferation of ballistic missiles capable of carrying weapons of mass destruction -- nuclear, chemical and biological," said a US statement issued after the signing.
The 25-year agreement signed Wednesday will include Australia as a participating country in the US missile defense program as well as development and testing of advanced radar technology capable of providing improved early detection of ballistic missiles after launch. [...]
Click here to comment on this article
Military's Needs Speed Development of New Non-Lethal Weapons
BY CHUCK McCUTCHEON
2004 Newhouse News Service
The war on terrorism and the U.S. military's need for new urban warfare tools have accelerated development of a new generation of non-lethal weapons that experts hope can transform crime-fighting by reducing the number of police shootings and killings.
With such weapons, police could incapacitate criminals with a ray gun that scalds the flesh but causes no permanent harm. Officers could shine flashlights with blinding green beams. Riots could be halted using stink bombs releasing overpoweringly nauseating smells or noise machines emitting piercing high-decibel shrieks.
The military's emphasis on peacekeeping and urban warfighting in Iraq and elsewhere offers "compelling case studies for the importance of having non-lethal weapons options," according to a 2003 report by the Naval Studies Board, which researches new technologies for the Navy and Marines.
"Because of the focus now on counterterrorism and homeland defense, interest in non-lethal weapons has certainly picked up dramatically," said retired Army Col. John Alexander, one of the foremost U.S. experts on non-lethal weapons. "Law enforcement becomes a benefactor of whatever is done in the defense arena."
Stun guns, pepper spray and other weapons are growing in popularity with police, but generally work only at close range. Many of the new items are intended for distances beyond 100 yards.
"We are right on the verge of changing law enforcement more dramatically than at any other time since Sir Robert Peel," said Sid Heal, an expert on such weapons, referring to the 19th century British politician who developed the modern police force concept.
Heal, a Los Angeles County Sheriff's Department commander who acts as an adviser to many other police forces, said one military project with considerable police potential is the Active Denial System, a Humvee-mounted ray gun that Raytheon Co. is expected to publicly unveil this fall.
Scientists at the Air Force Research Laboratory working with Raytheon developed the $51 million device, which shoots a narrow beam of electromagnetic energy at the speed of light, quickly and painfully heating a target's skin but leaving no burn marks or permanent injury.
"You can't concentrate on trying to get out of the beam, because it hurts so badly," said Rich Garcia, a laboratory spokesman in Albuquerque, N.M., who was among the test subjects. "My hair felt like it was on fire. I was in there for two seconds; nobody's been able to exceed three."
Stink bombs are being tested at Kansas State University's Non-lethal Environmental Evaluation and Remediation Center, which advises the Pentagon. Heal has seen tests from several companies of a noxious chemical solution -- contained in a capsule -- that smells like dead animals and feces. It is fired from a weapon similar to a paintball gun.
"This stuff could gag a maggot," Heal said. "It creates feelings of anxiety and tension all by itself. It has great potential; we think that may be the next chemical agent for riot control." [...]
Comment: At the risk of repeating ourselves, we ask once again; just where does anyone think these weapons, being developed for use by US forces, will actually be used. It will NOT be Iraq or similar colonial states, repression of the natives has always been done with deadly force as seen in Iraq. Clearly these weapons are being designed for use on urban America. The only thing missing is the right circumstance. Now we wonder what that might be...
Click here to comment on this article
Voting official seeks process for canceling Election Day over terrorism
Friday, June 25, 2004
BY ERICA WERNER
ASSOCIATED PRESS
WASHINGTON - The government needs to establish guidelines for canceling or rescheduling elections if terrorists strike the United States again, says the chairman of a new federal voting commission.
Such guidelines do not currently exist, said DeForest B. Soaries, head of the voting panel.
Soaries was appointed to the federal Election Assistance Commission last year by President Bush. Soaries said he wrote to National Security Adviser Condoleezza Rice and Homeland Security Secretary Tom Ridge in April to raise the concerns.
"I am still awaiting their response,'' he said. "Thus far we have not begun any meaningful discussion.'' Spokesmen for Rice and Ridge did not immediately respond to requests for comment.
Soaries noted that Sept. 11, 2001, fell on Election Day in New York City - and he said officials there had no rules to follow in making the decision to cancel the election and hold it later.
Events in Spain, where a terrorist attack shortly before the March election possibly influenced its outcome, show the need for a process to deal with terrorists threatening or interrupting the Nov. 2 presidential election in America, he said.
Comment: So there it is. They are talking about it already, months in advance. Well, look on the bright side, it will resolve many American's dilemma over who to vote for - they won't get to vote for anyone! Perhaps however, it is all for the best, with a repeat of the voting scandal theft of 2000, there really isn't much point in voting anyway.
While there may be no guidelines for suspending the election, there are certainly long standing institutions in place to take over if, somehow, many members of congress were to suddenly die...
Click here to comment on this article
Flashback: Attack "Will Happen" Leading Up To Election - Government Officials
Free Press International
May 2004
According to the U.S. News and World Report (USNWR), White House officials say they've got a "working premise" about terrorism and the presidential election: It's going to happen. "We assume," says a top administration official, "an attack will happen leading up to the election." And, he added, "it will happen here."
There are two worst-case scenarios, the official says. The first posits an attack on Washington, possibly the Capitol, which was believed to be the target of the 9/11 jet that crashed in Pennsylvania. Theory 2: smaller but more frequent attacks in Washington and other major cities leading up to the election. To prepare, the administration has been holding secret antiterrorism drills to make sure top officials know what to do. "There was a sense," says one official involved in the drills, "of mass confusion on 9/11. Now we have a sense of order." Unclear is the political impact, though most Bushies think the nation would rally around the president. "I can tell you one thing," adds the official sternly, "we won't be like Spain," which tossed its government days after the Madrid train bombings.
Comment: Indeed, god forbid that the people might see the government for what it is...
Click here to comment on this article
Top police officer says London has been in terrorists' sights
Thu Jul 8, 4:50 AM ET

LONDON (AFP) - Britain's most senior police officer reiterated that London has been targeted by terrorists, and that "massive resources" are being deployed to head off an attack.
"London has been the target of unsuccessful terrorist attacks and a lot have been disrupted," Sir John Stevens, who is expected to retire later this year as the chief of London's Metropolitan Police, told BBC radio.
"We can't disclose to the people what we are doing covertly and even overtly," he explained.
But he added: "We, and the security services MI5 and MI6, are working incredibly hard, and there are massive resources that we're using (to ensure) that no one breaks through in a successful attack."
Besides day-to-day policing in the greater London area, the Metropolitan Police also takes the lead in investigating terrorist activity throughout Britain.
Stevens revealed last March, in the wake of the Madrid train bombings, that "we have actually stopped terrorist attacks happening in London," but gave no details.
Mayor Ken Livingstone added that it would be "miraculous" if the British capital escaped attack.
The last known terrorist incident in London was a car bombing outside a pub in August 2001 blamed on the Real IRA, a Northern Ireland group opposed to peace efforts in the British-ruled province. [...]
Click here to comment on this article
MP warns of 'super terrorist' threat
ANDREW DENHOLM
POLITICAL CORRESPONDENT
THE UK is experiencing the most serious threat to its security since the Cold War, because of the rise of a new breed of "super terrorists", an international conference on security heard yesterday.
Bruce George, MP, president of the Organisation for Security and Co-operation in Europe (OSCE), said that in some respects the threat from terror groups such as al-Qaeda was even worse than that posed by the Soviet Union during the Cold War.
"The Cold War was dangerous because one bomb could have finished off Scotland, but it was an unrealistic threat because both sides were intimidated by each other into not using those weapons," he said at the annual conference of the OSCE in Edinburgh.
He added: "You could rely on the Americans and Soviets being rational, but you cannot rely on these super terrorists negotiating or having any legitimate values. Their aim is to control the world, and that is not a negotiating position."
Mr George said the threat from terrorism was "very high".
Comment: Mr George is an ass, and a liar to boot.
Click here to comment on this article
Funeral outburst at Bush and Blair
BBC
Wednesday, 7 July, 2004, 16:32 GMT
A church minister has denounced Tony Blair and George Bush at the funeral of a Scottish soldier who died in a roadside explosion in Iraq.
Fusilier Gordon Gentle, 19, from Glasgow, was killed while on a routine patrol in Basra on Monday, 28 June.
At St James' Parish Church in Pollok, Church of Scotland minister Dr John Mann spoke of his anger at politicians who had led the country into war. [...]
The soldier's family have already criticised the decision to send him out to Iraq just weeks after he finished his training. [...]
The American reverend told about 800 people who gathered to pay their final respects that Fusilier Gentle was killed fighting an unjust war.
Speaking during the service, Dr Mann said: "I want to believe that if there is a God in heaven then there will be justice because I want someone to pay for Gordon's death.
"And only God may judge who is ultimately responsible. I can only admonish. I am just a preacher.
"If I were to point them out I would say to President George Bush and Prime Minister Tony Blair I have only three words of admonishment.
"And I pray that they may someday be inscribed on the tablets of your hearts. And those three words are 'shame on you'."
In an impassioned eulogy, Dr Mann spoke of his fury at the decision to go to war with Iraq.
He said the case for war was based on "misinformation and lies". [...]
Click here to comment on this article
Spain protests nuclear sub visit
A diplomatic storm looms between Spain and Britain after Madrid called in the British ambassador to express its "profound ill feeling" over the planned visit to Gibraltar of a nuclear-powered submarine.
The HMS Tireless, which stirred protests when it visited the port four years ago, was due to arrive on Friday. It was not clear how long it would stay or why it was visiting.
The Spanish Foreign Ministry issued a statement saying the submarine's visit would be a "negative mark in the good relations of the two governments."
Ambassador Stephen Wright was told of the "displeasure and profound ill feeling of the Spanish government given the lack of British sensitivity toward Spanish public opinion," the statement said.
A spokeswoman for the Foreign Office declined to provide details on the visit, but said it was "part of a routine operational programme."
"I can confirm that Spain asked (Britain) to cancel or divert the visit, we declined to do so. HMS Tireless, like any other Royal Navy ship, is entitled to use Gibraltar port facilities, but we've kept the Spanish authorities informed and provided them with assurances of Tireless's safety record," the spokeswoman said on customary condition of anonymity.
In Barcelona, Foreign Minister Miguel Angel Moratinos described the affair as "another provocation by the British admiralty," the Spanish news agency Efe reported.
"We consider this attitude unacceptable and not very friendly on behalf of the British Navy," Moratinos said.
He said the government would "take note" of the incident and "we will see in the future how our will to cooperate with Britain in many areas will develop."
The submarine was towed into Gibraltar in May 2000 with cracks to its engine cooling system. Its repairs took a full year, triggering protests by people on both sides of the border concerned over the environmental threat it posed.
Click here to comment on this article
By MARK MacKINNON
From Thursday's Globe and Mail
Moscow — On another day, the symbolism of having a show titled Free Speech censored might have been enough to make Savik Shuster laugh. But yesterday was not the time for appreciating ironies. These are serious days for anyone attempting to do independent journalism in Russia.
Free Speech, which was taken off the air yesterday by Russia's NTV channel, was seen as the last televised forum in the country for open debate of political issues. A talk show with an edge, it drew a highly intelligent audience and Mr. Shuster and his guests were remarkable on the increasingly bland Russian television dial for their willingness to question and criticize the Kremlin.
But in Vladimir Putin's Russia, there are lines you don't cross. The outspoken Mr. Shuster, a Lithuanian-born Canadian citizen and graduate of McGill University's medical school, has had so many clashes with the Kremlin and its allies that he isn't sure when or where he overstepped the bounds.
Click here to comment on this article
Chilean court: Pinochet aware of human rights abuses by his security service
08:15 AM EDT Jul 08
FEDERICO QUILODRAN
SANTIAGO, Chile (AP) - Former dictator Augusto Pinochet was fully aware of human rights abuses committed under his rule and did nothing to prevent them, according to the text of a Chilean court decision made public Wednesday.
Click here to comment on this article
Bush Liked Less Than Saddam, Bin Laden
Wed Jul 7, 2004 11:07 AM ET
BUDAPEST (Reuters) - President Bush is disliked by more Hungarian secondary school children than former Iraqi leader Saddam Hussein and Osama bin Laden, according to an opinion poll published on Wednesday.
Bush also topped the list of most-liked foreigners with eight percent of the vote, ahead of Pope John Paul with six percent.
The survey of 34,000 students, aged 16-18, from 655 high schools showed Adolf Hitler was the most disliked foreign personality with 25 percent of the vote, followed by Bush with 23 percent and Bin Laden with 16 percent.
Bush was even more unpopular than former Soviet dictator Josef Stalin, according to the poll.
The most unpopular Hungarian was Prime Minister Peter Medgyessy followed by Viktor Orban, the leader of the right of center Fidesz opposition.
Orban was also the most popular Hungarian followed by Arpad Goncz, the former dissident who became the country's first post-communist president.
Click here to comment on this article
Enron's Kenneth Lay surrenders to FBI
Last Updated Thu, 08 Jul 2004 8:11:13
HOUSTON, TX - Former Enron Corp. chief executive Kenneth Lay surrendered to authorities on Thursday to face charges stemming from the collapse of the company.
Lay, 62, turned himself in at a Federal Bureau of Investigation office in Houston, Texas, around 7:20 a.m. ET. He was later taken handcuffed into a courthouse.
U.S. federal prosecutors presented an indictment to U.S. Magistrate Judge Mary Milloy in Houston on Wednesday. The indictment was sealed by the judge at the prosecutors' request.
"I have done nothing wrong, and the indictment is not justified," Lay said in a statement issued Wednesday.
Click here to comment on this article
Mentally ill children held in US detention centres
The New Zealand Herald
08.07.2004 8.00am
WASHINGTON - Thousands of mentally ill American children, some as young as seven, are locked up in juvenile detention centres because there is nowhere else for them to go, a congressional report found on Wednesday.
The report painted a disturbing picture of children with mental illness and/or substance abuse warehoused in jail-like conditions where their mental health often deteriorates.
More than 160 of the 524 centres surveyed reported suicide attempts by youths held unnecessarily.
"The last place some of these kids need to be is in detention," the study quoted a Tennessee juvenile centre administrator as saying. "Those with depression are locked up alone to contemplate suicide. I guess you get the picture."
The House-Senate bipartisan report was initiated by Maine Republican Sen Susan Collins and California Democrat Rep. Henry Waxman. It was the subject of a hearing on Wednesday by the Senate Committee on Government Affairs, which Collins chairs.
Many families struggle to afford mental health care. Health insurers often provide little or no mental health coverage, or pay so little doctors don't want to take part in the health plans. Community clinics are stretched and cannot meet demand.
The study found that 33 states hold youths who have no charges against them of any kind in juvenile detention centers. On any given day, about 2000 such young people are incarcerated, and over six months, the number is 15,000. [...]
Click here to comment on this article
'Incurable psychopath' back in prison after pleading guilty to new charges
July 8, 2004
BRAMPTON, Ont. (CP) - A violent sex offender described as an "incurable psychopath" is going back to jail for two years after pleading guilty Wednesday to new charges just a day after his release.
The latest conviction against Martin Ferrier, 31, was on charges of uttering a death threat and breach of bail. Appearing at a bail hearing Wednesday, Ferrier blamed the media for not giving him privacy and freedom after he was released Tuesday from Warkworth Institution in Campbellford, Ont. He had been serving 28 months for threatening a family member, and has been in an out of jail for almost two decades.
"It grieves me to do it," the judge said in accepting his guilty pleas, pointing out that the newest charges against Ferrier had been for minor offences.
Ferrier was immediately led out of the Brampton courtroom in handcuffs to begin serving two years in federal penitentiary.
He had spent 15 of the last 17 years behind bars on more than 60 convictions, including rape, forcible confinement, assault and arson.
Krista McGregor, a spokeswoman for the Correctional Service of Canada, has said Ferrier had to be released Tuesday because his sentence had been served.
But residents expressed concern about his release and television cameras followed him throughout much of his 12 hours of freedom on Tuesday.
Sgt. Kathy Gagnon, a Peel Region police spokeswoman, said Ferrier was arrested Tuesday night after allegedly threatening a member of the media.
Ferrier was turned away from two motels following his release and after police issued a public safety advisory and the man's own mother expressed fears he would reoffend.
Police said Ferrier, who has a history of reoffending within a short period of being released from custody, is at high risk of reoffending violently and sexually and has refused to participate in any treatment programs offered while in custody.
Judy Perry, Ferrier's mother, said her son has been a life-long criminal and sexual deviant since he was nine, in Grade 3. He underwent counselling for years, but the behaviour continued through his youth, she said.
Click here to comment on this article
Fireball seen in skies above state
By The Associated Press
Thu July 8, 2004
A large meteor may have been what residents in Oklahoma, Texas and parts of the south-central United States saw Wednesday night, officials said.
The National Weather Service said it had received numerous reports of a fireball in the sky around 9:30 p.m. from central and southwestern Oklahoma to northern Texas and other parts of the South.
After discussions with the Department of Homeland Security's Federal Emergency Management Agency, the weather service said officials concluded that what residents saw was likely a large meteor.
John Clabes, a regional spokesman for the Federal Aviation Administration, said there were no reports of missing aircraft in the area.
In Tulsa, John Southern said he saw what he thought was an airplane on fire while driving near U.S. 75 in Tulsa.
"It looked like an airplane going down in flames really hard or fast _ or space debris," said Southern, a freelance photographer. "It was coming from a southwesterly direction."
When he got a closer look, he saw that the object had a definite central mass.
"This was just like a blob," Southern said. "I wouldn't say it was a UFO, but I don't know. I thought surely something had happened."
Southern said the object flew to the southeast before he lost sight of it.
"It was just a flash in the pan. It was over in about three seconds," he said.
A similar phenomenon occurred Dec. 1, 2001, when residents in Oklahoma, Texas and Nebraska witnessed space debris breaking up as it entered the atmosphere.
Witnesses reported seeing long streaks of light moving across the sky and breaking into about 30 "little balls with tails."
Click here to comment on this article
Meteor blazes across North Texas nighttime skies
01:20 PM CDT on Thursday, July 8, 2004
From Staff Reports
If you saw an unusual object light up the night sky Wednesday, you weren't alone.
Many people – some of whom thought a plane had crashed – notified authorities and media outlets across North Texas about 9:20 p.m.
What they saw was a meteor, said Alan Moller of the National Weather Service in Fort Worth.
"Although they're very small objects, they burn like mad," when they enter the Earth's atmosphere, he said.
Jeff Barton, a member of the Texas Astronomical Society, agreed the object might have been a meteor or what's called a bolide, an exploding meteor.
"Bolides tend to be larger and move a little slower," he said. "They will be in the sky for 10 to 15 seconds. Someone at a game can use their video camera and capture it. ... If it was a bright, slow-moving bolide, it could have been caught. There's been a spate of bolides recently."
Mr. Barton said the object also might have been space junk, but he noted that the Aquarids meteor shower is visible from mid-July to mid-August.
Although scientists sometimes can predict when meteors will make their entry, this one was unexpected.
Skygazers can expect another spectacular performance later this summer.
According to NASA, the Perseid meteor shower will start in mid-July and peak Aug. 12. It will be more visible in the Northern Hemisphere.
The shower occurs as Earth travels into the periphery of a cloud of debris from the comet Swift-Tuttle.
Comment: A video of the meteor can be found here along with the insipid commentary of the news crew.
Click here to comment on this article
Coldest start to summer in Sweden since 1928
STOCKHOLM (AFP) Jul 07, 2004
Sweden has experienced the coldest start to summer since 1928, with cool temperatures and frequent showers leaving sun worshippers pale and chilled and flocking to travel agents to book holidays in the sun.
The country has experienced no extended warm period yet this year, the Swedish meteorological institute SMHI said on Wednesday.
The highest temperature reported in Sweden so far was 27.4 degrees Celsius (81 degrees Fahrenheit) in the town of Gaevle, north of the capital Stockholm, on June 3.
Not since 1928 has the highest temperature been so low at this point in the summer, SMHI said.
Click here to comment on this article
Alert issued after Costa Rican volcano erupts
SAN JOSE (AFP) Jul 07, 2004
Costa Rica's National Emergency Commissionhas issued an alert following an eruption of the Arenal volcano, one of the Central American country's key tourist attractions.
The Arenal volcano, some 150 kilometers (93 miles) north of the capital, has a cone of some 1,633 meters (5,358 feet) and erupted Tuesday sending an avalanche of lava down one side of its summit, according to the authorities.
No fresh eruptions have been reported Wednesday, but the CNE has prohibited people approaching the volcano in a bid to highlight its potential danger to visiting tourists.
Click here to comment on this article
Freak weather kills 41 people, injures 150 across China
BEIJING (AFP) Jul 07, 2004
At least 41 people have been killed and more than 150 injured in freak weather-related incidents across China, officials and reports said Wednesday.
Three people were killed and 143 injured when a hurricane lashed eastern China Wednesday, turning a rural community into a blizzard of walnut-sized hailstones and falling tree trunks, officials said.
The gale measuring force 12, the maximum on the Beaufort scale, hit Xiao county in Anhui province early Tuesday with a strength unprecedented in the area's recorded history.
"A total of 18,000 houses were destroyed when the hurricane struck," said Yang Nianwu, an official at the county's bureau of civil affairs.
"They either collapsed under toppled trees or were damaged by the hail," he told AFP by telephone from the ravaged area.
The hurricane came during a week of bad weather across China that has proved unusually lethal.
In southwest Sichuan province, seven people, including two girls aged three and seven, were killed and 10 others injured during a lightning strike Sunday, the official Xinhua news agency reported.
The lightning struck as rainstorms and hail pounded 33 towns in the Liangshan prefecture, affecting 38,000 people and 2,990 hectares (7,305 acres) of cropland.
Forty homes were also destroyed in the area, home to the Yi ethnic minority.
In the northwest Xinjiang region two people drowned and six went missing in mountain torrents on Tuesday, while on Monday at least 14 were killed and 22 were missing after a huge mudslide in southwestern Yunnan province.
Yang, the Xiao county official, described a scene of utter destruction left in the wake of the unprecedented hurricane.
"A million trees were uprooted, and our cotton fields were destroyed by the hail," he said. "The infrastructure was also badly damaged. The power supply stopped."
Equally devastating for an area heavily reliant on agriculture, more than 30,000 domestic animals were injured.
As the locals were tending to the injured, six of whom were seriously hurt, life was slowly returning to normal on Wednesday.
"People are either put up in houses that weren't damaged in the storm, or they hurriedly repair houses hit by the hurricane," said Yang.
While Anhui was recovering from the storm, a heat wave in southern Guangdong province's Dongguan city has claimed 15 lives over the past two weeks, according to figures released Wednesday in the Yangcheng Evening Post.
A total of 255 people from the city were taken to hospitals because of heat-related complications.
Temperatures have fallen in recent days as a result of rain and the situation in the city was under control, the report said.
Click here to comment on this article
Storm cuts power to thousands of British homes
LONDON (AFP) Jul 07, 2004
Thousands of households in England were hit by power cuts Wednesday after a severe storm lashed the south and east of the country.
Trees were felled and trains and ferry services to France delayed.
A spokeswoman for EDF Energy, the main electricity supplier to the region, urged members of the public to stay away from collapsed power lines.
"We have extra staff working to deal with these faults, but are still being affected by the ongoing weather conditions," the spokeswoman said.
"We are aware that a number of overhead power lines have been brought down and would urge people to stay away from these as some may still be live," she said.
Up to 106,000 homes, mostly in the worst hit southern and eastern parts of the country, were hit by blackouts through the day Wednesday.
High winds forced the P and O cross-channel ferry company to cancel its services between Portsmouth and Cherbourg and Portsmouth and Caen, while Dover-Calais sailings were subject to delay.
[...] Southern England has been bracing itself for unusually and unseasonably bad weather, the result of low pressure and high winds, for Wednesday night and Thursday.
Click here to comment on this article
Antarctica's Lake Vostok Has Two Distinct Parts
Washington (SPX) Jul 08, 2004
Deep in the Antarctic interior, buried under thousands of meters [more than two miles] of ice, lies Lake Vostok, the world's largest subglacial lake. Scientists believe that the waters of Lake Vostok have not been disturbed for hundreds of thousands of years, and there are tantalizing clues that microbes may exist there that have been isolated for at least as long.
Now, the most comprehensive measurements of the lake--roughly the size of Lake Ontario in North America--indicate that it is divided into two distinct basins that may have different water chemistry and other characteristics.
The findings have important implications for the diversity of any microbial life in Lake Vostok and for how scientists should study the lake's various ecosystems, if an international scientific consensus is ever reached to explore the lake.
Lake Vostok is thought to be a very good terrestrial analogue to the conditions on Europa, a moon of Jupiter thought to hold a large liquid ocean far under its frozen surface. If microbial life can exist in Vostok, scientists have argued, then it also might thrive on Europa.
Click here to comment on this article
B.C. fire danger at 400-year high, expert says
By ROD MICKLEBURGH

Vancouver — British Columbia's lucrative, lush, coastal forests are being threatened by drought and fire-prone conditions not seen in more than 400 years, a forest scientist warns.Reese Halter, founder of Global Forest Science, said yesterday that the province's normally moist coastal forests are perilously dry. [...]
"The last time we saw this was in the 1580s," Mr. Halter said in basing his conclusion on tree-ring analysis and current climate trends.
"We are looking at a 400-year bonfire, and by that I mean massive, catastrophic stand-replacing fires... eight times larger than they had in the B.C. Interior last year.
"We don't have them yet, but conditions are becoming more and more alarming," Mr. Halter said in an interview from the organization's office in Banff, Alta.
Already, he noted, there have been numerous fires in B.C.'s coastal forests.
"These are in a rain forest that is usually wet. But the wet coastal forest is starting to experience a prolonged drying-out. The stars are lining up. . . . It could be cataclysmic."
Mr. Halter, an award-winning conservation biologist, pointed out that more than two million acres of forest are ablaze in Yukon and Alaska.
"Those forests should not be burning. They are a harbinger of the critical times ahead." [...]
Click here to comment on this article
Notorious microbe found in imported US soybean
www.chinaview.cn 2004-07-08 16:36:04
GUANGZHOU, July 8 (Xinhuanet) -- Quarantine officers in the China's southern city of Guangzhou have detected a plant-destroying microbe in some 57,000 tons of soybeans imported from the United States.
Sources with the Guangzhou Inspection and Quarantine Bureau confirmed on Thursday they had seized more than 57,000 tons of soybeans infested with phytophthora sojae, a notorious microbe responsible for soy rot, which is estimated to cause at least 100 million US dollars in damages to soybean crops in the United States each year.
The officers said they had destroyed the soybeans to avoid spread of the pathogen.
Click here to comment on this article
Glimpse at Early Universe Reveals Surprisingly Mature Galaxies
Observations challenge standing view of how and when galaxies formed
Johns Hopkins University
Wednesday, July 07, 2004
A rare glimpse back in time into the universe's early evolution has revealed something startling: mature, fully formed galaxies where scientists expected to discover little more than infants.
"Up until now, we assumed that galaxies were just beginning to form between 8 and 11 billion years ago, but what we found suggests that that is not the case," said Karl Glazebrook, associate professor of physics and astronomy in the Krieger School of Arts and Sciences at The Johns Hopkins University in Baltimore and co-principal author of a paper in the July 8 issue of Nature. "It seems that an unexpectedly large fraction of stars in big galaxies were already in place early in the universe's formation, and that challenges what we've believed. We thought massive galaxies came much later."
Using the Frederick C. Gillett Gemini North Telescope in Mauna Kea, Hawaii, Glazebrook and a multinational team of researchers called the Gemini Deep Deep Survey (GDDS) employed a special technique called the "Nod and Shuffle" to peer into what had traditionally been a cosmological blind spot. Called "the Redshift Desert," this era - 8 billion to 11 billion years ago, when the universe was only 3 billion to 6 billion years old - has remained relatively unexplored until now, mainly because of the challenges inherent in collecting data from the faintest galactic light ever to be dissected into the rainbow of colors called a spectrum. In all, the team collected and analyzed spectra from 300 galaxies, making it the most complete sample ever taken from the Redshift Desert.
"This was the most comprehensive survey ever done covering the bulk of the galaxies that represent conditions in the early universe," Glazebrook said. "We expected to find basically zero massive galaxies beyond about 9 billion years ago, because theoretical models predict that massive galaxies form last. Instead, we found highly developed galaxies that just shouldn't have been there, but are."
These findings challenge the dominant theory of galactic evolution, which posits that at this early stage, galaxies should have formed from the bottom up, with small pieces crashing together to build small and then ever larger galaxies. Called the "hierarchical model," this scenario predicts that normal-to-large galaxies such as those studied by GDDS would not yet exist.
"There are obviously some aspects of the early lives of galaxies that we don't yet completely understand, Glazebrook said. "We do find fewer massive galaxies in the past, but there are still more than we expected. This result is giving us a big clue as to how stars form from invisible gas in the hierarchical model, which is something not well understood under current theories. Some new ingredient is required to make more stars form earlier in the big galaxies. But what that ingredient is, we don't yet know." [...]
Click here to comment on this article
Video diary from beyond the grave
A US inventor has come up with a hi-tech way of allowing the deceased to talk from beyond the grave - by fixing video screens to their tombstones.
Robert Barrows says people could leave video messages before they died, to be played to friends, loved ones or the just plain curious from the grave side.
He told the BBC that messages could include telling life stories or having the final say on a disagreement.
It could also be a money-making enterprise for cemeteries, he added.
[...] He said computer equipment could also be installed in the tombstone that connected up to the internet, enabling people to programme their messages to be delivered long after they have died.
The tombstone could be coin-operated or swiped with a credit card. "Cemeteries could basically one day charge fees to rent the headsets you need to listen to [the messages]," he added.
Click here to comment on this article
---
Remember, we need your help to collect information on what is going on in your part of the world!
We also need help to keep the Signs of the Times online.
---

Check out the Signs of the Times Archives

Send your comments and article suggestions to us

---
Fair Use Policy
Contact Webmaster at signs-of-the-times.org
Cassiopaean materials Copyright ©1994-2014 Arkadiusz Jadczyk and Laura Knight-Jadczyk. All rights reserved. "Cassiopaea, Cassiopaean, Cassiopaeans," is a registered trademark of Arkadiusz Jadczyk and Laura Knight-Jadczyk.
Letters addressed to Cassiopaea, Quantum Future School, Ark or Laura, become the property of Arkadiusz Jadczyk and Laura Knight-Jadczyk
Republication and re-dissemination of our copyrighted material in any manner is expressly prohibited without prior written consent.
.