---
Picture of the Day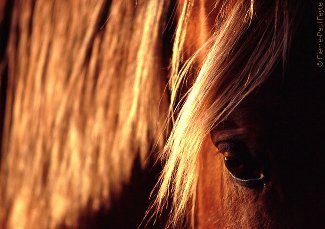 Kasia
©2004 Pierre-Paul Feyte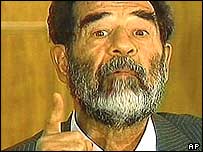 Is this really Saddam Hussein?
Saddam defiant in first court appearance

Thursday 01 July 2004

Saddam Hussein has questioned the legitimacy of the tribunal set up to try him during his first appearance in the dock.

The former Iraqi president on Thursday signalled his refusal to cooperate after seven charges against him were read out in the military tribunal before which he and his 11 co-accused are to be tried.

According to Aljazeera correspondent Abd al-Adhim Muhammad, the former president questioned the legitimacy of the legal process: "How do you bring me to this place without any defence attorney?"

When asked by the judge to identify himself, Saddam answered, "I am Saddam Hussein al-Majid, the president of the republic of Iraq." Saddam refused to say "Saddam Hussein, the former president of Iraq."

When asked to identify his place of residence his answer was: "I live in each Iraqi's house."

Kuwait invasion

Saddam also defended his 1990 invasion of Kuwait. Dressed in grey and appearing healthier and better turned-out than when he was captured, he declared, "Kuwait is an Iraqi territory. It was not an invasion."

"I am Saddam Hussein al-Majid, the president of the republic of Iraq"

Also, according to reporters who attended the 30-minute hearing which authorities allowed to be filmed without sound, Saddam called the Kuwaitis "dogs" and referred to the tribunal as "theatre". He also said the "the criminal is Bush".

According to our correspondent, Saddam asked the judge to identify himself and asked him from where he obtained his degree in law. He also asked him if he was an authentic judge and what laws are he using.

The judge said "I have worked since the former regime and I have been nominated by coalition authorities."

Saddam then mocked the judge and said "this means you are applying the invaders' laws to try me".

Saddam also debated the judge saying, "You are a lawman and I am a lawman too and we have to talk according to the law".

"Saddam entered the courtroom at 2:25pm (11:25 GMT). It was a small courtroom and there were a limited number of journalists and some officials like Muwafaq al-Rubaee. He was weak and pale and could be hardly heard," said Abd al-Adhim Muhammad. In addition to Saddam, 11 former officials were due to appear before Iraq's special tribunal on Thursday.

The proceedings were televised but not broadcast live.

Saddam had no lawyers to represent him at the arraignment. Formal indictments may not be ready for months.

The US military, which had held Saddam and his lieutenants as prisoners of war, handed them over to Iraqi legal custody on Wednesday, but will continue to hold physical custody.
Why was Saddam "weak and pale"? Why could he "hardly be heard"? Why were the pictures not broadcast live? How ridiculous is it to give Iraqis legal custody of "Saddam" while the US military holds actual physical custody? Does this mean that Iraqis can order that Saddam be moved but the US military can simply refuse, thereby negating any relevance to Iraqis having legal custody? It would seem so...
Defiant Saddam appears in court

Thursday, 1 July, 2004
BBC News

Iraq's ex-leader Saddam Hussein has made a defiant first appearance before an Iraqi judge, branding President George W Bush as the "real criminal".

TV pictures of the hearing were released to international broadcasters shortly after the hearing finished.

The images - cleared for broadcast by the US military - were the first of Saddam Hussein since his capture in December. They showed Iraq's former president looking thin, haggard and with a trimmed, grey beard. [...]

Saddam Hussein's lawyers have already challenged the court's legitimacy.

One member of his 20-strong defence team, Mohammed Rashdan, told the BBC's Today programme that they had been denied access to their client.

He also alleged that they had received death threats from the Iraqi government.

Iraq's new national security adviser, Mowaffaq al-Rubaie, has insisted the process will not be a show trial.

The BBC's Christian Frasier in Baghdad says there are concerns in Iraq that crucial evidence has still to be gathered.
Why would the CIA operative members of the new Iraqi government feel the need to send death threats to Saddam's lawyers?
The BBC is reporting that, strangely, the US military has only released 4 minutes of audio from today's trial. We share the BBC's confusion as to why this might be. Unlike the BBC however, we have a possible explanation. You see, it is one thing to parade a drugged, mind programmed Saddam lookalike on television and thereby half-convince the Iraqis that knew Saddam that the person in court is the real Saddam. But it is a much more difficult task to make an impostor's voice sound like Saddam's. There is also the danger that the impostor Saddam might suddenly reveal his true identity. Hence the need to limit the audio coverage and to have the US military "clear" it for broadcast, as it mentioned above.
In the following we have evidence that the person alleged to be Saddam has been "manipulated" in some way...
Saddam's lawyer confirms that his client was tortured

Arabic News.com
Friday 18th June 2004

Muhammad al-Rashdan, the lawyer of the former Iraqi President Saddam Hussein said that he had received a report from the International Committee of the Red Cross confirming that Saddam Hussein -- who is held by the American forces -- has painful wounds in various parts of his body.

Al-Rashdan explained in a press statement that the report he had received two days earlier in Amman confirms that Saddam Hussein is hit by several wounds in his body on January 21, this year.

Al-Rashdan -- who is officially authorized to defend Saddam by his wife Sajeeda on her own behalf and for her daughters Raghad, Rana and Hala -- considered that this confirmed that Saddam was exposed to material and moral torture, a matter which constitutes a flagrant violations of the Geneva agreements, renewing his demands to immediately release Saddam.

The Jordanian lawyer stressed that the international law stands with his client and that he intends to head to the US to meet with officials at the US administration to follow up the issue of Saddam's continued detentions and his material and moral torture.
Then there is the testimony of Saddam's wife that the man dragged out of a "rat hole" last December by the US military was NOT HER HUSBAND...
Flashback: Saddam's wife could not recognize her husband

04/13/2004
Pravda.ru

Last week, American authorities arranged a meeting of the former Iraqi dictator with his wife.

She was the first of Hussein's relatives to meet with the ex-leader of Iraq at a new place, at the American military base in Qatar. Accompanied by Sheikh Hamad Al-Tani, Sajida Heiralla Tuffah has arrived from Syria on his private jet in the end of March.

The outcome of their meeting turned out to be quite scandalous. Sajina claims that the person she encountered was not her husband, but his double. If someone were to say for sure that it was not insinuation, it would have been easy to believe the wife with a 25-year experience. It is also possible to assume that Saddam has simply changed since the day of his sons' deaths, June 24 2003. This however is highly unlikely. In case we believe Hussein's wife, all DNA testing of the ex-Iraqi leader should be considered a mere fake. Overall, today there remain more questions then there are answers.
Then we have the 'testimony' of corrupt US Representative Ray LaHood who implied that he knew in advance when and where Saddam was going to be captured...
Flashback: LaHood: Hussein's capture imminent

Pantagraph Staff
Tuesday, December 2, 2003

BLOOMINGTON -- U.S. Rep. Ray LaHood held his thumb and forefinger slightly apart and said, "We're this close" to catching Saddam Hussein." [...]

A member of The Pantagraph editorial board -- not really expecting an answer -- asked LaHood for more details, saying, "Do you know something we don't?"

"Yes I do," replied LaHood. [...]
So almost 2 weeks before US soldiers "happened" to "find" Saddam, U.S. Representative LaHood apparently KNEW it was going to happen. Mr LaHood happens also to be a member of the Permanent Select Committee On Intelligence, so we suppose he would have been in a position to know. This fact blows the "we found him" story out of the water. It appears it was more a case of, we are going to plant a Saddam and then we are going to "find" him.
Next we have the testimony of Former Russian Prime Minister Primakov that Saddam had made a "pre-war deal" with the US...
24/06/2004 16:52 - (SA)

Moscow - Former Iraqi leader Saddam Hussein cut a deal with the United States before the March 2003 invasion of Iraq, former Russian prime minister Yevgeny Primakov said in an interview published on Thursday.

"There was an understanding with the Americans, as paradoxical as it may seem," Primakov told the Russian daily Gazeta in a lengthy interview.

"Why weren't the bridges of the Tigris blown up when the American tanks approached Baghdad? Why weren't Iraqi aviation and tanks used, and where are they now?" asked Primakov, a former head of the Russian secret service and a specialist in Arab affairs who was formerly on good terms with Saddam.

"Why was there an immediate ceasefire? Why was there practically no resistance a year ago?" he added.

Primakov, who now heads Russia's chamber of trade and industry, also cast doubt on the authenticity of footage of Saddam's reported capture that circled the world on December 14.

"They showed two soldiers with guns with palm trees in the background near the hole (where Saddam was reportedly hiding). At that time of year, date palms are never in bloom," he said.

"Finally, any man can tell you that such a long beard (as Saddam had when he was reportedly caught) could not grow in seven months," he said.

"All evidence suggests that Saddam surrendered earlier and the story of the hole was invented later," he said.

Primakov, who was also Russian foreign minister, made two secret trips to Iraq at the request of President Vladimir Putin, shortly before the invasion by US and British troops.
Iran then backs up the Russian Prime Minister's story...
Flashback: Iran Media Leaks Secret US Deal with Saddam

Source: Gulf News Apr 15, 2003

AN Iranian news agency close to top conservative military figures attributed the fall of Baghdad to a secret tripartite agreement between Saddam Hussein, Russia and the US.

According to the Baztab agency, 13 days after the start of the war, Saddam and Russian intelligence allegedly pledged to hand over Baghdad with minimal resistance to allied forces provided they spared the lives of Saddam and a hundred of his close relatives. The US, for its part, promised to safely send Saddam and his entourage to a third country.

Baztab added that Mohammed Saeed Al Sahaf, Iraqi Information Minister, was instructed to stay in Baghdad until the very last moments to lend the impression that everything in Saddam's camp was under control. The agency also claimed that Russia gained $5 billion to orchestrate this agreement. [...]
The following presents further testimony, this time from an Iraqi commander who claims that he saw Saddam flown out of Iraq just before the invasion...
Flashback: Iraqi Commander Swears he saw USAF fly Saddam out of Baghdad

Bill Dash
Alamo Christian Ministries Online
10/16/2003

Film will soon be made public of an Iraqi Army officer describing how he saw a US Air Force transport fly Saddam Hussein out of Baghdad. The explosive eyewitness testimony was shot by independent filmmaker Patrick Dillon, who recently returned from a risky one-man odyssey in Iraq. In the film, the officer, who told Dillon that he commanded a special combat unit during the battle for Baghdad airport and whose identity is temporarily being withheld, explains in detail how he watched as the Iraqi dictator and members of his inner circle were evacuated from Iraq's capital by what he emphatically insists were United States Air Force cargo planes. [...]

Dillon says his film lends major support to what many have believed for years: that Saddam was little more than an american tool, a stage-managed "evildoer", just one in a long line of useful villains bought and paid for by the United States in order to better manipulate international politics and commerce. [...]

Click here to comment on this article

Saddam was 'dishevelled and had long beard'

14/12/2003

US raiders were not certain at first they had Saddam when they pulled a bearded man from a hole in a Iraq cellar, but soon were able to determine it was Saddam Hussein.

The Associated Press was shown documentary evidence that the person captured was Saddam Hussein. The evidence depicted Saddam as dishevelled and wearing a long beard.

Further evidence depicted Saddam with his trademark moustache but otherwise clean shaven.

One senior US official said scientific testing, possibly including DNA, was being done early Sunday morning to document Saddam's identity.

The official said the captured man did not look like Saddam at first glance. The officials discussing identification methods did so only on condition of anonymity.

The military raids, in and near Tikrit, Saddam's hometown, were based on fresh intelligence and were aimed at capturing Saddam, the officials said, and the man was captured in one of the targeted buildings.

"He was in a cellar of the building. His appearance was such that it made it not immediately certain you could say it was Saddam Hussein," one senior US official said.
So first he was disheveled with a long beard, then he was clean shaven, then it didn't look like him, but then it was really him. So they apparently shaved him, but check the following article, is it really necessary to shave a false beard off someone?
Look at the picture above of the "capture" of Saddam. Does that look like a beard to you or would you say he is clean shaven? If you found out that his beard was false, would you shave it off? Apparently the US military would, or perhaps it simply can't get it story straight. There is no obvious reason for these discrepancies except in the case that someone is lying...
14-12-2003

Saddam Hussein, wearing a fake beard and burying himself in a cellar to hide from U.S. troops, was caught alive near his hometown of Tikrit.
We see that it really is difficult to keep the story straight when the whole thing is a lie. So just where is Saddam if he is not standing trial in Iraq?...
Flashback! Rumsfeld Says Saddam may find refuge in Belarus

Ottawa Citizen
31.12.2002
Tony ALLEN-MILLS in Washington and Hilary MACKENZIE in Baghdad

The former Soviet republic of Belarus has emerged as a possible refuge for Saddam Hussein after American officials hinted that the Iraqi leader might be allowed to flee into exile to avert a U.S. assault on Baghdad.

A visit to Iraq by a presidential delegation from Belarus last week coincided with a suggestion by U.S. Defence Secretary Donald Rumsfeld that Mr. Saddam and his family could "leave the country."

Mr. Rumsfeld said in a television interview: "If he doesn"t care to give up his weapons of mass destruction, then he"s got the choice of leaving."

As military preparations intensified with the mobilization of two more aircraft carrier battle groups and a 1,000-bed hospital ship, U.S. officials emphasized that no deal had been struck to allow Mr. Saddam to escape.

Mr. Rumsfeld's remark may have been no more than a psychological gambit intended to stir confusion in Baghdad.

Yet the Belarus visit heightened American suspicion that Mr. Saddam might be making contingency plans for a last-minute dash.

While it remains far from certain that the Iraqi dictator would flee, Mr. Rumsfeld recently singled out Belarus as one of the few countries that might offer him sanctuary.

"If Saddam Hussein is in a corner, it is because he has put himself there," he told a congressional committee.

"One choice he has is to take his family and key leaders and seek asylum elsewhere. Surely one of the 180-plus countries would take his regime — possibly Belarus."

The former Soviet republic has become a pariah state under the dictatorial rule of President Alexander Lukashenko and is suspected of violating United Nations sanctions against Iraq.

[...] Despite strong denials from Lukashenko, Belarus has been a key partner of Saddam Hussein in his effort to rebuild and modernize Iraq's air defense capability. Belarus has violated international law by secretly supplying Baghdad with SA-3 antiaircraft missile components as well as technicians. Given that Iraq has repeatedly tried to shoot down U.S. and British aircraft patrolling the U.N. no-fly zone -- with more than 420 attempts this year alone -- covert Belarusian-Iraqi military cooperation is disturbing and should set off alarm bells in Western capitals.

Former Belarusian defense minister Pavel Kozlovski, obviously someone with firsthand knowledge of Minsk's covert arms deals, recently summed up Belarus's cooperation with Iraq and other rogue states by saying, "I know that the Belarusian government does not have moral principles and can sell weapons to those countries [such as Iraq] where embargoes exist. This is the criminal policy of Belarusian leadership." [...]

Hussein Given Safe Haven in Belarus?

The World Tribune – 25 April 2003

Iraqi President Saddam Hussein has obtained safe haven in Belarus, several intelligence agencies believe.

Western intelligence sources said several intelligence agencies in the Middle East and Europe base this assessment on new information about a March 29 flight from Baghdad to Minsk. They said the flight of a chartered cargo plane could have transported Saddam, his sons and much of his family to Belarus.

"There's no proof that Saddam was on the plane but we have proof that a plane left on that day from Baghdad airport and arrived in Minsk," a senior intelligence source said. "If you can think of anybody else who could obtain permission to fly out of Baghdad in the middle of a war, then please tell me."

U.S. officials and Iraqi opposition sources said Saddam and his sons appear to have escaped two assassination attempts during the war. But they did not confirm the registration of a cargo flight from Baghdad to Minsk on March 29, Middle East Newsline reported.

U.S. officials said Saddam had been exploring the prospect of fleeing to Belarus over the last year. They said the Iraqi ruler was in close contact with Belarus President Alexander Lukashenko and that Minsk became a major military supplier to Baghdad.
The above article omits to make one critical conclusion. Coalition forces had complete mastery over Iraqi airspace: that being the case they must have allowed Hussein's flight out of Iraq. Not only that, but in that case, all of the reported attempts by the US military to kill Saddam were more than likely pure propaganda.
debka.com

However, according to our information, the deposed ruler and his sons were carried to safety in Minsk in late March aboard two chartered airliners. This week, the Polish news agency PAP sent a team of reporters to the Belarus capital to check on this account. They quote Natalia Pietkiewicz, spokesperson at President Aleksandr Lukashenko's bureau, as evading a direct reply when asked if the former Iraqi ruler was in the country. She said: "We have no information that Saddam Hussein is in Belarus." This is a long way from a flat denial.

The big question is how did the trio and its following of several hundred manage to elude coalition air forces, by then in full command of Iraqi skies, a question which leads to another: How did the men at the pinnacle of enemy power come to survive the two wars the Bush administration fought in less than two years?
Of course there is really only one answer to this question - For many years now, Saddam has been used by US politicians to be a convenient bogeyman to deceive the public into supporting their war mongering.
A final note on Saddam and his lookalikes.
Not long after the beginning of the Iraq invasion, Iraqi television began broadcasting footage of a defiant and unharmed Saddam. In response to these images, US and western media sources urged the public not to believe their eyes, that the person they were seeing could well be one of Saddam's famed body doubles. Now of course, after his supposed capture, there is no talk of body doubles, and we are all being asked to take the word of the liars in the White House and Pentagon that this is the real Saddam, and it appears that most people are doing just that. We are not surprised of course. When it was so easy to fool the entire world that "Arab terrorists" crashed planes into the WTC on 9/11, how much more easy is it to convince the world that the Saddam being paraded before the Iraqi court is in fact the real Saddam Hussein?
Remember the toppling of Saddam's statue last year? Remember the jubilant crowds of Iraqis that were flashed across our screens? Did you believe your eyes then? In a world where our daily dose of reality comes via our television screen, we can no longer believe our eyes, because all we are seeing is our government's view of what they want us to see. Below is a picture of the actual scene of the toppling of Saddam's statue.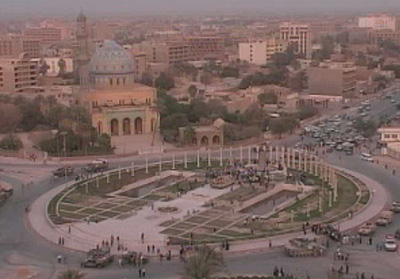 Note the few dozen people (at most) around the statue in the center. Notice the US tanks surrounding the square. Walter Lippmann said:
"There can be no liberty for a community which lacks the means by which to detect lies."
The Signs of the Times is one resource which provides you, our readers, with the means to detect the lies that make up so much of our reality.
Click here to comment on this commentary
The rapid collapse of the Iraqi military resistance last year in the face of the invading US led-"coalition" seemed suspicious to us. Saddam and his generals had known for years that the US would one day carry out their threats to invade. What better strategy against an overpowering military force than to retreat, suck the enemy deep into your territory, and then begin to wage a long-term resistance war to the occupation, knowing that the population would turn against an occupier so ignorant of the culture and arrogant in its administration of power.
'The liberation of Baghdad is not far away'
By Alix de la Grange
Editor's note: Coordinated attacks and skirmishes in several Iraqi cities on Thursday killed at least 66 people and wounded more than 250. Forty-four people were killed in a series of car bomb blasts in the northern city of Mosul and 216 wounded. Fighting in al-Anbar province, where there were clashes in Fallujah and Ramadi, killed at least nine people and wounded 27, and fighting around Baquba killed 13 and wounded 15.
BAGHDAD - On the eve of the so-called transfer of sovereignty to the new Iraqi caretaker government on June 30, former Saddam Hussein generals turned members of the elite of the Iraqi resistance movement have abandoned their clandestine positions for a while to explain their version of events and talk about their plans. According to these Ba'ath officials, "the big battle" in Iraq is yet to take place.
"The Americans have prepared the war, we have prepared the post-war. And the transfer of power on June 30 will not change anything regarding our objectives. This new provisional government appointed by the Americans has no legitimacy in our eyes. They are nothing but puppets."
Why have these former officers waited so long to come out of their closets? "Because today we are sure we're going to win."
[...] The car stops in an alley, near a minibus with tinted windows. One of its doors opens. On board, there are three men and a driver carefully scrutinizing all the streets and houses around us. If we don't know at all what we are confronted with, our interlocutors seem to know very well who they're talking to. "Before any discussions, we don't want any doubts on your part about our identities," they say, while extracting some papers from inside a dusty plastic bag: identity cards, military IDs and several photos showing them in uniform beside Saddam Hussein. They are two generals and a colonel of the disbanded Iraqi army, now on the run for many months, chased by the coalition's intelligence services.
"We would like to rectify some information now circulating in the Western media, that's why we took the initiative of meeting you." Our discussion lasts for more than three hours.
Back to the fall of Baghdad
"We knew that if the United States decided to attack Iraq, we would have no chance faced with their technological and military power. The war was lost in advance, so we prepared the post-war. In other words: the resistance. Contrary to what has been largely said, we did not desert after American troops entered the center of Baghdad on April 5, 2003. We fought a few days for the honor of Iraq - not Saddam Hussein - then we received orders to disperse." Baghdad fell on April 9: Saddam and his army where nowhere to be seen.
"As we have foreseen, strategic zones fell quickly under control of the Americans and their allies. For our part, it was time to execute our plan. Opposition movements to the occupation were already organized. Our strategy was not improvised after the regime fell." This plan B, which seems to have totally eluded the Americans, was carefully organized, according to these officers, for months if not years before March 20, 2003, the beginning of Operation Iraqi Freedom.
The objective was "to liberate Iraq and expel the coalition. To recover our sovereignty and install a secular democracy, but not the one imposed by the Americans. Iraq has always been a progressive country, we don't want to go back to the past, we want to move forward. We have very competent people," say the three tacticians. There will be of course no names as well as no precise numbers concerning the clandestine network. "We have sufficient numbers, one thing we don't lack is volunteers."
Fallujah
The lethal offensive of the American troops in Fallujah in March has been the turning point as far as the resistance is concerned. The indiscriminate pillage by American soldiers during their search missions (according to many witnesses) and the sexual humiliation inflicted to prisoners, including Abu Ghraib in Baghdad, have only served to magnify the anger felt by most Iraqis. "There's no more trust, it will be hard to regain it." According to these resistance leaders, "We have reached the point of no return."
This is exactly the point of view of a Shi'ite woman we had met two days earlier - a former undercover opposition militant against Saddam: "The biggest mistake of the occupation forces was to despise our traditions and our culture. They are not satisfied with having bombed our infrastructure, they tried to destroy our social system and our dignity. And this we cannot allow. The wounds are deep and the healing will take long. We prefer to live under the terror of one of our own than under the humiliation of a foreign occupation."
According to Saddam's generals, "more than a year after the beginning of the war, insecurity and anarchy still dominate the country. Because of their incapacity to control the situation and to maintain their promises, the Americans have antagonized the population as a whole. The resistance is not limited to a few thousand activists. Seventy-five percent of the population supports us and helps us, directly and indirectly, volunteering information, hiding combatants or weapons. And all this despite the fact that many civilians are caught as collateral damage in operations against the coalition and collaborators."
Who do they regard as "collaborators"? "Every Iraqi or foreigner who works with the coalition is a target. Ministries, mercenaries, translators, businessmen, cooks or maids, it doesn't matter the degree of collaboration. To sign a contract with the occupier is to sign your death certificate. Iraqi or not, these are traitors. Don't forget that we are at war."
The resistance's means of dissuasion led to an ever-shrinking list of candidates to key government posts proposed by the coalition, and this in a country ravaged by 13 years of embargo and two wars where unemployment has been a crucial problem. The ambient chaos is not the only reason preventing people from resuming professional activity. If the Americans, quickly overwhelmed by the whole situation, had to take the decision to reinstate former Ba'athists (policemen, secret service agents, military, officials at the oil ministry), this does not apply to everybody. The majority of victims of administrator L Paul Bremer's decree of May 16, 2003 applying the de-Ba'athification of Iraq is still clandestine.
The network
Essentially composed by Ba'athists (Sunni and Shi'ite), the resistance currently regroups "all movements of national struggle against the occupation, without confessional, ethnic or political distinction. Contrary to what you imagine in the West, there is no fratricide war in Iraq. We have a united front against the enemy. From Fallujah to Ramadi, and including Najaf, Karbala and the Shi'ite suburbs of Baghdad, combatants speak with a single voice. As to the young Shi'ite leader Muqtada al-Sadr, he is, like ourselves, in favor of the unity of the Iraqi people, multiconfessional and Arab. We support him from a tactical and logistical perspective."
Every Iraqi region has its own combatants and each faction is free to choose its targets and its modus operandi. But as time goes by, their actions are increasingly coordinated. Saddam's generals insist there is no rivalry among these different organizations, except on one point: which one will eliminate the largest number of Americans.
Weapons of choice
"The attacks are meticulously prepared. They must not last longer than 20 minutes and we operate preferably at night or very early in the morning to limit the risks of hitting Iraqi civilians." They anticipate our next question: "No, we don't have weapons of mass destruction. On the other hand, we have more than 50 million conventional weapons." By the initiative of Saddam, a real arsenal was concealed all over Iraq way before the beginning of the war. No heavy artillery, no tanks, no helicopters, but Katyushas, mortars (which the Iraqis call haoun), anti-tank mines, rocket-propelled grenade launchers and other Russian-made rocket launchers, missiles, AK 47s and substantial reserves of all sorts of ammunition. And the list is far from being extensive.
But the most efficient weapon remains the Kamikazes. A special unit, composed of 90% Iraqis and 10% foreign fighters, with more than 5,000 solidly-trained men and women, they need no more than a verbal order to drive a vehicle loaded with explosives.
What if the weapons' reserves dwindle? "No worries, for some time we have been making our own weapons." That's all they are willing to disclose.
Claiming responsibility
"Yes, we have executed the four American mercenaries in Fallujah last March. On the other hand, the Americans soldiers waited for four hours before removing the bodies, while they usually do it in less than 20 minutes. Two days earlier, a young married woman had been arbitrarily arrested. For the population of Fallujah, this was the last straw, so they expressed their full rage against the four cadavers. The Americans, they did much worse to living Iraqi prisoners."
The suicide attack which provoked the death of Akila al-Hashimi, a diplomat and member of the Iraqi Governing Council on September 22, 2003, was also perpetrated by the resistance, as well as the car bomb which killed the president of the Iraqi executive body Ezzedin Salim in May 17 this year at the entrance of the Green Zone (which Iraqis call the Red Zone, due to the number of resistance offensives).
They are also responsible for the kidnapping of foreigners. "We are aware that the kidnapping of foreign nationals blemishes our image, but try to understand the situation. We are forced to control the identity of people circulating in our territory. If we have proof that they are humanitarians or journalists we release them. If they are spies, mercenaries or collaborators we execute them. On this matter, let's be clear, we are not responsible for the death of Nick Berg, the American who was beheaded."
As to the attack against the UN headquarters in Baghdad on August 20, 2003: "We have never issued an order to attack the UN and we had a lot of esteem towards the Brazilian Sergio Vieira de Mello [special UN representative who died in the attack], but it's not impossible that the authors of this suicide attack come from another resistance group. As we have explained, we don't control everything. And we must not forget that the UN is responsible for the 13 years of embargo we have endured."
What about the October 27, 2003 attack against the Red Cross in Baghdad? "This had nothing to do with us, we always had a lot of respect for this organization and the people who work for them. What would be our interest to attack one of the few institutions which has been helping the Iraq population for years? We know that people from Fallujah have claimed this attack, but we can assure you they are not part of the resistance. And we also add: for political and economic reasons, there are many who have an interest in discrediting us."
After June 30
"Resolution 1546 adopted on June 8 is nothing but one more web of lies to the eyes of many Iraqis. First, because it officially ends the occupation by foreign troops while authorizing the presence of a multinational force under American command, without stipulating the date of their removal. Second, because the Iraqi right to veto important military operations, demanded by France, Russia and China, was rejected. Washington has conceded only a vague notion of partnership with the Iraqi authority and did not think of anything in case of disagreement. Iraqis are not fools, the maintenance of American troops in Iraq after June 30 and the aid money they will get from the American Congress leave no doubt over the identity of who will really rule the country."
What about a possible role for the North Atlantic Treaty Organization (NATO)? "If NATO intervenes, it's not to help our people, but to help the Americans leave this quagmire. If they wanted our well-being, they would have made a move before," say the three officers while looking at their watches. It's late and we have largely exceeded our allotted time.
"What American troops cannot do today, NATO troops won't be able to do later on. Everyone must know: Western troops will be regarded by Iraqis as occupiers. This is something that George W Bush and his faithful ally Tony Blair will do well to think about. If they have won a battle, they have not won the war yet. The great battle is still to begin. The liberation of Baghdad is not far away."
Comment: A real interview with the Iraqi resistance? Disinformation? What other strategy did Iraqis have? If this is genuine, then it does not bode well for the occupiers. More and more commentators believe the point of no return has been passed. The question left to answer is whether or not the whole thing was orchestrated on a higher level by forces that care less about particular outcomes than sowing chaos and discord. This takes things into the level of hyperdimensional physics, a question that you will never see discussed in mainstream or alternative media.
Click here to comment on this article
Iraq's new prime minister will do whatever needs doing to impose order on the current chaos. Let's not pretend he's a nascent democrat
By Christopher Dickey
Newsweek
10:34 a.m. ET June 30, 2004
Iraqis don't grow bananas, but why should that keep the Bush administration from treating Iraq like a banana republic? The overwhelming invasion, the ill-conceived occupation, the obliviousness to what's thought of as native culture, and the tendency to trust only those folks who know how to talk and act (and make us think they think) like us—hey, that's the way we've been coming and going in the fever ports of Central America and the Caribbean for well over a century.
So, too, the handover of paper sovereignty yesterday, which took place ahead of schedule and in semi-secrecy, as if departing pro-consul Paul "Jerry" Bremer was embarrassed by what he'd done for the last year, or afraid for his life, or both. "Let freedom reign!" President Bush wrote in the margins of Condoleezza Rice's handwritten note about the handover. But is this any way to treat a great, sovereign nation?
Left in charge as prime minister is a smooth-talking former Baathist, Ayad Allawi, groomed in exile by the Central Intelligence Agency since the early 1990s. Unlike his erstwhile rival, Ahmad Chalabi (who was groomed by the Defense Department, but always remained a bit too much the wily oriental gentleman for American public tastes), Allawi comes across as more of a regular guy, maybe even a potential golfing partner. He understands what the Americans want, and as long as we're behind him with our troops and our billions, he may be able to get it. But let's not pretend he's a nascent democrat, even if he manages to hold some cosmetic elections.
Allawi is best understood as the anointed dictator in waiting. His job is to do whatever needs doing to impose order on the current chaos. Martial law, ruthless repression, you name it. With American firepower to back him up, he's more than ready to take the blame for any rough stuff. Allawi's defense minister proudly vows to chop off the hands and heads of terrorists. As Franklin Roosevelt is supposed to have said about an infamous Nicaraguan dictator, "He's a son of a bitch, but at least he's our son of a bitch."
Problem is, these SOBs, once they've solved our immediate problems, create new ones. They aren't ours at all. They're in this for themselves. And they become the vehicles of disillusionment with everything that we Americans think we represent.
Our many SOBs in Latin America, for instance, from Somoza to Pinochet, led successive generations to hate the yanqui. People were told our Monroe Doctrine was supposed to protect democracy by keeping those bad old colonial Europeans out of our hemisphere, but learned through bitter experience the doctrine and its corollaries were only meant to protect America's interest in its so-called back yard.
By the 1950s, when we figured the whole world was our back yard, and we had to keep the communists out, Ngo Dinh Diem in South Vietnam became our SOB. Ditto the Shah in Iran. Strategic fears and strategic greed were the deciding factors. Could "our" guy impose order and keep our enemies at bay? Would he cut deals with the American military? And American business? Democracy was always an afterthought, although it was always talked about and elections, of one sort or another, were always held.
If I'd started thinking there was anything really new under the Iraqi sun, the papers I'm digging out of the boxes in NEWSWEEK's new Paris office have convinced me there's not. Even the threat of radical Islam is nothing new. The week I was born in 1951, a cover line on Newsweek read "Grand Mufti: Archvillain of the Mideast." Evidence at a trial in Jordan, it says, "gave a sudden glimpse into the vast underworld of assassins, terrorists, religious fanatics, nationalist revolutionaries, and Communist agents that keep the Middle East in turmoil. And the evidence pointed to a single, sinister figure at the center of the web—the Mufti of Jerusalem." The Bin Laden, or perhaps the Zarqawi of his day. (In the event, the mufti lived on until 1974, and died largely forgotten outside Israel, where he's still remembered, and still hated.)
Nazis, Communism, Islamism—the threats varied, but the responses were the same down through the decades. After our SOB the Shah was overthrown by radical Islamists in 1979, we started looking for a new strongman who would stand with us against the commies and the Islamic tide now represented, not by the mufti, Haj Amin Husseini, but by the Ayatollah Khomeini. That new SOB, you might recall, was Saddam Hussein.
I'd like to think we could break out of this cycle, and that's precisely what President Bush says he wants to do: stop supporting dictators just because they say we share the same enemies; start to build real democracies (after the enemy is eliminated, and a few hands and feet are cut off).
But we shouldn't be surprised if the rest of the world remains deeply skeptical. We may have forgotten all this history. But they haven't. And when they look at it, the phrase that leaps to mind is not "let freedom reign." It's "yanqui go home."
Click here to comment on this article
Jordan opposition: Iraq handover a comedy
Thursday 1st July 2004
Amman, Jordan, Jun. 29 (UPI) -- Jordan's opposition parties, led by the Islamic Action front, Tuesday ridiculed the power handover in Iraq as a comedy and fiction.
A statement signed by 14 opposition groups said "the power transfer is nothing more than a comedy or play produced by the occupation authority which appointed its players and (determined) its mission."
"The new Iraqi authority has no legitimacy because there should be no legitimacy to any institution imposed by the occupation," the statement said, adding that the government has no right to try the former regime officials, especially ousted Iraqi President Saddam Hussein.
It said that the handover performance was aimed at bestowing legitimacy on occupation forces which have all remained in Iraq despite the power transfer.
Click here to comment on this article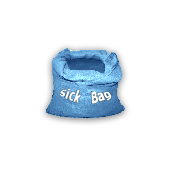 US military police raid Iraqi detention centre to stop abuse of prisoners
Peter Beaumont in Baghdad
The Guardian
Wednesday June 30, 2004
American military police yesterday raided a building belonging to the Iraqi ministry of the interior where prisoners were allegedly being physically abused by Iraqi interrogators.
The raid appeared to be a violation of the country's new sovereignty, leading to angry scenes inside the ministry between Iraqi policemen and US soldiers.
The military police, who had been told of abuse, seized an area known as the Guesthouse just outside the ministry's main building. They disarmed the Iraqi policemen and at one stage threatened to set free prisoners whose handcuffs they removed, according to Iraqi officials.
The arrival of a second group of US military police and a more senior officer led to an argument between the two groups of military policemen over who had command authority for the raid.
Iraqi ministry of interior officials admitted that around 150 prisoners taken during a raid four days before in the Betawain district of Baghdad had been physically abused during their arrest and subsequent questioning.
The men were captured in the first big Iraqi-led anti-crime and anti-terrorism operation, which took place a few days before the transfer of power, with US military police in support and using US satellite images.
Senior Iraqi officers described those captured as "first class murderers, kidnappers and terrorists with links to al-Ansar" - a militant group in the former Kurdish no-fly zone - who had all admitted to "at least 20 crimes while being questioned".
Comment: What did anyone really expect? The Iraqi officers learned from the best. In beating confessions out of prisoners, Iraqi interrogators are just following America's lead.
According to an al-Jazeera television crew, who had been filming the prisoners when the US military police conducted their raid, most of the detainees were blindfolded, with their hands cuffed behind their backs. One prisoner was so weak, from dehydration, that the US military policemen fitted an intravenous drip to rehydrate him.
Although none of the American officers involved in the raid would talk to the Guardian, one of the soldiers involved in the raid said that it had been launched after claims that prisoners were being abused.
US military spokesmen would not comment. "We can't confirm that this took place," a spokesman said.
One of the prisoners bared his back after his initial arrest to reveal open welts allegedly caused by baton and rubber hoses.
A bodyguard for the head of criminal intelligence, Hussein Kamal, admitted that the beatings had taken place.
Nashwan Ali - who said his nickname was Big Man - said: "A US MP asked me this morning what police division I was in. I said I was in criminal intelligence.
"The American asked me why we had beaten the prisoners. I said we beat the prisoners because they are all bad people. But I told him we didn't strip them naked, photograph them or f*ck them like you did."
The clear evidence of human rights abuses in the ministry building, which western advisers said they were not aware was being used for interrogations, raises serious questions over what authority the US and other multinational forces have to intervene if they suspect human rights abuses.
Although the new interim government of prime minister Ayad Allawi has warned that it may impose "drastic measures" - including invoking emergency powers to combat the worsening security situation in the country - advisers from the former coalition say they have been at pains to train Iraqi officers in human rights. This takes up one of their eight weeks' training.
One western police adviser said he had no idea that the ministry itself was being used for questioning suspects. "It sounds rather like the bad old days," he said.
Comment: "What authority the US [has]... to intervene if they suspect human rights abuses"?? How about NONE! America proved to the world with the torture at Abu Ghraib and elsewhere that the US will break international law and torture prisoners when it sees fit. The real question is: Who will intervene when the US uses torture? So far, the response from the international community has been complete silence.
Click here to comment on this article
Hand power back to Americans, too
By Derrick Z. Jackson
The Boston Globe
June 30, 2004
UPON THE handing of power to his handpicked Iraqi government, President Bush said, "The Iraqi people have their country back." He said nothing about how long it will take for us to get our country back.
There are 850 US soldiers we will never get back, who died in an unprovoked invasion and occupation that was based on Bush's fraudulent claim that Iraq was prepared to attack us with weapons of mass destruction.
We lost global credibility for years to come because by invading on false pretenses, Bush made America a remorseless killer. Bush's rallying cry in his so-called war on terrorism has been the 3,000 innocents who died on Sept. 11, 2001. The estimates of Iraqi civilians killed by us, from human rights groups, wire services, and defense policy think tanks, range from 3,200 up to 11,300, nearly four times as many civilians who died on 9/11.
Even though Bush admitted that Iraq had no tie to 9/11, he has barely acknowledged the civilian carnage, let alone apologized. With no tie to 9/11 and no weapons of mass destruction, Bush's final excuse for his invasion was, "Iraq was ruled by a regime that brutalized and tortured its own people, murdered hundreds of thousands, and buried them in mass graves."
With his silence on civilian slaughter, Bush behaved as if two wrongs could make a right. He said this week, "I think people are beginning to see that we were in fact, liberators." We were in fact liberators who turned villages into mass graves.
Bush tried at every turn to keep Americans from contemplating the war's human cost. In Iraq, the military refused to make any estimates of civilian deaths, even as it issued specific, spectacular weekly numbers of "insurgents" killed, gallons of oil that were flowing, restored megawatts, reconnected telephone lines, reopened schools, and rehired doctors.
"Health care expenditures are up 30 times over what they were under Saddam," Deputy Defense Secretary Paul Wolfowitz said last week. Wolfowitz neglected to add how much of those "health care expenditures" were made necessary by our bombs.
At home, the administration has maintained a media ban on covering the arrival of coffins from Iraq at Dover Air Force Base. The ban was established during the first Gulf War. The administration was so maniacal about fogging our view of the fatal finality that until very recently, even some families of deceased soldiers said they were blocked from the base. The Senate, in a primarily Republican vote, last week defeated a Democrat-led proposal to allow media coverage of the coffins being lowered from military aircraft.
Confident that nothing could cut through the fog, the administration stopped counting the coffins. In a House hearing in April, Wolfowitz was asked how many US soldiers had died. He said, "It's approximately 500, of which, I can get the exact numbers, approximately 350 are combat deaths." At the time, 722 soldiers had died, 521 in combat. [...]
Comment: Regarding the transfer of power back to Americans, Ashcroft had the following to say:
Click here to comment on this article
Ashcroft: Tougher Patriot Act needed
Attorney general requesting additional anti-terror tools
WorldNetDaily.com
June 30, 2004
Saying the Patriot Act has helped prevent further terrorist attacks on America, Attorney General John Ashcroft yesterday called for even tougher law-enforcement tools.
In Tampa, Fla., Ashcroft reissued a warning that terrorists intend to attack the U.S. and that the upcoming Fourth of July holiday and political conventions should be considered prime targets.
"We are a nation at war," Ashcroft said. "There are times when 9-11 may seem like a distant memory, but it is not. Al-Qaida wants to hit us and hit us hard."
Ashcroft said the nation is entering a "season of symbolic events" that might become terrorist targets. While not wanting the public to be fearful and not enjoy the upcoming holiday, he urged people to be vigilant.
His warnings, similar to ones issued in late May, followed a visit in Tampa to an anti-terrorism group meeting at the Port of Tampa, considered by many law-enforcement officials to be one of Florida's prime targets for a possible attack.
The attorney general's visit to the Tampa Anti-Terrorism Advisory Council, a group of local and federal law-enforcement officials, was part pep talk and part lobbying effort for additional anti-terror tools.
He said the changes made by the Patriot Act in the years since the Sept. 11, 2001, attacks gave government agencies the ability to share information, but investigators still need additional powers.
Civil-liberties groups have criticized the Patriot Act, saying it weakens judicial review and other checks to law enforcement's surveillance and investigative powers.
Ashcroft argued that law enforcement needs more powers, not fewer.
Among those he called for are the power for investigators to subpoena business records in terrorism investigations on their own rather than through a grand jury and a federal death penalty for some terrorism attacks in which people are killed.
Ashcroft is also asking Congress to allow judges to impose the death penalty for those convicted of terrorist activities that do not now have death penalty specifications.
Comment: Well, we all knew it was only a matter of time before Patriot Act II was passed into law. With the whole country focused on bashing Bush and a Democratic candidate that fully supports expanding the war on terror, it should be fairly easy to enact these new fascist controls under the radar of the masses. The fact is, like many Germans in Hitler's day, the majority of Americans welcome their government's oppressive tactics.
Click here to comment on this article
Lawmakers Ask Ashcroft Why Suspect Freed
By JOHN SOLOMON, Associated Press Writer
July 1, 2004
WASHINGTON - Republican and Democratic lawmakers alike are demanding to know why the Bush administration chose to release to Syria a terror suspect when several prosecutors and FBI agents had collected evidence for a possible criminal case.
The circumstances surrounding Nabil al-Marabh's release, detailed in a recent Associated Press story, are "of deep concern and appear to be a departure from an aggressive, proactive approach to the war on terrorism," Senate Finance Committee Chairman Charles Grassley, R-Iowa, wrote Tuesday in a letter to Attorney General John Ashcroft.
"Al-Marabh was at one time No. 27 on the Federal Bureau of Investigations (FBI) list of Most Wanted Terrorists," wrote Grassley, who leads the committee that controls federal spending and also is a member of the Judiciary Committee that oversees the Justice Department. "He appears to have links to a number of terrorists and suspected terrorists in several U.S. cities."
The Iowa Republican repeatedly cited the AP story and demanded that Ashcroft answer 19 questions about al-Marabh's case, including why the Justice Department didn't prosecute the man they had in custody for nearly two years either in a military tribunal or through a secret court proceeding that could protect intelligence information.
Grassley also asked Justice to detail what has happened to other terror suspects that appeared on the same post-Sept. 11 terrorism list as al-Marabh.
Aides to Senate Judiciary Committee chairman Orrin Hatch, R-Utah, have also made some preliminary inquiries into the case.
One of Ashcroft's top deputies, Chris Wray, recently told Congress that he was concerned some terror suspects rounded up after Sept. 11, 2001, were now being deported because prosecutors were having a hard time making terrorism cases or couldn't expose sensitive intelligence information during court proceedings.
Justice officials told AP that despite concerns about al-Marabh's possible ties to terrorism, deportation was "determined to be the best option available under the law to protect our national security," including intelligence sources and methods.
Comment: Or more appropriately, perhaps deportation was determined to be the best option available to circumvent the law. See below...
Separately, Sen. Patrick Leahy, the top Democrat on the Judiciary Committee, also has asked Ashcroft to answer questions about issues raised in the AP story but has yet to receive answers.
"The odd handling of this case raises questions that deserve answers from the Justice Department," Leahy, of Vermont, said Tuesday. "Why was a suspected terrorist returned to a country that sponsors terrorism? We need to know that the safety of the American people and our strategic goals in countering terrorism are paramount factors when decisions like this are made."
Sen. Charles Schumer, D-N.Y., another Judiciary Committee member, said Tuesday the Justice Department's explanation that al-Marabh's deportation was the best option does not make sense. "It seems that pursuing a military tribunal, a classified criminal trial or continued immigration proceedings would have made more sense than merely deporting a suspected terrorist."
AP reported June 2 that the Bush administration earlier this year set al-Marabh free to Syria, a country regarded as a state sponsor of terrorism, even though prosecutors in several cities sought to bring criminal cases against him and judges openly expressed concerns about al-Marabh's possible terrorist ties.
The U.S. attorney in Chicago at one point even drafted an indictment against al-Marabh and interviewed a jailhouse informant who alleged al-Marabh admitted he had been plotting to blow up a gas truck inside a New York City tunnel, according to documents reviewed by AP.
Comment: Ah, yes - the old "jailhouse informant" routine...
FBI and Customs agents gathered evidence al-Marabh had trained in Afghanistan's militant camps, sent money to a roommate convicted in a foiled plot to bomb a hotel and was tied to overseas financial transactions that raised red flags even before Sept. 11.
Al-Marabh "intended to martyr himself in an attack against the United States," an FBI agent wrote in a December 2002 report. A footnote in al-Marabh's deportation ruling last year added, "The FBI has been unable to rule out the possibility that al-Marabh has engaged in terrorist activity or will do so if he is not removed from the United States."
Comment: Al-Marabh was probably not "released". Remember Maher Arar?
Canada's role in Arar's ordeal

Saturday, June 26, 2004 - Page A24

Is Canada complicit in torture? That is the subject of the public inquiry that began Monday into the ordeal of Maher Arar of Ottawa. It is a question that Canadians never imagined would be seriously put to them. This is a civilized land. Its highest law is a constitution that protects individual rights. It is a signatory to international conventions barring torture.

Yet Mr. Arar has borne witness to a realm that few Canadians are aware of. He was made to disappear from the world of law and individual rights, and to reappear in the world of barbarism, without ever being given a chance to plead his case before a judge.

The United States arrested Mr. Arar at a New York airport in September, 2002, and deported him in the middle of the night to Syria, where he was tortured into signing a confession. Details of that confession were later leaked by Canadian security officials to the media. [...]
And then we have this article:
Al-Marabh: The Boston Cab Driver Who Got Around

by Ross E. Getman
Thursday July 01, 2004 at 05:06 AM

[...] In the Fall of 2003, one computer programmer, Arar, went public upon being released, to say he had been deported to Syria while transiting the US, where he was tortured by interrogators who beat him with a shredded cable. "The practice of rendering cannot and must not be allowed to continue," Jeffrey E. Fogel, legal director of the rights center, wrote in a letter to Ashcroft about Arar's treatment. "It is against every value this country is supposed to embody." [...]
This is a classic tactic used by the US government. The Bush administration can then claim that they have no control over what happens to suspects after they are deported. Bush may refer to Syria as a terrorist nation, but it is clear that the US has an arrangement with some element of the Syrian government.
Click here to comment on this article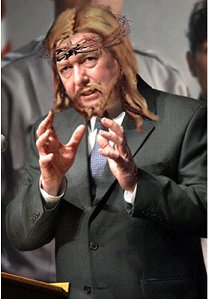 In faith and politics, beware of hypocrites
By Molly Ivins
CREATORS SYNDICATE
Wed, Jun. 30, 2004
When it comes to religion, I've always believed it's more important to walk the walk than to talk the talk. I come from a tradition (Episcopal) that considers it rather in bad taste to wear your religion on your sleeve, presumably from Matthew, Chapter 6, Verses 5 and 6:
"And when thou prayest, thou shalt not be as the hypocrites are: for they love to pray standing in synagogues and in the corners of the streets, that they may be seen of men. Verily I say unto you, they have their reward.
"But thou, when thou prayest, enter into thy closet, and when thou hast shut thy door, pray to thy Father which is in secret: and thy Father which seeth in secret shall reward thee openly."
Of course, I also had some Baptist input and so am fond of making a joyful noise unto the Lord. Texans even like to sing hymns around campfires while drinking beer - I'm not sure if that counts.
I long ago learned to shy away from the stink of sanctimony. We are all familiar with pietistic hypocrites and spiritual humbugs wearing dog collars. I doubt the clergy is more afflicted with canting Pharisees than the legal profession is with sleazy chiselers, but neither type is exactly rare.
When you throw politics into the religious mix, or vice versa, you get some real beauts in the hypocrisy department. Just to take a recent example, Jack Ryan of Illinois, the one who had to drop his campaign for the Senate after his divorce papers revealed he had forced his wife to go to sex clubs with him, was one of the "family values" crowd who opposes gay marriage because it's such a threat to the institution. Please. And although Bill Clinton was too polite to mention it in his book, quite a remarkable number of Republican leaders who were hellbent on impeaching him for his folly were themselves adulterers.
Back in the 1950s, when the late Rep. Bob Eckhardt was still in the Texas Legislature, a bill to cut off all state aid to illegitimate children was under debate. After listening to some of his "Christian" colleagues explain why illegitimate children should be left to starve, Eckhardt rose and said, "I am not so much concerned about the natural bastards as I am about the self-made ones." I consider that one of the most Christian things I've ever heard said during legislative debate.
I sometimes think we've gotten ourselves into a pointless argument in this country, as we rather often do, by exaggerating the extremes. We are not faced with a choice between imposing some Christian version of Sharia law on the one hand, or "driving religion out of the public square" altogether on the other.
Two hundred years of not terribly rigid separation of church and state has given us one precious gift. As a quote attributed to James Madison put it, "The purpose of separation of church and state is to keep forever from these shores the ceaseless strife that has soaked the soil of Europe with blood for centuries." Religious strife is still soaking the soil with blood, isn't it, in Kosovo and elsewhere.
To the extent that politics should be based on moral and ethical considerations, of course it has religious foundations. But dragging God into partisan politics is, in my view, a sin.
Is it Christian to cut money for Head Start? Is it Christian to cut poor children off health care? Is it Christian to cut old people off Medicare? Is it Christian to write memos justifying torture? Is it Christian to cut after-school, nutrition and AIDS programs so multimillionaires can have bigger tax cuts?
Historically, the Bible has been used to justify some stupefying crimes, including slavery and genocide. I see no indication we are any better at divining the Lord's intent now than we ever were. [...]
Comment: For the powers that be, one of the most useful characteristics of the American people is their desire to finger-point. Americans seem to have an infinite capacity to point the finger at someone else for some wrongdoing - generally a wrongdoing that the "finger-pointers" are guilty of themselves. The bottom line is that in a world of psychopathic politicians, corporate leaders, and celebrities, those who succeed are the people that have no problem stepping on everyone else to climb to the top of the pyramid. Thus, Republican leaders would no doubt berate Clinton for adultery one minute and then meet up with their mistresses the next. The American people love to point the finger at Arab "terrorists" for trying to steal their freedoms, while the US is simultaneously trying to dominate and enslave innocent Arabs under the guise of spreading freedom and democracy.
Click here to comment on this article
THE INFLUENCE OF THE CHRISTIAN RIGHT ON U.S. MIDDLE EAST POLICY
By Stephen Zunes
Foreign Policy In Focus
June 28, 2004
In recent years a politicized and right-wing Protestant fundamentalist movement has emerged as a major factor in U.S. support for the policies of the rightist Likud government in Israel. To understand this influence, it is important to recognize that the rise of the religious right as a political force in the United States is a relatively recent phenomenon that emerged as part of a calculated strategy by leading right-wingers in the Republican Party who—while not fundamentalist Christians themselves—recognized the need to enlist the support of this key segment of the American population in order to achieve political power.
[...] It appears, then, that right-wing Christian Zionists are, at this point, more significant in the formulation of U.S. policy toward Israel than are Jewish Zionists, as illustrated by three recent incidents.
After the Bush administration's initial condemnation of the attempted assassination of militant Palestinian Islamist Abdel Aziz Rantisi in June 2003, the Christian Right mobilized its constituents to send thousands of e-mails to the White House protesting the criticism. A key element in these e-mails was the threat that if such pressure continued to be placed upon Israel, the Christian Right would stay home on Election Day. Within 24 hours, there was a notable change in tone by the president. Indeed, when Rantisi fell victim to a successful Israeli assassination in April 2004, the administration—as it did with the assassination of Hamas leader Sheik Ahmed Yassin the previous month—largely defended the Israeli action.
When the Bush administration insisted that Israel stop its April 2002 military offensive in the West Bank, the White House received over 100,000 e-mails from Christian conservatives in protest of its criticism. Almost immediately, President Bush came to Israel's defense. Over the objections of the State Department, the Republican-led Congress adopted resolutions supporting Israel's actions and blaming the violence exclusively on the Palestinians.
When President Bush announced his support for the Road Map for Middle East peace, the White House received more than 50,000 postcards over the next two weeks from Christian conservatives opposing any plan that called for the establishment of a Palestinian state. The administration quickly backpedaled, and the once-highly touted Road Map essentially died.
Click here to comment on this article
Sticking Your Head in the Sand Department
June 30, 2004
By NICHOLAS D. KRISTOF
So is President Bush a liar?
Plenty of Americans think so. Bookshops are filled with titles about Mr. Bush like "Lies and the Lying Liars Who Tell Them," "Big Lies," "Thieves in High Places" and "The Lies of George W. Bush."
A consensus is emerging on the left that Mr. Bush is fundamentally dishonest, perhaps even evil - a nut, yes, but mostly a liar and a schemer. That view is at the heart of Michael Moore's scathing new documentary, "Farenheit 9/11."
In the 1990's, nothing made conservatives look more petty and simple-minded than their demonization of Bill and Hillary Clinton, who were even accused of spending their spare time killing Vince Foster and others. Mr. Clinton, in other words, left the right wing addled. Now Mr. Bush is doing the same to the left. For example, Mr. Moore hints that the real reason Mr. Bush invaded Afghanistan was to give his cronies a chance to profit by building an oil pipeline there.
Comment: If this wasn't one of the principal reasons, then what reason does Mr Kristof propose?
"I'm just raising what I think is a legitimate question," Mr. Moore told me, a touch defensively, adding, "I'm just posing a question."
Right. And right-wing nuts were "just posing a question" about whether Mr. Clinton was a serial killer.
I'm against the "liar" label for two reasons. First, it further polarizes the political cesspool, and this polarization is making America increasingly difficult to govern. Second, insults and rage impede understanding.
Comment: Is it polarising the political cesspool, or is it simply describing a situation that exists?
Lefties have been asking me whether Mr. Bush has already captured Osama bin Laden, and whether Mr. Bush will plant W.M.D. in Iraq. Those are the questions of a conspiracy theorist, for even if officials wanted to pull such stunts, they would be daunted by the fear of leaks.
Comment: Ah, thinking that Bush would descend to such tricks is "conspiracy theory"! What about the stolen election in Florida? Is that "conspiracy theory"?
Bob Woodward's latest book underscores that Mr. Bush actually believed that Saddam did have W.M.D. After one briefing, Mr. Bush turned to George Tenet and protested, "I've been told all this intelligence about having W.M.D., and this is the best we've got?" The same book also reports that Mr. Bush told Mr. Tenet several times, "Make sure no one stretches to make our case."
In fact, of course, Mr. Bush did stretch the truth. The run-up to Iraq was all about exaggerations, but not flat-out lies. Indeed, there's some evidence that Mr. Bush carefully avoids the most blatant lies - witness his meticulous descriptions of the periods in which he did not use illegal drugs.
True, Mr. Bush boasted that he doesn't normally read newspaper articles, when his wife said he does. And Mr. Bush wrongly claimed that he was watching on television on the morning of 9/11 as the first airplane hit the World Trade Center. But considering the odd things the president often says ("I know how hard it is for you to put food on your family"), Mr. Bush always has available a prima facie defense of confusion.
Mr. Bush's central problem is not that he was lying about Iraq, but that he was overzealous and self-deluded. He surrounded himself with like-minded ideologues, and they all told one another that Saddam was a mortal threat to us. They deceived themselves along with the public - a more common problem in government than flat-out lying.
Some Democrats, like Mr. Clinton and Senator Joseph Lieberman, have pushed back against the impulse to demonize Mr. Bush. I salute them, for there are so many legitimate criticisms we can (and should) make about this president that we don't need to get into kindergarten epithets.
But the rush to sling mud is gaining momentum, and "Farenheit 9/11" marks the polarization of yet another form of media. One medium after another has found it profitable to turn from information to entertainment, from nuance to table-thumping.
Talk radio pioneered this strategy, then cable television. Political books have lately become as subtle as professional wrestling, and the Internet is adding to the polarization. Now, with the economic success of "Farenheit 9/11," look for more documentaries that shriek rather than explain.
It wasn't surprising when the right foamed at the mouth during the Clinton years, for conservatives have always been quick to detect evil empires. But liberals love subtlety and describe the world in a palette of grays - yet many have now dropped all nuance about this president.
Mr. Bush got us into a mess by overdosing on moral clarity and self-righteousness, and embracing conspiracy theories of like-minded zealots. How sad that many liberals now seem intent on making the same mistakes.
Comment: Again, is that because they are foaming at the mouth, or is it because they see that Bush is indeed a very different type of President than any who have gone before. He has radically changed the law of the land. He has moved the US closer to an open tyranny than any of his predecessors ever dared.
This fact does not mean that electing Kerry will change anything. Both men will support the current foreign policy, but the power of the Israeli lobby and the movement towards a theocracy in the US is the work of the fundies behind Bush. Bush is a particularly able puppet. Bush served his purpose and regardless of the outcome of the November elections, it is difficult to imagine the new President moving American politics and law back to what it was prior to September 11, 2001. And that is what is important. Even if Kerry does come in and appear to "correct things," he will never take the country back to what it was on September 10, 2001.
Denying what is in front of his nose, seeking to remain civil with the psychopaths in office rather than describing what is happening clearly and objectively, prettying up the facts in the spirit of "we're all hermanos", this is the purpose of the press in a controlled state.
Click here to comment on this article
Fahrenheit 9/11: Factual or Saudi-bashing?
By Kaveh L Afrasiabi
Fahrenheit 9/11 is the "temperature" at which the presidency of George W Bush burns. While we must delegate to the near future the question of whether or not it will be "the film that unseated President Bush", the controversial documentary by anti-war activist Michael Moore is undoubtedly a potent missile fired at the White House's regime of truth, simultaneously unmasking the conformist American media as well as the capitalist logic of war making. It is a humorous, compassionate, critical and enlightened examination of a rather sad chapter in contemporary American history marked with war, terrorism and overzealous counter-terrorism trampling on citizens' rights, invoking the dark memories of McCarthyism and communist witchhunts.
Moore's timely antidote, decried by the right wing media and the garden variety pundits such as Christopher Hitchens, a one time Marxist-turned White House apologist, delves into the Organization of Petroleum Exporting Countries connections of the Bush dynasty and in no uncertain terms accuses the sitting president and his father, former president George H W Bush, of prioritizing their own interests and the interests of their Saudi partners over national interests. Like so many voices in America - presidential hopeful John Kerry, journalist-cum-author Bob Woodward, and others, Moore attacks Saudi Arabia, a country many Americans love to hate these days given the fact that some 15 of the 19 perpetrators of the September 11 tragedy were Saudis, never mind that the Saudi government itself is targeted by the same al-Qaeda terrorists. Regardless, the post-September 11 Saudi syndrome that has sunk in the substratum of American political psychic is so powerful as to unconsciously serve as a scapegoat, letting others off the hook.
Indeed, one is struck by the peculiar absence of any reference by Moore to the so-called neo-conservatives of Bush's inner circle, almost entirely Jewish, who plotted the invasion of Iraq long before September 11. Moore's bravery stops at the door of Israel, and he does not bother even asking if Israel and its army of influence peddlers in the US capital and its halls of power and decision-making was a key factor triggering the present administration into war with Iraq. At the risk of sounding "anti-Israel", however, the question needs to be asked and seriously scrutinized, notwithstanding the commission of inquiry in Israel now investigating precisely the question of why the Israeli government and its security apparatuses exaggerated the weapons of mass destruction threat of Saddam Hussein.
Click here to comment on this article
Blair begins to sidle away from his US ally
FRASER NELSON
The Scotsman
Wed 30 Jun 2004
FOR Tony Blair, the prescription for Iraq seemed simple. "Have confidence and faith, and you will succeed," he said in an interview on Iraqi television. If this was meant as a farewell, it certainly reflected the new attitude in London.
Iraq is now, primarily, someone else's problem - it has a sovereign prime minister who is in charge of repressing terrorists. This, Mr Blair hopes, will push the daily death toll to the inside pages of the newspapers.
But there is a greater dividend, with more far-reaching implications. Quietly, Mr Blair is moving away from George Bush in preparation for his own general election. He is easing away by stealth.
There was not a trace of this at the NATO summit in Istanbul, where the picture of Mr Blair shaking the US president's hand was the perfect image for the handover of power in Iraq. "It was so unstaged that it looked staged," complained one aide.
However, a few hours later, Mr Blair's language started to shift. To those with an ear to hear it - mainly in London - it was quite startling. The shift away from the US Republicans has quietly begun.
It was during a two-hour interview with Channel 4 News that Mr Blair gave the first signals. He did not start to attack the US president: far from it. This is a more nuanced operation. The Prime Minister has decided to answer questions which, not so long ago, he would have avoided.
When challenged about the events at Abu Ghraib prison, where US soldiers had been photographed abusing Iraqi prisoners, he used language far more frank than had been heard before.
It was "revolting", he said, the "single most damaging propaganda victory for the terrorists". It was an American error - and he, as a British prime minister, was making no bones about his abject criticism.
At the Iraqi press conference, Mr Bush avoided the question as to whether Iraq would return to martial law.
Mr Blair listened to the US president, then decided to put him right: "There will not be martial law."
Yesterday, Jack Straw, the Foreign Secretary, was beginning to make his differences known. When asked to defend the US logic for invading Iraq - that democracy would follow invasion - he said it was "for them to defend themselves".
And he went further. "It's hardly a great surprise that I don't subscribe to a neo-conservative view of life," he said. As a Labour Foreign Secretary, the statement is - in itself - not controversial. The point is that Mr Straw would not have said that a year ago. Then, he would not have allowed a hair to be put between the United Kingdom and the US over foreign policy. Now, the Foreign Secretary is quite happy to draw the dividing line.
He also said that "in retrospect" it had been a mistake for the US military to sack the Iraqi army in an attempt to purge the country of Saddam Hussein's Baathists - a move which turned on to the streets hundreds of newly-unemployed former soldiers who knew how to use guns.
Their mandarins have long denounced the US for the letting pictures of the Abu Ghraib prison through the net. But such grumbles have never been heard, even in echo, by Mr Blair or Mr Straw.
Now Iraq is sovereign, and Mr Blair can move away from the Republicans without giving succour to the extremists. It is an opportunity that the Prime Minister has not waited long to take.
Click here to comment on this article
Bomb targets senior Iraqi official
Thursday July 1, 08:16 AM
BAGHDAD (Reuters) - Guerrillas have attacked a convoy carrying a senior Iraqi finance ministry official in Baghdad, wounding him and killing two of his staff, an interior ministry spokesman says.
He said guerrillas had attached a bomb to one of the vehicles in Ihsan Karim's convoy. It exploded on Thursday as the convoy drove through Baghdad.
Hospital officials confirmed that Karim was wounded and denied reports that he had been killed in the blast.
Earlier, a U.S. soldier at the scene said the explosion had been caused by a roadside bomb that was detonated near a U.S. convoy. The soldier confirmed two Iraqis had been killed.
Blood trickled into the gutter by the side of the road. An ambulance ferried the wounded to hospital.
Last month guerrillas bent on distrupting the formal start of Iraqi self-rule assassinated several leading government bureaucrats. In May, a suicide car bomb killed the head of Iraq's now-defunct Governing Council.
Click here to comment on this article
Aljazeera
Thursday 01 July 2004, 7:10 GMT
At least 13 people have been killed after US military planes bombed a neighbourhood in the Iraqi city of Falluja.
The US military on Thursday said they attacked a safe house belonging to Abu Musab al-Zarqawi, the Jordanian accused by Washington of being a "terrorist".
Hassan Ali Daly, Aljazeera's correspondent in the town, said US fighter planes targeted a building in the al-Jibail neighbourhood southwest of the town.
US planes had targeted another suspected safe house in Falluja last week.
Medical sources said 10 people have also been wounded in the latest air raid. Efforts were underway to clear the rubble of the house to rescue possible survivors buried underneath. [...]
Comment: How things have changed since the US transferred "power" and "sovereignty" to the "Iraqis" this week...
Click here to comment on this article
US plans huge show of force in Pacific
By Ching Cheong
The Straits Times
July 1, 2004
HONG KONG - The United States is planning a massive show of force in the Pacific Ocean near China to register a point with Beijing.
In an exercise codenamed Operation Summer Pulse 04, it is expected to arrange for an unprecedented seven aircraft carrier strike groups (CSGs) to rendezvous in waters a safe distance away from the Chinese coastline - but still within striking distance - after mid-July.
This will be the first time in US naval history that it sends seven of its 12 CSGs to just one region.
According to a Department of Defence statement, Summer Pulse is to test out a new Fleet Response Plan (FRP) aimed at enhancing the American Navy's combat power and readiness in a time of crisis. [...]
Comment: The article includes the following summary of the number of CSGs that have historically been deployed for different threat levels:
ONE aircraft carrier is sent to a trouble spot as a reminder of US presence. This was done several times in the past, when tension was high in the Taiwan Strait.
TWO carriers show serious concern, as was the case when China test-fired missiles over the strait in 1996.
THREE OR FOUR are sent in combat situations - as in the Gulf War in the early 1990s and the recent Iraqi war.
SEVEN carriers in peace time to the same region is unprecedented.
Click here to comment on this article
American Activist Detained in Tel Aviv
AP
July 1, 2004
JERUSALEM - An American activist who came to Israel to take part in a pro-Palestinian march has been held in a detention facility for more than a week after being refused entry to the country, her lawyer said Thursday.
Ann Petter, 44, a New York City graphic designer, arrived at Israel's international airport in Tel Aviv on June 23, said her lawyer, Yael Berda.
Petter refused a police request to return to the United States and has been held at the airport pending a court hearing on her petition to have the order rescinded, the lawyer said.
A spokeswoman for the Interior Ministry said police had determined that Petter was a threat to Israel's security and had denied her entry.
Petter is affiliated with the International Solidarity Movement, Berda said. ISM is a pro-Palestinian group whose members often place themselves between Israeli forces and Palestinians to try to stop the Israeli military from carrying out operations.
Berda said Petter planned on taking part in a July march to protest Israel's West Bank separation barrier, which Palestinians say is an Israeli effort to annex land in the West Bank. [...]
Click here to comment on this article
Israel: A Conspiracy Here, A Conspiracy There
coastalpost.com - 6/29/2004 1:11:00 PM GMT
By Karen Nakamura

In January 2003, a funding scandal threatened Israel Prime Minister Ariel Sharon's re-election campaign. It involved Knesset/Likud Party vote buying. The American media covered the scandal but the lack of detail was evident. More digging was necessary. That digging was achieved by Anton Chaitkin in the January 24, 2003, Executive Intelligence Review, and needs to be read by anyone interested in Middle East politics.
Though illegal, foreign, especially American, donations have rolled into Israel's right-wing Likud party to the tune of millions of dollars. It doesn't take much to recognize long-range aims of ultra conservative American Jews and Israelis. This American funding takes on greater meaning when we see how its influence has crept into American politics. Are Americans doing Tel Aviv's bidding by sending troops to be killed in the Middle East so Conservative Jews can achieve their aims?
In a democracy, there is nothing wrong with like-minded folks coming together to support a cause. What's wrong here is the suffering these aims are causing to the entire Middle East, including Israeli citizens. This determined group of wealthy Americans and Israeli politicians are not averse to taking action to achieve their aims. According to Chaitkin, Likud and cohorts are "driving the Middle East and the world into religious-ethnic wars." Their aim is to restore Israel to its Biblical borders. That means Palestinians must totally surrender, be "transported" or suffer ethnic cleansing, a war crime according to the Geneva Convention.

Likud's vote last year to never accept a Palestinian state affirms that position. Ariel Sharon himself has advocated Palestinian transport as a solution. Israeli opposition to Bush's Road Map to Peace centers on removal of the idea of a Palestinian state, at least for the present. This dodge has worked for fifty years.
Who then are the American advocates of this catastrophic policy? Let's start with Ariel Sharon. When Ariel Sharon retired as a General, the Israeli government granted him a long-term lease to his Sycamore Ranch in the Negev Desert. With the help of Meshulam Riklis, a wealthy Jewish-American businessman, Sharon was able to transform the place into his beloved ranch, ala Ronald Reagan's California home and Fernado Marcos' pied-a-terre in Hawaii. Riklis is also a member of the Roundtable Political Action Committee.
Another American politician with conservative ties in Israel is former Secretary of State, Henry Kissinger. He was present at Sycamore Ranch with Sharon and Riklis, when the plan for West Bank settlements was developed. The expansion of West Bank and Gaza settlements has always been Sharon's baby.
The Roundtable Political Action Committee includes Riklis, junk-bond king Michael Milken and founders Jay, Selig and Seymour Zises. Seymour Zises is also president of the National Political Action Committee, NPAC, which works in tandem with AIPAC, the highly influential American-Israeli Political Action Committee. Jay Zises is president of "Friends of the Israeli Defense Forces." Others include Ivan Boesky and executives of United Fruit/Chiquita Banana while the son of Loew Corp. owner, Laurence Tisch, is a co-founder.
Menachem Atzmon, convicted of campaign financing fraud in the 90s, and Stephen L. Friedman are partners of International Consultants on Targeted Security (ICTS) run by former Israeli military commanders and government intelligence agencies. In 1999, ICTS took over management of security at Logan Airport in Boston under its subsidiary Huntleigh, USA and was in charge on 9/11. Friedman is a member of the Israel Defense Fund. And then there's Ronald Lauder, heir to the Estee Lauder cosmetic fortune who is treasurer of the World Jewish Congress and a trustee of the Special Reserve Fund of the Anti-Defamation League.
Media links are not missing. Marc Belzberg, business partner of the Zises, owns the Jerusalem Post and funds West Bank settlements. He's a major supporter of the Sharon-linked yeshiva seminary rumored to be training the priesthood for the Third Temple to be built on the Temple Mount after the Al Aqsa mosque is destroyed. Along with Ira Rennert, and Irving I. Moscowitz, Belzberg was involved in the contentious opening of the tunnels under the Al Aqsa mosque; one opening caused 76 Palestinians deaths in three days of fighting. Rennert now controls the tunnel entrances. Moscowitz funded Jewish take-overs of housing in East Jerusalem and settlements in the West Bank.

Marvin Josephson, owner of Hollywood's International Creative Management (ICM) agency, has not only been Henry Kissinger's literary agent but is Chairman of NPAC. Mortimer Zuckerman owns U.S. News and World Report and the New York Daily News. He regularly agitates for war against Saudi Arabia and other Arab nations in his column U.S. News. He is a director of "Friends of the Israel Defense Forces."
Mervyn Adelson, ex-husband of Barbara Walters and former Chairman of Lorimar Telepictures, is a friend of Benjamin Netanyahu. His lawyer, Yaakov Ne'eman, was Israeli Finance Minister under Netanyahu. Henry Kravis of RJR Nabisco is also a sponsor of Israel's right wing and a Republican donor with ties to the Bush family.
Underworld connections come from casino owners with early ties to the Meyer Lansky/ Moe Dalitz Mafia syndicate. They include Mervyn Adelson and Sheldon Adelson. Sheldon wanted to build casinos in Israel and has been granted gambling licenses in Macao, China along with Steven Wynn, owner of the Mirage casinos. Wynn sponsors right-wing Israeli causes, has ties to Lansky and is a member of the board of the George Bush Presidential Library. Henry Kravis has early ties to Lansky but isn't connected to gambling.
However, the EU has accused him of narcotic money laundering.
Pat Robertson of the Christian Broadcasting Network seeks support for an Armageddon scenario among right-wing American Jews. Perhaps the most frightening is Aish Hatorah who runs HonestReporting.com, an internet "police" organization created to attack American critics of the Likud's war policies.
Click here to comment on this article
Israel snub forces Barnier to reschedule visit
PARIS, July 1 (AFP) - French Foreign Minister Michel Barnier said Thursday he would travel to Israel "in a few weeks' time" after being snubbed by Israeli leaders this week for holding talks with Palestinian leader Yasser Arafat.
"I will go in a few weeks' time to make a bilateral visit to Israel," Barnier told the private RTL radio station, after returning from seeing Arafat, who is confined to his headquarters in the West Bank town of Ramallah.
The French minister's visit met with stern opposition from the Jewish state, which has kept the veteran Palestinian leader confined to his headquarters since December 2001.
Barnier was unable to meet with any Israeli officials this week as the government of Prime Minister Ariel Sharon systematically refuses to meet any foreign official who visits Arafat.
"I found a man who is indisputably suffering from the situation in which he has been put," Barnier told RTL.
Barnier had called for an end to Israel's confinement of Arafat on Wednesday.
"During my two meetings yesterday with president Arafat, I was able take a take a close measure of the fate that he has been subjected to," Barnier told reporters after meeting with Palestinian prime minister Ahmed Qorei.
"Considering what he represents, (his situation) is not dignifying for him and is not dignifying for the Palestinian people he represents.
"We consider that this situation cannot last as he is the elected and legitimate president" of the Palestinian people, Barnier added.
The French minister also reiterated on RTL that both Paris and the European Union believe "there can be no (peace) agreement without Yasser Arafat".
Click here to comment on this article
Israeli Court Orders Rerouting of Barrier
By RAMIT PLUSHNICK-MASTI
Associated Press
July 1, 2004
JERUSALEM - Israeli army planners scrambled to reroute a key section of the West Bank separation barrier after the Supreme Court ruled that its original path violates international law and would cause too much hardship for thousands of Palestinians.
The landmark ruling meant more trouble for Prime Minister Ariel Sharon's plan for disengagement from the Palestinians, an ambitious proposal to complete the West Bank barrier and withdraw from the Gaza Strip by 2005.
The high court's Wednesday ruling focused on a 25-mile section of the barrier near Jerusalem that would have separated some 35,000 Palestinians from their farmland, schools and jobs. In all, the complex of fences, concrete walls, trenches and razor wire is to run 425 miles and is about one-fourth complete.
Government officials said the ruling would delay construction of the Jerusalem section by several months, and invite further appeals about other sections from barrier opponents. Those opponents could include Palestinians and Israeli moderates who believe a less disruptive route should have been chosen from the start. [...]
Click here to comment on this article
Israeli invasions wreak death and havoc
By Khalid Amayreh in the West Bank
Thursday 01 July 2004, 17:37 Makka Time, 14:37 GMT
A nine-year-old Palestinian boy has been shot dead by Israeli troops during a military invasion into the southern Gaza Strip town of Rafah.
Umar Muhammad Abu Zraihan was pronounced dead on arrival at hospital after being shot in the head during the early morning incursion in the Brazil neighbourhood, witnesses said.
Around 15 armoured vehicles had entered Rafah, which was the scene of a major Israeli offensive around a month ago.
Comment: Although we do not cover this issue every day on the Signs page, it is important for readers to remember that this sort of violence against Palestinian civilians never lets up. Israeli murder of innocent civilians is the daily bread of the Palestinians. Every day houses are destroyed, olive groves are uprooted, Palestinians are forced to wait hours to move between their villages or to go into their fields. Their water supplies are being overtaken by the Israelis and diverted into illegal Jewish settlements. And all the while, the world does nothing. Not the Great European Powers who rail against Bush, not the Arab countries who are being targeted and labeled as "terrorists" and "subhumans" by the Neocons.
Who is there in this world who is willing to do what is right simply because it is right? Where is the justice of this world?
Of course, there is no justice. This world's justice is the justice of the mighty over the weak, the haves over the have-nots, the psychopath over those who are not willing to sacrifice their principles.
Click here to comment on this article
Thursday July 1, 08:21 AM
JERICHO, West Bank (Reuters) - Israeli forces have mounted a rare raid into the West Bank town of Jericho, detaining more than 20 wanted Palestinians, the Israeli army says.
Witnesses said tanks and armoured personnel carriers backed by helicopter gunships pushed into the ancient town on Thursday in an area largely untouched by nearly four years of Israeli-Palestinian violence.
"We have arrested more than 20 wanted men so far, among them senior people, and found weaponry that includes rifles and grenades," a military spokeswoman said.
Palestinian security sources said three of those taken into custody were wounded and soldiers blew up the house of a wanted man, who was also detained, from President Yasser Arafat's Fatah.
"This is a dangerous escalation by Israel," said Palestinian cabinet minister Saeb Erekat, a Jericho resident.
Residents of Nablus, also in the West Bank, said troops moved again into the city's old town, or casbah, closing its entrances and taking over a number of houses in a search for militants.
During an operation in the casbah last week, soldiers killed the West Bank commander of al-Aqsa Martyrs Brigades, a militant group within Fatah.
Click here to comment on this article
5 a.m. earthquake tops Lakeview's seismic series
Wednesday's magnitude 4.4 quake is one of about 30 to shake the area, and experts say more are expected
Thursday, July 01, 2004
RICHARD L. HILL
Lakeview residents felt the jolt of a magnitude 4.4 earthquake early Wednesday morning, the latest and largest of about three dozen quakes to rattle the remote south-central Oregon region in the past week.
The quakes, which have been occurring since last Thursday evening, have caused no injuries or damage. Instruments detected smaller, unfelt quakes after the 5:22 a.m. Wednesday event.
Six of the earthquakes have measured more than magnitude 3, which are large enough to be felt. The previous largest quake, a magnitude 3.9, shook the area early Sunday.
Click here to comment on this article
Moderate quake shakes Central Visayas
Posted: 2:58 PM (Manila Time) | Jul. 01, 2004
INQ7.net with GMA 7
AN EARTHQUAKE measuring up to intensity 3 on the Richter Scale shook Central Visayas Thursday, an official of the National Disaster Coordinating Council (NDCC) said.
Click here to comment on this article
Check out the Big Dipper's intriguing sights as comet pierces it
Thursday, 1, 2004
BY ANNE RUETER
News Staff Reporter
Although fainter now, Comet C/2001 Q4 (NEAT) will pass through the bowl of the Big Dipper this month, making it easier for novice comet seekers to find it. That also provides the perfect excuse to linger longer in the dipper, surely the most well-known group of stars in the heavens.
If you get binoculars out to spy the comet, it's easy to find other intriguing jewels and surprising quirks in the big pot with the long handle.
Click here to comment on this article
News Flash: Psychics Will Predict News In The Future
LOS ANGELES (Wireless Flash) -- When folks tune in to the news from now on, they'll get to watch news anchors tune in the news.
A new TV show that uses psychics to predict tomorrow's headlines today will materialize on TV in the near future if an L.A. entertainment lawyer gets his way.
Frank Lunn has created the weekly 30-minute "Ahead-Lines News" format and is shopping it around to different networks.
He says the program will have the look and feel of a real news program, covering national news, business reports, sports and weather but before it happens.
There would even be psychic correspondents reporting in the field from locations where a major event was predicted to occur.
Most importantly, Lunn says an accuracy rating would be updated each week so that viewers, in his words, "would see there really is something to it."
The only thing Lunn can't predict yet is when the show will hit the airwaves.
Click here to comment on this article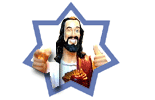 'Apparition' continues to lure Hub-area faithful
By Jim Smith
jsmith@irishecho.com
BOSTON -- The numbers are down, but some people are still going to Milton Hospital near Boston not for medical care but to view what some say is a miraculous apparition of the Blessed Virgin Mary.
Last summer, more than 75,000 people poured into the hospital's parking lot to look up at the window containing what many believed was an image of Mary holding her infant son. A hospital physician had noticed the image, and word quickly spread.
Milton Hospital staff said that the image was likely formed when a sealant around the window ruptured, allowing heat and moisture to seep through and leave a chemical deposit. The archdiocese of Boston has taken no position on the image, saying only through a spokesperson last year, "If it leads to a deepening of faith . . . it's a good thing."
Comment: Ah, that's the Church for you. Whether it is real or not, true or false, that doesn't matter. "If it leads to a deepening of faith . . . it's a good thing." Looking forward to 2000 more years of befuddling the public.
Click here to comment on this article
A recent word from your lucid, highly articulate and intelligent president. Ladies and Gentlemen, we give you GWB:
Sawyer: Many people have said, "Saddam Hussein. All right. What about Osama bin Laden?"
President Bush: Well, he's — he's — we're on his trail, too. He's---
Sawyer: Close?
President Bush: Well, I don't know. It's — it's — you know, had you and I conducted this interview the day before we captured Saddam, you'd have said, "Are we close to Saddam?" And I would have said, "You know, I really don't know." And I knew that we have a strategy to find him, but I didn't know how close we were. And I don't think you know how close you are on finding somebody like this until you actually find them. I mean, this is a person hidden in a hole and in a country the size of California. And bin Laden's on the run. I mean, he's — all I can say, he's certainly not leading any parades these days. And, you know, he's probably in a hole somewhere hiding from justice. We'll get him.
Verbatim from Dec 16 interview with ABC News... believe it or not. Read the whole interview for a tragi-comedic experience.
Click here to comment on this article
---
Remember, we need your help to collect information on what is going on in your part of the world!
We also need help to keep the Signs of the Times online.
---

Check out the Signs of the Times Archives

Send your comments and article suggestions to us

---
Fair Use Policy
Contact Webmaster at signs-of-the-times.org
Cassiopaean materials Copyright ©1994-2014 Arkadiusz Jadczyk and Laura Knight-Jadczyk. All rights reserved. "Cassiopaea, Cassiopaean, Cassiopaeans," is a registered trademark of Arkadiusz Jadczyk and Laura Knight-Jadczyk.
Letters addressed to Cassiopaea, Quantum Future School, Ark or Laura, become the property of Arkadiusz Jadczyk and Laura Knight-Jadczyk
Republication and re-dissemination of our copyrighted material in any manner is expressly prohibited without prior written consent.
.