---
New Article: Will the REAL "Dr. Grant Gartrel(l)" please stand up? - "Aussie Bloke" exposed
Picture of the Day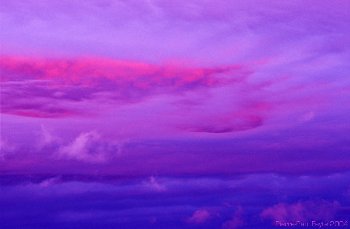 Dernières Couleurs
©2004 Pierre-Paul Feyte
Florida Election Supervisors Eye Purge
Sunday June 6, 2004
By RACHEL LA CORTE
Associated Press Writer
MIAMI (AP) - Many of Florida's local elections supervisors are concerned about the accuracy of a list of 47,000 possible felons to be purged from voter rolls, and they want the state's help in ensuring that no voters are disenfranchised in November.
The summer conference of elections supervisors from Florida's 67 counties opens Monday in Key West. The list is expected to be a hot topic, in part because CNN recently filed a lawsuit seeking access to it.
"We know the outcome of using inaccurate lists,'' said Ion Sanchez, Leon County supervisor of elections. "The outcome is that legal voters are disenfranchised.''
The issue is particularly sensitive because in the 2000 presidential election George W. Bush was declared the winner by just 537 votes after five weeks of recounts and challenges in Florida.
During the recounts, reports surfaced that people had been removed from voting rolls even though they were not felons.
Information for the felon list is provided by the Florida Department of Law Enforcement. Under state law, validating the information is part of the local supervisor's job. [...]
Comment: For some strange reason we are overcome with a strong feeling of deja vu. Back in 2000 Katherine Harris was the head of the Bush election committee as well supervisor of elections. She was tasked with mandating a private company to produce a list of felons that were ineligible to vote in Florida. Initially a figure of 8,000 was presented to Miss Harris. Apparently this was not the correct figure desired and Miss Harris ordered the private company to expand the name list to all people that shared both the birth date and the surname of the Felons. The final list numbered 58,000 people. Independent investigations have shown that the list was 95% inaccurate. Over 55,000 people that were entitled to vote (most of them for Al Gore) were disenfranchised on the orders of Miss Harris and her bosses. In the end Bush won Florida and the 2000 election by just 537 votes.
This, dear readers, is democracy in America. It simply does not exist. Apart from the fact that Americans are only ever given a choice of two "leaders" (democrat or republican) to choose from, in the 2000 election even this choice was denied them. Bush, and the NeoCons that currently occupy the White House, clearly stole the 2000 election, they seized power in the same way that many dictators have done over the centuries. Americans sat back and allowed themselves to be conned, and today the legacy of that deceit is Bush's "war without end". Thousands of innocents dead, their blood on the hands of all those that bought into the lie because the truth was simply too uncomfortable to bear.
And now, in 2004, what is to stop Bush and someone like Harris from doing exactly the same again? Absolutely nothing, and it appears that they really are gearing up for a repeat performance. See here for a Flash animation of the 2000 elections fiasco.
Click here to comment on this article
Flashback: Judge Decides Katherine Harris Will Face Lawsuit

NAACP Sues Former Secretary Of State
February 15, 2002
MIAMI -- Katherine Harris, Florida's former secretary of state, wanted a lawsuit against her thrown out, but a judge has decided to let the case go trial.
The NAACP and four other groups filed suit against Harris, a former state election chief, and the county elections supervisor. The suit charges that black voters were disenfranchised during the 2000 presidential election.
U.S. District Judge Alan Gold cited "the importance and immediacy of the claims" as he rejected attempts by two state agencies and a company that helped purge voter lists to get out of the case.
The lawsuit cites the state, several counties and the contractor over procedures for voter registration, voter lists and balloting.
The trial is set for August.
Click here to comment on this article
Israeli Cabinet Approves Gaza Withdrawal
Sunday June 6, 2004
By RAMIT PLUSHNICK-MASTI
Associated Press Writer
JERUSALEM (AP) - Prime Minister Ariel Sharon's government on Sunday approved an Israeli withdrawal from the Gaza Strip in principle, but a last-minute compromise with Cabinet hard-liners diluted the historic decision, leaving uncertain the future of 21 Israeli settlements.
The wording of the decision was sufficiently vague to allow both Sharon and rebellious ministers from his Likud Party to claim victory. It deferred a political crisis, but did not resolve the deep divisions within Sharon's center-right coalition over the dismantling of settlements.
Palestinian officials responded with skepticism.
"If approving this fragmented plan took the Israeli government this long, I wonder how much time it will take to implement it,'' said Palestinian Cabinet minister Saeb Erekat.
In Sunday's Cabinet meeting, ministers were asked to approve a revised version of Sharon's U.S.-backed "disengagement plan,'' which calls for the gradual dismantling of all Gaza settlements and four in the West Bank by the end of 2005. A majority of Israelis back a withdrawal.
The plan endorsed Sunday authorizes the government to begin preparations for the dismantling of settlements. However, Likud hard-liners attached a disclaimer, insisting that the vote did not amount to approval for taking down settlements.
Housing Minister Effie Eitam, who voted against the plan, said the bottom line of the vote was that Israel would dismantle the Gaza settlements. "No word laundry can bleach one of the blackest decisions ever taken by an Israeli government, which means expulsion of thousands of residents and the creation of a Hamas terror state,'' he said. [...]
Comment: Indeed, the Gaza pullout plan is one of the blackest decisions ever taken by an Israeli government, but it is not because a few thousand illegal Jewish settlers will have to move house. We suspect that Sharon's plan is indeed to create the appearance of a "Hamas terror state", but only because this will give him the justification to use much more deadly and large scale force than he has up to now. Sharon was unable to get legitimate backing for his plan a few months ago, so this time he has opted to attain backing the old fashioned way - intimidation, and clearly it worked...
Click here to comment on this article
Cabinet farce after Sharon sacks pair to secure Gaza vote
By Donald Macintyre in Jerusalem
05 June 2004
Ariel Sharon carried out his threat to sack two far-right ministers yesterday, triggering a mood of political crisis that at times bordered on farce.
The Israeli Prime Minister sent dismissal letters to two ministers in the extreme right National Union, one of the parties in his coalition, to guarantee a majority for his Gaza disengagement plan in the cabinet, which meets tomorrow.
But Mr Sharon's gamble, which could yet put his administration at risk, at least as a majority government, ran into difficulty when one of the two dissident ministers, Benny Elon, responsible for tourism, went into hiding to avoid the letter of dismissal reaching him. "I have not received the letter," Mr Elon said in an interview with Israel Radio from a secret location. "I am trying to do everything in order that there is no majority for the plan on Sunday."
Mr Sharon's office was confident last night that the move would guarantee the Prime Minister a cabinet majority for his plan for a staged withdrawal of all 7,500 Jewish settlers in the Gaza Strip whether or not fresh attempts to resolve the deep split over the plan within his ruling Likud party bear fruit. When neither National Union minister turned up to see Mr Sharon as summoned for 9am, Avigdor Lieberman, in charge of transport, was tracked to a gym and handed his dismissal letter.
Mr Sharon sacked the two ministers after attempts by his ministerial ally Tzipi Livni to broker a compromise with Likud opponents of the plan, led by Mr Sharon's chief rival Binyamin Netanyahu, started to falter late on Thursday - leaving the Prime Minister with the likelihood of being two votes short of a majority in the cabinet. [...]
Israel Radio quoted a Sharon aide as saying that they would not be "sending out detectives" to look for Mr Elon and that he would not be allowed to attend or vote at tomorrow's meeting.
Comment: Ah yes, the rule of law in the wonderful democratic system that is always touted as the "best of a bad bunch" of available systems of government. The truth is that democracy is only the "best of a bad lot" from the point of view of those that wish to deceive the public into thinking that they live in a free society when they in fact live under totalitarian rule. Such a system allows for as many restrictions on freedom as overt dictatorship, but with the added bonus that the hoodwinked masses will love their leaders for it.
Click here to comment on this article
Terror alert based on "assumptions" and "continuing stream" of info, not "specifics"
According to the May 26, 2004 White House press briefing transcript with Scott McClellan:
Q: Scott, back on terror for a second. Has the President been advised that al Qaeda operatives are actually within the borders of the United States plotting attacks?
MR. McCLELLAN: Well, we receive, as I pointed out, a constant stream of intelligence reporting, and the recent intelligence reporting has pointed to the possibility of attacks during the time period I mentioned.
In terms of the possibility of terrorists being here in the United States, we have to work under the assumption that there are terrorists here. And the intelligence reporting we have seen from time to time indicates that there may well be people in place ready to carry out attacks. But we do not have specific information about the timing, or target, or nature of those attacks.
And according to a May 27 BBC story:

Harold Schaitberger, president of the firefighters' union, said that the administration had known about the threats for a month.
"I do find it awfully convenient and suspicious that it happens to be tied in right behind the president's recent message to the nation as well as his troubling, plummeting poll numbers," he said.
That's not just a local firefighter's union, but rather the International Association of Firefighters.
And according to a May 26 Newsweek web exclusive:
Even as Attorney General John Ashcroft warned on Wednesday that Al Qaeda planned "to hit the United States hard" in the next few months, U.S. intelligence officials were privately divided about whether the government had obtained any fresh information that justified such an extraordinary public announcement.
[...] some U.S. counterterrorism officials told NEWSWEEK they were aware of no sudden surge in "chatter" -- intercepts of terrorists communications -- or other indicators of a possible imminent attack. "We're always getting new threat information, but I wouldn't point to a steep spike in chatter" said one U.S. official. Another counterterrorism official added: "What we're seeing is a lot like what we've seen before."
[...] One senior law-enforcement official, while acknowledging the paucity of any fresh intelligence pointing to an imminent attack, said the public warning was still justified as a "proactive" effort to disrupt any ongoing attacks prior to the election.
Comment: Lets look at this logically, how does panicking the public about a possible terrorist attack, when there is NO EVIDENCE for such an attack, prevent the attack itself? Simply stated this theory is utterly ridiculous. Clearly the only benefit of the scare mongering is in the effect it has on the people themselves. A frightened public is much less likely to engage in any kind of critical thinking and much more likely to react impulsively when it comes to election day. Bush has staked his election hopes on the reality of the "terrorist" threat, and as such, if no such threat exists, he himself, or those who will benefit most from his re-election, must create the appearance of the threat. They did it on a sunny Tuesday morning in September 2001, they will not think twice about doing it again in 2004. As Bush himself once tried to say: "Fool me once, shame on you, fool me twice, shame on me.
Click here to comment on this article
New York Police Unaware of New Terror Plot

"We are receiving highly sensitive intelligence information on a regular basis, including today, and there is nothing in that reporting to indicate a specific threat or looming attack against New York City," New York Police Commissioner Raymond Kelly said in a statement issued late on Tuesday in response to media reports. "Nor have we been advised that terrorists are known to be in the United States actively plotting such an attack," Kelly said. [...]
Comment: In the event that another "terrorist" attack occurs this year on the mainland US, there will be two main logical conclusions to be drawn. Either US intelligence agencies have absolutely no power to protect the American people, or they know very well when and where a terrorist attack will occur and will do nothing to stop it, or will be ordered to "stand down". Either way, there only reason for issuing "terror alerts" to the American public is to frighten them into submission to the will of their so called "leaders".
Click here to comment on this article
British waiter told FBI of 9/11-style plot
By Sophie Goodchild and Zachary Mesenbourg
The Independent
06 June 2004
United States and British security agents failed to act on a tip-off they received more than a year before the September 2001 atrocities that al-Qa'ida terrorists planned a large-scale attack in the US, the FBI confirmed yesterday.
Niaz Khan, a former curry house waiter from Britain, told FBI investigators in April 2000 that he had been trained as a hijacker for Osama bin Laden and had even been taught the layout of a Boeing commercial aircraft cockpit.
They did not follow up the lead, and allowed him to leave the US voluntarily. He was detained by the security services on his arrival in Britain, but was released after being held overnight and returned to his home in Burnley, Lancashire.
The only action the FBI took was to add Mr Khan's name to its list of people banned from boarding commercial aircraft.
An FBI spokeswoman told The Independent on Sunday that they had done a "very thorough job" investigating the 29-year-old's claims for two weeks, but were unable to substantiate them. "I don't think we thought he was crazy at all," she said. "We listened to what he had to say but we couldn't substantiate it. We have a lot of investigative methods that we use. Every effort was made."
The FBI's confirmation that it let Mr Khan walk free comes weeks before the publication of a report by Congress on the 11 September attacks. This is expected to be critical of intelligence failures by the CIA and other agencies and will also make specific reference to Mr Khan's case. It has emerged that the claims Mr Khan made to the FBI were detailed in a report to a Congressional intelligence committee in 2002.
Comment: How convenient...
Mr Khan told interviewers that he became involved with al-Qa'ida after they spotted him in a Burnley mosque and offered to settle his gambling debts. After training at a camp in Pakistan, he flew to the US to meet a contact for instructions on his suicide mission.
But the married man had second thoughts. Shortly after landing, Mr Khan walked into FBI offices in Newark, New Jersey, and told agents that he had received arms training in a Pakistani camp. They gave him a lie-detector test which he passed, but his interrogators allowed him to leave.
It is understood that after the 11 September attacks the US authorities did contact British security services asking to re-interrogate Mr Khan, but did not receive a reply. He contacted Crimestoppers, the British crime-fighting organisation and was interviewed by British intelligence officers, but no action was taken.
Comment: Al-Qaeda offered to pay his gambling debts if he went on a suicide mission... While it is possible that the responsibility for paying Khan's debts would have fallen on his family, this is a strange deal for the allegedly fanatical and fundamentalist al-Qaeda group to make. Haven't we always been told that al-Qaeda terrorists willingly volunteer for suicide missions because they hate our freedoms and they want to party with numerous virgins in the afterlife? The deal seems more like the kind of tactic employed by the Mossad than by al-Qaeda...
Click here to comment on this article
The Real Reason for the Wedding Party Attack?

IslamMemo – Thursday June 3, 2004
The background to the American bombing raid on a village wedding party on May 18, during which the bridegroom was killed along with over 40 other villagers, remains largely a mystery in the international media.
After the bomb raid, which the Pentagon claimed was an attempted assault on Resistance fighters in the area of al-Qa'im on the Syrian border, the American Associated Press (AP) broadcast video of the wedding, disproving the US military's claims. Yet that only served to make the incident all the more obscure.
Now an Iraqi resident of the area has come forward with information, published by Quds Press and carried on Mafkarat al-Islam's website, indicating that the real reason for the US attack had been to strike at a village and its elders who were involved, not so much in fighting the occupation, as in helping US troops escape from military service in Iraq.
"The American occupation forces knew full well that we were having a wedding party. They intentionally bombed the wedding because the guests included several tribal chiefs and prominent persons from the western part of Iraq. The occupation forces hated the people of this region because they have been helping occupation soldiers to escape from Iraq," said the uncle of the martyred bridegroom, a local Iraqi resident who gave his name as Abu 'Azzam.
"The village of Makr adh-Dhib," Abu 'Azzam explained, "is between ar-Rabtah and al-Qa'im, and is 125km from Husaybah on the Iraqi Syrian border. The people who live in the village are of the al-Bu Fahd tribes, a part of the large Arab Dulaym tribal federation in Iraq. They have played a big role in providing the Resistance with supplies, equipment, weapons, everything."
The American forces came to the village lots of times," Abu 'Azzam said, "searching for weapons and Arab Resistance fighters. They never found anything. But the thing that caused matters to come to a head was that we in Makr adh-Dhib were carrying out organized operations to smuggle American soldiers who wanted to flee the hell in Iraq out of the country. We were able to smuggle large numbers of those soldiers through our 'windows', windows that only a small number of people in the village know about. We would smuggle them for a price that could go as high as $10,000 in some cases, plus the equipment that the soldier carried," Abu 'Azzam explained.
Abu 'Azzam told QudsPress, "we were able to smuggle a number of US Army officers who were fleeing from Iraq out of the country. The last operation we carried out was just a few days before the Americans bombed the wedding. In that operation we smuggled 13 American soldiers out of Iraq. But apparently the American forces got wind of what we were doing. They encircled the village and took people in for questioning. It was then that we came to understand that they meant to do us harm, because they were very angry."
"After that smuggling operation and then their interrogations, we realized that they were planning something against us. We became wary and started to make preparations to confront them. But we didn't know that they would respond in such a cowardly way," Abu 'Azzam explained.
"That was on the night of the wedding of my nephew Muhammad Rakad al-Fahdawi, and after the invited guests had come -- people of the village and the surrounding area including tribal shaykhs and prominent personalities. During the afternoon the bride was brought from ar-Ramadi and it was after that that the American forces showed up with their Jeeps and tanks and helicopters and closed off the area. They pounded the wedding with 10 rockets of various types and also fired automatic weapons," Abu 'Azzam recounted.
The AP video, released days after the US attack, showed the wedding in progress before the US attack on May 18 that left more than 40 Iraqi celebrants dead.
Click here to comment on this article
I did not say anything yesterday about Ronald Reagan's death. The day a person dies he has a right to be left alone.
But yesterday is now history, and Reagan's legacy should not pass without comment.
Reagan had an ability to project a kindly image, and was well liked personally by virtually everyone who knew him, apparently. But it always struck me that he was a mean man. I remember learning, in the late 1960s, of the impact Michael Harrington's The Other America had had on Johnson's War on Poverty. Harrington demonstrated that in the early 1960s there was still hunger in places like Appalachia, deriving from poverty. It was hard for middle class Americans to believe, and Lyndon Johnson, who represented many poor people himself, was galvanized to take action.
I remember seeing a tape of Reagan speaking in California from that era. He said that he had heard that some asserted there was hunger in America. He said it sarcastically. He said, "Sure there is; they're dieting!" or words to that effect. This handsome Hollywood millionnaire making fun of people so poor they sometimes went to bed hungry seemed to me monstrous. I remember his wealthy audience of suburbanites going wild with laughter and applause. I am still not entirely sure what was going on there. Did they think Harrington's and similar studies were lies? Did they blame the poor for being poor, and resent demands on them in the form of a few tax dollars, to address their hunger?
Then when he was president, at one point Reagan tried to cut federal funding for school lunches for the poor. He tried to have ketchup reclassified as a vegetable to save money. Senator Heinz gave a speech against this move. He said that ketchup is a condiment, not a vegetable, and that he should know.
Reagan's mania to abolish social security was of a piece with this kind of sentiment. In the early 20th century, the old were the poorest sector of the American population. The horrors of old age--increasing sickness, loss of faculties, marginalization and ultimately death--were in that era accompanied by fear of severe poverty. Social security turned that around. The elderly are no longer generally poverty-stricken. The government can do something significant to improve people's lives. Reagan, philosophically speaking, hated the idea of state-directed redistribution of societal wealth. (His practical policies often resulted in such redistribution de facto, usually that of tossing money to the already wealthy). So he wanted to abolish social security and throw us all back into poverty in old age.
Reagan hated any social arrangement that empowered the poor and the weak. He was a hired gun for big corporations in the late 1950s, when he went around arguing against unionization. Among his achievements in office was to break the air traffic controllers' union. It was not important in and of itself, but it was a symbol of his determination that the powerless would not be allowed to organize to get a better deal. He ruined a lot of lives. I doubt he made us safer in the air.
Reagan hated environmentalism. His administration was not so mendacious as to deny the problems of increased ultraviolet radition (from a depleted ozone layer) and global warming. His government suggested people wear sunglasses and hats in response. At one point Reagan suggested that trees cause pollution. He was not completely wrong (natural processes can cause pollution), but his purpose in making the statement seems to have been that we should therefore just accept lung cancer from bad city air, which was caused by automobiles and industry, not by trees.
Click here to comment on this article
Kadhafi sorry that Reagan died before he could be tried for US air strike
TRIPOLI (AFP) Jun 06, 2004
Libyan leader Moamer Kadhafi is sorry that former US president Ronald Reagan died before he could stand trial for the US air strike against Libya in 1986, the official news agency JANA reported.
Colonel Kadhafi regretted Reagan died before he could be prosecuted for crimes committed "against the children of Libya" during US air strikes against Benghazi and Tripoli on the night of April 14, 1986.
Kadhafi's adopted daughter Haifa was killed when his residence was hit in the attack.
In reporting his death, JANA described Reagan as the "accomplice of (then British prime minister Margaret) Thatcher in the US attack on Kadhafi's residence and on the two cities of Benghazi and Tripoli in 1986."
In contrast, most world leaders past and present paid tribute to Reagan, remembering the former US president who died Saturday as a hero and visionary statesman as well as a friend.
Perhaps the warmest words came from Thatcher, Reagan's closest ally and ideological soulmate throughout the 1980s.
Click here to comment on this article
Bush, Chirac stand side-by-side in tribute to D-day heroes
Sun Jun 6, 6:54 AM ET

COLLEVILLE-SUR-MER, France (AFP) - The presidents of France and the United States honoured the heroes of D-Day as world leaders began paying tribute to the Allied forces who stormed the Normandy beaches 60 years ago to liberate Europe from Nazi occupation.
The landings of more than 135,000 Allied troops amid foul weather on June 6, 1944 were the biggest seaborne invasion in history and triggered the collapse of Hitler's Third Reich. Another 20,000 men dropped from the skies.
Standing among thousands of white crosses, US President George W. Bush and French President Jacques Chirac led a ceremony bathed in bright sunshine at the US cemetery here, where over 9,000 US soldiers killed in the invasion are buried.
"You will be honoured ever and always," Bush told a large congregation of US war veterans after laying a wreath to the thousands of their comrades in arms who died on June 6 and in the ensuing two-month Normandy campaign.
Those who stormed the beaches 60 years ago had witnessed "scenes of daring and self-giving that went beyond anything the army or the nation could ask," he said.
"Only the ones who made that crossing can know what it was like."
Bush had opened his address, which brought several veterans to tears, by paying tribute to former US president Ronald Reagan, who died in California on Saturday and attended the D-Day ceremonies 20 years ago. [...]
Chirac paid a moving tribute to thousands of US soldiers who died on D-Day, and stressed the friendship between two countries.
"France will never forget," he said after placing a wreath at the US military cemetery here. "I salute the memory and the sacrifice of all these fighters. They are now our sons also." [...]
Earlier at a joint British-Canadian ceremony at Juno Beach, the queen paid tribute to the courage of Canadian and British troops and called the landings a "major triumph."
By the end of the day some 4,000 Allied forces had been killed on the five beaches under invasion, but some 156,000 troops had set foot on French soil beginning a bloody two-month battle to liberate Normandy. [...]
Click here to comment on this article
In Pomp-Filled Ceremonies, Europe Remembers D-Day
George W. Bush, Jacques Chirac and other European leaders gather to commemorate D-Day. And Chancellor Gerhard Schröder becomes the first German leader to attend the ceremonies, marking the turning point of WWII.
United States President George W. Bush and French President Jacques Chirac joined hundreds of veterans in Normandy on Sunday to remember the tens of thousands of Allied soldiers who perished during the D-Day landings 60 years ago, which marked the start of the American and British push towards Berlin.
"France will never forget," Chirac told the crowd at the American military cemetery in Colleville-sur-Mer, "that 6th of June, 1944, the day hope was reborn. It will never forget the men who made the supreme sacrifice to liberate our soil, our native land, our continent, from the yoke of Nazi barbarity and its murderous folly."
[...] D-Day is remembered as one of the most important events in modern European history. It's known here as a milestone in the liberation of Europe during World War II from Nazi control. On the day, more than 155,000 Allied soldiers landed on five beaches in Frances, marking their entry into continental Europe. Eleven months later, Hitler and Nazi Germany capitulated.
Comment: While this is the view promoted by the US and the Brits, many people believe that the turning point in the war was at Stalingrad. They believe that it was the Soviets who defeated the Nazis. It was the Soviets who held them off for two years while the Allies thought about opening a second front in Europe. Only after the Soviets had starting pushing the Nazis back did the second front come to be. Why? Because the Allies were hoping that the Germans would weaken if not destroy the Soviet Union.
Of course, this doesn't get taught in the US where the Yanks single handedly defeated the Germans, and the French are expected to grovel forever at the feet of their "liberators".
Click here to comment on this article
Why 'the good war' wasn't so good
Imprisoned poet's long-forgotten words mean more to us now
By John Kaminski
May 10 2004
"A slave is one who waits for someone to come and free him."
- Ezra Pound
I have kept repeating one important thought during my rantings over the past two years. It is this — realizing that the tragic attacks of September 11, 2001 were conceived, engineered and then covered up by the powers that be in Washington, D.C. provides us with an open window through which to analyze the misrepresented behavior of American foreign policy during the past two centuries.
Once we acknowledge the political pathology that has us in its grip, we have a realistic chance of rehabilitating our insane society. If we don't, we're about to become fishkill in a permanent red tide of various poisons.
Examining this happy history that has been falsely imbued in our minds by prejudiced corporate media and brainwashed school curricula affords a significant opportunity to reclaim our country from the corporate rapists who have hijacked it in the name of profit. I believe there is no other way to purge America of its destructive dementia and bring the true crooks to justice than to deconstruct the patriotic propaganda that has led us to believe we are a noble nation on the side of truth and beauty.
If we could do this, we could confront our past honestly, and see the devil's smile in the pleasant details of history we have grown up with.
The first hurdle is getting Americans to understand about 9/11. The more intelligent among you know for certain something smells. Why else would there have been all these unexplained coverups in the name of national security, and all these unanswered questions about what really did happen? But once you have mastered the basic questions, you can't help but see the Arab hijacker fable as a deceptive strategem to justify future wars and oppression against dark-skinned people from whom we want to steal precious things.
Only then, when you comprehend in your heart the level of cynicism and betrayal necessary to inflict such a grievous wound upon your own countrymen, can you begin to visualize what kind of animalistic society would cloak its policies of constant aggression and mass murder in the righteous euphemisms of fighting for freedom and democracy against dreaded evildoers.
The whole fable that has now come unraveled in the rapes and murders of imprisoned Iraqis now provides us a clear chance to see the true fabric of American behavior, so forgive me if I repeat myself from other essays and again try to make you realize that these recent, twisted exhibitions of heartless sadism are not exceptions to the rule of American behavior, but rather the norm. Wounded Knee. Dresden. My Lai. Fallujah.
It is only through this portal of realization and confession that we may make America into something that can be truly cherished, rather than what it is now, which is justifiably condemned by honest human beings everywhere.
In reviewing the history of America's involvement in foreign wars throughout the 20th century, I observed an uninterrupted series of false excuses — you know the list: Philippines, Cuba, all of Central America at one time or other, Korea, Vietnam, Grenada, Panama, Iraq, Afghanistan, and Iraq again — used to justify carnage, all of it passed off as defending freedom and democracy, but beneath the surface all of it constructed to maintain financial advantage over a certain commodity or a certain geographical segment of the world. A small percentage of Americans has always known that these involvements have been about protecting the profit-making potential of some corporation which has contributed heavily to the man who made the decision to go shoot up some defenseless, Third World hamlet.
Initially, the only two wars that didn't fit into this pattern of exploitation and invasion were the two big ones, World Wars I and II. Those, we had been taught in schools, were good wars, in which America sacrificed many thousands of its own citizens and millions of lives in other countries to defend "freedom" from evil fascists, nasty Communists, or inscrutable Shintoists.
That always bothered me. I mean, things tend to stay true to form. Tigers don't change their stripes. How could it be, I thought awhile back, could the United States have engaged in all these bad wars, that were predicated upon provable lies, and yet have two good wars in the middle of the string? I reasoned I must be missing something, and I was.
Bits and pieces began to emerge. Worldwide Judea declared all-out war against Germany in the mid-30s. Earlier, the Treaty of Versailles, ramrodded through by President Wilson's Jewish adviser Colonel House, handicapped Germany with onerous financial entanglements, all but guaranteeing, according to some historians, the inevitability of another war.
And then there was President Roosevelt's apparent foreknowledge of the strike at Pearl Harbor, and his failure to tell the troops there, in order to aggravate American public opinion into support for war. And even the movie "Pearl Harbor" told the tale of how America cut off Japan's oil supply to stir up trouble in the first place.
But the real missing piece came leaping out at me a few days ago, when somebody sent me a story about the poet Ezra Pound, and what happened to him during and after World War II. For those who don't know, Pound — considered by many of those who know to be the greatest poet of the 20th century — was arrested for treason because of the broadcasts he made from Italy during the early 1940s that urged the United States not to get involved in the fighting.
The story was Michael Collins Piper's famous 1997 piece in the Barnes Review.
Unfortunately, given the way histories tend to be written (namely, by the victors), what Pound did and what happened to him because of that are rather widely known, whereas what he actually said that got him in so much trouble is not.
And what he said turns out to be eerily appropriate for the horrible developments happening today. The stories you have been taught about World War II are wrong. Pound spent 13 years in a mental institution (without a trial) for being right.
Consider the way the word "Nazi" has been used in our language as a synonym for depravity. After a lifetime of use, the negative connotation is second-nature to us. But Pound didn't see it that way.
He believed that international bankers were on the side of the U.S., Britain and the Soviet Union, and they were all arrayed against Germany. He insisted that without the machinations of the banks and their accomplices in the media, there would have been no war — and no wars ever.
Pound saw the American national tradition being perverted by the aggressive new internationalism, the brainchild of Jews who organized Soviet Communism, long had control of British banks, and manipulated the American President Roosevelt.
"Sometime the Anglo-Saxon may awaken to the fact that . . . nations are shoved into wars in order to destroy themselves, to break up their structure, to destroy their social order, to destroy their populations. And no more flaming and flagrant case appears in history than our own American Civil War, said to be an occidental record for size of armies employed and only surpassed by the more recent triumphs of [the Warburg banking family:] the wars of 1914 and the present one."
Although Pound's broadcasts centered on keeping Americans out of World War II, the underlying theme of most of his pieces was money. Free people need to be in control of their money if they are to be actually free, Pound stressed. On the issues of usury and the control of money and economy by private special interests, Pound thundered: "There is no freedom without economic freedom," he said. "Freedom that does not include freedom from debt is plain bunkum."
Pound believed usury was the cause of war throughout history. "The usury system does no nation . . . any good whatsoever. It is an internal peril to him who hath, and it can make no use of nations in the play of international diplomacy save to breed strife between them and use the worst as flails against the best. It is the usurer's game to hurl the savage against the civilized opponent. The game is not pretty, it is not a very safe game. It does no one any credit."
Pound tried to tell everyone that World War II was not an isolated event, and in his words we can hear the warnings that come down to us now in the echoes of Vietnam, Palestine, Afghanistan and Iraq.
"This war did not begin in 1939. It is not a unique result of the infamous Versailles Treaty. It is impossible to understand it without knowing at least a few precedent historic events, which mark the cycle of combat. No man can understand it without knowing at least a few facts and their chronological sequence."
And his words in 1942 ring presciently for the future of America as the U.S. war machine rumbles around the planet in 2004 and threatens every nation on earth.
"This war is part of the age-old struggle between the usurer and the rest of mankind: between the usurer and peasant, the usurer and producer, and finally between the usurer and the merchant, between usurocracy and the mercantilist system . . .
World War II was not an isolated event. It was part of a deliberate trend spanning centuries, Pound insisted.
"The present war," he said, "dates at least from the founding of the Bank of England at the end of the 17th century, 1694-8. Half a
century later, the London usurocracy shut down on the issue of paper money by the Pennsylvania colony, A.D. 1750."
According to Pound, it was the money issue (above all) that united the Allies during the second 20th-century war against Germany: "Gold. Nothing else uniting the three governments, England, Russia, United States of America. That is the interest — gold, usury, debt, monopoly, class interest, and possibly gross indifference and contempt for humanity."
The real enemy, said Pound, was international capitalism. All people everywhere were victims: "They're working day and night, picking your pockets," he said.
Pound said: "Usury has gnawed into England since the days of Elizabeth. First it was mortgages, mortgages on earls' estates; usury against the feudal nobility. Then there were attacks on the common land, filchings of village common pasture. Then there developed a usury system, an international usury system, from Cromwell's time, ever increasing."
When all was said and done, Pound predicted it would be the big money interests who would really win the war — not any particular nation-state — and the foundation for future wars would be set in place: "The nomadic parasites will shift out of London and into Manhattan. And this will be presented under a camouflage of national slogans. It will be represented as an American victory. It will not be an American victory. The moment is serious. The moment is also confusing. It is confusing because there are two sets of concurrent phenomena, namely, those connected with fighting this war, and those which sow seeds for the next one."
We are clearly in the same spot today.
Pound said one of the major reasons for World War II was the manipulation of the press, particularly in the United States: "I naturally mistrust newspaper news from America," he declared. "I grope in the mass of lies, knowing most of the sources are wholly untrustworthy."
And now. Same story, different day. Pound tried to warn us, more than 60 years ago, but we threw him into an insane asylum for 13 years, the best poet of the 20th century given his reward by the country he loved for speaking his mind in the land of Freedom of Speech.
A harbinger perhaps of the new Homeland Security laws that ignore all poets and truthtellers and keep us securely on the road to war for the profits of a precious, pathological few.
Now the entire population of the planet is about to be consigned to a worldwide capitalist insane asylum, in which love and honor are merely interesting advertising strategies useful in the sale of consumer goods, and loyalty and patriotism mere fairy tales at contract time, to be sold by all to the highest bidder seeking to steal parts of the world from someone else.
Now as then, the world's future rests upon those with ears to hear.
Click here to comment on this article
Cheney Reportedly Interviewed in Leak of C.I.A. Officer's Name
By DAVID JOHNSTON
The New York Times
June 5, 2004
WASHINGTON, June 4 — Vice President Dick Cheney was recently interviewed by federal prosecutors who asked whether he knew of anyone at the White House who had improperly disclosed the identity of an undercover C.I.A. officer, people who have been involved in official discussions about the case said on Friday.
Mr. Cheney was also asked about conversations with senior aides, including his chief of staff, I. Lewis Libby, according to people officially informed about the case. In addition, those people said, Mr. Cheney was asked whether he knew of any concerted effort by White House aides to name the officer. It was not clear how Mr. Cheney responded to the prosecutors' questions.
The interview of the vice president was part of a grand jury investigation into whether anyone at the White House violated a federal law that makes it a crime to divulge the name of an undercover officer intentionally.
Mr. Cheney is not thought to be a focus of the inquiry, which Patrick J. Fitzgerald, the United States attorney in Chicago, heads. Mr. Fitzgerald was appointed by the Justice Department as a special counsel in the case.
White House officials have denied that any senior aides to President Bush disclosed the name of the officer, Valerie Plame, to Robert Novak, who wrote in his syndicated column in July 2003 that Ms. Plame, the wife of former Ambassador Joseph C. Wilson IV, was an employee of the Central Intelligence Agency.
It is not clear when or where Mr. Cheney was interviewed, but he was not questioned under oath and he has not been asked to appear before the grand jury, people officially informed about the case said. His willingness to answer questions was voluntary and apparently followed Mr. Bush's repeated instructions to aides to cooperate with the investigation. [...]
Comment: Unfortunately, cooperation in Bush's eyes does not involve testifying under oath. How can anyone believe that democracy is even close to alive and well in the US when the president and vice president are exempt from the rule of law?
Click here to comment on this article
UN prepares for new Iraq resolution talks as 25 die in attacks
June 6, 2004
UNITED NATIONS (AFP) - The UN Security Council prepared for talks on a revised US-British draft resolution outlining the handover of power in Iraq, as at least 25 people died in violence that has shown no sign of letting up since US-led forces attacked the country 15 months ago. [...]
US officials, among them US national security advisor Condoleezza Rice and Secretary of State Colin Powell, said the council was on the verge of agreeing a resolution, which has in particular been held up over how long occupying troops would remain in the country after June 30. [...]
Powell for his part said the resolution would re-establish full sovereignty for Iraq in just over three weeks but that international troops would remain in the country for a period of time at the request of the interim Iraqi sovereign government.
"It will say that at the end of 2005, when this political process has run its course, we've had the constitution written and free elections, at that point this mandate probably should come to an end," Powell told CNN. [...]
Comment: Ya gotta love how the US has added the word "sovereign" when describing the interim Iraqi government that must still obtain approval from Paul Bremer for any major decisions.
Click here to comment on this article
EU 'Big 3' Draft Nuclear Resolution on Iran
By Louis Charbonneau
Sun Jun 6, 8:40 AM ET
VIENNA (Reuters) - France, Britain and Germany are drafting a U.N. nuclear resolution on Iran that could set them on course for a confrontation with Tehran at an International Atomic Energy Agency board meeting next week, diplomats said.
The IAEA, the U.N. nuclear watchdog, issued a report last week praising Iran for granting U.N. inspectors access to sites, but said it has continued to change its story about imports of nuclear technology that could be used to develop atomic weapons.
"The three Europeans'...draft resolution is going to say that there are areas where Iran has been cooperating with the agency and areas where they haven't been cooperating," a Western diplomat on the IAEA's board of governors told Reuters.
"It will also tell them (the Iranians) to cooperate more," the diplomat said, adding that the point of the resolution will be to keep the inspection process going. [...]
The United States, which said the latest IAEA report contained further evidence that Iran is trying to cover up a nuclear weapons program, will push the Europeans to include sharp language that describes the difficulties the agency had getting access to military sites in the Islamic republic.
Diplomats said Washington would likely delay until after the November presidential election any attempt to push the IAEA to report Iran to the U.N. Security Council for possible sanctions because of Tehran's two-decade cover-up of a uranium enrichment program capable of making material for weapons. [...]
Comment: It is no surprise that Bush would want to delay any actions against Iran until after the election. What is a bit of a surprise is that this is an obvious case of the president being more concerned with his job security than with the security of the American people, which he has repeatedly claimed is so important. One might wonder just how truthful this war on terror business is if Bush can put any action against Iran on hold for five months.
Click here to comment on this article
I Have Been in Torture Photos, Too
Abu Ghraib is No Surprise to Irish Republicans
By GERRY ADAMS
June 6, 2004
News of the ill-treatment of prisoners in Iraq created no great surprise in republican Ireland. We have seen and heard it all before. Some of us have even survived that type of treatment. Suggestions that the brutality in Iraq was meted out by a few miscreants aren't even seriously entertained here. We have seen and heard all that before as well. But our experience is that, while individuals may bring a particular impact to their work, they do so within interrogative practices authorised by their superiors.
For example, the interrogation techniques which were used following the internment swoops in the north of Ireland in 1971 were taught to the RUC by British military officers. Someone authorised this. The first internment swoops, "Operation Demetrius", saw hundreds of people systematically beaten and forced to run the gauntlet of war dogs, batons and boots.
Some were stripped naked and had black hessian bags placed over their heads. These bags kept out all light and extended down over the head to the shoulders. As the men stood spread-eagled against the wall, their legs were kicked out from under them. They were beaten with batons and fists on the testicles and kidneys and kicked between the legs. Radiators and electric fires were placed under them as they were stretched over benches. Arms were twisted, fingers were twisted, ribs were pummelled, objects were shoved up the anus, they were burned with matches and treated to games of Russian roulette. Some of them were taken up in helicopters and flung out, thinking that they were high in the sky when they were only five or six feet off the ground. All the time they were hooded, handcuffed and subjected to a high-pitched unrelenting noise.
This was later described as extra-sensory deprivation. It went on for days. During this process some of them were photographed in the nude.
And although these cases ended up in Europe, and the British government paid thousands in compensation, it didn't stop the torture and ill-treatment of detainees. It just made the British government and its military and intelligence agencies more careful about how they carried it out and ensured that they changed the laws to protect the torturers and make it very difficult to expose the guilty.
I have been arrested a few times and interrogated on each occasion by a mixture of RUC or British army personnel. The first time was in Palace Barracks in 1972. I was placed in a cubicle in a barracks-style wooden hut and made to face a wall of boards with holes in it, which had the effect of inducing images, shapes and shadows. There were other detainees in the rest of the cubicles. Though I didn't see them I could hear the screaming and shouting. I presumed they got the same treatment as me, punches to the back of the head, ears, small of the back, between the legs. From this room, over a period of days, I was taken back and forth to interrogation rooms.
On these journeys my captors went to very elaborate lengths to make sure that I saw nobody and that no one saw me. I was literally bounced off walls and into doorways. Once I was told I had to be fingerprinted, and when my hands were forcibly outstretched over a table, a screaming, shouting and apparently deranged man in a blood-stained apron came at me armed with a hatchet.
Another time my captors tried to administer what they called a truth drug.
Once a berserk man came into the room yelling and shouting. He pulled a gun and made as if he was trying to shoot at me while others restrained him.
In between these episodes I was put up against a wall, spread-eagled and beaten soundly around the kidneys and up between the legs, on my back and on the backs of my legs. The beating was systematic and quite clinical. There was no anger in it.
During my days in Palace Barracks I tried to make a formal complaint about my ill-treatment. My interrogators ignored this and the uniformed RUC officers also ignored my demand when I was handed over to them. Eventually, however, I was permitted to make a formal complaint before leaving. But when I was taken to fill out a form I was confronted by a number of large baton-wielding redcaps who sought to dissuade me from complaining. I knew I was leaving so I ignored them and filled in the form.
Some years later I was arrested again, this time with some friends. We were taken to a local RUC barracks on the Springfield Road. There I was taken into a cell and beaten for what seemed to be an endless time. All the people who beat me were in plain clothes. They had English accents.
After the first initial flurry, which I resisted briefly, the beating became a dogged punching and kicking match with me as the punch bag. I was forced into the search position, palms against the walls, body at an acute angle, legs well spread. They beat me systematically. I fell to the ground. Buckets of water were flung over me. I was stripped naked. Once I was aroused from unconsciousness by a British army doctor. He seemed concerned about damage to my kidneys. After he examined me he left and the beatings began again. At one point a plastic bucket was placed over my head. I was left in the company of two uniformed British soldiers. I could see their camouflage trousers and heavy boots from beneath the rim of the bucket. One of them stubbed his cigarette out on my wrist. His mate rebuked him.
When the interrogators returned they were in a totally different mood and very friendly. I was given my clothes back, parts of them still damp. One of them even combed my hair. I could barely walk upright and I was very badly marked. In the barrack yard I was reunited with my friends and photographs were taken of us with our arresting party. For a short time other British soldiers, individually and in groups, posed beside us. Someone even videoed the proceedings.
We were to learn from all the banter that there was a bounty for the soldiers who captured us. According to them we were on an "A" list, that is to be shot on sight. The various regiments kept a book which had accumulated considerable booty for whoever succeeded in apprehending us, dead or alive. From the craic in the barracks yard it was obvious that the lucky ones had won a considerable prize.
So for some time we were photographed in the company of young, noisy, exuberant squaddies. I'm sure we were not a pretty sight. I'm also sure that they were grinning as much as the soldiers in the photographs we have all seen recently.
Our photos were never published, but somewhere, in some regimental museum or in the top of somebody's wardrobe or in the bottom of a drawer, there are photographs of me and my friends and our captors. To the victor, the spoils.
Gerry Adams is president of Sinn Fein and MP for Belfast West.
Click here to comment on this article
44% of Americans Condone Prisoner Abuse
David Morris and Gary Langer
May 27, 2004— Americans by nearly 2-to-1 oppose torturing terrorism suspects — but half believe the U.S. government, as a matter of policy, is doing it anyway. And even more think the government is employing physical abuse that falls short of torture in some cases.
There's more of a division, though, on physical abuse that falls short of torture: Forty-six percent say it's acceptable in some cases, while 52 percent say not.
Majorities identify three specific coercive practices as acceptable: sleep deprivation (66 percent call it acceptable), hooding (57 percent) and "noise bombing" (54 percent), in which a suspect is subjected to loud noises for long periods.
Far fewer Americans accept other practices. Four in 10 call it acceptable to threaten to shoot a suspect, or expose a suspect to extreme heat or cold. Punching or kicking is deemed acceptable by 29 percent. And 16 percent call sexual humiliation — alleged to have occurred at the Abu Ghraib prison in Baghdad — acceptable in some cases.
Does It Happen?
Whatever their personal tolerance for various practices, 51 percent of Americans believe the U.S. government is employing torture "as a matter of policy" as part of the war against terrorism. And two-thirds think the government is using physical abuse that stops short of torture.
There are partisan differences in these views. Among Republicans, who are more apt to think positively of the Bush administration, 36 percent think the government tortures people; among Democrats, who are less favorably inclined, this rises to 63 percent. (It's 52 percent among independents.)
There's also a difference, but a less striking one, on physical abuse: Majorities in all three groups think the government does it as a matter of policy, including 73 percent of Democrats, 67 percent of independents and 58 percent of Republicans.
Perhaps surprisingly, views on torture and physical abuse are virtually identical whether the targets are suspected terrorists, or suspects in recent attacks against U.S. forces in Iraq and Afghanistan. (Half the public thinks international terrorists are involved in those attacks.)
Comment: We have to wonder, if Americans ever became prisoners of their own government, would they still condone this abuse?...
Click here to comment on this article
The Key To The Door

SotT Commentary - Glenn Becker
06/06/2004

When the population of a species of animal becomes too large in a specific geographical area, it seems that there are several reasons that this can happen: Abundance of food, salubrious climate, and the lack of natural predators are the most common and primary reasons. More often than not,when such a condition exists, balance is restored by the appearance of a predator. The predator feeds on the population until it is thinned, at which time there are too many predators, and they often starve to death if they do not travel elsewhere to seek another population that requires thinning. In all things, nature seeks balance. Its methods may seem extreme or even cruel, but the end result is a smaller herd or grouping of those individuals who were smarter than average and managed to evade being eaten.

Often, man attempts to manage wildlife population in the same way even if human methods aren't quite the same and often seem to be less fair than the more equal predator-prey relationship in the wild. It is said that conservation management of animal populations actually protects animals, preventing an overbalance of population which can only be thinned by drastic or extreme measures. What seems to be so is that if human beings do not manage the planet wisely, nature will take the matter into its own hand: disease, starvation and an increase in natural predators, coupled with harsh climate changes are the usual methods nature employs in order to rectify the overpopulation of any species. What all this implies is that there is a seesaw effect of constant action in an attempt to maintain a balance and equilibrium of all living things.

Perhaps the worldwide problems we are faced with in human terms, are the result of these unseen forces of nature attempting to restore a balance to the imbalance humans have created on this planet. Overpopulation is playing a major role in the consequences we are facing today. And although man does have natural predators from the animal kingdom, they are few and far between.

However, human beings throughout their history have always been their own natural predators. Wars, murder, rape, theft, robbery, assault and battery are but a few examples of this fact. This might be how nature compensates for the lack of natural predators outside of the human species. All one has to do is follow contemporary news and they'll see that the human-to-human predator/prey instinct is quite prevalent.

Nature also circumvents human technological ingenuity by way of natural disasters, newer and more virulent strains of deadly disease, and extreme climate changes in order to thin out the human herd. This may very well be what we are witnessing and experiencing in the current time we are living in. A combination of seen and unseen forces seem to be working overtime.

What are these mysterious and unseen natural forces and where do they come from?

Nature as a whole is neither positive nor negative. It encompasses both spheres of influence and is merely a tool by which balance is achieved. It will be "negative" when overabundance exists and conversely, "positive" in desolate periods of time to affect the changes required, thereby restoring balance. Maintaining equilibrium is one of its primary functions. From this, we can speculate that Nature exists as an entity that utilizes dualistic forces, and makes no judgments of right or wrong, and that balance is the median that requires no adjustment because of its lack of extremes. As for positivism or negativism, these exist as potentials to be utilized in conjunction with thoughts, intentional wills and actions of the human species. Therefore, they also exist as actual self-contained entities. A proper analogy would be that these two entities are like immense reservoirs, which can be tapped into, in order to draw out their respective characteristics, and thoughts, willful intentions and deeds are the conduits through which these characteristics can flow.

Nature also draws from these reservoirs in order to offset extremes that occur and to re-establish balance. One cannot exist without the other. If either that which is positive, or that which is negative, were to cease to exist, the balance that Nature provides would also cease to exist. By thinking of positivism as complete blinding light and negativism as total darkness, with the absence of one or the other, life itself could not exist, at least not as we comprehend it. That brings us to the question as to whether or not there is an ultimate Creator. The answer to that would seem to be yes. Since light exists and "positive" occurrences happen, and darkness exists and "negative" occurrences happen, and the ebb and flow of balance exists, one can conclude that some sort of creator or creating intelligence also exists. However, for one to be able to fully comprehend the complexities and intentions of this intelligence would be a near total exercise in futility. But the one integral component to understanding the basic intention of a creator appears to lie in the existence of balance. If the human species could grasp the full concept of balance in all of its ramifications, it's potential to perform magnificent and wondrous achievements would become boundless. Until that time occurs, if ever, we will continue to be the unwitting subjects of the ebb and flow that nature's balance must impose upon us.

Balance is the key that can open the door to a fantastic and far reaching future. It can also be the force that closes and locks that door; unless we learn from the lessons it is inherently trying so hard to teach us. If we do embrace balance as the key to the door, we will also be allowed to further understand the mysterious and grand complexities of the Creator, which just may be the grand intention after all.
Torture, Rape, Murder
By MATT SIEGFRIED
June 6, 2004
The photographs of US soldiers torturing Iraqi prisoners have become symbols of American conceit, American hypocrisy and American brutality. The folly of the Iraq adventure seems to be summed up by pyres of naked, bound and hooded men smiled over by the missionaries of American democracy. More than one right wing commentator in the United States has likened these acts to college pranks.
Most of the world, however, fails to see the humor in employing attack dogs, surgical gloves, digital cameras, sodomizing broom sticks and duct tape to torture prisoners, many of them guilty of only being Iraqis, in an orgy of power exercise. The self described experts on the Arab mind of the North American press have repeatedly told us that sexual humiliation is especially damaging to the Arab male with their allegedly macho and homophobic Islamic culture. After all, if US prisons are any indication, we Americans have a much greater tolerance for rape than those testy Iraqis do.
In this, as in all things, if only they could be a little more like us these little misunderstandings would disappear.
It must be said that these revelations have had the effect they have had, including in swinging important segments of the American population against the administration of Dick Cheney and George W. Bush and casting their reelection in doubt, because of two concrete factors. The first is that they were photographed.
All indications are that these photographs were taken in part to humiliate and blackmail the prisoners photographed or to frighten other prisoners into submission or as souvenirs. How, in the age of the Internet, the Military Intelligence units thought that these would remain in obscurity is a testimony to the arrogance of the imperial mindset. Mountains of words could not have had the same effect. The grinning faces and thumbs up of the torturers are so damning precisely because they are not faceless names. They are recognizable as our neighbors, work mates, parents and children. Society has raised these monsters. America itself is indicted by the very normalcy of those that carried out and continue to carry out these crimes.
The second and more important factor is the strength of the resistance to the occupation. If this story had broken in the context of a war that had been going well for the United States it would not have had nearly the power it has had. Since the capture of Saddam the resistance has grown dramatically belying the myths and half-truths of the mouthpieces for American empire.
The resistance has proven to be varied, contradictory, resourceful and popular. America has responded brutally to this growth and in the process has served as recruiting sergeant for the resistance. A predictable turn of events in the context of an occupation whose aims are at odds with the interests and desires of the, now vast, majority of the Iraqi population. [...]
While the US media has, by and large, still refused to utter the word "torture" when describing the actions at Abu Ghraib, Mazar e Sharif, Guantanamo Bay and so many places in between that is clearly the definition of those actions. As more and more soldiers return from tours with stories of abuse, of rape and murder on a wide scale it is clear that these acts were sanctioned. They were routine. They were systematic. They came far too easily to some soldiers, Reservists and National Guards.
In fact some of the actions of the accused were already taught to and learned by them in the rape camps and torture chambers of the American penal system. One of the soldiers facing charges, Corporal Charles Graner, worked as a prison guard at Pennsylvania's notorious SCI Greene where African American revolutionary Mumia Abu Jamal sits on death row and site of numerous allegations of abuse.
Never taken more seriously than a crude joke on late night television rape has long been considered part of the sentence for those imprisoned in this country. The Struckman-Johnson study of prisons in four midwestern states concluded, "one in five male inmates reported a pressured or forced sex incident while incarcerated. And one in ten male inmates reported that that they had been raped." Extrapolating those percentages nationally makes for a jaw dropping number of prisoners sexually assaulted (400,000 ) or raped in prison (200,000 ).
Any one who has done time in an American prison could describe innumerable instances of abuse that are all but identical to the horrors of Abu Ghraib's Wing 1 A. From solitary confinement to four-point shackles and electric shocks to daily strip and cavity searches the degrading treatment of human beings at the hands of other human beings is seen as normal, even necessary, in American society.
The United States is a country that has well over two million people currently in prison or jail (1 in 75 male adults) with another four and a half million people on probation or parole. A country that criminalizes entire communities placing more black men in jail than college (1 in 5 black men will go to jail in their lives). A country where the "War on Drugs" places millions of its own citizens outside the jurisdiction of justice. A country where the imprisonment of its people is a giant industry generating billions of dollars in contracts, free labor and entire prisons run for profit. A country that lectures the world on human rights.
Beyond torture the United States is one of the few countries that still sanctions state murder - executions - and regularly carries them out including on the innocent, on juvenile offenders, on the mentally disabled, on a disproportionately black and Latino and overwhelmingly poor population. How could anyone be surprised that in the midst of a racist colonial war the men and women of the US military were ordered to torture prisoners and some cheerfully obeyed?
After all torture, rape, murder - it's the American way. And while someday, hopefully soon, United States will leave Iraq ending this sad chapter, what will it take to put an end to the abomination of the American prison system and the grossly unequal society it claims to protect?
Click here to comment on this article
Anti-War Protests Held in D.C., L.A.
AP
Sat Jun 5,10:34 PM ET

WASHINGTON - Hundreds of anti-war protesters rallied from the White House to the West Coast on Saturday, calling for an end to the U.S.-led occupation of Iraq and the immediate withdrawal of American troops.
Protesters chanting "Bring the troops home" gathered in a park across the street from the White House. President Bush was in Europe.
The protesters heard from Michael Berg, whose son, Nicholas, was beheaded by Islamic militants in Iraq. A video of the slaying was posted on the Internet.
Berg invoked the words of Martin Luther King Jr., saying, "The people of America and the world have told me that they have a dream and a vision ... and that that dream is a dream of peace, a vision of all nations living together in harmony and in love."
Similar anti-war demonstrations were held by hundreds in Los Angeles and San Francisco, organized by International ANSWER (Act Now to Stop War and End Racism).
Actor Danny Glover and people who said they were relatives of troops killed in Iraq expressed outrage at a rally outside the federal building in Los Angeles, before dissipating rapidly in an oppressive afternoon heat.
"We're here to say there will be no empire in our name," Glover told the crowd, saying he meant to send a message both to Bush and the presumed Democratic presidential nominee John Kerry. [...]
After the speeches, the protesters marched a couple dozen blocks to the Northwest Washington home of Defense Secretary Donald H. Rumsfeld, who also was out of town, on a six-day trip to Asia.
A handful of counterdemonstrators traded shouts with the anti-war crowd.
"We feel they're traitors to our country," said Leonard Milnes, 18, of Silver Spring, Md. "You support your armed forces no matter what the cause."
Comment: Of course, the pro-war conservative is given the last word by the Bush-controlled media...
Click here to comment on this article
The Politics of Charles Barkley
The Round Mound of Sound
By DAVE ZIRIN
June 6, 2004
Charles Barkley, the basketball player, was always unique. [...]
Yet what set Chuck apart was his larger than life personality. In a league that produces corporate robots droning about 'playing one game at a time' Barkley spoke his mind with the same reckless disregard that marked his playing style. [...]
Early in his career he raised eyebrows by stating his desire to become the "first Black republican governor of Alabama" after his playing days ended. But to judge him by his words, it is clear that Barkley is not a Republican or Democrat. He is a political being who wants to shock by speaking hard truths that are sharper and more provocative than anything uttered in the Beltway.
As a public service, here is the best of Mista-Chuck.
Here is Charles on the Janet Jackson Super Bowl scandal:
"I wish people were more irate with the Bush administration for starting a war for profit than they are with Janet Jackson for showing her breast. But that's America ... we don't know what's important and what's not important. It's much ado about nothing. It's not like she's going to traumatize anyone. Everyone is all offended now and bent out of shape. Give me a break. There are a lot of trashier things on television that what Janet Jackson did." [...]
On the Enron scandal investigation:
"Almost all those politicians took money from Enron, and there they are holding hearings. That's like O.J. Simpson getting in the Rae Carruth jury pool."
On racism:
"Any time something bad happens to a black person because of racism, I feel it in my soul. I really do. You take the Abner Louima case. That let me know one thing: If some white guys wanted to stick a plunger up a black guy's butt, and I'm the black guy who happened to be around, I'd have a plunger up my butt."
On Saddam Hussein:
"I think he's still alive. . . . Look at Osama bin Laden and Saddam Hussein - they used to both work for the United States and now they're enemies. That's part of the hypocrisy that goes on here."
On the flak celebrities get for their anti-war beliefs:
"That's part of the hypocrisy that goes on when you're in the limelight - if you say something, you're anti-American or unpatriotic or too liberal. We're all free to say what we want to, but if you ever forget your place, we'll put you back in your place."
On politics:
"Politics is too corrupt," Barkley said. "You know how you can tell politics is corrupt? President Bush is going to raise $250 million for a job that pays $400,000. Now tell me there isn't something wrong there?" [...]
Click here to comment on this article
Israeli Likud ministers strike compromise on disengagement plan
www.chinaview.cn 2004-06-06 21:40:53
JERUSALEM, June 6 (Xinhuanet) -- Israeli Prime Minister's Office said Sunday that Likud ministers have reached a compromise on Ariel Sharon's revised disengagement plan, Israel Radio reported.
The new text has got approval from Likud ministers Benjamin Netanyahu, Silvan Shalom and Limor Livnat, thus giving it a majority of 14 supporters versus seven opponents.
Sources close to Netanyahu, Livnat and Shalom said the proposal the cabinet will vote on does not include a decision to dismantle Jewish settlements in principle or in practice.
Click here to comment on this article
Chemical Facilities Owned by "Dangerous Dozen" Endanger Millions of Americans

JUNE 3, 2004
WASHINGTON - Twelve companies each endanger more than five million Americans in the event of accidents or terrorist attacks at their chemical facilities, according to a new U.S. PIRG report.
U.S. PIRG called on these "Dangerous Dozen" to reduce the threat to communities near their facilities by using safer chemicals and processes wherever possible.
"It is unacceptable that these 12 companies endanger so many lives," said U.S. PIRG Environmental Health Advocate Meghan Purvis. "Unfortunately, the Bush administration and the chemical industry continue to oppose strong, mandatory chemical security regulations."
Across the U.S., thousands of industrial facilities owned by companies such as Clorox, Dow and DuPont use and store hazardous chemicals in quantities large enough to threaten surrounding communities in the event of an accidental release or deliberate terrorist attack. The report, "Dangerous Dozen: A Look at How Chemical Companies Jeopardize Millions of Americans," analyzes the chemical companies' own estimates submitted to the Environmental Protection Agency (EPA). Findings include:
The 12 companies whose facilities endanger the most people are JCI Jones Chemical, The Clorox Company, Kuehne Chemical, KIK Corporation, DuPont, Pioneer Companies, Clean Harbors, GATX Corporation, PVS Chemicals, Dow Chemical, Ferro Corporation and Occidental.
The 12 parent companies profiled in Dangerous Dozen own 154 high-hazard facilities in 31 different states.
The three companies whose facilities put the greatest number of people at risk are JCI Jones Chemical, The Clorox Company, and Kuehne Chemical, which put a total of more than 20 million, 14 million, and 12 million people at risk, respectively.
Since 1990, the National Response Center (NRC) has received more than 8,400 reports of incidents involving oil or chemical spills at facilities owned by these 12 parent companies. [...]
Click here to comment on this article
5,000-strong peace rally denounces terrorism in Karachi
KARACHI (AFP) Jun 06, 2004
Some 5,000 peace activists, including women, rallied in the southern Pakistani port city of Karachi Sunday to denounce acts of terror which claimed some 50 lives here last month, witnesses said.
Chanting "No to terrorism, Yes to peace," and "No to guns, Yes to pens," marchers carrying banners, placards and national flags paraded in the streets.
The rally was led by Sindh Provincial Governor Ishratul Ibad and Chief Minister Ali Mohammad Mahar.
"People of Karachi want peace, economic prosperity. We will not allow terrorism ... in the name of Islam," Ibad told the participants.
Some 50 people were killed in May, including a top Sunni cleric, in two suspected suicide bomb attacks on Shiite mosques.
Karachi has a history of political, ethnic and sectarian violence which has claimed 4,000 lives in the past several years.
Click here to comment on this article
Sudan air force bombs Darfur market: Chadian mediators
N'DJAMENA (AFP) Jun 04, 2004
The Sudanese air force Friday bombed a market in Sudan's western region of Darfur, a mediator in Chad trying to bring about an end to a conflict which has sparked a serious humanitarian crisis.
"This is another violation of the (April 8) ceasefire, at the moment when the African Union has begun deploying its observer mission" to the area, aimed at monitoring the hard-won deal, said the mediator, who declined to be named.
While he did not give any casualty figures in the bombardment, Ali Sugar, who heads the rebel Sudanese Liberation Movement (SLM), one of two groups involved in fighting in Darfur, spoke of "at least" 15 casualties.
"There are some casualites, at least 15, among them women and children," he told AFP. [...]
Click here to comment on this article
From correspondents in Taipei
06 jun 04
AN earthquake measuring 5.0 on the Richter scale jolted Taiwan today, but there were no immediate reports of damage or casualties, officials said.
The tremor struck at 8.09am local time (9.09am AEST), with an epicenter around 21 kilometers northeast of Taitung, a costal town in the southeast of Taiwan, the Seismology Center said. Its focus was 3.3 kilometers below the ground.
Taiwan, lying near the junction of two tectonic plates, is prone to earthquakes.
Click here to comment on this article
Calif. Wildfire Scorches 6,000 Acres
June 6, 2004
GAVIOTA, Calif. - A wildfire in Southern California scorched more than 6,000 acres and forced the evacuation of hundreds of people from a gated community nearby, authorities said Sunday.
The flames spread quickly through a line of narrow canyons and steep hillsides covered with dense, old-growth brush, burning on both sides of Highway 101 about 27 miles north of Santa Barbara.
Fire department spokesman Barry Peckham said temperatures in the area were expected to reach 90 degrees, making it easier for the fire to spread.
"There's quite a potential for extreme fire behavior," he said.
More than 300 firefighters battled the blaze, which was reported shortly before noon on Saturday, said Charlie Johnson, spokesman for the Santa Barbara County Fire Department. [...]
Click here to comment on this article
Satellite images 'show Atlantis'
By Paul Rincon
BBC News Online science staff
A scientist says he may have found remains of the lost city of Atlantis.
Satellite photos of southern Spain reveal features on the ground appearing to match descriptions made by Greek scholar Plato of the fabled utopia.
Dr Rainer Kuehne thinks the "island" of Atlantis simply referred to a region of the southern Spanish coast destroyed by a flood between 800 BC and 500 BC.
The research has been reported as an ongoing project in the online edition of the journal Antiquity.
Satellite photos of a salt marsh region known as Marisma de Hinojos near the city of Cadiz show two rectangular structures in the mud and parts of concentric rings that may once have surrounded them.
Click here to comment on this article
Methane 'belch' theory gets boost
By Julianna Kettlewell
BBC News Online science staff
Scientists have found a series of vents in the Nordic Seas that may have burped enough methane to cause massive global warming 55 million years ago.
The early Eocene Period witnessed a dramatic increase in temperature, which was triggered by a sudden surge of greenhouse gases in the atmosphere.
But just where these gases came from has been something of a mystery.
Nature magazine reports the discovery of gas vents dating from the right time and which could represent the source.
Click here to comment on this article
Survivalist dad who homeschooled daughter in forest (away from drugs & alcohol) to academic excellence forced into mobile home
May 27, 2004
As highlighted by a johntaylorgatto.com forum posting, according to a May 20, 2004 story by KATU, the ABC television affiliate in Portland, Oregon
A man and his 12-year-old daughter spent the last four years living in a remote hillside in Portland's Forest Park, police said.
[...] Under a tarp-covered, wood-framed shelter, they found sleeping bags, a partially burnt log, a Bible, a stack of old World Book Encyclopedias, rakes and other tools.
A rope swing, a tilled vegetable garden and a small creek were nearby.
[...] The man and girl told police they had lived in the park for four years. The pair appeared clean, well-fed and healthy, Barkley said, and the girl was well-spoken beyond her years.
The man, who identified himself as Frank, told police he was a 53-year-old Marine Corps veteran and college graduate who served in Vietnam.
He came to Oregon with his daughter, Ruth, from Tacoma with no job and virtually no money. Frank told police that the girl's mother was institutionalized in New Hampshire, and the two now lived on a $400-a-month disability check.
Rather than live on the streets and expose Ruth to alcohol and drugs, Frank said, they hiked deep into Forest Park and built a lean-to.
The pair went into the city twice a week to stop by the bank, attend church, buy groceries and clothes from Goodwill. Frank, a devout Christian, said he taught his daughter using the old encyclopedias.
They grew vegetables and used the nearby creek to keep clean. They stored perishable foods in a small pool of water at the creek's edge.
[...] A pediatrician found the girl free of any illness, any signs of physical or sexual abuse - and no cavities. A criminal background check came up empty, according to police reports.
Even though the child and father lived for such a long time disconnected from society, the girl had been home schooled and was in good physical shape.
In fact, the girl received a very good education from her father while living among the trees. Officials said the girl, who would be normally in 7th grade, is at a 12th grade equivalency.
[...] "When we interviewed this little girl, she was very impressive. She really was very responsible, and she really looked as though she was way advanced in her years," said Portland Police Cmdr. Scott Anderson said.
[...] Police persuaded them to leave the camp, promising help them find food and shelter.
The pair spent two nights at a homeless shelter. Barkley found the man a job and a place for the two to live on a friend's horse farm in Yamhill County.
Now, Barkley said, the pair are living in a mobile home and adjusting to life with heat, electricity and running water.
[...] "The amazing part of this was the fact that Sergeant Barkley really evaluated what was best for these people," North Precinct Cmdr. Scott Anderson said. "Sometimes police would be a little quicker to hand things off to state workers. But instead ... he saw this through to the end."
Comment: How lucky they were to have their local law enforcement officer to "evaluate what was best" for them...
Click here to comment on this article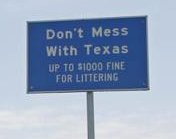 Texas Says to Stop Messing With Slogan
By MATT CURRY, Associated Press Writer
June 6, 2004
DALLAS - "Don't Mess with Texas" — and get a lawyer for anyone trying to earn a buck off the slogan.
The popular catchphrase intended to promote tidy roadsides has appeared on everything from T-shirts and bumper stickers to breath mint tins and refrigerator magnets. Now, the state Transportation Department wants it back.
"The state of Texas has a lot of money invested in the slogan, and we definitely want people to know it's a litter prevention message, it's not a macho message," said Doris Howdeshell, director of the department's travel division.
In the past year, the agency has sent 23 cease-and-desist letters warning merchandisers against unauthorized use of the federally registered trademark. [...]
Click here to comment on this article
---
Remember, we need your help to collect information on what is going on in your part of the world!
We also need help to keep the Signs of the Times online.
---

Check out the Signs of the Times Archives

Send your comments and article suggestions to us

---
Fair Use Policy
Contact Webmaster at signs-of-the-times.org
Cassiopaean materials Copyright ©1994-2014 Arkadiusz Jadczyk and Laura Knight-Jadczyk. All rights reserved. "Cassiopaea, Cassiopaean, Cassiopaeans," is a registered trademark of Arkadiusz Jadczyk and Laura Knight-Jadczyk.
Letters addressed to Cassiopaea, Quantum Future School, Ark or Laura, become the property of Arkadiusz Jadczyk and Laura Knight-Jadczyk
Republication and re-dissemination of our copyrighted material in any manner is expressly prohibited without prior written consent.
.