---
New Article: Jupiter, Nostradamus, Edgar Cayce, and the Return of the Mongols - Laura Knight-Jadczyk
Part 1, Part 2, Part 3, Part 4, Part 5, Part 6, Part 7, Part 8, Part 9, Part 10, Part 11, Part 12, Part 13
Picture of the Day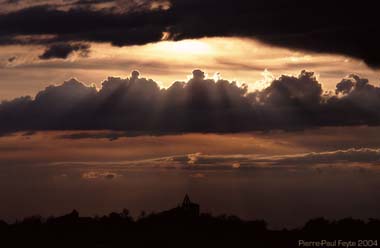 Llalores
©2004 Pierre-Paul Feyte
World 'appeasing' climate threat
By Alex Kirby
BBC News Online environment correspondent
One of the UK's best-known scientists, Professor James Lovelock, says only a catastrophe will prompt the world to tackle the threat of climate change.
He says the global climate treaty, the Kyoto Protocol, is simply an attempt to appease a self-regulating Earth system.
Professor Lovelock thinks the Earth's attempts to restore its equilibrium may eliminate civilisation and most humans.
[...] Professor Lovelock said: "In the late 1930s when I was a student we knew that war was imminent, but there was no clear idea of what to do about it.
Future fears
"I find a marked similarity between attitudes over 60 years ago and those now towards the threat of global [climate] change.
"Most of us think that something unpleasant may soon happen but we are as confused over what to do about it as we were in 1938.
"Our response so far is just like that in 1938, an attempt to appease. The Kyoto agreement is uncannily like that of Munich, with politicians out to show that they do respond but in reality are bidding for time."
Professor Lovelock said global warming was "the response of our outraged planet", and the consequences for humanity were likely to be far worse than any war.
"We are at war with the Earth itself", he said. "We are Gaia's target now." Professor Lovelock added that we had still to wake up to the seriousness of our plight, with some people continuing to deny that global change even existed.
Heeding them, or the deep Greens who rejected science, would allow the planet to return to its normal state of health, "but by eliminating the majority of humans and probably civilization as well".
Comment: What is not clear in the studies of climatic changes is the influence of the cosmos. There are reports of severe climate change on the other planets of the solar system, and surely these planets are not affected by the pollution, etc, engendered by humans on earth. But perhaps we are creating other forms of influence, of which our destruction of the planet is the manifestation? Or we are under the influence of forces of which we have no knowledge? Or both?
Click here to comment on this article
Atlantic wild salmon stocks at historic low
CBC
Thu, 03 Jun 2004 22:46:09
FREDERICTON - Wild Atlantic salmon stocks on North America's east coast are at a historic low, a report from the Atlantic Salmon Federation said on Thursday.
Without strong domestic and international action, wild salmon could eventually disappear from its North American habitats altogether, according to the New Brunswick-based federation.
"Since 1974, we have gone from more than 1.5 million salmon to fewer than 500,000 today," Bill Taylor, president of the federation, said in Fredericton. [...]
Click here to comment on this article
Meteor light and sound sky rare over Puget Sound
By DONNA GORDON BLANKINSHIP / Associated Press
06/04/2004
A meteor that streaked across Western Washington early Thursday morning was the most dramatic light and sound show of this kind over the Puget Sound in decades, according to a University of Washington astronomy lecturer who specializes in meteorites.
"Earth is hit all of the time. What is uncommon is how very bright this was. Most (meteoroids) burn up very high up and nobody sees them," said Toby Smith, who has been in the UW astronomy department for about 10 years. Meteoride is what the object is called above the atmosphere. The light streak it creates when it bounces off or passes through the atmosphere is called a meteor. If it hits the ground, it becomes a meteorite.
Witnesses along a 60-mile swath of the Sound from near Tacoma to Whidbey Island and as far as 260 miles to the east said the sky lit up brilliantly at 2:40 a.m. Thursday, and many reported booming sounds as if from one or more explosions.
Click here to comment on this article
Meteor Plunges Into Puget Region
All Things Considered audio
June 3, 2004
NPR's Melissa Block talks to Megan Sukys of member station KUOW in Seattle about witnessing a meteor's fall into the ocean off of Puget Sound at 2:45 Thursday morning. She described it as a bright white light followed by a red light, which lasted for about 10 seconds.
Click here to comment on this article
Earthquake shakes and wakes Truckee
Paul Raymore
June 3, 2004
A minor quake that hit Placer County near the Nevada border early Thursday morning and shook Truckee residents awake caused no damage or injuries.
The magnitude-4.5 temblor hit just before 2 a.m. about six miles north of Kings Beach, along the northern shore of Lake Tahoe, according to the U.S. Geological Service.
Click here to comment on this article
Rumsfeld hopes US forces will hunt terrorists in Southeast Asia soon
June 4, 2004
SINGAPORE (AFP) - US Defense Secretary Donald Rumsfeld said he hoped US forces would be hunting terrorists in Southeast Asia "pretty soon," warning that Islamic extremists are targeting moderate Muslim states the world over.
Rumsfeld made the remarks as he visited marines and sailors aboard the helicopter carrier USS Essex against a backdrop of oil tankers and freighters that ply the Strait of Malacca, gateway for a third of the world's trade.
"When are we going to start hunting some terrorists in this theater?" a marine asked Rumsfeld.
"Well, I would hope pretty soon," the secretary replied.
"We simply cannot wait for another attack and expect to defend against it. We have to go out and find those terrorist networks and the people financing them, and countries providing a safe haven for them."
"It is a tough thing to do."
Rumsfeld offered no details but the comment comes amid US and Singaporean efforts to improve maritime security in the strait, mainly through better intelligence sharing.
About half the world's oil supplies move through the narrow channel on the way to markets in Japan, China and South Korea, making it a tempting target for Islamic militants seeking to destabilize the industrialized world. [...]
Comment: So there you have it - the war on terror is far from over. As far as America is concerned, nothing has changed. Bush, Kerry - who cares? The war will continue either way.
Click here to comment on this article
'Special methods' at Guantanamo
By Nick Childs
BBC Pentagon correspondent
A senior US general says a set of four special interrogation techniques have been used on two key detainees at Guantanamo Bay in Cuba.
But he insisted the techniques conform to the Geneva Conventions and that all the prisoners are treated humanely.
The Pentagon previously acknowledged it approved interrogation techniques at Guantanamo Bay which go beyond the US military's normal practice.
It has insisted all the techniques conform to the Geneva Conventions.
This was a point underlined by the head of US Southern Command, General James Hill, whose responsibilities include Guantanamo Bay.
Veto
But Gen Hill has now said that four of the techniques require US Defence Secretary Donald Rumsfeld be notified, and that he can veto them.
The general said the techniques have been used against two key individuals held at Guantanamo Bay.
One prisoner is linked to the 11 September 2001 attacks on the United States, and another is described by General Hill as an al-Qaeda operative of high intelligence value.
Gen Hill insists that all prisoners at Guantanamo Bay are treated humanely and that he would not even call the additional techniques harsh.
However, the Pentagon refuses to say what the techniques are.
Against the background of the Iraq prisoner abuse scandal, the general's remarks are likely to raise new questions.
Click here to comment on this article
US marines jailed for Iraq abuse
Two US marines have been convicted of giving electric shocks to an Iraqi prisoner, US officials have announced.
The abuse happened at a temporary detention centre south of Baghdad in April - months after the abuses at Abu Ghraib prison, officials said.
Pfc Andrew Sting and Pfc Jeremiah Trefney, both 19, entered guilty pleas at a 14 May hearing in Iraq, the military said on Thursday.
Comment: Two 19 year old soldiers taking the fall for a policy set in the Pentagon. Well, no one ever said that life was fair. While Sting and Trefney certainly deserve the sentence handed down, they are not alone. When will the real war criminals, those who ordered them into Iraq, be brought to justice?
Click here to comment on this article
Iraq transfer will include control of prisons, possibly Saddam's handover: UN
08:58 AM EDT Jun 04
UNITED NATIONS (AP) - The transfer of sovereignty to Iraq's interim government on June 30 will include control of prisons and could lead to the handover of Saddam Hussein for trial by Iraqis, Britain's UN ambassador said.
The control of prisons has become a highly sensitive issue following revelations of physical and sexual abuse of Iraqi detainees by U.S. soldiers at Abu Ghraib prison in Baghdad. British Ambassador Emyr Jones Parry said Thursday "it's totally consistent with the transfer of all sovereignty to this government that actually they will control the prisons."
Asked whether that meant that custody of Saddam would then be turned over to the interim government, the ambassador indicated that would.
"I think we've always said that at some stage, and as soon as possible, Saddam Hussein should be handed over to the Iraqis for trial by Iraqis. And the sooner we can do that, the better," Jones Parry said.
Click here to comment on this article
By Ian Williams, AlterNet
June 3, 2004
Right after the local powerbrokers of the Iraqi Governing Council turned around and bit the very American hand that fed them, there was yet another sign of the United States' diminishing authority on all matters related to Iraq: the revised UN resolution submitted to the Security Council on Tuesday.
Both the IGC's ability to out-maneuver the Americans over the appointment of the interim government and the success of Security Council naysayers such as Russia and China in securing significant concessions reflect the Bush administration's increasingly precarious position: there is blood in the water and everyone can smell it.
The combination of the impending U.S. elections, Abu Ghraib torture pictures, the climb-downs with ex-Ba'athists in Najaf, the Shi'a militia in Fallujah and the mounting U.S. casualties have taken a serious toll on the White House's negotiating power. And the proof is in the details of the draft resolution.
Comment: The rabid dog is being cornered. Unfortunately, we have seen what these psychopaths are capable of. What will they do when they find themselves cornered, with no escape? It ain't gonna be pretty. Ariel Sharon would unleash a major attack on the Palestinians to divert attention from his political troubles. Given the Neocons are following the same playbook, we can expect something dire in the offing.
Click here to comment on this article
US navy to launch 'show of force' off oil-rich west Africa
LAGOS (AFP) Jun 04, 2004
A US navy carrier battlegroup is to launch a "show of force" in the oil-rich Gulf of Guinea off west Africa as part of an unprecedented global operation to demonstrate America's command of the high seas, a US diplomatic source told AFP on Friday.
The foray by a heavily armed battlegroup into the waters off Nigeria, Sao Tome, Equatorial Guinea and other African oil producers, comes at a time when fuel prices are topping the US political agenda and security crises in the Gulf region are pushing demands for greater diversification in energy supplies. [...]
"Operation Summer Pulse '04 aims to demonstrate the capabilities of the US navy; before we only had two or three operations involving aircraft carriers at any one time," he said, adding that now seven carrier groups are to be deployed in the Pacific and Indian Oceans, the Mediterranean and the Gulf of Guinea.
"The navy wants, through this exercise, to demonstrate to the world that even with all its current responsibilities, it can still position half-a-dozen aircraft carriers withh all the neccessary support ships in the four corners of the world at the same time," he said. [...]
Comment: Isn't this a strange exercise to be conducting right after renewed threats of terrorism and warnings of an attack before the November election?
Click here to comment on this article
UPDATE: Tenet Resigns as C.I.A. Director; 3 Harsh Reports on Agency Due
By ELISABETH BUMILLER and DOUGLAS JEHL
The New York Times
June 4, 2004
WASHINGTON, June 3 — George J. Tenet, the besieged director of central intelligence who presided over a major expansion of American spy agencies but also critical intelligence failures, abruptly resigned Thursday.
Both Mr. Tenet and President Bush said the resignation was for personal reasons. But current and former intelligence officials noted that Mr. Tenet was anticipating heavy criticism from three reports expected to assail the agency either over its failure to detect the Sept. 11, 2001, terror plot or the assessments that Iraq possessed unconventional weapons before the American invasion last year.
Most damaging among them is a Senate Intelligence Committee report, due this month, which is expected to single out errors made by the agency in its prewar judgments.
Some Republican senators, including Pat Roberts of Kansas, the chairman of the Senate Intelligence Committee, signaled to the administration in the past two weeks that the report's conclusions would be so critical that it would raise questions about who should be held accountable, an official said. Another official said the highly critical nature of the report was widely known at the White House. [...]
The two other reports expected soon are from an independent commission investigating the Sept. 11 attacks, due in late July, and from Mr. Tenet's own weapons hunter in Iraq, Charles Duelfer, who is expected to issue a progress report sometime this summer. [...]
Click here to comment on this article
Two Koreas agree to reduce tensions along border
June 4, 2004
SEOUL (AFP) - South and North Korea took a big step towards easing tension on the last Cold War frontier by agreeing on a range of measures to prevent border clashes and deciding to stop propaganda broadcasts.
Analysts said the package of practical measures reflected a thaw between the armed forces of the countries, which are technically still at war, and a sign of more balanced inter-Korean rapprochement.
After marathon overnight talks, military generals from the two sides agreed on ways to avoid accidental clashes in the disputed western sea border, they said in a joint statement Friday.
Naval skirmishes in the fishing grounds off the western coast during the May-June crab season have in past years disrupted rapprochement on the peninsula.
The measures included setting up a telephone hotline, sharing a radio frequency, using joint signaling systems and exchanging information on illicit fishing in the area starting from June 15.
Both Koreas also agreed to stop propaganda loudspeaker broadcasts and to dismantle propaganda signboards along the 248-kilometer (154-mile) land border by August 15.
The messages were mainly aimed enticing soldiers from the other side to defect. [...]
Click here to comment on this article
North, South Korea in naval encounter hours after agreeing to ease tensions
Last Updated Fri, 04 Jun 2004 7:52:33
SEOUL, SOUTH KOREA - North Korean patrol boats crossed over a disputed border into South Korean waters on Friday, hours after the two countries agreed measures to ease half a century of military tensions.
Click here to comment on this article
By Harry Heidelberg
smh.com.au
June 4, 2004
"Day by day and almost minute by minute the past was brought up to date. In this way every prediction made by the Party could be shown by documentary evidence to have been correct; nor was any item of news, or any expression of opinion, which conflicted with the needs of the moment, ever allowed to remain on record. All history was a palimpsest, scraped clean and reinscribed exactly as often as was necessary." 1984 George Orwell
We feel numb because the unimaginable horror story has become reality. When you don't know whether to laugh, cry or throw a brick through the window, you become numb. Eventually the emotion will out. It was always objectionable but somehow understandable when other parts of the world succumbed to the netherland of the big lie. We'd read about Fascism and Communism but we'd never experienced it directly and we knew we never would. It was there all along: our moral superiority. Bad things don't happen in our sunny English speaking world.
The Americans have always been overt in expressing their moral superiority. They were an exceptional society founded under God. The British had centuries of tradition, continuity and relative stability. The Australians knew it so deeply in their hearts, that there wasn't even a need to crow about it. Why crow about givens? We know we're a decent people and we invented the "fair go". We'd never engage in grand conspiracies. We had no need to and it was never really our style anyway.
The D-Day commemorations in Normandy this weekend will be a reminder of our shared history. The bonds of the member countries of the English speaking world are incomparable and apparently unshakable. When does it become unhealthy though? When do the bonds become shackles? All the signs are there for anyone who cares to glance for longer than a nanosecond. One sign could be that two of our "sisters"; Canada and New Zealand are at odds with us. There wasn't a lot of ambiguity about D-Day though.
Now we seem mired in ambiguity and the worst part of all is that our leaders are burying us in the stuff. So what is our mire made of? Bullshit. In the ultimate nightmare scenario, 1984 and Animal Farm have merged to become the compendium we call 2004. [...]
Click here to comment on this article
Huge Deficit Threatens Cleveland Schools
By CONNIE MABIN
Associated Press
Fri Jun 4, 3:39 AM ET
CLEVELAND - In his 24 years with Cleveland's school system, math teacher Gene Tracy has taken the good with the bad: improved test scores and attendance amid crumbling buildings, outdated textbooks and students who lag behind their peers.
He's stayed, mostly because of passion but also because of progress. A tax levied since 1996 gave Ohio's largest school district the cash to make those desperately needed improvements.
But this spring, the Cleveland district faced a sobering reality: There was no more money.
State budget cuts and a drop in tax collections created a $100 million deficit.
To close the gap, school district leaders are proposing deep cuts, including 1,400 jobs, most of them teaching posts. If the school board approves, the district may delay textbook purchases, cancel summer school and drop football, baseball and club activities. The next board meeting is June 15.
"It's going to devastate the school," said Tracy, who teaches at Lincoln West High School. "It sends a message to the kids that they're not valuable." [...]
Molly Burke, a researcher for the Denver-based Education Commission of the States, said Cleveland is not alone in facing such financial problems. [...]
Comment: Why should the administration throw money into school systems when they intend on employing America's youth as cannon fodder?
Click here to comment on this article
Israel's Sharon dismisses two ministers
Friday June 4, 07:41 AM
JERUSALEM (Reuters) - Israeli Prime Minister Ariel Sharon has issued dismissal letters for two hardline ministers in a move aimed at securing a slim cabinet majority to approve his Gaza pullout plan, political sources say.
Sharon decided to sack cabinet members from the National Union party, a far-right coalition partner, after he failed to reach a compromise with several rebellious members of his own Likud bloc to back his Gaza plan in a vote set for Sunday.
Click here to comment on this article
IAEA to press for inspections of Israel's nuclear facility
WORLD TRIBUNE.COM
Thursday, June 3, 2004
JERUSALEM – The International Atomic Energy Agency plans a campaign to force Israel to permit international inspections of its Dimona nuclear facility.
The agency has been under longterm pressure from the European Union, Arab states and Iran to focus more attention on Israel's nuclear program.
Several Arab countries reiterated their call for a nuclear free zone in the Middle East during a United Nations sponsored disarmament conference in Geneva on May 27. Arab envoys said the establishment of such a zone would be their priority over the coming year.
IAEA director-general Mohammed El Baradei plans to visit Israel over the next two months, officials said. The visit was expected to take place following the IAEA board of directors's meeting in mid-June to discuss Iranian compliance with international nuclear inspection efforts. The United States has charged that Tehran has violated its pledge to the IAEA.
Israeli officials said the campaign was also in response to a spate of articles and television documentaries based on information provided by Israeli nuclear spy Mordechai Vanunu. Vanunu was released from an Israeli prison on April 21 and has been living in a monastery in Jerusalem. [...]
The European Union has also been encouraging El Baradei's efforts to press Israel to open Dimona to international inspections as part of the campaign for a nuclear-free Middle East. Officials said such EU countries as Britain, France and Germany have quietly warned the Bush administration that the West would fail to win Iranian cooperation with the IAEA unless Israel's nuclear program becomes part of the international effort. [...]
Click here to comment on this article
Jihad Al Khazen Al-Hayat 2004/06/2
All of a sudden, the axis of evil of supporters of Sharon's murder and destruction in the press and research centers on both sides of the Atlantic poured down on me their articles, investigations and books defending the Israeli security wall or the racist wall (depending on one's location).
Why now? On December 8, 2003, the United Nation's General Assembly demanded from The Hague International Court of Justice a consultancy opinion regarding the wall, without it being binding. The court held its meeting between the 23 and 25 of February and despite the Israeli and U.S. objections, representatives of Palestinians, Arabs, Muslims and other countries were victorious in defending the Palestinian rights. Nasser Al Kidwa, the chief Palestinian UN delegate presented a study or a refined and inclusive court case, which is worthy of being published and read by every individual interested in the topic.
The court pledged to submit its opinion sometime in June, and hence the wall defense campaign took place at the end of last month.
David Brooks wrote in The New York Times, "Finally, Good News in the Middle East," Patrick Bishop wrote in The Daily Telegraph, on the same day (22/05/2004), "Has Israel beaten the suicide bombers?". Bishop is not a Sharon supporter, or a Likudnik; nevertheless, his newspaper is an Israeli propaganda outlet. As for Brooks, he is of the same type as William Safire and therefore after his latest poisonous articles, I decided to stop reading them, same as I had previously done with Safire years ago.
The "good" news in Brooks' article is that the wall, which reminds us of apartheid in South Africa, "has now become a security support rather than a harm to it" since it has reduced terrorism.
If it were not for the significance of the topic, I would have said that Brooks and the like are funny, since one quotes his extremism by using another extremist like himself. Brooks says: "We didn't know, (by we he refers to himself as an American despite his total loyalty to Israel) if the fence would oppress Palestinians by creating isolated islands surrounded by barbed wire, however the study of David Makofsky from The Washington Institute for Near East Policy, shows that the wall meets Clinton's parameters for the borders between Israel and the future Palestinian State …".
In this manner, a Sharon supporter and Likudnik quotes another, in order to claim that fewer than 13,000 Palestinians will actually be stranded on the Israeli barrier, and 54,000 Israeli settlers will be on the Palestinian side. In other words, the Palestinians will establish their state on 87,5% of the territories of the West Bank while the myth of Greater Israel would have perished.
This is definitely a total falsehood and an arrogance which can only be committed by another arrogant follower of Sharon, since the United Nations has officially declared that the wall will leave 50 compounds isolated from the Palestinians while making between 250,000 to 350,000 of the Palestinians homeless, which is the equivalent of more than a quarter of them. Even when Sharon's government issued the wall's map, it was shown that the Palestinians would be locked up inside 16 isolated compounds. As for the roads, tunnels and bridges, which the Israeli government discussed, they can be slashed at any moment.
Click here to comment on this article
Patrick Seale Al-Hayat 2004/06/4
Although the Bush Administration is reluctant to admit it, the United States is facing what is arguably its worst crisis since the Second World War. It is a crisis of leadership, of reputation, of military capability and of moral authority. A radical change of strategy and of high-level government personnel is urgently required, but can the embattled President George W. Bush, whose qualities of mind and character leave much to be desired, bring it about?
Few observers believe he can rise to the challenge. Newsweek this week described the Administration as 'the most foolhardy civilian leadership in the modern history of the United States.' Referring to the war in Iraq, the news magazine wrote that 'American soldiers have been put in the wrong place at the wrong time for the wrong reasons.'
[...] The unpalatable truth is that the Bush Administration has failed in almost everything it has touched. The war in Iraq, based on lies and incompetence, has been a catastrophe, its always doubtful legitimacy fatally undermined by the torture of Iraqi detainees. The 'war on terror' has greatly increased, rather than diminished, the threat from radical political Islam, both to the U.S. itself and to its friends, as countries like Saudi Arabia are learning to their cost.
Meanwhile, the Israeli-Palestinian conflict, at the very heart of the region's discontents, has been allowed to sink to new depths of barbarism, largely owing to Bush's irresponsible support for Israel's bull-dozing Prime Minister Ariel Sharon.
Click here to comment on this article
'Bomb' blast rocks Russia market
At least eight people have died in a blast in a Russian market, in what officials believe was a deliberate attack.
The explosion in the central city of Samara was initially blamed on an accident with gas canisters.
But prosecutors later said plastic explosive was used, although it was not clear whether a terror attack or a business dispute was suspected.
Click here to comment on this article
Communist leader elected Indian speaker
www.chinaview.cn 2004-06-04 20:44:28
NEW DELHI, June 4 (Xinhuanet) -- Veteran Communist Party of India (Marxist) leader Somnath Chatterjee was unanimously elected Speaker of the Indian Lok Sabha (lower house of parliament) on Friday.
He is the first Communist leader to become an Indian parliamentspeaker.
Click here to comment on this article
03/06/2004 20:52 - (SA)
Lisbon - The Portuguese airforce has been on alert since late on Tuesday, when several authorities and witnesses reported seeing a luminous unidentified flying object, the national press reported.
"Military radar surveillance has been increased and F16 planes are ready for take-off," reported the tabloid daily, Correio da Manha, on Thursday.
It said the Portuguese civil protection service had received scores of calls from people who reported briefly seeing a silent, luminous object in the sky on Tuesday night, giving off white smoke.
Colonel Carlos Barbosa of the air force confirmed to Lusa news agency that military radars had detected "a target... that was not identified as a plane" for two or three minutes.
The national air traffic control authority, Navegacao Aerea de Portugal (NAV), also confirmed a UFO had been spotted in the north and south of the country just before midnight on Tuesday.
Not a meteorite, says researcher
"The control tower in Oporto (north) detected a flying object which had been observed 25 minutes earlier in Montijo and Beja (south)," said NAV's Paulo Lagarto.
The authorities were unable to say what the mysterious object was.
But José Fernando Monteiro, a geology researcher at Lisbon's science university, said he had consulted United States air defence officials and the UFO could not have been a meteorite.
If it had been a meteorite, it would have travelled much faster and made a lot of noise, he told Correio da Manha and Lusa.
The European Space Agency said the UFO was not a falling satellite either and the Portuguese weather service said there was no meteorological explanation for the phenomenon.
The only person to come up with a possible explanation was astronomist José Matos, who said the UFO might have been an Iridium telecommunications satellite.
"These satellites orbit at a height of about 780km. They each have three antennae, which are polished like mirrors and reflect the light of the sun," he told the media.
Comment: And of course, it's perfectly natural for satellites to spew white smoke as they orbit the Earth...
Click here to comment on this article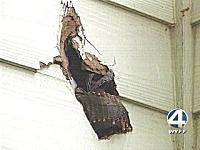 Possible Airplane Part Strikes Greenville County Home
TheCarolinaChannel.com
8:11 pm EDT June 3, 2004
GREENVILLE -- Sandy Moberg says she has a mystery on her hands after something struck her home Wednesday.
Moberg said she was at home around 4:30 p.m. when she heard a bang against the side of her house.
When she went outside, she found a piece of metal had struck the house, and it was still hot.
"It being so hot and the force of impact going through, breaking through the house and the boards, I knew then we were dealing with something other than just an air condition compressor or something along those lines," Moberg said.
An insurance investigator looked at the metal coil-like object and said it looks like it may have fallen off a passing airplane.
The Federal Aviation Administration may investigate the incident.
Comment: The FAA may investigate?!
Click here to comment on this article
Nearly 300,000 Texans Still Without Power
By SHEILA FLYNN, Associated Press Writer
Thu Jun 3, 4:58 PM ET
DALLAS - Nearly 300,000 customers remained without power Thursday after hurricane-force winds, heavy rains and hail the size of tennis balls hit northern Texas on Tuesday and Wednesday.
Utility officials said the storms were the area's worst ever in terms of lost power — at one point leaving 500,000 customers in the dark. Insurance officials estimated the damage at $100 million.
Tens of thousands also were without power in Louisiana, Arkansas, Oklahoma and West Virginia as a result of storms this week. [...]
Click here to comment on this article
Calif. Levee Breaks, Flooding Forces Evacuations
Thu Jun 3, 3:03 PM ET

SAN FRANCISCO (Reuters) - A levee broke in an agricultural area 80 miles east of San Francisco on Thursday, sending water flooding over fields and forcing the evacuation of workers, state officials said.
Officials said the break near Stockton, California, occurred early in the morning and forced the evacuation of farm workers and equipment in the sparsely populated area but did not appear to threaten any homes. [...]
Click here to comment on this article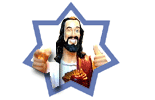 Bush to Give Pope Presidential Medal of Freedom
Thu Jun 3, 2004 01:35 PM ET
ROME (Reuters) - President Bush will award Pope John Paul the Presidential Medal of Freedom Friday, the highest U.S. civilian award, a U.S. official said Thursday.
The official, speaking on condition of anonymity, said the pontiff was being honored for "years of fighting for freedom and for his important moral voice."
Bush is to meet the Polish pope at the Vatican Friday.
The pope strongly opposed the U.S.-led invasion of Iraq and last week publicly condemned torture as an affront to human dignity, seen as a veiled reference to American abuse of Iraqi prisoners at Iraq's Abu Ghraib prison. [...]
Comment: We're not sure if the Medal of Freedom coming from Bush is a compliment or an insult...
Click here to comment on this article
Leopards are Prowling Britain, Survey Suggests
James Owen in England
National Geographic News
June 3, 2004
If it is true that big cats haven't lived wild in the U.K. for 2,000 years, then, judging from the results of a new survey, a lot of large house cats now roam the British countryside.
Organized by British Big Cats Society (BBCS), the nationwide survey recorded 2,052 unconfirmed sightings of big cats in just 15 months, between January 2003 and March of this year.
The sighting counts averaged four each day. Two-thirds of the sightings involved large black animals resembling melanistic leopards, also known as panthers. If all these sightings had been confirmed, it would mean the U.K.'s leopard population now rivals that of the Kashmir region of the Indian subcontinent.
Click here to comment on this article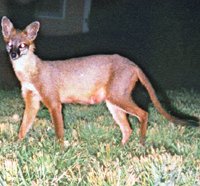 Wait! It's a ... : Unidentified creature stumps experts
By Mark Brumley Staff Writer
News & Record
6-3-04
ASHEBORO, NC -- First of all, this is a real newspaper, not a grocery-store tabloid.
So, the story you're about to read is true.
Randolph County resident Bill Kurdian photographed this unidentified animal in his back yard May 20. Kurdian took the photo with a motion-sensing camera.
It starts with Bill and Gayle Kurdian throwing out dried corn for the wildlife in their neck of the woods in eastern Randolph County, and an odd-looking creature taking them up on their hospitality early last winter.
"What in the world?" Bill Kurdian asked himself when he saw the animal for the first time.
About the size of a fox, but with short brown hair and a long cat-like tail, it looked more like an animal in a National Geographic spread out of Africa than any critter native to the woods of central North Carolina.
He's seen the creature off and on since about Christmas, with it wandering up several nights in a row, then disappearing for awhile. [...]
"Everybody thought I was crazy," said Kurdian, the vice president of Matlab in Asheboro.
But Kurdian, an avid outdoorsman, got proof.
He captured the animal on two frames of film on May 20, using a motion-sensing camera that his wife gave him for Christmas. [...]
Kurdian called Guy Lichty, a curator of mammals at the North Carolina Zoo in Asheboro. But Lichty couldn't help based on just the description. So, as soon as he got his film developed, he couldn't wait to show it to Lichty. But Lichty and other curators were still unable to conclusively identify the animal. [...]
Click here to comment on this article
Philadelphia Police Say Dog Ate Man
NBC10.com
6:36 pm EDT June 3, 2004
PHILADELPHIA -- A 75-year-old man's body parts were found strewn all over a house in the city's Fishtown section Thursday and police said that his dog had been eating him.
Relatives of the dead man, Burt Burhart, said they had not talked to him for about a month so they went to his home. They said it was not uncommon for him not to answer the door. They had been checking on him, but after four weeks they decided it was time to call police.
Around 10:30 a.m., police and family members entered the house and they found Burhart's remains scattered throughout the first floor of his rowhouse.
Burhart's dog, Buddy, had apparently eaten some of the remains. [...]
Click here to comment on this article
Royal funeral for pickled heart
Thursday, June 3, 2004 Posted: 8:08 AM EDT (1208 GMT)
PARIS, France (AP) -- The heart of the 10-year-old heir to France's throne was cut from his body when he died in prison, pickled, stolen, returned, and DNA-tested two centuries later.
Next week, Louis XVII's heart will be placed in France's royal crypt north of Paris now that genetic testing has persuaded many historians that the tiny petrified heart is almost certainly the real thing.
In ceremonies on Monday and Tuesday, European royalty will honor the little boy who became a pawn of the French Revolution, dying alone in a filthy prison.
After a Mass on Tuesday, his heart will be laid to rest at the Saint-Denis Basilica near the graves of his parents, Marie-Antoinette and Louis XVI.
Click here to comment on this article

---
Remember, we need your help to collect information on what is going on in your part of the world!
We also need help to keep the Signs of the Times online.
---

Check out the Signs of the Times Archives

Send your comments and article suggestions to us

---
Fair Use Policy
Contact Webmaster at signs-of-the-times.org
Cassiopaean materials Copyright ©1994-2014 Arkadiusz Jadczyk and Laura Knight-Jadczyk. All rights reserved. "Cassiopaea, Cassiopaean, Cassiopaeans," is a registered trademark of Arkadiusz Jadczyk and Laura Knight-Jadczyk.
Letters addressed to Cassiopaea, Quantum Future School, Ark or Laura, become the property of Arkadiusz Jadczyk and Laura Knight-Jadczyk
Republication and re-dissemination of our copyrighted material in any manner is expressly prohibited without prior written consent.
.