---
New Article: Jupiter, Nostradamus, Edgar Cayce, and the Return of the Mongols - Laura Knight-Jadczyk
Part 1, Part 2, Part 3, Part 4, Part 5, Part 6, Part 7, Part 8, Part 9, Part 10, Part 11, Part 12, Part 13
Picture of the Day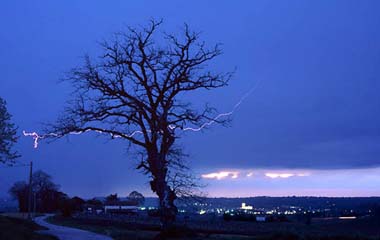 Last lightning April 21, 2004
©2004 Pierre-Paul Feyte
01 June 2004
An A-Z of the Iraq war and its aftermath, focusing on misrepresentation, manipulation, and mistakes
A Mohammed Atta. The Bush administration claimed that a meeting between the lead hijacker of the 11 September attacks and a senior Iraqi intelligence officer proved a connection between al-Qa'ida and Saddam Hussein. But there is no evidence such a meeting took place.
B Bush and Blair: The two leaders have reacted strongly to all suggestions they misled their respective electorates over the war, and maintain time will prove they were right to go to war. Both, though, are suffering poll difficulties, as problems in Iraq become worse, and each needs speedy improvement to shore up his position.
C Ahmed Chalabi. The leader of the Iraq National Congress, who is a member of the Iraq Governing Council, is now accused of having duped the Bush administration, as well as the media, into believing that Saddam Hussein represented a direct threat to US and British security.
D Dollars. Between 1992 and the US raid on Ahmed Chalabi's home last week, the US government channelled more than $100m (£55m) to his Iraqi National Congress. The money may have been a motivating factor for defectors to say what they thought the Americans wanted to hear. That funding has now been stopped.
E Mohamed ElBaradei, the Egyptian head of the International Atomic Energy Agency, exposed as unfounded many of the claims put into the public domain by the US administration. The head of the UN weapons inspectors, Hans Blix, also challenged the White House claims.
F The claim that Iraqi weapons of mass destruction could be deployed within forty-five minutes of an order was a key plank of the Government's pro-war argument and appeared in its September dossier of 2002. We now know that the discredited claim - which applied only to battlefield munitions in any case - came from the party of the caretaker prime minister of Iraq: Iyad Allawi.
G Andrew Gilligan, defence correspondent on the BBC's Today programme, reported that the Government had "sexed-up'' Iraq's weapons capabilities. On one occasion, he suggested that it had done so deliberately. Events since suggest that case for war was exaggerated. Gilligan lost his job in the fall-out.
H Khidir Hamza. The man known as Saddam's bombmaker is now acknowledged to have tricked the administration into believing he had more knowledge of Saddam's nuclear programme than he actually did.
IWas Ahmed Chalabi an agent for Iran, which used him as part of a plan to manipulate the US government into overthrowing Saddam Hussein? Washington is holding an urgent investigation into the claim.
J The Joint Intelligence Committee was accused of allowing itself to be manipulated by Downing Street in the run-up to the war, and of firming up conditional language in the key September dossier on weapons of mass destruction.
K David Kelly, the MoD weapons specialist at the heart of last year's controversy, committed suicide three days after he denied to the Foreign Affairs Committee that he was Gilligan's source.
L Langley. The CIA headquarters, which was regularly visited by the US Vice-President Dick Cheney as he sought to pressure the intelligence services into exaggerating the Iraqi threat for political reasons.
M Mobile biological labs. The alleged discovery of biological mobile labs for the production of biological weapons was held up after the war as proof that Iraq continued its illegal weapons programme. But the chief UN weapons inspector, Hans Blix, said there was no proof of their use.
N The Iraqi scientist Hamdi Shukuir Ubaydi buried documents related to Iraq's nuclear programme in his garden, and they were found last June in the search for WMD after the war last June. However there was no confirmation of the US claim that they were the "smoking gun" the Americans were looking for.
O Oil-for-food scandal. The recent accusations that Saddam diverted billions of dollars from a UN humanitarian programme, and paid countries for political support, came from documents distributed by aides of Ahmed Chalabi. US and UN investigations will attempt to uncover the truth.
P The Pentagon hawks, Donald Rumsfeld, his deputy Paul Wolfowitz and senior adviser Richard Perle took their country to war on a false prospectus.
Q The Daily Mirror published photographs which it claimed showed members of the Queen's Lancashire Regiment abusing one of its Iraqi prisoners. The photos have now been dismissed as fakes. But the regiment remains under investigation over the death of Baha Mousa, who died in custody.
R Karl Rove, president Bush's political adviser, is accused of "outing" the CIA undercover agent Valerie Plame amid the furore over the Niger uranium claim. A grand jury is investigating the leak.
S Bush and Blair insist there will be a transfer of "full sovereignty" to a caretaker government. But the appointment of Iyad Allawi, who has close US and British links, as Prime Minister raises questions over its independence.
T The New York Times last week issued a mea culpa for failing to question a Bush administration leak relating to aluminium tubes reportedly being used in Iraq's nuclear weapons programme. The IAEA demolished the claim, a key prop of the White House case for war.
U Iraq's alleged attempt to smuggle uranium from Niger was used by the allies as proof that Iraq was still attempting to build a nuclear weapon. While the Bush administration now admits the relevant documents were forged, the Blair government is still sticking to the claim.
V Iraq was said to hold stocks of VX gas, the deadliest chemical agent known to man. Not a single millilitre has been found.
W World Trade Centre. According to opinion polls, a majority of Americans still believe Saddam Hussein played a role in the 11 September attacks, a view long propagated by the Bush administration, particularly Dick Cheney.
X Camp X-Ray, now Camp Delta, is the US prison at Guantanamo where prisoners from Afghanistan were flown. But its practices were adopted at Abu Ghraib jail in Baghdad. The ensuing scandal has tarnished Bush's presidency.
Y Yesterday, denials by Dick Cheney that he no longer had any association with the Halliburton oil services company, where he was formerly CEO, were under new scrutiny.
Z Abu Musab al-Zarqawi, accused of beheading the American Nick Berg , was said to be the link between Saddam and Bin Laden. No such link has been proved.
Click here to comment on this article
Bush to Compare Middle East with War-Time Europe
By David Morgan
DENVER (Reuters) - President Bush on Wednesday will compare his administration's war on terror to World War II and cast the Middle East as a critical front akin to war-time Europe, during a commencement address at the U.S. Air Force Academy, a senior White House official said.
A day after he embraced a new Iraqi interim government as a step toward representative government, the Republican president was also expected to speak in detail about America's enemies such as Osama bin Laden 's al-Qaeda network, said the official, who spoke on condition of anonymity.
"He'll say we're fighting the broader war on terror throughout the world, but much like in World War II, when Europe became the critical front in that war, the greater Middle East is the critical front in the war on terror," the official said.
"Events in Europe determined the Cold War; this is kind of the equivalent of that in the Middle East," he added. [...]
"The president's speech is going to focus in the most detail yet on the nature of the enemy we face in the broader war on terror -- why ... this kind of clash of ideologies is a defining moment for our country and the civilized world, much like it was in World War II," the White House official said.
Bush, who is in a tight election year battle against Democratic presidential candidate John Kerry , has seen his job approval ratings slump to new lows amid public concerns about U.S. involvement in Iraq, where more than 800 American soldiers have died since a March 2003 invasion that U.S. officials once likened to the Allied invasion of Europe.
Undeterred by political pressure, the president has donned the mantel of war president by vowing to keep U.S. troops in Iraq until the country is stable and mounting a series war-related speeches that will include a June 6 appearance at the site of the 1944 Normandy invasion.
His Wednesday speech was expected to touch on U.S. efforts in four areas: the disruption and dismantling of militant groups; assistance to governments beset by militant violence such as the Philippines and Afghanistan; enhanced curbs against the proliferation of weapons of mass destruction; and the promotion of Middle East reform as a buffer against militancy.
The president's speech was expected to get under way at the Air Force Academy shortly after 1 p.m. EDT (1700 GMT).
Click here to comment on this article
Bush warned against comparing D-Day to Iraq
Kim Willsher in Paris
Wednesday June 2, 2004
French officials fear George Bush will inflame anti-American sentiment in France this weekend by linking the D-Day landings with the invasion of Iraq.
Advisers close to Jacques Chirac have let it be known that any reference to Iraq during the 60th anniversary of the Allied invasion of France on Sunday would be ill-advised and unwelcome.
Both presidents will address second world war veterans and VIPs during a service at the American cemetery in Colleville-sur-Mer, Normandy.
"He'd better not go too far down the road of making a historical comparison because it's likely to backfire on him," said a source close to President Chirac.
He added that the French would not appreciate any public mention linking the events and said photographs of US soldiers torturing Iraqi prisons did not sit well with the image of D-Day heroes.
Anti-US feeling has been running high in France since Paris opposed the war on Iraq last year. Activists have called for a mass demonstration in Paris on Saturday to protest at Mr Bush's arrival.
Laurent Fabius, head of Mr Chirac's governing UMP party, said of Mr Bush: "He represents the exact opposite of everything we admire about America."
Click here to comment on this article
Italy braced for violence during Bush visit
By Philip Pullella
Tue 1 June, 2004 10:54
ROME (Reuters) - Italy's government wants U.S. President George Bush's visit to Rome to be a "thanksgiving" for allied help in a war that ended 60 years ago. But many Italians want to give Bush a drubbing for an unwanted war raging today.
That is the dilemma facing Italy's politicians and police forces as they prepare for a visit taking place in the shadow of the Iraq war and a growing pacifist movement.
Officials in Rome fear a repeat of the violent clashes that marred a G8 summit in the northern city of Genoa three years ago when one protester was killed by police and hundreds of activists and police were wounded.
The fear has become so thick that even former President Francesco Cossiga, traditionally a stout friend of the United States, wrote an open letter to Bush urging him to cancel the visit otherwise he would be "unjustly blamed" for the violence.
Another pro-American icon of Italy, former prime minister Giulio Andreotti, also questioned why Bush was coming at all.
Interior Minister Giuseppe Pisanu has said he was "concerned but not frightened" by what he called serious threats during the 36-hour visit that starts on Thursday night.
A preparatory meeting on Monday of police and military chiefs decided that reinforcements would be bussed in from other parts of Italy for the visit and for Republic Day on Wednesday.
Tuesday's La Repubblica newspaper called the Bush security plan "the militarisation" of the capital.
Some 10,000 uniformed police will be on hand and several big demonstrations are planned. But in the past few days Italy has been ripe with fears of the unexpected.
"There are groups that are preparing an exercise in violence and three days of provocations," said Massimo Brutti, a leftist senator who is on the secret services oversight committee.
OPPOSITION TO WAR
Most Italians oppose the war in Iraq and there have been many calls for Rome to withdraw its some 2,700 troops, the third-biggest contingent after the United States and Britain.
The opposition grew after 19 Italians were killed in Iraq in November and a private security guard killed in April.
"If a criminal of the calibre of Bush is given the red carpet treatment, then rage is the right reaction," said Luca Casarini, one of Italy's best-known anti-globalisation figures.[...]
Former Interior Minister Claudio Scajola, a close friend of Premier Silvio Berlusconi, said Bush should be welcomed "with trumpets and flags" because he is commemorating the liberation of Nazi-occupied Rome by allied soldiers on June 4, 1944.
But it is much more likely that Bush will see another type of flag while his motorcade travels through Rome.
Pacifists and Catholic groups are asking Italians to dust off the hundreds of thousands of peace flags that flew Italian balconies before the start of the Iraq war and fly them again during the Bush visit.
Click here to comment on this article
Bush uses "war on terror" as a pretext to commit war crimes, then White House lawyer tortures the truth.
By Frederick Sweet

President George W. Bush knew for over two years that his administration has been promoting policies that qualify as war crimes under the 1996 federal War Crimes Act, the international Third Geneva Convention, and the Torture Convention.

An article in the May 24 issue of Newsweek titled "The Roots of Torture" reveals that White House Counsel Alberto Gonzales wrote a January 25, 2002 memo to Bush, urging him to disregard the "obsolete" and "quaint" provisions of the Geneva Convention. He advised the Bush administration to do this precisely because the interrogation methods it was already using on prisoners captured in Afghanistan violated the Convention, leaving US officials open to prosecution for war crimes.

Geneva Convention "Obsolete"

In his January 25 memo, Gonzales urges Bush to declare the war in Afghanistan, including the detention of Taliban and Al Qaeda fighters, exempt from the provisions of the Geneva Convention. This could be accomplished, Gonzales advised Bush, by inventing a technicality: declaring the detainees arrested in the "war on terror" to be outside the Geneva Convention -- and by extension, beyond the Torture Convention and the U.S. War Crimes Act. He gave his assurances that such a technicality "renders obsolete the Geneva's strict limitations on questioning of enemy prisoners." Thus the ambiguity of Bush's newly created and constantly repeated "war on terror" gave his administration carte blanche to do anything it pleased with anyone labeled an "enemy combatant." [...]
Newsweek obtained Gonzales' memo and strongly stated dissents by Secretary of State Colin Powell and his chief legal advisor, William Howard Taft IV. These are among hundreds of pages of internal administration documents on the Geneva Conventions and related issues that have been reported for the first time in the May Newsweek magazine. Newsweek also made some of these documents available on the Internet.
Recycling War Crimes
Dismissing the Geneva Conventions is nothing new. Fifty-eight years ago, after World War II, the Nuremberg War Crimes Tribunal showed that by labeling certain Allied soldiers terrorists, the Third Reich used a legalistic policy for attempting to get around the Geneva Conventions. Openly armed and uniformed Allied troops had been landed behind German lines in occupied France and Norway. In response, Adolf Hitler signed the Commando Order.
Hitler's legalistic directive claimed that Allied units inside of German occupied territory were engaged in terrorist activities. Thus the Commando Order provided for captured commandos to be summarily executed. A related order directed the population to retaliate against Allied airmen who parachuted from disabled aircraft. The airmen had been accused of indiscriminately and illegally attacking civilians -- in bombing raids -- thus making them terrorists. Clearly, similar principles were adopted by Gonzales so that Bush could ignore the Geneva Conventions to advance his policies for his so-called "war on terror."
By February 2002, the White House issued a statement declaring that while the United States would adhere to the Geneva Conventions in the conduct of the war in Afghanistan, captured Taliban and Al Qaeda fighters would be exempt from prisoner of war status under the Conventions. Administration lawyers believed that this maneuver would protect U.S. interrogators who mistreated prisoners and also their superiors in Washington so that they could not be subjected to prosecutions under the War Crimes Act.
The Nuremberg Tribunal had ruled that various defendants were liable for the abuse of prisoners of war. The Court conceded that some captured combatants were physically depleted. But this was not the cause of their death. They had been made to work in harsh conditions and deprived of food, clothing, and hygiene. The Tribunal concluded that such mistreatment violated a commander's responsibility to insure that prisoners received proper care and were not compelled to work in dangerous conditions. The summary execution of prisoners who allegedly had attempted to escape was also criminal. In addition, commanders were culpable for issuing and transmitting orders that transferred prisoners to the Security Police for "special treatment."
Admitting Nothing
On May 15, 2004, The New York Times published a column by Alberto Gonzales titled "The Rule of Law and the Rules of War." This was a defense of the Bush administration's use of torture, sexual abuse and severe "stress" techniques against detainees in Afghanistan, Guantanamo Bay and Iraq. Reading Gonzales' article can only lead to two possible conclusions: either Gonzalez is completely ignorant of the Third Geneva Convention and its well established interpretations since 1949, or he has simply become an unmitigated propagandist for the war crimes of the Bush administration.
Gonzales' column was printed only two days after Deputy Defense Secretary Paul Wolfowitz and the Joint Chiefs of Staff vice chairman General Peter Pace were summoned by a U.S. Senate committee to admit that interrogation techniques ordered by the Pentagon in Iraq violated the Geneva Convention on prisoners of war, and were "not humane." During questioning, Wolfowitz hesitated for a long time before answering the question (which he first tried to avoid): "Do you consider keeping a bag over a prisoner's head for 72 hours to be humane?" Grudgingly, Wolfowitz finally said, "no."
Sounding like their counterparts at Nuremberg fifty-eight years ago, Wolfowitz and Pace claimed ignorance of the "Rules of Engagement Relative to Interrogation" approved by Lieutenant General Ricardo Sanchez. The top US commander in Iraq, Sanchez had adopted a policy that allowed prisoners to be placed in painful positions, deprived of sleep for up to 72 hours, threatened with dogs and kept in isolation for more than 30 days. Each of these methods is a clear violation of the Third Geneva Convention on the Treatment of Prisoners of War.
Contradicting his own January 25, 2002 memo (discussed above), Gonzales claimed, "There has never been any suggestion by our government that the [Geneva] conventions do not apply in that conflict…. The United States government understands and seeks to comply with its legal obligations and will act swiftly and responsibly under the law to address violations of those obligations."
However, Article 12 of the Third Geneva Convention states:
"Prisoners of war are in the hands of the enemy Power, but not of the individuals or military units who have captured them. Irrespective of the individual responsibilities that may exist, the Detaining Power is responsible for the treatment given them."
Who's Responsible For What?
Even if Bush and Rumsfeld did not personally order the violation of the Convention, Article 12 of the Convention holds them -- not the individual soldiers directly involved -- responsible, as the leadership of the "Detaining Power," for the maltreatment of detainees. Thus, in theory, not only General Sanchez but President Bush and his Defense Secretary Rumsfeld should be placed on trial for violating the Geneva Convention, and also the 1996 federal War Crimes Act, and the Torture Convention.
The Geneva Convention's Articles 13 to 17 protect prisoners of war against interrogation, never mind torture. POWs are only obliged to provide their name, rank, date of birth and serial number. They must be treated "humanely" and with "respect," and may not be subjected to "cruel," "humiliating" or "degrading" treatment or any "form of coercion." Article 17 states:
"No physical or mental torture, nor any other form of coercion, may be inflicted on prisoners of war to secure from them information of any kind whatsoever. Prisoners of war who refuse to answer may not be threatened, insulted, or exposed to any unpleasant or disadvantageous treatment of any kind."
The Convention also stipulates that prisoners must not be held in close confinement and "shall be quartered under conditions as favorable as those for the forces of the Detaining Power who are billeted in the same area." The now notoriously over-crowded cells and tents of Abu Ghraib prison are textbook violations of the Geneva Conventions.
Gonzales claimed that Iraq was a "very different situation" to Afghanistan and Guantanamo Bay, because "in February 2002 President Bush determined that Al Qaeda terrorists were not prisoners of war under the treaty known as the Third Geneva Convention."
It is false that Al Qaeda supporters captured in Afghanistan are not covered by the Geneva Convention because Al Qaeda "is not a state." Article 2 of the Convention specifies that it governs the conduct of the signatories (such as the U.S.) even if the detainees were fighting for a power that had not signed the Convention. Moreover, the alleged Al Qaeda members were covered by Article 4, as "members of militias or volunteer corps" fighting in defense of the Taliban administration, at the time the de facto government of Afghanistan, a signatory of the Geneva Convention.
Bush claims that Taliban soldiers do not qualify as prisoners of war because the Convention stipulates that combatants must distinguish themselves from the civilian population, "which the Taliban clearly did not." But Article 4 of the Convention makes no such distinction. It simply requires members of militias, volunteer corps and "organized resistance movements" to have a commander, have distinctive insignia, carry arms openly and conduct their operations in accordance with the laws and customs of war. Article 4 also protects inhabitants of a territory who, on the approach of the enemy, "spontaneously take up arms to resist the invading forces, without having had time to form themselves into regular armed units."
White House Lawyer Tortures Truth
Gonzales declared that alleged combatants must "earn" prisoner-of-war status by complying with the Convention. In fact, the treaty says the opposite: anyone who has been captured after committing a "belligerent act" must be protected until a properly constituted tribunal decides their status.
Accordingly, Article 5 of the Convention makes it clear that Bush had no right to make a unilateral, executive decision to strip the Taliban of legal protections. It specifies that where any doubt arises as to whether or not a person is a POW, the detainee shall be accorded the protection of the Convention until a "competent tribunal" has determined their status. No such tribunal had been provided by Washington. This is consistent with the Bush administration's inventing an arbitrary, extra-legal machinery of rules.
Gonzales claimed that the invasion of Afghanistan was a war against the Afghan people, indiscriminately conducted against ordinary civilians. This then raises the following question: if the troops of a U.S.-led coalition couldn't recognize combatants, but instead regarded any civilian as a potential "enemy combatant," then isn't it most likely that most of those taken to Guantanamo Bay for interrogation and endless incarceration are innocent civilians?
Bush "reaffirmed" his claim that the U.S. has a policy of treating Al Qaeda and Taliban detainees "humanely" and "in keeping with the principles of the Third Geneva Convention." But released British detainees from Guantanamo Bay have confirmed that the prisoners there have been treated just as cruelly as those in Abu Ghraib.
Recently, Gonzales has spoken on behalf of the White House with statements that reveal the administration's complete and general contempt for international law. The crudeness of his legal analysis and the cynicism of his defense is a direct expression of the increasingly Great Criminal style of the Bush administration.
Evidence is mounting of a Bush administration policy for torturing detainees at Guantanamo Bay and Iraq. A case can be made for war crimes charges to be filed against all of the American high officials, civilian and military, responsible for the invasion and conquest of Afghanistan and Iraq. Bush, Rumsfeld, Powell, Rice, Myers, Cambone and others should all be placed in the dock. [...]
Conspiring on January 25, 2002 to violate the 1996 federal War Crimes Act, the international Third Geneva Convention, and the Torture Convention, Bush and Gonzales should promptly be made to lead a parade of the other administrators in front of a Special Prosecutor to be tried for conspiracy to commit war crimes.
Frederick Sweet is Professor of Reproductive Biology in Obstetrics and Gynecology at Washington University School of Medicine in St. Louis.
Comment: Did you notice the remark: "Gonzales declared that alleged combatants must "earn" prisoner-of-war status by complying with the Convention." ? Bush has sown the wind and America may reap a whirlwind if the situation ever arises that American soldiers are captured and the same stipulations are applied to them that Bush has applied to others. As a professed Christian, Bush doesn't seem to have much grasp of the "do unto others as you would have them do unto you..." concept.
Click here to comment on this article
The painful lesson Israel learned about torture
Eitan Felner
IHT
Monday, May 31, 2004
"The methods of interrogation which are employed in any given regime are a faithful mirror of the character of the entire regime."
As the Abu Ghraib torture scandal keeps unfolding, I recall these prescient words of the 1987 Landau Commission appointed by the Israeli government to review the interrogation methods used against terrorist suspects.

Ironically, it was this same commission, headed by a former Israeli Supreme Court chief justice, that recommended the use of "moderate physical pressure" in interrogations, causing Israel to become the only democratic state in modern times that publicly acknowledged and justified the use of physical coercion in interrogations. [...]

Now, the United States may be assuming this same notorious standing. Not in sanctioning the behaviors depicted in the now infamous Iraq prison photos, but in adopting "moderate physical pressure," including depriving prisoners of sleep, keeping them in stressful positions for extended periods, forcing them to listen to incessant piercing music and exposing them to extreme heat or cold.

There are no lingering doubts that these coercive measures are official policy of the Bush administration. Hailed by Donald Rumsfeld and other senior U.S. officials in recent Senate hearings as legitimate methods of interrogation, these practices were reportedly among the most common interrogation techniques against Iraqi detainees until they were recently barred by the top American commander in Iraq. Yet this ban applies to Iraqi prisoners only; CIA and U.S. military interrogators can continue to use them against detainees held at Guantánamo Bay or in Afghanistan and other U.S. detention centers where terrorist suspects are held.

Unlike the Iraqi detainees, the Bush administration considers those detained during the Afghanistan war or elsewhere in the context of the "global war on terrorism" as not being protected by the Geneva Conventions. But the question of the applicability of these conventions to Taliban and Al Qaeda detainees from the Afghanistan war has no bearing whatsoever on the fact that any coercive methods are absolutely forbidden against any detainee, in every and all circumstances.

The UN Convention against Torture, which applies at all times and which the United States is bound to respect as a state party to it, is no less categorical in its prohibition of torture and other forms of ill-treatment than the Geneva Conventions that apply only during armed conflicts. [...]

Likewise, the Committee against Torture, an expert UN body, determined that the interrogation methods used by Israel during that long, grim period constituted torture. Similar methods used by Britain in Northern Ireland were also banned by the European Court of Human Rights since they treated the suspect in an "inhuman and degrading" manner.

The Bush administration may argue that no state can be expected to respect the niceties of international law when fighting a fanatical terrorist groups that respects no rules. But as Aharon Barak, Israel's Supreme Court chief justice, wrote in the historic judgment outlawing all coercive methods of interrogations, "Although a democracy must often fight with one hand tied behind its back, it nonetheless has the upper hand. Preserving the rule of law and recognition of an individual's liberty constitutes an important component in its understanding of security. At the end of the day, they strengthen its spirit and its strength and allow it to overcome its difficulties."

Ultimately, the "rotten apples" allegedly responsible for the abuses uncovered at Abu Ghraib may have been the fruit of rotten seeds sowed by the the Bush administration when it authorized coercive methods against terrorist suspects, even if the administration did not intend or authorize the gruesome methods depicted in those photos. [...]

Eitan Felner, a human rights consultant, was the director of B'Tselem, the Israeli Information Center for Human Rights in the Occupied Territories, and a former chairman of the Israeli section of Amnesty International.

Click here to comment on this article

Europe faces 'real nuclear terrorist threat'

BRUSSELS: Europe faces "real nuclear terrorist threat", as a report on the recent war gaming exercise jointly conducted by the European Union (EU) and the North Atlantic Treaty Organization (Nato) says that Europe could be a prime target for nuclear terrorists because of the "ease with which extremists could hide and recruit in the Muslim communities and smuggle Russian nuclear material to the EU member states."

"Europe has become the breeding ground, the place where planning for terrorism takes place. Osama bin Laden or like-minded terrorists could kill thousands of people and wreak global havoc by detonating a crude nuclear device in the heart of Europe," the report quotes security experts who warned in the "Black Dawn" exercise.

"We are in a race between cooperation and catastrophe," the report quoted the former US senator Sam Nunn, who helped organise "Black Dawn", as saying. "To win this race we have to achieve cooperation on a scale we've never seen or attempted before," he said, insisting that greater efforts were needed to ensure nuclear material could not be obtained by terrorists.

The closed-door stimulation at the "Black Dawn", according to the report, was also attended by the EU's security supremo, Javier Solana, and his counter-terrorism coordinator, Gijs de Vries, who was appointed after the Madrid bombings.

Solana, the report underlines, told the participants at the "Black Dawn" that the threat of catastrophic terrorism was not confined to the United States or Russia or the Middle East. Europe was equally threatened by it.

"Terrorist movements seem willing to use unlimited violence and cause massive casualties," Solana is reported as telling the participants. In the first part of the "Black Dawn", according to the report, officials were asked how they would respond to intelligence, showing al-Qaeda had obtained enough enriched uranium to build a nuclear bomb. In the second part they were confronted with computer projections and video displays illustrating the impact of a 10-kilotonne device exploding at Nato's sprawling headquarters near Brussels airport. [...]

Click here to comment on this article

Nuclear Terrorism Within America a Certainty

Tuesday, 1 June 2004
Press Release: University of Canterbury

A nuclear attack by terrorists against the United States is inevitable, according to an American international relations expert visiting the University of Canterbury.

Professor Terry Nardin, a political scientist from the University of Wisconsin in Milwaukee, is using his six-week visit as a Canterbury Fellow to teach theories of international relations.

He will also give two public lectures. The first, this Thursday evening, will look at the influence of religion on international affairs. The second, next Thursday, will consider the cultural impact of the September 11 terror attacks. Last week the US Attorney General, John Ashcroft, said credible intelligence from multiple sources indicated that the al Qaeda terror network was planning an attack on the US in the next few months.

Professor Nardin believes that despite the intelligence sources of the US authorities, terrorist organisations such as al Qaeda are still capable of planning and carrying out attacks.

"I see a kind of offence-defence race. We're busy defending ourselves in ways that we've thought of and Al Qaeda people, who are smart, are busy thinking of ways to get around it.

"There are so many weapons floating around, there's so little control over nuclear material, biological weapons and so forth, I think it's only a matter of time before there is some catastrophic event.

"It's not difficult to transport nuclear materials or biological materials around. There may be a gesture of inspecting aircraft luggage and so on but the whole world container trade goes on so people move around and things move around. "

Comment: Ya gotta wonder if Professor Terry Nardin - the expert above who blames everything on al Qaeda and pushes the Bush party line - got his degree from the Uni of Devon? See next item:

Click here to comment on this article

DIPLOMA MILLS CHURNING OUT THOUSANDS OF PHONY DEGREES TO GOVERNMENT OFFICIALS, NURSES, MILITARY OFFICIALS – EVEN A UNIVERSITY ETHICS LECTURER

An Inside Edition investigation has found that tens of thousands of people across the world are paying thousands of dollars each for real looking university degrees, transcripts and letters of recommendation that they haven't earned.

Inside Edition reported on public officials, nurses, police officers, military personnel – even an ethics lecturer at the University of California at Irvine -- using degrees they didn't earn from prestigious sounding "universities" that don't exist. [...]

Inside Edition Senior Investigative Correspondent, Matt Meagher, responded to an email and called a phone number for the "University of Devon," near London. In the report, Meagher described the man who answered the phone as sounding just like a used car salesman. He told Meagher if he paid for a Masters Degree and a post-dated Ph.D., he could get the Ph.D. at half price.

Meagher paid $1,400 for an MBA and a PhD in computer science and even got to pick his grades and honors. Twenty days later, the diplomas arrived via Federal Express, and the package even included letters of recommendation from a "Dr. George A Billings" on the "university's" letterhead.

On its Web site, the "University of Devon" looks impressive, but when Inside Edition traveled to its stated address outside of London, England, a small department store was located there.

Although the documents came with a return address of Devon, England, computer tracking through FedEx showed they had actually been shipped from Jerusalem.

Inside Edition tracked the location to a modest five-story office building, and an office bearing the name of the firm that accepted the internet payment. When an American came out of the office, he was shocked to find Inside Edition's cameras.

He refused to answer any questions, but told Meagher that a representative of the company would later contact Inside Edition. Later, the company representative did call saying it provides a service for the average hardworking American who doesn't have the time or money to get an advanced degree.

But, the former FBI agent, Ezell, says besides cheating the system, these degrees do a disservice to anyone who has worked hard to earn one the honest way.

"If I had a doctorate that I had busted myself to earn, (wrote a) dissertation, went before the committee, did it all, I would be incensed that somebody was out selling doctorate degrees."

The report notes that even some people in the highest levels of government have also taken shortcuts to a degree.

California Governor Arnold Schwarzenegger appointed Jack Corrie to a top position at the Department of Motor Vehicles, but last month, after it was learned that his bachelors and masters degrees were phony, he resigned, citing medical reasons.

And, in Washington D.C. in March, Laura Callahan, a deputy director of the Department of Homeland Security, resigned after it was discovered that she had a bachelors degree, a masters degree, and a Ph.D. that were bogus.

Inside Edition also found that Dr. John Stupar, a full time lecturer at the prestigious University of California at Irvine, specializing in ethics, shouldn't be called "doctor" at all. His Ph.D. is from the "University of Devonshire."

Stupar wouldn't talk to Inside Edition on camera, but said he believed he earned a legitimate Ph.D. through an internet correspondence school and he stressed that he does have three other degrees from reputable schools. Officials at UC Irvine told Inside Edition Stupar is a good teacher who was hired based on his skills and not on his Ph.D.

Click here to comment on this article

FLASHBACK!  9-11, Mossad, the CIA and False Flag Operations

BERLIN - In Germany, where war plans for Afghanistan were already being discussed in July [2001] and where several of the Arab hijackers lived and studied, intelligence experts say the terror attacks of Sept. 11 could not have been carried out without the support of a state secret service.

Eckehardt Werthebach, former president of Germany's domestic intelligence service, Verfassungsschutz, told American Free Press that the deathly precision and the magnitude of planning behind the attacks would have needed years of planning.

Such a sophisticated operation, Werthebach said, would require the fixed frame of a state intelligence organization, something not found in a loose group of terrorists like the one allegedly led by Mohammed Atta while he studied in Hamburg.

Many people would have been involved in the planning of such an operation and Werthebach pointed to the absence of leaks as further indication that the attacks were state organized actions.

Andreas von Bülow served on the parliamentary commission which oversees the three branches of the German secret service while a member of the Bundestag (German parliament) from 1969 to 1994, and wrote a book Im Namendes Staates (In the Name of the State) on the criminal activities of secret services, including the CIA.

Von Bülow told AFP that he believes that the Israeli intelligence service, Mossad, is behind the Sept. 11 terror attacks. These attacks, he said, were carried out to turn public opinion against the Arabs and boost military and security spending.

You don't get the higher echelons, von Bülow said, referring to the architectural structure which masterminds such terror attacks. At this level, he said, the organization doing the planning, such as Mossad, is primarily interested in affecting public opinion.

The architectural level planners use corrupt guns for hire such as Abu Nidal, the Palestinian terrorist who von Bülow called an instrument of Mossad, high-ranking Stasi (former East German secret service) operatives, or Libyan agents who organize terror attacks using dedicated people, for example Palestinian and Arab freedom fighters.

The terrorists who actually commit the crimes are what von Bülow calls the working level, such as the 19 Arabs who allegedly hijacked the planes on Sept. 11.

The working level is part of the deception, he said.

[Added note: This tactic is called a false flag operation or a false flag recruitment, used by both the CIA and Mossad for purposes of propaganda.]

Ninety-five percent of the work of the intelligence agencies around the world is deception and disinformation, von Bülow said, which is widely propagated in the mainstream media creating an accepted version of events.

Journalists don't even raise the simplest questions, he said, adding, those who differ are labeled as crazy.

Both Werthebach and von Bülow said the lack of an open and official investigation, like congressional hearings, into the events of Sept. 11 was incomprehensible.

Horst Ehmke, who coordinated the German secret services directly under German Prime Minister Willi Brandt in the 70s, predicted a similar terrorist attack in his novel, Torches of Heaven, published last year, in which Turkish terrorists crash hijacked planes into Berlin.

Although Ehmke had long expected "fundamentalist attacks", when he saw the televised images from Sept. 11, he said it looked like a "Hollywood production."

"Terrorists could not have carried out such an operation with four hijacked planes without the support of a secret service," Ehmke said, although he did not want to point to any particular agency.

"The most important thing in the struggle against terrorists, who are abusing religion, is the battle for the soul of the people and the nations," Ehmke said. "If this isn't resolved successfully, the 21st century could be bloodier than the last."

A former Stasi agent who had warned the German secret service of terror attacks in America between Sept. 10-20 told AFP that a high ranking Stasi chief named Jürgen Rogalla, who is "an airplane terror specialist," was probably involved in the attacks along with Abu Nidal.

Both Nidal and Rogalla work with the Mossad, the former agent told AFP. Nidal, was said to be in Baghdad, and is a "leading officer for some Mossad agents."

The agent said that Nidal was "involved directly" in the events of Sept. 11. Sept. 11 was preparation for a larger attack on the United States, which is part of "an old plan," the agent said. Based on prior knowledge of this plan, the agent said that more attacks are imminent and that aircraft carriers may be targeted next. [...]

Under the influence of U.S. oil companies, the [unelected] Bush administration blocked Secret Service investigations on terrorism, while it bargained with the Taliban to turn over Osama bin Laden in exchange for political recognition and economic aid, two French intelligence analysts claim.

In a recently published book, Bin Laden, la Verite Interdite ("Bin Laden, the Forbidden Truth"), the authors, Jean-Charles Brisard and Guillaume Dasquie, reveal that the FBI's deputy director John O'Neill resigned in July [2001] to protest official obstruction of his investigation of terrorism.

O'Neill had been in charge of national security in New York. While with the FBI, O'Neill led an investigation of Osama bin Laden and had forecast the possibility of an organized attack by terrorists operating from within the country.

O'Neill had investigated the USS Cole bombing in Yemen, the bombings of U.S. embassies in Kenya and Tanzania and the 1993 World Trade Center bombing.

In 1995, FBI agents working under O'Neill captured Ramzi Yousef, a suspected lieutenant of bin Laden, who was among those convicted for the World Trade Center bombing.

O'Neill was considered a top-notch investigator and was known for his pugnacity. He was barred by U.S. Ambassador to Yemen Barbara Bodine from that country. That dispute reportedly involved a struggle between the State Department, which sought to preserve relations with Yemen, and the FBI, represented by O'Neill, who wanted access to Yemeni suspects.

O'Neill, 49, was hired as chief of security at the World Trade Center following a 25-year career with the FBI and died on Sept. 11, the first day of his new job. O'Neill reportedly died after reentering the building to assist others. [...]

Click here to comment on this article

N. Zealand court mulls whether to try Israelis

By Yossi Melman

A court in Auckland, New Zealand, is to rule tomorrow whether two Israelis the local media say are Mossad agents, are to be sent to trial.

Elisha Kra and Uri Kelman are charged with forging New Zealand passports and being members of a criminal group. A third Israeli suspect, William Ze'ev Barkan, apparently managed to escape.

Commerce Minister Hon. Jim Sutton hinted the defendants were apparently Israeli government representatives. This was the first official statement linking the two to the Israeli government.

The court will have to decide whether to set a time for a trial or accept the attorneys' claim that the two cannot get a fair trial as they have already been judged by media breaking the sub-judice rule.

The two were arrested on March 23 and released on restricted bail. They live in different hotels and are under 24-hour surveillance.

The media criticize the huge cost of the surveillance involving dozens of policemen. The Star Times reported this has cost NZ$500,000, while keeping them in custody would have cost NZ$20,000.

Click here to comment on this article

Ignoring Iraqi Death Toll Labelled a "Holocaust Denial"

AUSTRALASIAN SCIENCE MAGAZINE
Letters to the Editor Gideon Polya.

Ignoring Iraqi Death Toll Labelled a "Holocaust Denial" As the international debate about the outcome of last year's war in Iraq escalates, an Australian scientist has ignited the largely suppressed issue of the resulting death toll.

American authorities have consistently refused to quote casualties other than among Coalition troops (805 deaths, according to a current UN report). The UN puts the deaths of Iraqi soldiers at 11,000, while estimates of the collateral deaths of Iraqi civilians from the war have varied from 8,875-10,275 (UN) to 21,700-55,000 (Medact, UK, November 2003).

Now, in a conScience column in the June issue of Australasian Science magazine, published today, Dr Gideon Polya reports calculations of another measure from the "excess mortality" attributable to the war. He explains this is "the difference between the actual deaths observed in a country and the mortality expected for a properly run, peaceful society with the same demographics".

Dr Polya has been researching and writing a scientific analysis of global mortality. This involves summarising mortality and its causes for all parts of the world throughout history. The ultimate aim is to address the avoidable human mortality that accounts for the approximately 20 million people who die each year from deprivation and malnourishment-related causes.

His startling estimate is that, for Iraq, excess mortality and infant mortality are "currently of the order of 100,000 per year, or about 300 per day".

"Excess mortality and infant mortality have declined dramatically for nearly all developing countries outside Africa over the past 50 years. In Iraq, excess mortality and infant mortality reached a minimum in the 1980s. However, this decline reversed after the 1991 Gulf War."

According to UNICEF, in 2001 the under-5 infant mortality was 109,000 in Iraq, which has a population of about 24 million, compared with about 1,000 in Australia (pop. about 20 million).

"The total excess mortality in Iraq, calculated using United Nations data, is 5.2 million since 1950 and 1.5 million for the period 1991–2004", Dr Polya writes. "The huge excess mortality in Iraq since 1950 is similar in magnitude to that of the Jewish Holocaust (6 million victims) and the 'forgotten' manmade World War II Bengal Famine (4 million Muslim and Hindu victims)."

Dr Polya recently retired as a senior biochemist at La Trobe University. Deploring the lack of reporting of the real death toll in Iraq, he concludes: "The occupying Coalition, including Australia, is clearly responsible for the continuing excess mortality and infant mortality in Iraq . . . Ignoring mass human mortality in Iraq amounts to holocaust denial."

Click here to comment on this article

Fresh Iraq plan awaits UN verdict

The US and Britain have presented a new resolution to the UN Security Council endorsing the transition of power to the Iraqi interim government.

It sets a date for the end of the mandate of US-led troops and stresses the new government will have full control over Iraqi security forces.

The new interim president and cabinet were sworn in on Tuesday in Baghdad.

China, France and Russia objected to the first draft because it did not give Iraqis control over military affairs.

The new resolution does not change the wording on this point, but it does set a time frame for the force to withdraw.

This UN mandate will end when a fully representative government takes power after democratic elections are held at the end of 2005.

BBC News Online world affairs correspondent Paul Reynolds says this is being widely intepreted as meaning that the force would withdraw then, but it would be open to the elected government to ask some at least of the force to stay.

Click here to comment on this article

The day the stooges bit back: Iraqis win showdown over new President, but Baghdad is rocked by explosions

By Justin Huggler in Baghdad
02 June 2004

It was supposed to be the day the light would appear at the end of the tunnel for the Americans in the occupation of Iraq.

But, even as an interim government that will assume sovereignty at the end of the month was finally named, there were stark signs of the terrible difficulties ahead.

Paul Bremer, the US administrator in Iraq, was left humiliated as his favoured candidate, Adnan al-Pachachi, rejected his invitation to become Iraq's first president since Saddam Hussein, forcing the US to install the man it had tried hard to avoid, Sheikh Ghazi al-Yawar.

As the political horse-trading was underway, insurgents delivered their own verdict, with a car bomb killing 25 people at the headquarters of a Kurdish party in Baghdad. No sooner had that exploded, than a mortar landed inside the US headquarters in the capital, the so-called Green Zone, sending a huge cloud of black smoke over the city. And, north of the city, 11 more were to die in yet another car bomb.

Aside from the worsening security situation, a tour of the city underlines the magnitude of the tasks facing Iyad Allawi, the Prime Minister-elect, when he takes over on 30 June.

Baghdad's streets are strewn with rubbish; geysers of sewage erupt in the wealthiest parts of town and, at times, you can find yourself driving in a three-inch pool of raw sewage. There are few enough signs of reconstruction, despite the $18bn (nearly £10bn) President George Bush has pledged.

Unemployment is rampant; there is a chronic lack of medicine; and the electricity shortages in Baghdad are as bad now as they were a year ago.

Click here to comment on this article

Dimensions Of The U.S. Setback

Helena Cobban Al-Hayat 2004/06/1

How serious is the strategic setback that U.S. power is now suffering as a result of the neo-conservatives' over-reaching in Iraq and Palestine? Its full dimensions are still not discernible-not least, because we still do not know how much worse the situation may become for the U.S., in Iraq or elsewhere in the Middle East, before it finally stabilizes.

But already, it is clear that U.S. power is suffering a setback in Iraq of truly historic proportions.

Click here to comment on this article

Barbara Ehrenreich, AlterNet
May 19, 2004

Even those people we might have thought were impervious to shame, like the secretary of Defense, admit that the photos of abuse in Iraq's Abu Ghraib prison turned their stomachs.

The photos did something else to me, as a feminist: They broke my heart. I had no illusions about the U.S. mission in Iraq -- whatever exactly it is -- but it turns out that I did have some illusions about women.

Of the seven U.S. soldiers now charged with sickening forms of abuse in Abu Ghraib, three are women: Spc. Megan Ambuhl, Pfc. Lynndie England and Spc. Sabrina Harman.

It was Harman we saw smiling an impish little smile and giving the thumbs-up sign from behind a pile of hooded, naked Iraqi men -- as if to say, "Hi Mom, here I am in Abu Ghraib!" It was England we saw with a naked Iraqi man on a leash. If you were doing PR for Al Qaeda, you couldn't have staged a better picture to galvanize misogynist Islamic fundamentalists around the world.

Here, in these photos from Abu Ghraib, you have everything that the Islamic fundamentalists believe characterizes Western culture, all nicely arranged in one hideous image -- imperial arrogance, sexual depravity ... and gender equality.

Maybe I shouldn't have been so shocked. We know that good people can do terrible things under the right circumstances. This is what psychologist Stanley Milgram found in his famous experiments in the 1960s. In all likelihood, Ambuhl, England and Harman are not congenitally evil people. They are working-class women who wanted an education and knew that the military could be a stepping-stone in that direction. Once they had joined, they wanted to fit in.

And I also shouldn't be surprised because I never believed that women were innately gentler and less aggressive than men. Like most feminists, I have supported full opportunity for women within the military -- 1) because I knew women could fight, and 2) because the military is one of the few options around for low-income young people.

Although I opposed the 1991 Persian Gulf War, I was proud of our servicewomen and delighted that their presence irked their Saudi hosts. Secretly, I hoped that the presence of women would over time change the military, making it more respectful of other people and cultures, more capable of genuine peacekeeping. That's what I thought, but I don't think that anymore.

A certain kind of feminism, or perhaps I should say a certain kind of feminist naiveté, died in Abu Ghraib. It was a feminism that saw men as the perpetual perpetrators, women as the perpetual victims and male sexual violence against women as the root of all injustice. Rape has repeatedly been an instrument of war and, to some feminists, it was beginning to look as if war was an extension of rape. There seemed to be at least some evidence that male sexual sadism was connected to our species' tragic propensity for violence. That was before we had seen female sexual sadism in action.

But it's not just the theory of this naive feminism that was wrong. So was its strategy and vision for change. That strategy and vision rested on the assumption, implicit or stated outright, that women were morally superior to men. We had a lot of debates over whether it was biology or conditioning that gave women the moral edge -- or simply the experience of being a woman in a sexist culture. But the assumption of superiority, or at least a lesser inclination toward cruelty and violence, was more or less beyond debate. After all, women do most of the caring work in our culture, and in polls are consistently less inclined toward war than men.

I'm not the only one wrestling with that assumption today. Mary Jo Melone, a columnist for the St. Petersburg (Fla.) Times, wrote on May 7: "I can't get that picture of England [pointing at a hooded Iraqi man's genitals] out of my head because this is not how women are expected to behave. Feminism taught me 30 years ago that not only had women gotten a raw deal from men, we were morally superior to them."

If that assumption had been accurate, then all we would have had to do to make the world a better place -- kinder, less violent, more just -- would have been to assimilate into what had been, for so many centuries, the world of men. We would fight so that women could become the generals, CEOs, senators, professors and opinion-makers -- and that was really the only fight we had to undertake. Because once they gained power and authority, once they had achieved a critical mass within the institutions of society, women would naturally work for change. That's what we thought, even if we thought it unconsciously -- and it's just not true. Women can do the unthinkable.

You can't even argue, in the case of Abu Ghraib, that the problem was that there just weren't enough women in the military hierarchy to stop the abuses. The prison was directed by a woman, Gen. Janis Karpinski. The top U.S. intelligence officer in Iraq, who also was responsible for reviewing the status of detainees before their release, was Major Gen. Barbara Fast. And the U.S. official ultimately responsible for managing the occupation of Iraq since October was Condoleezza Rice. Like Donald H. Rumsfeld, she ignored repeated reports of abuse and torture until the undeniable photographic evidence emerged.

What we have learned from Abu Ghraib, once and for all, is that a uterus is not a substitute for a conscience. This doesn't mean gender equality isn't worth fighting for for its own sake. It is. If we believe in democracy, then we believe in a woman's right to do and achieve whatever men can do and achieve, even the bad things. It's just that gender equality cannot, all alone, bring about a just and peaceful world.

In fact, we have to realize, in all humility, that the kind of feminism based on an assumption of female moral superiority is not only naive; it also is a lazy and self-indulgent form of feminism. Self-indulgent because it assumes that a victory for a woman -- a promotion, a college degree, the right to serve alongside men in the military -- is by its very nature a victory for all of humanity. And lazy because it assumes that we have only one struggle -- the struggle for gender equality -- when in fact we have many more.

The struggles for peace and social justice and against imperialist and racist arrogance, cannot, I am truly sorry to say, be folded into the struggle for gender equality.

What we need is a tough new kind of feminism with no illusions. Women do not change institutions simply by assimilating into them, only by consciously deciding to fight for change. We need a feminism that teaches a woman to say no -- not just to the date rapist or overly insistent boyfriend but, when necessary, to the military or corporate hierarchy within which she finds herself.

In short, we need a kind of feminism that aims not just to assimilate into the institutions that men have created over the centuries, but to infiltrate and subvert them.

To cite an old, and far from naive, feminist saying: "If you think equality is the goal, your standards are too low." It is not enough to be equal to men, when the men are acting like beasts. It is not enough to assimilate. We need to create a world worth assimilating into.

Comment: Maggie Thatcher. Maggie Thatcher. Maggie Thatcher. Ideological blindness is powerful. You can be looking at the world and not see it, such as these feminists who have harboured the illusion that women were morally superior to men. It satisfied their self-importance. They didn't need to do anything else. By being women, they were better.

The important point of Ms. Ehrenreich's article is that it shows that the world is getting so bad that it is starting to deliver brutal enough shocks to awaken people out of their ideological complacency. There is no substitute for conscience.

Click here to comment on this article

US citizens 'attacked' in Riyadh

There have been reports of a shooting incident targeting Americans near the Saudi capital, Riyadh.

The US embassy says there are reports of casualties, but Saudi authorities have not confirmed the incident.

Click here to comment on this article

Why does the president still trust Rumsfeld's judgment?

By Fred Kaplan
Wednesday, May 12, 2004

On Dec. 15, 1993, not quite a year into President Bill Clinton's first term, his secretary of defense, Les Aspin, announced that he would resign. Two months earlier, 18 U.S. Rangers had died, some of them brutally, in the disastrous "Black Hawk Down" raid on Mogadishu. A month before that, the Rangers' commander in Somalia had asked the Pentagon for armored vehicles. Aspin rejected the request. In the raid's aftermath, many blamed Aspin's denial for the Americans' deaths.

Some controversy remains over whether Aspin—who died a year and a half later from heart problems at age 56—deserved to be the fall guy; but it's an irrelevant debate. The key point is that Aspin lost the president's confidence. Once that happens, for whatever reason, the Cabinet officer in question needs to be replaced.

The key question about the much-discussed survival of Donald Rumsfeld, the current secretary of defense, is not so much whether he should stay or go, but rather why President George W. Bush still has confidence in his judgment.

In this light, the pertinent issue about the prison tortures at Abu Ghraib is not Rumsfeld's place in the chain of command; it's the fact that he knew, or should have known, about the tortures and the photographs—not just from Gen. Taguba's report but much earlier from the briefings by the International Committee of the Red Cross—and, apparently, didn't tell the president. In short, he failed at one of his primary duties—to cull the thousands of scraps of information that come into the Pentagon every day for the nuggets of data that the president needs to know. His failure to alert Bush of this nugget has meant a huge cost in U.S. credibility just at the moment—less than two months before the transfer of sovereignty to Iraq—when our credibility is most vital. Yet Bush continues to trust that Rumsfeld will keep him properly apprised in the future, even tells him in public that he's doing a "superb" job.

The puzzle goes well beyond Abu Ghraib. In fact, one could imagine some presidents using the current crisis as an opportunity to can Rumsfeld for the many transgressions he's committed over the past couple of years—errors of judgment that have caused far more deaths than occurred in Mogadishu.

Chief among these errors, of course, was his decision to overrule the generals' recommendations on how many troops to send to Iraq. Rumsfeld took a creative gamble on this one. Creativity isn't a bad quality for a secretary of defense, especially when dealing with a calcified bureaucracy like the U.S. Army's. Rumsfeld had a vision of warfare that clashed with the Army's most closely vested interests—a vision of "military transformation," which relied on speed over mass, "smart bombs" over artillery, joint operations over interservice rivalry. In the battlefield phase of this war and of the war in Afghanistan, Rumsfeld turned out to be right. But in the next, decisive phase—actually winning the war, accomplishing its broad objectives—his vision proved terribly inadequate. His commanders didn't have enough troops to occupy, secure, and stabilize either country. Secretaries of defense have the right to reject their generals' advice; that's what civilian leadership is about; as Eliot Cohen notes in his book Supreme Command, the practice has an honorable history. But when it leads to military disaster, the civilian secretary who has taken the reins must also take real responsibility. More to the point here, presidents who rely on such a secretary—and who come to bear the cost of his choices—usually conclude that he's no longer trustworthy and that he needs to go before he inspires further disasters.

In the course of committing this strategic error, Rumsfeld made many tactical misjudgments. He willfully alienated allies whose assistance, many warned him, would be necessary for a successful occupation. He arrogantly excluded officials from other federal departments—especially State and USAID—who knew much more than he did about reconstruction in general and Iraqi society in particular. He ordered (or at least accepted the order—we don't yet know who made the decision) the dismantling of the Iraqi army, a move that created a massive power vacuum and put tens of thousands of armed, angry, unemployed citizens on the streets. He believed that Ahmad Chalabi, an exile who had no political base in Iraq, would readily be accepted as the country's new leader—and, on that basis, didn't think that much "postwar" planning would be necessary. Far more unforgivable (after all, everybody's wrong sometimes), Rumsfeld devised no backup plan in case his belief proved mistaken (as it did).

All these mistakes have been recited many times before. The odd thing about the long list, viewed in the context of Abu Ghraib, is that Bush gave Rummy a pass for the whole lot. One of the president's jobs is to relieve the nation of Cabinet officers who make consistently bad decisions, especially bad decisions that swell the ranks of our casualties and diminish our standing in the world. The responsibility, to use a much-tarnished word, lies not with Rumsfeld but with Bush.

Fred Kaplan writes the "War Stories" column for Slate.

Click here to comment on this article

Editorial (Army Times): A failure of leadership at the highest levels

Around the halls of the Pentagon, a term of caustic derision has emerged for the enlisted soldiers at the heart of the furor over the Abu Ghraib prison scandal: the six morons who lost the war.

Indeed, the damage done to the U.S. military and the nation as a whole by the horrifying photographs of U.S. soldiers abusing Iraqi detainees at the notorious prison is incalculable.

But the folks in the Pentagon are talking about the wrong morons.

There is no excuse for the behavior displayed by soldiers in the now-infamous pictures and an even more damning report by Army Maj. Gen. Antonio Taguba. Every soldier involved should be ashamed.

But while responsibility begins with the six soldiers facing criminal charges, it extends all the way up the chain of command to the highest reaches of the military hierarchy and its civilian leadership.

The entire affair is a failure of leadership from start to finish. From the moment they are captured, prisoners are hooded, shackled and isolated. The message to the troops: Anything goes.

In addition to the scores of prisoners who were humiliated and demeaned, at least 14 have died in custody in Iraq and Afghanistan. The Army has ruled at least two of those homicides. This is not the way a free people keeps its captives or wins the hearts and minds of a suspicious world. [...]

This was not just a failure of leadership at the local command level. This was a failure that ran straight to the top. Accountability here is essential — even if that means relieving top leaders from duty in a time of war. — Military Times editorial, May 17 issue

Click here to comment on this article

Flashback! - Rumsfeld in Review - Flashback!

"I believe we are absolutely on the brink of failure. We are looking into the abyss."
-- General Joseph Hoar, a former commander in chief of U.S. Central Command; testimony to the Senate Foreign Relations Committee, May 20, 2004

"I'm surprised that he is surprised because there was a lot of us who were telling [Rumsfeld] that it was going to be thus... Anyone could know the problems they were going to see. How could they not?...I think that some heads should roll over Iraq. I think the president got some bad advice."
-- Retired Marine General Anthony Zinni, San Diego Union-Tribune, April 16, 2004

"The U.S. occupation of Iraq is a debacle not because the government did no planning but because a vast amount of expert planning was willfully ignored by the people in charge."
-- The Atlantic Monthly, January/February 2004

"I think we got in there with a grossly anemic military force. We never defeated the elite elements of the Saddam regime. They walked away with their guns, their money, their leadership intact."
-- Retired General Barry McCaffrey; NPR "Morning Edition," April 15, 2004

"But as the acting secretary of the Army, Les Brownlee, acknowledged to Congress last week, 'we simply were not prepared' for the insurgency that developed in early summer, prolonging the war and taking the lives of hundreds of American soldiers."
-- Associated Press, March 3, 2004

"A breakdown of the casualty figures suggests that many U.S. deaths and wounds in Iraq simply did not need to occur...perhaps one in four of those killed in combat in Iraq might be alive if they had had stronger armor around them, the study suggested."
-- Newsweek on a Department of Defense commissioned report; May 3, 2004

"It's like telling the Lakers that they are not going to play basketball but are now going to be Ping-Pong champs. I hope I am totally wrong, but my gut tells me we are in a world of trouble and the result is going to be more body bags."
-- Retired Army Col. David Hackworth, on National Guard units being asked to perform functions for which they were not trained; Los Angeles Times, March 1, 2004

"No Iraqi leader has had more to do with the U.S. intervention in Iraq than Chalabi, from charming Congress into authorizing almost $100 million to back his fledgling Iraqi National Congress in the late 1990s and convincing Washington about Hussein's weapons of mass destruction in 2002 to pressing for war last year, say both his supporters and critics."
-- Washington Post, May 21, 2004

"There are also indications that Chalabi has provided details of U.S. security operations. According to one U.S. government source, some of the information Chalabi turned over to Iran could 'get people killed.'"
--Newsweek, May 10, 2004

"This was not just a failure of leadership at the local command level. This was a failure that ran straight to the top. Accountability here is essential - even if that means relieving top leaders from duty in a time of war."
-- Army Times editorial, May 17, 2004

"We've got to acknowledge first that the old debates are obsolete. I wish the U.S could still go off, after Iraq, at the head of "coalitions of the willing" to spread democracy around the world. But the brutal fact is that the events of the past year have discredited that approach. Nor is the U.N. a viable alternative. A body dominated by dictatorships is never going to promote democratic values. For decades, the U.N. has failed as an effective world power."
-- David Brooks, New York Times, May 8, 2004

"This administration cannot be trusted to govern if it cannot be counted on to think and, having thought, to have second thoughts....Being steadfast in defense of carefully considered convictions is a virtue. Being blankly incapable of distinguishing cherished hopes from disappointing facts, or of reassessing comforting doctrines in face of contrary evidence, is a crippling political vice."
-- George Will, Washington Post, May 4, 2004

"On almost every issue involving postwar Iraq—troop strength, international support, the credibility of exiles, de-Baathification, handling Ayatollah Ali Sistani—Washington's assumptions and policies have been wrong. By now most have been reversed, often too late to have much effect. This strange combination of arrogance and incompetence has not only destroyed the hopes for a new Iraq. It has had the much broader effect of turning the United States into an international outlaw in the eyes of much of the world."
-- Fareed Zakaria, Newsweek, May 17, 2004

"Rumsfeld has maintained a positive image with much of America because he controls information fanatically and tolerates no deviation from the party line. Differing opinions are punished in today's Pentagon - and every field general who has spoken plainly of the deficiencies of either the non-plan for the occupation of Iraq, the lack of sufficient troops (in Iraq or overall) or any aspect of Rumsfeld's 'transformation' plan has seen his career ended."
-- Retired Military Officer Ralph Peters, NY Post, May 14, 2004

"The Bush administration seems not to recognize how widespread, and how bipartisan, is the view that Iraq is already lost or on the verge of being lost. The administration therefore may not appreciate how close the whole nation is to tipping decisively against the war."
-- Robert Kagan and William Kristol, Weekly Standard, May 17, 2004

"Secretary of Defense Donald H. Rumsfeld's failure to offer his resignation over the Abu Ghraib scandal is sadly typical of the lack of accountability that permeates the U.S. government."
-- Max Boot, Los Angeles Times, May 13, 2004

Click here to comment on this article

E-Mail Prompts Calls to Probe Halliburton, Cheney

By Susan Cornwell

WASHINGTON (Reuters) - A newly unearthed Pentagon e-mail about Halliburton contracts in Iraq on Tuesday prompted fresh calls on Capitol Hill for probes into whether Vice President Dick Cheney helped his old firm get the deals.

The e-mail, reported by Time magazine, provided "clear evidence" of a relationship between Cheney and multibillion-dollar contracts Halliburton has received for rebuilding Iraq, Sen. Patrick Leahy said.

"It totally contradicts the vice president's previous assertions of having no contact" with federal officials about Halliburton's Iraq deals, Leahy, a Vermont Democrat, said in a conference call set up by John Kerry 's presidential campaign. "It would be irresponsible not to hold hearings."

The March 2003 Pentagon e-mail says action on a no-bid Halliburton contract to rebuild Iraq's oil industry was "coordinated" with Cheney's office. Cheney was chief executive officer of the oilfield services giant from 1995 until he joined George W. Bush's presidential ticket in 2000.

New Jersey's Sen. Frank Lautenberg, another Democrat, urged the chair of the Senate Governmental Affairs Committee , Republican Sen. Susan Collins, to subpoena e-mails and any other evidence of contacts between the U.S. Army Corps of Engineers and Cheney's office on Halliburton's Iraq contracts.

"The revelation that the Vice President's office was involved in the awarding of this contract ... makes the need for an investigation essential," Lautenberg wrote to Collins.

But Collins said in a statement that there were already several probes of Halliburton going on -- by the General Accounting Office , defense auditors and the Pentagon inspector general. So a probe by her committee was unneeded, she said.

Cheney's office denied over the weekend that it had any role in the Halliburton contracts, and a senior adviser to the Bush-Cheney campaign, Mary Matalin, repeated this on Tuesday.

"The vice president had no operational involvement with letting of any contracts," she said on NBC's "Today" show. [...]

Time said it located the e-mail among documents provided by Judicial Watch, a watchdog group. The e-mail was sent by an Army Corps of Engineers official on March 5, 2003.

It said Douglas Feith, who reports to Deputy Defense Secretary Paul Wolfowitz, approved arrangements for the contract to rebuild Iraq's oil industry "contingent on informing WH (White House) tomorrow. We anticipate no issues since action has been coordinated w VP's (vice president's) office."

A former deputy defense secretary from the mid-1990s, John White, said the e-mail showed unprecedented political input on Pentagon contracts. An official like Feith, an undersecretary for policy, should not be handling contracts, he said. "I've never heard of anything like this before."

Click here to comment on this article

His poll ratings have slumped and each day brings more bad news from Iraq, but George Bush has one big advantage in the coming campaign: a ponderous, uncharismatic challenger with no clear message. In the first of a series of dispatches for G2 on the US election, former New York Times editor Howell Raines warns that John Kerry must find his voice or fade away

Wednesday June 2, 2004
The Guardian

A lot of Democrats are nostalgic these days for the exuberance that Bill Clinton exhibited on the campaign trail and for the clarity of his message: "It's the economy, stupid." With John Kerry, the message so far seems to be: It's the war, sort of, and it's the economy, maybe.

[...] Now for the hard part of the performance challenge - the economy. Two and a quarter centuries into its history as a nation, America has the most unfair tax system ever and the greatest gap ever between rich and poor. Even a real populist, however, would have trouble taking on these issues frontally. As Al From of the Democratic Leadership Council noted, Americans aren't antagonistic toward the rules that protect the rich because they think that in the great crap-shoot of economic life in America, they might wind up rich themselves. It's a mass delusion, of course, but one that has worked ever since Ronald Reagan got Republicans to start flaunting their wealth instead of apologising for it. Kerry has to understand that when a cure is impossible, the doctor must enter the world of the deluded.

What does this mean in terms of campaign message? It means that he must appeal to the same emotions that attract voters to Republicans - ie greed and the desire to fix the crap-shoot in their favour. That means that instead of talking about "fixing" social security, you talk about building a retirement system that makes middle-class voters believe they will be semi-rich someday. As matters now stand, Kerry has assured the DLC, "I am not a redistributionist Democrat."

That's actually a good start. Using that promise as disinformation, he must now figure out a creative way to become a redistributionist Democrat. As a corporation-bashing populist, I'd like to think he could do that by promising to make every person's retirement as secure as Cheney's investment in Halliburton. But that won't sell with the sun-belt suburbanites. Not being a trained economist like, say, Arthur Laffer, I can't figure out the exact legerdemain that Kerry ought to endorse. But greed will make folks vote for Democrats if it's properly packaged, just as it now makes them vote Republican, and in terms of the kind of voters Kerry must win away from Bush, I think the pot-of-gold retirement strategy is a way to work. Forget a chicken in every pot. It's time for a Winnebago in every driveway.

Surely someone in Kerry's campaign can figure out a way for him to say, "Here's my plan for getting us out of Iraq and defeating terrorism," and "Here's my plan for making sure you're not sick and poor in your old age." And then make him say it over and over again, no matter what question is asked of him. Kerry has to face the fact that even though the incumbent looks like Goofy when he smirks, he's going to win unless Kerry comes up with something to say. To stay "on message", you have to have one.

Comment: Uh, hmmm. In order to win Kerry must resort to disinfo. Well, of course! But then isn't that what politics in the world's greatest democracy has always been about? For a curious electoral practice from Baltimore in the 19th century, possibly related to the death of Edgar Allen Poe, do a Google search on Baltimore, cooping, Poe. Rigged elections are not something new with touchscreens....

Click here to comment on this article

US press losing credibility: survey

www.chinaview.cn 2004-06-02 16:16:34

BEIJING, June 2 (Xinhuanet) -- The US press is facing an unprecedented credibility crisis because the two major newspapers, the New York Times and the USA Today were caught cooking up false news reports, People's Daily Online said Wednesday. People cannot but ask how credible on earth are today's reports? In fact, it is not only the general public who's questioning, journalists themselves are also lack of confidence in this regard. A latest poll showed that many reporters believe the US press is going towards a wrong direction, thus losing credibility among the people.

Click here to comment on this article

'US citizen was partner in Al-Qa'ida bomb plot'

By David Usborne in New York
02 June 2004

The United States government asserted yesterday that an American citizen who has been held for two years as an enemy combatant without trial, or having charges being filed against him, or easy access to lawyers, was plotting to blow up buildings and hotels and hoped also to release a radiological bomb.

Documents released by the US Justice Department said that Jose Padilla and an accomplice were preparing to carry out simultaneous attacks in American cities on orders of the al-Qa'ida terror network. He was allegedly hoping to detonate explosions in buildings that were heated with natural gas.

Click here to comment on this article

Judge Rules Against Ban on Partial-Birth Abortion

By Jim Christie

SAN FRANCISCO (Reuters) - A Federal judge in San Francisco on Tuesday declared unconstitutional a law banning what critics call "partial birth abortions," saying the measure was too vaguely worded and placed an undue burden on abortion rights.

U.S. District Court Judge Phyllis Hamilton said the Partial-Birth Abortion Ban Act of 2003 was also unconstitutional because it lacked an exemption to protect a mother's health.

The decision was hailed by pro-abortion rights groups who saw the law as a first step toward restricting abortions and removing a safe option for some seriously ill women.

But Senate Majority Leader Bill Frist, a Tennessee Republican and a key backer of the ban, said he was disappointed by the ruling and predicted it would eventually be overturned.

And Bush-Cheney '04 Campaign Chairman Marc Racicot said, "Today's tragic ruling upholding partial-birth abortion shows why America needs judges who will interpret the law and not legislate from the bench. A majority of Americans oppose partial-birth abortion, and Judge Hamilton's decision flies in the face of Congress passing and President Bush signing legislation banning such horrible acts of violence."

President Bush signed the law on Nov. 5, 2003 [...] If the ban ultimately withstands the legal challenges, it would constitute the first federal limit on a type of abortion since the 1973 Roe v. Wade Supreme Court ruling upholding the right to an abortion. Doctors convicted of performing the procedure could be imprisoned for two years.

Judge Hamilton sided with Planned Parenthood in its lawsuit against the federal government, which had defended the Partial-Birth Abortion Ban Act of 2003. The law also faces separate challenges this month in federal courts in New York and Nebraska.

In her ruling, Judge Hamilton barred U.S. Attorney General John Ashcroft from enforcing the law at Planned Parenthood's more than 900 clinics nationwide.

Planned Parenthood doctors also may continue performing the procedure at clinics and hospitals not affiliated with organization, said Beth Parker, an attorney representing the organization.

"She very much reaffirms a woman's right to choose," Parker said of Hamilton's decision.

Hamilton's decision also covers San Francisco's public health service as the city sued the federal government to maintain the procedure at its public hospital.

A Justice Department spokeswoman said the government "will continue to devote all resources necessary" to defend the law.

"The Justice Department has worked hard during these trials to fulfill the goal of the president to protect innocent new life from the practice of partial-birth abortion, and we will continue to do so," spokeswoman Monica Goodling said. [...]

Dr. LeRoy Carhart, the lead plaintiff in the Nebraska challenge to the federal law, said, "The court in San Francisco recognized this federal ban for what it is: a threat to women's health. The court understood that the government has no business trying to come between doctors and their patients and telling doctors that they can't put their patients' health and safety first."

The American Center for Law and Justice, which has filed a friend-of-the-court brief the New York case in support of the law, said Hamilton's decision marked the first step of long legal struggle that will be resolved in the U.S. Supreme Court .

"We're confident that the national ban on this horrific procedure ultimately will be declared constitutional," Jay Sekulow, the group's chief counsel, said in a statement.

Comment: "[T]he goal of the president to protect innocent new life" as long as it is American and potentially Christian. Forget the Iraqi children and mothers. Wonder how many pregnant Iraqi women have been killed because Bush authorized it?

Click here to comment on this article

By MICHAEL DUFFY and JOHN F. DICKERSON
Monday, May 31, 2004

Has John Ashcroft fallen out of favor at the White House? The question may not be whether but how far.

He was given a rare rebuke by Bush during the President's testimony before the 9/11 commission, over Ashcroft's political swipe at commission member Jamie Gorelick, a Deputy Attorney General under Bill Clinton.

Well-placed Republican sources say the President has gone out of his way to take the spotlight off the Attorney General at high-profile law-enforcement-related events. It was Ashcroft's former deputy, Larry Thompson, now a visiting law professor at the University of Georgia, who joined Bush at a recent event promoting the Patriot Act in Buffalo, New York.

And the White House prevailed upon Thompson to sit near Ashcroft during his testimony before the 9/11 commission in an attempt to soften the Attorney General's hard edge with commission members, who have grown contemptuous of his imperious manner and methods. [...]

Bush partisans [suggest] the President is giving up on a long-term future for his truculent Attorney General. Said one: "Ashcroft will not be the A.G. by Christmas if Bush wins."

Click here to comment on this article

Shaken expatriates rethink Saudi future

Ewen MacAskill and Brian Whitaker
Wednesday June 2, 2004

Foreign companies in Saudi Arabia are offering to repatriate the families of their staff in the wake of the bloody weekend rampage by militants that left 22 dead, most of them foreigners. [...]

An official with a Japanese government-backed oil research group yesterday told Dow Jones newswires that it might evacuate 15 researchers - 11 of whom lived at the Oasis compound which was attacked at the weekend. All the researchers are Nippon staff taking part in a joint project with Aramco, the Saudi oil giant.

Some families are considering relocating to neighbouring Bahrain. Estate agents and international schools there reported an increase in interest after the recent attacks.

International schools in Saudi Arabia remained closed yesterday.

Kevin Rosser, an analyst at the security consultants Control Risks, said the latest attacks would probably accelerate the transfer of expatriate staff to other Gulf states that are considered safer.

"Keeping everyone inside for a few days will help to calm frayed nerves and give the authorities a chance to round these guys up," he said.

The Foreign Office said yesterday it had no figures to suggest there would be a wide spread flight from the country.

The Asian community suffered the most casualties in the Khobar attack, with 13 people killed, but many said that returning home was not an option, for financial reasons. "They killed many Indians. They didn't differentiate between them and westerners," Manoj Kumar, an IT manager, told the news agency Reuters. "Even extra security will not protect us; if they want to kill us, they will. We are no longer safe here." [...]

Click here to comment on this article

Isolated abroad, hated at home: House of Saud faces uncertain future

By David Usborne in New York
01 June 2004

When the terrorists who have identified themselves as members of al-Qa'ida took their hostages in Khobar last weekend, they were meticulous in choosing their targets. Muslims were allowed to leave; only foreign "infidels" were held and some were killed.

But the killers had another target: the ruling royal family. The House of Saud, which numbers upwards of 20,000 people and has had the kingdom in its grip since the 1920s, is held in suspicion by nearly everyone who is not a member of it. Even the Americans have rumbled its failures in combating terrorism since September 2001.

But more important is the hatred of the ruling clan among many Saudis, who are denied anything approaching democracy. They consider the family corrupt and to a large degree, infirm. King Fahd is incapacitated since suffering a stroke in 1995. The regent, Crown Prince Abdullah, who represents Saudi Arabia abroad and essentially rules it, is almost 80.

The monarchy remains in almost complete control. Nearly every senior government post is held by a prince of the family. They control most of the ministries. The Interior Minster, Prince Nayef Abdul Aziz, belongs to the family. So does Prince Saud al-Faisal, the Foreign Minister. Even ambassadors abroad are royalty, including Prince Turki al-Faisal, the ambassador in London who, until 2001, was head of the Department of General Intelligence. Prince Bandar is the country's envoy in Washington.

But the House of Saud faces multiple threats. Many of the younger princes are frustrated with the older generation, whom they consider sclerotic, corrupt and slavish to the United States and its interests, despite the withdrawal of American troops from Saudi soil, ending a presence that began after the 1990 invasion of Kuwait by Saddam Hussein.

And then there is the shadow of Osama bin Laden. A Saudi national and scion of a powerful business family, but not related to the royal family, he attracts support for his disdain for the rulers from across Saudi society and even in the younger ranks of the royal household. Bin Laden is the voice of those who believe that, as the land of Mohamed, Saudi Arabia should be an Islamic theocracy.

"If an election were held today ... Osama bin Laden would be elected in a landslide," Robert Baer, a former CIA field director and author of The Fall of the House of Saud, has suggested. "Saudi oil is controlled by an increasingly bankrupt, criminal, dysfunctional, and out-of-touch royal family that is hated by the people it rules and by the nations that surround its kingdom."

The monarchy has promised steps towards democracy, but little action has been taken. There are doubts that promises of elections in 14 municipalities this year will be honoured. This is a country that has been without electoral democracy for nearly a century and critics remain sceptical.

Saudi Arabia operates only by the skills of expatriates, most of them non-Muslim and Western. But the terrorists are instilling such fear that eventually every expatriate will flee. But when they are gone, who will keep Saudi Arabia working? And if it becomes dysfunctional, what will the House of Saud do?

Click here to comment on this article

The JDL Online Harassment Scam

by Dick Traceless
Friday, May. 07, 2004

As the movement against the apartheidist state of Israel has grown, the JDL has shifted in its selection of targets. At an increasing pace, the new targets of the JDL are American dissidents that speak out against Israeli crimes. [...]

The JDL recruits members from all walks of life. Their primary criteria for selecting members are that the candidate members are Jewish, loyal to Israel and are willing to snitch or commit crimes against their friends and associates. The JDL's techniques vary, depending upon target, but there is a consistent technique used in their online operations. This article explains this technique in an effort to warn their targets and save them some grief.

Among the favorite recruits of the JDL are lawyers, especially those with a computer background. These lawyers (so far identified in DC, Minneapolis and Seattle), in conjunction with other tech-savy recruits, cyber-stalk a target. Members of the JDL are informed, nationwide, of the JDL's desire to target an individual. Any JDL member with access to the target's medical records, personnel files, credit information, telephone bills, internet service provider or family is urged to provide defamatory information or monitoring. Much of this information (or disinformation) is not publicly available. Defamatory information is posted online. The victim is cyberstalked. The JDL takes advantage of the specificity and unknown source of the information in order to create the illusion that various persons known to the target are the source of the harassment. The goal is to get the target to begin accusing third parties of being the source of the harassment. The JDL lawyers then send anonymous messages to the wrongly accused third parties, urging them to sue the target. [...]

Click here to comment on this article

Mental Illness Undertreated Globally, Study Shows

By Maggie Fox, Health and Science Correspondent
Tue Jun 1, 5:15 PM ET

WASHINGTON (Reuters) - Mental disorders from severe depression to uncontrolled anger are surprisingly common around the world, and most of the worst cases are not being treated, researchers reported on Tuesday.

The biggest concerted study of global mental illness shows that rates vary greatly -- with 4.3 percent of people living in Shanghai showing symptoms of mental disorders in the past year, compared to 26 percent in the United States.

Even if people are not concealing their histories of mental illness -- which many undoubtedly are -- the problem is enormous, said Ronald Kessler of Harvard Medical School in Boston, who led the World Health Organization study.

His team's study, published in the Journal of the American Medical Association, shows that many people with severe mental disorders are getting no treatment at all, while many others with only mild problems are being treated.

"It is clear from these results that there is undertreatment of serious disorders," Kessler told a news conference. [...]

Comment: Perhaps there is also an overtreatment in some countries of minor - or even nonexistent - disorders. In the US, for example, there are many young children who are prescribed drugs for ADHD and depression. Furthermore, it is highly doubtful that this study took into account certain other problematic mental conditions, such as psychopathy.

Click here to comment on this article

Schoolgirl, 11, stabs classmate to death in Japan

Justin McCurry in Tokyo
Wednesday June 2, 2004

A 12-year-old girl was stabbed to death by an 11-year-old female classmate in south-western Japan yesterday, prompting more public anguish over violent crimes committed by children against their peers.

Satomi Mitarai, 12, bled to death after being stabbed in the neck with a paper-cutter during the lunchbreak at Okubo primary school in Sasebo.

Shocked parents rushed to the school in a quiet suburban neighbourhood on hearing of the attack.

The school did not comment on the killing, which has raised questions about the supervision of pupils outside the classroom.

The two girls were reportedly missing from their form room when the rest of their classmates began eating lunch. Moments later, one of them allegedly walked into the room with blood on her hands and led her teacher to the scene of the stabbing.

Kazuyoshi Tominaga, of the local fire department, said he had found Satomi lying face down in a third-floor room used for private study.

"She was unconscious and had stopped breathing," he said. "There was no one else in the room at the time."

The suspect, whose name is being withheld by police because of her age, was taken into custody last night and has reportedly confessed to the killing.

The attack was the latest in a string of brutal crimes committed by and against children in recent years.

In the most notorious case, two youngsters were murdered by a 14-year-old boy in Kobe in 1997. One of the victims, 11-year-old Jun Hase, was strangled and beheaded by his killer, who placed the child's severed head outside the gates of a local school. The killer, whose identity has not been revealed, was released in March after he had spent more than six years at a medical juvenile reform school.

In another case, a 12-year-old boy lured his four-year-old victim out of a shop in Nagasaki last year, stripped him and pushed him to his death from the roof of a multi-storey car park. The same month a boy of 13 was arrested in connection with the beating to death of a classmate in Okinawa.

In 2002 Japanese MPs, under increasing pressure to address the juvenile crime wave, lowered the age of criminal responsibility from 16 to 14.

Click here to comment on this article

Jordan appeals to save Dead Sea

By Dale Gavlak
BBC correspondent in Amman

Jordan has launched an appeal to the international community to save the Dead Sea from extinction.

The Dead Sea's days as a tourist resort could be numbered

It said the world's saltiest body of water, found at the lowest point on the earth's surface, will disappear in 50 years' time unless more water is pumped into it.

It has proposed that nearly two billion cubic metres of water per year be pumped from the Red Sea into the Dead Sea.

Click here to comment on this article

Probe positions for Saturn orbit

The Cassini space craft has performed what may be its final course correction before entering orbit around the ringed planet Saturn on 1 July.

[...] Cassini will make a close fly-by of Saturn's most distant moon Phoebe on 11 June and will capture high resolution images of its surface.

The moon is intriguingly dark, which has led some scientists to suggest it may be a Centaur: an object that migrated from the distant Kuiper belt that surrounds the Solar System.

Cassini will release its piggybacked Huygens probe in January next year. Huygens will attempt to land on the oily seas of Saturn's major moon, Titan.

Click here to comment on this article

Planet Earth dims then brightens

By Dr David Whitehouse
BBC News Online science editor

A study of sunlight bounced between the Earth and the Moon shows that during the 80s and 90s the Earth reflected less of our star's light out into space

But the trend seems to have been reversed during the past three years.

Researchers think this may be because of the natural variability in cloud cover, which can act to push back the Sun's heat and light away from Earth.

The effect must be taken into account in estimates of future global warming, they report in the journal Science.

Click here to comment on this article

Scientists probe Odessa meteor crater

By Cliff Hamilton
Odessa American

A team of University of Arizona scientists took samples of millennia-old dust in the Odessa meteor crater Tuesday hoping to learn more about the region's geological history.

Vance Holliday, a professor of anthropology and geoscience, said the team missed its goal of taking core samples as deep as 80 feet.

"We only got to 53 feet. It would've been nice to get to 70, but we'll manage," he said.

Despite not reaching 80 feet, Holliday said he thinks the samples collected can still help pinpoint the crater's age.

"We'll still be able to get a reasonable approximation of the age. We got pretty close I think," he said. "This is a terrific core. It's by far better than anything we've seen before."

Tuesday was the third time Holliday led a team to take samples from the crater since 2001. Last year, the digging stopped at 20 feet when the corer couldn't punch through a caliche layer.

Holliday and his team were trying to take core samples of the soil that would indicate when the meteor crashed into the soil.

"We know it's on the order of tens of thousands of years," he said Tuesday morning. "Basically what we're trying to do is to get as deep as we can and date the sediment that's filled in the crater."

Click here to comment on this article

New York Post
June 1, 2004

A boat party in an exclusive area of Long Island Sunday night was interrupted - when a severed human hand mysteriously dropped out of the sky onto the deck of a boat, police said yesterday.

The bizarre incident occurred in the water just off the Lawrence Village Marina, where a group of boats had gathered to have a party.

One owner was in the cabin when "he heard a noise, goes out to check and finds the hand on the rear deck of the boat," said Nassau Detective Sgt. John Azzata. "At this point, we don't have a clue where it came from. It's a mystery." etective Sgt. John Azzata. "At this point, we don't have a clue where it came from. It's a mystery."

Click here to comment on this article
---
Remember, we need your help to collect information on what is going on in your part of the world!
We also need help to keep the Signs of the Times online.
---

Check out the Signs of the Times Archives

Send your comments and article suggestions to us

---
Fair Use Policy
Contact Webmaster at signs-of-the-times.org
Cassiopaean materials Copyright ©1994-2014 Arkadiusz Jadczyk and Laura Knight-Jadczyk. All rights reserved. "Cassiopaea, Cassiopaean, Cassiopaeans," is a registered trademark of Arkadiusz Jadczyk and Laura Knight-Jadczyk.
Letters addressed to Cassiopaea, Quantum Future School, Ark or Laura, become the property of Arkadiusz Jadczyk and Laura Knight-Jadczyk
Republication and re-dissemination of our copyrighted material in any manner is expressly prohibited without prior written consent.
.