Western agents let nuclear equipment slip past to Libya

Ian Traynor
Saturday May 29, 2004
The Guardian

British and US intelligence missed a container-load of nuclear bomb-making equipment which arrived in Libya three months after President Muammar Gadafy announced that he had scrapped his weapons of mass destruction programmes, UN nuclear inspectors have found.

In a confidential report on Libya's 20-year secret nuclear project, Mohamed ElBaradei, head of the International Atomic Energy Agency, revealed last night that a container of uranium enrichment centrifuges from Malaysia had reached Libya in March.

It was part of the nuclear contraband network organised by the Pakistani scientist Abdul Qadeer Khan.

Last October, in what the US hailed as a breakthrough in persuading Col Gadafy to scrap his atomic weapons project, Italian officials impounded a shipload of nuclear bomb-making equipment bound for Libya from Malaysia via Dubai.

It was passed to the Americans, and the German ship, the BBC China, was released. But a container holding components for advanced uranium enrichment centrifuges known as L-2s passed undetected and the ship carried on to Libya with the secret cargo, the inspectors said.

"One container of L-2 components actually arrived in Libya in March 2004, having escaped the attention of the state authorities that had seized the ship," said the report, obtained by the Guardian.

The shipment seizure was a key event in the unmasking of the extensive international black market in nuclear technology masterminded by Dr Abdul Qadeer Khan
Comment: British and US intelligence "missed a container-load of nuclear bomb-making equipment"? A whole container load? How does that happen? A uranium rod or two maybe, but a container load? Especially when they were actually looking for container loads of nuclear bomb making equipment! So was Khan the mastermind of this nuclear arms black market or the front man? Naturally to mastermind an illegal worldwide nuclear arms dealership you need more than one man and lots and lots of friends in high places...
Click here to comment on this article
Doubts that nuclear architect acted alone

ISLAMABAD: Pakistan's nuclear godfather must have had at the very least tacit state approval to export secrets abroad, analysts said on Thursday, dismissing as "incredible" assertions that he acted alone.

Abdul Qadeer Khan, founder of the nuclear programme confessed on Wednesday in a televised statement that he leaked nuclear technology overseas during 25 years at the helm of Khan Research Laboratories (KRL).

Khan, who appears set to receive clemency after cabinet recommended a presidential pardon on Thursday, said that the leaks during the past two decades were not authorised by any government or official.

"Despite the confession of Dr AQ Khan the international community would continue to doubt the credibility of the confession to the extent that he was the only person responsible for it," Askari, former head of the political science department at the Punjab university, told AFP.

"The security system of the nuclear installations is so tight that one wonders how could things move out without the knowledge and information of the security agencies.

"So the government will have to do this kind of explaining."

Hussain said Khan's carefully scripted confession had been designed to lay the matter to rest once and for all, snuffing out the possibility of a trial and the risk of damaging revelations emerging.
Comment: Indeed, we wonder just who would have been exposed if an investigation had been carried out into who was helping Khan to spread nuclear weapons technology around the world. You see, nowadays, with out wonderful, all pervasive perpetual "war on terror", it is highly desirable that "crazy rogue states" like Iran, Syria and North Korea, actually have nuclear weapons, or at least the makings of them.
Bush was able to get away with lying about Iraq's WMD potential and still invade that country, but a repeat performance might test the public gullibility a little too much. Far better that, for the next installment of "war without end", the enemy of choice actually possesses nukes, or evidence of nuclear capability. But how do you ensure that they have them? Why, you set up a black market and get yourself a front man to sell the goods. Then, when the deals are done, you publicly out him and scold him for doing so. Simple, eh?
Click here to comment on this article
Losing the war on proliferation, or promoting it?

"We're losing the war on proliferation," Andrew F. Krepinevich Jr., a military expert and executive director of the Center for Strategic and Budgetary Assessments, says bluntly. ... "I wouldn't be at all surprised if nuclear weapons are used over the next 15 or 20 years," said Bruce Blair, president of the Center for Defense Information, "first and foremost by a terrorist group that gets its hands on a Russian nuclear weapon or a Pakistani nuclear weapon." ... "It may be that A. Q. Khan & Associates already have passed bomb-grade nuclear fuel to the Qaeda, and we are in for the worst," warns Paul Leventhal, founding president of the Nuclear Control Institute.

It's mystifying that the administration hasn't leaned on Pakistan to make Dr. Khan available for interrogation to ensure that his network is entirely closed.

Several experts on Pakistan told me they believe that the administration has been so restrained because its top priority isn't combating nuclear proliferation — it's getting President Pervez Musharraf's help in arresting Osama bin Laden before the November election.
Comment: Frankly, we were mystified by the fact that Khan was merely scolded and not interrogated by the CIA or Mossad. We mean, if there were no possibility for rogue states to acquire WMDs there would be no justification for a "war on terror" right? And this is what Bush dearly wants to achieve right? We mean, he wants peace and stability, right?
So, why doesn't he use his close ties with the US puppet state of Pakistan to demand that Musharaff hand over the man that has reputedly been selling WMDs to Osama, the Iranians, the Syrians and the North Koreans? That would be a serious blow to those crazy "terrorists" right? Their potential to terrorise the American people would be severely diminished and the American people would be safer. That is what George Bush and the US Neocons want, right?? So why don't they do it?...
Click here to comment on this article
[...] The cascades of centrifuges that were built first in Sihala and then at Kahuta and other centres owe their existence to Khan's success in stealing the blueprints that explained how they could be manufactured and run at optimum levels to produce sufficient quantities of the priceless uranium that is at the heart of Pakistan's nuclear weapons programme.

After Khan left Holland in a hurry in 1976, his activities were monitored by the Dutch government, which launched legal action against him, by the CIA, India and Israel.

But Khan was lucky to have a powerful protector in Zia who became a favoured ally of the United States after the Soviet invasion of Afghanistan in 1979. As the leader of a front-line state confronting Soviet aggression, the US had a hands off policy where Pakistan was concerned. Khan's uranium cascades were always secondary to the more important task of confronting Moscow and pushing Soviet troops back across the Afghan border.

To achieve these objectives the Americans at the time were prepared to overlook Pakistan's evolution as a nuclear weapons power. The status quo did not change when Pakistan first conducted a 'cold' test in 1987, followed by a series of actual underground explosions in 1988.

It took the 9/11 tragedies for US policy-makers to take a fresh look at the men behind the by now fast proliferating Pakistan nuclear weapons programme.

Suspicions hardened into certainty when US forces attacking Al Qaeda bases in Afghanistan in the winter of 2001 encountered a clutch of Pakistani scientists -- all A Q Khan protégés -- briefing Osama bin Laden's senior advisers on nuclear weapons technology.
Comment: Of course, reading the above in the realisation that "al-Qaeda" was created by the CIA/Mossad, puts an entirely different slant on things...
Click here to comment on this article
"CIA worked in tandem with Pak to create Taliban"

LONDON: The Central Intelligence Agency (CIA) worked in tandem with Pakistan to create the "monster" that is today Afghanistan's ruling Taliban, a leading US expert on South Asia said here.

"I warned them that we were creating a monster," Selig Harrison from the Woodrow Wilson International Centre for Scholars said at the conference here last week on "Terrorism and Regional Security: Managing the Challenges in Asia."

Harrison said: "The CIA made a historic mistake in encouraging Islamic groups from all over the world to come to Afghanistan." The US provided $3 billion for building up these Islamic groups, and it accepted Pakistan's demand that they should decide how this money should be spent, Harrison said.
Comment: Do we really believe that the CIA were making a mistake?? Then there is the money, from the US government to Pakistan that was then used by Pakistan to fund "Arab terrorists"? Now, where have we seen that before?
Harrison, who spoke before the Taliban assault on the Buddha statues was launched, told the gathering of security experts that he had meetings with CIA leaders at the time when Islamic forces were being strengthened in Afghanistan. "They told me these people were fanatical, and the more fierce they were the more fiercely they would fight the Soviets," he said. "I warned them that we were creating a monster."

Harrison, who has written five books on Asian affairs and US relations with Asia, has had extensive contact with the CIA and political leaders in South Asia. Harrison was a senior associate of the Carnegie Endowment for International Peace between 1974 and 1996.

The old associations between the intelligence agencies continue, Harrison said. "The CIA still has close links with the ISI (Pakistan's Inter-Services Intelligence)."

Today that money and those weapons have helped build up the Taliban, Harrison said. "The Taliban are not just recruits from 'madrassas' (Muslim theological schools) but are on the payroll of the ISI (Inter Services Intelligence, the intelligence wing of the Pakistani government)." The Taliban are now "making a living out of terrorism."
Comment: Paid for in full by good ol Uncle Sam, who is now terrorising the US and world public with it's war on terror to "wipe out" the monster it deliberately created. Does anyone else smell a setup here?
Harrison said the UN Security Council resolution number 1333 calls for an embargo on arms to the Taliban. "But it is a resolution without teeth because it does not provide sanctions for non-compliance," he said. "The US is not backing the Russians who want to give more teeth to the resolution."
Now it is Pakistan that "holds the key to the future of Afghanistan," Harrison said. The creation of the Taliban was central to Pakistan's "pan-Islamic vision," Harrison said.

It came after "the CIA made the historic mistake of encouraging Islamic groups from all over the world to come to Afghanistan," he said. The creation of the Taliban had been "actively encouraged by the ISI and the CIA," he said. "Pakistan has been building up Afghan collaborators who will sustain Pakistan," he said. (IANS)
The things Bush didn't mention in his speech: The re-writing of Iraqi history is now going on at supersonic speed
By Robert Fisk - 26 May 2004
I can't wait to see Abu Ghraib prison reduced to rubble by the Americans -- at the request of the new Iraqi government, of course. It will be turned to dust in order to destroy a symbol of Saddam Hussein's brutality. That's what President Bush tells us. So the rewriting of history still goes on.
Last August, I was invited to Abu Ghraib -- by my favorite U.S. Gen. Janis Karpinski, no less -- to see the million-dollar U.S. refurbishment of this vile place. Squeaky clean cells and toothpaste tubes and fresh pairs of pants for the "terrorist" inmates. But now, suddenly, the whole kit and caboodle is no longer an American torture center. It's still an Iraqi torture center and thus worthy of demolition.
The rewriting of Iraqi history is now going on at supersonic speed.
Weapons of mass destruction? Forget it. Links between Saddam and al-Qaida? Forget it. Liberating the Iraqis from Saddam's Abu Ghraib life of torture? Forget it. Wedding party slaughtered? Forget it. Clear the decks for both "full (sic) sovereignty" and "chaotic events." This is, at any rate, according to Bush. When I heard his hesitant pronunciation of Abu Ghraib as "Abu Grub" on Monday night, I could only profoundly agree.
But we're in danger again of missing the detail. Just as the unsupervised armed mercenaries being killed in Iraq are being described by the occupation authorities as "contractors" or, more mendaciously, "civilians" -- so the responsibility for the porno interrogations at Abu Ghraib is being allowed to slide into the summer mists over the Tigris River.
So let's go back, for a moment, to the long weeks in which the Department of Bad Apples allowed its jerks to put leashes around Iraqi necks, forced prisoners to have sex with each other and raped some Iraqi lasses in the jail.
And let's cast our eyes upon that little, all-important matter of responsibility. The actual interrogators accused of encouraging U.S. troops to abuse Iraqi prisoners at Abu Ghraib jail were working for at least one company with extensive military and commercial contacts with Israel. The head of an American company whose personnel are implicated in the Iraqi tortures, it now turns out, attended an "anti-terror" training camp in Israel and, earlier this year, was presented with an award by Shaul Mofaz, the right-wing Israeli defense minister.
According to J.P. London's company, CACI International, the visit of London -- sponsored by an Israeli lobby group and including U.S. congressmen and other defense contractors -- was "to promote opportunities for strategic partnerships and joint ventures between U.S. and Israeli defense and homeland security agencies."
The Pentagon and the occupation powers in Iraq insist that only U.S. citizens have been allowed to question prisoners in Abu Ghraib but this takes no account of Americans who may also hold double citizenship. The once secret torture report by U.S. Gen. Antonio Taguba refers to "third country nationals" involved in the mistreatment of prisoners in Iraq.
Taguba mentions Steven Staphanovic and John Israel as involved in the abuses at Abu Ghraib. Staphanovic, who worked for CACI -- known to the U.S. military as "Khaki" -- was said by Taguba to have "allowed and/or instructed MPs (military police), who were not trained in interrogation techniques, to facilitate interrogations by 'setting conditions' ... he clearly knew his instructions equated to physical abuse." One of Staphanovic's co-workers, Joe Ryan -- who was not named in the Taguba report -- now says he underwent an "Israeli interrogation course" before going to Iraq.
We know the Pentagon asked Israel for its "rules of engagement" in the occupied West Bank and Gaza. Israeli officers have briefed their U.S. opposite numbers and, according to The Associated Press, "in January and February of 2003, Israeli and American troops trained together in southern Israel's Negev desert ... Israel has also hosted senior law enforcement officials from the United States for a seminar on counter-terrorism."
Staphanovic of CACI, who may also be Australian, was accused by Taguba's army report of making "a false statement to the investigation team regarding ... his knowledge of abuses." Another outside interrogator, Adel Nakhla, who may be of Egyptian origin, was a witness to the "stacking" of naked prisoners in Abu Ghraib. John Israel "misled" investigators by denying he had witnessed misconduct and did not have "security clearance."
Israel, according to Titan -- two of whose employees were mentioned in Taguba's report -- works for one of the company's "sub-contractors." Titan refused to name the "sub-contractor."
Why? Among the company's former directors is ex-CIA director James Woolsey, one of the architects of the U.S. invasion of Iraq, a friend of Ahmed Chalabi and a prominent pro-Israeli lobbyist in Washington. London says CACI "does not condone or tolerate or endorse in any fashion any illegal, inappropriate behavior on the part of its employees in any circumstances at any time anywhere."
But it is clear the torture trail at Abu Ghraib has to run much further than a group of brutal U.S. military cops, all of whom claim "intelligence officers" told them to "soften up" their prisoners for questioning. Were they Israeli? Or South African? Or British? Are we going to let the story go?
Click here to comment on this article
U.S., U.N. Blindsided on Iraq PM Announcement
By Caren Bohan
Fri May 28, 5:02 PM ET
WASHINGTON (Reuters) - When word surfaced in Baghdad on Friday that Iyad Allawi would lead Iraq's interim government, confusion reigned both in Washington and at the United Nations, despite President Bush's assurances of an orderly handover.
For weeks, the Bush administration has described the selection of the interim government as a process that was being spearheaded by U.N. envoy Lakhdar Brahimi in consultation with the United States and Iraqis.
Bush, in a major address on Monday, laid out a step by step plan that he said would lead to Iraqi sovereignty on June 30.
But it was the U.S. appointed-Iraqi Governing Council and an aide to Allawi who first disclosed his selection to the top job in the transitional Iraqi government.
Nearly three hours later Brahimi gave his endorsement to Allawi through a spokesman. It took a full three additional hours for a senior administration official in Baghdad, who spoke on condition of anonymity, to confirm that Allawi would be interim prime minister.
"He will be the prime minister when the interim government is set up in the next two or three days," the official told reporters in a conference telephone call. "We thought he would be an excellent prime minister. ... I think that this is going to work." [...]
But those comments came only after a series of U.S. officials had told reporters that as far as they knew, the selection process was not yet complete.
"Mr. Brahimi has not put forward, to the best of my knowledge, a name of -- final recommendations for the interim Iraqi government," White House spokesman Scott McClellan told reporters.
McClellan suggested that the Iraqi Governing Council's stamp of approval for Allawi was merely one recommendation among many that Brahimi would review.
"They're one of many groups that have made some recommendations to Mr. Brahimi," McClellan said. "As I said, he is consulting widely with Iraqis. I think he's talked to -- well, hundreds of Iraqis, if not more, about who might be good representatives to serve on that interim government." [...]
Click here to comment on this article
Back to the era of coups in Iraq?
Helena Cobban
Time was, back in the 1960s, that Baghdad was plagued by successive coups d'etat. Was that another one we saw there today, with Baghdad fashion maven Paul Bremer and his pals on the IGC launching a "pre-emptive strike" on Lakhdar Brahimi's ability to do the job that he thought had been entrusted to him, namely, taking a lead role in assembling Iraq's new "transitional" leadership?
Sure looked like a bit of a coup to me.
Bremer and the pals may think they've "pulled a fast one" on Brahimi by "naming" Iyad Allawi as the interim PM. But I'm sure that by doing that they will also have conisderably complicated the present Iraq-related diplomacy at the Security Council.
Brahimi, certainly, came across fairly miffed in his reaction to the IGC's "news". And I'm sure that Kofi Annan and several weighty members of the security Council will be miffed, as well.
And that matters. After all, what use would it be to Allawi to be the "Prime Minister" of a government that is still considered--like the existing IGC--to be totally a creation of the US occupation forces? If he can't be "Prime Minister" under an arrangement that includes a strong new U.N. resolution that significantly dilutes US control in Iraq, then I wonder why on earth he would consider the job to be worth having at all?
Ah well, people can be funny, I guess... Especially when there's the scent of all those billions of dollars of US "reconstruction aid" that might be attached to the job... Certainly, in the photo accompanying the Al-Jazeera story on the topic, Allawi already looks as if he's laughing all the way to the bank...
Click here to comment on this article
A Scenario For The UN's "Role"
Walid Choucair Al-Hayat 2004/05/28
(...] The U.S.'s four partners in the Security Council understand that the situation is a critical one, thus, they do not refuse the project. However, they want to improve it because nothing so far proves that Washington learned from the experience that led it to troubles, scandals in Abu Ghraib jail and more blood in the confrontations in Najaf, Karbala and other cities. Despite everything, they refuse to give up the idea of leaving the military leadership to the military forces in Iraq to the U.S., which renders any other international participation not guaranteed.
The European and Asian leaders are aware that flexibility in dealing with Washington is a must in order to prepare the G-8 summit hosted by President Bush. The summit's agenda includes joint economic issues, like facing the increase in oil prices. However, they also understand that the U.S. resorting, under such circumstances, to the UN is not a strategic choice, but a tactical one related to the American military problems in Iraq and the U.S. internal situation; for one of the Democrats' cards against the president is their insistence that the failure of the Bush administration in Iraq stems from refusing to transfer the power to the UN and withdraw. This accusation weakens Bush's election campaign because the polls point out that his popularity is steadily decreasing; due to the mismanagement of the Iraqi situation and his failure to keep his promise of a democratic Iraq.
Furthermore, some people consider that there are two scenarios for the American role in Iraq: first, European countries agree to the Security Council's resolution without insisting on main modifications in order to leave Washington sinking in deeper problems. Second, Washington succeeds in passing the resolution and keeps its policy under the banner of the UN. Should Bush succeed in renewing his tenure, he will go back to ignoring the UN and will hold it responsible. Hence, he will use more unilateralism to settle the region and the world's crises…
Click here to comment on this article
Patrick Seale Al-Hayat 2004/05/28
The United States and Britain are engaged in a desperate 'damage limitation' exercise in Iraq. With the transfer of sovereignty in Baghdad little more than a month away, the question being asked on both sides of the Atlantic is, 'What can be rescued from the debacle?'
Which of the Coalition's strategic goals in Iraq have been lost for ever and which might perhaps still be achieved, if only in a diluted form?
It is first necessary to sweep aside the cant and hypocrisy of public statements by President George W. Bush and Prime Minister Tony Blair. When they speak of wanting to create a 'free and democratic' Iraq, this is at best the double-speak of politicians with their backs to the wall. At worst, it is an insult to the tens of thousands of Iraqis who have been killed, wounded - or tortured -- and whose unfortunate country continues to be ransacked and destroyed.
For greater credibility, Bush and Blair (and their speech-writers) would be well-advised to drop all reference to bringing 'freedom' to Iraq, as well as to defeating 'terrorism'. Such phrases only induce nausea in their audiences.
The truth is that the U.S. and Britain have, in a moment of insane hubris, carried out a brutal colonial-style invasion and occupation of Iraq which has triggered - as was fully predictable -- a patriotic insurrection. The sooner the troops are sent home, the better for occupied and occupier alike.
What of the Coalition's strategic goals? It is, by now, clear that Iraq will not become a U.S. client state, as Washington planners had hoped. The U.S. will not be able to retain military bases in that country, or control its oil resources. The neo-conservative expectation that 'democracy' in Iraq would transform the entire Middle East to the benefit of the U.S. and Israel has been shown to be a pipedream.
Click here to comment on this article
Ayoon wa Azan (Chalabi And The Readers)
Jihad Al Khazen Al-Hayat 2004/05/28
[...] I received from Dr. Suheila Asaad Niyazi, a former English literature teacher at Baghdad University who lives in London, a letter in which she talked about the new Iraqi flag, and repeated approximately my published opinion about it.
She said: "we are uselessly trying to cover-up what has happened and is still happening on the ground in Iraq, since the hideous occupation is trying to erase the Iraqi identity from the Iraqis, by all means of destruction and humiliation. The issue reached the point of replacing the Iraqi flag with a new one. Sadly, the new flag was designed by civil engineer Rifat Jadirji; we could not remain silent, as the new flag is a copy of the Israeli flag, in color and content. The creator ought to have put the Star of David inside the crescent, which was said to be an Arab crescent, although the Arab crescent was never blue. As for the two blue lines, they are not symbols of the Tigris and the Euphrates, but of the Nile and the Euphrates, which we find on the flag of the future Greater Israel, which is hoped to spread from the Nile to the Euphrates, in order to make the Zionist dream come true.
The Iraqi flag with its four colors was not created by Saddam Hussein; he only did some modest modifications to it.
Suheila, I wrote on the sixth of this month the same things that you mentioned, but it seems that what we are doing is useless, as the Umma that we used to know is currently brain-dead.
Click here to comment on this article
Israel nuke whistleblower wanted to avoid holocaust
Sat 29 May, 2004 11:32
LONDON (Reuters) - Former Israeli nuclear technician Mordechai Vanunu said he blew the whistle about his country's nuclear programme because he wanted to prevent a new holocaust.
"I felt it was not about betraying, it was about reporting. It was about saving Israel from a new holocaust," Vanunu said in a BBC programme to be broadcast on Sunday.
In the first interview since his release in April after 18 years in prison Vanunu told the BBC's "This World" programme that he had not been a traitor and had no regrets.
"What I did was to inform the world what is going on in secret. I didn't come and say, we should destroy Israel."
"I have no regrets in spite of the fact I have paid a heavy punishment," he said in a transcript released by the BBC on Saturday.
Click here to comment on this article
Briton says he was held in Israeli dungeon
Conal Urquhart in Tel Aviv and Duncan Campbell
Friday May 28, 2004
The Guardian
A British journalist released from Israeli custody yesterday said that he had been held in a dungeon with excrement on the walls following his arrest on suspicion of espionage.
Peter Hounam was detained on Wednesday by the Israeli security agency on suspicion that he had obtained classified information from Mordechai Vanunu, the Israeli technician who was jailed after revealing Israel's nuclear capabilities to the world.
The journalist was released on condition that he leave Israel within 24 hours, and will not be allowed to return .
Speaking outside the Jerusalem jail where he had been held, Hounam said Israel should be ashamed of itself for arresting him. He complained of being kept overnight in solitary confinement in a "dungeon with excrement on the walls" and limited to two hours' sleep.
Hounam, 60, said he was questioned for more than four hours by Israeli security. "They accused me of spying on nuclear secrets and aggravated espionage. It is laughable," he said.
Click here to comment on this article
What the Arab world hears when Bush speaks
By Massoud A. Derhally
Special to The Daily Star
Saturday, May 29, 2004
As he addressed the influential pro-Israeli American Israel Public Affairs Committee (AIPAC) recently, US President George W. Bush repeatedly invoked the desire for security as a common denominator between the United States and Israel. Yet not once did he recognize the Palestinians' right to self-defense.
[...] To the Arab world, Bush's AIPAC speech typified the evangelical zeal of the president, but also his inability to grasp the fundamentals lying at the heart of the Palestinian-Israeli conflict. Bush said a secure Israel was in the national interest of the US. But isn't a secure Palestine also in its interest? The lives of Israelis are sacred. But are the lives of Palestinians so cheap? The words of Israeli soldiers and government officials are credible. Are those of Palestinians merely allegations, fabrications and exaggerations? These are the questions Arabs bring up when asked what they think about US foreign policy in the Middle East.
That the Palestinians are treated as inferior to Israelis by the US, that a majority of Arabs must yield to America's vision of how the region should behave (lest they be labeled enemies of freedom and democracy, or terrorist collaborators), both speak to Bush's failures. Instead of leading by example, by consensus or by evenhandedness, the president leads by intimidation and all-or-nothing policies.
This is, at least, how he is viewed in the Arab world, and no light is visible at the end of that tunnel. American sponsored initiatives like Radio Sawa or the Al-Hurra satellite television channel do little to reduce anti-American sentiment. If anything, the outlets are viewed with cynicism and provoke a belief that the US prefers such gimmickry to engaging Arab leaders and peoples, or to putting pressure on Israel to honor its commitments to the Palestinians.
US Secretary of State Colin Powell told Congress that the US invasion of Iraq would play a salient role in shifting the balance of power in the Middle East, so that eventually peace and democracy would emerge from the fog of war. What Powell, Bush and other US officials fail to consider is that Osama bin Laden, Hamas and every other terrorist or militant group that comes out of the region will thrive for as long as there is no just solution to the Palestinian problem.
It would have been more appropriate for Bush to tell his AIPAC audience that Israel's operation in Gaza would most certainly add fuel to the fire, that it would merely increase Palestinian bitterness and hatred and would definitely provide ammunition to zealots on both sides of the Palestinian-Israeli divide to carry on with their destructive agendas.
Click here to comment on this article
Bomb blast derails Russian passenger train
Sat 29 May, 2004 09:10
MOSCOW (Reuters) - A bomb blast has derailed a passenger train in a Russian region bordering Chechnya on Saturday, but no one was seriously injured.
The device exploded on the tracks, derailing seven of the 18 carriages. More than 350 people were evacuated from the train in the North Ossetia region, which neighbours Chechnya.
"We consider this a terrorist act," railway spokesman Konstantin Pashkov said on Saturday, adding the train was travelling between Moscow and Vladikavkaz. "Investigators are working on the site. There were no casualties."
Click here to comment on this article
Kerry Calls for More Troops to Bolster U.S. Military
May 28 (Bloomberg) -- Democratic presidential candidate John Kerry called for increasing the U.S. military by 40,000 troops, probably for a decade, in order "to match its new missions" in the war on terror.
"I will never deploy the troops of the United States or ask a young person to go into harms way without guaranteeing we've done the planning, we have the ability, we will put the numbers there to get the job done," Kerry, 60, said in remarks to veterans and military families in Green Bay, Wisconsin.
The added troops would help "relieve overextended" National Guard and reservists in Iraq and Afghanistan, Kerry spokesman David Wade said.
Steve Schmidt, a spokesman for the re-election campaign of President George W. Bush, said the Bush administration has already made clear its commitment to increase the size of the U.S. military. Defense Secretary Donald Rumsfeld authorized the Army to temporarily grow by 30,000 troops in January, the campaign said.
"John Kerry is playing follow the leader," Schmidt said. [...]
Comment: How can any American believe that electing Kerry will change anything? He has just restated his intention to spend at least the next ten years battling "terrorism". No one among the slumbering masses assumed that Bush's little war would lead to the torture of Iraqi prisoners. Now that the problem has been publicized, why assume that Kerry will be any different when every indication is that he will simply carry on the tradition of murder and mayhem accelerated by the Bush administration?
Click here to comment on this article
Army finds Tillman likely killed by friendly fire

Former pro football player killed in Afghanistan
May 29, 2004
U.S. Army Cpl. Pat Tillman, the former professional football player killed last month in Afghanistan, probably died from friendly fire, the Army announced on Saturday.
Tillman joined the Army after the September 11, 2001 attacks -- turning down a $3.6 million contract with the Arizona Cardinals.
He served as an Army Ranger in Afghanistan.
Comment: Tillmam, the great American hero, gave the "ultimate sacrifice", which apparently nowadays involves allowing yourself to be used as target practice for your fellow "heroes."
Click here to comment on this article
US domination worries EU, Caribbean Latin leaders
Fri May 28,11:15 PM ET

GUADALAJARA, Mexico (AFP) - European and Latin American leaders at a summit here condemned the abuse of Iraqi prisoners by US soldiers and called for greater multilateral decision-making in world affairs.
"We firmly comdemn all forms of abuse, torture and other cruel, inhuman and degrading treatment of persons, including prisoners of war, wherever they occur," said a final declaration adopted by the 58 leaders from the European Union, Latin America and the Caribbean.
"We express our abhorrence at recent evidences of the mistreatment to prisoners in Iraq prisons," the declaration said. "Such abuse is contrary to international law, including the Geneva conventions."
Without mentioning the United States' superpower role, the leaders called for a stronger United Nations and more international dialogue.
In a veiled criticism of US difficulties in Iraq, French President Jacques Chirac said: "Security problems that raise the use of force have become global and should be dealt with in a multilateral framework in order to be handled legitimately."
"One only has to see the threat that failed states pose to international stability, or the impasses that unilateral action lead to, to become convinced," he said.
"States cannot make do with ad hoc coalitions or alliances. They should organize the global village as a new political society."
The summit is the first since the EU grew from 15 to 25 nations.
Prime ministers Tony Blair of Britain and Silvio Berlusconi of Italy -- two of US President George W. Bush's staunchest European allies -- were not at the event. [...]
Click here to comment on this article
Enriched uranium found in Libyan centrifuges
By Louis Charbonneau
Friday May 28, 08:57 PM
VIENNA (Reuters) - The U.N. nuclear watchdog says in a confidential report it had found traces of high and low enriched uranium on Libyan nuclear centrifuges, as it found on identical Pakistani-made centrifuges in Iran last year.
The agency said on Friday there were a number of unanswered questions about Tripoli's atom bomb programme, abandoned in December 2003, including "the sources of low enriched and high enriched uranium contamination found on gas centrifuge equipment in Libya".
The uranium on the Pakistani-developed centrifuges, which Libya bought second-hand on a black market linked to the father of Pakistan's nuclear bomb, Abdul Qadeer Khan, are also assumed to have come from Pakistan, diplomats familiar with the report said. [...]
Click here to comment on this article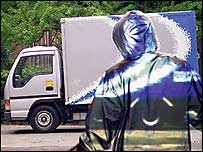 Check out the invisibility cloak
By Maggie Shiels
BBC
Monday, 17 May, 2004, 10:29 GMT
Flying cars, transparent cloaks, technology which can read minds and games played by brain waves - the stuff of fiction, surely? Not so, these seemingly far-fetched inventions - and more - are now reality.
For a vision of what the future holds, thousands of nay-sayers and believers alike have got an up close and personal glimpse at NextFest, an expo in San Francisco organised by the technology magazine, Wired.
"This is a city that is always looking at what is next," says editor-in-chief Chris Anderson. "We have brought the most innovative minds and extraordinary technologies from around the world and here is what's next. These are the things that will change the way we live and work and play in the future."
On the battlefield, an invisibility cloak could be just the ticket. Straight out of a Harry Potter adventure, the cloak is covered with tiny light-reflective beads. It appears to be transparent as it's fitted with cameras which project what is in front of the wearer onto the back of the cloak, and vice versa.
The material can also cover objects, says Naoki Kawakami, of the University of Tokyo. "It could be used to help pilots see through the floor of the cockpit at a runway below, or for drivers trying to see through a fender to park a car."
Read minds to detect crime
Also showcased is brain fingerprinting, which aims to help those solving crimes or interrogating terror suspects. It reads minds by measuring brain waves and the responses that someone has to trigger words or images of a specific event.
Its inventor is neuroscientist Dr Lawrence Farwell, of the Brain Fingerprinting Lab, who has worked with the CIA and FBI. [...]
Comment: These technologies are publicly known. If "black" projects are historically far more advanced than what is publicly known, one might wonder exactly what capabilities certain elements of the US power structure possess. If invisibility and brain fingerprinting are real, is it that much of a stretch to suggest that mind control or holographic camouflage are also possible? For example, how hard would it be to make a remote controlled drone flying into the Pentagon appear to be a 757 to the distressed masses? Nah, that's just crazy talk!
Click here to comment on this article
By Matthew Jones
Saturday May 29, 05:01 AM
LONDON (Reuters) - The government may use satellite tracking and lie detector tests to monitor criminals after release from prison.
Home Secretary David Blunkett said on Friday results from pilot experiments had been promising.
He told BBC radio he thought satellite tracking "would be a great safeguard, not just for sex offenders but for those repeat and prolific offenders who make our lives a misery."
Tracking, he said, could also be used for people convicted of minor crimes where authorities might be worried about offenders on non-custodial sentences.
"We can try lie detector tests in terms of the monitoring of sex offenders and we can link that with bringing together the sex offenders register and the violent offenders register so that we have a national computer database."
Officials at the Home Office said tests were under way to examine whether lie detectors could be used to manage sex offenders once they have been released from jail.
"We have a duty to see whether the latest technology can be used," a spokesman said.
Click here to comment on this article
Are lie detector tests a big fib?
Sex offenders could be made to take lie detector tests, as part of Home Secretary David Blunkett's plans to keep closer tabs on them. But while the polygraph is for some a truth serum, to others it's a big fib.
It's an almost mythical machine, a bundle of wires and metal with the ability to read minds.
On the surface, the lie detector could solve a myriad of problems. Cheating husband? Dishonest employee? Potential terrorist? Just hook them up to the polygraph and let science be the judge.
A polygraph machine can't actually tell what a person is thinking, of course.
But it does measure heart rate and blood pressure, respiratory rate and sweatiness. It's through these responses that the examiner determines whether a subject is answering truthfully.
While some praise the polygraph for the investigative latitude it provides, critics say there is no magic bullet, and that all too often the lie detector gets it wrong.
"The polygraph is the translation of a mythological device into a technological idiom," says Steven Aftergood of the Federation of American Sciences told the Boston Globe.
He adds: "What the polygraph measures is not truth and deception, but perspiration and respiration."
Click here to comment on this article
Guess What I'll Write Next: Psychics continue to make outrageous claims
Wednesday, May. 26, 2004
Whenever I begin to feel that I've been too hard on so-called psychics, my feelings of guilt are quickly assuaged by still another example of psychic nonsense. This time it involved American Airlines Flight 1304, scheduled to take 128 passengers from Fort Myers, Florida, to Dallas earlier this year.
Shortly before passengers were to board, police with bomb-sniffing dogs arrived and began searching the plane from nose to tail. By the time their efforts were concluded, some of the crew members had exceeded their maximum time on duty. No immediate replacements were available, so the flight was cancelled, leaving passengers scrambling to find other planes.
Why all the fuss? An unnamed psychic, "sensing" that a bomb was on the plane, had telephoned her hunch to the local office of the federal Transportation Security Administration, which foolishly ordered the search.
But the Feds aren't alone in their folly. The U.S. is awash in psychics these days, and the public is eating it up. From fortune tellers in shabby storefronts to polished "mediums" appearing on ratings-hungry national TV shows, they successfully hoodwink people who I'll refrain from calling gullible only out of respect for gulls. And what about the psychics? A handful may actually believe that they have supernatural powers but most, I fear, are outright fabricators and con artists.
Click here to comment on this article
Clairvoyant told Fujimori to flee
Peru's disgraced ex-President Alberto Fujimori consulted a clairvoyant before fleeing the country to evade corruption scandals, a new videotape has shown.
Peruvian TV showed Mr Fujimori, who resigned in November 2000 after seeking exile in Japan, being warned of danger by the mysterious fortune teller.
Officials say the tape is one of a series filmed by ex-spy chief Vladimiro Montesinos, who is in jail in Peru.
A previous tape revealed the scandal that ended Mr Fujimori's rule.
Anti-corruption investigators have already begun the hunt to track down the clairvoyant, who is believed to be Bolivian and named Jennifer.
Comment: The most interesting thing about this one is the remark: "Anti-corruption investigators have already begun the hunt to track down the clairvoyant, who is believed to be Bolivian and named Jennifer."
Yeah, we guess they want her to tell their fortune, too!
Click here to comment on this article
Astronomers size up the Universe
By Dr David Whitehouse
BBC News Online science editor
The Universe is at least 156 billion light-years wide, say astronomers.
The estimate comes from data obtained by a space probe that is examining the so-called Cosmic Background Radiation - often called the echo of the Big Bang.
The echo contains information of what the cosmos was like when it was young and how it might develop.
The cosmos is 13.7bn years old but the stretching of space with its expansion after the Big Bang means that simple distance measurements do not apply.
Stretched space
This age estimate comes from two independent lines of investigation - the age of stars and the expansion of the Universe.
This means that radiation reaching us from the earliest Universe has been travelling for more than 13 billion years.
But the assumption that flows from this - that the radius of the Universe is 13.7 billion light-years and that it is 27.4 billion light-years wide does not follow.
Astronomers realise the Universe is more complex. It has been expanding ever since the Big Bang when energy, space and time itself began.
According to Neil Cornish of Montana State University, US, and colleagues writing in the journal Physics Review Letters, the distance covered by the light in the early Universe gets increased by its overall expansion.
To get the picture try to imagine the Universe a million years after the Big Bang. Light travels for a year, covering one light-year. But at that time, the Universe was about a thousand times smaller than it is today meaning that one light-year has now become stretched to about a thousand light-years.
When this expansion is taken into account the Universe is bigger than it would appear to be.
Neither finite nor infinite
Because of this stretching, radiation from the early Universe cannot be said to have travelled 78 billion light-years.
What it means is that the starting point of a particle of light, a photon, reaching us today after travelling for 13.7 billion years is now 78 billion light-years away.
The new estimate comes from analysing data obtained by the Wilkinson Microwave Anisotropy Probe (WMap) which has been studying the Cosmic Background Radiation which formed about 400,000 years after the Big Bang.
Subtle differences in the background radiation can tell astronomers the age of the Universe and other cosmological parameters.
One implication of the new analysis is to prove false the idea that one could, theoretically, look in one direction and eventually see the back of your head.
The researchers looked for evidence that multiple images of the same object could show up in different locations in space-time.
The predicted pattern in the CMB that would have shown the effect was not observed.
According to the researchers the latest work provides no evidence that the Universe is finite and no evidence that it is infinite either.
I said you might be confused.
Comment: Other links of interest on this subject are
"Our Universe Has a Topology Scale of at least 24 GPC"
and the recent statement on cosmology we looked at a few days ago which tells us that all the present estimates and "big news" are based on "accepted theories" which may be going in a totally wrong direction:
"Even observations are now interpreted through this biased filter, judged right or wrong depending on whether or not they support the big bang. So discordant data on red shifts, lithium and helium abundances, and galaxy distribution, among other topics, are ignored or ridiculed. This reflects a growing dogmatic mindset that is alien to the spirit of free scientific enquiry."
Click here to comment on this article
For the universe, a bouncing baby planet
By Harvey McGavin
29 May 2004
In earthly terms, it's as old as the hills but - in the stellar scheme of things - one million years is a mere babe in arms.
So when Nasa scientists announced yesterday they had found the youngest planet known to man, the new arrival was greeted with great excitement by stargazers. "It knocked our socks off," admitted Ed Churchwell, astronomer at the University of Wisconsin.
A telltale gap in the Taurus constellation, 420 light years from Earth, spied through Nasa's infrared Spitzer space telescope, was enough to prove the existence of a gaseous planet less than a million years old.
Compared to the youngest planets known before now, which are several billion years old - and the earth itself, which is thought to be more than 4.5 billion years old - it represented a planetary body in its infancy.
Click here to comment on this article
Drunken police raid US students

LUKE MORFESSE - CRIME REPORTER
The West Australian
May 29, 2004
A group of drunken off-duty police officers forced American students to kneel on the ground at their Fremantle dormitory while taunting and humiliating them about the United States involvement in Iraq.
The incident is one of several being investigated by police internal affairs after a wild night in two of the port city's popular night spots involving seven WA police and two NSW officers.
Some of the worst behaviour was inflicted on patrons at the Orient Hotel, where one of the officers vomited across the bar after the drunken group was refused service.
Witnesses said a German barman was abused and insulted with nazi salutes. Earlier, the men told drinkers they were "above the law" because they were police.
The West Australian was told some drinkers at the Orient Hotel last Tuesday were Notre Dame University students but the abuse of the US students erupted after a fight at the Zanzibar nightclub.
During that incident, one of the seven WA officers, who are all from the Fremantle district, was allegedly assaulted by one of the American Notre Dame students and had a tooth knocked out.
Enraged, some of the drunken officers tracked the American down to the university's student accommodation.
It was there that several American students, including some who had nothing to do with the clash at the Zanzibar, were made to kneel on the ground and were humiliated.
It is understood the taunting included comments such as "Yankies go home", "What are you doing in our country" and "What are you doing in Iraq". [...]
Comment: In general, when one travels abroad and decides to clobber a police officer and knock his tooth out, there are certainly going to be some unpleasant consequences. On the other hand, the drunken police were not exactly acting like saints at the Orient Hotel.
Click here to comment on this article
Thousands of chickens slaughtered in Texas avian flu outbreak
11:44 PM EDT May 28
SULPHUR SPRINGS, Texas (AP) - About 24,000 chickens were destroyed after avian flu was found on a Texas farm that supplies chickens to the poultry giant Pilgrim's Pride, state officials said Friday.
Pilgrim's Pride, the second-largest poultry producer in the United States and Mexico, said routine blood tests indicated the flu infection. The Pittsburg, Texas-based company said the farm made up less than one per cent of the company's flock.
Bob Hillman, Texas state veterinarian, said officials did not observe any birds sick or dying from avian influenza.
"They were not seeing tremendous death losses or anything to draw attention," said Mark Michalke, a veterinarian with the Texas Animal Health Commission. [...]
It was the second outbreak in Texas this year. Coats said the two outbreaks are unrelated.
Avian flu also has been detected in Delaware, Maryland, Pennsylvania and New Jersey this year. A more severe avian influenza virus swept through 10 Asian countries earlier this year, killing or forcing the destruction of more than 100 million poultry. [...]
Officials haven't identified the source of the virus. Michalke said it may have come from waterfowl drawn to nearby catfish farms. [...]
Click here to comment on this article
Mystery powder forces Alberta legislature to close
CBC
Fri, 28 May 2004 23:09:51
EDMONTON - About 200 people were quarantined at the Alberta legislature for a few hours Friday after 28 suspicious packages containing white powder were sent to several offices in the building.
They were released after testing showed the material was harmless. An 85-year-old man is under arrest.
Emergency team responds to discovery of suspicious packages.
Packages were also sent to the constituency headquarters of Deputy Prime Minister Anne McLellan and to the Brownlee Building, the location of the Crown prosecutor's office.
Those packages also proved to be harmless.
Special teams wearing yellow protective suits searched the building looking for dangerous material.
The suspect is known to police and has written letters to several politicians about the legal problems of a family member.
"We believe this is one individual who has ongoing problems with the justice system," said police spokesperson Annette Bidniak.
Police did not release details about the letters.
Click here to comment on this article
Mass hysteria caused illness on bus, expert says
CBC
Fri, 28 May 2004 22:33:35
VANCOUVER - A leading epidemiologist at the University of British Columbia says a suspected poisoning on a Vancouver bus earlier this week appears to be a case of mass hysteria.
Response teams searched bus for toxins.
Dr. Richard Mathias said Friday that it's very possible there was never any noxious or toxic substance on the bus, where several people became ill. And he said the incident is almost a textbook case of mass anxiety.
"Nausea, vomiting, all of those kinds of things are associated with this," he says. "Somebody starts to get sick and then it rapidly spreads to other people. (It's) quite a classic presentation for this sort of thing."
Several people were quarantined and hospitalized after the bus driver, a couple of passengers and some paramedics became ill Tuesday.
A suspicious passenger and mysterious pellets were suspected of poisoning the driver, but tests showed the substance was nothing more than harmless plant material.
Vancouver police spokesperson Const. Anne Drennan doesn't accept Mathias's diagnosis.
"It's an interesting theory. We don't deal on theories. We deal with evidence," she said. "We had a very real situation on our hands."
But Mathias says mass hysteria does not make illness any less real – just caused by anxiety as opposed to a toxin.
Mathias says mass hysteria is on the increase in a post-9/11 world filled with fear of bioterrorism and other triggers for anxiety.
Click here to comment on this article
Saskatchewan priest charged with making child porn
CBC
Fri, 28 May 2004 17:38:09
REGINA - A 66-year-old Saskatchewan priest has been charged with sex-related offences, including two counts of making child pornography.
Rev. Pedro Aldea appeared in Regina court Friday morning. Police arrested him Thursday at the Regina airport after a three-month investigation.
Aldea has been a priest in the province for nearly 20 years and until his arrest had been officiating at St. Cecilia Parish and Sacred Heart Parish in Regina. A minister at St. Cecilia said Friday morning he knew nothing about the investigation. [...]
Click here to comment on this article
UPDATE: Shell stations restrict sales at gas pumps
By Joseph Mann & Jaime Hernandez
Sun-Sentinel.com
May 28 2004
Shell gas stations in South Florida were told to halt sales of regular and mid-grade gasoline Thursday afternoon after the company found that some shipments contained excessively high levels of sulfur that may cause fuel-gauge sensors on some vehicles to malfunction. [...]
Click here to comment on this article
Myanmar cyclone leaves 140 dead and 18,000 homeless
CBC
Fri, 28 May 2004 16:47:19
YANGON, MYANMAR - A cyclone has swept through western Myanmar, leaving at least 140 people dead and 18,000 more homeless. It was the worst storm to hit the impoverished and remote area in more than 30 years.
Winds of up to 170 km/h slammed Rakhine State, resulting in flooding and a tidal surge that sank at least 84 ships off shore and one ocean liner closer to shore.
UN agencies said phone and electrical networks have been knocked out and hospital services disrupted. Authorities are particularly concerned that flood waters have polluted drinking water, which could lead to outbreaks of illnesses such as diarrhea.
The Myanmar government has made an international appeal for food, medicine, clothing and temporary housing. At least 2,650 homes have been destroyed and another 1,385 are severely damaged.
Click here to comment on this article
Lava flow stagnates close to ocean
By John Burnett
67AM KPUA News
Friday, May 28th, 2004 12:01 PM HST
(Volcano-KPUA) -- Two fingers of lava from Kilauea Volcano have made their way to within 200 feet of the ocean before coming to a halt yesterday atop the Wilipe`a Ledge.
Hawaii National Park officials say that the visitor head count is now averaging about 12-hundred a day, a considerable increase over normal traffic in the park.
Since the beginning of the current eruption cycle on January 3, 1983, lava flows have created about 500 acres of new land along the Puna coastline.
Click here to comment on this article
Moderate earthquake shakes S.Korea
www.chinaview.cn 2004-05-29 19:44:19
SEOUL, May 29 (Xinhuanet) -- An earthquake with a magnitude of 5.9 shook South Korea on Saturday, but there was no immediate report of damage or casualty, reported South Korean Yonhap News Agency.
The quake occurred at 7:20 p.m.(1020 GMT) Saturday in the sea off Uljin of North Gyeongsang Province, about 330 kilometers southeast of Seoul, the news agency said.
It caused minor tremors across the country. But it was not known whether the earthquake caused damage or casualty, the report said.
Click here to comment on this article
Giant mushroom baffles experts
Thu 27 May, 2004 22:04
BRAZZAVILLE (Reuters) - A giant three-tiered mushroom which measures a metre across and was found in the tropical forests of the Republic of Congo has left experts in the capital Brazzaville scratching their heads.
"It's the first time we've ever seen a mushroom like this so it's difficult for us to classify. But we are going to determine what it is scientifically," Pierre Botaba, head of Congo's veterinary and zoology centre, told reporters on Thursday.
The giant fungi stands 45 centimetres (18 inches) high and has three tiered caps on top of a broad stem. The bottom cap measures one metre across, the second one 60 cm and the top one is 24 cm wide, Botaba said.
The bizarre-looking mushroom was found in the village of Mvoula about 38 miles from Brazzaville and transported carefully to the capital by the local chief.
Click here to comment on this article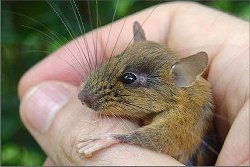 Rare creature discovered
smh.com.au
May 28, 2004 - 5:54PM
This tiny, orange-coloured, rodent-like mammal was found by a joint US-Filipino team of biologists at a burnt forest clearing on Mount Banahaw, south of Manila. Photo: AFP
A mouse-like mammal that cannot be found anywhere else in the world has been discovered in a Philippine mountain by Filipino and American biologists.
The new species, which weighs about 15 grams, has an eight cm body, a 10 cm tail, a very large head, and heavily muscled jaws, the department said. [...]
The mammal was discovered two weeks ago in a slash-and-burn area on Mount Banahaw, south of Manila, considered a holy site by some Filipino sects. [...]
Lawrence Heaney of the Field Museum of Natural History, said he was certain that the mammal was not the same species that can be seen anywhere else in the world.
He, however, could not tell yet what particular family or genus the small mammal belongs to. [...]
Click here to comment on this article
Pope Worries About 'Soulless' U.S. Life
Fri May 28, 9:52 AM ET
VATICAN CITY - Pope John Paul II warned several U.S. bishops Friday that American society is in danger of turning against spirituality in favor of materialistic desires, giving way to a "soulless vision of life."
[...]The American church "is called to respond to the profound religious needs and aspirations of a society increasingly in danger of forgetting its spiritual roots and yielding to a purely materialistic and soulless vision of the world," John Paul said.
"Taking up this challenge, however, will require a realistic and comprehensive reading of the 'signs of the times,' in order to develop a persuasive presentation of the Catholic faith and prepare young people especially to dialogue with their contemporaries about the Christian message and its relevance to the building of a more just, humane and peaceful world."
Comment: NO!! Say it ain't so!