RNC Communications Director Statement on Al Gore's Comments Today at MoveOn.org Rally

Washington, DC—RNC Communications Director Jim Dyke issued the following statement today in response to a speech by former Vice President Al Gore attacking President Bush.
"Al Gore served as Vice President of this country for eight years. During that time, Osama Bin Laden declared war on the United States five times and terrorists killed US citizens on at least four different occasions including the first bombing of the World Trade Center, the attacks on Khobar Towers, our embassies in East Africa, and the USS Cole."
"Al Gore's attacks on the President today demonstrate that he either does not understand the threat of global terror, or he has amnesia."
Comment: Which is simply another case of the psychopath denying culpability in the face of overwhelming evidence and accusing the victims of being unstable.
For example, Osama bin Laden is a clearly identified CIA asset and we believe that evidence can be pulled up to show that these other "attacks" were related to Israel and Mossad.
Click here to comment on this article
U.S. dismisses report on human-rights abuses
Thursday, May 27, 2004 - Page A16

Washington -- The White House has flatly rejected Amnesty International's charges that the U.S.-led war on terror had led to widespread human-rights abuses in Iraq, Afghanistan and Guantanamo Bay, Cuba.
"I dismiss that. The war on terror has protected the human rights of some 25 million people in Afghanistan and some 25 million people in Iraq," White House spokesman Scott McClellan said yesterday, after the release of Amnesty's 2004 report on the state of human rights around the globe, which charges that the war has proved to be "bankrupt of vision and bereft of principle."
Comment: Ditto on the psychopath.
Click here to comment on this article
BY MICHAEL VENTURA
Who is Lane McCotter, and what exactly was he doing in Iraq?
As of this writing, no congressional committee has asked that question, but sooner or later, they'll have to. It is a question that may bring down the Bush administration. This is why.
George W. Bush promises that all prisoners in Iraq are covered and protected by the Geneva Convention, which states (Section 1, Article 17): "No physical or mental torture, nor any other form of coercion, may be inflicted on prisoners of war to secure from them information of any kind whatever. Prisoners of war who refuse to answer may not be threatened, insulted, or exposed to unpleasant or disadvantageous treatment of any kind."
Yet someone identified by The New York Times (May 15) as a "senior military official" at U.S. headquarters in Baghdad says, "There are reasonable people and very intelligent people who can differ on what is authorized, what's permissible under the Geneva Convention." No there aren't. Read it again: "No physical or mental torture, or any other form of coercion ... unpleasant or disadvantageous treatment of any kind." Another provision reads: "Outrages upon personal dignity, in particular humiliating and degrading treatment shall be prohibited at any time." There's no room for argument. The "senior military official" in Baghdad was dispensing disinformation – lying.
In that vein, it is interesting that U.S. military lawyers were excluded from determining procedures in Iraq, as the Los Angeles Times reported on May 14. Scott Horton, former chairman of the New York City Bar Association committee that filed a brief on Iraqi interrogations earlier this month, said that senior military lawyers "were extremely upset. They said they were being shut out of the process, and that civilian political lawyers, not the military lawyers, were writing these new rules of engagement [for interrogation]." Remember that the chief White House counsel called the Geneva accords "obsolete." The LA Times goes on: "The military lawyers complained that the Pentagon was 'creating an atmosphere of legal ambiguity,' Horton said. 'What's happened is not an accident. It is exactly what they [the military lawyers] were warning about a year ago.'"
Which brings us to Lane McCotter. Do a Web search on McCotter and you'll come across an article in the March 4 newsletter The Utah Sheriff featuring a photo taken last year of Lane McCotter giving a tour of the Abu Ghraib prison to none other than Donald Rumsfeld's right-hand man Paul Wolfowitz. So: Who's McCotter, and what was he doing in Iraq?
According to a NY Times report on May 8, Lane McCotter was an MP in Vietnam who eventually rose to the rank of colonel. His last Army assignment was as warden of the Army's central prison at Fort Leavenworth. In civilian life he eventually became director of the Utah Department of Corrections, a post he resigned under pressure in 1997 "after an inmate died while shackled to a restraining chair for 16 hours. The inmate, who suffered from schizophrenia, was kept naked the whole time." McCotter later became a top executive in a private prison company that ran a Sante Fe jail that was "under investigation by the Justice Department" for "unsafe conditions and lack of medical care for inmates."
Here comes the good part:
While he and his company were under investigation by the Justice Department, the department's chief, Attorney General John Ashcroft, hand-picked McCotter to "rebuild [Iraq's] criminal justice system." (NY Times) Inhale that: Ashcroft selected a man his own department was investigating, a man who had to leave the top corrections post in Utah or face scrutiny for what can only be called torture. And that's what inner-circle Republicans are so frightened of: If the prison abuse investigation gets to Ashcroft, it gets to the White House.
It would seem that McCotter was chosen not in spite of his record but because of it. It's likely that Ashcroft and Wolfowitz, and the people they report to (Rumsfeld and Bush), knew exactly who they were hiring and what was expected of him. It was McCotter who, in the parlance of The NY Times, "directed Abu Ghraib prison in Iraq last year and trained the guards." The guards McCotter trained did the infamous things, took the infamous photographs. What did Ashcroft say when he appointed McCotter? This: "Now all Iraqis can taste liberty in their native land, and we will help make that freedom permanent by assisting them to establish an equitable justice system based on the rule of law and standards of basic human rights." Orwell would chortle. When The NY Times (May 8) queried why McCotter was hired even though he was under investigation, the Justice Department didn't return the calls. Hard to blame them. What could Justice possibly say?
Twelve days later, Justice lamely told ABC News that "the department was aware of the background of the men [McCotter and John J. Armstrong, who has an even worse record]. ... The official said they were among the few who were willing to go."
The hiring of McCotter sheds more light on what Gen. Janis Karpinski, nominally in charge of Abu Ghraib, told Aaron Brown on CNN, May 10: "I don't think there was anything improper done. Because there wasn't a violation of procedure. This was something they [the guards] were instructed to do as a new procedure." A general officer in the U.S. Army said that. Those gruesome photos record a procedure the guards were trained to do. By military intelligence? By McCotter? Both? Eventually, McCotter and Ashcroft must be called to testify. Wolfowitz, too. What did he learn on McCotter's tour? If Wolfowitz knew, Rumsfeld did, but what and how much? What Rumsfeld and Ashcroft knew, Bush knew or (just as bad) should have known.[...]
Click here to comment on this article
Ayoon wa Azan (Proud Of Their Sins)
Jihad Al Khazen Al-Hayat 2004/05/26
How did the Iraqis escape death, torture, and rape, during the 1991 war against Saddam Hussein, knowing that the American forces were four times larger than in the 2003 war?
I have the following answer:
[...] How was the situation in 1991? Once again I relate information from Prince Khaled's " Warrior"; he said that runaways from the Iraqi army were coming in couples and individuals, either out of fear from a coming war, or out of a disappointment from Saddam, or out of other personal reasons. He added: "we decided from the beginning to treat them as refugees and not as POWs, so we gave them comfortable housings, a rewarding monthly salary, and other cares. In fear of having a number of spies among them, we decided to transfer them all to the rear lines, in order to question them on the behalf of an intelligence committee, and the Saudi armed forces."
Prince Khaled ordered the establish camps that comprise 100,000 war prisoner; so three camps were built with adequate roads, tents were put-up, food was stored, and water gallons were brought in.
What was the result? Prince Khaled wrote: "at the end of the war, we had more than 60,000 Iraqi POWs, of which no less that 14,000 showed their desire of not coming back to their home; at that time, I gave a press conference for the international press, where I said that our policy in dealing with these POWs relied on the basis of implementing the items of the Geneva convention related to POWs; and accordingly, they will preserve their camps until they decide to come back to their country, or emigrate to other countries. Within this, we had to provide them the food, shelter, medical care, and other necessary services."
Click here to comment on this article
Muntasser Zayyat Al-Hayat 2004/05/27
After the 9/11 attacks, biased circles whether in the American administration or the American media that are directed by Zionism took advantage of the presence of some Saudis among the groups that were accused of executing the attacks, in order to accuse the Saudi government and society. This is an ambiguous accusation that reflects the desire of some American parties to push the authorities toward modifying the Saudi society's culture, especially its religious aspect considered by Americans and Zionists to be responsible for one third of those who participated in the New York and Washington attacks.
The American administration knows how to use all its cards in a way that serves its objectives. Sometimes, it focuses on the names of the Saudi people who were accused of participating to the attacks and some other times, it focuses on moving compensation cases. Some Arabs intensify this crisis through bombings inside Islamic countries under the pretext of targeting foreign citizens, especially Americans. What is even more painful is that we are lately hearing and reading about seizing weapons inside Holy Mecca and chasing and arresting people.
Click here to comment on this article
Israel lays claim to Palestine's water
10:15 27 May 04
Israel has drawn up a secret plan for a giant desalination plant to supply drinking water to the Palestinian territory on the West Bank. It hopes the project will diminish pressure for it to grant any future Palestinian state greater access to the region's scarce supplies of fresh water.
Under an agreement signed a decade ago as part of the Oslo accord, four-fifths of the West Bank's water is allocated to Israel, though the aquifers that supply it are largely replenished by water falling onto Palestinian territory.
The new plans call for seawater to be desalinated at Caesaria on the Mediterranean coast, and then pumped into the West Bank, where a network of pipes will deliver it to large towns and many of the 250 villages that currently rely on local springs and small wells for their water.

Access to fresh water
Israel, which wants the US to fund the project, would guarantee safe passage of the water across its territory in return for an agreement that Israel can continue to take the lion's share of the waters of the West Bank. These mainly comprise underground reserves such as the western aquifer, the region's largest, cleanest and most reliable water source.
For Israelis, agreement on the future joint management of this aquifer is a prerequisite for granting Palestine statehood.
Click here to comment on this article
Analysis: Foreign policy lookalikes
By Rob Watson
BBC Washington correspondent
Based on Senator John Kerry's Thursday speech laying out his vision for American foreign policy, most US voters would be hard pressed to find much difference between the challenger and the incumbent George W Bush.
Let's just run through it for a minute.
Senator Kerry said that his number one priority would be to prevent terrorists acquiring weapons of mass destruction.
Hard to see George W Bush having much problem with that.
The senator also said the US should remain the paramount military power in the world.
We've definitely heard that before from the White House.
And in one case the senator even tried to outhawk this most hawkish of administrations, promising to "confront the failure of Saudi Arabia to do all it can to stop financing and providing ideological support of al Qaeda and other terrorist groups".
What difference there was in the speech was more a matter of emphasis.
Senator Kerry repeatedly criticised the unilateralism of the Bush administration and its use of force "before exhausting diplomacy".
Under a President Kerry, he said, the US would rebuild alliances around the world.
On Iraq Senator Kerry said not a lot.
As an early supporter of the war, he has little room to manoeuvre.
So, as before, he restricted himself to urging President Bush to seek more international help in Iraq, but there was no talk of a US withdrawal.
Warding off attacks
So how does one read this speech, what is Senator Kerry trying to achieve?
In the first place it seems his tough talk was designed to inoculate him from Republican attacks.
Although the opinion polls suggest President Bush has a clear advantage on the issue of national security, that doesn't mean Senator Kerry wants it be seen as his weakness.
Second, his talk of rebuilding alliances abroad has genuine appeal in this country.
Although Americans are more willing than most to go it alone, they much prefer the idea of having support from the rest of the world.
As to Iraq, the Kerry campaign feels "Why should he say very much?"
After all, the campaign argues, President Bush started the war now he should be left to stew in his own juices and reap whatever electoral consequences there might be.
Of course many Democrats feel frustrated their candidate is not more outspoken in his criticism of the US led-occupation and more dove-ish in general on matters of foreign policy.
But the Kerry campaign is no doubt convinced that kind of Democrat is hardly going to vote for President Bush.
So the name of the game is not alienating those voters who are losing trust in the president but who are still finding it hard to entrust the country's security in the hands of a Democrat.
Comment: Peas in a pod. The only room Kerry has to differentiate himself from Bush is on domestic policy. But, then, since most Americans don't give a damn for the rest of the world, preferring to believe themselves oh so "speshul" and better than anyone else, they will be getting what they deserve in terms of leader...much to the detriment of the rest of us.
Click here to comment on this article
US retreats after failing to capture militia chief
By Justin Huggler in Baghdad
The Independent
28 May 2004
United States forces agreed yesterday to withdraw from the Shia holy city of Najaf and end fighting with the militia of the radical cleric Muqtada al-Sadr. In a climbdown by the Americans, who had vowed to kill or capture Sadr, it now appears he will be allowed to remain free. His Army of Mehdi militia will also withdraw under the deal.
The Americans appeared to have given up their two main demands to end the fighting in Najaf: that Sadr surrender to them and that the Mehdi Army be disbanded immediately.
The American agreement to withdraw without capturing Sadr will be seen in Iraq as a second embarrassing capitulation in as many months, after US forces ended their April siege of the Sunni city of Fallujah without capturing those responsible for killing and mutilating the bodies of four American contractors - the original reason for the siege in which hundreds of Iraqi civilians are believed to have died. [...]
Comment: One might conclude that the US doesn't actually have a reason for laying siege to cities in Iraq - they just like to slaughter innocent Iraqis. Add in the torture of Iraqi prisoners and Gore's recent assault against Bush, and it seems that something big is being set up. Perhaps the idea is to create as much furor as possible against the so-called war on terrorism, and then unleash another 9/11-style attack in the US. Never again would any American dare to criticize the imperialist actions of her government.
Click here to comment on this article
U.S. Allies Also Accused in Prison Abuse
By LARA JAKES JORDAN and MATT KELLEY, Associated Press Writers
May 28, 2004
WASHINGTON - Troops from Poland and other countries in the U.S.-led coalition in Iraq also are accused of abusing prisoners, witnesses told Army investigators. [...]
Click here to comment on this article
Iraqi Gunmen Free Three NBC Journalists
AP
May 28, 2004
BAGHDAD, Iraq - Iraqi gunmen released three veteran NBC journalists and an Iraqi freelancer Friday, three days after the group was captured in Fallujah, NBC said in a statement.
The statement said local Iraqi leaders helped mediate with "armed Iraqis," who let the reporters go "after their identities as working journalists became clear."
NBC identified the four as correspondent Ned Colt, cameraman Maurice Roper, soundman Robert Colvill and freelance Iraqi journalist Ashraf Al Taie. It said they appeared to be in good health. [...]
Click here to comment on this article
Israel releases UK reporter held over Vanunu tapes
By Donald Macintyre in Jerusalem
The Independent
28 May 2004
The British journalist Peter Hounam will leave Israel today under threat of deportation after being detained for 24 hours over his work on a planned BBC documentary about Mordechai Vanunu, jailed for 18 years for revealing the country's nuclear secrets.
Mr Hounam, who first broke the story of Mr Vanunu's revelations while working on the Sunday Times in 1986, was released last night by Shin Bet, the Israeli domestic intelligence agency.
Shin Bet agents, who arrested Mr Hounam in Tel Aviv on Wednesday night on the grounds of suspected espionage have seized several versions of a videotaped interview with Mr Vanunu conducted by Yael Lotan, a leading supporter of the former nuclear technician last Saturday. Mr Hounamís release followed representations by Simon McDonald, the British Ambassador in Tel Aviv. [...]
Click here to comment on this article
Mossad website swamped with tips in first week of launch
www.chinaview.cn 2004-05-28 17:03:33
JERUSALEM, May 28 (Xinhuanet) -- The new Mossad website launched this week has drawn an enormous amount of interest and has been swamped with tips by the public willing to help the Israeli spy agency, the local Jerusalem Post reported Friday.
In the first 48 hours since it was launched on Monday, over 350,000 people logged into the website to examine what the Mossad had to offer, said Limor Friedman, head of the Internet department at the Governmental Advertising Agency (Lapam), who produced the site.
Over 2,500 applications and resumes have been sent in so far, she added, but could not reveal the exact number.
"We promised the people on our site that any information sent to the Mossad would be kept private," she said.
Much of the Internet traffic was from abroad, she said, without offering more details. "They (the Mossad) are very satisfied with the reaction," Friedman said.
She also confirmed that there was an enormous amount of contacts being made via the Internet site to Mossad agents, but declining to elaborate.
The Mossad website informs visitors that they are invited to send in anything "you think might affect state security."
It says that while the Mossad cannot reply to every message, it does promise to read seriously each message it receives.
Click here to comment on this article
FBI pulls two Toronto ministers from plane
Discussion about 9/11 prompts 'nervous' reaction
May 27, 2004. 08:44 AM
BUFFALO, N.Y. (AP) — Authorities released three men who were taken off a plane and questioned after praying out loud and discussing the Sept. 11 terror attacks.
Two ministers from Toronto and one of their cousins from the United States said they prayed that God would bless the plane as it was heading toward the runway. The pilot returned to the gate at the Buffalo-Niagara International Airport, where members of the joint terrorism task force in Buffalo interviewed them and fellow passengers.
Rev. Komal Singh was on his way to an evangelical crusade in Baltimore when he told another passenger his last breath on earth would be his first breath in heaven if he became a born again Christian.
"My first reaction was someone was just talking and someone got nervous and that's exactly what it turned out to be, but it has to be checked out," said Peter Ahearn, FBI special agent in charge.
Click here to comment on this article
Terror In The US? - Back To The Old Shell Game
By Paul Howard
5-27-4

Back to the old shell game - or back to the land of make-believe.
Only this time, the consequences of not "following the ball" for the American people and their way of life are fatal. In the land of make-believe, you can make it all up as you go.
The Bush administration has come out full force this week with what they claim are mountains of intelligence that claim Al Queda is determined to hit America before the elections in a massive attack.
They claim the intelligence is stronger than anything since 911.
Yet they refuse to move the terror alert color coding off "yellow" and they say they have no idea what will be hit, though it will be "big", and they have no idea where the terrorists are, where they will hit or when.
Some of their big intelligence? Al Queda members may be moving around with their families to appear normal. Al Queda may be recruiting white people or others who "look" European.
Could this be a way of trying to cover the fact that Israeli reservist teams have been found in this country working for "moving companies", yet they keep getting arrested around US nuclear facilities? And why do these people keep getting arrested, only to have the Feds step in to make sure they are released?
We are going to get attacked again.
The Neo-cons have several countries to still attack in their plan to save the world for Pax Americana - like Iran, Syria, North Korea. If they have to attack America again, using the CIA-created Al Queda, or Israeli agents posing as Al Queda, they certainly will.
If it worked once, why not attack America again and blame it on the "brown guys"?

This is just the continued warpath drumbeat played by this Administration in an effort to cover their collective "behinds" when THEY attack America in order to try to get some support - any support - for President Bush before the election - or more likely - to use the "massive" attack as a pretext to cancel the elections altogether under provisions of the Patriot Act.
They have been leaking this plan and their intentions for months.
In a NEWSMAX interview on November 21, 2003, General Tommy Franks says that if the United States is hit with a weapon of mass destruction that inflicts large casualties, the Constitution will likely be discarded in favor of a military form of government. "It means the potential of a weapon of mass destructionthat causes our population to question our own Constitution"
The same theme was touched on in the Washington Post (11/23/03) by a member of one of the Illuminati "think tanks", the Carnegie Endowment for International Peace. The author, David J. Rothkopf, outlined the possibility of a terrorist campaign of suicide bombings during the election campaign that leads to a full-scale military mobilization. [...]
As former Bush Administration White House insider Richard Clarke said, "[There are] dozens of people, in the White House. . . writing talking points, calling up conservative columnists, calling up talk radio hosts, telling them what to say. It's interesting. All the talk radio people, the right wing talk radio people across the country, saying the exact same thing, exactly the same words."
They keep saying it and saying it - planting in the people's mind - so that when it happens - when THEY do it and blame it on Al Queda - Bush gets the brownie points and the election.
The evil Satanists in the Bush administration are trying to "spin" this whole scenario counter-clockwise - to try and make it look like the "evil terrorists" are going to strike to get the American people to turn on Bush right before the election and elect Kerry.
In fact, they have planned this "new attack against America" for some time, realizing that Bush's numbers are plummeting because of the continued lies concerning 911, Iraq and everything else.
They keep throwing up "Spain" and the terrorist attacks there, saying that Al Queda pulled those off to get a change in the Spanish Government. What BS.
Remember after the bombing? The US and Britain came out immediately and told Spain to blame Al Queda. Britain even had one of their MI6 "operatives" claim responsibility from London in the name of Al Queda (the same MI6 operation that publicly released the Berg video IN LONDON).
How desperate are these Satanists? The US arrested a man from Portland, Oregon saying that he had ties to Al Queda and that his fingerprint was found by Spanish authorities on the bombing material in what one FBI official later described as "an absolutely incontrovertible match".
Using the power granted them by the PATRIOT Act, FBI agents broke into the house of Brandon Mayfield and conducted a search in his absence, rifling through his kids' Spanish homework, and leaving the doors double-bolted - which immediately alerted the Mayfield family that someone had been on the premises. Mayfield called 911 when it happened a second time, and he found a man's footprint on the rug. They couldn't pick up the phone without hearing an odd clicking.
When the FBI finally swooped down on the Mayfields' home in a quiet suburb of Portland, Oregon, they burst in the door, trashed the place, and trundled him off in handcuffs without a word. He was jailed for weeks without charges. Ashcroft's goons told the media he was being held as a "material witness" to the Madrid bombings.

By mid-April, the Spanish authorities were saying there was no trace of Mayfield's presence in their country, and also disagreed with the FBI's contention that the prints found on a detonator bag matched Mayfield's at all.
The government finally let Mayfield go, but not until John Ashcroft's Justice Department had done everything to keep him jailed, defenseless, and smeared as a "terrorist" in the eyes of the world.
Since he had nothing to do with Al Queda, and they invented a complete lying story - what were his real crimes against humanity? The FBI pointed to Mayfield's attendance at a local mosque, and his advertising his legal services in a publication owned by a man suspected to have links to terrorism".
Oh, I see. He attended a mosque and bought an ad in a paper owned by someone who might know someone who might have links to terrorism. This is YOUR justice department people - and NEVER forget what they TRIED LIKE HELL to frame him for.
As Kent Mayfield, Brandon's brother, put it: "I think the reason they are holding him is because he is of the Muslim faith and because he is not super happy with the Bush administration. So if that's a crime, well you can burn half of us."
And Burn us they will. Even if they have to invent stories and try to get foreign governments to go along with it.
The only problem with the whole thing is that it was all a COMPLETE lie. Spain was having none of it. Unlike America and Britain, their intelligence service was not going to turn against their newly elected President and the people of Spain to "invent" a story of Al Queda participation, nor railroad people who had no ties to Al Queda anyway.
The truth is that the people of Spain threw out their government because they were tired of their President backing the illegal wars and lies of George W. Bush, just like the rest of the planet is tired of it.
There were absolutely NO ties between the Spain bombing and Al Queda.
Spain has said the operation is identical to ones carried previously by the Basque Separatist group ETA and that analysis determined the explosive is a type of dynamite called ECO, manufactured in Spain. No Al Queda - no
international plot - nothing.
Yet the Bush Administration keeps chanting that Al Queda did it and that Al Queda is going to hit us before the election because they learned that it works, just like it did when they hit Spain.
LIES, LIES, LIES. And why keep doing it, unless you are playing a psychological game and unless you are following a script for something planned that is truly heinous?
And why after bazillions of dollars spent by Homeland Security, the FBI and CIA, are we still unable to stop the massive attack that's coming - or why are we still unable even to figure out who, what, when or where?
Obviously, if we KNOW there is going to be an attack and we have so much intelligence, as they have shouted all week, obviously we are buttoning down the hatches, right?
So just how serious is Homeland Security about protecting the United States? Not at all.
CBS News reported this week (5/25) that precious taxpayer dollars that were supposed to go for Homeland Security efforts like protecting train stations and other public transportation (buses) and for training police and fire fighters has quietly gone to pay for security at some of the richest oil corporations in the world. You think I'm joking?
Citgo made a $439 million profit but took $19.4 million in Homeland Security monies. ConocoPhillips received nearly $10.8 million of your tax dollars under Homeland Security when they reported profits of 4.7 Billion. ChevronTexaco netted a whopping 7.2 billion profit but still got over $7.3 million in government handouts.
What? Oil companies can't pay for their own security - even after netting billions of dollars of profits? Even as they're raping us even now at the pumps?
So just who is Homeland Security protecting? Why is America going unprotected while Bush's oil buddies get richer and richer off of government contracts here and abroad, even raiding our Homeland Security budget? Do you think maybe, just maybe, that if they were really concerned about a terrorist attack, they might spend the money protecting borders?
And it just gets worse from there. Do you remember the public outcry when they tried to slip through the Total Information Awareness program, headed by Admiral John Poindexter of Iran-Contra fame, to use the military to spy on Americans?

Supposedly, Congress shut it down because the public would have none of it. It was in direct violation of Posse Comitatus laws, forbidding the US military from performing domestic police functions.
But there is a way around it. A terrorist attack in which "martial law" had to be called. In the event of martial law, the Posse Comitatus Act of 1878, which has already been largely gutted by the USA Patriot Act and other Bush actions, would cease to exist.
Posse Comitatus has, for over 100 years, served as an important criminal law safeguard proscribing the use of the military to "execute the laws," except where expressly authorized by the Constitution or by Congress.
With the abrogation of Posse Comitatus and the imposition of martial law, the military would, as it did during post-Civil War Reconstruction in the South, be able to arrest and detain civilians for any flimsy reason. Iraq has shown us how that turns out.
Couple that with the tossing out of Constitutional Rights, rights to a lawyer, rights to have charges preferred, rights to a trial by jury - and you can see what is coming NOW. Ask the poor man in Oregon.
The "illuminated ones" in the Bush Administration continue to show they care NOTHING for the laws of this country nor the authority of Congress. They have already side-stepped Posse Comitatus by creating new "mini-departments" within the military that carry out the same illegal functions that the Information Awareness Office was going to.
For instance, Defense Secretary Donald Rumsfeld played God and expanded the mission of the Counterintelligence Field Activity (CIFA), which was established only to protect "critical infrastructure." What is their new authorization? To maintain "a domestic law enforcement database that includes information related to potential terrorist threats directed against the Department of Defense."
According to the LA Times, CIFA has been given a domestic "data mining" mission to "figure out a way to process massive sets of public records, intercepted communications, credit card accounts, etc., to find 'actionable intelligence."
There's more, like the assigning of military special agents to 56 FBI Joint Terrorism Task Force operations at FBI field offices, investigating potential threats to the military in local communities inside the US.
This is the US military being turned against us, turned into some form of Nazi SS, even after Congress dismantled this administration's attempt to do this under the Total Information Awareness Program.
Phantom terrorists, phantom threats, an extinguished Constitution and Nazi troops. Say goodbye America. I tried and tried to warn you to act - to help. It will be over very soon.
And just like 911, the Nazi perpetrators have told you so beforehand.
We are all returning to the land of make-believe. Just ask the poor man from Portland.
Click here to comment on this article
American Airlines Jet Diverted to Tenn.
Associated Press
May 28, 2004
NASHVILLE, Tenn. (AP) - An American Airlines jet flying from Dallas/Ft. Worth to Boston was diverted Thursday after a flight attendant found a note saying there was a bomb in the cargo hold.
Investigators examined a "suspicious package" taken from the plane that turned out "a bag similar to a computer case," said Kelly Watson, spokeswoman for Nashville International Airport. "The contents were nothing harmful or hazardous. It was cleared."
Watson declined to identify the bag's contents.
The flight attendant found the note in one of the plane's lavatories. The 129 passengers were taken off the plane and were being rescreened by the Transportation Security Administration and FBI.
Flight 306 left Dallas/Ft. Worth at 1:46 p.m. CDT and landed in Nashville shortly after 3:30 p.m., said American Airlines spokesman Tim Wagner. It was a full flight carrying two pilots and three flight attendants.
In Nashville, the MD-80 was parked near the Tennessee National Guard airfield where Air Force One awaited President Bush's arrival after a speech and fund-raiser in Nashville.
"It's just a coincidence," said Homeland Security spokesman Dennis Murphy. [...]
Click here to comment on this article
White House Divided Over Terror Alert
By CURT ANDERSON, Associated Press Writer
Fri May 28, 1:51 AM ET
WASHINGTON - The FBI and Justice Department insist that warning the public about a possibly devastating terror attack in this country was justified by intelligence and may avert a repeat of the Sept. 11 attacks. But some Bush administration officials and lawmakers aren't so sure.
These officials and members of Congress with access to the same intelligence reports said the announcement by Attorney General John Ashcroft and FBI Director Robert Mueller was overblown and caused unnecessary public worry.
Rep. Christopher Cox, R-Calif., who is chairman of the House Homeland Security Committee, said the Ashcroft-Mueller news conference on Wednesday mistakenly led some to believe the nation's threat level had been increased.
He called it "regrettable" that Homeland Security Secretary Tom Ridge, who made a round of television appearances Wednesday, did not join Ashcroft and Mueller.
"Their separate public appearances left the impression that the broad and close interagency consultation we expect — and which the law requires — may not have taken place in this case," Cox said.
Homeland Security Department spokesman Brian Roehrkasse reiterated Thursday that his agency has not seen any change in the "steady stream of threat reporting."
"We do not have any new intelligence or specific information about al-Qaida planning an attack," he said. [...]
Click here to comment on this article
Nuclear jet crash 'could kill millions'

New Scientist
19:00 26 May 04

Fears that the UK's nuclear plants are vulnerable to a 9/11-style attack or accident are growing. Evidence is emerging that the no-fly zones around nuclear plants are regularly breached by both military and civilian aircraft. And a report for the UK parliament leaked to New Scientist says that such an attack might kill millions. [...]
But the British Nuclear Group, which operates the Sellafield site, has dismissed the report's suggestion that flying a plane into the waste tanks might kill millions, saying the idea is implausible.
Smith says this attitude is dangerously misleading: "The consequences of deliberately crashing an aircraft into a nuclear plant would be horrific."
Click here to comment on this article
Chavez bristles amid fresh attack
In Venezuela there has been a fresh bout of sparring with the US as the latest stage of the battle over Hugo Chavez's presidency gets under way.
While Mr Chavez rubbished the US' role as the "world's referee", his vice-president slammed the Bush administration as "a bunch of madmen".
They were reacting to US comments on opposition efforts to oust Mr Chavez.
On Friday, the president's foes will continue efforts to force a referendum to be held on his rule.
Click here to comment on this article
LEMONDE.FR | 27.05.04 | 15h13 • MIS A JOUR LE 27.05.04 | 17h52
Comment: The French media are reporting that the comedian Dieudonné, who was taken to court for anti-Semitism by Jewish groups because of a comedy sketch that appeared on French TV, has been not quilty. The president of the Tribunal said: "the character portrayed by the accused did not represent Jews as a whole, as it says in the law, but only a certain catagory of people and only in the expression of their political ideas." Because he was not addressing the Jewish community as a whole, nor an individual or group of individuals because of their adherence to Judaism, there can be no racial defamation.
Of course, the Jewish groups will appeal the decision.
Click here to comment on this article
L'avertissement de Michèle Alliot-Marie
Comment: French Defense Minister, Michèle Alliot-Marie, has defended the importance of maintaining defense spending in the face of the planned cutbacks of Finance Minister Nicolas Sarkozy.
Click here to comment on this article
Poutine critique les défenseurs des droits de l'homme
Moscou : De notre correspondant Patrick de Saint-Exupéry
[27 mai 2004]
Comment: Vladimir Putin, during his annual address to the Russian population, said he will not change his plans and intends to reinforce the State. " Certain people in the world do not want to see an independent Russia, strong and sure of itself." They use political, economic and media pressure via, among others, NGOs whose financing is dubious according to Putin. These organisations are not needed in Russia because no one will prevent Russia from reinforcing its democracy and guaranteeing the respect for human rights.
Click here to comment on this article
List Linking Smoking to Diseases Expands
By NANCY ZUCKERBROD
May 27, 10:26 PM (ET)
WASHINGTON (AP) - The list of diseases linked to smoking grew longer Thursday. Add acute myeloid leukemia, cancers of the cervix, kidney, pancreas and stomach, abdominal aortic aneurysms, cataracts, periodontitis and pneumonia.
"We've known for decades that smoking is bad for your health, but this report shows that it's even worse," said Surgeon General Richard Carmona, announcing his first official assessment of the effects of tobacco.
The report said current evidence is not conclusive enough to say smoking causes colorectal cancer, liver cancer, prostate cancer or erectile disfunction. Some research has associated those diseases with smoking, but Carmona said more proof is needed. [...]
Comment: Yes, indeedy! Smoking is the cause of all ailments, and all the world's problems. It is most curious that while a recent study showed that the average American has 13 different pesticides in his body, smoking is targeted as the source of darn near every illness known to man. But whatever you do, be sure to become completely obsessed with others' smoking habits - that way you may completely forget how many innocent people were mowed down by the US military, and how many of your rights have been magically erased while you weren't looking. And now for a story that appears to involve a real medical threat:
Click here to comment on this article
Drug causing GIs permanent brain damage
By Mark Benjamin and Dan Olmsted
United Press International
5/26/2004 4:19 PM
WASHINGTON -- Six U.S. soldiers have been diagnosed by the military with permanent brain damage from an anti-malaria drug used in Iraq and Afghanistan, and health officials must reassess its safety, a U.S. senator said.
Sen. Dianne Feinstein, D-Calif., in a letter to Health and Human Services Secretary Tommy Thompson, said the drug, called mefloquine, has "serious risks" that have not been adequately tracked by the Pentagon, the Peace Corps and other government agencies that distribute it.
"I ask that you work with the Food and Drug Administration to reassess the safety of mefloquine," Feinstein wrote Thompson in a letter dated May 24.
Feinstein told Thompson she is concerned that "six service members have been diagnosed with permanent brainstem and vestibular damage from being given this drug despite the fact that alternative drugs might have been chosen to prevent infection."
The FDA last year warned that the drug, also called Lariam, is linked to reports of suicide, though a connection has not been established. It also said some psychiatric and neurological side effects have been reported to last long after taking it. The Pentagon this year announced a new safety study of the drug, which has been used by some 20 million people worldwide, and the Department of Veterans Affairs said it will look at possible long-term effects on veterans. [...]
Click here to comment on this article
US police shocked at children's brutal killings
ABC
Friday May 28, 03:14 PM
Police in the US city of Balitmore say a woman arrived home to her apartment to find a child decapitated and two others with their heads partially cut off yesterday.
Police say the victims were two nine-year-old girls and a 10-year-old boy.
Police say at least two of the children were related.
Deputy police commissioner Kenneth Blackwell said the crime scene was one of the most gruesome he had ever seen.
"[It's] one of the saddest things I've ever seen and unfortunately something I'm sure I'll remember till I draw my last breath," he said.
Mr Blackwell said a person of interest was being questioned in the case but no arrests had been made, nor charges laid.
Click here to comment on this article
Report: 1 of Every 75 U.S. Men in Prison
Click here to comment on this article
Forecast: Western drought to persist
The Associated Press
May 27, 2004
WASHINGTON - The Western drought probably will spread this summer, government forecasters said Wednesday, and warmer than normal temperatures are expected in both the East and West.
The long-term forecast for June, July and August anticipates above normal temperatures for much of the West, the Southwest, the Rocky Mountain states, the southern Alaskan coast, the Southeast, Ohio Valley and the Northeast, the National Oceanic and Atmospheric Administration said.
Drier-than-average weather is forecast for the Pacific Northwest. That is likely to mean that Washington and parts of Oregon see drought develop during the summer, the agency said. [...]
Meteorologists expect drought improvement in the Upper Midwest and gradual drought relief in the Southeast. They called the outlook in these areas "prudently optimistic."
Not so for the West.
"Meanwhile, long-term drought is affecting every western state and many areas in the High Plains states," LeComte said. "Clearly the major concern, as we move into summer, is in the West." [...]
Click here to comment on this article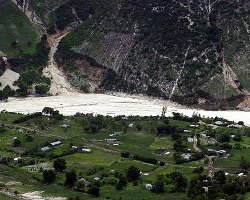 An aerial view of the flood waters that cut through a community in Fond Verrettes, Haiti, Thursday, May 27, 2004. (AP)
Int'l. Aid Arrives in Flood-Ravaged Haiti
May 27, 11:17 PM (ET)
By AMY BRACKEN
PORT-AU-PRINCE, Haiti (AP) - U.S. and Canadian troops rushed medical supplies, drinking water and chlorine tablets Thursday to flood-battered towns, where bodies were seen floating near the tops of palm trees. Haitian and Dominicans braced for a death toll that could reach 2,000.
About 10,000 people in villages surrounding the submerged Haitian town of Mapou, who are cut off by roads devoured in the mud and landslides, remained in urgent need of help, according to Michel Matera, a U.N. technical adviser.
"We are still having difficulty reaching them even by helicopter," said Matera, who traveled to Mapou on Thursday. "We cannot land because of the flooding, nor can we get there on foot."
Late Thursday night, confirmed deaths in the two countries rose to nearly 1,000 with Haitian officials saying the recovery of scores of more bodies brought the toll to 579. The Dominican Republic reported 417 deaths there earlier.
In what could add to the disaster, forecasters predicted more rain in the coming days for the southern border region between Haiti and the Dominican Republic, as residents of Mapou tried to dry their clothes and other belongings on tree branches. [...]
Click here to comment on this article
Alaska Quake Changed Yellowstone Geysers
Newswise — A powerful earthquake that rocked Alaska in 2002 not only triggered small earthquakes almost 2,000 miles away at Wyoming's Yellowstone National Park – as was reported at the time – but also changed the timing and behavior of some of Yellowstone's geysers and hot springs, a new study says.
"We did not expect to see these prolonged changes in the hydrothermal system," says University of Utah seismologist Robert B. Smith, a co-author of the study in the June issue of the journal Geology.
While other large quakes have been known to alter the activity of nearby geysers and hot springs, the Denali fault earthquake of Nov. 3, 2002, is the first known to have changed the behavior of such hydrothermal features at great distances, according to Smith and his colleagues. They say the magnitude-7.9 quake was one of the strongest of its type in North America in the past 150 years.
Click here to comment on this article
Earthquake Hits North Iran City of Sari
TEHRAN (Reuters) - A strong earthquake hit the city of Sari in northern Iran on Friday, state television reported, and the Untied States Geological Survey said it had a magnitude of 6.2.
A huge tremor which devastated the Iranian city of Bam in southeast Iran on December 26, measured 6.8 and killed more than 20,000 people.
There were no immediate reports of damage or casualties.
Click here to comment on this article
Meteor odds? Funny you should ask
May. 28, 2004 12:00 AM
Today's question:
The other night, my 5-year-old son and I saw a magnificent shooting star. That led us to wonder if anyone has ever been hit by a falling meteor. What would your odds be of getting hit?
What are my odds of getting hit by a meteorite? With my luck, probably about 7 in 10. However, if you are talking about the odds in general of just some person getting hit by a meteorite, they're pretty slim.
Do you know what a bolide is? Or it might be bollide. I kept finding it spelled both ways. However you spell it, a bolide/bollide is an extremely bright meteor, a fireball. Bright enough to be seen in the daytime, maybe. I didn't know that until I started looking up the answer to this odds question.
Anyway, I checked a number of sources on this business of the odds of someone being hit by a meteorite and the answers were all over the place. They ranged from 1 in 20,000 to 1 in 10 trillion.
And some of the estimates involved the odds of getting hit over one's lifetime, and some involved the odds of getting hit at any given moment and so on and so forth. And then there was the question of the odds of getting killed by a meteorite as opposed to just getting winged by one. It all got very confusing. So I don't know what to tell you.
Let's just say your chances of getting hit by a meteorite are roughly the same as the odds of my masters making the Sunday funnies easier to find. In other words, try not to worry about it.
It does happen, though.
In August 2002, a 14-year-old girl in England was struck on the foot by a small fragment of a meteorite just as she was getting into the family car. I guess it didn't hurt her much. Her name is Siobhan Cowton, which I think is kind of a cool name.
I also found a site - www.branchmeteorites.com - that said that from 1775 through 2003, 120 known instances of meteorites hitting humans, animals or man-made objects had been recorded. Plus the list threw in one known hit from before 1775.
The list includes 14 humans, six animals and 101 man-made objects.
I don't know how this Branch guy knows all this, but there was a pretty impressive list of references, so I suppose he knows what he's talking about.
Anyway, like I said, don't worry about it. Although you may want to carry a cast-iron umbrella when you go outside, just in case.
Click here to comment on this article
Physicist: Cosmos resembles Eiffel Tower
www.chinaview.cn 2004-05-28 11:16:47
BEIJING, May.28 (Xinhuanet) -- The universe looks like the Eiffel Tower topped with a never-ending spire, a German physicist said Wednesday.
Researchers in Ulm, birthplace of Albert Einstein, have developed a model of the universe as an elongated triangle like the Paris landmark, but with a spire going on and on.
The team at Ulm University hopes their model will revolutionize understanding of the universe. Visualisations are difficult because scientists have mathematical proof the universe has an infinite form but a finite volume.
Click here to comment on this article
Raw Ingredients for Life Detected in Planetary Construction Zones
JPL.Nasa.gov
May 27, 2004
NASA has announced new findings from the Spitzer Space Telescope, including the discovery of significant amounts of icy organic materials sprinkled throughout several "planetary construction zones," or dusty planet-forming discs, which circle infant stars.
These materials, icy dust particles coated with water, methanol and carbon dioxide, may help explain the origin of icy planetoids like comets. Scientists believe these comets may have endowed Earth with some of its water and many of its biogenic, life-enabling materials.
Drs. Dan Watson and William Forrest of the University of Rochester, N.Y, identified the ices. They surveyed five very young stars in the constellation Taurus, 420 light-years from Earth. Previous studies identified similar organic materials in space, but this is the first time they were seen unambiguously in the dust making up planet- forming discs. [...]
Click here to comment on this article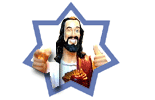 Faithful flock to buy weeping Marys
By Richard Finnila
The Sunday Mail
28 May 2004
THE religious phenomenon that has engulfed a small Catholic church in southwest Brisbane has inspired a statue-buying frenzy.
The store that supplied the Vietnamese Catholic Community Centre at Inala with its weeping statue of Mary has been cleaned out of stock this week.
The Christian Supplies store in Elizabeth St, Brisbane City, has sold more than 120 statues of the Miraculous Our Lady and tens of kilograms of rosary prayer beads to devout Vietnamese Catholics.
The rush for religious ornaments comes after statues at the Inala church exuded a rose-scented oil a week ago.
Many believers have left their statues in the church in the hope that they might become blessed. [...]
Click here to comment on this article
THE MYSTERY OF THE DISAPPEARING COW
This is Somerset
18:00 - 27 May 2004
Farmers at loss to explain how Jannie the Jersey could have vanished
It is not your average missing-persons inquiry, but a Beckington farming couple have this week issued a mooving appeal for help.
Geoff and Kim Bowles, who own Ivy House Organic Farm, say one of their Jersey cows has mysteriously disappeared, leaving no clues to its whereabouts.
They do not think that Jennie the Jumping Jersey has been attacked by one of the area's "big cats", but say that because they live near Cley Hill, alien abduction is one possibility.
But whatever has happened, they are desperate to find her so that she can be reunited with her temporarily orphaned baby calf, Juniper.
Mr Bowles said: "This one always kept getting out and wandering around neighbouring fields, but like all cows she would always come back to the herd for milking time.
"We have searched all around our land and the three neighbouring farms, so perhaps it's postnatal depression and she has run away. [...]