---
New Article: Jupiter, Nostradamus, Edgar Cayce, and the Return of the Mongols - Laura Knight-Jadczyk
Part 1, Part 2, Part 3, Part 4, Part 5, Part 6, Part 7, Part 8, Part 9, Part 10, Part 11, Part 12, Part 13
Picture of the Day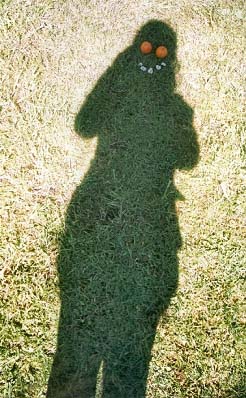 From a Reader
Amnesty International: USA 2004 Human Rights Report
Covering events from January - December 2003
More than 600 foreign nationals were detained indefinitely without charge or trial or access to family members or legal counsel in the US naval base in Guantánamo, Cuba, on grounds of possible links with al-Qa'ida; others were held in undisclosed locations. There were allegations of torture or ill-treatment of detainees held at a US base in Afghanistan and of detainees held by US forces in Iraq following the US-led invasion and occupation. Three people were held incommunicado without charge or trial in the USA as "enemy combatants". Death sentences continued to be imposed and carried out under federal and state law. There were reports of police brutality, deaths in custody and ill-treatment of prisoners.
Background
Thousands of people were detained in the context of the US-led war against Iraq and subsequent occupation of Iraq by the Coalition Provisional Authority. Others were held in US bases in Afghanistan, Cuba and elsewhere as part of the ongoing "war against terrorism". While calling for those responsible for the 11 September 2001 attacks on the World Trade Center and other crimes to be brought to justice, AI condemned the US denial of basic rights to many of those detained.
International Criminal Court
In July the USA announced that it was cutting military aid to 35 countries which had refused to enter into an impunity agreement not to surrender US nationals accused of genocide, crimes against humanity or war crimes to the International Criminal Court. Such agreements are in breach of states' obligations under international law.
Detentions outside the USA
Hundreds of detainees from around 40 countries remained in legal limbo in the US naval base in Guantánamo Bay. In April, the US authorities revealed that children as young as 13 years old were among those held at the base. None of the detainees were charged, tried, or given access to lawyers, relatives or the courts. In October, the US Supreme Court said that it would decide whether the US courts "lack jurisdiction to consider challenges to the legality" of the Guantánamo detentions, as lower federal courts had earlier held. The Supreme Court ruling was expected to be handed down in 2004.
Meanwhile, in December, the Court of Appeals for the Ninth Circuit ruled that foreign nationals held as "enemy combatants" in Guantánamo Bay had a right to seek court review of the legality of their detention. The appeal judges concluded that the government position was "inconsistent with the fundamental tenets of American jurisprudence and raises serious concerns under international law". This ruling may also form part of the Supreme Court's review. [...]
The US air base in Bagram, Afghanistan, continued to be used as a detention facility. There, too, detainees were denied any sort of legal process. The ICRC did not have access to all those held there. During the year, allegations were made that detainees had been tortured or ill-treated in Bagram. Former detainees interviewed by AI in Afghanistan alleged that they were subjected to prolonged enforced standing and kneeling, sleep deprivation and the cruel use of shackles. By the end of the year, the US authorities had not announced any results of the military investigation into the deaths of two Afghan men in US custody in Bagram in December 2002. Their autopsies had revealed "blunt force injuries" in both cases and gave the cause of death as "homicide". Another man died in custody in a US holding facility in Asadabad in Kunar province, Afghanistan, in June.
There were also allegations of torture and illtreatment by US forces in Iraq. Twelve US soldiers charged with ill-treating Iraqi detainees were awaiting court martial at the end of the year.
An unknown number of prisoners continued to be held incommunicado in undisclosed locations without access to the ICRC or any sort of legal process.
There were continuing concerns about the possible transfer of prisoners to countries where it was feared they might face torture during interrogation.
Military commissions
On 3 July, the Pentagon announced that President Bush had selected six foreign detainees to be subject to the provisions of the Military Order he signed in November 2001. The Order provides for non-US nationals suspected of involvement in "international terrorism" to be held indefinitely without trial or to be tried by military commissions. The names of the six were not made public by the US authorities, but it emerged that two were United Kingdom (UK) nationals, Moazzam Begg and Feroz Abbasi, and one, David Hicks, was an Australian national. The UK and Australian authorities pursued discussions with their US counterparts over the detainees' future. In December, the Pentagon revealed that Guantánamo detainee Salim Ahmed Samdan, a Yemeni national, was among the six. By the end of the year, no detainee had been brought to trial before a military commission.
Detentions in the USA following attacks of 11 September 2001
A government watchdog agency reported in June that there had been "significant problems" in the treatment of hundreds of foreign nationals detained in the aftermath of the 11 September attacks on the Pentagon and World Trade Center. The investigation, by the Justice Department's Office of Inspector General (OIG), confirmed many of the concerns raised by AI and other groups that detainees' basic rights had been violated. Violations included denying detainees prompt access to lawyers and family members and failing to charge detainees promptly or to "clear" them for release or removal from the USA, leaving many to languish for months in detention centres despite having no connection with the attacks. The report found evidence of a "pattern of physical and verbal abuse" by some correctional officers towards some 11 September detainees.
Although most of those detained – many for minor immigration violations – in the original sweeps had been released or deported by the time of the report, the OIG made 21 recommendations to the US government to improve procedures during any similar arrests, including speedier reviews and more objective criteria in detention decisions. [...]
Some people detained for alleged links to al-Qa'ida were deported to countries where they were at risk of torture or ill-treatment. In October, AI called on the US government to hold a full inquiry into its treatment of Maher Arar, a Canadian citizen deported from the USA in October 2002 to his native Syria, where he was allegedly tortured and held for months in cruel conditions before being returned without charge to Canada.
A "special registration" program introduced in late 2002 which required boys and men aged 16 and over from 25 countries, mostly in the Middle East, to register annually with the authorities to be questioned, photographed and fingerprinted, ended in December 2003, although exit and entry registration requirements remained. The measure had been criticized by human rights groups as discriminatory. Many people who had complied with the order were detained, often for minor visa irregularities, and many continued to face deportation even though they had proceedings under way to regularize their status. [...]
Ill-treatment and excessive use of force by law enforcement officials
There were reports of ill-treatment, excessive use of force by police and prison officers, and deaths in custody. Incidents included misuse of stun weapons and chemical spray. Nine people died after being struck by police Tasers. Although the cause of death was attributed to other factors or autopsy results were still pending, questions remained about the health risks of such equipment. There were continued reports of cruel conditions in prison isolation units.
In September a police officer from Bayton, Texas, was charged with using unnecessary force against a disabled 59-year-old Latina woman. The officer struck Naomi Autin three times with a Taser as she knocked on her brother's door with a brick after getting no answer.The trial was pending at the end of the year.
John Allen Muhammad was given an electric shock twice with a stun belt in August while in hospital in the custody of the Prince William County Sheriff Department, Virginia. The belt, which was wrapped round his arm, was activated after he refused to submit to a head X-ray by moving his head and trying to sit up while strapped to a stretcher. He allegedly suffered welts on his arm from the 50-70,000-volt shock.
In October the state of Virginia paid out an undisclosed sum to the family of Larry Frazier, who died in prison in July 2000 after being repeatedly shocked with a stun gun. The Corrections Department suspended the use of the Ultron 11 stun gun shortly after the incident when an autopsy found it could have contributed to Larry Frazier's death.
Fort Lauderdale Police Department, Florida, tightened its procedures after the Medical Examiner ruled that police use of pepper spray had contributed to the death in April of 21-year-old Raymond Sterling who suffered from sickle cell trait. The new procedures provided that anyone pepper sprayed or injured by police must be taken to hospital instead of jail.
A lawsuit was filed against the Florida prison authorities alleging that prisoners were repeatedly sprayed with pepper spray and tear gas while trapped in their cells, causing breathing difficulties, burning and skin blisters. According to the lawsuit, chemical agents had become the most common force used in Florida prisons.
Conditions in prison isolation units, including "supermaximum security" facilities, remained extremely harsh in many states. In Unit 32 of Parchman Prison, Mississippi, nearly 1,000 prisoners, many severely mentally ill, were reportedly confined to insect-infested, insanitary cells for between 23 and 24 hours a day and were not allowed fans or sufficient water despite extreme summer heat. Litigation to improve conditions for death row prisoners in Unit 32 was being pursued at the end of the year.
There were allegations of police brutality and excessive use of force against anti-war protesters in several US cities, including Chicago, Illinois and Oakland, California. In November, police in Miami were alleged to have fired rubber bullets, pepper spray, Tasers, gas canisters and concussion grenades at crowds demonstrating against the Free Trade Area of the Americas negotiations. Several protesters required hospitalization as a result of police action and dozens more were treated for injuries. [...]
Death penalty
In 2003, 65 people were executed, bringing to 885 the total number of prisoners put to death since the US Supreme Court lifted a moratorium on executions in 1976. The USA continued to violate international standards in its use of the death penalty, including by executing people who were under 18 at the time the crime was committed. The US government carried out its third federal execution since 1963 – all three were carried out under the current administration. Texas carried out its 300th execution since 1976 and accounted for 24 of the USA's executions during 2003.
In January, Mexico brought a case in the International Court of Justice (ICJ) on behalf of more than 50 of its nationals on death row in the USA. The case concerned alleged violations of the UN Vienna Convention on Consular Relations which requires states to inform foreign nationals upon arrest of their right to seek consular assistance. There were more than 100 foreign nationals on death row in the USA in 2003, the majority of whom were denied this right. The ICJ was expected to make its judgment in 2004.
On 11 January 2003, the outgoing governor of Illinois, George Ryan, emptied the state's death row. He pardoned four condemned prisoners whom he believed had been tortured into confessing to crimes they did not commit, and commuted the death sentences of 167 others on the grounds that the system that sentenced them was flawed.
In July, Joseph Amrine was released after more than 16 years on Missouri's death row for the murder of a fellow prisoner. He had been convicted on the basis of testimony from other inmates which was later retracted. Joseph Amrine became the 111th person to be released from death row in the USA since 1973 on the grounds of innocence. The 112th such case occurred in December, when a Pennsylvania prosecutor announced that he would not retry Nicholas Yarris who had been on the state's death row for two decades. A federal judge had ordered a new trial after DNA testing supported Nicholas Yarris' claim of innocence. [...]
Comment: Many Americans seemed so surprised and shocked at the behaviour of "a few bad apples" in Iraq - and yet the torture and illegal or unjust treatment of prisoners seems to be a fairly common occurrence at the prisons in their own back yards.
Click here to comment on this article
By Dan Frosch
AlterNet
May 24, 2004
If you're an American ex-prison official whose tenure was tainted by federal investigations, state hearings, inmate deaths, allegations of torture, civil rights lawsuits, even an outcry from Amnesty International, despair not. There's a job for you in Iraq.
In what appears to be an emerging pattern of ill-advised hires, the Justice Department has sent a virtual who's-who of prison tough guys to Iraq over the past year – their collective track record on human rights essentially one enormous red flag – and paid them to reconstitute that country's detention system.
Already, two of the Justice Department's 'corrections advisors' are making headlines: Lane McCotter, former director of the Utah Department of Corrections, and John Armstrong, his Connecticut counterpart, both resigned after inmate abuse scandals occurred under their respective watches. [...]
The Justice Department's hiring of McCotter and Armstrong could be relegated to an eyebrow-raising turn of events; two occasions do not necessarily constitute a trend. However, there are signs that the hirings were not necessarily a mind-boggling oversight attributable to the chaos of the occupation's early days, but perhaps indicative of a decision to contract the roughest, toughest prison people around regardless of their histories.
AlterNet has learned that two more corrections advisors sent by the Justice Department to Iraq, former Arizona Department of Corrections director Terry Stewart and his top deputy Chuck Ryan, have controversial pasts as well. [...]
Click here to comment on this article
Abuse of Captives More Widespread, Says Army Survey
By DOUGLAS JEHL, STEVEN LEE MYERS and ERIC SCHMITT
The New York Times
May 26, 2004
WASHINGTON, May 25 — An Army summary of deaths and mistreatment involving prisoners in American custody in Iraq and Afghanistan shows a widespread pattern of abuse involving more military units than previously known.
The cases from Iraq date back to April 15, 2003, a few days after Saddam Hussein's statue was toppled in a Baghdad square, and they extend up to last month, when a prisoner detained by Navy commandos died in a suspected case of homicide blamed on "blunt force trauma to the torso and positional asphyxia."
Among previously unknown incidents are the abuse of detainees by Army interrogators from a National Guard unit attached to the Third Infantry Division, who are described in a document obtained by The New York Times as having "forced into asphyxiation numerous detainees in an attempt to obtain information" during a 10-week period last spring. [...]
Click here to comment on this article
Report: Al Qaeda at 18,000 and swelling
www.chinaview.cn 2004-05-26 09:44:34
BEIJING, May 26 (Xinhuanet) -- Despite losses around the world, al Qaeda has more than 18,000 potential terrorists, and its ranks are growing because of the conflict in Iraq, a leading think tank warned Tuesday. [...]
Click here to comment on this article
Blair and Powell clash over Iraqi veto on Allied forces
By Andrew Grice, Political Editor
26 May 2004
Tony Blair called yesterday for a "real and genuine" transfer of sovereignty to an interim Iraqi government as he put pressure on the Bush administration to allow the Iraqis a veto over the allies' military operations.
His comments appeared to open up an immediate ­ and rare ­ public disagreement with America as Colin Powell, the US Secretary of State, insisted that its forces will remain under American control. Asked if the new government could veto a US operation, General Powell told a news conference with the Belgian Foreign Minister Louis Michel: "Obviously, we would take into account whatever they might say at a political and military level.
"Ultimately, however, if it comes down to the United States armed forces protecting themselves or in some way accomplishing their mission in a way that might not be in total consonance with what the Iraqi interim government might want to do at a particular moment in time, US forces remain under US command and will do what is necessary to protect themselves."
Comment: The Yanks don't want their troops being led by Canadians and Brits, and they are good white people. How could anyone imagine they would allow some coloured folks like the A-rabs tell the good ole boys in uniform what to do.
Click here to comment on this article
Wednesday 26 May 2004, 10:40 Makka Time, 7:40 GMT
Violent clashes between occupation forces and members of Shia leader Muqtada al-Sadr's continue in the Iraqi city of Najaf, a day after a Shia holy shrine was damaged by mortars.
US tanks headed towards the city centre early on Wednesday, but were unable to advance after coming under rocket-propelled grenades fired by al-Mahdi fighters, reported Aljazeera's correspondent Atwar Bahjat.
US helicopters have also been hovering over the city, she added. Tanks backed by the helicopters pounded al-Mahdi fighters based in a cemetery, leaving four people dead, said hospital officials.
Another 29 people were injured in the attack. The casualty toll may be higher because it is difficult for ambulances to reach the area, said medics.
Click here to comment on this article
Tests confirm presence of sarin in artillery shell in Iraq: Pentagon
WASHINGTON (AFP) May 26, 2004
Comprehensive testing has confirmed that a 155mm artillery shell discovered in Iraq earlier this month contained the deadly nerve agent sarin, a Pentagon spokesman said Tuesday.
"Further testing has revealed that it was indeed sarin," said Lieutenant Colonel Barry Venable. "We're looking at what new risks this poses to our operations and people in Iraq," he said.
The 155 mm artillery round that contained sarin was rigged to explode as a roadside bomb but was found by a passing US convoy.
The round detonated as it was being defused, releasing what military officials said was a small amount of sarin. [...]
The shell, which was unmarked, was believed to be an older chemical weapons munition, possibly from stocks produced by Iraq before the 1991 Gulf War, officials have said.
Iraq was known to have used chemical weapons during the 1980s in its war with Iran and against its own Kurdish population.
But the regime of former Iraqi President Saddam Hussein never acknowledged that it still had chemical weapons before a US-led invasion in March 2003, and no stockpiles have been found in the country despite a wide-ranging search for them.
"What is significant is that the confirmation of the presence of sarin (means) there could very well be more of them out there," the official. "The other issue is who might have them." [...]
Comment: As America lumbers towards the next election, US troops find "proof" that Saddam did in fact possess WMD's. One might expect a bigger "find" to be unveiled as the election approaches. Such an event, along with another terror attack, would seal America's fate quite nicely.
Click here to comment on this article
Shrine hit 2nd time in a month

Ian Fisher NYT
Wednesday, May 26, 2004
BAGHDAD For the second time this month, the shrine of Imam Ali, one of the holiest sites for Shiite Muslims, suffered minor damage Tuesday as clashes continued between U.S. forces and militiamen loyal to the rebel cleric Moktada al-Sadr in Najaf and Kufa.
At least 13 people were killed, hospital officials said. Since the shrine in Najaf is extraordinarily sensitive to Shiites, U.S. soldiers have taken great pains to avoid damaging it for fear of turning Shiites who might not ordinarily support Sadr against them.
At least three projectiles struck the shrine's compound Tuesday, one hitting a gate in an inner courtyard and injuring at least 12 people.
The other projectiles, possibly mortars, hit a roof on an outlying building and the ground about 3 meters outside the shrine's main wall. [...]
Brigadier General Mark Kimmitt, chief spokesman for the U.S.-led military coalition, said U.S. troops had not caused the damage.
Kimmitt said it was unclear if it was caused by fighting between rival Shiite factions or whether Sadr's men had fired on the shrine with the intention of blaming the Americans.
"We just can't tell you how much we decry the attempts by Moktada's militia - Moktada, possibly, himself - to violate the sacred holy shrines of the Shia religion for his own personal gain, for his own personal advancement," Kimmitt told reporters. [...]
Comment:

Click here to comment on this article
Japanese citizens file case claiming troop dispatch to Iraq illegal
TOKYO (AFP) May 26, 2004
A group of 219 Japanese citizens filed a lawsuit against the government Wednesday, claiming its dispatch of troops to Iraq violated Japan's pacifist constitution.
The group is seeking an immediate halt to the operations of the roughly 550 Japanese troops stationed in Iraq, as well as token compensation of 10,000 yen (89.5 dollars) for each plaintiff.
"The United States and Britain have illegally invaded Iraq and are militarily governing the country," said the lawsuit which was filed with the Shizuoka District Court, west of Tokyo.
Japanese troops' work under the US-led Coalition Provisional Authority is "a contribution to the occupying administration" and therefore violates Japan's constitution, which forbids the use of military force to resolve international conflicts, it said. [...]
Click here to comment on this article
Japan arrests five in al Qaeda-linked probe
By George Nishiyama
Wednesday May 26, 08:42 AM
TOKYO (Reuters) - Japanese police have arrested five foreigners after carrying out their first raids in a widening probe of suspected al Qaeda activities centring on a French national who spent over a year in Japan.
Police searched 10 locations following media reports last week that Lionel Dumont, who was arrested in Germany last December, was trying to build up a base in Japan to support al Qaeda among a network of foreigners in the country.
Dumont, a French national of Algerian descent, is suspected of being involved in delivering equipment and funds to al Qaeda during his stay in Japan after entering the country on a false passport in 2002, Japanese media said. [...]
Click here to comment on this article
U.S. to announce new al Qaeda threat
Wednesday May 26, 07:31 AM
WASHINGTON (Reuters) - U.S. officials have information suggesting al Qaeda has people in the United States preparing for a large-scale attack this summer, The Washington Post has reported, citing sources familiar with the information.
Attorney General John Ashcroft and FBI Director Robert Mueller are due to hold a 2 p.m. (7 p.m. British time) news conference at FBI headquarters on Wednesday to give details of the threat, law enforcement officials said.
The Post said Ashcroft and Mueller would ask Americans to watch for several suspected al Qaeda operatives who may be in the country.
The concerns are driven by intelligence deemed credible that was obtained about a month ago indicating an attack may be planned between now and Labor Day, The Washington Post reported. [...]
Comment: In recent days, we have run a few articles indicating that those in the corridors of power in Washington are convinced that this warning should be taken very seriously. No one has mentioned the Department of Homeland Security's assessment that the country has successfully foiled numerous terrorist attacks since 9/11. It seems that an attack before the elections is a foregone conclusion...
Click here to comment on this article
Pentagon defers decision on Boeing tanker lease deal
WASHINGTON (AFP) May 26, 2004
US Defense Secretary Donald Rumsfeld has deferred a decision on whether to go ahead with a 23 billion dollar deal to lease and buy 100 aerial refueling aircraft from Boeing until further studies are completed in November, the Pentagon said Tuesday.
Rumsfeld acted after a Defense Science Board study concluded that there was "no material or financial reason" to begin a program to replace the air force's KC-135 tankers before an analysis of alternatives and a study of air mobility capabilities are completed, a senior official said. [...]
Click here to comment on this article
US planes bomb southern Afghanistan, kill 20 Taliban: official
Click here to comment on this article
Ghassan Charbel Al-Hayat 2004/05/25
Iran wins on the Iraqi playground without losing a single soldier or shooting a bullet. Iran criticizes, observes, condemns, and warns however without expanding the fire, rallying in it, or being hasty enough to get injured. It brilliantly manages living with the bursting Iraqi situation accompanied by great wit. Iran has also benefited from Saddam Hussein's collapsed regime. It is hereby collecting the revenues of the American clumsiness. It is too early to discuss the final inventory. The crisis is open and warns of the worst but in the absence of other winners, so far Iran seems to be the bigger winner in the whole picture.
Click here to comment on this article
At last, Kerry set to tackle Bush on war in Iraq
TIM HARPER
WASHINGTON BUREAU
May 26, 2004. 01:00 AM
WASHINGTON—Until now, John Kerry has been following political advice that dates back to when ballots were counted with an abacus — if your opponent is imploding, get out of the way.
[...] One of Kerry's problems is there is now very little daylight between his Iraq policy and the president's Iraq policy.
Comment: So Kerry is 1% stronger in his pro-Israel policies than Bush, and there is no daylight between their Iraq policies. So much for any change in November. The American people have been manipulated once more. No choice. No change. And the rest of the world will once again pay for American arrogance.
Click here to comment on this article
ROSIE DIMANNO
Long before the invasion of Iraq, while Gen. Tommy Franks was quietly formulating a plan of attack even as diplomatic maneuvering to avoid war consumed the United Nations, Colin Powell put the consequences bluntly to President George W. Bush.
"You will be the government until you get a new government,'' the secretary of state warned, a private conversation recounted in Plan of Attack, Bob Woodward's definitive behind-the-scenes narrative of the decision to launch a pre-emptive war.
"You are going to be the proud owner of 25 million. You will own all their hopes, aspirations and problems. You'll own it all.''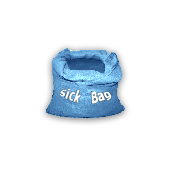 This, as Powell did not say to the president but did express to others, was what the secretary called his "Pottery Barn'' rule: You break it, you own it.
[...] The U.S. cannot be blamed because there are so many elements within Iraq intractably opposed to the very idea of democratic government, or that these elements have inflicted such misery on fellow Iraqis, promoting chaos over stability because a deranged Iraq suits their purposes. But Washington can be blamed for a colossal failure in blunting the ferocity of the insurrection, for administering the country so poorly that ordinary Iraqis — most of whom have known only dictatorial rule in their lifetime — have transferred their faith to militant forces that at least share their culture and revulsion for a sloppy occupation, and can tap into the ever-present feelings of Arab humiliation.
Comment: "The US cannot be blamed"??? Is it the Iraqis who inflict the misery, or is it the Americans and their Zionist/Israeli friends who wish to see a weakened and unstable Iraq? This kind of apologetics is going to get more and more prominent as the situation deteriorates. And, unfortunately, many people will buy it, as most people do not want to admit they were wrong. Instead, they prefer to pile rationalisation upon rationalisation to vindicate themselves, putting the blame squarely upon the shoulders of others.
Does it matter that all of the excuses given for the invasion and occupation were lies? Not to these apologists. An elephant was let loose in the "Pottery Barn." Anyone will two neurons firing was able to predict the outcome.
But aren't we are like this in our own lives? Don't we offload the blame onto others for our own mistakes? How many of us are capable of facing the music? That is why the world can't be changed, why we are careening into chaos and impending catastrophe. We are doomed because we are all mechanical automatons bouncing off of each other like out of control bumper cars with no one at the wheel.
Click here to comment on this article
US paper apologises for false Iraq reports
Wednesday 26 May 2004, 13:42 Makka Time, 10:42 GMT
The New York Times has admitted that information it published about Iraq's purported weapons of mass destruction programme was not supported.
In a letter from its editors entitled The Times and Iraq the paper printed on Wednesday that its coverage had not been "rigorous".
"In some cases, information that was controversial then, and seems questionable now, was insufficiently qualified or allowed to stand unchallenged."

"Looking back, we wish we had been more aggressive in re-examining the claims as new evidence emerged - or failed to emerge."
Comment: An apology after the fact, after thousands of Iraqis are dead, after the US is installed, after the Neocons have achieved the destabilisation of the country. What good is this going to do because we all know in our heart of hearts that the New York Times will do exactly the same thing the next time around. It will find excuses to support a criminal government in their lies and manipulations, refusing to publish any critical commentary on what is really going on. All this is good for is the maintenance of the American myth. "You see, we can admit our errors, we aren't afraid to say we were wrong."
It doesn't matter if the Times apologises. It doesn't matter if Kerry defeats Bush. It is too late.
Noam Chomsky has come out supporting Kerry. He says he knows they are alike, that there is only a small difference between the two candidates. Chomsky argues that even this small difference can mean important differences down the road. It almost sounds like a non-linear system. Unfortunately, in this system, we are seeing small differences in the lies. We at Signs of the Times also think that an understanding of non-linear systems is important, but in a different way. A small group of people holding onto the Truth, shining the light of Truth into the darkness, may have the ability to bring about great change. But it is the difference between truth and lies that is what is important; the difference between two systems of lies is negligible.
Guard stops enlistments for 2 recruits

GRANTS PASS - Two Oregon National Guard recruits were allowed to rescind their enlistments Monday after authorities learned that they felt pressured by false advice that they could otherwise be sent to Iraq with the U.S. Army Reserve.
At least 10 other recruits who had already served in the Army but were eligible to be called back for duty in the U.S. Army Reserve have asked for their enlistments in the Oregon Guard to be reviewed for the same reason, Guard spokesman Capt. Mike Braibish said in Salem.
Oregon was one of a number of ``hot spots'' around the county where Army Reserve recruiters contacted members of the Individual Ready Reserve with misleading efforts to get them back into the active reserve, Army Reserve spokesman Stephen Stromvall said from Fort McPherson, Ga.
Some Army Reserve recruiters went overboard and advised people to choose a reserve or National Guard unit before May 17 or the Army Reserve would assign them to one that could be headed for Iraq, Stromvall said.
Comment: So, Army Reserve recruiters were calling up part-time soldiers, and lying to them, saying they would be sent to Iraq if they didn't re-enlist by May 17th. Off the record, Defence Secretary Donald Rumsfeld was heard saying this was certainly the work of a "rogue group of recruiters, who were acting alone, and absolutely had no directive for this behaviour from higher up."
The investigation continues...
Click here to comment on this article
Gaza raids 'left 2,000 homeless'
The UN says nearly 2,000 Palestinians have been made homeless this month by Israeli house demolitions in Gaza.
May has been one of the worst months in last three years, the UN relief agency for Palestinian refugees said, with 575 people made homeless in the last week.
Israeli forces have now withdrawn from Rafah, but the halt in the operation was described by the army as a "pause".
Click here to comment on this article
U.S. Jews suggest special adviser for Annan

By Shlomo Shamir

NEW YORK - American Jewish leaders have asked UN Secretary General Kofi Annan to appoint a special advisor on Jewish affairs to be his liaison with American Jewish organizations. The request was made at a meeting with Annan last week.
According to a UN source, the Jewish leaders said that they made the unusual request because Annan is surrounded by aides and advisors - many of them from Muslim countries - who are hostile to Jews, and they have therefore found themselves unable to access him. "We have no one to talk to in the secretary-general's entourage," explained one.
As an example of the difficulties, the leaders noted that they had requested last week's meeting a year ago, but only recently received an affirmative response.
UN sources said Annan promised to consider the Jewish leaders' request. At the meeting, the Jewish leaders also complained that several of Annan's recent public statements have been one-sided and hostile to Israel. Annan responded that he is in a difficult situation.
American Jewish leaders have complained for some time about the way Annan's inner circle relates to Jews and Israel. His Pakistani bureau chief is particularly noted in Jewish circles for avowed hostility toward Jews.
Annan's special envoy to Iraq, Lakhdar Brahimi, also aroused Jewish ire recently when he said in a newspaper interview that Israeli policy is "the big poison in the region."
Comment: Kofi Annan has been one of the few prominent international leaders to openly criticize Israeli government actions towards the Palestinians. Perhaps the Jewish leaders equate telling the truth with being "hostile to Jews". Notice how the story above links "Muslims" with "hostility", even though according to the Jewish leaders quoted, Mr Annan also has aides and advisors who are not Muslim, but are also deemed "hostile"? Perhaps it's not really about making appointments with the Secretary General after all, and more concerned with having a 'Zionist influence' within his inner circle.
Click here to comment on this article
Ayoon wa Azan (Summit's Banquet)
Jihad Al Khazen Al-Hayat 2004/05/25
I challenge the Arab reader to think about a subject, project, or a wish for his country and Umma (nation), which the Arab Summit in Tunisia did not deal with, and sometimes more than once.
[...] I ask on the behalf of this powerless citizen: why is the reform late up till today?
In connection with the answer, I only have a remark that the Arab reform projects were brought up when the U.S. suggested its projects for the Greater Middle East and for spreading democracy the Iraqi way and according to the Abu Ghraib model.
The Arab reform projects came to foil the American ones. The secret word is in talking about the Arab reform "from the inside". This means that reform cannot be opposed from the outside but should originate from within the concerned countries.
If this was right then why did not this reform originate since 10, 20, or 50 years ago, but it waited for an initiative from the neo-conservative administration to present its counter initiative.
The Arab citizen, who is trapped between the regimes' hammer and the U.S. anvil, will not get from the Summit's banquet other than crumbs, and perhaps even that, he would not get.
I insist that I am not showing pessimism or optimism here. However, I am trying to show some acquired realism from life experience with the Arab regimes in which each of them wants reform in the neighboring country, or in its country, but in the future.
Certainly there are Arab countries, which are more democratic than the others. There are Arab countries, which have economic capabilities that allow them to implement reforms that others cannot. Actually the implementing manner differs from a country to the other according to different capabilities. There are Arab countries with open economies and regional and international economic activity. While other countries are chained by old economic systems that failed in Russia and in the extinct Communist camp but persisted in our countries. The same thing applies with respect to women's right and participation in building their country. Some Arab countries need years to reach where others stand today. They might not reach this because their societies prohibit the required changes. I noticed in the concluding statement about women the clause, which says "according to our cultural beliefs, values, and traditions". The belief might be the same, however, values and traditions differ from the ocean to the gulf, and it is useless to deny this.
Click here to comment on this article
US in new move to keep nuclear materials out of terrorist hands
VIENNA (AFP) May 26, 2004
The United States on Wednesday unveiled a 450-million-dollar plan to try and prevent nuclear materials stored around the world from falling into the hands of terrorists who could use them to make a "dirty" bomb or even a full-fledged atomic device.
The US plan will include working with Russia "to repatriate all Russian-origin fresh HEU (highly enriched uranium) (nuclear) fuel by the end" of 2005, Energy Secretary Spencer Abraham said at a meeting with senior staffers of the Vienna-based International Atomic Energy Agency (IAEA). [...]
Click here to comment on this article
Vietnam's nuclear ambitions gather steam
HANOI (AFP) May 26, 2004
Vietnam's programme to build its first nuclear power plant by 2020 is gathering steam, with officials saying Wednesday that a pre-feasibility study will be submitted to the government this year. [...]
Click here to comment on this article
Construction to begin on China-made nuclear reactors this year
BEIJING (AFP) May 26, 2004
Construction on four 1,000 megawatt Chinese-designed nuclear reactors is set to begin this year as part of a 9.7 billion dollar plan to build eight new nuclear power plants, state press reported Wednesday. [...]
"The four units will be designed and constructed with domestic technology," Kang was quoted as saying.
China's nuclear power industry, although only providing a small percentage of its overall energy, is expected to be one of the world's fastest growing in the coming years. [...]
Click here to comment on this article
Vancouver bus quarantined after mystery substance found
Last Updated Tue, 25 May 2004 23:39:01
VANCOUVER - As many as 19 people were quarantined Tuesday after a suspicious substance was discovered on a Vancouver bus.
A hazardous materials team cordoned off the transit bus and removed the substance. The express bus had arrived at Vancouver's Waterfront Centre from Richmond.
Police say the substance, which consisted of some kind of brown pellets, made the driver and two other passengers sick.
[...] Officials have not yet positively identified the substance, but police believe it may be phosphine.
Phosphine is a colourless, flammable and explosive gas used in semiconductor and plastics industries to make a flame retardant and a pesticide in stored grain.
Click here to comment on this article
Land-level changes from a late Holocene earthquake in the northern Puget lowland, Washington
Harvey Kelsey, Humboldt State University, Department of Geology, Arcata, CA 95521, U.S.A., et al. Pages 469-472.
A magnitude 6.5–7 earthquake struck the northern Puget Sound (Washington) area ca. 3000 years ago, resulting in abrupt uplift of the ground surface. The earthquake was discovered by geologists Harvey Kelsey (Humboldt State University, Arcata, California) and Brian Sherrod (U.S. Geological Survey) while investigating the record of sea level rise at coastal marshes on central Whidbey Island. The geologists noted that sea level abruptly dropped at one marsh relative to the other ca. 3000 years ago, which was odd because the two marshes are only a few miles from each other.
Following up on a hunch that the reason for odd sea level behavior was an earthquake, Kelsey and Sherrod teamed up with coauthors Sam Johnson and Shawn Dadisman of the U.S. Geological Survey; these two marine geologists looked for evidence of the earthquake in seismic records in the ocean floor just offshore of the marshes. Johnson and Dadisman found that a fault, which probably caused the earthquake, cuts the seafloor and runs right between the two marshes. Kelsey and colleagues discovery of a prehistoric earthquake 3000 years ago in the northern Puget lowland is doubly shaky. That is, the region not only is prone to seismic shaking from subduction zone earthquakes offshore but also from magnitude 6.5–7 earthquakes that will let loose right beneath your feet, if your feet are standing somewhere in the urbanized coastal corridor from Everett, Washington north to the Canadian border.
Click here to comment on this article
N.M. Governor Seeks Help With Wildfire
By The Associated Press
May 26, 2004
CAPITAN, N.M. - As a wildfire exploded in size in rural south-central New Mexico, the governor blasted the federal government for not allowing heavy air tankers to battle the flames.
After the blaze in Lincoln National Forest grew to more than 23,000 acres, Gov. Bill Richardson renewed his call for the Bush administration to allow the tankers to be used to drop fire retardant. The planes were grounded because of safety concerns after two broke up in flight during the 2002 fire season. [...]
Click here to comment on this article
Nuriootpa quake shakes region (Australia)
Gerri Nelligan
Wednesday, 26 May 2004
It was shakin', rattlin' and rollin' across the Barossa and beyond on Monday morning, as an earthquake registering 3.2 on the Richter scale made its presence felt.
Primary Industries and Resources SA (PIRSA) seismologist David Love said the epicentre of the earthquake, which occurred at 4.05am, was 15 kliometres north-east of Nuriootpa and the occurrence woke sleepers for kilometres around.
Click here to comment on this article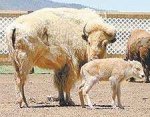 White bison born near Flagstaff

Bob Golfen
The Arizona Republic
May. 24, 2004 12:00 AM
The owners of a small bison herd near Flagstaff were surprised Saturday morning to find one of their rare white buffaloes had given birth to something even rarer: a white calf.
A white calf is a one-in-10 million occurrence, said Keith Davis, a spokesman for Spirit Mountain Ranch.
"This is so rare specifically because she was born white," Davis said. "The others were born red (like normal buffaloes) and turned white."
The birth of a white bison is meaningful for many Native American tribes, especially Plains Indians such as the Lakota, who consider it a symbol of rebirth when the world's people are in troubled times. [...]
Click here to comment on this article
Internet sex scandal rocks Washington establishment
www.chinaview.cn 2004-05-26 09:48:49
BEIJING, May.26 (Xinhuanet) -- Washington loves nothing as much as a summer sex scandal, and the season is off to an early start this year, as a congressional aide was sacked after posting her lovemaking exploits on the Internet.
Jessica Cutler, 24 -- who has become better known in Washington circles by her nom de plume, "Washingtonienne" -- was dismissed last week from her job as an entry-level aide to Republican Senator Mike DeWine.
Her jauntily written Internet diary includes lurid descriptions of sexual encounters on Capitol Hill and other venues in official Washington -- some allegedly involving prominent, but unnamed, paramours.
The tawdry accounts, which have become "must-reads" in Washington, include descriptions of sexual favors for money, which she says she grants to supplement her paltry paycheck.
"Most of my living expenses are thankfully subsidized by a few generous older gentlemen," she writes in one entry on her "blog," or Web log.
"I'm sure I'm not the only one who makes money on the side this way: How can anybody live on 25K (25,000 dollars) a year?"
Click here to comment on this article
Arm implant gives clubbers access all areas
22 May 2004 10:00
You stroll past the queue outside and walk straight into the club slowing down to flash your arm past an electronic scanner. At the bar you claim your vodka tonic by flexing your triceps at the bar staff and even the door to the chillout room opens automatically when you approach.
It may not be for the squeamish but clubbers who want to dodge queues and get VIP treatment every night at a Spanish nightclub can have a microchip implanted in their left arm.
The chip, a radio frequency identification device the size of a grain of rice, gives members instant access to the VIP lounge at the Baja Beach Club, a popular haunt for British revellers. Injected into the upper left arm, it also allows them to reserve tables or pay for drinks by flexing their triceps in front of an electronic reader. The scheme is the brainchild of Conrad Chase, an American entrepreneur who owns the 3,000-capacity club in Barcelona.
Click here to comment on this article
---
Remember, we need your help to collect information on what is going on in your part of the world!
We also need help to keep the Signs of the Times online.
---

Check out the Signs of the Times Archives

Send your comments and article suggestions to us

---
Fair Use Policy
Contact Webmaster at signs-of-the-times.org
Cassiopaean materials Copyright ©1994-2014 Arkadiusz Jadczyk and Laura Knight-Jadczyk. All rights reserved. "Cassiopaea, Cassiopaean, Cassiopaeans," is a registered trademark of Arkadiusz Jadczyk and Laura Knight-Jadczyk.
Letters addressed to Cassiopaea, Quantum Future School, Ark or Laura, become the property of Arkadiusz Jadczyk and Laura Knight-Jadczyk
Republication and re-dissemination of our copyrighted material in any manner is expressly prohibited without prior written consent.
.