---
New Article: Jupiter, Nostradamus, Edgar Cayce, and the Return of the Mongols - Laura Knight-Jadczyk
Part 1, Part 2, Part 3, Part 4, Part 5, Part 6, Part 7, Part 8, Part 9, Part 10, Part 11, Part 12, Part 13
Picture of the Day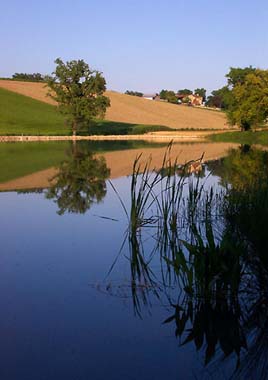 May Evening
©2004 Pierre-Paul Feyte
When Liberators And The Oppressed Become The Oppressors
By Glenn Becker
5/23/04
All the images that are currently coming out of the Middle East are very reminiscent of the historical photos and newsreel footage that depicted the ruthless and brutal nature of Hitler's Nazi regime. The chilling comparison between the two should be very frightening and sickening to anyone who has even a sliver of a conscience. The disgusting images of the U.S military prison personnel in Iraq with their evil, gleeful smiles overlooking dead prisoners, to the bloody carnage against civilians being carried out in Iraq and also by the IDF in the Palestinian occupied territories should be more than enough evidence that something is catastrophically wrong with the mindset of the Bush/Neoconservative – Sharon/Zionist alliance.
What seems to be even worse is the lack of outrage shown by the citizens of those two countries. Here in the U.S. we were told that we were liberators freeing an oppressed people. Does that appear to be the case? I think not in light of all the facts and evidence that have been revealed pertaining to the tactics employed by the U.S. military in Iraq. However, one must remember that the military is merely an extension of the present civilian government and to believe that elements of the Bush administration had, or has, no knowledge or input as to the brutal tactics being used against the people of Iraq is equivalent to the 'blind eye' excuse used by the German people after the Nazi's demise. But we cannot use that same excuse, unless of course, we choose not to see. Perhaps, it's easier to disconnect from the suffering of others up until the point where we personally suffer ourselves and/or become one of the oppressed.
As for the Sharon/Zionists, the mind-boggling and appalling use of force against Palestinian civilians is doubly shameful, if that's possible, in view of the brutality Jewish civilians had to endure at the hands of Hitler and his henchmen. But now, the tables have turned and the once oppressed have become the oppressors. The adage that "all power corrupts and absolute power corrupts absolutely" poignantly describes the Zionist ideology. And it is an ideology, not a theology. While some Jews may be Zionists, not all Jews are Zionists because the Zionist agenda is secular in nature, not theocratic. Unfortunately, this is a common misconception that fuels the bigotry and misguided stereotype towards the Jewish people. For sure, it's true that the citizens of Israel have also had to endure the loss of life and property by the hands of those who use terror, but also keep in mind, that those terrorists have not only been of an external source, but also internal. The Mossad's credo is " By way of deception, we shall make war", (or some claim a more accurate translation is "by way of terror") which can be interpreted as "Anything goes". Yet another analogy when compared to the ruthless nature of Hitler's Gestapo. The Mossad is a creation of the Zionists, not Jews per say, and the main objective of Zionism is not peaceful co-existence with its neighbors, but, domination. Instilling hatred for its neighbors by any means necessary undoubtedly means just that.
All this put in its proper perspective would imply that those who are Jewish in Israel and worldwide alike have a responsibility to not only voice their outrage at those who would lead them down the path to destruction, but to replace those who would do so with a more rational and sensible government that uses force only as a last resort, not as a means to instigate and rule others. Defend, yes. Offend, no. Ditto, America.
Click here to comment on this article
Gaza political storm hits Israel
23 May, 2004

The Israeli justice minister has infuriated cabinet colleagues by saying the army offensive in Gaza reminded him of his family's woes in World War II.
Yosef Lapid said a TV picture of an elderly Palestinian woman in the rubble reminded him of his grandmother.
Prime Minister Ariel Sharon reprimanded Mr Lapid, who denied he was drawing comparisons with the Holocaust.
Mr Sharon said he would put his new plan for a staged withdrawal from Gaza before the cabinet this month.
"I intend to present my disengagement plan to the cabinet in a week and get it approved," Mr Sharon said.
More demolitions?
Israeli troops have demolished dozens of homes in the Rafah refugee camp.
In an interview with Israel Defence Forces radio, Mr Lapid revealed that the army was considering demolishing another 2,000 homes in Rafah to widen the so-called Philadelphi road on the border with Egypt.
Referring to the TV picture, Mr Lapid said he was "talking about an old woman crouching on all fours, searching for her medicines in the ruins of her house and that she made me think of my grandmother".
"I said that if we carry on like this, we will be expelled from the United Nations and those responsible will stand trial at The Hague," Mr Lapid told Israel radio, describing his argument in cabinet.
Comment: It is interesting that the extent of Sharon's fury over this outburst was to merely "reprimand" Mr. Lapid. It is also interesting that Sharon has used Mr. Lapid's comments to promote his plan for a withdrawal from Gaza. Both Israelis and Palestinians are against the planned withdrawal. Many Israelis claim it would be a sign of defeat, and a backing away from the plan to create a greater Israel. Some Palestinians on the other hand see any withdrawal of the IDF troops from Gaza as the first step towards creating an illegal Israeli state on Palestinian land, leaving them with only the Gaza strip. IN this light we are suspicious of this latest development, especially since it seems to be an attempt by Sharon to emotionally blackmail Israelis into supporting his plan for withdrawal from Gaza.
Click here to comment on this article
Security scare shuts Kings Bay
By LIZ HAMPTON
Florida Times-Union
Sat., May 22, 2004 - 02:23 AM
ST. MARYS, Ga. -- Kings Bay Naval Submarine Base was locked down for security reasons Friday after two Israelis were detained for questioning.
Base spokesman Ed Buczek said two Israeli men attempted to enter the base about 10:30 a.m. They were hired by a moving-and-storage company to pick up some household goods in base housing, he said.
One occupant of the vehicle was unable to provide base security personnel with proper credentials after arriving at the Franklin Gate entrance, Buczek said.
Base personnel then inspected the van. Military dogs trained to detect bombs were called in.
"The military dogs were alerted to a scent in the cab of the truck," Buczek said. "Guards closed access to the base and notified the Georgia Bureau of Investigation, the Federal Bureau of Investigation and the Naval Criminal Investigative Service."
St. Marys police closed access to an area one-half mile out surrounding the base, and a bomb squad was called in, Buczek said. A briefcase was removed from the vehicle with a remote control robot, but nothing was found in it.
"The dogs were called in again for a second pass of the vehicle, and they didn't pick up anything," he said.
The two men, whose names were not released, were detained and later taken into custody by federal immigration officers in Savannah for possible deportation, Buczek said.
Comment: Okay, let's see if we have this straight: Two Israelis in a moving truck try to con their way into a US Navy submarine base. They are stopped by US authorities. What happens next? Questioning? Interrogation? Why no! They are handed over to immigration officers for deportation! Might these two men have perhaps possessed some important information relating to "US national security" perhaps?? We suspect so! But then again, nowadays US national security is dependent on what is good for Israel and it's crazed fundamentalist leaders. Think about what would have happened if the two men were Arabs instead of Israelis. Obviously, they would immediately have been regarded and treated as terrorists. Yet again, we have a case of Israelis, moving companies, and a certain interest in key terrorism targets in America. How much more proof do people need??
Just a couple of weeks ago two Israelis were stopped driving another moving van in a remote part of the Appalachians. In that incident they were seen to discard a bottle containing a liquid mixture that could have been used as a "culture for the development of some sort of bug (virus)". What happened to these two ex-IDF Israelis? Jail? Of course not. After the FBI attempted to dismiss the case as insignificant, the men were tried for immigration violations, and subsequently released!
How long before people begin to wake up to the evidence that Israeli intelligence was probably involved in the events of 9/11, and that they seem to be plotting a repeat performance...?
Click here to comment on this article
Israeli Leader's WWII Analogy Draws Fire
By RAMIT PLUSHNICK-MASTI, Associated Press Writer
May 23, 2004
JERUSALEM - Causing an uproar, an Israeli Cabinet minister said Sunday he was reminded of the suffering of his family under Nazi rule when he saw TV images of an Israeli offensive in a Palestinian refugee camp.
Justice Minister Yosef Lapid, a Holocaust survivor, insisted he was not likening army actions to Nazi policies. However, he said the picture of an elderly woman searching for medication in the rubble of a home razed by Israel in the Rafah camp reminded him of his grandmother.
Infuriated Cabinet colleagues said that even if unspoken, the analogy was clear, and demanded he retract his comments. [...]
Many Israelis have relatives who perished in the Nazi genocide, and using the issue in political debate, however heated, is considered taboo. Any comparisons between the Holocaust and other acts are seen as cheapening the memory of the 6 million Jews killed by the Nazis. [...]
Click here to comment on this article
Arab leaders condemn attacks on civilians, including Israelis
May 23, 2004
TUNIS (AFP) - Arab leaders ending their summit here Sunday adopted language condemning attacks on "civilians without distinction," a reference to Israeli civilians as well as Palestinians.
According to the language adopted at the summit here, "the leaders condemn all Israeli military operations in the Palestinian and Arab territories as well as operations that target civilians without distinction."
The text also condemns "operations which target Palestinian leaders and which lead to violence and counterviolence, and (the leaders) believe they will not lead to the peace the region needs."
Click here to comment on this article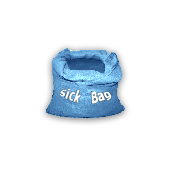 Iraqis lose right to sue troops over war crimes
Kamal Ahmed, political editor
The Observer
Sunday May 23, 2004
British and American troops are to be granted immunity from prosecution in Iraq after the crucial 30 June handover, undermining claims that the new Iraqi government will have 'full sovereignty' over the state.
Despite widespread ill-feeling about the abuse of prisoners by American forces and allegations of mistreatment by British troops, coalition forces will be protected from any legal action.
They will only be subject to the domestic law of their home countries. Military sources have told The Observer that the question of immunity was central to obtaining military agreement on a new United Nations resolution on Iraq to be published by the middle of next month.
The new resolution will lift the arms embargo against Iraq, allowing the country to rearm its 80,000-strong army in readiness for taking over the nation's security once coalition forces finally leave. [...]
Click here to comment on this article
Rumsfeld bans camera phones in Iraq: report
May 23, 2004
LONDON (AFP) - Cellphones fitted with digital cameras have been banned in US army installations in Iraq on orders from Defense Secretary Donald Rumsfeld, a business newspaper reported.
Quoting a Pentagon source, The Business newspaper said the US Defense Department believes that some of the damning photos of US soldiers abusing Iraqis at Abu Ghraib prison near Baghdad were taken with camera phones.
"Digital cameras, camcorders and cellphones with cameras have been prohibited in military compounds in Iraq," it said, adding that a "total ban throughout the US military" is in the works. [...]
Comment: What are we left to conclude from this maneuver? How about the following: the torture was not the result of a "few bad apples", but rather an official policy; the US has no intention of ending the practice of torturing prisoners. With a long history of brutality, there is really nothing unusual about US actions in Iraq. What is unusual is the press the matter has been getting lately.
Click here to comment on this article
When War is Swell: Bush's Crusades and the Carlyle Group
By JEFFREY ST. CLAIR
May 23, 2004
Across all fronts, Bush's war deteriorates with stunning rapidity. The death count of American soldiers killed in Iraq will soon top 800, with no end in sight. The members of the handpicked Iraqi Governor Council are being knocked off one after another. Once loyal Shia clerics, like Ayatollah Sistani, are now telling the administration to pull out or face a nationalist insurgency.
The trail of culpability for the abuse, torture and murder of Iraqi detainees seems to lead inexorably into the office of Donald Rumsfeld. The war for Iraqi oil has ended up driving the price of crude oil through the roof. Even Kurdish leaders, brutalized by the Ba'athists for decades, are now saying Iraq was a safer place under their nemesis Saddam Hussein. Like Medea whacking her own kids, the US turned on its own creation, Ahmed Chalabi, raiding his Baghdad compound and fingering him as an agent of the ayatollahs of Iran. And on and on it goes.
Still not all of the president's men are in a despairing mood. Amid the wreckage, there remain opportunities for profit and plunder. Halliburton and Bechtel's triumphs in Iraq have been chewed over for months. Less well chronicled is the profiteering of the Carlyle Group, a company with ties that extend directly into the Oval Office itself.
Even Pappy Bush stands in line to profit handsomely from his son's war making. The former president is on retainer with the Carlyle Group, the largest privately held defense contractor in the nation. Carlyle is run by Frank Carlucci, who served as the National Security advisor and Secretary of Defense under Ronald Reagan. Carlucci has his own embeds in the current Bush administration. At Princeton, his college roommate was Donald Rumsfeld. They've remained close friends and business associates ever since. When you have friends like this, you don't need to hire lobbyists.
Bush Sr. serves as a kind of global emissary for Carlyle. The ex-president doesn't negotiate arms deals; he simply opens the door for them, a kind of high level meet-and-greet. His special area of influence is the Middle East, primarily Saudi Arabia, where the Bush family has extensive business and political ties. According to an account in the Washington Post, Bush Sr. earns around $500,000 for each speech he makes on Carlyle's behalf.
One of the Saudi investors lured to Carlyle by Bush was the BinLaden Group, the construction conglomerate owned by the family of Osama bin Laden. According to an investigation by the Wall Street Journal, Bush convinced Shafiq Bin Laden, Osama's half brother, to sink $2 million of BinLaden Group money into Carlyle's accounts. In a PR move, the Carlyle group cut its ties to the BinLaden Group in October 2001.
One of Bush Sr.'s top sidekicks, James Baker, is also a key player at Carlyle. Baker joined the weapons firm in 1993, fresh from his stint as Bush's secretary of state and chief of staff. Packing a briefcase of global contacts, Baker parlayed his connections with heads of state, generals and international tycoons into a bonanza for Carlyle. After Baker joined the company, Carlyle's revenues more than tripled.
Like Bush Sr., Baker's main function was to manage Carlyle's lucrative relationship with Saudi potentates, who had invested tens of millions of dollars in the company. Baker helped secure one of Carlyle's most lucrative deals: the contract to run the Saudi offset program, a multi-billion dollar scheme wherein international companies winning Saudi contracts are required under terms of the contracts to invest a percentage of the profits in Saudi companies.
Baker not only greases the way for investment deals and arms sales, but he also plays the role of seasoned troubleshooter, protecting the interests of key clients and regimes. A case in point: when the Justice Department launched an investigation into the financial dealings of Prince Sultan bin Abdul Aziz, the Saudi prince sought out Baker's help. Baker is currently defending the prince in a trillion dollar lawsuit brought by the families of the victims of the 9/11 attacks. The suit alleges that the prince used Islamic charities as pass-throughs for shipping millions of dollars to groups linked to al-Qaeda.
Baker and Carlyle enjoy another ace in the hole when it comes to looking out for their Saudi friends. Baker prevailed on Bush Jr. to appoint his former law partner, Bob Jordan, as the administration's ambassador to Saudi Arabia.
Carlyle and its network of investors are well positioned to cash in on Bush Jr.'s expansion of the defense and Homeland Security department budgets. Two Carlyle companies, Federal Data Systems and US Investigations Services, hold multi-billion dollar contracts to provide background checks for commercial airlines, the Pentagon, the CIA and the Department of Homeland Security. USIS was once a federal agency called the Office Federal Investigations, but it was privatized in 1996 at the urging of Baker and others and was soon gobbled up by Carlyle. The company is now housed in "high-security, state-of-the-art, underground complex" in Annandale, Pennsylvania. USIS now does 2.4 million background checks a year, largely for the federal government.
Another Carlyle subsidiary, Vought Aircraft, holds more than a billion dollars in federal contracts to provide components for the C-117 transport plane, the B-2 bomber and the Apache attack helicopter. Prior to 2001, Vought had fallen on hard times. Just before the 9/11 attacks, Vought announced that it was laying off more than 1,200 employees, more than 20 percent of its workforce. But business picked up briskly following the airstrikes on Afghanistan and the war on Iraq.
In 2002, Carlyle sold off its biggest holding, United Defense. The sale may have been prompted by insider information leaked to Carlucci by his pal Rumsfeld. In early 2001, Carlyle was furiously lobbying the Pentagon to approve contracts for the production of United Defense's Crusader artillery system, an unwieldy and outrageously expensive super-cannon. Rumsfeld disliked the Crusader and had it high on his hit list of weapon systems to be killed off in order to save money for other big ticket schemes, particularly the Strategic Defense Initiative.
But, as detailed in William Hartung's excellent new book, How Much Are You Making in the War, Daddy?, Rumsfeld didn't terminate the Crusader immediately. Instead, he held off on a public announcement of his decision for more than a year. By that time, Carlucci and Baker devised a plan to take United Defense public. The sale to unsuspecting investors netted Carlyle more than $237 million. Six months later, Rumsfeld closed the book on the Crusader. By then the gang at Carlyle had slipped out the back door, their pockets stuffed with cash. United Defense was able to petition the Pentagon to compensate them to the tune of several million for cancellation of the contract. Even when you lose, you win.
So the men behind the Carlyle Group drift through Washington like familiar ghosts, profiteering off the carnage of Bush's disastrous crusades, untroubled by any thought of congressional investigation or criminal prosecution, firm in the knowledge that the worse things get for the people of the world, the less secure and more gripped by fear the citizens their own country become, the more millions they will reap for themselves. Perpetual war means perpetual profits.
Let's leave the last word to Dan Broidy, author of The Iron Triangle, an illuminating history of the Carlyle Group: "It's not an exaggeration to say that September 11 is going to make the Carlyle investors very, very rich men."
Click here to comment on this article
US forces kill 32 in Iraq mosque battle as political costs mount for Bush
KUFA, Iraq : US-led forces killed 32 Iraqis when they raided a mosque in the holy city of Kufa, but despite a string of tactical victories the political costs of the war in Iraq continued to rise for US President George W. Bush.
Click here to comment on this article
Britain rips U.S. `tactics': Memo cites Falluja fighting, abuse
Coalition's `moral authority sapped'
REUTERS, ASSOCIATED PRESS
LONDON—A leaked memo from Britain's foreign ministry blasts "heavy-handed tactics" by the U.S. military in Iraq and soldiers' abuse of prisoners, the Sunday Times newspaper reported.
Britain has been Washington's most staunch ally throughout the conflict, but the paper said the memo "blows apart" Prime Minister Tony Blair's public insistence that there are no differences between Britain and the United States over strategy.
[...] Meanwhile, declaring that "bad people have parties too," a U.S. general said in Baghdad yesterday there was strong evidence of illegal activity at a house in the remote desert where U.S. forces killed about 40 Iraqis last week.
The U.S. military says the house was a staging post for foreign fighters entering Iraq, but Iraqi witnesses and relatives of the dead say the attack targeted a wedding party and that several women and children were among those killed.
"The more we look at the post-strike intelligence, the more we continue to dig into what we found at that location, the more we are persuaded that there was not a wedding going on," Brig.-Gen. Mark Kimmitt said.
"There may have been some kind of celebration. Bad people have celebrations too. Bad people have parties too."
Comment: One explanation for Blair's commitment to Bush's war is that he believes he can influence US policy by showing a united face in public while offering his criticisms in private. Yet what evidence do we have that he has ever succeeded?
Click here to comment on this article
Two journalists subpoenaed over disclosure of US spy identity
www.chinaview.cn 2004-05-24 01:54:42
WASHINGTON, May 23 (Xinhuanet) -- At least two US journalists havebeen subpoenaed by a federal grand jury to testify about whether the White House leaked the identity of an undercover CIA officer to the news media, The New York Times reported Sunday.
The two journalists were Tim Russert of NBC's "Meet the Press" and Matthew Cooper of the Time magazine.
Lawyers of the two news organizations said they would fight thesubpoenas, and NBC said its subpoena could have a "chilling effect" on its ability to report the news.
"Sources will simply stop speaking with the press if they fear those conversations will become public," Neal Shapiro, president of the NBC, said in a statement.
Click here to comment on this article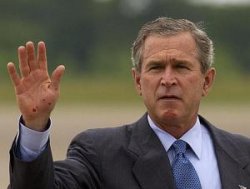 Bush Suffers Cuts, Bruises While Biking
By DEB RIECHMANN, Associated Press Writer
May 23, 2004
CRAWFORD, Texas - President Bush suffered cuts and bruises early Saturday afternoon when he fell while mountain biking on his ranch, White House spokesman Trent Duffy said.
Bush was on the 16th mile of a 17-mile ride when he fell, Duffy said. He was riding with a military aide, members of the Secret Service and his personal physician, Dr. Richard Tubb.
"He had minor abrasions and scratches on his chin, upper lip, nose, right hand and both knees," Duffy said. "Dr. Tubb, who was with him, cleaned his scratches, said he was fine. The Secret Service offered to drive him back to the house. He declined and finished his ride."
Bush was wearing his bike helmet and a mouth guard when the mishap occurred. Duffy said he didn't know exactly how the accident happened.
"It's been raining a lot and the topsoil is loose," the spokesman said. "You know this president. He likes to go all out. Suffice it to say he wasn't whistling show tunes." [...]
Comment: Yup, this president sure does like to go all out. He's 100% pure Grade A American! At least he wasn't assaulted by a pretzel again. Still, one can't help but think of the rumors that Bush's pretzel injuries were actually the result of a brawl with a member of his administration.
Click here to comment on this article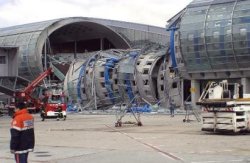 Paris Airport Terminal Collapses; 5 Dead
By JOCELYN GECKER, Associated Press Writer
May 23, 2004
ROISSY, France - A huge portion of the vaulted roof of the new passenger terminal at Paris' Charles de Gaulle airport collapsed Sunday, killing at least five people and injuring three in a shower of concrete, glass and steel.
Tons of material from the roof of the futuristic, cylindrical Terminal 2E, which sits on pylons, fell onto a waiting area and pulled the outer walls down. Several parked cars underneath were smashed.
Transport Minister Gilles de Robien said there was nothing to indicate that a terrorist attack triggered the collapse just before 7 a.m., though the cause was not yet known. [...]
Authorities said that five people were definitely killed but that the number could reach six. They were all likely passengers, said Hubert de Mesnil, director general of Paris airports. [...]
Click here to comment on this article
Koehler elected new German president
By Erik Kirschbaum
Sunday May 23, 12:51 PM
BERLIN (Reuters) - Former IMF head Horst Koehler has been elected Germany's ninth post-war president by a special federal assembly in a poll overshadowed by the inclusion of a Nazi-era judge who sentenced World War Two deserters to death.
Koehler, who quit as managing director of the International Monetary Fund to run for the largely ceremonial office, won an absolute majority on Sunday with 604 votes in the 1,204-member assembly.
Chancellor Gerhard Schroeder's candidate Gesine Schwan, who gained 589 votes, was defeated in what opposition conservatives hope will be a harbinger for the ousting of the SPD-Greens government in a 2006 general election.
The vote sparked controversy over the participation of Christian Democrat delegate Hans Filbinger, a Third Reich naval judge who ordered the execution in 1945 of a German sailor who tried to flee from German-occupied Norway. He issued death sentences in absentia for two others who fled to Sweden. [...]
Click here to comment on this article
Black Death 'is lying in wait'
BBC
Saturday, 22 May, 2004, 23:12 GMT
The Black Death, which killed 23m people in the middle ages, could be lying dormant and could strike again, say researchers.
Their claim is based on the theory that the pandemic was triggered not by bubonic plague but by another virus.
The theory is outlined in a new book by Professor Christopher Duncan and Dr Susan Scott of Liverpool University.
"We believe this virus is merely lying in wait, ready to strike again," said Professor Duncan.
The Black Death is thought to have caused the deaths of up to 200m people worldwide over the past 1,500 years.
In the 14th century alone, around 23m people are thought to have died after the disease ravaged much of Asia and Europe.
Globally the disease still affects between 1,000 to 3,000 people a year. However, if caught early it can be cured with antibiotics. [...]
Click here to comment on this article
Medical errors affect 1 in 13: Hospital study first for Canada
Finds high rate of `adverse events'
KAREN PALMER
PUBLIC HEALTH REPORTER
One in every 13 patients treated in hospital is at risk of suffering an unintended injury or complication that results in death, disability or delayed hospital discharge, according to the first study of "adverse events" in Canadian hospitals.
About 185,000 patients are harmed while being treated in hospital each year, with between 9,000 and 24,000 patients dying after experiencing a surgical accident or medical oversight.
The numbers are probably an underestimate, said Dr. Peter Norton, co-author of the research and head of the faculty of medicine at the University of Calgary.
Click here to comment on this article
Unexplained incident on Oak Street bridge sends woman to hospital

Canada.com
May 23, 2004
Vancouver Police are investigating a bizarre incident early Sunday that sent a woman to hospital.
A car was driving southbound across the Oak Street Bridge around 3 am when the front and back windshields were shattered by an unknown object.
Police say a "small, hard object" hit the window but they aren't sure exactly what it was.
A bullet has been ruled out.
A female passenger was taken to hospital with undetermined injuries.
The bridge was closed to traffic for about half an hour.
Comment: Very strange, we wonder what it was that fell from the sky? Whatever it was, one thing is certain, it wasn't, we repeat, it WASN'T a meteorite. How can we know this? Why because our good scientists tell us that the chances of a large metoerite hitting the earth is somewhere in the millions to one. So if a large meteorite is very unlikely to hit, then of course small ones do not hit either, certainly not the dozens that have been reported by alternative news sites over the past year, some of them called "massive" or "the size of a house". Also, disregard this from a CNN report on September 9, 2002:
"A space rock big enough to cause widespread damage and death will hit the Earth only about once every 1,000 years, but experts say the destruction would be so extreme that nations should develop a joint defense against asteroids. - Such a rock, estimated at 180 feet across, scorched through the atmosphere over Tunguska in Siberia in 1908 and flattened trees across 800 square miles of forest land. No crater was found and experts believe the damage came from atmospheric shock."
Click here to comment on this article
Flashback: Five hurt as meteorite crashes to earth in India
ABC Radio Australia
26/09/2003
Officials in eastern India say five people were injured and two houses gutted when a meteorite crashed to earth.
The meteorite hit a remote village near the Bay of Bengal in the state of Orissa.
The local media said five people were sent to hospital with injuries.
A local resident said the meteorite lit up the sky and caused windows to rattle as it passed overhead, sending hundreds of people rushing outside.
Click here to comment on this article
Flashback: 'A meteorite smashed through my roof'
6 October, 2003
The chances of being hit by a chunk of space rock are measured in the billions-to-one. Roy Fausset, 59, had the closest of escapes last month when what scientists now say was a meteorite crashed through his New Orleans home.
I walked through my front door and it was like a mortar bomb had fallen on my house.
Click here to comment on this article
Flashback:'Meteorite' narrowly misses Perth boy
August 10, 2003
Fragments of what could be a meteorite which narrowly missed a 10-year-old boy when it smashed into his driveway would be scientifically tested in Perth, the youngster's mother said today.
Anthony Elliss-Galati saw an odd-shaped object in the sky, heading towards him on Thursday as he played outside his Safety Bay home, about 50km south of Perth. Anthony told his mother Jennifer Elliss he hid behind her car and watched the bird-sized object smash a hole in the driveway and shatter.
"I heard something hit the bitumen and then Anthony came inside and said there were rocks coming out of the sky," Ms Elliss said. "He then handed me a piece and it didn't look like a normal rock - it was dull on the inside and silver on the outside and looked as if it had melted."
Click here to comment on this article
Flashback: A Chicago Meteorite Fall
Credit & Copyright: Ivan and Colby Navarro
05/06/2003
If you wait long enough, a piece of outer space itself will come right to you. As Colby Navarro worked innocently on the computer, a rock from space crashed through the roof, struck the printer, banged off the wall, and came to rest near the filing cabinet. This occurred around midnight on March 26 in Park Forest, Illinois, USA, near Chicago. The meteorite, measuring about 10 cm across, was one of several that fell near Chicago that day as part of a tremendous fireball.[...]
Click here to comment on this article
Flashback:Meteorites Fall on Chicago Suburbs
March 27, 2003
Pieces of extraterrestrial rock crash-landed near Chicago after a bolide exploded in Midwestern skies early Thursday morning.
by Vanessa Thomas

Around midnight on Thursday, March 27, residents of several southern Chicago suburbs were woken up by explosions and crashes. Moments earlier, others who happened to be outdoors in Illinois and neighboring states witnessed a bright meteor exploding overhead, illuminating the sky.
The early morning display of noise and light was produced by a small asteroid that entered Earth's atmosphere and broke apart over the Midwest, showering dozens of rock fragments upon homes and other buildings approximately 30 miles south of downtown Chicago.
Click here to comment on this article
Flashback: Did meteorite slam Oakland?
By Tom Greenwood
The Detroit News
August 12, 2003
DAVISBURG -- Live long and prosper -- and duck!
The Road Commission for Oakland County may have had a close encounter of the shooting-star kind when what appears to be a meteorite hit one of its maintenance facilities over the weekend. [...]
Click here to comment on this article
2,900 feet below the bay, piece of geological puzzle
Scientists drill into biggest impact crater in U.S. to study meteor's effects
CAPE CHARLES, Va. - David Powars takes a magnifying glass from his mud-splattered pants and peers at the 10-million-year-old pebbles that just gushed through a hose to the surface of the earth here.
The tiny gray stones are not particularly striking. But they are part of what covers the largest impact crater in the United States, a formation the size of Rhode Island created 35 million years ago when a massive meteor smashed into the planet. The meteor sent rocks flying as far as the Gulf of Mexico and carved out geological rifts that created the Chesapeake Bay.
What remains of the meteor, which was a mile in diameter, now lies under the bay and Virginia's Eastern Shore. But because it struck what was then ocean, the impact area hasn't seriously eroded or been buried.
"What we have here may be the best-preserved impact crater in the world," said Powars, a geologist with the U.S. Geological Survey.
[...] The bay crater, shaped like an inverted sombrero, has a deep central hole about 23 miles in diameter and is surrounded by a larger, shallower depression about 56 miles wide. It's the largest of the 30 impact craters discovered in the United States and the sixth-largest of 170 in the world.
Powars believes that the crater may have been created by one of a shower of comets that rained down 35 million years ago because craters found elsewhere show signs of being about the same age.
"In the local area, this would have had a tremendous impact, flooding and killing off life for several hundred miles around it," said C. Wylie Poag, another USGS geologist working on the drilling project. "But while it wiped out populations, it didn't wipe out species. They came right back."
Click here to comment on this article
By ANDREW C. REVKIN
New York Times
May 23, 2004

HEMISPHERE-SPANNING tempests rage. Hailstones the size of bowling balls bash Tokyo. Twisters tear up Hollywood. Snowstorms smother India. A flood tide swamps Manhattan, followed by a downburst of ultra-cold air that flash-freezes pedestrians in a New York second.
At a pace far faster than any scientist had predicted, global warming caused by pollution disrupts vital ocean currents, and Earth is plunged within days into a big chill.
Two survivors of the epic upheaval leave their bonfire of burning books inside the New York Public Library to scavenge medicine — from the Russian ship that has run aground on Fifth Avenue.
As if all that were not enough, the survivors have even more to contend with. "Very quiet, everyone, the wolves are on the set," comes the stage whisper from an assistant director. "And — action."
Hunched beside his cinematographer on a Montreal soundstage in March of last year, Roland Emmerich, the director of the blockbuster "Independence Day" and the "Godzilla" remake, chuckled as he brushed faux snow from his sweater and prepared to assault civilization with his latest monster, an instant ice age spawned by humanity's disregard for the environment.
Mr. Emmerich, 48, has made a profitable habit out of trying to humble Earth's dominant species. In his earlier movies, people united and defeated the aliens and the mutated reptile; in "The Day After Tomorrow," we may have met our match. There have been other films depicting environmental debacles. But this is the biggest, brashest effort yet by a filmmaker to take the industrialized world to the woodshed for messing things up. [...]
Most experts on climate change say a switch from slow warming to an instant hemispheric deep freeze like the one posited in the book is impossible. All the same, they say, regional disruptions in climate — like a sharp wintertime cooling in Europe — could take place in a warming world.
Comment: Wow, the powers that be really aren't taking any chances with this one are they? This is the latest in a series of articles that have been published which ridicule the movie. This most recent in the Ney York Times no less. Notice the juxtaposition with "aliens" and "monsters" and even the labeling of the movie as a "monster", all designed to relegate the concept of global catastrophe to the realm of the fantastical. Note also that those mysterious "experts" are being quoted as agreeing that sudden glacial rebound could not happen so quickly. This, despite the fact that these same "experts" agree that the only explanation for the mastodons that have been found beneath the ice with undigested food in their stomachs, is that they were "flash frozen"... Do ya think there is some sort of cover up in process?
Click here to comment on this article
Scientists Watch for 'Slow Quake'
May. 23, 2004
VANCOUVER, British Columbia -- Scientists are eagerly awaiting the return of a "slow earthquake" that could give them clues to when and where the next major quake will strike Pacific Coast of North America.
The recently discovered phenomenon is believed to occur about every 14 months, which would put the next event anytime now, but people are unlikely to feel anything because it will occur 12 to 25 miles below the earth's surface.
"We're all rushing in every morning and every night looking at the records to see if it has started," Garry Rogers, a seismologist with the Pacific Geoscience Center in Sidney, British Columbia, said on Friday.
The coastal region of northwest Washington state and southeast British Columbia is prone to earthquakes, and scientist warn the area gets hit with a devastating shake of magnitude 9 about every 500 years. [...]
Click here to comment on this article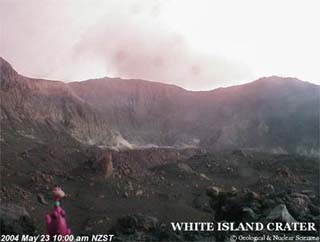 Volcanologists spy pink 'dinosaur' on remote webcam
A pink dinosaur has started popping up in webcam photos of a remote New Zealand volcano. Geological and Nuclear Sciences
Scientists using a camera to monitor a remote New Zealand volcano over the Internet have struck an odd problem - a pink dinosaur.
Click here to comment on this article
UPDATE: N.M. Wildfire Burns Nearly 4,000 Acres
Click here to comment on this article
Storms Knock Out Power Across Midwest
By PATRICK CONDON, Associated Press Writer
Sun May 23,12:13 AM ET
BRADGATE, Iowa - Houses lay crumpled to their foundations and hundreds of thousands of people were without power Saturday after storms tore through the Midwest, including a tornado that leveled this tiny Iowa town. [...]
Click here to comment on this article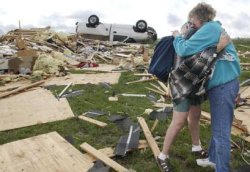 Tornadoes Sweep Across Nebraska; One Dead
By KEVIN O'HANLON, Associated Press Writer
May 23, 2004
HALLAM, Neb. - More than a dozen tornadoes swept across southern Nebraska, killing at least one person and prompting Gov. Mike Johanns to declare a state of emergency.
Johanns confirmed the death Sunday before he was taken by military helicopter to tour the town of Hallam, where every home was damaged or destroyed, vehicles were flipped and splintered trees lay in the streets.
"I've never seen anything like this," Johanns said. "I've been in public office a lot of years, but I've never seen anything like this." [...]
Click here to comment on this article
Midwest Battered by Second Night of Storms
May 23, 2004
CHICAGO (Reuters) - Dozens of tornadoes and severe storms hammered the northern Plains and Midwest, with the governor of Nebraska declaring a state of emergency, officials said on Sunday.
A total of 81 tornadoes were confirmed to have touched down in the region on Saturday as a weather front stalled over the area. Unseasonably warm, humid air from the south collided with waves of low pressure on the front, said Oliver Lucia, meteorologist with Metrologix weather service. [...]
Click here to comment on this article
Claim made for new form of life

By Paul Rincon
BBC News Online science staff
Wednesday, 19 May, 2004

Doctors claim to have uncovered new evidence that the tiny particles known as "nannobacteria" are indeed alive and may cause a range of human illnesses.
The existence of nannobacteria is one of the most controversial of scientific questions - some experts claim they are simply too small to be life forms.
But US scientists report they have now isolated these cell-like structures in tissue from diseased human arteries. [...]
Click here to comment on this article
By John Wright
GARDEN CITY -- Brian Hirschi may have doubted the existence of the legendary Bear Lake Monster when he purchased a pontoon-boat replica of the creature three years ago.
But all that changed one evening in the summer of 2002. After a long day of giving tours aboard the vessel, Hirschi was anchoring for the night a few hundred yards offshore when he had a haunting rendezvous with the slimy serpent.
Now, he's convinced that the scores of other eyewitness accounts of the monster, which date back to American Indian times, are true. And he shrugs off naysayers who suggest that the legendary creature is just a tall tale or marketing ploy.
"When you join the elite group of people who've seen it, you don't care what everybody else thinks," the 29-year-old Hirschi said Thursday.
That elite group reportedly includes LDS Church presidents Wilford Woodruff, Lorenzo Snow and Joseph F. Smith. Even Brigham Young is said to have once supplied a rope to a local resident who wanted to snare the creature.
Click here to comment on this article
---
Remember, we need your help to collect information on what is going on in your part of the world!
We also need help to keep the Signs of the Times online.
---

Check out the Signs of the Times Archives

Send your comments and article suggestions to us

---
Fair Use Policy
Contact Webmaster at signs-of-the-times.org
Cassiopaean materials Copyright ©1994-2014 Arkadiusz Jadczyk and Laura Knight-Jadczyk. All rights reserved. "Cassiopaea, Cassiopaean, Cassiopaeans," is a registered trademark of Arkadiusz Jadczyk and Laura Knight-Jadczyk.
Letters addressed to Cassiopaea, Quantum Future School, Ark or Laura, become the property of Arkadiusz Jadczyk and Laura Knight-Jadczyk
Republication and re-dissemination of our copyrighted material in any manner is expressly prohibited without prior written consent.
.