---
New Article: Jupiter, Nostradamus, Edgar Cayce, and the Return of the Mongols - Laura Knight-Jadczyk
Part 1, Part 2, Part 3, Part 4, Part 5, Part 6, Part 7, Part 8, Part 9, Part 10, Part 11, Part 12, Part 13
Picture of the Day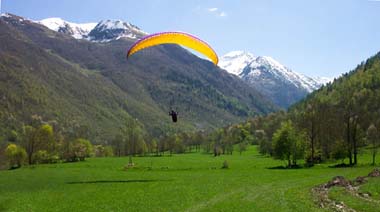 Oo Valley Landing
©2004 Pierre-Paul Feyte
Earlier this week, as we were all coming to terms with the likelihood that both US and Israeli intelligence agencies were behind the torturing of Iraqi prisoners and the beheading of Nick Berg, and just a few hours before the IDF was gearing up to invade the Rafah refugee camp in the Gaza strip and murder many Palestinian children, guess where the "leader of the free world" was?...
President Speaks to the American Israel Public Affairs Committee

Remarks by the President to the American Israel Public Affairs Committee
Washington Convention Center
Washington, D.C.

May 18 2004

[...] Our nation, and the nation of Israel, have much in common. We're both relatively young nations, born of struggle and sacrifice. We're both founded by immigrants escaping religious persecution in other lands. We have both built vibrant democracies, built on the rule of law and market economies. And we're both countries founded on certain basic beliefs: that God watches over the affairs of men, and values every life. (Applause.)
"Built on the rule of law"? Both Israel and the US were built on the rule of survival of the fittest, or rather, survival of the most psychopathic. Millions of native American Indians and many thousands of Palestinians paid the ultimate price for the creation of these shining examples of "democracy".
These ties have made us natural allies, and these ties will never be broken. (Applause.) In the past, however, there was one great difference in the experience of our two nations: The United States, through most of our history, has been protected by vast oceans to our east and west, and blessed with friendly neighbors to our north and south. Israel has faced a different situation as a small country in a tough neighborhood. The Israeli people have always had enemies at their borders and terrorists close at hand. Again and again, Israel has defended itself with skill and heroism. And as a result of the courage of the Israeli people, Israel has earned the respect of the American people. (Applause.)
Americans must be so proud to have this man speak so eloquently for them and reveal the inner Jew in every US citizen. They must also be so proud then of the way in which Israel has defended itself by murdering stone throwing Palestinian children...
On September the 11th, 2001, Americans saw that we are no longer protected by geography from the dangers of the world. We experienced the horror of being attacked in our homeland, on our streets, and in places of work. And from that experience came an even stronger determination, a fierce determination to defeat terrorism and to eliminate the threat it poses to free people everywhere. (Applause.)
The question that remains unanswered of course is, who attacked the US "homeland" on 9/11? The US airforce must have been told to stand down - by who? Flight 93 was shot down by an unmarked US military Jet as reported by eyewitnesses -by who? A hijacker's passport was found in pristine condition in the rubble of the WTC, who put it there? Korans and "how to fly a boeing 757" manuals left conspicuously at the scene of the crime, who left them there? Some of the alleged hijackers are still alive, how can this be? Not one conviction has been made since the event, how can this be? TWO Flight 11's left the airport within minutes of each other on the morning of 9/11. Which one had the passengers and where was the other one going?
All of these facts suggest that the 9/11 attacks were an inside job in some form. There are no "Arab terrorists", there never were.
Not all terrorist networks answer to the same orders and same leaders, but all terrorists burn with the same hatred. They hate all who reject their grim vision of tyranny. They hate people who love freedom. They kill without mercy. They kill without shame. And they count their victories in the death of the innocent.
Who and where are these terrorists? We have seen none! All we have seen is the US invasion of Afghanistan and Iraq touting bogus intelligence claims as justification. Other than that the net result has been lots and lots of dead men women and children, in Afghanistan, Iraq and Palestine.
We saw the nature of this enemy again in recent days when terrorists in Iraq beheaded an American citizen, Nicholas Berg. The message that accompanied the videotape of this brutal slaying promised more such atrocities. Here's what the killer said, "We will send you coffin after coffin, box after box, slaughtered in this way." The faces of the terrorists were cloaked, but we have seen their kind before.
No doubt George, it is very likely that some of the real terrorists were sitting right in front of you as you spoke.
Freedom-loving people did not seek this conflict.
Oh no? Maybe Bush should ask Perle and Wolfowitz and Rummy about the plans drawn up in the mid 90's to invade Iraq...
It has come to us by the choices of violent men, hateful men.
He got that right, but don't tell anyone who they are...it's a secret...
See, we seek peace. We long for peace. Israel longs for peace. America longs for peace. Yet, there can be no peace without defending our security.
Hey, the world would be a lot more peaceful if the US and Israel could just manage to kill off a few billion more, right? Perhaps this is what King George means.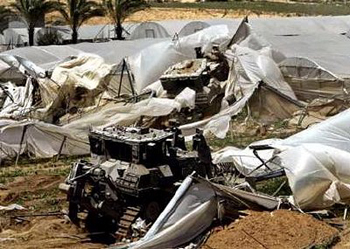 Israeli bulldozers smash greenhouses at the Rafah refugee camp May 21, 2004. Israelís raid into Rafah had only limited military value but was really a form of ethnic cleansing, intended to make the area uninhabitable for Palestinians.
Israel Pushes Gaza Offensive Despite World Outcry
Wed May 19
By Nidal al-Mughrabi
RAFAH, Gaza Strip (Reuters) - Israeli troops fanned further into the besieged Rafah refugee camp on Thursday despite international outrage at its killing of 33 Palestinians, many of them peaceful protestors, in the bloodiest Gaza raid in years.
The U.N. Security Council, convened at the behest of Arabs incensed at what they branded Israel's "war crime" in Rafah, passed a resolution urging Israel to stop demolishing Palestinian homes and calling for an end to violence.
Unusually, Israel's U.S. ally did not use its veto to block the U.N. resolution, abstaining from the vote, and President Bush urged restraint from the Jewish state.
But Israel, whose forces stormed Rafah after 13 soldiers were killed by Gaza militants last week, looked undeterred.
Troops pushed into the Rafah districts of Brazil and As-Salam, along the border with Egypt, where the army says it is hunting tunnels used by smugglers bringing weapons to fight a Palestinian revolt since 2000.
Flames licked into the night sky from a burning building. Gunfire crackled. Residents said helicopter gunships slammed missiles into open ground, apparently to terrify resistance.
International outrage rose to a crescendo on Wednesday when Israeli tanks and helicopters fired toward protesters demanding aid. Medics said 10 Palestinians were killed and more than 50 hurt, many of them youths. The army put the death toll at seven.
"HORRIFYING"
"It was horrifying," said demonstrator Mahmoud Abu Hashem, 35. "There was one person with his intestines coming out. Another had blood covering his face and you couldn't even make out his features."
Troops said they did not aim to hit the rally, but tank fire intended to repel protesters might have caused casualties. [...]
Palestinian President Yasser Arafat (news - web sites) called the strike a "war crime" against peaceful demonstrators, demanded punishment for those responsible and appealed for international intervention.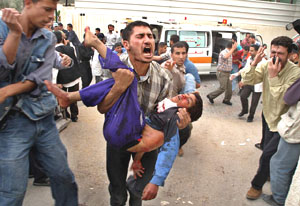 A Palestinian man carries the body of a boy killed by Israeli fire on a protest march in Rafah
A brother, a sister, and a morgue too full for them both

By Donald Macintyre in Rafah
20 May 2004
They lived their last moments together, feeding pigeons on the roof of the building where they lived in the Tel Sultan section of Rafah's refugee camp. But in death brother and sister were separated because, even before the demonstrators were mown down yesterday, bodies had been coming in so fast that the hospital'smorgue could not accommodate both children.
Ahmed Mughayer, 14, was laid out with 13 other corpses on the floor of the refrigeration room of a flower and plant growers' firm on the outskirts of town. Dr Ahmed Abu Nkaira removed the sheet and raised Ahmed's trunk for us to see where the bullet had made a small incision on his forehead just above his hairline. Then he pointed to the exit wound, a much larger and bloodier hole in the back of his head.
Earlier, back at the hospital, he had brought out the body of Asmaa, his 16-year-old sister, to show us similar wounds.
Dr Nkaira wasn't doing this for the sake of it. He wanted reporters to see how untenable had been the Israeli army's official explanation that the Mughayer siblings been killed by an accidentally exploded Palestinian bomb.
The bodies showed no sign of any other damage or bleeding. No damage at all, apart from what Dr Nkaira - an experienced casualty medic in a hospital which has seen more dead bodies than most in the occupied territories - had not a scintilla of doubt was a wound from an Israeli bullet.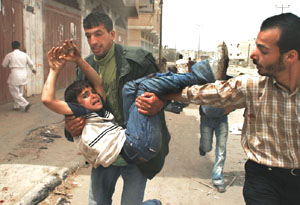 A Palestinian man carries a child wounded in Israeli missile strike on the demonstration in Rafah.
Apart from being cleaned the siblings had been carefully preserved as they were when they were killed at 11.30 the previous morning because the family, like all the other residents trapped in Tel Sultan by one of the most lethal military incursions into Gaza, were unable to leave the camp to see and bury their dead.
"This is the 'accident' that the Israelis are talking about," he said. "This is how the Israelis talk all the time. I am sorry the Europeans and the Americans believe these kind of stories."
By no means all the bodies in the refrigeration room at the plantation, where a bed of white carnations was just beginning to flower, were those of civilians. Four were draped with the green cloth of Hamas, three the black and yellow of Islamic Jihad, and one with the yellow of the al-Aqsa Martyrs' Brigades, clear testimony that eight of the bodies were militants shot by the Israelis.
But nor was Ahmed Mughayer the only dead child. Dr Nkaira exposed the head of 14-year-old Ibrahim al Qun, killed when a bullet entered the back of his head and blew out his right eye on exit. He did not know the circumstances in which Ibrahim had died.
And when he got back to the hospital he produced yet another child's body, this time of a thin 13-year-old boy, Sabr abu Libdu, brought in yesterday, the gun wound which had killed him visible on his chest.
Upstairs in the hospital, Sabr's older brother Ayub, 27, described how Sabr and his other brother, Yusef, had ventured out to get some water, when they were both shot. As Yusef lay in a critical condition in the intensive care unit, Ayub tried to take in the death of one brother and the potential loss of another, before his face creased in silent weeping.
"I suppose he was a member of the resistance," Dr Nkaira said, unable to contain his sarcasm after covering up Sabr's body once again.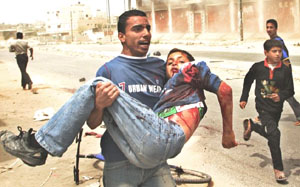 A Palestinian man carries a child wounded in an Israeli missile strike on the demonstration in Rafah.

US falls short of condemning killings

By Leonard Doyle, Foreign Editor
20 May 2004

The United States looked away and deferred judgement rather than delivering a forthright condemnation of Israel for the attack on Palestinian demonstrators that left so many children dead.

Behind the tortured syntax of diplomacy, President George Bush said he was continuing to "urge restraint" on Israel while saying it was "essential that people respect innocent life in order for us to achieve peace".

"We'll get clarification from the government," President Bush continued. "But I will continue to speak out about the need for all parties to respect innocent life in the Middle East."

The Foreign Secretary, Jack Straw, was equally circumspect, saying he was "profoundly concerned by reports" that more than 10 Palestinians had been killed in Gaza. He went on to say that "both sides" should "exercise restraint". Later, though, Tony Blair called the Israeli offensive in Rafah "unacceptable and wrong".

The EU was more forthright, however, saying the killing was "completely disproportionate" and that Israelis showed a "reckless disregard" for life. Brian Cowen, the Irish Foreign Minister, said on behalf of the EU: "The killing of children does not serve any legitimate cause and degrades any purpose which it purports to advance."

Meanwhile the Palestinian leader, Yasser Arafat, said: "This is a war crime. This is genocide.

Flashback: Bush: Israel has right to defend itself

By BARRY SCHWEID
The Associated Press
5/18/2004

WASHINGTON (AP) — President Bush affirmed Israel's right to defend itself Tuesday and urged Palestinians to reject violence and failed leaders, even as his administration tried to persuade the Israelis to reconsider a growing military offensive in Gaza.

In a speech to the pro-Israel lobby American Israel Public Affairs Committee, Bush said, "The United States is strongly committed - and I am strongly committed - to the security of Israel as a vibrant Jewish state."

"Israel is a democracy and a friend and has every right to defend itself from terror," he said.

At the same time, Bush said he was committed to helping the Palestinians establish their own viable democratic state. He stressed, however, that "Israel needs a truly responsible partner in achieving peace." [...]

SENATOR SPOKE FOR MANY ON HILL WHEN HE BLAMED ISRAEL FOR WAR

WorldTribune.com -- Thursday, May 20, 2004

A U.S. senator's charge that Israel is behind the Bush administrations's decision to invade Iraq has rattled American Jewish leaders.

Comment: Why has it "rattled" them? Because it is true.

Sen. Ernest Hollings, a South Carolina Democrat, wrote a column that appeared in several newspapers. The column asserted that the U.S. war against Iraq represented a decision by President George Bush to protect Israel and ensure American Jewish support for his reelection. The column reflects a growing sentiment in the corridors of power in Washington according to congressional sources.

The view attributes the U.S. war in Iraq to the so-called neo-conservatives in the administration, particularly Deputy Defense Secretary Paul Wolfowitz and former Pentagon adviser Richard Perle, Middle East Newsline reported. Both men are Jewish.

"There is a strong fear among American Jewish leadership that the whispering campaign that 'the Jews started it,' will become public," a senior congressional staffer said. "We could be seeing others get on Hollings' bandwagon." [...]

Comment: Why do they fear that it will become "public"? Because there is a wealth of evidence to support it.

For his part, Hollings said Israel has never claimed that Iraq maintained a weapons of mass destruction arsenal. The senator, who later refused to retract his statements, said Wolfowitz's advocacy of a plan to promote democracy among Arab states comprised an Israeli initiative.

"With Iraq no threat, why invade a sovereign country?" Hollings asked. "The answer: President Bush's policy to secure Israel. Led by Wolfowitz, Richard Perle and Charles Krauthammer, for years there has been a domino school of thought that the way to guarantee Israel's security is to spread democracy in the area."

Hollings said Bush realized that he would be unable to bring about an Arab-Israeli peace to help his reelection efforts. Instead, Bush started laying the groundwork to invade Iraq days after his inauguration in 2001.

The senator said Wolfowitz persuaded Bush that the war against Iraq would take a week. Hollings said Vice President Richard Cheney was convinced U.S. troops would be greeted as liberators.

"In the Mideast, terrorism is a separate problem to be defeated by diplomacy and negotiation, not militarily," Hollings said. "Here, might does not make right – right makes might. Acting militarily, we have created more terrorism than we have eliminated."

Comment: And here is the real scoop. Creating more terrorism is EXACTLY what they wanted to do. A perpetual "war on terror" is not only profitable, but it means that you get to invade any country you like on the pretense that there are "terrorists" hiding out there.

The war on Iraq: Conceived in Israel

By STEPHEN J. SNIEGOSKI
WTM Enterprises

In a lengthy article in The American Conservative criticizing the rationale for the projected U.S. attack on Iraq, the veteran diplomatic historian Paul W. Schroeder noted (only in passing) "what is possibly the unacknowledged real reason and motive behind the policy — security for Israel." If Israel's security were indeed the real American motive for war, Schroeder wrote,

It would represent something to my knowledge unique in history. It is common for great powers to try to fight wars by proxy, getting smaller powers to fight for their interests. This would be the first instance I know where a great power (in fact, a superpower) would do the fighting as the proxy of a small client state.

Is there any evidence that Israel and her supporters have managed to get the United States to fight for their interests?

To unearth the real motives for the projected war on Iraq, one must ask the critical question: How did the 9/11 terrorist attack lead to the planned war on Iraq, even though there is no real evidence that Iraq was involved in 9/11? From the time of the 9/11 attack, neoconservatives, of primarily (though not exclusively) Jewish ethnicity and right-wing Zionist persuasion, have tried to make use of 9/11 to foment a broad war against Islamic terrorism, the targets of which would coincide with the enemies of Israel. [...]

For some time prior to September 11, 2001, neoconservatives had publicly advocated an American war on Iraq. The 9/11 atrocities provided the pretext. The idea that neocons are the motivating force behind the U.S. movement for war has been broached by a number of commentators. For instance, Joshua Micah Marshall authored an article in The Washington Monthly titled: "Bomb Saddam?: How the obsession of a few neocon hawks became the central goal of U.S. foreign policy." And in the leftist e-journal CounterPunch, Kathleen and Bill Christison wrote:

The suggestion that the war with Iraq is being planned at Israel's behest, or at the instigation of policymakers whose main motivation is trying to create a secure environment for Israel, is strong. Many Israeli analysts believe this.

The Israeli commentator Akiva Eldar recently observed frankly in a Ha'aretz column that [Richard] Perle, [Douglas] Feith, and their fellow strategists "are walking a fine line between their loyalty to American governments and Israeli interests." The suggestion of dual loyalties is not a verboten subject in the Israeli press, as it is in the United States. Peace activist Uri Avnery, who knows Israeli Prime Minister Sharon well, has written that Sharon has long planned grandiose schemes for restructuring the Middle East and that "the winds blowing now in Washington remind me of Sharon. I have absolutely no proof that the Bushies got their ideas from him. But the style is the same."

War and expulsion

To understand why Israeli leaders would want a Middle East war, it is first necessary to take a brief look at the history of the Zionist movement and its goals. Despite public rhetoric to the contrary, the idea of expelling (or, in the accepted euphemism, "transferring") the indigenous Palestinian population was an integral part of the Zionist effort to found a Jewish national state in Palestine. Historian Tom Segev writes:

The idea of transfer had accompanied the Zionist movement from its very beginnings, first appearing in Theodore Herzl's diary. In practice, the Zionists began executing a mini-transfer from the time they began purchasing the land and evacuating the Arab tenants.... "Disappearing" the Arabs lay at the heart of the Zionist dream, and was also a necessary condition of its existence.... With few exceptions, none of the Zionists disputed the desirability of forced transfer — or its morality.

However, Segev continues, the Zionist leaders learned not to publicly proclaim their plan of mass expulsion because "this would cause the Zionists to lose the world's sympathy." [...]

English Voice Heard on Nick Berg Decapitation Video

Hector Carreon
La Voz de Aztlan

Los Angeles, Alta California - May 19, 2004 - (ACN) With the overwhelming evidence that has now accumulated proving that the Nicholas Berg decapitation video is a fraud, it is time to call for an international inquiry into the crime. Besides the evidence that the video was actually filmed at the Abu Ghraib prison as outlined in a prior article titled, "Berg decapitation video was filmed inside the Abu Ghraib prison", La Voz de Aztlan has, in addition, completed a sound analysis and isolated about 10 seconds of the sound track at the end of the video. A western voice saying "How will it be done?" can be clearly heard after two shouts of "Allahu Akbar". "How will it be done?" is heard after a gap of silence and after the last "Allahu Akbar". It looks like the "editors" in their haste to complete the bogus video for propaganda purposes have left a lot of evidence behind.

The principal purpose of the fraudulent video was to defray world attention from the heinous sexual abuses and torture of Iraqi POW's and rape of Iraqi women detainees at the same prison where the Berg decapitation video was filmed. A secondary purpose was to "frame" Al queda and especially one of their leaders by the name of Abu Musab al-Zarqawi. It is not known whether the producers of the video actually beheaded Nicholas Berg or just performed some shoddy film trickery. It is possible that they worked with an already dead corpse of Nicholas Berg.

It is a total shame that the mainstream media is not bringing this information to the attention of the public. It appears that the US news media is comprised of gutless pseudo-journalists who sell their services only to globalists, Zionists, corporations and the military-industrial complex. Are they restrained or do they not care about the common citizens any more?

Where do the United Nations Commission on Human Rights, The World Court, and Christian Institutions stand on this case? The evidence is there. It is not hidden, thanks to the mistakes made by the perpetrators. Where does the United States Congress stand on this fraud? Why are they allowing the Bush Administration and their Zionist cohorts to get away with it? US Senators and Congresspersons can't be that empty-headed! Or can they?

Comment: The audio can be heard here (audio file loads with webpage)

Israeli torture experts took part in the torture of the Iraqi prisoners in Abu Ghraib Jail

According to the Al-Manar report which was published on the first page of its edition number 673, The American forces killed 1400 Iraqi prisoner since they occupied Iraq and buried most of them in the desert, far away in the countryside. These prisoners died during torture sessions made by the torture teams, who cut parts of the prisoners bodies.

Al-Manar says that there are over 30,000 Iraqi prisoners spread in different American jails. There is 2100 women and girls among the prisoners, some of them are minors. All the women prisoners have passed through terrible torture sessions, some of them were raped.

Al-Manar points out that the torture instructions were sent in written to the jail guards and to the interrogators. The torture experts were following these instructions and this led to abuse of the the Iraqi prisoners. There torture team seriously harmed 37 children under the age of 13.

Al-Manars sources confirmed that there are Israeli experts of torture taking part in the torture of the Iraqi prisoners. The Israeli torture experts team has transferred to the country of Israel some of the Iraqi political prisoners and military officers to continue the investigation sessions there. Some of these prisoners have already died. The American torture teams add different kinds of inhuman torture in the Iraqi jails besides to the physical torture. They were forcing the prisoners to take different kinds of medicine during the torture session. The medical torture provoked serious symptoms on the prisoners health who had taken the medicine.

Al-Manar mentions that the officers in charge of torturing the detainees at the Iraqi prisons were sending daily reports for Washington with detailed information about the torture methods used at the Iraqi prisons. The reports mentioned that the Iraqi prisoners were also tortured in a prison in Qatar.

Al-Manar said that the American persons whose names have been spread in the news in relation to the now well-known scandal regarding torture of Iraqi prisoners were paid by other higher officers and political addresses in order to hide the real facts behind the torture of the Iraqis. There are high military and political officers involved in this case, but they are hiding behind the lower rank personnel.
One incident. Forty dead. Two stories. What really happened?

By Justin Huggler in Baghdad
21 May 2004

A tiny bundle of blankets is unwrapped; inside is the body of a baby, its limbs smeared with dried blood. Then the mourners peel back the blanket further to reveal a second dead baby.

Another blanket is opened; inside are the bodies of a mother and child. The child, six or seven years old, is lying against his or her mother, as if seeking comfort. But the child has no head.

These are the images that American forces in Iraq had no answer to yesterday. They come from video footage of the burials of 41 men, women and children. The Iraqis say they died when American planes launched air strikes on a wedding party near the Syrian border on Wednesday.

US forces insist that the attack was on a safe house used by foreign fighters entering Iraq from Syria. They do not dispute that they killed about 40 people, but claim American forces were returning fire and the dead were all foreign fighters. For the video footage that shows dead women and children they have no explanation.
Comment: Conclusion? They are lying.
So potentially damaging is the video to the US occupation that American officials have demanded that the Dubai-based al-Arabiya television news network, which obtained the footage, give them the name of the cameraman who took it. Al-Arabiya has refused.
Comment: "So damaging is the footage" means that the US military know they are lying and want to make sure no one actually realises it. It's called damage control and is often carried out by those that have done something that would cast them in a bad light if it were to be made public.
In the footage men weep and cling to the bodies of their loved ones before they are buried. There are dozens of bundles wrapped in flower-patterned blankets. Some of these images were shown on Western television news yesterday, but not the most disturbing: the bodies themselves.

"These were more than two dozen military-age males. Let's not be naive," Major General James Mattis, commander of the US 1st Marine Division, said. But he had no explanation of where the dead women and children in the video came from. "I have not seen the pictures but bad things happen in wars," he said cryptically. "I don't have to apologise for the conduct of my men.
Comment: Take a group of Iraqi men, women and children, take one US army Major General. The US Major General orders the US pilot in the Apache attack helicopter to fire two hellfire missiles into the group of Iraqis. Later, when the smoke clears, an Iraqi child victim of this attack who just happens to be missing his head, is taken to the aforementioned Major General. The Major General is told that this child was among the group of Iraqis that he gave orders to fire upon. He is then asked for his opinion on what possibly might have occurred to cause the Iraqi child to loose her head in this way.
Answer?
Em... he doesn't know, but what he does now is that "bad things happen in wars." Yes indeed folks, you heard it from the horse's mouth. Hellfire missiles do not necessarily blow Iraqi children apart, but what is beyond doubt is that "bad things happen in war", and all by themselves it seems....
US forces say they have been watching the border area where the attack took place for some time. They saw a large group of suspicious people moving in the area and sent in ground forces, who came under fire, so the US forces returned fire.

They are sticking doggedly to this version of events despite growing evidence that a wedding party was hit. More and more eyewitnesses are coming forward. Hussein Ali, a well-known wedding singer, was buried in Baghdad yesterday, alongside his brother Mohammed. Their family said they had been performing at the wedding.

Every household in Iraq has a gun, usually a Kalashnikov assault rifle, to protect itself. In the desert it is even more common for people to keep guns, as protection not only from robbers, but also wild animals. Shepherds need to protect their flocks.

General Kimmitt said: "We sent a ground force in to the location. They were shot at. We returned fire."

But Sheikh Mikfil said the attack began with air strikes, without warning. They were followed by helicopters, and after several hours of air strikes, US troops arrived in armoured vehicles to search the devastated village.

Contrary to earlier reports, the sheikh said, there was no celebratory gunfire. Firing guns in the air is traditional at Iraqi weddings, and it was initially suspected that US forces had mistaken such shooting for hostile fire, as they did at a wedding party in Afghanistan when US air strikes killed more than 50 people in 2002. Sheikh Mikfil says he questioned the survivors extensively on this, and they were categorical: there was no shooting in the air. [...]

It is impossible to reconcile the American and Iraqi versions of events. But with more and more evidence emerging that casts doubt on the American version, and Iraqi anger rising, US forces need to come up with some answers. If this was one of the "bad things" that "happen in wars" - to use General Mattis's phrase - more explanation is required.
Comment: Here's an explanation that follows the "if it walks like a duck..." process of critical analysis. US soldiers have been given free rein to shoot at anything that moves. Most are only too happy to do so. It is a game plan that comes from the top and is designed to essentially massacre the Iraqis into accepting their new rulers.
Flashback: Mohamed Atta Worked for Elite US-German Government Exchange Program
Daniel Hopsicker
MadCowMorningNews
VENICE, FL - April 24
For at least four years while living in Hamburg during the 1990's terrorist ringleader Mohamed Atta was part of a "joint venture" between the U.S. and German Governments, the MadCowMorningNews has learned, an elite international "exchange" program run by a little-known private organization with close ties to powerful American political figures like David Rockefeller and former Secretary of State Henry Kissinger. [...]
The religious warrior of Abu Ghraib: An evangelical US general played a pivotal role in Iraqi prison reform
Sidney Blumenthal
Thursday May 20, 2004
The Guardian
Saving General Boykin seemed like a strange sideshow last October. After it was revealed that the deputy undersecretary of defence for intelligence had been regularly appearing at evangelical revivals preaching that the US was in a holy war as a "Christian nation" battling "Satan", the furore was quickly calmed.
Donald Rumsfeld, the defence secretary, explained that Boykin was exercising his rights as a citizen: "We're a free people." President Bush declared that Boykin "doesn't reflect my point of view or the point of view of this administration". Bush's commission on public diplomacy had reported that in nine Muslim countries, just 12% believed that "Americans respect Arab/Islamic values". The Pentagon announced that its inspector general would investigate Boykin, though he has yet to report.
Boykin was not removed or transferred. At that moment, he was at the heart of a secret operation to "Gitmoize" (Guantánamo is known in the US as Gitmo) the Abu Ghraib prison. He had flown to Guantánamo, where he met Major General Geoffrey Miller, in charge of Camp X-Ray. Boykin ordered Miller to fly to Iraq and extend X-Ray methods to the prison system there, on Rumsfeld's orders.
Boykin was recommended to his position by his record in the elite Delta forces: he was a commander in the failed effort to rescue US hostages in Iran, had tracked drug lord Pablo Escobar in Colombia, had advised the gas attack on barricaded cultists at Waco, Texas, and had lost 18 men in Somalia trying to capture a warlord in the notorious Black Hawk Down fiasco of 1993.
Boykin told an evangelical gathering last year how this fostered his spiritual crisis. "There is no God," he said. "If there was a God, he would have been here to protect my soldiers." But he was thunderstruck by the insight that his battle with the warlord was between good and evil, between the true God and the false one. "I knew that my God was bigger than his. I knew that my God was a real God and his was an idol."
Boykin was the action hero side of his boss, Stephen Cambone, a conservative defence intellectual appointed to the new post of undersecretary of intelligence. Cambone is universally despised by the officer corps for his arrogant, abrasive and dictatorial style and regarded as the personal symbol of Rumsfeldism. A former senior Pentagon official told me of a conversation with a three-star general, who remarked: "If we were being overrun by the enemy and I had only one bullet left, I'd use it on Cambone."
Cambone set about cutting the CIA and the state department out of the war on terror, but he had no knowledge of special ops. For this the rarefied civilian relied on the gruff soldier - a melding of "ignorance and recklessness", as a military intelligence source told me.
Just before Boykin was put in charge of the hunt for Osama bin Laden and then inserted into Iraqi prison reform, he was a circuit rider for the religious right. He allied himself with a small group called the Faith Force Multiplier that advocates applying military principles to evangelism. Its manifesto - Warrior Message - summons "warriors in this spiritual war for souls of this nation and the world ... "
Boykin staged a travelling slide show around the country where he displayed pictures of Bin Laden and Saddam Hussein. "Satan wants to destroy this nation, he wants to destroy us as a nation, and he wants to destroy us as a Christian army," he preached. They "will only be defeated if we come against them in the name of Jesus". It was the reporting of his remarks at a revival meeting in Oregon that made them a subject of brief controversy.
There can be little doubt that he envisages the global war on terror as a crusade. With the Geneva conventions apparently suspended, international law is supplanted by biblical law. Boykin is in God's chain of command. President Bush, he told an Oregon congregation last June, is "a man who prays in the Oval Office". And the president, too, is on a divine mission. "George Bush was not elected by a majority of the voters in the US. He was appointed by God."
Boykin is not unique in his belief that Bush is God's anointed against evildoers. Before his 2000 campaign, Bush confided to a leader of the religious right: "I feel like God wants me to run for president ... I sense my country is going to need me. Something is going to happen."
Michael Gerson, Bush's chief speechwriter, tells colleagues that on September 20 2001, after Bush delivered his speech to the Congress declaring a war on terror, he called Gerson to thank him for writing it. "God wants you here," Gerson says he told the president. And he says that Bush replied: "God wants us here."
But it's Bush who wants Rumsfeld, Cambone and Boykin here.
Click here to comment on this article
May 17, 2004
Here are some maxims of colonial warfare the US will painfully relearn:
- Most Arabs don't want to be 'liberated' or what President Bush calls 'freedom'. They want freedom from US occupation, and freedom for Palestine.
- People will accept misrule, robbery, abuse, and torture by their own fellow citizens- but not by foreigners.
- The occupying power will always find locals ready to cooperate and join the colonial police and army for money. Ten percent will serve loyally; 50% will do nothing. The rest will covertly fight the occupiers, provide the resistance with intelligence, or quietly sabotage the occupation.
- Most of those who cooperate with the occupation will maintain secret links with the resistance. Massive defections will occur the minute the occupiers show the first signs of thinking about withdrawal.
- Tribal, clan, ethnic and religious loyalties will also prove stronger than political ones imposed by the occupier. You cannot buy loyalty; you can only rent it.
- An inevitable byproduct of colonial adventures is an unwanted, usually massive influx of people from the conquered country.
- Colonial occupations almost always cost far more than planned and produce negative earnings for the invader. Occupying Iraq and Afghanistan now costs at least US $6 billion monthly. The costs of garrisoning and running colonies usually exceeds what can be looted from them.
- It's always cheaper to buy resources than plunder them.
The Soviets thought they would pay for their invasion of Afghanistan by stealing its natural gas. The Washington neo-conservatives who engineered the Iraq war ludicrously claimed its stolen oil would fully cover the costs of invasion and occupation.
- Guerilla wars waged among civilians inevitably produce hatred for occupiers and corrupt the invaders. Torture, brutality, mass reprisals against civilians, and black marketeering become epidemic, even among the best-discipline troops. The longer occupation troops stay on, the more they become corrupted, brutalized, and addicted to drugs - so do the nations that sent them.
- Americans make poor colonialists. They lack the historical and cultural knowledge, subtlety, patience and Third World street smarts to be first-rate colonizers, like the French or British. They lack the ruthlessness and brutality of Dutch, Japanese, Spaniards, or Russian colonialists. Or the ability to blend with the local population, as did Portugese.
Click here to comment on this article
Martin and Malcolm, Chalabi and Muqtada
An informed Iraqi Shiite writes:
" 1.Chalabi is setting himself up to be Martin Luther King to Muqtada's Malcolm X. I predict he will head to Najaf soon to mediate.

"2. You are absolutely right: Muqtada has won, and alive or dead the movement he has sponsored will keep fighting the American forces until they leave. I think the likelihood of theocracy in Iraq has skyrocketed. What is the United States to do? Install Ayatollah Sistani as the anti-theocracy voice of secularism? Preposterous isn't it. History will record the Sayyid Muqtada Al-Sadr was the first hero of the Islamic Revoloution in Iraq. Iran's islamic republic has taken over 20 years and still hasn't evolved into a "real" democracy. I hope it won't take that long in Iraq. The war against the Americans will likely be followed by a civil war to oust whoever the Americans install as dictator. Then the Islamic Republic will be established and hopefully eventually evolve into a democracy, but that could take 50 years. I am not optimistic.

"3. I get your point with the analogy, but please do not compare Muqtada to David Koresh. I think a better analogy is that Ayatolah Sistani is the grandfather or patriarch of the family, and Muqtada is a teenager with issues. Like the kid who says "I hate you Dad!" but doesn't really mean it, or acts out anger or frustration. At the end of the day Muqtada has respect for Sistani (he has offered to disband his militia and leave Najaf if Sistani commands him to.) and Sistani considers Muqtada one of his own and will not critisize him by name publicly (i.e. outside the family).

"4. Your warnings to other Shia groups are right on target, anyone seen as siding with the US against Muqtada is politically doomed. The issue is not Muqtada's popularity vs. Sistani's the issue is Muqtada's popularity vs. Paul Bremer's. Six months ago most Iraqis would have prefered Bremer, now it is Al-Sadr by a landslide. Chalabi's attempts to distance himself from the US highlight that point."
Click here to comment on this article
The struggle for the leadership of Iraq's Shia is at the heart of Muqtada Al-Sadr's standoff with the US-led occupation forces.
[...] Al-Sadr's statement underlined what many observers believe are signs of tension between him and the various Iraqi Shia groups. Observers say that the tension reflects a struggle over who truly represents Iraq's Shia. The standoff with the occupation forces in Najaf and Karbala also sheds light on the complicated web of relations between what Al-Sadr claims to represent in Al-Hawza Al- Natiqa -- the vocal seminary -- and the traditional, quietist seminary of Grand Ayatollah Ali Al-Sistani. The failure of Iraq's different political forces -- particularly that of the Shia -- to impose a peaceful settlement has, in the view of some observers, exposed this ambivalence.
[...] Murtada Al-Kashmiri, a spokesman for Al- Sistani, defended Al-Hawza against criticism, saying that it maintained a neutral stand and did not condemn the occupation's targeting of the city's holy shrines. "Sayed Al-Sistani has demanded that Najaf be evacuated of all armed militias. They don't approve of the city being turned into a battlefield," Al-Kashmiri told the Weekly on Monday. He pinned hopes on the mediation efforts to resolve the situation.
Should the situation continue to deteriorate, however, Al-Kashmiri would not elaborate on whether or not Al-Sistani would change his stand. But he warned that if the occupation forces cross the line in Najaf, then, in what was nearing a threatening tone, he said that "the marjaiyyah might eventually be forced to change its quietist stand."
Click here to comment on this article
Ayoon wa Azan (The Iraqi Transitional Government)
Jihad Al Khazen Al-Hayat 2004/05/20
[...] The most important aspect in the issue now, is the declaration of a Security Council resolution, which organizes the affairs of the country, after the end of the work of the CPA. Secretary of State Colin Powell spoke about this decision during the conference of the Dead Sea, and he promised to give it American support; he also said that Mr. Ibrahimi is doing a "great" job, and gaining the trust of everyone.
It seems that the Americans agree on a new international decision that deals with the American military presence in Iraq, and tries to ration it by building a multi-national force that would help in establishing peace through the role of the UN.
I asked Mr. Hafez about his nomination for prime ministry, but he apologized for preferring not to speak of himself. But Iraqi officials explained the situation to me, from the basis of the consensus that the president be Adnan Pachachi, the prime minister a Shiite, along with a leading position for Kurds. And while the main Shiite parties, like the Islamic Revolution and the Daawa Party, want the position of prime minister. Yet, the revolution of Moqtada Al Sadr showed essential weak points in the main Shiite assemblies.
If the previous points are correct, then the direction is moving towards a secular Shiite prime minister, who is independent from any party, but accepted by them.
Click here to comment on this article
By Chris Floyd
Matters of great moment are suddenly in the air all around us: stark evidence of war crimes by the leaders of the West; the growing certainty of a humiliating geopolitical defeat inflicted on the world's greatest power; terrorism and torture as the mirrored emblems of the age, a deadly double helix giving rise to a hideous global reality.
It's tempting in such times to inflate the image of those in the forefront of events, painting them, for good or ill, in the colors of legend: bold, outsize figures, Great Ones playing dice with nations, characters whose roiling depths -- tragic, evil or heroic -- transcend the puny limits of the common herd. Although on rare occasions this viewpoint might hold true, the squalid history of our ill-cobbled species provides endless examples to the contrary.
And they don't come any more squalid than the crew now steering the American boat straight into the shoals of disaster. For despite all the grandiose political rhetoric and world-historical perturbations emanating from the Bush Regime's imperial project, we should never lose sight of one simple fact: Deep down, these guys are nothing but cheap hoods, two-bit chiselers hustling for loot, thug-brained goons with no more grandeur about them than the meanest pack of Mafia knee-breakers. For them, statecraft is just a crowbar for bashing heads and jimmying open lockboxes. Two recent stories, both obscured by the blood and thunder of the Iraqi crack-up, illustrate this ugly truth.
Throughout the spring, as hundreds died in the spiraling conflict, as Regime bosses applied their hardcore "anti-terrorist" tortures to innocent bystanders raked up in their occupation nets, as Regime mouthpieces prated endlessly of "liberation" and "sovereignty," Bush viceroy Paul Bremer was quietly signing a series of edicts that will give the United States effective control over the military, ministries -- and money -- of any Iraqi government, for years to come, The Wall Street Journal reports.
Bremer has placed U.S.-appointed "commissions" made up of Americans and local puppets throughout Iraqi government agencies; the ministers supposedly in charge weren't even told of the edicts. These boards "will serve multiyear terms and have significant authority to run criminal investigations, award contracts, direct troops and subpoena citizens," the Journal reports. Any new Iraqi government "will have little control over its armed forces, lack the ability to make or change laws and be unable to make major decisions within specific ministries without tacit U.S. approval, say U.S. officials."
Click here to comment on this article
Abdulwahab Badrakhan Al-Hayat 2004/05/20
Did you see George W. Bush speaking to the AIPAC gang? He was extremely relaxed and sincere, amongst his people and his tribe, under the aegis of the Jewish Lobby. He recited a poem about his love for Israel. He shed tears for its victims and he praised its achievements. It did not occur to him at that time that the Israelis had committed a new massacre in Rafah. Twenty martyrs in a single morning do not deserve any attention from the American president; they do not even deserve an attempt to respect their human value. They were not terrorists; they were simply human beings in this city that Ariel Sharon wants to turn into rubble. The most important thing for Bush is to guarantee the support of the Lobby in his reelection campaign. No, Iraq was not present in this meeting between allies; even America was not present there. Bush is in the midst an elections campaign to become U.S. president for a second term. However, lingering in the White House would require him to pass through Israel, through the Lobby. Everything is all right as long as Israel resumes its terror, as long as it still murders and destroys. George W. Bush is not only the most biased American president towards Israel, he also identifies with it, and he even came to office with a clear agenda aiming at occupying Iraq. This is the peak of rapprochement with Israel by means of leading the American soldiers to the same rock bottom that the Israelis have sunk to.
Click here to comment on this article
Two held in Berg beheading case: Coalition forces detained four; released two after questioning
Friday, May 21, 2004 Posted: 3:04 PM EDT (1904 GMT)
(CNN) -- Coalition forces apprehended four people in connection with the beheading of U.S. businessman Nicholas Berg, a military coalition official said Friday, but have since released two of them.
[...] A CIA spokesman has said that it was likely that al Qaeda associate Abu Musab al-Zarqawi was the man who killed Berg.
An assessment of the video showing Berg's death concludes it is a "high probability" al-Zarqawi is the hooded speaker who is shown decapitating Berg, the CIA official said.
Comment: The propaganda continues. In spite of all the questions that have been raised about the video, the Bush administration continues merrily on with the same story...and it can get away with it because the major media don't talk about the anomalies and the inconsistencies of the video. al Zarqawi has a wooden leg. The man in the video was on his feet the entire time and showed no evidence of a wooden leg. There are reports that al Zarqawi was killed in Iraq several months ago. These are just some of the inconsistencies. But it is a convenient diversion from the stories of US abuse of Iraqi prisoners. It feeds the American mindset that the Iraqis in jail only got what was coming to them.
Click here to comment on this article
Britain shelves plan to send 3,000 more troops to Iraq: report
LONDON (AFP) May 21, 2004
Britain has shelved plans to send 3,000 more troops to a volatile part of southern Iraq due to worries about political and public opposition at home, a report said on Friday.
The reinforcement -- which another report had predicted would be formally announced next week -- has been put off again by Prime Minister Tony Blair due to concern about the reaction, the Daily Mirror reported. [...]
Click here to comment on this article
Last Spanish soldiers leave Iraq, ending unpopular mission
MADRID (AFP) May 21, 2004
The last Spanish soldiers pulled out of Iraq on Friday, bringing to an end a mission with US-led occupation forces that was massively unpopular with the Spanish people.
The troops -- a small number remaining from 1,430 initially deployed last August in Iraq -- crossed the border into Kuwait shortly before 1300 GMT, Defence Minister Jose Bono announced in Madrid. [...]
Click here to comment on this article
House approves 422 billion dollar defense bill
WASHINGTON (AFP) May 20, 2004
The House of Representatives Thursday, by a vote of 391 to 34, approved a 422 billion dollar defense funding bill for the 2005 fiscal year.
The legislation, which provides funding for the Department of Defense and the national security programs of the Department of Energy, increases pay, health care and other benefits for members of the US armed forces.
The bill also includes 25 billion dollars for military operations in Iraq -- funding requested just last month by US President George W. Bush after a surprisingly strong insurgency in Iraq caused US forces to deplete earlier funding there at a faster than anticipated rate. [...]
Click here to comment on this article
Soldier who deserted Iraqi unit to protest found guilty in court-martial at Fort Stewart
By Russ Bynum
Associated Press
5/21/2004 13:10
FORT STEWART, Ga. - A military jury convicted a U.S. soldier Friday of desertion for leaving his combat unit in Iraq in protest of an "oil-driven" war.
Staff Sgt. Camilo Mejia of the Florida National Guard was found guilty by a jury of four officers and four enlisted soldiers. Jurors deliberated almost two hours.
He faces up to a year in jail and a bad conduct discharge and was to be sentenced Friday afternoon.
Mejia, 28, failed to return after a two-week furlough in October and was missing from the Army for five months before turning himself in in March.
Mejia, who has called the conflict an "oil-driven war," testified Thursday that he disobeyed orders to return to his unit because he planned to seek status as a conscientious objector.
Mejia said he became upset after seeing civilians hit by gunfire and watching an Iraqi boy die after confusion over which military doctor should treat him. [...]
Click here to comment on this article
Has The Israeli Left Become A Tool Of The Right?
Azmi Bishara Al-Hayat 2004/05/20
Israel has demolished thousands and thousands of Palestinian homes, throughout its history, in a war of bulldozers, which are considered to be one of the main aspects and political attributes of Zionism. Since there is a trend of drawing flags; two blue stripes and a bulldozer in the center might be a suitable flag of that state that has put itself in a struggle of existence and not of borders with the roofs over the heads of the occupied people. Sharon and Dayan have developed the concept of demolishing homes or even demolishing the whole district from which fire was shot on the forces of occupation in order to "clear vision" and to "construct secure roads." The military strategy behind this policy was to impose one of two solutions: either to surrender or to live in the streets. This Genghis Khan-like theory distinguishes Israeli imperialism.
Click here to comment on this article
Gaza zoo suffers extensive damage, animal deaths, in Israeli incursion
04:30 PM EDT May 21
RAFAH, Gaza Strip (AP) - A headless ostrich, dead chickens and a peacock littered the ground at a zoo Friday after Israeli troops raided a Gaza neighbourhood. The zoo's owner said soldiers demolished cages and pens, killing some animals and setting dozens more free.
Associated Press Television News footage showed the mangled body of a goat lying near the twisted wreckage of its former pen as flies swarmed overhead.
Comment: Let's get this right. Homes are demolished. Dozens are dead. Dozens of human beings, that is, and the headline is about the zoo? Kill a Palestinian child and that's OK. Kill a goat and it's a scandal.
Click here to comment on this article
Rabbi supports killings in Rafah
By Khalid Amayreh in the West Bank
AlJazeera.net
Thursday 20 May 2004, 13:48 GMT
A prominent rabbi has supported the killings of Palestinian civilians by Israeli occupation troops in the Gaza Strip, saying killing non-Jewish civilians is compatible with religious laws.
Rabbi Dov Lior, Chairman of the Jewish Rabbinical Council, was quoted as saying "during warfare, killing non-Jewish civilians is permitted if it saves Jewish lives".
According to Lior's ruling, which was made public on Wednesday, Israeli occupation troops in Gaza are allowed to kill and harm "so-called innocent civilians" during warfare.
"The law of our Torah is to have mercy on our soldiers and to save them. This is the real moral behind Israel's Torah and we must not feel guilty due to foreign morals," the Ma'ariv Israeli newspaper quoted him as saying.
He added that Jewish lives were more important than non-Jewish lives. [...]
Comment: And anyone who disagrees with the good Rabbi can be labeled anti-Semitic. Do you love it?
Click here to comment on this article
Iranian detained over arms find in France
May 21, 2004
MARSEILLE, France (AFP) - An Iranian national was detained in the southern French port city of Marseille after police uncovered a large cache of weapons, explosives and burglary equipment in a cellar.
The 47-year-old Iranian was the owner of the cellar, but claimed he had not "set foot there in five years," a judicial source said.
He said the cache did not belong to him, a police source added.
After translation of documents from Farsi, police said investigations would likely focus on the arms cache being used by "professional armed robbers", as opposed to terrorists.
The documents contained no extremist religious element and were in fact private papers dating from the 1980s and 1990s, a judiciary source said.
The Iranian mason was known to French police intelligence in the 1980s, but not for any links to terrorism, the judicial source said. [...]
Click here to comment on this article
On May 20, 2004 we quoted the following:
The Big Lab Experiment: Was our universe created by design?
By Jim Holt
Posted Wednesday, May 19, 2004, at 7:59 AM PT
Among the many curious implications of Linde's theory, one stands out for our present purposes: It doesn't take all that much to create a universe. Resources on a cosmic scale are not required. It might even be possible for someone in a not terribly advanced civilization to cook up a new universe in a laboratory. Which leads to an arresting thought: Could that be how our universe came into being?
"When I invented chaotic inflation theory, I found that the only thing you needed to get a universe like ours started is a hundred-thousandth of a gram of matter," Linde told me in his Russian-accented English when I reached him by phone at Stanford. "That's enough to create a small chunk of vacuum that blows up into the billions and billions of galaxies we see around us. It looks like cheating, but that's how the inflation theory works—all the matter in the universe gets created from the negative energy of the gravitational field. So, what's to stop us from creating a universe in a lab? We would be like gods!"
[...] But then Linde thought of another channel of communication between creator and creation—the only one possible, as far as he could tell. The creator, by manipulating the cosmic seed in the right way, has the power to ordain certain physical parameters of the universe he ushers into being. So says the theory. He can determine, for example, what the numerical ratio of the electron's mass to the proton's will be. Such ratios, called constants of nature, look like arbitrary numbers to us: There is no obvious reason they should take one value rather than another. (Why, for instance, is the strength of gravity in our universe determined by a number with the digits 6673?) But the creator, by fixing certain values for these dozens of constants, could write a subtle message into the very structure of the universe. And, as Linde hastened to point out, such a message would be legible only to physicists.
"You might take this all as a joke," he said, "but perhaps it is not entirely absurd. It may be the explanation for why the world we live in is so weird. On the evidence, our universe was created not by a divine being, but by a physicist hacker."
Linde's theory gives scientific muscle to the notion of a universe created by an intelligent being. It might be congenial to Gnostics, who believe that the material world was fashioned not by a benevolent supreme being but by an evil demiurge. More orthodox believers, on the other hand, will seek refuge in the question, "But who created the physicist hacker?" Let's hope it's not hackers all the way up.
Comment: Linde is not very precise here. There is a lot of wishful thinking in the above. Wishful thinking is also present in the original papers by Linde, as for instance http://arxiv.org/PS_cache/hep-th/pdf/0211/0211048.pdf . But Linde makes a lot of points that are colinear with "Cassiopaean ideas". For example in Inflation, Quantum Cosmology and the Anthropic Principle Linde talks about many "smaller bangs" rather than one "Big Bang". This agrees with the ideas from "C's". It is not a very popular idea among the physicists, who seek "simple" models. Linde talks about "quantum fluctuations", "creations", etc. the concepts that have no exact meaning at all in the present day physics. But he doesn't care. He is not trying to "fix it". He is just "playing with concepts", and evidently, as a Russian, he has more flexible mind than "Americans". But his theory is not a theory, he has no no answer, just ideas. Reading other papers by Andrei Linde may give our readers some good food for thinking:
http://arxiv.org/find/hep-th/1/au: Linde_A/0/1/0/all/0/1
and also another Russian author, Alexander K. Guts:
http://arxiv.org/abs/physics/9910037
A real revolution in our thinking about the Universe seems to be under way.
Click here to comment on this article
Storms Hit Mich., Wis., Ohio; 1 Killed
By The Associated Press
May 21, 2004
Heavy rain floated cars, high wind tossed a trailer and hail grew to an inch and more as a storm system moved across the upper Midwest early Friday. The flooding was blamed for at least one traffic death.
The storm was thick with lightning, striking transformers, setting buildings on fire in western Michigan and temporarily zapping the radar at the weather service station in Grand Rapids.
Wind topped 70 mph, and rain fell at up to 3 inches an hour. About 22,000 homes and businesses lost power west of Detroit. [...]
Click here to comment on this article
N.Y. Lawyer Fined for Barking at Witness
By SAMUEL MAULL
May 21, 7:27 AM (ET)
NEW YORK (AP) - A lawyer who barked like a dog at a witness during a deposition has been fined $8,500 for misconduct and harassment of opponents.
The lawyer, David Fink, made false statements, failed to comply with court orders and engaged in frivolous conduct during a breach of contract suit over home furnishing designs, Manhattan state Supreme Court Justice Charles Ramos said.
Fink's client Carl Levine represents designers of home furnishings to manufacturers and other licensees. He sued a married couple, Laurette Angsten and Kit Kittle, alleging they did not pay him money they owed for marketing their products.
During a deposition in which Kittle was giving sworn statements on Jan. 16, 2002, he referred to letters he had received from Fink. He called them threatening, "mad dog lawyer" letters, according to Kittle's lawyer, Samuel Friedman.
At the continuation of the deposition the next day, Friedman said, Fink started barking like a dog when Kittle was asked about the letters by Donald Creadore, the lawyer who had taken over Levine's case from Fink. [...]
Click here to comment on this article
Mysterious odor hits Cripple Creek:2 workers sick; schools locked down; homes evacuated
By Jeremy Meyer
The Gazette
Cripple Creek - An odor sickened at least two Cripple Creek workers early Thursday and caused authorities to block off streets, evacuate homes and lock down schools.
In the end, the origin of the solvent-like smell that produced headaches and caused burning sensations in the city workers' throats was a headscratcher.
"They did find something there", Cripple Creek Police Chief Larry Hamilton said. "But they just don't know what it is."
The mystery began about 9 a.m., when two workers from the Utilities Department who were building a sidewalk in the 200 block of Masonic Avenue reported feeling ill from an unidentified odor.
Not long after, the police barricaded streets and began going door to door, evacuating about 25 residences.
Cresson Elementary and Cripple Creek-Victor Junior/Senior School were locked down.
The Teller County Courthouse, the county office building and the post office were evacuated.
An evacuation center was set up at a community center, but no one checked in.
Letter carrier Norman Gillard's work was disrupted, so he bought a box of doughnuts to hand to people who also were inconvenienced.
"I didn't smell anything," he said. "but I guess they just don't want to take any chances."
Because Teller County doesn't have a hazardous-materials team, a unit from the Colorado Springs Fire Department was dispatched.
The Colorado Springs firefighters in protective suits and masks walked up and down the streets of the historic mining town with monitors, checking the air for the noxious odor. They found nothing.
Slowly, police lifted the barricades and the evacuation orders. The school's lockdown was lifted about 2 p.m.
After hazmet team members checked the area, they returned to the spot where the workers said they fell ill.
They dug in the ground and checked the air, which showed a slightly elevated level of hydrocarbons--residual effects of combustion.
"It's still a mystery to me," Hamilton said.
"They thought whatever was there may have been in the soil for a long time. When they started digging, they disrupted it. We don't think it's that big of a deal at this time."
The firefighters spent the early evening cleaning up the 6-foot-by-6-foot area where the odor was detected.
Comment: Something doesn't smell quite right with this story....
---
Remember, we need your help to collect information on what is going on in your part of the world!
We also need help to keep the Signs of the Times online.
---

Check out the Signs of the Times Archives

Send your comments and article suggestions to us

---
Fair Use Policy
Contact Webmaster at signs-of-the-times.org
Cassiopaean materials Copyright ©1994-2014 Arkadiusz Jadczyk and Laura Knight-Jadczyk. All rights reserved. "Cassiopaea, Cassiopaean, Cassiopaeans," is a registered trademark of Arkadiusz Jadczyk and Laura Knight-Jadczyk.
Letters addressed to Cassiopaea, Quantum Future School, Ark or Laura, become the property of Arkadiusz Jadczyk and Laura Knight-Jadczyk
Republication and re-dissemination of our copyrighted material in any manner is expressly prohibited without prior written consent.
.