---
New Article: Jupiter, Nostradamus, Edgar Cayce, and the Return of the Mongols - Laura Knight-Jadczyk
Part 1, Part 2, Part 3, Part 4, Part 5, Part 6, Part 7, Part 8, Part 9, Part 10, Part 11, Part 12, Part 13
Picture of the Day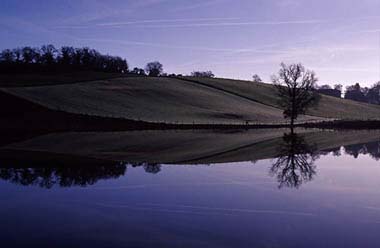 Summer Evening in the Landes Forest
©2004 Pierre-Paul Feyte
Thinking
Guest Editorial - Anonymous
It started out innocently enough...
I began to think at parties now and then -- to loosen up. Inevitably, though, one thought led to another, and soon I was more than just a social thinker. I began to think alone-"to relax," I told myself -- but I knew it wasn't true. Thinking became more and more important to me, and finally I was thinking all the time.
That was when things began to sour at home. One evening I had turned off the TV and asked my mate about the meaning of life, but she just spent that night at her mother's.
I began to think on the job. I knew that thinking and employment don't mix, but I couldn't stop myself. I began to avoid friends at lunchtime so I could read Thoreau and Kafka. I would return to the office dizzied and confused, asking, "What is it exactly we are doing here?" One day the boss called me in.
He said, "Listen, I like you, and it hurts me to say this, but your thinking has become a real problem. If you don't stop thinking on the job, you'll have to find another job."
This gave me a lot to think about.
I came home early after my conversation with the boss. "Honey," I confessed, "I've been thinking..."
"I know you've been thinking," she said, "and I want a divorce!"
"But Honey, surely it's not that serious."
"It is serious," she said, lower lip aquiver. "You think as much as college professors, and college professors don't make any money. So if you keep on thinking, we won't have any money!"
"That's a faulty syllogism," I said impatiently. She exploded in tears of rage and frustration, but I was in no mood to deal with the emotional drama.
"I'm going to the library," I snarled as I stomped out the door. I headed for the library, in the mood for some Nietzsche. I roared into the parking lot with NPR on the radio and ran up to the big glass doors. They didn't open. The library was closed. I had reached the absolute nadir of my life......
To this day, I believe that a Higher Power was looking out for me that night. As I sank to the ground, clawing at the unfeeling glass, whimpering for Zarathustra, a poster caught my eye. "Friend, is heavy thinking ruining your life?" it asked. You probably recognize that line. It comes from the standard Thinker's Anonymous poster. Which is why I am what I am today: a recovering thinker.
Now I never miss a TA meeting.
At each meeting we watch a non-educational video; last week it was "Porky's." Then we share experiences about how we avoided thinking since the last meeting. Our motto is "never have an original thought" , and we take it one step at a time. I am now at a point where I deny cause and effect, eschew science, idolize industry and business, and always think I am the only one who is right.... and I even believe that privatization is God's rule on earth. I still have my job, and things are a lot better at home. Life just seemed easier, somehow, as soon as I stopped thinking.
I think the road to recovery is nearly complete for me. Today, I even registered to vote for George Bush.
Below is the text of a recently introduced bill in the US Congress that will essentially make the US and its military the keeper and defender of Israel
Global Anti-Semitism Awareness Act of 2004 (Introduced in House)
HR 4230 IH
108th CONGRESS
2d Session
H. R. 4230
To authorize the establishment within the Department of State of an Office to Monitor and Combat Anti-Semitism, to require inclusion in annual Department of State reports of information concerning acts of anti-Semitism around the world, and for other purposes.
IN THE HOUSE OF REPRESENTATIVES
April 28, 2004
Mr. LANTOS (for himself, Ms. ROS-LEHTINEN, Mr. WAXMAN, Mr. KIRK, and Mr. LEWIS of Georgia) introduced the following bill; which was referred to the Committee on International Relations
A BILL
To authorize the establishment within the Department of State of an Office to Monitor and Combat Anti-Semitism, to require inclusion in annual Department of State reports of information concerning acts of anti-Semitism around the world, and for other purposes.
Be it enacted by the Senate and House of Representatives of the United States of America in Congress assembled,
SECTION 1. SHORT TITLE.
This Act may be cited as the `Global Anti-Semitism Awareness Act of 2004'.
SEC. 2. FINDINGS.
Congress makes the following findings:
(1) Acts of anti-Semitism in countries throughout the world, including in some of the world's strongest democracies, have increased significantly in frequency and scope over the last several years.
What sources we wonder have the abovementioned people used to fuel their claims that "acts of anti-semitism [...] have increased significantly"? A recent poll by the ADL itself show exactly the opposite:
Poll shows decrease in anti-Semitic views in Europe

By Shlomo Shamir, Haaretz Correspondent, and DPA
27/04/2004

A poll released Monday showed anti-Semitic attitudes in 10 European countries have mainly decreased since 2002

In Britain, however, anti-Semitic attitudes rose by 6 percent since a 2002 opinion poll. France, which ranked third in anti-Semitic attitudes - one slot above Britain - showed a 10-percent decrease in anti-Semitism, one of the largest shifts among the countries polled.

"The most significant finding... is that there is some decrease in anti-Semitic attitudes in almost all countries surveyed," said a statement by the Anti-Defamation League, which commissioned the poll.

Countries surveyed in advance of a major anti-Semitism conference opening in Berlin on Wednesday were: Austria, Belgium, Britain, Denmark, France, Italy, Germany, the Netherlands, Spain and Switzerland. [...]

A total of 5,000 people were interviewed by telephone for the survey. The margin of error is plus or minus 4.4 per cent.

Those polled were asked if they agreed with questions such as "Jews have too much power in the business world" and "Jews are more willing than others to use shady practices to get what they want."
Note in the above that "anti-semitism" is now defined as either criticism of Jewish power brokers, like the state of Israel for example, or the Jewish members of the American administration, or a mere stereotype such as "Jews use shady practices to get what they want". Would it be reasonable to suggest that the stereotyping of Irish people as drunkards amounts to anti-irish sentiment? The above definitions are a far cry from the basis of anti-semitism where under the Nazi regime Jews were allegedly hated simply beause they were Jews. If a public poll was conducted where the question asked was; "Do you hate Jews simply because they are Jews" the claim for a rise in anti-semitism, or ANY level of anti-semitism among the general non-Jewish public would be completely untenable. We continue now with the further "findings of congress"
(2) During the last three months of 2003 and the first three months of 2004, there were numerous instances of anti-Semitic violence around the world, including the following incidents:

(A) In Putrajaya, Malaysia, on October 16, 2003, Prime Minister Mahathir Mohamad of Malaysia told the 57 national leaders assembled for the Organization of the Islamic Conference that Jews `rule the world by proxy', and called for a `final victory' by the world's 1.3 billion Muslims, who, he said, `cannot be defeated by a few million Jews'.
The above quotes from Mahathir's speech are presented out of context, clearly for the purpose of making a case for a rise in anti-semitism where none exists. The actual text of what Mahathir said is in fact quite different from what "congress" wants Americans to believe. Firstly Mathathir was speaking of the Jewish elite, people like Sharon and other Jewish power brokers around the world. He stated:
"We also know that not all non-Muslims are against us. Some are well disposed towards us. Some even see our enemies as their enemies. Even among the Jews, there are many who do not approve of what the Israelis are doing."
The main point in the speech was that Muslims should learn from the actions of the Jewish lobby, that such is the strength of influence of the Jewish lobby around the world that Muslims cannot hope to win by force of arms, that they should begin to use their brains as opposed to their brawn. He correctly stated that the Jewish people, because of their leaders' relationship with the United States, had an influence in the world that far outweighed their numbers.
"It cannot be that there is no other way - 1.3 billion Muslims cannot be defeated by a few million Jews," he said, "the Europeans killed six million Jews out of 12 million. But today the Jews rule this world by proxy, they have survived 2000 years of pogroms not by hitting back but by thinking.This tiny community have become a world power. We cannot fight them through brawn alone. We must use our brains as well."
Far from inciting the Muslim or world at large to acts of violence against Jews, Mahathir, risking the condemnation of his people, said almost exactly the opposite and suggested that attacks against Israelis should stop because it merely damages the image of Muslims around the world.
"Over the past 50 years of fighting in Palestine we have not achieved any result. We have in fact worsened our situation. The Quran tells us that when the enemy sues for peace we must react positively. True, the treaty offered to us is not favourable. But we can negotiate. The Prophet did... And in the end he triumphed."


(B) In Istanbul, Turkey, on November 15, 2003, simultaneous car bombs exploded outside two synagogues filled with worshippers, killing 24 people and wounding more than 250.
"By way of deception thou shalt do war", the motto of Mossad, Israel's intelligence agency. The above synagogue bombings were allegedly carried out by "al-qaeda". al-Qaeda is a creation of the Mossad. The way in which the bombings were reported, in which 22 people were killed, was designed to make it look a uniquely Jewish suffering event, few if any of the mainstream media outlets reported the interesting fact that out of the 22 people killed 6 were Jewish, the other 16 were Muslims. Needless to say, Mossad were immediately on the scene to "clean up" any details. The Turkish Foreign Minister Abdullah Gul, talking about the attacks said:
...it looks as if this is a terror attack which has international links." Turkish Interior Minister Abdulkadir Aksu told reporters that "no organization has claimed responsibility yet" and investigators are "considering every possibility.Any organization could be behind this.
Any organisation indeed... An article on propaganda matrix presented the idea the Istanbul attack was very likely an Israeli operation:
"Turkey's refusal to allow US troops into the country before the Iraq war delayed the bombing by weeks. They are also partly responsible for the tribal skirmishes for control which are killing US troops on a daily basis.

"Turkey had a huge presence at the May 2003 Bilderberg meeting in an attempt to grovel out of their Iraq obstinance but still received a slap on the wrist from the global elite. They were warned to co-operate with the agenda or face the consequences.

"After the war (officially) ended Turkey continued to complain and demanded that the Mosul-Haifa oil pipeline to Israel be scrapped in favor of transporting the oil to the Turkish port of Ceyhan. The Turks even went so far as to suggest that the Mosul-Haifa pipeline could threaten peaceful relations between Turkey and Israel.

"Was the Istanbul bombing an Israeli warning not to interfere with its oil agenda? Was the bombing carried out by the Mossad 'Al-Qaeda' groups that Israel has been caught manufacturing in the past?"
Certainly, whatever the real reason for the Istanbul bombings, "anti-semitism" surely comes at the bottom of the list.
In the aftermath of these attacks in Istanbul, representatives of the Israeli government warned Europe that it was next.
Israel predicts Europe next in line after Istanbul bombings

21 November 2003

In the wake of the devastating bombings against British interests in Istanbul, Israeli officials and experts predicted Friday that the next target of global terrorism would be Europe.
We wonder just how these Israeli officials could be so sure that Europe would be next. Did Mossad tell them? Whatever the truth, the Israeli official were right. Less than 4 months later someone bombed a Madrid train station, murdering 191 people.
Continuing then with Congress' desperate attempts to make a case for a worldwide rise in anti-semitism:
(C) In Hobart, Australia, on January 5, 2004, poison was used to ignite and burn anti-Semitic slogans into the lawns of the Parliament House of the state of Tasmania.

(D) In St. Petersburg, Russia, on February 15, 2004, vandals desecrated approximately 50 gravestones in a Jewish cemetery, painting the stones with swastikas and anti-Semitic graffiti.
The above two findings are rather weak as examples of a global resurgence in anti-semitism. Graves and public buildings are regularly used by the extremist elements in societies around the world to vent their anger. For example, today there is a report that the tombstone of James Byrd, the black man who was dragged to his death in Texas by three white men in a pickup truck in 1998 was broken, with an obscenity and racial epithet carved into a metal plate on the bottom of the stone. Should Afro-Americans proclaim this as evidence of an upsurgence in racism against them? Perhaps, but of course, no one would listen. There is however cause for suspicion over these seeming isolated incidents of attacks on Jewish cemeteries. Earlier this year in Toronto, as the next "finding" of Congress reports, a Jewish cemetery was vandalised, but it is far from clear who the perpetrators were....
(E) In Toronto, Canada, from March 19 to March 21, 2004, vandals attacked a Jewish school, a Jewish cemetery, and area synagogues, painting swastikas and anti-Semitic slogans on the walls of a synagogue and on residential property in a nearby, predominantly Jewish, neighborhood.
The above reported vandalisation of a Jewish cemetery in Toronto was and continues to be used as proof of a rise in anti-semitism. At the time however a report also appeared that three Jewish teenagers were charged with "mischief to religious property" that had stemmed from a grievance with the cemetery caretaker. This report seems to have been scrubbed from the web, however a headline still exists here. We wonder how many other similar non sectarian attacks are being trumpeted as clear evidence of a rise in anti-semitism.
(F) In Toulon, France, on March 23, 2004, a Jewish synagogue and community center were set on fire.

Arson attack on Jewish centre in southern France

TOULON, France, March 23 (AFP) - Arsonists set fire to a Jewish centre in the southern French city of Toulon overnight, causing minor damage, police said Tuesday.

The head of the Jewish community in Toulon, Yves Haddad, said he believed the attack was the first case in France of Jews being targeted because of Israel's assassination Monday of the spiritual leader of the Palestinian radical group Hamas, Sheikh Ahmed Yassin.

"They probably wanted to make a symbolic reaction to the elimination of Sheikh Yassin by attacking a place of religion," he said, but added: "I don't see how a link can be made between a decision by the state of Israel, for which we have much sympathy, and the Toulon synagogue.
Evidence of a rise in anti-semitism among the average European? Or is it more likely, as the Rabbi says above, that Arabs or Palestinians, angry at the murder of Sheik Yassin, were attempting some form of limited vengence?
(3) Anti-Semitism has at times taken the form of vilification of Zionism, the Jewish national movement, and incitement against Israel.
Here we see an attempt to clearly define "anti-semitism" as criticism of the state of Israel, its policies and those that support them. Again, can this be used as reasonable evidence for a world wide rise in hatred of ordiary Jews simply because they are Jews?
(4) Anti-Semitism is also increasingly emanating from the Arab and Muslim world on a sustained basis, including through books distributed by government-owned publishing houses in Egypt and other Arab countries.
Agreed, if we take "anti semitism" to mean criticism and resistance towards the murderous policies of the state of Israel towards the Arab people's in the Middle East then we can say that anti-semitism is on the rise, but in such a case, Sharon, and his supporters in the US are to blame? Can anyone deny a victim the right to feel anger and resentment towards their oppressor? Again, this is not evidence for a world wide, popular uprising by ordinary non Jews against ordinary Jews.
(5) In November 2002, state-run television in Egypt broadcast the anti-Semitic series entitled `Horseman Without a Horse', which is based upon the fictitious conspiracy theory known as the Protocols of the Elders of Zion. The Protocols have been used throughout the last century by despots such as Adolf Hitler to justify violence against Jews.
Whatever about the validity of the source behind the "Protocols of the Elders of Zion", this text is not needed to incite people to resent the policies of the state of Israel. The state of Israel, it seems, is doing all it can to turn the world against it and it's leaders while at the same time attempting to stop the expression of any outrage by labeling any criticism as evidence of a latent anti-semitism in the sense that it belies a hatred of Jews in general.
(6) In November 2003, Arab television featured an anti-Semitic series entitled `Ash-Shatat' (`The Diaspora'), which depicts Jewish people conspiring to gain control of the world.
Another distortion of the truth. Most exposes of Jewish control involves a small group of Jewish or Pro-Jewish power brokers, not Jewish people in general who in the end will probably be as much the victims of their leaders as Muslims are today. See Kevin McDonald's "Culture of Critique" for well researched details on how much of the major institutions of western society that certain Jewish groups actually control.
In last years poll where a majority of Europeans polled claimed that Israel was the biggest threat to world peace, Sharon and Jewish groups immediately attempted to use this as more evidence of a wave of anti-semitism sweeping Europe. Wherever this claim was contested the label of anti-semite was used in an attempt to silence debate.
Incredibly, as Israel and Jewish lobby groups continue to attempt to convince the world that Jews are the victims of an ingrained irrational hatred, the "war on terror", initiated by Israel, is being presented to the world, however subtly, as a War on Islam and therefore, in the uniformed view of the average citizen, on all Islamic and Arab peoples. The American war machine, at the behest of Israel, rumbles on through Iraq, murdering and further demonising Arab people. To the average American the fact that Iraqis and Arabs in general are less than human is clear - the rationale is that if they are being attacked and tortured by US soldiers then there MUST be a good reason for it. After all, America's leaders and her sons and daughters would never kill and maim innocent people, would they?
In the final analysis however, no matter how much Sharon and those of his ilk desire to convince the world that Jews are being persecuted by all, it is not old Jewish women that are being saddled and ridden like donkeys by US soldiers.
In a technique similar to the question "have you stopped beating your wife/husband yet" Sharon tells European citizens that anti-semitism is on the rise, if you disagree with him, that merely provides evidence of your latent anti-semitism. Indeed, when confronted with someone who is convinced of the truth of this absurd notion, they will always have the last word, they will tell you that, in the end, you are an anti-semite and you do not even know it. Your hatred of Jews is essentially a genetic trait and there is nothing you can do about it. In a similar way, Israel and the Jews must deal with this an defend themselves from it as they see fit. This is the setup. Destruction is assured.
Our chief concern in all of this then, is clearly for the ordinary people of this world. When it comes to the ultimate plans of the controlling elite, they will make no distinction between American or Iraqi, Israeli or French. however it seems that the ordinary Jewish people are being shepherded towards their own destruction. The above bill appears to be the next step in the tightening of the controls on the minds of the Jewish and world population. Unless we wake up, reject the attempts at "divide and conquer" and unite in our attempts to simply See and accept the truth of this world and the machinations of a select few, we will all end up as "food for the moon".
Click here to comment on this article
Holocaust used to show animals' suffering
By Terry Kirby Chief Reporter
07 May 2004
A campaign by the radical animal rights group Peta which compares the suffering of intensively reared animals with the plight of Jews in Nazi death camps is to be staged on London next week in defiance of a local authority ban.
An exhibition, entitled Holocaust on Your Plate, placing large photographs of concentration camps side by side with those of factory farms and slaughterhouses, will open in London on Tuesday. It will later tour the country.
By setting up the display in Trafalgar Square, Peta will defy a decision by Westminster City Council and the Greater London Authority to ban the staging of the exhibition in a public place because of its "graphic nature". But local authorities in Birmingham, Manchester, Glasgow and Dublin, have not objected to the exhibition, which has attracted controversy in Europe and the United States where it has been on tour since February.
The exhibition, which has been on the road since last year, is funded by an anonymous American Jewish philanthropist and has divided the Jewish community. The Holocaust Memorial Museum has objected to the photographs and some Jewish groups have denounced the show.
Comment: No reasonable person would refuse the right of Jewish people to commemorate the Jewish holocaust, but what does it serve to present it in such a strident and alarmist way, if not to convince Jews that they are threatened with extinction at any moment? Jews today have no reason to expect a repeat of the events of WWII, not from Europe and certainly not from the Arab world. So the argument that forcibly reminding the world of the suffering of the Jews is to ensure that it can never happen again does not hold. Israel is armed to the teeth with the latest weaponry and nuclear weapons and with a psychopath like Sharon at the helm an attack on Israel by one of Israel's "enemies" is very unlikely. Clearly then, although the average Jew is so programmed with patriotic and religious beliefs that he will never accept it, the only real threat to the Jewish people comes from their own leaders and those that claim to speak on their behalf.
Click here to comment on this article
Is Congress Aiding A Massive Israeli Deception?
Terrell E. Arnold
5-7-4
On April 28, 2004, with little or no fanfare, members of the House Committee on International Relations introduced a bill, H.R. 4230 to make the United States Department of State responsible to "Monitor and Combat Anti-Semitism" everywhere in the world. The bill cites several examples: (a) the speech of Prime Minister Mahathir Mohamad of Malaysia; (b) car bombings outside synagogues in Instanbul, Turkey; (c) anti-Semitic slogans (unspecified) burned into the lawn of Parliament House in Tasmania; (d) desecration by vandals of gravestones in a Jewish cemetery in Russia; (e) attack on a Jewish school by vandals in Toronto, Canada; and (f) a fire of unknown origin at a synagogue in Toulon, France. Narrowly construed, this bill would not only have a special office in the State Department to monitor such activities and make an annual report to the Congress of them. State would also be expected in any country where anti-Semitic acts occurred to "combat" those acts.

If enacted this bill will make the United States the world policeman for any actions that Israelis or Jews anywhere in the world feel is anti-Jewish. Moreover, as the act is written, it would make the United States responsible for taking actions to counter such actions with any government or organization that may be responsible for the alleged acts. Since the bill is written so that what constitutes anti-Semitism is a matter of judgment, there would be no end to the problems such a law would create for US diplomats and no limit on the harassment of other governments for alleged misdeeds.

Any sensible person will deplore acts against Jews or their institutions and symbols, just as they should deplore such acts against Christians, Muslims, Buddhists, and other religious communities. And if the Congress is so confused about its mission as to take this on, then it should be ready to discharge the same responsibility for all the world's religious practitioners. There will be no end to it, because such acts are often obscure in their perpetrators and intentions.

That, however, is not the problem with the purposes of this bill. Its central purpose is to sweep under the rug any criticism of Zionists, current Israeli leadership, Israeli settlers, and their supporters for their actions against the Palestinian people. Its goal is to stifle all criticism of extreme behavior such as building the wall around the West Bank, assassinating Palestinian activists and their leaders, imprisoning Palestinians without trial, torturing them in captivity, and taking their ancestral homes without compensation. If objections to such acts are anti-Semitic, then a growing number of people will be targeted by this legislation, because most of the unhappiness in the world with developments in Israel is generated by those actions, not by Jewishness or Judaism. Moreover, those objections are wide spread, not confined to any society or any part of the world.

The American government and the United States Congress cannot honorably be associated with a scheme designed to suppress legitimate criticism of Israeli repression of the Palestinian people. In truth, the Palestinians are Semites and Israeli actions against them are brutally anti-Semitic. It is therefore predictable that if the Israelis stop those patterns of repression and take actions to deal with the Palestinians as people, yes, even Semites of equal worth, then much of the world objection to Israeli behavior will subside. No US law can accomplish that purpose. Nor can it police objections to Israeli misconduct. Only the Israelis can change their own habits. The larger Jewish community must recognize this and work to get it done.
Click here to comment on this article
Schools Not Teaching Pro-Israel Views To Lose Funding
Congress To Pass 'Ideological Diversity' Legislation

By Michael Collins Piper
American Free Press
americanfreepress.net
4-21-3
Republican members of the Senate are planning to introduce police-state- style "thought control" legislation designed to prohibit criticism of Israel on American college campuses.

The third-ranking Republican member of the U.S. Senate, conservative Rick Santorum (Pa.), plans to introduce so-called "ideological diversity" legislation that would cut federal funding for thousands of American colleges and universities if those institutions are found to be permitting professors, students and student organizations to openly criticize Israel, which Santorum considers to be an act of "anti-Semitism."

Santorum wants to rewrite the federal funding formula under Title IX of the Higher Education Act to include "ideological diversity" as well as sexual equality in education as a perquisite for federal funding.

Joining Santorum is another Senate conservative GOP stalwart -- and a leading pro-Israel ideologue -- Sen. Sam Brownback (Kan.) who has his own scheme to call for a federal commission -- critics call it a "tribunal" to be established under Title IX to "investigate" anti-Semitic incidents on American campuses.

This is no "conspiracy theory." It's a fact -- but not one that is getting much attention except in a few high-level circles. Although the average American student or college professor has not heard of the Santorum-Brownback scheme, Wayne Firestone, director of the Center for Israel Affairs for the Hillel Foundation, says that "Everywhere I go, this is the lead topic. This is drawing a lot of interest."

Hillel told its supporters that Santorum, along with several other members of the Senate, had invited representatives of a number of powerful Jewish organizations to attend a private meeting on Capitol Hill in order to discuss the senators' concerns about growing criticism of Israel on American college campuses.

The senators in question -- all Republicans -- were: Santorum, Robert Bennett (Utah), Sam Brownback (Kansas), and newly-elected Norm Coleman (Minnesota).

In addition, Senate Republican Majority Leader Bill Frist (Tenn.), and his GOP colleagues, Sens. Lindsey Graham (S.C.) and George Voinovich (Ohio) sent staff representatives.

Jewish organizations represented at the private meeting were the Anti- Defamation League (ADL) of B'nai B'rith, the Zionist Organization of America, the American Jewish Committee and Hillel, represented by the aforementioned Firestone and his college Jay Rubin, Hillel's executive vice president. Louis Goldstein, Deputy Assistant Secretary for the U.S. Department of Education,Office for Civil Rights, represented the Bush administration.

During the private Senate session -- of which there are no transcripts available to the taxpayers who footed the bill for the enterprise -- an ADL representative reportedly claimed to the gathering that the ADL's "annual audit" of anti-Semitic activity in America had detected an increase by 24% of anti-Semitism on U.S. college campuses in the year 2002. That 24% increase -- even by the ADL's own admission -- constituted only 21 actions.

However, the ADL definition of "anti-Semitism" is so broad that it largely includes even the mildest criticism of Israel that doesn't happened to be framed in the particular parameters that the ADL determines to be acceptable. In the meantime, word of the Santorum-Brown back initiative is spreading among leaders of the educational community.

However, spokesmen for universities and educational organizations are being quite circumspect about commenting too quickly or too loudly, recognizing that they, too, could be accused of encouraging "anti-Semitism" if they dare to speak out against the thought control mechanism that Santorum, Brownback and their allies want to set in place.
Santorum is rapidly emerging as one of Israel's leading Senate spokesmen. He is one of the chief co-sponsors of the so-called Syrian Accountability Act that accuses Syria of supporting terrorism and developing weapons of mass destruction and demands that Syria withdraw from Lebanon. Forces now clamoring
for war against Syria are using these allegations as the foundation for launching a war against the Arab republic.
Comment: We see in the above the same manipulation of statistics to make a case for a spread of anti-semitism that simply does not exist using the classical definition of the word. In the second last paragraph above we see evidence of the completely irrational argument used by most Jewish "leaders". Basically it amounts to the "fact" that, if you say something bad about Israel you're and anti-semite in the definition that includes criticism of Israel, if you disagree with this assessment then this is evidence that you are an anti-semite in the definition that you hate all Jews.
Noam Chomsky, the famous Massachusetts Institute of Technology linguist, describes his experience with the ADL, who were represented at the above meeting, and how they control politicians and debate in the US :
"In the United States a rather effective system of intimidation has been developed to silence critique. -. . . Take the Anti-Defamation League. . . It's actually an organization devoted to trying to defame and intimidate and silence people who criticize current Israeli policies, whatever they may be. For example, I myself, through a leak in the new England office of the Anti-Defamation League, was able to obtain a copy of my file there. It's 150 pages, just like an FBI file, [consisting of] interoffice memos warning that I'm going to show up here and there, surveillance of talks that I give, comments and alleged transcripts of talks

[T]his material has been circulated (and] ... would be sent to some local group which would use it to extract defamatory material which would then be circulated, usually in unsigned pamphlets outside the place where I'd be speaking.... If there's any comment in the press which they regard as insufficiently subservient to the party line, there'll be a flood of letters, delegations, protests, threats to withdraw advertising, etc. The politicians of course are directly subjected to this, and they are also subjected to substantial financial penalties if they don't go along . . . This totally one-sided pressure and this, by now, very effective system of vilification, lying, defamation, and judicious use of funds in the political system . . . has created a highly biased approach to the whole matter.(Chomsky 1988)
Click here to comment on this article
US Jewish Groups Back Congressional Bill to Monitor Universities
Barbara Ferguson, Arab News Correspondent
WASHINGTON, 19March 2004 — Major Jewish organizations are lobbying the Senate to approve a bill that would authorize federal monitoring of government-funded Middle East studies programs throughout US universities.
The bill, which was overwhelmingly approved by the House of Representatives and is now before a Senate committee, would establish a federal tribunal to investigate and monitor criticism of Israel on American college campuses.
On Sept.17 ,2003 , the House Select Subcommittee on Education unanimously approved H.R.3077 , the "International Studies in Higher Education Act." The chief sponsor of the legislation was Rep. Peter Hoekstra, a conservative Republican from Michigan.
H.R. 3077 calls for the establishment of a seven-member advisory board that would have the power to recommend cutting federal funding for colleges and universities, which have offered a venue for academic and public debate on the Arab-Israeli conflict.
Two members of the board would be appointed by the Senate, two by the House, and three by the Secretary of Education — two of whom are required to be from US federal security agencies.
The American Jewish Committee, the American Jewish Congress and the Anti-Defamation League, "made passing the bill a major goal," according to Forward, a Jewish weekly based in New York, and "based their charges of bias a t Middle East centers on some independent research and anecdotal complaints, but mainly on a book published two years ago by Martin Kramer," a Middle East scholar at Tel Aviv University's Moshe Dayan Center for Middle Eas tern and African Studies.
"Kramer's polemic, 'Ivory Towers on Sand: The Failure of Middle Eastern Studies in America,' charges that America's Middle East scholars are (promoting) anti-Israel and anti-American dogmas," writes Forward. "The conclusi on of his study, published by the Washington Institute for Near East Policy, a pro-Israel think tank, is that bold action should be taken to reform this program."
The American Free Press newspaper is more critical: "In other words, it would be another federal 'blue ribbon' panel akin to the Warren Commission that ostensibly investigated the JFK assassination and the now highly-susp ect federal commission looking into the9 / 11terrorist attacks."
Some members of the Jewish organization community are uncomfortable with the Jewish groups' strong push for a bill portrayed by critics as an exercise in McCarthyism.
"This bill is bad both on its merits and because of the way it makes us look," a senior official with a major Jewish organization, speaking on condition of anonymity, told Forward.
Arab News has learned that the main promoters of this effort to control intellectual debate on the college campuses are all prominent and outspoken supporters of Israel and harsh critics of the Arab and Muslim worlds. They are the above-mentioned Martin Kramer; Stanley Kurtz, a contributor to the anti- Arab National Review Online and a research fellow at the pro-Israel Hoover Institution; and Daniel Pipes, founder of the pro-Israel Middle East Institute and its affiliate, Campus Watch, an organization that keeps tabs on college professors and students who "are or are suspected of being" critics of Israel.
Another group supporting the bill is the US India Political Action Committee, an Indian-American group that has been working closely with the Israeli lobby now that Israel and India are geopolitically allied.
Not to be overlooked is that this is an election year, and many Republicans and Democrats in Congress are loath to risk losing Jewish votes.
Comment: Why would Republicans and Democrats be loath to risk losing Jewish votes? Jews are a minority in the US and therefore not 'electorally' significant. Clearly, it is not the voters that the Republicans and Democrats fear losing, but the favor of the powerful Jewish lobby that controls the media and therefore what ALL voters in American think and feel.
Consider the comments of Joseph Sobran on the Jewish elite in the US:
The full story of (Pat Buchanan's 1996 presidential] campaign is impossible to tell as long as it's taboo to discuss Jewish interests as freely as we discuss those of the Christian Right. Talking about American politics without mentioning the Jews is a little like talking about the NBA without mentioning the Chicago Bulls. Not that the Jews are all-powerful, let alone all bad. But they are successful, and therefore powerful enough: and their power is unique in being off-limits to normal criticism even when it's highly visible.

They themselves behave as if their success were a guilty secret, and they panic, and resort to accusations, as soon as the subject is raised. Jewish control of the major media in the media age makes the enforced silence both paradoxical and paralyzing. Survival in public life requires that you know all about it, but never refer to it. A hypocritical etiquette forces us to pretend that the Jews are powerless victims; and if you don't respect their victimhood, they'll destroy you. It's a phenomenal display not of wickedness, really, but of fierce ethnocentrism, a sort of furtive racial superpatriotism.
Click here to comment on this article
Bush's softer approach to Mid-East
By Jon Leyne
BBC correspondent in Washington
Reeling from the Iraqi prisoner scandal which has administration hardliners on the defensive, President George W Bush looks to be trying a kindler, gentler approach to the Middle East.
King Abdullah has wrung some key concessions from Washington
Not only has Mr Bush now apologised for the humiliation and abuse of Iraqi prisoners, but he has also agreed to give the Palestinians a letter outlining what they can expect from upcoming negotiations.
It was something that Jordan's King Abdullah had been asking for, but which the White House had resisted up until now.
The Bush administration looks to be re-evaluating possibly its policies in the Middle East and definitely its presentation.
It is very hard to lecture people - as the Bush administration has been accused of by some - when the US has lost the moral high ground.
[...] The letter to the Palestinians is probably still being written, and no one knows whether it will be substantive.
But it was an important concession from the White House.
And the letter could be very important not only in what it contains but also as a new means for the US to be re-engage in the peace process.
Whatever is in the letter, it did re-establish some appearance of even-handedness by the Americans.
And Mr Bush, who has been seen so solidly on Israel and Ariel Sharon's side - was almost sheepish in thanking King Abdullah for suggestions on how to explain the US position to the Palestinians.
[...] The US concessions might be a tacit admission that the Americans underestimated the backlash from President Bush's endorsement of Ariel Sharon's plans for unilateral withdrawal from Gaza and parts of the West Bank.
But some of this obviously is fallout from the prisoner abuse scandal.
The US state department was going to release its annual report on human rights this week. It was delayed, due to what American officials first said was a printing problem.
But now it has emerged that they felt a little sheepish about bashing the rest of the world over the head for their human rights abuses in the midst of this uproar.
Click here to comment on this article
Bush apologizes to Iraqis and takes a jab at his defence secretary
05:49 AM EDT May 07
BETH GORHAM
WASHINGTON (CP) - President George W. Bush finally apologized Thursday for the sadistic treatment of Iraqi war prisoners by U.S. soldiers in a gruesome scandal threatening to harm his re-election bid.
He also delivered a public jab at U.S. Defence Secretary Donald Rumsfeld for not informing him of the extent of abuse, including graphic pictures of hooded, naked Iraqis and their smiling captors, and an internal Pentagon report completed two months ago.
"I should have known about the pictures and the report," said Bush, who still described Rumsfeld as "a really good secretary" who'll "stay in my cabinet," despite the demands of top Democrats for his resignation.
Click here to comment on this article
Bush [sort of] apologizes for prisoner abuse
TIM HARPER
WASHINGTON BUREAU
May 7, 2004. 06:11 AM
WASHINGTON—With an Arab leader at his side, George W. Bush issued a rare presidential apology yesterday for the humiliation suffered by Iraqi prisoners who were abused by American soldiers.
It was the latest bid by the U.S. president to get out ahead of an election year scandal engulfing his government, one which could cost him his defence secretary, Donald Rumsfeld. [...]
Following a meeting with Jordan's King Abdullah II, Bush told reporters he had offered apologies to Jordan's leader.
"I told him I was sorry for the humiliation suffered by the Iraqi prisoners and the humiliation suffered by their families," Bush said. "I told him I was equally sorry that people seeing those pictures didn't understand the true nature and heart of America.
"I assured him that Americans like me didn't appreciate what we saw, that it made us sick to our stomachs."
Although it was not a direct apology to the Arab world, it was an unusual sign of contrition from a man whose determination to never apologize or admit error has become a hallmark of his presidency.
The day before, in two Arab television interviews, Bush did not apologize and his message did nothing to quell outrage over the abuse. [...]
Comment: An unusual sign of contrition... Not contrition itself, but a sign of contrition. How about an apology to the people of Iraq and all Arabs? Better yet, how about pulling the troops out of Iraq?
Click here to comment on this article
17th April, 2004
Last week, American authorities arranged a meeting of the former Iraqi dictator with his wife. She was the first of Hussein-s relatives to meet with the ex-leader of Iraq at a new place, at the American military base in Qatar. Accompanied by Sheikh Hamad Al-Tani, Sajida Heiralla Tuffah has arrived from Syria on his private jet in the end of March.
The outcome of their meeting turned out to be quite scandalous. Sajina claims that the person she encountered was not her husband, but his double.
Click here to comment on this article
Interview with Richard Clarke on ABC
TONY JONES: On that same evening on September 12, President Bush himself called your team together, or elements of your team, and yourself obviously, and asked you to focus on Iraq in your investigations. Can you tell us what he said exactly?
RICHARD CLARKE: Well, there's some dispute about what he said exactly. Originally the White House said that the discussion never took place. Then when I produced three eye witnesses the White House said it did take place but I must [spelling - probably mis?] understood what the President wanted.
What the President said was that he wanted me to lead an investigation of the Iraqi role in 9/11 and I expressed some shock at that because I said it was pretty obvious, and the FBI and CIA had already told him, that the attack was staged by Al Qaeda.
He said, nonetheless, very emphatically, Iraq, I want you to find out any anything about Saddam and Saddam's role.
And we said we would and we did, again, again, open-mindedly go back and look for that information. We asked FBI and CIA to do it as well and we sent him a memo as a result of that, that CIA and FBI agreed to, a memo that said that there was no role by Iraq.
TONY JONES: It's obviously hard to argue with the President.
Did you have the impression, though, that he was pushing you in a certain direction?
RICHARD CLARKE: I had the distinct impression.
I had the very distinct impression about what I should be writing and what I was being told that the answer should be.
But I'm a career, I was and when I was in the Government for 30 years, a career civil servant and I didn't write things that were untrue, even if the President asked me to write things, he didn't explicitly say write something untrue - but he certainly gave me an impression about what he wanted the answer to be and it didn't seem to matter to him that the evidence was going in the other direction.
TONY JONES: Was there disapproval once you gave your answer in that memo?
RICHARD CLARKE: The memo was blocked by Condoleezza Rice and her deputy Steve Hadley. It was bounced back to me with instructions to do it over.
We did it over, sent it back up, but it never made it to the President. [...]
TONY JONES: I'm come back to that in more detail in a moment but I just want to confirm this with you because you were so close to the principles here and very few people are and we've had very little chance to talk to them.
Do you believe that the decision, therefore, to invade Iraq was taken secretly - unlike how it was portrayed to the world?
RICHARD CLARKE: Well, the administration has played games about when the decision was made and at one point, of course, the President famously said "I have no invasion plans on my desk."
This was true but it was also true that he had already been briefed in detail about the invasion plans by General Franks. So it was only literally true that there were no invasion plans on his desk, and only true because he doesn't keep anything on his desk.
He keeps a clean desk.
So I think the game of when was the decision made is perhaps the wrong question.
I think the right question is - was there an intention on the part of the administration leadership, virtually from the beginning of the administration, to find a time and place to invade Iraq - and the answer to that is 'yes'.
TONY JONES: You're effectively suggesting there, or alleging let's put it that way, that the world was deceived with all the weapons of mass destruction searches and the various approaches to the United Nations and so on, that a decision had already been taken?
RICHARD CLARKE: Well, you know, the administration is self-indicting. [...]
Click here to comment on this article
Foreign journalists killed in Iraq
Last Updated Fri, 07 May 2004 5:15:40
BAGHDAD - Two foreign journalists were killed Friday in a drive-by shooting near Baghdad.
A Polish and an Algerian journalist died, while another Pole was injured in the attack about 30 kilometres south of the capital.
All of the journalists reportedly worked for the Polish television station TVP.
Click here to comment on this article
Syria: We caught Israeli assassins
Thursday 06 May 2004 11:56 AM GMT
Syria claims it has foiled an Israeli assassination attempt on a Palestinian resistance leader living in exile.
The London-based Asharq al-Awsat quoted an unidentified Syrian source on Thursday who said security forces had arrested a cell of Israeli Mossad intelligence agents.

The agents reportedly used fake passports to enter Syria, which is officially at war with Israel.

"The cell was discovered and its members arrested by Syrian security forces who prevented them from carrying out the mission assigned to them by Israeli intelligence."
Comment: False passports? Like the ones found in New Zealand? Or the Canadian passports used a few years ago? Standard operating procedure for Mossad.
Click here to comment on this article
Palestine Center Information Brief No. 105
By Ilan Pappe
May 6, 2004
The results of the Likud vote in Israel on May 2 starkly illuminated the limited options in the present Israeli political scene. A group of extreme rightwing members of the Likud led by Moshe Feiglin defeated Prime Minister Ariel Sharon's peace plan. Feiglin is the head of the "Jewish Leadership" movement within the Likud that aims to create a Jewish theocracy over all of historical Palestine (Israel and the Occupied Territories). He and his Likud allies are supported by the settlers' movement in the Occuppied Territories. The Jewish Leadership was once regarded as the lunatic fringe of the local polity, but they are now part of the governing party. They defeated not just Sharon's plan, but the consensus view of peace in Israel as a whole.
The Consensus and Its Implications
The Prime Minister's plan was just one out of many versions that articulate what the majority of Jews in Israel regard as a reasonable solution to the on-going conflict. The broadlines of this consensus are as follows:
· There is no need for Israeli presence in the Gaza Strip and in half of the West Bank;
· The big illegal Jewish settlement blocs in the West Bank will be annexed to Israel;
· The part of the West Bank left for the Palestinians will be cordoned off by a high wall, as the Gaza Strip is now;
· These Palestinian areas will be called a Palestinian state;
· East Jerusalem will be annexed to Israel; and
· There will be no recognition of the Palestinian refugee right of return.
In other words, fragments amounting to 10% of historical Palestine will be called Palestine: a geo-political entity that will not have independent foreign, defense, or financial policies and that will be composed of two huge prison camps. This vision, which has no Palestinian partner and is rejected by some European countries, was endorsed by the Bush Administration.
The U.S. Administration's endorsement and the fact that the vision reflects an internal Jewish consensus means that the outcome of the internal political game will have little bearing on the prospects of peace in Israel and Palestine. In other words, whoever forms the next government, Israel's policy on the Palestine question will be the same, whether the plan is pushed forward by the Likud and its allies (the center party Shinui, the National Religious Party, the ultra Orthodox parties and the Russian immigrant parties) or by the Labor party and its allies, which are fewer in number and consist mainly of moderate national religious partners. As noted above, the Israeli consensus is opposed by the extreme right wing, which refuses to give up even Gaza or the rest of the West Bank.
Click here to comment on this article
UN says disarmament in Afghanistan in 'serious jeopardy'
Last Updated Thu, 06 May 2004 19:27:13
KABUL - UN officials are warning that a plan to disarm warring Afghan militias ahead of planned elections in September is in "serious jeopardy."
Click here to comment on this article
Kosovo UN troops 'fuel sex trade'
The presence of peacekeepers in Kosovo is fuelling the sexual exploitation of women and encouraging trafficking, according to Amnesty International.
It claims UN and Nato troops in the region are using the trafficked women and girls for sex and some have been involved in trafficking itself.
Amnesty says girls as young as 11 from eastern European countries are being sold into the sex slavery.
A Nato spokesman said some details of the report seemed out of date.
Click here to comment on this article
'Gaza pullout plan won't be slimmed down'

Jerusalem - Ariel Sharon's deputy said the Israeli prime minister would push through his Gaza pullout plan virtually unchanged, even as work was set to begin on Thursday on a new fence deep in the territory to secure a settler road.
Indicating the barrier was a temporary measure until Israel withdrew from the Gaza Strip, Vice-Premier Ehud Olmert predicted in a newspaper interview that Sharon would win cabinet approval within weeks despite his party's rejection of the plan.
"We will implement the 'disengagement plan',' Olmert told the Jerusalem Post. "The prime minister must now create a mechanism that will allow him to pass this resolution, and that he will do."[...]
Bush also signalled a Gaza withdrawal was still on the table, telling the US-funded Arabic television station Alhurra that Sharon's "own party condemned it but that doesn't mean that it condemned the policy".[...]
Click here to comment on this article
Sharon's Deputy Says All Gaza Settlements Will Go
By Jeffrey Heller
Fri May 7, 2004 07:50 AM ET
JERUSALEM (Reuters) - Israeli Prime Minister Ariel Sharon intends to evacuate all Jewish settlers from Gaza, his deputy said on Friday, hardening a pledge to pursue a historic pullout rejected by his own Likud party.
Amid discord in Israel over Sharon's "disengagement" plan, Palestinian Prime Minister Ahmed Qurie said he expected to meet U.S. national security adviser Condoleezza Rice soon in Europe for what would be his highest-level talks with a U.S. official.
Such a meeting could lead to U.S. pressure on Sharon to hold his first talks with the moderate Qurie. Sharon has said more than three years of violence with the Palestinians have shown Israel has no peace partner and he must take unilateral steps. [...]
Click here to comment on this article
Bullet-weary settlers await the end
By Matthew Tostevin
Friday May 7, 08:51 AM
KADIM, West Bank (Reuters) - The shuttered homes, the silent playground, the poppies sprouting from cracked cement tell of the slow death of the West Bank settlement of Kadim.
There are few signs here of opposition to Prime Minister Ariel Sharon's plan for withdrawing settlers from the Gaza Strip and four hard-to-defend pockets in the West Bank, including Kadim -- next door to the Palestinian city of Jenin.
Far removed from the stereotype of gun-slinging settlers determined to hold onto the land, many of Kadim's residents want to get out.
"When the bullets started flying, hitting the houses and the roofs, people started leaving. They had babies, you can't blame them," said Frida Naftaly, 54. "It's sad. This place is dying." [...]
"This place is pretty much useless. For every citizen you're going to displace, you've got two soldiers," said one army reservist in Kadim. "I'm sure they've got a better place to be than sitting here on their arses." [...]
Some settlers are still determined to stay, basing their claim on the Bible and loath to part with any of the land captured by Israel in the 1967 Middle East war.
They feel especially betrayed because Sharon was once at the forefront of the movement to settle Jews in the West Bank and Gaza.
"He's not hurting the people, he's hurting God," said Tamima Levine, 66, who moved to Kadim two months ago. "This is God's holy land and I'll give my life for this place." [...]
Click here to comment on this article
No Apology, Car Bomb, "I am your God."
At roughly 7:30 this morning I was awakened by a huge explosion that rocked my hotel building. I can tell how close they are now by how much I feel them through the floor.
If they are further away, they just rattle the windows a bit. This one I felt through the floor. The walls shook, and brought that usual feeling of dread in the pit of my stomach which accompanies the thought that several human beings have just been blown to pieces.[...]
At the checkpoint near the 14th of July suspension bridge that spans the Tigris, huge flames reached into the morning sky from a car between two large concrete walls that lead to the checkpoint, roughly 15 meters away from the entrance to the 'Green Zone.' Several cars behind it were crushed by the bomb. Glass was everywhere.[...]
A leg was found 200 meters from the blast site. Broken glass covers the grass near the line of blasted cars.
The scene rocked with another small explosion, perhaps a gas tank going off from another car in the line. Iraqis crowded near the razor wire reflexively moved backwards fearing another bomb. Ambulance sirens blared, soldiers yelled at people who got too close, and the overall feeling of doom and sadness pervaded the hellish scene.[...]
We caught a cab to go back to the hotel, and the cab driver angrily stated, "Before with Saddam, we had no bombs like this. Now with American, this is the democracy!"[...]
As the Bush Administration scrambles for damage control from the stream of photographs documenting the atrocities from Abu Ghraib prison, atrocities in Iraq under the brutal occupation continue.
Mr. Bush, appearing on the U.S.-funded Al-Hawra Arab Television Station, failed to apologize to the Arab community, leaving this for his aides. Of course this is what many Iraqis today have mentioned -- not that he scorned the acts of torture, but that he didn't even apologize.
One of my Iraqi friends told me, "This shows he doesn't care about Iraqis. All he cares about is himself and the image of America. What is the image? That America has brought us freedom and democracy? Does he think we are stupid and blind?"[...]
Last night in Al-Adhamiyah I was interviewing a group of men who were detained on February 25th when their shop was raided by U.S. troops. One of them, Abdel Hamid Majed, claimed that his hands were tied tightly, a sack was placed over his head, and he was forced to lay on his stomach inside a shop for six and a half hours while the soldiers were deciding what to do with them.
He said, "We were whispering, 'Allahu Akbar' to sustain ourselves, and the soldiers were laughing at us."
After laughing at the detainees for praying, Abdel (who speaks English) said, a soldier standing over them asked, "Do you want to pray? Pray to me. I am your God."
Later several of the men were taken to Abu Ghraib. On April 20th, one of the men detained, Dr. Oubaidy Nezar, (a doctor of Physical Chemistry), died at Abu Ghraib prison.
Click here to comment on this article
The Real Butchers of Baghdad: G. W. Bush and His Corporate Mercenaries
By Cheryl Seal
Information Clearing House
05/06/04
The Bush administration is feigning shock and disgust over the revelations of systematic torture of Iraqi prisoners. But there is no doubt whatsoever in my mind that the White House was fully aware that such crimes were being committed and by whom. Not only that, they continually took steps to cover their own butts should the matter ever come up. I will make that case later. But first, let's take a look at the group that is, I am certain, perpetrating, or engineering the perpetration of, crimes against Iraqi civilians.
Soldiers of Misfortune
Mercenaries, of course, have a history that extends back into the murkiest depths of human history. These are paid fighters - supreme opportunists - whose only allegiance is to themselves and, more loosely, to the guy who signs their checks. Patriotism, honor, and democracy don't enter into the deal. The primary focus of a mercenary is getting the job done, by any means, and collecting their pay off.
In every war in the past 50 years in which mercenaries were deployed, atrocities have been committed with an unfailing regularity. [...]
Comment: So it's all the fault of the mercenaries... While this theory may sound plausible, it is faulty at best. First of all, the fact that the mercenaries are even in Iraq to begin with is thanks to the Bush family. The elder Bush was intimately involved in firing up the growth of the mercenary industry and its use by the US government. The younger Bush then chose to employ said mercenaries in Iraq to further the cause of "liberty and democracy".
Furthermore, it is a fact that war involves death, destruction, pain, suffering, and torture. And yes, even America has caused pain and suffering through their "noble" actions in countries around the world. Iraq is just the most recent installment in a history that, while relatively short, is profoundly bloody. The US media talks about Iraq becoming another Vietnam. Does anyone actually remember what happened in Vietnam? The massacres? The raping, pillaging, torturing, and merciless slaughtering of men, women, and children? These horrible events occurred, and they occurred due to the actions of the good old US of A.
So perhaps we shouldn't all start to attempt to rationalize away or filter the reality of the invasion of Iraq. Bush appears to have wanted an invasion of Iraq immediately after 9/11. US officials have even admitted that American troops are occupying Iraq. These are soldiers that are brainwashed into killing machines. Should we really be surprised, then, when their idea of recreational activity is leading a naked Iraqi around on dog leash? This is the reality and the horror of war. This is the war that is waged by America's leaders, sons, and daughters. This is the war that is supported by the consent and the tax dollars of the American people.
Even if it was just mercenaries who were behind the abuse and torture of Iraqi prisoners, the American people are still complicit in their blind and silent ignorance.
Click here to comment on this article
Cleric's threat to female troops
May 7, 2004
Iraqi worshippers have been told that anyone who captures a female British soldier can keep her as a slave.
A senior aide of radical Shiite cleric Muqtada al-Sadr also called on supporters to launch holy war against British troops in Basra.
Sheik Abdul-Sattar al-Bahadli held in his hand what he said were documents and photographs of three Iraqi women being raped at British-run prisons in Iraq.
Al-Bahadli said 250,000 dinars (£195) will be given to anyone who captures a British soldier and 100,000 dinars (£83) for the killing of one.
He also offered cash for anyone who captures or kills a member of the Governing Council, a widely unpopular interim administration appointed by the US led occupation 10 months ago.
He also called on government departments in Basra to display pictures of al-Sadr in their offices.
Al-Bahadli, al-Sadr's chief representative in southern Iraq, was speaking at al-Hawi mosque in central Basra.
This is the first time that any anti-occupation activist of note offers financial reward for the killing or capturing of coalition troops.
It is likely to be viewed by occupation authorities with concern at a time of rising anti-occupation sentiment and continuing fighting between al-Sadr's al-Mahdi Army militia and US forces in the holy cities of Najaf and Karbala.
Al-Bahadli kept an assault rifle next to him as he spoke to an estimated 3,000 worshippers, occasionally lifting it as he screamed "jihad," and "Allahu Akbar," or "God is greatest."
Comment: Assuming that the events described in this article is accurate, consider the reaction of the average reader. A Shiite cleric raises his gun in the air and screams "jihad" and "God is greatest". Sounds like a real looney, right? Perhaps.
But now consider that George Bush has spoken in similar terms - waging a war against evil, the evil ones, terrorists hate our freedoms, god bless America, and so on. Of course, Bush wasn't raising an assault rifle in the air when he said these things. No, he often does much better than that. In one case, he flew down in a fighter jet and landed on an immense aircraft carrier, where he proceeded to give his rousing speech.
Click here to comment on this article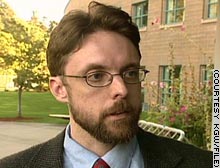 Oregon attorney held in connection with Madrid bombings
From Kelli Arena
CNN Washington Bureau
Friday, May 7, 2004 Posted: 5:20 AM EDT (0920 GMT)

(CNN) -- A lawyer in Portland, Oregon, has been taken into custody by the FBI in connection with the March 11 terror attacks in Madrid, law enforcement sources told CNN.
Attorney Brandon Mayfield's detention on Thursday was based on information from Spanish authorities that the lawyer -- who the sources said had converted to Islam -- may have been involved in the train bombings that killed 190 people.
According to the sources, Mayfield's fingerprints were found on a plastic bag with bomb-related material that had been connected to the Madrid attack.
The sources said Mayfield, 37, is being called a material witness, which means he can be held and not charged.
"I know he is innocent. Everyone knows he's innocent," Mayfield's wife, Mona, told a local television station KGW.
She said her husband is probably thinking, " 'This is just appalling, this is ridiculous, these kind of charges.' "
A spokeswoman for the FBI in Portland told CNN that agents served two search warrants Thursday in Washington County but would not comment further.
Mayfield had been under around-the-clock surveillance by law enforcement, the sources said.
Mayfield represented one of the chief defendants in the so-called "Portland Seven" terror case in a custody battle.
Six members of the alleged Portland terror cell pleaded guilty in October of plotting to fight with the Taliban against the United States in Afghanistan.
Click here to comment on this article
Africa Command Not European Command, Says Official
The United States European Command (Eucom) will change its name to reflect a new strategic concern with Africa, according to a senior Eucom official involved in the planning. Eucom "does sound extremely Eurocentric," said the official, speaking on background and on a condition of anonymity.[...]
The official suggested "Eurafrica" would be a name that reflects the reality that "probably over half" of the Command's territory is in Africa. Other possible names are under consideration as well. The official offered no timetable for the change to take place.[...]
In a broad sense, the September 11, 2001 attacks in New York and Washington, DC triggered this new concern. "When 9/11 happened we sat down here at Eucom. We put together a special planning team to decide what defensive and preventive measures we needed to take in Eucom in terms of combating terrorism and protecting U.S. citizens and interests. We looked at regions and prioritized those regions in terms of what we perceived at the time as the most likely area and safe haven for terrorists to operate from."
The South, Eucom planners concluded, demanded greater attention. "The region that rose to the top was northern Africa because of the large Islamic populations, because of the large areas of uncontrolled territory where the nation have a difficult time controlling their sovereign areas and because of what one would call a sympathetic or apathetic population and a number of other reasons. That's what drove us to north Africa and areas of the Sahel."
Citing some of the major "Jihadist" groups operating in the region, the official said their "primary motivation" is to "undermine and overthrow." Furthermore, according to this official, there are splinter groups "that have aligned themselves with a broader global jihadist movement." These splinter organizations "are less concerned with overthrowing a specific government and more concerned with waging a war or jihad with the west," the official said. Noting that several Moroccans were involved in the recent bombings in Spain, the official said "Madrid points out that this is not a local problem."
At this point, said the official, American 'boots on the ground' are not what Eucom envisions. "Our main goal is to give the nations of northern Africa the resources and capability to take care of their own problems. We don't want them to become like Afghanistan." He denied that a late March military campaign in Niger and Chad against the Salafist Group for Preaching and Combat, known as the GSPC, involved U.S. troops. "There was intelligence sharing. That was our major contribution." Other sources say that P-3 Orion aircraft guided the anti-GSPC operation and a Voice of America report said that ground troops led the Algerian army to a large weapons cache that was believed to be headed for terrorist groups.[...]
Comment: The above US "official" who spoke on condition of annoymity seems to be reading from the same script as Condi. It seems the US has indirect operational control or influence in many of the neverending conflicts within the African continent. If we are to question exactly what role the US is playing in Africa, the spectre of September 11th spooks away any rational discussion. Of course the US has been covertly "influencing" events in Africa since the American nation was conceived. From the articles below, it seems the alphabet soup of COINTELPRO agencies peppered throughout the continent, are particularly busy at present.
Click here to comment on this article
African countries 'forced' to accept GM food aid

Johannesburg, South Africa
04 May 2004
The World Food Programme (WFP) should stop forcing African countries to accept genetically modified (GM) food aid, various groups demanded on Tuesday.
"The groups are demanding that the WFP and USAid immediately desist from misleading the governments of Angola and Sudan with a scenario of no choice, and forcing them to accept GM food aid," a statement said.
More than 60 groups representing farmer, consumer, environmental and development organisations from 15 African countries sent an open letter of protest to the WFP on Tuesday.
They were objecting to the pressure being put on Sudan and Angola to lift their restrictions on GM food aid.
Sudan has asked that food aid be certified "GM free". Angola has said it will accept GM food aid only if the whole GM grain is first milled.
Even though the Sudanese government adopted an interim waiver on its GM food restriction until July, USAid cut off food aid to the country.
"The US government has since continued to exert enormous pressure on Sudan, with the result that the Sudanese government has relented and extended the waiver for a further period of six months, allowing the distribution of GM food to continue until January 2005," the statement said.
The WFP told Angola it will receive significantly less food aid if it continues to insist GM grain first be milled. [...]
Click here to comment on this article
Officials Deplore Humanitarian Situation in Darfur
[..]"This is one of the worst humanitarian crises in the world, with so many people in the most belligerent way being chased from their homes. Everything has been taken away from these people. This is tragic," UN World Food Programme Executive Director James Morris was quoted by UN News as saying in London on Tuesday.[...]
The Darfur conflict, which erupted early last year between the Sudanese government and militias allied to it on the one hand and two rebel groups on the other hand, has displaced over one million people, while some 110,000 others have fled to Chad. It has also been described by the UN as "one of the world's most neglected humanitarian crises".
Despite a ceasefire agreement signed on 8 April between the government and the rebels, which led to a reduction of hostilities, the humanitarian crisis persists.[...]
"As in many other recent conflicts, rape has become a weapon of war in western Sudan, with disastrous consequences for women and girls,"[...]
Click here to comment on this article
25,000 Displaced As DR of Congo Fighters Confront Rwandan Rebels, UN Says
Clashes between forces from the Democratic Republic of the Congo (DRC) and long-time Rwandan rebels, known as the Interahamwe and accused of taking a major part in the 1994 Rwandan genocide, have uprooted about 25,000 people in South Kivu in the eastern DRC, the United Nations said today.
One military confrontation took place from 19 to 23 April around Lemera and Lubarika, in Uvira province, and another on 27 April around Lemera, leading to the displacement of an estimated 4,948 households, or about 25,000 persons, from five towns, the UN Office of the Coordination of Humanitarian Affairs (OCHA) said.[...]
Click here to comment on this article
Somalia: New Approach Needed to Save Peace Talks, Says ICG
The Somali peace talks under way in Kenya are in danger of collapsing unless the Inter-Governmental Authority on Development (IGAD), under whose auspices they are being held, succeeds in ending internal divisions, and the international community provides more support, the Brussels-based think-tank, the International Crisis Group (ICG), has warned.
In a report issued on Tuesday, the ICG said that "to save the talks, IGAD must first overcome its own internal divisions", and the US and the EU "must re-engage at a higher level in both helping to resolve regional differences and supporting the process more directly".[...]
Click here to comment on this article
Pretoria - Former state president PW Botha had advised a right wing coup plotter to get out of politics and "get a movement with an iron fist", the Boeremag treason trial heard on Thursday.
State witness Lourens du Plessis told the Pretoria High Court he had visited Botha at home in June 2001 to discuss the political situation in the country.
The two-hour talk was aimed at getting proposals from the former statesman on a solution to the political situation of whites.
Botha said he believed white South Africans were facing annihilation, Du Plessis testified.
"I asked him what it was young people should do to ensure our survival and he said to get out of politics and get a movement with an iron fist."
Du Plessis was testifying against 22 alleged members of the rightwing Boeremag organisation charged with conspiring to overthrow the African National Congress-led government.[...]
Botha told his visitors he had been offered $2m by an organisation like the Central Intelligence Agency to ease the transformation to a new South Africa.
"I asked him, Oom PW (Uncle PW) what was your answer? He said he told them, 'I will not sell out my volk (nation) or my country'." [...]
Click here to comment on this article
Hundreds Die in Attack on Nigerian Village
By THE NEW YORK TIMES
May 7, 2004
AKAR, Senegal, May 6 - An attack by a Christian militia against a mainly Muslim town in central Nigeria has left several hundred people dead, according to news agency reports from the area. [...]
Click here to comment on this article
06/05/2004 20:15 - (SA)
Nairobi - The Sudanese government is deliberately starving civilians in at least one town in the troubled western Darfur region, according to a UN report obtained on Thursday, which also pointed to a campaign of ethnic cleansing there.
"Numerous testimonies... substantiated by the actual observations on the ground, particularly the longstanding prevention of access to food, alludes to a strategy of systematic and deliberate starvation being enforced by the GoS (government of Sudan) and its security forces on the ground," said the report compiled after several UN agencies visited the town of Kailek in South Darfur on April 25. [...]
Click here to comment on this article
The Lord's Resistance Army (LRA) has said it's ready to start negotiations with the Government to stop the 18-year-old insurgency in northern Uganda.[...]
According to the secretary general of the Acholi Parliamentary Group, Odong Otto (Aruu County), at around 7:00pm on Monday, Kolo called the MP and expressed "serious determination to engage in peace talks with the Government," Otto said.
He stressed that he was speaking under express orders from LRA chief Joseph Kony. Kolo tried to speak to BBC, apparently to voice out to the entire world the rebels' willingness to talk peace with the Government, but the BBC insisted on talking to Kony.[...]
Click here to comment on this article
Maoris protest NZ 'give and take away' plan
Wellington - Bare-chested Maori warriors in flax skirts led thousands of people in a protest on Wednesday against a plan to put much of New Zealand's coastline under public control.
The government's controversial plan to make public the seabed and coastline not already in private hands follows a court decision last year that opened the way for Maori people to claim legal ownership.
"This is the straw that broke the camel's back. We've had enough. Every time Maori get some advantage it's taken away from us," march organiser Pita Sharples said.
"This was so blatant with the cancellation of our rights, the cancellation of due process - it's theft."[...]
Maori say the policy is a land grab and a breach of the 1840 Treaty of Waitangi, under which the British Crown gained sovereignty over New Zealand but guaranteed Maori use of their traditional lands and resources.[...]
Click here to comment on this article
2 Russians freed from sex prison
Star Tribune
May 6, 2004 at 7:52 PM
MOSCOW -- Police freed two young women who had been kept in an underground bunker as sex slaves for more than three years, during which time one of them gave birth twice and is pregnant a third time, Russian news reports said Thursday.
The women -- Lena, now 21, and Katya, 17 -- disappeared in September 2000 after going to a discotheque in Ryazan, 125 miles southeast of Moscow, the reports said. They were found Tuesday by police in a bunker under a garage; a 53-year-old man was arrested and charged with kidnapping. Lena is eight months pregnant.
According to the newspaper Kommersant, the pair described how a man and woman had invited them to drink vodka and go for a drive. They said they fell asleep and later woke up in captivity, Kommersant said. The two children were left on a doorstep and at an orphanage.
Click here to comment on this article
'I robbed banks to help my cat, your honour'
New York - A 44-year-old woman who told police she robbed a string of banks to raise money to pay for surgery for her cat pleaded not guilty to larceny in the Brooklyn Criminal Court on Monday.
Catherine Kaczanowski, who was arrested last month, said she set off on her crime spree after learning that her stray cat Smoochie had a cancerous tumour and needed surgery, police said. She is accused of hitting five banks near her Brooklyn home and making off with a total of $7 500.[...]
Click here to comment on this article
Plastic fibre a 'major pollutant'
By Tim Hirsch
BBC environment correspondent
Thursday, 6 May, 2004, 18:02 GMT 19:02 UK
Tiny pieces of plastic and man-made fibres are causing contamination of the world's oceans and beaches, the journal Science has reported.
Even remote and apparently pristine layers of sand and mud are now composed partly of this microscopic rubbish, broken down from discarded waste.
This is the first assessment of plastic fragments accumulating in sediments and in the water column itself.
It is not yet known what the long term effects of this pollution may be.
A team led by scientists at the universities of Plymouth and Southampton took samples from 17 beaches and estuaries around the UK, and analysed particles which did not appear to be natural.
The researchers found that most samples included evidence of a range of plastics or polymers including nylon, polyester and acrylic. [...]
They also found that when creatures such as lugworms and barnacles fed on the sediments, the plastics turned up inside their bodies within a few days. [...]
Click here to comment on this article
Dark matter detector limbers up
By Dr David Whitehouse
BBC News Online science editor
A US team has released the first results from a super-sensitive hunt for the mysterious "dark matter".
This form of matter comprises more than 70% of the Universe's mass, far more than the stars and galaxies we can see.
The Cryogenic Dark Matter Search uses equipment at the bottom of a Minnesota mine to filter out all interference.
Writing in the Physical Review Letters, the team says that while a detection has yet to occur, there is now a better idea of how much dark matter must exist.
Dark matter pervades the Universe - its presence is betrayed by its gravitational influence on stars and galaxies, but astronomers do not know what it is.
Click here to comment on this article
Small earthquake rumbles Gilroy
Thursday, May 06, 2004
By Peter Crowley
GILROY - A 2.9-magnitude "microearthquake," centered in the hills south of Gilroy Wednesday morning, wasn't even big enough to rattle china.
"We felt it rolling, but no clinking and clattering like in past ones," said George Baptista, who manages the Mikasa Factory Store at the Gilroy Premium Outlets. Mikasa sells dinnerware, glasses and flatware.
Click here to comment on this article
Series of local earth tremors recorded at Kamchatka volcano
07.05.2004, 11.55
PETROPAVLOVSK-KAMCHATSKY, May 7 (Itar-Tass) -- A series of local earthquakes was recorded at Shiveluch Volcano on Kamchatka on Friday.
Ash discharges from the crater to a height of 3,000-4,400 kilometres accompanied the longest of the quakes that lasted for up to 3.5 minutes, a Kamchatka seismological party reported.
Volcano rock fragments could fall from Shiveluch slopes because of the earth tremors.
There is no threat to the nearest residential areas, specialists say.
Click here to comment on this article
Infected doves dying in Yucca Valley
Associated Press
May 7, 2004 at 7:06 AM

YUCCA VALLEY, Calif. -- A bird disease has killed hundreds of mourning doves and pigeons in California, and authorities said its spread has been aided by a drought and the use of bird feeders.
The outbreak among mourning doves was first reported in late March when a woman who keeps a feeder found 15 dead doves in a week's span, said Yucca Valley Animal Control supervisor Melanie Crider.
Tests by a California Department of Fish and Game veterinarian came back positive for trichomoniasis (pronounced trick-oh-mon-NYE-uh-sis). The parasite afflicts only pigeons and doves, though mourning doves appear particularly susceptible.
Crider estimates the number of dead birds has "gone from the hundreds to maybe, perhaps a thousand."
More birds could become infected unless residents stop feeding them or clean their feeders daily, she said.
A similar outbreak is killing hundreds of band-tailed pigeons, which feed in the wild, said Department of Fish and Game veterinarian Ben Gonzales. He said about 1,500 dead pigeons have been found in Los Padres National Forest and two other remote locations in northern California. [...]
Comment: Doves, a symbol of peace, are becoming ill and dying in the US. Coincidence? We think not.
Click here to comment on this article
Utah Man Finds Cougar in His Garage
Associated Press
SANDY, Utah - It's not uncommon to find a cougar in a garage - a parked Mercury Cougar, that is. But a man was surprised to find the actual animal taking up temporary residence in his garage Wednesday.
John Jelte was trying to beat the garbage truck to the curb when he walked into his garage and heard a noise.
He investigation brought him face-to-face with the mountain lion, something he said he would have never figured to be the source of the noise.
"A meteor strike would have been further up my list. I was so surprised to see that lion there," he said.
Comment: This remark shows how far the idea of a meteor striking the earth has become implanted in the minds of people. Ten years ago would this have been the image conjured up for a comparison? We think not.
Click here to comment on this article

Crime-fighting gorilla dies
Wed May 5, 7:28 AM ET

JOHANNESBURG (Reuters) - A gorilla who became a cult figure in crime-ridden South Africa after he was shot confronting an armed robber on the run has died, the Johannesburg Zoo says.
Max, a 200 kg (440 pound) ape, rose to fame in 1997 after being wounded by a terrified gunman who made the mistake of jumping a moat into his zoo enclosure while fleeing police.
Max was shot as he fiercely defended his territory. He also vented his anger on two policemen in pursuit, biting one on the buttocks and arm. [...]
Max became a hero in a city blighted by violent crime and police used him as a "mascot" in crime prevention programmes. [...]
Click here to comment on this article
---
Remember, we need your help to collect information on what is going on in your part of the world!
We also need help to keep the Signs of the Times online.
---

Check out the Signs of the Times Archives

Send your comments and article suggestions to us

---
Fair Use Policy
Contact Webmaster at signs-of-the-times.org
Cassiopaean materials Copyright ©1994-2014 Arkadiusz Jadczyk and Laura Knight-Jadczyk. All rights reserved. "Cassiopaea, Cassiopaean, Cassiopaeans," is a registered trademark of Arkadiusz Jadczyk and Laura Knight-Jadczyk.
Letters addressed to Cassiopaea, Quantum Future School, Ark or Laura, become the property of Arkadiusz Jadczyk and Laura Knight-Jadczyk
Republication and re-dissemination of our copyrighted material in any manner is expressly prohibited without prior written consent.
.