---
New Article: Jupiter, Nostradamus, Edgar Cayce, and the Return of the Mongols - Laura Knight-Jadczyk
Part 1, Part 2, Part 3, Part 4, Part 5, Part 6, Part 7, Part 8, Part 9, Part 10, Part 11, Part 12, Part 13
Picture of the Day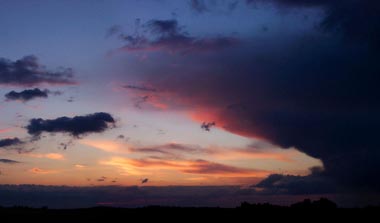 Dusk - April 30, 2004
©2004 Pierre-Paul Feyte
Predators and Prey
If there was ever a doubt in anyone's mind as to the fact that we live in a world of Predators and Prey, of Hunters and the Hunted - and that the predators are the ones in control of the show, I suggest you look at the CNN video clip, "Take No Prisoners".
The text of the video runs as follows:
CNN commentator: "Wounded, another Iraqi writhes on the ground. The Marines kill him."
(A number of shots are then fired. One hits the Iraqi man in the head as he struggles to rise up, struggles to survive.)
CNN Commentator: "Then cheer."
(There are then heard the shouts of several Marines, "Yeah! You got 'im! Yeah, boy!". One of the young marines is then interviewed.)
Marine: "Like, man, those guys are dead now, ya know. But, it was…it was a good feeling. (smiling and nodding) I mean, afterwards, yer like, Hell, yeah, that was awesome! Let's do it again!"
Predators and Prey. Hunters and the Hunted. Assassins and Targets. The "Good Guys" vs. the "Bad Guys". Us vs. Them. "Civilized Man" vs. the "Animals".
This is the world we live in. Look at it. SEE it for what it is. Hear it. Smell it. Taste it. Let a little bit of the reality of war, and the truth of our reality, touch your inner being, and you may never be the same again.
When I watch that video clip, I can almost smell the fear in that man as he lay there on the ground, struggling to survive, likely calling on his God to help him. I can taste the dust in the air, choking him, as his own blood may have been, and my entire being shakes with repulsion and despair. I hear those soldiers cheer each other on their successful "hunt". I see the young marine smiling as he describes what a wonderful feeling it was to kill another human being, and am reminded of the pride and joy experienced by the male members of my family when they made their kills during deer hunting season.
Through all of the years growing up in my family, I was continually pressured to take lessons and get a gun permit. I continually refused. They pressed some more, saying that even if I never used the permit, at least I could use it to get a deer tag and go along with them on their hunting expeditions so that they could use that hunting tag themselves. So addicted were they to that rush of the kill. We were never short of food, so that wasn't the reason they hunted. They liked hunting. Plain and simple. It was the thrill of the kill that kept them hunting, year after year. Not need.
But I still refused to get that gun permit. I hated guns. I hated hunting. I still do. I only went with them one time that I can recall, just to see what all the fuss was about and to get out of the house. I think I was about 15 then. I enjoyed driving through the wild countryside, I remember. I enjoyed the nature. The quiet and the peace of that. But when they made that kill, when the gunshots shattered that peace, the joy quickly turned to revulsion and sadness. I can still, to this very day, see that beautiful doe lying dead in that gully. They took photos, too, I seem to recall, of their "trophy" - much like the soldiers at the Abu Ghurayb prison did. The soldiers, like my family members, were very proud of their "work".
So, while viewing the video clip cited above, I was reminded of that day I went on the hunting trip in extreme clarity. Mainly because they were almost identical scenarios. Both were hunting excursions. In both cases, the prey was weak and vulnerable. In both cases, it didn't make a bit of difference. In both cases, once the kill had been made, there were abundant congratulations and pats on the back. In both cases, it was considered a job well done. In both cases, there was a thrill or rush experienced by those who were doing the hunting, and I speculate that for those who enjoy this, it can become an addiction of sorts. In both cases, there was a total and utter lack of empathy, only excitement and self-pride.
This is our world. This is our reality, on every level. Predators are king and they are rewarded for their "good" behavior. That is, being as predatorial as possible. Being clever, adept hunters. Some appear to be born into this world as natural hunters. They are intrinsically predatorial and I imagine then that they, quite naturally, feel very comfortable in this world.
But for those who are not so, this world seems like a burning hell - and so it certainly is. For those who are not, in their innermost being, of a predatorial nature, will sense this from very early on and will, throughout the entirety of their lives, feel "out of place". These are the ones who are also very easily the prey for the predators - the hunted - and it would seem that the only way one can ultimately avoid being hunted, to survive, is to either give in to this world and become a predator oneself, or keep going, keep silent, doing the work to find the knowledge that will help one discover a better path that is more fitting with who and what one is. A path that might lead to a world where there is neither predator, nor prey, neither hunter, nor hunted. A world where there is only coexistence, respect for and honor of ALL, and a desire to help, to give, and contribute to Creation. But the path is not easy, for those on it, the ones who feel that there is something not quite "right" with this world, must first face this world head on and accept it for what it is - realize it for what it is - however painful. It is the only hope, as far as I can see. It is a slim hope, but it seems to be all we have.
It is raining today in my part of the world. Tears from heaven. Can those tears wash away the dirt of our world, the horror, the vilification of Creation that we see on a daily basis? Can those tears wash away the pain?
Sadly, I doubt it. Not even tears from heaven can change this world, anymore than my own can, and I have wept many. Not one thing about the world has changed as a result of all of the tears I have cried. Not one thing. Nothing.
Nothing but me.
Click here to comment on this commentary
Canadian sues U.S. army for alleged torture
Last Updated Tue, 04 May 2004 10:13:52
PORTLAND, ORE. - A Canadian man who was taken prisoner by American forces in Iraq last year is suing the U.S. army because he claims he was tortured.
Hossam Shaltout says he was taken to the Camp Bucca detention centre shortly after the invasion began in March 2003. There, he claims to have been beaten, and saw other prisoners being abused.
Born in Egypt, Shaltout moved to Canada in 1971 and became a citizen. He later moved to Los Angeles, where he has a business distributing U.S.-made global positioning devices in Saudi Arabia.
When he was released by the army, he was taken to Egypt, he claims.
Click here to comment on this article
U.S. accused of human rights violations in Fallujah
Last Updated Tue, 04 May 2004 9:40:16
BAGHDAD - UN human rights investigator Paul Hunt is calling for an independent inquiry into how the U.S. military's siege of Fallujah has affected civilians.
Hunt says that while reliable information is difficult to obtain, there are credible claims that U.S. forces have been guilty of serious human rights breaches in their month-long siege of the city.
He notes some reports say that 90 per cent of the deaths during the fighting have been non-combatants and he is urging the U.S.-led civil administration in Iraq to launch the independent probe.
Click here to comment on this article
U.S. Walks Out as Sudan Elected to U.N. Rights Body
By Evelyn Leopold
May 4, 2004
UNITED NATIONS (Reuters) - Sudan won an uncontested election Tuesday to the United Nations' main human rights watchdog, prompting the United States to walk out because of alleged ethnic cleansing in the country's Darfur region.
Sudan's envoy immediately shot back that the U.S. delegation was "shedding crocodile tears," and he accused the United States of turning a blind eye as Iraqi prisoners were mistreated and civilians were harmed in battle. [...]
Click here to comment on this article
French TV screens images 'of US helicopter crew killing Iraqis'
PARIS, May 4 (AFP) - The French cable television station Canal Plus on Tuesday will broadcast images, stolen in Iraq, of a US army helicopter killing three Iraqis, one of them wounded, who do not appear to be posing any threat.
The show "Merci pour l'Info" (Thanks for the News) obtained the footage, seen by an AFP correspondent, from what the network described as a "European working as a subcontractor for the US army" who left Iraq two weeks ago.
US television network ABC aired the same images on January 9, and the footage has been available on the Internet for several weeks. [...]
A French lawyer and member of the International Federation for Human Rights (FIDH), Patrick Baudouin, told AFP that knowingly killing an enemy who is wounded constitutes a war crime under international law. [...]
In March, the rights watchdog group Amnesty International said "scores of civilians have been killed apparently as a result of excessive use of force by US troops, or have been shot dead in disputed circumstances." [...]
Click here to comment on this article
"Foreign Fighter" Myth Exposed
Juan Cole
Jim Krane of AP is throwing cold water all over the repeated allegations of the Interim Governing Council that foreign fighters are playing any significant role in the Iraqi insurgency against the US. In fact, almost all the Fallujah fighters are Iraqis, and the US has captured no one there for sure who is a foreign guerrilla. The Muqtada al-Sadr movement is the farthest thing from being Iranian or foreign-- it is homegrown ghetto Shiism. A prime source of the canards about foreign fighters is Dan Senor, CPA spokesman, who says he learned his politics while an intern at the American Israel Public Affairs Committee (which now serves as the Likud Party lobby in the US Congress).
The author does not mention one important latent function of the falsehoods about foreign fighters. These are intended to lay the groundwork for US wars against, and occupations of, Syria and Iran. Note that if there are foreign fighters in Iraq at all, many of them have come in from Jordan. And yet, Jordan is never threatened with being invaded, because it is already seen as cooperative in Washington and Tel Aviv. Yet Washington's sabres have already been rattled at Syria for supposedly not better policing its long and porous border with Iraq (as if the US does a good job with policing its own porous borders). If last Tuesday's bombings in Damascus were the work of al-Qaeda, it is highly unlikely that Syria will allow armed Islamists to transit its territory. As Washington seems incapable of conceiving, the Baath Party is secular, and in Syria it is largely Alawi (think New Age Shiite) in character, and has crushed Sunni radicalism relentlessly.
Click here to comment on this article
47,000 More GIs Tapped for Year in Iraq
By ROBERT BURNS
AP Military Writer
May 4, 2004
WASHINGTON - U.S. military commanders in Iraq have decided they need to keep an expanded force in Iraq beyond June and will send 10,000 active-duty Army and Marine Corps troops for one-year tours, defense officials said Tuesday.
In addition, the Army planned to announce that about 37,000 National Guard and Reserve troops are getting called to active duty to support three National Guard combat brigades that will be sent to Iraq late this year or early in 2005, the officials said, speaking on condition of anonymity.
About 5,000 Marines and a contingent of about 5,000 soldiers from the 10th Mountain Division, based at Fort Drum, N.Y., will go this summer to relieve the 1st Armored Division and the 2nd Armored Cavalry Regiment, whose soldiers were due to come home in April but were extended until June.
Pentagon officials had said in recent weeks that they were prepared to replace a portion or all of the 20,000 1st Armored and 2nd Cavalry soldiers who are on extended duty in Iraq if Gen. John Abizaid, the top commander of U.S. forces in the Middle East, believed they were needed.
Abizaid and his subordinate commanders have used the 2nd Armored Cavalry and 1st Armored to deal with outbreaks of violence in and around the Shiite holy city of Najaf and elsewhere in central Iraq.
At the moment there are about 138,000 U.S. forces in Iraq. That number was to have fallen to about 115,000 this spring, but a surge in anti-occupation violence caused Abizaid to bolster the force. [...]
Comment: Isn't it curious how a few months ago, the US media and military did not want to refer to the presence of American troops in Iraq as an occupation. Now, the term is used quite freely. Such references to the US occupation of Iraq, as well as the recent reports in the mainstream media of torture - reports that were common knowledge to human rights groups for upwards of year - might lead one to suspect that the puppet masters have something up their sleeve for the good old US of A.
Click here to comment on this article
Australia sends more troops to Iraq conflict
AFP
Monday May 3, 3:22 PM
Australia has sent a 40-strong specialist army training team to Iraq to help with the training of its new armed forces, Defence Minister Robert Hill said.
The training unit, which will be supported and protected by a 13-member security detachment and two additional light armoured vehicles, will bolster the existing Australian contingent of around 850 military personnel.
Australia's continuing participation with 33 other nations in the Iraq theatre is shaping as a crucial issue in the run-up to the election Prime Minister Howard has indicated he will call for October or November.
Howard has vowed to keep Australian troops in Iraq "until their work is done", or as, he said last week, until security has stabilised. But he has promised there would be no substantial increase in troop numbers, although small numbers of specialist personnel could be sent.
His key political rival, opposition leader Mark Latham, has vowed to bring the troops home from Iraq if, as the polls are currently forecasting, his Labor party wins government. [...]
Click here to comment on this article
Abu Ghraib prisoners speak of 'torture'
Tuesday 04 May 2004, 14:03 Makka Time, 11:03 GMT
Former inmates of the US-occupation run Abu Ghraib prison near Baghdad still find it difficult to relate their experiences of torture and humiliation, as more pictures of abuse come to light.
One of the released detainees who was forced to pose naked in a human pyramid has told Aljazeera that the acts committed against them were so horrible that he still could not get himself to speak about most of it.
"They wanted to humiliate us. It was disgusting", said Hashim Muhsin.
"They covered our heads with plastic bags and hit our backs with sharp objects, which added to our wounds".
"They then took off all our clothes, made us stand next to the wall and carried out immoral acts that I cannot even talk about", Muhsin continued.
He said "women soldiers took pictures of naked men and did not care".
CIA present
Another released prisoner, Haider Sabbar told Aljazeera that "CIA officials and two Iraqi and Egyptian translators showed us immoral pictures of the acts that took place" before interrogating them.
Click here to comment on this article
Bremer 'knew of abuse in November'

From correspondents in Baghdad
May 4, 2004
FORMER Iraqi human rights minister Abdel Basset Turki said today US overseer Paul Bremer knew in November that Iraqi prisoners were being abused in US detention centres.
"In November I talked to Mr Bremer about human rights violations in general and in jails in particular. He listened but there was no answer. At the first meeting, I asked to be allowed to visit the security prisoners, but I failed," Turki said.
"I told him the news. He didn't take care about the information I gave him."
The coalition had no immediate comment about Turki's meeting with Bremer.
The minister, whose resignation was formally accepted by the coalition yesterday, said he told Bremer about his meetings with former detainees.
"The prisoners I spoke to, they told me about how Iraqi prisoners were left in the sun on US bases for hours, prevented to pray and wash and left for two days on a chair and kicked at Abu Gharib," he said. [...]
Click here to comment on this article
It is remarkable how the US press allows themselves to be manipulated by the government. When the Abu Ghuraib story broke, Bush just issued a statement that he was disgusted, taking no responsibility. The headlines the next day? "Bush Disgusted by Photos." The proper headline would have been "Permanent Damage to US Image in Muslim World; Bush Fires No One."
I have also been struck by the absence of any Arab or Muslim voice on all this on American television news. The only talking heads who have been allowed to speak have been Americans, most of them conservative Americans.
Click here to comment on this article
TSA to Test New Rail Security Technology

By LESLIE MILLER
Associated Press Writer
May 4, 2004, 9:36 AM EDT
WASHINGTON -- Amtrak and commuter rail passengers at one suburban station will have to walk through an explosives detection machine and have their bags screened in a new security experiment designed to frustrate terrorists.
The Transportation Security Administration was beginning a pilot project Tuesday at a rail stop in a Maryland suburb of Washington. Passengers were to walk through a "puffer" machine, which sucks in the air around them and within seconds determines whether they've been in contact with explosives.
Jack Riley, director of the public safety research program for Rand Corp., a think tank, said harried commuters probably won't like being screened.
"Anything that lengthens their rail experience is just going to meet with resistance," he said.
TSA spokeswoman Yolanda Clark said the agency hopes passengers will see it "as another ring of security in another mode of transportation."
The 30-day pilot program also includes a baggage screening machine used in overseas airports. The TSA wants to see how well the machines work in a passenger rail and commuter environment. [...]
Comment: So far, there seems to be nothing but blind acceptance of new security measures among the general population in America.
Click here to comment on this article
Sharon cancels visit to US after referendum defeat
www.chinaview.cn 2004-05-04 23:35:48
JERUSALEM, May 4 (Xinhuanet) -- Israeli Prime Minister Ariel Sharonon Tuesday cancelled a May 17 trip to the United States for talks with President George W. Bush after an overwhelming defeat of his unilateral disengagement plan in a referendum of Likud members on Sunday.
Sharon had scheduled to speak to the US pro-Israel lobby group, the American Israel Public Affairs Committee (AIPAC) in Washington,during his trip, but he has informed the AIPAC that he will not, asoriginally planned, attend the organization's annual conference.
Israeli officials said Sharon will not return to Washington until he has another diplomatic program in hand.
Sharon met with Bush some three weeks ago in Washington and was originally expected to meet with him again during the trip to the AIPAC conference.
The prime minister was also expected to use the opportunity to meet Democratic presidential candidate John Kerry.
Kerry wanted to meet Sharon when the latter was in Washington last time, but Sharon, who was there for only two nights, said a meeting could not be arranged.
Click here to comment on this article
Sharon holds talks on new Gaza plan

By Gwen Ackerman
JERUSALEM (Reuters) - Israeli Prime Minister Ariel Sharon has taken his first steps towards amending a U.S.-backed Gaza pullout plan that his Likud party rejected, holding consultations with cabinet ministers on a new blueprint.
A senior Israeli official said Sharon would try to push through his proposal, which originally called for the evacuation of all Jewish settlements
in the Gaza Strip and four of 120 in the West Bank, with as few changes as possible.
Israeli newspapers reported Sharon now envisaged that only three of the 21 Gaza settlements and two in the West Bank would go.
Click here to comment on this article
2 killed, 22 injured in Israeli missile attack on Palestinian refugee camp
11:01 AM EDT May 04
GAZA CITY, Gaza Strip (AP) - An Israeli attack helicopter fired a missile early Tuesday at a group of armed Palestinians in the Khan Younis refugee camp, killing two and wounding 22, residents and doctors said.
The Israeli military refused to comment. The violence came after Israeli Prime Minister Ariel Sharon pledged to come up with a new plan to replace his "unilateral disengagement" from the Gaza Strip and parts of the West Bank Gaza, voted down by his own party Sunday. Witnesses said the gunmen fired two missiles at Israeli tanks in the camp before the helicopter struck.
The attack came during an Israeli military operation in two parts of the camp. Tanks and bulldozers tore down four buildings across from a Jewish settlement. witnesses said.
Click here to comment on this article
Former U.S. Diplomats To Send Letter to President Bush

Media Alert -- For Immediate Release May 3, 2004
On April 26, 52 retired British diplomats signed a letter to Prime Minister Tony Blair asking him to reconsider Britain's Middle East foreign policy. Inspired by their British colleagues, former U.S. diplomats and government officials are circulating for signatures a similar letter to President George W. Bush. Early responses are
staggering.
This indicates that many Americans are deeply concerned not only about the disastrous quagmire in Iraq, but about the Palestinian issue as well. Republicans, Democrats and Independents alike, who understand that resolving the Israeli-Palestinian conflict is key to peace in the Middle East, are calling for action. Signatories are united by their belief that the U.S. government is heading toward great danger.
Our hope is that both political parties will take heed and listen to the voices of experienced diplomats. We also want our friends and allies in the Middle East and Europe to hear our words and know that there are many Americans who do not support the president's April 14 endorsement of Prime Minister Ariel Sharon's unilateral "disengagement" plan. Many of us warned the president not to invade Iraq, arguing that Saddam Hussein posed no imminent danger to the United States and had no part in the 9/11 attacks. The president and his advisers, however, did not heed our warnings. We invite the press to hear former diplomats speak out.
Press Conference
12:00 - 1:00 pm
Tuesday, May 4, 2004
Lisagor Room
National Press Club
Washington, DC
Click here to comment on this article
Italy media boss quits in protest
4 May, 2004

The chairwoman of the Italian public broadcaster, Rai, has resigned.

Lucia Annunziata announced her resignation 30 minutes before the corporation's board meeting in Milan.
Ms Annunziata cited "the occupation of the firm" which was happening via a series of appointments the board was reported to be making.
A leading Rai journalist resigned last week, saying the corporation mainly reflected the views of Prime Minister Silvio Berlusconi - a media magnate.
Mr Berlusconi's media empire dominates the Italian press and broadcasting - but he denies that it presents a conflict of interest.
Last week, Italy's parliament approved a controversial media law which, critics say, strengthens Mr Berlusconi's hold over the media.
'No more representation'
Ms Annunziata told a news conference that the board - the Council of Administration (CDA) - operated in "illegal conditions".
Through a holding company, Fininvest, Mr Berlusconi has press interests in the Panorama and Il Giornale papers, publishing interests at Mondadori publishing house and cinema rights.
Opponents of the media law passed last Friday - after an earlier rejection by the country's president - say it cements Mr Berlusconi's control over 90% of television and allows him to acquire more newspapers and radio stations.
Click here to comment on this article
Editor-in-chief of U.S.-funded Iraqi newspaper quits, complaining of American control

By Lee Keath, Associated Press, 5/3/2004
BAGHDAD, Iraq (AP) The head of a U.S.-funded Iraqi newspaper quit and said Monday he was taking almost his entire staff with him because of American interference in the publication.
On a front-page editorial of the Al-Sabah newspaper, editor-in-chief Ismail Zayer said he and his staff were ''celebrating the end of a nightmare we have suffered from for months ... We want independence. They (the Americans) refuse.''
Al-Sabah was set up by U.S. officials with funding from the Pentagon soon after the fall of Saddam Hussein last year. Since its first issue in July, many Iraqis have considered it the mouthpiece of the U.S.-led coalition, along with the U.S.-funded television station Al-Iraqiya.
Zayer said almost the entire staff left the paper along with him and that they were launching a new paper called Al-Sabah Al-Jedid (''The New Morning''), which would begin publishing Tuesday.
Zayer had sought to break Al-Sabah away from the Iraqi Media Network, which groups the paper, Al-Iraqiya and a number of radio station and is run by Harris Inc., a Florida-based communications company that won a $96 million Pentagon contract in January to develop the media.
''We informed (Zayer) that the paper would remain part of the IMN,'' said Tom Hausman of Harris' corporate communications. ''He made the decision to resign.''
Hausman said Al-Sabah would continue publishing on Tuesday with a new staff.
''We had a project to create a free media in Iraq,'' Zayer said of the founding of Al-Sabah. ''They are trying to control us. We are being suffocated.''
Zayer accused Harris of interfering in the paper's workings, including trying to stop some of its advertising and speaking to reporters about articles.
Among the ads that he said Harris tried to prevent was advertisement from a new political organization called ''the Iraqi Republican Group.'' The ad ran in Monday's issue the last put together by Zayer's staff.
The ad complained of the ''griefs of occupation'' and called on Iraqi elite to rally ''to preserve our nation from destruction.''
Zayer said he was told by Harris that the ad was ''too political.''
Click here to comment on this article
Trial of 17 accused of child gang rape, torture and barbary opens in northern France
SAINT-OMER, France, May 4 (AFP) - Seventeen people, including six women, went on trial in northern France on Tuesday for the gang rape over a five-year period of 18 children, aged three to 12, in a case that shocked the country.
Some of the defendants, aged 24 to 67, are also charged with "rape with torture" or "rape with barbaric acts" in connection with events that unfolded in a rundown housing project in Outreau, outside the port of Boulogne-sur-Mer.
Most of the victims in the Outreau case, the largest pedophilia case ever tried in northern France, are the offspring of the defendants. Some will testify against their own parents. [...]
Click here to comment on this article
France to sell up to 600 tonnes of gold
PARIS, May 4 (AFP) - French Finance Minister Nicolas Sarkozy proposed Tuesday that 500-600 tonnes of gold held by the Bank of France be sold in the coming five years after an agreement with the central bank.
The bank would hold the proceeds but the interest from the money raised would go to the state amounting EUR 200 million every year after the first year.
In April, Bank of France governor Christian Noyer said he was open to selling gold held by the bank as long as the proceeds did not go diirectly to state coffers.
In March, 15 central banks, including the European Central Bank and the Bank of France, agreed not to sell more than 500 tonnes of gold a year from 2004 to 2009.
The plan to sell gold was announced during Sarkozy's first major policy speech since being named late March and which included other plans to sell state assets such as real estate and industrial stakes to bring down the deficit.
Click here to comment on this article
Gasoline Pump Price Hits Record High
By Tom Doggett
Mon May 3, 5:04 PM ET
WASHINGTON (Reuters) - U.S. consumers have to dig deeper in their pockets to pay for a tank of gasoline as the national price for motor fuel rose 3.2 cents over the last week to a new record high of $1.844 a gallon, the government said on Monday.
The latest pump price is up 33 cents from a year ago, according to the U.S. Energy Information Administration's weekly survey of service stations. [...]
Click here to comment on this article
May 4, 2004

NEW ORLEANS (Reuters) - Former U.S. vice president Al Gore plans to announce on Tuesday that he has acquired cable television channel NewsWorld International from Vivendi Universal to launch a new liberal network, a source familiar with the matter said.
NewsWorld International currently airs international news broadcasts. Terms of the deal were not immediately available.
Click here to comment on this article
China confirms 3 more SARS cases
www.chinaview.cn 2004-05-04 17:43:49
BEIJING May 4 (Xinhuanet) -- Three suspected cases of SARS in the Chinese capital, Beijing, have now been confirmed, taking the number of victims of the latest outbreak to nine, the Health Ministry said on Tuesday.
Click here to comment on this article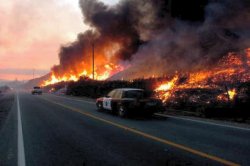 Thousands Evacuated in Calif. Wildfire
By TIM MOLLOY, Associated Press Writer
May 4, 2004
CORONA, Calif. - Thousands of people were evacuated from their homes Tuesday as wildfires burned through Southern California brushlands parched by spring heat waves that led to an early fire season declaration by the state.
Some homes and outbuildings were destroyed but there were no reports of losses on the scale of the destruction that happened last fall, when thousands of homes were destroyed.
A man was charged with negligently setting the largest blaze.
Weather appeared to be improving Tuesday, with temperatures in the areas of the largest fires expected to top out in the mid-90s, about 10 degrees cooler than Monday. Meteorologists also said humidity would increase as air moved onshore from the Pacific.
The two biggest fires were in Riverside County, east-southeast of Los Angeles. Fires also burned in San Diego County and up the coast in Santa Barbara County.
The Cerrito fire in Riverside County between Corona and Lake Elsinore exploded overnight to 5,000 acres, up from 1,600 late Monday, and forced evacuation of up to 4,000 homes.
It was just 15 percent contained Tuesday, according to the California Department of Forestry. Three outbuildings, two unoccupied mobile homes and an unidentified structure were destroyed. [...]
Click here to comment on this article
Simmering volcano shoots ash and steam
THE ASSOCIATED PRESS
ANCHORAGE -- Mount Veniaminof has been restless over the past week, spitting up ash and steam, and lightly shaking the ground, said the Alaska Volcano Observatory.
A major eruption is not expected, but scientists say there could be additional low-level action at the 7,073-foot Aleutian arc volcano, about 480 miles southwest of Anchorage near the village of Perryville.
Click here to comment on this article
Earthquake rocks west China, no casualties reported
BEIJING, May 4 (Reuters) - An earthquake registering 5.5 on the open-ended Richter scale shook part of China's western Qinghai province on Tuesday, but no casualties or damage were reported.
The tremor hit the city of Delingha at around 0500 GMT, with its epicentre some 50 km (31 miles) away and about 600 km (372 miles) from the provincial capital, Xining, said an official with a local seismological bureau said.
"We felt quite strong tremors, but no structures collapsed in the city," he said.
Three earthquakes have rocked the city since April 2003, when a tremor registering 6.6 on the Richter scale caused cracks in the walls of some houses, the Xinhua news agency said.
Click here to comment on this article
Strong earthquake rocks Chile, no damage or injuries
ASSOCIATED PRESS
SANTIAGO, Chile - A strong earthquake rocked central and southern Chile early Monday, causing alarm but no injuries or damage, authorities said.
The government's Emergency Bureau said the 6.6-magnitude quake was centered off the coast of Temuco, 320 miles south of Santiago.
It hit at 12:49 a.m. EDT Monday and was felt from Rancagua, 50 miles south of Santiago, to Puerto Montt, 650 miles south of the capital.
Click here to comment on this article
Sunday, 2 May 2004
Residents across Perth have reported seeing a huge meteor across the north west skies overnight.
The Mundaring observatory says people from Armadale, south-east of the city, to The Vines in the north-east reported the event which is said to have happened close to 10 o'clock AWST last night.
Some reported seeing a huge glow once the object hit the horizon.
Paul Chester from Dianella told the ABC it looked like a giant fireball.
"I just saw this really bright meteor coming down probably about a 30 degree angle heading across the north-west, then it disappeared behind some houses and there was a really bright flash," he said.
"It was sort of brilliant white with an orange tail but it was really large, I mean much bigger than any I've seen before."
Click here to comment on this article
Her body burned by drug, not fire
18-year-old has severe reaction to prescription
Tuesday, May 4, 2004
By Carla McClain / Arizona Daily Star
A beautiful 18-year-old Tucson softball player has suffered severe burns over 80 percent of her body but has been nowhere near a fire.
In an extremely rare, often fatal and little-known severe toxic reaction to a medical drug, Samantha Grasham's body caught fire - from the inside out - blistering most of her skin, as well as her mouth, throat, esophagus and airway, perhaps leaving her scarred for life.
She spent nearly three weeks in the Burn Unit at St. Mary's Hospital, as doctors there worked to save her life and her skin.
As happens in most of these strange cases of what is known as Stevens-Johnson syndrome, there was no warning that Grasham would react so severely to a medication.
Click here to comment on this article
Lion Roaming Neighborhoods In Central Ohio

GAHANNA, Ohio -- Police were looking Tuesday for a lion that several residents reported was on the prowl.
"I'm convinced it's a 300-pound to 400-pound African lion," deputy police chief Larry Rinehart said. "We're scurrying. It's a heck of a day."
Television helicopters were hovering over the city trying to spot the big cat. Police contacted the Columbus Zoo for advice on what to do if they find the animal. The Ohio Highway Patrol had a helicopter on standby, in case it was needed.
Residents first reported seeing the animal on Monday. One police cruiser was stopped on a street when the animal bounded across the pavement in front of it.
Rinehart said he didn't know how the lion ended up in the residential areas on the western edge of Columbus, not far from Port Columbus International airport.
"That's the mystery," Rinehart said. "Whoever had it is not giving that information up. There are some lions that are legally owned in adjoining counties and they're all accounted for."
Click here to comment on this article
National Endowment For Science, Technology And The Arts
2004-05-04
People who have lost or damaged teeth could soon be growing their own, thanks to a major scientific breakthrough by a start-up, Odontis Ltd, formed by King's College, London. [...]
Odontis' pioneering technology will allow the patient to grow his or her own natural replacement teeth instead of having a synthetic implant. As well as the benefit of not experiencing surgical trauma, there is also the psychological boost of 'having one's own teeth'.
The project is the brainchild of genetic research scientist, Professor Paul Sharpe, who is currently the Head of Division of Craniofacial Biology and Biomaterials of the Dental Institute, Kings College London. His discovery is based on human stem cell technology.
Stem cells are taken from the patient, treated and cultured in a laboratory, then re-implanted in the patient's jaw under the gum at the site of the missing or extracted tooth. This then grows into a fully-formed, live tooth in the same way that teeth develop naturally.
To date, no companies or research groups in the world have been able to demonstrate the formation of a living, natural tooth. [...]
Click here to comment on this article
---
Remember, we need your help to collect information on what is going on in your part of the world!
We also need help to keep the Signs of the Times online.
---

Check out the Signs of the Times Archives

Send your comments and article suggestions to us

---
Fair Use Policy
Contact Webmaster at signs-of-the-times.org
Cassiopaean materials Copyright ©1994-2014 Arkadiusz Jadczyk and Laura Knight-Jadczyk. All rights reserved. "Cassiopaea, Cassiopaean, Cassiopaeans," is a registered trademark of Arkadiusz Jadczyk and Laura Knight-Jadczyk.
Letters addressed to Cassiopaea, Quantum Future School, Ark or Laura, become the property of Arkadiusz Jadczyk and Laura Knight-Jadczyk
Republication and re-dissemination of our copyrighted material in any manner is expressly prohibited without prior written consent.
.