---
New Article: Jupiter, Nostradamus, Edgar Cayce, and the Return of the Mongols - Laura Knight-Jadczyk
Part 1, Part 2, Part 3, Part 4, Part 5, Part 6, Part 7, Part 8, Part 9, Part 10, Part 11, Part 12, Part 13
Picture of the Day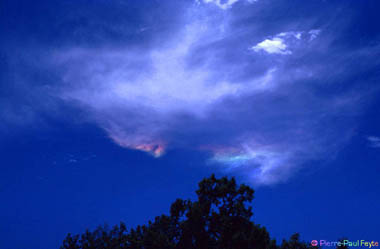 Arc Circumzenith
©2004 Pierre-Paul Feyte
Truth
Guest Editorial - Kurt Schwitters
There are few concepts about which so many rumours circulate than about truth. People tell others 'the truth' when they get rough with them. Many people associate the concept of nobleness with truth. The opposite of truth is supposed to be the untruth that people say when they lie, even if these lies go straight up to heaven. Truth claims to be eternal and godly. I will tell you the truth, my friends: "Truth is a liquid."
You think of wine. In wine, there is truth. Since there is only liquid in wine, no matter how you look at it, it must be a liquid. I am of the opinion that truth is a liquid closer to petroleum. I can back this up with proof.
A competent person I know recently said to me, "I have always wished I could drill into people to drill for truth." He said it literally that way, and that is why I believe him that such an experiment would work, if the government would allow vivisection of people for the purpose of raising the truth.
This truth would spontaneously flow from the drilled hole, further proof that truth is a liquid.
Now, I have asked myself, if truth is in people, why does it not flow out of the many holes already present, making it unnecessary to drill for it? First there are the vast number of pores; you would not need to drill them. In this way, truth is the same as petroleum, which could also flow out of the many holes already present such as water pipes or sewers, but which does not. No, petroleum and truth choose to be drilled.
Now, it could just happen some time that truth could flow freely out of an opening that is already there, just as petroleum could accidently flow out of water pipes. The mouth could emit the truth, for example. But what does the mouth do? It eats and eats, and when it finally does give out something, it is usually just, or sometimes unjust, to conceal the truth from being told. Or the ears. At least they conduct the truth out once it has got in, because if you tell someone the truth, they see to it that it goes in one ear and out the other. The eyes however cleverly see around the truth, even when there is such a thick coating of truth on things.
Click here to comment on this commentary
US defends its Falluja onslaught
US forces have defended their overnight bombardment of insurgent positions in the rebellious Iraqi city of Falluja.
In one of their most intensive uses of firepower, artillery barrages were accompanied by the deployment of a heavily armed AC-130 gunship.
There is no word yet on casualties in the city.
Commanders of US marines besieging the predominantly Sunni Muslim city said the assault was in response to several breaches of the local ceasefire.
In a statement, they said the fighting began with an insurgent attack on marine positions.
"Marines responded by directing precision weaponry against enemy forces in order to defend themselves," it said.
Click here to comment on this article
U.S. aircraft hammers Fallujah after dark; fighting near Najaf kills scores
FALLUJAH, Iraq (AP) - U.S. warplanes and artillery attacked Sunni insurgents holed up in a slum in a thunderous show of force that rocked Fallujah Tuesday, sending huge plumes of black smoke into the night sky. The assault came after American troops killed 64 gunmen near the southern city of Najaf.
[...] The second straight night of battles in Fallujah came as the extension of a fragile ceasefire ended in the turbulent city west of Baghdad. Marines have been preparing to begin patrols in the city later this week.
Tuesday's battle appeared far heavier than the previous night's clashes, in which a marine and eight insurgents were killed - suggesting U.S. forces were trying to wear down gunmen in the Jolan neighbourhood, a district of narrow alleyways and ramshackle houses.
Click here to comment on this article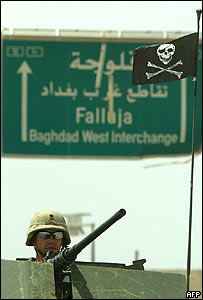 US renews assault on Iraqi city
US helicopter gunships have attacked insurgents in the rebellious Iraqi city of Falluja.
TV pictures showed them firing missiles at targets and plumes of black smoke rising over the city's north-west.
They were called in to assist US marines besieging the city who say they were fired on as they attempted to occupy a railway station.
The latest US action followed an intense overnight artillery barrage and the deployment of an AC-130 gunship.
The Americans Gave Us the Will To Fight, Says Tribal Leader
News from the Front
Report by
Firas al-Atraqchi,
YellowTimes.org
NewsFromtheFront.org
CAIRO (NFTF.org) -- An Iraqi tribal leader who was closely involved in the U.S.-Iraqi negotiations has accused the U.S. Military of feigning negotiations and diplomacy while they gathered ground intelligence to mount an attack on the besieged city of Fallujah.
At press time, several districts in Fallujah were burning. The Golan district was racked by heavy AC-130 fire and 155 mm shelling. Witnesses claimed that mortar and fighter jet bombing destroyed 13 houses. It is unknown whether there have been any casualties. In an exclusive phone interview from Baghdad, the Iraqi tribal leader, who refused to give his name for fear of retribution by U.S.-backed Iraqi secret police, said that there were no heavy weapons in Fallujah except for machine guns and RPG-7s and 9s. He reiterated his accusation that U.S. forces entered the Golan district without provocation earlier tonight, Baghdad time.
U.S. forces have claimed that no heavy weapons had been surrendered to local Fallujah police. Iraqi councilors in Fallujah however, said that weapons were being turned in but that the city's resistance fighters were not convinced that U.S. intentions could be trusted and stopped the weapons turnover on Sunday afternoon.
Meanwhile, Jaber Ali, a former aide to the Iraq Governing Council, accused U.S. forces of breaching the ceasefire in Fallujah and thereby committing "an unprecedent blunder."
"Do they [U.S. Military] really think they took Iraq in three weeks?" he asked an Arab TV news reporter. "No, they didn't, the Iraqi army did not want to defend a corrupt regime -- Saddam's bloody regime. But what you see now all over Iraq, fighting with guns and RPGs against their tanks, and many U.S. soldiers are dying and being wounded. This is the real war, I swear to you if we were fighting for Iraq and not Saddam, the U.S. soldiers would still be trying to take Oum Qasr," he said.
"The Americans gave us the will to fight when they showed us how barbaric they were. Fallujah does not deserve this barbarity. Where is the world community? Where is the Arab League? A thousand damnations on them. We will fight and we will die, alone if need be. This is the beginning of the end for the Americans and Israelis here [Iraq]," he claimed. [...]

Comment: All is as intended. Forever war.
Click here to comment on this article
Public Opinion on Iraq-WMD Largely Unchanged

NEW YORK Many months after the press -- and then top figures in the Bush administration -- disclosed that the U.S. had yet to find weapons of mass destruction in Iraq, or clear links between Saddam Hussein and al Qaeda, huge segments of the American public continue to hold views that appear out of step with this information.
Survey results released this month from the latest national Harris Poll raise this question: Is the press doing something wrong or is the public turned off to facts that do not fit their view of current events?
The poll found that a 51% to 38% majority of the respondents continues to believe that "Iraq actually had weapons of mass destruction when the war began," almost unchanged since the last poll in February.
A 49% to 36% plurality continues to believe that "clear evidence that Iraq was supporting al Qaeda has been found"-- numbers that have changed little since June 2003, despite the lack of a compelling link uncovered.
According to the polling company, "The remarkable stability of these numbers suggest that people have made up their minds on many of the key issues relating to weapons of mass destruction and links to al Qaeda, and that it would take something very big to change them. It seems that people believe media reports which fit with their opinions and reject those which do not.
Comment: Excellent, inspriational, uplifting. Why us lord!?
Click here to comment on this article
20% of Dead Troops Might Have Lived with Proper Armor

WASHINGTON - Twenty percent of the U.S. troops killed in Iraq might have lived had there been more armored, heavier vehicles available to them, Newsweek reports Monday.
A top Army general is recommending the Army send more Stryker medium-weight fighting vehicles to Iraq, which are lighter than tanks but heavier than Humvees, according to the magazine.
Newsweek reports that an unofficial study by a defense consultant now circulating through the Army says 142 Americans were killed by land mines or improvised roadside bombs and 48 others by rocket-propelled grenades.
"Almost all those soldiers were killed while in unprotected vehicles, which means that perhaps one in four of those killed in combat in Iraq might be alive if they had had stronger armor around them," according to Newsweek's account.
Comment: So do ya think that Bush and Co are really serious when they talk with sullen, teary-eyed faces of the "fallen" who gave the "ultimate sacrifice for freedom"? Do ya think they really mean it when they say that they don't want pictures of coffins released out of respect for the families of the dead? If Bush simply had to send America's sons to their deaths in order to appease the Israeli lobby, would it not have shown more respect to at least send them with good equipment?
Click here to comment on this article
Burning with anger: Iraqis infuriated by new flag that was designed in London
By Patrick Cockburn in Baghdad and David Usborne in Baghdad
The Independent
28 April 2004
For many Iraqis it was the final insult. Again and again they expressed outrage yesterday that Iraq's United States-appointed and unelected leaders had, overnight, abolished the old Iraqi flag, seen by most Iraqis as the symbol of their nation, and chosen a new one.
"What gives these people the right to throw away our flag, to change the symbol of Iraq?" asked Salah, a building contractor of normally moderate political opinions. "It makes me very angry because these people were appointed by the Americans. I will not regard the new flag as representing me but only traitors and collaborators."
The outburst of fury over the flag highlights the extraordinary ability of US leaders and the Iraqi Governing Council to alienate ordinary Iraqis, already angered by the bloody sieges of Fallujah and Karbala. And yesterday, in the hotbed of Iraqi rebellion, the flag was burnt in public in a demonstration of public anger.
When, as expected, the controversial new flag is hoisted inside the security of the Green Zone in Baghdad today, there is little prospect that the flag will be fluttering over other Iraqi cities. When security officers at the United Nations undertake the daily ritual this morning of raising the standards of the 191 member countries up the white poles arrayed outside UN headquarters in New York's First Avenue, for Iraq it will be the familiar flag of Saddam Hussein's rule that is unfurled.
"So far, we haven't received anything about this from Baghdad," said Igor Novichenko, who is in charge of such matters in the UN's protocol unit. For now, he added, the old Iraqi flag of green and black, with "God is Great" in Arabic script across it, will retain its place outside UN headquarters. [...]
But in Iraq greater problems loom where insurgents will be able to strengthen their patriotic credentials by sticking with the old and popular Iraqi flag and portraying the new one as a sign of subservience to foreign occupiers.
Already anti-US guerrillas are adopting the old red, white and black banner as their battle flag, tying it to their trucks and sticking it in the ground where they have their positions. This blend of nationalism and religion has proved highly successful in spreading resistance to the occupation. [...]
As the security situation deteriorates in Baghdad, Iraqis are more often refusing to reveal their family names when interviewed. Jassim, standing behind the counter in his grocery shop, said: "That flag is not Saddam's flag. It was there before Saddam and it represents Iraq as a country. The whole world knows Iraq by its flag."
A further reason for popular anger is that many Iraqis are convinced that their new flag is modelled on the Israeli flag. It is white with two parallel blue strips along the bottom representing the Tigris and Euphrates rivers with a yellow strip in between symbolising the Kurds. Above the stripes is a blue crescent to represent Islam. Iraqis say the blue stripes are suspiciously like those on the Israeli flag. They also ask why the Kurds have a stripe in the new flag but not the 80 per cent of Iraqis who are Arabs. Could it be because the Kurds are the only Iraqi community fully supporting the US? [...]
Click here to comment on this article
Iraqis Not Celebrating Saddam's Birthday
By JIM KRANE, Associated Press Writer
April 28, 2004
TIKRIT, Iraq - Saddam Hussein's 67th birthday Wednesday was marked without any apparent signs of celebration in his hometown of Tikrit, where residents said U.S. soldiers ordered schools and universities closed.
While Saddam was in power, the government organized festivals throughout Iraq on his birthday. [...]
Click here to comment on this article
Marines bet on soft power to subdue Iraqi's Sunni bastion
FALLUJAH, Iraq (AFP) Apr 27, 2004
Many US commanders no longer believe a full-fledged assault on Fallujah will defeat the insurgency here and are now gambling on millions of dollars in reconstruction aid to subdue the town.
"We can always supply overwhelming military power, the question is what is the right answer for the end state we seek ... six months from now and a year from now," said Colonel John C. Coleman, chief of staff for the 1st Marine Expeditionary Force (1st MEF).
Marines rolled into Fallujah three weeks ago with the intent of wiping out a dogged insurgency which has been the thorn in the side of the occupying forces since the fall of Saddam Hussein's regime a year ago.
Over 2,000 marines fought furiously in the town's industrial wasteland, mosques and crowded residential blocks in the worst fighting Iraq had seen under US-led occupation.
The field commanders spoke of "cleaning out the city," but the images of Fallujah on fire and reports of hundreds dead and thousands wounded risked blowing up in the face of the coalition and the offensive ground to a halt.
Coalition military officers recognised there was no instant military solution for Fallujah, that simply wiping the insurgents out in urban war would not pacify the Sunni Muslim bastion.
If they wanted to win in Fallujah, US military planners realised they had to convince most of the Iraqi fighters to lay down their arms and share in the country's post-war reconstruction. [...]
US Army Colonel Buck Connor, in charge of Fallujah's sister city of Ramadi, gives credence to the theory that many of the fighters here are not die-hard insurgents, but poverty-stricken Sunnis alienated in the post-Saddam era.
"I can influence them by providing them with a job and a future," Connor said. [...]
Comment: If you can't beat 'em, buy 'em!
Click here to comment on this article
Trading Places: The US May Take the Place of the USSR as the Latest Failed Superpower
By WAYNE MADSEN
Consider the following highly-classified report about the situation on the Afghan front:
"Judging by the most recent communications that we have received from Afghanistan in the form of encrypted cables, as well as by telephone conferences with our chief military adviser . . . the situation in Afghanistan has deteriorated sharply . . . Bands of saboteurs and terrorists, having infiltrated from the territory of Pakistan . . . are committing atrocities . . ."
This dispatch could have come in the last two weeks from the U.S. Central Command, which is facing a renewed surge in Taliban and Al Qaeda activity in Afghanistan.
[...] The above classified report, however, did not emanate from the U.S. Central Command or the Pentagon. It is a declassified Top Secret [Only Copy] Working Transcript of a meeting of the Politburo of the Central Committee of the Communist Party of the Soviet Union, dated March 17, 1979. The words are those of Soviet Foreign Minister Andrei Gromyko to his colleagues, who included General Secretary Leonid Brezhnev, his eventual successors Konstantin Chernenko and Yuri Andropov, Soviet Defense Minister Dmitri Ustinov, and a junior Politburo member named Mikhail Gorbachev.
In many respects, the Soviet Union's attempt to suppress an Islamic insurgency in Afghanistan led to the downfall of the world's "second superpower."
Click here to comment on this article
Iraq is Utterly Unlike Vietnam
...In All Insignificant Respects
By GREG WEIHER
Presidential Press Secretary Scott McLellan, speaking for the world's loudest democracy, was droning on in his mendacious monotone. When, in response to Senator Kennedy's speech at the Brookings Institution, he avowed that Iraq was nothing like Vietnam, the practiced listener noted an edge of indignation rising through his normal torpor.
After all, in so many ways he is absolutely right.
Geographically, Iraq and Vietnam are very different. That is to say, they are in very different places. Or, to amplify further, they are far away from each other.
Also, they are not at all similar topographically. As far as I know, desert is at a premium in Vietnam. Ditto for jungle in Iraq.
Also, the flora and fauna are not very much alike. (Although they do have palm trees in both Iraq and Vietnam. I think even Scott would have to concede that.)
In terms of race and ethnicity, chief economic activities, exports, religion, diet, art, music, and choice of lingerie, there is precious little overlap between Iraq and Vietnam.
On the other hand, for those of us who remember the Vietnam War, the similarities do tend to multiply.
Click here to comment on this article
DOJ MOVES TO INVOKE STATE SECRETS PRIVILEGE TO PREVENT FBI WHISTELBLOWER FROM GIVING A DEPOSITION IN 9/11 SUIT
Michael C. Ruppert
April 26, 2004 1400 PDT ( FTW) -- FBI whistleblower and former translator Sibel Edmonds, who has appeared on 60 MINUTES and recently been interviewed in many of the largest newspapers in the world has something to say. We know already that Senator Charles Grassley has found her credible and that she has charged the government with lying for stating that it had no knowledge of the possibility that Al Qaeda might use hijacked airliners as weapons against buildings. She was placed under a gag order restricting her from speaking with the press about that knowledge by John Ashcroft in October of 2002 and she has pushed the envelope of that order in a multitude of recent interviews. The government has just moved to keep Edmonds from giving a deposition in response to a subpoena.
So scared of what she might say is the Bush administration that the Department of Justice has moved to impose the rarely used "State Secrets" privilege to prevent Edmonds from giving a deposition in a 9/11-related lawsuit. The case is the $100 trillion action filed in 2002 by 600 9/11 victim families against officials of the Saudi government and prominent Saudi citizens. FTW believes that the greatest crimes of 9/11, the ones that deserve the fullest attention of the American people, were committed by persons inside the US government, not in Saudi Arabia.[...]
Comment: Unfortunately, the administration has so repeatedly and blatantly shown such disregard for the rule of law that we doubt whether even maintaining its appearance is any major concern. Still, 9/11 is the turning point upon which the present catastrophe rests. Let us remember that the Lewinsky affair investigation spent 60 million dollars while the 9/11 "independent commission"has been repeatedly running out of funds on a budget of a few million. What does this fact alone tell us about the Bush clique's motives?
Click here to comment on this article
White House seeks to head off damage from Sept. 11 testimony by Bush, Cheney
06:42 AM EDT Apr 28
TOM RAUM
WASHINGTON (AP) - President George W. Bush's closed-door testimony to the Sept. 11 commission alongside Vice-President Dick Cheney carries political risks for the White House. Leaning too much on Cheney could make Bush look weak, and inconsistencies with other officials could raise new questions.
Trying to head off criticism of Thursday's unusual side-by-side appearance, White House spokesman Scott McClellan said Tuesday that he expects Bush rather than Cheney to handle most of the questions.
The two will meet in a private session with all 10 commission members at the White House Thursday morning, beginning at 9:30 a.m. Members will be allowed to take notes but there will not be a stenographer present.
Comment: According to impeccable sources that we are not at liberty to divulge, Bush and Cheney must appear together because the Cheney mind-meld does not work through walls. However, seated together with the Committee, Cheney will be able to dictate answers to the President without arousing suspicions. Our sources also thought there was the possibility of an imminent Yakuza scalar weapons attack on the White House.
Click here to comment on this article

Supreme Court to Consider Enemy Combatants' Rights
By James Vicini

WASHINGTON (Reuters) - The U.S. Supreme Court considers on Wednesday whether in the war on terrorism President Bush can order American citizens held indefinitely in a military jail without charges, a hearing or access to a lawyer.

Two cases to be argued before the high court will test the balance between civil liberty and national security, and go to the heart of the Bush administration's assertion of sweeping presidential powers after the Sept. 11, 2001, attacks.
Click here to comment on this article
Leaders to confront anti-Semitism

Representatives of 55 European states and the US are due to attend a major conference on anti-Semitism opening on Wednesday in the German capital Berlin.
Israeli President Moshe Katsav will be present as an observer at the forum, called in response to an apparent rise in anti-Jewish incidents in Europe.
It is sponsored by the Organisation for Security and Co-operation in Europe.
"We plan to discuss the problem from every angle in Berlin," said OSCE spokesman Keith Jinks.
Comment: If they are indeed going to discuss the problem from every angle, then we trust they will discuss the following two issues:
1. The shift in definition of anti-Semitism from hatred of the Jews to any criticism of the State of Israel.
2. Israel's view of itself as above international law, including its "right" to murder Palestinian men, women, and children, as a cause of "anti-Semitism".
However, we doubt either of these issues will be raised because to do so would incur accusations of... anti-Semitism!
Click here to comment on this article
By GILA SVIRSKY
I just spoke to Molly Malekar on her way to Sha'arei Tzedek Hospital in Jerusalem, and here is what she reported:
"We were about 60 women, only women: roughly 1/3 Israeli, 1/3 Palestinian, and 1/3 internationals. We gathered at Bidu to protest the construction of the wall in this village. It was a quiet march, with women carrying signs and walking toward the area where soldiers were guarding the construction of the fence. At a distance of about 10 meters (30 feet) from them, we stopped walking because the soldiers turned to point their rifles directly at us. I called out to them in Hebrew, "Don't shoot, we're not armed, this is a nonviolent demonstration."
"Suddenly there was an onslaught of teargas and stun grenades, falling all around us, completely out of proportion to the quiet, nonprovocative nature of our action. The grenades fell right there at our feet and we were choking, unable to breathe. Most dispersed and ran back. Soldiers charged toward us and fell upon the women, grabbing some whom they arrested. By then, there was no demonstration at all, nothing to disperse. Most of the women had run back, trying to recover from the tear gas, but I remained as I wanted to talk to the soldiers to prevent the arrest of the four women. Suddenly out of nowhere four horses charged, with border police mounted on them. I started to run away, but one of them ridden by a girl soldier caught up with me and she struck me on my head with a baton. I fell, and then a second horse charged toward me and I felt more blows on my head and back. There was no provocation whatsoever at any point while this was happening."
Click here to comment on this article
Ayoon wa Azan (Enemy Of Peace)
Jihad Al Khazen Al-Hayat 2004/04/27
[...] The Middle East peace process is missing a partner. However, this absent partner according to George Bush, is not Yasser Arafat; rather, it is the Israeli partner, Sharon the enemy of peace for over half a century of his rotten age at a time when the repeated talks about his crimes seem to be shadowed since they are repetitions when in reality Ariel Sharon is a criminal of a Nazi mold.
The butcher whom George Bush called a "man of peace" was first heard of 50 years ago and specifically in 1953 when he led a force towards the Al-Breige Refugee Camp in Gaza and slaughtered 50 refugees most of which were elderly, women and children. This took place in August and before October of the same year arrived Sharon was executing the Al-Qibya massacre where its civilians were killed inside their homes with bullets and bombs.
[...] I do not know if the Arabs are aware that what is being suggested is not Arafat's fate alone but that of each and every one of them. If the United States has already, deservedly, overthrown Saddam Hussein, and if Israel succeeds in killing Arafat, the question is who would the next leader be on the American-Israeli list?
The peace process will not move forward. If it does, it is towards oblivion; as long as Ariel Sharon remains as PM, and W. receives him at the White House and continues to work with him, which consequently encourages him to commit further crimes.
Click here to comment on this article
Naseer Aruri Al-Hayat 2004/04/26
The 14 April 2004 exchange of statements and the subsequent joint press conference by President George W. Bush and Israeli Prime Minister Sharon created an upheaval in the Palestine question, the likes of which have not been witnessed since the 1917 Balfour Declaration. Bush's scripted statement and his unrehearsed answers to the media released Israel of its legal and moral obligations to the Palestinian people and to international law. Undoubtedly, it will have a major impact on U.S. policy towards the Palestine/ Israel conflict, on international law, on the U.S.-Israeli strategic alliance, and on stability in a volatile region of the world.
[...] Not unlike Britain during the First World War, the U.S. has just pledged, and not merely "viewed with favor", to recognize Israeli sovereignty over the entire area lying between the River Jordan and the Mediterranean Sea. By rendering the 1949 cease- fire lines obsolete, while keeping deliberate silence on the 1967 borders, the U.S. president has, in effect, recognized a permanent Israeli occupation of the remaining 22 percent of what Israel did not conquer in 1948.
Click here to comment on this article
Chief UN nuclear inspector to visit Israel in July
VIENNA (AFP) Apr 28, 2004
Chief UN nuclear inspector Mohamed ElBaradei will in July visit Israel, which has refused to sign the nuclear Non-Proliferation Treaty and is believed to have up to 200 nuclear weapons, to promote a "nuclear weapon-free zone" in the Middle East.
Gabriella Gafni, Israel's ambassador to the Vienna-based International Atomic Energy Agency (IAEA) which ElBaradei heads, told AFP the visit was on for July but said the agenda has not yet been set.
IAEA spokeswoman Melissa Fleming said it would be ElBaradei's first trip to Israel in six years and that he would be carrying out his mandate from the 137-member agency "to promote non-proliferation and a nuclear weapon-free zone in the Middle East." [...]
Click here to comment on this article
Fighting between militants and police in southern Thailand kills more than 100
06:42 AM EDT Apr 28
PATTANI, Thailand (AP) - Scores of teenage militants armed with little more than machetes attacked security outposts across Thailand's troubled Muslim-dominated south Wednesday, but they were repulsed by police who had been tipped off to the offensive. At least 107 militants were killed.
Click here to comment on this article
Fighter escort for Air Canada flight
Last Updated Wed, 28 Apr 2004 5:11:31
RICHMOND, B.C. - Two CF-18 fighter jets accompanied an Air Canada flight into Vancouver Tuesday due to an unspecified threat against the plane, police said.
Although no one will say why, two government sources have confirmed to CBC News that a threat was made against the plane, but it appears to have been a false alarm.
[...] A spokesperson for Norad also refused to give any details about what triggered the action.
"Two Canadian air force CF-18 Hornet fighter jets assigned to the Canadian Norad region did conduct a routine air sovereignty operation today," said Capt. Dave Muralt.
"In order to preserve operational security, I can't give you any more information than that. What I can tell you is that since the terrorist attacks of Sept. 11, 2001, Norad – that's Norad as a whole – has conducted more than 35,000 internal air defence sorties."
Comment: Since 9/11 there have been "35,000 internal air defence sorties"! And yet on 9/11 itself, the closest air force base to Washington was told to stand down, and four hijacked airplanes were able to go off their flight plans with NO INTERVENTION WHATSOEVER.
Curious, no?
Click here to comment on this article
Secret Service questions student on drawings
Tuesday, April 27, 2004 Posted: 12:13 PM EDT (1613 GMT)
PROSSER, Washington (AP) -- Secret Service agents questioned a high school student about anti-war drawings he did for an art class, one of which depicted President Bush's head on a stick.
Another pencil-and-ink drawing portrayed Bush as a devil launching a missile, with a caption reading "End the war -- on terrorism."
The 15-year-old boy's art teacher at Prosser High School turned the drawings over to school administrators, who notified police, who called the Secret Service.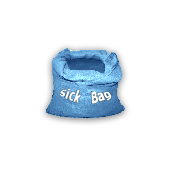 "We involve the police anytime we have a concern," Prosser Superintendent Ray Tolcacher told the Tri-City Herald newspaper.
Secret Service agents interviewed the boy last Friday. The student, who was not arrested, has not been identified.
The school district disciplined him, but district officials refused to say what the punishment was. Tolcacher said the boy was not suspended.
The artwork was apparently part of an assignment to keep a notebook of drawings, according to Kevin Cravens, a friend of the boy's family.
The drawing that drew the most notice showed a man in what appeared to be Middle Eastern-style clothing, holding a rifle. He was also holding a stick with an oversize head of the president on it.
The student said the head was enlarged because it was intended to be an effigy, Cravens said. The caption called for an end to the war in Iraq.
A message left by The Associated Press with an after-hours duty officer with the Secret Service in Washington, D.C., was not immediately returned on Monday.
"If this 15-year-old kid in Prosser is perceived as a threat to the president, then we are living in '1984'," Cravens said.
Tolcacher insisted it was not a freedom of speech issue, but a concern over the depiction of violence.
"From what I saw, [school officials] were right to be concerned," Prosser Police Chief Win Taylor said.
Click here to comment on this article
Putin Plays the Role of Good Tsar
Editorial
President Vladimir Putin sent off his own revisions on Monday to a State Duma bill that would severely restrict where protests could be held.
As passed in a first reading on March 31, the bill would ban demonstrations outside government buildings, international organizations, embassies, courts, jails, hospitals, schools, churches, concert halls, theaters and stadiums.
The bill, supported solely by United Russia, provoked an immediate outcry from nearly everyone else, and within two days United Russia was backing down.
Putin's revisions would allow protests outside government buildings and many other places included in the bill. His residences would remain protected from disgruntled citizens, as would courts and jails and things like railroads, pipelines and environmentally hazardous sites.
Putin also overruled the Duma's provision that events deemed to violate "moral norms" could be forbidden, although his alternative proposal would require bureaucrats to send any concerns they have to the organizers "in written form." What Putin does not object to, however, is the spirit of the proposed law. He wants it revised, not scrapped.
Click here to comment on this article
Letting The Markets Determine The Value Of The Dollar
By Joan Veon
4-28-4

[...] Let us consider, "All countries are interdependent." In 1962 President Kennedy called for a "Declaration of Interdependence" in which he was signaling a change in our sovereign status by working in concert with other nations, instead of independently. It was Bill Clinton who passed NAFTA and GATT, which became the World Trade Organization, and who also started a regional free trade zone for our hemisphere, the Free Trade Areas of the Americas. In April 2003, President Clinton told university students that their biggest challenge would be to "move from interdependence to integration." Interdependence is defined as "depending on one another" while integration is defined as "making or forming into a whole."
[...] Lastly, Snow signaled that the "value of the dollar is to be determined by the market and not the strength or policy of government." In light of the above, Snow unveiled a profound change in domestic economic policy for he shifted the value of the dollar from the auspices of government to the markets-the commanding heights.
In trying to get a clear statement from our Treasury Department, Undersecretary for Global Affairs John Taylor told me nothing I did not already know when he referred me to the G7 statement. I then asked Treasury Secretary Snow, "In February you said the markets would determine the value of the dollar and not the policy or strength of government. Is this a new global policy?"
[...] Using a lot of "ahh's", he said, "What it basically says is that we endorse the concept of flexibility in exchange rates." The move to the markets has been called "market based democracy" which is defined as a form of government that does not involve traditional bureaucratic government but uses the markets to encourage productive behavior.
If this is the case, then we can understand the reinventing of Lenin's "commanding heights" to "market based democracy." This sounds as utopian as communism-for if there are no barriers any longer between the nation-states, then that means the strongest and most powerful (the proletariat) can "skim off the top" of the currency, equity, bond, commodity, and metals markets at any time in order to use the market for their own personal gain, leaving you and I (the serfs) with the crumbs.
Comment: The problem with integration in the world of service to self is the fact that the collective invariably ends up serving its most self-serving members. This is true across political doctrines and scale of size, from communism to capitalism and from the global stage to small associations of people. We cannot say that either integration or individual agency are absolute values as such or that one be inherently superior. We may say that both integration and individual agency may either serve entropy and pillage or serve creation. As witnessed by political history, all modes and styles of government have turned to the exploitation of most to the benefit of the few, which is the hallmark of a self-serving world. Service to others or creation cannot be legislated. It needs to enter the world through individuals and groups, as a natural influx of the spiritual into the material plane.
Click here to comment on this article
America's death wish is coming true
Jennifer Sellers
04/27/04 "ICH" -- I once heard a German woman discussing how she felt during the Hitler regime. She watched it happen with the will of the people, and she couldn't believe it. She couldn't believe the propaganda that the people bought into. It was surreal she explained.
It is surreal now.
What we have is a President who created a war on false premises, an uninformed public wrapped up in ass kicking and feeling real good about it, and a world filled with hatred for us. Only a fool would feel empowered.
With Iraq a manufactured, blatantly unnecessary war, America's death wish is coming true. We nurtured the hate of Al Qaeda, practically in a greenhouse we built with love, and with foolish, negligent choices, have helped them grow into a massive, ripe, and more treacherous danger. We are living in our own twilight zone episode.
The attacks on Kerry are transparent. We know his war record and it's an admirable one. His anti war activities following his return from Viet Nam are admirable as well. Whether one agrees or not, it takes courage to stand up for your beliefs. This administration has a lot of nerve resorting to this kind of attack considering President Bush's miserable Vietnam aversion and inability to verify his whereabouts in the National Guard. Maybe nerve is all it takes to snow us these days.
I heard the word semantics used in describing Kerry's interchange of the word ribbons and medals in the latest Republican attack dog rhetoric. It would be generous to use the word semantics in describing the media's take on this administration's disastrous choices. Take the word mislead? Can we be frank? How about the word lied? Resolve? How about say like it really is. Inability to learn and stubborn to boot.
One thing is certain. This administration has its finger on America's pulse. We love to hate; someone, something. Hell, we hated the ruskies for years and it felt good. Keep us confused. Switch and bait. Talk up freedom as we watch it fade away. Keep us so cloaked in the illusion of patriotism that we can't see the stars for the stripes. Whatever happens, we don't want to see the truth even if it means ignoring all facts, ignoring all whistleblowers whose reputations are without question, and ignoring history.
With our impotent media, the Republicans have got the field. And they want to run the touchdown all the way to the end of the world as we know it.
It appears clear to me. Either vote for the unknown who possesses maturity and intelligence and the ability to analyze, or vote for the known, a war coward, a documented liar and one who has proven himself lacking in judgment and is taking us so far down a murky road where we'll never find our way home. Oh yeah, that's 'leadership' in our vernacular.
Comment: Kerry is far from "unknown". He has made it very clear that at least in terms of the War on Terror, he would continue and even accelerate many of the Bush administration's plans. Nevertheless, the author does make some rather interesting observations about the current State of the Union.
Click here to comment on this article
Suspicious white powder found in mail at Bill Clinton's office
April 28, 2004
NEW YORK (AP) - Former President Bill Clinton's office was briefly evacuated after a worker opened a package containing a suspicious powder, police said.
A Secret Service agent assigned to the Manhattan office opened the package Tuesday morning, police said.
A letter and a vial of powder were inside.
Preliminary tests were negative for anthrax. [...]
Click here to comment on this article
Pa. Sen. Specter Survives GOP Primary
By LARA JAKES JORDAN, Associated Press Writer
April 28, 2004
PHILADELPHIA - Four-term Sen. Arlen Specter emerged victorious in a fractious and closely watched Republican primary, prevailing over a more conservative rival who had bucked the party and threatened its moderate wing.
Specter's win over Rep. Pat Toomey also was a victory for President Bush, who endorsed Specter and is counting on his supporters to help him carry a state he narrowly lost to Democrat Al Gore in 2000. [...]
Click here to comment on this article
Spitz Raises Spectre of US Missing Olympics
The Scotsman
Tue 27 Apr 2004
United States Olympic hero Mark Spitz has raised the spectre of an American withdrawal from this summer's Athens Games due to security concerns.
Spitz, who won seven swimming golds at the 1972 Olympics in Munich when 11 Israeli athletes were murdered by terrorists, believes the US team is at this stage not certain to show up in Greece.
With ongoing conflicts involving the US in Afghanistan and Iraq, as well as heightened terrorist fears since the events of September 11 2001, Spitz claims American politicians will still be keeping an open mind on whether to send a team to Athens.
He told BBC Radio 5 Live: "We are looking under the microscope at all the different terrorist acts and we know there is a high degree of probability that something could happen in Athens.
"Would that be political suicide to send a team there if you were the Bush administration?
"If you were to yank the carpet out from under the American team and nothing happened, would that be because they are only after Americans? If that does happen in will happen in the 11th hour and 59th minute.
"I would say that about six months ago it was highly unlikely but each day as it goes on with current world affairs it becomes more probable than not that ongoing conversations will take place as to how important it is to put athletes in harm's way."
However, a spokesman for the US Olympic Committee said: "Today there is absolutely no consideration given to the notion our team will not be in Athens."
Click here to comment on this article
Good News Department!
Les Français améliorent leur comportement au volant (French Improve Their Driving Behaviour)
Françoise Lemoine
[28 avril 2004]
According to Le Figaro, the French are driving more slowly, buckling up, and drinking less. This good news is marred only by their continuing use of cell phones while driving. Le Figaro terms this "edifying." We concur.
Click here to comment on this article
End of Good News Department
12-Year-Old Boy Charged in Girl's Slaying
By ELIOTT C. McLAUGHLIN, Associated Press Writer
April 28, 2004
CARROLLTON, Ga. - Police say a 12-year-old boy used his hands to strangle a third-grader who disappeared while riding her bicycle to a nearby friend's house.
Amy Michelle Yates, 8, was found dead Monday night, hours after she went missing. Tuesday afternoon, the boy was arrested and charged with murder. [...]
Click here to comment on this article
Three Teens Die in Cave Near Miss. River
By KARREN MILLS, Associated Press Writer
April 28, 2004
ST. PAUL, Minn. - A teenager rescued from a complex of caves along the Mississippi River struggled to survive Wednesday, a day after three of his friends died of apparent carbon monoxide poisoning in the cavern.
The two boys and a girl died while exploring a complex known as the Wabasha Street caves. A fourth teenager who was rescued struggled to survive.
Another boy, who escaped the cave on his own and alerted authorities, was taken to a hospital and released.
The source of the fumes was not immediately known, but one official said cave visitors sometimes start fires. Rescue workers found the teens about 600 feet into the caves. [...]
Click here to comment on this article
Le ralentissement de courants dans l'Atlantique nord inquiète les chercheurs
LE MONDE | 24.04.04 | 14h58
Le Monde reports on a study showing a slowing down of the currents in the North Atlantic in the 90s. The currents, which bring warm waters from the tropics up into the North Atlantic, are responsible for the more temperate climate in Europe. The slowing down of these currents would mean a radical change in the climate if the warmer waters no longer come as far north. According to the Woods Hole Institute, the last time this happened, 17,500 years ago, saw the beginning of the last ice age.
Click here to comment on this article
4 Earthquakes Rattle Livermore: Area's Second Swarm In Year
POSTED: 3:00 pm PDT April 27, 2004
Four earthquakes rattled the Livermore Valley Monday, the second swarm of quakes the area has experienced this year.
Monday's earthquakes occurred between 12:13 p.m. and 12:20 p.m. and registered magnitudes ranging from 1.7 and 3.3, according to the United States Geological Survey.
On Jan. 21 the fault, which is approximately four miles northwest of Livermore, generated five quakes in two days with magnitudes of 3.1 to 3.5, according to the USGS.
Click here to comment on this article
STRONG EARTHQUAKE IN THE REGION OF PATRAS
Patras, 28 April 2004 (13:24 UTC 2)

Strong earthquake measuring 5 on the Richter scale shook the region of Patras, southern Greece, at 10:27am today. The epicenter of the earthquake was located in the region of Antirio. No damages were reported to local authorities.
Click here to comment on this article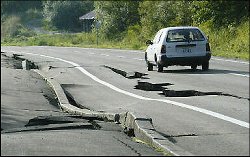 Moderate quake rocks central Japan
Wed Apr 28, 7:56 AM ET

TOKYO (AFP) - A moderate earthquake measuring 4.1 on the Richter scale shook central Japan, the Japanese Meteorological Agency revealed.
There were no immediate reports of casualties or damage.
The quake occurred at 6:16 pm (0916 GMT) with its epicentre located in northern Tochigi prefecture, 150 kilometres (90 miles) north of Tokyo, the agency said Wednesday.
The focus of the quake was 10 kilometres (six miles) below the surface, it said.
Click here to comment on this article
FEATURE-Simmering NZ crater lake more scary than Mt Doom
By Marion Rae
WHAKAPAPA VILLAGE, New Zealand, April 28 (Reuters) - New Zealand's Mount Ngauruhoe starred as fiery Mount Doom in Peter Jackson's epic film trilogy Lord of the Rings, but neighbouring Mount Ruapehu is the volcano scientists fear most.
A trio of active volcanoes in the centre of New Zealand's North Island -- Ngauruhoe, Ruapehu and Tongariro -- form the southern tip of the "Rim of Fire", an arc of active volcanoes circling the Pacific Ocean.
A simmering acidic crater lake on Mount Ruapehu, belching steam and gas that smells like rotten eggs, has been the site of more eruptions than any other crater lake in the world.
Click here to comment on this article
Fault discovery requires revised earthquake model
Wellington: The discovery of a 70km-long fault in Cook Strait will change the tools seismologists use to predict the risk of earthquakes, an expert says.
The Boo Boo fault has been mapped by scientists using high-precision sounding equipment on board the Niwa research ship Tangaroa .
Scientist Philip Barnes said the discovery increased the earthquake risk in the southern North Island.
"If you discover new faults that are large and are highly active, they will increase the risk because return times [the periods between quakes] will be less."
He said computer prediction models run by the Institute of Geological and Nuclear Sciences did not take account of the risk Boo Boo presented.
Click here to comment on this article
China reports new suspected SARS case
Click here to comment on this article
New Mineral From the Moon Discovered
By Randolph E. Schmid
Associated Press
27 April 2004
WASHINGTON (AP) -- A chunk of the moon that landed on Earth as a meteorite contains a new mineral, which scientists have named after a researcher who years ago predicted the unusual process that formed the material.
Grains of the material, made of iron and silicon, were found in pieces of a meteorite that was discovered in Oman on the Saudi peninsula, said Lawrence A. Taylor of the University of Tennessee, a member of the research team that reported the find.

The process that led to the material's formation on the moon "is much different than anything we can imagine on Earth," Taylor explained. [...]
The researchers named the new mineral hapkeite after Bruce Hapke of the University of Pittsburgh, who 30 years ago predicted the process that forms this mineral.
"I told them so," said an amused Hapke, who added: "It's quite an honor." [...]
Click here to comment on this article
Hunt for Atlantis Leads Researcher to Cyprus
Mon Apr 26, 2004 10:20 AM ET
NICOSIA (Reuters) - A U.S. researcher who is convinced the fabled city of Atlantis is lurking in the watery deep off Cyprus will launch an exploratory mission this summer, he said on Monday.
"We believe our discovery will put Cyprus at the center of the world stage forever," Robert Sarmast told Reuters.
Sarmast said the east Mediterranean island is actually the pinnacle of the long-lost city and the rest of it is about one mile below sea level.
Using deep sea maps and clues found in Plato, Sarmast said he has discovered a sunken rectangular land mass stretching northeast from Cyprus toward Syria.
Comment: While there may very well be an ancient city under Cyprus, there is no reason to assume it is Atlantis, as if Atlantis was one definable place. What if Atlantis was a world-wide civilisation, much like our modern, Western "civilisation"?
Click here to comment on this article
New Satallite Photos Could Pinpoint Location of Noah's Ark

Mon April, 26 2004

This summer, a team of 10 explorers will climb the 17,820 feet tall Mount Ararat in Turkey to prove that an object buried in the snow is Noah's Ark. This object was first seen in 1957 by Turkish air force pilots, but the area was off limits at the time due to the Soviet's belief that the explorers were American spies. Daniel P. McGivern, president of Shamrock, The Trinity Corporation, will be leading the expedition upon approval of the Turkish government. McGivern claims that last summer's heat wave in Europe has partially exposed this structure and new satellite photos have helped to pinpoint the location of the Ark.
Pictures of the "Ararat anomaly" can be found here.
The Ark they saw? Team mounts hunt

By ALISON GENDAR
DAILY NEWS STAFF WRITER

Explorers hope to uncover clues this summer to one of the oldest biblical mysteries, the location of Noah's Ark.

A joint U.S.-Turkish team believes it has satellite photos of the frozen remains of the Ark buried in the ice and snow of Mount Ararat, Turkey's tallest mountain.

"I do hope to bring people to faith in God, but this is a nonreligious, scientific expedition to prove that Noah's Ark really exists on the top of that mountain," said Daniel McGivern, president of Shamrock - The Trinity Corporation of Honolulu.
One has to wonder about the nature of a belief system that leads its adherents to understand clear allegory as factual history. What are we to expect next, an expedition to search for the remains of chicken little? The story of Noah talks of a deluge, a cataclysm that destroyed much of humanity, and suggests that it is possible to survive such an event, as "Noah" allegedly did. What would you consider to be the most important point to take from such a story? Where would you think that research and investigation should be directed? Analysis and research into possible past cataclysms perhaps? Consideration of the idea that it might happen again, that such events could be cyclical? Attempts to understand why and how it relates to human life on earth?
Apparently not.
Rather than reflecting on this most important aspect, we have fundamentalist Christians such as Daniel P. McGivern of the Trinity Corporation who are prepared to go and search for an actual physical boat that was supposedly captained by a man who collected two of every species of animal on earth and herded them into his surely enormous craft.
It appears that Christianity, and all major organised religions have as their main goal the prevention of any critical analysis of history and the origin of humanity. Blind faith or belief in something only benefits those that promote it, never those that are coerced or manipulated to believe in the truth of something which they cannot know for themselves. Blind faith removes any requirement for a person to exert their creative abilities to interact with and contribute to life, and ultimately to KNOW it.
Yet it is not merely the fact that Christianity promotes the literal interpretation of symbolic events that troubles us, it is the fact that it has taken an ancient flood myth, common to many cultures, a message to humanity of possibly vital import, and made it the property of the belief system of a singular monotheistic religion. The problem is that if some sort of wooden structure were to be found, or alleged to have been found, it will be used to further promote blind belief in the teachings of modern day Christianity rather than reflecting on the possible reality of cyclical world-wide cataclysms.
Thankfully however, there are some serious researchers who have attempted to expose the real issues. Walter Pitman and William B. F. Ryan, authors of "Noah's Flood", provide compelling geological and hydrological evidence of a very rapid expansion of the Mediterranean Sea about 10,000 years ago. Yet faced with the strength of the Christian lobby and the inherent desire in most people to reject uncomfortable reality in favor of wishful thinking, we fear there is little chance that the truth will be exposed.
The leader of the current expedition to find "Noah's Ark", Daniel Mc Givern, is not the first evangelical-type to hunt for evidence for the factual basis of the story of Noah. Indeed, it seems that the hunt for Noah's Ark in Turkey has been drawing the attention and resources of some very important people in Washington for quite some time...
Flashback: Satellite Search Underway For Noah's Ark

By Leonard David
Senior Space Writer
30 August 2002

A puzzling mountain-side object in Turkey is the target of a hide-and-seek game of biblical proportions.

The high-flying and super-powerful commercial QuickBird satellite has begun snapping imagery of Mount Ararat in eastern Turkey - in a quest to spot the possible remains of what is believed to be Noah's Ark.

Aircraft pictures taken in the late 1940s, as well as more recent secret spy satellite shots of the area do show something odd - a bit of strangeness that has earned the title of the "Ararat Anomaly". [...]

On the lookout trail for the real deal is Porcher Taylor, a senior associate (nonresident) at the prominent think tank, the Center for Strategic and International Studies (CSIS) in Washington, D.C. He is an expert on satellite intelligence gathering and diplomacy.

Taylor has worked for years to compel the U.S. Central Intelligence Agency (CIA) to declassify satellite images and other information related to the unidentified feature perched on Mt. Ararat in Turkey.

Indeed, the secrecy wraps have come off a partial set of aerial images taken over that location in June 1949. They do show something at the 15,500-foot level on the mountain's Northwestern Plateau.

In later years, Taylor contends, two high-powered intelligence-gathering satellites -- the Keyhole-9 in 1973 and the Keyhole-11 in 1976 -- aimed their cameras at the mountain. What those photo shoots purportedly show created a stir amongst photo interpreters.
So as far back as 1973 the US government was using Satellite imaging equipment to take snap shots of Mount Ararat.
The anomaly is more than 600-feet long (183 meters), Taylor said, at least the section visible in aerial and satellite imagery. Photo interpretation specialists, he said, do think they perceive actual boat structure in the pictures.

Yet those images remain classified at the moment. Remaining unclassified, however, is Taylor's passion.

"I want to solve the enduring mystery of the Ararat Anomaly, no matter what it may be," he told SPACE.com

Now the lenses of another commercial satellite, QuickBird, operated by DigitalGlobe of Longmont, Colorado is on the prowl. "QuickBird is capable of shedding more light on what the anomaly may or may not be," Taylor said.

QuickBird was lofted in October 2001 and is billed as the world's highest resolution commercial imaging satellite. It can see things 2-feet (61-centimeters) across.
Just to give you an idea of the viewing potential of "Quick bird", the below picture of the Eiffel Tower was taken by the satellite last year. Consider that this satellite can zoom in with the same clarity to view things 2 feet across - a human being for example. Consider also that this technology has been around for quite some time.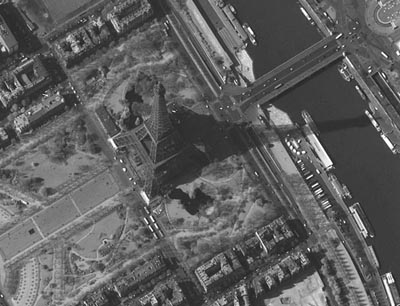 "We have acquired four images of Mt. Ararat and all have been cloud covered to date," said Chuck Herring, Director of Marketing Communications for DigitalGlobe. "We continue to task this event and will get Porcher Taylor an image as soon as we get a good image," he told SPACE.com.

Clear sailing

Taylor is anxiously awaiting clear sailing by QuickBird over Mt. Ararat.

"Because of constant cloud cover it's tough. Where this thing is, whatever it is…it's basically a glacier, a permanent ice cap at 15,000 feet up on the mountain. It is a unique and unexplored site on Mt. Ararat. You're going to have to have ideal weather conditions and a lot of luck when you're flying over to see it," Taylor said.

Meanwhile, Taylor anticipates that when QuickBird does produce the imagery goods, he'll have more leverage to convince U.S. President Bush and his administration to declassify those earlier Keyhole satellite shots.

Taylor may not have to wait too long.

Next month, the National Imagery and Mapping Agency unveils a load of vintage Keyhole-7 and Keyhole-9 pictures, declassifying the images and making them available for public scrutiny. He hopes Mt. Ararat photos are among those being released.

Imagery team

Taylor has at the ready a "world class" imagery team, ready to huddle over any new QuickBird images or older Keyhole photos.

A leader in that team is Farouk El-Baz, research professor and founding director of Boston University's Center for Remote Sensing.

El-Baz first gained world attention for his work on the Apollo program. He served as secretary of the lunar landing site selection committee, chairman of the astronaut training group, and principal investigator for visual observations and photography.

A native of Egypt, El-Baz later served as a science advisor to Egyptian President Anwar Sadat and to King Hussein of Jordan.

He has been a pioneer in developing the field of remote sensing and is offering his expertise to what's truly resident on Mt. Ararat.

El-Baz himself remains true to his training, waiting for scientific data to become available and help unveil the true nature of the Ararat object.

"There is absolutely nothing in all the pictures that we have seen up to now that is questionable in my mind. I can explain each and everything as a natural snow bank…a shadow. There is nothing," El-Baz said. But given the interest and the historical nature of such a find, the search is worth conducting, he added.

"From all the points of view, there is definitely enough in this to warrant spending time to resolve the issue, one way or the other. So I don't consider it a waste of time," El-Baz said.
So here we have a problem. On the one hand we have an expert claiming that there is "absolutely nothing questionable" about the images, at least the ones that are no longer classified, yet someone in the upper echelons of a group of US policy makers still believes that it is worth spending large sums of money and considerable technological resources to investigate the site. What gives? Well, let's have a look at the Center for Strategic and International Studies (CSIS) in Washington that is showing so much interest...
Center for Strategic and International Studies

The Center for Strategic and International Studies (CSIS) is a private organization headquartered in Washington, D.C. According to its web site, it has "been dedicated to providing world leaders with strategic insights on — and policy solutions to — current and emerging global issues. CSIS is led by John J. Hamre, formerly deputy secretary of defense, who has been president and CEO since April 2000."

CSIS is pre-dominated by members with strong ties to the government and private industry. Sam Nunn, CSIS Chairman of the Board of Trustees, served as U.S. Senator from Georgia for 24 years (1972-1996) and is currently on the boards of ChevronTexaco Corporation, The Coca-Cola Company, Dell Computer Corporation, General Electric Company, Internet Security Systems, Inc., and Scientific-Atlanta, Inc. He is also a senior partner in the law firm of King & Spalding, where he focuses his practice on international and corporate matters.

Anne Armstrong, CSIS Chairman of the Executive Commitee, is former U.S. ambassador to Great Britain during the Gerald R. Ford administration and was chairman of the President's Foreign Intelligence Advisory Board during the Ronald Reagan and George Herbert Walker Bush administrations. She is former member of the board of directors of American Express Company, Boise Cascade, and Halliburton Company. She currently serves on the General Motors Corporate Advisory Council.

... "one of those ephemeral constellations into which the luminaries of the American political establishment frequently arrange themselves in order to encourage policy to navigate by their lights: Madeleine K. Albright, Harold Brown, Zbigniew Brzezinski, Frank Charles Carlucci III, Warren Christopher, William Sebastian Cohen, Bob Dole, Lawrence Sidney Eagleburger, Stuart Eizenstat, Alexander Haig, Lee H. Hamilton, John Hamre, Sam Nunn, Paul O'Neill, Charles S. Robb, William Roth, and James Rodney Schlesinger. That makes four former Secretaries of State, one former National Security Adviser, two former Secretaries for Defense, a former Secretary of the Treasury, a former Secretary of the Department of Housing and Urban Development, a former Director of the CIA, and three Senators";

All of these people were signatories to a May 2003 Declaration proposing that "the states of the European Union, which are among the richest and most powerful states in the world, should invite US government officials to attend their highest-level legislative and policy-making meetings, in order that these officials can ensure that the Europeans do not pursue policies which are independent of, or disapproved by, the American government."
Well, they certainly don't ask for much! And we used to think that the American reputation for arrogance was unfounded! Anyway, it certainly is interesting that a member of the above "elite", Porcher Taylor, would be so interested in finding "Noah's Ark". Do we really believe that people in the position of Mr. Taylor are motivated purely by blind fundamental Christian belief? Perhaps, but it seems something of a long shot. It is more likely, we think, that the publicity around the story that Noah's Ark might be on top of a mountain in Turkey is designed to further encourage fundamentalist Christian belief and most importantly keep humanity from ever considering the truth that the story of Noah was designed to convey a deeper, much more real and practical truth - that the earth goes through cyclical catastrophes.
Alternatively, it is possible that there really is something of interest sitting atop Mount Ararat and it has nothing to do with a large boat. Exactly what it is remains a mystery.
One third possibility is that it actually is the Ark of Noah, which will vindicate the entire bible for sure. If this is the case, we hope that the explorers will be able to get it up and running in time for the next Great Flood.
When asked if he could confirm any of the above for us, and when quizzed about his boss's future plans by our reporters, Yahweh's press secretary responded with "Noah comment." hmmmm....
It looks like we wll just have to do the work ourselves, so we will be continuing with our investigation and attempting to get to the bottom of this rather interesting story in coming days. Stay tuned!
Click here to comment on this article

---
Remember, we need your help to collect information on what is going on in your part of the world!
We also need help to keep the Signs of the Times online.
---

Check out the Signs of the Times Archives

Send your comments and article suggestions to us

---
Fair Use Policy
Contact Webmaster at signs-of-the-times.org
Cassiopaean materials Copyright ©1994-2014 Arkadiusz Jadczyk and Laura Knight-Jadczyk. All rights reserved. "Cassiopaea, Cassiopaean, Cassiopaeans," is a registered trademark of Arkadiusz Jadczyk and Laura Knight-Jadczyk.
Letters addressed to Cassiopaea, Quantum Future School, Ark or Laura, become the property of Arkadiusz Jadczyk and Laura Knight-Jadczyk
Republication and re-dissemination of our copyrighted material in any manner is expressly prohibited without prior written consent.
.