---
New Article: Jupiter, Nostradamus, Edgar Cayce, and the Return of the Mongols - Laura Knight-Jadczyk
Part 1, Part 2, Part 3, Part 4, Part 5, Part 6, Part 7, Part 8, Part 9, Part 10, Part 11, Part 12
Printer Friendly Version
Picture of the Day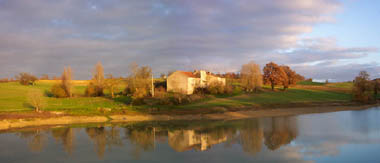 House on a lake
©2004 Pierre-Paul Feyte
The sky is blue. The leaves are slowly appearing on the trees. First, two weeks ago, on the smaller, younger trees, and, now, as buds on the older, 18th century oaks. It is beautiful. Through their many shades of youthful green, the sky looks as blue as the sky above Mordecai Vanunu as he flashes the 'V' for 'Victory' sign over his head.
Victory. He held out. For 18 years they tried to break him, and he didn't crack.
"I am a symbol that a free spirit can survive. Nobody can destroy the will of the man who wants to be free. You cannot destroy the human spirit," said the man made an example by Israel when he dared speak about Israel's nuclear programme. Worse than that, Vanunu was a Jew who had renounced his Judaism and converted to Christianity.
"I suffered for 18 years in solitary confinement because I am a Christian. If I was Jewish I would not have had this suffering."
One suspects that Vanunu was spared a fatal accident back in 1986 because that wouldn't have been enough punishment for his great betrayal of his religion, his people, and his country. No, better to entice him to Italy by a pretty woman, kidnap him, and lock him away in solitary for almost two decades.
A "fitting punishment" from the minds of men who enjoy using a barrage of missiles for political assassinations.
Freed Vanunu: Inspect Israeli nukes
By Nurah Tape
Wednesday 21 April 2004, 13:06 Makka Time, 10:06 GMT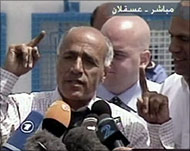 Released Israeli nuclear whistleblower Mordechai Vanunu has called for the country's Dimona nuclear reactor to be opened for world inspection.
Vanunu, who walked out of the Shikma prison in the Israeli town of Ashkelon on Wednesday, where he was imprisoned for 18 years, said Western leaders such as US President George Bush, Tony Blair, Gerhard Schroeder and Vladimir Putin should "speak up" on Israel's nuclear secrets.
"Israel doesn't need nuclear weapons, especially now that all of the Middle East is free from nuclear arms. My message today to all the world is open the Dimona reactor for inspections," he said.
Vanunu was jailed in 1986, reportedly for treason, after disclosing information to Britain's Sunday Times newspaper which led analysts to conclude Israel had produced more than 100 nuclear warheads.
The 49-year-old former nuclear technician told a crowd of journalists and supporters at the prison's gates that he was "kidnapped by Israeli spies in an apartment in Italy in September 1986, drugged and then kept on a yacht for seven days, chained to a bed", before being brought to Israel, where he was imprisoned in October the same year.
'Proud and happy'
Vanunu, who was "proud and happy at what he had done", said he had "no more secrets". "I am very glad that I succeeded to do what I did. I don't have any secrets... since the article was published there are no more secrets".
He said Israel's Mossad spy agency and Shabak (domestic intelligence), also known as the Shin Bet security services, "did not succeed in breaking me … to make me crazy".
"I suffered cruel, barbaric treatment by Israeli spies Mossad, Shabak agents. The guards inside the prison were only obeying orders from Shabak, Mossad", Vanunu said.
He added: "I suffered for 18 years in solitary confinement because I am a Christian. If I was Jewish I would not have had this suffering."
"I am a symbol that a free spirit can survive. Nobody can destroy the will of the man who wants to be free. You cannot destroy the human spirit."
Restrictions
Questioned on his statements made to security officers in a videotape aired by Israeli media, Vanunu reiterated that "I don't think we need a Jewish state" and added "the Jewish state needs to solve its problems with the Palestinians".
Israel has slapped severe restrictions upon Vanunu's release, including that he is not allowed to leave Israel for a year, approach border exits or talk to foreign nationals without prior approval for at least six months.
Vanunu's release was delayed after he apparently refused to give details of his place of residence once he is set free.
Israel has kept the nuclear reactor in Dimona - where Vanunu worked for nine years until he was fired in 1985 - closed to international inspection.
Vanunu, who said he wished to start a new life in the United States, thanked "all my friends for supporting me". He said they are "heroes".
Click here to comment on this article
Sharon's banana republics: Bush and Blair have allowed Israel to dictate their Middle East policy and carry out a Palestinian politicide
Afif Safieh
Monday April 19, 2004
The Guardian
The study of American-Israeli relations has preoccupied two generations of scholars. Two competing schools of thought addressed the "who wags whom" debate. The first school spoke of "an American Israel", with the United States dictating to the local ally its regional policy in accordance with the American global vision. Noam Chomsky wrote two decades ago that Washington was the contemporary Rome and Israel its regional belligerent, Sparta.
The second school projects the image of "an Israeli America", a complex relationship where the global superpower adopts the regional policy of its client state and integrates it in its global strategy. This is seen as a result of a powerful pro-Israel lobby that succeeded in turning "Capitol Hill into another Israeli-occupied territory".
I have always believed that both schools of thought were correct but at different moments in history, depending on the strength of the American president, how comfortable he is in the country and in Congress, and how comfortable the US is in the world.
After the horror of 9/11, when the predictable retaliation was being discussed, the pro-Israel lobby emerged as the "maximalist school", which wanted to expand the theatre of operations beyond Afghanistan to engulf Iraq, Syria and Libya. That lobby has grown accustomed to using one muscle too many and one pressure too far. The collusion between the US and Israeli agendas has put America on a collision course with the Arab World, which now perceives the US as Israel's belligerent Sparta and the aim of American foreign policy to be docility, not democracy.
Click here to comment on this article
Russia calls for changes to resolution condemning Israel
Last Updated Tue, 20 Apr 2004 19:14:00
UNITED NATIONS - Russia, a permanent member of the UN Security Council, is seeking changes to a proposed resolution condemning Israel's assassination of Hamas leader Abdel Aziz al Rantissi.
The resolution has been posed by a number of Arab nations.
Russia's deputy foreign minister says the statement should condemn the continued reprisals against Hamas leaders. But he says it should also condemn the actions of terrorists who attack Israel's civilian population.
[...] Meanwhile Sharon's personal troubles continue.
Investigators into allegations of corruption by Sharon and his son Gilad have been told some evidence was destroyed.
Comment: It is usually the US that demands statements on the situation in the Occupied Territories put their greatest emphasis on "Palestinian terrorism."
Click here to comment on this article
Palestine calls for int'l intervention in Israeli raids
www.chinaview.cn 2004-04-21 17:11:31
GAZA, April 21 (Xinhuanet) -- Head of the Palestinian general security services in the Gaza Strip Wednesday called on the international community to intervene and put an end to the Israeli raids carried out in the north strip.
Abdel-Razaq Al-Majayda denounced the Israeli military operation in Beit Lahiya, north of the strip, saying "I denounce this ugly crime that killed 11 Palestinians and injured 45 others."
"The immoral operation contravenes with all the international resolutions and human rights laws," he added.
Click here to comment on this article
Ghassan Charbel Al-Hayat 2004/04/19
Sharon is mistaken if he starts to celebrate. The Israelis are mistaken if they begin to applaud. Some bodies are immortal even if they were buried underground. Some of them resist and then they wake up again. They stand up, walk and then ring the doorbells. They strike the settlers and settlements causing them to bleed. They erase the Western writings and they replace the names of the streets with their original names. Some corpses deprive their murderers from sleep and deprive the occupier from peace of mind. Some spread into mines and suicides.
Abdulaziz Al Rantissi learned during his early days that the occupation is ruthless and that the world pays no attention to the weak.
Click here to comment on this article
What's behind Bush's endorsement of Sharon plan?

US President looks to Jewish, conservative Christian voters in backing Sharon's controversial plan.

By Patrick Anidjar - WASHINGTON

US President George W. Bush enraged an Arab world already alienated by the Iraq war with his green light to Israel to keep some settlements on the West Bank, but the move may earn him favor with some Jewish and conservative Christian voters, analysts said.

Bush's radical shift in decades-old US policy toward the Middle East comes less than seven months before the November 2 presidential election, which, like the 2000 vote, is expected to be a close race.

Standing alongside Israeli Prime Minister Ariel Sharon, Bush on Wednesday swept aside prior White House policy, including that of his father, George H.W. Bush, who even conditioned US bank guarantees for Israel to mark his opposition to Israeli settlements.

As well as supporting Sharon's plan to keep some West Bank settlements on land claimed by the Palestinians, Bush also ruled out a return of Palestinian refugees to what is now Israel.

The moves were welcomed by representatives of the 5.5 million-strong US Jewish community, which traditionally votes Democratic.

The American Israel Public Affairs Committee, a pro-Israel lobby in Congress, described them as "an exemplary display of historic cooperation between two allies."

Jonathan Lincoln, a Middle East policy expert at the Council on Foreign Relations, said that Bush may have earned some points with Jewish voters, whose support could prove critical in a tight contest in November.

"Certainly the image of an Israeli prime minister and a US president side by side, almost exactly the same on all the issues, is something that will resonate very strongly among the Jewish community in this country," Lincoln said.

"If you can sell an illusion of progress in Iraq and an illusion of progress on the Palestinian-Israeli front, then this is good for Bush going into November," he said.
Comment: Selling illusions indeed. If you can, over a period spanning many decades, sell the illusion that Americans are "free" and the "greatest nation on earth", you can also ensure that it will only be when you take away the very last vestige of their physical freedom that the people will begin to realise what is happening, and of course, by then it is much too late.
Blair condemns Israel and opens rift with US
Ewen MacAskill in Jerusalem and Patrick Wintour
Tuesday April 20, 2004
The Guardian
Tony Blair distanced himself from Washington yesterday by pointedly condemning the Israeli assassination of the Hamas leader Abdel-Aziz al-Rantissi at the weekend.
George Bush's administration refused to criticise the killing and said Israel had a right of self-defence.
Mr Blair told parliament: "We condemn the targeted assassination of Hamas leader Abdel-Aziz al-Rantissi just as we condemn all terrorism, including that perpetrated by Hamas."
While Mr Blair has been quick to condemn Palestinian suicide bombings against Israel in the past, he has been less ready to criticise action against Palestinians.
What makes this intervention even more stark is that it was made on behalf of the leader of an organisation that has launched hundreds of suicide attacks against Israel over the past four years.
Mr Blair could have opted, as he has done in the past, to leave the criticism to the foreign secretary, Jack Straw, who condemned the assassination at the weekend.
Wednesday April 21, 09:40 AM
GAZA (Reuters) - A sonic boom has shaken nerves in Gaza City, four days after Israel killed a Hamas leader in an air raid on the Gaza Strip, witnesses say.
The boom came on Wednesday hours after Israeli troops killed five Palestinians in a raid in the northern sector of the seaside strip. Israeli war planes flying over Gaza City caused the sonic boom, witnesses said.
Israeli troops killed the five Palestinians, including at least three gunman, during a raid into Gaza to stop reprisal rocket attacks for the assassination of Hamas leader Abdel-Aziz al-Rantissi.
A column of tanks backed by helicopter gunships struck into the northern Gaza Strip town of Beit Lahiya before dawn, searching for militants firing makeshift rockets at Israeli towns and Jewish settlements. [...]
Click here to comment on this article
The last time you went to the grocery store, how many groceries did you get for free? Or how about clothes - when shopping at a department store or even a discount store, did you get any clothing for free? Everyone knows and accepts that in this world, you don't get something for nothing. When we go to work, do we expect that we will be able to sit around and drink coffee all day and gab and still be able to keep our jobs - and our paycheck? Of course not. We might like to get everything for free, but in our normal lives, this idea is just a dream. Most people would claim that they don't expect to get something for nothing, yet when it comes to perhaps the most important aspect of our existence - our very being - most people give nothing and expect everything.
In organized religions, there are many rules. If these rules and regulations are contemplated carefully, one might realize that they make very little sense. Yet millions upon millions of people around the world will engage in prescribed rituals - perhaps attending a weekly mass that consists of nothing more than automatically and monotonously repeating certain phrases - and expect that, upon their deaths, they will be given a place behind the great pearly gates of some sort of eternal paradise. The very idea is preposterous.
Normally, we work something like seven or eight hours a day, often to make only enough money to survive financially. Yet we expect that after attending some religious service for an hour or two per week, we will achieve salvation. One might argue that leading a "religious" life involves more than just attending mass - we are told we must live according to the aforementioned rules. From numerous historical events such as the Inquisitions, we see quite clearly that those who claim to follow all the rules rarely actually do so. Instead, they pick and choose which rules to follow, or invent their own interpretations to justify whatever heinous crimes they would like to commit. And, of course, such individuals certainly expect the wonderful eternal paradise as a reward for their totally nonsensical and often times diabolical behavior. Given the option of an easy path to "salvation", these people want to make it even easier.
Thus we observe that most people give nothing in their daily lives. We give nothing of true value to the universe, yet we expect all in return. In general, we are not even capable of being honest with ourselves. We do not know ourselves in that we are unaware that what we refer to as "I" actually consists of numerous "little I's" based on societal and personal programming. It seems that the first step is to give something back in the form of work on oneself, to rid oneself of the 'A' influences. Not surprisingly, this is not easy to do by any stretch of the imagination. While that may not sound like any fun, we don't expect to get food, clothing, or a fancy car or house for free, and we gladly work like dogs to achieve these material objectives. Work on the self is not like fast food. Organized religions or the New Age movement would have us believe that there is a drive-thru window we can go to in order to obtain our highly processed salvation product - on a bun, with special sauce. There is no "drive-thru" window.
Many people still believe that there is a short and easy path. Americans are a prime example. On the Signs page, we have endeavored to outline repeatedly just how the powers that be lie to the masses, how the media is manipulated, and how life as it is generally perceived is essentially an illusion - a lie. It appears that the majority of Americans really have no clue of the actions their government has taken recently in their name. One might conclude that the majority believes that as long as the threat is "over there", as long as Homeland Security will protect them, as long as their jobs and grocery shopping and purchasing of other material goodies remains relatively undisturbed, life will go on as usual and they will "owe" nothing. The truth seems to be quite different. Consider the following article from a former CIA analyst:
Only Major Policy Changes Can Help Washington Now

By BILL CHRISTISON
former CIA analyst
April 21, 2004

By November, the Roman circus of this U.S. election year may rival the old Barnum-and-Bailey "Greatest Show on Earth."

A couple of acts in the great show have recently been getting new publicity in the nation's capital. Both the Bush administration and the 9/11 Commission (already part of the circus) have talked about establishing a National Intelligence Director and possibly even organizing a new Domestic Intelligence Agency, in what is quite clearly an attempt to distract the attention of voters from more important foreign and domestic policy issues. Actually implementing either of these proposals would in fact be a waste of time and money. Of course, in the absence of other deficiencies, wastefulness alone would not stop either the Republicans or the Democrats if they felt a little waste could improve the distractive potential of the circus.

In the last few years, the U.S. government has already increased its annual spending on intelligence matters from something under $30 billion to nearly $40 billion. Setting up two new agencies -- one to support a national intelligence czar, and another for domestic intelligence -- would increase the already absurd number of bureaucracies in the so-called intelligence community from 15 to 17 and would raise spending levels even higher. People are already falling over each other in this mess of agencies. In addition to CIA stations in most embassies around the world, the FBI now has its own facilities in many of the same embassies. It is a safe bet that fewer people and agencies are needed, not more.

Most Americans do not realize it, but the massive intrusions of both our intelligence and our military operations around the world are seen by other peoples as a mockery of our supposed ideals of democracy and freedom. Inside the U.S., establishing a separate domestic agency for intelligence would inevitably reduce still further the degree of real democracy, freedom, and privacy available to citizens.

Why do citizens of the United States even consider allowing these things to happen? The answer seems be that most Americans do not care much about either the foreign or the domestic policies of their own government, unless those policies directly and immediately hurt them or their families.

Most have so far simply acquiesced in Bush's view that the only good responses outside our borders to September 11 are warfare and covert actions wherever the administration decides they are necessary. Similarly, most have also acquiesced -- as long as they personally are not seriously inconvenienced -- in the view that repressive actions against civil liberties are necessary here at home to keep "evil" people from crossing our borders and carrying out further acts of terror.

But neither present nor future military and covert adventures abroad, nor expanded internal security measures at home, will prevent future terrorism against the U.S. and its allies. [...]

There is another development in the intelligence arena that may add to the distractions of the 2004 election. In the past month or so, several reports have been received of special U.S. units in Iraq having received shipments of unknown types of weapons of mass destruction (WMD). These U.S. units have allegedly hidden the weapons in various locations, where they can then be "found" at some future date and announced to the world in a major PR coup for Bush. These reports have come from Iranian sources, and they may in fact be provocations from Iranian intelligence, intended to discourage the administration from indulging in such fraudulence.

On the other hand, Bush himself, in his prime-time news conference on April 13, talked at some length and quite repetitiously in one of his responses about "how deceptive the Iraqis had been . . . deceptive at hiding things. We knew they were hiding things." Was it a little odd for the President to be talking this way at such a late stage in the Iraqi WMD game? Was it just one more puerile and meaningless response at the press conference, or is it conceivable that Bush was preparing his audience for a later "I told you so" statement -- a statement he knew he would be able to make fairly soon? If any WMD do turn up, arguments over their legitimacy could exhaust (and distract) the media and the defectively thinking faithful of both parties for a long time. Bush could easily come out the winner, unless the evidence that he was lying was incontrovertible.
We have seen in recent days with the 9/11 commission that evidence of Bush's lies seems to be completely ignored. Bush and his handlers could easily arrange the importing of WMD's into Iraq for a a publicity stunt that would put the aircraft carrier landing to shame. Add in Rice's comments about possible terror attacks around election time, and Bush may not have to worry about rigged voting machines or miscounts.
Just as in Roman times the fights among gladiators and other spectacles did not really matter, none of the issues discussed above really matters either. Not one contributes meaningfully to solving the problems of war, terrorism, hatred, and injustice that plague the world. To work on such problems -- undeniably the important ones -- we first have to recognize that the U.S. itself perpetrates most of the warfare and injustice that in turn provokes most of the hatred and terrorism, and therefore that it needs to change its own foreign and military policies. So far, the Bush administration has refused to recognize any of this, and in just the past few weeks has caused the hatred against us to grow further, by widening the conflict in Iraq and forging a closer Bush-Sharon partnership that makes a just resolution of the Israel-Palestine conflict less likely than ever.

The following truths should be branded into the brain of every U.S. elected or appointed official possessing any influence over future U.S. foreign and military policies: a majority of the world's people believe that the chief culprit in the world today--that is, the chief pursuer of unjust, aggressive foreign and military policies--is the United states itself, and particularly the Bush administration. Beyond the very near future (no more than one or two years from now), this situation will almost certainly make the present U.S. position in the world untenable.
The author writes, "Why do citizens of the United States even consider allowing these things to happen? The answer seems be that most Americans do not care much about either the foreign or the domestic policies of their own government, unless those policies directly and immediately hurt them or their families." From the following article, we see that Bush's policies may indeed start to more directly affect many American families.
Senator says US may need compulsory service to boost Iraq force

Tue Apr 20,12:34 PM ET

WASHINGTON (AFP) - A senior Republican lawmaker said that deteriorating security in Iraq may force the United States to reintroduce the military draft.

"There's not an American ... that doesn't understand what we are engaged in today and what the prospects are for the future," Senator Chuck Hagel told a Senate Foreign Relations Committee hearing on post-occupation Iraq.

"Why shouldn't we ask all of our citizens to bear some responsibility and pay some price?" Hagel said, arguing that restoring compulsory military service would force "our citizens to understand the intensity and depth of challenges we face." [...]

The call to consider imposing a draft comes just days after the Pentagon moved to extend the missions of some 20,000 of the 135,000 US troops in Iraq.

Some critics of the US-led occupation complain that military planners used too few troops to subdue Iraq, and insist that more military muscle will be needed to restore order. [...]
Of course, sending more American troops to Iraq will only cause the resistance movement to grow even stronger. The situation will worsen, and the draft will be a necessity.
Richard Perle, a former White House adviser who currently serves as a fellow at a conservative think tank, advised against adding troops or extending the date of handover of Iraqi sovereignty beyond the currently-set June 30 date.

"It is essential that we not delay the handover of sovereignty set for the end of June, even if there is continuing violence by those who know they have no place in a decent, democratic Iraq," he said.

Perle also warned against entrusting the United Nations with the post-occupation administration of Iraq, saying UN involvement should be kept at "an absolute minimum."

"A large UN contingent in Iraq ... would do more harm than good," Perle said.

"It would discourage the assumption of sovereignty by Iraqis themselves. It would drain resources urgently needed for the development of Iraq's economy," Perle said. [...]
A large UN contingent in Iraq would prevent the Iraqis from running their own country... and how exactly does the US occupation help? If anything, UN approval and financial and material aid from the international community might be the only things that would end the recent violence in Iraqi towns like Fallujah. If it becomes blatantly obvious that Iraqis despise their American occupiers, why not reduce the US presence and support a multinational coalition to rebuild Iraq? At this point, it is highly unlikely that this will happen - the likes of Perle and Wolfowitz are finally on a role with their Project for a New American Century, and they don't intend to stop now. Perle has rather conveniently distanced himself from the Bush administration, at least officially. Given Kerry's stated intentions of accelerating the so-called war on terrorism, someone like Perle may even prefer Kerry over Bush. It seems that Kerry's plans for America would require a much larger military.
Perhaps mandatory military service for all Americans is a good idea. At this point, it is all too easy for most Americans who do not have loved ones in the military to sit back and watch the horror their nation is unleashing upon the world from the comfort of their living rooms. There is no real personal involvement in the chaos of Afghanistan and Iraq. We don't imagine that a new draft will change the opinions of such Americans. They will view their news jobs as cannon fodder for the powers that be as a service to their country. It seems that those who accept the lies of their leaders are living in a dream world. They may find themselves to be only a dream in the past.
On the other hand, there are those who seek to know themselves and their world as objectively as possible. They see Bush's lies. They see that the upcoming election holds no real choice for them, especially since Bush was never really elected in the first place. They see that they are presented with choices that aren't really choices - and as a result they act in favor of their own destiny, against the brainwashing of their culture and media. They realize that no one will do the difficult work of purging their being of the biases and programs that so cloud their vision. Such individuals are, each in their own way, the hope of the future.
Click here to comment on this commentary
Spanish Withdrawal Turns Tables
Ghassan Khoury Al-Hayat 2004/04/20
[...] The new Minister of Defense, before he was even appointed, met secretly with the American Secretary of Defense Donald Rumsfeld in the U.S. However, the Spanish media was able to reveal the occurrence of such a meeting without revealing its content. It seemed that the American administration told the Spanish minister its rejection to putting the American troops under any leadership other than the American leadership. The Spanish FM Miguel Angel Moratinos, who had cooperated with the Americans for seven years in the Middle East, knows the exact implications and meanings that the Americans use. He has been saying for the past few days that the security situation in Iraq is getting worse day after day, and is getting more difficult to control the situation. However, he had repeatedly said in the past, "We should stand with the Americans and not against them."
It appears that he was able to gather from the Americans and the UN, that it is impossible for the UN to administer the political conduct in Iraq in light of the chaos and the total anarchy in that country. It was then that he clearly understood that the Spanish troops would be coming home soon. This was in addition to the information that the Spaniards received regarding the intended American military strategy in the city of Najaf. The Spanish troops are present in that city, and the Spanish government does not plan to participate in these military operations.
Click here to comment on this article
At least 68 killed in southern Iraq attacks
Bomb attacks on three Basra police stations, police academy in Zubair kill at least 68, wound 98 others.
By Nawfal Hashim - BASRA, Iraq
At least 68 people were killed and 98 others wounded, most of them policemen and schoolchildren, in a series of five attacks against police in this southern port city and nearby Zubair, according to an updated official toll.
Basra provincial governor Wael Abdel Latif announced the new toll, saying three attacks occurred in Basra and two against a police academy in Zubair.
"Sixty-eight people were killed and 98 others wounded" in Basra and Zubair, 25 kilometers (15 miles) further south, he told reporters. "Most of the victims are policemen and schoolchildren."
Abdel Latif warned the toll could rise still further as many of the wounded were in serious condition. [...]
Comment: Liberation reports that General Richard Meyers has called Falluja a "rat's nest" that needs to be "cleaned out." Those damn Iraqis just don't appreciate all that the US occupiers have been doing for their country. If they were only a little more patient, then the "trickle down" effects of the liberal economics the US is putting in place "to modernize" the country, would certainly start to reach them. Eventually. One day. But each day of fighting just pushes that day off further and further into the future.
Can't those ingrates understand that!? Of course they can't, because they are crazy ignorant Arab fanatics right? The ones that kill and maim indiscriminately, right? We suppose that we are expected to believe that the "insurgents" who, over the past few weeks, were able to carry out attacks on the US military with "as much skill and precision as US troops", are now unable to mount an attack without killing dozens of their own children, or that they actually enjoy killing their own children? Of course, this is a plausible idea, but only if you have never travelled to a foreign country like 75% of US citizens and are therefore extremely susceptible to lies and propaganda about other nations and cultures. The truth about the reason for today's attacks in Iraq is more likely to involve Israel. Israel and its fanatical representatives in Washington made the Iraq invasion a reality. Israel clearly has a vested interest in ensuring that Iraq never achieves the much-touted "freedom and democracy". And Israel, it seems, will do whatever it takes in order to incorporate Iraq into its vision of a "greater Israel".
Click here to comment on this article
Powell says coalition in Iraq remains strong
www.chinaview.cn 2004-04-21 11:00:40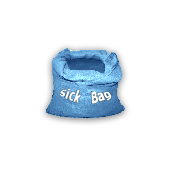 WASHINGTON, April 20 (Xinhuanet) -- US Secretary of State Colin Powell said on Tuesday that the US-led coalition in Iraq remained strong despite the decision by Spain and Honduras to withdraw troops from Iraq.
[...] "The coalition remains strong because I think the coalition members know that they are doing important, vital work for the Iraqi people, for the region, and for peace in the world," Powell said.
Comment: This from the man who told the UN that two empty trucks were Iraq's mobile WMD factories...
Just remember, all this horse manure spewed out by Powell and the like are not intended for people who have frontal cortex activity that shows up on brain scans. This is for the American public. It is election year lies destined solely for the domestic public.
Click here to comment on this article
The effect of US propaganda truly is awesome, but not necessarily for its scope, but for its insidiousness and depth. During the "cold war" era, while lesser regimes were limiting themselves to crass and obvious propaganda that was the product of some government office of "public relations", the boys and gals in the US had a much better idea. For propaganda to really be effective, they surmised, all government offices should disseminate the type of lies and half truths that ensure a compliant and zombie-like population. From defence, to welfare to the environment, the lie that America is "the greatest nation on earth" and other puerile nonsense should always be the underlying theme. Today the effects of this decades long, all pervasive campaign is reaping fantastic rewards from the point of view of those that sought to rob Americans of any ability to think or be for themselves. At some stage the propaganda became self sustaining with the American people themselves not only believing it but becoming its most vocal exponents and defenders. By seeding the minds of the people with belief in lies to the point that they themselves attempt to force it upon others, consecutive US governments have and continue to make the average American citizen co-conspirators and fully complicit in the their rapacious and bloody subjugation of the entire world. Consider the below article for example:
The somber task of honoring the fallen

By Hal Bernton
Seattle Times staff reporter
Monday, April 19, 2004

The aluminum boxes, in ordered rows, are bound by clean white straps on freshly scrubbed pallets. American flags are draped evenly over the boxes. Uniformed honor guards form on either side of the pallets as they move from the tarmac to the entryways of the cargo planes. There are prayers, salutes and hands on hearts. Then the caskets are carefully placed in cargo holds for a flight to Germany.

In recent weeks, military and civilian contract crews have loaded scores of these caskets onto planes departing the U.S. military area of Kuwait International Airport, south of Kuwait City. And the rituals are repeated over and over again.

"The way everyone salutes with such emotion and intensity and respect. The families would be proud to see their sons and daughters saluted like that," says Tami Silicio, a contract employee from the Seattle area who works the night shift at the cargo terminal. For U.S. troops, April has been the worst month of this war, with at least 94 service members killed by hostile fire.
What red blooded American would not be moved by the sight of the coffins of their fallen heroes, draped poignantly with the symbol of American democracy? Consider the comments of the employee tasked with stacking the coffins. All families, he believes, would be "proud to see their sons and daughters saluted like that". Why of course! What family would not want to believe that their son or daughter had died fighting for freedom and democracy and then honored for their ultimate sacrifice for same. Unfortunately, belief and reality are today caught on opposite sides of an ever-widening chasm, and it is only through choosing to align ourselves with objective reality and truth that we have the chance of not being dragged along towards some mythical "Armageddon" which seems sure to be made reality through the insane and delusional beliefs of our so called "leaders".
Dane Reported Missing In Iraq Found Dead
Click here to comment on this article
Australia says terror attack likely
Wednesday April 21, 08:28 AM
CANBERRA (Reuters) - There is a high probability of a terror attack in Australia with the country facing threats more serious than ever before, the government says.
But Attorney General Philip Ruddock said an attack on home soil was not inevitable.
"It's important to recognise the threats we face are graver than ever before and while I don't believe it is inevitable that Australia will be the subject of a terrorist attack, I note that many people believe that," Ruddock told reporters. [...]
Click here to comment on this article
Dominican Republic to withdraw troops from Iraq
www.chinaview.cn 2004-04-21 08:34:05
MEXICO CITY, April 20 (Xinhuanet) -- The Dominican Republic will follow Spain to withdraw its 302 troops from Iraq, Dominican Secretary of the Armed Forces Jose Miguel Soto Jimenez said Tuesday.
"Next week or the following week we will have them return home," Soto Jimenez announced in the capital of Santo Domingo after talks with President Hipolito Mejia.
Click here to comment on this article
Iraqi tribunal created to try ousted dictator Saddam Hussein
06:38 AM EDT Apr 21
BAGHDAD (AP) - Iraqi leaders have set up a tribunal of judges and prosecutors to try ousted dictator Saddam Hussein and other members of his Baathist regime, a spokesman announced Tuesday.
Salem Chalabi, a U.S.-educated lawyer and nephew of the head of the Iraqi National Congress, was named general director of the tribunal, and he has named a panel of seven judges and four prosecutors, INC spokesman Entefadh Qanbar said.
The tribunal, with a 2004-2005 budget of $75 million US, will also prosecute any members of Saddam's regime who are charged, Qanbar said.
Click here to comment on this article
The West Must Not Turn Its Back on Russia
By Andrew C. Kuchins
Russia's ties with the West have been experiencing growing tension of late. The Yukos affair, the conduct of the parliamentary and presidential elections, increasingly Soviet-like national television and other developments have contributed to what U.S. Ambassador Alexander Vershbow and others have diplomatically alluded to as a "values gap." Debates about Russia and its place in international institutions have become more heated. Similarly, Russia's stances toward the United States, NATO and the European Union have also become more contentious. Unfortunately many of these discussions are replete with dubious interpretations of revisionist history and patently unconstructive approaches from both sides. This has been especially true concerning the future of Russia's role in the G-8 as well as its ties with the newly expanded NATO.
Click here to comment on this article
Ruble Hits 3-Month Low Against Dollar
By Alex Fak
Staff Writer
The ruble dropped to a three-month low against the dollar Tuesday, as officials continued to talk down the national currency and the Central Bank signaled it would throw its weight behind the dollar.
The ruble fell for the fourth straight day in its biggest decline this year.
Click here to comment on this article
The duo of doublethink: Bush and Blair's pronouncements are becoming ever more Orwellian in their resolute defiance of reality
Jonathan Freedland
Wednesday April 21, 2004
The Guardian
[...] It seems long ago that critics branded the PM as "phoney Tony". Now we know that he is a conviction politician - with no greater conviction than his faith in his own rightness. What he is right about is a secondary matter; indeed, the opinion itself can change by 180 degrees within a few days. The important thing is that he holds it. Once he does, it becomes true. He knows he is right.
This is why yesterday's volte-face on the European referendum would have discomfited lesser politicians, but not Blair. He finds the change effortless. When he said, in October last year, that "There will not be a referendum" on the European constitution, because the changes in the document did not merit it, he knew he was right. And when he announced yesterday that there would, after all, be a national vote, he knew he was right again. There was consistency between the two positions: in both cases, Blair was certain of his own rectitude.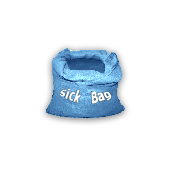 [...] It amounts to an unusual knack - to deny reality and keep smiling - and it can be unnerving to watch. But Blair is not the only man to be so blessed. As in so much else, he shares this trick of the mind with his soulmate, President George Bush.
Friday's performance at the White House rose garden was a display of the technique so virtuosic, requiring such intellectual gymnastics, the pair should take their show on tour in a political Cirque du Soleil. They could call themselves the Duo of Doublethink.
Naturally, Bush went first with a rapid-fire series of statements that stand at almost surreal odds with the truth. "Iraq will be free, Iraq will be independent," he promised, just as soon as the "transfer of sovereignty" is complete on June 30. But look at the reality. On July 1 Iraq will still have up to to 130,000 foreign troops on its soil as well as 14 "enduring" US military bases. Every move of the new authority - consisting of individuals handpicked by the American pro-consul Paul Bremer and with no democratic mandate whatsoever - will be subject to the approval of a "US embassy" which will administer some $18.4 bn in reconstruction funds and be the largest such mission in the world. Iraqi infrastructure, from the electricity grid to the courts, will be reshaped and run out of the embassy. Iraqi industry will be on sale to foreign ownership and the Iraqi military will still take its orders from the US commander. So June 30 will not be a handover of "sovereignty" at all, and Iraq will be neither "free" nor "independent", at least not according to any common-sense definition of those terms. Yet Bush and Blair continue to speak of the end of June as if it was Iraqi independence day.
And that's nothing compared with the rest of the Bush-Blair show. Behold the comedy of the president's declaration that "our coalition has no interest in occupation". Or the prime minister's insistence that no "outside" forces will be allowed to determine Iraq's future - as if the US and British armies are not outside forces doing precisely that. These are examples of doublethink to rival Bremer's exquisite remark to an American interviewer earlier this month that the Iraqi resistance is made up of people who "think that power in Iraq should come out of the barrel of a gun. That's intolerable and we will deal with it". (Where does the coalition's power flow from, if not the barrel of a gun?)
Perhaps the problem is one of self-awareness. Maybe Bush, Blair and Bremer do not see that they are heading a US and British occupation of Iraq, and genuinely forget that they are outsiders ruling the country. Or maybe there is a wider error here. For the doublethink spreads far. Witness Blair's assertion that "we have been involving the UN throughout" - when the one thing everyone knows about this war is that it was waged without the involvement or backing of the UN. Or Blair's breezy reassurance that from now on "the UN will have a central role", as if he had not noticed that, one year ago, he stood beside Bush in Belfast and watch him repeatedly promise the UN a "vital role" which never came. Does the prime minister not see reality? Or does he think the rest of us won't notice?
Iraq is not the only Orwellian zone where black is white and day is night. With a straight face, Bush turned to the Israel-Palestine conflict and declared that "we're not going to prejudge the final status discussions" - even though not 48 hours earlier he had stood next to Ariel Sharon and done exactly that. Bush had prejudged two aspects of any future negotiations, explaining that Israel would be allowed to keep key settlement blocs on the West Bank and bar Palestinian refugees from returning to homes in Israel. Both of these steps might indeed be part of an eventual negotiated settlement of the conflict, but Bush made up his mind in advance. "No one's prejudging those" matters declared Blair last Friday - except the man standing right next to him.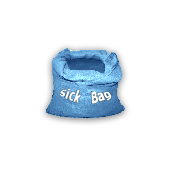 On and on they go, announcing that the Earth is flat. "This is not a unilateral attempt to impose a settlement," said Blair of the Bush-Sharon pact, when even he must know that the very reverse is true. But he says it anyway, with steady-eyed certainty. The road map is not dead; Iraq is free; the referendum is now good; and, as Orwell might have added, war is peace.
There will be some who believe this is not doublethink so much as plain dishonesty, that Blair and Bush know they are wrong, but aim to deceive. I am not so cynical: I suspect they have both, and Blair especially, created a moral universe with an internal logic of its own. In this universe, London and Washington know what's best for Iraq and anyone who opposes them is therefore an enemy of Iraq - even if they are themselves Iraqi. If the people of Falluja rise up in protest, then they must be killed, even in their hundreds, for they are acting against Iraq. To echo a former era, the coalition is bombing the city to save it - killing Iraqis to save them.
Others will have a crueller diagnosis. They will say that Blair and Bush may not be deceivers, but are losing their grip on reality. One interviewer asked as much of the prime minister at the weekend. This too is probably an over-reaction. Blair might be neither a liar nor a lunatic, but simply a man unable to believe he can ever be wrong. This makes him resolute and strong, which are advantages in a leader. But it also prevents him seeing the origin of past mistakes and therefore putting them right in the present or preventing their recurrence in the future. He knows he is right - and so continues to go wrong.
Comment: A person with a "moral universe with an internal logic of its own" would accurately describe a psychopath. A psychopath can lie with a straight face, then turn around and change his story five minutes later when caught out, all the time making the accuser feel shamed for pointing out the lies. One cannot negotiate or discuss with psychopaths, as Mubarak of Egypt found out during his latest visit to the US. Bush was ready to change thirty years of US policy and never mentioned it. When questioned, Bush insists that US policy hasn't changed.
When Blair says the UN was "involved" throughout, he believes it. That the UN was involved in trying to stop the US and Britain doesn't matter. They were involved.
After reading about Bush and Blair, their doublethink, their "internal universe with a logic all its own," let's look at this analysis of the appointment of John Negropone as US ambassador to Iraq. We discussed Negroponte and his own "logic" yesterday: torturing women and throwing them alive out of helicopters to their deaths is not a "death squad." Today we find out that this august diplomat is NOT one of Washington's hawks! His champion is that well-known "dove" Colin Powell.
Click here to comment on this article
Negroponte: America's voice of experience
Simon Jeffery
Wednesday April 21, 2004
When the US officially ends its occupation of Iraq, on June 30, much of the handover will at first be symbolic.
The main event will be the departure of Paul Bremer, the urbane head of the administration in the country, who announced Saddam Hussein's capture with an understated: "We got him."
In his place comes John Negroponte, a man who once wore a stars-and-stripes tie to a meeting of the UN security council he attended as Washington's ambassador to the body.
While Mr Bremer was the US's administrator in Iraq, Mr Negroponte will be its ambassador, but the job will be much the same: being America's number-one civilian in the Middle East. His embassy will be the biggest in the world.
London-born Mr Negroponte, 64, cuts a controversial figure.
For many, he will always be identified by his role in the 1980s, when he assisted the rightwing contras of Nicaragua in their illegal war against the Sandinista government when he was ambassador to neighbouring Honduras.
At the time, the Central American country, used as a base for attacks against leftwing groups, was known as "USS Honduras".
Before he took up his present job, representing the US at the UN, he was forced to deny allegations that he turned a blind eye to human rights violations, including death squads, in the region.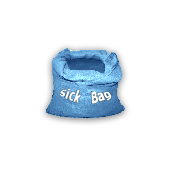 But Mr Negroponte is not an out-and-out Washington hawk.n fact, his appointment was championed by Colin Powell, secretary of state and unofficial head of the anti-hawk faction, who wanted to see a professional diplomat in Baghdad above a Pentagon placeman.
It was also Mr Powell who put him up for the UN job.
More than anything else, Mr Negroponte is a career diplomat with the kind of experience needed for the toughest job in the American foreign service.
At the UN, his posting since 2001, he worked to expand the role for international security forces in Afghanistan after the Taliban fell, so he knows the international body well.
The exact makeup of post-handover Iraq is uncertain, but there are increasing calls - reportedly being heeded in Washington - for a greater role for the UN.
"He's an experienced diplomat, and we need an experienced diplomat in Iraq," Danielle Pletka of the rightwing thinktank the American Enterprise Institute told the Associated Press news agency.
"Given that we seem to be putting more of our eggs in the UN basket, he is the man with the most experience for that."
There is another side to Mr Negroponte's CV that makes him suitable for Iraq.
As the US ambassador to the UN, he steered resolution 1441 - the one that sent weapons inspectors back to Iraq - to unanimous approval, and was present for most of the wrangling over Iraq before and after the war.
Germany's ambassador to the UN, Gunter Pleuger, considers this his greatest asset.
"He knows the problem right from the beginning here at the United Nations, and so I think it's a good choice," he said.
Comment: Yeah, he knows Iraq. He was pushing the line it had WMD's. He was pushing the line that Saddam was linked to Al-Qaeda. Maybe his appointment has something to do with the next article...
Click here to comment on this article
Charade in the Sands - Bush Stashes WMD in Iraq
By MIKE WHITNEY
April 21, 2004
"I thought it was very interesting that Charlie Duelfer, -- he's the head of the Iraqi Survey Group -- reported some interesting findings from his recent tour there. And one of the things was, he was amazed at how deceptive the Iraqis had been toward UNMOVIC and UNSCOM; deceptive in hiding things. We knew they were hiding things -- a country that hides something is a country that is afraid of getting caught. And that was part of our calculation. Charlie confirmed that. He also confirmed that Saddam had a -- the ability to produce biological and chemical weapons. In other words, he was a danger."
President George Bush, April 13 Press Conference
"Even knowing what I know today about the stockpiles of weapons, I still would have called upon the world to deal with Saddam Hussein. See, I happen to believe that we'll find out the truth on the weapons. That's why we've sent up the independent commission. I look forward to hearing the truth, exactly where they are. They could still be there. They could be hidden." - Bush 4-13-04
"But it will all settle out, John. We'll find out the truth about the weapons at some point in time." - Bush 4-13-04
It is difficult enough trying to unravel the current set of White House fabrications without having to anticipate the next wave of lies bubbling up to the surface.
It's a full time job.
In this case it seems that critical clues in the Bush Press Conference may have been passed over without proper scrutiny because so much attention was devoted to the 9-11 investigation and the continuing turmoil in Iraq.
The President's quotes (above) however, imply that there could possibly be a major development regarding the missing WMD's in the very near future.
A careful reading of the text shows Bush trying, once again, to prove that Saddam was skillful at "hiding things" and a "master of deception."
At the same time, Bush demonstrates surprising confidence that after a year's time, we will "find out the truth about the weapons."
Why the sudden burst of confidence?
Does Bush know something we don't know?
"The President's self assurance is conspicuous in his final remark, "But it will all settle out, John. We'll find out the truth about the weapons at some point in time."
Really?
Again, how is it that after 1,400 weapons inspectors have spent a full year searching for any trace of the phantom weapons, and the President's own man (David Kay) has filed a detailed report that such weapons never existed during the 1990's, Mr. Bush is still brimming with confidence?
Why?
Bush's comments probably would have passed unnoticed if it wasn't for recent reports that suggest that the Administration may be planting weapons in Iraq right now. Certainly, the present chaos would provide the necessary cover for smuggling in the weapons and hiding them in a believable location.
An article by Professor Ira Chernus that appeared in Common Dreams said that, " U.S. forces secretly unloading parts for long range missiles in Southern Iraq."
He continues by saying, "Mehr News Agency has discovered, through a source in the Iraq Governing Council, that the U.S. has been secretly unloading parts for long range missiles in Southern Iraq. It seems as though "ordinary cargo ships were used to download the cargo, which consisted of weapons produced in the 1980's and 1990's." It also appears that the weapons being unloaded are weapons that the "U.S. obtained through confiscations during banned arms sales over the past two decades." According to the Mehr News Agency's source, "the parts are old ones, just like the kind the U.S. gave to Saddam Hussein in the 1980's."
Another article states that the weapons parts are being transported around Iraq in crates marked Maersk in trucks with fake Jordanian license plates. Apparently, a member of the Iraqi Governing Council discovered what was going on and contacted an Iranian news service.
Of course, all of this sounds very "conspiratorial." The only thing that makes it seem at all believable is that the charade is being carried out by the Bush Administration, whose record of misleading the public is already impressive. Hiding WMD would just be one more in a long list of deceptions.
No one would be the least surprised if Bush and his cadres were pushing missals into the dessert sands right now; in fact, we'd be surprised if they weren't.
Comment: What will you do when Bush announces, as he probably will, that Iraqi WMDs have been found? Even the more liberal US citizen could possibly be forgiven for secretly retaining hope, somewhere deep down, that their once "great country" can somehow be restored to its former "greatness". Do not doubt that the US government is aware of this and will use it against its citizens in a way that shows the truth of the idea that government knows the minds of its citizens better than the citizens themselves. After all, the average American mind is little more than a reflection of social norms, beliefs and values that they receive each evening as they sit in front of their "boob tube", all of which (including the television) are a creation of the ruling "elite". Televised propaganda is so effective in programming the minds of the people because it combines spoken word with emotionally laden images to drive the lie home. In the benevolence and desire to spread freedom and democracy, the US government has decided to "share" (read impose) the been fits of US media presentations with the Arab world....
Flashback: Arabic-language US television takes aim at 'CNN of the Arab world'
Washington attempts to restore the very bad image of America in that part of the world: expert.
By Patrick Anidjar – WASHINGTON
The United States is preparing to launch an Arabic-language television station in the Middle East, as part of a media counterattack aimed at boosting the US image in the region and reducing the influence of Al-Jazeera, the "CNN of the Arab world."
The still vague contours of this project that has been under discussion in the US capital for several months appeared in the 2004 budget proposal presented by the Bush administration to Congress on Monday.
As the State Department explained it, it is a question above all of making progress in efforts related to the war against terrorism.
Anxious since the September 11, 2001 attacks to better deliver its message to the Muslim world, the White House will allocate 563.5 million dollars -- up from 507 million dollar in the 2003 budget -- to the Broadcasting Board of Governors (BBG) in charge of radio and television broadcasts targeting foreign audiences.
The share of the Middle East Television Network (METN) in this budget will be 30 million dollars.
"Of course it is an attempt to restore the very bad image of America in that part of the world," explained professor Laird Anderson, an expert in communications.
"I cannot imagine another reason to have it, except to counteract what Al-Jazeera does in trying to spread its own message," he pointed out.
In addition, the Americans protested what they saw as Al-Jazeera's biased coverage of the Israeli-Palestinian conflict, and its references to Palestinian suicide bombers as "martyrs."
A few weeks after the September 11 attacks, US officials complained that the Arabic network had adopted anti-American positions when the United States launched military strikes against Afghanistan.
However, the message's content remains an issue.
"The US has a good message," argued Anderson. "Let it spread it!"
Comment: The important point is that, just as one mans "martyr" is another mans "terrorist", we need to ask ourselves just who is the US message "good" for. Naturally it is good for the powers that be in the US, but are we to assume then that this is "good" also for everyone else? This world is clearly about polarities, there are many differing views on "reality". Our task is to decide if we are happy to allow others to choose for us and hope that we make the right choice, or if we need to make our own efforts to understand "what is" and make our own choice based on what we See.
Click here to comment on this article
A Woman in Tucson is Screaming, Crying

By Saretta Wool
April 18, 2004

In my 56 years on this beautiful planet; our home and mother, I have never seen the ravages of male recklessness, violence, oppression, and war so predominant and frightening as now. Gentlemen, and I use the term loosely, you have gone too far! You are destroying our food, water, and safety on the planet! Enough!
George Bush and his mafia of thugs and criminals are the first to be indicted. (And let's throw in the Bush Women). I've had it with all of them! They are like festering boils on the ass of our nation. They are bad children turned into disturbed adults. They are dangerous and are endangering everyone on the planet. I don't want to hear anymore whining and sniveling about God, Jesus, Allah, or whatever big boss they say they are serving. They are serving themselves at our expense. When one seeks to dominate others the result is oppression and it is clear by the uprising and revolt world-wide that domination by any means is not going to work anymore. Thus the bloodbath in Iraq. The Bushies can take all their religious dogma and fanaticism and throw it on the pyre with the corpses they create.
Since 1947, the US has invaded, bombed, intervened with military, or declared sanctions against at least 45 countries: France, Italy, Philippines, Peru, Vietnam, Nicaragua, Greece, Egypt, Lebanon, Japan, Cuba, Dominican Republic, East Timor, Zaire, and Haiti, to name a few. Since 1948 the US has slaughtered over 8,913,744 (eight million nine hundred thirteen thousand seven hundred forty-four) civilians on this planet, with no remorse. This does not include up to 11,000 Iraqi civilians killed in the past year. Along the trail of US invasion, during the last ten years, is depleted uranium which no one wants to talk about until they see the images of the deformed American babies and the American troops suffering with and who will likely die from radiation poisoning. Depleted uranium destroys the genetic structure (DNA) and the immune system. (Of course the soil and water, too) This answers the universal question of "Why do they hate us?" It sure as hell isn't about freedom. .
Now, in defense of the American people, before we're attacked again. During the past twenty-five years (maybe longer) the US government has been deliberately and methodically "dumbing-down" America through a controlled media/blackouts, constant slashes to education and state infrastructures, cutting of veteran benefits, loss of jobs, and social programs. Most Americans do not know of the atrocities committed in their name, mentioned above.
Basic needs are not met for thousands of Americans. There is no health care program. The introduction of tons of corporation (not farm) produced junk food (solid and liquid) for purchase and consumption at fast food joints and gas stations has filled American bodies with sugar, preservatives, hormones, and chemicals. And yes, world, Americans are stupid. We have been stupefied by the "dumbing down" process. Some of us even believe that arrogance is a substitute for intelligence. Some believe that war is peace. A lesson from our "leaders". And of course, the television and media, the mainstay of our existence, owned and controlled by the friends of the master fascists, add numbing to the dumbing.
We languish on our sofas, satisfied, pacified by state sponsored TV, swallowing lies, becoming obese and complacent. Thus we do not have to think. A fine set up for the overall perpetration of massive mind control, manipulation, and use of propaganda and misinformation by the US government. And, oh yes, we have become a police state on top of that, thanks to AshCroft. So just in case any one of us gets out of hand, speaks to our neighbor, or just plain wants to rant about old dickhead Cheney, the cops will jump right on us, press pepper spray in our eyes, and haul us off somewhere to be detained indefinitely or maybe beat us to death with a black hood on our heads and our hands bound behind our backs.
When the world wonders why Americans aren't standing up for their rights, furious, outraged, and forcing the fascists out, part of the answer is that many are unable to take action because they have become the walking dead, led to that condition by government induced fear over may years. Sheep to the slaughter.
There are also millions of us in the US who are fighting these bastards, in the ways that we are able. We are writing, reading, meeting, talking, protesting, and making international connections. Some of us are armed and are preparing for local rebellion. We could try some basic self-defense techniques on them such as the eye gouge, or kicking them in the balls. We could catch them with their pants down. Some of us may even vote. But as others around the planet in tribunals and social forum come together; perhaps they'll have different solutions. I hope so because we need support here. I still cling to my life-long commitment to the non-violent resolution of conflict.
Mandela was right about Bush though: Bush (and his mean and nasty gang) is the greatest threat to world peace on the planet. Bush's claims to fame are lying, cheating, stealing, murder, wanton destruction of the planet, and treason. There may be more.
We are dealing with psychopaths. They must be restrained. They must be indicted, confined, expatriated, and incarcerated. They have betrayed the trust of the people of this country and the global community.
Iraq - The $700 Million Question
Desperate to damp down outrage from Congress, the White House and its allies yesterday spun out various responses to Bob Woodward's allegation that the administration secretly took $700 million from the hunt for al Qaeda in Afghanistan and diverted it into Iraq war planning in 2002. Yet no one provided any proof that Woodward's charges were inaccurate. As a new American Progress backgrounder shows, if Woodward's charges are true, the administration's actions not only raise constitutional questions, they also raise statutory questions; federal law required the president to notify Congress before moving any money. While the administration sent two documents to Congress outlining some spending, both the 8/9/02 and 10/17/02 White House notifications in question said nothing about Iraq, instead only mentioning deliberately vague things like " increased situational awareness " and " increased worldwide posture
Comment: The Israeli/US government sponsored attacks on 9/11 were designed to, and succeeded in eliciting an emotional outpouring from the American population. That emotional deluge was used to manipulate (read steal) vast amounts of money from the American people to finance the "war on terror". The problem is that the "war on terror" is bogus, as can be clearly seen from the above article. The deaths of approx. 3,000 US citizens on 9/11, at the hands of the Israeli government and Pro-Israel elements in the US government, were used to force the remaining US citizens to support their government in murdering 5,000 Afghan civilians, and later 11,000 Iraqis men women and children. While there is, as yet, no smoking gun, based on the available evidence, this hypothesis is by far the most probable. American citizens, by allowing themselves to be manipulated and believing government lies, particularly in the face of available evidence that points to the truth, bear direct responsibility for the actions of their government.
Click here to comment on this article
National Security Adviser Condoleezza Rice told CBS's Face the Nation that, while she had no details about the $700 million, circumventing Congress was acceptable because Afghanistan and Iraq are " within the entire region." Her answer ignored the fact that Asia and the Mideast are separate geographic regions - more than 1400 miles separate Kabul and Baghdad.
By Rice's logic, this would mean Austin, Texas is in the same region as Nicaragua. In fact, the U.S. State Department has two separate bureaus and two separate Assistant Secretaries of State to deal with Iraq and Afghanistan. Her answer also ignores the fact that fighting Al Qaeda in Afghanistan (as approved by Congress) had nothing to do with invading Iraq
US Defense Science Board calls for strategic use of calmative chemical weapons
The US Defense Science Board, a senior advisory body to the Pentagon, has recommended exploration of the use of calmatives as strategic weapons. Calmatives, such as anesthetic or psychoactive drugs, are the same type of weapon was that tragically used at the end of the Moscow Theater siege in October 2002. The lethality of calmatives is difficult to predict, and will vary by the concentration and circumstances they are used in.
In its recently released report titled Future Strategic Strike Forces, the Defense Science Board (DSB) outlines new technologies to increase US long-range strategic capabilities over the next 30 years. The DSB suggests, "Calmatives might be considered to deal with otherwise difficult situations in which neutralizing individuals could enable ultimate mission success." The report names two categories of individuals as possible targets, advocating, "when striking rogue or terrorist leadership, the mission is to kill the leaders themselves" and "to decapitate regimes".
Comment: The bastion of "freedom and democracy"? Dropping chemical weapons on innocent women and children?
Click here to comment on this article
www.chinaview.cn 2004-04-20 21:54:50
BEIJING, April 20 (Xinhuanet) -- Foreign Ministry Spokesman Kong Quan briefed Tuesday's press conference on the visit of Robert S. Mueller, director of the Federal Bureau of Investigation (FBI) of the United States.
According to Kong, Mueller is making his first visit to China from April 19 to 21. Chinese State Councilor and Minister of Public Security Zhou Yongkang met with him Tuesday morning and exchanged views on the two nations' cooperation on law enforcement,counter-terrorism and fighting international crimes.
Click here to comment on this article
Sarko débarque à Washington (Sarko goes to Washington)
Par Pascal RICHE
mercredi 21 avril 2004 (Liberation - 06:00)
Liberation reports today that French Minister of Finance Nicolas Sarkozy is preparing big things for his first visit to Washington for the annual spring meeting of the IMF. He wasn't content with the company of his peers in the G7 or the IMF -- none of whom are Ministers of State -- and so he insisted on having meetings with National Security Advisor Condi Rice and Secretary of State Colin Powell. In Paris, they are saying that Sarko has no message in particular to transmit. "He's the number 2 in the government. He wanted a good visit, and it's normal and useful," said the source.
For their parts, Condi and Colin, having been informed by their agencies that Sarkozy was somebody worth watching, decided it would be good to meet with him.
Nicolas Sarkozy is not just anybody, and he intends to show them, continues Liberation. He surpised the French embassey in Washington by announcing that he would arrive in an official airplane, accompanied by seven armed bodyguards. "It's because he is the former Minister of the Interior," justified the source.
Liberation ends the article by noting that Sarkozy's predecessor, Francis Mer, arrived at IMF meetings by Air France, with his pack of cigarettes and one bodyguard. But Francis Mer didn't have the same ambitions.
Comment: Nicolas Sarkozy wants to be President of France. He makes no bones about it. He has a very elevated opinion of himself, as this report demonstrates. He is also one of the most pro-American politicians in France at the moment, representing the pan-Atlantic element on the French right. If Sarko had been president, it is very likely that France would have gone to Iraq.
He was recently made Minister of Finance, after passing two years as Minister of the Interior where he won great support with his work to make the French feel safe again on their streets. Chirac, who has not yet decided whether he will run again in 2007, doesn't want Sarkozy to replace him. He therefore gave Sarko the post of Minister of Finance at a time when the French economy is not strong, at a time when the government is implementing the neo-liberal economic policies started by Maggie Thatcher in the UK.
Click here to comment on this article
Les homosexuels pro-Bush veulent se faire entendre Pro-Bush Homosexuals Want to be Heard
Palm Spring (Californie) : Armelle Vincent-Arriola
Le Figaro reports from the conference of the Log Cabin Republicans, a group of rich, powerful, and very conservative Republicans who are also gay. Trouble is, they are being rejected by the ultra-right, ultra-protestant and homophobic fundie Republicans courted by Karl Rove.
"Homosexuality is a gift from God" affirms Michael Huffington, ex-member of Congress and extremely rich bisexual businessman. "We should therefore celebrate it and live freely. In spite of the incessant denigration of which we are victim, we are the most loyal group of Republicans."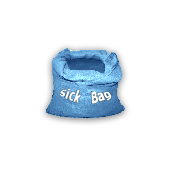 Trouble is, they have been betrayed by Bush. Just last December, Bush had privately expressed his sympathy for them, but now he is backing a bill to outlaw gay marriage. Some members think the policy is simply for the election and that once November passes, if re-elected, Bush will change it. Others aren't so certain. Kenneth Sanchez is very upset but "would rather eat dirt than vote for Kerry." Wray Pomeroy says: "I continue to adore George Bush. He is honest, sincere, and has integrity. And I also want to add that he never stated there were weapons of mass destruction in Iraq. These are lies fabricated by the left and it is certainly not the question of gay marriage that will stop me from voting for him."
Click here to comment on this article
6 people sentenced in Panama for attempting to murder Castro
www.chinaview.cn 2004-04-21 13:41:48
PANAMA CITY, April 20 (Xinhuanet) -- Six people who attempted to murder Cuban leader Fidel Castro were sentenced in Panama on Tuesday after a trial of over one month.
According to the Panamanian judicial department, the six people-- five Cuban Africans and one Panamanian -- were sentenced to between four and eight years in prison.
Luis Posada and the other men were arrested shortly after Castro unveiled a plot to kill him during an Ibero-American summithere in November 2000. The Cuban authorities then demanded the extradition of the five people of Cuban origins, but the demand was turned down by the Panamanian side.
Click here to comment on this article
Curtain raised on mysterious ancient ethnic regime in NW China
www.chinaview.cn 2004-04-20 14:48:08
YINCHUAN, April 20 (Xinhuanet) -- The mystery of the ancient ethnic Xixia regime that once reigned over part of northwest China will be revealed as some 100,000 pages of historical documents of the regime collected in Russia become accessible to Chinese experts for the first time.
"We will get the complete copy of the Heishuicheng manuscripts collected in the St. Petersburg Branch of the Institute of Oriental Studies (IOS) of the Russian Academy of Sciences, all precious firsthand historical materials for the research on the history of the Xixia Dynasty (1038-1227)," said Du Jianlu, director of the research center of Xixia studies of Ningxia University, northwest China's Ningxia Hui Autonomous Region.
A regime in northwest China, the Xixia Dynasty established by Dangxiang, a branch of the Qiang nationality, an ancient ethnic group in China, had been balancing the power of the Northern Song Dynasty (960-1127) in central China and the Liao Dynasty (916-1125)in northeast China, and then the Southern Song Dynasty (1127-1279)in south China and the Jin Dynasty (1115-1234) in central and northeast China respectively.
[...] Now the most strong evidence of the Xixia regime is the cone-shaped tombs in the northern desert of the Ningxia Hui Autonomous Region. Also called the "Oriental Pyramids", those tombs are the destination of nine of all twelve emperors of the Xixia Dynasty.
Click here to comment on this article
Comet detection is serious science
I have been with the Spaceguard Program in mitigation process and research since 1994 and the Stellar Research Group's efforts in asteroid and comet detection, verification and tracking. In September 2002, I was one of a few hundred scientists from around the globe who participated in the Workshop on Scientific Requirements for Mitigation of Hazardous Comets and Asteroids Sponsored by NASA in Arlington, Va.
Very seldom does The Journal Gazette print articles on this subject, and I was pleased to see an article appear on the recent congressional hearings on the subject. Dr. David Morrison and I have argued for a number of years for and against some of the ongoing research. This program is not just about a bunch of scientists needing new toys for our labs, but about survival of the species and life as we know it, because even a small meteor could very well start a nuclear exchange if not for U.S. detection systems on the ground and in orbit, yet one more danger to life on Earth.
Dr. David James Johnson
Senior investigator
Stellar Research Group
Paulding, Ohio
Click here to comment on this article
Severe spring tornadoes swing through northern Illinois, killing four
06:38 AM EDT Apr 21
UTICA, Ill. (AP) - A severe storm spawning tornadoes cut a swath through northern Illinois on Tuesday, tearing the roof off an elementary school, collapsing buildings and killing at least four people, authorities said.
Click here to comment on this article
Magnitude 3.7 Earthquake Gives Susanville a Late Night Jolt
The eastern Sierra Nevada community of Susanville in Lassen County was shaken by a minor earthquake late Sunday night.
The epicenter of the magnitude 3.7 shaker was located only three miles southeast of the town, giving residents a fairly sharp jolt. Although nerves were rattled, no injuries or significant damage was reported.
Click here to comment on this article
'Slight' intensity earthquake felt in Delhi
PTI[ WEDNESDAY, APRIL 21, 2004 02:47:50 PM ]
NEW DELHI : An earthquake of "slight" intensity was experienced in the national capital on Wednesday. No damage was reported.
Quake's magnitude was recorded at 1.5 on the Richter scale which hit Delhi at around 11:10 hours in the morning, a report from the Met Department said.
Click here to comment on this article
TCP flaw threatens Net data transmissions
By Robert Lemos
Staff Writer, CNET News.com
April 20, 2004, 12:40 PM PDT

A flaw in the most popular communications protocol for sending data on the Net could let attackers shut down connections between servers and routers, according to an advisory released Tuesday by Britain's national emergency response team.
TCP--the Transmission Control Protocol--contains a flaw that "varies by vendor and application, but in some deployment scenarios...is rated critical," said the advisory, published by the United Kingdom's National Infrastructure Security Co-ordination Centre. Networking-hardware maker Juniper Networks has determined that its products are vulnerable. Cisco Systems, Hitachi, NEC, and others are studying the issue, according to the advisory. [...]
Click here to comment on this article
Arson, swastika attack on Strasbourg mosque
STRASBOURG, April 20 (AFP) - Swastikas were daubed on the door of a mosque in the eastern French city of Strasbourg and two rubbish bins set on fire without causing damage to the building, police said Tuesday.
An anti-Arab slogan with grammatical mistakes was also scrawled on the wall of the mosque, used mostly by members of the city's Turkish community. [...]
"This hateful act is aimed at the whole Muslim community and is part of a local climate in which acts of a racist and Islamophobic nature are becoming more frequent," Abdelhaq Nabaoui, president of the Alsace regional council of the Muslim religion, said, listing several "similar" events in recent weeks in the region.
Last week an attempt was made to burn down a mosque at Haguenau near Strasbourg and two swastikas were daubed on its walls.
Swastikas were also painted on the walls of a funeral parlour in another small town near Strasbourg and an arson attempt made on it, Nabaoui said.
In early April five tombstones - four Muslim, one Jewish- in the military cemetery in the Strasbourg district of Cronenbourg were desecrated by swastikas.
Click here to comment on this article
D-Day vets get free rooms in top Paris hotels
PARIS, April 20 (AFP) - The French government Tuesday announced plans to welcome 300 veterans of the 1944 D-Day landings - chiefly from Britain, Canada and the United States - with free accommodation in top Paris hotels.
Ceremonies will be conducted in early June to mark the 60th anniversary of the Allied landings on the beaches of Normandy in northwest France which began on June 6, 1944 and was a major turning point in World War II to end Nazi rule.
The veterans will be accommodated in 31 of the French capital's plushest hotels from June 4 to 7, the ministries of tourism and former combatants announced, in rooms which in June would normally cost between EUR 500 and EUR 700 (USD 600 to USD 840) a night.
The initiative by the hotels was hailed by tourism minister Leon Bertrand and ex-servicemen's minister Hamlaoui Mekachera as "a mark of respect for the acts of bravery" carried out by the men 60 years ago.
"This is a truly exceptional offer," Mekachera told reporters. "It is a gesture with a strong symbolism in keeping with the gratitude our country wishes to show its liberators." [...]
Click here to comment on this article
By Kate Jones
April 21, 2004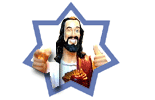 AN evangelical Christian has started legal action against Channel 7 over the use of the name "Jesus Christ" as a swear word in a top crime thriller.
Andre van der Linden claims the use of the name in the British-made series Prime Suspect is insulting and disrespectful to Christians.
"It is high time that television stations like yours be called to account for your defamation of the name Jesus Christ, a practice that insults hundreds of thousands of Christian believers," Mr van der Linden said in his legal documents.
Click here to comment on this article
Murder suspect says he was fleeing aliens
April 21, 2004
Psychologists testify Scott Krause injected meth twice daily and had hallucinations of 'hemodrones' when he caused fatal crash
Scott Krause waits for the beginning of his competency trial Tuesday morningin the Nevada County Courthouse.
The Union photo/John Hart Zoom
Murder suspect Scott Krause believed he was fleeing space aliens when he reportedly carjacked a large commercial truck and rammed it into a UPS van on Jan. 6, two psychologists told a Nevada County judge Tuesday.
Krause, charged with the murder of UPS driver Drew Reynolds, told one of the mental health analysts that the crash was an accident and that he attacked the firefighters who helped him afterward because he thought they were aliens, which he called "hemodrones." Investigators previously said Krause made comments that the crash was intentional.
Krause's version of what led to the fatal crash became public Tuesday at his competency trial, in which Judge John Darlington will decide whether Krause understands how the court system works and is competent to stand trial for murder.
One psychologist also testified that for more than a year leading up to the crash, Krause was injecting himself with methamphetamine twice daily.
Click here to comment on this article
Aboriginal Woman Puts Curse on PM
By Associated Press
April 20, 2004, 12:26 PM EDT
COLAC, Australia -- An Aboriginal woman clad in possum skins put a traditional curse on Prime Minister John Howard on Tuesday, apparently in retaliation for government plans to abolish Australia's top indigenous elected body.
Click here to comment on this article
Hear tracks from the 'Poetry of Donald Rumsfeld'

Calgary Herald
Tuesday, April 20, 2004
U.S composer and pianist Bryant Kong has teamed up with soprano Elender Wall to create the Poetry of Donald Rumsfeld, a new CD from Stuffed Penguin music. The CD takes some of Rumsfeld's wiser quotes and set them to music.
Click here for more information and to listen to music from the Poetry of Donald Rumsfeld.
Click here to comment on this article
---
Remember, we need your help to collect information on what is going on in your part of the world!
We also need help to keep the Signs of the Times online.
---

Check out the Signs of the Times Archives

Send your comments and article suggestions to us

---
Fair Use Policy
Contact Webmaster at signs-of-the-times.org
Cassiopaean materials Copyright ©1994-2014 Arkadiusz Jadczyk and Laura Knight-Jadczyk. All rights reserved. "Cassiopaea, Cassiopaean, Cassiopaeans," is a registered trademark of Arkadiusz Jadczyk and Laura Knight-Jadczyk.
Letters addressed to Cassiopaea, Quantum Future School, Ark or Laura, become the property of Arkadiusz Jadczyk and Laura Knight-Jadczyk
Republication and re-dissemination of our copyrighted material in any manner is expressly prohibited without prior written consent.
.