---
Another Mossad and Moving Companies Connection?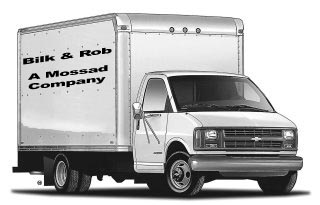 Alleged stolen goods are found in Woodinville
By Peter Lewis
Seattle Times consumer-affairs reporter

Searching the home of a couple accused of running a Woodinville moving company that scammed dozens of customers, federal agents have found three dozen porcelain eggs and 19 Hummel figurines that match items stolen from a customer, a federal prosecutor said yesterday.
The disclosure by Assistant U.S. Attorney Kathryn Warma came at a detention hearing for Erik and Tanya Deri, the Kirkland couple arrested earlier this week and charged as leaders in a fraud and extortion conspiracy.
The recovery of those items is "clear evidence corroborating the allegations," Warma told U.S. Magistrate Judge Ricardo Martinez. In a complaint filed Tuesday, the government charged the Deris and four others. One of them, Joe Naham, also known as Yosi Derei, and thought to be Israeli, remains a fugitive.
Doing business as Nationwide Moving Systems since May 2002, the defendants offered low estimates, then inflated the price and withheld delivery of customers' belongings until they paid the higher price, the government charged. In court papers, the government credited a March article in The Seattle Times with sparking the investigation.
Citing the fact that Erik Deri, 32, is an Israeli national, that he worked in the U.S. illegally after entering the country several years ago and that he's apparently been involved in criminal activity since moving to Washington state last year, Martinez ordered him detained.
[...] Warma asserted that both Deris have a history of drug abuse, and that during the raid Thursday when agents recovered the porcelain eggs and figurines, they also found marijuana. She said additional items taken from customers may turn up when agents finish an inventory of what they seized. [...]
The government also charged that Erik Deri instructed all Nationwide drivers to remove the fuse that powered the odometer of rental trucks in order to minimize the bill due the company. Further, if a driver forgot to do to so, Deri would make the driver pay for the mileage, according to the charges.
Erik Deri is charged in five counts and Tanya Deri in three, including conspiracy to commit extortion for both defendants. Each count of fraud and extortion carries a maximum penalty of 20 years in prison and a fine of $250,000. In addition, Erik Deri faces possible deportation if convicted. [...]
Comment: Notice that the article is covered by a consumers' affairs reporter. Rather interesting connections are being overlooked, perhaps deliberately? Laura's articles Mossad and Moving Companies: Masterminds of Global Terrorism?, Ross Institute: COINTELPRO or Agents of MOSSAD? helps put these links into perspective.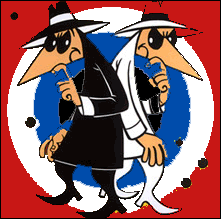 The Departments of Disinformation
By MILT BEARDEN co-author with James Risen of The Main Enemy: The Inside Story of
the C.I.A.'s Final Showdown with the K.G.B
The New York Times
There is agreement on what the world's oldest profession is. But there's uncertainty over the second oldest. It could be spycraft. In the scriptures, remember, before Joshua fought the battle of Jericho, he spied out the countryside.
But it is the third oldest profession — the business of misdirecting and fleecing the second — that deserves critical attention today. Bogus intelligence, a nuisance to spies and policymakers alike, has taken on grave importance since intelligence now weighs so heavily on why and when America will go to war.
Fabricated intelligence comes from all directions today. There are the con artists out for a quick buck. These peddlers know Washington's needs, and cook information to order. Intelligence from such fabrication mills is bothersome, but not usually harmful.
The state-sponsored intelligence forgers, operating as part of a nation's security apparatus, are more dangerous and have the most lasting impact. Black operations always begin with a deep understanding of the weaknesses, prejudices and predispositions of the target. The goals of disinformation are broad — anything from embarrassing a foreign government to finessing a sovereign country into doing what you want.
Among the most gifted at this disinformation have been the Russians (before and after the Soviet interlude), the British, the Chinese, the Americans (a little later in the game) and the Israelis.[...]
Palestinian, Israeli Premiers Hold Summit
By MARK LAVIE
Associated Press Writer
JERUSALEM (AP)--The Palestinian Authority outlawed incitement to violence and Israel hinted at a new flexibility over the release of prisoners during a prime ministers' summit just days before the leaders travel to Washington to discuss a peace plan.
Israeli Prime Minister Ariel Sharon and Palestinian premier Mahmoud Abbas met for two hours Sunday at Sharon's official residence. The meeting produced few concrete results but both sides showed a willingness to compromise. [...]
Israel acknowledged that terror attacks have eased since the main Palestinian groups declared a cease-fire on June 29. But Raanan Gissin, a Sharon aide, said it was too early to make significant gestures toward the Palestinians, like removing roadblocks that have crippled Palestinian life for nearly three years.
"We want to be very cautious in the steps that we make,'' he told the Associated Press, complaining that since the truce, Palestinian militant groups have been rearming and regrouping. He warned that "the whole process (could) be disrupted by one renegade terrorist act.'' [...]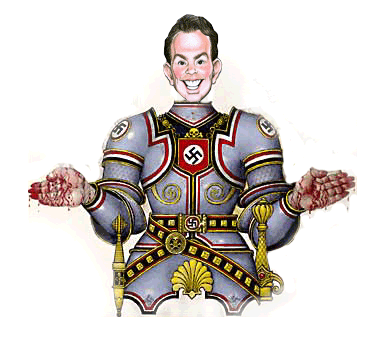 "Do you have blood on your hands?"
Joe Quinn
Signs of the Times staff writer
I watched the BBC main evening news yesterday of Blair's press conference in Japan on the death of Dr. Kelly. Blair fielded a number of questions from reporters on the alleged suicide of the former government arms advisor. He seemed to be handling the situation quite well, but it was obvious that he was completely unprepared for what was to be the final question of the briefing.
"Mr. Blair" the reporter asked "do you have blood on your hands?". The only way to describe the effect on Blair was that his face crumpled, it was as though something collapsed inside him. He stood silent and motionless for a few seconds and then abruptly called the session to a close, excusing himself without answering the question. It seemed as if the pressure of lying continually and on such a massive scale, momentarily got a little too much for Tony, and he cracked. Not to worry though, he will surely be patched up and bristling again for his next outing.
The thirty-six lies that launched a war
Withholding funding and documentation, the Bush Administration is the major roadblock for the 9-11 Commission. Why?
By Frederick Swee
[...] One 9-11 Commissioner complained, ''The Department of Homeland Security has been unhelpful. If we don't get these issues resolved, the public is not going to have the report it deserves.'' [...]
Saudi involvement in September 11 attacks: Newsweek
Monday July 21, 12:02 PM

A congressional inquiry points to suspicion over a potential role played by Saudi Arabia in the September 11, 2001, terrorist attacks that killed more than 3,000 people, Newsweek magazine said.
The conclusions of a congressional joint intelligence inquiry, to be released Thursday, claim the Federal Bureau of Investigation failed to follow through on important evidence relating to the al-Qaeda network's presence in the United States, the magazine said.
The report contains evidence suggesting that Omar al-Bayoumi, a key associate of hijackers Khaled al-Mihdar and Nawaf al-Hazmi may have been a Saudi government agent, sources told Newsweek. [...]
Comment: One by one, the dominoes will fall...
What do possible election fraud in the United States and a small, independent website based in New Zealand have in common? The word "scoop".
by Mark Revington
It's an unassuming place from the street, a quiet backwater in a Wellington suburb. A little unkempt, the house of someone unconcerned with external appearances. The lawn doesn't appear to have met a mower that it couldn't tame and the paint is cracked and dry. But then Alastair Thompson has other things on his mind, notably the story he calls "bigger than Watergate".
It broke a couple of weeks ago on Thompson's Scoop website with this introduction: "IMPORTANT NOTE: Publication of this story marks a watershed in American political history. It is offered freely for publication in full or part on any and all Internet forums, blogs and noticeboards. All other media are also encouraged to utilise material. Readers are encouraged to forward this to friends and acquaintances in the United States and elsewhere."
Cue thunder, lightning, ominous roll of drums. What warranted this kind of build-up?
An apparent exposé of a huge security flaw in the United States voting system, primarily uncovered by a US writer named Bev Harris, author of a soon-to-be published book called Black Box Voting: Ballot-Tampering in the 21st Century and someone with whom Thompson has been working closely in recent months. [...]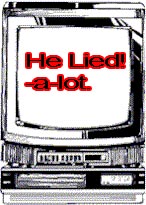 TV Ad Questions Bush's Claims of Iraqi Threat

From Times Wire Services
Democrats said they will launch a new television ad in Wisconsin accusing President Bush of misleading Americans on the threat from Iraq. [...]
'David [Kelly] and I laughed about 45-minute claim'
Iraq row over fate of seized scientists
Red Cross urges US to clarify status of three dozen prisoners held in unknown conditions near Baghdad
Jonathan Steele in Baghdad
The Observer
American efforts at finding top Iraqi scientists who can attest to Saddam Hussein hiding weapons of mass destruction have turned out to be as fruitless as the search for the weapons themselves.
The continued detention of leading Iraqi scientists and other officials by US forces is swiftly turning into a major human rights row. [...]
U.S. Air Raids in '02 Prepared for War in Iraq
By MICHAEL R. GORDON
New York Times
The strikes, which were conducted from mid-2002 into the first few months of 2003, were justified publicly at the time as a reaction to Iraqi violations of a no-flight zone that the United States and Britain established in southern Iraq. But Lt. Gen. T. Michael Moseley, the chief allied war commander, said the attacks also laid the foundations for the military campaign against the Baghdad government.
By Jeff Danziger
Special to the Los Angeles Times
In 1969, it took between 10 and 18 hours to get to Vietnam on the Flying Tiger contract planes. A long, numbing flight to a war with no liquor, not even a beer. [...]
We walked down the stairs from the plane into the boil of the Saigon humidity, weighted by duffle bags and weapons, swaddled in fatigues and canvas boots.
This was going to be awful.
But the one thing that kept us mildly sane was the knowledge that it would last only a year. That was guaranteed. You could, you told yourself, put up with anything for a year. Three months later, especially in combat units, you weren't so sure. Even so, it was the knowledge that every day brought you closer to deliverance from the heat and the noise and the violence and the death that kept most of us from losing it.
This week, the Pentagon informed the 3rd Infantry Division troops in Iraq that they would not be going home on the dates previously promised. In fact they will be extended in their duty "indefinitely." [...]
The Army could guarantee this one-year tour because there was a draft in place. There were always more infantrymen and clerk-typists coming along. But now, of course, there aren't. And those on the ground in Iraq are paying for the ultimate and cleverly disguised truth about George W. Bush's war. Nobody really wanted to fight it. Not really. We want to extend American power and smash terrorists, mostly by listening to the radio and cheering. But actually going and taking part in the miserable day-to-day work, well, no thanks. Let somebody else's kid do it. [...]
Two U.S. soldiers killed near Mosul; 10,000 Shiites Stage Anti-American Demonstration in Najaf
Paul Haven
Associated Press
Sunday 20 July 2003
Two soldiers from the 101st Airborne Division were killed and one was injured in an ambush Sunday when their convoy came under rocket-propelled grenade and small arms fire in northern Iraq, the U.S. military said. [...]
An angry confrontation developed to the south of Baghdad, meanwhile. In the holy city of Najaf, 10,000 Shiite Muslim demonstrators were blocked by U.S. troops from entering the American headquarters. Some clerics urged demonstrators to turn back. Soldiers used Humvees to barricade the building. There were no reports of shooting or other violence. [...]
CBS May Have Erred in Pursuit of Lynch Interview, Executive Says
By Lynn Elber The Associated Press
Published: Jul 20, 2003

LOS ANGELES (AP) - CBS may have erred in raising the possibility of a TV movie while trying to win a news interview with former prisoner of war Jessica Lynch, CBS Chairman Leslie Moonves said Sunday.
"Maybe that went over the line. That was not respecting, possibly, the sanctity of CBS News," Moonves told a meeting of the Television Critics Association. [...]
More US troops ordered to Liberia amid new fighting
AFP, Monday July 21, 11:50 AM

Faced with a flare-up in Liberia's civil war, the United States ordered 41 additional troops to the capital of the West African nation, which has been under attack by rebel forces seeking the ouster of President Charles Taylor. [...]
Annan Asks for Timetable on U.S. Withdrawal
By The New York Times
Sunday 20 July 2003
United Nations Secretary General Kofi Annan has called on the American-led forces in Iraq to set out a "clear timetable" for a staged withdrawal, noting that numerous Iraqis had told United Nations officials that "democracy should not be imposed from the outside." [...]
No clear military role for UN in Iraq: Bremer
21 July 2003 0147 hrs (GMT)
The US civilian administrator in Iraq says there is no clear military role for the United Nations in the country, saying any international force there should continue to work under US command. [...]
The Associated Press
BAGHDAD, Iraq
July 20, 2003
Baghdad's zoo opened its doors to the public Sunday, but in this lawless, occupied city, it appeared to be a bit early for a pleasant day in the park.
Only a few dozen people, most of them young men, wandered into the newly renovated park to see the lions, jaguars and monkeys wilting in 122-degree heat. [...]
African nation says: we never sold uranium to Saddam
By Raymond Whitaker and Paul Lashmar

[...] John Large, a nuclear consultant, said that even if Iraq had succeeded in importing yellowcake, a vast amount of processing would have been necessary to extract weapons- grade uranium 235, requiring nuclear facilities Iraq was known not to have.
The enrichment plant, he said, would be "the size of 30 football pitches". Not only would it be hard to conceal from inspectors, it could easily have been spotted by spy satellites. [...]
FBI probing forged papers on Niger uranium
By Bill Gertz
THE WASHINGTON TIMES
The FBI is investigating the origin of forged documents indicating that Iraq was seeking uranium from Niger, and one candidate for the forgeries is an Iraqi opposition group, U.S. officials said. [...]
President Bush chastised senior advisers, including National Security Adviser Condoleezza Rice and outgoing press spokesman Ari Fleischer, about the uranium intelligence flap and the White House's handling of it several times during the recent trip to Africa.
Spokesmen at the time initially said the White House was provided with bad intelligence from the CIA, only to reverse course a day later and claim the intelligence may still be valid although it should not have been included in a presidential speech.
"The president wanted the matter settled," one official said of Mr. Bush's harsh words for his advisers.
Although it received intelligence from the documents earlier, the CIA did not obtain copies of the forged documents until February 2003 — months after the Italians first obtained them and after the president's State of the Union address.
A U.S. official said the Italians initially only described the documents to the CIA. Then the State Department obtained a set from a journalist and that led to an investigative trip to Niger by former U.S. Ambassador Joseph Wilson.
Mr. Wilson said Niger's government told him that the country would not sell uranium to Iraq, but also informed him that Iraqis were in the country discussing unspecified commercial transactions, which could have included uranium-ore purchases, the U.S. official said.
CIA Director George J. Tenet testified before a closed hearing of the Senate Intelligence Committee on Wednesday to explain how the tainted intelligence ended up in a major U.S. intelligence-community report and the president's State of the Union speech.
An official said the documents included a letter about the purchase of some 500 tons of uranium ore, supposedly signed by Niger's president, Mamadou Tandja. The signature was found to have been faked.
Another document was described as an October 2000 Niger military document signed by a former foreign minister of Niger.
Besides Iraqi opposition, investigators also say the documents could have been produced by criminals, con men, or a foreign intelligence service. [...]
Comment: This is all very interesting, especially considering the following:
The Yellowcake Blame Game
By JASON LEOPOLD
Counterpunch.org
July 19, 2003
When George Tenet, the director of the CIA, testified before the Senate Intelligence Committee last week about dubious intelligence data on the Iraqi threat that made it into President Bush's State of the Union address in January, he said an ad-hoc committee called the Office of Special Plans, set up by Deputy Secretary of Defense Paul Wolfowitz, Assistant Secretary of Defense for Policy Douglas Feith, and other high-profile hawks, rewrote the intelligence information on Iraq that the CIA gathered and gave it to White House officials to help Bush build a case for war, according to three Senators on the intelligence committee.
Tenet told the Intelligence Committee that his own spies at the CIA determined that much of the intelligence information they collected on Iraq could not prove that the country was an imminent threat nor could they find any concrete evidence that Iraq was stockpiling a cache of chemical and biological weapons. [...]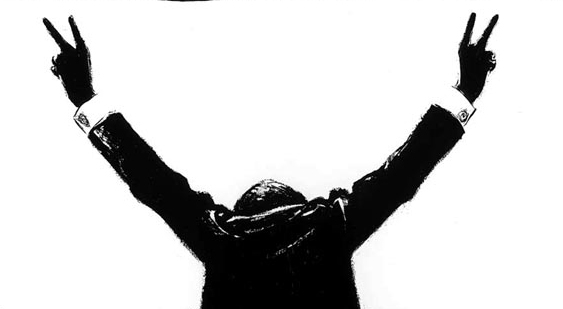 The president "is not a fact checker" and the butler did it
Quote of the day: "White House officials said the document [the main prewar intelligence summary on Iraq's weapons program partly declassified Friday] was one of those drawn on by speechwriters as they put together the State of the Union address. The official who gave the briefing today said Mr. Bush was unaware of the State Department's skepticism. The president 'is not a fact checker,' the official said. [...]
U.S. still unready for bio attacks
By Robyn Suriano
Sentinel Medical Writer
Nearly two years after the Sept. 11 and anthrax attacks terrorized the nation, America remains far short of a national warning network to spot bioterrorism outbreaks early enough to prevent disaster.
Comment: Apparently Americans have not had enough hope beaten out of them, and it's time to scare them into giving up more freedom for illusory safety.
AFP-Anyone care to raise their glasses to Hitler? No thanks, said a family of disgusted Poles who came across Adolf Hitler wine while on holiday in Italy.
The tourists bought the bottle for 5.30 euros ($9.13) in a supermarket in northern Italy and, upon their return home, they handed it over to Poland's biggest-selling newspaper Gazeta Wyborcza, which displayed the offensive item on its front page.
Adolf Hitler was splashed across the bottle's label, his arm raised in the Nazi salute, while the regime's motto "Ein Volk, ein Reich, ein Fuehrer" - One People, One Empire, One Leader - was written across the bottom.
"We were shocked. It's disgusting," said one of the tourists, quoted by Gazeta in Warsaw.
"We hid the bottle in the trunk of the car when we crossed the Polish border because we were afraid that customs officers would think we were Nazi sympathisers," he added.
The supermarket also sold bottles graced with the effigy of Italy's wartime dictator Benito Mussolini, the tourists said.
Italian leader finds Bush ranch friendlier than European capitals
With warm hug, Bush welcomes Berlusconi to ranch
AFP, Monday July 21, 11:59 AM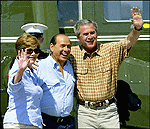 President George W. Bush warmly welcomed a key ally, Italy's billionaire Prime Minister Silvio Berlusconi, to his Texas ranch as a political storm raged over Iraq.
Bush seemed delighted to see Berlusconi as he flew into the Prairie Chapel property in a US Marine Corps helicopter for an overnight stay.
Casually dressed in an checked shirt, khakis and cowboy boots, Bush threw an arm around Berlusconi's shoulders, then drove him in a white pickup to his homestead, shimmering in temperatures of 102 degrees Fahrenheit (39 Celcius). [...]
The visit represents a key endorsement for the controversy-tainted Italian leader, the current EU president, and is seen by Bush aides as a reward after he broke with France and Germany and backed the US war on Iraq. [...]
Comment: To understand the current political dramas being played out for our "benefit" we should have a basic understanding of the psychopath. We have uploaded more valuable and vital information on one of the most overlooked and often misunderstood topics: Discussion of Psychopath Traits, A basic hypothesis of Psychopathy.
North Korea may have second plutonium plant: report
North Korea may have built a second, secret plant for producing weapons-grade plutonium, a report said.
The New York Times said the potential discovery could complicate both the diplomatic strategy for ending the programme and the military options if that diplomacy fails.
The new evidence comes after North Korea announced it had completed processing 8,000 spent nuclear fuel rods, which are enough to make about six nuclear weapons. [...]
Blair says North Korea is 'urgent issue'
Tony Blair has spoken of the "urgency" of resolving the issue of North Korea's suspected nuclear weapons programme. [...]
The black helicopter and accompanying "fliers" is the subject at hand.
It was spring of this year, in March. We were on the Columbia Plateau not too far from the Tri Cities, Wa. / In Walla Walla County. About three p.m. / There were 2 of us at this event when we were buzzed by a black chopper,flying fast and low, so we ducked into the shadows I snapped a quick photo offhand.
We were visiting a sacred site (Native American) when the black chopper came upon us, very swiftly. They came from the south, headed North toward Spokane. We were there representing the Confederated Tribes and NAGPRA.
So, the fliers were there, flanking the copter. I saw your other material you posted which sparked my interest further, hence even though this happened in Wash state, I send it along to you anyhow.
Permission was granted to me to post the picture. Thank you very much to the witness who sent this along to me.
I also sent this report and photo along to a United States UFO Investigator.
Photo posted at my site under United States Sighting reports.
Brian Vike, Director
HBCC UFO Research

Dr Carley's medical license suspended by Medical Mafia.
[...] Please be advised that as of 7/11/03, my medical license has been suspended for a year followed by 4 years probation for "practicing medicine with a mental illness; said mental illness being the "delusion" that there is a conspiracy against me. I have been ordered to undergo "psychiatric treatment" for one year. (I will put as much of the 40 page decision [which is 90% misinformation such as saying my son is in foster care] as I can on my website by the end of the week).
They admit that no complaints have ever been filed regarding my treatment of patients. I have also been ordered to release all of the records on my patients, [so they can hunt the children down and catch them up on their vaccines].
I will now be a wholistic practitioner doing iridology and counseling patients on detoxification techniques available over the counter. However, I will not be able to write prescriptions, order diagnostic tests, and most importantly, I will not be able to write medical exemptions. I am sure that the exemptions I have written will be deemed null and void.
Jennifer Grinberg (516-798-7642) will be organizing this effort to restore the license of the only court qualified expert in VIDS in the country. It is time for people to do more than "feel sorry" for me, it's time for ACTION! Since the only people I can NOT write exemptions for are my son & I, I will not be affected. However, if nothing is done, when they come to your door and with that Smallpox/SARS or whatever vaccine and your exemption is deemed invalid, get ready to roll
up your sleeve or go to the quarantine camps as per the Model State Health Emergency Powers Act (already passed in NYS).
I have given all I can; the only thing left for them to take from me is my mind (with psychiatric drugs).[...]
Interview with KRISTINA BORJESSON:The Myth of a Free Press
By Alexander M. Dake
Kristina Borjesson, a client of Paraview Literary Agency, has been an award-winning independent producer and writer for almost twenty years. She has produced investigative documentaries for CBS, CNN and PBS. She currently produces and co-hosts the Expert Witness radio show on WBAI in New York and KPFK in Los Angeles. Recently Borjesson edited almost two dozen essays by leading journalists about the depth and breadth of censorship in American journalism and collected those in the book Into the Buzzsaw.
It includes, among others, stories about POWs left behind in Vietnam, a Korean War massacre by U.S. troops, the CIA involvement in the War on Drugs, disenfranchisement of black votes in the Bush presidential election, and Borjesson?s own essay about the deception of the TWA Flight 800 crash. It paints a bleak picture of the role mainstream media play in American democracy.[...]
by Anne Thurmann-Nielsen
Dagbladet newspaper, Oslo, Norway

- Since 1994, the USA has executed 13 people who were minors when they committed their crimes. The USA is the worst in the class. - According to a report by Amnesty International, the total number of executions of minors between 1994 and 2002 was 20. The USA is responsible for 13 of these. In 2003, one person who was a minor
when he committed his crime was executed. This (execution) took place in the USA.[...]

The bad company the USA finds itself in are seven other countries: Pakistan, Yemen, the Congo, Nigeria, Saudi Arabia and Iran. Pakistan and Yemen have raised the minimum age to 18 years old, Saudi Arabia hasn't reported any executions of juvenile criminals since 1992, the Congo and Nigeria have executed children in military courts that do not follow international conventions, and Iran denies that it executes children.
Corsican separatists suspected as bombs explode in Nice injuring 16

FRANCE launched a terror investigation yesterday into a bomb attack on a tax and customs office in Nice which injured 16 people and caused major damage to shops and houses.
No group claimed responsibility for the overnight attack. But the appointment of anti-terror specialists to lead the investigation added to speculation it was the work of Corsican separatists. [...]
South Aral Sea 'gone in 15 years'
Popocatepetl Volcano (Mexico)

Sunday 20th July 2003
Popocatepetl volcano exhaled a plume of ash on Saturday morning and layered Mexico City in white volcanic dust, sending surprised residents seeking cover. The volcano sent up a 1.8-mile (3-km) high plume of ash and incandescent fragments at 9:20 a.m. local time (1420 GMT). [...]
Soputan Volcano (Indonesia)

Saturday 19th July 2003
Soputan Volcano erupted Friday in Eastern Indonesia, spewing lava and clouds of dust high into the air. Dust and ash from the volcano had fallen on the provincial capital Manado, around 40 kilometers (25 miles) north of the mountain. A slow-moving lava flow was also visible at the rim of the peak. Soputan, around 2,160 kilometers northeast of Jakarta, last erupted in 2000. [...]
Is There A Dark Side To The Amish?
CLEVELAND -- In Ohio, the Amish are seen by many as gentle, God-fearing people, who live an idyllic life, frozen in time.
But NewsChannel5's Ted Hart reported that behind the peaceful facade there is a dark side. [...]
The Amish preach obedience, Hart said. Church doctrine teaches that corporal punishment is good for a child. But the Yoders said the physical and in some cases sexual abuse that takes place behind closed doors is out of control. [...]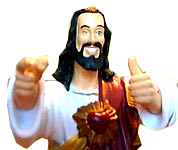 Boston Archdiocese Won't Face Charges

Associated Press

BOSTON, July 20 -- No criminal charges will be filed against any church officials in the Archdiocese of Boston for allowing sexually abusive priests to remain in parish work, a spokesman for the state attorney general's office said today.
Idi Amin fights for life

Former Ugandan leader Idi Amin - whose 1971 to 1979 regime was one of the bloodiest in African history - is reported to be in a coma.
Crop Circle Connector reports on 44 Circles so far for 2003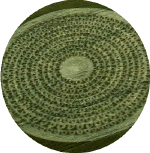 ---
Check out the Signs of the Times Archives
Send your comments and article suggestions to us.
---
Fair Use Policy
Contact Webmaster at signs-of-the-times.org
Cassiopaean materials Copyright ©1994-2014 Arkadiusz Jadczyk and Laura Knight-Jadczyk. All rights reserved. "Cassiopaea, Cassiopaean, Cassiopaeans," is a registered trademark of Arkadiusz Jadczyk and Laura Knight-Jadczyk.
Letters addressed to Cassiopaea, Quantum Future School, Ark or Laura, become the property of Arkadiusz Jadczyk and Laura Knight-Jadczyk
Republication and re-dissemination of our copyrighted material in any manner is expressly prohibited without prior written consent.
.