---
Signs staffer, Joe Quinn, photographed a mysterious cloud formation in Ireland shortly after we published Mysterious Smoke Rings or When is a Cloud not a Cloud?
Land Surveyor Comments About Ogbourne St. George, U.K. Crop Formation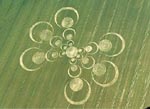 Thirty-seven circles discovered in young wheat below the Ridgeway
at Ogbourne St. George, Wiltshire, England, on Sunday, June 15.
Aerial photograph © 2003 by Lucy Pringle.
Comment: Although Linda Moulton Howe's interview with the land surveyor leaves something to be desired, the article has two larger photos of the crop circle taken by researcher Lucy Pringle.


Czech Crop Circle Web Site
Comment: The articles are written in Czech, but contain some excellent photos. Reports on three recent ones in the Czech Republic.
by Scott Corrales
According to Dr. Santiago Garcia, there has been an awareness of the unusual properties of the area since the mid-nineteenth century, when farmers trying to eke out a living in the forbidding environment became aware of the "hot pebbles" which routinely fell to earth from the clear sky. In the 1930s, Francisco Sarabia, an aviator from the northern Mexican state of Coahuila,
reported that his radio had mysteriously ceased to function, earning him the distinction of being the Zone of Silence's first victim. [...]
Pena and his group became aware of the "silence" when they found that it was impossible to communicate with one another via walkie-talkies: radio waves are not transmitted at the accustomed speed and frequency. Portable radios would emit but the lightest whisper when turned on at full volume. To this day, television signals cannot be received in Ceballos or in the neighboring ranches. Some magnetic force, with the power to dampen radio waves, seems to exist in the
region. [...]
Chupacabras in La Palmilla?

Sedate residents of the La Palmilla sector of the peaceful commune of Rauco in the 6th Region were startled to find 29 hens with their legs in the air, completely exsanguinated and with twin holes on their necks. The peasantry was shocked at the find and without thinking twice, assigned blame to the now-legendary "Chupacabras" who had attacked again.

They had no doubts in their minds, because aside from the holes, the hens--which were all egg layers--were completly dry, as though some unknown beast had sucked their last drop of blood.

Still trembling from their fear of the "Chupacabras" and concerned by the loss of the birds, the residents noted that the deaths had occurred simultaneously in two neighboring houses on Tuesday morning.
Comment:
Q: (L) Okay, can we ask now about El Chupacabras?
A: It is what it is.
Q: (L) It is a 'goatsucker.' Where does it come from?
A: Review transcripts re: "window fallers."
Q: (L) If it is a window faller, does it come from another
density, or a lateral dimension?
A: Closer to the latter.
Q: (L) Okay, so it is like a horizontal dimension. What
allowed it to enter our realm?
A: This is complex, but best described as "EM wave bursts
along frequency border variation."
Q: (L) Is there some way to capture or stop this creature?
A: You do not yet completely understand all the "mechanics" of the window faller phenomenon. The physicality is
entirely transitory and partially dependent upon consciousness variabilities, as well as expectations of witnesses.
Q: (L) Does the energy of the fear of the witness enable the creature to continue its existence? Does it feed on the excitement and fear, and is that what makes it manifest?
A: Close, but off a little. It is the other way around, and retro-factored by one half.
Q: (L) What do you mean by that?
A: It is mutual, rather than unilateral. Also, remember that a window falling represents a cross-energizing of realities, equally represented from each "dimension" in question. In other words, because the dimensional curtain has been "torn," half of one and half of the other contributes to the whole reality.
Q: (L) Does this mean that something from our reality is also scaring something in that other reality?
A: No, it does not "work" that way at all.
Q: (L) Is there any possibility that this mutual creature is going to turn its attention from animals to humans?
A: Ditto last answer. And review response prior to that!
Q: (L) Okay, now, there are a lot of current teachings that say that the 'dregs' of other planets are being sent to Earth to 'refine' them, so to speak, and that this is why the human race is so divided and antagonistic... that the interactions are supposed to result in annihilation of the weak and survival of the strong in both physical and spiritual terms.
A: First of all, confusion abounds here due to incorrect interpretations of the last subject discussed. Dimensions are not densities!!!! Dimensions are strictly the result of the universal consciousness as manifested in the imagination sector of thought. Density means level of development as measured in terms of closeness to union with the one... Cycle. So, obviously, the "chupacabras" is a manifestation of human consciousness, and, human beings are a manifestation of the Chupacabras consciousness. Get it? Now, a shocker for you: You would not exist if someone didn't "dream you up."
Laura reformatted and uploaded an older article: Monsters
Me and my Yeti

A TEAM of part-time explorers may have proved the existence of a Yeti-like creature on a tropical jungle island.
Tests by experts at Cambridge University and in Australia have shown that hairs and a footprint found by the Indiana Joneses from Stockport and Macclesfield do not belong to any known species.
The message is clear, bow to the imperium or else.
William Bowles
07/19/03
"There is no more dangerous theory in international politics today than that we need to balance the power of America with other competitor powers, different poles around which nations gather."
- Tony Blair
Render unto Caesar (or else)
Thus spake the Emperor's English regent in paying his respects on a flying visit to Washington DC, our latter-day Rome, and spelt out in no uncertain terms which side his bread is buttered on. If anyone had any doubts about where New Labour's allegiance lies, this statement surely dispels our doubts once and for all. [...]
Troop morale plummets, death toll mounts
Ananova.com
08:02 Sunday 20th July 2003
Two soldiers from the US 101st Airborne Division have been killed and another injured when their convoy came under attack in northern Iraq. [...]
U.S. Accused Of Torture In Iraq
07/19/03: (CBS) Amnesty International is looking into a number of cases of suspected torture in Iraq by American authorities. [...]
In Saddam's day, countless Iraqis disappeared behind the walls of Abu Graib, one of the most notorious prisons in Iraq. It's open again for business with new wardens, the Americans. [...]
Pentagon seeking private security firm to police Iraq

By Andrew Buncombe in Washington
19 July 2003
With large parts of Iraq still gripped by lawlessness and guerrilla warfare, the Pentagon is planning to hire a private security firm to arm and train thousands of former Iraqi soldiers to guard government buildings, pipelines and other important installations. [...]
If His Words Are His Bond, We're in a Bind
By Arianna Huffington, AlterNet
July 18, 2003
Quick, somebody get the Bush White House a copy of "All the President's Men." A slow drip, drip, drip of incremental revelations and long-overdue admissions is not the way to stem a brewing scandal.
But that's exactly the approach the administration is taking with the firestorm arising from the president's Misstatement of the Union fiasco, a.k.a. Yellowcake-gate.
Suddenly everyone is asking: What didn't the president know, and why didn't he know it? And why does he know less and less every day?
The White House's handling of the yellowcake-uranium-from-Niger deception has been atrocious, and its attempts to spin the aftershocks have been even worse. The White House just doesn't seem to grasp the concept that, when you're sending American soldiers to die, the reasons given – all of the reasons – should be true.
In July 1973, at the height of the Watergate hearings, Richard Nixon announced: "What we were elected to do, we are going to do, and let others wallow in Watergate."
George Bush seems to be taking the same head-in-the-sand approach, letting it be known that, with the CIA's director taking responsibility for the Niger snafu, he considers the matter closed.
In the spirit of Tricky Dick, let me make myself perfectly clear: I'm not saying that Yellowcake-gate is the equivalent of Watergate.
I'm saying it's potentially much, much worse.
At its core, Watergate was about making sure that Nixon won an election. Yellowcake-gate is much more than a dirty trick played on the American public. It's about the Bush administration's pattern of deception as it shoved this country into a preemptive war – from the much-advertised but nonexistent links between Iraq and Al Qaeda to the hyping of Saddam Hussein's weapons of mass destruction.
No one died as a result of Watergate, but more than 200 U.S. soldiers have been killed and thousands more wounded to rid the world of an imminent threat that wasn't. To say nothing of the countless Iraqis who have lost their lives.
And those numbers will only rise as we find ourselves stuck in a situation that Gen. Tommy Franks predicts will continue for at least four more years.
Bush is coming across as very presidential indeed.
Like his dad, he's out of the loop; like Bill Clinton, he's become a world-class word weasel; and like Nixon, he's shown a massive propensity for secrecy and dissembling.
Clinton was impeached for seven words he should not have uttered: "I never had sex with that woman." What price will Bush have to pay for his 16-word scam?
Comment: The Bush Reich's approach is rather interesting, isn't it? Is it simply a case of having their heads buried in the sand, or do they actually not care? Perhaps they are blinded to the consequences of their actions due to their collective psychopathy, or perhaps they know they won't have to worry about paying their dues. It appears the sky is starting to fall (literally), those imaginary terrorists are still evil and scary and ready to blow up America, and a total lockdown could be implemented with a twitch of Bushy's finger.
Bombs Hit Tax Office in Nice, 16 Injured
Sun July 20, 2003 03:27 AM ET

NICE, France (Reuters) - Two bombs exploded at the tax and customs office in the French Riviera
city of Nice on Sunday, injuring 16 people and causing substantial damage, emergency services said.[...]
Blackwood fire heads into Montana
by The Associated Press
HELENA (AP) - A fire that started in Idaho west of Wisdom became a Montana fire Saturday as it burned deeper into heavy stands of timber on the Beaverhead-Deerlodge National Forest.
Several other fires around the state also expanded overnight, and the attack on a new fire near Glacier National Park was taken over by an interagency team of expert fire managers.
The Blackwall Fire in extreme western Montana doubled in size to 900 acres by Saturday, all of the growth coming on the Montana side of the border.
Hail, Rain Sweep Through Central Illinois
The Associated Press
July 18, 2003
Violent storms swept through central Illinois early Friday, damaging homes, covering lawns with quarter-sized hail and dumping up to three inches of rain. [...]
Heavy storms and golf ball-sized hail snarled rush-hour traffic in the Chicago area Thursday afternoon and caused power outages for about 160,000 Commonwealth Edison customers. About 50,000 were still without service Friday morning, spokesman Tim Lindberg said. [...]
ELECTION MESS A CIA COVERT OPERATION?
by Sherman H. Skolnick 12/8/00
Old-timers with covert operations expertise felt in their gut that something about the year 2000 presidential election blitz was part of an intelligence agency covert scheme. In spy parlance, they suspected the American people are victims of "black ops". Invoking "national security", the U.S. Central Intelligence Agency ordered the major press and wire services to play down if not entirely omit any possible CIA complicity mentioned in an Associated Press story later "spiked".
Comment: An older article, but something to think about, instead of getting caught up the George Tenet scripted drama composed entirely for your benefit. Be sure to check out the link to the actual AP article that was pulled from AP's web site.
Palestinians 'Reduced To Begging'
By Robert Uhlig Farming
The Guardian - - UK
GENEVA (AP) -- Palestinians in Gaza and the West Bank have been "reduced to begging" by Israeli military action, and Israel is breaching international law by failing to provide much-needed aid, a UN expert said yesterday. [...]
AP, 13:16 Saturday 19th July 2003
Palestinian militants have abducted the Palestinian governor of the West Bank town of Jenin as he drove through the city centre. [...]
Italian says she gave uranium info to the U.S.
Associated Press
ROME - A journalist for an Italian news magazine has come forward, saying it was she who turned over to U.S. diplomats some documents purportedly showing that Iraq wanted to buy uranium from Niger. The documents turned out to be forgeries.
In an interview published Saturday, Corriere della Sera, a leading Italian daily, quoted Elisabetta Burba as saying her source "in the past proved to be reliable." The journalist, who writes for the weekly Panorama, refused to reveal her source.
"I realized that this could be a worldwide scoop, but that's exactly why I was very worried," Burba was quoted as saying. "If it turned out to be a hoax, and I published it, I would have ended my career."
Two days later he disappeared from his home. The next day, Friday, as Blair was en route to Tokyo from Washington where he was greeted as a hero by US senators and congressmen, Kelly was found dead in woods near his home in Oxfordshire.
Police on Saturday revealed that Kelly had apparently slashed one of his wrists.
Comment: Strange that Kelly would slash his wrist. In the Ananova article, Kelly warned of 'dark actors playing games', we discover that:
Weapons expert Dr. David Kelly reportedly told of "many dark actors playing games" in an email to a journalist hours before his suicide. [...]

The message gave no indication that he was depressed and said he was waiting "until the end of the week" before judging how his appearance before the House of Commons Foreign Affairs Committee had gone. [...]
Blair ally blasts BBC's 'obsession'
Kamal Ahmed in Tokyo and Gaby Hinsliff in London
Sunday July 20, 2003
The Observer
The Prime Minister's close ally Peter Mandelson made an astonishing attack on the BBC last night as
Tony Blair faced the deepest crisis of his leadership over the death of scientist David Kelly.

The outburst followed demands from Labour MPs for both the Prime Minister and his Director of
Communications, Alastair Campbell, to resign as the row over the use of intelligence in the run-up to
war against Iraq claimed its first human casualty. It came despite appeals from an emotional Blair for
'respect and restraint' until the full facts were known.[...]

Calling for a fundamental change in the 'poisonous relationship' between politicians and the media, the
former Northern Ireland Secretary blamed the BBC's pursuit of Alastair Campbell for the way the row
between them had spiralled out of control.
Writing in The Observer, Mandelson said: 'It was the BBC's obsession with him [Campbell] that led more
than anything to the breakdown in relations between the Government and Britain's principal public service
broadcaster, with the result we have seen.'
The corporation's reporting of claims that intelligence was 'sexed up' to justify the war - allegations for
which Kelly was identified as the source - was 'simply not good enough', said Mandelson.[...]
Blair in spotlight over expert tragedy
BBC News UK

The knives are out, the fingers are pointing, or as the Daily Mail describes it, Tony Blair and his
government are now facing their "Moment of Truth". [...]
Instead of its normal single column editorial the paper devotes three to the apparent death of Iraq weapons expert and MoD advisor Dr David Kelly, and it pulls no punches at what it sees as a politically-inspired vendetta.
It says the victim was "pitchforked" into the very centre of a huge public row - and the motive was transparent: to put pressure on the BBC to name its source for a report alleging the government had embellished an intelligence dossier to strengthen the case for war against Iraq. [...]
Euro will pay for NHS, says Blair
Kamal Ahmed, political editor, in Tokyo
Sunday July 20, 2003
The Observer
Britain will be billions of pounds better off if it joins the European single currency, saving enough
money over the next 30 years to pay for the whole of the National Health Service, the Prime Minister
said yesterday. In an uncompromisingly pro-single currency speech in Japan, Tony Blair said it was
'in the national interest that Britain should join the euro'.
Despite Treasury fears that joining the single currency too early could lead to increases in tax rates
in Britain, Blair made it clear the Government was on track to call a referendum on whether to join
the euro shortly before, or after, the next general election.[...]
In a clear signal that paying for public services will be one of the main planks of the referendum campaign
to persuade a sceptical public that Britain should join the euro, Blair said that the monetary benefits were
more than the Government spent every year on the NHS or pensions and education combined.[...]
Comment: Ein Volk, Ein Reich, Ein furher. Ein Geld?
Civilians Trapped by Liberian Rebel Assault

Sat July 19, 10:35 PM ET
Reuters

MONROVIA (Reuters) - Terrified residents of the Liberian capital were trapped in the crossfire on
Sunday between rebels advancing into the city and forces loyal to President Charles Taylor, who vowed
to fight to the last man.
Mortar rounds thudded after dark near Monrovia's diplomatic quarter after rebels firing rockets and
machineguns advanced close to the center of the city on the West African coast.[...]
"They are still on the other side of the bridge and around the port area, so we are building up our defenses,
" Defense Minister Daniel Chea told Reuters. He said at least 20 civilians had been killed in Saturday's
fighting.[...]
Ex-Spies: CIA Workers Outraged
NEW YORK, July 19, 2003

(CBS) Before the bombs fell on Baghdad, there were analysts inside the American intelligence community who were troubled by the U.S. case for war, reports CBS News Correspondent Jim Acosta.
Raymond McGovern, a former CIA analyst and supervisor, says, "Never before in my 40 years of experience in this town has intelligence been used in so cynical and so orchestrated a way."
McGovern is one of several retired intelligence analysts who say they are speaking out for those who can't inside the CIA. [...]
The Scotsman
HAMISH MACDONELL
Sat 19 Jul 2003
THE United States government agreed yesterday to suspend the threat of secret military hearings against nine British terror suspects held at Guantanamo Bay, Cuba.
Downing Street said the futures of the men - who had faced a possible death penalty - would be the subject of high-level discussions between the Attorney General and US authorities.
The breakthrough came after private discussions between Tony Blair and George Bush, the US president, during the Prime Minister's whistle-stop visit to Washington. It could now pave the way for hearings in the mould of the Lockerbie trial, staged in the Netherlands, or trials on US or British soil. [...]
Comment: Apparently Caesar thought Mr. Blair engaged in enough bowing and foot-kissing during his recent visit to the USA.
Leonard Peltier: America's Political Prisoner

In America, is there justice for all? In a special editorial written for Pravda.ru, David R. Hoffman explains how the American legal system works and does not work
[...] AIM [American Indian Movement] also had the misfortune of becoming active just as COINTELPRO was effectively decimating other social movements. The first major Native-American protest came in 1969 when activists occupied Alcatraz Island to demand the United States government honor a treaty that ceded unoccupied federal lands to Native-Americans. After the de facto leader of the Alcatraz protest, Richard Oakes, was slain by a white man (who was only charged with manslaughter and subsequently acquitted), AIM decided to focus on reservations where "traditional" Native-Americans were being exploited or abused by their "pro-government" counterparts. This led to the Pine Ridge Reservation in South Dakota , where AIM was violently opposed by an FBI supported vigilante group known as "Guardians of the Oglala Nation" (GOONS). The result, as described by William F. Muldrow, former director of the Rocky Mountain Regional Office of the U.S. Commission on Civil Rights, was an "unprecedented climate of fear and terror," which ultimately culminated in over sixty unsolved murders.[...]
Meteors and Meteor Showers: How They Work
[...] When a comet nears the sun, a trail of dust and other debris burns off and remains in solar orbit. As Earth orbits the sun, it passes through this debris field spread across its path. Small bits burn up in the atmosphere, creating meteors. Meteors come from other sources, too, but comet debris streams are the source of sometimes dramatic meteor showers.
When to watch
The part of Earth where dawn is breaking is always at the leading edge of our planet's plunge along its orbital path around the Sun. This part of the planet tends to "catch" oncoming meteors left by a comet, whereas the other side of Earth, where it is dusk or late evening, outruns the debris. For that reason, the hours between midnight and dawn are typically the best time to watch a meteor shower.
Significant meteor showers are announced on Spacewatch.
Bush ready to wreck ozone layer treaty
US slips in demand to drop ban on harmful pesticide
Adult ADD: Common disorder or marketing ploy?
Critics say ad campaign on condition raises ethical questions
Elizabeth Cohen and Debra Goldschmidt
CNN

(CNN) -- Feeling distracted, disorganized? Trouble waiting your turn in line? Fidgety? Maybe you have adult attention deficit disorder, or adult ADD, and need to see a doctor.
That's the new marketing message from pharmaceutical giant Eli Lilly and Co., which has the only drug with Food and Drug Administration approval to treat adults with ADD.
Some see the national ad campaign as a way to educate the public about a little-known condition; others said Eli Lilly is trying to convince members of the public that they have the disorder to increase demand for its new medication.
KOBE BRYANT IN THE COLORADO STORM
[...] What I'm building up to here is, we have the possibility of huge and ongoing and accelerating publicity leading up to the trial over the course of many months.
Which could mean yet another major episode of black-white polarization in America. [...]
Psychic link to Lockerbie bomb probe
By Magin McKenna

The CIA used psychics to investigate the Lockerbie bombing and reconstruct images of the baggage container said to have held the bomb that caused PanAm Flight 103 to explode.
Declassified documents obtained by the Sunday Herald reveal the extraordinary attempts that were made to glean vital clues relating to Britain's worst terrorist atrocity - 270 people died when PanAm Flight 103 was blown up over Lockerbie in December 1988.
The 26-page report is an insight into the now decommissioned Star Gate programme, a $20m CIA initiative which ran from 1972 to the mid-1990s.
It was launched with the aim of training individuals to gather intelligence information by "transcending the boundaries of space and time" through their minds.
Using a process known as "remote viewing", investigators attempted to provide information that could be useful to the intelligence sources about international tensions and major investigations. [...]
Comment: Be wary of all reports on Cointelpro operations, particularly all the nonsense that has flooded the market on remote viewing. We are not saying that there is nothing to it, but reports like this one are typical public relations stunts.
Slumlord must spend three months in her own building
The Associated Press

LOS ANGELES (AP) - A judge ordered an apartment owner to spend three months under house arrest in her own dilapidated, vermin-filled building for failing to comply with health and safety codes.
Videocams Record Airline Flights
By Elisa Batista

Southeast Airlines said it plans to install digital video cameras throughout the cabins of its planes to record the faces and activities of its passengers at all times, as a precaution against terrorism and other safety threats.
RIAA nails 1,000 music-lovers in 'new Prohibition' jihad
By Andrew Orlowski in San Francisco
Posted: 19/07/2003 at 11:26 GMT
The Recording Industry Association of America's attack on US culture has escalated at an
alarming pace this week.
On Friday the lobby group that works on behalf of the large, mostly foreign-owned, music
conglomerates that own the music copyrights and distribution channels confirmed that it was
serving subpoenas at the rate of 75 a day on US citizens for the crime of sharing the music they love. [...]
Comment: That's the way to get those table-scrap pilfering teenagers. One step away from declaring them terrorists.
The escalation in violence threatens to bring the US criminal justice system to an impasse: although
the prison industry is already full to the brim, the RIAA's actions make new criminals out of tens of
millions of ordinary US citizens. As Boycott-RIAA's founder Bill Evans notes, "there are more file-sharers
than voters for either candidate at the last Presidential Election".
When Evans dubs the 'Recording Incarceration Industry of America' he's only half-joking. If the RIAA
was to be indulged in its whims, the statistics suggest that the USA would rapidly become a vast,
continent-wide penal colony. And that's hardly a beacon of liberty to shine on the rest of the world.
Particularly when, with the backing of the much-maligned US military, the RIAA is ripping up liberal
social copyright laws and replacing them with its own.[...]
Comment: See related stories - Congress mulls prison terms for KaZaA users, and for some corruption in politics - Congressman pocketed $18,000 for RIAA 'lobbying trip'
Bidders Fail to Bite at Elvis Online Tooth Auction
Sat July 19, 2003 10:40 PM ET
SAN FRANCISCO (Reuters) - A tooth said to have been pulled from Elvis Presley after an injury failed to attract the minimum $100,000 selling price on the eBay Web site by the time a 10-day auction ended, officials said on Saturday. [...]
Frenzied, but ultimately fraudulent bidding briefly pushed the price above $2 million before eBay required potential buyers to register if they wanted to place bids, according to Anthony DeFontes, who represents hairdresser Flo Briggs of Fort Lauderdale, Florida.
Though the dental artifact, which was packaged with shorn strands of the crooner's hair, created an Internet frenzy -- 161,000 people viewed the web page within 48 hours, DeFontes said -- no legitimate bids remained when the auction ended shortly before midnight on Friday. [...]
---
Check out the Signs of the Times Archives
Send your comments and article suggestions to us.
---
Fair Use Policy
Contact Webmaster at signs-of-the-times.org
Cassiopaean materials Copyright ©1994-2014 Arkadiusz Jadczyk and Laura Knight-Jadczyk. All rights reserved. "Cassiopaea, Cassiopaean, Cassiopaeans," is a registered trademark of Arkadiusz Jadczyk and Laura Knight-Jadczyk.
Letters addressed to Cassiopaea, Quantum Future School, Ark or Laura, become the property of Arkadiusz Jadczyk and Laura Knight-Jadczyk
Republication and re-dissemination of our copyrighted material in any manner is expressly prohibited without prior written consent.
.