---
Sky News
The row over the Government's Iraq dossier has taken a tragic turn - after police found what is feared to be the body of the missing defence scientist Dr David Kelly.
A body matching scientist Dr Kelly's description was found near his home in Oxfordshire. It has now been taken away for a post mortem to be carried out.
Acting Superintendent Dave Purnell said: [...] "Thames Valley Police are currently treating this incident as an unexplained death."
Comment: Dr. Kelly was a microbiologist working for the MOD. Remember all those curious deaths of microbiologists not so long ago?
From: What Really Happened:
On November 15th, Harvard Professor Don Wiley left a gathering of friends and colleagues some time after 10:30 PM. The next morning, Memphis police found his rental car stopped on a bridge, with a full tank of gas and keys still in the ignition. There was no financial or family trouble. Indeed Wiley was supposed to meet his family at the Memphis airport to continue on to an Icelandic vacation. Neither was there any history of depression or mental illness. [...]
From: May 4, 2002 in the Toronto Globe & Mail
Scientists' Deaths Are Under the Microscope

It's a tale only the best conspiracy theorist could dream up.

Eleven microbiologists mysteriously dead over the span of just five months. Some of them world leaders in developing weapons-grade biological plagues. Others the best in figuring out how to stop millions from dying because of biological weapons. Still others, experts in the theory of bioterrorism.

Statistically, what are the chances?

Throw in a few Russian defectors, a few nervy U.S. biotech companies, a deranged assassin or two, a bit of Elvis, a couple of Satanists, a subtle hint of espionage, a big whack of imagination, and the plot is complete, if a bit reminiscent of James Bond. [...]
From: From the Wilderness:
[...] FTW's reporting on the mysterious post-9-11 deaths of 15 microbiologists, some of whom have done research on infectious diseases, has drawn the attention of and sometimes questionable rebuttals by major publications in the U.S. and Canada. The New York Times last month expended 7,800 words in an effort to explain away these recent deaths as coincidence.[...]
Also see: Missing / Dead Scientists,
Of course Blair is whining for restraint over ''mole'' death. He, "called on Saturday for an end to speculation over the death of a government scientist who was embroiled in a row over the Iraq war as the affair threatened to bring huge political fallout."
And then the U.S. Congress gives him a gold medal.
Scientist thrust into spotlight
CNN
LONDON, England -- Until recently, David Kelly was an anonymous scientist working behind the scenes at Britain's Ministry of Defence.
A top microbiologist and former U.N. weapons inspector, Kelly has advised British ministers on weapons of mass destruction.
But on Friday, a close friend said Kelly's wife had told him the scientist was deeply unhappy about his role in the political row about WMD and was under great stress.
He visited Iraq under Saddam Hussein's regime dozens of times and served as a government adviser in the Proliferation and Arms Control Secretariat.
Between 1991 and 1998, the 59-year-old Kelly played a key role in inspecting Iraqi weapons after the 1991 Gulf War.
"When Iraq invaded Kuwait in August 1990, little did I realize that Saddam Hussein would dictate the next 10 years of my life," Kelly once said during a lecture.
Garth Whitty, a defense expert at the Royal United Services Institute who worked with Kelly for the Unscom weapons inspection team in Iraq, told CNN that the MoD scientist was a "focused, experienced and expert scientist."
He said Kelly was known worldwide for his "excellence."
Whitty added that Kelly had withstood pressure from the Iraqi regime, but "nothing in his career prepared him" for the events of the past few weeks.
Kelly also led all the visits and inspections of Russian biological warfare facilities from 1991 to 1994 under the 1992 Trilateral Agreement between the United States, Britain and Russia.
In 1994, Kelly became senior adviser on biological warfare for the United Nations in Iraq, holding the post until 1999.
Kelly's background is in agricultural science. He was chief science officer at Britain's Natural Environment Research Council Institute of Virology and the head of microbiology at the Chemical Defence Establishment in Porton Down from 1984 to 1992.
In September 2002, he gave evidence to a House of Commons committee probing the war on terrorism.
At the time, he spoke in his role as chief scientific officer and senior adviser to the Proliferation and Arms Control Secretariat of the Ministry of Defence, and the Non-proliferation Department of the Foreign Office.
Kelly before the HoC committee
But this week, when he spoke to the Foreign Affairs Select Committee, he found himself in the center of a bitter row between the British government and the BBC.
The government was angry over a story by BBC defense correspondent Andrew Gilligan -- based on information from an unnamed source -- that government communications chief Alastair Campbell "sexed up" a crucial intelligence dossier on Iraq.
The Ministry of Defence (MoD) named Kelly as a contact who it believed briefed Gilligan about Iraq's weapons program
On Tuesday Kelly admitted to the Foreign Affairs Committee that he had met Gilligan a week before he broadcast his story on the Radio 4 Today program.
But he denied he was the main source for the story.
He told the committee that Gilligan's account of his conversation with his source was so different from their conversation that he did not believe he could be the source.
But he told the committee: "I believe I am not the main source. [...]
Crisis for the Blair government
Michael White, Richard Norton-Taylor, Steven Morris and Matt Wells
Saturday July 19, 2003
The Guardian
[...]Police sources said the family did not report the disappearance more quickly because they were so sure that, despite the pressure he was under, he would not be driven to take his own life.
However, when Dr Kelly's wife, Janice, spoke to a close friend of her husband's, the television journalist and author Tom
Mangold, before the body was found she conceded that her husband had been furious at how he had been treated over the last two weeks. Mangold said: "She said he was very stressed and unhappy about what had happened. This was really not the kind of world he wanted to live in."
She told Mangold her husband had felt physically sick after he left the foreign affairs committee.
The BBC was reeling from the news, appearing unsure how to react. It put out a short statement, which said: "We are shocked and saddened to hear what has happened and we extend our deepest sympathies to Dr Kelly's family and friends.
Dead Microbiologist Kelly

From Nico Haupt
Global Free Press
As GFP found out (last week), ...Kelly was more than just an "adviser to the Foreign Office". From 1984-1992 he was Head of Microbiology at the Chemical and Biological Defence Establishment, Porton Down.

Kelly was also among the hardliners who claimed that Iraq had WMD. In October 2001, Kelly claimed, that in 1985, Iraq obtained Anthrax through a mail order of Virginia-based American Type Culture Collection. [...]
Tragic price of contempt for free press
A man may have died as a result of the government's contempt for one of the cornerstones of democracy - a free and independent press
Steven Barnett
Friday July 18, 2003
One of the fundamental differences between genuine democracies and totalitarian regimes is a free press.
For a free press to operate effectively, governments must accept that their decisions and policies will be challenged, interrogated, investigated and analysed by people acting independently and using whatever legal means are available to them. It can be desperately uncomfortable, and sometimes even unfair. Very occasionally, as for Richard Nixon over Watergate, it can be politically fatal. But the alternative is far worse.
The case of David Kelly, the Ministry of Defence weapons expert who ministers "outed" as the source of Andrew Gilligan's story that the government exaggerated Iraq's weapons capability, raises crucial questions about the operation of a free press and the relationship between government and journalists. [...]
The death of a civil servant, a casualty of war
By Paul Vallely
[...] At one point Labour's Andrew Mackinlay had thundered angrily at the scientist: "This is the high court of Parliament and you are under an obligation to reply!" He then said to Dr Kelly: "I reckon you're chaff. You've been thrown up to divert our probing. Have you ever felt like the fall guy? I mean, you've been set up haven't you?" Dr Kelly had replied: "That's not a question I can answer."
And when the Conservative member, Sir John Stanley, said "You were being exploited to rubbish Mr Gilligan and his source, quite clearly", Dr Kelly could only shrug and say, "I've just found myself in this position out of my own honesty of acknowledging the fact that I had interacted with him."[...]
With Kelly's assassination taking spotlight on the news what is being over looked? Israel is eerily quiet.
Sharon's Son Faces Allegations of Bribes
"Officers from the police fraud squad interrogated Gilad Sharon on Wednesday, said police spokesman Gil Kleiman, as part of an investigation into a $1.5 million payment from a South African businessman."
Israeli occupation authorities agreed to allow more Jews to visit al-Aqsa compound
in occupied east Jerusalem, despite Palestinian condemnation and warnings that the move could destroy the political process and inflame violence.
Israel has decided to allow non-Muslims to visit the al-Aqsa compound earlier this month.
The permission for Jews to visit the third holiest Muslim mosque was ordered by Israeli Prime Minister Ariel Sharon, Internal Security Minister Tzahi Hanegbi and the police. [...]
Israel arrests dad of slain tot

Associated Press
Jul. 19, 2003 12:00 AM
JERUSALEM - Israeli security forces have arrested two Jewish settlers, including the father of a baby shot dead by a Palestinian sniper, Israeli media and a settlers spokesman said Friday.[...]
Israel looking at freeing some jailed Islamic militants

By JOSEPH COLEMAN,
Associated Press
JERUSALEM (July 18, 3:31 p.m. ADT) - Israel is considering a limited release of jailed Islamic militants, Israeli officials said Friday, in a move that would partially satisfy a key Palestinian demand for maintaining the three-week Mideast cease-fire.
And, notice what is buried at the bottom of this article by Gordon Thomas, who wrote the book Gideon's Spies: The Secret History of the Mossad . . .
Cheney Was Bush's Triggerman in Escalating Intelligence Catfight
[...] Tenet did say that. Cheney overruled him—once more citing the British "credible sources." So who were they?
Intelligence sources believe there are two. The French secret service (DGSE) and Mossad.
Both have a strong presence in West Africa.
Niger is a former French colony.
Israel receives a substantial portion of its oil from adjoining Nigeria.
Niger's uranium mines are run by a French company which is supervised by the French Atomic Energy Commission.
In London, MI6 insists the evidence from these sources remains "credible."
British intel sources say that "a further factor in the refusal to share its information about Niger with the CIA is concern that the
White House would publish it—and lead to our sources being uncovered," said a London source.
On his trip to London to meet Blair, Israeli Prime Minister Ariel Sharon was accompanied by Meir Dagan, head of Mossad.
He met Sir Richard Dearlove and Eliza Manningham-Buller.
High on their list was the Niger uranium claim. No one still knows if the French-Mossad intelligence is credible.
Did Mossad provide it as part of Israel's own strategy to ramp-up the war against Iraq?
Did French intelligence refuse to allow the CIA to see its own intelligence because the Paris government was strongly opposed to the coming war with Iraq—and would not wish to provide Washington with any support for military action?
At a recent meeting, Bush confronted Blair with these questions. [...]
Bush's Approval Rating Sags Over Iraq
By APARNA H. KUMAR
Associated Press Writer
[...] But a majority of those polled, 66 percent, said Bush is very or somewhat likely to win the election regardless of how they cast their vote.
Bush Family Values Photo Album
For more than a half century, members of the Bush family have been setting policy and making decisions for all Americans. Let's look at the family that has had such an impact on the lives of human beings worldwide [...]
Wolfowitz Sees Hope, Pain in Iraq

By ROBERT BURNS

TURABA, Iraq (AP) - In the powdery dirt and searing heat that engulfs this village of small, thatched homes, Paul Wolfowitz found a cold, hard truth about liberated Iraq: Hope is here, but so is pain. [...]
Comment: A sick and cynical propaganda piece. Wolfowitz of Arabia goes around feeling everyone's pain, faking it like a good psychopath.
No kharabba at the end of the tunnel
By Pepe Escobar
Asia Times
July 19, 2003
ABU DHABI - Wolfowitz of Arabia, the Pentagon's number two and the man who sold the war on Iraq to George W Bush, stepped out of a C-17 cargo plane after a 12-hour flight from Washington to Baghdad to, in his own words, collect "first-hand evidence of what it means for the Iraqi people to be liberated from decades of brutal repression". [...]
Subject to daily distress, most Iraqis are not allowed the luxury of even bothering with the political process. Their real, pressing problem is the absence of kharabba - electricity. With temperatures reaching 50 degrees Celsius and non-stop power cuts, tempers couldn't be hotter. Bremer said that before the war slightly more than half of Iraq's electricity needs were assured. It's not true: there was no substantial lack of power in Saddam's Iraq.
Nowadays production is around 3,100MW, which covers less than half of the country's needs. It may be argued whether American bombing spared Iraq's infrastructure this time, but the fact is that high-tension lines south of Baghdad were hit by bombing. At the end of April, the lucrative contract for reconstruction and renovation of Iraq's electricity grid was awarded to the Bush-connected Bechtel Corporation. But nothing has happened so far. [...]
U.S. Soldier Killed Guarding Baghdad Bank
Pentagon retaliates against GIs who spoke out on TV
Robert Collier, Chronicle Staff Writer
Friday, July 18, 2003
Fallujah, Iraq -- Morale is dipping pretty low among U.S. soldiers as they stew in Iraq's broiling heat, get shot at by an increasingly hostile population and get repeated orders to extend their tours of duty. [...]
But going public isn't always easy, as soldiers of the Army's Second Brigade, Third Infantry Division found out after "Good Morning America" aired their complaints.
The brigade's soldiers received word this week from the Pentagon that it was extending their stay, with a vague promise to send them home by September if the security situation allows. They've been away from home since September, and this week's announcement was the third time their mission has been extended. [...]
First lesson for the troops, it seemed: Don't ever talk to the media "on the record" -- that is, with your name attached -- unless you're giving the sort of chin-forward, everything's-great message the Pentagon loves to hear. [...]
"Soldiers have bitched since the beginning of time," said Capt. James Brownlee, the public affairs officer for the Second Brigade. "That's part of being a soldier. They bitch. But what does 'bad morale' really mean? That they're not combat-ready or loyal? Nobody here fits that definition."
Flashback:
Troop morale in Iraq hits 'rock bottom'

[...] In one Army unit, an officer described the mentality of troops. "They vent to anyone who will listen. They write letters, they cry, they yell. Many of them walk around looking visibly tired and depressed.... We feel like pawns in a game that we have no voice [in]." [...]

GI's tired and depressed in Iraq

[...] "The biggest problem is sleep. Some people just sleep for hours and hours but still don't have any energy to get up," said the 39-year-old doctor from Brooklyn, New York City.

Meadows has seen soldiers suffering from symptoms of combat stress including depression, agitation and short temper and said a majority of them are men in their early 20s.

"The most common symptom is depression. Not knowing when we're going home is the worst part," he said. He has prescribed anti-depressants but said the best treatment is just talking to soldiers. [...]
US army wives warned crititicism can play into Iraqi fighter' hands

HINESVILLE, Texas (AFP)
Jul 18, 2003
Disgruntled army wives have been warned that their complaints about their husband's continued deployment in Iraq could play into enemy hands and further endanger US troops on the ground. [...]
"When the Iraqis see media coverage of disgruntled Americans, publicly campaigning for the return of our soldiers from Iraq, they are encouraged and believe their strategy is working," Anita Blount said in an open letter to spouses of deployed soldiers published this week. [...]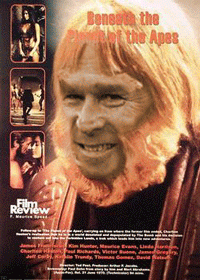 Bush: British detainees are 'bad people'
By Patrick Hennessy in Washington, Evening Standard
18 July 2003
Tony Blair and George Bush were today trying to reach a deal on the fate of two Britons facing trial in Guantanamo Bay. [...]
The US president appeared to take their guilt for granted in outspoken comments at a press conference before their talks.
To Mr Blair's discomfort, he insisted: "The only thing I know for certain is that they are bad people. We look forward to working with the Blair government to deal with these issues."
Mr Bush went on: "These were illegal combatants. They were picked up off the battlefield aiding and abetting the Taliban." He quickly added: "I am not trying to try them in front of the cameras." [...]
Comment: Bush actually told the truth for once! It is plainly evident that he doesn't want any enemy combatants to be tried in front of the cameras, or in front of a real judge and jury who might actually give the accused a fair trial. No, Bushy wants everything done behind closed doors, and that is precisely the problem. But most people will hear his statement and think it is truthful and positive since they have had to put up with numerous show trials on television. It is also amazing that more Americans can't see through little Shrubby's nauseatingly simplistic and infantile declarations, such as, "The only thing I know for certain is that they are bad people."
Military Tribunals: U.S. Government Also Will Be On Trial
World Will Be Watching How U.S. Prosecutes 'Enemy Combatants'

WASHINGTON -- Three terrorism suspects being detained at Guantanamo Bay in Cuba may soon go on trial in military tribunals.
In some ways, the United States will be on public trial on how it handles these cases. The world will be watching.
Some of the rules of the military proceedings don't fit into prized U.S. legal traditions. For example, communications between a defendant and his defense lawyers can be monitored. But Pentagon officials insist the rules will be fair.
The trials are expected to begin in a couple of months at Guantanamo where a courtroom is being built.
Some critics have said the United States appears to be taking the approach that the "enemy combatants" are guilty before proven innocent. [...]
Justice Dept. delegation to Iraq couldn't work or talk Participant cites chaos, gag order
By Kevin Johnson
USA TODAY
WASHINGTON -- Members of an American delegation sent to Iraq to begin restoring that nation's civilian justice system made little progress and were restricted from publicly discussing their work, said a federal judge who was part of the group.
Senior U.S. District Judge Gilbert Merritt said the 25-member delegation's hopes of assessing Baghdad's judicial and law enforcement institutions were hindered by the chaos in the city of 5 million people. Guerrilla warfare continues, water and electricity service are limited, police forces are barely functioning, and many courthouses are bombed-out shells, he and other members of the delegation said. [...]
The delegation's mission was to lay the groundwork for a revamped justice system in Iraq. The system would be separate from a new Iraqi war crimes court that is being set up by the U.S.-backed Iraqi Governing Council. The 25-member council, formed by Bremer and Iraqi political leaders, will help draft a constitution and prepare for elections. The war crimes court will try leaders of Saddam's government.
Dodge County Man Sees Crop Circles Form
Farm Owner Says 'Mother Nature Did It'
July 18, 2003
MAYVILLE, Wis. -- In the rolling hills of rural Dodge County, people might expect to see farm fields filled with corn and other crops, but if they look a little closer, there is something very different in one barley field.
"The holes appeared and there it was but you couldn't see what made it, but I seen it right when it happened," farm owner Arthur Rantala said. [...]
From the safety of his work shed during a violent morning storm on the Fourth of July, he saw crop circles form
"It looked like a lake. The waves, the wind blowing, and then all of the sudden this dark hole appears, like a black hole. And then immediately, one to the right then another to the center of it," Rantala said. [...]
Comment: Photos from ground level can be found here.
Meteor reported over northern Minnesota
Allen Powell II, Star Tribune
Published July 18, 2003
Several residents in northern St. Louis County reported seeing a large, fiery object streak across the sky Thursday, accompanied by a loud boom, the Sheriff's Office said. The office ruled out the possibility of a plane crash and said the object most likely was a meteor.
Ash from Montserrat's volcano destroys crops, damages wildlife areas
By Associated Press
BRADES, Montserrat — Ash spewed by Montserrat's active volcano caused damage worth more than Eastern Caribbean $860,000 (US$323,000) to crops and the island's water system, the government said Thursday.
Residents Near Volcano Get Home Access
Saturday July 19, 2003 12:29 AM
OLVESTON, Montserrat (AP) - Hundreds of people with houses near Montserrat's volcano will have limited access to their homes Saturday for the first time since they were ordered to evacuate nine months ago.
The governor of the British Caribbean island announced the decision Friday, saying the volcano is less dangerous following the collapse of its lava dome last weekend. [...]
Thousands evacuated as fires rage near French Riviera
Friday July 18, 9:10 PM
AFP Photo
Over 9,000 people had to flee their homes in hills behind France's picturesque Mediterranean coast overnight as two forest fires spread over a large area of countryside, rescue officials revealed. [...]
The biggest blaze consumed some 9,000 hectares (22,500 acres) of brush and pine woods in the Maures hills behind Saint-Raphael in the Var region, one of the country's premier tourist destinations. [...]
Fire burns 12,900 acres along border of Riverside-San Diego counties

ASSOCIATED PRESS

WARNER SPRINGS – A wildfire sparked by lightning has burned across 12,900 acres and destroyed structures at a university research station in a sparsely populated region of eastern San Diego County, officials said Friday.
Bangladesh monsoon floods leave 73 dead, 5 million affected: officials

DHAKA (AFP) Jul 18, 2003
At least 73 people have died and more than five million have been affected by monsoon floods in Bangladesh but officials said Friday water levels could subside in next few days. [...]
Earthquake Shakes Ashtabula, Ohio
No Damage Reported From 2.5 Magnitude Quake
Scientists Study Giant 1,000-foot Undersea Waves
Shots fired at school board meeting
Man douses 2 with gasoline, opens fire with assault-style rifle
Dog Killer Psychopath Loose in Portland
PORTLAND, Ore. - Poisoned sausages placed in a park have apparently killed eight dogs in this usually pooch-friendly town amid a heated debate over whether dogs should be allowed in parks without a leash.
Robbers steal rubbish bags at gunpoint
By Rachel Clarke
BBC News Online in Washington
The standing ovation given by the US Congress to UK Prime Minister Tony Blair has been echoed in American newspapers and on television.
Some hailed Mr Blair as a great spokesman for the White House
News shows compared the cheers for Mr Blair in Washington with the jeers he often receives in the House of Commons.
NBC TV's Andrea Mitchell described the prime minister as a "hero to his American allies" but a "traitor to critics at home".
Fox News noted the 17 standing ovations during Mr Blair's speech and titled its report "Standing Strong".
Comment: Click the link if you want to read any more of the fawning praise the mass murder media heaped on psycho Blair. It is too disgusting to include any more here.
Mother who cannibalized daughter spared from prison
B.C. judge cites mental disorder in finding woman not criminally responsible
Police called during House meeting

From Steve Turnham
CNN Washington Bureau
Saturday, July 19, 2003
WASHINGTON (CNN) -- Capitol Police were called Friday to a contentious House committee meeting marked by a Democratic walkout and accusations of name-calling, vulgarity and physical threats.
Comment: From the above article, "You little fruitcake, you little fruitcake, I said you are a fruitcake.
-- Rep. Pete Stark, as quoted by Rep. Kenny Hulshof "
Drugs 'stop compulsive shopping'

Anti-depressants could help people who are unable to stop themselves shopping, researchers say.[...]
"Of course antidepressants help the disorder, in the same way they would help alcohol dependency.
"They are simply another addiction. It's the same relation as methadone to heroin."
Drudging Up Personal Details

Thanks to an alert from the White House, Matt Drudge helped spread the word that ABC's Jeffrey Kofman is . . . Canadian.
By Lloyd Grove
Friday, July 18, 2003
Some folks in the White House were apparently hopping mad when ABC News correspondent Jeffrey Kofman did a story on Tuesday's "World News Tonight" about the plummeting morale of U.S. soldiers stationed in Iraq.
So angry, in fact, that the next day, a White House operative alerted cyber-gossip Matt Drudge to the fact that Kofman is not only openly gay, he's Canadian.
Yesterday Drudge told us he was unaware of the ABC story until "someone from the White House communications shop tipped me to it" along with a profile of Kofman in the gay-oriented magazine the Advocate. On Wednesday, for 6 hours 38 minutes, the Drudge Report bannered Kofman's widely quoted ABC story -- in which enlisted people questioned the Army's credibility and one irked soldier went on camera to call on Defense Secretary Donald Rumsfeld to resign -- and linked to the Advocate piece with the understated headline "ABC NEWS REPORTER WHO FILED TROOP COMPLAINT STORY IS CANADIAN." [...]
A network insider was less sanguine about the White House tactic: "Playing hardball is one thing. But appealing to homophobia and jingoism is simply ugly." [...]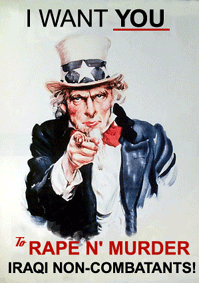 US won't take India's 'No' for an answer
By Sultan Shahin
Asia Times
July 19, 2003
NEW DELHI - Ever since the United States sought Indian military help to continue its three-month-old occupation of Iraq, speculation about the carrots and sticks attached to the request have been rife. As New Delhi dithered, suspicions grew stronger, despite denials of pressure from both sides, that the incentives were substantial, as were the potential punishments.
Now that Prime Minister Atal Bihari Vajpayee's coalition government has shown the courage to refuse to send troops to Iraq, both the carrots and sticks are beginning to come out into the open.
In total contrast to its very mild public reaction, expressing just disappointment, senior US officials have reportedly made American displeasure very clear in a closed-door meeting with Indian Ambassador Lalit Mansingh in Washington. [...]
In return for India's support the US was willing to:
Accommodate an Indian army general as liaison officer at Central Command headquarters in Tampa, Florida, as well as post 35 Indian officers at its command and control headquarters in Iraq;
Offer progress on the "trinity issues" - nuclear, hi-tech and space cooperation. Implied in this was that, like Russia and France, the US would be more accommodating toward India when it came to the Nuclear Suppliers Group for transfer of critical technologies;
Pick up the estimated $300 million tab for troop deployment;
Help India recover its investments in Iraq made during the Saddam regime as well as get a share of the economic reconstruction efforts in Iraq. [...]
North Korea deploys more ballistic missiles

SEOUL (AFP) Jul 18, 2003

North Korea has deployed a new battery of Rodong ballistic missiles that can hit targets throughout Japan, Seoul's Defense Ministry said in a new policy report Friday. [...]
Enriched Uranium Traces Found in Iran
By Joby Warrick
Washington Post Staff Writer
Saturday, July 19, 2003
U.N. nuclear inspectors have detected traces of enriched uranium at an Iranian nuclear facility south of Tehran, a finding that intensified concerns that Iran is secretly pursuing technologies that could produce nuclear weapons, Western diplomatic sources and weapons experts said yesterday. [...]
Mystery of Omsk UFOs Finally Unveiled

The night sky was filled with the glow that outshone the stars
Enthusiasts have helped to unveil the mystery of an unusual phenomenon - the origin of the strange "medusa" in the sky of the Russian Omsk region before dawn [...]
It Looks like the Russian government employs terrorists too
Moscow's Dynamo Stadium Nearly Blown Up?

A suspicious man resembling a Caucasian who laid the explosives wasn't detained [...]
A boost for IRA, 401(k) plans

House panel OKs higher contributions
Associated Press
Jul. 19, 2003 12:00 AM
WASHINGTON - A House committee on Friday approved a $50 billion pension bill that would allow Americans to put more tax-deferred income into personal retirement accounts, but only after the Republican chairman summoned police in the midst of a Democratic boycott and protests over the way the measure was being handled.
The legislation, which over the next 10 years would also allow retirees to wait longer to draw money from their retirement funds, was approved by Republicans while Ways and Means Committee Democrats were huddled in an adjacent room. It could be considered by the full House next week. [...]
Comment: There are a few minor details that the House seems to have overlooked. First among them is the fact that the state of the economy is so abysmal. Many Americans cannot increase their contributions because their pay has not increased. Many other people in the U.S. cannot contribute anything at all because they are unemployed. To top it off, the new legislation allows retirees to withdraw money later in life, encouraging everyone to work until they drop dead.
Discovery Of Quadruply Lensed Quasar With Einstein Ring
Spacedaily.com
Paris - Jul 18, 2003

Using the ESO 3.6-m telescope at La Silla (Chile), an international team of astronomers has discovered a complex cosmic mirage in the southern constellation Crater (The Cup).
This "gravitational lens" system consists of (at least) four images of the same quasar as well as a ring-shaped image of the galaxy in which the quasar reside - known as an "Einstein ring". The more nearby lensing galaxy that causes this intriguing optical illusion is also well visible. [...]
ESA and NASA's SOHO resumes full operation
Friday, July 18, 2003
European Space Agency
ESA/NASA's solar watchdog, SOHO, is back to full operation after its predicted 9-day-long high-gain antenna blackout. Engineers and scientists are now confident that they understand the situation and can work around it in the future to minimise the data losses.
Since 19 June 2003, SOHO's high-gain antenna (HGA), which transmits high-speed data to Earth, has been fixed in position following the discovery of a malfunction in its pointing mechanism. [...]
Link between Black Holes and Galaxies Discovered in Our Own Backyard
SYDNEY, Australia -- By studying more than 120,000 nearby galaxies observed as part of the Sloan Digital Sky Survey, a team of astronomers from Germany and the United States has been able to show that the growth of supermassive black holes is closely linked with the birth of new stars in their host galaxies. [...]
Hubble Tracks Down A Galaxy Cluster's Dark Matter
European Space Agency
2003-07-18
Using the powerful trick of gravitational lensing, a European and American team of astronomers have constructed an extensive 'mass map' of one of the most massive structures in our Universe. They believe that it will lead to a better understanding of how such systems assembled and the key role of dark matter. [...]
Judge's order delays NASA expansion on Mauna Kea
Posted 7/18/2003 1:07 PM
HONOLULU (AP) — A federal judge's order to prepare a new environmental assessment for the installation of up to six new telescopes atop Mauna Kea on the Big Island is expected to delay the $50 million NASA expansion project for up to a year. [...]
Experts say Nessie fossil is a hoax
SCIENTISTS have poured cold water on links between Nessie and a 150-million-year-old fossil found in the Ice Age loch.
The piece of fossilised backbone has been identified as belonging to a plesiosaur, the long-necked sea reptile from the Jurassic period which is most closely associated with Nessie — but suspicions have been raised that it may have been planted in Loch Ness much more recently than the last few million years.
NASA collects dust from Comet Grigg-Skjellerup.
by Jeremy McGovern
Right now, the Stardust mission is traveling through space, headed for a rendezvous with Comet Wild 2 to collect dust from its nucleus and return it to Earth. During the 20 years before Stardust, NASA has tried to collect samples of cometary dust from Earth's upper atmosphere , but it was impossible to determine this dust's exact origin. In late April, a high-flying plane scooped up particles scientists believe were left behind by a known source: Comet Grigg-Skjellerup. [...]
French Government Bans Term 'E-Mail'
By JAMEY KEATEN, Associated Press Writer
Fri Jul 18,11:05 AM ET

PARIS - Goodbye "e-mail," the French government says, and hello "courriel" — the term that linguistically sensitive France is now using to refer to electronic mail in official documents.
The Culture Ministry has announced a ban on the use of "e-mail" in all government ministries, documents, publications or Web sites, the latest step to stem an incursion of English words into the French lexicon.
The ministry's General Commission on Terminology and Neology insists Internet surfers in France are broadly using the term "courrier electronique" (electronic mail) instead of e-mail — a claim some industry experts dispute. "Courriel" is a fusion of the two words. [...]
And Finally . . .
Answer to the mystery of life is four

By SIMON COLLINS, science reporter
Scientists have found a simple mathematical relationship that connects the whole of nature, from the tiniest cell to the vast forests of the Amazon.
The connections are all based on the three dimensions of the physical world - length, depth and width - plus one, making the number 4.
"Four is the magic number of life," says Dr Geoffrey West of the Santa Fe Institute in New Mexico, a keynote speaker at the NZ Institute of Physics annual conference last week.

Dr West, a British-born physicist, and US ecologists James Brown and Brian Enquist have found more than 50 biological relationships, such as between body size and heart rate, which are based on numbers taken to the power of 1/4.
Much of the theory is based on mathematics that can boggle the mind of anyone who struggled through School Certificate maths.
Suffice to say that it centres on equations involving square roots and numbers to the power of 1/4.
In simple maths, says Dr West, "if you are 16 times bigger than your dog, your heart rate is half the dog's rate."
Average body size and lifetime are also related in the same ratio.
So in principle, if you are 16 times the size of your dog, you will live twice as long.
We do better than that, thanks to modern medicine, but the average lifetime of pre-European Maori was around 30.
Remarkably, combining these two relationships means that the heart of every mammal beats roughly the same number of times in its average lifetime - around 1.5 billion times - regardless of whether it is a dog or a human, a mouse or an elephant.
The implication is clear - we can't beat nature.
"This says that there is a maximum lifespan for a given size," Dr West says.
He and his colleagues have found that similar "quarter-power" rules govern every kind of life on Earth, from the rate at which single-celled bacteria absorb energy to the height of those Amazon trees.
They believe this uniformity is because every living thing is made up of distribution networks carrying blood, air and other nutrients first through big tubes such as the aortic artery and then through a succession of smaller tubes to the capillaries, which finally distribute the nutrients to cells.
Within each class of species, such as mammals, the size of the last stage in the chain, the capillaries, is the same.
So are the cells that we are all made of.
But as the organism gets bigger, the distribution network increases more than would be expected - as if it had a fourth dimension.
It is this increase in dimensionality that accounts for the 4. The 4 represents actually 3 + 1, where 3 is the dimensionality of the space we live in.
Auckland University physicist Dr Peter Wills says the theory developed by Dr West and his colleagues is widely accepted, even though it is still being developed.
"There is a great deal of interest in the approach he has taken," Dr Wills said.
"I don't know anybody who thinks it's nonsense."

Comment: Well, perhaps Dr. Wills does not get out much. The matamata turtle has an average size of 18 inches in length and weighs around 27 pounds. The average life span is around 70 years.

---
Check out the Signs of the Times Archives
Send your comments and article suggestions to us.
---
Fair Use Policy
Contact Webmaster at signs-of-the-times.org
Cassiopaean materials Copyright ©1994-2014 Arkadiusz Jadczyk and Laura Knight-Jadczyk. All rights reserved. "Cassiopaea, Cassiopaean, Cassiopaeans," is a registered trademark of Arkadiusz Jadczyk and Laura Knight-Jadczyk.
Letters addressed to Cassiopaea, Quantum Future School, Ark or Laura, become the property of Arkadiusz Jadczyk and Laura Knight-Jadczyk
Republication and re-dissemination of our copyrighted material in any manner is expressly prohibited without prior written consent.
.