---
Ryan Huff
The San Luis Obispo Tribune
Thursday, July 10, 2003
Several San Luis Obispo County residents said they saw flaming objects in the sky late Wednesday, as the Federal Emergency Management Agency reported that four meteor showers fell over California.
Multiple callers and a few deputies saw a bright object falling through the sky around 10 p.m., said Sheriff's Sgt. Tony Perry.
The California Office of Emergency Services received reports from nearly every county in the state. But no one, as of 11 p.m., reported that any meteors landed, according to an agency spokesman.
Perry said the Sheriff's Department received an unconfirmed report of a fallen object in Pozo.
Meanwhile, a Cambria resident told The Tribune that an object she believed fell in her area was so bright it lit up her house through pulled drapes. She first thought a plane had crashed, she said.
No more information was available at as of 11 p.m.
Dear Congress: Look out above!
Open letter highlights threat from near-Earth objects
By Leonard David
SPACE.COM
July 10 — A distinguished group of Americans joined together to send a unique request to congressional leaders Wednesday — a request that preparations be made to deal with the prospect of Earth being slammed by an asteroid or comet.
IN AN "OPEN Letter to Congress on Near Earth Objects," the communication underscores the danger our planet faces from near-Earth objects, also termed NEOs.
The letter has been sent to President Bush and his cabinet, the secretary-general of the United Nations and to leaders around the globe.
Included among those who urged action on the NEO issue were Apollo 17 astronaut Harrison Schmitt; Neil Tyson, director of the Hayden Planetarium; Freeman Dyson, professor emeritus of Princeton University; Lucy Ann McFadden, NEO scientist at the University of Maryland; New York University professor and author William Burrows; John Lewis, a scientist at the University of Arizona; and Thomas Jones, former astronaut and veteran of four shuttle missions.

POTENTIALLY DEVASTATING THREAT
"We write to you today as concerned citizens, convinced that the time has come for our nation to address comprehensively the impact threat from asteroids and comets," the letter begins.
The overall aim of the open letter is start a process to educate national leadership about the real threat posed by worrisome comets and asteroids that can approach Earth:
"A growing body of scientific evidence shows that some of these celestial bodies, also known as Near Earth Objects (NEOs), pose a potentially devastating threat of collision with Earth, capable of causing widespread destruction and loss of life. The largest such impacts can not only threaten the survival of our nation, but even that of civilization itself."
The letter urges U.S. lawmakers to take three steps, thereby shaping a coordinated program to deal with the impact threat:
Step 1: NEO Detection — Expand and enhance this nation's capability to detect and to determine the orbits and physical characteristics of NEOs.
Step 2: NEO Exploration — Expand robotic exploration of asteroids and Earth-approaching comets and direct that U.S. astronauts again leave low-Earth orbit, this time to further explore certain NEOs in deep space for information required to develop an effective capability to deflect a NEO, should we learn that one threatens life on Earth.
Step 3: NEO Contingency Planning — Initiate comprehensive contingency planning for deflecting any NEO found to pose a potential threat to Earth. In parallel, plan to meet the disaster relief needs created by an impending or actual NEO impact. U.S. government/private sector planning should invite international cooperation in addressing the problems of NEO detection, potential hazards and actual impacts. This step also advocates establishment of an Interagency NEO Task Force to address the NEO Impact Threat. This task force should be composed of senior representatives from appropriate government agencies.
Resources committed to the NEO work have been very modest, an enclosure to the open letter declares, "and not commensurate with the potential threat." What is warranted is additional investment in search programs, deemed by the letter's supporters as both "appropriate and prudent."
A dramatic improvement in the rate at which asteroids and comets are discovered would likely result if the United States were to increase the current level of funding, now at about $3.5 million per year, to at least $20 million annually, the letter's enclosure explains.
The open letter concludes: "For the first time in human history, we have the potential to protect ourselves from a catastrophe of truly cosmic proportions.
"We cannot rely on statistics alone to protect us from catastrophe; such a strategy is like refusing to buy fire insurance because blazes are infrequent. Our country simply cannot afford to wait for the first modern occurrence of a devastating NEO impact before taking steps to adequately address this threat." [...]
To read the open letter in its entirety, visit www.CongressNEOaction.org .
Comment:
Q: (L) Okay, we have the 3600 year comet cluster cycle, the Sun twin is another cycle altogether, and then we have the wave, which is a Grand Cycle. So, we have three things causing a transition in nature?
A: Like "biorhythms."
Q: (T) And we have a triple bad day coming up! Or a good day, depending on which way you look at it.
A: Bad day if you are John C. Rockefeller, good day if you are Mahatma Gandhi.
Mysterious bright flash seen here
Citizen Staff Report
July 10, 2003
A bright flash in Tucson's eastern sky last night left authorities puzzled.
A few callers reported the flash about 8:45 p.m. to the Pima County Sheriff's Department, a dispatcher said.
Sheriff's deputies and the Tucson Airport Authority were unaware of the source.
A 250-mile range radar at the National Weather Service's Tucson office showed nothing unusual, senior forecaster Brian Francis said.
The Sheriff's Department received several calls, a dispatcher said
Harry Truman's Forgotten Diary
1947 Writings Offer Fresh Insight on the President

By Rebecca Dana and Peter Carlson
Washington Post Staff Writers
Friday, July 11, 2003
"The Jews, I find are very, very selfish," President Harry S. Truman wrote in a 1947 diary that was recently discovered on the shelves of the Truman Library in Independence, Mo., and released by the National Archives yesterday.
Written sporadically during a turbulent year of Truman's presidency, the diary contains about 5,500 words on topics ranging from the death of his mother to comic banter with a British aristocrat. But the most surprising comments were Truman's remarks on Jews, written on July 21, 1947, after the president had a conversation with Henry Morganthau, his Jewish treasury secretary. Morganthau called to talk about a Jewish ship in Palestine -- possibly the Exodus, the legendary ship carrying 4,500 Jewish refugees who were refused entry into Palestine by the British, then rulers of that land.
"He'd no business, whatever to call me," Truman wrote. "The Jews have no sense of proportion nor do they have any judgement [sic] on world affairs. Henry brought a thousand Jews to New York on a supposedly temporary basis and they stayed."
Truman then went into a rant about Jews: "The Jews, I find, are very, very selfish. They care not how many Estonians, Latvians, Finns, Poles, Yugoslavs or Greeks get murdered or mistreated as D[isplaced] P[ersons] as long as the Jews get special treatment. Yet when they have power, physical, financial or political neither Hitler nor Stalin has anything on them for cruelty or mistreatment to the under dog. Put an underdog on top and it makes no difference whether his name is Russian, Jewish, Negro, Management, Labor, Mormon, Baptist he goes haywire. I've found very, very few who remember their past condition when prosperity comes."
Yesterday, those comments startled scholars because Truman is known as a president who acted to help Jews in postwar Europe and who supported recognition of Israel in 1948, when his State Department opposed it. [...]
Comment: Startling because of the way we are trained to never question anything about the Jews. There is no other population in the world that is so free, not from scrutiny, but from the questions such scrutiny can raise. Any questioning, not to mention criticism, of Israel or a Jewish person in power is labelled "anti-semitism".
One can be sympathetic to the plight of ordinary Jews while being critical of Israel, of the racist ideology of extreme Orthodox Judaism, of the extermination of the Palestinians, and of the 60% ownership of the mass media in the US by Jews, a group that makes up less than 3% of the population. In Canada, Izzy Asper's CanWest is actively promoting the genocide of the Palestinian's and ruthlessly and shamelessly lies in labelling any opposition to Israel as anti-Semitic. Sharon has openly said that Israel controls the US.
Of course, while many Jews believe they have the support of the US, they do not understand (or they think they can out-maneuver) that the fundamentalist lobby is backing Israel to bring on the prophecies of Revelations...and that book doesn't bode well for the Jews. But then, the Zionists don't have the interests of the Jews at heart either. How convenient to round up the Jews into a tiny corner of the globe in order to have them in a confined space.
There is another level of control above Bush and Sharon. These are the forces that are pushing the puppets into conflict; these are the forces that are directing the show here. Both Bush and Sharon are pawns in their game.
And in this game, it looks like the pieces are being maneuvered into place for the Grand Finale.
Sharon shuns BBC over documentary
Chris McGreal in Jerusalem
Friday July 11, 2003
The Guardian
Ariel Sharon has barred the BBC from his meeting with the British press during a visit to London next week amid accusations that the corporation made false allegations against Israel in a report on weapons of mass destruction.
The bar follows a decision made by Mr Sharon's office a fortnight ago to "withdraw cooperation" from the BBC in protest at a documentary that looked at the lack of international scrutiny of Israel's nuclear and biological weapons programmes and the double standard compared with Iraq.
Although the programme, Israel's Secret Weapon, was broadcast in Britain in March, it was a trailer on BBC World rather than the content that provoked Israeli anger. It showed pictures of the nuclear reactor at Dimona and the biological institute in Nes Tziona as a narrator asked: "Which country in the Middle East has not declared the nuclear and biological weapons in its possession?"
A preview focused on Mordechai Vanunu, a former technician at Dimona, who has spent 17 years in jail after the Israelis kidnapped him from Italy because he revealed secrets about the Israeli nuclear programme to the Sunday Times.
Danny Seaman, the director of the Israeli government's press office, who has made similar accusations of anti-Israeli coverage against the Guardian, accused the BBC of putting Israel in the same camp as Saddam Hussein's Iraq.
"The BBC didn't raise anything that has not already been on Israeli television," he said.
"It's the tone not the facts we're worried about. This is not an organisation that is there to get the truth. It's there to level every real or imagined accusation against Israel."
"We're used to journalistic garbage as a cover for anti-Israeli propaganda. But it was not only this programme. We feel this was the culmination of a decision by the BBC to show Israel as some kind of criminal country, a rogue police state. There's an insensitivity to the state of Israel and the Jewish people, and their history."
"Literally hundreds of BBC crews come here every year. They will find it much more difficult to work," said Mr Seaman.
The confrontation has been building for some time as the Israelis become exasperated with critical reporting by foreign journalists.
[...] The decision to shun the BBC has been welcomed in Israel with few people leaping to the corporation's defence. But some have questioned the wisdom of refusing interviews to such an influential news outlet.
"There are international precedents to decisions of that type," said the Israeli newspaper, Maariv. "Events of that nature used to happen in Albania and East Germany. Then in Iran and Afghanistan. Once again, Israel finds itself in good company."
Comment: "Israel may have the right to put others on trial, but certainly no one has the right to put the Jewish people and the State of Israel on trial," - Ariel Sharon
Arafat tells envoy: Abbas is a traitor

By Arnon Regular, Amos Harel and Aluf Benn
Palestinian Authority Chairman Yasser Arafat yesterday accused Prime Minister Mahmoud Abbas (Abu Mazen) of "betraying the interests of the Palestinian people."
The outburst, whose ferocity surprised even Arafat's long-time associates, occurred during the chairman's meeting with UN envoy Terje Larsen, according to a Palestinian source who was present.
"Abu Mazen is betraying the interests of the Palestinian
people," Arafat said, according to the source. "He is behaving like a tyro who doesn't know what he is doing. How does he dare to stand next to an Israeli flag and next to [Prime Minister Ariel] Sharon and to act friendly with a man whose history is known to all the world?"
Diplomatic sources said that Larsen responded by stressing the importance of supporting the process Abbas has begun, which includes a cease-fire and the resumption of diplomatic talks.
Arafat's outburst yesterday follows a wave of similar attacks by his associates that began at Monday night's Fatah Central Committee meeting and have been gaining strength all week. Arafat's associates have accused Abbas of crimes ranging from misconduct in negotiations with Israel to conspiring with Israel to keep Arafat under siege in Ramallah.
Israeli wounded in shooting attack
From correspondents in Jerusalem
11 Jul 03
PALESTINIANS opened fire on a car today on a main highway that runs next to the West Bank, police said, but no one was hurt.
The attack took place on Highway 6, a toll road that runs north to south and passes next to the West Bank, near the Palestinian town of Qalqiliya. Police were searching the area. Initial reports said an Israeli was seriously wounded.
On June 18, a Palestinian gunman crawled through a water channel to bypass a barrier built along the road to separate it from the West Bank, opened fire on a car and killed an Israeli girl.
On June 28, the three main Palestinian groups declared a truce, but renegade bands of militants have refused to accept it.
State Department will keep close watch on $20 million in aid to Palestinian Authority
By BARRY SCHWEID
The Associated Press
7/10/03 6:28 PM
WASHINGTON (AP) -- The State Department plans to keep close track of the $20 million in aid it is sending to the Palestinian Authority, but U.S. officials say they have confidence in new management standards adopted by Finance Minister Salam Fayad.
The delivery of aid directly to the Authority, which Yasser Arafat still heads, is a shift in Bush administration policy. For more than a year, not trusting Arafat, the administration bypassed the Authority in assisting the Palestinians.
The $20 million is intended for a variety of civilian purposes, including repair of municipal water and sewage systems, replacement of destroyed curbs and sidewalks and rehabilitation of schools, clinics, courthouses and other public buildings, U.S. officials said Thursday.
There also will be grants and small loans to farmers to clear debris, repair irrigation piping and repair damaged greenhouses and equipment.
The move was made with congressional and Israeli approval and against the backdrop of U.S. praise for Fayad and Palestinian Prime Minister Mahmoud Abbas as reformers.
"We stand behind Mr. Abbas and under his leadership we have seen constructive change," State Department deputy spokesman Philip T. Reeker said Wednesday.
"Destroy Israel" Conference In Rutgers
20:59 Jul. 10, '03
Despite wide-scale protests and requests for cancellation, Rutgers University in New Jersey will host a national pro-Palestine student conference in October.
The National Student Conference of the Palestine Solidarity Movement will include sessions on how to pressure colleges to stop investing in companies that do business with Israel, as well as cultural events and rallies in support of an independent Palestinian state. Hundreds of pro-Palestinian student activists are expected to attend.
Organizer Charlotte Kates said that she, as well as the sponsoring organization, the New Jersey Solidarity Movement - an offshoot of International Solidarity - supports Palestinian homicide bombers. "Palestinian resistance in all its forms has been a very powerful tool of justice," Kates, a Rutgers law student, told the New York Post. "All forms, from armed struggle to mass protest... Israel is an apartheid, colonial settler state. I do not believe apartheid, colonial settler states have a right to exist."
[...] At the two previous conferences - at Berkeley, Calif., and the University of Michigan - pro-Palestinian rhetoric "crossed into virulent anti-Semitism," said Shai Goldstein, director of the New Jersey Anti-Defamation League chapter.
Federal Courts, Not Military Commissions
By JOANNE MARINER
Counterpunch.org
July 9, 2003
Boston federal judge William G. Young garnered national media attention last January when, in sentencing "shoe bomber" Richard Reid to several terms of life imprisonment, he dismissed Reid's claim to be taking part in a war against the United States. "You are not an enemy combatant," insisted Young. "You are a terrorist."
The New York Post ran a photo of Judge Young on its cover the next day, praising him as a "tough-talking federal judge." But what it failed to mention in describing the Boston jurist's patriotic outburst was that his message was directed at the Bush Administration at least as much as it was at Reid.
Seeking to evade civilian trial guarantees, the Administration seems ever more inclined to treat terrorism suspects as wartime enemies. Although it claims to do so for the worthiest of reasons, its actions seem opportunistic, at best. "Enemy combatants," under the rules the Pentagon applies, have no status or protection under the laws of war and are unable to assert their ordinary rights as criminal defendants. [...]
Blair tells Bush: Send the British al-Qaeda suspects back for trial
JASON BEATTIE CHIEF POLITICAL CORRESPONDENT
The Scotsman
Fri 11 Jul 2003
TONY Blair is to press for the repatriation of the two British al-Qaeda suspects held at Guantanamo Bay when he meets George Bush next week, in an effort to defuse the most serious transatlantic rift since the end of the Iraq war.
The Prime Minister will raise the issue personally with the United States president in Washington, Downing Street said yesterday.
The two British suspects at the camp are due to be tried by a military commission, directly appointed by Mr Bush and without access to basic standards of justice.
With more than 160 MPs, mostly Labour, protesting at the summary justice, Mr Blair was caught between mollifying back-benchers or offending his closest international ally. [...]
Eighteen US firms suspected of selling war materiel to Iran

WASHINGTON (AFP) Jul 10, 2003
Eighteen US companies are under investigation for allegedly selling hi-tech military equipment to Iran through a London-based front company, the Bureau of Customs and Immigration Enforcement (CIE) said Thursday.
The illegal exports, the CIE said in a statement, include components for HAWK missiles, F-14 Tomcat fighter jets, F-4 Phantom fighter jets, F-5 fighter jets, C-130 Hercules aircraft and military radars.
The statement said searches were carried out Wednesday in the offices of the 18 companies in 10 states. It said they allegedly furnished the arms components to the British company, which itself procures weapons for the Iranian military.
The CIE identified the London company as "Multicore, Ltd. (also known as) AKS Industries." The US firms were not named. [...]
Comment: This is nothing new. From the Bush family supporting Hitler, to the CIA training al-Qaeda - America has always manufactured and profited from its wars.
The UK businessmen trapped in Guantanamo
Arrested in Gambia, interrogated in Afghanistan, abandoned in Cuba
Vikram Dodd
Friday July 11, 2003
The Guardian
The British government is facing claims that it has abandoned two London businessmen jailed without charge by the US at Guantanamo Bay.
The men's ordeal began last November, when Bisher al-Rawi and Jamil al-Banna were arrested by British police at Gatwick airport. Although freed without charge and allowed to travel to Gambia they were rearrested on arrival and detained for a month by local secret police. They were then handed over to US agents who flew them to a CIA interrogation centre at Bagram airbase in Afghanistan, before being transferred to Camp Delta in Cuba where they have been held since March.
The men have been jailed for alleged links to al-Qaida. Yet neither they nor their families have been given any information about the substance of the claims against them.
Their supporters say it was the British authorities who passed information to the US which led to their detention. The Foreign Office has denied asking Gambia to arrest them.
Two British nationals who were arrested with them in Gambia, where the businessmen had set up a peanut oil processing plant, were eventually freed after the intervention of the British high commissioner.
[...] Mr Rawi, an Iraqi national, lives in Kingston-upon-Thames, south-west London. He has been a British resident for 19 years and was granted indefinite leave to remain. His brother and sister are both British citizens.
Mr Banna, a Jordanian, was granted refugee status in Britain in 2000 after seeking sanctuary from persecution.
Britain says both men's countries of birth are the only states who can provide help. But in Mr Rawi's case, the Iraqi government no longer exists. In fact, the country is run jointly by Britain and the US.
The bizarre chain of events began as the duo prepared to travel to Gambia. Special branch officers visited Mr Banna saying they already knew about his trip. When asked whether they objected, the officers replied that they did not.
The pair were due to travel on November 2, accompanied by Abdullah Eljanoudi, a British national. But as they tried to board the plane at Gatwick all three were arrested under anti-terrorist legislation and taken to a police station in Sussex before being transferred to the high-security Paddington Green station in west London.
Anti-terrorist officers told them the reason for their detention was a suspect device in their luggage - a battery charger. Their lawyer, Gareth Pierce, said they had been freed after an Argos catalogue was produced to prove the charger was widely available.
Six days later the three men flew to Gambia and were met by Mr Rawi's brother Wahab, a British national.
But on arrival in the capital Banjul, all four were arrested by Gambia's national intelligence agency.
According to the Rawi family, Gambian agents told one of the brothers that their arrest followed a request from Britain: "Upon asking they were told there were irregularities with their papers. At first, Wahab refused to cooperate with them and asked either for a lawyer or a representative from the British high commission.
"At his request [the Gambian agents] laughed and told him it was the British who have told us to arrest you."
They were held at several locations in Banjul, and interrogated first by NIA agents and then American agents, thought to be from the CIA.
Livio Zilli of Amnesty said: "One of them was reportedly threatened by a US investigator who told him unless he cooperated he would be handed over to the Gambian police who would beat and rape him."
After a month of being held incommunicado, the two British nationals were freed. But Mr Banna and Bisher al-Rawi were transferred to Bagram airbase in January 2003, to a section commonly associated with accusations of torture by US agents. [...]
CBS News: Bush Knew Iraq WMD Info Was False
7/10/2003
Senior administration officials tell CBS News the President's mistaken claim that Iraq tried to buy uranium from Africa was included in his State of the Union address -- despite objections from the CIA.
Before the speech was delivered, the portions dealing with Iraq's weapons of mass destruction were checked with the CIA for accuracy, reports CBS News National Security Correspondent David Martin.
CIA officials warned members of the President's National Security Council staff the intelligence was not good enough to make the flat statement Iraq tried to buy uranium from Africa.
The White House officials responded that a paper issued by the British government contained the unequivocal assertion: "Iraq has ... sought significant quantities of uranium from Africa." As long as the statement was attributed to British Intelligence, the White House officials argued, it would be factually accurate. The CIA officials dropped their objections and that's how it was delivered.
"The British government has learned that Saddam Hussein recently sought significant quantities of uranium from Africa," Mr. Bush said.
The statement was technically correct, since it accurately reflected the British paper. But the bottom line is the White House knowingly included in a presidential address information its own CIA had explicitly warned might not be true.
Today at a press conference during the President's trip to Africa, Secretary of State Colin Powell portrayed it as an honest mistake.
Comment: Impeach Bush now! If not for the deliberate lie then for the gross insult to our collective intelligence in attempting to convince us that it was just a "mistake". Un-bloody-believable...
Rumsfeld in 'shocking' admission over Iraq war
11/07/03
By Jim Caldwell
US Defence Secretary Donald Rumsfeld yesterday admitted the US motive for going to war with Iraq was motivated by the events of September 11, rather than any new information on weapons of mass destruction.
"The coalition did not act in Iraq because we had discovered dramatic new evidence of Iraq's pursuit of weapons of mass murder", Mr Rumsfeld said while testifying before the Senate Armed Services Committee.
"We acted because we saw the existing evidence in a new light through the prism of our experience on September 11," he said.
[...] In Washington, the Bush administration insisted information on Saddam's alleged illicit weapons programmes was solid even though one of President Bush's claims was based on a forgery.
But a group of arms control experts accused the administration of misrepresenting intelligence to justify the war. When the war began in March, Iraq posed no threat to the US or to its neighbours, said Greg Thielmann, an official with the State Department's intelligence bureau who retired last year.
Speaking at an Arms Control Association forum, Mr Thielmann described Rumsfeld's statement as shocking. Iraq had no active nuclear weapons programme, he said.
He added while CIA director George Tenet told Congress Iraq had Scud missiles, the intelligence finding actually was that the missiles could not be accounted for.
He said the administration approach seemed to say: "We know the answers, give us the intelligence to support those answers."
Comment: Rumsfeld says that yes they lied about Iraqi WMDs but that 9/11 allowed them to look at the "evidence in a new light through the prism of our experience on September 11." This is a clear admission that 9/11 was used to warp the American people's mind into accepting any trumped up justification to go to war.
"That the think tank surrounding Bush--the Project for a New American Century--wrote a paper in 2000 stating, "the process of transformation, even if it brings revolutionary change, is likely to be a long one, absent some catastrophic and catalyzing event--like a new Pearl Harbor" ? [emphasis added]
That Bush henchman Paul Wolfowitz drafted plans to invade Iraq to assure "access to vital raw material, primarily Persian Gulf oil"?
That Zbigniew Brzezinski, former President Carter's National Security Advisor, wrote in his 1997 book The Grand Chessboard: American Primacy and its Geostrategic Imperatives, that "Moreover, as America becomes an increasingly multi-cultural society, it may find it more difficult to fashion a consensus on foreign policy issues, except in the cirumstance of a truly massive and widely perceived direct external threat."

Are you angry yet?
Rumsfeld is basically admitting that 9/11 and the deaths of approx 3,000 american citizens was used as an excuse to attack Iraq, murdering 10,000 men, women and children, when that country was guilty of none of the charges levelled against it, and the US adminstration knew it!!
Iraqi police tell U.S. troops to stay away, fearing they will get caught in the cross-fire
By PAUL HAVEN
The Associated Press
7/10/03
BAGHDAD, Iraq (AP) -- With daily shootings and rocket attacks against U.S. soldiers claiming two more lives, even Iraqi policemen said Thursday they want to keep a safe distance from coalition troops for fear of getting caught in the crossfire.
Several dozen Iraqi police, most wearing new uniforms provided by the U.S. military, marched on the mayor's office in Fallujah, a restive town west of Baghdad, insisting American soldiers stop using their station as a base. The Iraqis said they would quit their posts if the soldiers don't find a new home within 48 hours.
Also Thursday, the U.S. military announced several new attacks.
An American soldier was shot and killed near the city of Mahmudiyah, 15 miles south of Baghdad, on Wednesday evening.
Another soldier was killed and one wounded Wednesday in a rocket-propelled grenade assault on a five-vehicle convoy near Baqouba, 45 miles northeast of Baghdad, said Lt. Col. Bill MacDonald of the Army's 4th Infantry Division.
In the city of Ramadi, 60 miles west of the capital, three separate overnight mortar attacks targeted U.S. servicemen, but there were no reports of casualties, the military said.
Comment: As of 10:15pm, July 10, Iraqometer.com show 261 dead coalition soliders

Iraqi refugees unlikely to return home soon due to problems
United Nations,Wednesday, July 10, 2002: Deteriorating security problems, lack of essential services and the absence of a functioning civil administration in many parts of Iraq will likely prevent large-scale refugee returns until next year, the top United Nations refugee official for the country has said.

"Iraq is not ready to receive large numbers of refugees, it is just economically not viable at this time," UN High Commissioner for Refugees' Special Envoy Dennis McNamara said on his return from his second visit in a month.
"The security situation in Iraq and in Baghdad in particular has deteriorated. It was noticeably worse during this latest visit to Baghdad than it was at the start of June," he added.

Of the estimated 4 million Iraqis outside their homeland, UNHCR estimates that up to 500,000 living primarily in Iran and Jordan may seek its help to go back once the situation improves inside Iraq.

McNamara said UNHCR is planning to help some refugees "clamouring" to go back from neighbouring countries but before large numbers could return, authorities in Baghdad need to ensure security, essential services and a functioning civil administration throughout Iraq.
A Diplomat's Undiplomatic Truth: They Lied
By Robert Scheer
Los Angeles Times
07/09/03: (Huston Public Radio) They may have finally found the smoking gun that nails the culprit responsible for the Iraq war. Unfortunately, the incriminating evidence wasn't left in one of Saddam Hussein's palaces but rather in Vice President Dick Cheney's office.
Former Ambassador Joseph C. Wilson publicly revealed over the weekend that he was the mysterious envoy whom the CIA, under pressure from Cheney, sent to Niger to investigate a document -- now known to be a crude forgery -- that allegedly showed Iraq was trying to acquire enriched uranium that might be used to build a nuclear bomb. Wilson found no basis for the story, and nobody else has either.
What is startling in Wilson's account, however, is that the CIA, the State Department, the National Security Council and the vice president's office were all informed that the Niger-Iraq connection was phony. No one in the chain of command disputed that this "evidence" of Iraq's revised nuclear weapons program was a hoax.
Yet, nearly a year after Wilson reported back the facts to Cheney and the U.S. security apparatus, Bush, in his 2003 State of the Union speech, invoked the fraudulent Iraq-Africa uranium connection as a major justification for rushing the nation to war: "The British government has learned that Saddam Hussein recently sought significant quantities of uranium in Africa." [...]
US warned over Iraq law enforcement
By Jimmy Burns in London
July 11 2003 0:59

The law enforcement operation in Iraq could disintegrate unless US forces stop "kicking ass" and take a more conciliatory attitude towards civilians, senior UK police advisers have told their government.

Some UK officials have been appalled by the language and tactics used by the US security supremo, Bernard Kerik, the former New York police commissioner dubbed the "Baghdad terminator" because of his uncompromising style.
"The Americans need to learn that civil policing is not about 'kicking ass', it is about democracy. There are going to be problems if we continue with our different philosophies and different approaches to law enforcement," one UK official said. [...]
Bush admits Iraq 'security problems'

BBC
Thursday, 10 July, 2003, 21:22 GMT

US President George W Bush has admitted there is still a security problem in Iraq which means his troops have to "remain tough".
His comments - a day after two US soldiers were killed in separate attacks - were more measured than earlier this month when he seemed to challenge Iraqi militants to "Bring them on".
America's war commander in Iraq, General Tommy Franks, said on Thursday that troops might have to remain on the ground for up to four years. [...]
On Wednesday alone:
One soldier was killed and another injured in a grenade attack on a convoy near Tikrit
A US soldier was shot dead near Mahmudiya in an attack on his convoy
A third soldier died in a "non-hostile gunshot incident" in Iraq

US troops based in Ramadi, about 100 kilometres (60 miles) west of Baghdad, have also come under mortar fire at least five times since Wednesday evening but there are no reports of injuries. [...]
Franks: 10-25 Attacks a Day on U.S. Troops in Iraq
By Tabassum Zakaria
Thu July 10, 2003 06:25 PM ET
WASHINGTON (Reuters) - U.S. troops in Iraq face 10 to 25 attacks a day, partly because they are hunting for Baathists, "jihadists" and fighters crossing the border from Syria, Gen. Tommy Franks, who ran the war against Baghdad, said on Thursday.
Franks, who stepped down recently as head of U.S. Central Command and will soon retire, told the House Armed Services Committee that "on a given day, there will be somewhere between 10 and 25 violent incidents" in Iraq where 148,000 U.S. troops are located.
He did not bend to Democratic attempts to label the current fighting conditions as guerrilla warfare, saying those types of operations would be supported by the people but that Iraqis did not support the violence.
Also, while U.S. forces were seeing "increasing sophistication," including the use of mortars in attacks, there did not appear to be coordinated efforts under a command, Franks said. "It doesn't fit my own personal definition." [...]
Iraqis say forget US and British WMD scandals; bring back power, security

BAGHDAD (AFP) Jul 10, 2003
Barber Jawad Hadi has cut hair for 50 years and claims to have given Saddam Hussein six injections in the buttocks for tonsilitis. But asked about the row over Iraq's weapons of mass destruction, he says God only knows.
"I don't know of any weapons of mass destruction," says Hadi, 74, a balding wrinkled man with liverspots, commenting on the growing row over whether the US and British governments fudged intelligence in the countdown to war on Iraq.
The burning question for Hadi and his friends at his sweltering shop off central Baghdad's Al-Shahuda square, where Saddam lived in the 1960s, is when the US forces will restore power and safety to the nation, which they invaded on the pretext of finding a lethal arsenal. [...]
But the customers and friends in his small box-like barbershop are much more fiery. Hadi's friend Latif Sadoon, 34, suspects the worst as Washington and London own up to dodgy intelligence in the rush to war.
"The Americans are not here for the liberation of Iraq. When they came they said they were here to help Iraq, but until now, we see nothing better," says Sadoon, who sold his furniture shop this spring after the US-led war ushered in harder times.
"They came for the oil. They did not come to help us but to suck our resources."
Even some American soldiers take a jaded view. Sunglass-wearing US army Sergeant Homer Dollar and his men are surly, baking in the summer heat guarding a burnt out branch of the Rashid Bank, set on fire during the post-war looting.
"I think some of the intelligence was exaggerated," Dollar says about the US information on Iraq's weapons of mass destruction.
"All that bulletproof evidence wasn't there."
Dollar concedes he is a bit disgruntled. He was set to leave the service last month when the top brass indefinitely extended his tour.
Now he finds himself on street patrol, giving money to barefoot Iraqi kids to buy him mini-pizzas and falafels from the market. [...]
As plans keep failing, Bush restates 'em . . .
Richard Cohen
New York Daily News
July 10, 2003
The Bush White House is run on a business model. The President is the CEO. He delegates to others. It therefore should come as no surprise that President Bush is doing what other CEOs do when they get into trouble. In his case, he's "restated" his reasons for going to war.
Corporations do this all the time. If a profit of, say, $2.8 billion turns out to be a loss of a similar amount on account of unanticipated developments (corruption, greed and the demands of mistresses), the figure merely gets "restated." In the same way, the President recently restated some of the reasons for invading Iraq. The White House the other day restated its insistence that Iraq had tried to buy uranium from the West African nation of Niger. It turned out the supporting documents had been forged. The White House admitted that in a press release left behind after Bush had departed for Africa.
Similarly, the accusation that Iraq was purchasing high-strength aluminum tubes that Bush said were "used to enrich uranium for nuclear weapons" has to be restated.
As for the charge that Iraq was bristling with other weapons of mass destruction, none have yet been found, raising the possibility that this, too, will be restated and the Bush administration will take a one-time charge against future credibility. [...]
Powell Says Americans Not Deceived on Iraq
Thu July 10, 2003 08:13 PM ET
By Patricia Wilson
PRETORIA, South Africa (Reuters) - Secretary of State Colin Powell vigorously defended the administration's justification for the Iraq war Thursday, dismissing any suggestion that Americans were misled or deceived as an "overdrawn, overblown, overwrought conclusion."
A controversy has been smoldering over a claim by President Bush in his Jan. 28 State of the Union speech that Iraq tried to buy uranium from Africa. The statement turned out to be based on forged information.
Powell, who presented the U.S. case against Iraq at the United Nations eight days later, did not repeat the accusation but he said at the time of Bush's address it was an appropriate statement to make. He appeared to point the finger at unspecified intelligence agencies.
"There was no effort or attempt on the part of the president or anyone else in the administration to mislead or to deceive the American people," he told reporters traveling with Bush in Africa. "The president was presenting what seemed to be a reasonable statement at that time."
Comment: It is not a question of the statement being reasonable. It is a question of the truth versus a lie. Lies can seem reasonable, but they are still lies.
"But to think that somehow we went out of our way to insert this single sentence into the State of the Union Address for the purpose of deceiving and misleading the American people is an overdrawn, overblown, overwrought conclusion." [...]
Comment: Of course, it IS an exaggeration to say that the Bush Reich went out of their way to insert the uranium claim. They don't have to go out of their way to lie - they just do it, the media propagates it, and America eats it up.
Where is Iraq War Instigator, Richard Perle?
By William Hughes
07/10/03: (Palestine Chronicle) Perhaps we should take a break on looking for Saddam Hussein, Usama bin Laden, William 'Slots'Bennett, or, even James J. 'Whitey'Bulger. For me, the key question today is: Where is Richard Perle?
Before the launching of Iraq War No. 2, in March 20, 2003, Perle, America's Iago, regularly appeared on TV and cable TV programs, on radio, and in the print media, too. He repeated, ad infinitum, ad nauseam, why it was so absolutely critical for the U.S. to immediately invade Iraq.
America was 'at risk,' he said, with that ubiquitous smirk on his mug. There wasn't a moment to lose. 'Saddam has WMD,'he told us, and he also 'hates America'and poses a dire 'threat to our security?'
The shifty Perle, the Mother of all Neocons, also predicted, like former Defense Department official, Ken Adelman, that a U.S. invasion of Iraq would be a 'cakewalk!' It will be '"easy,'he boasted. We would also be 'exporting democracy'to the Iraqi people, who will 'welcome us'with open arms 'as liberators,'he claimed over and over again in similar words. Cakewalk! Easy! Exporting Democracy! Liberators! Sure!
Now, Perle is among the missing! The man with the sinister-looking scowl hasn't showed up on the Talking Head circuits since about the time the U.S. occupation of Iraq began going sour. Could he be hiding out in his beloved Israel, in a safe house provided by Benjamin Netanyahu, a/k/a 'Bend-the-Truth Yahoo'? Or, are the War Hawks, Rep. Tom Lantos (D-CA) and Sen. Joseph Lieberman (D-CT), telling him to keep a low profile by working temporarily as an extra on a Hollywood movie? Who knows? [...]
Newark High graduate held in triple murder
By MURALI BALAJI
The News Journal

A Newark High School graduate is being held in New York on charges he killed three people in Wisconsin.
Meng-Ju "Mark" Wu, 19, a 2002 graduate of Newark High, was arrested June 29 at LaGuardia Airport in connection with the shooting deaths of Jason McGuigan, 28, Daniel Swanson, 25, and Dustin Wilson, 17. The bodies of the three men were discovered June 26 in the Verona, Wis., apartment they shared. Each was shot twice.
Comment:
Q: (T) Are you aware of the Greenbaum effect? Dr. Greenbaum
and his mind control experiments, that we've been looking at
lately?
A: Yes.
Q: Is what's said there factual? I won't say true, but is it
factual? Most of it?
A: Close.
Q: (T) OK, the question is, is the fellow that just shot three
professors in San Diego, I think it was, the University, before
they read his thesis, because he was afraid they would throw his
thesis away, and make it look bad, and flunk him. Was he a
Greenbaum?
A: Yes.
Q: (T) Why did they turn him 'on' at that point?
A: Not correct concept. What if: those programmed in
the so called "Greenbaum" projects are preprogrammed to "go off"
all at once, and some "malfunction," and go off early?
Fla. Officer Shoots 81-Year-Old Retired Teacher

An argument over a parking space at a Tampa bank ended with police shooting an 81-year-old retired schoolteacher, authorities said. [...]
HSD plans to place security cameras in high schools this fall

By Heather Adams
The Argus
Coming this fall to Hillsboro's high schools: Closed circuit televisions.
The school board at its last meeting awarded bids for the systems to be installed as a security measure. [...]
She realized security cameras can be a touchy subject. "That is a concern of ours, that some people are paranoid of being watched by Big Brother," Biller said. It's difficult to tell parents "that kids may be watched at all times but it really is for their safety," she said. [...]
Comment: See also Chicago To Install $16,000 Worth Of Surveillance Equipment: "Officials in Chicago have a message for criminals: Big Brother is watching. "
The Observer
When you have a teenager on the rampage, who are you going to turn to? In America, parents send their troubled offspring to Jamaica's Tranquility Bay - a 'behaviour-modification centre' which charges $40,000 a year to 'cure' them. Decca Aitkenhead, the first journalist to gain access to the centre in five years, wonders if there isn't too high a price to pay [...]
Before sending their teen to Tranquility, parents are advised that it might be prudent to keep their plan a secret, and employ an approved escort service to break the news. The first most teenagers hear of Tranquility is therefore when they are woken from their beds at home at 4am by guards, who place them in a van, handcuffed if necessary, drive them to an airport and fly them to Jamaica. The child will not be allowed to speak to his or her parents for up to six months, or see them for up to a year. [...]
Afghan Poppies Proliferate As Drug Trade Widens, Labs and Corruption Flourish

By April Witt
Washington Post Staff Writer

JATA, Afghanistan -- [...] "Of course it bothers me [growing opium]," said Mohammad Sarwar, 49, the mawlawi, or authority on Islamic teachings, at the mosque in this tiny northeastern village. "But we have to cultivate it in the current situation where we've had to borrow money, sell household items and don't have enough to eat. This is an emergency."
The drug trade in Afghanistan is growing more pervasive, powerful and organized, its corrupting reach extending to all aspects of society, according to dozens of interviews with international and Afghan anti-narcotics workers, police, poppy farmers, government officials and their critics.
Afghanistan, the world's largest opium producer last year, appears poised to produce another bumper crop. In rural areas where wheat has historically been the dominant crop, fields of brilliant red, pink and white poppies are proliferating. Many poor farmers, who complain that the Afghan government and other countries have failed to ease their economic woes through legal means, say that they are growing illegal opium poppies for the first time.
At the same time, drug laboratories where raw opium is processed into morphine or heroin -- once rare in Afghanistan -- are sprouting at an unprecedented rate, police and anti-narcotics workers say. Many authorities appear less inclined to combat new drug syndicates than to share in their profits. The crude but money-making factories are largely condoned by elders, unmolested by police and guarded by militiamen and their commanders.
Comment: No mention in the article on how the CIA gets it's cut of the profits. Freedom brought to a country near you courtesy of the U.S.A. and it's desperate need for money to cover the black budgets:
"The black budget is the government's illusory and tangled accounting of what it spends on intelligence gathering, covert operations, and - less noticeably - secret military research and weapons programs. It admits to no easy calculation, but by estimates of those who watch it, the black budget may hit US$30 billion a year - a figure larger than current federal expenditures for education. It includes spending by the CIA, the Defense Intelligence Agency, the National Security Agency, and military R&D."[Exposing the Black Budget, By Phil Patton, Wired News, Issue 3.11 - Nov 1995 ]
Into Africa: How Iraq begat Liberia
Jesse Walker
Reason Online
Liberia poses no threat to American security. It possesses no weapons of mass destruction, and it would be foolish to use them against us if it did. It is not allied with Osama bin Laden, it has never attacked the United States, and most Pentagon officials are reportedly opposed to sending soldiers there. If they are deployed, our troops are hardly equipped to transform it into a peaceful constitutional republic.
So clearly, there's plenty of precedent for invading it. [...]
The answer lies in Iraq, and in the ease with which anything can be linked, Kevin Bacon-style, to the war on terror. National security advisor Condoleezza Rice has already claimed that, simply because it is a "failed state"—under exiting dictator Charles Taylor, the chief role of the Liberian government has been to kill the members of other would-be Liberian governments, plus anyone who happens to be in the way—Liberia endangers American security.
We've "recognized since 9/11," she said last Thursday, "that one wants to be careful about permitting...failed states to create conditions in which there's so much instability that you begin to see greater sources of terrorism." We haven't spotted any actual terrorists there, of course; or, at least, none whose beef is with America. But there's the possibility of terror emerging, and so the precautionary principle gets invoked. [...]
With Democrats fearful and media silent, the Bush Administration has transformed the war against terror into a war for empire.
Can Americans stop this madness?
By Stewart Nusbaumer
Intervention Magazine
The Bush Administration hawks are lumping together all kinds of reasons and excuses under the rubric of terrorism and exploiting the horror of 9/11 for political and corporate gain -- the war against terrorism has become, in fact, a war for empire. Instead of enhancing our national security, the Administration is making America more vulnerable, more susceptible to even more deadly attacks.
The Democrats, however, refuse to oppose this hemorrhaging of the war on terrorism, a war spreading to the four corners of the world. Democrats seem paralyzed, petrified of being labeled unpatriotic and soft on terrorism, excluding a few honorable mentions. Let's face it, what disturbs Democrats the most is not the death of young Americans, but losing the next election.
Pat Robertson Attacks Bush Administration For Failing To Support Liberian Dictator
Americans United for Separation of Church and State
Gold-Digging TV Preacher Fails To Mention Business Interests In War-Torn Nation
TV preacher Pat Robertson has repeatedly criticized the Bush administration over its handling of the crisis in Liberia – without once mentioning his own personal business interests in the country.
In recent days, Robertson has used his nationally broadcast television show to charge that the U.S. government has sought to destabilize Liberia and oust President Charles Taylor. Although Taylor is a brutal dictator under indictment for war crimes by the United Nations, he is a business partner of Robertson. [...]
ANGRY MANDELA ATTACKS WARMONGER BLAIR

Jul 11 2003
By Ruki Sayid

NELSON Mandela said yesterday he was "pained" by Tony Blair waging war on Iraq.
In an astonishing attack on the Premier and President Bush, he said in London: "To see young political leaders of the developed world act in ways that undermine some of the noblest attempts of humanity to deal with historical legacies, pains me greatly and makes me worry immensely about our future."
The 84-year-old former South African president condemned the two leaders for riding roughshod over international law by acting alone. In a bitter swipe, he added: "We have a common obligation to care for each other, particularly in conditions that foster behaviour to the contrary."
Mr Mandela received a rapturous standing ovation from the audience in Westminster.
In January, Nobel Peace Prize winner Mr Mandela accused Mr Blair of being the "foreign minister of the US." He also said Mr Bush, currently visiting South Africa, was only interested in Iraqi oil.
Last night he called on the world to fight the "terrible and threatening scourge" of HIV and Aids. The disease was a "war that affects us all".
President Bush knew his claims about Iraq seeking uranium in Africa were wrong when he made them in a speech, it was revealed last night.

CIA officials told the White House its intelligence was not good enough to confirm Saddam had tried to buy the substance in Niger but Bush went ahead with the false claim anyway
France, Germany May Be Asked to Send Troops to Iraq
Lisa Bryant
Paris 10 Jul 2003, 14:27 UTC
The possibility appears to be growing that two of Europe's staunchest opponents of the war on Iraq - France and Germany - may be invited to send troops to help stabilize the country in this post-war era. France, for one, has not ruled out such an option.
In a wide-ranging interview published Thursday in France's Le Figaro newspaper, French Foreign Minister Dominique de Villepin said France would agree to send troops to Iraq only as part of a larger United Nations peacekeeping force, created under a clear Security Council mandate.
Mr. de Villepin conceded that it appeared inconsistent for France to help secure stability in the country in the wake of a war it adamantly opposed. He also suggested that the United Nations take charge of Iraq's security and political reconstruction - tasks currently being carried out by the United States and Britain.
Comment: This is absurd! First the Bush Reich lies about Iraq's WMDs, then they do a total end-around bypassing the UN in going to war on their own, then they admit that it wasn't really about WMDs but that it was really about September 11, and NOW they expect France and Germany--two countries who refused to go into the war unless WMDs were proven to exist FIRST--to come on over to Iraq under the pretenses of helping the Bush Reich mop up their mess...What in hell is going on here? Oh, yeah. There's a bunch of psychopaths running America.
US Senate okays measure on NATO, UN support in Iraq
Posted: 10:05 AM
Agence France-Presse
WASHINGTON - The US Senate on Thursday unanimously approved a measure calling on the White House to consider requesting NATO and UN troops in Iraq.
In a 97-0 vote, the senators said President George W. Bush "should consider requesting formally and expeditiously that NATO raise a force for deployment in post-war Iraq similar to what it has done in Afghanistan, Bosnia and Kosovo."
The amendment was authored by Senators Joe Biden of Delaware, Carl Levin of Michigan, Tom Daschle of South Dakota and Edward Kennedy of Massachusetts - all Democrats - and came during deliberations to fund US overseas operations for the coming fiscal year.
Shortly after the vote, senior Democrats in the US Senate held a press conference denouncing US policy in Iraq, calling on the US administration to end its quarrel with France and Germany and to ask foreign reinforcements to back up US troops currently in Iraq.
The White House policy in Iraq is "just dead flat wrong," said Senator Joseph Biden, top Democrat on the Senate Foreign Relations Committee. The measure also called for UN troops and expertise in the operation.
[...] Asking for NATO help is long overdue, Levin said. "This is not weakness, it's wisdom," he said.
Comment: Where was the "wisdom," and the respect for NATO before Iraq was invaded? Hypocricy rules...
France, Germany Will Not Send Troops To Iraq

Thursday, July 10 2003
PARIS, July 10 - "France will send troops to Iraq only under a U.N. mandate," French foreign minister Dominique de Villepin said Thursday, July 10, in statements to the French Le Figaro newspaper, as a German government source said Thursday that his country is not considering contributing troops to a multinational peacekeeping force in Iraq.
De Villepin pointed out to the difficult situation the U.S. and British troops currently confront in Iraq. "Increasing military units in Iraq won't solve the problem, as we have always believed that the solution is political rather than military," he said.
"We should exert efforts so that Iraq may restore its sovereignty through setting certain dates for an Iraqi transitional administration and general elections that lead to the formation of a legitimate government," he added.
"Economic reconstruction has to be activated and confidence given to foreign investors," the French Minister said, adding that "a military and security measures should be adopted under the supervision of the United Nations."
U.N. Supervision
Asked about the conditions France would place on sending troops to Iraq, De Villepin replied, "We would prefer that the political transition in Iraq is placed under the responsibility of the United Nations".
[...] Meanwhile, Germany is not considering contributing troops to a multinational peacekeeping force in Iraq and has received no official request from Washington to do so, a government source said Thursday.
Rumsfeld said Wednesday he had asked Germany and France to join a coalition of countries which would share the spiraling cost and responsibility for the ongoing military occupation in Iraq. [...]
French court orders BA pay Iraq hostages
PARIS, July 10 (AFP) -
A French court Thursday ordered British Airways to pay EUR 1.67 million (USD 1.9 million) to seven passengers taken hostage by Iraq after their aircraft landed in Kuwait in 1990.
The verdict was in line with a French court decision in 1995 in which the British airline was made to pay EUR 3.8 million to 65 other passengers - most of them French - who were also on the flight.
The case referred to flight BA 149 from London to Kuala Lumpur, which stopped off in Kuwait City on August 2, 1990 as the city was being bombarded by invading forces of Iraqi leader Saddam Hussein.
Many of the passengers told British media that plane had landed to drop off a group of British SAS commandos.
France 'unprepared for bioterror attack'
PARIS, July 9 (AFP) -
France is one of the countries least prepared to handle a biological terror attack because of a lack of priority in studying ways to fight infectious diseases, according to a report published Wednesday.
"The country has shown a limited capacity in recent years to manage the problems of infectious diseases, which means it is one of the least prepared to handle a massive epidemic," a specialist in bacteriology and virology at Marseille University's medical faculty, Didier Raoult, said.
"Only a true political effort defining this as a national priority" can bring France up to a level to combat such threats, he said.
Comment: maybe France understands the old " Osama under your bed" routine and realises developing policies to handle bio attacks is a waste of time and money.
Strikers halt biggest arts festivals in France
By Philip Delves Broughton in Paris
(Filed: 11/07/2003)
France's two greatest summer arts festivals, in Avignon and Aix-en-Provence, were cancelled yesterday because of strikes by performers and technicians. The decision deals a heavy blow to France's cultural reputation and tourism industry.
Jean-Jacques Aillagon, the culture minister, said he was torn between "sadness and disgust" at the behaviour of the strikers, who oppose planned cuts to their state benefits.
A performance of La Traviata was started in Aix on Wednesday night but the din from protesters outside the open-air theatre forced it to be stopped.
Thousands of tickets will have to be reimbursed and the festivals, which already labour under financial difficulties, will struggle to recover. Avignon organisers reckon the cancellation will cost the city more than £15 million.
The region of Provence is already suffering from an absence of American tourists, who are forsaking France after its refusal to back American action in Iraq.
Comment: And those were just they type of free thinking open-minded Americans we were hoping to see around the place! Darn it!
(Filed: 11/07/2003)
Why does the French ruling class have such a tendresse for geopolitical rough trade? The French seem to love cutting deals with the worst elements of the international system. Everyone knows about President Chirac's long-time dalliance with Ba'athist Iraq.
But less well known have been his attempts to treat with Serb nationalism. The War Crimes Tribunal in the Hague has now heard allegations that Mr Chirac agreed to sabotage the extradition of General Ratko Mladic, one of the worst of the Bosnian Serb war criminals, in exchange for the release of two French pilots captured after they were shot down over Sarajevo.
This policy can partly be explained by the legacy bequeathed to Mr Chirac by his predecessor François Mitterrand. Like so many Frenchmen of his generation, Mr Mitterrand was nurtured on stories of the brave resistance of Serbia to the Central Powers in the First World War, and therefore developed a romantic affinity for its national aspirations. Knee-jerk anti-Americanism also played its part: the Clinton administration was the greatest western supporter of providing military assistance to the embattled Bosnian government. And then there was pure commercial interest. Elements of the French armed forces took in the representatives of major Gallic construction concerns under military cover.
The evidence concerning Mr Chirac's deal-making comes from tele-phone intercepts of conversations of the Yugoslav leadership, which appear to have been supplied by western intelligence agencies. If so, they are to be commended for setting a most welcome precedent. France's allies must trigger a major debate in Paris about the nature of the foreign policy conducted over many years by its leaders.
"Only Muslims can be terrorists?"

By Kamran Memon and Parvez Ahmed
YellowTimes.org Guest Columnist (United States)
Friday, July 11, 2003 @ 00:00:38 CDT
Robert Jay Goldstein is not a "Jewish terrorist." After all neither God nor His prophets ever condoned the murder of innocent human beings. If a Jew engages in terrorism, the blame falls on him, not on his religion. That much we can all agree on. But that is where our paths diverge.
In August 2002 Goldstein was arrested near his home in St. Petersburg, Florida. In his possession were forty weapons, thirty explosive devices, a list of fifty mosques and a detailed plan to bomb an Islamic school.
Contrary to the suggestion from defense lawyers, that Goldstein is mentally ill, sheriff's Detective Cal Dennie characterized him as "a smart guy" who "knew his stuff."
Clearly Goldstein, a terrorist, was capable of inflicting unimaginable harm. In chilling details, his mission plan stated his desire to "open fire on all 'rags' and then bolt out and let the devices do the rest." His motive was "to do something for 'his' people," in retaliation for 9/11 and the ongoing Israeli-Arab conflict. His goal was to "kill all rags" with "zero residual presence."
Despite Goldstein's impressive arsenal and obvious intent, federal prosecutors say he is no terrorist, as his actions were not aimed at altering government policy. [...]
Comment: Jews are not considered terrorists in the U.S. - yet. But that may all change very soon.
China flood toll hits 370 as government puts onus on local leaders

BEIJING (AFP) Jul 11, 2003
Chinese President Hu Jintao has ordered the stepping up of efforts to fight massive floods that have killed at least 370 people nationwide this year.
The central government also Friday warned local leaders they were responsible for ensuring that damage is minimized. [...]
Despite a rising death toll in the southern areas of Chongqing municipality and Guizhou, Hunan, Sichuan and Guangxi provinces, government officials appeared more concerned with flooding along the Huai River, where water levels have reached 10-year highs. [...]
Earthquake shocks Indonesia's West Java province

JAKARTA (AFP) Jul 11, 2003
An earthquake measuring 4.2 on the Richter scale shook parts of Indonesia's West Java province on Friday morning, damaging several houses but causing no injuries, officials said. [...]
One villager killed, 20 injured as two major quakes strike southern Iran

TEHRAN (AFP) Jul 11, 2003
One villager was killed and 20 injured in southern Iran late Thursday by two successive earthquakes measuring 5.6 and 5.8 on the Richter scale, state news agency IRNA quoted a local official as saying. [...]
He said the quakes struck the villages of Dareh Shur, Deheh No, Debehran, Darva and Shahre Pir, all located around Zarindasht, a small town in Fars province, some 200 kilometers (125 miles) southeast of Shiraz and approximately 800 kilometers south of Tehran. [...]
"An earthquake of this intensity is unprecedented in Zarindasht and fortunately villagers were not inside their homes because of the hot weather." [...]
A Dusty Rusty Old World Shines Silent Over Earth
for NASA Science News
Huntsville - Jul 10, 2003
Something is happening on Mars and it's so big you can see it through an ordinary backyard telescope. On July 1st a bright dust cloud spilled out of Hellas Basin, a giant impact crater on Mars' southern hemisphere. The cloud quickly spread and by the Fourth of July was 1100 miles wide--about one-fourth the diameter of Mars itself.
"The cloud can be seen now through a telescope as small as 6 inches," says Donald Parker, executive director of the Association of Lunar and Planetary Observers (ALPO). "Its core is quite bright."
Parker has been tracking the cloud through his own 16-inch telescope. "A red filter helps," he notes. "Even a piece of red or orange gelatin held between the eye and ocular will improve the visibility of the dust."
Two years ago, a similar cloud from Hellas Basin grew until it circled the entire planet. Features on Mars long familiar to amateur astronomers--the dark volcanic terrain of Syrtis Major, for example--were hidden for months. "The planet looked like an orange billiard ball," recalls Parker. [...]
US space agency has too many astronauts: report

WASHINGTON (AFP) Jul 11, 2003
The US space agency NASA spends too much money hiring and training too many astronauts, partly because of overly optimistic expectations for future spaceflights, according to an internal report released Thursday.
The report by NASA's inspector general recommended the agency's managers do a better job of realistically estimating the number of spaceflights and evaluate whether jobs now performed by astronauts could be performed by others. [...]
More men train to be nurses, midwives, secretaries
By Stephanie Armour, USA TODAY
As a birthing coach for a good friend, Patrick Thornton felt overwhelmed by the experience. He attended labor classes and stayed by his friend's side as the baby was born. That night, in the quiet hospital room, Thornton watched the nurses tending the new mother and her infant.

He thought how lucky those nurses were to work around such miracles every day.
Then he had another thought: Why can't I do the same thing?
[...] While he's still a minority, Thornton represents a growing trend by men to move into professions long dominated by women. More men are finding careers as librarians, secretaries, nannies, preschool teachers, nurses, paralegals, typists, dressmakers — even lactation consultants or midwives.
"A switch clicked in me, and I realized, 'I can do this,' " Thornton says. "I saw that women health providers aren't more sympathetic to women just because they're women. Men can have a genuine respect for women and the process of birth."
Comment: We thought we'd run this, after seeing the headline, as one of those positive stories about the world. That was until we read the article more closely. IF men are moving into "women's" jobs, one of the main motors is "mounting unemployment."
We don't read USAToday regularly, but this article talks about the "flimsy economic recovery" that "makes more employees willing to consider new careers, even in fields that have long been considered women's work. And layoffs also make workers eager to move into female-dominated industries, such as child care and nursing, where labor shortages offer more job security." Seems a view closer to reality than in the business section. The article continues and gives statistics for the increased male participation in many different jobs long seen as "women's work". Then it says this:
"Mounting research shows men in predominantly female careers face gender bias, job discrimination and high rates of job-related stress." And where does this lead?
"Men who work in 'pink collar'professions, such as clerks and classroom aides, are 47% more likely to lash out in violence against wives or live-in girlfriends than a control group of white-collar managers, according to a recent study by University of California, Riverside sociologist Scott Melzer. The theory: Society's pressure and expectations about the role of men in the work world might mean that a man is ridiculed by society for his choice to do 'women's work,'causing him to bring that extra stress home."
And if this wasn't all, "Experts in gender studies say men who work in child care might be viewed as potential molesters or criminals; those who work in health care, especially in areas such as maternity or gynecology, might be seen as voyeurs. Some men in female-oriented jobs say they get questioned about their sexual orientation."
But, then, we have to ask, if everyone was equal, as the US proclaims so loudly, why would any of this be an issue?
The situation of minorities in the US is horrible. Women face discrimination. And yet so many continue to merrily believe that the society is the best there is! Cognitive dissonance. Even those who are critical suffer from this, the propaganda has been so strong.

Diana 'superhero' dropped
Last Updated: Friday, 11 July, 2003, 08:08 GMT 09:08 UK

Marvel Comics has scrapped an idea to portray Diana, Princess of Wales, her as a mutant comic superhero.
In a statement the company said "upon reflection" it would remove Diana and all references to the royal family from its forthcoming X-Statix monthly comics.
Marvel had said it planned to introduce Diana as one of a team of super-powered mutants in a five-series storyline called Di Another Day.

Petacchi roars to victory
Last Updated: Thursday, 10 July, 2003, 15:12 GMT 16:12 UK
Alessandro Petacchi continued his brilliant form with a thrilling win on stage five of the Tour de France.
The Fassa Bortolo rider has won three of the opening five stages of the Tour, following his six wins in this year's Giro d'Italia.
Petacchi produced a well-timed attack to overhaul Australia's Baden Cooke and Robbie McEwen who had been well-placed for the stage win.

Tour de France | Stage 6
Friday 11th July | 230km
Nevers - Lyon
Stage 6
The longest stage of the Tour de France is also the last-chance saloon for many of the sprinters before the Alps, through which many will retire.
Human chimps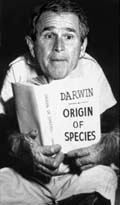 Discussing human-chimp hybrids, Ralph Estling writes [at newscientist.com] : "Experts in philosophy, biology, ethics, the law and many other related fields can expound on whether such progeny should be allowed to vote, run for public office, be subject to jury duty, be allowed to join the armed forces, take up their seat in the House of Lords, and countless other matters" (14 June, p 31).
I think it's already happened. It certainly explains a great deal of governmental activity.
M. R. Fletcher -- Ashland, Massachusetts, US
Katie Pennicott
9 July 2003
New observations of Pluto reveal that surprising changes have occurred in the thin nitrogen atmosphere of the distant planet since 1988. Two international teams of astronomers led by James Elliot of the Massachusetts Institute of Technology in the US and Bruno Sicardy of the Observatoire de Paris in France exploited Pluto's chance 'occultation' of background stars in July and August last year to probe the tiny planet's atmosphere...
If there were a glitch in the simulation of our universe, then the species running it might rewind it a few seconds to incorporate their fix (7 June, p 44). Two frames forward, one frame back, and then two more frames forward would look like only three frames passed by from inside the simulation while five frames would have passed by in linear time outside of the simulation. But would passing through the same time frame inside the simulation spark a feeling of déjà vu? It would be interesting to do a national study in which people could log in the time and duration of their déjà vu experiences to see if clustering is taking place.
Also, is it possible that the species running the simulation might be doing it to see if the creatures within it could come up with a novel way to prove or disprove that the universe was a simulation? They could then apply that method to their own universe to see if it was a simulation... -- John Rockwell, Palm Harbor, Florida, US
Brains hardwired to underestimate own strength

19:00 10 July 03
NewScientist.com news service

Human brains are wired to underestimate the amount of force exerted on other people, a study of "tit-for-tat" experiments has revealed.
As well as qualifying the teary "she hit me harder" playground argument and explaining why we can't tickle ourselves, the discovery may provide insight into some self-delusional symptoms of schizophrenia.
To test the notion that the brain downplays sensations generated by body movements because it can predict what will happen, Daniel Wolpert and colleagues at University College London in the UK engaged six pairs of adult volunteers in "tit-for-tat" experiments.
Each volunteer took turns to squash their partner's left index finger below a lever recording the amount of force applied. Their partner was instructed to reply to each push with equal force. The researchers quickly discovered that both volunteers pushed harder and harder on the lever. Afterwards the volunteers were surprised to learn that everyone had been given the same instructions and that their partners had not been asked to increase the force used....
Pain really is 'all in the mind'

22:00 23 June 03

NewScientist.com news service

Doctors and nurses have known for many years that some people are more sensitive to pain than others. Now brain scans of people experiencing the same painful stimulus have provided the first proof that this is so. But the scans also suggest that how much something hurts really is "all in the mind".
"We saw a huge variation between responses to the same stimulus," says project leader Bob Coghill of the Wake Forest University School of Medicine in Winston-Salem, North Carolina. "The message is: trust what patients are telling you."
Coghill tested the pain tolerance of 17 healthy volunteers by applying heat to the back of their calves. He varied the heat from around body temperature to 49 °C, the temperature of very hot washing-up water.
Volunteers asked to rate the pain on a scale of zero to 10 showed huge variations. One resilient volunteer rated pain at the hottest temperature at just over one, whereas another could scarcely bear it at all, rating it at almost nine.

Stark differences

Brain mechanism of pain, Bob Coghill, Wake Forest University

Proceedings of the National Academy of Sciences

Then Coghill repeated the experiment when the volunteers were in MRI brain scanners. The scans revealed stark differences that reflected each individual's sensitivity to pain. The volunteers least able to bear pain showed more activity in the cerebral cortex, the region of the brain associated with higher cognitive function. Specific areas activated included the prefrontal cortex - linked with attention, working memory and emotion - and the anterior cingulate cortex, a region already linked with pain. Finally, the "leg" region lit up on the primary somatosensory cortex - a pain "map" of the body.
None of these areas lit up in the resilient individuals. But an area called the thalamus, which receives pain messages from the spinal cord and peripheral nerves, was active in all 17 volunteers. This suggests that the pain signal was not dampened on its way to the brain in any of the volunteers, so all the differences must be down to what happens in the brain itself.
"Once the signal arrives, the cerebral cortex interprets and colours the information based on prior experience, emotion and expectation, and that's when the differences kick in," says Coghill.

Revolutionary Tungsten Photonic Crystal Could Provide More Power For Electrical Devices
ALBUQUERQUE, N.M. --
You can't get something for nothing, physicists say, but sometimes a radical innovation can come close.
Researchers at Sandia National Laboratories -- exceeding the predictions of a 100-year-old law of physics -- have shown that filaments fabricated of tungsten lattices emit remarkably more energy than solid tungsten filaments in certain bands of near-infrared wavelengths when heated.
This greater useful output offers the possibility of a superior energy source to supercharge hybrid electric cars, electric equipment on boats, and industrial waste-heat-driven electrical generators. The lattices' energy emissions put more energy into wavelengths used by photovoltaic cells that change light into electricity to run engines...
RFID spy-chippers leak confidential data on the Web
By Thomas C Greene in Washington
Posted: 10/07/2003
Public relations flacks eager to win the public over to the benefits of mass RFID (Radio Frequency Identification) chip proliferation have ironically managed to leave their own confidential plans unprotected on the Web.
An outfit called CASPIAN (Consumers Against Supermarket Privacy Invasion and Numbering) discovered the trove of marketing half-truths on the MIT Auto-ID Center Web site, available for all to see. The irony of data leakage by a group dedicated to allaying the privacy concerns of millions of people whose every possession may soon be broadcasting data indiscriminately to the world is just too tempting to be ignored.
"The Auto-ID Center is the organization entrusted with developing a global Internet infrastructure for radio frequency identification. Their plans are to tag all the objects manufactured on the planet with RFID chips and track them via the Internet," CASPIAN says.
Source of falling ice remains a mystery
By Eliza Barlow
The origin of a chunk of yellow ice that fell from the sky and put a dent in a car parked on a Brandon street is still a mystery today. [...]
By Richard M. Dolan
A Triangular Problem
Sightings of "impossible" craft in the sky are universal. They are also universally ignored. Ignored, at least, by the official channels and sources of power in our society.
This is nothing new -- students of the UFO reality have always known this. Nor is the blanket of denial and disinformation associated with this topic anything unique. I have howled into the wind about this many times, decrying the inability and unwillingness of our mainstream media to discuss an entire range of topics. Yes, this is old news.
As strange as UFOs are, I often think that the silence of official channels is more surreal than the objects themselves. How can it be possible that so many thousands (millions?) of witnesses continue to be ignored?
One subset of the phenomenon, however, has broken through to the mainstream. Perhaps we should say -- ahem -- the 'fringes' of the mainstream. These are the infamous triangular craft. America's mainstream culture, ever rigid and narrow, yet acknowledges from time to time that such things exist. Frankly, it would be hard not to. The reports are simply too many and too clear. [...]
On This Day in 1881
George, Prince of Wales (later King George V) reported in his ships log:
"At 4 a.m. the Flying Dutchman crossed our bows. A strange red light as of a phantom ship all aglow, in the midst of which light the masts, spars and sails of a brig 200 yards distant stood out in strong relief as she came up on the port bow. The look-out man in the forecastle reported her as close on the port bow where also the officer of the watch from the bridge clearly saw her, as did also the quarterdeck midshipman, who was sent forward at once to the forecastle; but on arriving there no vestige or any sign whatever of any material ship was to be seen either near or right away on the horizon, the night being clear and the sea calm.
Thirteen persons altogether saw her, but whether it was the Van Diemen or the Flying Dutchman or who else must remain unknown . . . The tourmaline and Cleopatra, who were sailing on our starboard bow, flashed to ask whether we had seen the strange red light . . . At 10:45 a.m. the ordinary seaman who had this morning reported the Flying Dutchman fell from the foretopmast crosstrees on to the topgallant forecastle and was smashed to atoms."
Comment: It must have been a regular enough phenemenon. They gave it a name commonly known to sailors.
Canada may still hold millions in secret Confederate gold
The Ottawa Citizen
Thursday, July 10, 2003

[...]Southern spies preparing for a Confederate resurgence after the U.S. Civil War may have buried millions of dollars in gold at sites across Canada in the 1860s -- part of an enormous treasure that, say the authors of a new book, is only now being unearthed. [...]
Among the key figures involved in the KGC was Albert Pike, a Confederate exile in Canada whose experience as a leading Freemason appears to explain the elaborate coding system used to hide money and which Mr. Brewer is now unlocking to find treasure sites. [...]
Trees grow larger in Big Apple
By Helen Briggs
BBC News Online science reporter
A cocktail of chemicals in the air is making saplings grow bigger than their country cousins.
Identical trees planted 100 kilometres out of the Big Apple only reached half the size of city dwellers in a study.
Ecologists in the United States say the airborne chemical "footprint" seems to favour trees growing in cities.
"City-grown pollution, and ozone in particular, is tougher on country trees," says Cornell University ecologist Jillian Gregg.
[...]But when ozone is blown into rural areas, cumulative exposure can be greater than in the city centre. ...
By Martin Hutchinson
BBC News Online health staff
"Eat, eat eat - and always stay thin!"
The banner of this pre-war advertisement poster, promising to banish fat without fancy diets or exercise, could come from any age.
However, today's consumer might find the recommended remedy a little harder to swallow.
There are few who would seriously contemplate adding "sanitized tape worms" to the breakfast menu.
Yet the thought of sharing meals with a thriving colony of "friends for a fair form", it appears, was not enough to dissuade the health conscious of the 1930s, who paid up in their multitudes for this product.
And many other products and devices which we would find ridiculous today are stored for posterity at the Museum of Questionable Medical Devices in the US. [...]
Comment: Perhaps some day the idea of using radiation to cure cancer will be looked at with equal revulsion.
A young albino humpback whale that has made mysterious appearances along the NSW coast for the past 10 years resurfaced again off Tweed Heads. (with photo)
And finally...
Ranger: "You can't protest here."
Browne: "Why?"
Ranger: "This is federal property."
Browne: "What about my First Amendment right to free speech?"
Ranger: "This is a First-Amendment-free zone."
God, how I wish I was making this up. [...]
[Browne] said he'd turn his sign around while he ate his lunch.
"He said, 'Fine. But I'm keeping my eye on you. If you turn it back, you're under arrest.' "
God, how I wish I was making that up, too. [...]
---
Check out the Signs of the Times Archives
Send your comments and article suggestions to us.
---
Fair Use Policy
Contact Webmaster at signs-of-the-times.org
Cassiopaean materials Copyright ©1994-2014 Arkadiusz Jadczyk and Laura Knight-Jadczyk. All rights reserved. "Cassiopaea, Cassiopaean, Cassiopaeans," is a registered trademark of Arkadiusz Jadczyk and Laura Knight-Jadczyk.
Letters addressed to Cassiopaea, Quantum Future School, Ark or Laura, become the property of Arkadiusz Jadczyk and Laura Knight-Jadczyk
Republication and re-dissemination of our copyrighted material in any manner is expressly prohibited without prior written consent.
.