---
Dear Readers,
The news these days has become pretty much "same old same old". It seems to be stuck in a loop. Every day we are subjected to more and more examples of how Bush and Co are trashing the planet, it's people, and everything decent and honorable that still exists. There are the usual, increasing revelations about America's sordid history, with the present administration doing its darndest to maintain the tradition. Not only that, but they are more and more outrageous in their lying and manipulating. It is clearer and clearer that they don't care if they are caught out. Curious, isn't it?
However shocking all this might be, do you sometimes feel there is more to it than that?
We do.
The editors of Signs of the Times feel a change of tack is in order. We have a sneaking suspicion that all this "same old same old" amounts to a distraction of sorts. The Cs have said that Bush is "reaction machine" and knows little of what goes on anyway. It certainly seems that he is a puppet and may well have his strings cut soon, but who will do the cutting? But is even that important?
Given the nature of this reality, we suspect that the show presented to the public is to distract us from what certain parties DO NOT want us to know. Perhaps the escapades of the Bush Reich and the concommitant Bush-bashing in the media, although well-deserved, are a Trojan Horse meant to turn our attention from something else. Perhaps it is time to focus more on the inside of that Horse.
Always the renegades, we want to know just what this little game of misdirection is attempting to do; in fact we feel we NEED to know. But where are we to look?
There seems to be a real dearth of information relating to the "bigger picture", that is, what is going on with the planet. The Nasa SOHO satellite is periodically down, or so they tell us, and various earth-based telescopes have rather mysteriously been destroyed in fires, one near Sydney and the other in Arizona.
Might someone not want us to know what is happening "out there"? Is our attention being diverted to the battles on earth so that we do not watch the sky? So we do not learn about the very real changes that are occurring to the weather on this planet and of their celestial causes?
Let us call this a hypothesis and carry out a little experiment.
To this end, we are asking our readers to submit anything of interest in the fields of environment, earth changes, weather, and ESPECIALLY astronomical phenomena. Any closet earth and sky watchers out there? The powers that be, having decided that they will deprive us of valid information about our planet and the section of space it inhabits, are forcing us to gather our own information. In true networking style, please feel free to send us any and all interesting and relevant tidbits of alternative, yet REAL, news. Become your own journalist if necessary.
We have covered a lot of territory here on the Signs pages: Zionism and it's cold grip on the world, those who oppose this pathology, new technology for a new world order, disease and it's use for various nefarious means, the current and past U.S. administrations' links to fascism, various hyperdimensional phenomena and it's manifestation in our little reality, wars and rumors of wars in nearly every corner of the world, who is stockpiling what weapons where, and the list goes on . . . and we will continue to do so.
But we need more information, information the corporate media will not give us. However, we know we have readers from all over the world. It's time we reach out to each other, and tell each other what we are beginning to see. It's what the Internet is for, and let's use it to it's fullest potential. Who knows how long this tool will remain available.
We are interested in what is happening in your corner of the globe. The major media outlets have bowed down to their god, and in the process fallen down on the job. There are many alternative news sources on the web that do a good job of going deeper. But we need to dig deeper still. And we need your help. We need the data that the rulers of this world do not want us to have.
We are facing a looming catastrophe. This isn't religious hockum, it isn't the Planet X of the New Agers, and it isn't the version of Armaggeddon that fuels Bush's vision of the world. This is based upon a scientific study of the planet's past and the messages of warning left to us by our ancestors. There are cyclic catastrophes that visit this planet in the form of comet clusters that return regularly. We are worried that such an event is in the offing. We will have more to say about our own research into this soon.
We leave you with this thought: Might the Bush Reich's lack of concern for being caught out in their lies be linked to their knowledge that there will not be time for payback?
---
Weather extremes to become more regular

Record extremes in weather and climate will become increasingly common as temperatures rise because of climate change, the United Nations weather agency said today.
"New record extreme events occur every year somewhere in the globe, but in recent years the number of such extremes has been increasing," the World Meteorological Organisation said.
The agency is based in Switzerland, which has just registered the hottest June since measurements were first taken 250 years ago, with temperatures 6C (10.8F) above average.
In neighbouring France, maximum temperatures in June were more than 40C (104F).
WMO said there were 562 tornados in the United States in May, an increase of 163 on the previous record. The south-eastern part of the country was exceedingly wet and cold, with some regions receiving 13.65 inches more rain than usual in the three months from March.
Three-year-old critically wounded; man arrested

Wednesday, July 2, 2003
BOSTON - A 3-year-old girl was in critical condition after being shot in the back by errant gunfire, and a neighborhood man was arrested in connection with the shooting, police said.
"You can just feel the violence in the air," the victim's godmother just said on the radio. There seems to be a shooting nearly every week in the Boston neighborhood of Dorchester (which was my first home and where a cousin of mine lives now).
Three killed, five injured in shooting at Missouri manufacturing plant; shooter also killed

By Paul Sloca, Associated Press, 7/2/2003
JEFFERSON CITY, Mo. (AP)

An employee shot and killed three co-workers and wounded five others at a manufacturing plant on the outskirts of the capital, then drove into town and killed himself in a confrontation with police, authorities said.
Two employees of Modine Manufacturing Co. died at the plant after the shooting late Tuesday. A third died later at a hospital, authorities said.

Teenager shoots teacher and commits suicide
Boy killed for breaking cricket trophy

Boy, 11, faces charges in shooting of cop dad

COLORADO SPRINGS - An 11-year-old boy faces five years in a juvenile facility after being charged with attempted first-degree murder and two other criminal charges in the June 21 shooting of his father, Steve Worley, a Colorado Springs police officer.
Baby buried alive by father found alive
NEW DELHI (Reuters) - A newborn Indian girl has been rescued 15 hours after her father buried her alive because he already had two daughters and did not want a third, a newspaper has reported.
Teacher stabbed in back; youth arrested
SIGNONSANDIEGO
July 2, 2003
SAN DIEGO – A schoolteacher was stabbed in the back Wednesday at a fast-food restaurant next door to Horace Mann Middle School, and a youth was arrested two hours later, police said.
The victim, who teaches at the school, was taken to Scripps Mercy Hospital with an 8-inch knife still lodged in his body, authorities said. The teacher's identity was not immediately available but his injury was described as not life-threatening.
02/07/2003 20:46 - (SA)
Free State - A 13-year-old boy from Qwa Qwa has died after his uncle allegedly stabbed him with a spear, eastern Free State police said on Wednesday.
Constable Christopher Mophiring said the uncle allegedly stabbed the teenager in the neck during a quarrel on Tuesday. The boy died at the scene.

Deputies: Man killed wife, wounded himself in murder-suicide
7/2/2003
(Naples-AP) Police say a 67-year-old man fatally shot his 62-year-old wife before shooting himself in the head. [...]
Comment: It seems that periodically there is a spate of these bizzare killings. Is someone cranking up Haarp? How sure are you of your own mind? This seems well-summed up by the comment from Boston: "You can just feel the violence in the air."
Israeli Troops Kill Palestinian Despite Peace Moves
By Naeem Sweilem
Thu July 3, 2003 02:21 AM ET
QALQILYA, West Bank (Reuters) - Israeli troops shot dead a Palestinian militant in the West Bank on Thursday just hours after President Bush praised the Jewish state for its handover of Bethlehem under a U.S.-backed peace plan.
Palestinian security sources said Israeli soldiers killed a member of the al Aqsa Martyrs Brigades linked to Palestinian President Yasser Arafat's Fatah faction in the town of Qalqilya.
The Israeli army said its troops shot dead an armed Palestinian during an arrest raid. [...]
US military prepares for deployment in Liberia: report

WASHINGTON (AFP)
Jul 03, 2003
The Pentagon has ordered military planners to prepare detailed options for American troops to join an international peacekeeping force to monitor a cease-fire in war-torn Liberia, The New York Times reported in its Thursday edition.
Citing two unnamed senior military officials, the newspaper said it was still unclear what other nations might join this force, and how it would be commanded.
The officials said they are considering sending from 500 to 2,000 US troops, the number to be determined after a decision is made about the force's precise mission, according to the report. [...]
British Army Accused Over Kenya Gang Rapes Claim
Wed July 2, 2003 11:35 AM ET
By Jeremy Lovell
LONDON (Reuters) - Hundreds of Kenyan women who claim they were raped by British soldiers have won legal backing to take the British Army to court, with their lawyer and Amnesty International accusing officers of a 20-year cover-up.
The alleged offenses against the group of 650 women took place in Kenya from the mid-1970s onwards while British Army units were on training exercises in the east African country.
"What appalls me is that on at least 10 occasions senior British officers were informed what was happening yet they failed to investigate," lawyer Martyn Day told reporters on Wednesday. [...]
Greenwich soldier back from Iraq has a terrifying story to tell
Associated Press
06/29/2003
GREENWICH — Joseph Darula has recounted the same story several times to family and friends.
It climaxes at what he describes as one of the most exhilarating moments of his young life and ends with the death of a 16-year-old Iraqi who appeared ready to fire an AK-47 rifle at U.S. Marines.
"It had to happen," Darula recalled his platoon commander telling him and the team leader involved in the kill. "You saved a lot of Marines today, both of you."
For Darula, a 25-year-old corporal, the past several months have been a rollercoaster of unsurpassed emotions. Darula, a Greenwich High School graduate who enlisted in the Marines after college, just returned to Camp LeJeune, N.C., to resume duty after about a month of leave.
Three months ago, around the time the bombing in Baghdad began, Darula and the other Marines and sailors aboard the USS Nassau learned that they were headed for Kuwait and Iraq.
As a member of an elite scout sniper team said to possess superior rifle skills, Darula experienced many moments of high adrenaline while playing a part in Operation Iraqi Freedom. At times, he was perched on a moving vehicle, peering through a rifle scope for possible enemy fighters with his finger on the trigger.
"You just hold it straight and close," Darula said, demonstrating the position of his extended finger on the trigger. "It was right there the whole time."
Traveling within 100 miles of Baghdad, the platoon once went on a middle-of-the-night search for an enemy leader suspected of hiding in a village. For that mission, Darula and his team leader climbed a 90-foot water tower to get a better view.
While his team leader had the sniper rifle, Darula had the spotter scope, helping to scan the area and pick out targets. At one point, they spotted a man with an AK-47 rifle but had problems directing the Marines toward him.
Finally, Darula saw a woman and a man who had a rifle slung on his back standing on the roof of a house. The woman took the rifle and wrapped it in a white cloth and laid it down. They left, but other people later emerged on the roof and, as they hung their laundry to dry, pointed at the snipers, Darula said.
As other Marines converged on the house, a young Iraqi appeared on the roof, found the rifle and unwrapped it, holding the rifle in his left hand and a magazine clip in the right.
"I'm taking a shot," Darula recalled hearing his team leader say. "Boom! He shot the kid. The kid spins around."
The Iraqi, who they later learned was 16, appeared disoriented after the first shot and collapsed when shot a second time, Darula said.
Darula and his partner climbed down from the tower and regrouped with the rest of their platoon.
The snipers later discussed the shooting as a group with their chaplain. Everyone involved agreed the kill was justified because the armed youth was a threat to other nearby Marines, said Darula.
Comment: What else WOULD they say? Would they say, "You shot a 16 year old kid, a CHILD, and you don't know even know if he was going to throw the gun off the roof, or put the magazine in it and shoot. You could have waited a few more seconds before taking his young life. Sorry soldier, but we're gonna have to court marshal you..." ??? I wonder what the dead 16 year old's family is thinking right about now, what would YOU be thinking if it was your child...
by Daniella Peled - Jul 1
A prominent Iraqi cleric has issued a religious decree calling for the murder of any Jew attempting to buy property in Iraq.
Shi'ite ayatollah, Kazem al-Husseini al-Haieri, made the declaration last week, after being informed foreign Jews were attempting to purchase Iraqi real estate.
He said: "Any Jew who tries, from now on, to buy a lot of land or a house in Iraq should be killed. Selling any lot of land or a house in Iraq to Jews is forbidden."
Al-Haieri, currently living in self-imposed exile in Iran, is considered by followers as a potential challenger to Iraq's current leading religious authority, moderate Grand Ayatollah Ali Sistani.
But one Baghdad-born London property developer, who has received numerous enquiries from Jews interested in buying real estate and developing business in the new Iraq, told TJ he was "not at all discouraged" by the declaration. [...]
CIA pulls Iraqi centrifuge photos off its Web site
By Tabassum Zakaria
WASHINGTON, June 30 — The CIA abruptly removed from its Web site photos that showed key uranium enriching equipment found hidden in Iraq because they revealed secrets that countries seeking to develop nuclear weapons might find helpful, analysts said on Monday.
[...] Steven Aftergood, director of the Federation of American Scientists' project on government secrecy, said the main reason the CIA removed the photographs was that they contained secret material, not because they might prove embarrassing for the country or countries that supplied the technology. [...]
Comment: BS, most of Iraq's now outdated nuclear technology was sold to them by Donald Rumsfeld.
PM misleading people over Iraq: Butler

ADELAIDE

PRIME Minister John Howard was misleading the Australian public over the legality of the war against Iraq, former United Nations chief weapons inspector Richard Butler said today.
'Bring Them On,' Bush Says to Iraq Attacks
Reuters
Wednesday, July 2, 2003; 11:33 AM
WASHINGTON (Reuters) - President Bush on Wednesday challenged militants who have been killing and injuring U.S. forces in Iraq, saying "bring them on" because American forces were tough enough to deal with their attacks.
"There are some who feel like that conditions are such that they can attack us there," Bush told reporters at the White House. "My answer is bring them on. We have the force necessary to deal with the situation."
Comment: Psychopath Bush has absolutely no consideration for the soldiers who will die as he proclaims "bring them on" regarding angry Iraqis who attack US soldiers. And he has no consideration for the Iraqis who will die trying to acheive freedom and liberty -- something Bush promised but has not delivered. He's clearly willing to risk other people's lives, but not his own, as demonstrated when the cowardly George W. Bush essentially deserted when he was ordered to report for active military duty while he was a member of the Texas Air National Guard. Bush should be impeached and tried for treason and war crimes!
US administrator in Iraq asks for more troops: report

WASHINGTON (AFP)
Jul 03, 2003
Faced with increased armed resistance, the top US administrator in Iraq, Paul Bremer, has asked Washington for more troops and dozens of civilian officials to help speed up the restoration of order and public services, The Philadelphia Inquirer reported Thursday.
Citing unnamed administration officials, the newspaper said US Defense Secretary Donald Rumsfeld was reviewing the request.
Bremer's request underscores how difficult it has been for his small civilian staff and about 158,000 US-led troops to meet the demands of Iraqis for security and other basic needs, the Inquirer pointed out. [...]
US forces fight rumours of jet strike after Fallujah mosque blast

FALLUJAH, Iraq (AFP)
Jul 02, 2003

US forces struggled to convince residents of Fallujah on Wednesday that a blast at a mosque this week that left seven people dead was not caused by a US airstrike but a bomb-making class that went wrong.

Tensions in the Iraqi town ran high, fueled by rumours that the explosion late Monday was the result of a missile strike, while US troops took to the streets to persuade angry residents they had no involvement in the explosion.
"We are not going to attack a mosque," Sergeant Jason McCain insisted, addressing a crowd of angry residents demanding explanations. "Unless someone is shooting at us, we are never going to shoot at a mosque." [...]
ANI[ THURSDAY, JULY 03, 2003 12:19:48 PM ]

LAHORE: Hindus were like Jews and they can never be the friends of Muslims, a leading Pakistan journalist was quoted as saying by a newspaper in Lahore on Wednesday.
"Let us include Hindus in the list as there is no difference between Hindus and Jews," Majid Nizami, editor-in-chief of The Nation and president of Nazria Pakistan Foundation, was quoted as saying by the Pak Tribune.
Referring to injunctions appearing in the Quran in which Allah has warned that Christians and Jews could not be friends of Muslims, he said sub-continental history and past experiences suggested the same scenario was equally visible between Muslims and Hindus.
On Pakistan President Pervez Musharraf's controversial decision to retain the post of army chief, Nizami said: "If Musharraf believes that there would be no war between Pakistan and India then he should shed the uniform. Jihad is the motto of Pakistan Army and there should not be any attempt to change it."
"Instead of indulging ourselves in unnecessary troubles we should wait for the right time and eliminate our double standards," he said.
Comment: Musharaf has been in Washington being bought off by Bush. Pakistan is to receive aid from Washington, but only if they implement Washington's politics. Of course, given the role Pakistan played as intermediary between the cabal in the Pentagon and Osama bin Laden, this is only continuing the existing arrangement.
USC Researchers Build Machine Translation System -- And More -- For Hindi In Less Than A Month
In less than a month, researchers at USC's Information Sciences Institute and collaborators nationwide have built one of the world's best systems to translate Hindi text into English and query Hindi databases using English questions.
This effort was part of the "Surprise Language" project, a test of the computer science community's ability to create translation tools quickly for previously unresearched languages sponsored by the Defense Advance Research Project Agency (DARPA). The exercise ended July 1.
Berlusconi under fire over 'Nazi' jibe
By Tobias Buck in Strasbourg
Published: July 2 2003 20:45 | Last Updated: July 2 2003 20:45
Italy's two-day-old presidency of the European Union on Wednesday descended into acrimony after Silvio Berlusconi compared a German member of the European parliament to a Nazi concentration camp guard.
The Italian prime minister's "ironic" remark caused outrage in Berlin and alienated many MEPs with whom he will have to work during his six months at the helm of the EU.
The remarks fuelled widely held concerns over Mr Berlusconi's ability to provide leadership at a time when the EU faces unprecedented challenges, from healing the transatlantic rift to securing agreement for a European constitutional treaty.
By insulting Germany and the European parliament, which decides most legislation, Mr Berlusconi's task will be that much harder. He has previously upset France and European Commission president Romano Prodi.
Mr Berlusconi was reported to have partially apologised in a private meeting, but only for offence caused to the German people, not to the target of his comments Martin Schulz, the Germany social democrat MEP.
His comments came after Mr Schulz criticised the prime minister's conflicts of interest, the anti-immigration rhetoric of one of his ministers and poked fun at his ability to avoid prosecution.
Mr Berlusconi calmly waited for his turn to speak, then said: "Mr Schulz, I know there is a producer in Italy making a film on the Nazi concentration camps. I would suggest you as the role of the guard. You would be perfect."
Ultimatum to Berlusconi as Nazi gibe triggers diplomatic war

From Charles Bremner in Strasbourg

The European Parliament gave the Italian Prime Minister until lunchtime today to apologise for his remarks or risk a torrid six-month presidency of the EU.
His outburst had already prompted Gerhard Schröder's aides to summon the Italian Ambassador to Berlin to protest about his Prime Minister's "unacceptable" comments.
Far from retreating, the Italian Foreign Ministry then summoned the German Ambassador in Rome to complain about the MEP's criticism of Signor Berlusconi. That "constituted a grave, unacceptable offence to the dignity of Prime Minister Silvio Berlusconi and to the Italian and European institutions", it said.
The furore represented the worst possible start to Italy's presidency and raised fresh questions about Signor Berlusconi's fitness to lead Europe.
Comment: Berlusconi and Bush seem to be two peas from the same pod...and we have a pretty good idea where this pod is from. Berlusconi appears to be continuing his role as American point-man in Europe, keeping the EU riled up and at each others' throats while Uncle Sam imposes his iron fist over the world.
As well, Berlusconi has a long history of " gaffes", that would rival Dubya. Another good example of psychopathic behaviour?...
German 911 Skeptics Meeting sabotaged by Neo-Nazis
Bizarre Turnout at a public 911Skeptic Panel in Berlin on Monday. While almost 800 visitors listened to the popular analysis of guest author Matthias Broeckers ("..Secrets of 911"), director Gerhard Wisnewski ("File 9/11 unsolved"/ WDR ) or former Minister Andreas von Buelow (supporter of "Remote Controle Possibility"), the crowd realised after a while, that one of the visitors had been right wing extremist Horst Mahler.
After the event in- and outside the University of Berlin almost turned into a riot (left wings hit Mahler during a break in his face and yelled "Nazis out!"), german police came and later stopped the event. The left-wing scene in Berlin thinks, that Horst Mahler's "visit" was part of a planned sabotage, probably even orchestrated by German Intelligence.
Last year, the german government had to confirm, that they had planted moles within the Neo-Nazi scene and german party NPD (which is not in the german government).
Reason of this sabotage: To distract from the event and accuse 911Skeptics of anti-semitism and being "conspiracy nuts". [...]
EU OKs tough rules on biotech crops

Associated Press
BRUSSELS, Belgium — The European Parliament passed tough new laws Wednesday on genetically modified products, opening the way for biotech foods in Europe as long as they are clearly labelled.
The United States has long pushed the EU to drop its biotech ban, but the new rules were unlikely to satisfy Washington, which has said mandatory labelling of biotech products will be too costly for exporters.
The 626-member assembly backed two proposals that would allow European countries to lift a seven-year freeze on the introduction of new biotech foods.
The regulations require producers to trace genetically modified organisms at all stages of production and oblige supermarkets to label products containing more than 0.9 percent biotech material to say: "This product is produced from GMOs."
Skeptical European consumers can continue to shun biotech products, the group said.
"This vote is a slap in the face of the U.S. administration, which thought that by bullying ... Europe, and eventually others, would swallow its GMO policy," said Eric Gall, Greenpeace EU adviser on genetic engineering.
Washington has said the laws, as proposed, would continue to constitute an unfair trade barrier to biotech product imports.
Backlash surprises genetic engineers
June 30, 2003
BY PAUL ELIAS
Americans might not know it, but most eat genetically modified food daily. And two Midwestern scientists--one an unassuming gardener, the other a no-nonsense executive--are largely responsible. [...]
Zimbabwe calls Powell 'Uncle Tom'
Wednesday July 2, 2003
Suzanne Goldenberg in Washington - The Guardian
In a deliberate echo of remarks last autumn by the entertainer and activist Harry Belafonte - who said that Mr Powell adopted a docile mien to preserve his status - Zimbabwe's official press called him a liar and a self-effacing servant of his white masters.
The tirade appeared aimed at overshadowing the African tour next week by President Bush and other senior officials including Mr Powell.
7 Congressmen Demand China Dismantle Taiwan-Aimed Missiles
By Charles Snyder
Staff Reporter In Washington
Taipei Times
7-1-3
Seven members of the US House of Representatives, including a senior member of the House Armed Services Committee, have introduced legislation in the House demanding that China dismantle the hundreds of ballistic missiles it has deployed across the Strait aimed at Taiwan and renounce the use of force against Taiwan.
If China does not eliminate the missiles, the resolution says, President George W. Bush should authorize the sale to Taiwan of the Aegis anti-missile system, "which would enable Taiwan to defend itself against the threat of a missile attack by China."
Mars Express Probe Has Power Problem
By SPACE.com Staff
02 July 2003
Europe's Mars Express satellite has lost 30 percent of its power-generating ability and likely will be forced to restrict its instruments' use once it begins operations in Mars orbit in late December, the European Space Agency (ESA) announced July 2.
ESA ground controllers continue to verify the collective health of Mars Express/Beagle 2 after being hurled toward the red planet a month ago....
Japanese test space shuttle crashes
Wednesday, July 2, 2003 14:22 GMT
STOCKHOLM, Sweden (Reuters) -- An unmanned Japanese space shuttle prototype crash landed during testing in northern Sweden on Wednesday, Swedish space authorities said.
A stratospheric balloon hoisted the test shuttle, part of Japan's program to develop its first reusable shuttle, to an altitude of 21.5 km and released it into free-fall. Everything went as planned until the shuttle reached 1,200 meters.
The prototype should have landed using a system involving a parachute and an airbag, but instead it came crashing down onto the testing center in Kiruna, some 1,300 kilometers north of Stockholm, breaking up.
"The recovery system did not work properly to give it a soft landing. It has to be refurbished before it can fly again," said project leader Mikael Viertotak at the Swedish Space Corporation.
"Of course it causes a delay in their experiment...and a delay usually means extra costs," Viertotak told Reuters. "But I would not consider this a major drawback."
Radio telescope to make most detailed cosmic map
Tuesday, July 1, 2003 17:00 GMT
ARECIBO, Puerto Rico (AP) -- The world's most sensitive listening device is about to hear more from the universe.
The radio telescope at Puerto Rico's Arecibo Observatory, powerful enough to hear planets forming several billion light years away, is receiving six more radio receivers to expand its range, scientists said Monday.
Once the upgrade, nicknamed the ALFA Project, is completed next year, the observatory's staff of 15 scientists will take on the arduous task of mapping the night sky for future generations.
The map with its collection of detailed data about location, identity and properties of what is in space will go far beyond anything currently in use, researchers say. [...]
Ground-based Image Rivals Hubble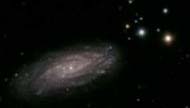 Telescopes catch-up with Hubble

By Dr David Whitehouse
BBC News Online science editor
The new Gemini telescopes, equipped with advanced instruments, are producing images of deep space that rival the HST's.
The Gemini Observatory comprises two large telescopes - one in the Northern Hemisphere and one in the South. Their new imaging spectrograph recently captured images that are among the sharpest ever obtained from the ground.
One Gemini image reveals remarkable details, previously only seen from space, of a group of galaxies located about 400 million light-years away....
Bryan Miller of the Gemini Observatory says: "Although the images are spectacular, the instrument is primarily a spectrograph and that is where its capabilities are most significant for scientists."
It is capable of obtaining hundreds of spectra in a single snapshot image of the sky. It is expected to be commissioned and ready for routine observations later this year.
"It used to take an entire night to obtain one spectrum," says Gemini's Inger Jorgensen.
"Now we can collect 50-100 spectra simultaneously. This capability presents unprecedented possibilities for investigating how galaxies formed and evolved in the early Universe."
Comment: Wonder how long it will be before these telescopes start having "problems"... Like the Mars probes and the SOHO and the telescopes that burned down...

Pulsars use gravity brakes, astronomer says

By PAUL RECER
Associated Press

[...] Pulsars are the remnants stars that were once eight to 20 times bigger than the sun. When their fuel was exhausted, the stars exploded and then collapsed into a very dense body equal to about 1.5 solar masses, but measuring only about 15 kilometres across.
The collapse starts the pulsar spinning at about 30 turns a second.
If there is a nearby star, the pulsar, with its superior density, will begin pulling material from its stellar companion. As this material spirals into the pulsar, the spin of the star rapidly increases.
In theory, said Dr. Chakrabarty, the star could spin up to 3,000 revolutions a second and eventually fly apart.
But in the study, Dr. Chakrabarty said the researchers found that the maximum speed for the 11 pulsars analyzed was below 760 revolutions per second, a velocity that approaches about 20 per cent of the speed of light.
Pulsars give off beams of energy, such as X-rays, from fixed points on their surface. Since the objects are rapidly spinning, the beams appear to rapidly blink on and off, or pulse. By measuring these pulses, astronomers can estimate the rate of spin.
Dr. Chakrabarty said that Lars Bildsten, a University of California, Santa Barbara, astrophysicist, had theorized that the spinning speed of pulsars would be limited because irregularities on the star's surface would allow rotational energy to stream away as gravitational waves.
Astronomers Find Speed Limit for Whirling Pulsars

By Deborah Zabarenko
WASHINGTON (Reuters) - Reckless pulsars -- spinning searchlights in space -- might tear themselves apart if they whirled too fast, but ripples in the cosmic fabric first predicted by Albert Einstein may set a celestial speed limit.
[...]What stops them is the phenomenon predicted by Einstein's theory of relativity -- the rippling of the fabric of space and time. Known to scientists as gravitational radiation, these ripples are a bit like waves on an ocean and are produced by massive objects in motion. They have never been directly detected. [...]
Accelerating Universe theory dispels dark energy
Tweaking gravity does away with need for strange forces.

JOHN WHITFIELD
© NASA
Some theorists think the Universe is filled with a mysterious dark energy, a sort of negative gravity.

The accelerating expansion of the Universe can be explained without invoking a force of dark energy, a group of US physicists is proposing. Gravity alone might be driving everything apart with ever-increasing speed, they claim.
"The fact that the Universe is speeding up might be the biggest mystery in all of science," says Michael Turner of the University of Chicago. "Really big problems require crazy new ideas - and ours is right up there with the craziest." He hopes others will build on the idea, or knock it down. [...]
Prometheus: The Paradigm Buster

By Leonard David
Senior Space Writer, SPACE.com

NASA has embarked on a challenging quest to build a powerful nuclear reactor for long-duration deep space excursions.
As part of the multi-pronged Prometheus Project, engineers and scientists are now tackling plans for the nuclear-powered Jupiter Icy Moons Orbiter (JIMO). This flagship mission using electric propulsion powered by a nuclear fission reactor would showcase a slate of key technologies. It also promises to usher in a new era of solar system exploration.
The amount of power available to JIMO from a nuclear reactor would be hundreds of times greater than on current interplanetary spacecraft. [...]
Canada has eye in space

MONTREAL -- Canada's first space telescope is now in orbit after a successful launch from Russia on Monday. Described as the world's smallest space telescope, the so-called MOST -- Microvariability and Oscillations of STars -- the micro-satellite is about the size of a suitcase.
New Scientist
[...]We need to get the hackers of the DNA world working to try to reverse-engineer its code - to discover what sorts of different instructions it contains by looking for a different sort of pattern in DNA. [...]
Strong earthquake jolts northern Japan
Tokyo, Jul 03 - A strong earthquake with a preliminary magnitude of 6.0 on the Richter scale shook northern Japan on Thursday morning, but there were no immediate reports of damage or injuries.
State releases maps of East Bay earthquake zones
By Lisa Fernandez
Mercury News
The state today released the first map of East Bay spots that are most likely to crumble, slump and slide during a major earthquake -- guides geologists said city planners, builders and and home buyers should heed.
Geothermal blowout covers Rotorua house with mud and ash
03 July 2003
A Rotorua [NZ] house has been covered in mud and ash after a bore blew within 10 metres of its front doorstep. [...]
Comment: Also in New Zealand, an earthquake that few noticed.
By MATTHIAS GAFNI Times-Herald staff writer
Thursday July 3, 2003
ROCKVILLE - Scientists, curiosity seekers, media, UFO specialists and a woman wanting to cure her paralyzed dog swarmed to a Rockville wheat field Tuesday after learning of extensive crop circles imprinted over the weekend.
It's unclear whether aliens, teenagers or alien teenagers landed in the field - a mile northeast of Solano Community College at the corner of Suisun Valley and Rockville roads - and created a large group of 15 crop circles sometime before dawn Saturday.
Whatever the source of the circles, which are drawing onlookers by the dozens, farmer Larry Balestra just wants his crop harvested.
The Times-Herald interviewed Balestra, 41, as he stood in the largest of the circles, with a 140-foot-diameter circle.
The farmer, owner of Larry's Produce on Suisun Valley Road, said the 2.5-foot-high wheat grass must have been pressed late Friday night or early Saturday morning. Balestra noticed an odd shadow in his field as he drove by Saturday morning about 6 a.m. [...]
Filer's Files #27
07-01-2003 | 10:30PM
The purpose of these files is to report the UFO eyewitness and photo/video evidence that occurs on a daily basis around the world and in space. Our UFOs headed for Mars, Massachusetts - a round bright white light flying, New York - crop circle investigation, Georgia - bright domed disc, Florida - three stationary, orange, rectangular lights, Bahamas - daylight disc, Mississippi - sun cloud and flying flashlight, Michigan - Jet flying too slow, Missouri -- hovering bright triangular shaped object, California - flying triangle, Washington - daylight disc sighting and photos, Argentina - cattle mutilation UK - UFO flap, Belgium - flying triangles return, Netherlands - UFO runway, Spain - UFO videotaped, Russian - fisherman see green UFO, Ukraine - cylinder UFO with diamond emblem, and Australia - bright light.
More Public exposure for those pesky UFO's
Larry King Live recently aired a show about Roswell, largely thanks to the Sci-Fi channels recent publicity stunts. Interesting that the Sci-Fi channel was bought out and then they started on this tact. Psychology Today asks the question Alien Abductions: The Real Deal? while reports from Argentina surface regarding three UFO's seen and videotaped in Salta. Most people don't know that Chilean government was almost shut down due to panic regarding another strange and horrifying phenemenon - Chupacabras. Carlos Cantero, a senator for the Renovación Nacional party in Chile's 2nd Region wants some answers.
Mysterious creature roams cape
The Australian
July 02, 2003
A FRONTIER town is divided over whether a mysterious creature roaming Cape York is a puma, a Tassie Tiger or a tree-climbing kangaroo.
Rumours of an introduced puma-like big cat living near Cooktown, north of Cairns, have persisted for decades.
Like the panther said to lurk in bushland outside Sydney, there have been many sightings but no proof.
Some believe pumas were secretly brought to north Queensland as mascots then left behind by American World War II solders.
There is an unrelated theory, held by renowned Cape York artist Percy Trezise, that the region is also home to a native marsupial wolf or thylacine. [...]
Chilean 'Blob' May Be Giant Octopus, Whale Blubber
Wed Jul 2, 5:15 PM ET
By Louise Egan
SANTIAGO, Chile (Reuters) - Scientists said on Wednesday a huge mass of slimy flesh that washed up on a Chilean beach last week may be a rare type of giant octopus or just discarded whale blubber. ...
Comment: If you go to the link, there are pics of this thing.
Police Will No Longer Report Details Of Cat Mutilations
Officials Fear Media Coverage Provokes More Mutilations
12:18 p.m. MDT July 1, 2003
Aurora police will hold a news conference on Wednesday to announce that they will no longer release details on the cat mutilation cases that have plagued the metro area because they believe that media coverage may actually provoke more mutilations.
At the conference, police will also introduce the members of the multi-city task force created last month to crack the case. Officers will also explain how the public can help in the investigation, and how pet owners can keep their cats safe by keeping them indoors.
Four mutilated cats were discovered over the weekend, bringing the number to 40 cats discovered in Aurora, Denver and surrounding areas in the past year. [...]
Comment: The fact that reports of these mutilations are now being suppressed makes them that much more interesting.
Animal heads hung on church gate
By-passers were met by a horrible display outside Askim Church in Norway on Sunday morning.
Vandals had hung up pigs' heads and sheep's heads on the church gate. Many of the heads had fallen down from the gate as people walked passed the church, according to the local newspaper. [...]
Traffic Snarled By Suspicious Package, Vehicle
POSTED: 2:01 p.m. EDT July 2, 2003
UPDATED: 5:07 p.m. EDT July 2, 2003
NEW YORK -- The Brooklyn Bridge was closed for more than an hour Wednesday after a man said he had been offered money to drive a car parked outside City Hall onto the bridge, police said.
The police bomb squad was preparing to examine the car Wednesday afternoon.
The shutdown came after a morning of travel disruption as police investigated a suspicious envelope containing white powder in a subway car.
A passenger found the envelope on the seventh car of a northbound No. 1 train at the Canal Street station at about 8:30 a.m., NYC Transit spokesman Paul Fleuranges said.
Suspicious Substance In Downtown Subway Tests Negative For Anthrax

JULY 02, 2003
Two police investigations - one involving a suspicious white substance found on a subway at the Canal Street 1 and 9 station, the other involving a report a man was offered money to drive a car onto the Brooklyn Bridge - caused major delays for straphangers, drivers and pedestrians in Lower Manhattan Wednesday.
Fire outside Three Mile Island reactor extinguished; no injuries
The Associated Press

HARRISBURG, Pa. - A fire broke out in a transformer next to a decommissioned reactor at Three Mile Island nuclear power plant Tuesday, an Exelon Nuclear official said.
The official, David Simon, said crews were still trying to figure out the cause of the fire, but that there was no danger to the public and no interruption in the plant's operations. There were no reports of injuries.
"At no point was there any danger to the public," said David Sanko, head of the Pennsylvania Emergency Management Agency.
Simon initially reported that the transformer was in an active transformer yard, but later relayed a clarification through a spokeswoman to say that the transformer was in the turbine building switch gear room. The spokeswoman, Kimberly Hobbs, said she had no other details.
Fire crews went to the scene after Exelon requested help, Simon said. The fire was reported to PEMA at 11:06 a.m. and declared out at 11:25 a.m., said agency spokeswoman Maria Smith.
Simon said the Nuclear Regulatory Commission also was notified.
The decommissioned reactor, known as Unit 2, is owned by First Energy Corp. and was the site of the nation's worst commercial nuclear accident, when a portion of the reactor's core melted in 1979.
Unit 1 is operated by Exelon and owned by a joint venture involving Exelon and British Energy.
Bush to NGOs: Watch Your Mouths

by Naomi Klein
Published on Friday, June 20, 2003 by the Globe and Mail (Canada)
The Bush administration has found its next target for pre-emptive war, but it's not Iran, Syria or North Korea -- not yet, anyway.
Before launching any new foreign adventures, the Bush gang has some homeland housekeeping to take care of: It is going to sweep up those pesky non-governmental organizations that are helping to turn world opinion against U.S. bombs and brands.
The war on NGOs is being fought on two clear fronts. One buys the silence and complicity of mainstream humanitarian and religious groups by offering lucrative reconstruction contracts. The other marginalizes and criminalizes more independent-minded NGOs by claiming that their work is a threat to democracy. The U.S. Agency for International Development (USAID) is in charge of handing out the carrots, while the American Enterprise Institute, the most powerful think tank in Washington, D.C., is wielding the sticks.
On May 21 in Washington, Andrew Natsios, the head of USAID, gave a speech blasting U.S. NGOs for failing to play a role many of them didn't realize they had been assigned: doing public relations for the U.S. government.
[...] This is not a lone wolf we are dealing with, it's a sheep-herder. The question is: Which of the NGOs will play the sheep?
Crime statistics show increase statewide, locally
Bee Metro Staff
Published 12:52 p.m. PDT Wednesday, July 2, 2003
California Attorney General Bill Lockyer on Tuesday released California crime statistics for 2002, which show an increase of 2.4 percent in the overall crime rate when compared to 2001, with a 4.9 percent increase in property crime rates and a 2.7 percent decrease in the rate of violent crimes.
The California Department of Justice report, "Crime in California, 2002 Advance Release", provides a summary of crimes and arrests reported by law enforcement jurisdictions in the state and adult felony dispositions reported by police, sheriffs, prosecutors and courts. [...]
Comment: The crime rate is up, they report. But they make it look as though the increase crimed is due to "property crime" which amounts of theft, vandalism, arson, and the like. But if you take a moment to review the report itself you'll see that in 2002 the ONLY area of violent crime that diminished was aggrevated assault. Meanwhile homicide and forcible rape went up in 2002: there were 191 more murders in 2002 than in 2001, and there were 294 more forcible rapes in 2002 than in 2001!!! This is government and the mass media blatantly misleading the public.
07/02/03
Kenneth Kinchen
Murder, reality TV?
So, here's the question. Why have we heard practically nothing about Todd Lee, and about the young women he is alleged to have murdered? All of his victims were women who were not considered to have been forensically subject to violence. That is, none had been a "hooker," nor had been a barfly, nor frequented singles bars alone, nor was known to have been promiscuous. None of them had placed herself in a likely place for lawlessness, and murder. They were apparently engaged in the normal activities of going to college, working, or being a homemaker.
Could it be that a serial murderer is not good TV, unless he is white, middle class, and good looking? Or black, athletic, rich, and answers to "OJ?" To be sure, Todd Lee is no Scott Peterson. But Todd Lee did get himself arrested for allegedly killing at least six young women. But none of them was married to the handsome bad boy who is charged with killing his pretty wife, Laci. Why has the Peterson story become "the" story that dominates all other murder reports in the nation?
[...] Scott's cool, bland, flat, emotionless demeanor in court could by the result of his belief that "this is, after all, Laci's fault?" As it stands now, Scott Peterson is presumed innocent and awaiting trial, but Laci and their child are dead, perhaps the victims of raging envy, greed, and jealousy.
Comment: Or the victims of a psychopathic mind.
Media-merger ruling imperils democracy
Originally published on July 2, 2003
Three anonymous political appointees to the Federal Communications Commission have delivered a body blow to American democracy. Large media companies are to be allowed to buy up more TV stations and newspapers, becoming more powerful and reaping a financial bonanza.
[...] Easing the rules on cross-ownership means that in many local markets, one company could own its leading daily newspaper - often, its only newspaper - its top-rated TV station, the local cable company and five to eight radio stations. Previously, no TV and newspaper mergers were allowed in the same market, except when a firm was failing.
Now, the merger of the dominant newspaper and TV station could create local news monopolies in 200 markets serving 98% of Americans.
Comment: Imperils democracy? What democracy? This is just further consolidation of the dictatorship under which Americans already live.
Fluoridation Delivers Risks; No Benefits, Study Shows
From New York State Coalition Opposed to Fluoridation
Tuesday, July 01, 2003
Naturally fluoridated water fails to reduce cavities and increases fluorosis rates, maintains a "Quintessence International" study(1).
"Artificial fluoridation of America's water supplies is based on the belief that drinking naturally fluoridated water prevents cavities.* This study shows it does not," says lawyer Paul Beeber, President, New York State Coalition Opposed to Fluoridation.
Fluoride is neither a nutrient nor essential to health. Fluoride deficiency does not cause tooth decay
Comment: Woohoo! Ain't that great!? Is this proof enough of the capability that the "establishment" has for brainwashing of the public? I mean just about everyone is convinced that flouride is essential for preventing cavities! It's in just about every toothpaste available! Mothers throughtout the world are buying flouride toothpaste to protect their children's teeth. But guess what? It's all a load of horse hockey! So why? Why would government agencies do this, and even load our drinking water with this stuff? Is this the answer..?
Think then about what else we may have been told by our wonderful government that is not only a lie but seriously detrimental to our mental and physical health, and why are they doing it? What have they got to hide? Why do they want to control us and our ability to think and do??
U.S. Fireworks Dimmed by Budget Woes
By Karen Pierog
Wed July 2, 2003 12:11 PM ET
CHICAGO (Reuters) - There will be a little less "rockets' red glare" across the United States this Fourth of July, as some fireworks displays have been canceled or scaled back due to local government budget troubles.
With the national economic slowdown eating into state and local tax revenues, governments have less money to spend on the traditional displays, which can typically cost $1,000 to $2,500 a minute. [...]
Security Groups Warn of Hacking Contest on Sunday

Wed July 2, 2003 08:09 PM ET
By Elinor Mills Abreu

SAN FRANCISCO (Reuters) - Cyber security organizations warned network administrators on Wednesday about a Web site hacking contest that appeared to be scheduled to begin on Sunday, July 6.
The Information Technology -- Information Sharing and Analysis Center (IT-ISAC), which monitors the Web for possible threats, learned of "Defacer's Challenge" on a Web site last week, according to Pete Allor, director of operations for the group. IT-ISAC is run by Atlanta-based security provider Internet Security Systems Inc. ISSX.O
According to the Web site, which had been taken off the Internet by Wednesday afternoon, hackers were urged to prove their skills by defacing as many Web sites as they could during a six-hour period on Sunday morning, Allor said.
In just one indication of how sweeping the damage could be, participants were not to deface more than 6,000 Web sites, according to the contest rules posted online. They would be awarded points based on the type of operating system running on the Web server they hacked, according to Allor.
For example, people breaking into servers running Windows would get 1 point, while break-ins of servers running the Mac operating system or the HP-UX version of Unix, widely perceived to be more secure than Windows, would get 5 points, he said.
The winner purportedly will get 500 megabytes of free data storage and free e-mail, the notice said.
Officials were investigating who was responsible, Allor said. However, the FBI was not immediately available to comment on how seriously it viewed the threat.
Comment: Nice cover for the FBI to engage in a little censorship...
4 'jihad' defendants granted bail
By Kevin Johnson, USA TODAY
Posted 7/2/2003 9:38 PM
ALEXANDRIA, Va. Four men accused of being part of a "jihad network" were granted bail Wednesday. The move raises questions about allegations that they were Muslim warriors preparing to fight against U.S. allies overseas.
U.S. Magistrate T. Rawles Jones Jr. said none of the defendants pose a threat to the community. The men are accused of training for combat while on paintball outings in the Virginia countryside.
In the case of one defendant, Hammad Abdur-Raheem, 29, Jones referred to a solid work history, strong family ties and military service that he said appeared to defy the government's claims.
"The government's argument that he should be denied bond because of concerns for community safety simply does not hold water," Jones said.
He ordered the men released after they met bail conditions, including a requirement that they submit to electronic monitoring while awaiting trial.
The decision appeared to undermine the government's terror-related claims in a 42-count indictment unsealed last week. The court documents allege that the defendants were among 11 people who obtained weapons and trained to fight in Chechnya, Kashmir, the Philippines and elsewhere.
Comment: Play paint-ball with a Arab name and you are cooked. This is "freedom" in Bush and Ashcroft's USA. Something to celebrate tomorrow.
Bush says constitutional ban on gay marriage not necessary - yet
03:52 AM EDT Jul 03
WASHINGTON (AP) - President George W. Bush said Wednesday that a constitutional ban on gay marriage that's been proposed in the House of Representatives might not be needed.
"I don't know if it's necessary yet," Bush said. "Let's let the lawyers look at the full ramifications of the recent Supreme Court hearing. What I do support is a notion that marriage is between a man and a woman." The Supreme Court case involving gay sex was in the final batch of rulings handed down by the court this term. In striking down a Texas law that made homosexual sex a crime, the justices overturned an earlier ruling that had upheld sodomy laws on moral grounds
Comment: Ontario just legalized gay marriage and the Canadian federal government, rather than trying to overturn the decision in the Supreme Court, has decided to make the gay marriage legal across Canada. Along with the new laws on marijuana possession, this has got to be vexing for the Bush Reich.
Antarctic Scott's lasting legacy

By Helen Briggs
BBC News Online science reporter
When the bodies of Scott of the Antarctic and his party were discovered in 1912, a collection of rocks and fossils were found by their tent...
Scott's collection contained some of the first plant fossils found in Antarctica, the remains of ancient lush deciduous forests that carpeted the continent about 250 million years ago.
The fossilised leaves and bark, now in the archives of London's Natural History Museum, show Antarctica was once green and warm. Exactly how forests managed to flourish at the South Pole has been contentious ever since.
Falling leaves
Much of the debate centres on the predominance of deciduous trees (which lose their leaves during winter) over evergreens.
The accepted wisdom is that trees dropped their leaves because they were unable to photosynthesise during the dark winters. (Photosynthesis is the light-dependent process used by plants to make carbon, the stuff of life.)
According to this theory, deciduous trees in a polar climate save more valuable carbon than evergreens since carbon is lost by canopy respiration during warm, dark winter months.
Dr Osborne and colleagues have now tested this theory by growing modern day descendants of the trees in conditions they would have encountered in an ancient polar forest.
It turns out that leaf shedding was a false economy. The quantity of carbon lost would have far outweighed that burned as fuel by an evergreen in the darkness of a warm polar winter.
"Our findings show that the long-standing explanation for the dominance of deciduous trees in these ecosystems simply doesn't add up," says Professor David Beerling.
There must be another explanation, he adds, perhaps water supply, soil fertility or the chilling effects of low temperatures.

Comment: Not to mention the earth rotating at a different angle. Gee, what could cause the earth's axis to shift 23 degrees?
September 30, 1994
Q: (L) Was the story of Noah's flood the story of the
breaking up of Atlantis?
A: Yes. But symbolic.
Q: (L) How many people were on the planet at that time?
A: 6 billion.
Q: (L) Out of this six billion people, how many survived?
A: 119 million.
Q: (L) Was Noah's flood caused by the close passage of
another celestial body?
A: Yes.
Q: (L) Which body was that?
A: Martek.
Q: (L) Do we know this body in our solar system now?
A: Yes.
Q: (L) What name?
A: Mars.
Q: (L) Was Martek an inhabited planet at that time?
A: No.
Q: (L) Did it have water or other features?
A: Yes.
Q: (L) When it passed close to the earth did it, in fact,
overload our planet with water we did not have prior to
that time?
A: Yes.
Q: (L) Did we, prior to that time, have a water-vapor canopy
surrounding our planet?
A: Yes.
October, 22 1994
Q: (L) The remark was made that the planet earth, prior to
its interaction with Martek, had a water vapor canopy.
How was this water vapor canopy suspended?
A: The water vapor canopy was a natural element of the
particular composition of your atmosphere at that
particular measure point in space/time.
Q: (L) Was the gravity level the same as what it is now?
A: It was somewhat different. But not perceptible to you.
That difference is part of the explanation of why that
vapor canopy remained suspended.
Q: (L) Did that condition prior to the flood of Noah, the
altered gravitational state as well as the water vapor
canopy, was that condition more conducive to extended life
spans than the conditions that exist on the planet now?
A: Not only those things but all the other conditions that
existed on the planet at that particular point in
space/time were more conducive to longer life spans. And,
by the way, Noah is a symbolic message rather than an
historical event.
Q: (L) Do you mean a historical event in the terms of Noah
being in an ark or historical event in terms of the flood?
A: First of all, there was no Noah. Secondly there was no
actual real flood as depicted in that story. Thirdly, the
whole story was a symbolic message as opposed to an actual
event.
November 16, 1994
Q: (L) And you said that the "flood of Noah" was the story of
the final deluge and destruction of Atlantis?
A: Yes.
Q: (L) And that was caused by what?
A: Venus.
Q: (L) I thought you said it was caused by Martek?
A: Yes.
Q: (L) Well, how can it be caused by Venus if it was caused
by Martek?
A: Venus also "caused" Martek.
Q: (L) You said that the earth, up to that time, was
surrounded by a water vapor canopy, correct?
A: Yes.
Q: (L) And when Mars came by it overloaded the earth's
atmosphere and it fell as a deluge, correct?
A: Close.
But this is just "channeling", right? Nonsense, foolishness, parlour games....
Scholarship or Sophistry?
Bernard Lewis and the New Orientalism
By M. SHAHID ALAM
June 28, 2003
Who Is Bernard Lewis?
We will return to the book in a moment, but before that, we need to step back some twenty-five years and examine how Edward Said, in Orientalism, has described this Orientalist tiger's stripes and his cunning ploys at concealment. Edward Said gets to the nub of Lewis's Orientalist project when he writes that his "work purports to be liberal objective scholarship but is in reality very close to being propaganda against his subject material." Lewis's work is "aggressively ideological." He has dedicated his entire career, spanning more than five decades, to a "project to debunk, to whittle down, and to discredit the Arabs and Islam." Said writes:
The core of Lewis's ideology about Islam is that it never changes, and his whole mission is to inform conservative segments of the Jewish reading public, and anyone else who cares to listen, that any political, historical, and scholarly account of Muslims must begin and end with the fact that Muslims are Muslims.
Although Lewis's objectives are ominous, his methods are quite subtle; he prefers to work "by suggestion and insinuation." In order to disarm his readers and win their trust and admiration, he delivers frequent "sermons on the objectivity, the fairness, the impartiality of a real historian." This is only a cover, a camouflage, for his political propaganda. Once he is seated on his high Orientalist perch, he goes about cleverly insinuating how Islam is deficient in and opposed to universal values, which, of course, always originate in the West. It is because of this deficiency in values that Arabs have trouble accepting a democratic Israel-it is always "democratic" Israel. Lewis can write "objectively" about the Arab's "ingrained" opposition to Israel without ever telling his readers that Israel is an imperialist creation, and an expansionist, colonial-settler state that was founded on terror, wars, and ethnic cleansing. Lewis's work on Islam represents the "culmination of Orientalism as a dogma that not only degrades its subject matter but also blinds its practitioners."
Comment: We mentioned Bernard Lewis a few days ago when we discussed Judith Miller, neocon shill at the New York Times. This article looks at the man and his ideas in detail. He is the "Orientalist guru" of the neocons.
Jim Lobe, July 3, 2003
tompaine.com
"I think the level of casualties is secondary. I mean, it may sound like an odd thing to say, but all the great scholars who have studied American character have come to the conclusion that we are a warlike people and that we love war. . . . What we hate is not casualties, but losing." - Michael Ledeen, March, 2003, in a lecture at the American Enterprise Institute (for more see GNN's West Coast Bunker, April 1, 2003)
When the Washington Post published a list of the people whom Karl Rove, President George W. Bush's closest advisor, regularly consults for advice outside the administration, foreign policy veterans were shocked when Michael Ledeen popped up as the only full-time international affairs analyst...
Michael A. Ledeen, resident scholar in the Freedom Chair at the American Enterprise Institute (AEI), where he works closely with the better-known former chairman of the Defense Policy Board, Richard Perle, has been a fixture of Washington's neo-conservative community for more than 20 years. But he is now out front, in a public campaign for the United States to confront Iran, warning that Tehran will cause Washington problems in both Iraq and Afghanistan and that "the mullahs are determined to obliterate Israel."
"We are now engaged in a regional struggle in the Middle East, and the Iranian tyrants are the keystone of the terror network," he wrote last week. "Far more than the overthrow of Saddam Hussein, the defeat of the mullahcracy and the triumph of freedom in Tehran would be a truly historic event and an enormous blow to the terrorists."
Along with Morris Amitay, a former top lobbyist for the most powerful pro-Israel lobby in Washington, the American Israel Public Affairs Committee, Ledeen has already co-founded a new group, called the Coalition for Democracy in Iran (CDI), which is pressing Congress to approve a pending bill that would, among other things, provide some $50 million in aid to both exile groups and opposition forces in Iran.
To Ledeen, whose own contacts with the mullahs in the Iran-Contra affair 15 years ago remain the source of some mystery, Iran is "the mother of modern terrorism." And terrorism has been Ledeen's bread and butter since at least the late 1970s, when he consulted for Italian military intelligence, which in turn enabled him to expose Billy Carter's dealings with the Muammar Gaddafi regime in Libya to the great satisfaction of Republicans, who were revving up their campaign against Billy's brother, then president Jimmy Carter.
Ledeen's right-wing Italian connections -- including alleged ties to the P-2 Masonic Lodge that rocked Italy in the early 1980s -- have long been a source of speculation and intrigue, but he returned to Washington in 1981 as "anti-terrorism" advisor to the new secretary of state, Al Haig.
Over the next several years, Ledeen used his position as consultant to Haig, the Pentagon and the National Security Council under Ronald Reagan to boost the notion of a global terrorist conspiracy based in the Kremlin, whose KGB pulled the strings of all of the world's key terrorist groups, especially in the Middle East.
He was a heavy promoter of the thesis that it was the KGB that was behind the 1981 attempted assassination by Turkish right-winger, Mehmet Ali Agca, of Pope John Paul II, a view he continues to expound today and which also helps explain his contempt for the Central Intelligence Agency (CIA), whose analysts never accepted the "Bulgarian Connection," as it was called.
In the mid-1980s, when Ledeen was working for the National Security Council, he tangled with the CIA again over his efforts with Israeli spy David Kimche to gain the release of U.S. hostages in Beirut through an Iranian arms dealer, Manucher Ghorbanifar, in the opening stages of what would become the Iran-Contra affair.
But Ghorbanifar did not come through. Despite Ledeen's assessment of the middleman as "one of the most honest, educated, honorable men I have ever known," he flunked four lie detector tests administered by the CIA, which had long warned that the Iranian "should be regarded as an intelligence fabricator and a nuisance." ...
He is also close to key figures in the administration, particularly Under Secretary of Defense for Policy, Douglas Feith, whose pro-Likud politics he largely shares; Vice President Dick Cheney's powerful chief of staff, I Lewis Libby; and Elliott Abrams, the director for the Near East on the National Security Council. To that list can now apparently be added Rove, who is as close to Bush as it is possible to get.
Throughout his career, Ledeen has insisted that war and violence are integral parts of human nature and derided the notion that peace can be negotiated between two nations. He was a fierce opponent of the Oslo peace process. "I don't know of a case in history where peace has been accomplished in any way other than one side winning a war [and] imposing terms on the other side," he said two years ago.
Comment: An Italian connection. Interesting in light of Berlusconi. Ledeen is also part of the American Zionists who primarly allegiance is with Israel, not the US. Funny, if these folks had been supporters of the Soviet Union in the fifties, they'd be in prison, hounded from their jobs, and subject to harrassment by Homeland Security.
Ledeen is also down on the CIA. This is interesting in light of Michael Ruppert's speculation on the rift between the CIA and the Bush Adminsitration. Ruppert may well be correct. CounterPunch has been running pieces from disaffected CIA analysts recently, too. Our impression is that Ruppert and others may think that the CIA and the military could be proponents for "democracy" against the Bush Reich. Maybe. But it might also be " Seven Days in May".
And in an example of synchronicity, we received this link from a reader as we were finishing the page:
" The rhetoric about safeguarding civilization from the scourge of outlaw regimes that court terrorists is just that: rhetoric. US foreign policy is more accurately described by Michael Ledeen, holder of the freedom chair of the right-wing think-tank the American Enterprise Institute, much beloved in Washington. As Ledeen puts it: "Every 10 years or so, the United States needs to pick up some crappy little country and throw it against the wall, just to show the world we mean business." [5] Of course, the targeting of crappy little countries is happening a little more frequently than once every ten years, but you get the point. American policy isn't about making civilization safe (unless "civilization" is equated with the interests of US shareholders); it's about bullying weak countries, which means forcing them to trash all their silly notions about sovereignty. And "crappy little countries" are nothing more than weak, easily picked on states, that hold to quaint ideas like, "Maybe we should be running our own affairs." "
Boy Scouts Camp Leader Arrested, Accused Of Possessing Child Porn

FRESNO, Calif.
A Boy Scouts of America summer camp director has been arrested and accused of possessing and distributing child pornography, according to court records filed Monday.
Michael Shawn Careatti, 35, of Bakersfield, made an initial appearance in U.S. District Court at Fresno Monday. Federal prosecutors said they would seek an indictment from the grand jury within two weeks.
---
Check out the Signs of the Times Archives
Send your comments and article suggestions to us.
---
Fair Use Policy
Contact Webmaster at signs-of-the-times.org
Cassiopaean materials Copyright ©1994-2014 Arkadiusz Jadczyk and Laura Knight-Jadczyk. All rights reserved. "Cassiopaea, Cassiopaean, Cassiopaeans," is a registered trademark of Arkadiusz Jadczyk and Laura Knight-Jadczyk.
Letters addressed to Cassiopaea, Quantum Future School, Ark or Laura, become the property of Arkadiusz Jadczyk and Laura Knight-Jadczyk
Republication and re-dissemination of our copyrighted material in any manner is expressly prohibited without prior written consent.
.