---
Killings were unprovoked murder, insists MoD
By Kim Sengupta and Mary Dejevsky 26 June 2003
The killings of six British soldiers in Iraq were described by senior officers yesterday as "unprovoked murders" by a frenzied mob. But local people claimed the confrontation was started by the Royal Military Police (RMP) firing on a demonstration.
Iraqi civilians also insisted that the deaths and an ambush of a patrol of paratroops were provoked by aggressive weapons searches by British troops. They claimed that women and children were threatened and Muslim religious sensibilities offended.
In an atmosphere of rising tension, British military authorities were reported to have given civilian leaders until tomorrow afternoon to hand over those responsible for the attacks. The Ministry of Defence (MoD) maintained later that this had been a "misunderstanding" and no ultimatums had been issued.
Lieutenant-Colonel Ronnie McCourt, an Army spokesman in Basra, said the killing of the RMPs "was unprovoked, it was murder". But Abbas Faddhel, an Iraqi policeman, said British soldiers shot dead four civilians during a protest against heavy-handed British tactics during a weapons sweep.
Captain Adam Marchant-Wincott, another spokesman, said he could not say whether British forces had fired at demonstrators but stressed they would have done so only if their lives had been threatened.
Senior defence sources in London confirmed yesterday that up to 80 Iraqis were killed in prolonged and sustained firefights when the patrol from the 1st Battalion, the Para-chute Regiment, was attacked.
The six members of the RMP were involved in a confrontation with a crowd at Majar al-Kabir when shooting broke out. According to witnesses one of the soldiers was killed almost immediately, and another as he fought his way back to the police station. The four remaining were killed after they took refuge in a room.
In the Commons, the Prime Minister paid tribute to the six dead men, from 156 Provost Company, based in Colchester, which is attached to 16 Air Assault Brigade, adding that they were doing an "extraordinary and heroic job".
[...] Speaking in London after meetings with Tony Blair and the Foreign Secretary, Jack Straw, Mr Annan said that the latest UN Security Council resolution, 1483, "leaves the responsibility for security and promoting the welfare of the Iraqi people with the occupying powers". He said that a new UN resolution would be needed for that to change.
Ambushed: The six British victims at Amara [...]
Comment: The article above continues with a paragraph on each of the soldiers that died, giving familial information, personal history etc apparently in such a way as to create a sense of "kinship" in the reader. It is an example of the subtleties of propaganda that we are all bombarded with every day yet seldom aware of. At once there is the whipping up of national pride in the British public ("our boys in Iraq") while at the same time presenting the reader with a basic "black and white" and limited understanding of the truth of the overall situation in Iraq. In short it is poor and extremely manipulative reporting in a very subtle and therefore dangerous way.
Blast Hits U.S. Patrol in Baghdad as Attacks Mount

Thu June 26, 2003 05:45 AM ET
By Nadim Ladki

BAGHDAD (Reuters) - An explosion targeted a U.S. patrol in a Baghdad suburb Thursday, hitting a military vehicle and inflicting American and Iraqi casualties, witnesses and a U.S. officer said.
The blast was another sign that hit-and-run attacks against U.S. and British forces were becoming more frequent and more sophisticated and could pose a serious challenge to the coalition trying to rebuild Iraq after Saddam Hussein's fall.
Iraqi Oil Pipeline Ablaze After 3rd Blast in 4 Days
6-25-03
BARWANAH, Iraq (Reuters) - An oil pipeline feeding a key Iraqi refinery was still ablaze on Wednesday after an explosion on Tuesday night, the third pipeline blast in four days, a Reuters eyewitness said.
The explosion and fire at the pipeline northwest of Baghdad came as the top U.S. administrator accused saboteurs of cutting off power to Baghdad amid worsening attacks on occupying U.S. and British troops. "The fire is still burning at the oil pipeline," Reuters cameraman Khudier Majeed said at the scene in Barwanah, 150 miles northwest of Baghdad.
Civil defense officials were trying to extinguish the fire, he added.
A top oil official said earlier that the pipeline, which supplies crude oil from northern Iraq to the Doura refinery near Baghdad, had been only broken, causing a spill over farm land.
Iraqi and U.S. authorities have blamed previous pipeline blasts on sabotage, which they suspect is aimed at hampering U.S. efforts to revive the energy sector, key to financing the rebuilding of the country. [...]
CIA and DOD Attempted To Plant WMD In Iraq
author: Iraqwar.ru
A DOD whistleblower detail an attempt by a covert U.S. team to plant weapons of mass destruction in Iraq. The team was later killed by friendly fire due to CIA incompetence. [...]
So If This Was Your Daughter How Would You Feel ?
Steve Hesske
U.S. Army officials have been quick to spin the puzzling, horrifying attack on his own superiors allegedly perpetrated by "Muslim soldier" Sgt. Asam Akbar, described as a disgruntled platoon leader with an "attitude." The assault by fragmentation grenades and automatic rifle fire left 12 soldiers wounded and one dead at Camp Pennsylvania, a 101st Airborne base camp at Kuwait City, Kuwait on the Iraqi border. [...]
When an American soldier killed or attempted to kill one of his superiors in Vietnam the act was called fragging because the weapon of choice, as is the case in Kuwait City, was a fragmentation grenade. As the Vietnam conflict dragged on the Army rank and file, including many draftees, resorted to a variety of methods to endeavor to kill their superiors, so fragging became a comprehensive term that indicated any attempt on the life of an officer or non-commissioned officer (NCO) by one or more of their subordinates. These attempts, as you shall see, were often successful.[...]
Nuke component unearthed in Baghdad back yard

Parts of a gas centrifuge system for enriching uranium were dug up in Baghdad.
(CNN) -- The CIA has in its hands the critical parts of a key piece of Iraqi nuclear technology -- parts needed to develop a bomb program -- that were dug up in a back yard in Baghdad, CNN has learned.
Comment: See the photo in the above link, look at the size of the 12 year old pieces that was found under a bush in a garden. Then read here that: "...several thousand centrifuges must be connected by pipes into "cascades" in order to produce annually enough highly enriched uranium for a nuclear weapon."
So several thousand centrifuges, the above find being but a small part of ONE, are needed to produce enough uranium for ONE nuclear weapon, and the pieces that have been found were lying under a rose bush for 12 years.
The attempts to conjure up a nuclear weapon in Iraq are getting increasingly pathetic and ridiculous, and it is sickening to see the "media whores" such as CNN regurgitate this BS for the benefit of the "sheeple".
BBC Thursday, 26 June, 2003
The sides have differing views on Hamas US President George W Bush has urged European leaders to take "swift and decisive action" against the Palestinian militant group Hamas by cutting off its funding.
Speaking at a joint summit between US and European leaders, Mr Bush said the dismantling of such groups would be the "true test" of the so-called roadmap for peace in the Middle East.
The two sides also made a joint call to Iran and North Korea to abandon any ambitions they may have of possessing nuclear weapons.
The two countries have been described by Mr Bush in the past as part of an "axis of evil", along with Iraq.
Mr Bush said the US and Europe were "working closely to meet the proliferation challenges posed by North Korea and Iran."
His meeting with senior EU figures was the first since transatlantic relations were strained by the war on Iraq, and their joint statement is being seen as an attempt to present a united front.
However, correspondents say continuing differences became apparent as Mr Bush pressed the EU to crack down on Hamas.
"Progress toward this goal will only be possible if all sides do all in their power to defeat the determined enemies of peace, such as Hamas and other terrorist groups, he said.
The EU for its part insists that Hamas has political functions as well as a militant wing.
[...] Disagreements remain over several issues, such as genetically-modified crops, which the US is much more keen than the EU to develop and exploit.
Ties between the US and EU have been under strain
The US president has criticised EU GM policies, saying they contributed to famine in Africa, while Europe has hit back, insisting that Brussels did much more than Washington to feed the hungry.
Separate divisions also exist on the International Criminal Court, established in The Hague in the face of the US refusal for its soldiers to be subject to the court's jurisdiction.
"The United States and Europe, together, have an obligation to look beyond themselves to the world," said a senior official in the Bush administration.
"That is where the threats to freedom are, the threats to security could come from, and where the opportunities are for joint action."
The deal was agreed after the EU, which is opposed to capital punishment, won the right to refuse extradition in cases where the maximum penalty was death.
A separate agreement allows law enforcement agencies on both sides of the Atlantic to access bank accounts in some criminal and anti-terror inquiries.
Hamas, Islamic Jihad Agree to Truce
Wednesday June 25, 2003
JERUSALEM (AP) - Three key Palestinian groups, including the Islamic militant groups Hamas and Islamic Jihad, agreed Wednesday to halt attacks on Israel for three months, a senior official of Yasser Arafat's Fatah faction said.

Arafat Expects Truce Within Hours

Thu June 26, 2003 05:53 AM ET

RAMALLAH, West Bank (Reuters) - Palestinian President Yasser Arafat said Thursday he expected an announcement within hours that militants had agreed to halt attacks on Israelis.
"It was not determined officially but we are waiting for it to be announced in the next few hours," Arafat told reporters.
There was no immediate comment from militant factions, including the Hamas group, that have been negotiating with Palestinian Prime Minister Mahmoud Abbas for a "hudna" or temporary cease-fire with Israel.
Israel has been cool to the idea, saying a truce would give militant factions it has been targeting in "track-and-kill" operations time to regroup.
It has called instead for Abbas to dismantle and disarm militant organizations as mandated by a U.S.-backed "road map" to peace affirmed at a Middle East summit on June 4.
President Bush backed Israel's call in comments Wednesday, saying peace in the region could not be achieved unless "organizations such as Hamas" were dismantled.

Comment: No Comment - See below article
Israelis kill two after Hamas 'agrees to stop suicide attacks'
By Justin Huggler in Jerusalem 26 June 2003
Hamas and other Palestinian militant groups have agreed to stop suicide bombings and other attacks on Israelis in a three-month ceasefire, unconfirmed reports said yesterday. But senior figures inside Hamas denied it, and shortly after the ceasefire reports emerged Israeli helicopters fired rockets into two cars in the southern Gaza Strip in an attack on militants that could wreck any agreement.
Two people were killed in the strike, near the town of Khan Younis, one of them a woman. The target appeared to be Mohammed Sayem, a Hamas militant, who survived but was wounded and had to have his leg amputated. Palestinian security sources said Mr Sayem was on Israel's wanted list. He was in one car and the two people killed were in the other, a taxi.
But Israel dismissed the ceasefire, saying it was an "internal arrangement" for the Palestinians, and reiterated its demand that Palestinian security forces crack down on Hamas and the other militants and disarm them.
Comment: Oh! surprise surprise! Apparently Israel has no desire for a "ceasefire" until all the Palestinians are dead or in exile.
Alternative Press Review
The continuing escalation of the never-ending Israeli war against the entire non-Jewish population of mandated Palestine has become the model for the Bush administration's never-ending war against all those who stand in the way of U.S. economic and military hegemony around the world. [...]
Bush, EU Demand Iran Keep Word on Nukes
By TOM RAUM, Associated Press Writer Wed Jun 25
WASHINGTON - President Bush and European leaders stood united Wednesday in demanding that Iran abandon any nuclear weapons ambitions. "Iran must comply" or face consequences, Bush said.
"If the world speaks together, they'll comply," the president told a joint news conference. Bush and leaders of the European Union said Tehran must agree to new requirements by international nuclear weapons inspectors.
Seeking to ease their own strains over the Iraq war, Bush and the EU leaders also announced new agreements to combat terrorism, including sharing information, freezing assets of terror groups and speeding up extradition of terror suspects.
"If we fail to unite, every problem may become a crisis and every enemy a gigantic monster," said European Commission President Romano Prodi. He shared an East Room platform with Bush and Greek Prime Minister Constantine Simitis, whose country holds the current European Union presidency.
Bush said he and the European leaders agreed to monitor the nuclear programs of North Korea and Iran. Iran must cooperate fully with the International Atomic Energy Agency, the U.N. nuclear watchdog, Bush said.
The agency has called on Iran to give inspectors more access to its nuclear programs.
The United States has accused Iran of trying to build an atomic bomb — an allegation Tehran denies. Iran says its nuclear operations are meant to provide electricity, particularly after oil reserves run dry.
"Iran has pledged not to develop nuclear weapons, and the entire international community must hold that regime to its commitments," Bush said.
When a reporter pressed him on what would happen if Iran didn't comply, Bush said: "You're assuming they won't. We believe they will when the free world comes together."
Despite the theme of unity, some U.S.-European divisions remain. Bush made little headway, for instance, in pressing again for Europe to open its markets to genetically modified food.
He also appealed to European leaders to end all financial support for the Palestinian militant group Hamas and other "terror groups."
While the European Union has agreed to freeze assets of most of the militant groups and individuals targeted by the United States, there are some notable exceptions — Hezbollah in southern Lebanon and the "political wing" of Hamas.
"In order for there to be peace in the Middle East, we must see organizations such as Hamas dismantled," Bush said.
He reacted skeptically to reports of an agreement by Palestinian militant groups to halt attacks on Israelis. "I'll believe it when I see it," he said.
Comment: Of course you won't see it George, because as you well know Sharon (with your backing) will not allow any ceasefire to last.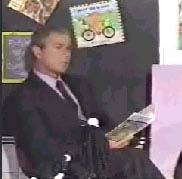 Video of George W. Bush on the Morning of 9/11
At 9:03 AM on 11 September 2001, the second airplane hit the South Tower of the World Trade Center. President Bush was in Florida, at the Emma T. Booker Elementary School, listening to children read. Chief of Staff Andrew Card came over and whispered in Bush's ear, "A second plane hit the second tower. America is under attack." What did the Commander in Chief do? Nothing.
Just in case you need another list of facts regarding 9-11 to help disabuse yourself from the crazy, crackpot conspiracy theories the mass murder media is attempting to shove down the world's collective throats here is another one
Media Silent on Clark's 9/11 Comments
Fairness & Accuracy In Reporting

[...]But the June 15 edition of NBC's Meet the Press was unusual for the buzz that it didn't generate. Former General Wesley Clark told anchor Tim Russert that Bush administration officials had engaged in a campaign to implicate Saddam Hussein in the September 11 attacks-- starting that very day. Clark said that he'd been called on September 11 and urged to link Baghdad to the terror attacks, but declined to do so because of a lack of evidence.
Here is a transcript of the exchange....
Torture, deportation and imprisonment without trial - tactics used in the 'war against terror'
26 June 2003
NEW DEFINITIONS OF TORTURE
Abu Zubaida is said to be the most important terrorist in detention. Al-Qa'ida's head of external operations was shot in the groin during his capture in a joint FBI and Pakistan security forces operation in Faisalabad in March 2002. US security officials suggested that Zubaida's painkillers were used selectively in the beginning of his captivity. "His wound wasn't life-threatening," a military police officer said with a shrug. "He survived."
The admission gives some idea of the range of "stress and duress" activities which one former US intelligence officer has described as "torture-lite". The techniques are more psychologically tormenting than physically brutal but they include being tied in painful positions, subjected to deafening sounds and blinded by bright lights.
[...] UNREASONABLY HARSH TREATMENT?
Mahmoud Abu Rideh came to the UK in 1995 and was granted refugee status in 1997. The Home Office accepted that he had been the victim of torture while imprisoned in Israel. He was arrested as a terrorist suspect in December 2001 and was detained at Belmarsh high security unit. Like the other terrorist suspects he was locked in his cell for 22 hours a day. He became suicidal and carried out acts of self-harm. Belmarsh authorities branded him a troublemaker; Amnesty said the conditions of his detention amounted to cruelty.
It was planned to transfer him to Broadmoor. Psychiatrists opposed this but were over-ruled and he was transferred to the top security mental hospital. In January 2003, Mahmoud was sent back to Belmarsh. He is now on a hunger strike.
Sars threat officially declared over - at least for now
By Jeremy Laurance, Health Editor 25 June 2003
For now, the threat from Sars, the first serious new disease of the 21st century, seems to be over. The disease that came out of China and spread round the world, infecting thousands and killing hundreds, has been put back in its box.
Yesterday, the World Health Organisation lifted its warning against travel to Beijing, the last place that was subject to the alert, and said the most effective weapon against the disease had been the humble thermometer. By checking the temperatures of people with symptoms, and using old fashioned methods of isolating those with a fever and quarantining their contacts, the spread of the disease had been halted.
"Today is a milestone in the fight against Sars, not only in China but in the world," Shigeru Omi, the WHO regional director for the Western Pacific, said in Beijing. More than 20 days had elapsed since a new case of severe acute respiratory syndrome had been recorded in the Chinese capital, the city worst hit by the disease with 2,521 cases and 191 deaths. The face masks, which came to symbolise tainted cities everywhere, have disappeared.
[...] But it is not the end of the story. By Monday, the official tally was 8,459 cases of Sars and 805 deaths worldwide, recorded in 104 days since the organisation issued its first global warning about a new disease on 12 March. In addition to devastating families, the virus has caused billions of pounds of damage to Far East economies, driven hotels and airlines to the brink of bankruptcy and caused panic around the world.
The virus has proved to be one of the fastest moving in history. From the 55 cases recorded on the day of the first warning, the disease exploded within a month to cause more than 3,000 cases and more than 100 deaths in 20 countries on all continents. There was no vaccine, no effective treatment, a high death rate and no way of knowing how far it would go. The epidemic highlighted, for the first time, the vulnerability of a globalised society linked by air-travel to the emergence of lethal new pathogens.
[...] The most urgent challenge for scientists is to develop an accurate, quick diagnostic test so that if a new outbreak should occur it can be rapidly identified and contained. Otherwise, Sars could spread mayhem through the world again.
Embedded Reporter's Role In Army Unit's Actions Questioned by Military

By Howard Kurtz
Washington Post Staff Writer
Wednesday, June 25, 2003; Page C01
New York Times reporter Judith Miller played a highly unusual role in an Army unit assigned to search for dangerous Iraqi weapons, according to U.S. military officials, prompting criticism that the unit was turned into what one official called a "rogue operation."...
Viewed from one perspective, Miller, a Pulitzer Prize-winning correspondent, nationally recognized expert on weapons of mass destruction and co-author of a best-selling book on bioterrorism, was acting as an aggressive journalist. She ferreted out sources, used her long-standing relationship with Chalabi to pursue potential stories and, in the process, helped the United States take custody of two important Iraqis. Some military officers say she cared passionately about her reporting without abandoning her objectivity, and some of her critics may be overly concerned with regulations and perhaps jealous of the attention Miller's unit received...
In a May 1 e-mail to Times colleague John Burns, The Post reported, Miller said: "I've been covering Chalabi for about 10 years, and have done most of the stories about him for our paper. . . . He has provided most of the front page exclusives on WMD to our paper."...
One military officer [...] says that Miller sometimes "intimidated" Army soldiers by invoking Defense Secretary Donald Rumsfeld or Undersecretary Douglas Feith... Rosenthal said.
Comment: This article chronicles the tale of how Judith Miller, reporter for the New York Times, used her connections with Defense Secretary Donald Rumsfeld, Undersecretary Douglas Feith and Iraqi National Congress leader Ahmed Chalabi to influence the actions of this unit during their tour in Iraq. Miller is no ordinary journalist. She has been an effective propagandist for the Bush Reich. As noted by Robert Fisk, it was Miller who began the slander campaign against the UN weapons' inspectors back in September of 2002.
Miller writes blatantly in support of Israel. Kathleen Christisen points out:
In an analysis of the nationalistic reaction to the intifada throughout the Arab world written two weeks into the intifada, Judith Miller wrote that the "rift between Israeli Jews and the Arab citizens of Israel" was another "profound emotional scar" left by the violence. Her evidence of the "emotional scar" was that Israeli Jews "were horrified by the ferocity of this uprising, which closed off large sections of their country, and by the 'Death to the Jews' slogans chanted by the Arab protesters." She made no mention of an emotional scar for Israeli Palestinians, no mention at all of the fact that 13 unarmed Israeli--Palestinian demonstrators had recently been shot to death, no mention that Israeli police had never in Israel's history opened fire on demonstrators when they were Israeli Jews, and no mention of the fact that Israeli Jewish demonstrators had chanted "Death to Arabs" during demonstrations at the same time.
And M. Shahid Alam mentioned her in a list of neo-conservatives who have supported the work of Bernard Lewis.

This Zionist camp has been led for more than fifty years by Bernard Lewis, who has enjoyed an intimate relationship with power that would be the envy of the most distinguished Orientalists of an earlier generation. He has been strongly supported by a contingent of able lieutenants, whose ranks have included the likes of Leonard Binder, Elie Kedourie and David Pryce-Jones. There are many foot-soldiers too who have provided distinguished service to this new Orientalism. And no compendium of these foot-soldiers would be complete without the names of Daniel Pipes, Martin Kramer, Thomas Friedman, Martin Peretz, Norman Podhoretz, Charles Krauthammer, William Kristol and Judith Miller.
Lewis believes that the Arabs are incapable of putting in place democratic governments. He has also stated that Arabs are "different" than "we" are and that "we" must be "reasonable" in our expectations of "them", that no matter what "we" do, Arab countries will be led by "corrupt tyrants".
So Miller is the mouthpiece of this Zionist and anti-Arab (and therefore anti-Semitic) ideologue.
Douglas Feith is the co-author with Richard Perle and David Wurmser of a document entitled "Clean Break" written in 1996 for then Israeli Prime Minister Benjamin Netanyahu. The two main points of this document were: 1) the necessity for the dismantlement of Iraq, and 2) the neutralisation of Syria. Feith is very close to the Zionist Organization of America. He also holds a large number of Israeli Bonds. These are people closely connected with the Likoud Party in Israel and believe that what is good for Israel is good for the US. They openly support the butchery of Ariel Sharon.
Steve Perry has a number of links on this at his Bush Wars page.
Expert Said to Tell Legislators He Was Pressed to Distort Some Evidence
By JAMES RISEN and DOUGLAS JEHL
NY Times
WASHINGTON, June 24 — A top State Department expert on chemical and biological weapons told Congressional committees in closed-door hearings last week that he had been pressed to tailor his analysis on Iraq and other matters to conform with the Bush administration's views, several Congressional officials said today.
The officials described what they said was a dramatic moment at a House Intelligence Committee hearing last week when the weapons expert came forward to tell Congress he had felt such pressure.
By speaking out, they said, the senior intelligence expert, identified by several officials as Christian Westermann, became the first member of the intelligence community on active service to make this sort of admission to members of Congress...
Administration officials said his most specific complaints concerned issues related to intelligence on Cuba, and he has not yet provided similar specific complaints about the handling of intelligence on Iraq...
In a second hearing last week with the Senate Intelligence Committee, he made it clear that he had felt pressure from John Bolton, the under secretary of state for arms control and international security, that originally dated to a clash the two had over Mr. Bolton's public assertions last year that Cuba had a biological weapons program. Mr. Westermann argued those assertions were not supported by sufficient intelligence.
Comment: Cuba is an obvious next target for the Bush Reich. Under US law, if such a thing still exists, only Congres can declare war. Bush weasled around this by bringing in post 9/11 legislation giving him the power to wage the "war" on "terrorism". He doesn't need to go to Congress for approval. This is why the Bush warmongers spent so much time using shills like Judith Miller to talk about the WMD in Iraq and Saddam's links to Al-Quaida. By bamboozeling the American public into accepting the link, he could wage war without going to Congress for approval. But do you see any of the American papers picking up this story?
Economy Downs Bush's Re-Election Support
Wednesday June 25, 2003 7:19 AM
By WILL LESTER
Associated Press Writer
WASHINGTON (AP) - President Bush basks in high approval ratings, but when potential voters are pressed about giving him a second term, the numbers drop, a reflection of worries about the struggling economy and a general wait-and-see attitude so far ahead of the election.
Comment: According to this piece, Bush's overall approval ratings have remained at 60 percent or higher in most polls since the Sept. 11 terrorist attacks. However, the economy is an important issue and people are waiting to see what will happen.
In a recent CNN-USA Today-Gallup poll, 50 percent said they would vote for Bush and 38 percent backed the unknown Democratic candidate, with the rest undecided. Those numbers aren't very different from those garnered by Bush's father in June 1991, when the commander in chief was praised for the U.S. success in the Persian Gulf War and the Democrats were scrambling for a candidate.
Shrub has studied the downfall of his father after the first Gulf invasion. You can be certain the Karl Rove is thinking up ways to keep up the "terrorist" pressure to ensure his boss's re-election.
Clinton says gains made under him being erased
June 25, 2003
BY COURTNEY K. WADE Staff Reporter
Former President Bill Clinton on Tuesday pointed his finger at the Bush administration, saying it is erasing accomplishments that he worked hard to achieve.
Clinton said the United States cannot be strong abroad, a reference to the war on terrorism, and weak or divided at home over social issues.
"Terror cannot defeat us," he said at the 32nd annual Rainbow/ PUSH Coalition Convention. "We can hurt ourselves by responding to the threat of terror in a way that compromises the character of this country and the future of our children."
Comment: Clinton may have been caught with his pants down, but Emperor Bush has no clothes to take off...
Senator questions Pentagon data mining
By Declan McCullagh
June 25, 2003, 5:04 AM PT
A key U.S. senator expressed renewed concern about the Pentagon's data-mining project and asked the Defense Department to give more detail about how the system will collect information on Americans.
Sen. Ron Wyden, the Oregon Democrat who wrote legislation requiring a report on the Total Information Awareness project, asked on Tuesday for the Pentagon to respond to 11 pointed questions about the project's scope, its implications for privacy and civil liberties, and which private-sector and government databases would be linked into the system...
The Pentagon claims that TIA, which it has renamed to Terrorist Information Awareness in response to public criticism, is a promising collection of technologies that can track patterns in databases and provide advance warning of terrorist incidents. TIA will mine other databases but will not create a master computerized dossier on every American, DARPA says.
Compromise more, Musharraf tells India
IANS[ THURSDAY, JUNE 26, 2003 11:40:41 AM ]

WASHINGTON: Categorically rejecting the idea of making the Line of Control a permanent border between India and Pakistan, President Pervez Musharraf said India has to show "magnanimity" and "greatness" in resolving all contentious issues between the two neighbours.
"The onus or initiative for reconciliation and accommodation is always shown by the larger country... therefore I would suggest that onus for peace in the region lies much more with India than with Pakistan," Musharraf said at the US Institute of Peace, a Washington D.C.-based think tank here, on Wednesday.

Issa was charged in San Jose car theft
Lance Williams and Carla Marinucci, Chronicle staff writers
Wednesday, June 25, 2003
Republican Rep. Darrell Issa, the driving force behind the effort to recall Gov. Gray Davis, was prosecuted with his brother in San Jose in 1980 for allegedly faking the theft of Issa's Mercedes Benz sedan and selling it to a car dealer for $16,000, according to court records.
Issa, in a phone interview with The Chronicle Tuesday, blamed his brother for the car theft, which was detailed in documents on file in Santa Clara County Superior Court and which has never been made public.
"I do not steal," Issa said.
The second-term San Diego area congressman has pumped $1 million into the campaign to recall Davis and has declared he will run for governor should the recall qualify for the ballot this year. Issa's previous political campaigns have been roiled by allegations that twice -- once while a student in his hometown of Cleveland and once while a soldier in Pennsylvania -- he also was involved in car thefts. [...]
Total Recall: California Style
Comment: The above link is to a Mark Fiore shockwave animation that spoofs the governor recall issue in California, which is lead by Issa. As usual, Fiore is both pointed and funny.
TV revs up campaign for political coverage
Seventeen months before the 2004 elections, competition for viewers is fiercer than ever.

By Elizabeth Jensen, Times Staff Writer
NEW YORK -- The 2004 political season is off and running, and it's not just with the nine Democrats slugging it out for the nomination. Some of the most intense early action is among the TV networks trolling for voters who use remote controls.
Never mind that TV viewers customarily first tune into political coverage once the Democrats and Republicans hold their summer conventions, which still are a full year away. On the air and now in the new frontier of the Internet, the battle for supremacy in TV news is being waged in a largely civil competition, but one with real ramifications.
Comment: If you were an elected official, a psychopathic liar (and comparable to Hitler), guilty of treason and war crimes, and you wanted to head off any impeachment process, what would you do? Well one thing that might help distract the voters is to start your reelection campaign immediately, of course.
Feds Quiz Scribe in Paper Probe
Justice Department asks me: Whither Seattle with one daily newspaper?
by Rick Anderson
JUSTICE DEPARTMENT lawyers and the state attorney general's office are interviewing journalists and other possible witnesses by telephone as part of an investigation into the joint operating agreement (JOA) between the owners of Seattle's two daily newspapers. Face-to-face interviews are to begin here next month, federal officials say, as the U.S. builds a possible case to oppose the breakup of the JOA between The Seattle Times and the Seattle Post-Intelligencer.
The feds' questions, such as those posed to me in a conference call last week, indicate Justice is taking a look at the effects of the JOA approved by the government 20 years ago. The joint publishing pact, in which the Times handles printing, ad sales, and distribution of both papers, was OK'd to save the P-I, then deemed a failing newspaper. The Times wants to end the deal, saying the market now can only support one newspaper under any circumstances, and leave the P-I, which no longer has a printing press, to die. [...]
Unfinished Business
Will the 'News' Revise Its Lynch Stories?
June 25 - July 1, 2003
Everyone knows the original Jessica Lynch plot, as scripted by anonymous sources and let fly by the Pentagon: The young Army private was captured, shot and stabbed, roughed up in a Nasiriyah hospital, then rescued by an Iraqi lawyer and U.S. troops who braved enemy fire to get her out. And by now every journalist has heard the alternative plot—the one in which Lynch's bones were apparently crushed in a humvee accident, Iraqi doctors know of no evidence she was tortured, and our troops met no resistance when they went in to save her. But while The New York Times, Newsday, and the New York Post have all found a way to acknowledge the newly emerging details, the Daily News has shied away from the story since late May.
Mexico Raises Proximity of U.S. Base in Killings
Wed June 25, 2003
MEXICO CITY (Reuters) - A judicial official investigating the murders of 14 women in a northern Mexican city said on Wednesday the proximity of a large U.S. Army base just across the border might be a factor in the killings. Carlos Vega, a senior federal prosecutor, said the attorney-general's office was looking into the large number of soldiers from Fort Bliss in Texas who cross the border to the Mexican city of Ciudad Juarez for recreation at weekends.
More than 250 women have been murdered in Ciudad Juarez since 1993. At least a half of the murders are unsolved. The attorney general's office is investigating only 14 of the cases because the rest fall under the authority of local police.
"We have more than 12 or 13 lines of investigation," Vega told a news conference for foreign journalists.
He said the presence of the U.S. base was one of many possible factors in the murders, as was organ trafficking or Satanic rituals.
"We are not looking only at Satanic sects, organ trafficking, groups of policemen, or ex-policemen, the white slave trade. Near the frontier we have some U.S. military forts, basically (Fort) Bliss, where there is a very fluid traffic (across the border) at weekends," Vega said.
He also mentioned Mexican youth gangs in Ciudad Juarez, a gritty industrial city that is also home to a violent drug cartel, as possibly being involved in the murders.
Fort Bliss base, near the Texas border city of El Paso, is made up of 70,000 soldiers, family members and civilian staff.
Vega did not say if any individual from the base was suspected of being involved in the killings.
He said the best lead the attorney-general office had was a Mexican suspect who had been captured in possession of a mobile phone alleged to have belonged to one of the 14 victims.
The Ciudad Juarez killings have long confounded police who believe they may be the work of several killers, or groups of killers. Other possible motives mentioned over the years have been pornographic "snuff" movies or serial killers.
Sniper lawyers claim Malvo brainwashed
From Mike Ahlers CNN Thursday, June 26, 2003
WASHINGTON (CNN) -- Marking a switch in strategy, attorneys for the teenage suspect in last October's sniper shootings now blame the older suspect for brainwashing their client, according to court papers released Wednesday.
Attorneys for Lee Boyd Malvo, who was 17 at the time of a string of sniper shootings in the Washington area, suggest in pretrial motions their client had been programmed or brainwashed by then 41-year-old John Allen Muhammad.
Comment: It is likely there was "brainwashing" going on, but just who was behind it is still not known, however there is one organisation that is well-versed on the subject:
"These weapons are used against the mind to induce hallucinations, sickness, mutations in human cells, "zombification," or even death." - From: " The mind has no firewall" by Timothy L. Thomas published in "Parameters" US Army War College Quartery, Vol. XXVIII, No. 1, Spring 1998
Move out of a Bush-league state or take other actions to help stop the freefall into Republican nazi Hell
By Jackson Thoreau
Remember a few years ago, when the mainstream media and the Republicans told us that our biggest national problem was Clinton's extracurricular activities? The economy was booming, employers had to actually offer BETTER benefits and pay to keep workers, we weren't in a major war to justify our insanely bloated military budget, we at least talked about universal health coverage, we kept oil wells out of our national parks, there was hope for our future.
Did you ever think then that all that could change so much in just a few years?
I have to admit, I didn't think they could make things this much worse this fast. But they have. It's worse than I thought it would be, worse than anything Bush Jr. did in Texas as governor, worse than even Reagan-Bush Sr. did in the 1980s.
Things are so bad we plan to establish death camps in Guantanamo Bay to execute people we THINK MIGHT be terrorists without as much as proper legal representation or the right to appeals. That's right, the good ol' freedom-loving, liberty and justice for all USA plans to do to Arabs what Hitler once did to the Jews and others. We are fast becoming like Nazi Germany of the 1930s, and unless enough people wake up RIGHT NOW and do EVERYTHING they can to get Bush the hell out of the White House, we will continue our freefall fascist slide into Republican Hell.
Things are so bad we are planning to invade Iran, Syria, Columbia, North Korea and other countries, even after those disasters in Iraq and Afghanistan. Quick now, when was Afghanistan's free election? Who besides drug and war lords control that country now? Who is controlling Iraq's oil industry? Where are those awful weapons of mass destruction that Bush said Iraq had to justify the killing of 10,000 more innocent Iraqi children and adults? Where is bin Laden and Hussein? When will U.S. soldiers stop killing more innocent Iraqi kids and adults and getting killed themselves in the process? What Hussein clone – the only difference being that this one will be friendly to the Republicans and give U.S. oil companies a piece of the Iraqi action - will lead Iraq in five years? Why do we keep increasing our military budget when we are already spending EIGHT times more than any other country on the face of this planet?
Hello????? Earth to America, Earth to America. Where besides in some progressive areas are the signs of intelligent life in this country?????? Or will most Americans go on with their patriotic outbursts this Fourth of July, believing we "won" the war and all the other stupid lies the Bushies force-feed us?????
It's past time for cutting Bush some slack. Things are just getting worse. It's time for some stronger, deeper action. Not violence. Just stronger acts that could help wake up more Americans who haven't totally overdosed on the latest mind-controlling drugs.
Jeanette Wallis just ended such an action in mid-June. She walked thousands of miles across this country for a truly democratic nation, one that we are far from having. Upon walking from Seattle to the House That Bush Occupies, she was told she couldn't leave any of the letters she collected from people detailing grievances against Bush and other officials. In fact, agents interrogated her like she was a mental patient, and some even considered detaining her, simply for walking up to the White House and saying she had trekked across the country. Land of the free, my ass.
Then there are Concepcion and Thomas, two committed peace activists who have maintained an anti-nuclear vigil across the street from the White House for the last 22 YEARS! Through nasty weather, police and Republican harassment, indifferent stares, legal actions, and complaints that they are an "eyesore," they have taken their message of peace that's so much different than anything going on across the street to millions of visitors. In this fast-food, get-rich-quick age, such dedication boggles the mind.
On a recent visit to D.C., I heard one lady snarl at a man who was giving Concepcion and Thomas an eating break at this vigil that he was aiding terrorists and unpatriotic to our supposed Land of the Free, in which we are no longer free to stage a demonstration on public, taxpayer-supported property with more than 25 people across from the White House. Before this man could reply, I answered for him, being the target of more than my fair share of such accusations in my time: "You miss the point. They're not doing this vigil to be unpatriotic and aid terrorists. They're doing it because they believe the people across the street are taking us down the wrong road and just making things worse." She walked off, unimpressed. But other younger people around us were more open to the message and listened intently. One expressed disappointment that Concepcion or Thomas were not there and said he was impressed with their dedication.
I then met some people staging another peace vigil who were not with any organization, they just wanted to do this on their own. For numerous nights, they have maintained this evening vigil, careful not to get more than a crowd of 25. To anyone who has ever asked what he or she can do, there is your answer.
On the same trip, I found my own ways to take action by visiting Congressional representatives' offices, talking to aides about their misguided policies, especially in foreign affairs, and handing them letters that explains my viewpoints in more detail. I plastered every bathroom, every phone booth, every bulletin board I could with fliers that read "We Will Not Get Over It: Restoring a Legitimate White House" and referred to my Internet site.
[...] So, I challenge you - the people who read my writings, the ones whose poignant, inspiring, and sometimes pointed emails I often sadly don't have time to respond to - I challenge you to find a way to take some stronger, deeper action against the Bush regime, as I am doing. Do something in a nonviolent way to make people think that there is more to being a citizen of this country and of this world than waving a flag, mindlessly repeating slogans, and goose-stepping with the rest of the Republicanazis towards another Holocaust.
America's War on Terrorism, A new Manifest Destiny?
The 19th century variant of this state religion was a "manifest destiny" to spread democracy and true civilization by territorial expansion and subjugation of indigenous peoples.
John A. Wickham
06/25/03: (Indian Country)
The tragic events of September 11 unified most Americans against a new world of international terrorism. The psychological shock of America's vulnerability began intense national introspection and profound change to self-perceptions. To many, this reflection ignited a spirited revival of the nation's virtual state religion - one belief combining the sacred and secular into a Christian sense of mission with patriotism. The 19th century variant of this state religion was a "manifest destiny" to spread democracy and true civilization by territorial expansion and subjugation of indigenous peoples.
Invoking a religious mission, President Bush's 2002 State of the Union address signaled a return to a divine sense of destiny as a "calling" to lead the world to defend liberty and justice. Bush's address marginalized America's genocide and ethnocide of indigenous peoples by claiming that liberty and justice "are right, true and unchanging for all people everywhere." Bush again invoked providence to pursue the War on Terrorism in a speech in May 2003 to Coast Guard Academy graduates, stating that "America has a spiritual energy which no other nation can contribute to the liberation of mankind."
The events of September 11 and the open-ended War on Terrorism, along with intellectual and cultural shifts, strongly suggest that the manifest destiny of old has been resurrected as a new variant of imperialism - America's mission to defuse the passions fueling terrorism and stem the underlying tide of anti-Americanism abroad, by recasting and selling a positive image of itself as the democratic hope of all mankind. The Spring 2003 edition of Foreign Affairs Journal was devoted to countering the impression abroad of America's imperialist ambitions.
The national conversation after September 11, including intellectual discourse, TV and print media, indicates conservative rhetoric pining for a nostalgic return to the traditions and attitudes of manifest destiny. Christian leaders preached the terrorist tragedy as a divine punishment for America's decadent and pagan lifestyle. Congressmen proclaimed "America is no longer great" because a Christian nation went to sleep. Political commentators became furious with liberal leaders who blamed September 11 on our secular "sins of slavery, and dispossession and killing of Native Americans." A book from Oxford University Press in 2003 entitled "Faith in Nation: Origins of Nationalism," confirms that religion has historically formed the roots of nationalism. Even pop culture is witnessing a near hysteria of "retro-chic" in fashion, furniture, and automobiles.
A disturbing essay is "The West's Anti-Westernism," in The Survival of Culture series in The New Criterion, a publication of the Foundation for Cultural Review. Mark Steyn condemned the 2001 Congressional Resolution inaugurating Native American Month, as "bogus revisionist history" by claiming the Constitution borrowed from the Iroquois Confederacy. He argued that the only real issue is whether the American Indians will accept a "post-dated check" for cultural genocide.
The character of a new manifest destiny will not materialize overnight. The opening two salvos involve not only "hard" military power, as in Afghanistan and Iraq, but "soft power" or the ability to entice others by example. The National Interest focused on soft power this Spring included essays interpreting Bush's national security strategy such as "The American Empire," "Empire and Strategy," with "The Imperial Tense" heralding a new "manifest destiny." [...]
Fighting has broken out in Liberia's refugee-filled capital Monrovia.
Rebels have carried out shelling and rocket attacks leaving hundreds of people injured and shattering a week-old truce.
At least three explosives - believed to be either mortars or rockets - landed within the United States diplomatic residential complex, across from the US Embassy.
There were no reported injuries to Americans, the last of whom had recently been moved across the street to the heavily guarded US Embassy.
But thousands of Liberians had crowded just hours earlier into the high-walled residential complex - hoping for safety through proximity to the Americans.
Refugees have flowed into the city as fighting closes in, packing school yards, shell-gutted houses and the country's main soccer stadium.
Unlimited power of arrest to ASIO
By Cynthia Banham

Australia's domestic intelligence agency, ASIO, will have aggressive new powers from today to detain for an unlimited period citizens suspected of having information about terrorist offences.
The unprecedented powers are to be granted after the ASIO bill was passed by the Senate last night, when Labor agreed to support ASIO's right to seek successive warrants to detain citizens. [...]
The government plans to encourage the fluoridation of water. But it is the subject of controversy among experts and more research is needed
Bob Woffinden
Wednesday June 25, 2003
The Guardian
The government is poised to reignite one of the most vexed medical issues of the past 50 years. Early next month, parliament will debate clauses of the water bill which will give indemnity against legal action to water companies that add fluoride to their supplies, paving the way for the extension of fluoridation schemes throughout this country. [...]
Comment: Also see the Signs collection of information regarding flouride.
Huge Mystery Flashes Seen In Outer Atmosphere
John Pickrell in England
for National Geographic News
June 25, 2003
Cloud-to-Earth lightning bolts are a well-known natural electrical occurrence. Now scientists have discovered and photographed for the first time enormous, 90-kilometer-high (55-mile), luminous, electric discharges that deliver large quantities of current from thunderstorms to the edges of the Earth's atmosphere. [...]
DNA database being built by stealth, say civil rights groups
By Philip Johnston, Home Affairs Editor
Civil liberties campaigners accused the Government last night of compiling a national DNA database "by stealth" as police prepared to enter the two millionth profile into the system.
The number held has doubled in two years and a further million are due to be added in the coming year.
Police powers to keep DNA samples have been strengthened considerably since 2001 when they were first allowed to keep the information indefinitely from suspects who were not convicted.
Antenna Anomaly May Affect SOHO Scientific Data Transmission

NASA/Goddard Space Flight Center Date: 2003-06-25
The Solar and Heliospheric Observatory (SOHO) spacecraft expects to experience a blackout in the transmission of its scientific data this week. It is estimated the blackout may last two to three weeks.
Engineers are predicting this problem after detecting a malfunction in the pointing mechanism of the satellite's high-gain antenna (HGA), which is used to transmit the large amounts of data from SOHO's scientific observations to Earth.
[..] If the problem is not solved, the Earth will be left outside the HGA beam on a periodic basis, with similar blackouts occurring every three months. European Space Agency (ESA) and NASA engineers are assessing several options to recover the situation, or minimize the scientific data loss.
SOHO is a project of international cooperation between ESA and NASA to study the sun, from its deep core to the outer corona, and the solar wind. It was launched in December 1995 on an Atlas IIAS/Centaur rocket. Besides watching the sun, SOHO has become the most prolific discoverer of comets in astronomical history. As of May 2003, more than 620 comets have been found by SOHO.
Tornadoes Hit Midwest, No Deaths Reported

Wed Jun 25
By The Associated Press
Severe storms raked the upper Midwest, spawning tornadoes that tore up houses and a church in Minnesota and wiped out a cluster of rural homes in South Dakota.
Hardest hit was the town of Buffalo Lake, Minn., although no major injuries were reported.
"The (grain) elevator's busted up, power lines are down, the whole city got hit. The whole north side of the roof of Zion Lutheran Church is gone," said Buffalo Lake City Councilman Douglas Rath.
Mass. Locals Said to See Religious Images
Associated Press
MILTON, Mass. - Two weeks after people began flocking to Milton Hospital to look at an image in a window that they say looks like the Virgin Mary, some are seeing another image on the building's chimney.
Some see a cross, others say it's a second image of the Madonna.
"It's another sign ... there is hope for all of us, with all that is going on in the world," Soraya Rentas told The Boston Globe.
Believers say the image can be seen in the bright red brick, surrounded by soot, about five feet from the top of the chimney. The chimney is about 30 yards from the third-floor window where the Madonna was first spotted in condensation caused by a broken seal.
Tens of thousands of people have swarmed to the hospital in recent weeks, prompting hospital officials to request people visit only between 5:30 p.m. to 8:30 p.m. EDT.
Long Island man guilty of killing priest, parishioner during Mass
By FRANK ELTMAN
The Associated Press
6/25/2003, 12:15 p.m. ET
MINEOLA, N.Y. (AP) — A Long Island man was convicted Wednesday of opening fire with a rifle during morning Mass at his local church, killing a priest on the altar and an elderly woman praying nearby.
The jury deliberated less than two hours before returning its verdict against Peter Troy, 36, who showed no emotion when the decision was read.
Troy, 36, who was ruled competent to stand trial despite a history of paranoid schizophrenia, was convicted of first-degree murder in the shootings of the Rev. Lawrence Penzes, 50, and Eileen Tosner, 73.
There was an audible gasp from members of Tosner's family as the verdict was read.
He was also convicted of attempted murder for stabbing a police officer during his arrest after a seven-hour standoff at his rooming house near Our Lady of Peace Church in Lynbrook.
And Finally...
Man Loses License for Driving Lawnmower Drunk
Wed June 25, 2003 08:12 AM ET
BERLIN (Reuters) - A German gardener has been fined and stripped of his license for driving his lawnmower while drunk, a court said Tuesday.
The court fined the 45-year-old man 400 euros ($460) and banned him from driving all vehicles, including his mower, for three months after police did a check on him as he was parking the vehicle, which has a maximum speed of four miles per hour.
Defense lawyer Stefan Deppe told Reuters his client would appeal. "The mower does not pose the remotest danger to the public and common sense should have been applied," he said.
Police breath-tested the gardener after detecting the smell of alcohol as he finished mowing a lawn for a client. "He said he'd had a bottle of wine," Deppe said.
---
Check out the Signs of the Times Archives
Send your comments and article suggestions to us.
---
Fair Use Policy
Contact Webmaster at signs-of-the-times.org
Cassiopaean materials Copyright ©1994-2014 Arkadiusz Jadczyk and Laura Knight-Jadczyk. All rights reserved. "Cassiopaea, Cassiopaean, Cassiopaeans," is a registered trademark of Arkadiusz Jadczyk and Laura Knight-Jadczyk.
Letters addressed to Cassiopaea, Quantum Future School, Ark or Laura, become the property of Arkadiusz Jadczyk and Laura Knight-Jadczyk
Republication and re-dissemination of our copyrighted material in any manner is expressly prohibited without prior written consent.
.