---
On June 24, 1947...
Kenneth Arnold made his famous UFO sighting and the term "flying saucer" became a part of the popular vocabulary. Kenneth, "an experienced American pilot, was flying over the Cascade Mountains in Washington State, in the direction of the Canadian border. He was looking for the wreckage of a marine transport that had crashed in the area when, at approximately 3.00 pm, he saw nine unidentified aerial objects flying in a wedge-shaped formation. They were travelling, he estimated, at speeds in excess of 1000 mph- much faster than any known aircraft at the time...." more Of course, there is no connection with his spotting the UFO's, reporting them, and then his being audited by the IRS.
Report to Warn of New Wave of al-Qaida
By ELAINE GANLEY, Associated Press Writer
Tue Jun 24, 6:18 PM ET
PARIS - A third generation of an estimated 800 to 1,000 al-Qaida terrorists — mainly suicide attackers based on several continents — is preparing strikes against tourist and economic targets worldwide, a French terrorism expert said Tuesday.
Roland Jacquard, a French consultant to the United Nations, said the new generation of terrorists is unpredictable, hard to track and ready to strike.
Jacquard took part in preparing a report for a U.N. Security Council committee monitoring sanctions against al-Qaida and the Taliban. In a telephone interview, he said the estimate of 800 to 1,000 terrorists in the new generation was his figure and would not appear in the U.N. report scheduled for release next week. [...]
"Today, al-Qaida has become a terrorist organization that no longer reacts in pyramid fashion," Jacquard said, referring to the highly structured organization headed by Osama bin Laden that handed out orders from the top and followed a strategy.
Now, he said, it works "in concentric circles," with each layer acting independently of the other. [...]
Suspicions grow of Paris-Tehran deal on terror
Dan De Luce in Tehran and Duncan Campbell in Los Angeles
Wednesday June 25, 2003
The Guardian
Iran may have struck a more cooperative tone over the al-Qaida suspects in its custody in return for France cracking down on exiled opposition groups, Tehran newspapers reported yesterday.
Political analysts speculated that it was more than a coincidence that Iranian authorities were divulging details about the al-Qaida suspects only days after France arrested more than 100 members of a resistance group opposed to Tehran.
French police last week raided the headquarters of the People's Mojahedin, although Iran's demands for a crackdown against the group had fallen on deaf ears in the past.
"Why did the French really detain the leadership?" the daily Iran News asked yesterday. The paper wrote that France might be trying "to put pressure on Tehran to return the alleged al-Qaida operatives believed to be in Iran because up to now the Iranian side has always complained about a double standard on the terrorism issue". [...]
FEDS SEE ORANGE FOURTH OF JULY
The Department of Homeland Security will likely raise the nation's terror alert, once again, to high status -- orange -- for the Fourth of July holiday, top government sources tell the DRUDGE REPORT.
But there is a growing concern within the Bush Administration over the effectiveness of yo-yoing the status of terror alerts.
"It appears [raising the alert] will be the prudent thing to do," one source with direct ties to the decision-making explained from Washington on Tuesday. "But the raising and lowering has to be justified, or we risk the danger of becoming complacent, where a high state of alert carries less urgency."
Comment: Makes a person wonder how they intend to justify it...
Potential Terrorism in the State next month
HOUSTON (AP) - Federal homeland security officials have informed Texas law enforcement agencies of intelligence reportedly gathered from suspected al-Qaida operatives discussing potential terrorism in the state next month.
Homeland security officials are reviewing the information eavesdropped earlier this month from two suspected al-Qaida operatives discussing potential terrorism in Texas timed for the July Fourth weekend, unnamed officials in Washington told the Houston Chronicle for Tuesday's editions.
"It's important to note at this point federal officials have not determined the threat to be a credible one,'' Gene Acuna, a spokesman for Texas Gov. Rick Perry said Tuesday.
"All the sudden now we are talking about Texas as a target and that is not where the conversation started,'' FBI spokesman Bob Doguim said.
"We get reports like this on a pretty regular basis. We do the responsible thing with them. We put them out, we share it and let people know what we are hearing.''
Doguim said the information received was very nonspecific and the FBI informed law enforcement agencies, as it does on a routine basis, of the knowledge it had. He said it is not surprising that reports of possible terrorism increase around significant dates, such as the Fourth of July.
"Terrorism organizations would pick a significant date on which to carry out an attack because of the impact it would make,'' he said. "We also know that terrorist organizations would target what we term 'economic targets,' basically hitting us where it would hurt the most. We also know that the energy sector is a part of that.
"It's sexy to spin it into being Texas. This state is a major player in the oil and gas industry.''
But that is not the information the FBI has, Doguim said of the intelligence which did not specify a target, an exact time or a type of terrorist attack.
"We have to be careful,'' he said. "We have to take this information and we have to put it in perspective.''
Comment from a QFS member: They must really think we are stupid.
Key words: "eavesdropped earlier this month", "unnamed officials in Washington", "officials have not determined the threat to be a credible one", "we share it and let people know what we are hearing'' (yeah right), "information received was very nonspecific", "did not specify a target, an exact time or a type of terrorist attack", "We have to be careful,'' "We have to take this information and we have to put it in perspective.''
LOL!
Terrorists possibly targeting Texas
Internet chat cites attack in July; energy facilities on alert
By MICHAEL HEDGES
Copyright 2003 Houston Chronicle Washington Bureau
WASHINGTON -- U.S. intelligence agencies early this month eavesdropped on two suspected al-Qaida operatives discussing potential terrorism in Texas timed for the July Fourth weekend, raising the specter of an attack on energy facilities in the Houston area, officials here said Monday.
That information, which did not specify a target, an exact time or a type of terrorist attack, was passed along to state officials.
Federal homeland security officials have informed Texas law enforcement agencies of intelligence reportedly gathered from suspected al-Qaida operatives discussing potential terrorism in the state next month.
Authorities obtained intelligence pointing to a possible terrorist threat in Texas during the July 4 holiday, but said Tuesday there was not information pointing to a target or location, a U.S. counterterrorism official in Washington, speaking on the condition of anonymity, told The Associated Press.
One counterterrorism official said the information suggested a threat to petroleum interests in Texas in early July. Another said it only mentioned Texas and the July 4 holiday.
Gordon Johndroe, a spokesman for the Department of Homeland Security, said the agency receives a significant number of threats and intelligence information regularly.
"We have to run them all down," he said. "The vast majority of them turn out to be not credible."...
A federal official confirmed an account first published in Newsweek magazine that a possible al-Qaida operative known as "Sakr" told another person during an Internet chat room conversation that an attack had been planned for a long time, and that terrorists inside the United States were only waiting for approval from a man dubbed "the Sheik" before striking in early July.
Comment: There is probably no connection with terror warnings issued and Bush Talking Terror War and Raising $4M in NYC. Sometimes readers get a little upset when we consider such connections, but we aren't the only ones. Consider the Counterpunch article, Compare and Contrast Bush and Hitler.
Israeli Roundups Draw Palestinian Condemnation
By Mazen Dana
Tue June 24, 2003 03:19 PM ET

HEBRON, West Bank (Reuters) - Israel detained more than 130 Palestinians on Tuesday in a sweep for militants it said would help a violence-hit peace plan but Palestinians condemned as an attempt to sabotage truce efforts.
The raids in Nablus and Hebron, the two largest West Bank cities, added to tensions surrounding faltering moves to implement the U.S.-backed "road map" for ending nearly 33 months of bloodshed and establishing a Palestinian state by 2005.
Raanan Gissin, a spokesman for Israeli Prime Minister Ariel Sharon, said Israel had to pursue militants preparing attacks in the absence of a Palestinian Authority crackdown against them.
"The first purpose of these large-scale arrests is to try to save the road map of peace, to really provide a maintenance operation so that the road map would not disintegrate in front our eyes," Gissin said. [...]
Abdel-Aziz al-Rantissi, a Hamas leader wounded in an Israeli assassination attempt on June 10, told Reuters: "We are facing a Zionist assault and it is not logical to ask us to accept a truce under these conditions." [...]
Comment: Israel is using Bush's "To have peace, we must wage war" argument. The lack of logic and the sheer stupidity of this argument are beyond measure.
Syria demands return of border guards
Pentagon still investigating the incident
Tuesday, June 24, 2003 23:01 GMT

WASHINGTON (CNN) -- The Syrian government has demanded the speedy return of five border guards being held by U.S. troops after an incident near the Iraqi-Syrian border last week, the State Department said Tuesday.
Three of the guards were wounded during a U.S. attack on a convoy in the Iraqi border town of Qaim last Wednesday.
A State Department official said there appeared to have been a "communications breakdown" with the U.S. Central Command, and details are sketchy about how the events unfolded.
"We still haven't gotten a good, accurate accounting," said this source.
Defense Secretary Donald Rumsfeld said Tuesday the Pentagon was still investigating what occurred.
"We need to allow some time so that people can sort through what took place and then get back to us," Rumsfeld said.
He said the Syrians' return was being discussed "by the appropriate people in the U.S. government and the Syrian government."
"The process by which that will take place is something that's being discussed in other channels," he said. "And it will happen, and I don't know that anyone needs a reason why it hasn't happened in five minutes or two days or five days." [...]
Rumsfeld Says No Husseins in Convoy
Secretary Refuses to Discuss Whether U.S. Forces Chased Targets Into Syria

By Vernon Loeb and Peter Slevin
Washington Post Staff Writers
Wednesday, June 25, 2003
Defense Secretary Donald H. Rumsfeld said yesterday that he has "no reason to believe" that senior leaders of Saddam Hussein's government, including the ousted Iraqi president or his sons, were killed last week when U.S. forces attacked a convoy in western Iraq along the Syrian border.
But almost a week after the incident, Rumsfeld provided little additional information about the attack, refusing to say whether U.S. forces crossed the Syrian border or explain why five Syrian border guards injured in the fighting remain in U.S. custody.
"Borders are, you know, not always distinct in life," Rumsfeld said, "and I just would rather wait and give you the straight story."
Comment: Apparently they even went in and checked for Hussein DNA. "It's like Elvis," King Abdullah said on the ABC News program "This Week." "There's a lot of sightings of him all over the place." In other Saddam mania news, those mysterious and anonymous U.S. Officials are chirping again claiming that, "The senior lieutenant to Saddam Hussein who was detained in Iraq last week obtained passports from Belarus for himself and others, possibly including Saddam's sons." Saddam's captured scientists are still insisting that there are no WMD. The MSNBC article states, "President Bush himself gets regular updates on the WMD hunt, says the White House chief of staff, Andy Card, but the topic is not an obsession: 'It's not like every day we want an update, play the 'Where's Waldo?' game.' Down the ladder, however, officials are working extra shifts to explain why they still haven't found the illegal-weapons program, even though its existence supposedly led to the invasion." The games psychopaths play.
The Mysterious Death of Brian Downing Quig
The Signs team reported that Mr. Quig, investigative journalist, whistle blower and the author of 9/11 High Treason, was killed in a hit and run accident on June 16th. In his article he was reporting many of the connections we have been discussing here for some time. His friend and fellow investigator, Stew Web, has written a short biography of him. It looks like the late Mr. Quig was working on some rather interesting projects that attracted the attention of certain people in power who would have a lot to loose if such information were to become public knowledge.
US troops kill five Iraqis in overnight violence
Wednesday June 25, 12:33 AM
(AFP) - US forces again came under attack in the flashpoint town of Fallujah and nearby Ramadi overnight, killing five Iraqis, as Baghdad went into its second day without power.
Two separate incidents in Ramadi, around 100 kilometres (60 miles) west of Baghdad left four Iraqis dead, overshadowing US efforts to focus on rebuilding.
In the first, a driver refused to stop at a US roadblock. US troops opened fire killing one person and wounding another, Sergeant Keith O'Donnel told AFP.
Hours later, two cars approached a US checkpoint. Attackers in one of them fired at US soldiers, who returned fire killing one. Two others in the second car were also killed, he added Tuesday.
A clash in Fallujah, around 50 kilometres (30 miles) nearer Baghdad left one Iraqi man dead, killed by a US patrol after the attack, an AFP correspondent reported in the restive town.
US military sources were unable to confirm witness reports that two rocket-propelled grenades (RPGs) were fired at US troops guarding a power distribution station in the town. [...]
Attacks Show Spreading Iraqi Resistance
By STEVEN GUTKIN, Associated Press Writer
June 25, 2003
BAGHDAD, Iraq - The killing of six British soldiers in an Iraqi police station raises fears that violence is spreading to formerly calm regions and pushing the nation into guerrilla warfare despite assurances by U.S. officials that they are mopping up resistance.
The attack came in the mostly Shiite south, where resentment toward Saddam's Hussein's government had been strong. There had been no substantial attacks there against U.S. or British forces since the end of the war, and British troops in the city of Basra had felt so secure that they had stopped wearing helmets and flak jackets.
The attack was part of a wave of rebel strikes against coalition troops, raising fears that an organized resistance is forming in Iraq, despite denials by the U.S. commanders.
The U.S. military said there had been 25 such attacks over a 24-hour period, including a firefight in Ramadi, west of Baghdad, that killed three Iraqis and wounded an American soldier. [...]
Veil of Secrecy Around Village Hit in U.S. Raid

By PATRICK E. TYLER
The New York Times
UGER ADDIB, Iraq, June 24 — On a desolate panorama of hardtack desert along the Syrian border here, the United States military has cordoned off part of this village, evicted five families whose houses were bombed six days ago and refused to say what is going on.
Two villagers were killed, a young woman, Hakima Khalil, and her infant daughter, Maha, in an aerial assault that began just after 1 a.m. Thursday.
At dusk today, a convoy of more than 20 military transports arrived with earth-moving equipment and pulled into the circle of Bradley fighting vehicles that guard every approach to this sandy knoll littered with broken masonry and bomb-damaged homes. [...]
The arrival of earth-moving equipment here suggested that American military forces may be preparing to set up a base here to guard this section of border.
Fund for Iraq Proposed Outside of U.S. Control
By Evelyn Leopold
Tue June 24, 2003 09:04 PM ET
UNITED NATIONS (Reuters) - Wary of U.S. control of Iraqi development monies, several European donors proposed on Tuesday an international fund for reconstruction during a 52-nation conference on measures to rebuild Iraq.
But the proposal for a separate fund was one of the few signs of discomfort with the U.S.-led occupiers at the first U.N.-sponsored meeting among U.S. and British occupation authorities, Iraqi delegates and international agencies.
"A number of delegates wanted this to be seen as a moment of unity," said Mark Malloch Brown, head of the U.N. Development Program, which initiated the conference, referring to the bitterness over the U.S.-led invasion of Iraq.
"What it does show is that the membership is united around the issue of building as quickly as possible an Iraq which is back on its own feet," he told a news conference.
At the conclusion of the two-day meeting, the United Nations, the World Bank, the European Union, Japan, the United Arab Emirates as well as the United States agreed to organize a donors conference in October to address reconstruction. [...]
'Colourful' acronym forces Iraq army name change
ABC News
US authorities in Iraq have been forced to change the name of the planned Iraqi armed forces, after learning that the original title they came up with created an unfortunate acronym in Arabic.
The planned force was originally entitled the New Iraqi Corps, whose initials in Arabic produce a colourful synonym for fornication.
"I am told reliably but unanimously that that acronym is not a nice word in Arabic," a senior official from the Coalition Provisional Authority said.
"Therefore we had to come up with another word."
The force is to be known as the New Iraqi Army.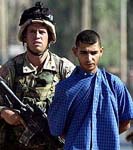 US Soldiers Arrest Teenager Who Made Fun of Them
memoryhole.org
Comment: And most mass "murder" media outlets ignore the story.
Greenpeace Says 'Frightening' Radioactivity In Iraqi Villages
By Shino Yuasa
6-25-3
TUWAITHA, Iraq (AFP) - Environmental group Greenpeace called Tuesday on the US-led coalition governing Iraq to clean up villages surrounding a nuclear site outside Baghdad that have been contaminated by "frightening levels" of radioactive material.
Carrying Arabic and English banners that read "Al-Tuwaitha - nuclear disaster. Act now!", Greenpeace activists returned a large uranium "yellowcake" mixing canister to US troops stationed inside the nuclear plant, 20 kilometres (12 miles) east of the capital.
The canister -- the size of a small car -- contained significant quantities of radioactive yellowcake and had been left open and unattended for more than 20 days on a busy section of open ground near the Tuwaitha plant, Greenpeace said.
"No one cares about us. We are dying slowly. Our whole neighborhood is contaminated. Although Greenpeace came, it is too late," said Tareq al-Obeidi, a 41-year-old Tuwaitha city council member.
"We need medicine and good hospitals. Removing it from the garbage is just the beginning of our long suffering," he said.
Greenpeace said there were three kilograms (6.6 pounds) worth of yellowcake -- slightly enriched uranium -- inside the mixer looted following the ouster of Saddam Hussein's regime.
"It is a disgrace that occupying forces can say they are taking care of human health here in Iraq and they can still allow this to lie open on the ground where children can play in it," said Greenpeace spokeswoman Sara Holden. [...]
Townspeople Chased, Killed U.K. Troops

The Associated Press
Wednesday, June 25, 2003
MAJAR AL-KABIR, Iraq - Townspeople furious over civilian deaths during a demonstration in this southern Iraqi town chased down and killed six British military police, local police said Wednesday.
Abbas Faddhel, an Iraqi policeman in the town, said the British troops shot and killed four civilian demonstrators on Tuesday.
Armed civilians then killed two of the British soldiers at the scene of the demonstration - in front of the mayor's office - and then chased four other British soldiers to a police station, killing them after a two-hour gunbattle, Faddhel said.
Abu Zahraa, a 30-year-old local vendor, also said that Iraqi civilians were killed by British soldiers during a demonstration earlier Tuesday against the presence of British forces in the city. He said the British had formally agreed a day earlier to let local police patrol the city.
Zahraa and another witness, who declined to give his name, said the British troops came under attack and retreated to the local police station. Angry townspeople then went to their homes to fetch assault rifles, returned to the station and attacked the besieged British soldiers, all of whom died, the witnesses said.
[...] The gunbattle raised fears that violence is spreading to formerly calm regions and pushing Iraqi into guerrilla warfare despite assurances by U.S. officials that they are mopping up resistance.
Also Tuesday, an oil pipeline was sabotaged near Hadithah, 150 miles northwest of Baghdad, an Iraq oil ministry official said.
Television reports Wednesday showed oil flooding into palm groves and the Euphrates River. The official, who asked not to be named, said saboteurs broke valves on the pipeline, causing the oil to spill.
It was the latest in a series of attacks against Iraq's power and oil infrastructure that has set back reconstruction efforts.
The violence at the police station came in the mostly Shiite south, where resentment toward Saddam Hussein's government had been strong. There had been no substantial attacks there against U.S. or British forces since the end of the war, and British troops in the city of Basra had felt so secure that they had stopped wearing helmets and flak jackets.
The U.S. military said Tuesday there had been 25 attacks on coalition forces over a 24-hour period, including a firefight in Ramadi, west of Baghdad, that killed four Iraqis and wounded two American soldiers and two Iraqis.
Defense Secretary Donald H. Rumsfeld, called the pro-Saddam forces "dead-enders" and said coalition troops were making progress against them.
"Just as they were unable to stop the coalition advance in Baghdad, the death squads will not stop our commitment to create stability and security in postwar Iraq," Rumsfeld said at the daily defense department briefing.[...]
Comment: Just like the "stability and security" you established in Afghanistan Rummy?. When will the lies and BS stop?!?

US bomber drops nine bombs on own troops
The US Air Force has admitted one of its B52 bombers has dropped nine massive bombs on its own troops, killing and injuring several soldiers.
The bomber plane had been taking part in a US military exercise in Djibouti.
Captain Seth Michaud, 27, of Hudson, Massachusetts, was killed on Sunday, and eight other US troops were injured in the incident.
Nine misdirected M117 750-pound bombs fell near two CH-53E Super Stallion helicopters that were parked adjacent to the range where the exercise was taking place.
It's believed nine misdirected M117 750-pound (340 kilograms) bombs were dropped by the B-52. Klumpp refused to say where the plane was flying out of, saying only that it was a base in the US Central Command's area of responsibility.
The two CH-53E Super Stallion helicopters, which were supporting the exercise by flying in troops and equipment, were destroyed, Klumpp said.
One of the injured was able to return to his unit, while the seven others were taken to Bouffard Hospital, a French-run hospital in Djibouti town, which has US medical teams working in it.
Djibouti gained independence from France in 1977 and France retains a military base there.
A US led task force is using Djibouti as it base to lead the war on terrorism in the Horn of Africa region.
Klumpp said the injured were stabilised and transferred to Landstuhl Army Medical Centre, a US military hospital in Germany, on Monday.
Comment: The question is, where was that B52 bomber going with so many massive bombs? Isn't the war over??

[...] There were several attacks on American forces yesterday: one soldier was wounded in a gunbattle in Ramadi, 60 miles west of Baghdad, when three Iraqis were killed; and Iraqi gunmen fired rocket-propelled grenades at US troops in three towns in western Iraq. Donald Rumsfeld, the US Defence Secretary, said that the War on Terror "will not be over any time soon".
Referring to yesterday's British deaths and the US forces killed in recent days, Mr Rumsfeld said: "Their deaths are a sober reminder that while major combat in Iraq and Afghanistan is over, we and our coalition forces remain engaged in a difficult and dangerous war, the global War on Terror."
He said: "Every day in Iraq and Afghanistan, brave men and women risk their lives to protect us from terror. They shall certainly be called on to do so for the foreseeable future."
Comment: It is a little difficult to listen to Rumsfeld say the above, not just because of the bare-faced lies, but also because we realise that many people will believe him, despite the fact that anyone who feels inclined can look at the available facts, weigh them up and come to the conclusion that in all likelihood the "war on terror" was conceived of, created and is being implemented by "think tanks" such as PNAC and other organisations and individuals in league with the US and other governments.
The evidence is overwhelmingly in favor of the verdict that there is no "Al-Qaeda", there are NO "TERRORISTS". They are a creation of government to herd the masses, physically and mentally. Look at the power struggles that go on around us every day in work, at home etc. Look at the essentially self-serving nature of human beings. Then extrapolate this out to people who have sought power over everything else. These "politicians" who have, in the course of their climb to the "top", fine tuned this service to self to the "nth" degree. Such people have sought to place themselves in a position of near ultimate power and control, a position where they can do as they will without fear of reprisal, where they literally have the world in the plam of their hands. When they have proven themselves callous and immune to empathy or compassion for the suffering of other human beings, and indeed seem at times to enjoy the "thrill" of war (even though they remain as "armchair generals"), ask yourself this: just what WOULDN'T such as person do to satiate their own power cravings?
These are the men that are responsbile for Pearl Harbour, the Oklahoma bombing, the WTC bombing, the Pentagon bombing, and countless other crimes against humanity over the years, up to an including the current invasion of Iraq. The rabbit hole goes VERY deep.
The only "terrorists" are and always have been governments and the men that seek power over all else. Read a little history and it is obvious, the facts are staring us all in the face.
[...] R.T. Naylor: There really is no relationship between Al Queda and the Afghan opium trade. That is because Al Queda itself does not exist, except in the fevered imaginations of neo-cons and Likudniks, some of whom, I suspect, also know it is a myth, but find it extremely useful as a bogeyman to spook the public and the politicians to acquiesce in otherwise unacceptable policy initiatives at home and abroad. By those terms, Al Queda is cast like "the Mafia" and similar nonsense coming from police lobbies. This is a complex issue but, putting it very simply, what you have in both cases is loose networks of likeminded individuals-sometimes they pay homage to some patron figure who they may never have met and with whom they have no concrete relationship. They conduct their operations strictly by themselves, even if they may from time to time seek advice.
In other words, if any line of communication does exist, it is initiated from the people on the ground "upwards" to the presumed patriarch--not the other way around. Of course, from time to time some father-figure, if he really exists, might dish out some cash to some would-be followers or sycophants or hangers-on. But the notion that there is a firm "money trail" used so much in cop discourse, and now hijacked by the national security establishment, is foolish. And the idea that attacking the money trail is the best way to curb either crime or terrorism is a pure fantasy. This follow-the-money stuff has been shown time after time to be useless when it comes to "organized crime" (another stupid term) where the motive is supposedly profit. Therefore how much more so when it comes to "terrorism" where money is not a motive, but merely one among many instruments, and where in any case most actions are actually quite cheap to pull off. The reality is, for "terrorist" actions, the most important resource is commitment and that is something which cannot be frozen in a bank account.
Saddam and Osama will be caught - Bush
24/06/2003 - 6:43:17 pm
US President George Bush predicted today that "it's just a matter of time" before terrorist leaders like Osama bin Laden and deposed Iraqi President Saddam Hussein are captured.
He said it could take days, months or years before the United States and its allies complete the search for terrorist leaders. "We're just on the hunt," Bush said at a news conference at his Camp David retreat with Pakistani President Pervez Musharraf.
"It doesn't matter how long it takes, Mr President," Bush said, nodding to Musharraf...
Musharraf basked in the prestige of Bush's Camp David invitation, and thanked Bush for the "special gesture." Musharraf was the first Southeast Asian leader to get such an invitation.
Bush announced that the two countries were signing a new trade and investment agreement and he pledged to work with Congress on a £1.8 billion assistance project for Pakistan. Further, Bush said the United States had forgiven £600 million owed by Pakistan in the last year.
Comments: Bush CAN'T find and catch Osama, because he already knows where he is, but he's going to keeping trying anyway...what a great way to waste American tax dollars when that money would be better spent on a real 9-11 investigation. Meanwhile people are still being killed in Iraq, the US economy is tanking fast, the national deficit is set to quickly approach $1 billion, lower and middle income US citizens as well as veterans are complaining about needing more domestic aid, and there is Bush, forgiving £600 million owed to America by Pakistan.
Of course, the links between the US and Pakistan go way back, including a visit by the chief of Pakistani intelligence to Washington on September 11, 2001.
U-S missed chances to kill bin Laden before nine-eleven
(Washington-AP) -- Sources say the government missed the chance to kill Osama bin Laden before nine-eleven.
Current and former U-S officials say unmanned Predator airplanes spotted bin Laden in Afghanistan as many as three times in late 2000. But the Bush administration was still refining a plan to use a Predator drone armed with missiles to kill the al-Qaida leader.
Sources say the U-S couldn't launch a strike with submarine-based cruise missiles in time to kill the target they thought was bin Laden.
Top administration officials discussed a Predator mission to kill bin Laden just a week before the suicide attacks on New York and Washington D-C. But they didn't resolve a debate over whether the C-I-A or the Pentagon should handle the job, or whether Predators armed with missiles would be lethal enough to do the job.
Targeting bin Laden was legally permitted under secret orders and presidential findings signed by President Clinton.
Comment: I guess Georgie the First was in a business meeting with the bin Ladens and just happened to let slip that Georgie Jr was preparing an attack on Osama...
So instead of launching a drone to kill Osama, they used him as a scapegoat to help cover their lies when they launched a drone into the Pentagon on September 11.
Washington holds out free-trade carrot to Arab world
Powell outlines 'road map' to economic development
Americans tell World Economic Forum that countries will benefit from commercial agreements if they 'fight terrorism'
Dania Saadi
Daily Star staff
SHUNEH, Jordan: The United States will help Arab countries join the World Trade Organization (WTO), increase Arab exports and help repatriate Arab capital through its proposed US-Middle East Free Trade Zone, the US Trade Representative Robert Zoellick announced Monday.
US Secretary of State Colin Powell also addressed economics in the Middle East, underlining the "linkage" between efforts to install peace between the Arabs and Israel and the economic development of the region, on the last day of the World Economic Forum meeting on the shores of the Dead Sea.
"We want peace in the region; with peace you need economic development or people will not benefit from peace," Powell said.
The sentence "road map to MEFTA," or US-Middle East Free-Trade Area, came in the speech delivered here by Zoellick as another reminder of the linkage. The latest initiative drafted by the international community to establish peace in the Middle East is also known as the "road map."
Zoellick said the free-trade area will be built "step by step," a gradual process in which the US will help Arab countries integrate with the global trading system by combining states reaching bilateral free trade agreements (FTAs) with Washington into a regional accord...
Both Zoellick and Powell said free trade is an "antidote" to unrest in the Middle East...
The United States is not the only economic authority trying to win over Arab countries through trade.
The European Union preceded the US in 1995 and set up the Euro-Med process that forecast creating a free-trade zone between Arab countries in the Mediterranean and Gulf area and the 15-member bloc.
So far, the EU has secured 11 out of 12 bilateral trade agreements with Mediterranean countries and is keen to add Iraq, as soon as a government is installed and a customs authority is created, European Trade Commissioner Pascal Lamy said at the forum.
Comment: Yeah, right. "Free trade is the 'antidote' to unrest". Only the most rabid neo-liberal would buy a load of horse hockey like that! "Free tarde" means more US arms given freely to the rogue terrorist state of Israel.
How about giving the Palestinian people a country of their own, with international recognition, and a contiguous territory. How about ensuring food, water, dignity to these people who were forced off their land by Zionist terrorists. All free trade will do is bring them even more securely under the yoke of US oppression. But the area will be very "peaceful" once it has been reduced to cinders.
Standoff with US May Lead to War, Warns North Korea

Seoul [Rtr]
US pressure to make communist North Korea abandon its nuclear ambitions could lead to war at any time, a North Korean daily said Tuesday. The latest rhetoric comes as South Korean President Roh Moo-hyun prepares for a trip to China, one of North Korea's few allies, early next month to discuss the nuclear standoff between the North and the United States. "The situation on the Korean peninsula is growing tenser as the days go by due to the Bush group's undisguised moves to stifle the DPRK by force and the acute confrontation between the DPRK and the U.S. may lead to a war any time," the Korean Central News Agency quoted the Minju Joson as saying. [...]
UN arms inspector Blix criticises US over Iraq
Reuters, Khaleej Times, 24 June2003
NEW YORK - The longer the United States and Britain occupy Iraq without finding weapons of mass destruction, the more conceivable it is that Baghdad destroyed them after the first Gulf War in1991, chief UN weapons inspector Hans Blix said on Monday.
Blix, to retire next week after heading inspections before the US-led war on Iraq began in March, also spoke critically at a think tank meeting of one of Washington's key arguments for overthrowing Iraq President Saddam Hussein.
"It is sort of fascinating that you can have 100 percent certainty about weapons of mass destruction and zero certainty of about where they are," Blix said at the Council on Foreign Relations in New York...
Saddam said the weapons were destroyed in 1991 when a US-led international coalition ousted his army from Kuwait. Blix has said that inspectors made their last significant finds in 1994...
But on Monday, Blix took aim at the Bush administration's assertions that Washington needed more time to find Iraq's weapons.
"Three-and-a-half months for new inspections was a rather short time before calling it a day and especially when we now see the US government is saying that, 'look, you have to have a little patience, you know these things take time.' All right," Blix told his audience of foreign policy analysts, business leaders, academics and journalists.
Comment: It's also sort of fascinating that 41% of Americans think Bush has already located WMDs in Iraq, and an even higher percentage undoubtedly believe some foreign "terrorist" is behind the 9-11 attacks. Meanwhile, nobody is preventing Bush from building his own WMDs...
Save the world — remove a Bush, experts declare
By Scott Condon
Aspen Times Staff Writer
Want to help save the world without making much effort? Remove a Bush, advised some renowned environmental experts who spoke at the State of the World Conference in Aspen this weekend.
Greek officials suspect country's first case of SARS
Tue Jun 24 2003 11:45:34 ET
Greek officials Tuesday said they have identified a suspected case of Severe Acute Respiratory Syndrome (SARS), the country's first, saying the individual was a Chinese citizen who recently returned from a trip to Germany.
"This time we have a real suspect case,'' of the highly infectuos virus, said Heath Minister Costas Stephanis.
According to health ministry officials, the man arrived in Athens on June 21 from Germany and flew to Drama. He was admitted to a hospital in Drama, near Kavala, a city in northern Greece on Monday and was being treated at a hospital in the northern port
Tibet is part of China, says India
Last Updated Tue, 24 Jun 2003 18:43:15
BEIJING - India says Tibet is within China's territory, a declaration that could mark a turning point in relations between the countries.
In a statement signed on Monday and made public on Tuesday, India formally recognized the Tibetan autonomous region to be part of the People's Republic of China.
In return, China agreed to begin cross-border trade through Sikkim, which some say is a tacit recognition that the region is part of India.
Beijing has refused to recognize New Delhi's claim over Sikkim since it merged with India in 1975.

A Royal Welcome for Putin in Britain
By Jane Wardell
The Associated Press
Wednesday, Jun. 25, 2003. Page 1

LONDON -- Britain provided royal treatment to President Vladimir Putin on Tuesday during a visit that could help reduce recent wrangling between the two countries, particularly over the war in Iraq.
The first state visit to Britain by a Russian leader since 1874 was greeted with all the pomp and ceremony the royal family could muster -- a red carpet greeting at the airport, an artillery salute as Putin met his host Queen Elizabeth II, and a state banquet at Buckingham Palace.
The visit is an effort to repair the damage done by the U.S.-led war on Iraq -- which Britain joined and Russia opposed -- and reflects Russia's growing economic importance to Britain.
With an Eye on Arms Sales, Russia Forgives Laos' Debt

Moscow Times
Wednesday, Jun. 25, 2003. Page 7
The Associated Press

Russia will write off 70 percent of Laos' debt and provide favorable terms for repayment of the rest, Prime Minister Mikhail Kasyanov said Tuesday.
Kasyanov made the announcement after a meeting with his Laotian counterpart Bounyang Vorachith.
"We decided to provide favorable conditions because the United Nations classifies Laos among the least developed countries in the world," Kasyanov was quoted as saying by Interfax.
"This will help the Laotian authorities to realize social-economic programs to improve the population's standard of living."
Laos will be required to repay the remaining $378 million in Soviet-era debt over the next 33 years, Kasyanov said.
He said Russia was considering ways to help modernize Laos' armed forces, Itar-Tass reported.
"We are looking at different ways of cooperation in the military-technical sphere," Kasyanov was quoted as saying, using the usual term for weapons shipments.
Comment: Arms. That'll really improve the standard of living of the Laotian people. The Russian government is no different than the US government or the French government or any of the others....except at the moment, the US is the centre of STS activity on the planet.
Moscow Times
By Boris Kagarlitsky
Tuesday, Jun. 24, 2003. Page 11
Although the war in Iraq is over, the political crisis that it provoked is still going strong. The diplomatic smiles at the G-8 summit in Evian could not disguise the deep contradictions that persist. And it is not just Europe's differences with the policies of President George W. Bush -- Europe itself is deeply divided.
Not only has the absence of a common foreign policy been revealed to all, but also all the weaknesses and inconsistencies in the "European project" have been laid bare. France and German have committed to creating a new military alliance, thus potentially jeopardizing Atlantic solidarity.
Britain places its special relationship with the United States above loyalty to its European partners. Poland openly states its intention to promote the U.S. line in an expanded EU. And so on.
What then unites the nations of Europe, apart from various pieces of paper signed by politicians? Over the past decade, we have heard no end of talk about "common European values" --but how did these common values manifest themselves during the Iraq crisis?
Discussing the design of the euro bank notes, Brussels bureaucrats decided against using the faces of historical personalities -- they were afraid that the visage of one country's historical figures would be offensive to the population of another. There's "shared European history" for you.
Things aren't much better vis-a-vis "common European culture." European cultural traditions undoubtedly exist --only they are manifested in the multiplicity of national cultures. The more you try to reduce them to a common denominator, the less there remains...
Of course, the socio-economic system that emerged in Western Europe differs from the forms of capitalism that took root in America, Asia or Africa. In fact, Europe would do well to declare the social democratic tradition as its heritage. But, alas, from the Maastricht Treaty to the introduction of the euro, politicians and bureaucrats have been focusing most of their energies on doing away with what is left of the social democratic tradition and the welfare state.
Herein lies, it seems, the goal of European integration. Moreover, the "left-wing" governments of Germany and Britain are just as enthusiastic about dismantling the welfare state as their "right-wing" predecessors...
If competition with the United States is the main unifying goal, why can't "anti-Americanism" become the new unifying ideology? It would be very convenient. The left could condemn U.S. imperialism, while the right could defend "national pride"; the generals could use it to justify defense spending increases, and bankers to explain to the people the need to make sacrifices for a strong euro...
But the leaders who marched against Washington together with the demonstrators are the very same leaders who are dismantling the welfare state. The touching anti-U.S. unity is now threatening to lead to new social conflict.
The fate of the continent will depend not on political rhetoric, but on how social issues are resolved.
Africa Becomes Battleground in Global Biotech War
By Shapi Shacinda
Tue June 24, 2003 11:05 AM ET

LUSAKA (Reuters) - It is little surprise the trans-Atlantic battle over genetically modified food came to be fought on the scorched fields of Africa's peasant farmers.
Here the ability of a field of maize to resist pests and drought is a matter of life and death.
Yet, while millions of its people faced food shortages last year, Zambia's government told aid agencies to take back thousands of tons of GM maize, preferring to wait for unmodified aid than feed GM food to its hungry people.
The continent's leaders have become pawns in a wider mesh of conflicting trade and economic interests, bombarded by a confusing array of information blurring into propaganda.
"We are not going to accept GMO food until there is world consensus on its safety for human consumption," Zambia's Commerce, Trade and Industry Minister Dipak Patel told Reuters on Tuesday, after President Bush told Europe its opposition to GM crops was contributing to famine in Africa.

"Europe is saying no to GMOs while the United States is saying GMOs are safe. So we don't know whether GMOs are safe, as we are a developing country with limited technology capacity to do our own tests... We shall therefore wait until there is consensus by the developed world," Patel said.
Any such consensus appears some way off. [...]
More than 100 schoolgirls abducted in Uganda

By STEPHANIE NOLEN
From Wednesday's Globe and Mail

The girls were shaken from their sleep in the dead of night, jabbed with guns and machetes, and marched into the bush.
At least 100 Catholic schoolgirls were abducted by the child soldiers of the Lord's Resistance Army last night near the town of Soroti, the latest in a series of attacks in Uganda's increasingly brutal civil war. [...]
"The rebels are right here at the edge of town, burning houses, and the streets are filled with people running up and down with no idea where to go," Victor Ochen, a radio reporter in Lira, said in a telephone interview yesterday.
"Since the beginning of June it has been like this," said Tom Omach, an aid worker who for more than a decade worked with former child soldiers who escaped the LRA to try to come home. "It is terrible — you cannot even imagine what Kony is doing." [...]
"Things are just collapsing," he said, quoting a cri de coeur he received Monday from Archbishop Odama. "He said, 'Quick! Help! Come do something: We need international intervention quick.'"
Mr. Axworthy said the crisis in the north involves not only abductions and attacks, but also a sharp deterioration in the humanitarian situation, with the camps for displaced persons under siege and aid groups increasingly unable to get supplies into the north.
"If you ever wanted to see a textbook case of where international intervention would help, this is it," Mr. Axworthy said, but added there is no move by the United Nations, developed countries or even Uganda's African neighbours to intervene. [...]
Powell calls for pressure on Mugabe
By Angus Shaw in Harare
25 June 2003
Zimbabwe's main opposition leader returned to court yesterday to face the first of two treason cases - as the US Secretary of State, Colin Powell, appealed to African nations to put strong pressure on the government to end its authoritarian rule.
Opposition officials say President Robert Mugabe's government has targeted Morgan Tsvangirai, leader of the Movement for Democratic Change, as part of a desperate attempt to cling to power despite political and economic chaos engulfing the nation.
An estimated 70 per cent of Zimbabweans are unemployed, inflation has soared to 269 per cent, hunger is rife, and recent opposition protest efforts were thwarted only when police and soldiers fired tear gas and live bullets at assembling demonstrators.
Writing in yesterday's New York Times, General Powell called the government "a ruthless regime," accused Mr Mugabe of "violent misrule" and predicted that Mr Mugabe and his cronies would eventually lose their fight for power, "dragging their soiled record behind them into obscurity". However, Zimbabwe's neighbours in Africa have to step up pressure on Mr Mugabe to ensure a swift end to his dictatorship, he said. [...]
Zap! Air Force eyes Star Wars-style lasers
By SUE VORENBERG
Scripps Howard News Service
June 24, 2003
- "Star Wars" laser battles might have happened a long time ago in a galaxy far, far away, but for the U.S. Air Force they're just now starting to become a reality.
A new high energy laser weapon and F-16 flight simulator, designed by the Air Force Research Laboratory and the Theater Aerospace Command Control Simulation Facility at Kirtland Air Force Base, will let pilots test technology that could put the United States far ahead of its enemies...
"Essentially what we're looking at is that this laser can hit a target at the speed of light, almost instantly compared with the time of flight of a missile, which can take several seconds," said Jono Tyson, a contract employee from Scientific Research Corp. and assistant project manager at the simulation facility. "The laser is also a much more cost-effective weapon versus firing a missile that costs hundreds of thousands of dollars. Firing the laser will likely only cost a couple hundred dollars."...
The system has been fully developed and tested, but it must be adapted for the much more advanced flight simulators in Arizona. Its developers will spend the next several months tweaking it to work on those systems and hope to finish late this year.
U.S. Again Uses Enemy Combatant Label to Deny Basic Rights
hrw.org

(New York, June 23, 2003) The Bush Administration's designation of Ali Saleh Kahlah al-Marri, a Qatari national living in the United States, as an "enemy combatant" threatens basic rights safeguards, Human Rights Watch said today. The Justice Department announced today that it was dropping criminal charges against al-Marri and that he would instead be held without charge by the U.S. military.
"The Bush Administration has once again done an end run around the criminal justice system," said Wendy Patten, U.S. advocacy director at Human Rights Watch. "It is invoking the laws of war in the United States to justify locking people up without charge and without access to a lawyer. This kind of military detention has no place in a country committed to the rule of law."
Al-Marri is the third person held in the United States under military authority as an "enemy combatant." Human Rights Watch maintains that there should be a strong presumption that anyone arrested in the United States, far from any battlefield, be granted the full legal protections of the criminal justice system – including the right to counsel and not to be held without charge. [...]
Comment: So essentially, the U.S. found out it didn't have a case against al-Marri, so they decided to just lock him up forever since they can't admit they screwed up. And with a name like Ali Saleh Kahlah al-Marri, the American people will assume he's an evil terrorist and that the government must have a good reason for holding him...
Everyone knows now, for sure, that something is very, very wrong.

6/21/2003

Fancying themselves patriots so their neighbors won't notice they don't really care about anything real, these deceiving diehards who keep shouting their memorized support for their killer country are either small, selfish minds truly unable to sift the existing evidence and actually think for themselves, or willing liars — like so many appeals court judges — who endorse America's plunder of the world because they are making money off the deal themselves.
In other words, those who support the American invasions of Afghanistan and Iraq, and who applaud the coverup of the World Trade Center tragedy investigation, the wholesale destruction of U.S. environmental laws, and the systematic looting of the U.S. financial system are either stupid or sinister. They have turned the USA into Scum Nation, as they watch their insane hired guns continue to shoot down hapless civilians in Iraq.
The faint glimmer of hope in the sorry current state of the world, however, is that these homicidal maniacs are not in the majority. The media make us think they are. It is the job of the media to make us doubt ourselves so we'll spend more on things we don't really need. But the media are owned by the very people doing the plundering. Thus the public is deceived, lulled into the sleep of fools, and the atrocities continue at an ever more rapid pace.
But the real people of the world — the vast majority of God-fearing, honest folks of all nationalities living in all corners of the world — simply want honest answers, and aren't getting them from those who have been entrusted with organizing and protecting the societies in which they live.
We know what the deal is now. The tragedy of 9/11 was engineered from Washington. It's time to do something about it, if we are ever to regain at least a semblance of what we once thought was an honest and righteous nation and world.
Here is what we're going to do.[...]
Patriot Rebellion Keeps Growing: Three States Reject Federal Terror Laws
By Fred Lingel
American Free Press
[...]Three states—Hawaii, Alaska and Vermont—and 112 cities, towns and counties have passed resolutions condemning the Patriot Act on grounds it gives the federal government too much snooping power. Some have refused to enforce it.
Hawaii was the first state to pass anti-Patriot provisions in its legislature in April. Alaska followed by overwhelmingly passing measures in late May.
Hawaii's law says in part "to the extent legally possible, no state resources—including law enforcement funds and educational administrative resources—may be used for unconstitutional activities."
Alaska's measure goes further than most cities and towns, recommending that police and state agencies resist efforts to "initiate, participate in, or assist or cooperate with an inquiry, investigation, surveillance or detention" if there is not "reasonable suspicion of criminal activity under Alaska state law." [...]
By LAWRENCE OSBORNE
The New York Times

In a concrete basement at the University of Sydney, I sat in a chair waiting to have my brain altered by an electromagnetic pulse. My forehead was connected, by a series of electrodes, to a machine that looked something like an old-fashioned beauty-salon hair dryer and was sunnily described to me as a "Danish-made transcranial magnetic stimulator." This was not just any old Danish-made transcranial magnetic stimulator, however; this was the Medtronic Mag Pro, and it was being operated by Allan Snyder, one of the world's most remarkable scientists of human cognition.
Nonetheless, the anticipation of electricity being beamed into my frontal lobes (and the consent form I had just signed) made me a bit nervous. Snyder found that amusing. "Oh, relax now!" he said in the thick local accent he has acquired since moving here from America. "I've done it on myself a hundred times. This is Australia. Legally, it's far more difficult to damage people in Australia than it is in the United States."
"Damage?" I groaned.
"You're not going to be damaged," he said. "You're going to be enhanced."
The Medtronic was originally developed as a tool for brain surgery: by stimulating or slowing down specific regions of the brain, it allowed doctors to monitor the effects of surgery in real time. But it also produced, they noted, strange and unexpected effects on patients' mental functions: one minute they would lose the ability to speak, another minute they would speak easily but would make odd linguistic errors and so on. A number of researchers started to look into the possibilities, but one in particular intrigued Snyder: that people undergoing transcranial magnetic stimulation, or TMS, could suddenly exhibit savant intelligence -- those isolated pockets of geniuslike mental ability that most often appear in autistic people. [...]
One of its most successful applications has been in the realm of psychiatry, where it is now used to dispel the "inner voices" of schizophrenics, or to combat clinical depression without the damaging side effects of electroshock therapy. (NeuroNetics, an Atlanta company, is developing a TMS machine designed for just this purpose, which will probably be released in 2006, pending F.D.A. approval.)
Meanwhile, researchers at the National Institute of Neurological Disorders and Stroke found that TMS applied to the prefrontal cortex enabled subjects to solve geometric puzzles much more rapidly. Alvaro Pascual-Leone, associate professor of neurology at the Beth Israel Deaconess Medical Center in Boston (who, through his work at the Laboratory for Magnetic Brain Stimulation, has been one of the American visionaries of TMS), has even suggested that TMS could be used to "prep" students' minds before lessons. [...]
Comment: Most people will shudder at the suggestion that the public or secret governments of our world have any kind of mind control technology. And yet, here is a technique that is effective on 40% of test subjects. Instead of eliminating voices in someone's head, what if you created them? Instead of stimulating the brain to increase intelligence, what if it is suppressed? If the technology were studied by an army of scientists and doctors, the success rate could no doubt be increased dramatically. Add some antennas so that the energy can be beamed into someone's head remotely, and you have exactly what all these crazy conspiracy theorists have been discussing for some time now. For more information on government mind control, we highly recommend Richard Dolan's book UFOs and the National Security State.
WMD Damage Control at the Times:
Many Presidents Have Lied, But This Time the Press Went Along for the Ride
By DAVID LINDORFF
June 24, 2003
Counterpunch.org
As evidence mounts of the Bush administration's gross prevarications regarding evidence of so-called "weapons of mass destruction" in Iraq, and of a never-demonstrated link between Hussein and Al Qaeda, the New York Times has taken the lead in the media at damage control.
Instead of trying to deny the lying, which would be a hopeless venture, the Times in the lead story of this past Sunday's "Week in Review" section written by David E. Rosenbaum, went with the argument that Bush "exaggerated" and that in any event, many presidents have lied. [...]
For good measure, Rosenbaum also cites Bush's claim, made in his last State of the Union address and on later occasions, that his latest tax cut would benefit "everyone who pays income taxes." Here, Rosenbaum concedes that the claim is factually incorrect--some 8.1 million taxpayers will get no break in the tax cut as designed by the administration and passed by Congress in May. But Rosenbaum goes on to say that since 90 percent of taxpayers will get at least some minimal tax break, the president would have been correct had he said "almost all" people who pay taxes would get a cut.
But Rosenbaum only scratches the surface of Bush's and his subordinates' lies. He doesn't mention that the president, his defense secretary, and his secretary of state lied blatantly in citing evidence of Iraqi purchases of uranium from Niger--evidence that the government knew to have been a gross forgery. He doesn't mention Bush's false claim that an economic study showed that his tax cut would produce a 3 percent growth rate in the U.S. economy, when in fact no such study exists. He didn't mention the lie put forward by the Bush administration that the reason the president had vanished on 9/11 was because of a terrorist threat to Air Force One--a total fabrication. Nor did he mention literally dozens of other documented lies.
It's true that there are lies, and there are evasions and distortions.
The effort to white-wash the latest Environmental Protection Agency report on the environment by censoring comments about global warming was not a lie. It was a distortion and evasion. Likewise many of the administration's claims about Iraq--for example the many claims that the Pentagon and the White House had planned ahead for the post-war situation in Iraq.
It is also true that other presidents have lied, and lied grotesquely.
But in the end, the real point is not whether what the Bush administration has done is a lie, or whether Bush and his cronies have been slick enough to toss in weasel words that can allow them to later claim that what they said was "just an exaggeration."
Thousands of people have died and continue to die because of these distortions, in the case of the war in Iraq. Millions will end up losing vital services because of the lies about the tax cut. This administration's lies about health policy, education policy, about environmental policy, about labor policy, about its judicial appointments, about communications regulatory policy, business regulatory policy, etc., etc., will have profound negative consequences on the lives of tens of millions of real people. [...]
Commondreams.org
JUNE 24, 2003 2:14 PM

NEW ORLEANS, LA - June 24 - "Only in America, in this period of cynical paranoia and repression of civil liberties could a 'peace officer' deem a book about the power of kindness to be a threat to a security," said Dame Anita Roddick, upon learning that a copy of her new book 'A Revolution in Kindness' that she had sent to a prisoner inside Angola Prison in Louisiana had been rejected on ostensible security grounds.

The copy of 'A Revolution in Kindness' was intended for an inmate named Herman Wallace, who contributed an essay to the book. Wallace is one of the inmates known as the Angola Three, who have been in solitary confinement for 31 years because they were civil rights activists determined to improve conditions in what was considered the "bloodiest prison in America" in the early 1970s. Roddick has been campaigning for their freedom since 2000.
Officials inside the prison have confirmed that the book was rejected for security reasons, but refused to elaborate. In May, Roddick was ejected from the prison while visiting Albert Woodfox (another member of the Angola Three, who also contributed to the book), and prison officials have refused to explain why. [...]
Some Federal Air Marshals Put on Leave
By LESLIE MILLER, Associated Press Writer
Tue Jun 24,10:12 PM ET
WASHINGTON - Some federal air marshals have been placed on administrative leave because they may have lied on their job applications, the government said.
Brian Turmail, spokesman for the Transportation Security Administration, said Tuesday that a "small number" of marshals were taken off mission status because 10-year background checks revealed discrepancies in what they told the agency when they were hired. He would not say how many, other than it's a "small percent."
"Maybe they said they didn't smoke marijuana, and they did," Turmail said.
city of Thessaloniki.
State of emergency declared in seven flooded Florida counties
Tuesday, Jun 24, 2003
SARASOTA, Fla. (AP) - Florida Gov. Jeb Bush declared a state of emergency Tuesday for seven southwestern counties pummelled by torrential rain.
The order gives Bush power to evacuate residents and send resources and personnel to help city and county governments. Bush declared emergencies in Collier, Lee, Charlotte, Hardee, DeSoto, Sarasota and Manatee counties, which were hit with as much as 53 centimetres of rain in the last several days.
About 40 homes in Sarasota County were flooded, and storms did $2 million US in damage to seawalls in Punta Gorda Isles in Charlotte County.
Space impact 'saved Christianity'

By Dr David Whitehouse
BBC News Online science editor

Did a meteor over central Italy in AD 312 change the course of Roman and Christian history?

A team of geologists believes it has found the incoming space rock's impact crater, and dating suggests its formation coincided with the celestial vision said to have converted a future Roman emperor to Christianity.
It was just before a decisive battle for control of Rome and the empire that Constantine saw a blazing light cross the sky and attributed his subsequent victory to divine help from a Christian God.
Constantine went on to consolidate his grip on power and ordered that persecution of Christians cease and their religion receive official status. [...]
Firefighters stretched to limit as forests burn
Last Updated Tue, 24 Jun 2003 22:53:58
TORONTO - Firefighters and water bombers are working around the clock to fight raging forest fires and tinder-dry conditions in several Canadian provinces.
Hundreds of thousands of hectares are burning in parts of Alberta, Saskatchewan, Manitoba and Ontario, the worst-hit province.
Dozens of fires are burning in northwestern Ontario, advancing at close to 30 metres per minute. The fires cover an area one-third the size of Prince Edward Island.
Arr, thar be sea serpents yonder
Last Updated Tue, 24 Jun 2003 22:46:51
ALDER POINT, N.S. - Wallace Cartwright, a lobsterman from Cape Breton Island, has only reluctantly been telling his latest fish story. He says he saw a sea serpent.
"I was kind of leery of approaching it," he told CBC Radio. "God knows, the thing might have been able to jump out of the water, you know? And I'm sure it could have swallowed you whole."
In 30 years on the water, he'd never seen anything like it, and he's been hesitant to tell anyone.
But word got out about the creature he and his mate thought at first was a floating log. As the fishing boat got closer, Cartwright said, the animal raised its head.
"It had a head on it like a sea turtle, and it had a body like a snake … about as big around as a five-gallon bucket," he said.
Cartwright trailed the eight-metre-long creature for about 45 minutes – from a distance – before going back to fishing.
He might have been concerned that no one would believe his tale, but the curator of zoology at the Nova Scotia Museum says he thinks he knows what Cartwright saw – an oarfish.
Oarfish have only recently been documented, Andrew Hebda said, mostly in waters north of Great Britain.
"They can be up to 40 feet in length. They are long, they are thin, they are snakelike in appearance," he said.
If he's right, Hebda suspects the oarfish followed a cold ocean current to Cape Breton.
But Hebda says it's still possible Cartwright saw something different, something never seen before.
And Finally...
Church sued for $2 million over dramatic youth service
by Anna C. Irwin
of The Daily Times Staff
Comment: The girl and her parents were told it was going to be a car wash, and then supposed "persecution of Christians" are "reenacted" complete with gun shots, uniformed people bursting in with gas masks, sneaking down alleys to avoid police, reading the Bible by a flashlight, handcuffing, blindfolding, etc. My, how Sunday school has changed.

---
C's Quote
Q: (T) Is there any validity to the Krill papers?
A: Semi.
Q: (T) Was it dictated by this alien being?
A: Maybe.
Q: (T) Was it put together by a human?
A: Semi.
Q: (T) Is this in the same area of UFO lore as the Cooper and Lear and Lazar and Bennewitz stuff?
A: We have told you many times... Laura, pay attention... Listen!
Q: (L) Well, you say semi. Semi means half-way. Is it half true or half-way true?
A: Whoa! Calm down! Patience, my love!
Q: (T) Should we put about the same amount of validity whe have in the other UFO documents?
A: Stop now!!!!
Q: (L) Is this an area we can't talk about now because it is too delicate?
A: No!!!!!
Q: (F) What the H is going on?
A: We are trying to tell you something important, and you keep asking questions. Now, please, silence for a moment!!!! We have told you many times to communicate with each other and network and share ideas, because that is how you LEARN and PROGRESS! But, you are beginning to rely on us for all your answers, and you do not LEARN that way!!!!!!!


---
Check out the Signs of the Times Archives
Send your comments and article suggestions to us.
---
Fair Use Policy
Contact Webmaster at signs-of-the-times.org
Cassiopaean materials Copyright ©1994-2014 Arkadiusz Jadczyk and Laura Knight-Jadczyk. All rights reserved. "Cassiopaea, Cassiopaean, Cassiopaeans," is a registered trademark of Arkadiusz Jadczyk and Laura Knight-Jadczyk.
Letters addressed to Cassiopaea, Quantum Future School, Ark or Laura, become the property of Arkadiusz Jadczyk and Laura Knight-Jadczyk
Republication and re-dissemination of our copyrighted material in any manner is expressly prohibited without prior written consent.
.