---
Slaughtergate

By William Rivers Pitt
t r u t h o u t | Perspective
Monday 23 June 2003
His name was Paul Nakamura, and he was from Santa Fe Springs, California. Nakamura was an American soldier, part of an ambulance crew in Iraq transporting an injured soldier for medical attention on June 19 when the ambulance was hit by a rocket-propelled grenade. Nakamura was killed in this attack. He was 21 years old.
His name was Michael Deuel, and he was from Nemo, South Dakota. Deuel was an American soldier ordered to guard a propane distribution center in Iraq. He was shot on June 18 while performing this guard duty and died of his wounds. He was 21 years old.
His name was William Latham, and he was from Kingman, Arizona. Latham was an American soldier who participated in a raid at a suspected arms market in Ar Ramadi, Iraq, on May 19. He was hit with shrapnel. Latham was evacuated back to the United States where he died of his wounds in Walter Reed Army Medical Center on June 18. He was 29 years old.
His name was Robert Frantz, and he was from San Antonio, Texas. Frantz was an American soldier on guard duty in Iraq when someone threw a hand grenade over a wall at him. Frantz died of his injuries on June 17. He was 19 years old.
His name was Shawn Pahnke, and he was from Shelbyville, Indiana. Pahnke was an American soldier on patrol in Iraq when he was fatally shot on June 16. He was 25 years old.
His name was Gavin Neighbor, and he was from Somerset, Ohio. Neighbor was an American soldier who was resting in a bus after guard duty in Iraq when an attacker fired a rocket-propelled grenade at him from a nearby house. Neighbor died of his wounds on June 10. He was 20 years old.
His name was Michael Dooley, and he was from Pulaski, Virginia. Dooley was an American soldier who was manning a traffic control point in Iraq when he was ambushed by two individuals who drove up requesting medical assistance. They shot him to death on June 8. He was 23 years old.
His name was Jesse Halling, and he was from Indianapolis, Indiana. Halling was an American soldier at a military police station in Iraq which came under fire from rifle-propelled grenades and small arms fire. Halling was fatally shot in this exchange on June 7. He was 19 years old.
His name was Doyle Bollinger, Jr., and he was from Poteau, Oklahoma. Bollinger was an American soldier on a work detail in Iraq when a piece of unexploded ordnance detonated and killed him on June 6. Bollinger was 21 years old.
His name was Branden Oberleitner, and he was from Worthington, Ohio. Oberleitner was an American soldier returning from a patrol in Iraq when he was fired upon by a rifle-propelled grenade. Oberleitner died of his wounds on June 5. He was 20 years old.
His name was Antanacio Haromarin, and he was from Baldwin Park, California. Haromarin was an American soldier manning a checkpoint in Iraq. His unit came under fire from rocket-propelled grenades and small arms. Haromarin was killed in this exchange on June 3. He was 27 years old.
These are the American combat casualties in Iraq from June 1 to June 20. Added to this list for the month of June are Michael Tosto (age 24), Andrew Pokorny (age 30), Joseph Suell (age 24), John Klinesmith, Jr. (age 25), Ryan Cox (age 19), Travis Burkhardt (age 26) and Jonathan Lambert (age 28), who were killed in Iraq by non-combat related mishaps like car wrecks and accidental weapons discharges.
There is still a week left to the month of June, and these are the names already inscribed onto our collective wall of memory. They represent a small portion of the dead and the lost in this second Iraq war. According to Reuters, some 91 American soldiers have been killed in Iraq since the 'Fall of Baghdad' on April 9. That averages out to 1.21 soldiers killed per day. 102 American soldiers were killed during the fighting that took place between March 20 and April 9. The total, as of June 20, is 193 dead.
If the casualty rate of 1.21 per day continues, we can expect 228 more dead American soldiers by Christmas.
Why?
Donald Rumsfeld was asked this question on a March 24 edition of the CBS news program 'Face the Nation.' He said, "We have seen intelligence over many months that they have chemical and biological weapons, and that they have dispersed them and that they're weaponized and that, in one case at least, the command and control arrangements have been established."
That is a profoundly specified statement. Not only did Rumsfeld claim that Iraq had chemical and biological weapons, not only were those weapons in place to be used on the battlefield, not only were those poisons weaponized for maximum lethal effect. Rumsfeld stated bluntly that he knew of one case where permission to use these weapons against American troops had already been given.
This was nothing new. For seven months to that point, Rumsfeld had been in good company making claims of this nature. Every day since September of 2002, we heard from Rumsfeld, Wolfowitz, Perle, Fleischer, Rice, Powell, and several times from George W. Bush and Dick Cheney, that Iraq's weapons program represented an immediate and severe danger to the American people. The shadow of September 11 loomed long and dark over these statements, and the approval ratings for combat indicated that Americans were willing to believe these Bush administration claims rather than accept even the most remote possibility that Iraqi weapons could be used on the home front.
It has become agonizingly clear that the Bush administration deliberately trumped up dire stories of Iraq's weapons capabilities in order to galvanize the American people behind war. They lied every day for months. Worse, the Bush administration deliberately used the horror of September 11 to justify war against a nation that posed no threat to American security.
On June 15, former NATO Supreme Commander General Wesley Clark appeared on 'Meet the Press' with Tim Russert. A wretchedly revealing exchange came from the interview:
GEN. CLARK: I think there was a certain amount of hype in the intelligence, and I think the information that's come out thus far does indicate that there was a sort of selective reading of the intelligence in the sense of sort of building a case.
MR. RUSSERT: Hyped by whom?
GEN. CLARK: Well, I...
MR. RUSSERT: The CIA, or the president or vice president? Secretary of Defense, who?
GEN. CLARK: I think it was an effort to convince the American people to do something, and I think there was an immediate determination right after 9/11 that Saddam Hussein was one of the keys to winning the war on terror. Whether it was the need just to strike out or whether he was a linchpin in this, there was a concerted effort during the fall of 2001 starting immediately after 9/11 to pin 9/11 and the terrorism problem on Saddam Hussein.
MR. RUSSERT: By who? Who did that?
GEN. CLARK: Well, it came from the White House, it came from people around the White House. It came from all over. I got a call on 9/11. I was on CNN, and I got a call at my home saying, "You got to say this is connected. This is state-sponsored terrorism. This has to be connected to Saddam Hussein." I said, "But-I'm willing to say it but what's your evidence?" And I never got any evidence. And these were people who had-Middle East think tanks and people like this and it was a lot of pressure to connect this and there were a lot of assumptions made. But I never personally saw the evidence and didn't talk to anybody who had the evidence to make that connection.
Mr. Russert, predictably, did not follow up on this astounding claim during the interview. The import of these statements, however, is clear. General Clark was asked by the White House, and by those working for and with the White House, to connect Saddam Hussein and Iraq to the attacks of September 11. He was asked to do so on that terrible day, while people were still dying and while the buildings were still burning.
The tactic was effective. A poll by CBS and the New York Times taken just before the war began showed that 45% of the American people believed Saddam Hussein was "personally involved" in the attacks of September 11. A previous poll taken by Princeton Survey Research Associates showed that 50% of the American people believed that most of the 9/11 hijackers were Iraqis.
In a country with a news media that can provide data in an unrelenting stream 24 hours a day, millions of Americans believed in a connection that was completely and totally wrong. How can such a gap in comprehension be explained? Simply put, the Bush administration put forth a staggering array of lies and exaggerations, and the American media chose to repeat them ad nauseam instead of verifying the veracity of the claims. These poll numbers must be factored into those taken during and after the war which appeared to show American support for the attack.
It has been 80 days since Baghdad fell to American forces. The United States military has investigated virtually every corner of Iraq in that time. No evidence of chemical or biological weapons has been found. No evidence that these weapons had been dispersed for combat usage has been found. Nothing weaponized has been found. No evidence that command and control orders were given has been found. No connection between Iraq, Hussein and the 9/11 terrorists has been even minutely established.
Along with the Americans who died at the altar of these terrible lies were thousands and thousands of Iraqi civilians. The Associated Press attempted to do an accounting of the civilian dead after the war, and came up with 3,240 killed. This number, however, only represents casualties that took place between March 20 and April 20, and depends upon records from hospitals that were badly overwhelmed by the carnage. A variety of groups from around the world that are also evaluating the data put the casualty numbers closer to 7,000 killed, and some estimate that the number of dead is actually in the neighborhood of 10,000.
His name was Brandon Sloan, and he was from Cleveland, Ohio. Sloan was an American soldier who was killed March 23 after his convoy came under attack in Iraq. He was 19 years old. He was not the first to die, and he was not the last. When a man or woman puts on the uniform of the United States military and swears the oath of service, they are taking a leap of faith that their lives will not be used and disposed of by those who would lie and deceive them into combat.
George W. Bush and his administration owe an explanation to the family of Brandon Sloan, and to the families of all the other troops who have fallen and will fall in this war. They owe an explanation to the American people and to the world for the carnage they caused with their lies and exaggerations. There must be a reckoning.

Comment:His name is George W. Bush, and he (along with his entire entourage) should be impeached and tried for high treason, and war crimes.

Bush team boosts efforts to resolve Africa conflicts
Bush plans a trip to the continent as diplomats focus on war in Liberia, Sudan.
By Howard LaFranchi | Staff writer of The Christian Science Monitor
June 24, 2003
WASHINGTON – President Bush has sought before to turn US attention more fully to Africa, but things have gotten in the way - first the war in Afghanistan, then war in Iraq.
But now, pressure is building for the US to take a lead role in keeping nascent peace efforts in Liberia alive, and Mr. Bush is embarking on a once-delayed visit to Africa early next month.

This renewed Africa focus offers the White House an opportunity to address some "softer" issues - accountable governance, sustainable development, conflict resolution, AIDS - at a time when much of the world sees American diplomacy as dominated by force. If all goes well, the trip may also coincide with an announcement of a peace plan for Sudan, which would allow Bush to tout the US role in resolving the continent's longest-running conflict.
But at the same time, the new spotlight highlights how Africa, long a distant runner-up on the list of US international priorities, is commanding new attention because of its key role in advancing both the war on terrorism and US energy security.
Not only is a growing share of US oil consumption expected to come from Africa, but the threat of failed, conflict-torn states playing even unwitting host to terror groups means the US isn't likely to lose its Africa interest anytime soon. [...]
Comment: Okay, lets get this straight once and for all, the US is not and never has been interested in "peace" or "accountable goverance" or anything else of a positive life giving nature. It's sole objective has been and continues to be global dominance using whatever means necessary to achieve it. With a little dig into history (NOT the textbook stuff) this is BLATANTLY obvious for anyone to see, or at least anyone who wants to see facts as they are.
In remote part of Congo, normalcy inches forward
Rebels have till noon Tuesday to leave Bunia so that a new commission can continue rebuilding.
By Nicole Itano | Special to The Christian Science Monitor
June 24, 2003
BUNIA, CONGO – In an old Greek restaurant next to the United Nation's headquarters here, Emmanuel Leku Apuobo, a former schoolteacher, leans forward and begins listing the work ahead.
There are refugees to resettle; schools, hospitals, and courts to rebuild; immigration and customs to be restarted; child soldiers rehabilitated and militias disarmed. There are, he says, 20,000 former civil servants in the Ituri district of Congo alone, waiting for peace and the chance to begin work again.
After nearly four years of civil war, this is a region that, as one longtime aid worker put it, has had "no demonstrable sign of government for years." Mr. Apuobo's unenviable job, as the head of Ituri's new interim administration, is to bring order to that chaos. [...]
Ituri is rich with minerals, oil, timber, and other resources. Underneath the city, stretching for 50,000 miles, lies what may be the world's richest gold reef. Though the mines are officially closed, the gold still dug by hand and finds its way eastward to Uganda. It leaves in the pockets of Congolese businessmen who pay a 10 percent tax to whichever rebel group controls the city; or in airplanes belonging to Ugandan military officers, who at various times have armed most of the rebel groups here. The IPC would like to collect that tax, or better yet, restart the mines, but a different rebel group from the one that controls the city now controls the mines. [...]
BBC
Monday, 23 June, 2003, 13:13 GMT

The Swiss authorities have frozen several bank accounts belonging to Liberian leader Charles Taylor. The money was blocked in accordance with a request from the United Nations-backed war crimes court in Sierra Leone. It is not known how much money is involved at this stage.
Meanwhile, the government and rebels in Liberia have traded allegations over breaches of their ceasefire in the civil war signed last week. Liberian Information Minister Reginald Goodrich said on Monday the town of Ganta, on the border with Guinea, had come under tank fire and he alleged that rebels there were being helped by Guinean forces. He said the shelling was causing chaos, forcing thousands of people to flee the region.
The UN-backed Special Court for Sierra Leone has indicted Mr Taylor for alleged war crimes during the brutal, decade-long civil war, which ended last year. [...]
By John Cory
t r u t h o u t | Perspective
Sunday 22 June 2003
It was a unique death. Nearly eight years ago now. Dave was only 32. He was the last of my truly close personal friends, and his death was as sudden as it was unique...

And then Dave died...

His wife and I sat listening to the doctor explain what had happened. It was rare, only half a dozen cases in the medical journals. For whatever reason, Dave's body had generated a false signal to his brain that there was a virus in his system. The brain told the lymph and blood systems so his body began producing antigens to fight the non-existent infection. The problem was worsened by the fact that the body could not balance the attack, could not produce the "good" agents that normally maintain healthy cells while controlling the antiviral cells. The bottom line was that his body had betrayed him, sending false signals that produced overpowering agents that now, unable to find a real virus, had begun to attack the healthy parts of Dave's body. It had mercifully put him into a coma, protecting him from painful agony while it destroyed his life.

America has this affliction.

Recently I came across an interview with Matt Labash. He is a senior writer at The Weekly Standard. The interview was originally given to the Web site, Journalismjobs.com, but I read it at TomPaine.com.

In the interview Labash was asked, "Why have conservative media outlets like The Weekly Standard and Fox News Channel become more popular in the past few years?"

Labash's response was chillingly insightful, "Because they feed the rage. We bring the pain to the liberal media. I say that mockingly, but it's true somewhat.... While these hand-wringing Freedom Forum types talk about objectivity, the conservative media likes to rap the liberal media on the knuckles for not being objective. We've created this cottage industry in which it pays to be un-objective.... It's a great way to have your cake and eat it too. Criticize other people for not being objective. Be as subjective as you want. It's a great little racket."

The virus message has been sent to the brain...
Los Angeles TV stations are beaming signals of political unrest straight to Iran. The country's hard-liners are taking notice

By Andrew Murr

NEWSWEEK WEB EXCLUSIVE

News travels fast between Tehran and Los Angeles. Last Wednesday, during student protests at Tehran University, satellite-TV talk-show host Shahram Homayoun was chatting on the air at Channel One TV in L.A. when a caller from Iran broke in with important news. Students were massing in Amirabad Street, the caller reported excitedly. "They are shouting Freedom! Justice!" she said. Then she shoved the phone out the window so Hamayoun could hear for himself. The calm Homayoun instantly became animated, exhorting his unseen viewers half a world away. "If you need freedom, now is the time," he urged, waving his arms. When another caller from Tehran got on the air, Hamayoun cut him off. "Why are you calling me?" he asked. "Hang up, and go join the students!"

HOMAYOUN'S CHANNEL ONE is one of a half dozen L.A. satellite TV stations beaming signals of political unrest into Iran. Many offer a combination of entertainment, politics and news, but several have set out specifically to assist Iranian protesters and dissidents in their efforts to bring political change to the Islamic theocracy. The stations began springing up four years ago, as illegal satellite dishes sprouted on the roofs of homes in Tehran, Shiraz and the rest of the country. In the past few weeks, the Iranian government has sent microwave trucks into the streets to jam the signals, and officials renewed denunciations of the U.S.-based stations. Blaming the American satellite personalities as "sons of members of SAVAK [the secret police under the shah's rule] - and of counterrevolutionaries," former president Ali Akbar Rafsanjani warned last week: "Be careful not to be trapped by the evil television stations that America has established." The hard-line clergy blamed everything on the stations. "The student demonstrations have been provoked by the foreign-based satellite programs,"railed the Ayatollah Ali Khameini.

L.A.'s satellite provocateurs reject the idea they are causing the protests - or the larger aspirations for political change within Iran. Rather, they say, they are just helping it along.

Comment: It looks like Channel One TV is helping to set the stage for a future invasion of Iran, all in the name of "democracy" and "freedom."

Putin pulls plug on last critical TV channel

Cash-starved Russian independent station taken off air during ad break 'for the benefit of the audience', Kremlin says

Nick Paton Walsh in Moscow
Monday June 23, 2003
The Guardian

The Kremlin yesterday abruptly silenced TVS, Russia's only remaining independent TV station, raising renewed concern for press freedom in Russia ahead of a state visit to Britain by President Vladimir Putin.

The debt-ridden broadcaster, one of four main terrestrial channels in Russia, was cut off during adverts at midnight on Saturday in a move that was described by the press ministry as being "for the benefit of the audience". TVS will, for now, be replaced with a sports channel.

The press ministry said the decision had not been "an easy one" but insisted that the company was in the throes of a financial crisis that made its survival impossible.

Staff, some of whom learned of the shutdown on the radio on the way in to work, said the move was hardly unexpected given the heavy burden of debt weighing on TVS, but added that the sinister and abrupt nature of the shutdown was suspicious.

Television is hugely influential, particularly at election time, and the country has both parliamentary and presidential contests due in the next year.

Comment:"The most successful tyranny is not the one that uses force to assure uniformity but the one that removes the awareness of other possibilities, that makes it seem inconceivable that other ways are viable, that removes the sense that there is an outside." Allan Bloom -- The Closing of the American Mind

Google Powered Search: How Google Edits the Web
Google may be an amazing database of webpages, however, Google certainly is not a comprehensive database. I wanted to find out how many webpages have Google WebSearch on them. Typically these display text similar to "Powered by Google", although this is not always true. I soon learnt how much is edited out of the web by Google through trying to build a comprehensive database of sites carrying the "Powered by Google" label.
Narrowing the Web World

First of all, we need to understand the Google Inc., strategy of what in fact it is building...

But Peter Norvig, director of search quality at Google, said while the Grub project is topical and interesting; improving Web searches isn't a problem of widening an index, but narrowing it.

AND how they have narrowed it is surely interesting. Look at this example of what we found when we tried to build a comprehensive list of sites bearing the words "Powered by Google".

Our Search for "Powered by Google"
First we searched in Google using the following search query:

search "powered by google" -translate -google-com
restricted to one year and in English

At the time of writing this article there were 713,000 results indicated in the Google information bar.

Next we started working our way down the list to see each of the results. We wanted to be sure that a Google WebSearch box was on each of the sites listed. We excluded any pages in the Google domain and any sites that displayed Translation Powered by Google.

NOTE THIS: Even though Google has 713,000 results for this search, you and I can only see 998 of them. Google physically will not serve any more pages up than that for that particular search. Even though there are another 712,002 results for that search, we cannot see any more!! Google simply just does not serve any more pages past that number.

AllTheWeb Behavior

We turned to see whether AllTheWeb, a search engine in competition with Google, would reveal anything more. Our search in AllTheWeb was a similar search:

search AND "powered by google" AND NOT "google.com"

Even though AllTheWeb reveals that it has only 477,231 results in its database, AlTheWeb actually displays more results to us than Google. You are able to see 4,000 results of the 477,231 possible results. We actually learnt more about the "Powered by Google" phrase by researching the results from AllTheWeb than we did from the Google results page. There was more to research.

Web Wolf Search

We set our Web Wolf tool to the task of locating "Powered by Google" across the web. Now this little crawler is just a desktop crawler. Over the past three weeks we have been running it in off-peak times from our network and we have located 1,235,000 instances of "Powered by Google". When we reached that number we simply stopped it. There may be more, I do not know. However, what we do know is that there are more than even Google has in its database that have been created in English over the last year. AND there are more than that as there are many, many instances of "Powered by Google" on Japanese sites, Chinese sites, and just about any other language you can name.

In Summary

What we can say is that even though Google maps a particular universe of results, the Google tool only allows us to see a mere fraction of the possibilities it actually located and databases. The more we study this phenomenon, the more we understand that Google powerfully edits the web and reveals only what the Google algorithms allow us to see. We do not see a comprehensive list of what it has in its database, and we do not see what it misses out.

Presumably Google shows me the 998 most relevant results. However, what we do not know is what makes a site more or less relevant to be included in a search like this. What would make some of those other 712,002 more relevant to my search than others? The Page Rank of those web pages? Maybe, however, it does not appear to be, there are pages within the results Google does show that have PR0 and there are others with PR3 as well as others with PR8 etc.

There is serious narrowing of the results -- simply -- Google is not a source for comprehensive results when searching anything on the Internet. While it is the best we got, it is just that "the best we have got so far".

There is no way to do a comprehensive search on the web today. There maybe information out there that is worthwhile and we simply do not know about it because the Google machine does not show it to us, even though it has this information in the database. What will it take to get to the next level of web search?

We ask the questions

It took a British journalist to put the American Defence Secretary on the spot. Why, asks Justin Webb, are the US media so timorous?

24 June 2003

My favourite weapons-of-mass-destruction moment came at a Pentagon briefing a few weeks ago. Just as the storm over the failure to find said weapons was breaking in Britain, deep in the bowels of the Pentagon one of the deputies of the Defence Secretary, Donald Rumsfeld, was asked a potentially tricky question on the subject. His imperious response: "I'm not here to answer that."

And, lo and behold, he didn't. And nobody complained about it...

Just before the Iraq war, David Dimbleby came to Washington to interview Donald Rumsfeld. They talked for half an hour. As you would expect, the questioning was persistent, forensic. Americans who heard the interview were shocked. The world's most powerful nation does not have the world's most powerful press. Specifically, it has no daily forum for the close questioning of politicians - no Today programme, no Channel 4 News, no Newsnight...

What surprised people most was the style. Mr Rumsfeld's answers were followed up. His reasoning was tested. He was put on the spot and not allowed to leave it. When Dimbleby asked him why he had repeatedly referred to the "so-called" occupied territories of the West Bank, Mr Rumsfeld said he might have done it once but certainly not repeatedly.

Dimbleby had the dates and occasions in front of him. The Defence Secretary was forced to concede the point...
So why the transatlantic journalistic rift? Are American journalists simply spineless? Do they toe the line because they love the President? Or because their employers do?

The answer, I think, is more complex. Americans in all walks of life have a respect for authority that the cynical Brits jettisoned somewhere around the time of Profumo and Christine Keeler. Americans, remember, still go to church. For all their rhetoric of freedom, there is nevertheless an acceptance of a higher power here in the United States. And an acceptance, too, of unimpeachable motives. President Bush, you may remember, declared the Iraq war won while on board a US aircraft carrier out in the Pacific Ocean. He flew to it on a navy jet, emerging with his flight suit on, looking for all the world like the Top Gun that he never was. I watched the performance live on US television and marvelled at the difference in coverage that there would have been on a British TV channel for a British prime minister attempting the same stunt.

Where are WMDs? Where's Congress?

[...] The congressional committees tasked with finding the secrets of the secret agents have opened hearings on the intelligence secrets used to justify the war with Iraq -- in secret. In both the House and the Senate, the intelligence committees are meeting behind closed doors.
Closed hearings have their virtues, the noblest being that they preclude most pandering to the cameras. Having covered many spectacle hearings -- the Robert Bork, Clarence Thomas and John Tower confirmations, Iran-Contra, the Clinton impeachment -- I am no fan.
But closed hearings held by committees with narrow jurisdictions cannot and will not provide the oversight needed in the post 9/11, post-Iraq War world.
This is not, as Republicans would have you believe, just a matter of settling a now academic argument about whether Saddam had an arsenal of unconventional weapons and plans to build more.
Yes, the backwards-looking questions are big: Did the intelligence agencies give the policymakers the straight and full scoop? Did the Bush Hawks let them? Did the administration·s War Council -- the customers as they are called -- use the intelligence they were given honestly to make the case for war. Was the public duped about why American soldiers were sent off to get killed in Iraq?
But the forward-looking questions are even more important and that·s a point Republicans and the Bush administration is trying to spin away.
If Iraq had WMDs, could other scary countries and terrorist have them now? Does the CIA have the capacity to answer that?
Since the Bush administration has declared a policy of pre-emptive warfare that says America reserves the right to wage war upon countries or terrorists that pose a threat,who tells us where the threats are? The spies will. And their credibility, and the credibility of the customers needs to be well examined before the next call to arms. It would be nice to know what the deal is with Iraq·s WMDs before we take on Iran, Syria or North Korea...
And once more, for the record: Where's Osama? Where's Saddam?
Comment: This guy is hopeless. He raises the issue of the "scoop" on Iraq's WMD, but the "forward-looking questions" are more important. And what are those? Do other countries have Iraq's alleged WMDs. That is, let's not look at how the world was manipulated, lied to, and set-up for a war in Iraq, let's keep looking for Saddam and Osama under the bed.
The problem is not figuring out where the US should "pre-emptively" strike next to "protect itself", that is, to ensure that no one is able to mount any opposition whatsoever to its domination of the globe. The problem is that we have the most powerful superpower in thousands of years acting as if it can do what it will in the world. And it's plans are not for the good of the people!
Osama is under your bed! Or maybe he's posing as a drag queen in England...
HE COULD HAVE WIPED OUT THE ROYAL FAMILY

Peach dress, women's shoes, bin Laden beard and turban... how did gatecrasher slip police?

Jun 23 2003
By Jane Kerr, Wayne Francis, Helen Cook and Ian Miller

THE intruder who stormed Prince William's 21st birthday party could have wiped out the Royal Family if he had been a suicide bomber, shocked Palace insiders said last night.

The only senior royal absent was Prince Edward, who is in Canada. A source said: "If this had been a terrorist attack, our monarch would now be Edward IX."

Last night Wills was said to be "absolutely livid" that the outrageous hoaxer cheated massive security.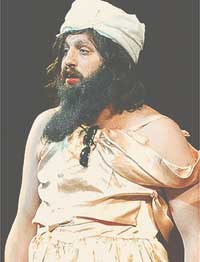 CRANK: "Comedy terrorist" Barschak


Posing as Osama bin Laden and dressed in a peach satin gown, fake beard, turban, wig, lipstick and red shoes, "comedy terrorist" Aaron Barschak leaped on stage at Windsor Castle and grabbed a microphone from Wills' hands.
The Queen, Prince Philip, Prince Charles, Prince Andrew and daughters Beatrice and Eugenie, Princess Anne, Prince Harry and pregnant Sophie Wessex were only feet away.
But Barschak, 36, was able to "rant and rave nonsense" for nearly a minute before being bundled off.
One palace official said: "If this man had been a suicide bomber, he could have wiped out the monarchy.
"It's unbelievable he managed to get into the grounds of the castle and diabolical he got into the party. This is going to the very top."...
The Queen looked grim as she drove to church at Windsor.
Asked about her reaction, a source said: "What you might expect. Windsor Castle is her home. But this was also William's big night and it could have been ruined." Wills's £500,000 Africa-themed birthday party was held in historic St George's Hall, one of the castle's most magnificent central rooms.

Comment: Where's Osama? Barschak's antics do raise a few questions, whether he intended it that way or not: If terrorists are "out there" and they pose such a huge threat, then why is it that security of superpowers is so lax that the entire British royal family could have been killed by a comedian in drag? Could it be that the real terrorists aren't really "out there" but "in there"?
By Shafik Meghji and James Langton, Evening Standard
23 June 2003
American soldiers have allegedly been handed a letter from Saddam Hussein offering his terms of surrender.
The development comes amid further claims that he is still alive and active in Iraq.
Saddam passed the handwritten document to Abid Hamid Mahmud al-Tikriti shortly before the former aide was captured by US forces last week, it has been claimed.
In the letter Saddam called for "fair treatment" by the allied forces for himself and that his family be allowed safe passage from Iraq to another Arab country.
In return he promised order an end to the rebel attacks on the occupying American soldiers, which have claimed 40 lives since the official end of hostilities.
Saddam also offered to help build links between the Iraqi people and the Americans.
King Abdullah of Jordan has said he believes Saddam was still on the run inside Iraq and was "moving around the north-western area".
In an interview with American television, he said reports that Saddam had been seen were "like Elvis". He added: "There's a lot of sightings of him all over the place." [...]
Comment: We find it interesting that recently there have been many reports along the lines of "Saddam is alive and well and directing "terrorism" against US troops in Iraq. If we take it that all state manipulated media organisations (Fox, CNN etc.) are simply government mind programming machines, then to have this concept firmly entrenched in the public psyche is important to "the powers that be" it seems. If we link this in with the fact that the US seems determined that WMD will be found, and that it still has a full contingent of troops in the country, then perhaps "proof" that Saddam has real and effective WMD will be presented to the sheeple "back home" in a way that will leave them in no doubt that these "terrorists" mean business. Just like 9/11 did. It is one option, the other is to rely on the boredom factor while cranking up the televised mind programming - "Watch baseball - George Bush good - Saddam reposnsible for 9/11 - War justified - Terrorists to attack US - They hate our freedom - go to sleep"
Armed confrontation aims to eliminate threat in Iraq
FROM JOSEPH FARAH'S G2 BULLETIN
June 23, 2003 1:00 a.m. EST
While many analysts are breathing a sigh of relief that the threat of U.S. armed conflict with Syria has subsided, Pentagon sources say plans are being made now to hit Syrian targets hard in response to Damascus' support for fighters pouring into Iraq, according to the latest issue of Joseph Farah's G2 Bulletin.
The attack would be more than a limited missile or bombing run, say the sources. It would be the kind of stinging retaliation that will end the threat from Syria once and for all.
U.S. military sources say hundreds of terrorists have infiltrated Iraq across the Syrian border - with the full knowledge and support of Damascus. The terrorists are being sent with one mission in mind - attacking U.S. troops.
Pentagon officials are particularly concerned by intelligence suggesting that some fighters are planning suicide bombings against U.S. forces in Iraq.
Daily attacks against the U.S.-led coalition have grown increasingly lethal in the last week. On Thursday, assailants fired a rocket-propelled grenade at a military ambulance south of Baghdad, killing one American and wounding two others. He was the third soldier to die from hostile fire this week alone.
Two men fired a rocket-propelled grenade at a tank late Wednesday in Samarra north of the capital, causing little damage and no casualties. One attacker was killed and the second captured. Attackers also fired a rocket-propelled grenade at a U.S. tank north of Baghdad, and a U.S. Army truck was set on fire in the western part of the capital. The military reported that three mortar shells hit outside a coalition-run aid office in the town of Samarra on Tuesday, killing one Iraqi and wounding 12.
The guerrilla-style attacks came as U.S. forces conducted house-to-house searches for weapons and arrested hundreds of people across Iraq. Some inside the Pentagon say Syria's behind more than one recent guerrilla-style attack.
U.S. Special Forces Shoot Syrian Border Guards
By Will Dunham and Alistair Lyon
06/23/03: WASHINGTON/BAGHDAD (Reuters) - A number of Syrian border guards were wounded when American special forces in Iraq attacked a convoy of suspected high-profile members of Saddam Hussein's toppled government, U.S. officials said on Monday.
"It's not clear how they were injured, whether they were caught in a crossfire or what. But we are, I believe, still treating three of them," said one official. Syria's Foreign Ministry said it had no comment on the incident.
The official, speaking on condition of anonymity, said the attack occurred last Wednesday in a "fairly remote" area near Iraq's western city of Qaim close to the Syrian border and that "some Syrian guards were injured."
U.S. officials did not say whether American forces, who were acting on intelligence, crossed into Syrian territory and were vague about how the Syrian guards were involved. The convoy was apparently attempting to escape into Syria, the officials said.
Syria has been under heavy pressure from the United States not to allow sanctuary to Saddam or any of his aides and to reject alleged support for terrorism. [...]

Videotape claims al-Qaida responsibility for recent bombings

ISLAMABAD, Pakistan (AP) - A masked militant, speaking in a video filmed in a mud hut, warns of new al-Qaida suicide attacks and says Osama bin Laden's terror network carried out deadly bombings in Saudi Arabia and Morocco.

If authentic, the video would be the first al-Qaida claim of responsibility for the suicide attacks on foreign housing compounds in Riyadh, which killed 26 people and nine attackers, and bombings in Casablanca that killed 43 people and 12 attackers.

Obtained Saturday by The Associated Press, the video also appeared to reflect an increasing alliance between three top opponents of the United States in Afghanistan: Al-Qaida; the remnants of the former Taliban regime; and the followers of Gulbuddin Hekmatyar, an Afghan rebel leader whom the United States calls a terrorist and has tried to kill.

Comment: Another "how much BS can you swallow" production brought to you by the CIA and the Bush Reich. It is interesting also that a Boeing jet recently went missing in Angola along with its American pilot.

Iraqi Nuke & Intel Docs Discovered

U.S. forces acting on an intelligence tip raided an abandoned Baghdad community hall early Saturday and seized documents that may contain information about Iraq's suspected weapons of mass destruction.

The documents, bearing the seal of Saddam Hussein's secret service, were being handed over to senior intelligence analysts. Some papers referred to Iraq's nuclear program...

After trying to break through the door with a sledgehammer, the troops were surprised when a squatter opened the lock from the inside and welcomed them in.

Upstairs above the hall, American troops found two large rooms stacked with cryptograph machines, secure transmission devices and binders of documents, with more papers strewn on the floor. Soldiers examining the papers by flashlight with an Arabic interpreter found many of them marked "top secret" and "personal." They loaded dozens of boxes of paper files and some of the electronics into vehicles and took them away. [...]

Comment: More desperate efforts by the US to trump up "proof" that the murder they committed in Iraq was somehow justified. The thing is, if the truth about the US and it's track record in dealing with other countries over the past century ( which is widely available) were to be widely known, there would be no reason for the US to even attempt to justify their actions. It would be akin to Al Bundy protesting that he's not the type of guy that kills people.
GI's tired and depressed in Iraq
Young US soldiers in Iraq want to go home as they suffer from symptoms of combat stress including depression.
By Shino Yuasa
06/23/03: (Middle East Online) FALLUJAH, Iraq - Feeling tired and depressed after being away from home for months, young US soldiers in Iraq say they are not peacekeepers and are ready to go home.
"I think I had enough. It's time for us to go home," said Private First Class Joe Cruz, 18, from the Second Brigade of the Army's Third Infantry Division in Fallujah, 50 kilometers (30 miles) west of Baghdad. [...]
Sergeant Robert Meadows, one of six doctors at the brigade's compound, said he treats one soldier a day on average for illnesses related to combat fatigue.
"The biggest problem is sleep. Some people just sleep for hours and hours but still don't have any energy to get up," said the 39-year-old doctor from Brooklyn, New York City.
Meadows has seen soldiers suffering from symptoms of combat stress including depression, agitation and short temper and said a majority of them are men in their early 20s.
"The most common symptom is depression. Not knowing when we're going home is the worst part," he said. He has prescribed anti-depressants but said the best treatment is just talking to soldiers. [...]
Comment: If the memories of slaughtering civilians that are burned into the soldiers' minds don't drive them mad, the Prozac sure will.
Soldier: U.S. Army turns away burned children in need of help
DONNA ABU-NASR, Associated Press Writer
(06-23-2003) 12:41 PDT BALAD, Iraq (AP) --
On a scorching afternoon, while on duty at an Army airfield, Sgt. David J. Borell was approached by an Iraqi who pleaded for help for his three children, burned when they set fire to a bag containing explosive powder left over from war in Iraq.
Borell immediately called for assistance. But the two Army doctors who arrived about an hour later refused to help the children because their injuries were not life-threatening and had not been inflicted by U.S. troops.
Now the two girls and a boy are covered with scabs and the boy cannot use his right leg. And Borell is shattered.
"I have never seen in almost 14 years of Army experience anything that callous," said Borell, who recounted the June 13 incident to The Associated Press.
A U.S. military spokesman said the children's condition did not fall into a category that requires Army physicians to treat them -- and that there was no inappropriate response on the part of the doctors.
The incident comes at a time when U.S. troops are trying to win the confidence of Iraqis, an undertaking that has been overwhelmed by the need to protect themselves against attacks. [...]
Borell said he felt betrayed by the Army, which he joined after high school. Besides the letter to his wife, he also wrote to his congresswoman and several media outlets describing the incident.
His superiors have not said a word, said Borell, "although I get the impression that they're probably not very happy." Borell's wife gave him a silver bracelet that says: "Duty, Honor, Country." He wears it to remind him why he's in Iraq.
"After today, I wonder if I will still be able to carry the title 'soldier' with any pride at all," said Borell.
Comment: "Duty, Honor, Country" -
Duty = kill whoever whenever on instructions from your "leaders".
Honor = Not contesting instructions from "leaders" to kill whoever, whenever.
Country = You are putting your own life on the line to further the megalomaniacal goals of a small elite group of barbaric, inhuman, amoral human beings who see you as nothing more than their worthless mind-controlled idiot.

Hard times ahead for U.S. Army
With more than 370,000 soldiers or 70 percent of the Army deployed in 120 countries, President Bush's capability to pursue his doctrine of preemption is constrained.
BY ROBERT NOVAK
June 23, 2003 (SUN-TIMES) Two trenchant quotations were repeated through Army corridors of the Pentagon last week--one by an enlisted infantryman enduring hardships of occupation duty in Iraq and the other by a four-star general leaving the service after 38 years. Each was clearly unhappy with Secretary of Defense Donald Rumsfeld. Taken together, their comments signaled hard times ahead for the U.S. Army.
Last Sunday, a front-page story in the New York Times aroused attention throughout the Pentagon. Pfc. Matthew C. O'Dell, 1st Brigade of the 3rd Infantry Division, told a reporter: "You call Donald Rumsfeld and tell him our sorry asses are ready to go home. Tell him to come spend a night in our building."
Four days earlier, in a speech that marked his retirement as the Army's chief of staff, Gen. Eric Shinseki said it's "just not helpful and it isn't true" for "some [to] suggest that we in the Army don't understand the importance of civilian control of the military." He added: "To muddy the waters when important issues are at stake, issues of life and death, is a disservice to all of those in and out of uniform who serve and lead so well." Unlike the private first class, the general did not mention Rumsfeld by name. But that's who he meant.
O'Dell's complaint echoed previous grumbling by troops occupying Iraq, but the willingness of a professional soldier to be quoted by name suggested deep-seated morale problems with profound repercussions. Shinseki's passionate farewell address reflected the divide between the old Army brass and Rumsfeld.
At the heart of both men's unhappiness, the Army has been stretched thin to execute the nation's foreign policy. Shinseki and Rumsfeld were in continuous tension over how many troops were needed to pacify Afghanistan, to subdue Iraq and then occupy Iraq.
The end product is Matthew O'Dell's lament for being stuck in Baghdad. [...]
Comment: He better get used to it, because:
Senators Predict 5-Year Presence in Iraq
By Will Dunham
Monday, June 23, 2003; 5:46 PM
WASHINGTON (Reuters) - U.S. senators said on Monday American troops could remain in Iraq for at least five years, and U.S. officials said there was no indication toppled Iraqi President Saddam Hussein or his sons were killed in an attack on suspected "regime figures" in western Iraq.
The lawmakers, members of the influential Senate Foreign Relations Committee on a bipartisan fact-finding visit to Iraq, urged President Bush to be more forthcoming about the breadth of the U.S. commitment and the cost of rebuilding Iraq.
"I think we're going to be here in a big way with forces and economic input for a minimum of three to five years," Sen. Joseph Biden, the committee's ranking Democrat, told reporters in Baghdad. [...]
U.S. Announces Creation of New Iraq Army

By JIM KRANE
The Associated Press
Monday, June 23, 2003

RAMADI, Iraq - U.S.-led civil administrators announced the creation of a new Iraqi army Monday and said recruitment will begin next week, hoping to contain Iraqi anger over desperate unemployment and to curb a rash of attacks against U.S. forces.

The insurgents' latest attacks included rocket propelled grenades fired at U.S. Army patrols in the western towns of Khaldiyah and Habaniyah, and an ambush in Ramadi that involved a 12-year-old girl, the military said Monday. No one was injured.

In Baghdad, the first U.S. Senate delegation to visit Iraq cautioned that Americans should expect their forces to remain in Iraq for as long as five years.

"I don't think the American people fully appreciate just how long we are going to be committed here and what the overall cost will be," said Chuck Hagel, R-Neb., after meeting the head of the civil administration, L. Paul Bremer.

"I predict as much as five years," added Richard Lugar, R-Ind., the chairman of the Senate Foreign Relations Committee.

Sen. Joseph Biden, D-Del., the ranking Democrat on the committee, said: "We can't afford to fail the Iraqi people or ourselves." Whatever happens in Iraq will have an impact on the entire region, he said.

Meanwhile, U.S. experts were trying to identify the remains of those killed when coalition air and ground forces attacked a convoy of Iraqi leaders believed trying to escape to Syria, officials in Washington said.

Officials said they had no reason yet to believe that ousted leader Saddam Hussein or his sons Odai or Qusai were among the fugitives, however.

Cantaloupe-sized hail reported in Nebraska

Associated Press

DESHLER, Neb. -- Tornadoes, up to a foot of rain and hail as big as cantaloupes pounded southern Nebraska and northern Kansas, killing one man and destroying at least four homes.

Some residents were stranded by flooding.

Four tornadoes struck in and around Deshler starting at 6:40 p.m. Sunday, said Todd Holsten of the National Weather Service.

One man died in the wreckage of a flattened workshop and seven other people were injured in Deshler, about 75 miles southwest of Lincoln near the Kansas line, Mayor Alan Holle said. It was Nebraska's first tornado death since 1988.

"There's a lot of damage from trees just landing on cars and homes. It's unbelievable," said Bob Reinke of Reinke Manufacturing, a maker of irrigation equipment and flatbed trucks...

At least one hailstone that fell during the storm in Aurora, near Grand Island, was the size of a cantaloupe, measuring 6 1/2 inches in diameter, said Ryan McCammon, a weather service meteorologist in Hastings. A resident put it into a freezer soon after it fell, and the weather service sent a team to confirm the size.

That's the largest ever recorded in Nebraska, and just one-eighth of an inch smaller than the national record holder, which was found in 1970 at Coffeyville, Kan. Hailstones measuring 4 1/2 inches across also were found in Aurora.

"When it came down it looked just like someone dropping volleyballs down," said Dale Obermeier, a weather service spotter in Aurora who said the hail dug craters in his yard. He said one resident reported the hail punched a hole in his roof that was large enough for him to crawl through.

Comment: Finally! Some real WMDs!

Catholics in Phoenix pleased with new leader's message

Phoenix-AP -- Catholics in Phoenix say they're pleased with a message from their interim leader, who promises to be an "instrument of reconciliation."

Archbishop Michael Sheehan was named to head the Phoenix diocese after Bishop Thomas O'Brien stepped down. O'Brien has been charged with hitting a man with his car and driving away. The accident killed 43-year-old Jim Reed.

O'Brien had earlier been criticized over a deal with prosecutors that spared him indictment on obstruction charges for protecting priests accused of child molestation. [...]

Devil Leaps Over Babies in Spanish Festival

Mon June 23, 2003 09:25 AM ET

CASTRILLO DE MURCIA, Spain (Reuters) - A man dressed as the devil leaped over babies lying on mattresses on Sunday as the small Spanish town of Castrillo de Murcia held its traditional Corpus Christi celebrations.

While many people across Spain celebrate the Catholic festival with processions and mystery plays, this northern Spanish town has for centuries chosen to protect its young from evil spirits with this
unusual ritual.

Dressed in a red and yellow costume, the man representing the devil was pursued around the town by a Catholic priest -- leaping over the babies in his flight while the anxious parents stood nearby.

In all, he vaulted over around 20 mattresses each holding four or five babies.

It is believed that the devil, known as El Colacho, draws all the evil from the children and leaves them cleansed. Parents bring their children from all across the northern region of Burgos to participate in
the ritual.

Comment: Not so strange, given that " the whole world is established inside of the Devil." Womanizing, paedophilia, man-slaughter, wishful thinking, hocus-pocus, hallelujah... the devil really IS in the details.

Our troops suffer uranium sickness
June 23 2003
Australian servicemen and women who served in the recent Iraq war were reporting symptoms of uranium sickness, a United States nuclear weapons expert said today.
Dr Douglas Rokke is a former US Army nuclear health physicist and was formerly the Pentagon's expert on the health effects of depleted uranium ammunition.
Speaking in Melbourne today, Dr Rokke said Iraqi women and children and American and Iraqi military personnel had reported respiratory illnesses and rashes after the recent conflict, and he had also been told of Australian servicemen and women with similar symptoms.
"That's the reports I received from the US Army medical department. That's something that needs to be verified and looked into," he said.
"When American soldiers are sick and the Iraqis are sick there's nothing that says an Australian soldier is going to be isolated when he goes through those areas and he is not going to become ill.
During operation Desert Storm in 1991 Dr Rokke led a team assigned to clean up uranium contamination caused by friendly fire.
"What we saw can be described in only three words - Oh my God! The wounds were horrible, the contamination was extensive," he said. [...]
Detainees abused, U.S. report confirms Muslims beaten and threatened at Brooklyn jail
'What we said about all the suffering was true'
TOM HAYS
ASSOCIATED PRESS
Jun. 23, 2003. 01:00 AM
NEW YORK - Yasser Ebrahim says his introduction to the federal prison system came from guards slamming his head into a wall while calling him a "terrorist." [...]
Comment: US public's freedom of thought - nil - US government sponsored media mind manipulation 1.
Bali bombing suspect 'tortured'
BBC
Monday, 23 June, 2003, 12:28 GMT

The man accused of masterminding the Bali bombings has alleged that police interrogators tortured him into confessing a role in the attacks.
In his first opportunity to defend himself in court, 43-year-old preacher Ali Ghufron, known as Mukhlas, said the statements he had previously made were incorrect because he had been subjected to "mental pressure, including brutal and inhuman physical torture". [...]
Mukhlas told Monday's court session that officers beat him 20 times and threatened to send a photograph of his bruised genitals to his wife unless he confessed.
"I was stripped naked, without any single piece of clothing. For me as a Muslim... by God, being shot in the head several times is better than having my dignity and parts of my body that should not be seen sullied," he said.
"I initially refused to sign the confession presented by the police. But later, I agreed because I could no longer stand all the torture." [...]
Sudan firm claims ship explosives

BBC
Monday, 23 June, 2003, 21:26 GMT

The head of a Sudanese chemical firm has told the BBC a shipment of explosives impounded by the Greek authorities was destined for his company.
Issam Bakri Khalifa, of the Integrated Chemicals and Development Company, said the consignment was intended for peaceful purposes and he has demanded it back.
The ship - the Baltic Sky - was carrying 680 tons of explosives when it was stormed by special forces off Greece's western coast on Sunday.
Greek officials said documents on board linked the ship with Integrated Chemicals and Development but initial inquiries indicated the company did not exist.
The BBC's Panos Polyzoidis in Greece says the shipment of explosives is so large that it may have been intended for a government rather than an organisation. [...]
India and China boost relations
Monday, 23 June, 2003, 11:05 GMT

The Indian and Chinese prime ministers have signed nine agreements to boost relations between the two Asian rivals.
The move came on the first full day of a state visit to China by India's Atal Behari Vajpayee. This is the first visit to China by an Indian prime minister for 10 years. [...]
India admits scores of deaths in custody
By Phil Reeves in Delhi
23 June 2003
The huge scale of human rights abuses during the Kashmir conflict has been underscored by an official acknowledgement that many scores of people may have been killed in the custody of India's security forces.
A provincial minister told the state's legislature this weekend that there had been "144 alleged custodial killings" by security agencies and local police since 1989, when violence erupted in Indian-administered Jammu and Kashmir.
Abdul Rehman Veeri also gave the number of people reported missing in the past 14 years as 3,931, a figure that will be seized on by human rights campaigners demanding an investigation into the "disappearances" in Indian-controlled Kashmir. At least 34,000 people (although some say, twice that number) have died in the conflict over the Muslim-majority state, which has been a source of permanent contention, and several wars, between India and Pakistan since partition in 1947.
Last year, Amnesty International wrote an open letter to Mufti Mohammed Sayeed, the chief minister of Jammu and Kashmir's newly elected state government, urging him to act over "torture, including rape, deaths in custody, extra judicial executions and 'disappearances' which "have been perpetrated by agents of the state with impunity". Amnesty also said anti-India militants had killed, tortured and maimed many civilians. [...]
Court: Reno can't be sued for Elian raid
MIAMI (AP) — Protesters and neighbors who alleged their constitutional rights were violated during the raid to seize Elian Gonzalez cannot sue former Attorney General Janet Reno, a federal appeals court ruled Thursday.
The Atlanta-based panel reversed a lower court decision, stating Reno has immunity from damages because the 52 plaintiffs failed to show that she knew agents would violate their rights during the pre-dawn raid three years ago.
Armed federal agents removed Elian, then 6, from his Cuban-American family's Miami home. Reno said she had to order the raid because the family refused to turn over the boy after the government decided he should join his father back in Cuba, ending a five-month custody battle.
The plaintiffs said they were kicked, punched, thrown down, sprayed with pepper spray and tear gas, held at gunpoint and otherwise restrained.
The court said the connection between the behavior of the agents and Reno's supervisory role was "vague."
Comment: If she could be sued for Elian, that would open the door to be sued for Waco.
Bush backtracks on Iraq's banned weapons
By David Rennie in Washington

President George W Bush has retreated from predictions that banned Iraqi weapons would be found , promising only to discover the "true extent" of Saddam Hussein's weapons programmes. [...]
Comment: On August 24, 2002, the Cassiopaeans commented on the Global Elite behind the 9-11 event and its obvious schedule:
Q: Since we know from Dolan that the real "elite" are not those who form our visible government, do any of those in the White House have awareness of the REAL reason these plans are being driven at this time?
A: The White House knows little of what transpires in any case.
Q: Well, how can it be that there is an obvious global conspiracy, with countries that appear to be in opposition that are actually working in concert? Who are the members of this global conspiracy? Who is driving them?
A: At those levels, there is only one "Master."
Q: How can they control not only America, but China, Russia, Israel, Saudi Arabia, and all the rest? What "levels" do you mean?
A: Levels that can hand down orders to bury or suppress. Those who are at that level have been bought and paid for by both giving knowledge of upcoming cataclysmic events, and promised survival and positions of power after. It is not difficult to realize that there is a body of such types in positions of power already. Power is not only attractive to such types, they are the kind most easily courrpted by it.
Sverdlovsk Region Haunted by Green UFO
Pravda
The observation of the phenomenon was rather unique, as the object was filmed by several cameramen from all the sides
On the night of June 20, citizens of the Russian cities of Yekaterinburg and Pervouralsk observed an unidentified flying object high in the skies. Witnesses describe the phenomenon as something resembling a bright beautiful comet.
The strange object was moving underneath clouds. The UFO brightly lit the night sky and disappeared. However, many of the witnesses managed to take pictures of the phenomenon and filmed it.
For the time being, neither local astronomers nor emergency situation services have commented upon the phenomenon. It is not clear what effect the flying object exerted upon the witnesses. According to UralPolit.ru, the Air Defense hasn't issued any comments upon the event yet.
In fact, the observation of the phenomenon was rather unique, as the object was filmed by several cameramen from all the sides. [...]
Israel Pours Scorn on Cease-fire with Militants
By Jeffrey Heller
Mon June 23, 2003 04:05 PM ET
JERUSALEM (Reuters) - An Israeli general leading security talks with the Palestinians said Monday that a temporary truce, or "hudna," with Islamic militants would lead to more violence and set back a U.S.-backed "road map" to peace.
"No hope should be put in this 'hudna'," Major-General Amos Gilad told Israel Radio. "As far as Hamas is concerned, the 'hudna' is a cease-fire for the purpose of reorganization, so that it can carry out even harsher acts of murder."
Militant groups have been negotiating with Palestinian Prime Minister Mahmoud Abbas on a truce with Israel to end a cycle of violence that has battered the peace plan affirmed at a U.S.-led summit in Jordan on June 4.
Hamas, whose suicide bombers have killed scores of Israelis in a 32-month-old uprising for statehood, said Israeli attacks on its commanders and other military measures in the West Bank and Gaza Strip were delaying its answer on a temporary truce.
Another round of talks between Gilad and Palestinian security minister Mohammed Dahlan on the possibility of a U.S.-brokered Israeli troop pullback in the Gaza Strip and West Bank city of Bethlehem ended inconclusively Monday.
Palestinian officials said there was no change in their position that for the deal to work, Israel must curtail its actions -- especially "assassinations" and raids in the territories. They also seeks the release of thousands of Palestinians detained in Israeli anti-militant sweeps. [...]
Comment: It seems clear that Sharon and the Zionists are determined that there should be no peace for the Israeli and Palestinian people. They apparently relish the sight of dead Israeli civilians, just as much as they enjoy the sight of dead Palestinians civilians.
12-year-old girl part of raid on U.S. patrol
JIM KRANE
ASSOCIATED PRESS
Jun. 23, 2003. 08:18 AM
RAMADI, Iraq - Insurgents fired rocket propelled grenades at U.S. army patrols in two western Iraqi towns — the latest in an escalating series of attacks that included an ambush involving a 12-year-old girl with an assault rifle, the military said Monday. [...]
In Ramadi, a patrol of two tanks and four Humvees came under small arms fire on Sunday, and the patrol saw a young girl running away with an AK-47 assault rifle, said Capt. Burris Wollsieffer, of the 3rd Armored Cavalry Regiment. The bullets landed harmlessly in the dirt around the vehicles, he said on Monday.
The troops followed the girl home and found the rifle wrapped in a red dress propped in a corner. Three men in the household were taken for interrogation, but the troops allowed the girl to remain at home when they learned her age. They also seized $1,500 in cash and $1,000 in Iraqi dinars, the officer said.
None of the troops saw who fired the weapon, although they found no other suspects in the area other than the young girl. [...]
STATEMENT TO THE U.N. SPECIAL COMMITTEE ON PALESTINE
July 16, 1947
by Chief Rabbi Yosef tzvi Dushinsky
[...]Good neighbourly relations with other sections of the population. During no period of the immigration of such orthodox European Jews was any opposition offered by the Arab population. On the contrary, these Jews were welcomed on account of economic benefits and general progress that accrued to the local inhabitants who had no fear whatsoever of being subjugated. It was common knowledge that these Jews came but for the purpose of fulfilling certain religious requirements and they had no difficulty in establishing a mutual trust, and real friendship developed with all sections of the community. That was the time when good neighborly relations existed between Jews and Arabs and in particular Rabbis and eminent scholars who then lead the Jewish Community were greatly esteemed and honoured by all inhabitants.

Palestine under the Mandate.
With the occupation of Palestine by His Britannic Majesty's Forces and after the confirmation of the Mandate over Palestine by the League of Nations, which incorporated the Balfour Declaration of 1917 a new era opened in the history of the Holy Land. We Orthodox Jews whose forefathers promoted the development of the Jewish Yishuv throughout the generations, who for many centuries constituted the most important element of the Yishuv in the Holy Land, were always on the very best of terms with all sections of the Community. We had hoped that the real purpose of the Mandate would be the promotion of a "Home" to which Jews who lived in the Diaspora might be able to return as their Home Land in order to live here in accordance with the Commandments of the Almighty. It was upon the first appearance of the Zionist organization as a political entity, created in and by the spirit of reform, a spirit to which Orthodox Jewry is so utterly opposed that the idea of the foundation of a Jewish state in the Holy Land was first advanced.
Much trouble and endless bloodshed might have been avoided if the Mandate were to have been applied in the manner hoped for by Orthodox Jewry. [...]
. . . .and it is contrary to the wishes of G-d to create a Jewish State. . . We furthermore wish to express our definite opposition to a Jewish state in any part of Palestine.
Philadelphia Experiment Survivor A Fake
by Bob Florida
Al Bielek has made a living over the last 10 plus years by selling books and claiming to to be a survivor of the mythical Philadelphia Experiment, the legend of a top secret WWII test in early stealth technology for destroyers... Instead, his tall tale house of cards is coming down because it's now come to light that he stole the identity that he claims he had when all his adventures began.
An unlikely trio of X-File sleuths from three different countries joined forces due to their shared interest in the WWII legend and they each at some point became too skeptical of Bielek's claims. For German Gerold Schelm it was the same as for your typical detective - too many wild and baseless claims from Bielek despite some known and traceable facts. For Canadian Fred Houpt it took longer for his suspicions to cause him to take action, but after a while too many descrepencies began to appear in Bielek's tale, like so many holes in Swiss cheese, until Houpt knew there was something very wrong. For American Marshall Barnes, the most active of the three and a leading expert on the Philadelphia Experiment, it was after he had compiled fact after fact that supported the idea that something like the Philadelphia Experiment had indeed taken place but he never found a shred of evidence to support Bielek's version...
Comment: The web site that exposes Bielek has more information. There is also this the account of how the A&E Channel program "The Unexplained" suppressed Barnes' evidence for the Philadelphia Experiment and lied to the public. And there is this thought-provoking comment from the C's:
November 19, 1994

Q: (L) Did the Philadelphia experiment, as described by
T*'s scoutmaster, occur in the way it was described?
A: That description was not of Philadelphia experiment.
Q: (L) Was that the ship that was part of the Philadelphia
experiment?
A: One of three.
Q: (L) Were the effects that ship experienced a result of the
Philadelphia experiment as we understand it?
A: Reality molecular residual.
Q: (L) Did the Philadelphia Experiment, as we have read about
it, occur in the way it was described?
A: Close.
Q: (L) Was Al Bielek part of the experiment?
A: Yes.
Q: (L) Was the information he has given out about this
factual?
A: Close.
Q: (L) Is the information he gives about being aged
regressed in the body and his brother coming into a new
body accurate?
A: No.
Q: (T) Is his brother, Duncan, really who he claims to be?
A: No.
Q: (L) Is Al Bielek really who he claims to be?
A: No. Was technician but not aboard vessel.
Q: (L) So he did not go back and forth in time?
A: Correct.
Q: (T) So he's trying to make himself out to be more than he
actually is?
A: Yes.
Q: (J) He is a wannabe?
A: No. He is an agent of the government.
Q: (T) Is Preston also a government agent?
A: Yes.
Q: (T) Why are they coming out with this story? Besides
disinformation...
A: Slow revelation to effect guage of public response... George Bush was involved with Philadelphia
experiment.

Space Weather News for June 23, 2003
spaceweather.com
Prospects look good on June 23rd for the launch of four rockets from Wallops Island, Virginia. Harmless chemicals released by three of the rockets will create some lovely high-altitude clouds visible from parts of the US east coast. Sky watchers near coastal Virginia, North Carolina, Maryland, New Jersey, Washington DC, and possibly parts of lower New York and Pennsylvania are favored. The launch window extends from 9:30 p.m. to 2:24 a.m. EDT.
Visit Spaceweather.com for more information. If you happen to see the clouds tonight and take pictures of them, please submit your images to spaceweather.com for possible web publication.
Comment from a QFS member: Hmmm... Sounds so innocent!
Bush-backed feature film of 9/11 casts him as scourge of 'tinhorn
terrorists'
By Andrew Gumbel in Los Angeles
Independent UK
22 June 2003
According to one version of history, President George Bush was so slow to react to the momentous attacks of 11 September 2001 that he continued reading to a group of primary school children in Florida even after being informed of the first plane crashing into the World Trade Centre.
Then, after making an anodyne remark about finding "the folks who committed this act", he was whisked off in Air Force One, first to Shreveport, Louisiana and thence to an underground bunker in Nebraska, where he was hastily coached in the art of responding to the crisis in an appropriately presidential manner.
That, however, is not the George Bush who emerges from a new television docudrama due to air on cable in time for the second anniversary of the attacks this September.
In this version, the President is all swagger and seize-the-moment bravado. "If some tinhorn terrorist wants me, tell him to come and get me," he says. "I'll be at home. Waiting for the bastard." "But Mr President ..." stammers his Secret Service chief. "Try 'Commander-in-Chief'," Mr Bush corrects him, "whose present command is, 'Take the President home!'"
If this scenario sounds like wishful thinking cooked up by the Republican National Committee, it probably is, given that the film, entitled DC 9/11, was produced and written by a direct associate of the President's, Lionel Chetwynd, in close co-operation with Mr Bush's chief political strategist, Karl Rove....
The fact that it paints its subject in the best possible light at every turn certainly can't hurt the Bush cause, however. It is part of an emerging pattern whereby the anniversaries of 11 September are exploited as political advertisements for the Bush administration. This year it will be the airing of DC 9/11; next year, with just two months to go before the next presidential election, it will be the Republican National Convention in New York.
Comment: We have reported on this before. Rumour has it that they wanted to cast John Wayne as Shrub. Unfortunately, the 4D STS reanimation technology needs slightly fresher material to work with.
Inca may have used knot computer code to bind empire
By Steve Connor, Science Editor
23 June 2003
The Independent
They ran the biggest empire of their age, with a vast network of roads, granaries, warehouses and a complex system of government. Yet the Inca, founded in about AD1200 by Manco Capac, were unique for such a significant civilisation: they had no written language. This has been the conventional view of the Inca, whose dominions at their height covered almost all of the Andean region, from Colombia to Chile, until they were defeated in the Spanish conquest of 1532.
But a leading scholar of South American antiquity believes the Inca did have a form of non-verbal communication written in an encoded language similar to the binary code of today's computers. Gary Urton, professor of anthropology at Harvard University, has re-analysed the complicated knotted strings of the Inca - decorative objects called khipu - and found they contain a seven-bit binary code capable of conveying more than 1,500 separate units of information. [...]
If Professor Urton is right, it means the Inca not only invented a form of binary code more than 500 years before the invention of the computer, but they used it as part of the only three-dimensional written language. "They could have used it to represent a lot of information," he says. "Each element could have been a name, an identity or an activity as part of telling a story or a myth. It had considerable flexibility. I think a skilled khipu-keeper would have recognised the language. They would have looked and felt and used their store of knowledge in much the way we do when reading words." [...]
VW to Close Last Classic Beetle Assembly Line

By Kevin Sullivan
Washington Post Foreign Service
Monday, June 23, 2003
PUEBLA, Mexico -- Goodbye, Herbie.
The iconic Volkswagen Beetle, the most popular car ever made, will cease production this summer, 69 years and more than 21 million sales after Adolf Hitler's Third Reich first commissioned the durable, dome-shaped little "People's Car." [...]
And Finally....
Saintly Italian Beauty Pageant Is Thanks to God

Mon June 23, 2003 09:34 AM ET

ROME (Reuters) - Praise the Lord for sexy girls! An Italian priest on Sunday prepared to celebrate his parish's patron saint by presiding over a beauty pageant to choose the town's candidate for the upcoming Miss Italy competition, Italian news agency ANSA reported.

"If you look at the girls in an innocent way it's not a sin but a way of thanking the Lord," Carlo Crucianelli, a priest in the central Italian town of Civita Castellana, told ANSA.

"Beauty is never embarrassing for it is a gift from the Lord."

The beauty queens of the parish will take to the catwalk on Sunday evening on a piazza in front of the parish church of San Luigi Gonzaga.

Crucianelli is the first known Italian priest to head a beauty pageant jury, although a Capuchin monk played the same unusual role in the southern town of Cropani in 1997.
---
Check out the Signs of the Times Archives
Send your comments and article suggestions to us.
---
Fair Use Policy
Contact Webmaster at signs-of-the-times.org
Cassiopaean materials Copyright ©1994-2014 Arkadiusz Jadczyk and Laura Knight-Jadczyk. All rights reserved. "Cassiopaea, Cassiopaean, Cassiopaeans," is a registered trademark of Arkadiusz Jadczyk and Laura Knight-Jadczyk.
Letters addressed to Cassiopaea, Quantum Future School, Ark or Laura, become the property of Arkadiusz Jadczyk and Laura Knight-Jadczyk
Republication and re-dissemination of our copyrighted material in any manner is expressly prohibited without prior written consent.
.