---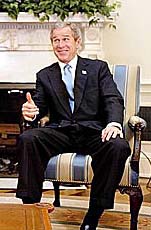 YOU'RE NOT PARANOID, GEORGE
The Mirror
By Neil Roberts

A survey published today has found nearly two-thirds of the world doesn't like US president George W Bush.
The survey - carried out for the BBC - asked people from eleven countries what they thought of America. [...]
Comment: "I'm a uniter not a divider. That means when it comes time to sew up your chest cavity, we use stitches as opposed to opening it up." -- Bush, on David Letterman, March 2, 2000. (the audience booed)
Executive Order 13303 of May 22, 2003:
Protecting the Development Fund for Iraq and Certain Other Property in Which Iraq Has an Interest
[Federal Register: May 28, 2003 (Volume 68, Number 102)]
[Presidential Documents]
[Page 31929-31932]
From the Federal Register Online via GPO Access [wais.access.gpo.gov]
[DOCID:fr28my03-98]
Executive Order 13303 of May 22, 2003
Protecting the Development Fund for Iraq and Certain Other Property in Which Iraq Has an Interest [...]
I, GEORGE W. BUSH, President of the United States of America, find that the threat of attachment or other judicial process against the Development Fund for Iraq, Iraqi petroleum and petroleum products, and interests therein, and proceeds, obligations, or any financial instruments of any nature whatsoever arising from or related to the sale or marketing thereof, and interests therein, obstructs the orderly reconstruction of Iraq, the restoration and maintenance of peace and security in the country, and the development of political, administrative, and economic institutions in Iraq. This situation constitutes an unusual and extraordinary threat to the national security and foreign policy of the United States and I hereby declare a national emergency to deal with that threat.
I hereby order:
Section 1. Unless licensed or otherwise authorized pursuant to this order, any attachment, judgment, decree, lien, execution, garnishment, or other judicial process is prohibited, and shall be deemed null and void, with respect to the following:
(a) the Development Fund for Iraq, and
(b) all Iraqi petroleum and petroleum products, and interests therein, and proceeds, obligations, or any financial instruments of any nature whatsoever arising from or related to the sale or marketing thereof, and interests therein, in which any foreign country or a national thereof has any interest, that are in the United States, that hereafter come within the United States, or that are or hereafter come within the possession or control of United States persons.
Sec. 2. (a) As of the effective date of this order, Executive Order 12722 of August 2, 1990, Executive Order 12724 of August 9, 1990, and Executive Order 13290 of March 20, 2003, shall not apply to the property and interests in property described in section 1 of this order. [...]
Comment: This last part is particularly interesting, given that Executive Order 13290 of March 23, 2003 states:

"I, GEORGE W. BUSH, President of the United States of America, hereby determine that the United States and Iraq are engaged in armed hostilities, that it is in the interest of the United States to confiscate certain property of the Government of Iraq and its agencies, instrumentalities, or controlled entities, and that all right, title, and interest in any property so confiscated should vest in the Department of the Treasury. I intend that such vested property should be used to assist the Iraqi people and to assist in the reconstruction of Iraq, and determine that such use would be in the interest of and for the benefit of the United States."
If these oil-related "financial instruments" spoken of in EO 13303 are truly intended to help rebuild Iraq, why would they need immunity from prosecution?
Executive Orders associated with FEMA that would suspend the Constitution and the Bill of Rights.
These Executive Orders have been on record for nearly 30 years and could be enacted by the stroke of a Presidential pen:...
EXECUTIVE ORDER 10990: allows the government to take over all modes of transportation and control of highways and seaports.
EXECUTIVE ORDER 10995: allows the government to seize and control the communication media.
EXECUTIVE ORDER 10997: allows the government to take over all electrical power, gas, petroleum, fuels and minerals.
EXECUTIVE ORDER 10998: allows the government to seize all means of transportation, including personal cars, trucks or vehicles of any kind and total control over all highways, seaports, and waterways.
EXECUTIVE ORDER 10999: allows the government to take over all food resources and farms.
EXECUTIVE ORDER 11000: allows the government to mobilize civilians into work brigades under government supervision.
EXECUTIVE ORDER 11001: allows the government to take over all health, education and welfare functions.
EXECUTIVE ORDER 11002: designates the Postmaster General to operate a national registration of all persons.
EXECUTIVE ORDER 11003: allows the government to take over all airports and aircraft, including commercial aircraft.
EXECUTIVE ORDER 11004: allows the Housing and Finance Authority to relocate communities, build new housing with public funds, designate areas to be abandoned, and establish new locations for populations.
EXECUTIVE ORDER 11005: allows the government to take over railroads, inland waterways and public storage facilities.
EXECUTIVE ORDER 11051: specifies the responsibility of the Office of Emergency Planning and gives authorization to put all Executive Orders into effect in times of increased international tensions and economic or financial crisis.
EXECUTIVE ORDER 11310: grants authority to the Department of Justice to enforce the plans set out in Executive Orders, to institute industrial support, to establish judicial and legislative liaison, to control all aliens, to operate penal and correctional institutions, and to advise and assist the President.
EXECUTIVE ORDER 11049: assigns emergency preparedness function to federal departments and agencies, consolidating 21 operative Executive Orders issued over a fifteen year period.
EXECUTIVE ORDER 11921: allows the Federal Emergency Preparedness Agency to develop plans to establish control over the mechanisms of production and distribution, of energy sources, wages, salaries, credit and the flow of money in U.S. financial institution in any undefined national emergency. It also provides that when a state of emergency is declared by the President, Congress cannot review the action for six months. The Federal Emergency Management Agency has broad powers in every aspect of the nation. General Frank Salzedo, chief of FEMA's Civil Security Division stated in a 1983 conference that he saw FEMA's role as a "new frontier in the protection of individual and governmental leaders from assassination, and of civil and military installations from sabotage and/or attack, as well as prevention of dissident groups from gaining access to U.S. opinion, or a global audience in times of crisis." FEMA's powers were consolidated by President Carter to incorporate the...
National Security Act of 1947: allows for the strategic relocation of industries, services, government and other essential economic activities, and to rationalize the requirements for manpower, resources and production facilities.
1950 Defense Production Act : gives the President sweeping powers over all aspects of the economy.
Act of August 29, 1916: authorizes the Secretary of the Army, in time of war, to take possession of any transportation system for transporting troops, material, or any other purpose related to the emergency.
International Emergency Economic Powers Act: enables the President to seize the property of a foreign country or national. These powers were transferred to FEMA in a sweeping consolidation in 1979.
U.S. Account of Falluja Killings Contradicted by Rights Group

Jim Lobe, OneWorld U.S.
Tue Jun 17, 9:26 AM ET
A major U.S. human rights group charged Tuesday that the account given by the U.S. military of two protests that resulted in the deaths of 20 Iraqi demonstrators appears to be incorrect. It called for an independent and impartial investigation by U.S. authorities of the two incidents in al-Fallujah in central Iraq.
New York-based Human Rights Watch (HRW) challenged the military's contention that its troops came under direct fire in either of the April 28 and April 30 incidents. The group also took issue with the military's insistence that its soldiers responded with "precision fire" against what they assumed to be Iraqi gunmen.
Separately, Amnesty International reiterated its call for the UN Security Council to immediately deploy human rights monitors to Iraq.
In the six weeks since the fatal demonstrations al-Falluja, located about 35 miles west of Baghdad, has become a major center of resistance to the U.S. occupation. At least four U.S. soldiers have been killed in a series of guerrilla attacks, while many more have been injured.
"The U.S. military presence in al-Fallujah began with these tragic events in late April, and it has been troubled ever since," said Hanny Megally, director of HRW's Middle East and North Africa division. "What is needed is a thorough investigation of possible violations of international humanitarian law by U.S. troops." [...]
But recent news reports--particularly in the wake of last week's campaign--suggest that U.S. actions in Al-Fallujah may themselves be helping those opposed to the occupation to recruit more followers. [...]
Iraqis' patience reaching thin with U.S. crackdown, now in its third day
JIM KRANE
03:58 AM EDT Jun 18
BAGHDAD (AP) - U.S. soldiers arrested more than 400 people in northern and central Iraq, part of a campaign against insurgents who added a new tactic Tuesday: targeting Iraqi civilians deemed too close to America.
The insurgents' hit-and-run campaign continued despite the tough U.S. crackdown, with an American soldier shot and killed late Monday while on patrol in Baghdad. The U.S. military said raids that began Sunday on Iraqi homes and businesses in Baghdad and northern Iraq were meant to "isolate and defeat remaining pockets of resistance."
The operation is stirring deep resentment as Iraqis are rounded up, handcuffed and interrogated. Townspeople say such treatment is doled out even to those who have done nothing wrong.
Late Monday, U.S. forces raided an outdoor cafe in Baghdad's Azamiyah neighbourhood where two dozen men were playing backgammon and drinking tea. All were lined up against a fence, blindfolded, forced to kneel and carted away on trucks. They were released later, after none turned out to be suspects.
U.S. soldiers said they had no choice other than to cast a wide net in hopes of catching attackers who intelligence reports said spent time at the cafe.
The insurgents took their fight to a new level Tuesday, firing shots into the mayor's office and courthouse in Fallujah and a police station in Khaldiyah: offices that have been co-operating with the U.S.-led occupation. No injuries were reported.
The shootings were the first known attacks directed against Iraqi officials for co-operating with U.S. forces and represented a new front in the insurgents' attempt to undermine U.S. forces in Iraq.
Some officials believe remnants of Saddam Hussein's security apparatus have begun to establish guerrilla cells, though it remained unclear if the attacks Tuesday were centrally organized.
Over three days, troops in Baghdad and northern Iraq carried out 69 raids and arrested 412 people, a U.S. military statement said.
In the Baghdad area, troops seized 121 rifles, two submachine-guns, 19 pistols, 18 rocket-propelled grenades, four machine-guns, 14 kilograms of explosives, and chemical protective masks, the statement said.
Two Sunni tribal leaders in Ramadi, about 100 kilometres west of Baghdad, sharply criticized the U.S. actions.
"For every action they should expect a reaction," said Sheik Saad Nayef al- Hardan, the chief of Iraq's largest Arab tribe, the Dulaim. "Those attacks are a sign that the tolerance to the humiliation is running out."
Another senior tribal leader in Ramadi, Abu Adel, said the guerrilla attacks on U.S. forces were acts of self-defence committed by an "underground operation."
"We are a proud people and we will not accept this humiliation," he said. The Americans "should beware the wrath of the Iraqi people."
On Monday night, a sniper shot and killed a U.S. army soldier riding in a Humvee with the 1st Armored Division's 1st Brigade. The soldier's name was not made public.
L. Paul Bremer, the top U.S. official in Iraq, announced the establishment of a judicial review committee and criminal court, saying they will be used to crack down on criminals and purge Iraq's judiciary of Baath party loyalists.
The reforms aim to upgrade a judicial system that catered to a dictator's whims more than the rule of law.
Some judges and lawyers scoffed at what they called U.S. interference in their courts.
"The Americans are an occupation force and we are the source of one of the oldest codes of law: Hammurabi's Code," judge Qassem Ayyash said. "It's like teaching a driver how to drive."
Report Says U.S. Did Target Media Outlets In Gulf War II
Exclusive to American Free Press
By Christopher Bollyn

A newly released report notes that during the coalition air assault on Iraq, Central Command "authorized" bombing strikes against "media facilities" in which a number of journalists were killed and employed weapons that human rights groups want banned.
Iraq Oil for Food Closure to Cost $100M
Tuesday June 17, 2003 4:59 AM
UNITED NATIONS (AP) - The United Nations expects to pay more than $100 million to shut down Iraq's oil-for-food program, U.N. Secretary-General Kofi Annan said Monday. [...]
The program allowed the former Iraqi regime to sell unlimited quantities of oil, provided most of the money went to buy food, medicine and other humanitarian goods. The program was adopted in 1996 to help ordinary Iraqis cope with sanctions imposed after Iraq's 1990 invasion of Kuwait. [...]

Iraq exported 3.4 billion barrels of oil under the program, generating some $64 billion in revenue, according to the United Nations. Nearly $27 billion in humanitarian supplies were delivered to Iraq under the program.
The rest of the proceeds from oil sales went toward war reparations, weapons inspections and the oil-for-food program's administrative costs. [...]
US rounds up 400 in Operation Desert Scorpion
Wednesday June 18, 12:26 AM

The US army said it had rounded up more than 400 people in an operation against Saddam Hussein diehards in northern Iraq, but reported two more of its troops killed, as the row over missing weapons of mass destruction continued to plague London and Washington.
US-led coalition forces conducted 69 raids in Operation Desert Scorpion, US Central Command (Centcom) said in a statement Tuesday.
"The purpose of Operation Desert Scorpion, which started June 15, is to prepare the foundation for Iraqis to form a new self-rule government and provide a safe and secure environment to live and work," it said. [...]
In Tikrit, Saddam's hometown, and the oil-rich northern province of Kirkuk, "coalition forces conducted 36 raids and detained 215 individuals," army spokeswoman Sergeant First Class Mayra O'Neil said.
"In the Baghdad area, coalition forces conducted 11 raids and detained 156 individuals," she said.
The spokesman called the operation "very successful," adding that those targeted included criminals, former members of Saddam's now-banned Baath Party and "terrorists". [...]
U.S. Soldier Dies in Latest Deadly Iraq Ambush
By Andrew Marshall
Tue June 17, 2003 01:27 PM ET
BAGHDAD (Reuters) - A U.S. soldier died on Tuesday after being shot in the back by a sniper while on patrol in the lawless streets of Baghdad, the latest in a series of deadly ambushes that have plagued U.S. troops trying to police Iraq.
After the shooting and two mysterious explosions in the city, scores of heavily armed U.S. troops swept through central Baghdad, sealing off roads and searching houses.
Faced with widespread crime and a wave of attacks, the U.S.- led administration in Iraq said it had issued an order outlawing the incitement of violence against occupying forces and Iraqi citizens, and would set up a new criminal court. [...]
Paul Bremer, head of the interim administration trying to impose order in Iraq, told a news conference that it was now illegal for Iraqis to incite violence. He said the move was not a violation of the freedom of the Iraqi people. [...]
Tuesday, June 17, 2003 @ 21:06:03 CDT
WASHINGTON (NFTF.org) -- The U.S.-led Coalition Provisional Authority in Iraq plans to censor the country's press.
The Independent's Middle East correspondent, Robert Fisk, reported June 11 that unnamed officials told him the previous week that L. Paul Bremer, U.S. envoy to Iraq, had ordered press censorship rules in an effort to combat growing anti-American sentiment in Iraq.
"Newspapers that publish 'wild stories,' material deemed provocative or capable of inciting ethnic violence, will be threatened or shut down," wrote Fisk. "A controlled press is a responsible press ­which is exactly what Saddam Hussein used to say about the trashy newspapers his regime produced. It must seem all too familiar to the people of Baghdad."
Additionally, mosques may be monitored and Imams speaking against the U.S. censored or removed.
Media as propaganda has already begun in the eastern city of Kut, where U.S. Marines are working with former workers to establish a television news station. [...]
Comment: This is certainly no surprise. After all, censorship has been an integral component of the U.S. media for a long time, and even more so since BushCo commandeered America.
Powell Insists Iraq Weapons Intelligence Accurate

By Sonya Ross
SACOBSERVER.COM WIRE SERVICES
WASHINGTON (AP) - Secretary of State Colin Powell says the intelligence around which the United States built its arguments for war in Iraq "isn't a figment of somebody's imagination," and Iraqi nuclear scientists could hold the key to proving the information is accurate.
U.S. Secretary of State Colin Powell says Iraqi nuclear scientists are key to finding Iraq's existing weapons and the programs used to create them. [...]
AP Corrects Iraq Weapons Story
Tue Jun 17, 8:22 AM ET
WASHINGTON - In a June 15 story about the search for weapons of mass destruction in Iraq, the Associated Press reported erroneously that two-thirds of Americans said the administration exaggerated the weapons threat. The poll by CBS News found that 44 percent of Americans believe the administration overestimated the extent of Iraq's weapons stores, and that two-thirds of those people felt the administration exaggerated the threat from those weapons.
Comment: Hey, we can't have so many people in the "United States of We Have A Psychopath For A President" actually coming to the realization thay they are being lied to... and if they are, we sure as heck can't let anyone know...
'Hic Road Map. Quo Vadis?'

By Gabriel Ash
YellowTimes.org Columnist (United States)
Wednesday, June 18, 2003 @ 00:05:16 CDT
(YellowTimes.org) - Three leaders, an Israeli, a Palestinian, and an American meet in a seaside town - It sounds like the beginning of one of those slightly risqué ethnic jokes. And to some extent, not to say that the summit in Aqaba was totally without importance, it was a particularly tasteless one. It began with the speeches.
Bush's was platitudinous; no surprises there. Sharon's sounded like he was reading a sales contract for the Brooklyn Bridge. Abbas, the Palestinian prime minister, surprised everyone with a speech that was a disaster. But who authored the speech?
It wasn't surprising that Abbas pledged to end the violent intifada. That pledge was the core of the Road Map and Abbas was expected to make it. But Abbas went further than that. Abbas completely adopted the Israeli perspective of the intifada as a pointless and criminal endeavor. He stood before the cameras, a unique moment, to his side the emperor of the world as well as the world's most successful war criminal, and did not have a single word of recognition to the thousands of young men, women and children who have kept the idea of liberty alive in the heart of the occupation's darkness.
Abbas has a right to be a harsh critic of the tactics employed by the armed factions, especially the suicide missions inside Israel. Such internal criticism is not only legitimate but necessary. Yet it wasn't Abbas the intellectual who stood side by side with Bush. It was Abbas the official representative. As such his speech was an exercise in self-disrespect. It reminded Palestinians that Abbas wasn't elected to represent them. He was appointed, essentially by Israel. [...]
Israel: A Conspiracy Here, A Conspiracy There
By Karen Nakamura
In January 2003, a funding scandal threatened Israel Prime Minister Ariel Sharon's re-election campaign. It involved Knesset/Likud Party vote buying. The American media covered the scandal but the lack of detail was evident. More digging was necessary. That digging was achieved by Anton Chaitkin in the January 24, 2003, Executive Intelligence Review, and needs to be read by anyone interested in Middle East politics.
Though illegal, foreign, especially American, donations have rolled into Israel's right-wing Likud party to the tune of millions of dollars. It doesn't take much to recognize long-range aims of ultra conservative American Jews and Israelis. This American funding takes on greater meaning when we see how its influence has crept into American politics. Are Americans doing Tel Aviv's bidding by sending our troops to be killed in the Middle East so Conservative Jews can achieve their aims? [...]
No breakthrough in Abbas talks with Palestinian factions
Powell heading to Jerusalem for peace talks
From Matthew Chance
Wednesday, June 18, 2003 05:05 GMT
GAZA CITY (CNN) -- Meetings between Palestinian Prime Minister Mahmoud Abbas and representatives of several Palestinian factions to discuss a cease-fire with Israel broke up late Tuesday with no breakthrough, Palestinian officials said.
Representatives of Hamas, Islamic Jihad and the Al Aqsa Martyrs Brigades said they needed more time to consider their next move, and reiterated that before any cessation in their attacks against Israelis, Israel must halt its assassination program of militant leaders.
Contacts will be maintained between the Palestinian Authority and the militant groups, but no new meetings were scheduled, the officials said.
Earlier, the Palestinian Authority warned the groups it was not afraid to crack down on them if they refused to honor an eventual cease-fire, but it also told Israel that conditions must be eased to make possible any progress on the security situation.
Meanwhile, there was fresh violence near the West Bank Tuesday when 7-year-old Israeli girl was killed and her sister and father wounded in a shooting on a toll road near the West Bank border, Israeli ambulance sources told CNN. The Israeli military and police are searching for the assailant.
The Palestinian meetings took place as U.S. Secretary of State Colin Powell said it would not be enough for Hamas to declare a cease-fire. He said the militant group must also give up its ability carry out such attacks. [...]
Arafat could still be exiled: Israeli defence minister

PARIS (AFP) Jun 17, 2003
Palestinian leader Yasser Arafat is a "terrorist boss" who could still be sent into exile, Israeli Defence Minister Shaul Mofaz said in an interview to appear Wednesday.
"For us Arafat no longer exists as Palestinian leader. We should have exiled him a long time ago. Besides, it is perhaps not too late," Mofaz told the French daily Le Figaro.
Mofaz's comments come at a critical time in the Middle East peace process, with talks between Israelis and Palestinians on a ceasefire stalling after one of the bloodiest periods of violence in the 32-month-old Palestinian uprising.
Mofaz also spoke out against sending a international peacekeeping force to end the bloodshed in the Middle East, as proposed by French Foreign Minister Dominique de Villepin and UN Secretary General Kofi Annan in recent days.
"Bringing in a military force from the outside is excluded. Whether this force is American or European," Mofaz said. [...]
Is Judaism Becoming Irrelevant?
Rachel Lehmann-Haupt
AlterNet June 11, 2003
In the introduction to "Nothing Sacred: The Truth about Judaism," author Doug Rushkoff explains when the early '90s Internet revolution turned into the greed-driven, dot-com rush of the late '90s, he found himself in an intellectual bind. "How could I still promote the empowering side of interactive media without pumping up a Ponzi scheme that was destined for casualties?" he writes. His answer was to turn to Judaism, not only his cultural and spiritual roots, but also what he describes as the original religion of media literacy.
Rushkoff, a self-described lapsed Jew, spent two years getting literate in Judaism by traveling around the country attending synagogues, reading the Torah and talking with Jews across the cultural and political spectrum. The result is a book in which he places Judaism within a modern context for his generation. He also argues that the religion is on the brink of becoming irrelevant because its most core value of open-ended inquiry has been obscured by an obsession with self-preservation and idolatry.
Last week, the United Jewish Appeal center in New York pulled an interview with Rushkoff off the organization's Web site, arguing that his questions about Israel were too controversial. Recently, I sat down with Rushkoff in the East Village of Manhattan to discuss how the incident has proved his point about the religion's mainstream, the marketing of so-called "Jewish chic" to 20- and 30- somethings, and what Judaism at its core means to him today.
RLH: What did you question about Israel that upset the UJA?
I'm very gentle. I preface any discussion about Israel by saying that I don't want anyone to think that I don't think Israel should be there. I do believe that Israel should there and I love Israel, but now I want to talk about whether or not we can even talk about Israel. I'm not saying we shouldn't support Israel using Torah, but what does it do to our relationship with Torah? What does it do to our relationship to God when we say God invented the Nation State? Should we use the story of Exodus to support our claim to this Nation State or does it hurt our relationship to the story of Exodus if we're using Torah to prove that we own a piece of land? Did God come up with the Nation State or was it the Treaty of Versailles?
This experience with the UJA ties into your whole criticism about mainstream Judaism.
Judaism as I see it is the invention of conversation and a way of conversing about typical things. What are we here for? How do we deal with one another? I think it's become too concretized. I think Jews have idols now and I think Israel has become an idol. That's a problem for Judaism and it's a problem for Israel. If we want a living nation, we have to find ways to support and nourish the living nation. The worst thing for the preservation of the religion and the preservation of that nation is this idolatrous relationship to Torah and to Israel. [...]
Why do you think that a lot of lapsed Jews have turned away from Judaism?
It's become very closed off, racist and ethnocentric. Fundamentalists are now running this religion. Most people like me haven't tried to do anything officially Jewish because we've thrown out the baby with the bathwater. We say the fundamentalists are in charge. The last place you're going to have an intelligent conversation about God or religion or Torah or Israel is in a Jewish organization because they're too afraid to talk about it.
So then what is Judaism to you now?
Iconoclasm, monotheism and social justice. It's the same thing it was. The only difference between before I wrote the book and now, is that I think of synagogue as more of an impediment to the practice of Judaism.
Judaism was not meant to be a religion. It was meant to be an ongoing process by which we wean ourselves from religion. Judaism is a way of getting God out of the way so that we take care of each other. Judaism is of the contention that human beings can be adults. That we don't have to be children in front of our God, but that we can be responsible. The reason that Judaism was so radical and illegal in the beginning was because the notion that human beings make a difference was against their religion. Gods were responsible for everything. You had to worship your God and then you got rain or you got sun or you got crops. The Israelites said if there is God then Gods are important but human beings are actually part of the equation. That's not what Judaism is about right now.[...]
You also argue that mainstream Jewish organization's rejection of interfaith marriage is a bad thing for Judaism.
The fact that fighting assimilation and fighting intermarriage is at the top of the agenda of the money givers of the institution of Judaism is a problem. I believe that intermarriage should be looked at more intelligently. Judaism is not a race. Judaism is a people who subscribe to an idea. When people talk about losing the purity of the Jewish gene, it's Hitler talk. The inquisitioners are the ones who talked about a Jewish race. Instead of warning people in various forms of media that non-Jews are dirty and won't raise your children right and you shouldn't go on dates with them, we should look instead at how we could be more influential in getting intermarried couples to incorporate Judaism into their lives.[...]
Speaking of that, why do you think so many so-called lapsed Jews turn to Buddhism and other spiritualities, like yoga?
Most young intelligent Jews are turning to Buddhism and Hinduism because Judaism is no longer offering them a path of inquiry. Judaism is now offering idols. The idol of temple. The idol of Israel. I'm not saying Israel should be destroyed. I'm not saying that Jews should be killed. What I'm saying is that Jews are turning away from Judaism because in the expression of centralized Judaism all they see is Zionism and temple. They want a spiritual path which involves the engagement of the intelligent individual.[...]
So what has this book taught you about your Jewish path?
I am going to abandon organized Judaism in America because I'm finding it much more likely to meet people to engage with about Judaism away from that. I'm probably going to move toward the Interfaith movement in my own spiritual life. The only difference between me when I wrote the book and me now is I no longer believe that the safeguards built into Judaism to prevent idol worship and ethnocentrism are powerful enough to prevent it. I see Judaism driving itself off a cliff.
Comment: Maybe if Rushkoff continues to dig, he'll understand why there are Jews today talking "Hitler talk". It seems that the actions of the Zionists in Israel and the US could ultimately lead to the igniting of a firestorm that might end with the destruction of all semitic people in the middle east.
The fundamentalists are taking over the planet, and it isn't by chance. While the Jewish fundamentalists are working their side of the fence, the Christian fundies want to see the Jews in Israel because they believe it will usher in the Second Coming of their close, personal buddy, Jesus.

"Musharraf working on American agenda"
Political and religious parties on Tuesday intensely criticised President General Perez Musharraf's statement regarding recognising Israel as the worst act by any COAS, which proved President Musharraf was working on a US agenda.
Chief of Jamat-ud-Dawa Professor Hafiz Muhammad Saeed called Israel a permanent threat to world peace and a conspiracy against Islam. Musharraf's "desire to accept Israel" had assailed the emotions of all Muslims, he said, choosing to speak for all Muslims.
Referring to verses from the Quran, he said the Almighty in verses 51 and 52 of Sura Maida clearly warned Muslims not to make Jews and Christians friends because they were friends of each other's. Muslims who defied this commandment would be considered enemies of their brethren. [...]
Comment: Religion is still working it's black magic and turning us all against each other. It's the 21st Century folks, and we can still kill each other over what something whispered in someone's ear thousands of years ago. Saying that you are special just by virtue of belief in the one true "god". Saying a true god would require belief seems rather blasphemous to me, but what do I now. Who benifits from all of this belief? Certainly not us humans.
Tuesday, June 17, 2003 14:20 GMT
PYONGYANG, North Korea -- North Korea is warning that any U.S.-led blockade against it could spark an "all out" war that would engulf much of the surrounding region, including Japan.
A statement published in state-run media Tuesday warned that retaliation could include "all possible means and ways a sovereign state can take," adding that any such action would be "limitless."
"Nobody can vouch that this blockade operation will not lead to such a serious development as an all-out war," the statement went on.
The stark warning comes after the United States and its allies started cracking down on an alleged North Korean trade in illicit drugs and weapons.
The North's commentary, published in the Rodong Sinmun newspaper accused Washington of "laying an international siege to the North and putting a blockade against it as a premeditated scheme to start a new war on the Korean peninsula." [...]

North Korean leader Kim Jong Il heads up one of the largest armies in the world.
Japan has begun tightening inspections of ships carrying goods to and from North Korea, recently detaining at least one cargo ship and blocking another from docking. [...]
Fear of corruption and chaos in oil rush
Charlotte Denny, economics correspondent
Tuesday June 17, 2003
The Guardian
Washington's determination to find an alternative energy source to the Middle East is leading to a new oil rush in sub-Saharan Africa which threatens to launch a fresh cycle of conflict, corruption and environmental degradation in the region, campaigners warn today.
The new scramble for Africa risks bringing more misery to the continent's impoverished citizens as western oil companies pour billions of dollars in secret payments into government coffers throughout the continent. Much of the money ends up in the hands of ruling elites or is squandered on grandiose projects and the military.
Tony Blair will today urge the oil industry to be more transparent in its dealings with Africa. Openness and accountability are essentials for stability and prosperity in the developing world, he will tell oil company executives and oil exporting countries at a meeting in Lancaster House in central London.
African countries own 8% of world oil reserves. An estimated $200bn (£125bn) in revenues will flow into African government treasuries over the next 10 years as new oilfields open up throughout the Gulf of Guinea. Oil will bring the largest influx of revenue in the continent's history, and more than 10 times the amount western donors give each year in aid. [...]
Liberian rebels, gov't sign landmark truce to end four-year civil war
Wednesday June 18, 2:25 AM

Liberian rebels signed a long-awaited truce with President Charles Taylor's government to end a four-year war, sparking hope that one of Africa's worst conflicts could finally come to an end.
The ceasefire was signed by leaders from two rebel groups, who are said to control 12 of Liberia's 15 counties, and Defence Minister Daniel Chea.
The deal provides for "comprehensive peace talks" within 30 days on the establishment of a transition government from which Taylor will be excluded.
Former Nigerian president Abdulsalami Abubakar, who mediated the Ghana talks mandated by the Economic Community of West African States (ECOWAS), broke into a broad smile at the signing, heralding it as "the moment we have all been waiting for." [...
Court Backs Secrecy for 9/11 Detainees
By TED BRIDIS, Associated Press Writer
WASHINGTON - The government properly withheld names and other details about hundreds of foreigners who were detained in the months after the Sept. 11 attacks, a federal appeals court ruled Tuesday, deferring to administration warnings about continued threats from terrorists.
In a 2-1 ruling that represented a victory for President Bush and Attorney General John Ashcroft, a panel from the U.S. Circuit Court of Appeals for the District of Columbia determined that disclosing information could give terrorists dangerous insight into the government's Sept. 11 investigation.
Federal judges who are asked to compel such disclosures should defer to White House concerns that they might help the nation's enemies, the appeals panel said.
"America faces an enemy just as real as its former Cold War foes, with capabilities beyond the capacity of the judiciary to explore," wrote U.S. Circuit Judge David B. Sentelle. He said judges are "in an extremely poor position to second-guess the executive's judgment in this area of national security."
Ashcroft called the ruling "a victory for the Justice Department's careful measures to safeguard sensitive information about our terrorism investigations." [...]
French police arrest over 150 in crackdown on Iranian opposition group

Wednesday June 18, 2:03 AM

French police launched a major crackdown on the leading Iranian armed opposition group, the People's Mujahedeen, detaining more than 150 people in a series of dawn raids in the Paris region.
Among those arrested in the operation -- described by the French interior ministry as one of the biggest undertaken by the domestic intelligence services in the last 30 years -- was the group's figurehead Maryam Rajavi.
More than 1,200 officers targeted 13 locations in the northwestern outskirts of Paris, including the European headquarters in the town of Auvers-sur-Oise of the National Council of Resistance of Iran (NCRI) -- a political umbrella group dominated by the People's Mujahedeen.
"The Mujahedeen wanted to make France their rear base -- we couldn't accept that," Interior Minister Nicolas Sarkozy said of the group, considered by the United States, the European Union and Iran to be a "terrorist" organization. [...]
Human torch protest outside embassy
18:37 Tuesday 17th June 2003
A man set himself on fire outside the French Embassy in London in protest at the arrest of Iranian opposition workers in France.
The Iranian suffered serious burns after he was believed to have doused himself in petrol and ignited it, says a spokeswoman for London Ambulance Service.
The man, said to be in his 30s, was taken to the Chelsea and Westminster Hospital suffering from 40% burns.
The incident happened during a protest by supporters of the Iranian opposition group, the People's Mujahedeen of Iran. [...]
Appeals Court Upholds Arrest and Detention Secrecy; Despite Recent Report on Detainee Abuses, Panel Authorizes Secret Arrests
JUNE 17, 2003 4:00 PM
Commondreams.org

WASHINGTON - On June 17th, a three-judge panel of the United States Court of Appeals for the District of Columbia Circuit issued a ruling on the case of CNSS v. U.S. Department of Justice. The decision ruled that the Justice Department can withhold virtually all information about the arrest and detention of more than 1,000 people after the September 11th, 2001 terrorist attacks under exemptions to the federal Freedom of Information Act. [...]
Following is the statement of PFAWF President Ralph G. Neas.

"We're very disappointed with this decision. We've said again and again that the American people have a right to know what the government is doing in their name. Instead, this ruling gives amazing deference to the Justice Department, and cripples the critical role of oversight in protecting rights in America.
"This ruling allows the Department of Justice to bury these secret arrests even deeper. Now the public is denied access even to the names of attorneys representing detainees. There is no way abuses - like those chronicled in the report by the Justice Department inspector general - can be fully investigated and exposed if every aspect of these arrests is kept in the dark. This ruling could be complicit in a stunning rollback of rights in America. Indeed, this ruling takes us closer to authorizing the government to use secret arrests and detentions on a broad range of criminal suspects - or just outspoken critics. The repercussions could be disastrous."
Outting Ashcroft's Latest Hypocrisy

The Attorney General is a Homophobe, Except When It Comes to Political Contributions
By WAYNE MADSEN
June 17, 2003
Counterpunch.org
Attorney General John Ashcroft's recent decision to ban the Justice Department's annual Gay Pride observance from department facilities certainly rang the old hypocrisy alarm.
It was the summer of 1999, before I was a full-time journalist and when Ashcroft was making noise about running for President. In fact, he had already set up a campaign exploratory committee. In those days, Ashcroft was a leading opponent of the Clinton administration's proposal to give the FBI practically unfettered access to encryption keys used to encode sensitive e-mail and phone calls. The system, called Clipper Chip, was finally withdrawn. However, Ashcroft actually emerged as one of the major critics of across-the-board attempts by the FBI to monitor private communications. He even decided to oppose the FBI's attempt to establish a national wiretap center, called "Net Center."
It is interesting to compare then-Senator Ashcroft's policies with those of Attorney General Ashcroft. Not only has Ashcroft championed all the FBI's original proposals for increased surveillance capabilities but he has provided the FBI with electronic snooping powers far beyond anything ever envisaged by the Clinton administration. Ashcroft's metamorphosis from an anti-surveillance Dr. Jekyll to a Big Brother Mr. Hyde should be the subject of every psychiatric text book. [...]
Court sets strict limits on forcible medication of defendants
By Linda Greenhouse
THE NEW YORK TIMES
Monday, June 16, 2003
WASHINGTON The Supreme Court placed strict limits Monday on the government's ability to forcibly medicate mentally ill defendants for the purpose of making them competent to stand trial.
The use of antipsychotic drugs must be in the defendant's best medical interest and "substantially unlikely" to cause side effects that would compromise the fairness of the trial, the court said in a 6-3 decision by Justice Stephen G. Breyer. Additionally, the court held, the government's "important" interest in bringing the defendant to trial must be unattainable by alternative, less intrusive means.
Whether the defendant has been accused of a violent or nonviolent crime, the circumstances permitting the involuntary administration of antipsychotic drugs "may be rare," Breyer said.[...]
In a dissenting opinion Monday, Justice Antonin Scalia said the trial should have gone forard, with Sell's challenge to his involuntary medication put off until an appeal following conviction. To permit pretrial appeals of this sort, Scalia said, provides an "obvious opportunity for gamesmanship" and invites "the disruption of criminal proceedings" by defendants challenging a variety of pretrial orders. For example, he said, "an order refusing to allow the defendant to wear a T-shirt that says 'Black Power' in front of the jury could be attacked as an immediate violation of First Amendment rights."
Justices Sandra Day O'Connor and Clarence Thomas joined Scalia's opinion, which did not express a view on the medication issue itself. The portion of the opinion permitting defendants to raise the medication issue before trial could prove to be of significant benefit to defendants in such cases.[...]
Another lawyer who filed a brief for Sell found the outcome of the case less reassuring. Judy Appel, deputy director of legal affairs for the Drug Policy Alliance, said the decision was a mixed bag that "gives prosecutors the tools to ask for, and trial courts to impose, a major violation of individual liberty." Noting that Breyer predicted that involuntary medication would be rare under the standards the court set Monday, she said, "What the court predicts is not necessarily how things play out at the trial court level."
Another forcible-medication issue will soon come before the court. Charles L. Singleton, a death row inmate in Arkansas, has appealed a ruling made earlier this year by the same federal appeals court, the 8th U.S. Circuit Court of Appeals, permitting his forcible medication to make him sane enough for execution. The justices have not yet decided whether to accept his appeal.
Roe v. Wade plaintiff wants case overturned
Associated Press
DALLAS -- The former plaintiff known as "Jane Roe" in the 1973 U.S. Supreme Court case that legalized abortion sought to have the case overturned in a motion filed today that asks a lower court to consider new evidence that abortion hurts women.
Norma McCorvey, plaintiff in the 1973 landmark case Roe v. Wade that legalized abortion, addresses the media and a large group of anti-abortion supporters today in downtown Dallas. Her attorneys filed a petition in federal court in Dallas seeking to reopen and set aside the decision. Norma McCorvey, who later said she regretted her role in Roe v. Wade and joined the anti- abortion fight nearly 10 years ago, said the Supreme Court's decision is no longer just because scientific and anecdotal evidence that has come to light in the last 30 years has shown the negative effects of abortion.
"We're getting our babies back," a jubilant McCorvey said at a news conference while flanked by about 60 women, some who sobbed and held signs that read "I regret my abortion."
"I feel like the weight of the world has just been lifted off my shoulders," said McCorvey, 55.[...]
Allen Parker, Jr., McCorvey's attorney, said he could not remember any other landmark case in which the plaintiff has asked to have it overturned.
"I think the new evidence will show the court what they thought was good will turn out to be an instrument of wrong," said Parker, who is with the San Antonio-based Texas Justice Foundation.[...]
If the federal court re-evaluates the case and agrees that the new evidence should be considered, the Supreme Court is required to reconsider its ruling, said Harold Cassidy, a New Jersey attorney working on the case.
Bush, Republicans Buoyed by Stock Market Gains
By Adam Entous
Tue June 17, 2003 02:47 PM ET
ANNANDALE, Virginia (Reuters) - The White House on Tuesday seized on recent stock market gains as an encouraging sign for the overall economy, which President Bush called "sluggish" but improving.
Republicans said Bush's sweeping tax cuts deserved credit for the stock rebound.
Speaking at a community college in a Virginia suburb of Washington, Bush said his $350 billion tax cut package "came at the right time" to spur job growth. He cited positive developments, particularly in the health care and high-tech manufacturing sectors, "in spite of slow times."
"We need an increased demand in a sluggish economy," Bush said. [...]
Snow Says Jobless Rate Has Not Yet Peaked
Tue June 17, 2003 02:43 PM ET

NEW YORK (Reuters) - Treasury Secretary John Snow said on Tuesday the U.S. unemployment rate is "unacceptably high" and may rise further before improving later this year.
Speaking at a conference sponsored by Money magazine, Snow said an expected pickup in economic growth in the second half should soften current high rates of joblessness.
"Unemployment is unacceptably high at 6.1 percent (in May) but it could well rise to 6.2 or 6.3 percent before the higher growth rates begin to bring it down," Snow cautioned. [...]
Editorial: Life is tough for Texas children

San Antonio Express-News
06/18/2003 12:00 AM

The latest statistics from the Annie E. Casey Foundation regarding the quality of life for children in Texas are not good.
Don't expect them to get better anytime soon.
Texas children are more likely to live in poverty, lack health insurance and become teen parents than children in other parts of the nation.
The statistics the Casey Foundation relied on for its latest study are 2 to 3 years old because of the time lapse between the collection of data by the U.S. Census and the review.
But more current figures are not likely to show improvement, and there is little hope for the coming years. The recently adopted bare-bones 2004-2005 state budget will make life harsher for many children. [...]
Casey Foundation statistics indicate 22 percent of children in Texas live below the poverty level, compared to 17 percent nationally. [...]
Comment: Never fear, Bush's nonexistent economic and social policies will ensure that the 17% national figure increases dramatically.
By Eliot Weinberger

This article, one of the best short analyses of the Bush administration's policies, was published by "Vorwarts," Germany.
First Published 08 June 2003
In the Western democracies in the last fifty years, we have grown accustomed to governments whose policies on specific issues may be good or bad, but which essentially institute incremental changes to the status quo. The major exceptions have been Thatcher and Reagan, but even their programs of dismantling systems of social welfare seem, in retrospect, mild compared to what is happening in the United States under George Bush-- or more exactly, the ruling junta that tells Bush what to do and say.
It is unquestionably the most radical government in modern American history, one whose ideology and actions have become so pervasive, and are so unquestionably mirrored by the mass media here, that the population seems to have forgotten what "normal" is.
George Bush is the first unelected President of the United States, installed by a right-wing Supreme Court in a kind of judicial coup d'etat. He is the first to actively subvert one of the pillars of American democracy: the separation of church and state. There are now daily prayer meetings and Bible study groups in every branch of the government, and religious organizations are being given funds to take over educational and welfare programs that have always been the domain of the state.
Bush is the first president to invoke the specific "Jesus Christ" rather than an ecumenical "God," and he has surrounded himself with evangelical Christians, including his Attorney General, who attends a church where he talks in tongues.
It is the first administration to openly declare a policy of unilateral aggression, a "Pax Americana" where the presence of allies (whether England or Bulgaria) is agreeable but unimportant; where international treaties no longer apply to the United States; and where-- for the first time in history-- this country reserves the right to non-defensive, "pre-emptive" strikes against any nation on earth, for whatever reason it declares.
It is the first-- since the internment of Japanese-Americans in World War II-- to enact special laws for a specific ethnic group. Non-citizen young Muslim men are now required to register and subject themselves to interrogation. Many hundreds have been arrested and held without trial or access to legal assistance-- a violation of another pillar of American democracy: habeas corpus. Many have been taken from their families and deported on minor technical immigration violations; the whereabouts of many others are still unknown. And, in Guantanamo Bay, where it is said that they are now preparing execution chambers, hundreds of foreign nationals -- including a 13-year-old and a man who claims to be 100-- have been kept for almost two years in a limbo that clearly contravenes the Geneva Convention. [...]
By Anthony Lappé, Guerrilla News Network
June 13, 2003
It sounded like a reality show on the PAX network: Six conservative politicians living in a DC townhouse owned by a fundamentalist Christian organization. What happens when you stop being polite and start finding Jesus?
In April, the AP broke the story that six U.S. congressmen were paying the bargain rate of $600 a month each to live together in a swanky DC townhouse owned by a secretive fundamentalist Christian group known as the Fellowship or the Foundation. Many, understandably, were curious. Who is this organization, and what is its agenda?
The group, the AP reported, is best known for holding the annual National Prayer Breakfast at the White House, which offers scores of national and international heavy hitters the opportunity to praise God in close proximity to the President. In the article, the congressmen boarding at the house denied owing any allegiance to the group, and several professed ignorance of even the most basic facts about the organization. Little else was reported about the group's history, motives or backers.
There is a reason for that. The Fellowship is one of the most secretive, and most powerful, religious organizations in the country. Its connections reach to the highest levels of the U.S. government and include ties to the CIA and numerous current and past dictators around the world.
Last month, Harper's magazine published a rather extraordinary article by Jeffrey Sharlet, editor of the irreverent web site killingthebuddha.com and co-author of the upcoming "Killing the Buddha: A Heretic's Bible" (Free Press). The piece chronicled Sharlet's three-week semi-undercover stay at Ivanwald, the Fellowship's mansion: [...]
GNN: What are some this group's core ideas and what level of secrecy is involved here?
SHARLET: The goal is an "invisible" world organization led by Christ – that's what they aspire to. They are very explicit about this if you look in their documents, and I spent a lot of time researching in their archives. Their goal is a worldwide invisible organization. That's their word, and that's important because it sounds so crazy.
What they mean when they say "a world organization led by Christ" is that literally you just sit there and let Christ tell you what to do. More often than not that leads them to a sort of paternalistic benign fascism. There are a lot of places that they've done good things, and that's important to acknowledge. But that also means they might be involved with General Suharto in Indonesia and if that means that God leads him to kill half a million of his own citizens then, well, it would prideful to question God leading them.
GNN: Who are these guys, and how many are there?
SHARLET: The only estimate was made by Charles Colson, Nixon's chief dirty tricks guy who went on to become the head of Prison Fellowship Ministries. Right before he went to prison the founder [of the Fellowship] Doug Coe turned him on to Christ. Colson said there are about 20,000 people involved in the U.S. But you aren't really supposed to talk about it.
I always say to interviewers, "This is not a conspiracy." There's no secret badge or anything. It's much looser. This is how the vast right-wing conspiracy works, by being associates, friends.
GNN: But they speak of themselves as operating in terrorist-like cells.
SHARLET: Yes, they do. Inside your cell, you might know six or eight guys.
GNN: In that vein, reading your article I got the impression they are praising guys like Adolph Hitler and Ghengis Khan – a lot. Is that a fair assessment of your intention?
SHARLET: In fact, Harpers made me cut back on that stuff. [They said] 'We know it's true, but this is already so much to absorb.' That's why I included that line at the end of the story. The leader of the group is having dinner with the younger members of that group and is talking about the bond, the covenant. And he says, "Can anyone think of someone who had a covenant?" And the answer, of course, and everyone knows it, is "Hitler."
This goes back to the 1960's, Vereide was instructing young men by having them read The Rise and Fall of the Third Reich – "Look at what those guys did." But they will say, "We are not trying to kill Jews." What we are talking about is imagine if you took the "Hitler Concept," and they'll use that phrase, the Hitler Concept, to work for Christ, or the Mao Concept. We're not right wingers, they'll say. You can use the Mao Concept.
GNN: Define what they mean by Hitler Concept.
SHARLET: A loyal leadership cadre, which is interesting because guys like Hitler and Stalin were famous for purging, but they seem to focus on a couple of guys. "If two or three agree" is a phrase they use a lot. If you can get together and focus you can accomplish anything. You don't need to sway the electorate. You don't need to convert everyone to Christ. Everyone doesn't have to believe in Christ, and that's where they differ from other fundamentalists. Some fundamentalists really distrust them for that. [They say] "We need to convert everyone, the high and the low." The Family says, "No we don't need the high." All these guys Hitler, Lenin, Pol Pot and Osama bin Laden is another guy they cite a lot, are guys who understood the power of a political avant garde. That's what they mean by the Hitler Concept. Also keeping your message simple, and repeating it again and again because there is only one message and it is "Jesus Loves." You can express lots of different things with that term. [...]
GNN: So how scared are you of this group? Are they a force for fascism or some sort of cult-like group with big connections that comes and goes?
SHARLET: I think they are definitely a force for fascism. I think a lot of the way the world looks is a result of their work. They were instrumental in getting U.S. government support for General Suharto, for the generals' juntas in Brazil. Just take those two countries alone, they are two of the biggest countries on Earth. Those countries might have been progressive democracies a long time ago had it not been for U.S. support for those regimes ...
GNN: But don't you think the CIA and the U.S. government's own agenda had a lot to do with those decisions?
SHARLET: Yeah, but they made those connections.
GNN: What are the connections between the CIA and the Fellowship?
SHARLET: A lot of their key men in a country would be the intelligence officers in the American embassy. Throughout their correspondence, that's the kind of guy they would like to have involved. They always had a lot of Army intelligence guys involved, Pentagon guys. [...]
GNN: Why hasn't there been more mainstream press on this?
SHARLET: Lisa Getter of The Los Angeles Times, a Pulitzer prize winning investigative reporter, did a piece on it, but there was no follow-up. I got a little press out of it when my article came out. There is a big reason there hasn't been a lot of press about it and that's the war. On the other hand, and this isn't a conspiracy theory, if they can't see it then it's not there. I mean if you read that your local congressman is sitting there saying Hitler is a leadership model, the local paper should at the very least call up and say, "Congressman Tiahrt do you believe Hitler is a good leadership model?" If he had said, "Noam Chomsky is a great philosopher" then there'd be an investigation in a minute.
Comment: In 1971, future Supreme Court judge, Lewis Powell, wrote a paper that outlined a long-term proposal for the Right Wing to take over the United States. It detailed a war against the "liberalism" that he saw around him. This plan was bankrolled by four main groups, all of whom have strong "Christian" credentials:
Richard Scaife Mellon, son of Sarah Mellon and descendant of Andrew Mellon. Scaife Mellon founded the Heritage Foundation. He directly controls three trusts: the Sarah Foundation, the Allegheny Foundation, and the Carthage Foundation. His two children, David and Jerry, control a fourth, the Scaife Family Foundation. Mellon money has financed the Hoover Institute (where Condoleeza Rice worked), American Enterprise Institute (where Richard Perle and Lynn Cheney worked) and the Cato Institute. Mellon financed the Fedralist Society, the group of judges, lawyers, and other legal professionals who waged the ferocious battle against Clinton. When Hillary Clinto refered to a conspiracy against hte Clintons, she was likely refering to the work of Scaife Mellon. Scaife Mellon also financed the Landmark Legal Foundation and Judicial Watch. Judicial Watch deposed 18 plaints against Clinton's administration.
The Coors. Well-known for their policies against unions, homosexuals, minorities, and women. The Coors also gave money to set up the Heritage Foundation.
The Olin Foundation. Financed the same places plus the John M. Olin Center in Chicago where Allan Bloom worked. Bloom was the mentor of Paul Wolfowitz. Irving Kristol received $380,000 from Olin from 1992 to 1994. The president of Olin Foundation is William Simon, former cabinet member for Nixon.
Lynde and Harry Bradley Foundation. Harry was a member of the John Birch Society. founder of JBS, regularly participated in sales meetings for Bradley's electronics firm. Bradley finances the National Empowerment Television. By the end of 1999, the Bradley Foundation had financed over 400 books in the previous 14 years, including the work of Charles Murray, The Bell Curve, that used racial arguments to justify the poverty and low social position of blacks in the "United States of Everything's All White", arguments used by the Right to dismantle the already minimal social net in the US.
In thirty years, they have completely changed the landscape of American thought. They have created the myth of the "liberal" media and the "liberal" university system. Anyone who leaves the United States of Limited Thought discovers very quickly that outside of the fiefdoms established by the United States of We Can Do What We Want, there is a much greater variety of ideas in the intellectual world and a much greater tolerance for those who express ideas that differ from your own than in the "United States of God Bless America". And yet the citizens of the "United States of If You Aren't With Us You Are Against Us" truly believe that they are tolerant and democratic, and that this tolerance and democratic heritage gives them the right to be intolerant of others who disagree and to undemocratically invade and take over other countries, thanks be to Jesus.
The Christian Right have overthrown the separation of Church and State decreed by the Founding Fathers of the "United States of Our God is Bigger Than Your God", and they are now using the big (dead man on a) stick to beat others into submi...uh, holy reverance upon their knees.
The sheep are being led to slaughter...and are enjoying every minute of it planted in front of their TVs, SUVs, and PCs...
Hatch Takes Aim at Illegal Downloading
By TED BRIDIS
The Associated Press
Tuesday, June 17, 2003; 5:22 PM
WASHINGTON - The chairman of the Senate Judiciary Committee said Tuesday he favors developing new technology to remotely destroy the computers of people who illegally download music from the Internet.
The surprise remarks by Sen. Orrin Hatch, R-Utah, during a hearing on copyright abuses represent a dramatic escalation in the frustrating battle by industry executives and lawmakers in Washington against illegal music downloads.
During a discussion on methods to frustrate computer users who illegally exchange music and movie files over the Internet, Hatch asked technology executives about ways to damage computers involved in such file trading. Legal experts have said any such attack would violate federal anti-hacking laws.
"No one is interested in destroying anyone's computer," replied Randy Saaf of MediaDefender Inc., a secretive Los Angeles company that builds technology to disrupt music downloads. One technique deliberately downloads pirated material very slowly so other users can't.
"I'm interested," Hatch interrupted. He said damaging someone's computer "may be the only way you can teach somebody about copyrights."
The senator acknowledged Congress would have to enact an exemption for copyright owners from liability for damaging computers. He endorsed technology that would twice warn a computer user about illegal online behavior, "then destroy their computer."
"If we can find some way to do this without destroying their machines, we'd be interested in hearing about that," Hatch said. "If that's the only way, then I'm all for destroying their machines. If you have a few hundred thousand of those, I think people would realize" the seriousness of their actions, he said.
"There's no excuse for anyone violating copyright laws," Hatch said.
Comment from a QFS member: This guy is not only technically illiterate, his morals are destructive. He advocates hacking back at people who use the Internet to trade copyright works. With MS and their "digital rights management" project, which will certainly be strengthened in their upcoming "Longhorn" operating system (hey, if I use Windows, does that mean I accept being treated like a bovine?), maybe Hatch's ideas don't really make sense, unless we consider "shock and awe." Hmmm. Maybe we'll see this set the stage for the mass acceptance of self-destructing DVD disks (already in production and trials, courtesy of Disney) and uncopyable CDs (already being tried on the public via Sony and possibly others), and probably some sort of far-more-insideous technological laws right along with software to guarantee those laws. Which reminds me, "Longhorn" isn't even out, but I can hardly wait for its successor, which is code named "Black Comb." Something about that name really bothers me...it sounds ominous.
Anyway there is something really wrong with all this spam hooplah and digital milennium copyright act (DMCA) stuff. Not that piracy and spam aren't problems, but they're being used as fascilitators, and the outcome is probably gonna be stiff laws -- ergo, more real strictures. Weehoo. I can't hardly wait to read the news: "Software pirate arrested, pleads insanity, court orders anti-psychotic drug injections"
"And I say to myself, what a wonderful world..." -- Satchmo
WHO chief says SARS epidemic has been 'stopped dead in its tracks'
PATRICK MCDOWELL
03:58 AM EDT Jun 18
KUALA LUMPUR, Malaysia (AP) - The chief of the World Health Organization declared Tuesday that SARS has been "stopped dead in its tracks", contained less than 100 days since the sounding of a global alert.
But experts said China, whose capital, Beijing, is the only place still under a WHO travel warning, holds the key to whether severe acute respiratory syndrome will resurface. "We have seen SARS stopped dead in its tracks," the WHO director general, Gro Harlem Brundtland told more than 1,000 international researchers, officials and health experts meeting in Kuala Lumpur to discuss lessons learned from the outbreak.
Her statement came just hours after WHO lifted a month-old warning against non- essential travel to Taiwan, the third-most hard-hit area after China and Hong Kong. But the UN agency recommended continued vigilance in all areas of Taiwan because "a single imported case or lapse in infection control can re-ignite an outbreak."
The disease has killed 800 people and sickened more than 8,400 worldwide since being detected in China last fall. China has been hardest hit, with at least 5,327 probable cases and 347 deaths as of Monday. New cases spiked in March and April, but have plunged in recent weeks.
Nevada Fire Closes Highway to Lake Tahoe
By BRENDAN RILEY,
Associated Press Writer
CARSON CITY, Nev. - A wildfire burned more than 1,100 acres along the Sierra range, closing the highway from Carson City to Lake Tahoe, forcing evacuations and threatening 100 homes and businesses before firefighters got the better of it.
About 150 campers and counselors were evacuated from the Clear Creek Youth Camp near Carson City before fire officials announced Tuesday night the fire was no longer a threat. They expected it to be fully contained by Wednesday morning. [...]
Also Tuesday, a prescribed burn in Arizona escaped control lines and forced the evacuation of about 15 homes. The 4,500-acre fire was within a half-mile of homes in an area about three miles north of Cherry, officials said.
In the eastern part of Arizona, a 10,618-acre fire about 15 miles from Alpine was brought under control on Tuesday.
In Alaska, a 10,000-acre fire burned through the Goodpaster Valley southeast of Fairbanks, threatening a handful of recreational cabins. [...]
Most Canadians think well of U.S.: poll
Last Updated Tue, 17 Jun 2003 18:32:00
TORONTO - There may be battles over softwood lumber and disagreements about the war in Iraq, but Canadians still think Americans make pretty good neighbours.
A poll conducted for CBC News and nine other broadcasters shows that 81 per cent of Canadians have a favourable attitude toward America. Only 16 per cent said their attitude was unfavourable.
Léger Marketing interviewed 1,000 Canadians in late May. The national results are considered accurate within 3.1 percentage points, 19 times out of 20.
When asked whether American economic policies make Canada richer or poorer, 31 per cent believed Canada is better off because of the U.S., while 40 per cent said the country is poorer.
The survey also asked about the influence of American consumer products and entertainment in Canada.
About 44 per cent felt it was too great, while 49 per cent said it was about right.
Canadians were almost evenly split on the question of whether the U.S. was right to invade Iraq. About 44 per cent agreed with the invasion, while 47 per cent said it was wrong.
Comment: Curious. More Canadians think that Canada is poorer because of US economic policies. More Canadians think it was wrong for the US to have invaded Iraq. Yet the general opinion towards the United States of Do What We Say Not What We Do is favourable....
Cover Up: Attack on the USS Liberty on the History Channel
On June 8, 1967, the intelligence ship USS Liberty, stationed off the Sinai Peninsula during the Six-Day War, was attacked by unmarked jets and later by unmarked torpedo boats. In all, 34 men were killed and 171 wounded. Deep into the attack, the captain and crew realized that the aggressor was their ally, Israel, who claimed they couldn't identify the ship as American. We examine crewmembers' contentions that the attack was intentional and that both governments covered up the true details
GAO Faults U.S. Effort to Secure Dirty Bomb Material
WASHINGTON (Reuters) - Thousands of containers of radioactive materials used in medicine, industry and research that could be used to make crude but potentially deadly "dirty bombs'' have been lost or stolen worldwide, the General Accounting Office said on Monday.
The GAO criticized the Energy Department, which leads the U.S. effort to secure these containers, for not having an adequate plan to help countries that pose the biggest security risks amid rising concerns the material could fall into the hands of rogue nations or terror groups.[...]
US report foretells of brave new world
By Nathan Cochrane
Next A draft government report says we will alter human evolution within 20 years by combining what we know of nanotechnology, biotechnology, IT and cognitive sciences. The 405-page report sponsored by the US National Science Foundation and Commerce Department, Converging Technologies for Improving Human Performance, calls for a broad-based research program to improve human performance leading to telepathy, machine-to-human communication, amplified personal sensory devices and enhanced intellectual capacity.
UDPATE 1-Citing Nazis, lawyers say Unocal should be tried
By Carolyn Abate
SAN FRANCISCO (Reuters) - Citing precedents set at the Nuremberg trials of Nazis and their collaborators, lawyers for villagers in Myanmar asked a U.S. appeals court Tuesday to order oil company Unocal to face trial for using slave labor to build a natural gas pipeline there. [...]
Hitler's Further Thoughts, in a New English Translation
By DINITIA SMITH
In late June and early July 1928, Hitler dictated a sequel to "Mein Kampf." It was taken down by Max Amann, the director of the Nazi party's publishing company. [...]
In the "Second Book" Hitler praises the restrictive immigration policies of the United States. "Compared to old Europe, which had lost an infinite amount of its best blood through war and emigration, the American nation appears as a young, racially select people," he wrote.
Residents hear, feel mystery boom
The Herald Tribune
STAFF REPORT It was the boom heard -- and felt -- around the county. From downtown Bradenton to the outskirts of Palmetto to Longboat Key, folks heard a noontime noise that rocked their world. Literally.
But emergency officials couldn't account for the source of the noise that shook Bradenton, Palmetto, and other parts of Manatee County around noon Monday. [...]
Hospital said to seek help on Virgin image
By Douglas Belkin, Globe Staff
Overrun with worshipers praying before a likeness of the Virgin Mary in a third-story window, Milton Hospital officials have asked the Archdiocese of Boston to caution people against placing faith in the image, a church official confirmed yesterday. [...]
Austrians urged to drink beer for asylum seekers
An Austrian charity is urging people to help asylum seekers by drinking beer.
The Zest for Beer campaign has already found the support of some 60 publicans.
For every litre drunk, landlords donate ten cents to a project that gives a home to asylum seekers. [...]
UFO: MYSTERY IN SABAUDIA, "SIGNS" FOUND IN WHEAT FIELD
(AGI) - Latina, Italy, June 16 - They are called crop circles and they have become famous because Ufologists- interpret them as signs sent to earth by other life forms present in the universe. A few days ago they appeared in the farmlands between the lake and the sea in Sabaudia: a huge design in nature formed from concentric circles and lines created from wheat flattened to the ground. The wheat fields are all around them. The owner of the property, Giovanni Cenci, noticed the strange phenomenon a few days ago. "I thought it was a joke," he said, "but then I saw the perfection of the lines and I was amazed. no-one could have reached the centre of the wheat field without leaving footprints. But there were none in my field. Now the news has got around and many people have come to see it". The farmer's son has also taken pictures of the marks with the help of a friend. The had to climb up on a light pole. "I don't what to think of it," said Cenci, "but it won't last very long. I a few days it will go back to normal". In Sabaudia many have started believing in UFO theories and imaginations are going wild. Phenomena of this sort have been discovered in the past in England, the US, India and no-one has ever managed to explain their origin.]
Mars-bound craft preps for Earth swingby

Bad luck plagues Japan mission
Tuesday, June 17, 2003 Posted: 1421 GMT
TOKYO, Japan (AP) -- Five years late, low on fuel and with its heating system on the blink, Japan's first Mars-bound probe -- the 11 billion yen (US$88 million) Nozomi, or "Hope" -- appears to be in serious trouble.
Mission controllers trying to keep the mission alive are to face a major test on Thursday, when Nozomi is scheduled to make its second swingby of Earth. The maneuver is intended to use the Earth's gravity as a slingshot to send the probe on its final trajectory to Mars. [...]
A failure for the mission, one of several from around the world now aimed at the Red Planet, would be a great disappointment for Japan's space program, which has been struggling with cost overruns and an apathetic public. [...]
Two other U.S. satellites are already in Mars orbit. Nozomi, Japan's first mission to another planet, was launched from a pad in Kagoshima, southwestern Japan, on July 4, 1998, to gather data on the atmosphere and topography of Mars.
But it soon ran into trouble. Though originally scheduled to arrive at Mars in October 1998, its first swingby of Earth failed to give it sufficient speed, and adjustments to make up for that burned more fuel than planned.
In April last year, a burst of solar flares damaged Nozomi's heating system and cut off most communication with the probe. The computer control systems on the probe were intact, however, allowing engineers on Earth to repair the spacecraft. [...]
And Finally...
Man fined for having too many frogs
Last Updated Tue, 17 Jun 2003 12:25:05
TORONTO - A Toronto man has been fined $10,000 after police found him with a car full of frogs and turtles.
Officers found 123 live bullfrogs, 10 live snapping turtles and two Midland painted turtles in car. Sun Huynh, 47, was convicted under the Fish and Wildlife Conservation Act of illegally transporting bullfrogs and snapping turtles...
Under the Fish and Wildlife Conservation Act, a person who has a valid Ontario fishing licence can have up to 10 bullfrogs in their possession. They can also have up to five snapping turtles, but only during the July 15 to Sept. 15 open season in southern Ontario.
---
Check out the Signs of the Times Archives
Send your comments and article suggestions to us.
---
Fair Use Policy
Contact Webmaster at signs-of-the-times.org
Cassiopaean materials Copyright ©1994-2014 Arkadiusz Jadczyk and Laura Knight-Jadczyk. All rights reserved. "Cassiopaea, Cassiopaean, Cassiopaeans," is a registered trademark of Arkadiusz Jadczyk and Laura Knight-Jadczyk.
Letters addressed to Cassiopaea, Quantum Future School, Ark or Laura, become the property of Arkadiusz Jadczyk and Laura Knight-Jadczyk
Republication and re-dissemination of our copyrighted material in any manner is expressly prohibited without prior written consent.
.