---
Comment: "I didn't -- I swear I didn't -- get into politics to feather my nest or feather my friends' nests."
-George W. Bush in the Houston Chronicle
Comment: Is something bothering the sun?
August 3, 1996 F, Laura, TR, JR

A: What would happen if the brown star that is the sun's twin were to get close enough to be illuminated by the sun?
Q: (T) Well, if it were close enough to be illuminated, the obvious result is that it would be SEEN. People would panic...
A: Yes. Q:
(T) Governments would fall...
A: And terror and chaos. And when it departs again?
Q: (L) Everything will seem to be fine! But, they won't realize that the Oort cloud has been hit! Oh, sugar!
A: And then what?
Q: (L) It is not the Oort cloud or the comets that is going to cause all this terror and carrying on, it is going to be the seeing of the illuminated brown star, which will go away, and then no one will see what is coming! And this IS talked about in both the Bible and Nostradamus - but it was incomprehensible before! Okay, how long will it take the comets to get from the Oort cloud to here?
A: Let us just say that the cluster travels much faster than the usual cometary itinerary.
Q: (T) And this is because they are traveling in the wake of a large sun sized gravity well...

Israeli-Palestinian Talks Resume Despite Violence
By Matt Spetalnick
Sat June 14, 2003

JERUSALEM (Reuters) - Israeli and Palestinian officials resumed high-level security talks Saturday under U.S. pressure to help salvage a peace plan jeopardized by a week of violence in which more than 50 people were killed.
The meeting, which coincides with a new U.S. diplomatic mission to prop up the peace initiative, was expected to focus on Israel's renewed offer to pull back from parts of the Gaza Strip in return for a Palestinian crackdown on militants.
Palestinian security chief Mohammed Dahlan met senior Israeli military officials Saturday night in the first such talks since President Bush launched the Middle East "road map" at a summit last week, political sources said.
Israeli media identified the venue as the home of U.S. Ambassador Dan Kurtzer in the Israeli coastal town of Herzlia, a further sign of Washington's determination to push both sides to put the peace plan back on track.
But there was little cause for optimism amid vows of revenge by Palestinian militants and Israel's pledge to wage war against them "to the bitter end."
Hamas, the main group behind a campaign of suicide bombings against Israelis, said it would flatly reject any deal between Israel and the Palestinian Authority. "We will not accept a cease-fire," Hamas official Mahmoud al-Zahar told Reuters. [...]
Comment: Funny how Hamas seems to mirror Sharon's objectives...
Israel preparing for withdrawal from northern Gaza Strip
ABC Radio Australia News
The Israeli army is reportedly preparing to pull out of the northern Gaza Strip following talks on handing over security responsibility to the Palestinians.
Israeli army radio says the coordinator of Israeli activities in the Palestinian territories, has offered the move in return for a commitment by the Palestinians to prevent militant groups launching attacks from the evacuated areas. [...]
Violence erupts hours after Israelis, Palestinians talk peace
CBC Online
Last Updated Sat, 14 Jun 2003 22:25:36
JERUSALEM - Israelis and Palestinians clashed just hours after high-level officials from both camps sat down for peace talks.
Israeli forces entered the Palestinian town of Beit Hanoun, north of Gaza, early Sunday sparking a gunbattle.
One Palestinian was killed and seven were wounded, according to local doctors...
Despite renewed violence that has claimed more than 60 lives since June 4, senior Israeli defence officials met with the Palestinian security chief on Saturday to discuss a possible Israeli withdrawal from parts of Gaza.
Israeli army general Amos Gilad told Palestinian Mohammed Dahlan that Israel forces wouldn't withdraw from the occupied territories unless militants' attacks were curbed.
Dahlan, in turn, said Israel could guarantee its security by ending its occupation, by stopping the assassinations of Palestinian militants and the bulldozing of their homes.
The two sides agreed to meet again but did not set a date.
The meeting came as the American special envoy to the Middle East, John Wolf, arrived in Jerusalem...
Up to 15 U.S. officials are headed for the region to monitor progress toward peace.
Poll: Israelis Oppose Military Strikes
Friday June 13, 2003

JERUSALEM (AP) - Most Israelis want Prime Minister Ariel Sharon to halt strikes against Palestinian militants, at least temporarily, to allow the new Palestinian prime minister to establish himself, according to a survey published Friday.
A total of 67 percent opposed the intensified resumption of targeted killings in the past week, according to the poll in the Yediot Ahronot daily. Of those, 58 percent support a temporary suspension of military strikes to give Palestinian Prime Minister Mahmoud Abbas to try to rein in the extremists. Another nine percent oppose targeted killings in any case.
Thirty percent said the strikes should continue. [...]
Saudi report: Raid in holy city kills five suspected terrorists
ASSOCIATED PRESS
RIYADH, Saudi Arabia, June 15 — Saudi troops and security agents raided a Mecca apartment building where terror suspects had holed up, killing five of the suspects, arresting seven — including one wearing a suicide bomb belt — and seizing a large cache of weapons, a Saudi newspaper reported Sunday.
Five police officers and security troops were also killed in the Saturday night violence, which started after a traffic patrol tried to stop a car, according to the Okaz report monitored in Cairo on the newspaper's web site. [...]
CIA officer: Bush ignored warnings

By Jonathan S. Landay
Knight Ridder Newspapers
WASHINGTON - Making his case for war with Iraq, President Bush in his State of the Union address this year accused Saddam Hussein of trying to buy uranium from Africa, even though the CIA had warned White House and other officials that the story did not check out.
A senior CIA official, who spoke on the condition of anonymity, said the intelligence agency informed the White House on March 9, 2002 -- 10 months before Bush's nationally televised speech -- that an agency source who had traveled to Niger could not confirm European intelligence reports that Iraq was attempting to buy uranium from the West African country.
Despite the CIA's misgivings, Bush said in his State of the Union address: "The British government has learned that Saddam Hussein recently sought significant quantities of uranium in Africa."
Three senior administration officials said Vice President Dick Cheney and some officials on the National Security Council staff and at the Pentagon ignored the CIA's reservations and argued that the president and others should include the allegation in their case against Saddam. [...]
113 said killed this week in US bid to crush Iraqi resistance
June 15

The US army's ongoing bid to mop up resistance in northern Iraq has left at least 113 dead this week, according to US and Iraqi sources, as a top Iraqi politician warned that attacks would continue until local people are given more power.
US forces killed 82 combatants at a desert training camp at Sahl, near the border with Syria, a Muslim leader from a neighbouring village told AFP.
The dead included at least one non-Iraqi, said Sheikh Gharbi Abdul Aziz, imam of the main mosque at Rawa, a few kilometres (miles) from Sahl.
He said he had taken part in the burial of the 82 bodies after fighting erupted Thursday at dawn at the suspected extremist training camp. [...]
Iraqis say U.S. forces killed 5 civilians in response to attack on tank patrol

BORZOU DARAGAHI
Canadian Press

BALAD, Iraq -- Wailing and reciting verses, dozens of Iraqi villagers on Saturday mourned five civilians they said U.S. forces killed in their hunt for Saddam Hussein loyalists, the biggest American operation since the war ended two months ago. [...]
Comment: "There's no question that the minute I got elected, the storm clouds on the horizon were getting nearly directly overhead." - George W. Bush, Washington, D.C., May 11, 2001
U.S. Forces "Slaughter" Iraqis At Dawn: Eyewitness

Hossam al-Sayed
IOL Chief Correspondent
RAWAH, Iraq , June 14 (IslamOnline.net) - American troops "slaughtered" more than one hundred Iraqi civilians, most of them killed while asleep, at the early hours of Friday, June 13, eyewitnesses told IslamOnline.net.
The U.S. forces deliberately opened fire from tanks and helicopter gunships at the houses of Iraqi civilians in Rawah, 400 kilometer to the north-west of Baghdad, killing tens of people, they charged. [...]
Comment: "It's amazing I won. I was running against peace, prosperity, and incumbency." - George W. Bush, June 14, 2001. Speaking to Swedish Prime Minister Goran Perrson, unaware that a live television camera was still rolling.
Iraqi women 'forced to veil' - significant increase in rape

Some radical clerics demand that all women wear the veil

UN officials in Baghdad say they are very concerned that religious extremists are intimidating women and girls into wearing the veil.
In particular, some radical clerics have demanded that women - even Christians - wear the veil.
The UN officials have also expressed alarm at a reported rise in rape.
Since the end of the conflict in Iraq, radical factions in Iraq's Sunni and Shia Muslim communities have been asserting themselves in the ensuing period of instability.
One Iraqi UN staff member recently received a handwritten letter at home saying she would be killed unless she started covering her hair.
The spokesman for the UN Children's Fund, Geoffrey Keele, said that in some areas there had also been pressure on schoolgirls to start putting on the veil.
"It's an issue of people's rights - it's an issue not only of women's rights, but human rights - and people have a right to choose whether or not they wear the veil, what religion they practise, how they practise that religion," he told the BBC.
UN officials have raised the issue with American and British forces.
They also say Iraqi women can no longer drive or walk in the streets at night as freely as they did in pre-war Iraq.
And women have been victims not only of intimidation, but also of the lawlessness of the last few weeks, says the BBC's Caroline Hawley.
No statistics are available, but Iraqis say there has been a significant increase in rape.
Comment: "We are coming, with a mighty force, to liberate your people." GWB in his declaration of war on Iraq, and in hindsight also on the Iraqi people it seems.

US finds 'no illegal Iraqi arms'

Saturday 14 June 2003

An elite US special forces unit secretly hunting for banned Iraqi arms since the start of war has not found any evidence of their existence, it was reported.
Task Force 20, the American army's top commando unit, was deployed to Iraq ahead of the ground invasion to search sites suspected of containing chemical, biological or nuclear arms before they could be hidden or destroyed.
Its speed and advanced detection technology - including DNA testing and mobile laboratories - gave it a huge advantage over the 75th Exploitation Task Force, the conventional military unit looking for weapons.
The team initially sent a stream of promising reports to planners which led to confident predictions from the Bush administration that weapons of mass destruction would be uncovered.
But despite an extensive search, it has found no evidence of an illegal arms program that was cited by the US government as a justification for invading Iraq, American officials told The Washington Post.

Task Force 20 has successfully captured as many as half of the "high value" weapons scientists and Baath Party leaders now in US custody, but none of these has given any clues to the whereabouts of banned weapons.
The top weapons' scientists, including Rihab Rashid Taha, dubbed Dr Germ, and Huda Salih Mahdi Ammash, a microbiologist nicknamed Mrs Anthrax, have disclosed almost nothing.
"What they are saying is largely BS - 'I was not very close to Saddam,' 'I don't know anything about WMD,"' a national security official told the Post. "It's all very orchestrated."
US Secretary of State Colin Powell insisted the intelligence about illegal arms was "not a figment of somebody's imagination".
"These were real weapons, real programs, that Saddam Hussein refused to come forward and explain," he said.
"Do you want to give Saddam Hussein the benefit of the doubt? Well, we didn't. And now we don't have to worry about it anymore."
But a former UN weapons inspector has claimed every intelligence lead from America and the UK about Saddam's alleged banned arms was "absolute rubbish".
British-born chemical engineer Steve Allison said that in the three months he worked in Iraq before the war, inspection teams were often sent to sites named by the US and British, where no evidence of weapons was found.
He said: "As to whether they find anything now, I seriously doubt it. And even if they do, there is no one there to independently verify it."

U.S. Interrogates 'Al Qaeda Sympathizers' in Iraq
By Andrew Marshall
June 14, 2003

BAGHDAD (Reuters) - The U.S. military said on Saturday it was interrogating 74 people detained in a raid in northern Iraq to determine whether they were active members of Osama bin Laden's al Qaeda network.
"Initial indications are that they are al Qaeda sympathizers," a U.S. army spokesman said. "What we're trying to do is validate that through the interrogation process."
Asked whether the group had been actively planning attacks on U.S. forces, or just sympathized with bin Laden's anti-American ideology, the spokesman said: "An al Qaeda sympathizer is somebody who would do the coalition and the country of Iraq harm, and frankly the whole world harm."
The army said the suspected al Qaeda members were captured in a raid Thursday near the northern city of Kirkuk. It would not say whether they were Iraqis or foreigners. [...]
New Saddam Hussein, Letter To The Iraqi People And The Iraqi Resistance Movement.
In the name of God, the Merciful, the Mercy-giving.
"We will show them Our signs in the horizons as well as with themselves until it becomes clear to them that it is the truth. Does your Lord not suffice as a Witness for everything?" (al-Qur'an, 41:53).
From Saddam Hussein, to the great Iraqi people, to the sons and daughters of the Arab Nation and the Islamic World Community, to honorable people everywhere.
We pledged to God that we would not allow the criminal American and British forces to feel complacent about the stealing of the wealth of great Iraq. Therefore the children of the people, including the men of the army, the Republican Guard, the Brigades of al-Faruq, the Liberation Group, Members of the Baath Party, and of the Groups of al-Husayn, are waging a real fight, a battle in the epic of the great struggle to expel the infidel invading forces from Iraq.
The infidel enemy has begun to kill civilians, those who are not connected in any way with bearing arms. This is a matter that makes it incumbent upon all the forces among the people - whether they are in agreement with one another or disagree - to rise up with the joint aim of liberating Iraq from the occupation. [...]
FLASHBACK: Oil barons court Taliban in Texas
By Caroline Lees
The Telegraph
Afghanistan Today The Taliban Page Energy, Economics and Security in Central Asia Central Asia resources THE Taliban, Afghanistan's Islamic fundamentalist army, is about to sign a £2 billion contract with an American oil company to build a pipeline across the war-torn country.
The Islamic warriors appear to have been persuaded to close the deal, not through delicate negotiation but by old-fashioned Texan hospitality. Last week Unocal, the Houston-based company bidding to build the 876-mile pipeline from Turkmenistan to Pakistan, invited the Taliban to visit them in Texas. Dressed in traditional salwar khameez, Afghan waistcoats and loose, black turbans, the high-ranking delegation was given VIP treatment during the four-day stay.
The Taliban ministers and their advisers stayed in a five-star hotel and were chauffeured in a company minibus.
[...] it was the homely touches which swayed the Taliban. [...]
Anti-regime protests in Iran ease on fifth night after violence, arrests

Sunday June 15

Thousands of Iranians took to the streets of central Tehran for the fifth straight night of anti-regime protests Saturday, but the overwhelming presence of police and hardline vigilantes resulted in muted demonstrations that passed off largely without incident.
Only limited, sporadic clashes were reported around the Tehran university campus, the focal point of increasingly vitriolic protests that have targeted the very top of the Islamic republic.
Large numbers of cars were seen driving in areas around the Tehran university campus, but the would-be demonstrators were matched in numbers by police and bused-in members of the hardline Basij militia -- among the toughest defenders of the nearly 25-year-old clerical regime.
Club-wielding members of the extremist Ansar Hezbollah group were also on the streets. Such was the overpowering presence of security forces and militiamen that few drivers dared to honk their horns -- a show of support for the student-led protest movement -- or get out of their cars. [...]
U.S. Alarmed at Treatment of Iranian Protestors

By Patricia Wilson
Sat June 14, 2003
KENNEBUNKPORT, Maine (Reuters) - The United States on Saturday denounced Islamic hard-liners who attacked pro-democracy demonstrators in Iran and called on the government to release those who have been jailed.
"We are alarmed at reports of arrests and provocative actions taken against students by regime forces and call upon the regime to protect the human rights of the students and to release those who have been arrested," the White House said in a statement released in Kennebunkport where President Bush is spending a long weekend.
Thousands of Iranians protested against their rulers for a fourth day as the biggest anti-establishment demonstrations for months appeared to gather momentum. Hundreds of plainclothes vigilantes attacked them with clubs, knives and chains early on Saturday.
"The United States views with great concern the use of violence against Iranian students peacefully expressing their political views," the White House said. "Iranians, like all people, have a right to determine their own destiny and the United States supports their aspirations to live in freedom." [...]
Comment: Another tried and tested CIA operation, creating the illusion of pubic rebellion against the Iranian regieme, provoking it to supress it with violence, thereby manipulating international public support for the US to go in and kill thousands more.
Iranian 'vigilantes' beat students in their beds
ASSOCIATED PRESS
Jun. 14, 2003. 11:35 AM
TEHRAN — Dozens of vigilantes stormed at least two student hostels overnight, beating up students in their beds and detaining several of them, students said today.
"We were sleeping in our beds. Suddenly we heard windows being smashed. Fists and kicks by hardline vigilantes woke up some of the students held up in their rooms," student Mojtaba Najafi said.
Najafi said about 200 students were sleeping in their rooms in Hemmat Hostel, affiliated to Allameh Tabatabai University, when the attacks began. He said over 50 students were injured and taken to the hospital and about two dozen have disappeared after the attack.
"It was the most brutal way of attacking a human being. They beat up the guard before entering our dormitory. They see no borders, no limits," Najafi told the Associated Press...
The dorm attacks followed overnight clashes between hundreds of pro-cleric militants and security forces with Iranians throughout the capital.
Friday's standoffs were the most intense and widespread of four consecutive nights of protests in Tehran, which were sparked by university students and snowballed into broader displays of opposition to Iran's clerical establishment.
Security forces fired machine-guns in the air and used tear gas and batons to put down any public opposition to the country's hardline regime.
Unlike previous nights, no protests against supreme leader Ayatollah Ali Khamenei were seen, making it unclear what sparked Friday night's clashes involving hundreds of militants — some in groups of two to four, others on motorcycles — who beat pedestrians with batons, brandished knifes or hurled rocks at crowds and homes.
Protesters had been calling for an end to the country's hardline establishment and for supreme leader Khamenei's death. Criticism of Khamenei is usually punished by imprisonment, and public calls for his death had been unheard of until this week.
Khamenei's hardline supporters, who control key government institutions in Iran, are locked in a power struggle with popularly elected President Mohammad Khatami, who came to power aiming to reform Iran's conservative political system.
The militants, often referred to as vigilantes, pledge loyalty to Khamenei and his hardline clerics and act voluntarily to break up protests without government approval.
Although the protesters criticize the clerics, public support for Khatami also appears to be falling because of his government's inability to implement promised reforms.
During a Friday prayer sermon at Tehran University, former president Hashemi Rafsanjani, a key Khamenei supporter, urged Iran's youth not to fall into what he described as a U.S. trap by denouncing the country's political leadership.
"I advise the youth, especially students, that they should be careful not to fall into trap dug out by the Americans," Rafsanjani told worshippers.
Rafsanjani said it was Iran's policy to "act resolutely" to prevent demonstrations from getting out of hand but "not to be harsh on protesters."...
Exiled opposition groups have been encouraging dissent in Iran through U.S.-based Persian language TV channels. U.S. pressure on Iran, which Washington accuses of hiding a nuclear weapons program and harbouring terrorists, may have further emboldened those who hope to see the regime toppled.
France Chides Washington Over 'My Way' World View
By Tim Hepher
Sat June 14, 2003
PARIS (Reuters) - France's defense minister took a double swipe at the United States on Saturday, accusing her counterpart Donald Rumsfeld of American supremacism and U.S. industry of waging "economic war" on Europe.
Michele Alliot-Marie's remarks, in a newspaper interview, were the bluntest criticism of Washington by a French official since presidents Jacques Chirac and George W. Bush skirted around their differences on Iraq at a summit two weeks ago.
"The American Defense Secretary (Donald Rumsfeld) believes the United States is the only military, economic and financial power in the world. We do not share this vision," Alliot-Marie told Le Monde newspaper in an interview published on Saturday.
In Washington, the Pentagon rebuffed her remarks. [...]
Alliot-Marie said she was worried by what she sees as moves by U.S. investors to attempt to take control of firms involved in European defense and had ordered a study into the issue. [...]
Rape used as indiscriminate, cruel weapon in Congo's war
By Somini Sengupta, New York Times
June 15, 2003

BURHALE, CONGO -- They had walked through the banana groves and up the empty red dirt roads. Among them was a mother of two, clutching a child at her breasts, a pregnant woman holding her belly, a girl in a tattered blue school uniform skirt.
By any measure, the war in this country is among the cruelest in the world, and these are the survivors of one of its cruelest weapons. They and countless others have been raped by soldiers spreading terror through the countryside; of this group, only the 13-year-old girl, who screamed with all her might as her attacker grabbed and tore at her clothes, had been spared.
The three sought help at a mobile medical program at a long-abandoned health clinic in this small town in eastern Congo. They came to get tested for AIDS, get checkups for the babies and talk for a while with someone who would listen. The medical convoy brought a doctor, a lab technician and two midwives, and the women of Burhale had sent word through the banana groves and had gone to fetch those they knew to be in need of help. They were not hard to find: The fighting between armed factions claiming control of this region over the last couple of months has left a trail of rape victims.
In Bukavu, the nearest big city, an average of 20 village women a week trickle into Centre Olame, a church-run rape victim center. On a recent morning, Mathilde Mahindo, who runs the center, pored over data from the week before. The victims ranged in age from 17 to 48. Most had been raped multiple times, one by 10 men. The husband of one victim was abducted. Another woman was raped with her mother.
Every week for nearly five years, Mahindo has stared at lists like this one. She still cannot explain why it is happening, nor how to exorcise it. Discussing sex is taboo in Congolese society, Mahindo said, and talking about sexual assault is even less acceptable. There are no rituals in the culture to remove the stain of rape -- not from the victim, her family or her community. [...]
French peacekeepers under fire in Congo
ABC Radio Australia News
French peacekeepers have exchanged fire with gunmen in the town of Bunia, in the Democratic Republic of Congo.
It's the first time the French troops came under attack, since being deployed a week ago.
Prospect of Shooting Children Haunts Peacekeepers
By Emily Wax
Washington Post Foreign Service
Saturday, June 14
Boy Soldiers Toting AK-47s Put at Front of Congo's War.
BUNIA, Congo -- With his baggy jeans and oversized military fatigues, Eric Mabele patrolled this town with a rifle at his side and a few grenades looped around his belt.
Enemy forces are scattered all around Bunia, eager to fight their way in. Fierce-looking French troops have been storming into town this week to take up peacekeeping duties. But Eric, slouching and taking a sip of beer, said he wasn't scared. At 12 years old, he is an experienced soldier.
"I am not afraid," said Eric, who has curly black hair and long eyelashes and said he had shot three people during the fighting between his Hema ethnic group and their rivals, the Lendus.
Lounging with some of his less seasoned comrades -- 7- and 8-year-olds who also carried guns -- Eric explained that he had to be ready to kill any Lendu or foreign soldier who challenged him. "I am a soldier," he said. "If today I kill someone, I am okay."
A large number of forces are arrayed around this embattled town in northeastern Congo, and a stunning proportion of them are 12-year-olds toting AK-47s. Child soldiers, or kadogos -- "small ones" in Swahili -- are hardly a new phenomenon in Africa's civil wars. Nearly 300,000 child soldiers are fighting in 30 nations, about 75 percent of them in sub-Saharan Africa, according to the United Nations. [...]
Another 12,000 flee Aceh villages amid fresh fighting
June 15, 2003
The Straits Times
JAKARTA - At least 12,000 villagers have fled their homes in Indonesia's Aceh province to escape fresh fighting or because they have been ordered to evacuate for their own safety, witnesses said yesterday.
Carrying bedding, clothes and utensils, residents of nine villages began streaming into Bireun town on Friday and took shelter in tents, witnesses said.
They included the elderly and children. Some had fled in vehicles.
The area around Bireun, 170km east of the local capital, Banda Aceh, has seen some of the heaviest clashes since the government launched a fresh military offensive to crush rebels of the Free Aceh Movement (GAM) four weeks ago.
Up to 200 people have been killed in the latest offensive and more than 25,000 had fled their homes before Friday's exodus. [...]
North Korea Food Shortages Seen Getting Worse
By Paul Eckert
Fri June 13, 2003
SEOUL (Reuters) - North Korea's food situation, shaky for the past decade as the communist state battles famine and deepening international isolation, appears to be worsening this year, a veteran relief worker said on Friday.
Kathi Zellweger, who heads relief efforts for North Korea of the Catholic charity group Caritas, said that on the most recent of her 42 visits to the country, people displayed a "deep fear" of a U.S. attack over Pyongyang's nuclear weapons programs.
She said Pyongyang's political isolation because of an eight-month-old nuclear impasse compounded problems of donor fatigue and shocks from economic policy changes in the North.
U.N. agencies have been forced to reduce operations that have fed about a third of the 22 million North Koreans for the past five years, and warned of dire shortfalls in coming months. [...]
Mass grave of Vietnamese soldiers killed in 1968 found in central Vietnam

HANOI (AFP) Jun 14, 2003
A mass grave containing the bodies of 34 communist soldiers killed in the bloody Vietnam war in the spring of 1968 have been found in the central province of Quang Nam, state media said Saturday.
The remains were found in Tam Ky town early this week when construction workers began excavations for the footings of an office building to be contructed here, the Quan Doi Nhan Dan newspaper said.
Many rubber sandals, fabric hammocks and flowered parachutes and other belongings, which were the symbols of the then North Vietnamese soldiers, were also found at the spot.
Local authorities say they will continue excavatiosn to see if there are any more remains.
HNN

[...] As goes most everything else, for 2 centuries the level of despicability has ebbed and flowed. Today, in the executive mansion and congressional majorities, it stands at the highest watermark ever, submerging all known historical instances of political deception, lawlessness and even naked buffoonery. [...]

[...] With characteristic lack of party discipline and creeping pointlessness, Democrats are permitting predatory con artists to roam freely. So in the larger scheme of things, who will history say was the more culpable?
Comment: What will history show regarding those who refuse to see the truth, refuse to consider they have been duped, refuse to consider that they may be Bush's willing executioners, refuse to resist the propaganda, and become the compliant and willing servants of a monstrous agenda so that they can hold onto a comfortable world view until they themselves begin to starve? Life is about constantly making choices. We cannot make good choices until we have knowledge. If we refuse to make choices, than someone has to make them for us. Obviously, they will make the choices that serve their interests rather than ours.
Ignorance becomes a choice to allow others to make choices for us. Why do people shy away from the word conspiracy? Because the media has told them to do so, and they obey. Conspiracy is merely making choices behind closed doors. Choices that violate the free will of others. The proper response to conspirators is to refuse their choices and make our own, which we cannot do without knowledge. Of course, it is not possible to see the whole picture of what is going on, due to the monopoly press, but we can begin assembling the clues.
By Chris Floyd

Although much of the mail this column receives comes in the form of frothing, barely literate invective from Bushist Homelanders, occasionally a more plaintive cry will slip over the transom. "It's easy to be negative, to say what's wrong with the world," these anxious readers write. "But what do you think should be done about it? What's your answer to all these problems?"
To which the only reply is, of course: "What makes you think there is an answer?"
If we can just get it right somehow, do the right thing, then all will be well -- is that the idea? If we get the right politician in office, the right regime installed on top of this or that arbitrary accretion of tribes and wanderers (i.e., every nation in the world); if we get right with God, say the right prayers, adopt the right economic system, read the right books -- then death, deceit, treachery, greed, cruelty, stupidity, fanaticism, bloodlust and delusion will simply vanish from the face of the earth, right?
Of course there is no "answer." Death won't stop, murder won't desert us, the biochemical frenzies that lurk in the mud of our monkey brains -- in every single one of us -- won't go away because some gregarious backslapper buys, lies or fast-talks his way into office, or because some angry exile in the British Library overdoses on Hegel, or because some caravan trader or carpenter's son begins hearing voices. You can surrender your will and your mind to anybody or anything, to any set of beliefs, sacred or secular -- but that surrender will leave you in the same black hole of ignorance and fear you started from. Not one of those beliefs will make everything "right."

So do we counsel fatalism, a dark, defeated surrender, a retreat into bitter, curdled quietude? Not a whit. We advocate action, positive action, unstinting action, doing the only thing that human beings can do, ever: Try this, try that, try something else again; discard those approaches that don't work, that wreak havoc, that breed death and cruelty; fight against everything that would draw us down again into our own mud; expect no quarter, no lasting comfort, no true security; offer no final answer, no last word, no eternal truth, but just keep stumbling, falling, careening, backsliding, crawling toward the broken light.
And what is this "broken light"? Nothing more than a metaphor for the patches of understanding -- awareness, attention, knowledge, connection -- that break through our darkness and stupidity for a moment now and then. A light always fractured, under threat, shifting, found then lost again, always lost. For we are creatures steeped in imperfection, in breakage and mutation, tossed up -- very briefly -- from the boiling, chaotic crucible of Being, itself a ragged work in progress toward unknown ends, or rather, toward no particular end at all. Why should there be an "answer" in such a reality?
Congress called unready for terror
Panel's objective: ensure continuity
BY FRANK DAVIES
Miami Herald
WASHINGTON -The U.S. Constitution must be amended to ensure the continuity of government if Congress is wiped out in a terrorist attack, a blue-ribbon bipartisan commission will recommend today.
In the event of another attack like Sept. 11, 2001, special elections to fill vacancies in the U.S. House would take too long under the current system -- averaging four months, depending on the state -- the panel found after a yearlong study.
Governors currently fill U.S. Senate vacancies, but without an amendment allowing a similar system to make temporary appointments to the House until elections can be held, the nation would have no functioning Congress in a time of great crisis.
''In the event of a disaster that debilitated Congress, the vacuum could be filled by unilateral executive action -- perhaps a benign form of martial law,'' the commission found. ''The country might get by, but at a terrible cost to our democratic institutions.'' [...]
Comment: Anyone else get the feeling that we are being set up?
'Demzilla' and 'Voter Vault' Are Watching You
BY MILES BENSON
c.2003 Newhouse News Service

WASHINGTON -- You have two new big brothers and both are watching you closely.
The Democratic National Committee boasts electronic files on 158 million Americans. The Republican National Committee says it's way ahead, with files on 165 million.
National party computers today keep track of where you live, your phone number and e-mail address, whether you vote, your willingness or refusal to make political contributions, your interests, ethnic background, reading habits and church attendance. Some files contain hints about your sexual preferences, whether own a gun, and your views on abortion and other issues.
The Democrats call their system "Demzilla." Republicans call theirs "Voter Vault." Advocates of privacy call it Orwellian. [...]
US consumers in gloomy mood

BBC Online
New figures have revealed a surprise decline in US consumer confidence, dashing hopes that free-spending shoppers would revive the sluggish economy.
The University of Michigan's closely-watched consumer sentiment index fell back to 87.2 in June from 92.1 in May, confounding analysts' expectations of a moderate increase.
The Michigan index is seen as a reliable guide to consumer spending, which accounts for two thirds of all economic activity in the US.
Ominously, the future expectations component of the index - which gauges consumers' outlook on the future of the economy - fell particularly steeply, tumbling to 84.2 in June from 91.4 last month.
The decline is thought to reflect growing worries about unemployment amid a recent spate of job losses.
Europe and US in new trade row

BBC Online
Brussels has once again complained to the World Trade Organisation (WTO) about the United States.
The issue is a US accounting practice known as "zeroing", which the European Commission says results in financial penalties for EU firms.
Zeroing is a method of calculating penalties for dumping goods on a market at below cost-price - and in this case, Brussels argues, often makes EU exporters unfairly liable.
This is the fourth transatlantic WTO case that the Commission has launched recently, adding to disputes over steel, genetically-modified foods and US export credits.
Level playing field
The problem with US zeroing rules, the Commission says, is that they diverge from international practice.
"The EU has already abandoned this practice and has several times asked the US to do likewise, in order to ensure a level playing field," said European trade commissioner Pascal Lamy.
"Unfortunately, the US refuses to move on this issue, and regrettably we are left with no choice but to refer the matter to the WTO."
Italy votes in two referendums

By Frances Kennedy
BBC, Rome
Italians are voting in two referendums on Sunday which, for the first time, see Italians living abroad entitled to vote...
In the first referendum, people will be asked whether article 18 of labour law, which obliges employers to reinstate anyone who was unfairly dismissed, should be extended to businesses with fewer than 15 employees - which are currently exempt.
Article 18 became a question of principle in a stand-off between the centre-right government and trade unions last year over the reform of Italy's rigid labour market...
The other referendum has much wider repercussions.
It would mean that energy companies no longer had the automatic right to lay power cables or put antennae on private property.
In Italy, there is growing concern about the health risks from electro-magnetic waves.

ASSOCIATED PRESS
Jun. 14, 2003. 11:35 AM

PRAGUE — Czechs voted overwhelmingly to join the European Union in a referendum, according to early official results released today.
With 80 per cent of the votes counted, 77 per cent of the voters affirmed the measure, according to the state Statistical Office, which handles the vote count. Turnout was at 55 per cent.
The vote opens the way for the former communist nation to be part of the largest expansion in the union's history, which will add 10 new members to the 12-nation union and bring it deep into central and eastern Europe...
So far Poland, Hungary, Lithuania, Malta, Slovenia and Slovakia have backed joining the EU in referendums. Latvia and Estonia will hold referendums in September, while Cyprus will leave it to its parliament to decide.
Comment: The US is using the countries of Eastern Europe to infiltrate and disrupt the European Union. Poland was given the "honour" of having the responsibility for securing a portion of Iraq following its occupation by US neo-fascist forces.

By Lou Marano
Washington Times

WASHINGTON, June 3 (UPI) -- Emerging technologies that map the brain, reveal "guilty knowledge," and expose patterns associated with disfavored behavior raise thorny questions of law and ethics.
Lesson for today: How to be a citizen
MURDO MacLEOD
The Scotsman
BRITISH adults will be offered 'citizenship' classes as part of a controversial Labour party plan designed to tackle voter apathy, anti-social behaviour and the rise of extremist political parties, Scotland on Sunday can reveal.
The classes, which have been condemned as "Orwellian" by opponents, would be modelled on lessons already given to schoolchildren and immigrants who want to become British citizens.
Police: Iraq remark led to killing
By Jon Burstein
Sun Sentinel
It began as an unremarkable Sunday night at Margarita's. Three customers drank at the small Lake Worth bar while the manager sat watching television updates on the fourth day of the Iraq war.
The conversation naturally turned to the war. Former U.S. Marine Ronald Mellor, who had been downing Smirnoff vodka and tonics, sparked the discussion by talking about the possible execution of American prisoners of war.
Within a half-hour, bar manager John Komyakevich's bullet-riddled body lay near Margarita's back door. Witnesses said Mellor, 61, killed him after becoming upset with the Russian immigrant's comments on the war. [...]
Comment:"For every fatal shooting, there were roughly three non-fatal shootings. And, folks, this is unacceptable in America. It's just unacceptable. And we're going to do something about it." - George W. Bush, Philadelphia, May 14, 2001
Agencies renew focus on exotic animals
Outbreak of monkeypox prompts ban by CDC and proposal of strict limits

Associated Press
Although three government agencies are charged with restricting imported animals, none regulates the rodents thought to be responsible for the monkeypox outbreak in the United States.
Comment: We are all being set up to help get rid of all that small pox vacine stored in warehouses, so they can make a vacine that will be there for those who get sick from the vacine, so they can make a vacine . . . From A bill to enhance homeland security and for other purposes: "Amends the Public Health Service Act to instruct the Secretary of Health and Human Services to award grants to implement the National Smallpox Vaccination Program."
Soldiers forced to buy private treatment for war injuries
By Sean Rayment, Defence Correspondent
The Daily Telegraph
British troops injured in war are being forced to pay for private medical treatment or face long delays for operations on the National Health Service. [...]
USF Draws Criticism for Firing Professor
By MITCH STACY, Associated Press Writer
Sat Jun 14

TAMPA, Fla. - A national group influential in higher education condemned the University of South Florida on Saturday for firing a professor charged with terrorism, but stopped short of issuing a potentially damaging censure.
The American Association of University Professors passed the resolution at a meeting in Washington, condemning university President Judy Genshaft for firing Sami Al-Arian without a hearing before his faculty peers, said association spokeswoman Ruth Flower.
Although the school avoided a censure, association members ordered a committee to reconsider action that could come when the entire group meets again next year. [...]
Al-Arian was fired a week after he was arrested in February, charged with being the North American leader of Palestinian Islamic Jihad, a terrorist group that has killed dozens of people in the past decade. He remains in jail and denies he has any connections to terrorism. [...]
Because of the complexity of the case, Al-Arian is not expected to go to trial until January 2005.
And Finally...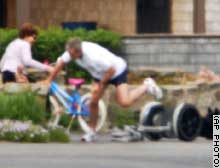 Comment: "Sometimes, people misunderestimate me" -- President G. W. Bush

---
Check out the Signs of the Times Archives
Send your comments and article suggestions to us.
---
Fair Use Policy
Contact Webmaster at signs-of-the-times.org
Cassiopaean materials Copyright ©1994-2014 Arkadiusz Jadczyk and Laura Knight-Jadczyk. All rights reserved. "Cassiopaea, Cassiopaean, Cassiopaeans," is a registered trademark of Arkadiusz Jadczyk and Laura Knight-Jadczyk.
Letters addressed to Cassiopaea, Quantum Future School, Ark or Laura, become the property of Arkadiusz Jadczyk and Laura Knight-Jadczyk
Republication and re-dissemination of our copyrighted material in any manner is expressly prohibited without prior written consent.
.