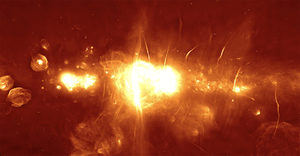 Galactic Center: South Africa's MeerKAT Radio Telescope captured this panorama of the center of the Milky Way. Area approx. 1,000 light-years by 500 light-years
Who controls the past controls the future. Who controls the present controls the past.
- George Orwell
Recent Comments
The freaking liberals would love nothing better than to open borders and allow millions of undocumented illegals into the country to live off the...
---
Proof? Sex slave? Guy was 87?
---
I have no clue what 'advocates' of illegal immigrants are thinking when they say that law breaking NON-residents have 'rights'. Ask them if...
---
Tip: leave a little of the avocado on the pit, it helps it go down easier. J/k.
---
These riots reminds us of HOW smooth the World Cup ran in Russia. These soccer hooligans famous for riots (all over the world) behaved like good...