About Plain Tiger I've been following SOTT, Quantum Future, and Cassiopaea for quite a while now and am subscribed to The Dot Connector magazine too. I don't know what happened, I tried registering a couple times and I don't seem to have a logon, so in the meanwhile I've just been lurking but I would like to post comments!
I am the cutting edge person of almost every group I'm in, and always try - within free will of course - to disseminate to the groups the information that is necessary to know these days, namely info about psychopathy, channeling, densities, etc. I just find it so necessary at this point to have a support group, because as we know, people do not take kindly to new information, even if it does resound with them.
I am anti-politics and anti-religion except inasfar as these topics need to be discussed to lead to discussion of deeper realities. I love what SOTT is doing, and would like to be part of the community.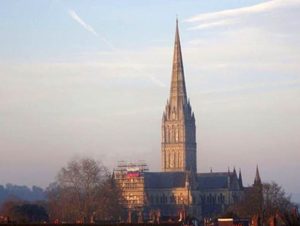 Salisbury Cathedral, 17 February 2019. Did you know? The spire is 123 meters tall, and famous throughout Europe...
The spirit of liberty is the spirit which is not too sure that it is right; the spirit of liberty is the spirit which seeks to understand the minds of other men and women; the spirit of liberty is the spirit which weighs their interests alongside its own without bias; the spirit of liberty remembers that not even a sparrow falls to earth unheeded; the spirit of liberty is the spirit of Him who, near two thousand years ago, taught mankind that lesson it has never learned, but has never quite forgotten; that there may be a kingdom where the least shall be heard and considered side by side with the greatest.
- Judge Learned Hand
Recent Comments
It will take it almost two months to reach the moon , however, as it needs to slingshot around the Earth at least six times That still doesn't...
---
Smollet is the only one hateful in this situation. Cowardly, hateful attention whore
---
George Galloway: More rats to jump ship....[Link]
---
Why Israel is a part of Eurovision again ?
---
Those who want quiet goodness to prevail don't like the socialist-leaning establishment's calls for overthrowing liberties, because those...