About Plain Tiger I've been following SOTT, Quantum Future, and Cassiopaea for quite a while now and am subscribed to The Dot Connector magazine too. I don't know what happened, I tried registering a couple times and I don't seem to have a logon, so in the meanwhile I've just been lurking but I would like to post comments!
I am the cutting edge person of almost every group I'm in, and always try - within free will of course - to disseminate to the groups the information that is necessary to know these days, namely info about psychopathy, channeling, densities, etc. I just find it so necessary at this point to have a support group, because as we know, people do not take kindly to new information, even if it does resound with them.
I am anti-politics and anti-religion except inasfar as these topics need to be discussed to lead to discussion of deeper realities. I love what SOTT is doing, and would like to be part of the community.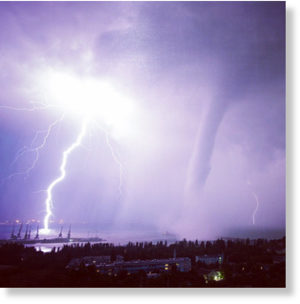 Large waterspout and lightning off Feodosia, Crimea peninsula, Russia. Sept 6th 2018.
Given that China was arguably the leading power in the world from c. 1100-1800, and was certainly the leading power in the East Asian region, one would anticipate that the smaller powers in that region would have balanced against it. But this in fact did not happen. The reply might be in turn that this was because China was the kingpin within the international tribute system, and was therefore an imperialist power. But arguably this system was neither imperialist nor could it be explained through the 'conventional practices' associated with Western great power politics.
- John M. Hobson
Recent Comments
'Nasa's Hubble space telescope data'.....hahahahahaha....yeah - straight from the fairytale story generator - they got whole banks of them ...
---
Those who hold the secret knowledge of our true reality are getting very worried that the masses are starting to wake from their slumber - hence...
---
Let us not forget this the video clip of Col. Wesley Clark, taking out seven countries, this is before the 2007 Munich speech. [Link] And what...
---
Will Theresa May PM, MP ,with her Millionaire Husband and his Raytheon Investments obey Trump on Iran ? Will she join the EU and resist American...
---
Many factors have led to the rise of populism, like nato wars in the MENA and the resulting mass immigration. The plutocracy that is Brussels has...