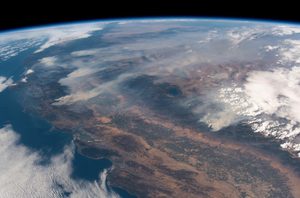 The California wildfires, as seen from the ISS, Aug. 3, 2018
The eye sees only what the mind is prepared to comprehend.
- Robertson Davies
Recent Comments
"Turkish Airlines has announced it will stop advertising American products on its flights"...I'm sure this will hit the US hard. Seriously,...
---
How are you so certain it's a myth? I'm not sure myself that it isn't a natural fluctuation; not even sure we aren't going into a mini ice age....
---
All largecelestial objects have a filament attached. It is in dark mode. It can be seen in xray astronomy. That is the source of the heat and...
---
It would be strange for this to be caused by weather. Not sure about the lightning. In one of the videos you can see a portion of the bridge deck...
---
Turkey now sees, in ways it refused to before, the machinations of US finance and the inherent pit-falls when you do not conform. No matter if...