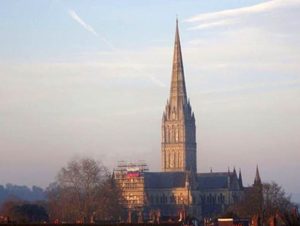 Salisbury Cathedral, 17 February 2019. Did you know? The spire is 123 meters tall, and famous throughout Europe...
When we talk about compassion, we talk in terms of being kind. But compassion is not so much being kind; it is being creative [enough] to wake a person up.
- Chogyam Trungpa Rinpoch
Recent Comments
Seems that this article is merely a rehash of the struggle between good and evil that has been going on with humanity for millenia. Recognition of...
---
The Skripals obviously posed a really serious threat to the Tory government and the intelligence community that supported what they have been...
---
My family doctors said Herpes virus do not have medical cure because the virus is capable of hiding within the human cells and it remains...
---
"That was a serious plot, that was considered the follow up to 9/11 - the second wave," Gomez said. "And in that case law enforcement, the United...
---
Hello i'm Pamela Talbert am giving a testimony about Dr.Oduku the great herbal doctor, he has the cure to all manner of diseases, he cured my...