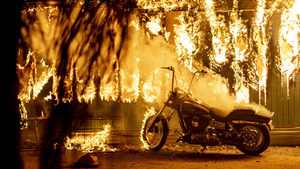 The Woolsey Fire in Malibu, California, November 10, 2018
He who passively accepts evil is as much involved in it as he who helps to perpetrate it. He who accepts evil without protesting against it is really cooperating with it.
- Martin Luther King, Jr.
Recent Comments
Dont know how much of mine made sense but CHAPEAU!! +1
---
what a funny picture doesn't that lady look kind of like a chicken
---
Much more interesting and coherent is where Plasma Cosmology meets Mythic Record. The personification of events as 'Gods' or indeed 'God's'...
---
I have a whole yard full of those tools wander what I can get for them ? pet rock anybody
---
Britain's Enemy Is It's Own Ruling Class [Link] #astrology