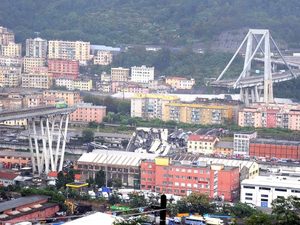 14 August 2018: Morandi Bridge in Genoa, Italy, collapses during a storm, killing 35 people
Shared pain is lessened; shared joy, increased - thus do we refute entropy.
- Spider Robinson
Recent Comments
This article is missing a MAJOR point....read this [Link] Here's the kicker, in case your too lazy to click the link.... "The underlying "offense"...
---
It looks like Mr Abbott is a hypocrite who is currently playing political 'games'. I wonder why he thinks the Australian Public would think that...
---
Institutions and organizations are not our 'friends'. It's only the individual, or the ordinary person who counts now. They are the only ones who...
---
Nah. Kick 'em out. Prosecute where appropriate. They're grown men responsible for their own actions, like anyone else.
---
Ironically, celibacy may only heighten these repressed sexual urges. Still waters stagnate. . Spiritually, the flow of lifeforce is important to...