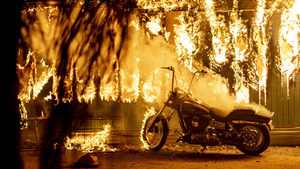 The Woolsey Fire in Malibu, California, November 10, 2018
For the great enemy of the truth is very often not the lie - deliberate, contrived and dishonest - but the myth - persistent, persuasive, and unrealistic. Too often we hold fast to the clichés of our forebears. We subject all facts to a prefabricated set of interpretations. We enjoy the comfort of opinion without the discomfort of thought.
- John Fitzgerald Kennedy
Recent Comments
Cool. I like this one for inclusion in the 'real' category. The C's verified another which had a similar come & go feel to it: [Link] (Bearing...
---
Perhaps Fintan O'Toole might read the 57 page pamphlet by fellow Irishman Professor Anthony Coughlin of Trinity College Dublin entitled 'Tackling...
---
Jesus. Though, I have to say I do see a momentary twinkling of appeal in the idea of sending a thug-army to bully the banks into forgiving your...
---
Freud came from the same Cuckoo nest as the father of the vaccine, Edward Jenner . [Link] A certifiable creep! For more on his origin story, take...
---
@lsjarvi Everyone is a green pasture for the dark energies if one is not living fully in the present moment. Vigilance and association. Dark...