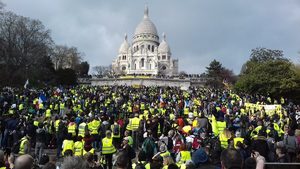 Acte XIX: Sacré-Coeur, Paris, 23 March 2019
Confucius has no interest in falsehood; he did not pretend to be prophet; he claimed no inspiration; he taught no new religion; he used no delusions; flattered not the emperor under whom he lived.
- Voltaire
Recent Comments
"What Russia was aiming for is what Russia is always aiming for: to sow discord in American society and make it more difficult for the American...
---
Yeah. Invented heroin. Nice....[Link]
---
Bayer existed long before the Nazis. And Monsanto, majority owned by the US government, was "sold" to the German vassall state the US still...
---
The police and military are on the wrong side of the law. Fucking traitors!
---
Why didn't he just plead the 5th? Yes I said he because that what his genes say he is. I'm not buying into this backwards transgender horse shit.